inbox and environment news: Issue 585
May 28 - June 3 2023: Issue 585
Learning To Waddle Along A Tree Branch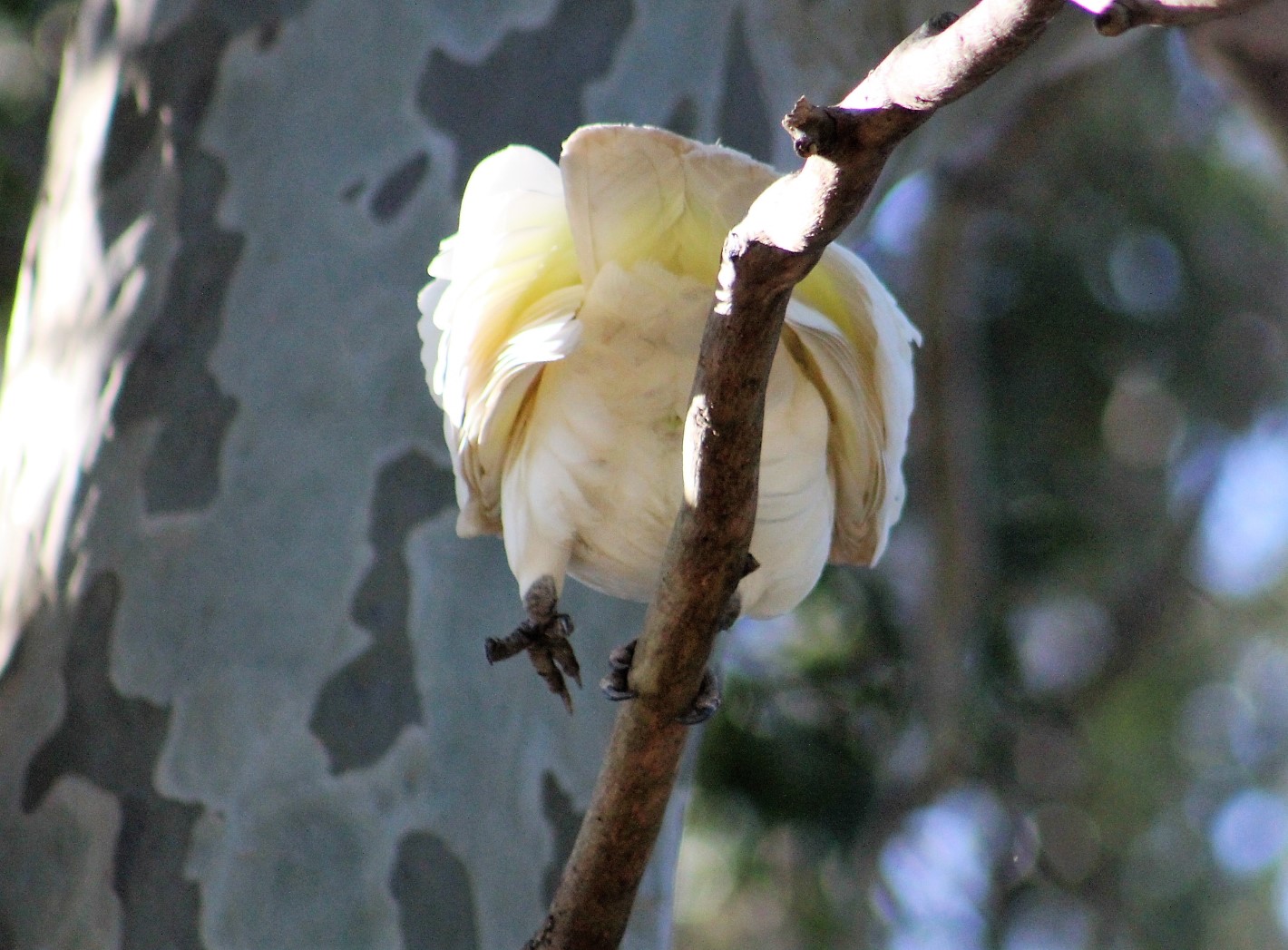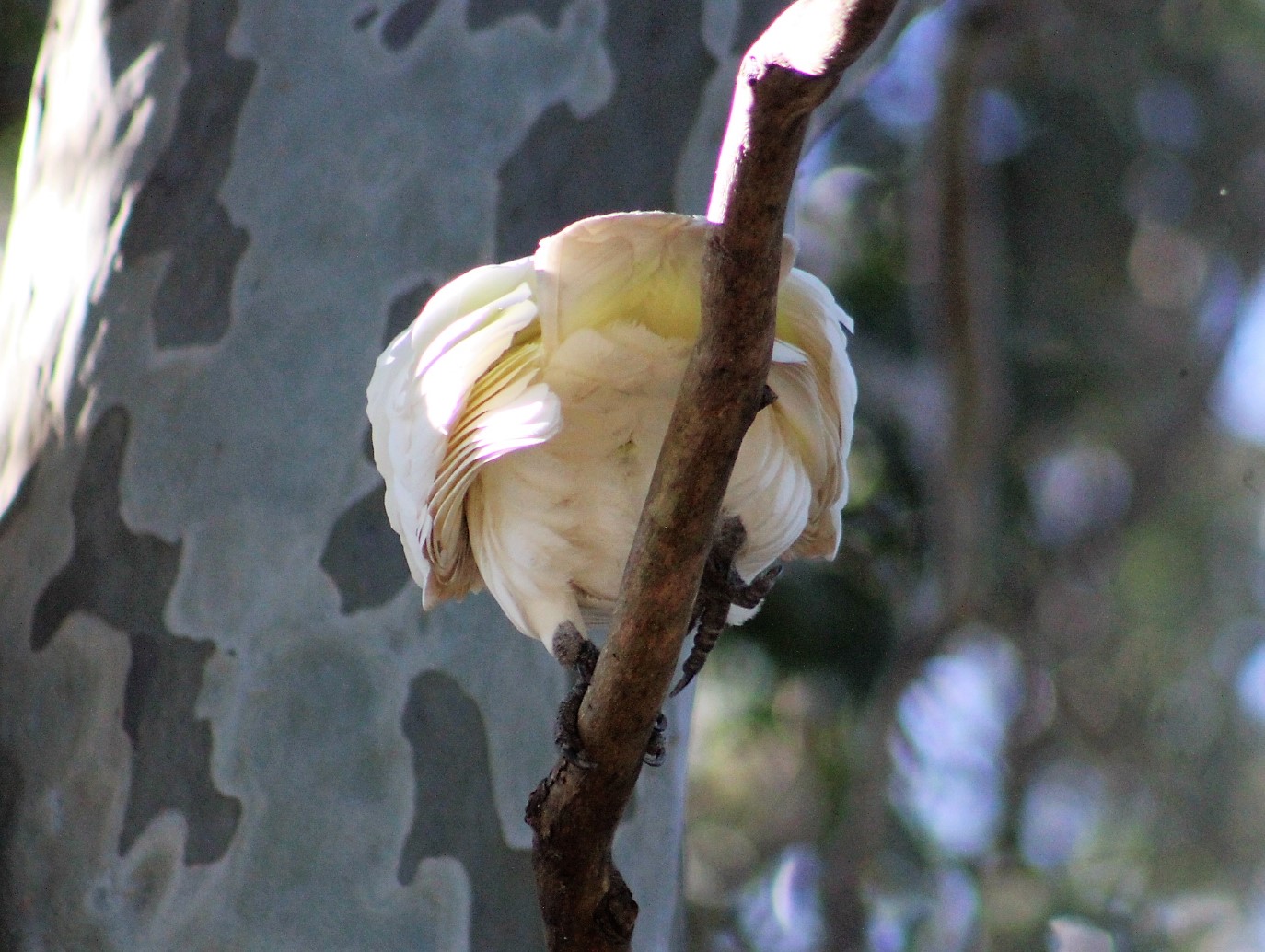 Why We Love Our Trees
By Willoughby Council
Special Treatment For The Worst Polluters: Government Admission Highlights The Need To Stop New And Expanded Coal Mines In NSW
May 2023
The Nature Conservation Council of New South Wales (NCC), the state's leading environmental advocacy organisation, has argued that the recent submission by the NSW government's Net Zero Unit is a watershed moment for new coal and gas in NSW.
"It's great to see a frank acknowledgement by the team tasked with getting us to net zero emissions that new coal or expanded coal mines will blow our carbon budget," NCC CEO Jacqui Mumford said.
"Other sectors of the NSW economy are rapidly reducing emissions, with both rooftop and large-scale renewable energy booming in NSW."
"The government has diagnosed the disease, and now must take the medicine. We need a phase-out plan for coal mining and to work with our export countries to support the switch to clean energy."
"One of the scariest components of the submission is that Glencore seems to be expecting special treatment as part of the safeguard mechanism. They have effectively said 'don't worry about this additional 5 million tonnes of greenhouse gases, mate, we'll buy offsets through the safeguard mechanism.''
NCC Chief Executive Officer Jacqui Mumford said
"The safeguard mechanism is designed to impose an absolute cap on emissions. If it allows giant increases in emissions like this, then it's broken."
"The coal industry should be reducing its emissions, not forcing farmers and homeowners to pick up the slack."
"This is just from the process of digging up the coal and doesn't even consider the impact that burning all this coal will have on driving climate change."
"The bushfires and floods gave us a taste of what is to come if we don't take action to prevent climate change."
"The Paris accord states that to limit global warming to less than 1.5 degrees and prevent catastrophic climate events and mass extinction, we must reduce emissions by 75% by 2030. It's outrageous that a dirty coal mine wants to increase its emissions right up to 2050."
How Citizen Scientists Are Helping To Save A Species: 35 Christmas Beetle Species Unearthed By Volunteers
May 2023: University of Sydney
When architecture alumnus Michael Harvey heard that Christmas Beetle numbers were in decline, he put up his hand to help search for the missing beetle species.
For Michael Harvey (BArch '99), University of Sydney architecture graduate and urban designer for the City of Sydney, Christmas beetles have always been a memorable part of the summer months. But like many Australians he had begun to notice the absence of the glittering green and gold insects as Christmas approached. Then he learned about the citizen science project through SAM Extra, the University's alumni newsletter.
"Growing up in Sydney, Christmas beetles were a really memorable part of summertime and holidays," he recalls. "That's why I was keen to volunteer for this project when I heard their numbers were in decline."
The Christmas Beetle Count was run by Invertebrates Australia and entomologist Associate Professor Tanya Latty from the School of Life and Environmental Science at the University of Sydney over the latter half of 2022. Volunteers, dubbed 'citizen scientists', were asked to take pictures of any Christmas beetles they encountered and upload them by using an app on their phone. The goal was to understand the current beetle distribution, understand if the beetle populations were in decline, and identify and combat potential causes to secure the beetles' future.
Michael eagerly put up his hand to start snapping pictures of the beetles he found on his daily walks through Sydney Park with his dog Ralph. The iconic Australian beetles tended to gather by the bright lights that illuminated the park at night. In the end, Michael submitted five images of the insects he found with Ralph.
The project received more than 6500 submissions from volunteers like Michael and was successful in identifying 35 species of Christmas beetles, including several which had not been spotted in decades. Associate Professor Latty, says that the support from volunteers like Michael was a crucial part of confirming the status of the 35 Christmas beetle species.
"We absolutely could not do this project without volunteers," she says. "Australia is a huge, huge country. So, without having eyes everywhere, we can't really identify the problem areas.
"We desperately need people in communities everywhere in Australia, even places where perhaps they haven't seen Christmas beetles, to keep an eye out for them."
She hopes that more volunteers will get involved in projects like this, to help people understand the key role that insects play in our world and challenge their negative preconceptions of the crawling critters around us.
"The vast majority of insects cannot hurt you. I think that fear is something that tends to get put into us very young and it's hard to shift," Associate Professor Latty says. "But they do all the jobs, they're predators, waste managers and soil regenerators. And if we ignore them because we're scared of them, we're going to lose something fundamentally important to our ecosystems.
"And Christmas beetles... they're beautiful! They're cute, they're harmless, they're big. What's not to love?"
For his part, Michael spent time talking to his son about Christmas beetles and his memories of their large populations, drawing on his own interest in environmental science and conservation.
"Volunteering is an easy and fun way to make a positive impact in the world. You give back to your community, learn new skills and connect with like-minded individuals," he says.
"I just hope that my contribution to the Christmas Beetle Count will make a positive impact on their survival."
Successes so far
There were 6592 total Christmas beetle sightings collected by volunteers in the 2022/ 2023 season. 35 Christmas beetle species were observed.
Four 'missing' beetle species were formally sighted:
Anoplognathus multiseriatus - last reported in 1970s
Anoplognathus rhinastus - last reported in 1999
Anoplognathus nebulosus - laste reported in 1999
Anoplognathus vietor - previously reported from a single male speciman in 1986
There is only one preserved specimen of anoplognathus vietor, so it is especially exciting to have recorded a live beetle.
Think you've spotted a beetle and want to help? Visit Invertebrates Australia to find out more about the Christmas Beetle Project.
Protect Mona Vale's Bongin Bongin Bay - Establish An Aquatic Reserve
We are a group of locals who are leading a campaign to have Mona Vale's Bongin Bongin Bay (Mona Vale Basin) declared as an aquatic reserve.
Our group is made up of local swimmers, surfers, surf life savers and beach users. Our group has no political affiliation. We are just passionate locals who care about our environment.
With your support, we will be asking Northern Beaches Council to lobby the NSW Government to establish a 'no take' zone at Bongin Bongin Bay (Mona Vale Basin).
The establishment of this aquatic reserve will protect local marine biodiversity now and into the future.
In area the proposed aquatic reserve will be approximately 451,000 square meters (45 hectares). It will have a boundary (perimeter ) of 3.8km.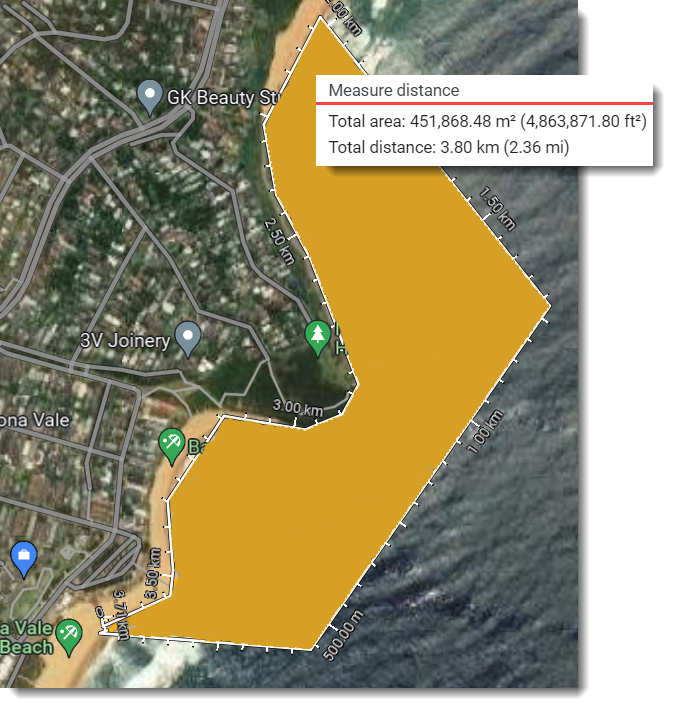 We use the beach every day throughout the year and believe this unique environment is worthy of protection. We regularly see stingrays, dolphins, blue gropers, sharks, octopus, cuttlefish and many other species in and around Bongin Bongin Bay. Occasionally we have seen turtles, penguins and migrating whales.
However, we believe that fishing and the collection of crustaceans, shellfish and vegetation from the foreshore is impacting upon the biodiversity and the local ecosystem.
Species that were seen regularly in and around Bongin Bongin Bay disappear after weekend fishers have been present.
Friends Of Bongin Bongin Bay (Mona Vale Basin) Update: May 2023
Last week we met with three Northern Beaches councillors and Federal MP for Mackellar Dr Sophie Scamps (check out her Instagram, Facebook or website for her first-hand experience).
We have started the process for a Notice of Motion for a vote at the 27th June Council meeting and will provide more information in our June update.
This Saturday 13th May at 6.45am for 7am we did a photoshoot of people holding hands right around the Bay.
The end result is to be submitted to Council's Environmental Art & Design competition which closes on Sunday.
How can you help after having signed our petition?
Share the Petition at: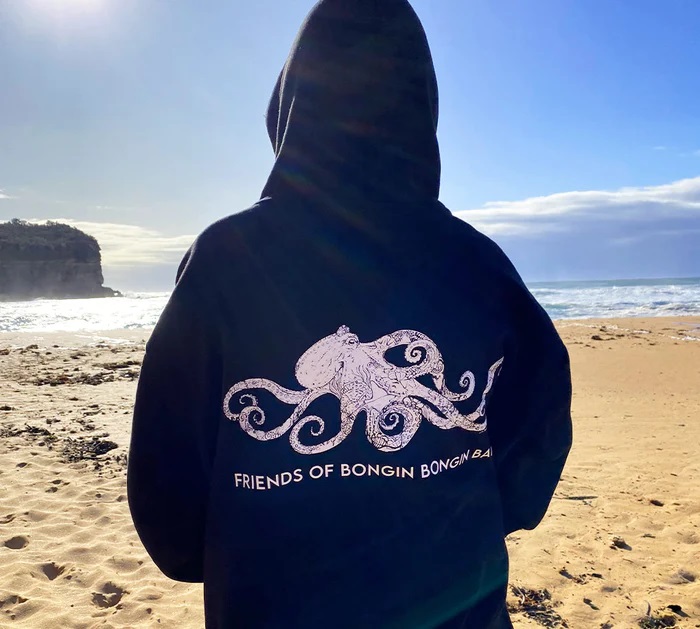 Thank you
Friends of Bongin Bongin Bay (Mona Vale Basin)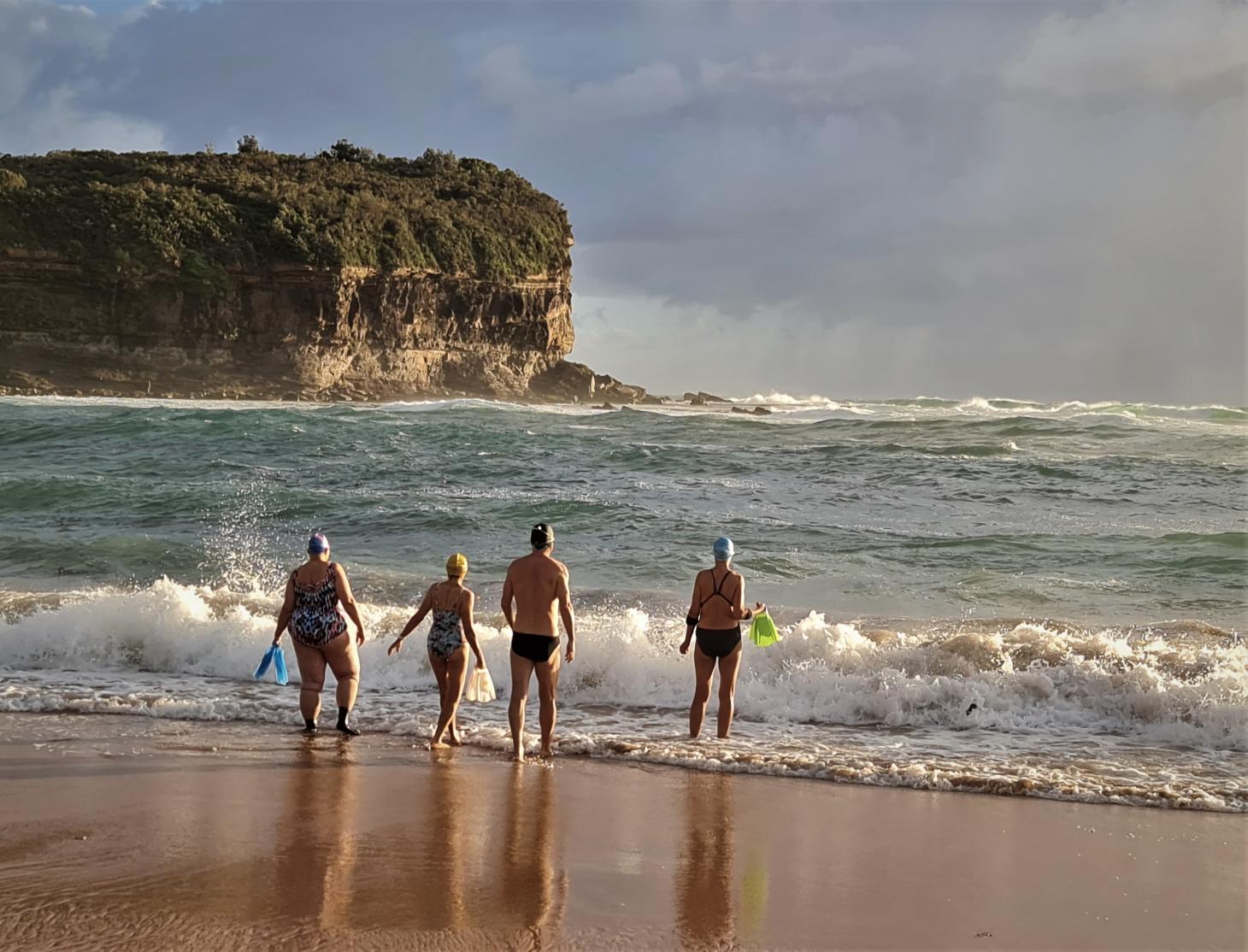 Bongin Bongin Bay - Mona Vale Basin on Monday 7 Feb. 2022. Photo by Joe Mills
Ausgrid Community Battery Pilot - Warriewood: Have Your Say
Proposed location: Valley View Reserve, Parkland Way, Warriewood
Have Your Say by 5pm on 31 May 2023
Ausgrid have stated they would like to involve the local Warriewood community to inform this potential project. Your feedback will help them shape their strategy for the community battery program if they are successful in securing government funding.
How to submit your feedback
Community members are invited to
share their feedback until 31 May 2023.
There are several ways to submit your feedback: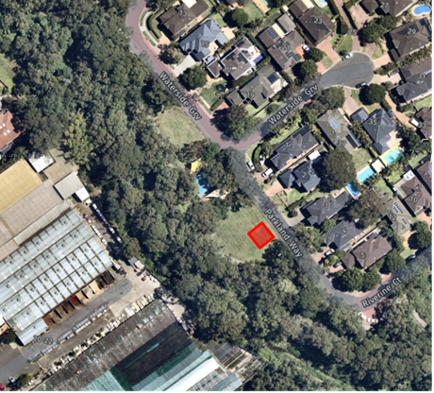 Northern Beaches Clean Up Crew: Freshwater May 28
Come and join us for our family friendly May clean up, close to Freshwater Surf Lifesaving Club on the 28th at 10am. We meet in the grass area behind the surf life saving club.
We have gloves, bags, and buckets, and grabbers. We're trying to remove as much plastic and rubbish as possible before it enters the ocean. Some of us can focus on the bush area and sandy/rocky areas, and others can walk along the beach and even clean up in the water (at own risk). We will clean up until around 11.20, and after that, we will sort and count the rubbish so we can contribute to research by entering it into a marine debris database. The sorting and counting is normally finished around noon, and we'll often go for lunch together at our own expense. We understand if you cannot stay for this part, but are grateful if you can. We appreciate any help we can get, no matter how small or big.
No booking required - just show up on the day - we will be there no matter what weather. We're a friendly group of people, and everyone is welcome to this family friendly event. It's a nice community - make some new friends and do a good deed for the planet at the same time. For everyone to feel welcome, please leave political and religious messages at home - this includes t-shirts with political campaign messages. There is a council carpark, but it is often busy on Sundays, so check streets close by as well if it's full or please consider using public transport.
Message us on our social media or send us an email if you are lost. All welcome - the more the merrier. Please invite your friends too!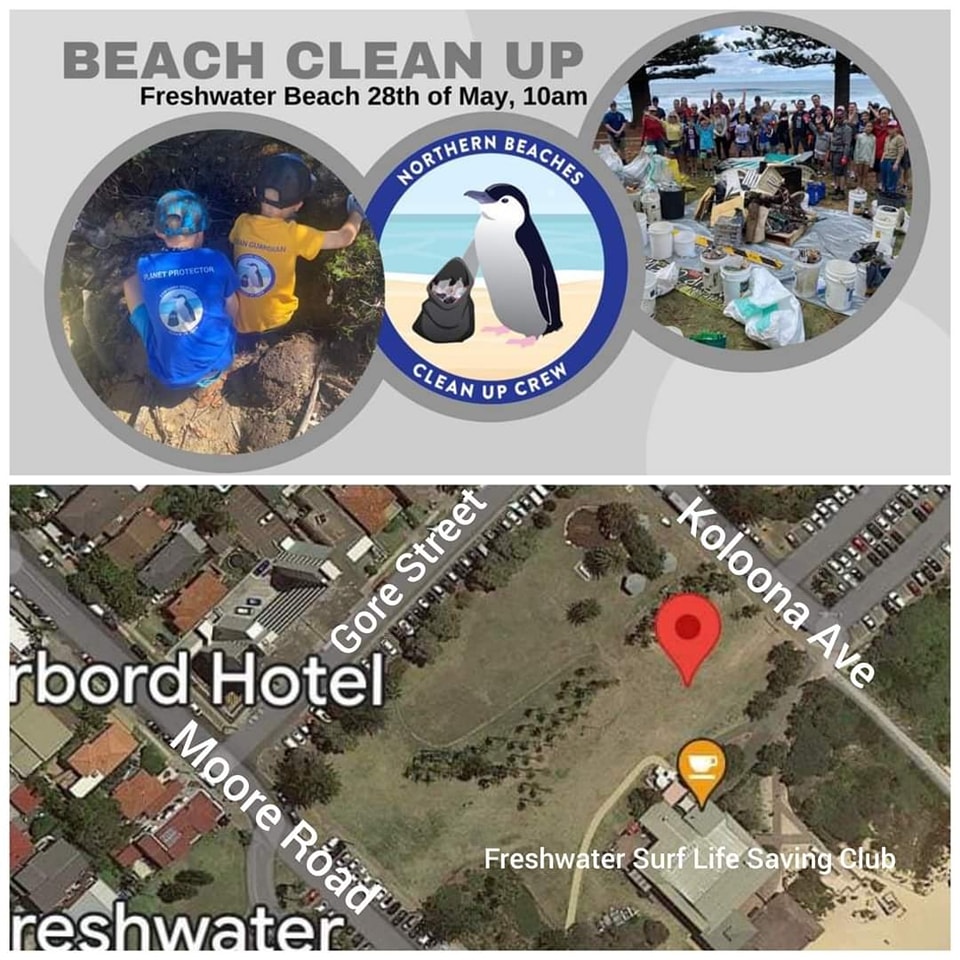 Permaculture NB: June To July 2023 Events
Permaculture Northern Beaches (PNB) is an active local group on Sydney's Northern Beaches working for ecological integrity and assisting you on a pathway to sustainability.
PNB holds monthly permaculture-related public meetings on the last Thursday of each month at the Narrabeen Tramshed Community & Arts Centre, Lakeview Room, 1395A Pittwater Road, Narrabeen. Buses stop directly at the centre and there is also car parking nearby. Doors open at 7:15 pm and meetings take place monthly from February to November.
Everyone is welcome!
We also hold a range of workshops, short courses, film and soup nights, practical garden tours, permabees (working bees), beehive installations, eco-product making sessions and much more.
WORLD OCEANS DAY - BIG BLUE FUTURE
Thursday, June 8, 2023
World Oceans Day is held every year on 8th June to raise awareness of the vital importance of our oceans and the role they play in sustaining a healthy planet. A global celebration, it looks to bring people and organisations together across the globe in a series of events highlighting how we can all help protect and conserve the oceans.
Our ocean needs protection. Our ocean covers 70% of the planet and supports life as we know it. Every second breath we take comes from the ocean. Our ocean feeds billions of people. Our ocean hosts 80% of the world's biodiversity.
However, our oceans are in crisis. They are being threatened by pollution such as abandoned fishing nets, overfishing, bycatch, and the effects of climate change.
We know the problems. We know the solutions.
World Oceans Day is a day to take action and raise awareness.
The 2023 theme for World Ocean Day is Big Blue Future.
To conserve our wonderful marine resources for future generations. Get involved in the conversation with #WorldOceansDay and #BigBlueFuture.
CELEBRATING WORLD OCEANS DAY
Thursday, June 29, 2023: 7:30pm – 9:00pm
Narrabeen Tramshed Arts and Community Centre, Lakeview Room
1395A Pittwater Road, Narrabeen
Join us in World Oceans' month to learn more about the Blue planet we live on.
Two great speakers will tell us the wonders and threats facing our oceans.
Australia Marine Conservation Society works on the big issues that risk our ocean wildlife - protecting critical ocean ecosystems with marine reserves around the nation, including Ningaloo and the Great Barrier Reef. As well as issues such as over-fishing and supertrawlers, and protecting threatened and endangered species like the Australian Sea Lion.
Surfrider Foundation is actively working to stop drilling and exploration for oil and gas off our coast (PEP2). The organisation works to protect our oceans, beaches and waves through a powerful activist network.
$5 entry by donation to pay for room hire. Organic teas and coffee are available at the night + swap table - bring plants, seeds, food, books and permaculture items to swap and share.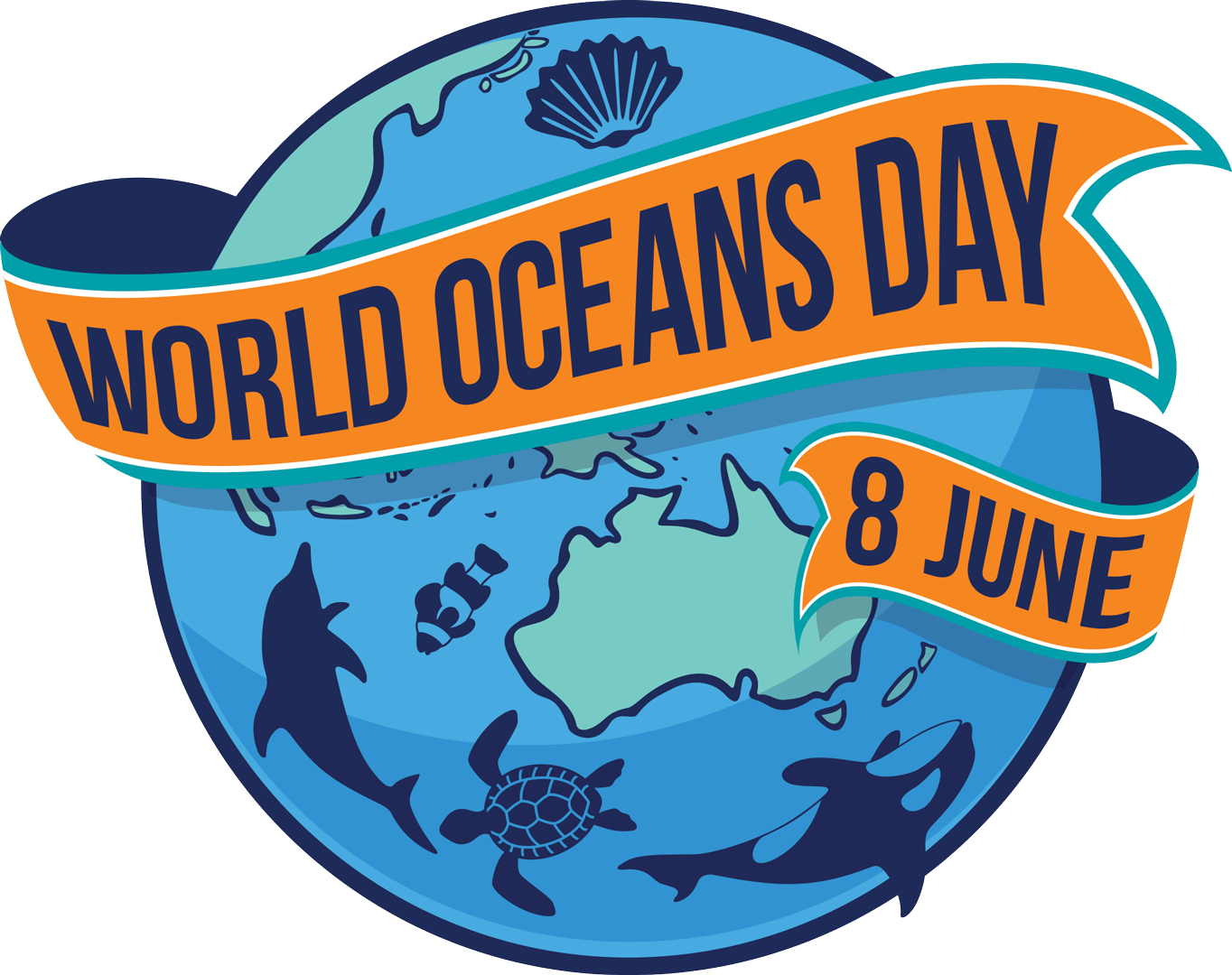 SEED SAVING CIRCLE
Saturday, July 8, 2023: 11:00am – 1:00pm
Balgowlah Community Garden
100 Griffiths Street, Balgowlah
Gather your seeds in winter for the coming spring. Share and swap seeds that are grown organically and locally. These seeds will be the best adapted you can find for the Northern Beaches climate and soils as many have been grown over generations.
Tap into the knowledge and the databank of seeds at Balgowlah Community Garden and PNB + share permaculture knowledge. This is an invaluable resource for the local community. Be part of the change - grow your own seeds and food.
Bring your non-alcoholic drinks and food to share on the day. The seed circle will be outdoors but under cover so dress weather-wise.
PLASTIC FREE JULY
Saturday, July 1, 2023 – Monday, July 31, 2023
Permaculture Northern Beaches is a part of the Plastic Free July challenge - Join Us!
The plastic bottles, bags and takeaway containers that we use for just a few minutes use a material that is designed to last forever. Every bit of plastic ever made still exists!
These plastics:
Break up, not break down – becoming permanent pollution
Are mostly made into low-grade products for just one more use or sent to a landfill
End up in waterways and the ocean – where scientists predict there will be more tons of plastic than tons of fish by 2050
Transfer to the food chain – carrying pollutants with them
Increase our eco-footprint – plastic manufacturing consumes 6% of the world's fossil fuels
Be part of the solution, by taking up these habits:
Refusing plastic bags and packaging (choose your own alternatives)
Reducing packaging where possible (opt for refills, remember your reusable shopping bags)
Refusing plastics that escape as litter (e.g. straws, takeaway cups, utensils, balloons)
Recycling what cannot be avoided by the use of alternatives.
Register to join 100,000 Australians and a million+ people worldwide stepping up in Plastic Free July www.plasticfreejuly.org

PNHA Guided Nature Walks 2023
Our walks are gentle strolls, enjoying and learning about the bush rather than aiming for destinations. Wear enclosed shoes. We welcome interested children over about 8 years old with carers. All Welcome.
Sunday June 25: Birdwatching and Bushland along Mullet Creek in Ingleside Chase Reserve
Swamp forest and coastal wetlands are rich habitat for fauna such as Swamp Wallaby and Diamond Python. Over 150 bird species have been recorded for the area. Red-Browed Finch is one.
Bring your binoculars and keep your ears pricked for bird calls. The track is mostly level, but with an optional steep climb near the Irrawong waterfall.
Meet: 8.30am near 31 Irrawong Rd North Narrabeen. Ends about 10.30.
So we know you're coming please book by emailing: pnhainfo@gmail.com and include your phone number so we can contact you if weather is doubtful.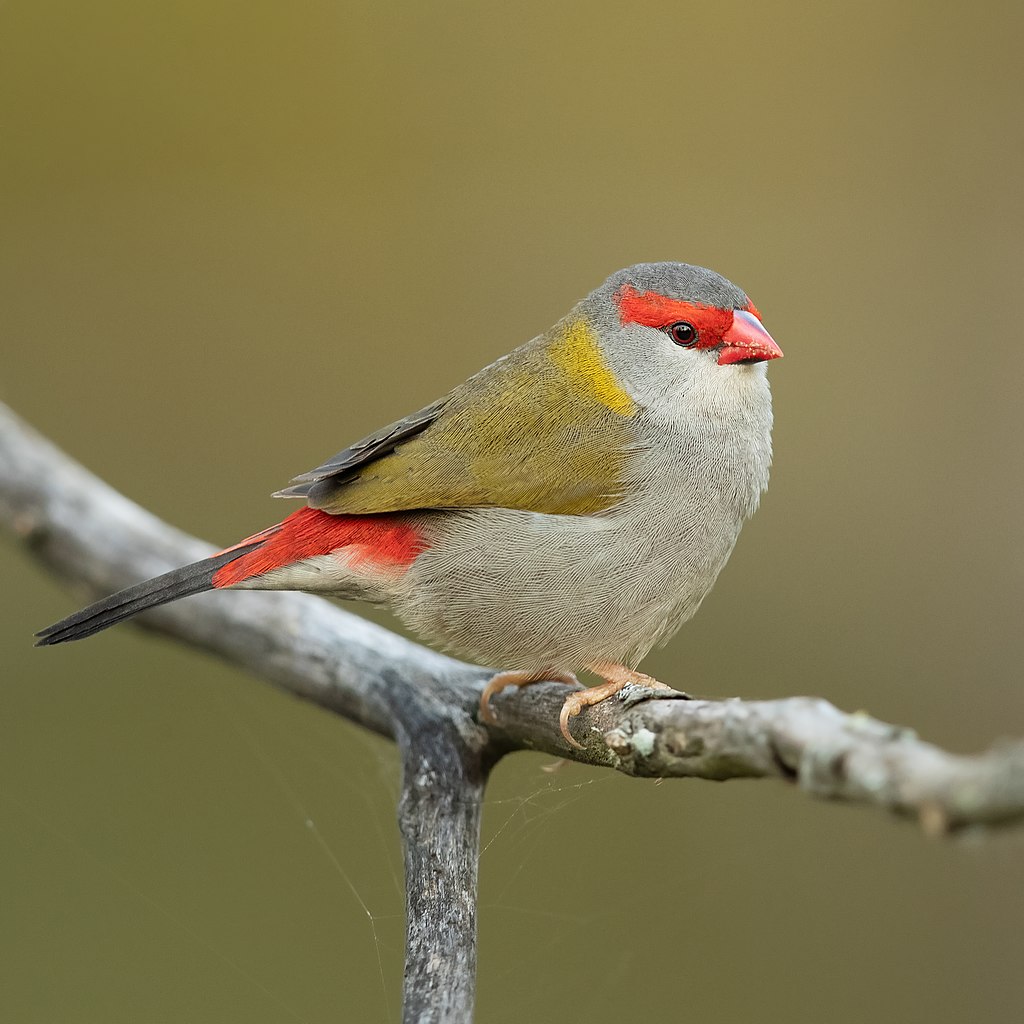 Red-browed finch (Neochmia temporalis). Photo: J J Harrison

Chemical CleanOut: June 2023
Mona Vale Beach Car Park: Sat 24, Sun 25 June 2023 - 9am-3:30pm
Surfview Road, Mona Vale
Only household quantities accepted. Maximum container size of 20kg or 20L per item.
*Up to 100L of paint (in 20L containers) now accepted at all Sydney, Hunter and Illawarra events.
Accepted:
Fluoro globes and tubes, Gas bottles and fire extinguishers, Household cleaners, Batteries, Paint*, Oils, Garden chemicals, Poisons, Smoke detectors.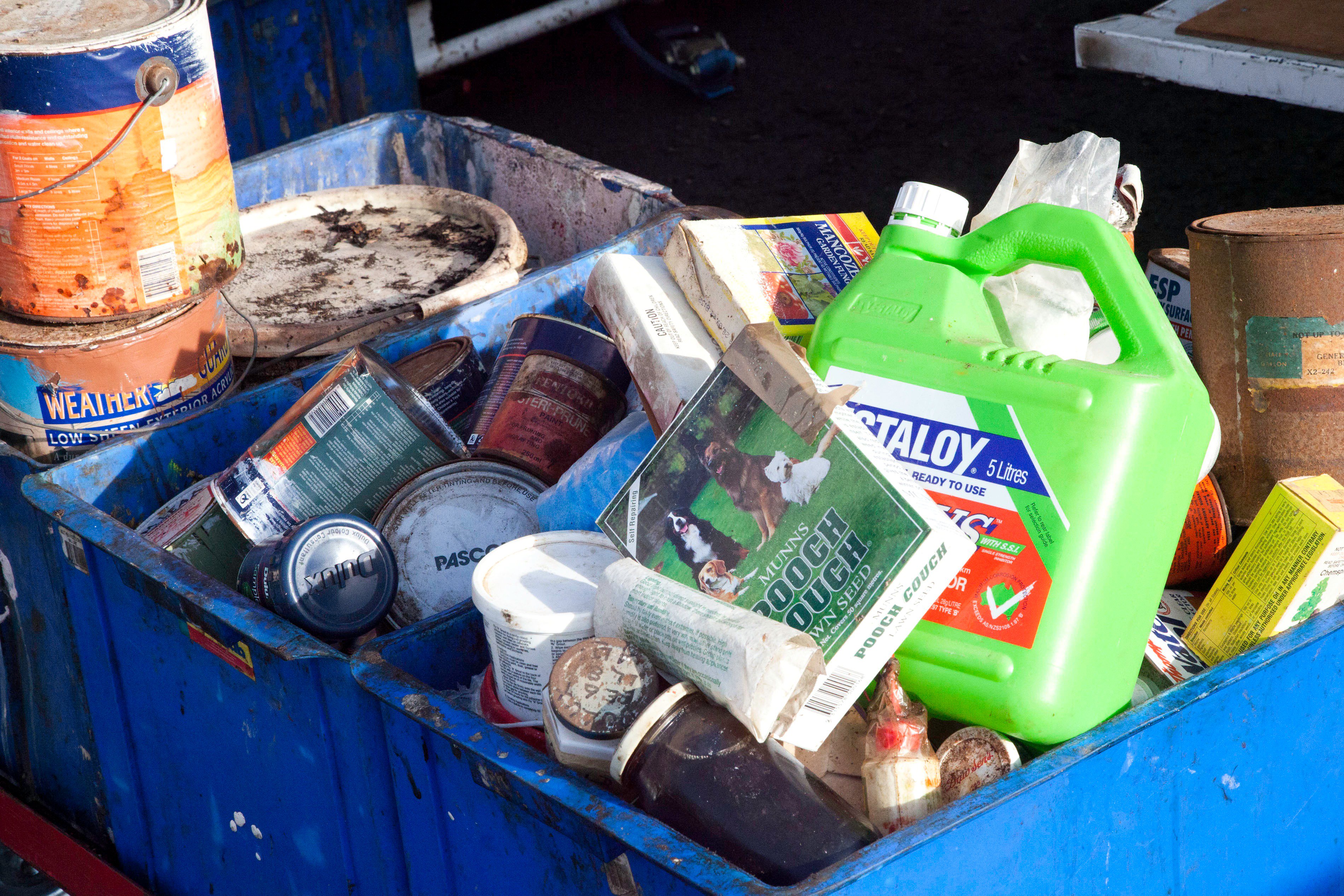 Bushcare In Pittwater
For further information or to confirm the meeting details for below groups, please contact Council's Bushcare Officer on 9970 1367 or visit Council's bushcare webpage to find out how you can get involved.
BUSHCARE SCHEDULES
Where we work Which day What time
Avalon
Angophora Reserve 3rd Sunday 8:30 - 11:30am
Avalon Dunes 1st Sunday 8:30 - 11:30am
Avalon Golf Course 2nd Wednesday 3 - 5:30pm
Careel Creek 4th Saturday 8:30 - 11:30am
Toongari Reserve 3rd Saturday 9 - 12noon (8 - 11am in summer)
Bangalley Headland 2nd Sunday 9 to 12noon
Bayview
Winnererremy Bay 4th Sunday 9 to 12noon
Bilgola
North Bilgola Beach 3rd Monday 9 - 12noon
Algona Reserve 1st Saturday 9 - 12noon
Plateau Park 1st Friday 8:30 - 11:30am
Church Point
Browns Bay Reserve 1st Tuesday 9 - 12noon
McCarrs Creek Reserve Contact Bushcare Officer To be confirmed
Clareville
Old Wharf Reserve 3rd Saturday 8 - 11am
Elanora
Kundibah Reserve 4th Sunday 8:30 - 11:30am
Mona Vale
Mona Vale Beach Basin 1st Saturday 8 - 11am
Mona Vale Dunes 2nd Saturday +3rd Thursday 8:30 - 11:30am
Newport
Bungan Beach 4th Sunday 9 - 12noon
Crescent Reserve 3rd Sunday 9 - 12noon
North Newport Beach 4th Saturday 8:30 - 11:30am
Porter Reserve 2nd Saturday 8 - 11am
North Narrabeen
Irrawong Reserve 2nd Saturday 2 - 5pm
Palm Beach
North Palm Beach Dunes 3rd Saturday 9 - 12noon
Scotland Island
Catherine Park 2nd Sunday 10 - 12:30pm
Elizabeth Park 1st Saturday 9 - 12noon
Pathilda Reserve 3rd Saturday 9 - 12noon
Warriewood
Warriewood Wetlands 1st Sunday 8:30 - 11:30am
Whale Beach
Norma Park 1st Friday 9 - 12noon
Western Foreshores
Coopers Point, Elvina Bay 2nd Sunday 10 - 1pm
Rocky Point, Elvina Bay 1st Monday 9 - 12noon
Friends Of Narrabeen Lagoon Catchment Activities

Bush Regeneration - Narrabeen Lagoon Catchment
This is a wonderful way to become connected to nature and contribute to the health of the environment. Over the weeks and months you can see positive changes as you give native species a better chance to thrive. Wildlife appreciate the improvement in their habitat.
Belrose area - Thursday mornings
Belrose area - Weekend mornings by arrangement
Contact: Phone or text Conny Harris on 0432 643 295
Wheeler Creek - Wednesday mornings 9-11am
Contact: Phone or text Judith Bennett on 0402 974 105
Gardens And Environment Groups And Organisations In Pittwater
Report Fox Sightings
Fox sightings, signs of fox activity, den locations and attacks on native or domestic animals can be reported into FoxScan. FoxScan is a free resource for residents, community groups, local Councils, and other land managers to record and report fox sightings and control activities.
Our Council's Invasive species Team receives an alert when an entry is made into FoxScan. The information in FoxScan will assist with planning fox control activities and to notify the community when and where foxes are active.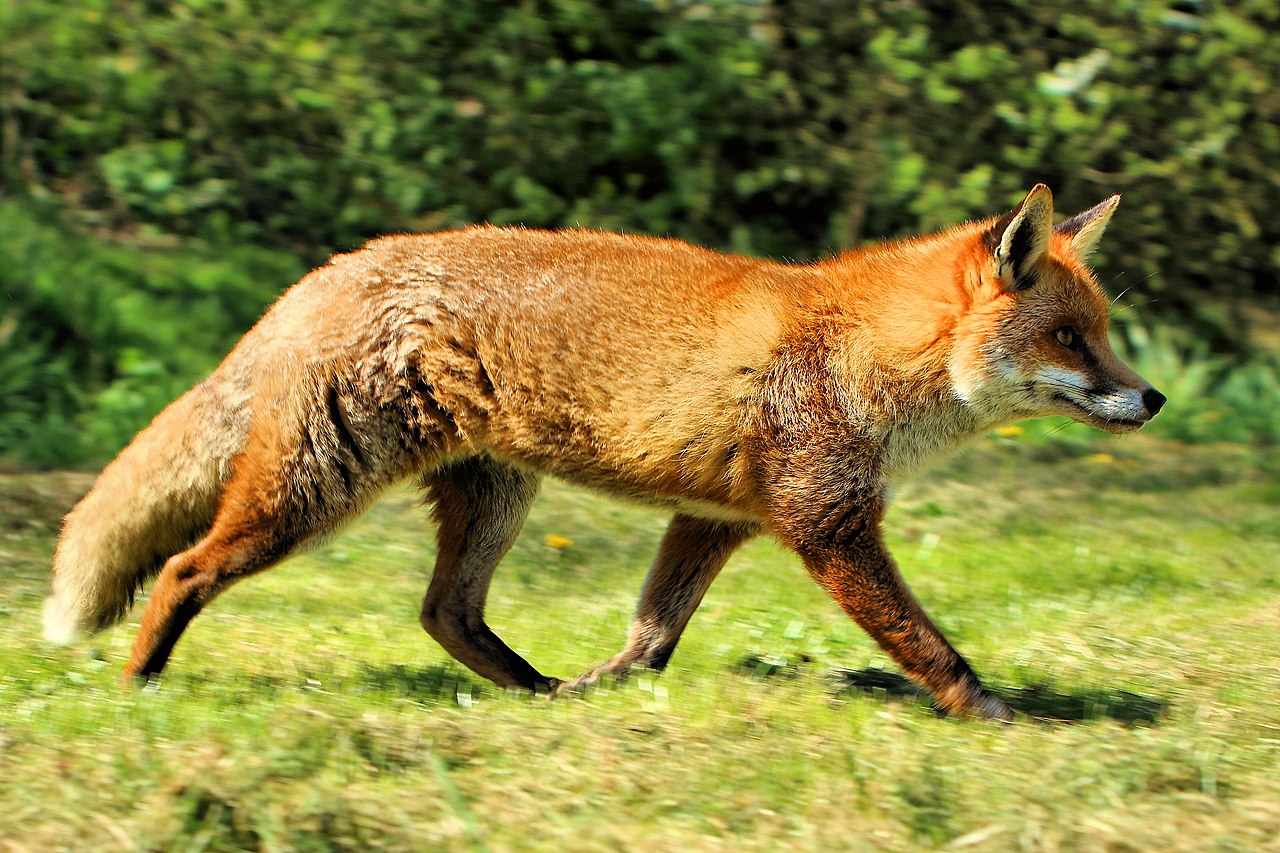 Weed Of The Season: Cassia - Please Pull Out And Save Our Bush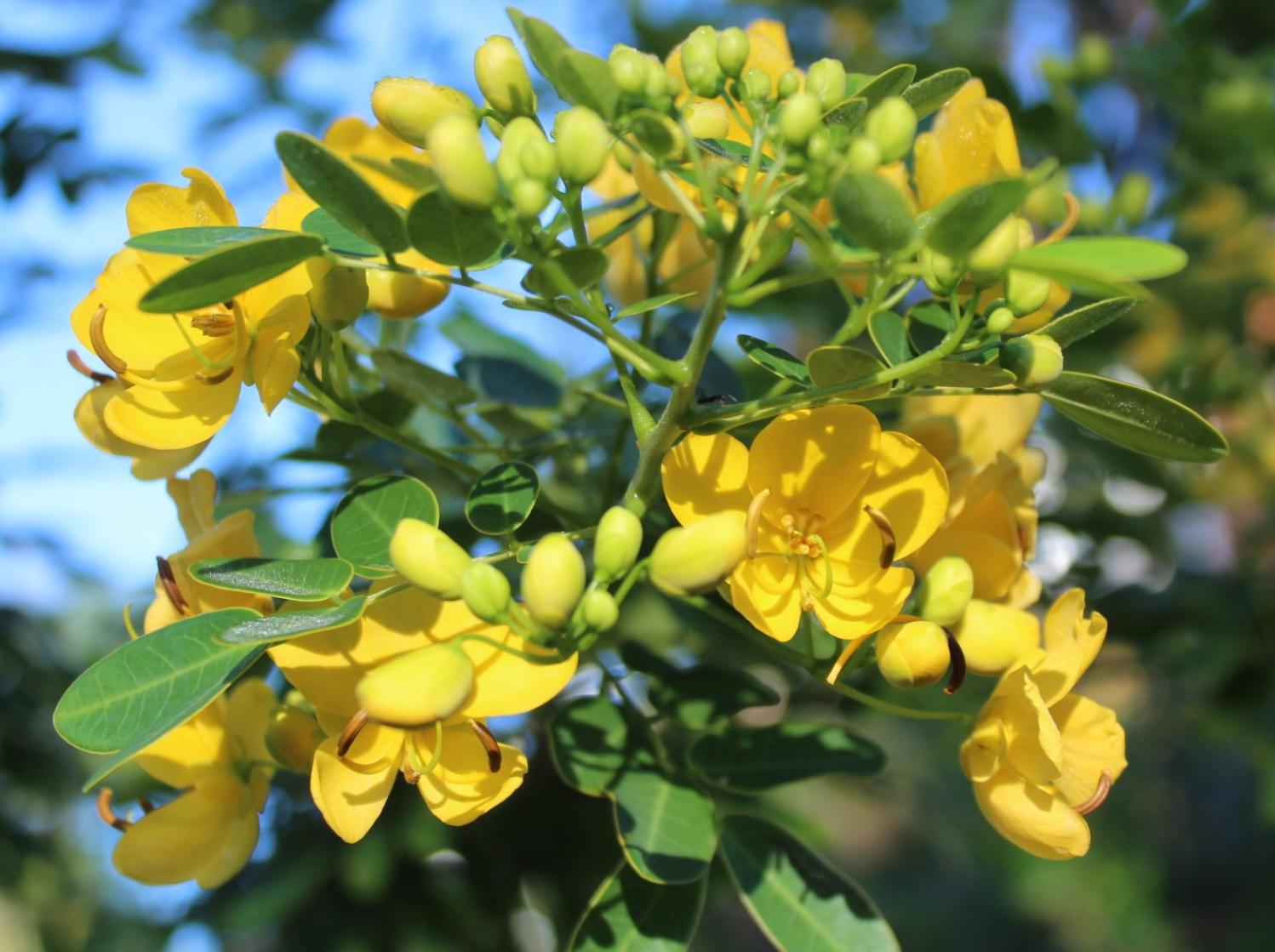 Flowering now, Cassia (Senna pendula). Also known as Senna and Arsenic Bush. Originating in South American, Cassia is a perennial sprawling multi-stemmed shrub or tree up to 5m tall.
This
weed
replaces native vegetation and establishes in a wide range of native plant communities, including coastal heath and scrubland, hind dunes and riparian corridors. The large seed pods are eaten by birds and other animals. You may be seeing this bright burst of yellow everywhere as it is c
urrently flowering -

please pull out and get rid of if you have in your garden

.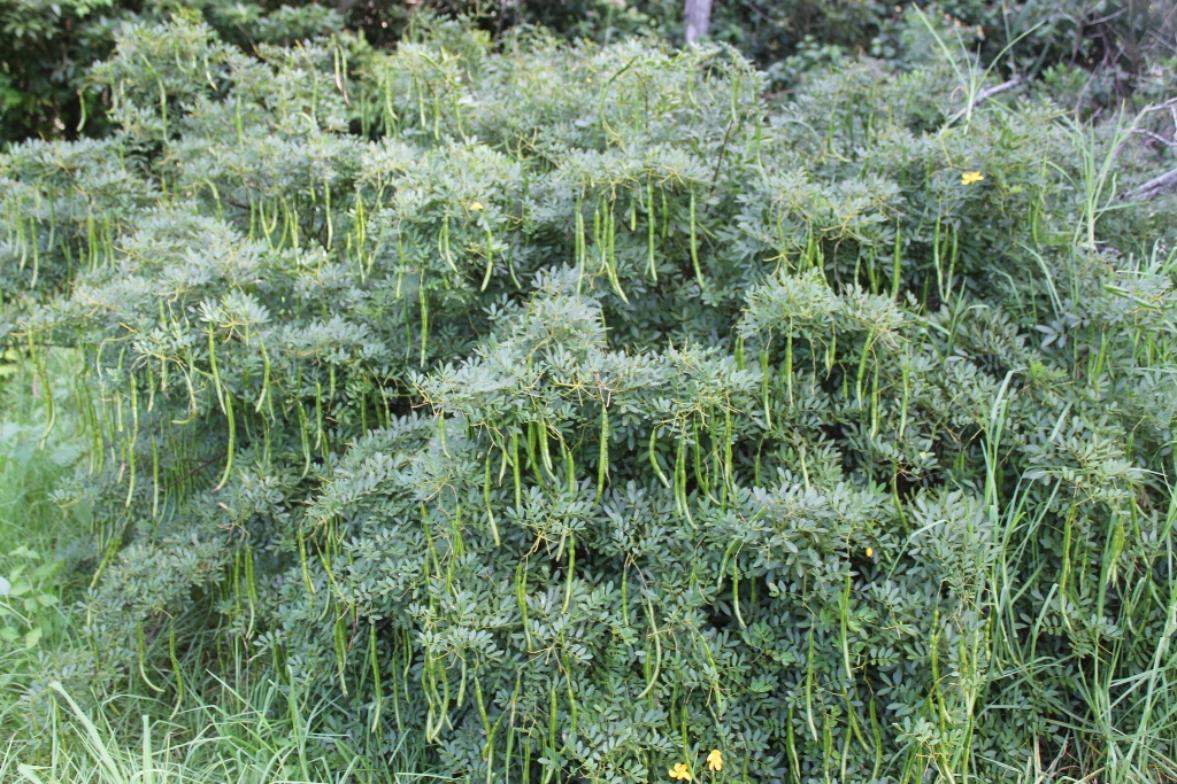 New Marine Wildlife Rescue Group On The Central Coast
A new wildlife group was launched on the Central Coast on Saturday, December 10, 2022.
Marine Wildlife Rescue Central Coast (MWRCC) had its official launch at The Entrance Boat Shed at 10am.
The group comprises current and former members of ASTR, ORRCA, Sea Shepherd, Greenpeace, WIRES and Wildlife ARC, as well as vets, academics, and people from all walks of life.
Well known marine wildlife advocate and activist Cathy Gilmore is spearheading the organisation.
"We believe that it is time the Central Coast looked after its own marine wildlife, and not be under the control or directed by groups that aren't based locally," Gilmore said.
"We have the local knowledge and are set up to respond and help injured animals more quickly.
"This also means that donations and money fundraised will go directly into helping our local marine creatures, and not get tied up elsewhere in the state."
The organisation plans to have rehabilitation facilities and rescue kits placed in strategic locations around the region.
MWRCC will also be in touch with Indigenous groups to learn the traditional importance of the local marine environment and its inhabitants.
"We want to work with these groups and share knowledge between us," Gilmore said.
"This is an opportunity to help save and protect our local marine wildlife, so if you have passion and commitment, then you are more than welcome to join us."
Marine Wildlife Rescue Central Coast has a Facebook page where you may contact members. Visit: https://www.facebook.com/profile.php?id=100076317431064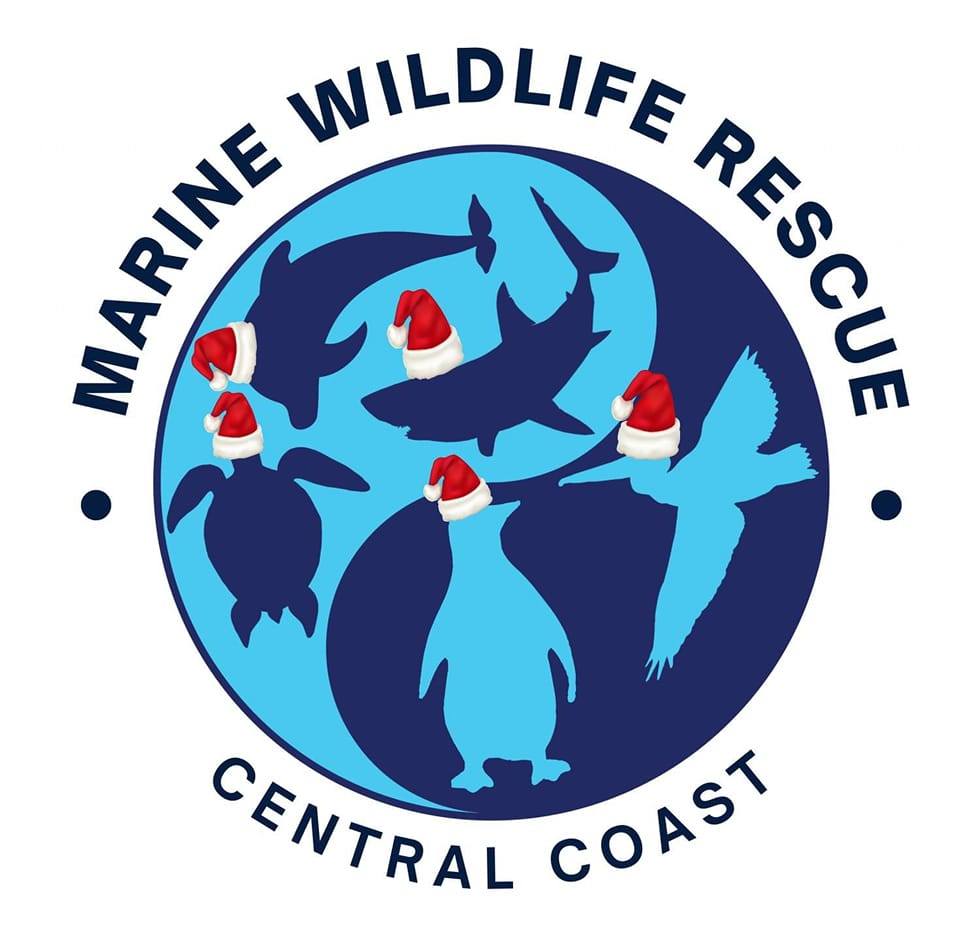 Watch Out - Shorebirds About
Summer is here so watch your step because beach-nesting and estuary-nesting birds have started setting up home on our shores.
Did you know that Careel Bay and other spots throughout our area are part of the East Asian-Australasian Flyway Partnership (EAAFP)?
This flyway, and all of the stopping points along its way, are vital to ensure the survival of these Spring and Summer visitors. This is where they rest and feed on their journeys. For example, did you know that the bar-tailed godwit flies for 239 hours for 8,108 miles from Alaska to Australia?
Not only that, Shorebirds such as endangered oystercatchers and little terns lay their eggs in shallow scraped-out nests in the sand, NSW National Parks and Wildlife Service (NPWS) Threatened Species officer Ms Katherine Howard has said.
Even our regular residents such as seagulls are currently nesting to bear young.
What can you do to help them?
Known nest sites may be indicated by fencing or signs. The whole community can help protect shorebirds by keeping out of nesting areas marked by signs or fences and only taking your dog to designated dog offleash area.
Just remember WE are visitors to these areas. These birds LIVE there. This is their home.
Four simple steps to help keep beach-nesting birds safe:
1. Look out for bird nesting signs or fenced-off nesting areas on the beach, stay well clear of these areas and give the parent birds plenty of space.
2. Walk your dogs in designated dog-friendly areas only and always keep them on a leash over summer.
3. Stay out of nesting areas and follow all local rules.
4. Chicks are mobile and don't necessarily stay within fenced nesting areas. When you're near a nesting area, stick to the wet sand to avoid accidentally stepping on a chick.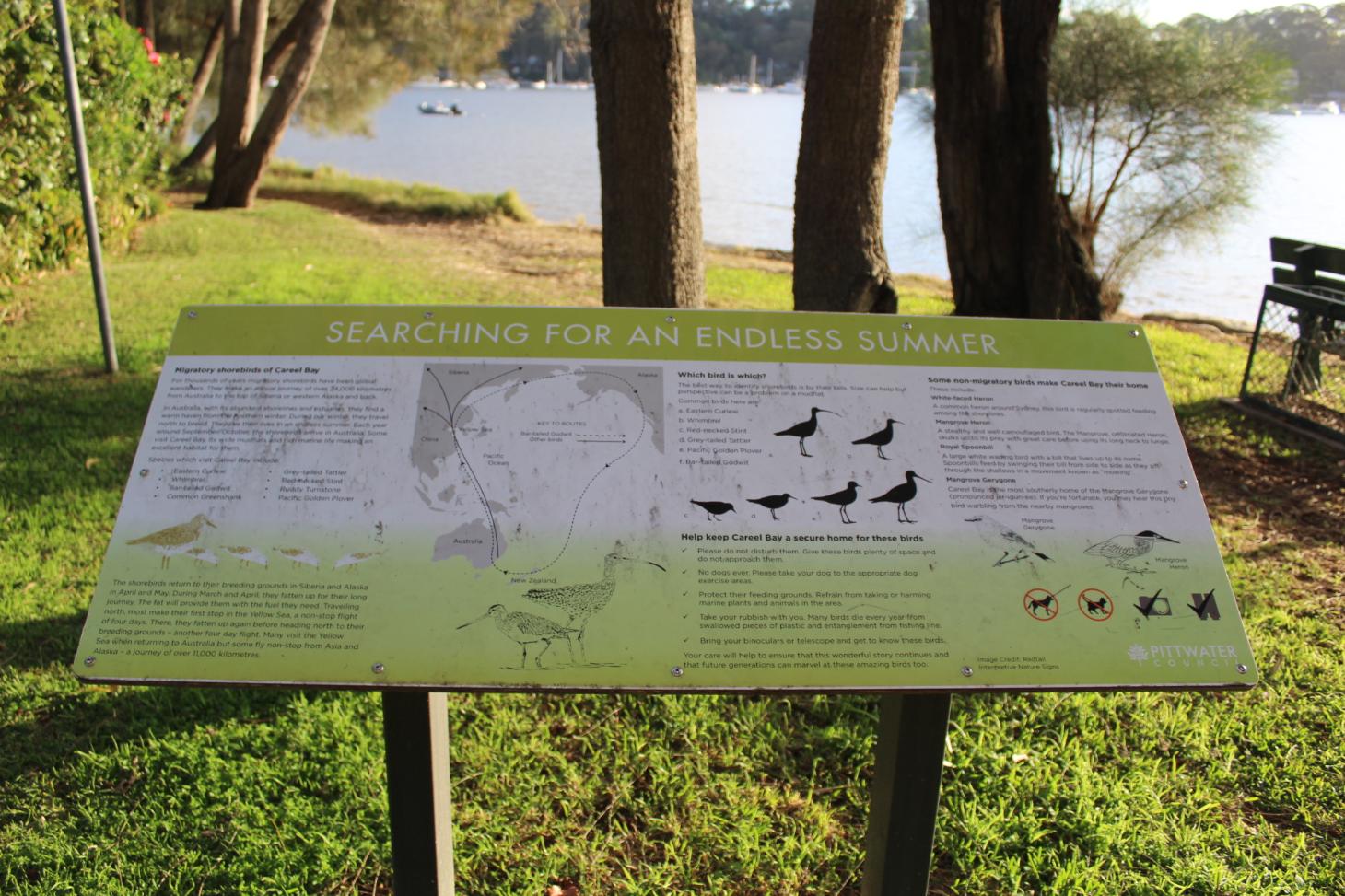 Possums In Your Roof?: Do The Right Thing
Possums in your roof? Please do the right thing
On the weekend, one of our volunteers noticed a driver pull up, get out of their vehicle, open the boot, remove a trap and attempt to dump a possum on a bush track. Fortunately, our member intervened and saved the beautiful female brushtail and the baby in her pouch from certain death.
It is illegal to relocate a trapped possum more than 150 metres from the point of capture and substantial penalties apply. Urbanised possums are highly territorial and do not fare well in unfamiliar bushland. In fact, they may starve to death or be taken by predators.
While Sydney Wildlife Rescue does not provide a service to remove possums from your roof, we do offer this advice:
✅ Call us on (02) 9413 4300 and we will refer you to a reliable and trusted licenced contractor in the Sydney metropolitan area. For a small fee they will remove the possum, seal the entry to your roof and provide a suitable home for the possum - a box for a brushtail or drey for a ringtail.
✅ Do-it-yourself by following this advice from the Department of Planning and Environment:
❌ Do not under any circumstances relocate a possum more than 150 metres from the capture site.
Thank you for caring and doing the right thing.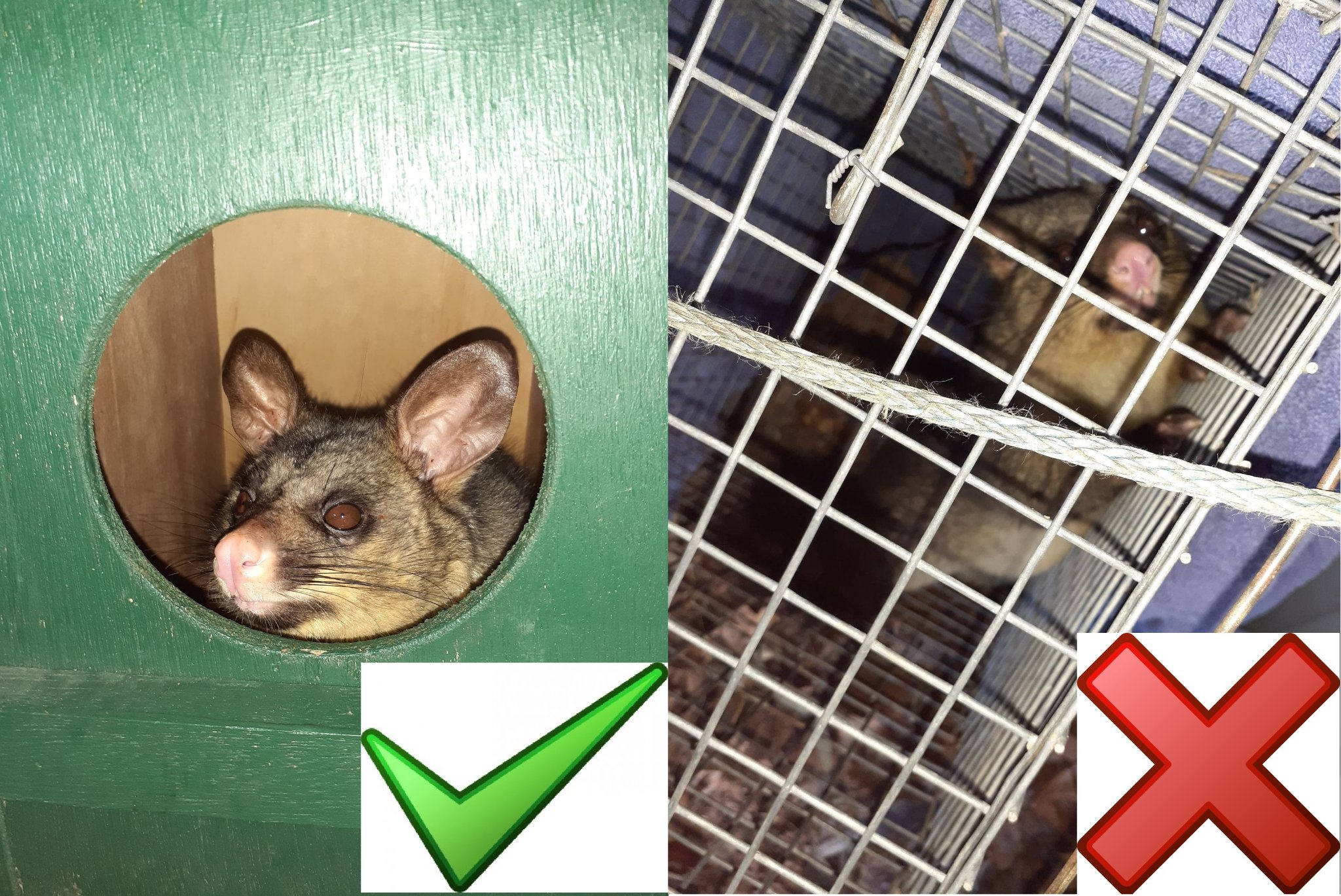 Sydney Wildlife photos
Aviaries + Possum Release Sites Needed
Pittwater Online News has interviewed
Lynette Millett OAM
(WIRES Northern Beaches Branch)
needs more bird cages of all sizes for keeping the current huge amount of baby wildlife in care safe or 'homed' while they are healed/allowed to grow bigger to the point where they may be released back into their own home.
If you have an aviary or large bird cage you are getting rid of or don't need anymore, please email via the link provided above.
There is also a pressing need for release sites for brushtail possums - a species that is very territorial and where release into a site already lived in by one possum can result in serious problems and injury.
If you have a decent backyard and can help out, Lyn and husband Dave can supply you with a simple drey for a nest and food for their first weeks of adjustment.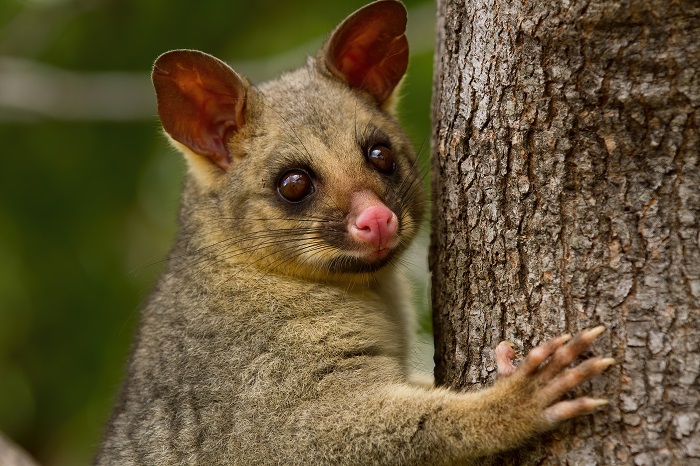 NSW Government To Undertake Electricity Sector Check Up To Deliver Clean Energy Future
May 25, 2023
The Minns Government has stated today it will commission an independent check-up on NSW's energy policies, to ensure NSW has the right policy settings to deliver a timely and cost-effective transition of our electricity sector.
Mr Cameron O'Reilly has been appointed to conduct this work. Mr O'Reilly is an energy and public policy specialist, with extensive experience working across the Australian energy market.
Mr O'Reilly will stress test electricity supply and reliability in metropolitan and regional NSW.
Supported by an expert advisory panel, he will identify whether any additional measures may be required to deliver cheap and reliable electricity.
The check up will ensure that NSW:
has the right policy settings and programs to deliver the generation and transmission infrastructure required a timely and cost-effective transition of our electricity sector
can manage any residual risks to reliability and price in the short-term, should the Eraring Power Station close in 2025, and
considers opportunities to improve community engagement, workforce readiness and supply chains.
Since the NSW Electricity Infrastructure Roadmap – NSW's plan to deliver renewable energy to replace ageing coal power stations – was first released in 2020, global competition for investment has intensified, supply chain constraints and skills shortages have become more acute, and some regulatory and planning issues have become apparent. Privatisation has made delivery of the energy transition more difficult the government states.
All tenders under the NSW Electricity Infrastructure Roadmap are out of scope and will not be affected by this work.
Energy rebates for households and business are also out of scope.
An expert advisory panel will support this work. The panel will consist of representatives of key stakeholder groups relevant to the electricity sector transition in NSW (for example First Nations, consumers, generators, unions, construction contractors, network businesses, regulators, market bodies and local government).
Mr O'Reilly will deliver his report to the government in early August 2023. The report will be made public.
Penny Sharpe Minister for Energy said,
"Cameron O'Reilly is a very experienced, highly respected energy expert and I am pleased that he will be able to bring an independent, practical eye to this check up.
"Mr O'Reilly will stress test the policies in place to ensure we have the right plans in place to deliver an orderly energy transition as quickly as possible to ensure reliable, affordable and clean electricity for NSW households and businesses.
"I am committed to getting on with the task of delivering the Electricity Infrastructure Roadmap. This check up will help us identify what else we need to do to remove barriers to delivery and accelerate getting infrastructure into the ground."
Man Charged After Alleged Act Of Animal Cruelty - Little Bay
Tuesday, 23 May 2023
A man will face Court after being charged following an alleged act of animal cruelty in Sydney's Eastern Beaches.
About 12.20pm on Tuesday 28 March 2023, police received calls regarding a man who had allegedly captured and killed an Ibis bird in Cawood Avenue, Little Bay.
Police have been told the man then put the bird in a bag and rode off on an electric bicycle.
Following an investigation by officers from Eastern Beaches Police Area Command, police went to a unit on Anzac Parade at Malabar and spoke with a 60-year-old man.
Inside the unit, officers allegedly located the dead Ibis.
The man was taken to Maroubra Police Station where he was charged with commit an act of cruelty upon an animal, harm or attempt to harm a protected animal and goods in custody.
He was refused bail to appear at Waverley Local Court tomorrow (Wednesday 24 May 2023).
The white Australian Ibis, sometimes referred to as a bin chicken, is a protected species under the NSW National Parks and Wildlife Act 1974.
Anyone with information about this incident is urged to contact Crime Stoppers: 1800 333 000 or https://nsw.crimestoppers.com.au. Information is treated in strict confidence.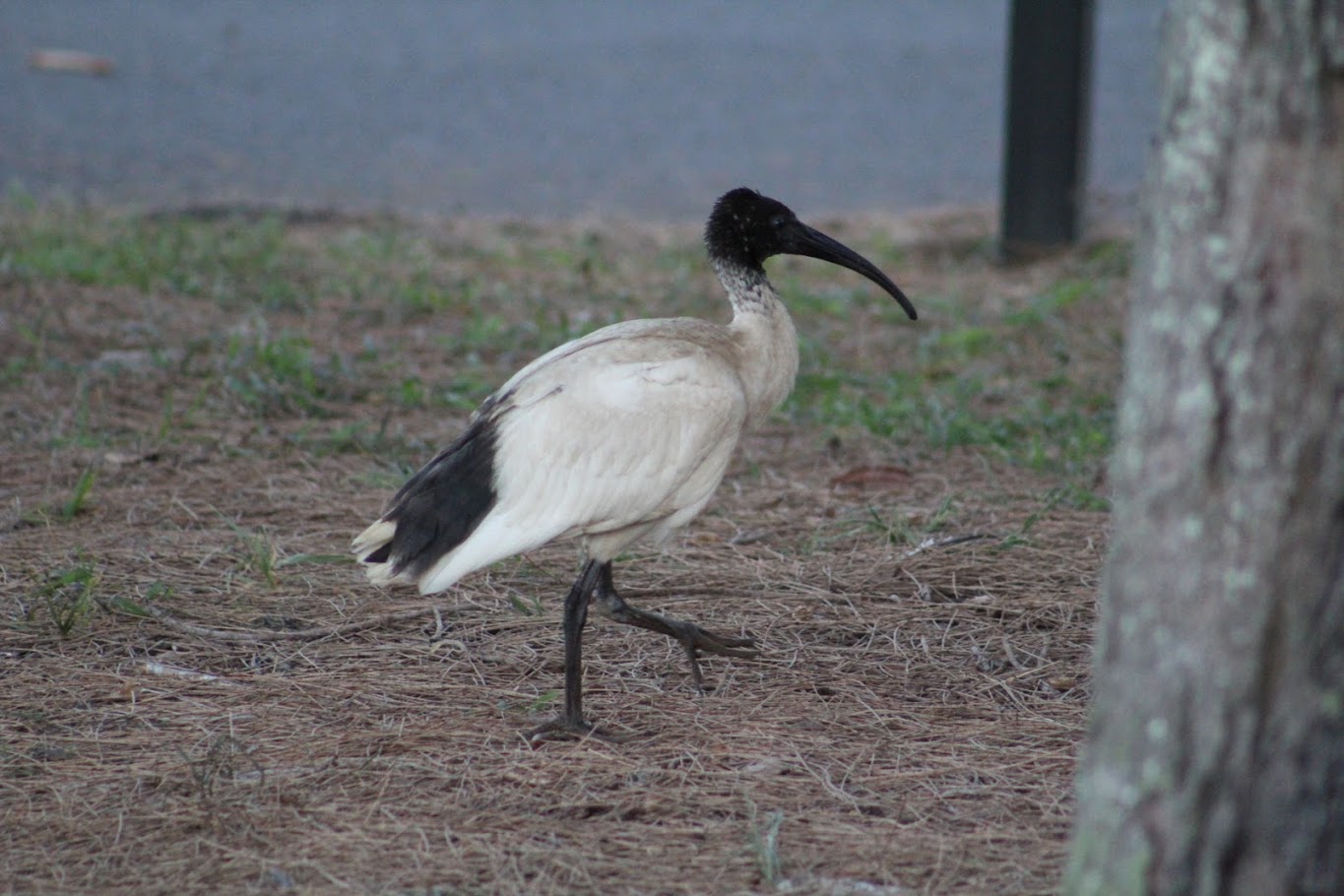 Australian Ibis at Careel Bay Playing Fields on Dawn stroll in 2018 - there are so many dogs off-leash in this on-leash area that these birds are no longer seen at dawn, or any other time
Place-Based Cultural Immersion Opportunities
The NSW Department of Planning and Environment has launched a statewide expression of interest to identify local Aboriginal service providers that can offer place based cultural immersion training for employees as part of the department's Aboriginal Cultural Capability Framework.
DPE Director of Aboriginal People and Cultural Affairs, Amanda McCarthy, said the framework will provide employees with comprehensive learning to improve Aboriginal cultural awareness and capabilities, enabling them to deliver the very best services in partnership with Aboriginal communities.
"Aboriginal people and cultures are so diverse that a 'one size fits all' approach to cultural learning won't work," Ms McCarthy said.
"Employees need to immerse themselves in their local communities or on Country with Traditional Custodians, knowledge holders and language speakers and understand their intrinsic connections with Country and the broader community," Ms McCarthy said.
Through the expression of interest process, DPE aims to establish a panel of preferred Aboriginal suppliers across NSW who can provide cultural immersion experiences and share the richness and diversity of Aboriginal culture and history on Country.
With about 10,000 employees in the Department of Planning and Environment around NSW, the establishment of the panel represents real and tangible economic development opportunities for Aboriginal people, communities, and business.
DPE works across a wide area of government services including Planning, Water, Aboriginal Housing, Social Housing and Property, Crown Lands, Office of Local Government and Environment, Energy, Heritage and Science.
The expression of interest will run from 15 May to 19 June 2023 to identify potential Aboriginal service providers who will be shortlisted and invited to tender for the delivery of services based on their local cultural knowledge.
Further information on the expression of interest can be found here: tenders.nsw.gov.au
Lake Illawarra Site To Remain In Public Hands
May 2023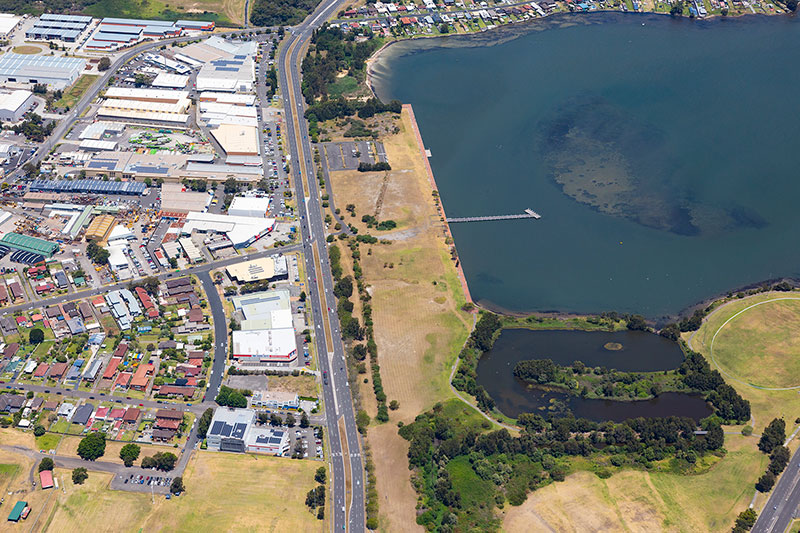 The NSW Government will retain ownership of an 8.2-hectare parcel of land on the Lake Illawarra foreshore at Warrawong and develop a plan to transform the foreshore location into a must-visit destination for Illawarra locals and visitors.
Minister for Lands and Property Steve Kamper said the Government had listened to community feedback and will not sell the site at King Street and Northcliffe Drive.
"During the election campaign we listened to the community, and we are now making good on our commitment not to sell the site," Mr Kamper said.
"The Government, where appropriate, has a responsibility to make sure public land remains in public hands and is used to benefit the community.
"This site is on a prime location on the foreshore, and we want to extend the current public uses to create a world-class space for locals and visitors to enjoy."
Mr Kamper said the Government's decision to retain the site had been informed by community feedback.
"We received more than 200 submissions, which shows how important this site is to the local community, and we've heard them loud and clear," Mr Kamper said.
Minister for Planning and Public Spaces and Member for Wollongong Paul Scully hailed the decision to retain the site.
"I've made it abundantly clear that this land should be kept in public hands, and I welcome Minister Kamper's swift decision," Mr Scully said.
"We will now work on identifying opportunities for this wonderful public space to make it more of a drawcard for the local community and visitors to the region."
Mr Kamper said work is also underway on more than $1.2 million in further upgrades to public jetties at Lake Illawarra.
"Crown Lands is upgrading Dix's Wharf and Kanahooka Boat ramp jetties to create safe and contemporary access points on Lake Illawarra to support recreation and improve the areas for years to come," Mr Kamper said.
Aerial view of Lake Illawarra Foreshore. Photo: NSW Gov.
Stick Insects
The Phasmatodea (also known as Phasmida or Phasmatoptera) are an order of insects whose members are variously known as stick insects in Australia.
The group's name is derived from the Ancient Greek φάσμα phasma, meaning an apparition or phantom, referring to their resemblance to vegetation while in fact being animals. Their natural camouflage makes them difficult for predators to detect.
Members of the order are found on all continents except Antarctica, but they are most abundant in the tropics and subtropics. They are herbivorous, with many species living unobtrusively in the tree canopy.
Some species have wings and can fly!
Photos by Selena Griffith, taken in Elanora Heights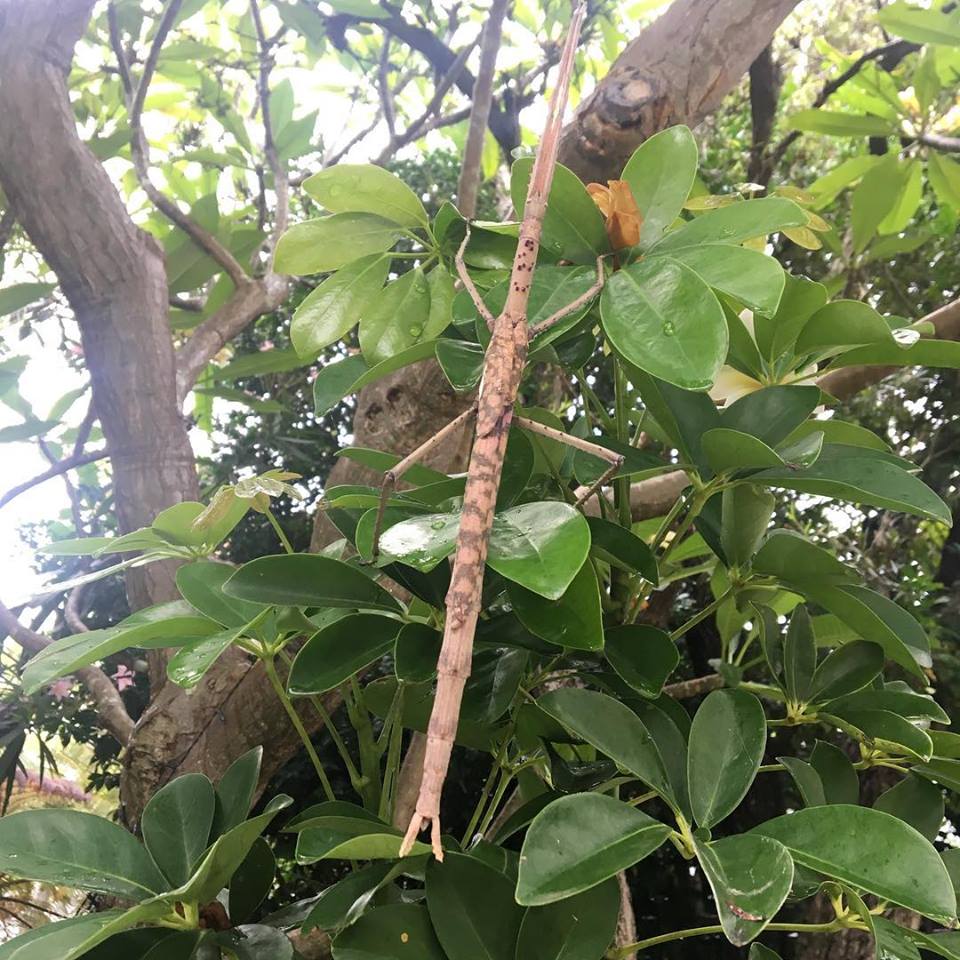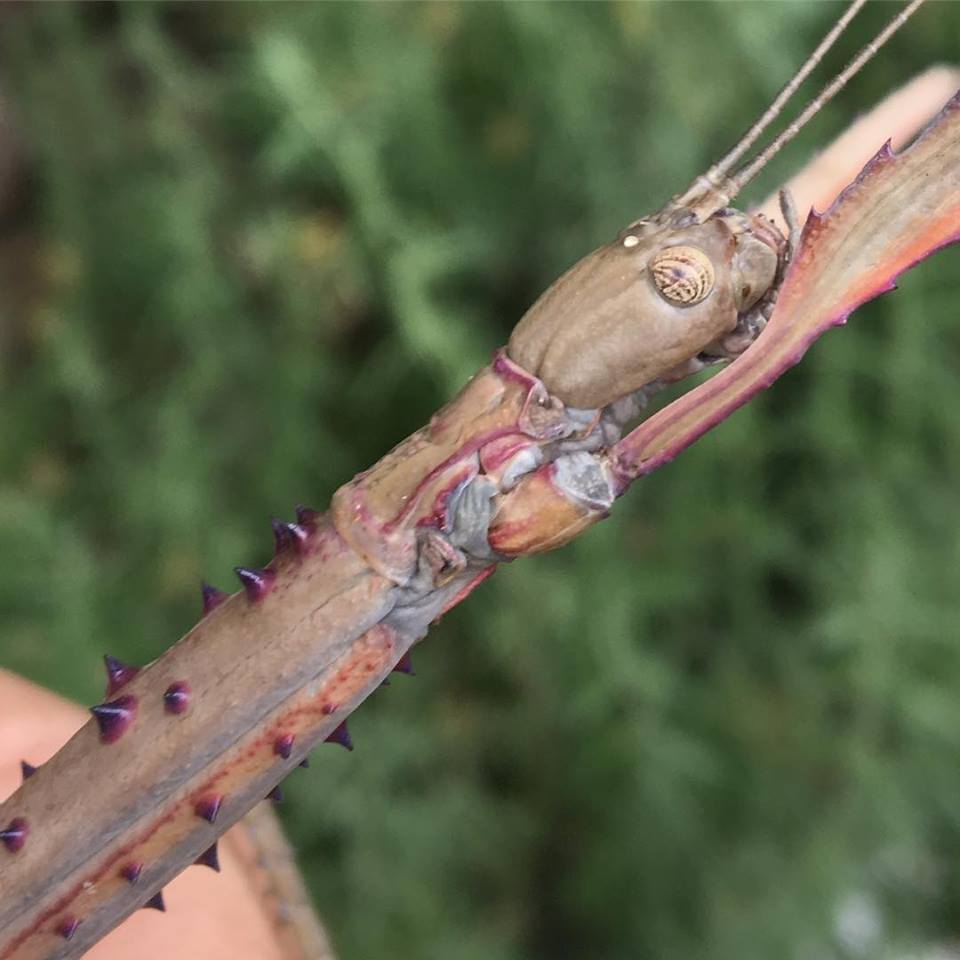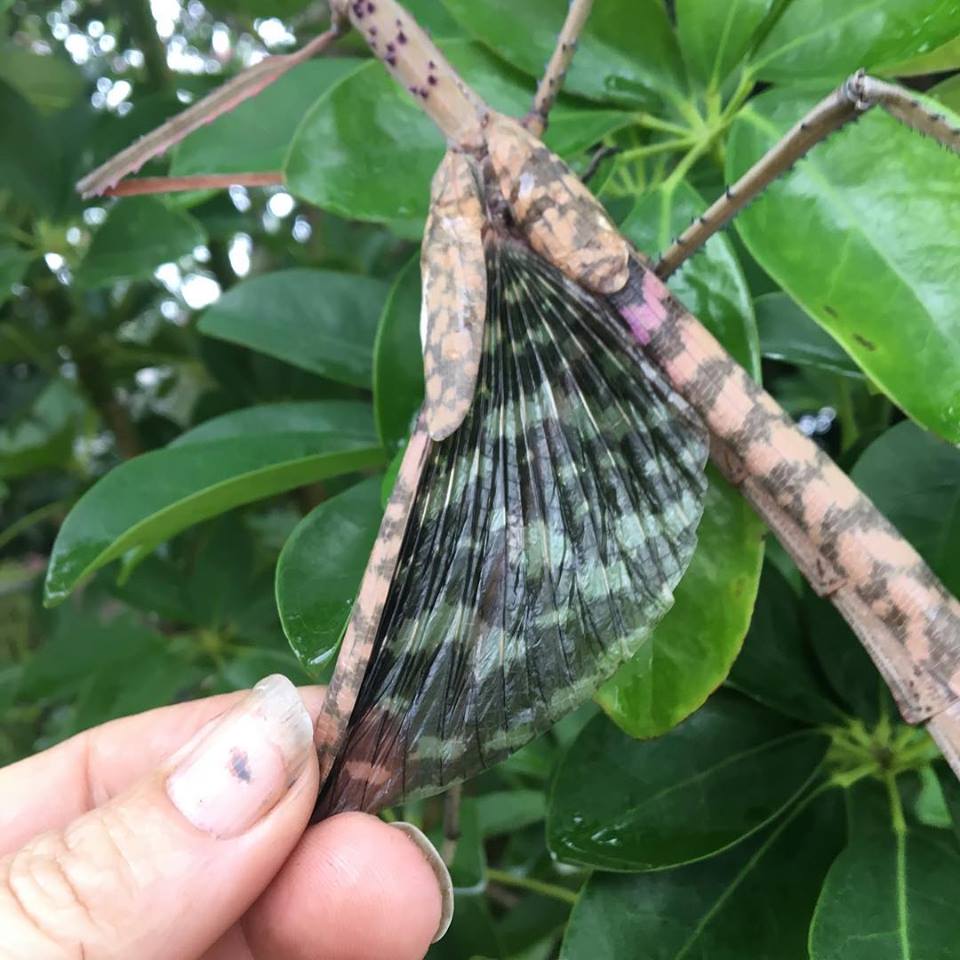 Public Hospital Funding Agreement Needs Complete Makeover: AMA
The Australian Medical Association has found the key objectives of Australia's public hospital funding arrangement are not being met and says the agreement needs a comprehensive makeover.
In a submission to the government's mid-term review of the National Health Reform Agreement Addendum 2020−25, the AMA said the agreement is not fit-for-purpose and has resulted in ambulance ramping, burgeoning elective surgery waiting lists, bed block and over-stretched emergency departments.
AMA President Professor Steve Robson said the agreement, which still has more than two years to run, is failing our public hospitals, which are in logjam.
"The AMA has carefully reviewed the objectives of the funding agreement and found the majority pertaining to patient outcomes, like equitable access to care or reduced emergency department demand or improved mental health outcomes, are not being met. If the agreement is failing our hospitals and our patients, it needs a radical overhaul, yet we are stuck with this flawed formula until 2025.
"With waiting lists continuing to grow and public hospital performance failing to meet key performance targets, there is a compelling case for additional funding to be made available to give our crumbling public hospitals the support they need to deliver the care patients need while we wait until a new, improved agreement comes into force.
"The next agreement needs a complete makeover. We want to see improved performance rewarded, funding to expand hospital capacity to meet community demand and measures introduced to tackle avoidable admissions and unnecessary re-admissions.
"You only have to look at our last sixteen Public Hospital Report Cards to know the system is failing. All the graphs go steadily downwards with hospital performance now at its lowest in many years.
"That's why we've been campaigning since before the last election on this issue. Our 'Clear the hospital logjam' campaign calls for 50-50 shared Commonwealth-state funding for our hospitals and scrapping the imposed artificial cap that prevents growth in the system.
"We want to see funding for increased capacity of our public hospitals and the reintroduction of funding for performance actually rewarding those hospitals which reach their performance targets.
"We implore all health ministers and all levels of government to work together to get this right for the future and to help our hospitals out in the meantime with an immediate injection of new funds."
Consistent Link Between The Seaside And Better Health
Seaside residents and holidaymakers have felt it for centuries, but scientists have only recently started to investigate possible health benefits of the coast. Using data from 15 countries, new research led by Sandra Geiger from the Environmental Psychology Group at the University of Vienna confirms public intuition: Living near, but especially visiting, the seaside is associated with better health regardless of country or personal income.
The idea that being near the ocean may boost health is not new. As early as 1660, doctors in England began promoting sea bathing and coastal walks for health benefits. By the mid-1800s, taking 'the waters' or 'sea air' were widely promoted as health treatment among wealthier European citizens. Technological advances in medicine in the early 20th century led to the decline in such practices, which are only recently gaining popularity again among the medical profession.
As part of the EU-funded Horizon 2020 project Seas, Oceans, and Public Health In Europe led by Professor Lora Fleming, Geiger and colleagues from the Universities of Vienna, Exeter, and Birmingham, as well as Seascape Belgium and the European Marine Board, surveyed over 15,000 participants
across 14 European countries
(Belgium, Bulgaria, Czechia, France, Germany, Greece, Ireland, Italy, the Netherlands, Norway, Poland, Portugal, Spain, the United Kingdom)
and Australia
about their opinions on various marine-related activities and their own health.
The findings, published in the journal Communications Earth & Environment, surprised the team. Lead author Geiger said: "It is striking to see such consistent and clear patterns across all 15 countries. We also now demonstrate that everybody seems to benefit from being near the seaside, not just the wealthy. Although the associations are relatively small, living near and especially visiting the coast can still have substantial effects on population health."
Understanding the potential benefits of coastal access for all members of society is key for policymaking. Dr. Paula Kellett from the European Marine Board said: "The substantial health benefits of equal and sustainable access to our coasts should be considered when countries develop their marine spatial plans, consider future housing needs, and develop public transportation links."
But what does this mean for landlocked residents like Geiger and her colleagues in Austria? "Austrians and other central Europeans visit the coasts in their millions during the summer months, so they too get to experience some of these benefits. Besides, we are also starting to appreciate the similar health benefits offered by inland waters such as lakes and natural pools."
Sandra J. Geiger, Mathew P. White, Sophie M. C. Davison, Lei Zhang, Oonagh McMeel, Paula Kellett, Lora E. Fleming.
Coastal proximity and visits are associated with better health but may not buffer health inequalities.
Communications Earth & Environment, 2023; 4 (1) DOI:
10.1038/s43247-023-00818-1
Applications Open For 150 Apprentice Scholarships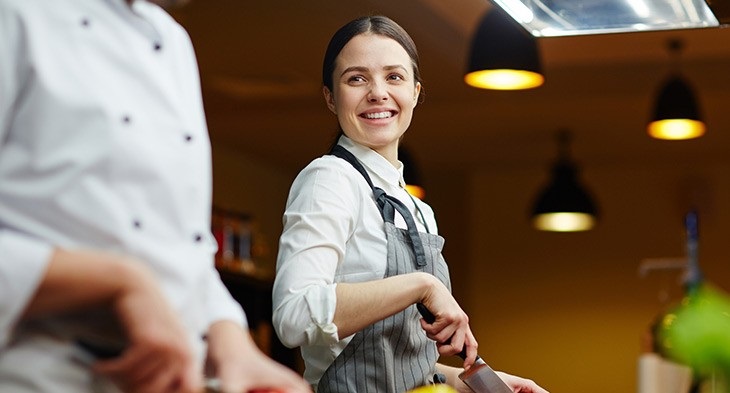 Apprentices facing financial or personal hardship will be supported to undertake their trade and study through a $2.25 million NSW Government scholarship program.
Applications are now open until 21 July for the 2023 Bert Evans Apprentice Scholarships program that will support 150 people with $15,000 each to complete their training and further their career.
The scholarships support apprentices who are experiencing financial or personal hardship, demonstrate a high aptitude for vocational education and training, and are committed to their on- and off-the-job training in metropolitan and regional NSW.
The scholarship program is named in honour of the late Bert Evans AO, a passionate advocate of vocational education for more than 30 years. A total of 751 Bert Evans Apprentice Scholarships have been awarded since 2014.
These scholarships greatly assist first year apprentices to undertake their trade and study to achieve their career goals.
The NSW Government-run program offers grants of $5000 annually over 3 years to help people overcome personal barriers to finish their apprenticeships and go onto rewarding careers.
The scholarships are awarded to apprentices in NSW who have demonstrated:
financial hardship and/or personal hardship
capability for vocational education and training, and
a positive attitude and application in the workplace and in off-the-job training.
Minister for Skills, TAFE and Tertiary Education Tim Crakanthorp said, "With demand for vocational education high, this year we have increased the number of Bert Evans scholarships on offer to help more apprentices through their training.
"Whether you need to purchase new tools, cover fuel or car maintenance costs, or pay for additional training courses, these scholarships have helped people overcome personal barriers to finish their apprenticeships and go onto rewarding careers.
"Apprenticeships are vital in ensuring NSW has a pipeline of skilled workers, and we want to give our apprentices a helping hand to complete their training, so they can make a strong contribution in their jobs and in the lives of their families and communities."
Visit Bert Evans Apprentice Scholarships or phone 13 28 11 for more information and to apply.
At: https://education.nsw.gov.au/skills-nsw/apprentices-and-trainees/support-with-your-apprenticeship-or-traineeship/bert-evans-apprentice-scholarships
Dorothea Mackellar Poetry Awards 2023: Optional Theme This Year 'The Winding Road'
HOW TO ENTER: https://dorothea.com.au/how-to-enter/
PLEASE SEE HERE FOR A DETAILED PDF ON ENTRY INSTRUCTIONS FOR TEACHERS AND PARENTS.
ONLINE SUBMISSION
Primary school and secondary school entries can be submitted anytime during the competition period.
1. Teacher/parent register account online *If you have already created an account, skip to step 3 and log in*
2. Check email for link to verify account and create password
3. Log in to your account
4. Purchase tier of entries *Please note we're only able to accept credit card payments at this time*
5. Enter student details and submit poem(s) (cut and paste or type in poem content direct to the webpage)
6. Repeat step 5 for every student/individual poem.
*PLEASE NOTE: If you're registering as an individual student, put your HOME address in your personal details and not your SCHOOL'S address! The address you list is where your participation certificate will be posted!*
Please read our Conditions of Entry here before registering for the competition.
USEFUL TIPS
Have a read of the judges' reports from the previous year. They contain some very helpful advice for teachers and parents alike!
It is recommended for schools to appoint a coordinator for the competition.
Only a teacher/parent can complete the registration form on behalf of the student/child.
Log-in details: username is the email address and a password of your choice.
Log-in details can be given to other teachers/students for poem submission in class/at home.
Log-in as many times as necessary during the competition period.
Teachers can view progress by monitoring the number and content of entries.
Individual entries are accepted if the school is not participating or a child is home schooled. Parent needs to complete the registration form with their contact details. Please indicate 'individual entry' under school name and home postal address under school address.
Invoice for the entry fee will be sent to the registered email address within 2 weeks.
'Participation certificate only' option available for schools where pre-selection of entries has been carried out. Poems under this option will not be sent to judges, students will still receive participation certificate for their efforts.
Please read the Conditions of Entry before entering. Entries accepted: March 1 to June 30, results announced during early September.
NEED SOME INSPIRATION?
Check out our learning resources or browse the previous years' themes and winning entries.
For more information contact our Project Officer on 02 6742 1200 or email dorothea.mackellar@outlook.com.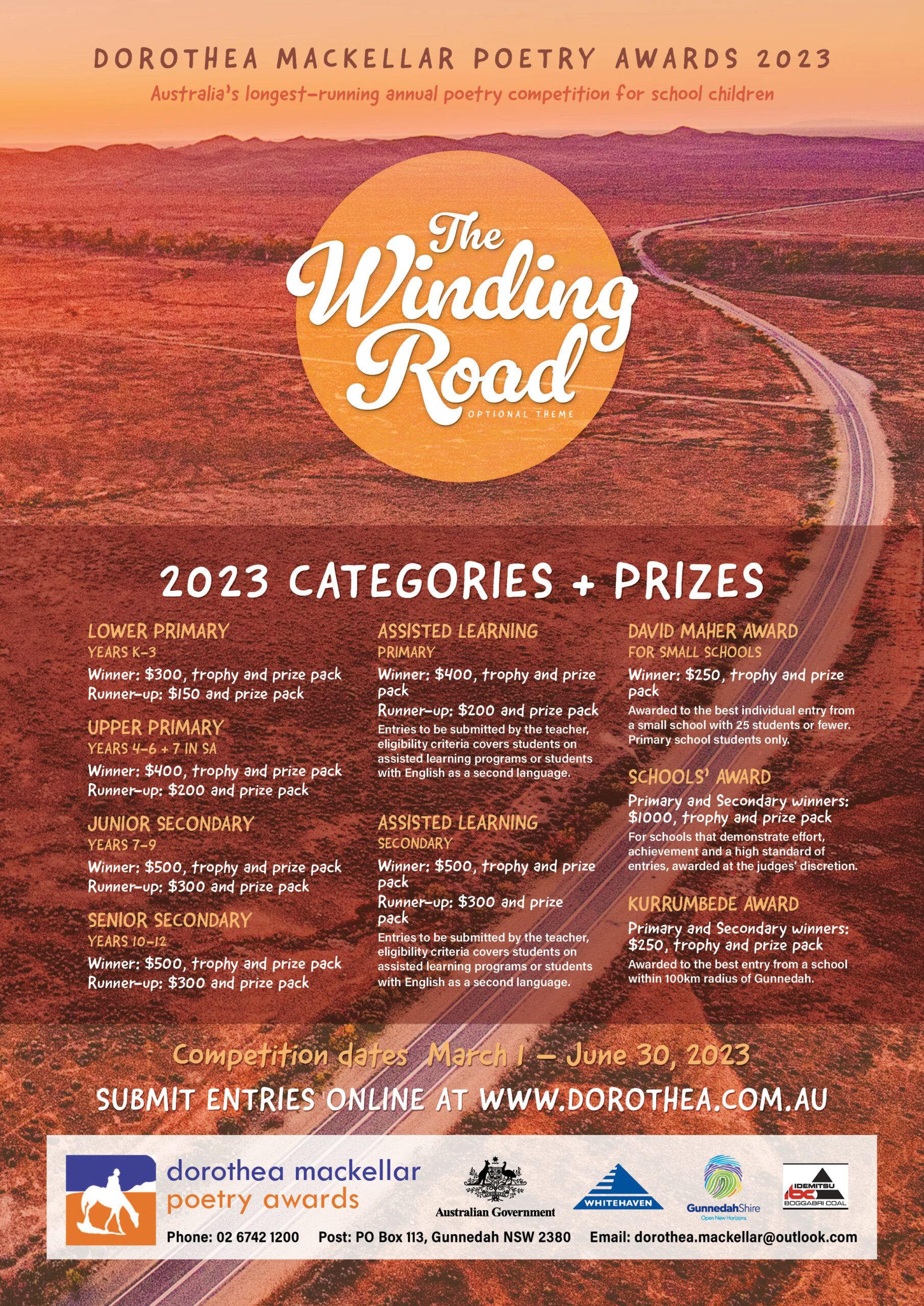 Northern Beaches Police Area Command: E-Scooter And E-Bike Safety Operation
Commencing at 8am today (Wednesday 17 May 2023), officers from Northern Beaches Highway Patrol will be conducting a high-visibility operation on e-scooter and e-bike safety along the Northern Beaches.
The aim of this operation is to educate the public on traffic laws associated with e-scooters, e-bikes and pedestrian safety.
Police will also be running this operation across May through to July 2023.
🚲 For more information on E-Bikes: https://roadsafety.transport.nsw.gov.au/stayingsafe/bicycle-riders/petrol-powered-bicycles.html
🛴 For more information on E-Scooters: https://roadsafety.transport.nsw.gov.au/stayingsafe/e-scooters/index.html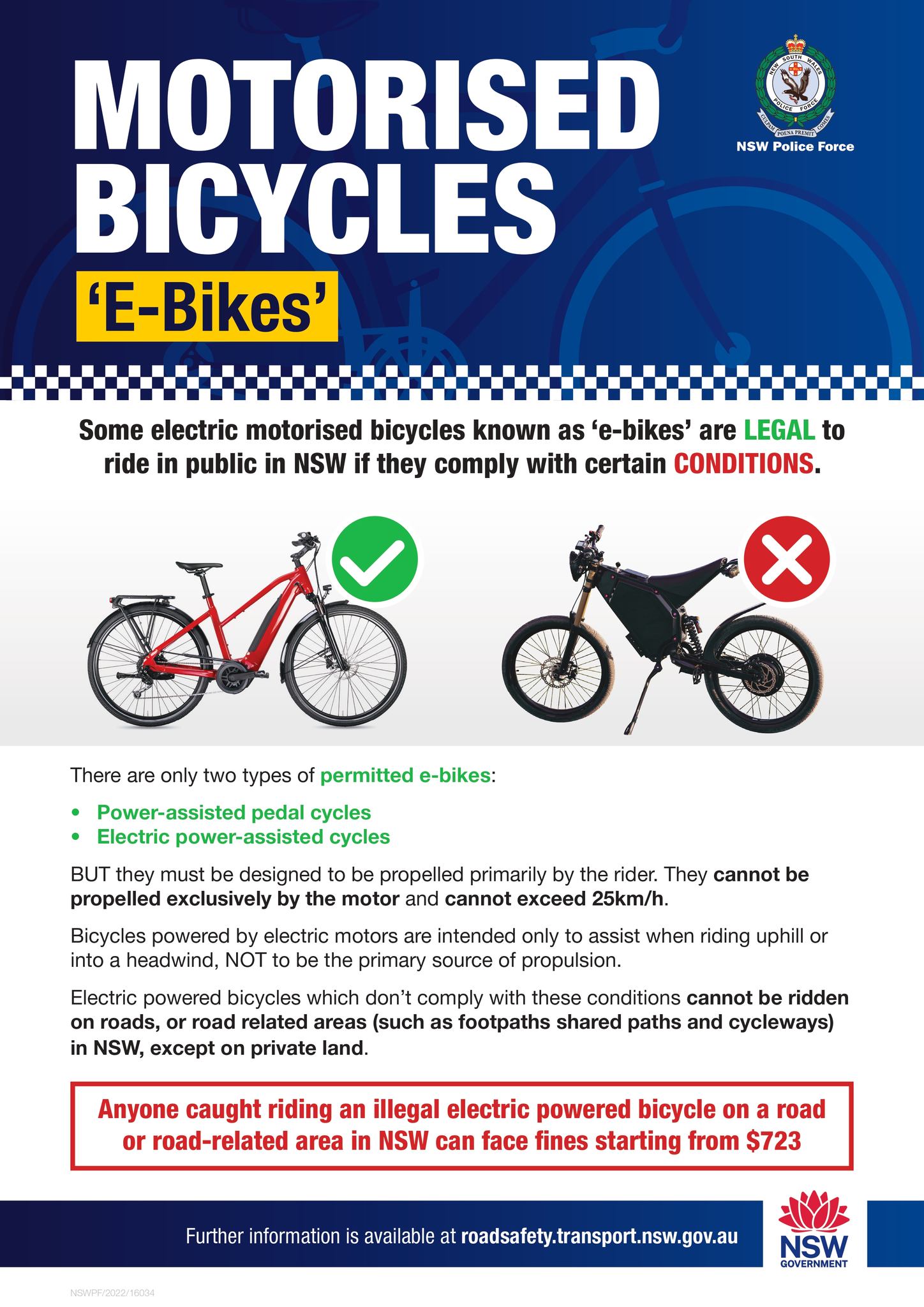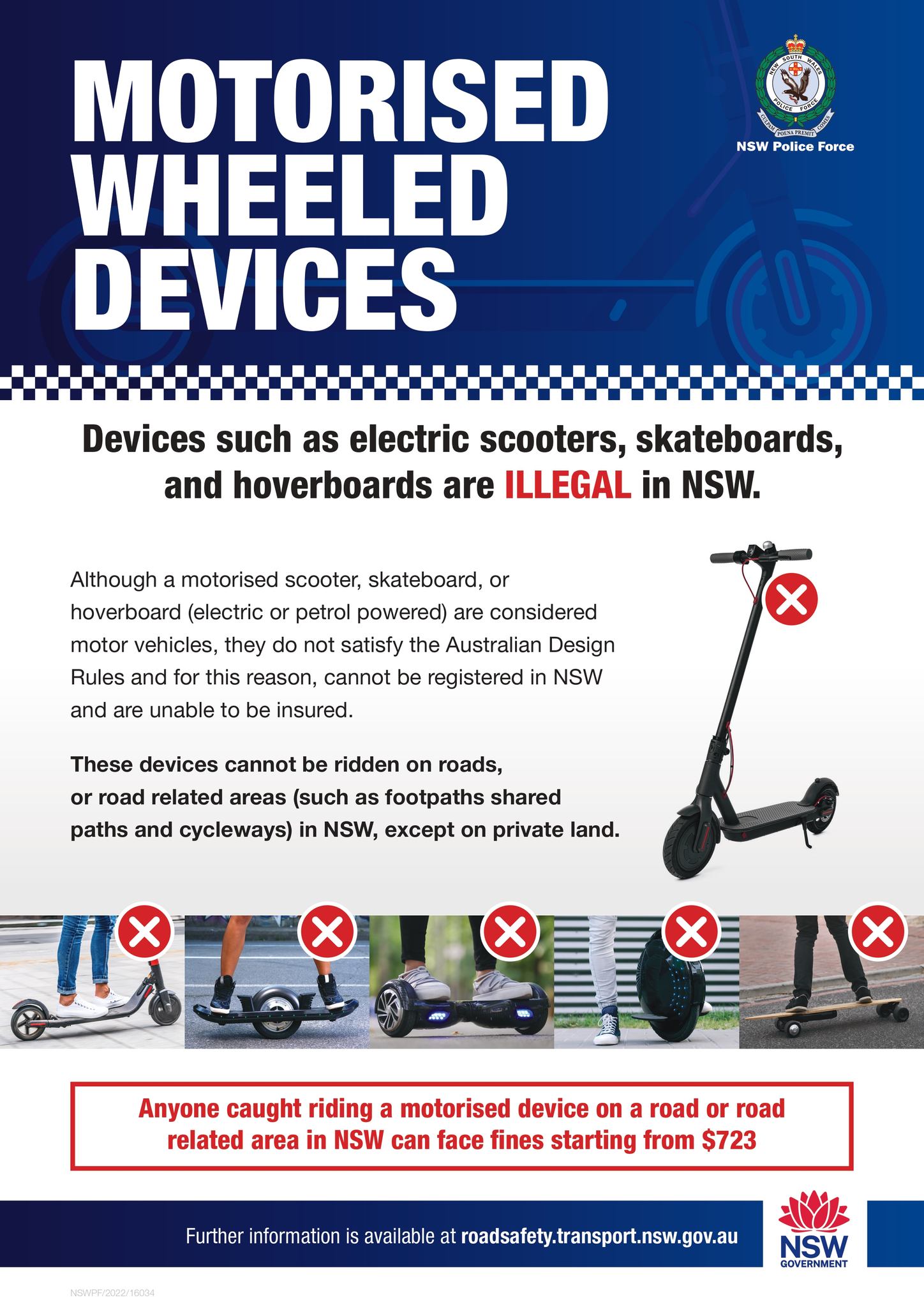 The 2023 CWAS "David Malin Awards"
Entries close Wednesday, 31 May 2023
The Central West Astronomical Society is proud to announce the 2023 CWAS Astrophotography Awards - the "David Malin Awards".
The competition will continue with the new judging structure, introduced last year. In order to build on the experience of previous years, and to continue as the premier competition of its kind in Australia, a panel of distinguished Australian astrophotographers will judge the category entries. Dr David Malin will judge the Overall Winner from the list of these winners. We are honoured that the judging panel will include Phil Hart, Alex Cherney, and Peter Ward, previous winners of the "David Malin Awards" and numerous other national and international astrophotography competitions.
There are three sections of entry - General Section, Open Themed Section, and a Junior Section (18 or younger). The general section is divided into six categories; Wide-field (camera shots), Deep Sky (telescope shots), Solar System, Nightscapes, Animated Sequences, and Smartphone Astrophotography. The Junior Section will have one open category and entries can be of any astronomical subject, and can be an animated sequence.
The Competition Structure:
General Section:
Wide-Field
Deep Sky
Solar System
Nightscapes
Animated Sequences
Smartphone Astrophotography
Junior Section (18 or younger) - One Open Category (can be of any astronomical subject)
Open Themed Section - "The Zodiac"
The "David Malin Innovation Prize" may be awarded, at Dr Malin's discretion, for a striking astronomical image that shows exceptional imagination, innovation or an unusual approach in any of the categories.
An additional prize, "The Photo Editor's Choice", will also be awarded. This will be judged by a major news organisation's photo editor or editors.
The Solar System category is for images of solar system objects taken with a telescope. Wide-field solar system shots may be entered in the Wide-Field or Nightscape categories depending on the subject and composition.
The Nightscapes is intended to showcase the increasing popularity and evolution of this relatively new genre of astrophotography, combining beautiful terrestrial foregrounds with a night sky scene - often in a single exposure (HDR is OK) or as a multi-shot panorama. NOTE: Any image that contains terrestrial foregrounds will be considered to be a nightscape image.
Animated Sequences should be videos that are intriguing or highlight concepts and events not obvious or significant in stills. Astrophotographers are invited to submit animations, produced as either time-lapse sequences or with other forms of video. They can be of any subject, provided there is a distinct astronomical link. All animations must be submitted as MOV, MPEG, AVI or MP4 files. Today, smartphones are ubiquitous and some are capable of impressive low light-level photography.
In Smartphone Astrophotography we are looking for images that have been taken with only a smartphone, and without telescopes, of an astronomical scene that has some aesthetic appeal and/or that has captured something you might not expect to see from such a tiny camera.
There is no strict delineation between Deep Sky and Wide-Field images. Wide-field images are typically produced with DSLR and interchangeable lens cameras at a focal length of less than ~400mm, but this characterisation is becoming less clear as equipment evolves. Wide-field images are typically constellations or "scenes" rather than deep sky "objects" but entrants are free to submit images to either category.
Judges reserve the right to move images between categories.
The Open Themed Section is open to all astrophotographers. They are encouraged to see who can be the most inventive and creative in evoking the theme, which this year will be "The Zodiac". Photographs could be of the dusty zodiacal light or gegenschein, portraits of the zodiac constellations with or without planets amongst them, or anything else that symbolises the zodiac, one of the earliest astronomical concepts in our understanding of the sky. We are looking for eye-catching images that are also aesthetically pleasing and/or challenging.
All entries must be images that faithfully reflect and maintain the integrity of the subject. Image manipulations or composites that produce works that are more "digital art" than true astronomical images, will be deemed ineligible.
All still images must be submitted as digital files via a dedicated web site that can be accessed at this myphotoclub web page. For judging purposes, still images must be submitted as JPG files with the longest side having a dimension no greater than 4,950 pixels. All images must be in Adobe 1998 RGB colour space and will be judged using a calibrated monitor. Similarly, winning images will be printed from the files as-received, so it would be prudent for entrants to calibrate their monitors if possible. It does make a difference. Click here for an example of a very detailed set of calibration procedures for all platforms. For Mac users, a useful monitor calibration program can be found under "Monitors" in System Preferences, and the ideal solution for monitor calibration is a stand-alone device such as the Spyderexpress.
Submission of entries will close at 24:00 (AEST) on Wednesday, 31 May 2023. Entrants must first create an account on the MyPhotoClub submission page, by clicking on the green entry button. Follow the links to create the account and password.
Entry fees are $15 per entry and should be paid by the PayPal gateway on the entry website. Credit and debit cards can be used on this gateway.
The photographs will be judged by a panel of distinguished astrophotographers, who will judge the category winners. Dr David Malin will judge the overall winner from this list of winners.
Submitted image files should not contain identifying metadata. If anonymity of the judging process is important to the entrant, then images should not be shared in public forums prior to completion of judging. The winners will be notified and presented with the "David Malin Awards" during a special ceremony, held during the 2023 CWAS AstroFest, in the presence of invited dignitaries on Saturday, 22 July 2023. All winners should make every effort to attend the presentation of the awards.
A selection of the finest astrophotographs received will be professionally printed courtesy of Sunstudios and exhibited for the entire year at the CSIRO Parkes Observatory's Visitors Centre. In addition, a second set will tour the country in a travelling exhibition, organised by the Museum of Applied Arts and Sciences, to selected venues across Australia.
There is a limit of five (5) entries per category per photographer. All photographs must have been taken no more than 2 years before the closing date of entry, and no re-entries from previous DMA competitions will be accepted. All entries must be submitted in electronic form via the MyPhotoClub submissions web site. The entrants must provide brief details of the equipment, exposure times, processing, and where relevant, the location where the image was taken.
It is not just technical skill that the judges will be looking for, but an aesthetically pleasing picture that reflects and captures the beauty, inspiration and interest of astronomy. All images will be judged by these criteria.
More details here: https://www.cwas.org.au/astrofest/DMA/
Enter here: https://cwasdma.myphotoclub.com.au/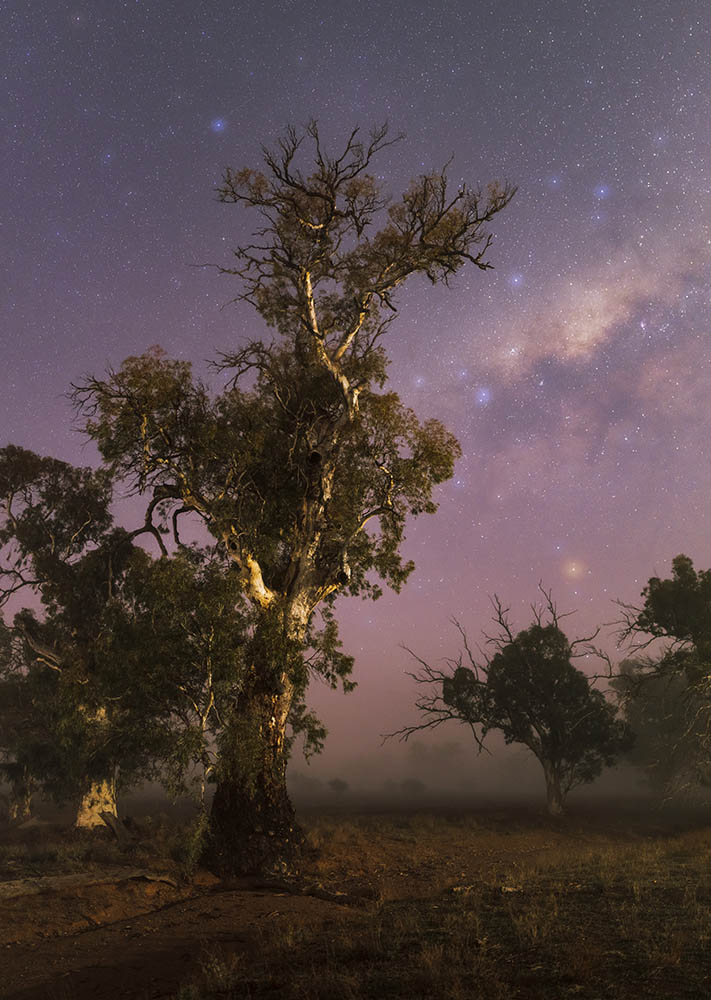 2022 Winner: Ian Inverarity - Nightscapes; OVERALL WINNER "Old Giant in the Fog"
Citation: "This is the finest image I have seen in this competition. It is simply beautiful, and no more needs to be said. No sign of stitching, either."
Enzo Maiorca: Everyone Can Make A Difference
Enzo Maiorca (21 June 1931 – 13 November 2016) was an Italian free diver who held several world freediving records. Born Vincenzo Maiorca on 21 June 1931 in Syracuse, Sicily, he died on 13 November 2016 in the same city.
Maiorca was a vegetarian.
In 1977, Maiorca was initiated into Scottish Rite Freemasonry at the "Archimede di Siracusa" Lodge in Italy. With the agreement of the Grand Orient of Italy lodge, this element of his biography was publicly revealed in 2017.
Maiorca learned to swim at age 4 and soon began to dive, although expressing a great fear of the sea. In 1956 a friend showed him an article about a new depth record of 41 meters set by spearfishing champions Ennio Falco and Alberto Novelli. Maiorca was led by the article to begin competing in order to achieve the title of the "man who reaches the deepest." He achieved this in 1960, when he reached 45 metres to beat Brazilian Americo Santarelli. That same year, however, Santarelli reclaimed the title by reaching 46 metres, which Maiorca soon surpassed at 49 metres.
In 1967 Maiorca ceased spearfishing, while still competing in freediving. He explained in an interview why he abandoned spearfishing:
"It all happened suddenly. I was diving in the shallows not far from the cape that reaches out to the open sea south of the bay of Syracuse. That morning I happened to spear a grouper. A strong and combative grouper. On the bottom a real titanic struggle broke out, between me who wanted to take its life and the grouper who tried to save itself.

The grouper was caught in a cavity between two rocks; trying to understand its position, I ran my right hand down the fish's belly. Its heart was pounding in terror, mad with fear. And with that pulsing of blood I realised that I was killing a living being. Since then my speargun lies like a derelict, an archaeological item, in the dusty basement of my house. That was in 1967."
He was also responsible for saving a pregnant dolphin caught in an abandoned net:
"Years ago, while we were diving, a male dolphin guided my daughters Rossana and Patrizia, and myself, almost leading us by our hands, and gave us the chance to save a female dolphin who was tangled up in the meshes of a swordfish net.

"I maintain that his brain waves influenced our minds. What is certain is that our arms were the stretcher by means of which we carried that poor exhausted animal, wracked by contractions, to the surface.

"As soon as she was on the surface, after breathing out foam and blood, she gave birth to a dolphin calf under the watchful eyes of her mate. The little one was led to his mama's nipples by gentle strokes of the adult dolphin's beak.

"I like to think that on that day we reunited a family."
Enzo Mallorca ended his speech by saying: "Until man learns to respect and speak to the animal world, he can never know his true role on Earth." ~ Vangelis."
On 22 September 1974, in the Bay of Ieranto (or 'Jeranto') at the western end of the Gulf of Salerno, Maiorca attempted to establish a new world record for freediving, aiming for 90 metres. The event was televised live, for the first time in the history of RAI (the Italian national broadcaster). Just 6 metres into his dive, Maiorca bumped into Enzo Bottesini, an expert scuba instructor, and upon resurfacing he let out a string of strong expletives, many of which were clearly audible to the television audience. His outburst led to a television ban for many years, and led to his retirement from competition for more than a decade.
In 1988, Maiorca returned to free diving and set his final record of 101 metres.
From 1994 to 1996, Maiorca was elected to the Senate for the extreme right Alleanza Nazionale party. Maiorca also appeared on Lineablu, a RAI broadcast news series, from 2000 to 2002. The character Enzo Molinari, portrayed by Jean Reno, in the 1988 Luc Besson film The Big Blue was based on Maiorca.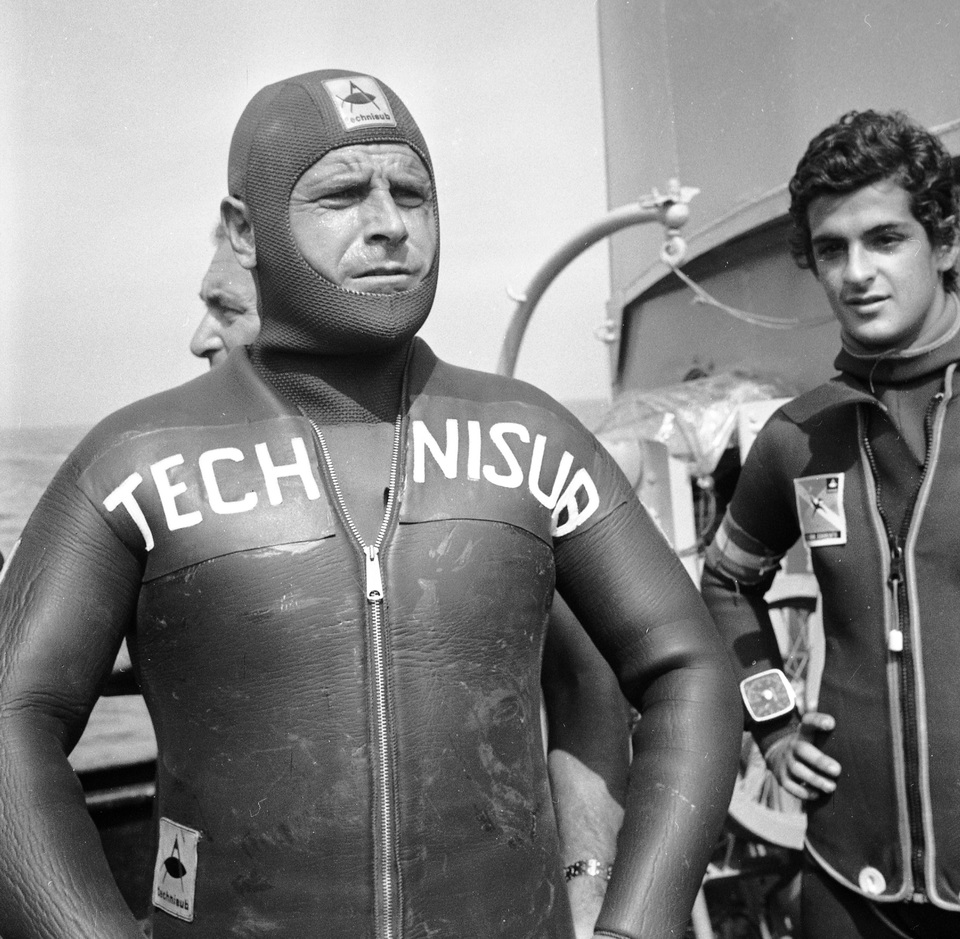 Maiorca in 1974. Photo: Wikipedia
The word "grouper" is from the Portuguese name, garoupa, which has been speculated to come from an indigenous South American language. In Australia, "groper" is used instead of "grouper" for several species, such as the Queensland grouper (Epinephelus lanceolatus).
Groupers are fish of any of a number of genera in the subfamily Epinephelinae of the family Serranidae, in the order Perciformes. Groupers are teleosts, typically having a stout body and a large mouth. They are not built for long-distance, fast swimming. They can be quite large in length, over a meter.
In Pittwater our rock shelves off our beaches are home to the Blue Groper. They are found in the coastal waters across southern Australia and distinguished by the bright blue colouring of the adult males.
All blue gropers begin life as females. As they mature, they go through an initial phase, in which they may be male or female, before developing their adult colouring and reaching the terminal phase.
Typically you will only find one or two male blue gropers in an area, with a larger number of the female gropers in the same area. Should the dominant male blue groper die, the largest female will grow, change colour and sex, and become the dominant male.
In Australia certain states like New South Wales have granted protection to this species. It is illegal to spear blue groper in NSW. There is also a limitation on fishing for them with a line.
They are extremely inquisitive, and while it is now discouraged to feed them by cutting up urchins, they still will approach divers as if expecting to be fed. Their lifespan is said to be up to 35 years according to some sources, longer according to others.
In 1998, the eastern blue groper was made the state fish emblem of New South Wales.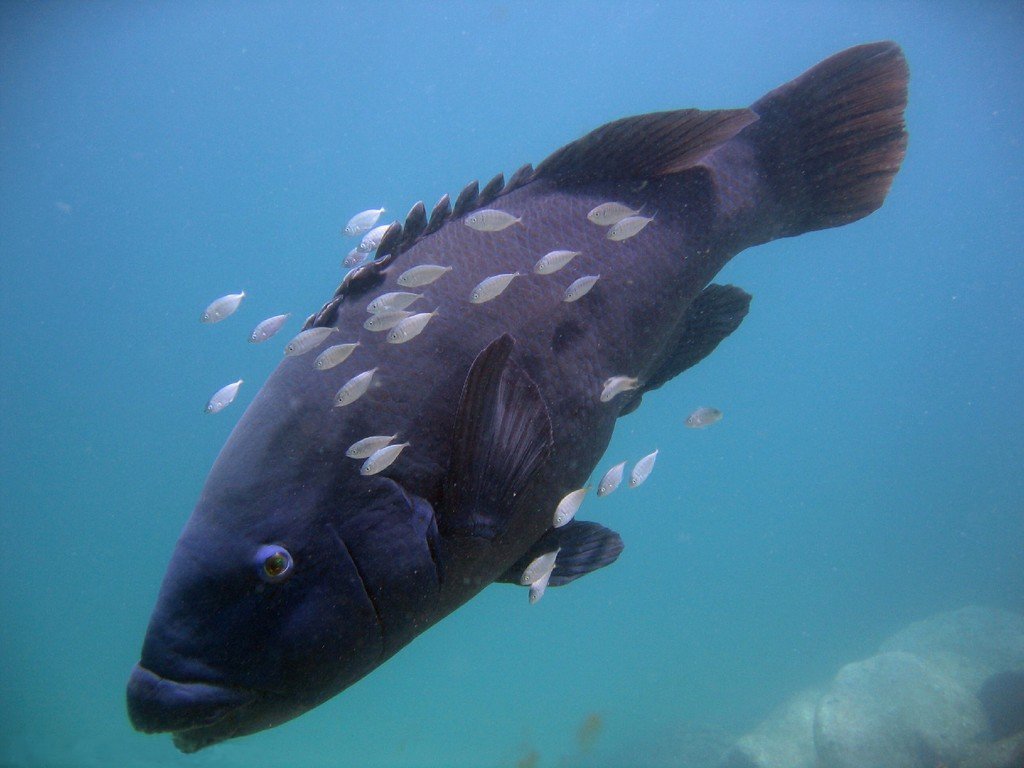 A male Eastern Blue Groper (Achoerodus viridis) with escorts. Shelly Beach, Manly, NSW. Photo: Richard Ling
Sydney In 1928
Published by NFSA May 2023
This film is silent. From The Film Australia Collection.
Made by the Cinema and Photographic Branch
1928.
Trains at Central Station with the Grand Opera House (formerly New Adelphi Theatre) in the foreground. Circular Quay, commuters, trams and ferries; Manly beach. City traffic on King St and George St, Palmer's department store, the Royal Exchange Hotel, Harrington's camera shop, Martin Place and the GPO. Macquarie St (showing the Dixson wing of the State Library of NSW under construction) and the city skyline. Sydney University. The Domain and the Royal Botanic Gardens. Government House and the Art Gallery. Boys play cricket at Rushcutters Bay park. Apartment blocks in the city and Potts Point including the Astor, Manar, Carisbrooke and Carinthia. View of the harbour overlooking Darling Point.
School Leavers Support
Explore the School Leavers Information Kit (SLIK) as your guide to education, training and work options in 2022;
As you prepare to finish your final year of school, the next phase of your journey will be full of interesting and exciting opportunities. You will discover new passions and develop new skills and knowledge.
We know that this transition can sometimes be challenging and the COVID-19 pandemic has presented some uncertainty. With changes to the education and workforce landscape, you might be wondering if your planned decisions are still a good option or what new alternatives are available and how to pursue them.
There are lots of options for education, training and work in 2022 to help you further your career. This information kit has been designed to help you understand what those options might be and assist you to choose the right one for you. Including:
Download or explore the SLIK here to help guide Your Career.
School Leavers Information Kit (PDF 5.2MB).
School Leavers Information Kit (DOCX 0.9MB).
The SLIK has also been translated into additional languages.
Download our information booklets if you are rural, regional and remote, Aboriginal or Torres Strait Islander, or living with disability.
Support for Regional, Rural and Remote School Leavers (PDF 2MB).
Support for Regional, Rural and Remote School Leavers (DOCX 0.9MB).
Support for Aboriginal and/or Torres Strait Islander School Leavers (PDF 2MB).
Support for Aboriginal and/or Torres Strait Islander School Leavers (DOCX 1.1MB).
Support for School Leavers with Disability (PDF 2MB).
Support for School Leavers with Disability (DOCX 0.9MB).
Download the Parents and Guardian's Guide for School Leavers, which summarises the resources and information available to help you explore all the education, training, and work options available to your young person.
School Leavers Information Service
Are you aged between 15 and 24 and looking for career guidance?
Call 1800 CAREER (1800 227 337).
SMS 'SLIS2022' to 0429 009 435.
Our information officers will help you:
navigate the School Leavers Information Kit (SLIK),
access and use the Your Career website and tools; and
find relevant support services if needed.
You may also be referred to a qualified career practitioner for a 45-minute personalised career guidance session. Our career practitioners will provide information, advice and assistance relating to a wide range of matters, such as career planning and management, training and studying, and looking for work.
You can call to book your session on 1800 CAREER (1800 227 337) Monday to Friday, from 9am to 7pm (AEST). Sessions with a career practitioner can be booked from Monday to Friday, 9am to 7pm.
This is a free service, however minimal call/text costs may apply.
Call 1800 CAREER (1800 227 337) or SMS SLIS2022 to 0429 009 435 to start a conversation about how the tools in Your Career can help you or to book a free session with a career practitioner.
Word Of The Week: Bamboozle
Word of the Week returns in 2023 simply to throw some disruption in amongst the 'yeah-nah' mix.
verb
1. (transitive, informal) To con, defraud, trick, to make a fool of, to humbug or impose on someone, to deceive by underhand methods. (transitive, informal) 2. To confuse, frustrate or perplex.
From 1695-1703, originally a slang or cant word, of unknown origin. Perhaps Scottish from bombaze, bumbaze "confound, perplex," or related to bombast, or related to French embabouiner "to make a fool of" (literally 'baboon'). Related: Bamboozled; bamboozler; bamboozling. As a noun from 1703.
noun
1. (obsolete, informal) A cheat, hoax or imposition.

Compare related - Fool
noun
1. a person who acts unwisely or imprudently; a silly person. 2. Historical; a jester or clown, especially one retained in a royal or noble household.
verb
1. trick or deceive (someone); dupe.
adjective
1. Informal; foolish; silly.
From Middle English: from Old French fol 'fool, foolish', from Latin follis 'bellows, windbag', by extension 'empty-headed person'. Noun; fool early 13c., "silly, stupid, or ignorant person," from Old French fol "idiot; rogue; jester," also "blacksmith's bellows," from Medieval Latin follus (adj.) "foolish," from Latin follis "bellows, leather bag," from PIE root *bhel- "to blow, swell."
The sense evolution probably is from Vulgar Latin use of follis in a sense of "windbag, empty-headed person." Compare also Sanskrit vatula literally "windy, inflated with wind." But some sources suggest evolution from Latin folles "puffed cheeks" (of a buffoon), a secondary sense from plural of follis. One makes the "idiot" sense original, the other the "jester" sense.
fool - verb; mid-14c., "to be foolish, act the fool," from fool (noun). The transitive meaning "make a fool of" is recorded from 1590s. Sense of "beguile, cheat" is from 1640s. Also as a verb 16c.-17c. was foolify. Related: Fooled; fooling. Fool around is 1875 in the sense of "pass time idly," .
fool - adjective; c. 1200, "sinful, wicked; lecherous" (a fool woman (c. 1300) was "a prostitute"), from fool (noun). Meaning "foolish, silly" is mid-13c.
fool - noun; a food, type of custard dish, 1590s, of uncertain origin. The food also was called trifle, which may be the source of the name (via verb and noun senses of fool). Others reject derivation from Old French fole "a pressing."
Compare jester - noun; Historical, 1. a professional joker or 'fool' at a medieval court, typically wearing a cap with bells on it and carrying a mock sceptre. 2. a person who habitually plays the fool. 3. a person who is given to witticisms, jokes, and pranks. a professional fool or clown, especially at a medieval court. A comic, comedian, clown, harlequin, buffoon.
From - The modern use of the English word jester did not come into use until the mid-16th century, during Tudor times. This modern term derives from the older form gestour, or jestour, originally from Anglo-Norman (French) meaning 'storyteller' or 'minstrel'. Other earlier terms included fol, disour, buffoon, and bourder.

Festival of the Archers. Master of Frankfurt, 1493. Two jesters are depicted in the center of the picture. Image: Royal Museum of Fine Arts Antwerp

Many royal courts throughout English royal history employed entertainers and most had professional fools, sometimes called "licensed fools". Entertainment included music, storytelling, and physical comedy. Fool Societies, or groups of nomadic entertainers, were often hired to perform acrobatics and juggling.
Jesters were also occasionally used as psychological warfare. Jesters would ride in front of their troops, provoke or mock the enemy, and even serve as messengers. They played an important part in raising their own army's spirits by singing songs and reciting stories.
Henry VIII of England employed a jester named Will Sommers. His daughter Mary was entertained by Jane Foole.
During the reigns of Elizabeth I and James I of England, William Shakespeare wrote his plays and performed with his theatre company the Lord Chamberlain's Men (later called the King's Men). Clowns and jesters were featured in Shakespeare's plays, and the company's expert on jesting was Robert Armin, author of the book Fooled upon Foole. In Shakespeare's Twelfth Night, Feste the jester is described as "wise enough to play the fool".
In Scotland, Mary, Queen of Scots, had a jester called Nichola. Her son, King James VI of Scotland, employed a jester called Archibald Armstrong. During his lifetime Armstrong was given great honors at court. He was eventually thrown out of the King's employment when he over-reached and insulted too many influential people. Even after his disgrace, books telling of his jests were sold in London streets. He held some influence at court still in the reign of Charles I and estates of land in Ireland. Anne of Denmark had a Scottish jester called Tom Durie. Charles I later employed a jester called Jeffrey Hudson who was very popular and loyal. Jeffrey Hudson had the title of "Royal Dwarf" because he was short of stature. One of his jests was to be presented hidden in a giant pie from which he would leap out. Hudson fought on the Royalist side in the English Civil War. A third jester associated with Charles I was called Muckle John.
Jester's privilege was the ability and right of a jester to talk and mock freely without being punished. As an acknowledgement of this right, the court jester had symbols denoting their status and protection under the law: the crown (cap and bells) and sceptre (marotte), mirroring the royal crown and sceptre wielded by a monarch.
After the Restoration, Charles II did not reinstate the tradition of the court jester, but he did greatly patronize the theatre and proto-music hall entertainments, especially favouring the work of Thomas Killigrew. Though Killigrew was not officially a jester, Samuel Pepys in his famous diary does call Killigrew "The King's fool and jester, with the power to mock and revile even the most prominent without penalty" (12 February 1668). The last British nobles to keep jesters were the Queen Mother's family, the Bowes-Lyons.
In the 18th century, jesters had died out except in Russia, Spain, and Germany. In France and Italy, travelling groups of jesters performed plays featuring stylized characters in a form of theatre called the commedia dell'arte. A version of this passed into British folk tradition in the form of a puppet show, Punch and Judy. In France the tradition of the court jester ended with the French Revolution.
In the 21st century, the jester has been revived and can still be seen at medieval-style fairs and pageants. In 2015, the town of Conwy in North Wales appointed Russel Erwood (aka Erwyd le Fol) as the official resident jester of the town and its people, a post that had been vacant since 1295.
Harlequin is the best-known of the zanni or comic servant characters from the Italian commedia dell'arte, associated with the city of Bergamo. The role is traditionally believed to have been introduced by Zan Ganassa in the late 16th century, was definitively popularized by the Italian actor Tristano Martinelli in Paris in 1584–1585, and became a stock character after Martinelli's death in 1630.
The Harlequin is characterized by his checkered costume. His role is that of a light-hearted, nimble, and astute servant, often acting to thwart the plans of his master, and pursuing his own love interest, Columbina, with wit and resourcefulness, often competing with the sterner and melancholic Pierrot. He later develops into a prototype of the romantic hero. Harlequin inherits his physical agility and his trickster qualities, as well as his name, from a mischievous "devil" character in medieval passion plays.
The Harlequin character first appeared in England early in the 17th century and took centre stage in the derived genre of the Harlequinade, developed in the early 18th century by John Rich.[4] As the Harlequinade portion of the English dramatic genre pantomime developed, Harlequin was routinely paired with the character Clown. As developed by Joseph Grimaldi around 1800, Clown became the mischievous and brutish foil for the more sophisticated Harlequin, who became more of a romantic character. The most influential portrayers of the Harlequin character in Victorian England were William Payne and his sons the Payne Brothers, the latter active during the 1860s and 1870s.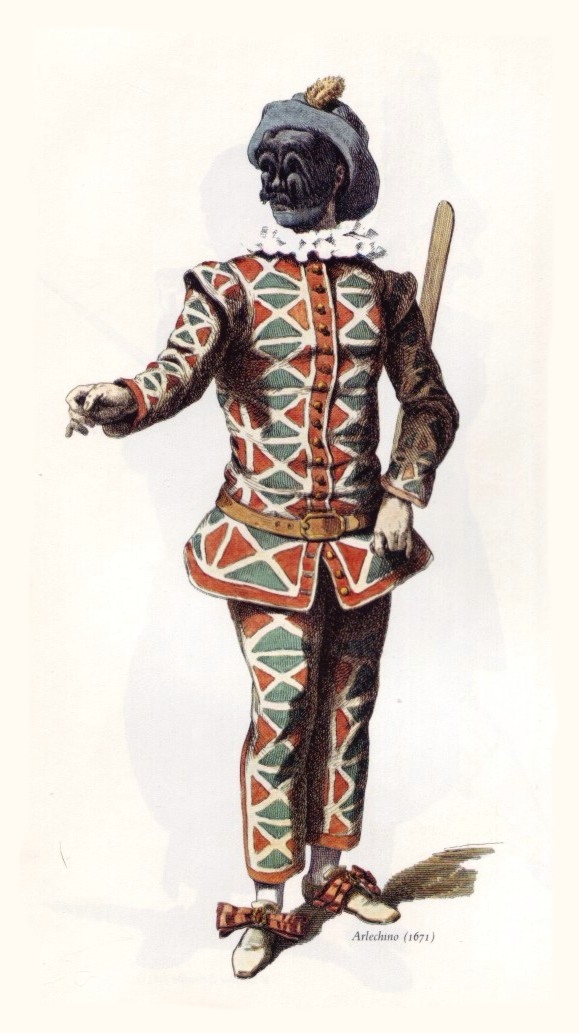 The classical appearance of the Harlequin stock character in the commedia dell'arte of the 1670s, complete with batte or "slapstick", a magic wand used by the character to change the scenery of the play. By Maurice Sand, 1860.

Skin Patch Shows Promise For Toddlers With Peanut Allergy
A global phase 3 clinical trial that included Ann & Robert H. Lurie Children's Hospital of Chicago found that a year-long immunotherapy through a skin patch safely desensitized toddlers with peanut allergy, lowering the risk of a severe allergic reaction from accidental exposure. Results of this randomized, double-blind, placebo-controlled trial for children 1-3 years of age, funded by DBV Technologies, were published in the New England Journal of Medicine.
"We were excited to contribute to this landmark study that carries so much promise for our young patients with peanut allergy," said co-author Melanie Makhija, MD, who was the Principal Investigator of the study at Lurie Children's and is an Associate Professor of Paediatrics at Northwestern University Feinberg School of Medicine. "Children who originally reacted to a small fraction of a peanut were able to tolerate the equivalent of one to four peanuts after completing the treatment course. This means that these children will be well protected from accidental exposure to peanuts. Importantly, we found that the peanut patch was safe, with very low chances of a severe allergic reaction. This is terrific news for families of kids with peanut allergies."
Peanut allergy affects approximately 2 percent of children in the United States, Canada and other westernized countries, and it commonly persists into adulthood. Life-threatening allergic reactions can be triggered by unintentional exposure to minute quantities, including through products manufactured on shared equipment as peanuts. Currently, there are no approved treatments for peanut-allergic children younger than 4 years of age.
Since 2012, the clinical trials program for food allergies at Lurie Children's has enrolled patients on numerous studies of novel treatments, including the oral immunotherapy for peanuts that has been approved by the Food and Drug Administration (FDA). Ongoing trials are available for all age groups, from infancy to young adulthood. The program is led by Principal Investigators Elizabeth Lippner, MD, and Abigail Lang, MD, MSCI.
Research at Ann & Robert H. Lurie Children's Hospital of Chicago is conducted through Stanley Manne Children's Research Institute. The Manne Research Institute is focused on improving child health, transforming paediatric medicine and ensuring healthier futures through the relentless pursuit of knowledge. Lurie Children's is a non-profit organisation committed to providing access to exceptional care for every child.
Matthew Greenhawt, Sayantani B. Sindher, Julie Wang, Michael O'Sullivan, George du Toit, Edwin H. Kim, Deborah Albright, Sara Anvari, Nicolette Arends, Peter D. Arkwright, Philippe Bégin, Katharina Blumchen, Thierry Bourrier, Terri Brown-Whitehorn, Heather Cassell, Edmond S. Chan, Christina E. Ciaccio, Antoine Deschildre, Amandine Divaret-Chauveau, Stacy L. Dorris, Morna J. Dorsey, Thomas Eiwegger, Michel Erlewyn-Lajeunesse, David M. Fleischer, Lara S. Ford, Maria Garcia-Lloret, Lisa Giovannini-Chami, Jonathan O. Hourihane, Nicola Jay, Stacie M. Jones, Leigh Ann Kerns, Kirsten M. Kloepfer, Stephanie Leonard, Guillaume Lezmi, Jay A. Lieberman, Jeanne Lomas, Melanie Makhija, Christopher Parrish, Jane Peake, Kirsten P. Perrett, Daniel Petroni, Wolfgang Pfützner, Jacqueline A. Pongracic, Patrick Quinn, Rachel G. Robison, Georgiana Sanders, Lynda Schneider, Hemant P. Sharma, Juan Trujillo, Paul J. Turner, Katherine Tuttle, Julia E. Upton, Pooja Varshney, Brian P. Vickery, Christian Vogelberg, Brynn Wainstein, Robert A. Wood, Katharine J. Bee, Dianne E. Campbell, Todd D. Green, Rihab Rouissi, Aurélie Peillon, Henry T. Bahnson, Timothée Bois, Hugh A. Sampson, A. Wesley Burks.
Phase 3 Trial of Epicutaneous Immunotherapy in Toddlers with Peanut Allergy.
New England Journal of Medicine, 2023; 388 (19): 1755 DOI:
10.1056/NEJMoa2212895
In 2050 Over 800 Million People Globally Estimated To Be Living With Back Pain
Analysis of over 30 years of data has shown the number of cases of low back pain is growing, with modelling suggesting by 2050, 843 million people will be affected by the condition largely due to population increases and ageing of populations.
The continued lack of a consistent approach on back pain treatment, and limited treatment options have researchers concerned that this will lead to a healthcare crisis, as low back pain is the leading cause of disability in the world.
In Australia, there will be a nearly 50 percent increase in cases by 2050. The landscape of back pain cases is set to shift, with the biggest increases in back pain cases to be in Asia and Africa.
The findings are published in Lancet Rheumatology today, and is the new Global Burden of Disease (GBD) 2021 study.
"Our analysis paints a picture of growing low back pain cases globally, putting enormous pressure on our healthcare system. We need to establish a national, consistent approach to managing low back pain that is informed by research," says lead author, Professor Manuela Ferreira from Sydney Musculoskeletal Health, an initiative of the University of Sydney, Sydney Local Health District and Northern Sydney Local Health District.
"Currently, how we have been responding to back pain has been reactive. Australia is a global leader in back pain research; we can be proactive and lead by example on back pain prevention," said Professor Ferreira who is based at Sydney's Kolling Institute.
The study reveals several milestones in back pain cases. Since 2017, the number of low back pain cases has ticked over to more than half a billion people.
In 2020, there were approximately 619 million cases of back pain.
At least one third of the disability burden associated with backpain was attributable to occupational factors, smoking and being overweight.
A widespread misconception is that low back pain mostly affects adults of working age. But researchers say this study has confirmed that low back pain is more common among older people. Low back pain cases were also higher among females compared to males.
This is the most comprehensive and up-to-date available data that includes for the first time global projections and the contribution of GBD risk factors to low back pain. The work was made possible by the joint efforts of The University of Sydney, the Institute for Health Metrics and Evaluation (IHME) at the University of Washington's School of Medicine, IHME's international collaborators, and the Global Alliance for Musculoskeletal Health.
"We also know that most available data come from high-income countries, making it sometimes hard to interpret these results for low to mid-income countries. We urgently need more population-based back pain and musculoskeletal data from countries of low to mid-income," said senior author Professor Lyn March from Sydney Musculoskeletal Health and the Kolling Institute.
The study analysed GBD data from 1990 to 2020 from over 204 countries and territories to map the landscape of back pain cases over time. The GBD is the most comprehensive picture of mortality and disability across countries, time, age, and
It is also the first study to be used for modelling the future prevalence of back pain cases.
"Health systems need to respond to this enormous and rising burden of low back pain that is affecting people globally. Much more needs to be done to prevent low back pain and ensure timely access to care, as there are effective ways of helping people in pain" said Prof Anthony Woolf, co-chair of the Global Alliance for Musculoskeletal Health which is calling for priority to be given to addressing the growing burden of musculoskeletal conditions.
"Ministries of health cannot continue ignoring the high prevalence of musculoskeletal conditions including low back pain. These conditions have important social and economic consequences, especially considering the cost of care. Now is the time to learn about effective strategies to address the high burden and to act" said Dr Alarcos Cieza, Unit Head, World Health Organization, Headquarters, Geneva.
National guidelines will form basis of back pain prevention
In 2018, experts (independent to this study) voiced their concerns in The Lancet and gave recommendations, especially regarding exercise and education, about the need for a change in global policy on the best way to prevent and manage low back pain to stop the rise of inappropriate treatments.
However, since then, there has been little change. Common treatments recommended for low back pain have been found to have unknown effectiveness or to be ineffective -- this includes some surgeries and opioids.
Professor Ferreira says there is a lack of consistency in how health professionals manage back pain cases and how the healthcare system needs to adapt.
"It may come as a surprise to some that current clinical guidelines for back pain treatment and management do not provide specific recommendations for older people."
"Older people have more complex medical histories and are more likely to be prescribed strong medication, including opioids for back pain management, compared to younger adults. But this is not ideal and can have a negative impact on their function and quality of life, especially as these analgesics may interfere with their other existing medications. This is just one example of why we need to update clinical guidelines to support our health professionals."
Co-author Dr Katie de Luca, from CQUniversity, said if the right action is not taken, low back pain can become a precursor to chronic health conditions such as diabetes, cardiovascular disease and mental health conditions, invasive medical procedures, and significant disability.
"Low back pain continues to be the greatest cause of disability burden worldwide. There are substantial socio-economic consequences of this condition, and the physical and personal impact directly threatens healthy ageing."
Manuela L Ferreira, Katie de Luca, Lydia M Haile, Jaimie D Steinmetz, Garland T Culbreth, Marita Cross, Jacek A Kopec, Paulo H Ferreira, Fiona M Blyth, Rachelle Buchbinder, Jan Hartvigsen, Ai-Min Wu, Saeid Safiri, Anthony D Woolf, Gary S Collins, Kanyin Liane Ong, Stein Emil Vollset, Amanda E Smith, Jessica A Cruz, Kai Glenn Fukutaki, Semagn Mekonnen Abate, Mitra Abbasifard, Mohsen Abbasi-Kangevari, Zeinab Abbasi-Kangevari, Ahmed Abdelalim, Aidin Abedi, Hassan Abidi, Qorinah Estiningtyas Sakilah Adnani, Ali Ahmadi, Rufus Olusola Akinyemi, Abayneh Tadesse Alamer, Adugnaw Zeleke Alem, Yousef Alimohamadi, Mansour Abdullah Alshehri, Mohammed Mansour Alshehri, Hosam Alzahrani, Saeed Amini, Sohrab Amiri, Hubert Amu, Catalina Liliana Andrei, Tudorel Andrei, Benny Antony, Jalal Arabloo, Judie Arulappan, Ashokan Arumugam, Tahira Ashraf, Seyyed Shamsadin Athari, Nefsu Awoke, Sina Azadnajafabad, Till Winfried Bärnighausen, Lope H Barrero, Amadou Barrow, Akbar Barzegar, Lindsay M Bearne, Isabela M Bensenor, Alemshet Yirga Berhie, Bharti Bhandari Bhandari, Vijayalakshmi S Bhojaraja, Ali Bijani, Belay Boda Abule Bodicha, Srinivasa Rao Bolla, Javier Brazo-Sayavera, Andrew M Briggs, Chao Cao, Periklis Charalampous, Vijay Kumar Chattu, Flavia M Cicuttini, Benjamin Clarsen, Sarah Cuschieri, Omid Dadras, Xiaochen Dai, Lalit Dandona, Rakhi Dandona, Azizallah Dehghan, Takele Gezahegn G Demie, Edgar Denova-Gutiérrez, Syed Masudur Rahman Dewan, Samath Dhamminda Dharmaratne, Mandira Lamichhane Dhimal, Meghnath Dhimal, Daniel Diaz, Mojtaba Didehdar, Lankamo Ena Digesa, Mengistie Diress, Hoa Thi Do, Linh Phuong Doan, Michael Ekholuenetale, Muhammed Elhadi, Sharareh Eskandarieh, Shahriar Faghani, Jawad Fares, Ali Fatehizadeh, Getahun Fetensa, Irina Filip, Florian Fischer, Richard Charles Franklin, Balasankar Ganesan, Belete Negese Belete Gemeda, Motuma Erena Getachew, Ahmad Ghashghaee, Tiffany K Gill, Mahaveer Golechha, Pouya Goleij, Bhawna Gupta, Nima Hafezi-Nejad, Arvin Haj-Mirzaian, Pawan Kumar Hamal, Asif Hanif, Netanja I Harlianto, Hamidreza Hasani, Simon I Hay, Jeffrey J Hebert, Golnaz Heidari, Mohammad Heidari, Reza Heidari-Soureshjani, Mbuzeleni Mbuzeleni Hlongwa, Mohammad-Salar Hosseini, Alexander Kevin Hsiao, Ivo Iavicoli, Segun Emmanuel Ibitoye, Irena M Ilic, Milena D Ilic, Sheikh Mohammed Shariful Islam, Manthan Dilipkumar Janodia, Ravi Prakash Jha, Har Ashish Jindal, Jost B Jonas, Gebisa Guyasa Kabito, Himal Kandel, Rimple Jeet Kaur, Vikash Ranjan Keshri, Yousef Saleh Khader, Ejaz Ahmad Khan, Md Jobair Khan, Moien AB Khan, Hamid Reza Khayat Kashani, Jagdish Khubchandani, Yun Jin Kim, Adnan Kisa, Jitka Klugarová, Ali-Asghar Kolahi, Hamid Reza Koohestani, Ai Koyanagi, G Anil Kumar, Narinder Kumar, Tea Lallukka, Savita Lasrado, Wei-Chen Lee, Yo Han Lee, Ata Mahmoodpoor, Jeadran N Malagón-Rojas, Mohammad-Reza Malekpour, Reza Malekzadeh, Narges Malih, Man Mohan Mehndiratta, Entezar Mehrabi Nasab, Ritesh G Menezes, Alexios-Fotios A Mentis, Mohamed Kamal Mesregah, Ted R Miller, Mohammad Mirza-Aghazadeh-Attari, Maryam Mobarakabadi, Yousef Mohammad, Esmaeil Mohammadi, Shafiu Mohammed, Ali H Mokdad, Sara Momtazmanesh, Lorenzo Monasta, Mohammad Ali Moni, Ebrahim Mostafavi, Christopher J L Murray, Tapas Sadasivan Nair, Javad Nazari, Seyed Aria Nejadghaderi, Subas Neupane, Sandhya Neupane Kandel, Cuong Tat Nguyen, Ali Nowroozi, Hassan Okati-Aliabad, Emad Omer, Abderrahim Oulhaj, Mayowa O Owolabi, Songhomitra Panda-Jonas, Anamika Pandey, Eun-Kee Park, Shrikant Pawar, Paolo Pedersini, Jeevan Pereira, Mario F P Peres, Ionela-Roxana Petcu, Mohammadreza Pourahmadi, Amir Radfar, Shahram Rahimi-Dehgolan, Vafa Rahimi-Movaghar, Mosiur Rahman, Amir Masoud Rahmani, Nazanin Rajai, Chythra R Rao, Vahid Rashedi, Mohammad-Mahdi Rashidi, Zubair Ahmed Ratan, David Laith Rawaf, Salman Rawaf, Andre M N Renzaho, Negar Rezaei, Zahed Rezaei, Leonardo Roever, Guilherme de Andrade Ruela, Basema Saddik, Amirhossein Sahebkar, Sana Salehi, Francesco Sanmarchi, Sadaf G Sepanlou, Saeed Shahabi, Shayan Shahrokhi, Elaheh Shaker, MohammadBagher Shamsi, Mohammed Shannawaz, Saurab Sharma, Maryam Shaygan, Rahim Ali Sheikhi, Jeevan K Shetty, Rahman Shiri, Siddharudha Shivalli, Parnian Shobeiri, Migbar Mekonnen Sibhat, Ambrish Singh, Jasvinder A Singh, Helen Slater, Marco Solmi, Ranjani Somayaji, Ker-Kan Tan, Rekha Thapar, Seyed Abolfazl Tohidast, Sahel Valadan Tahbaz, Rohollah Valizadeh, Tommi Juhani Vasankari, Narayanaswamy Venketasubramanian, Vasily Vlassov, Bay Vo, Yuan-Pang Wang, Taweewat Wiangkham, Lalit Yadav, Ali Yadollahpour, Seyed Hossein Yahyazadeh Jabbari, Lin Yang, Fereshteh Yazdanpanah, Naohiro Yonemoto, Mustafa Z Younis, Iman Zare, Armin Zarrintan, Mohammad Zoladl, Theo Vos, Lyn M March.
Global, regional, and national burden of low back pain, 1990–2020, its attributable risk factors, and projections to 2050: a systematic analysis of the Global Burden of Disease Study 2021.
The Lancet Rheumatology, 2023; 5 (6): e316 DOI:
10.1016/S2665-9913(23)00098-X
Modular Builds May Help Construction Industry Weather A Perfect Storm: UniSA
Rising material prices, labour shortages, interest rate hikes and rainy weather have created a perfect storm for the construction industry in the past 12 months, sending many builders to the wall.

Of all these factors, weather is the one that most people would cite as being beyond human control. However, a new study out of the UK and Australia suggests this may not be the case.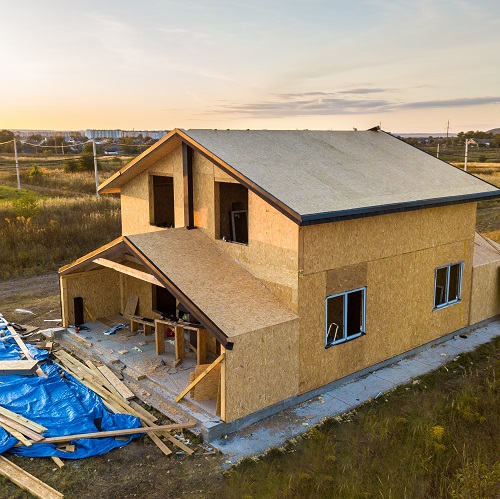 Engineers from Aston University, Birmingham, and the University of South Australia (UniSA) have calculated the potential cost savings for builders using modular production techniques where much of the construction happens offsite in controlled conditions.
Buildings are produced in modules in a factory, using the same materials and building codes, but completed in about half the time, with less waste and no building delays due to poor weather.
The researchers produced a cost model that estimated the impact of weather by season on each building activity, including portions of the build (such as bathroom pods) up to the entire structure.
The savings come in at approximately AUD$40,000 (£21,000) on a build worth $6.4 million (£3.4m). This 0.6% saving may initially seem minor but takes on significant meaning in the current climate where average construction profit margins are just 4.2%.
The findings are published in the International Journal of Sustainable Building Technology and Urban Development.
Co-author of the paper Dr Ki Pyung Kim, a senior lecturer in STEM at UniSA, says weather is often identified as one of the top causes for delays and subsequent cost increases in the building industry, affecting 45% of projects worldwide.
"By removing many of the onsite activities and replacing them with modules built offsite, builders can minimise construction delays caused by weather, thereby keeping the costs from blowing out," Dr Kim says.
Global warming is expected to push temperatures up worldwide, including in Australia, making working conditions more difficult on construction sites, the study authors point out.
"There are many pressures on the construction industry right now, including lack of skilled labour, reductions in profit margins, lack of sustainable materials and low productivity. The financial implications of weather are rarely considered except in extreme cases as the client normally bears the cost," Dr Kim says.
While modular construction techniques have several benefits -- including faster builds and a more controlled working environment which protects high-quality materials from the weather -- there are some drawbacks: a limited supply chain and lack of flexibility in both design and supply. The upfront costs of modular components are also expensive, but this needs to be weighed up against losses incurred by weather holdups.
"The global housing sector is dominated by traditional construction methods, but the industry is approaching a crisis point -- particularly in relation to a skills shortage -- that may force a change to modular and other offsite techniques," Dr Kim says.
"The Federal Government has set a target of delivering one million affordable homes over five years from 2024. To ensure this target is met, Infrastructure Australia has mandated modular construction for 80% of social housing projects by 2030."
Construction costs are typically between 43 and 46% of overall costs, which is why much of the existing research focuses on this area.
"When working in a factory environment there is a more protected and controlled atmosphere, and this will improve worker welfare, productivity and reduce health and safety costs, with fewer loss of workdays due to ill health and accident."
Dr Kim says that the potential cost saving will vary, depending on where the project is built, when the project is started and how long the build is.
David Roberts, Kenneth Park, Nii Ankrah and Ki Pyung Kim.
The effect on cost when utilising modular construction techniques - The impact of weather on labour productivity.
International Journal of Sustainable Building Technology and Urban Development, 2023 DOI:
10.22712/susb.20230007
What Marsupials Can Teach Us About Brain Development
University of Queensland research has revealed features of early human brain development are mimicked in the brains of marsupials.
Lead author Dr Rodrigo Suárez from UQ's Queensland Brain Institute and School of Biomedical Sciences, said the finding could lead to a better understanding of brain patterns linked to neurodevelopmental conditions like autism spectrum disorder (ASD).
"Marsupials are mammals born at extremely early stages -- the equivalent to mid-gestation in human terms," Dr Suárez said.
"Most marsupial brain development happens postnatally, inside the mothers' pouch.
"Because of this, we've been able to study patterns of neural activity in the Australian native fat-tailed dunnart and found they're similar to those in the human brain in utero."
The research used light indicators to record the electrical activity of neurons in marsupial joeys.
"We followed the onset and maturation of complex activity patterns, using advanced microscopy to read how the joey's developing brain cells first communicate," Dr Suárez said.
"There were distinct patterns from the outset indicating not only that neural activity begins before sensory experience, but that unique electrical features in newborn cells might be crucial for the healthy establishment of brain connections.
"Likewise, subtle defects in these patterns could lead to neurodevelopmental conditions like ASD."
Dr Suárez said it was well established that human babies respond to stimulation well before birth.
"But exactly when, where and how electrical activity begins in the developing brain has remained largely unknown," he said.
"This is mostly because only mammals have evolved a cerebral cortex -- the wrinkly surface of our brains that controls sensory motor and cognitive tasks -- and most experimental models can't survive at such early stages outside the uterus."
Dr Suárez said studying marsupials could help researchers go further back in brain evolution.
"These findings highlight early processes of brain development that arose millions of years ago, and are ongoing with little change, likely influencing the evolution and diversification of the cerebral cortex."
Rodrigo Suárez, Tobias Bluett, Michael H. McCullough, Lilach Avitan, Dylan A. Black, Annalisa Paolino, Laura R. Fenlon, Geoffrey J. Goodhill, Linda J. Richards.
Cortical activity emerges in region-specific patterns during early brain development
. Proceedings of the National Academy of Sciences, 2023; 120 (22) DOI:
10.1073/pnas.2208654120
Half Of World's Largest Lakes Losing Water: Climate Change, Human Consumption And Sedimentation Contributing To Decline
More than 50 percent of the largest lakes in the world are losing water, according to a ground-breaking new assessment published in Science. The key culprits are not surprising: warming climate and unsustainable human consumption.
But lead author Fangfang Yao, a CIRES visiting fellow, now a climate fellow at University of Virginia, said the news is not entirely bleak. With this new method of tracking lake water storage trends and the reasons behind them, scientists can give water managers and communities insight into how to better protect critical sources of water and important regional ecosystems.
"This is the first comprehensive assessment of trends and drivers of global lake water storage variability based on an array of satellites and models," Yao said.
He was motivated to do the research by the environmental crises in some of Earth's largest water bodies, such as the drying of the Aral Sea between Kazakhstan and Uzbekistan.
So he and colleagues from the University of Colorado Boulder, Kansas State University, France, and Saudi Arabia created a technique to measure changes in water levels in nearly 2,000 of the world's biggest lakes and reservoirs, which represent 95 percent of the total lake water storage on Earth.
The team combined three decades of observations from an array of satellites with models to quantify and attribute trends in lake storage globally.
Globally,
freshwater lakes and reservoirs store 87 percent of the planet's water, making them a valuable resource for both human and Earth ecosystems. Unlike rivers, lakes are not well monitored, yet they provide water for a large part of humanity -- even more than rivers.
But despite their value, long-term trends and changes to water levels have been largely unknown -- until now.
"We have pretty good information on iconic lakes like Caspian Sea, Aral Sea and Salton Sea, but if you want to say something on a global scale, you need reliable estimates of lake levels and volume," said Balaji Rajagopalan, a CIRES fellow, professor of engineering at CU Boulder, and co-author. "With this novel method …we are able to provide insights into global lake level changes with a broader perspective."
For the new paper, the team used 250,000 lake-area snapshots captured by satellites between 1992-2020 to survey the area of 1,972 of Earth's biggest lakes. They collected water levels from nine satellite altimeters and used long-term water levels to reduce any uncertainty. For lakes without a long-term level record, they used recent water measurements made by newer instruments on satellites. Combining recent level measurements with longer-term area measurements allowed scientists to reconstruct the volume of lakes dating back decades.
The results were staggering:
53 percent of lakes globally experienced a decline in water storage.
The authors compare this loss with the magnitude of 17 Lake Meads, the largest reservoir in the United States.
To explain the trends in natural lakes, the team leveraged recent advancements in water use and climate modelling. Climate change and human water consumption dominated the global net decline in natural lake volume and water losses in about 100 large lakes, Yao said. "And many of the human and climate change footprints on lake water losses were previously unknown, such as the desiccations of Lake Good-e-Zareh in Afghanistan and Lake Mar Chiquita in Argentina."
Lakes in both dry and wet areas of the world are losing volume. The losses in humid tropical lakes and Arctic lakes indicate more widespread drying trends than previously understood.
Yao and his colleagues also assessed storage trends in reservoirs. They found that nearly two-thirds of Earth's large reservoirs experienced significant water losses.
"Sedimentation dominated the global storage decline in existing reservoirs," said Ben Livneh, also a co-author, CIRES fellow, and associate professor of engineering at CU Boulder. In long-established reservoirs -- those that filled before 1992 -- sedimentation was more important than droughts and heavy rainfall years.
While the majority of global lakes are shrinking, 24 percent saw significant increases in water storage. Growing lakes tend to be in underpopulated areas in the inner Tibetan Plateau and Northern Great Plains of North America and in areas with new reservoirs such as the Yangtze, Mekong, and Nile river basins.
The authors estimate roughly one-quarter of the world's population, 2 billion people, resides in the basin of a drying lake, indicating an urgent need to incorporate human consumption, climate change, and sedimentation impacts into sustainable water resources management.
And their research offers insight into possible solutions, Livneh said. "If human consumption is a large factor in lake water storage decline, then we can adapt and explore new policies to reduce large-scale declines."
This happened in one of the lakes the team studied, Lake Sevan in Armenia. Lake Sevan has seen an increase in water storage, in the last 20 years, which the authors linked to enforcement of conservation laws on water withdrawal since the early 2000s.
Fangfang Yao, Ben Livneh, Balaji Rajagopalan, Jida Wang, Jean-François Crétaux, Yoshihide Wada, Muriel Berge-Nguyen.
Satellites reveal widespread decline in global lake water storage.
Science, 2023; 380 (6646): 743 DOI:
10.1126/science.abo2812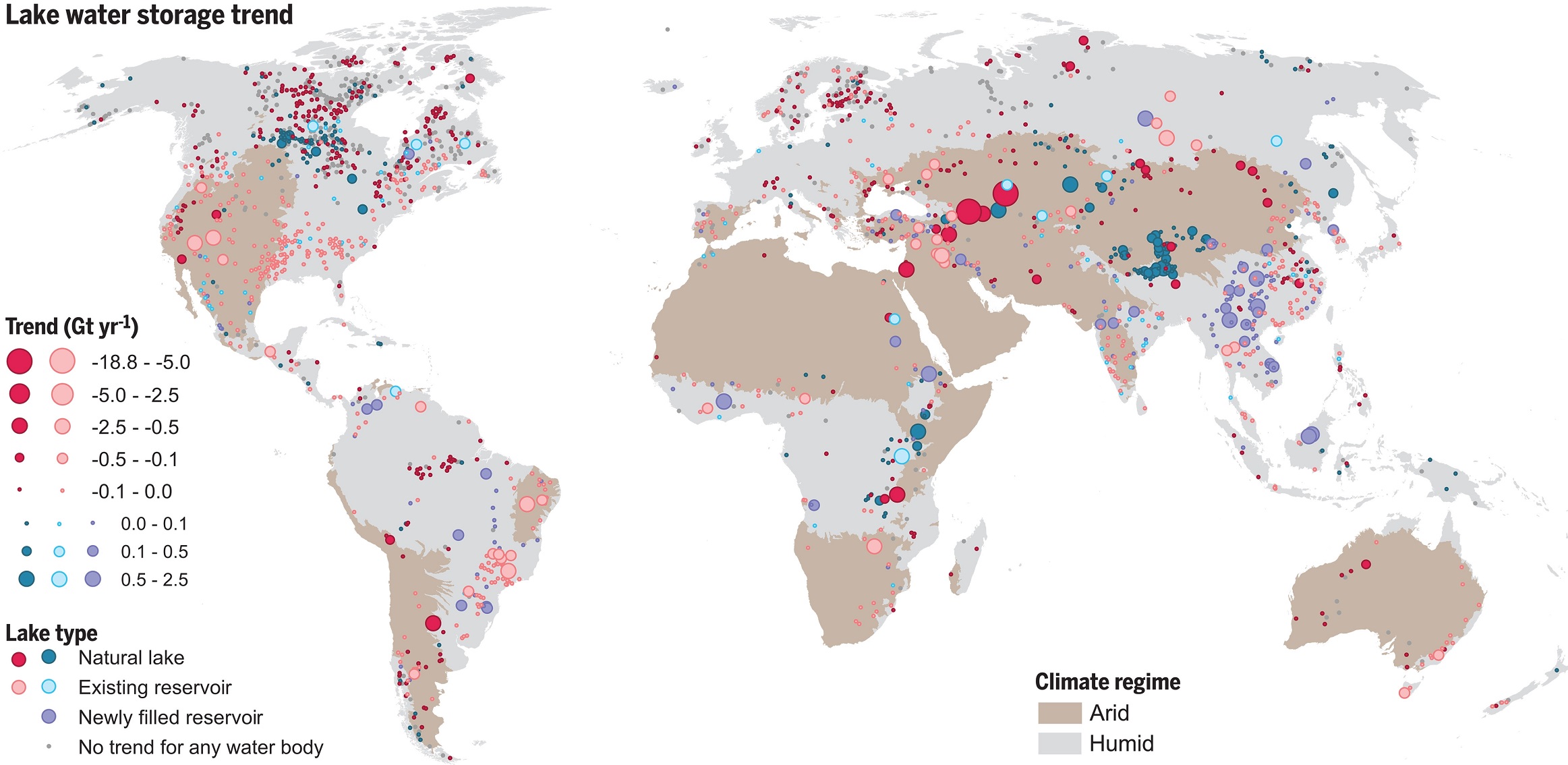 Fig. 1. Widespread storage decline in large global lakes from October 1992 to September 2020.
Lake water storage (LWS) trends for 1058 natural lakes (dark red and dark blue dots) and 922 reservoirs (light red and light blue dots). Recently filled reservoirs after 1992 are denoted as light purple dots. All coloured dots denote statistically significant trends (p < 0.1), whereas no significant trends are shown as grey dots. Classification of climate regimes between arid and humid regions was done using the aridity index [ratio of mean annual precipitation to mean annual potential evapotranspiration (materials and methods)].
New Supply Chain Model To Empower Seabound Hydrogen Economy: UTS
A team of researchers has created a new supply chain model which could empower the international hydrogen renewable energy industry.
Hydrogen has been touted as the clean fuel of the future; it can be generated from water and produces zero carbon emissions. However, it is currently expensive to transport over long distances, and currently no infrastructure is in place to do so.
The new supply chain model, created by researchers in Australia, Singapore and Germany, successfully guides the development of international transport of hydrogen and its embodied energy.
The full report was recently published in the peer-reviewed journal, , Energy Conversion and Management.
Associate Professor Kaveh Khalilpour, from the University of Technology Sydney (UTS) and lead of the report, said supply chain design is critical for making hydrogen economic.
"We looked at the renewable hydrogen export from Australia to Singapore, Japan, and Germany. Surprisingly, the analysis revealed that it matters whether the goal is to export 'hydrogen the atom' or 'hydrogen the energy'. Each choice leads to a different supply chain system.
"Therefore, a thorough understanding of the whole system is necessary for correct decision making," said Associate Professor Khalilpour.
"The abundance of renewable energy resources in Australia, as well as its stable economy, means the country can attract investments in building these green value chains in our region and even as far away as Europe."
Hydrogen is expected to help diversify Australia's renewable energy resource beyond solar and wind power. This is seen as critical to the country's energy security, as well as necessary for climate change mitigation.
"Hydrogen is just an energy carrier, i.e. not a primary energy source, and thus only a means to an end for transporting renewable energy from one place to another.
"The key business question around the emerging hydrogen economy is whether commodities such as green hydrogen, methanol or ammonia can be exported profitably and competitively also over long distances and across the oceans, thus bringing green energy to other places in the world.
"If this is so, this will also have major international energy and climate policy implications," said Professor Reinhard Madlener, co-lead of the project, from RWTH Aachen University, Germany.
"Our model suggests that methanol shows great promise as a chemical carrier for exporting renewable energy from Australia at low costs," said Professor Iftekhar Karimi, from the National University of Singapore, and co-lead of the project.
Muhammad Aadil Rasool, Kaveh Khalilpour, Ahmad Rafiee, Iftekhar Karimi, Reinhard Madlener.
Evaluation of alternative power-to-chemical pathways for renewable energy exports
. Energy Conversion and Management, 2023; 287: 117010 DOI:
10.1016/j.enconman.2023.117010
Building Trusted Digital Services:
The Trustworthy Digital Society Hub
Former NSW Government Minister Victor Dominello has been appointed Director of a new initiative from UNSW Sydney and the University of Technology Sydney (UTS) ­– the Trustworthy Digital Society Hub – designed to lead research and insights in citizen-centred digital platforms.
UNSW and UTS developed the new Hub in close collaboration with Mr Dominello, aimed at supporting individuals, businesses and governments seeking to build a trustworthy digital society.
Mr Dominello says society has reached a point where we increasingly expect to be able to engage with services on-line 24/7 with ease, through digital platforms. He also says that while consumers have by and large accepted the benefits of the digital economy, they remain sceptical with how and by whom their data is used.
"We founded the Trustworthy Digital Society Hub to help create a world where individuals and communities can fully benefit from the opportunities of the digital age without sacrificing their privacy, security or fundamental rights," Mr Dominello says.
"The Hub will be a centre of innovation, bringing together researchers, technologists and policymakers to develop new digital technologies and practices that prioritise privacy, security and ethical considerations. It will serve as a trusted resource providing education, training and tools to help people understand the risks and benefits of digital technologies, and to make informed decisions about how to use them safely and responsibly."
It's clear the role of technology in our lives will continue to grow, and it's vitally important that people, government and business take a human-centred approach to developing the tools and capabilities to navigate the rapidly evolving tech landscape. -

Professor Andrew Parfitt,

UTS Vice-Chancellor and President
During his 14 years in the NSW Parliament, including serving as Minister for Digital and Minister for Customer Service, Mr Dominello oversaw a large part of the NSW government's digital transformation. He led a substantial evolution of Service NSW and its app, which saw the delivery of digital solutions such as QR check-ins and vaccine certificates during the COVID-19 pandemic.
Mr Dominello says consumer trust must be built into digital systems, and that is the premise for the new Hub.
"Trust is best built if information that's accessed on digital platforms remains owned by the consumer, regulated for the benefit of the consumer and is only held by third parties to serve the needs of the consumer.
"I am delighted to be working with UNSW and UTS on this important initiative, which will draw upon their deep pool of research, skills, technology and systems so we can develop effective models to test, refine and innovate for the benefit of our community."
UNSW Vice-Chancellor and President Professor Attila Brungs says he's excited Mr Dominello is joining as Director of the new Hub, with his proven track record in leading digital transformation in Australia.
"Victor was responsible for modernising the delivery of government services in NSW and has demonstrated in building NSW's online customer services how technology can transform people's lives for the better," Prof. Brungs says.
"UNSW looks forward to providing valuable guidance as part of this important collaboration, for individuals, government and industry and creating a true digital society."
UTS Vice-Chancellor and President Professor Andrew Parfitt says the Hub will leverage UTS's well established research capability and expertise in digital science, particularly in the areas of responsible use of technology and the ethics of artificial intelligence.
"UTS is excited to work alongside UNSW and Victor Dominello to help shape a society where people can benefit from the opportunities of a digital age in an equitable, inclusive and sustainable way.
"It's clear the role of technology in our lives will continue to grow, and it's vitally important that people, government and business take a human-centred approach to developing the tools and capabilities to navigate the rapidly evolving tech landscape."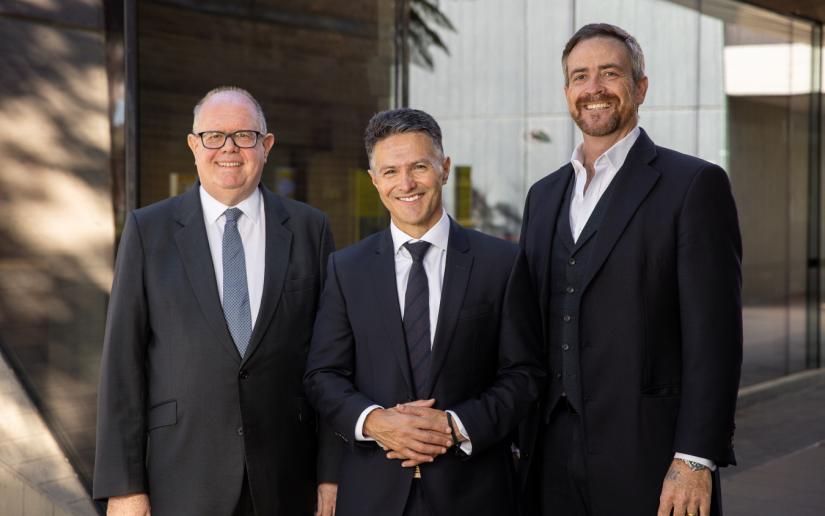 UTS Vice-Chancellor and President Professor Andrew Parfitt, Director of the UNSW-UTS Trustworthy Digital Society Hub Mr Victor Dominello, UNSW Vice-Chancellor and President Professor Attila Brungs. Photo by Maja Baska/UNSW

Flexing Crystalline Structures Provide Path To A Solid Energy Future
A team of researchers at Duke University and their collaborators have uncovered the atomic mechanisms that make a class of compounds called argyrodites attractive candidates for both solid-state battery electrolytes and thermoelectric energy converters.
The discoveries -- and the machine learning approach used to make them -- could help usher in a new era of energy storage for applications such as household battery walls and fast-charging electric vehicles.
The results appeared online May 18 in the journal Nature Materials.
"This is a puzzle that has not been cracked before because of how big and complex each building block of the material is," said Olivier Delaire, associate professor of mechanical engineering and materials science at Duke. "We've teased out the mechanisms at the atomic level that are causing this entire class of materials to be a hot topic in the field of solid-state battery innovation."
As the world moves toward a future built on renewable energy, researchers must develop new technologies for storing and distributing energy to homes and electric vehicles.
While the standard bearer to this point has been the lithium-ion battery containing liquid electrolytes, it is far from an ideal solution given its relatively low efficiency and the liquid electrolyte's affinity for occasionally catching fire and exploding.
These limitations stem primarily from the chemically reactive liquid electrolytes inside Li-ion batteries that allow lithium ions to move relatively unencumbered between electrodes. While great for moving electric charges, the liquid component makes them sensitive to high temperatures that can cause degradation and, eventually, a runaway thermal catastrophe.
Many public and private research labs are spending a lot of time and money to develop alternative solid-state batteries out of a variety of materials. If engineered correctly, this approach offers a much safer and more stable device with a higher energy density -- at least in theory.
While nobody has yet discovered a commercially viable approach to solid-state batteries, one of the leading contenders relies on a class of compounds called argyrodites, named after a silver containing mineral. These compounds are built from specific, stable crystalline frameworks made of two elements with a third free to move about the chemical structure. While some recipes such as silver, germanium and sulfur are naturally occurring, the general framework is flexible enough for researchers to create a wide array of combinations.
"Every electric vehicle manufacturer is trying to move to new solid-state battery designs, but none of them are disclosing which compositions they're betting on," Delaire said. "Winning that race would be a game changer because cars could charge faster, last longer and be safer all at once."
In the new paper, Delaire and his colleagues look at one promising candidate made of silver, tin and selenium (Ag8SnSe6). Using a combination of neutrons and x-rays, the researchers bounced these extremely fast-moving particles off atoms within samples of Ag8SnSe6 to reveal its molecular behavior in real-time. Team member Mayanak Gupta, a former postdoc in Delaire's lab who is now a researcher at the Bhabha Atomic Research Center in India, also developed a machine learning approach to make sense of the data and created a computational model to match the observations using first-principles quantum mechanical simulations.
The results showed that while the tin and selenium atoms created a relatively stable scaffolding, it was far from static. The crystalline structure constantly flexes to create windows and channels for the charged silver ions to move freely through the material. The system, Delaire said, is like the tin and selenium lattices remain solid while the silver is in an almost liquid-like state.
"It's sort of like the silver atoms are marbles rattling around about the bottom of a very shallow well, moving about like the crystalline scaffold isn't solid," Delaire said. "That duality of a material living between both a liquid and solid state is what I found most surprising."
The results and, perhaps more importantly, the approach combining advanced experimental spectroscopy with machine learning, should help researchers make faster progress toward replacing lithium-ion batteries in many crucial applications. According to Delaire, this study is just one of a suite of projects aimed at a variety of promising argyrodite compounds comprising different recipes. One combination that replaces the silver with lithium is of particular interest to the group, given its potential for EV batteries.
"Many of these materials offer very fast conduction for batteries while being good heat insulators for thermoelectric converters, so we're systematically looking at the entire family of compounds," Delaire said. "This study serves to benchmark our machine learning approach that has enabled tremendous advances in our ability to simulate these materials in only a couple of years. I believe this will allow us to quickly simulate new compounds virtually to find the best recipes these compounds have to offer."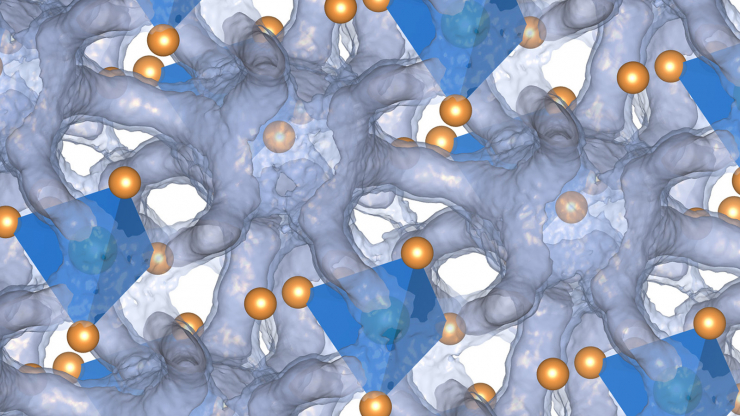 An illustration of the hybrid crystalline-liquid atomic structure in the superionic phase of Ag8SnSe6
— a material that shows great promise for allowing commercial solid-state batteries. The tube-like filaments show the liquid-like distribution of silver ions flowing through the crystalline scaffold of tin and selenium atoms (blue and orange).
This work was supported by the Guangdong Basic and Applied Basic Research Foundation (2021B1515140014), the National Natural Science Foundation of China (52101236, U1732154, T2125008, 52272006), the Institute of High Energy Physics, Chinese Academy of Science (E15154U110), the Open project of Key Laboratory of Artificial Structures and Quantum Control (2021-05), the U.S. National Science Foundation (DMR-2119273), the "Shuguang Program" from the Shanghai Education Development Foundation and Shanghai Municipal Education Commission, the Australia Research Council (DP210101436).
Qingyong Ren, Mayanak K. Gupta, Min Jin, Jingxuan Ding, Jiangtao Wu, Zhiwei Chen, Siqi Lin, Oscar Fabelo, Jose Alberto Rodríguez-Velamazán, Maiko Kofu, Kenji Nakajima, Marcell Wolf, Fengfeng Zhu, Jianli Wang, Zhenxiang Cheng, Guohua Wang, Xin Tong, Yanzhong Pei, Olivier Delaire, Jie Ma.
Extreme phonon anharmonicity underpins superionic diffusion and ultralow thermal conductivity in argyrodite Ag8SnSe6
. Nature Materials, 2023; DOI:
10.1038/s41563-023-01560-x
Oldest Architectural Plans Detail Mysterious Desert Mega Structures
An international team of researchers including the University of Freiburg identifies engravings in Jordan and Saudi Arabia as the oldest known scaled building plans in human history.
Although human constructions have modified natural spaces for millennia, few plans or maps predate the period of the literate civilizations of Mesopotamia and Ancient Egypt. Researchers from the French research organisation "Centre national de la recherche scientifique" (CNRS), together with Prof. Dr. Frank Preusser from the University of Freiburg, have now been able to identify engravings in Jordan and Saudi Arabia as the oldest known true-to-scale construction plans in human history.
The 8,000 to 9,000-year-old engravings depict so-called desert dragons -- kilometre long prehistoric megastructures used to trap animals. "Conclusions can be drawn from the findings about the people of the time. The ability to transfer a large space to a small, two-dimensional plan represents a milestone in intelligent behaviour," explains Preusser.
The results, which were published in mid-May in the scientific journal PLOS ONE, should help to understand how desert dragons were conceived and built.
Scale plans of desert dragons discovered in Jordan and Saudi Arabia
Both finds are representations of nearby desert dragons engraved with stone tools. First sighted from aircrafts in the 1920s, desert dragons, up to five kilometres long, consist of stone walls that converge in a complex bounded by pits. As archaeologists have been able to determine in recent years, they were used for large-scale trapping of wild animals.
In Jordan, there are eight desert dragons in the area of Jibal al-Khasabiyeh. There, the researchers found a depiction engraved in stone that measures 80 by 32 cm, its age is about 9,000 years. At Jebel az-Zilliyat in Saudi Arabia, two visible pairs of dragons are found three and a half kilometres apart. Here, too, a scaled engraving dating back about 8,000 years was discovered with a total length of 382 cm and a width of 235 cm.
Plans of large structures have so far only been attested by rough representations, in stark contrast to the precision of the engravings of al-Khashabiyeh and az-Zilliyat. The question of their exact use and how they were implemented, especially due to the difficulty of grasping the entire complex from the ground, remains for the time being the secret of the people by whom they were created.
Rémy Crassard, Wael Abu-Azizeh, Olivier Barge, Jacques Élie Brochier, Frank Preusser, Hamida Seba, Abd Errahmane Kiouche, Emmanuelle Régagnon, Juan Antonio Sánchez Priego, Thamer Almalki, Mohammad Tarawneh.
The oldest plans to scale of humanmade mega-structures
. PLOS ONE, 2023; 18 (5): e0277927 DOI:
10.1371/journal.pone.0277927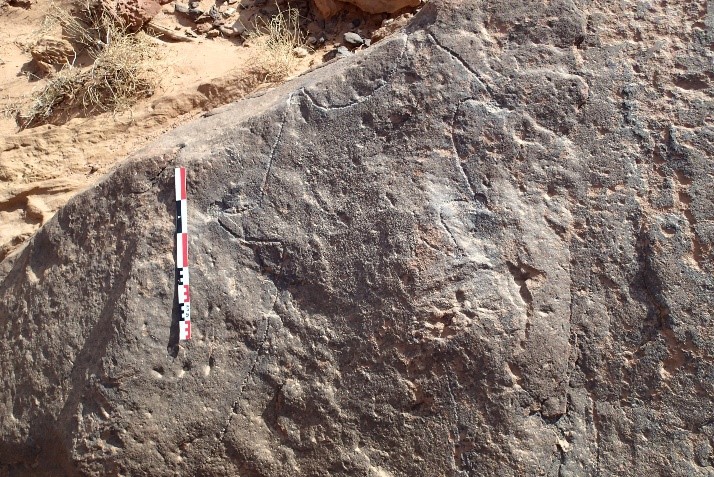 The dimensions of desert dragons only become apparent from the air: at Jebel az-Zilliyat in Saudi Arabia, the true-to-scale engraving depicts nearby desert dragons. Source: Oliver Barge, CNRS

Disclaimer: These articles are not intended to provide medical advice, diagnosis or treatment. Views expressed here do not necessarily reflect those of Pittwater Online News or its staff.