February 12 - 18 2023: Issue 571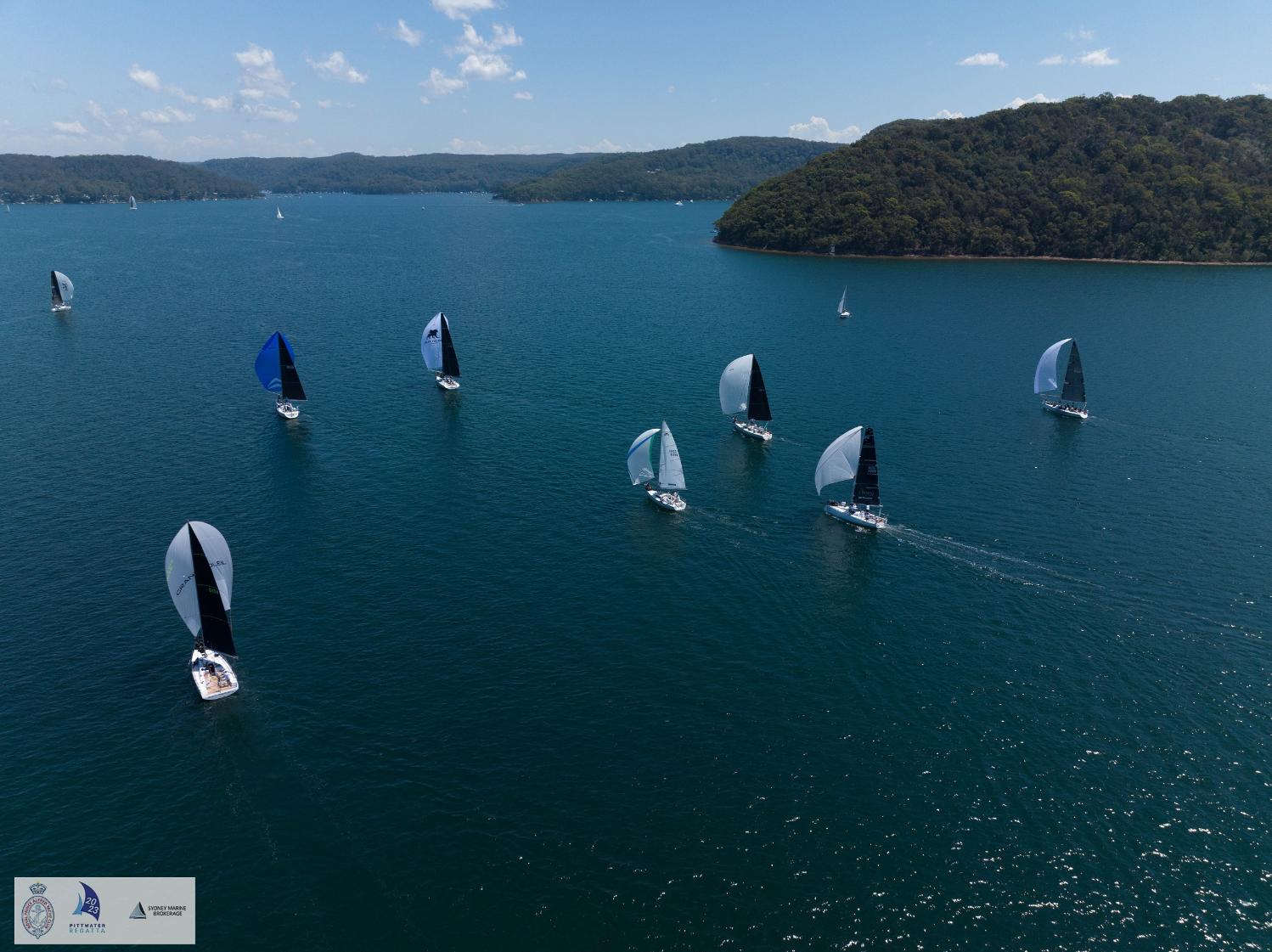 Pittwater Regatta competitors in ideal conditions, Photo: RPAYC
Defending ORC NSW Champions Come Out Firing
Friday February 10, 2023
The second running of the ORC NSW Championship, hosted Royal Prince Alfred Yacht Club (RPAYC) at Pittwater, opened on Broken Bay today, with two inshore races put to bed and the defending champions putting their rivals on notice.
Both Gerry Hatton's Bushranger in Division 1 and Simon Grosser's Young at Heart in Division 2, won both inshore races, each named Boat of the Day in their respective divisions.
Both currently hold onto the titles they won last year, but there are two days of racing remaining.
Hatton, as is usual, is joined by son-in-law Michael Fountain, who called tactics today, with Fountain's 21-year-old son, Tom, also on the crew.
"A real family affair," commented Hatton, whose son, Andrew, is missing the event, choosing to go skiing instead.
Today, Bushranger won both races, the first from Keiran Mulcahy's King 40, Soozal and Bob Cox's DK46, Nine Dragons, from Middle Harbour Yacht Club. In the second race, Bushranger defeated the same two boats, but in the reverse order.
Hatton described the day: "The north-easterly of up to 10-12 knots max finally arrived after alight 4-5 knots. It was a really beautiful day of sailing.
"We had long works and spinnaker runs, especially the second race, which we finished in one hour 46 minutes and 22 seconds."
In April, Hatton will take delivery of his new yacht, a MAT 1220. Slightly smaller than his current MAT 1245, Hatton explained, "It has a longer bowsprit which is great for bigger reaching and running sails."
Asked why he had bought a new boat when this Bushranger continues to do the job nicely, Hatton said laughing: "Because I wanted a new toy!"
"I told my son and my son-in-law we were spending their inheritance on buying the new boat and they said they'd prefer the new toy too!"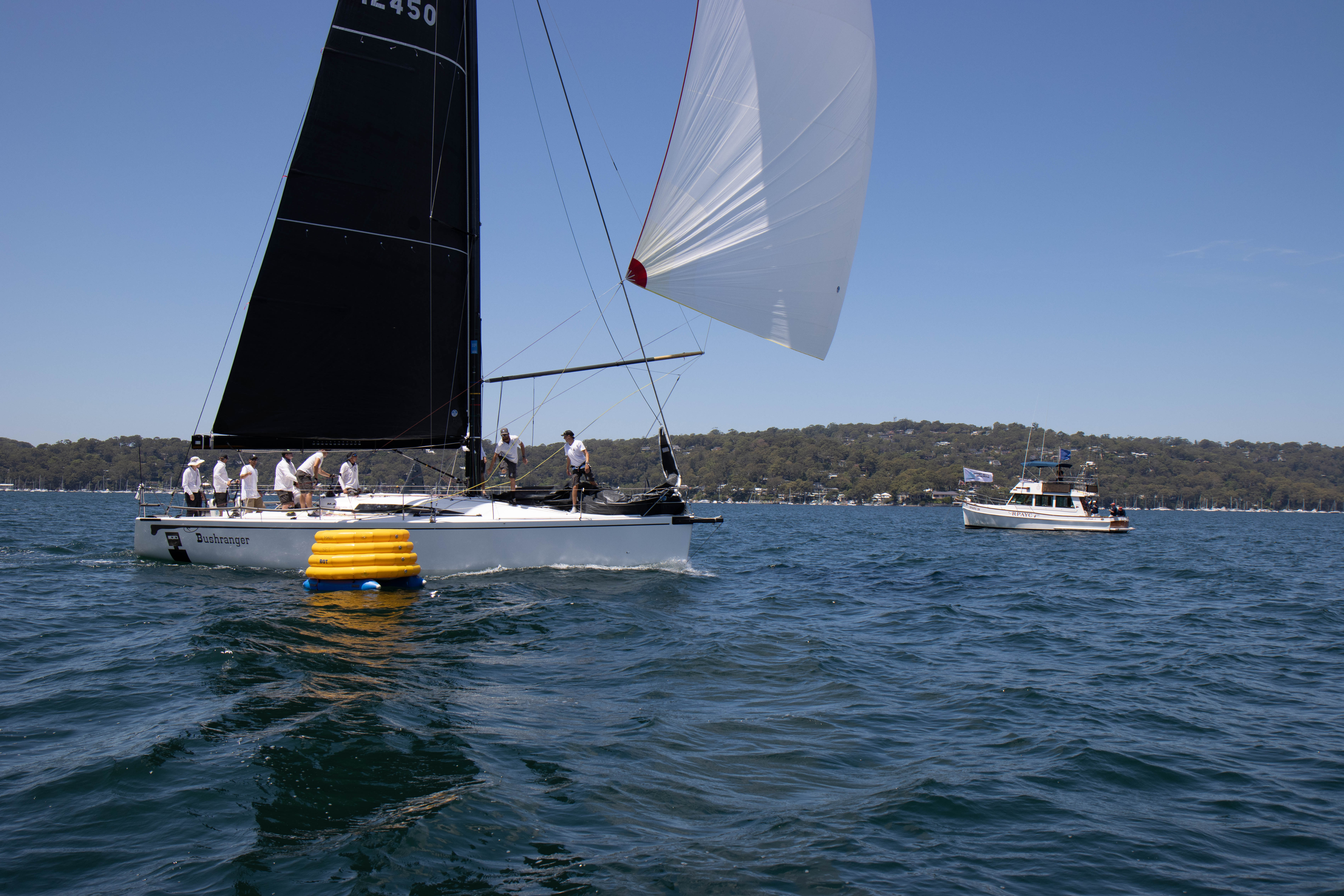 Bushranger leading at a mark. Photo: RPAYC

In Division 2, the 2022 winner, Simon Grosser, came up trumps again with Young at Heart. In the first race he held another Young 88, Coyote (Rob Brewer) at bay, with Martin Cross sailing his Jeanneau Sun Fast 3300, Transcendence Crento, into third.
Race 2 and it was Bullwinkle, the Bull 9000 owned by Regatta Chairman, Peter Farrugia, in second place. Transcendence Crento was third again.
"It was a big day. I had a good crew and we had a lot of fun. The racing was pretty close. Bullwinkle was way out in front, so we had to sail extremely well to beat them," a succinct Grosser commented.
"There were boats close around us throughout racing -lots of different designs and sizes," he said of the 12-strong Division 2 fleet.
Pittwater Vulnerable To Develop-Driven NSW Planning Regime:
NSW Greens MP Cate Faerhmann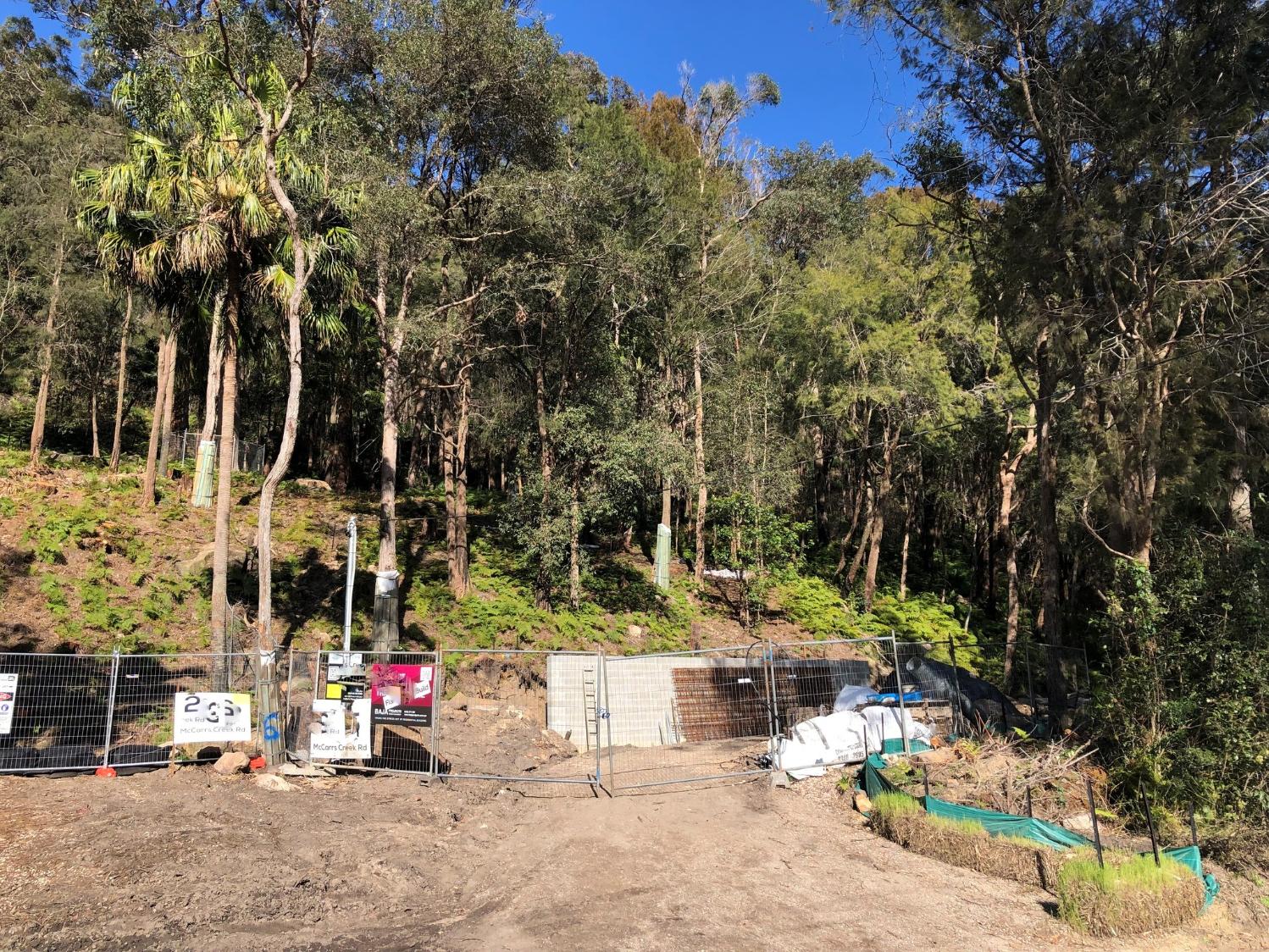 McCarrs Creek Road - 8 blocks in a row sold off, clear felled and run off into McCarrs creek polluting waterways. 130 trees were slated for removal as part of DA's for 3 of these 8 blocks - this was the removal of old growth gums habitat trees. Photo supplied.
Pittwater's spectacular environment is vulnerable to the developer-driven NSW planning regime, NSW Greens MP Cate Faehrmann has told a recent forum.
Ms Faehrmann, who is the Greens Planning spokesperson, condemned the state government's removal of planning powers from local councillors in metropolitan areas about five years ago, and the creation of planning panels to assess development applications.
Currently council staff made most of the decisions but a four person planning panel adjudicated on anything complex or controversial, she said.
The panels were composed from a list supplied by the state government and contained only one local person.
None of its members were elected, the community did not know who they were and couldn't approach them.
"It's a far cry from the days when, if you were elected, the councillors made these decisions and if you didn't like it you could bail them up at the post office and the decision could be rescinded and a better outcome sought," Ms Faehrmann told the Saving Pittwater from the Chainsaws public forum.
"Under the planning panels system, there is no ability for councillors to question or overturn a decision.
"The council cannot make a rescission motion if the panel makes an error or just makes a decision that is clearly not in the community's interest.
"The community can't sack the panel at the next election. They weren't elected and you don't know who they are.
"To top it all off, you pay for it. Planning panels cost councils tens of thousands of dollars each year."
The Greens would return these planning powers to local councillors, under a soon to be released policy for the upcoming state election, she said.
"We will restore the powers to councils without removing any of the checks and balances, including that councillors will not be able to be on council if they have real estate or developer interests," she said.
The standing room-only "Saving Pittwater from the Chainsaws" forum was organised by Northern Beaches Greens and took place at the Nelson Heather Centre on February 2.
Other speakers also addressed the planning crisis in Pittwater that has outraged many residents, with inappropriate DAs being passed and the Draft Conservation Zones Review's proposal to downgrade 3,613 properties from Conservation Zones to Residential Zones in the former Pittwater Council area.
Environment and Planning lawyer James Ryan told the forum Pittwater could legally keep its own planning rules but upgrade environmental protection in the LEP, as part of the amalgamated Northern Beaches Council area.
"No one is saying it's unlawful," Mr Ryan said.
"There's nothing that I've seen in any regulation, direction or edict from the minister that says the Pittwater LEP will become unlawful at any point of time.
"So you can keep your Pittwater LEP – I don't think so, I know so.
"The other thing that Northern Beaches Council could do is to decide that the Pittwater LEP now applies to Warringah and Manly.
"There isn't a [ministerial] directive, there's a policy. If you saw the fine-print, the policy is that you don't have to have a harmonised, single, new LEP; you can just expand one of the LEPs.
"You could just expand the Pittwater LEP. The Pittwater LEP is the one that should apply, all the way down to the ferry at Manly."
Ms Faehrmann agreed the single LEP under development by NBC would homogenise planning rules across the LGA, and water down Pittwater's environmental protections.
"Instead of aiming high, amalgamations have allowed Northern Beaches Council to move to the lowest common denominator," she said.
Palm Beach and Whale Beach Association president Richard West told the meeting that the group had protected the environment there for more than 100 years.
"It's becoming more and more difficult," Associate Professor West said.
"The council is continually passing DAs with multiple non-compliances on height, setbacks, trees and major excavations – we have quarries down at Palm Beach, at Ocean Rd.
"Whale Beach has turned into a disaster. Massive properties are being approved based on merit. Who's merit, merit for who? We don't know! We're not told."
Assoc. Prof. West said the whole of Palm Beach used to be an environmental zone, with 1,500 houses in the small area of Palm Beach and Whale Beach.
"Twenty-five percent are going to become residential zones," he said.
"They haven't defined residential; they haven't told us what they mean by residential.
"To be transparent, when they [NB Council] finally define residential, they need to go back and start the consultation all over again. How the hell can you possibly be expected to comment on the document when they don't even define some of the major criteria?"
Another speaker from the floor, Bayview and Church Point Residents Association president Peter Blanchard, said his area was "another jewel in the crown on Pittwater".
"We've got some pretty sombre examples in our part of the world and, in fact, across the road from where I live," Mr Blanchard said.
"If my wife and I got caught short on this [DA's going through], how the hell do other people keep up?
"We woke up one day and found that seven blocks of land - in a row - had been put on the market by Roads and Maritime.
" … Obviously [as a result of] requiring its public utilities to find budget in some way, they look around, they find some land, and there's a way of making some money."
Mr Blanchard had approached current Pittwater MP Rob Stokes about the sales, but found "he wasn't aware that one of his fellow ministers was making a few quid [for their Department] on the side, selling off a tranche of seven blocks of land".
DAs for three of those seven blocks had already been approved.
"The removal of the old growth forest and the undergrowth – as I say, abutting a virtual rainforest – has started," he said.
"We had some heavy rainfall here the past few days and it was very typical there that these slopes – very steep blocks – and soil of course, because it's bare earth, is running down onto the road, crossing the road, and then it runs into the creek.
"I'd been away for a few days, and I saw this soil colour in the creek.
"I thought it got some sort of growth in the creek, but no, it's actually from across the road and running up McCarrs Creek."
A Brilliant Day: New Clubhouse For Long Reef SLSC Opened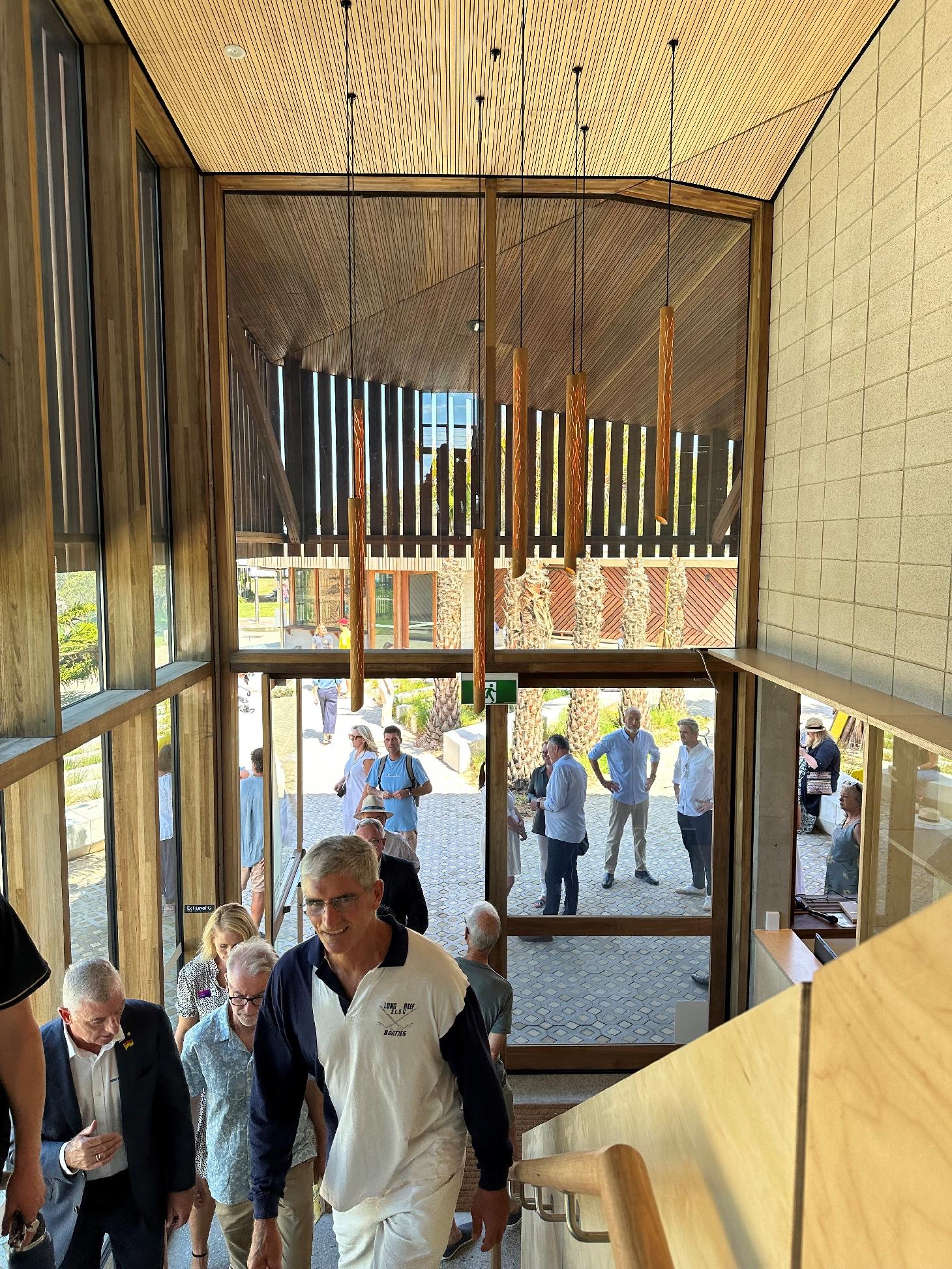 On Saturday, 11th of February 2023 the official opening of the new Long Reef SLSC took place.
The new development includes three new pavilion-style buildings around a landscaped courtyard, including a clubhouse, gym, training room, function room in addition to a small commercial café, Council Lifeguard storage and a public amenities block. The design aesthetic responds to the unique and sensitive location and surrounds and implements best practice sustainability measures.

It includes the two-storey surf club fitted out with a gym, first aid room, training rooms, function space, and surf club storage as well as a separate public amenities block, a bespoke café and community storage lockers (including for Council Lifeguards and the local Board Riders Club).
Situated on the rear of the dunes, with a perfect north-east aspect, and airflow throughout, the structure realises the vision of the local community with light fiilled airy spaces.
A Smoking ceremony was given by Clarence Bruinsma (Yagel man) along with an Acknowledgement of country.
Politicians Michael Regan, Mackellar MP Sophie Scamps, Labor Senator Tony Sheldon, Wakehurst MP Brad Hazzard, Long Reef President Peter Kinsey, and SLS NSW President George Shales spoke during the opening ceremony.
Dr. Scamps said ''This is what comes when all levels of government collaborate for the good of their communities.
Thank you to President Peter Kinsey for your tenacity over the 20 year lifetime of the project. To all the volunteers at the club - thank you for all you do - which is so much more than saving lives and keeping us safe on the beach. Your club and many like it are the heart and soul of our community - building camaraderie, intergenerational connections, teaching leadership skills and resilience.
This building will be a wonderful community hub for many years to come.''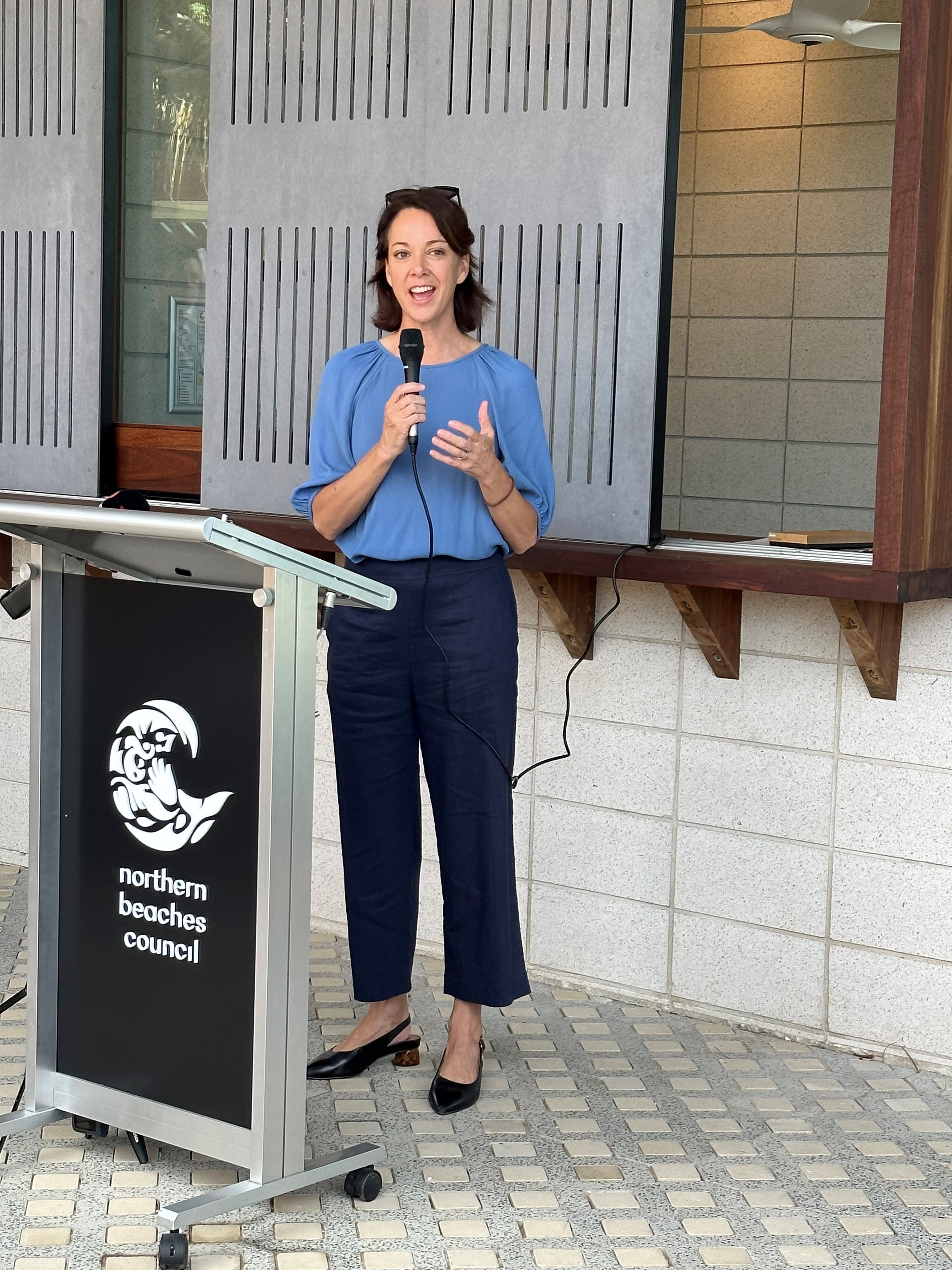 Mayor Michael Regan said Council has worked extensively with Long Reef Surf Life Saving Club and the Stakeholders' Working Group to develop a purpose-built facility to balance the needs of those who will utilise the facility.

"Long Reef is a rare jewel on Sydney's Northern Beaches, a sanctuary for native flora and fauna and the people who come from near and far to escape the suburban sprawl and reconnect with nature," Mayor Regan said.
"This facility will provide a welcoming centre of activity for the broader beach-loving community, and a long-term base for future generations of volunteer surf life savers to share their skills, conduct vital patrols and provide a safe beach environment for everyone to enjoy.
"It's modern and functional whilst being sympathetic to the spectacular location in which it sits, right by Long Reef beach."
Peter Kinsey, President of Long Reef Long Reef Surf Life Saving Club said the new site will not only help support the Club but enable it to continue to protect the community on the beach and provide its 1000 members a new family-friendly facility that they along with locals and visitors can enjoy.
"I said when the fences went up that I was sad to see the old buildings go, but it was well and truly past its used-by date. This new site is both spectacular and functional," Mr Kinsey said.
"I am so glad I could be here to witness its completion after being part of the Club for more than 60 years. It's a real special feeling."
Mr Kinsey and Mr Regan had the honour of cutting the ribbon: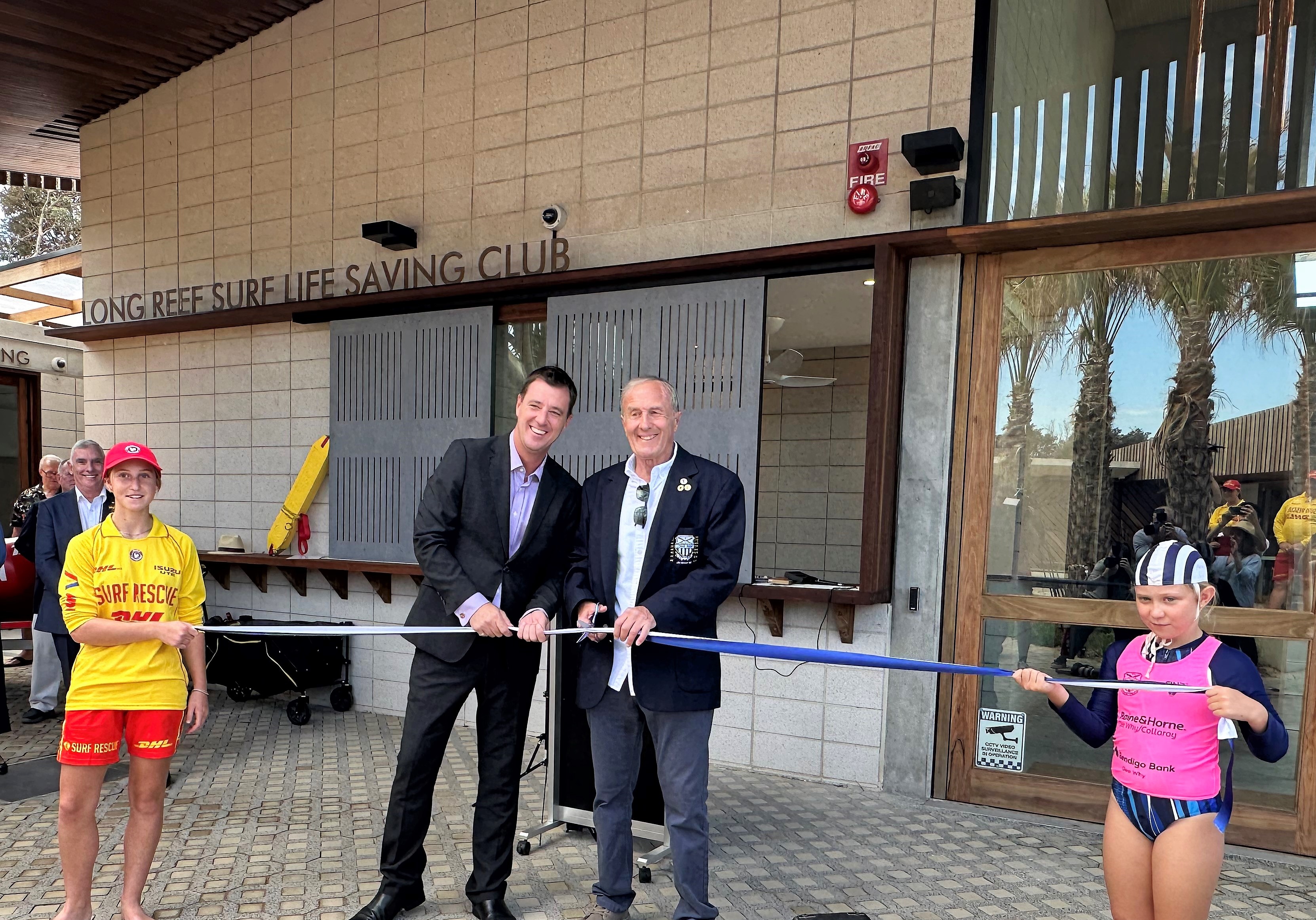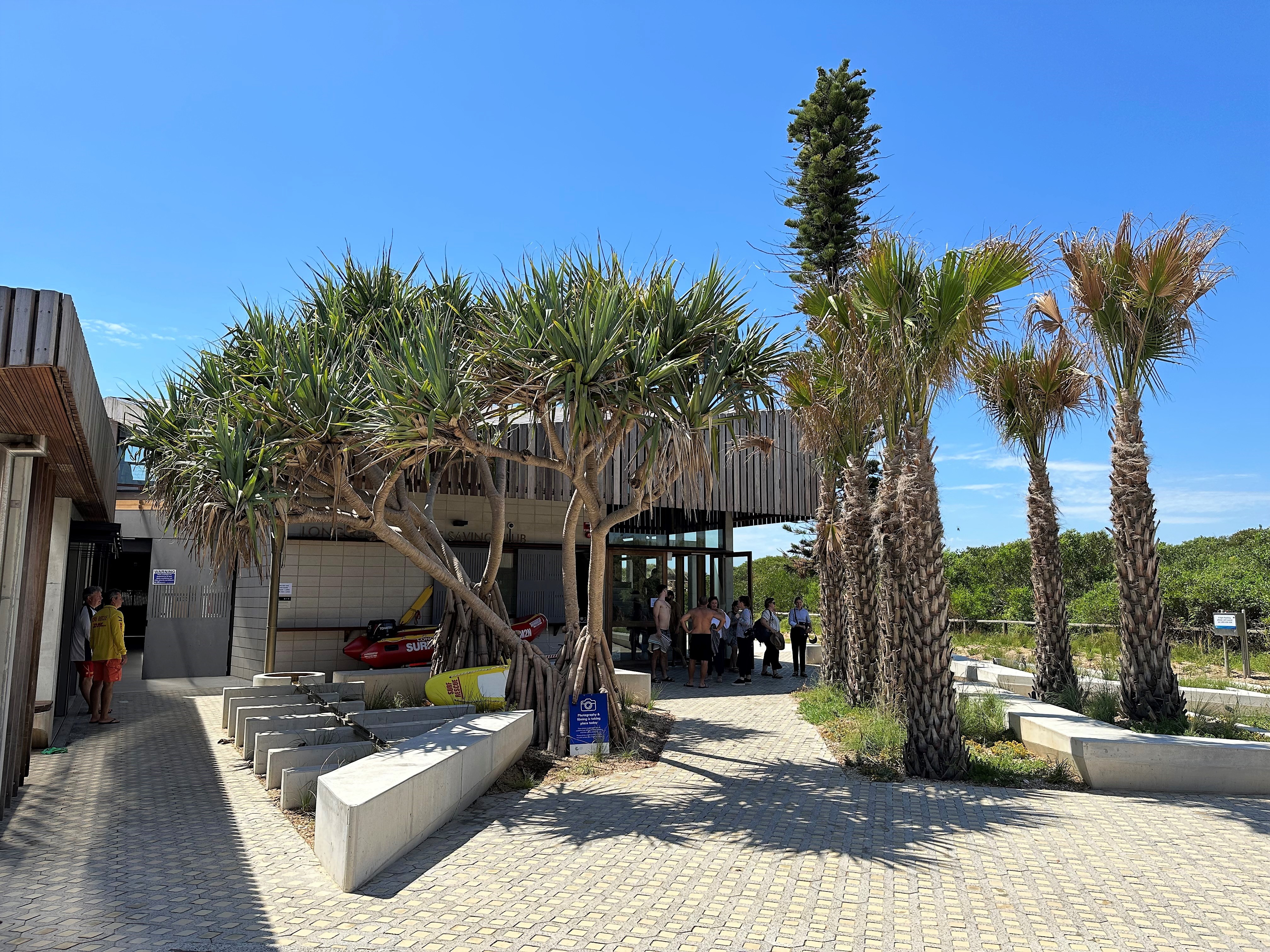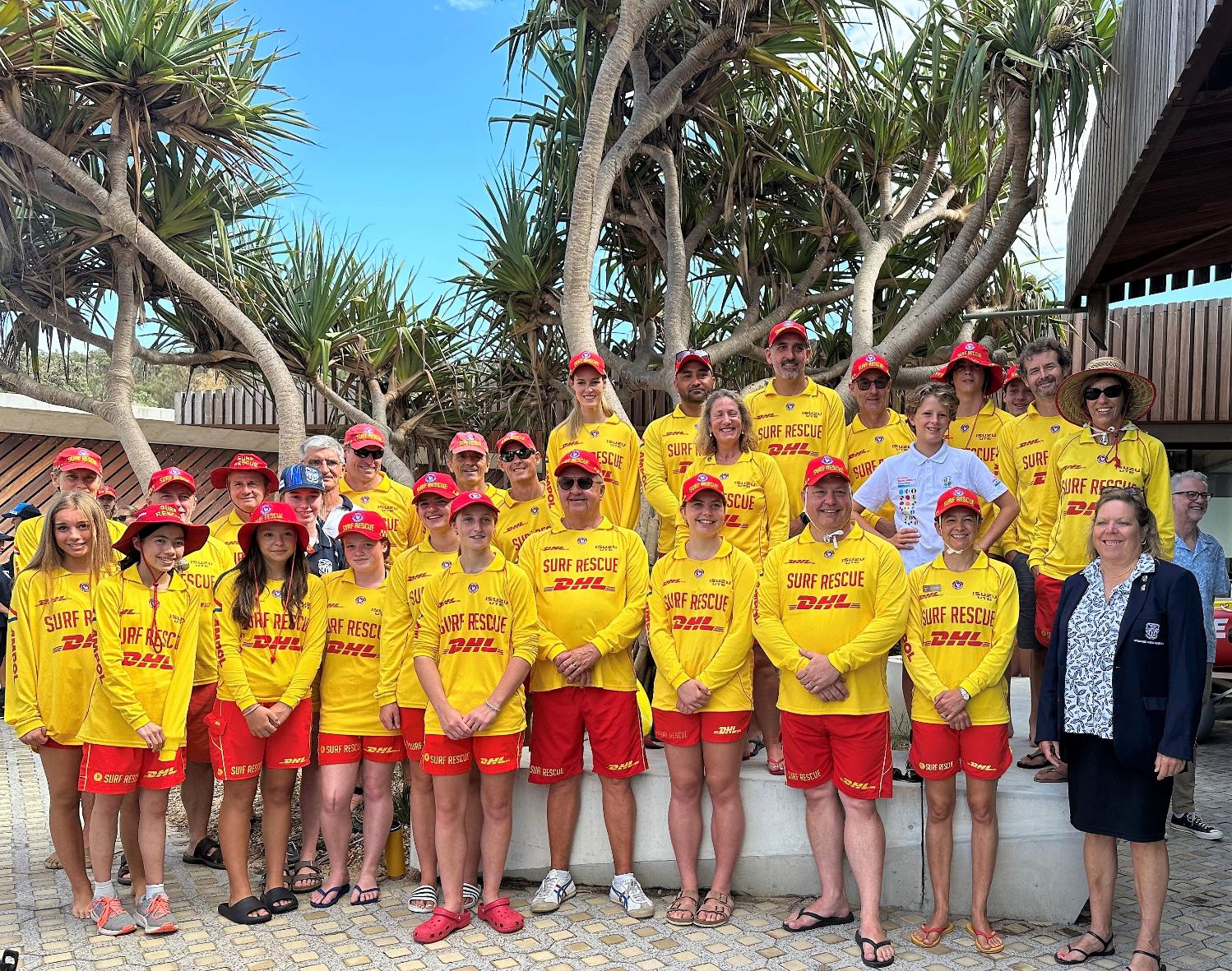 Pretty happy! Long Reef SLSC Members. Photos: Cr. Miranda Korzy.
Three Local Youth Focussed Sailing Clubs Matched With SailGP Sydney 2023 Teams – The Adopt A Club Initiative Ups The Passion For Being On Local Waterways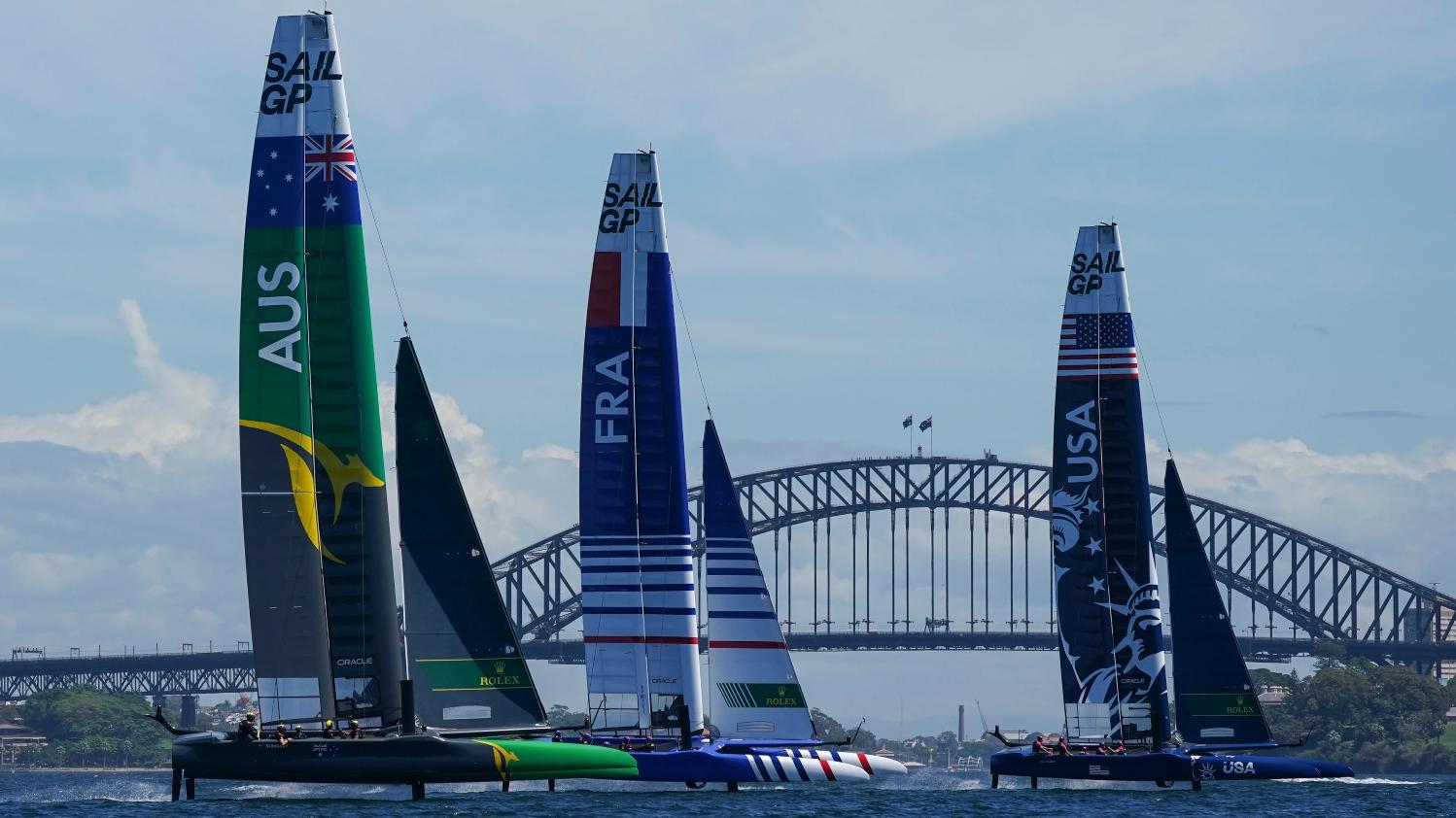 Three local clubs are among those named for the SailGP Sydney event this February as part of the Adopt a Club initiative. The Royal Prince Alfred Yacht Club has been paired with Great Britain, the Bayview Yacht Racing Association with the USA team and boat and Narrabeen Lakes Sailing Club with the French team and boat.
Following a hugely successful Australia Sail Grand Prix in SailGP Season 2 – won by the Australian SailGP Team led by home-grown Olympic gold medallist Tom Slingsby – SailGP returns to the iconic waters of Sydney Harbour on February 18-19 for the ninth event of SailGP Season 3.
The event will showcase the best Sydney Harbour has to offer, with close, heart-stopping racing and an extensive range of free and ticketed spectator experiences both on and off-water – all in front of a spectacular backdrop. For those who have missed out on tickets, SailGP Sydney 2023 will be broadcast on 7mate from 4:00 PM to 5:30 PM AEDT on both days of racing.
Since day one of SailGP, Tom Slingsby's Australia has built a reputation as a formidable racing force. The team followed its Season 1 triumph with a second Championship title in Season 2 before storming into Season 3 with the same approach. Since then, they've racked up six podium positions, including three event wins, with last minute comebacks and dominating fleet performances. Sitting comfortably at the top of the leaderboard, Australia remains the team to beat with just three events to go.

As Tom explained this week:
''The origins of the Australia SailGP Team started back in 2011 when Sam Newton, Kyle Langford, Kinley Fowler and myself all joined Oracle Team USA in the America's Cup within a month or two. At this point in time, the America's Cup had changed into fast-paced, extreme catamaran sailing and there was a real push for the next generation of talent to come through and sail these boats. All four of us got hired at the same time and went through both the 2013 and 2017 campaigns together.
During the 2017 campaign, we also became good friends with Jason Waterhouse, who was with SoftBank Team Japan. Having the experience of sailing together throughout the America's Cup meant that when SailGP came along, putting the team together was easy. These are guys I've sailed and raced with for years, and some are my best friends, so we're not going to annoy or frustrate each other off the water.''
Although national pride will be on the line as Slingsby's green and gold team race against the sport's best athletes from eight other nations, there will be a few voices raised cheering on France and the United States of America as well this year, and not just because the USA Team's James Spithill is one of our own.
SailGP Inspire's Adopt-a-Club community outreach program made its debut in Sydney at the Australia Sail Grand Prix in 2021. Initiating partnerships through local sailing clubs and organisations, the program is designed to expand opportunities in the sport for diversity and inclusion as part of the global league's Race for the Future – driving towards a better sport and a better planet.
In each SailGP host city, SailGP's eight national teams – comprising the sports best athletes – are fostering relationships within the respective communities. Recognising that sailing organisations and clubs are the entry point for many young people to a world of on-water activities, the aim of the program is to have a positive influence on their future by inspiring the next generation, provide industry insights and open their eyes to potential career paths in the marine industry.
That's not the only local connections though. The Australian SailGP team comprises Jason Waterhouse, Nina Curtis, Natasha Bryant and Lucy Copeland, all who have mentored young local sailors and grew up sailing on Pittwater and on Sydney Harbor.
Jason grew up sailing as part of the Pittwater High School program and with Palm Beach Sailing Club members and parents Rod and Kerry and sister Bridget, was part of the initial Objective Australia Youth America's Cup team launched through the Royal Prince Alfred Yacht Club, has represented Australia as an Olympian with cousin Lisa Darmanin - silver in Rio in 2016 in Nacra17.
Nina started out with BYRA, moved to Avalon Sailing Club before joining the RPAYC Youth programs as a teenager, has also represented Australia as an Olympian - silver in the 2012 London Olympics, and reguarly still gets involved in Hobie Worlds with mum Evelyn Duchatel, sometimes sailing with Bridget Bolewski (nee Waterhouse) as part of the PBSC cohort, sometimes with Haylee Outteridge, sister of Nathan - who are also considered 'honorary Pittwater people' by local sailing clubs, as is their brother Beau Outteridge, whose brilliant photographs and videos of regattas are creating a record for the ages.
Natasha Bryant, 'Tash', can also be seen inspiring others through the RPAYC and PBSC. Tash started out in Avalon sailing club in the Manly junior around 2010, paired up with Manly 16foot skiff Club sailor Annie Wilmot a few years back, training with Traks Gordon, son of Angus, and shared their passion for sailing through the Opti Chicks prgram hosted by RPAYC.

Lucy started out of Middle Harbor Yacht Club on Manly Juniors, has competed with Paul Darmanin in the 2016 World in Melbourne in the Nacra 17 and has also sailed out on Pittwater with Paul as part of PBSC events. Lucy Copeland completes Australia's three-strong female roster for Season 3.
The local clubs, BYRA, NLSC and RPAYC, will be acting as each team's home club while they are in Australia, supporting them on and off the water, holding country themed events and cheering the teams on from the sidelines.

But that is just a mere glimpse into how locals are gearing up to celebrate SailGP Sydney 2023.
The RPAYC stated to Pittwater Online:
''The RPAYC is delighted to have been chosen to adopt TeamGBR for the SailGP Series. On Monday 13th a team of youth sailors will be taking a tour of the F50 facility before the Sydney leg of the Series.
With many club members involved in the SailGP program across various teams on water and shore side and through the Inspire Program it's a great opportunity for the club to also be associated with Team GBR. We look forward to sharing their success and connecting with the team to promote the sport of sailing.''

BYRA stated:
''The Bayview Yacht Racing Association (BYRA) is delighted to be adopted by United States SailGP Team for the upcoming SailGP in Sydney as James Spithill, skipper of Team USA, is a Pittwater local.''
BYRA has James Spithill dropping by for the launch of their foiling pathway programme on Monday February 13th, while the Narrabeen Lakes Sailing Club, after the devastating loss of their clubhgouse in late 2021, is still fundraising to replace all that was lost, including that bricks and mortar gathering hall.
On hearing the story and understanding the damages sustained to the building, SailGP's Inspire partner Rooster and the Australia SailGP Team pulled resources together and provided support toward the replacement of equipment, and to aid in the raising of funds to rebuild the clubhouse.
Australia SailGP Team driver Tom Slingsby said: "Narrabeen is a tight knit sailing community, so we knew the devastating impact that the clubhouse fire would have had on the local sailors and particularly their youth program. We wanted to share our support through donating items that will help the community rebuild what is a pillar to the local sailing community of Narrabeen."
Tom's home sailing club is the Gosford Sailing Club on the Central Coast, an area that hasconmnections to Pittwater through our First Nations residents, going back thousands of years, and to the first European settlers in Pittwater, including Barrenjoey's first Light Keeper and Australia's first rowing champion, George Mulhall. Last Sunday, February 5th, he, Nina Curtis and Jason Waterhouse dropped by for a Q and A session followed by some on water training for their juniors and shesails members. This was followed by a visit to Speers Point Amateur Sailing Club, so SailGp's outreach to inspire youngsters to get on the water is not limited to the Adopt a Club initiative.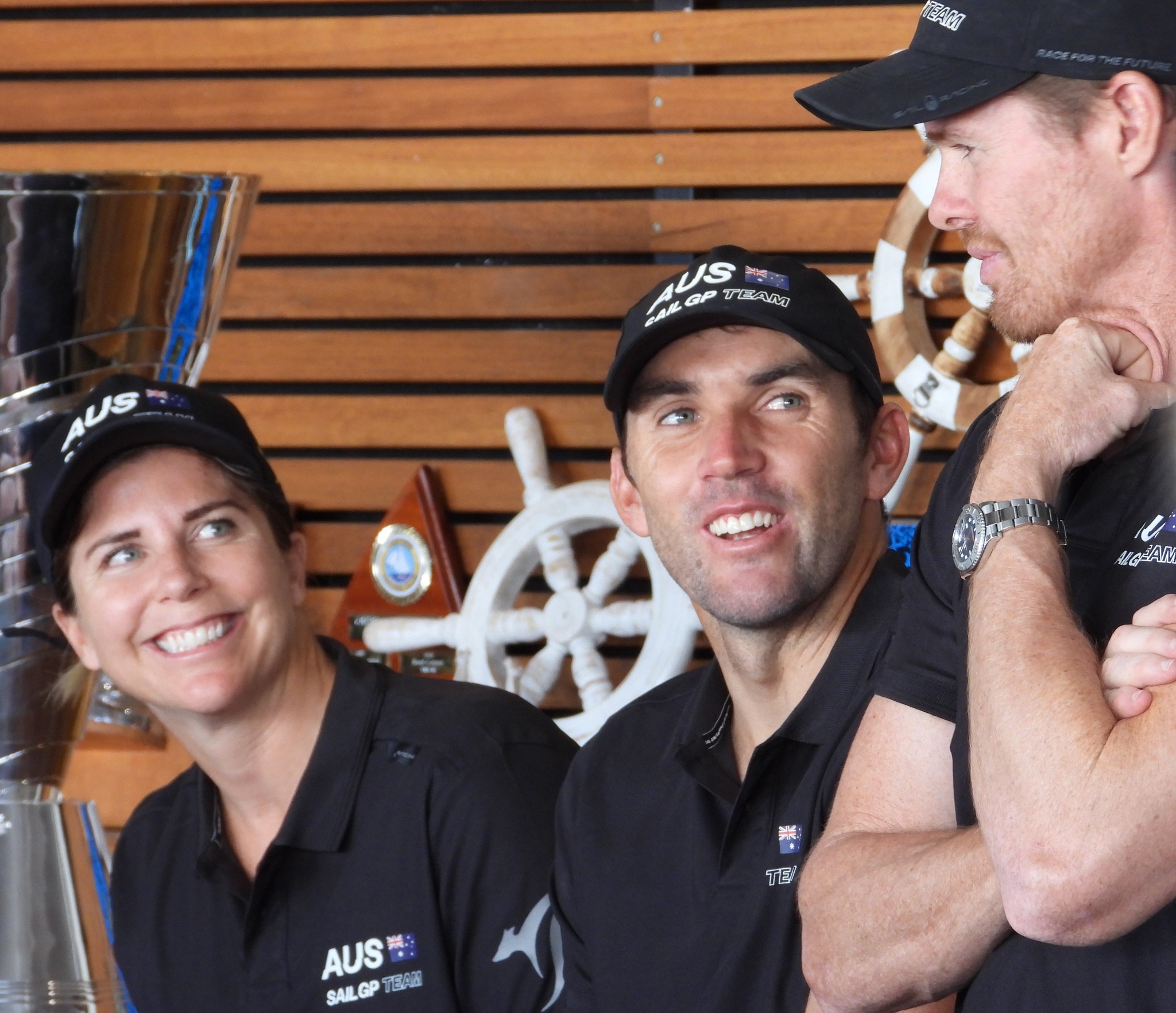 Photos: Gosford Sailing Club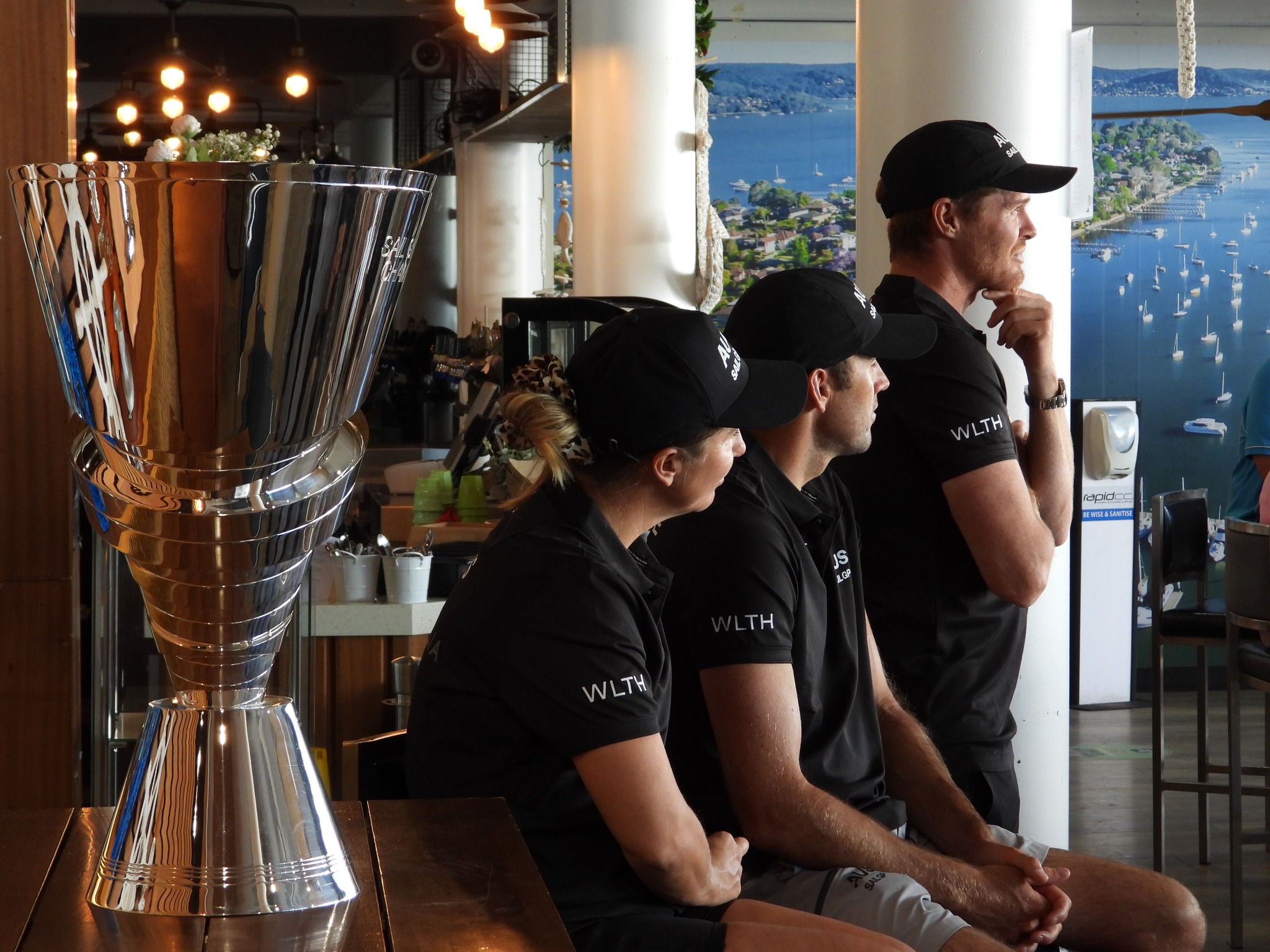 With a history dating back to at least 1905, the Speers Point Amateur Sailing Club (SPASC) is located at the northern end of the renowned Lake Macquarie and is one of only three clubs from around Australia selected to host members of the Australian SailGP team – including Jason Waterhouse and Nina Curtis.
NLSC told Pittwater Online:
''Despite the destruction of most of the club's property, it has continued to operate with the support of Whitworths and others keen to keep the club with its history on the lake afloat.
Negotiations and discussions with Council as to the construction of a new club facility in Jamieson Park are continuing.
The club is continuing to promote its existence and participate in a range of activities including Learn to Sail programs for juniors and participating in the Heron Nationals in recent weeks to name a few.
This month, the club will be hosting the French team who are in Sydney participating in the International SailGP event on Sydney Harbour. This will enable the club to be promoted further afield than the Northern Beaches and opens up a range of opportunities for club members to participate in a range of activities ranging from spectating on the harbour on the chartered vessels and others associated with the racing, whilst having the club Burgee flown. This promises to be an exciting event for all as the large catamarans match race on Sydney Harbour.
Beyond that, the club will be hosting the Heron Junior NSW Championships down on Narrabeen Lake over the weekend of 25/26th March. This is a big annual event with competitors coming from far afield. In the past they have camped at the clubhouse.''
On Monday, 13th February, the international sailing ace, Team USA's driver and Newport local Jimmy Spithill is set to make a very special visit to the shores of Pittwater. BYRA will be hosting the legend himself on in a not to be missed community event.
Commencing in Riddle Reserve West at 3:30 pm with special guests - including the who's who of Australian Sailing, the event will include an Aqua Park for the kids, an unboxing of a next-generation learner-friendly performance-pathway dinghy – the Nikki – followed by a spectacular All-Things-Foiling water show.
BYRA will also be launching its very own foiling pathway programme at the event. Sailors and non-sailors are welcome.
More info here: www.byra.com.au/events/175874
Nikki is the first foiling dinghy specifically designed for kids and lighter sailors. The ultimate pathway to high-performance sailing and foiling! Fully open, modern scow designed for safe learning to foil and fun, competitive sailing.
Capable of planing up and down-wind, bringing a whole new level of fun to youth sailing – a new thrill to captivate and entrench young sailors into the sport for life. The hull is stable, robust and simple. The steering is light and direct, allowing new sailors to develop their skills and feeling.
BYRA is a not-for-profit volunteer-run sailing and aquatic club with a focus on family all having fun together - their youth sailing programs are at the core of what they do, regularly hosting Learn to Sail events for all ages as well as hosting state and national regattas. BYRA is also part of local school sailing programs, alongside their weekend sailing events for members. The club hosts the Peter Loft Regatta and Lion Island Race annually, a race which harks back to the formation of this club in 1949, and was the Pittwater launch pad for the Star Class in the 1950's and later Dragon Class. The Club has also been the centre for Moths and VJ's during the mid 1950's, followed by Herons in the early 1960's - a boon for lcoal sailors of all ages.
BYRA also has a connection with the 1906 launched Narrabeen Lakes Sailing Club, which commenced in 1906, and looked a little further north when the lagoon's weaters were getting a little too crowded for weekend sailing:
Narrabeen Lakes 16-footer Club may transfer to Pittwater in the New Year. NSW Skiff Association
Commodore Reg Smee is negotiating with Bayview Yacht Club officials to affiliate the Narrabeen Lakes Club with BYRA. BYRA would sponsor the 16 - footers, but the skiffs would have their own officials' to control racing and club administration.
"There is plenty of room for 16-footers and yachts at Pittwater, and we would welcome the Narrabeen Lakes skiffs," said BYRA Commodore K. C. K. Dalton today.
Star class yachts from Bayview will compete at Avalon tomorrow. Avalon VJ and VS Club members will sail as crew members of yachts.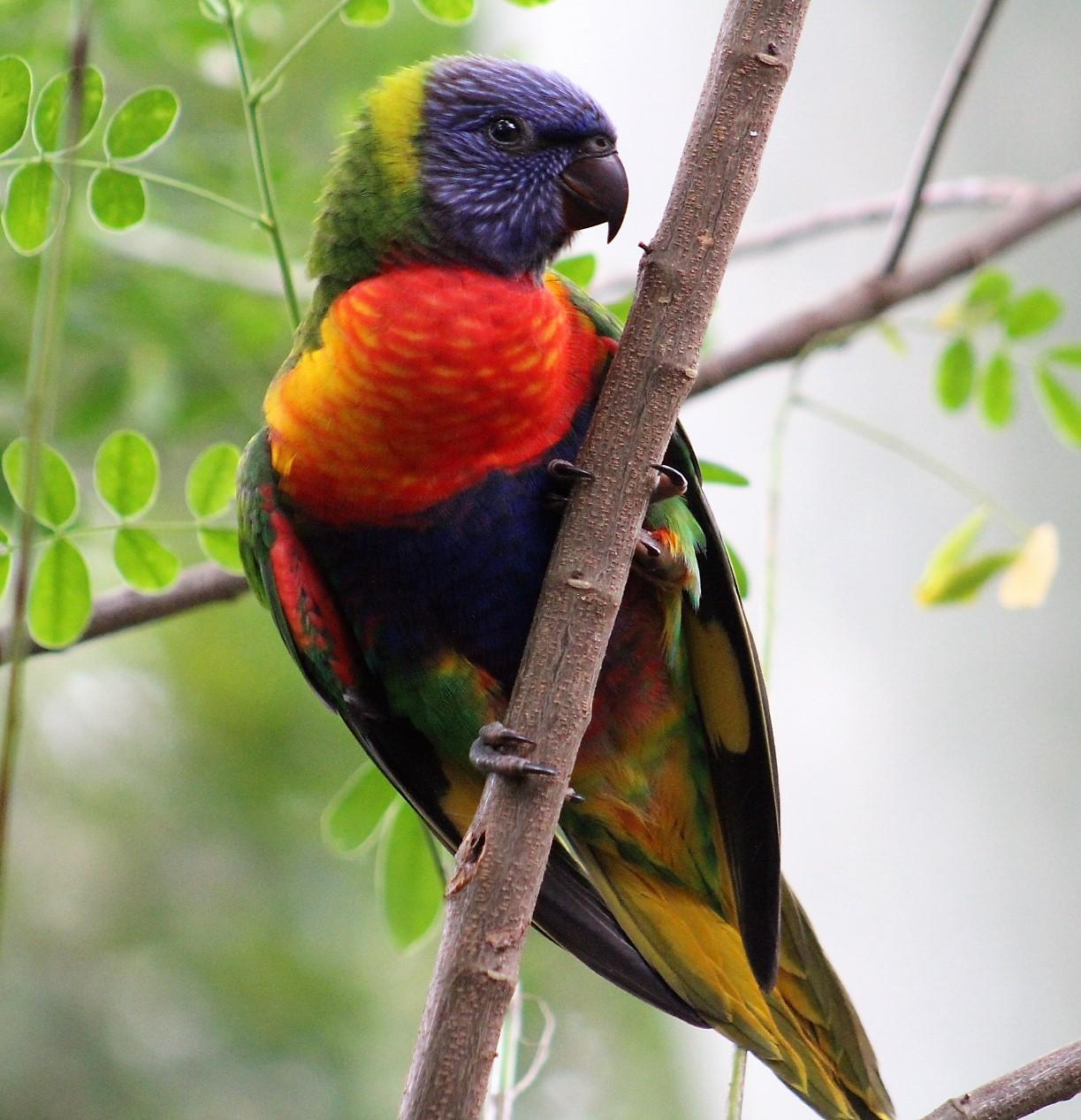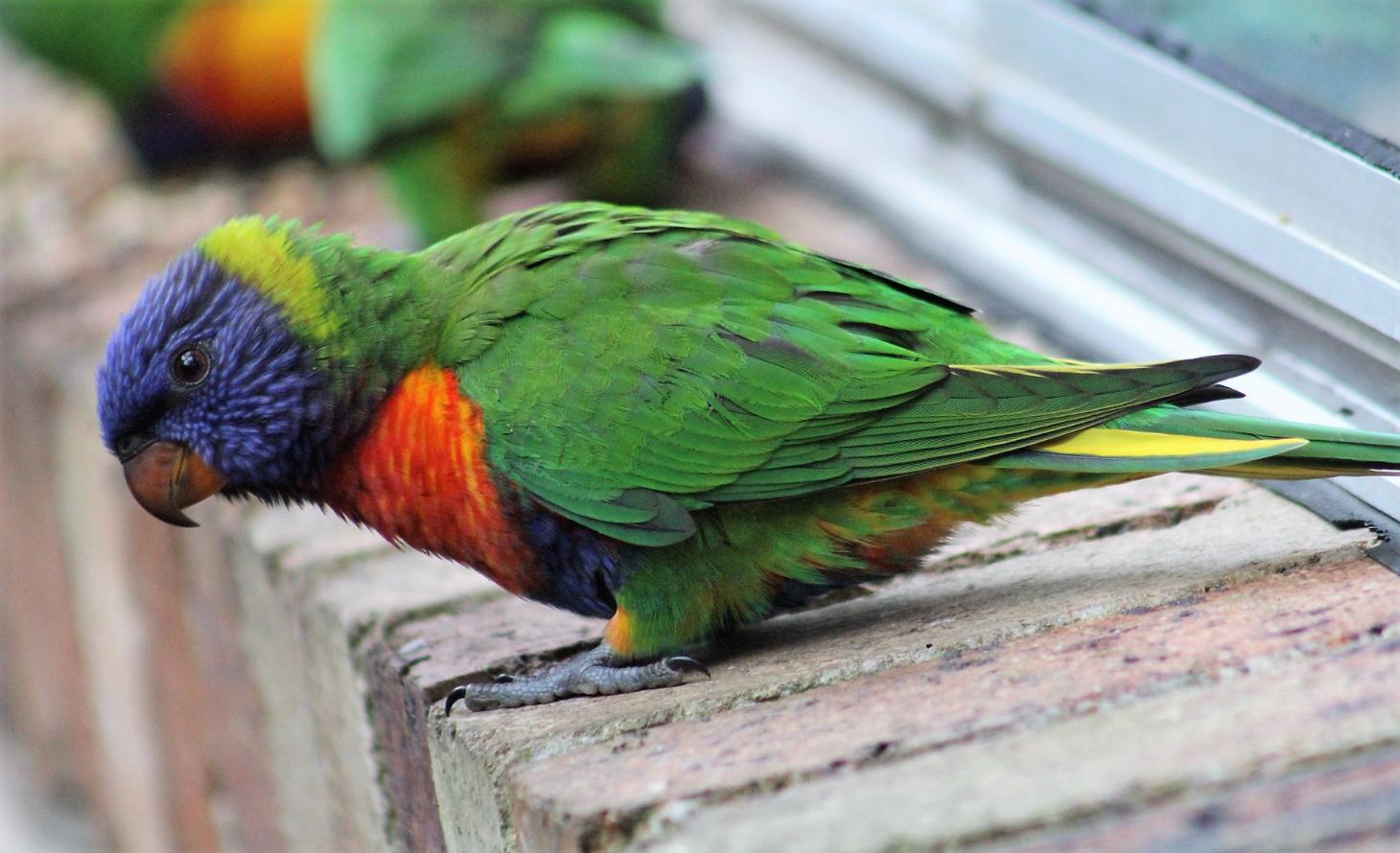 Baby Rainbow lorikeets testing out their wings this week - it takes around 60 days for them to learn to fly
Past Features Archives (pre 2014)
Pittwater Online News was selected for preservation by the State Library of New South Wales and National Library of Australia. This title is scheduled to be re-archived regularly.
Archived Issues (2014 on) may be accessed here: pandora.nla.gov.au/tep/143700
Past Issues are also listed on site under Community News, by month.