February 12 - 18 2023: Issue 571
A Brilliant Day: New Clubhouse For Long Reef SLSC Opened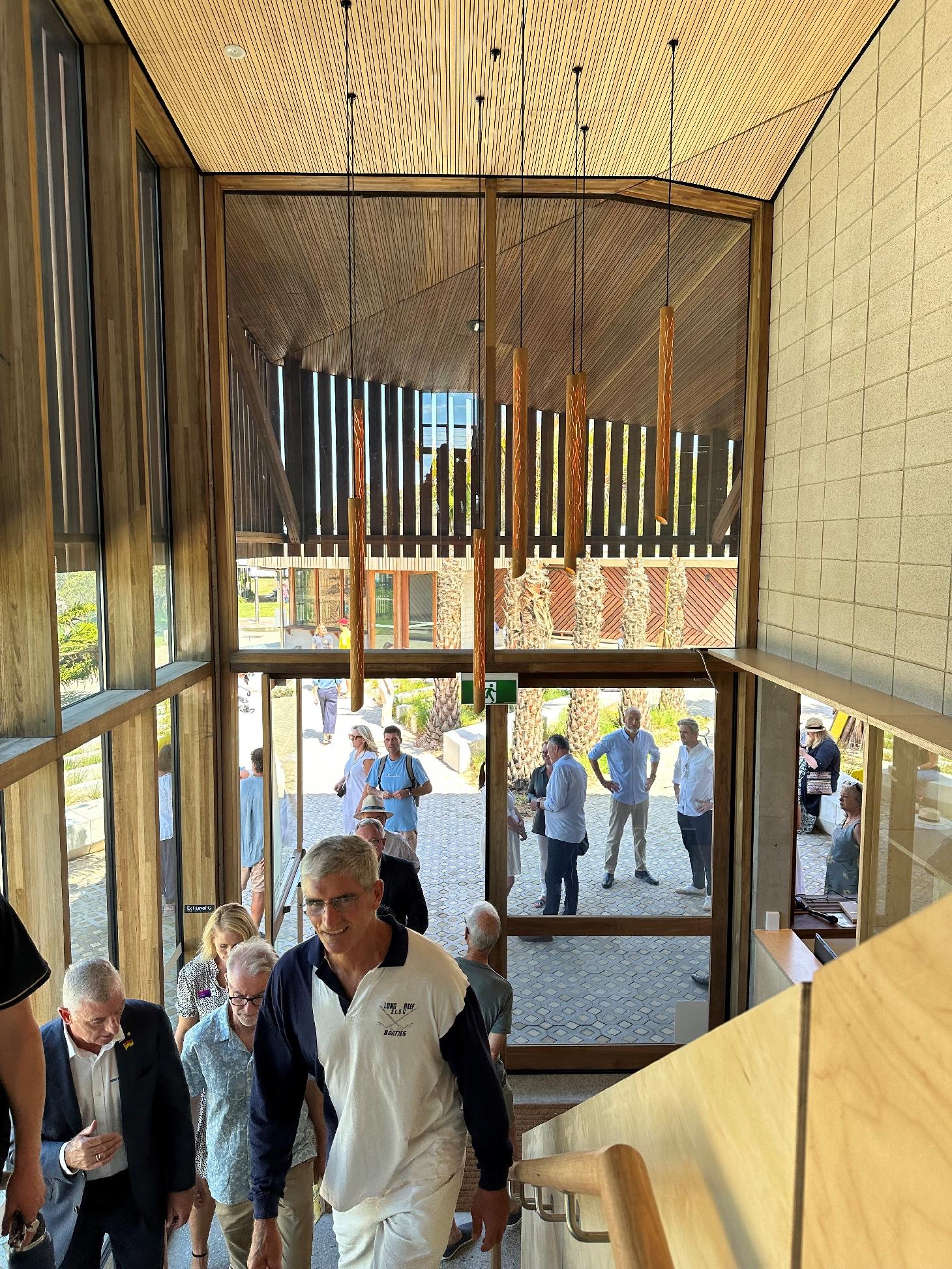 On Saturday, 11th of February 2023 the official opening of the new Long Reef SLSC took place.
The new development includes three new pavilion-style buildings around a landscaped courtyard, including a clubhouse, gym, training room, function room in addition to a small commercial café, Council Lifeguard storage and a public amenities block. The design aesthetic responds to the unique and sensitive location and surrounds and implements best practice sustainability measures.

It includes the two-storey surf club fitted out with a gym, first aid room, training rooms, function space, and surf club storage as well as a separate public amenities block, a bespoke café and community storage lockers (including for Council Lifeguards and the local Board Riders Club).
Situated on the rear of the dunes, with a perfect north-east aspect, and airflow throughout, the structure realises the vision of the local community with light fiilled airy spaces.
A Smoking ceremony was given by Clarence Bruinsma (Yagel man) along with an Acknowledgement of country.
Politicians Michael Regan, Mackellar MP Sophie Scamps, Labor Senator Tony Sheldon, Wakehurst MP Brad Hazzard, Long Reef President Peter Kinsey, and SLS NSW President George Shales OAM spoke during the opening ceremony.
Dr. Scamps said ''This is what comes when all levels of government collaborate for the good of their communities.
Thank you to President Peter Kinsey for your tenacity over the 20 year lifetime of the project. To all the volunteers at the club - thank you for all you do - which is so much more than saving lives and keeping us safe on the beach. Your club and many like it are the heart and soul of our community - building camaraderie, intergenerational connections, teaching leadership skills and resilience.
This building will be a wonderful community hub for many years to come.''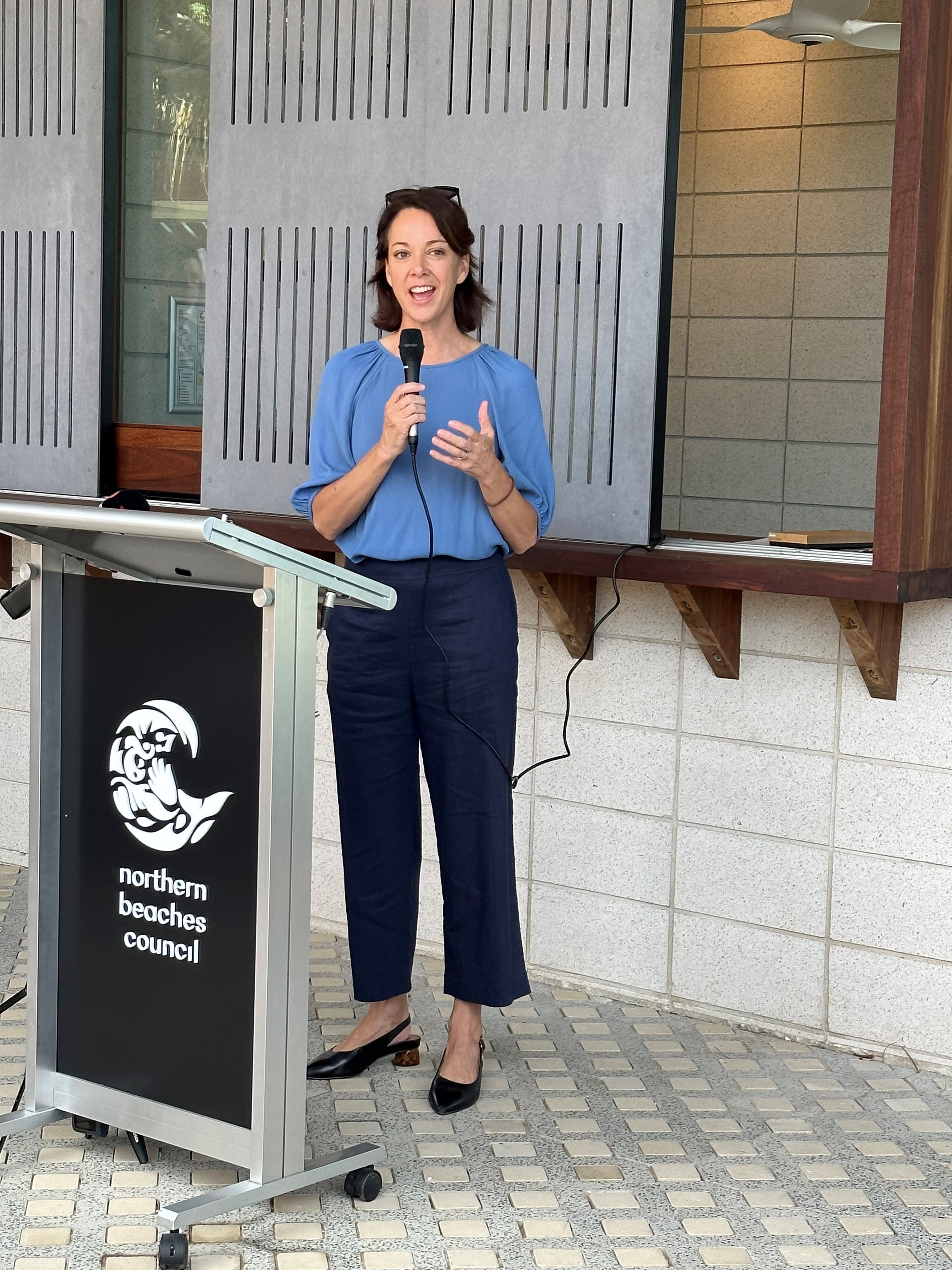 Mackellar MP Dr. Sophie Scamps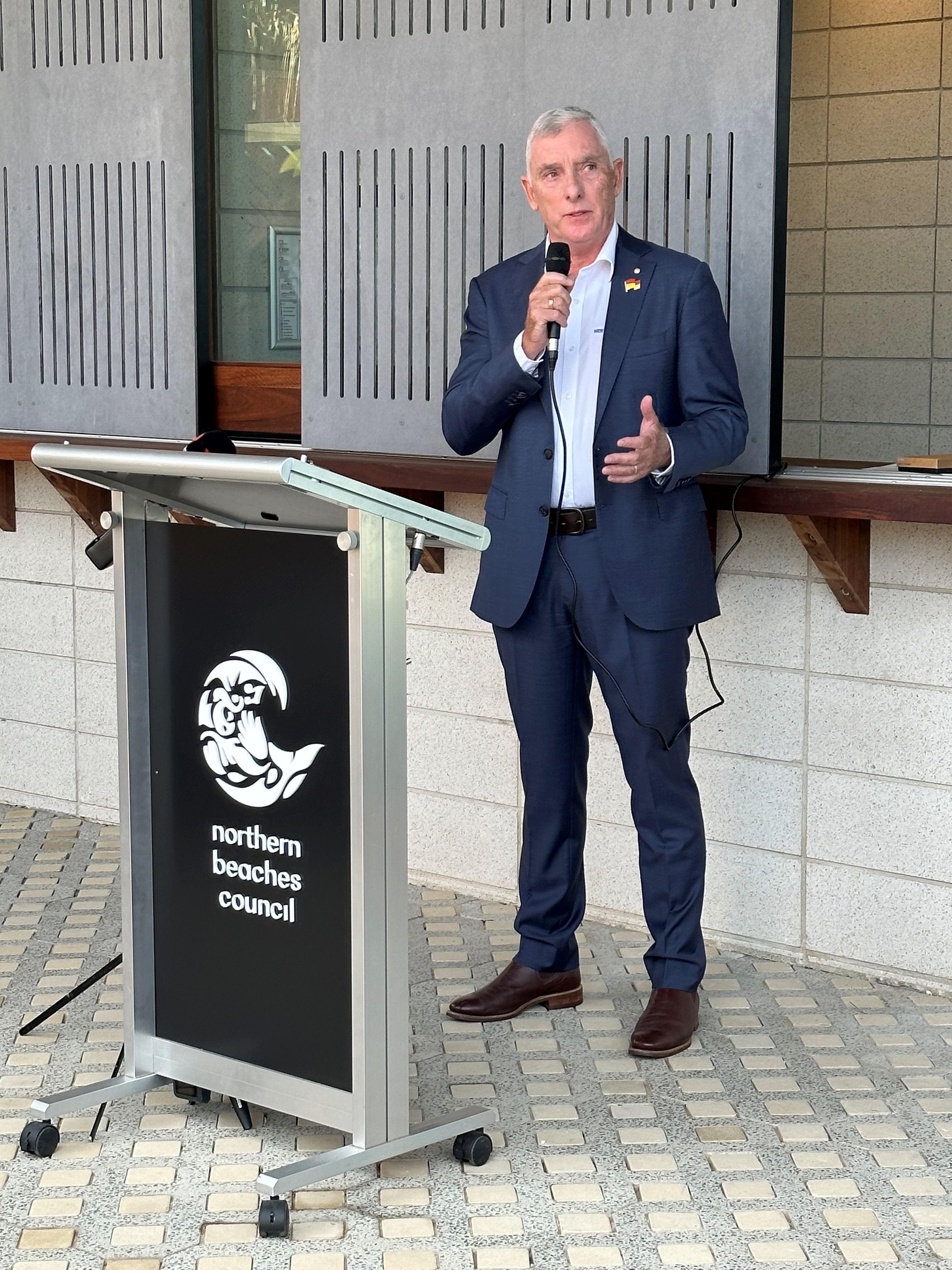 SLS NSW President George Shales OAM
The long-awaited re-opening of Long Reef SLSC is quite a step up from the club's humble beginnings, says President, Peter Kinsey.
"This is our first purpose-built club house, the first ever club was the old timber bus shelter on Pittwater Road," he said with a laugh. ''What I tell people as well is that back then it was actually a tram shed, in the 50s. The trams would run along that stretch.
"So certainly, we're very glad to have it [the new building]."
The Northern Beaches club cut the ribbon to officially unveil a space four years in the making, and many more in the planning, on Saturday 11 February.
Designed by award winning Sydney and South Coast based architecture practice Adriano Pupilli Architects, the shape of the courtyard and placement of the buildings – three, in all – was dictated by the preservation of some existing, much-loved trees including two Pandanus, a Norfolk pine, and the Banksia grove.
The main building, being the clubhouse, is self-contained and tucked behind an existing dune with the ground level hosting a training space, gym, first-aid room and two large storage sheds for surf craft and rescue equipment.
The second level has a spectacular function room serviced by a commercial kitchen and bar taking in sweeping views of the ocean.
The other two low rise buildings include a public amenities block, café and additional community storage lockers, including space for Lifeguards and the local Board Riding group.
"The opening was great, the members have been waiting for this for more than 19 years," Peter continued.
"We've had COVID-19 delays and wet weather, but this is something we've sorely needed, the old club house was well past its use-by date.
"It's something which helps us to do what we're here for which is keep the beachgoing community safe as best we can.
"It's a great build, we even have a proper barbeque installed, no more wheeling out the portable!"
Funding for the project came from a variety of sources, including the NSW Government's Surf Club Facility Grant Program, as well as Council, Federal and the club's own fundraising activities.
Mayor Michael Regan said Council has worked extensively with Long Reef Surf Life Saving Club and the Stakeholders' Working Group to develop a purpose-built facility to balance the needs of those who will utilise the facility.

"Long Reef is a rare jewel on Sydney's Northern Beaches, a sanctuary for native flora and fauna and the people who come from near and far to escape the suburban sprawl and reconnect with nature," Mayor Regan said.
"This facility will provide a welcoming centre of activity for the broader beach-loving community, and a long-term base for future generations of volunteer surf life savers to share their skills, conduct vital patrols and provide a safe beach environment for everyone to enjoy.
"It's modern and functional whilst being sympathetic to the spectacular location in which it sits, right by Long Reef beach."
Peter Kinsey, President of Long Reef Long Reef Surf Life Saving Club said the new site will not only help support the Club but enable it to continue to protect the community on the beach and provide its 1000 members a new family-friendly facility that they along with locals and visitors can enjoy.
"I said when the fences went up that I was sad to see the old buildings go, but it was well and truly past its used-by date. This new site is both spectacular and functional," Mr Kinsey said.
"I am so glad I could be here to witness its completion after being part of the Club for more than 60 years. It's a real special feeling."
Mr Kinsey and Mr Regan had the honour of cutting the ribbon: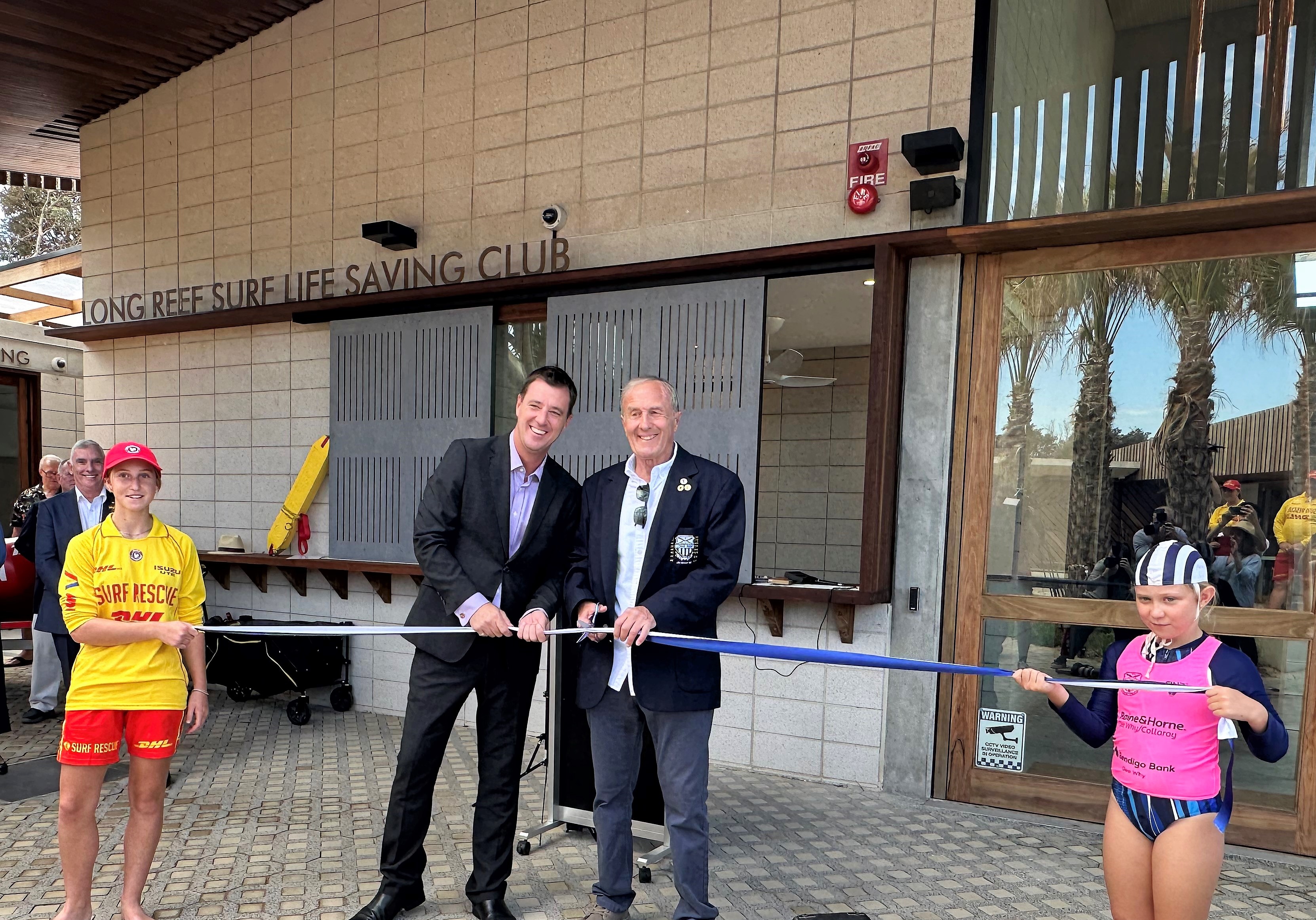 As part of the opening ceremony club members gave demonstrations on First Aid before a tour of the structures was taken.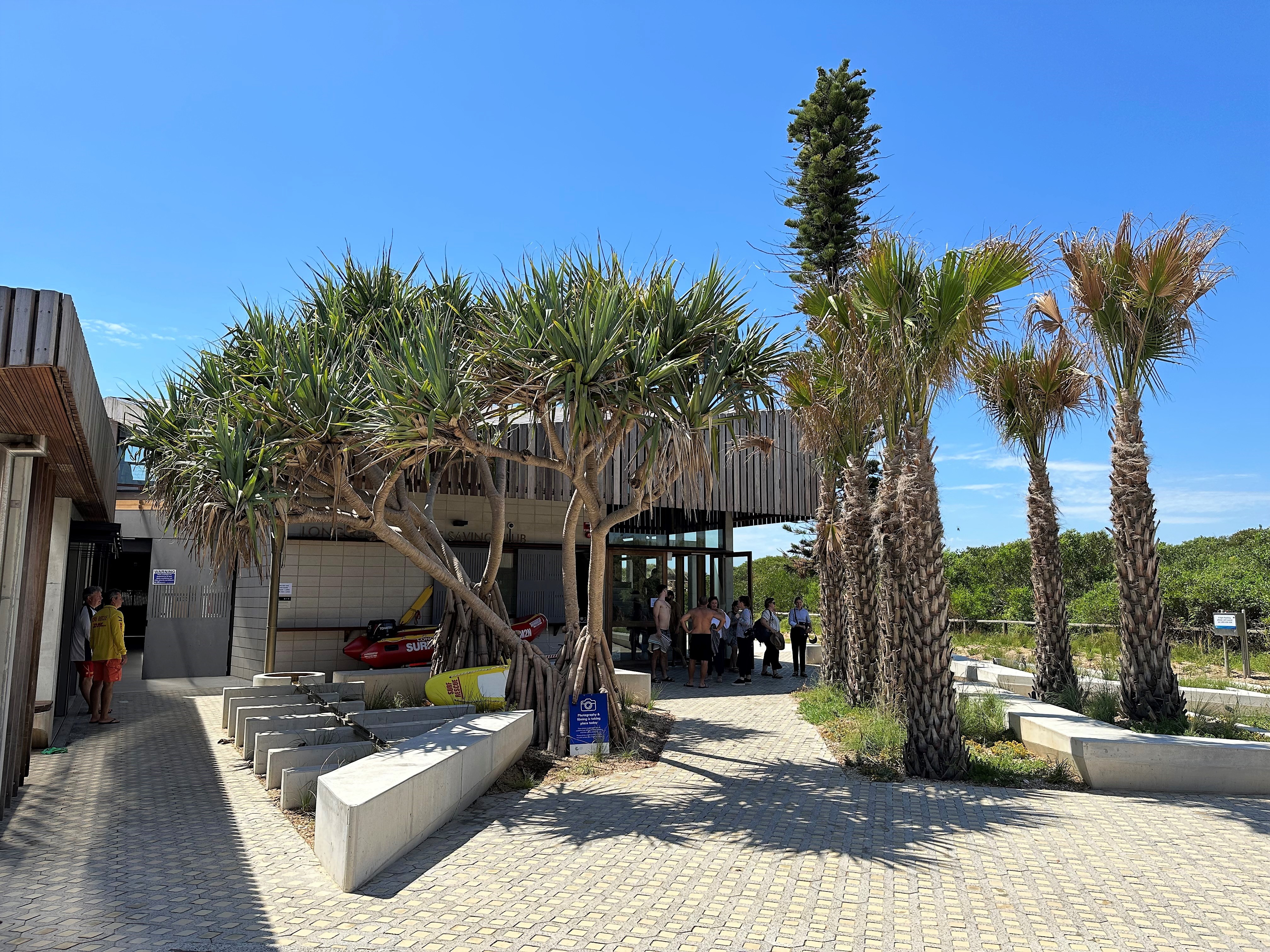 Local artist Leesa Knights was selected to design a two-dimensional artwork that integrates into tiered concrete seating adjacent to the building.
Ms Knight is a multi-disciplinary artist inspired by the beauty of nature and the afterlife of objects, transforming a host of mediums through various disciplines to renew lost narrative.
The site was originally identified as a potential site for integrated public art by Council's Public Art Working Group and Council's Arts & Culture staff in 2021. Artist Leesa Knights was commissioned to develop a two-dimensional design that would be embedded into concrete panels in the garden.
Exploring and fusing elements of art, culture, imagination and nature, Leesa Knight's works echo the beauty and delicacy of our planet. Leesa has been the recipient of various awards for sculpture and been selected for public commissions spanning architectural, urban and natural environments.
After studying the new building's plans and considering the design intent of the project, Leesa conducted walks around the site, to get a better feel for the natural environment. She explored the beaches, dunes, cliffs, aquatic reserve, headland, bushland and coastal walks. Along the way, she gathered found objects to utilise in her design and was particularly inspired by the movement of water, the undulation of the dunes and the structural detail and patterns found in various objects that she discovered along the walk.
Recombining these objects in her studio, Leesa created drawings based on object tableaus. These drawings were then translated into a relief design, with individual elements to be embedded into concrete seating via a process of cast concrete.
The design aims to encourage curiosity, discovery and stir the imagination. With a strong environmental focus, the work has been developed to reflect the natural elements that humans (consciously or unconsciously) connect with when they visit this place.
The build utilises natural materials such as sustainably sourced timber, is environmentally sympathetic with water-saving fixtures and fittings, some PV power generation, LED lighting on automated controls, drought tolerant planting, green roofs and permeable paving.
The $9.5million project is made possible due to funding from local, state, and federal governments and Long Reef Surf Life Saving Club.
Photos courtesy Cr. Miranda Korzy - a few more to celebrate :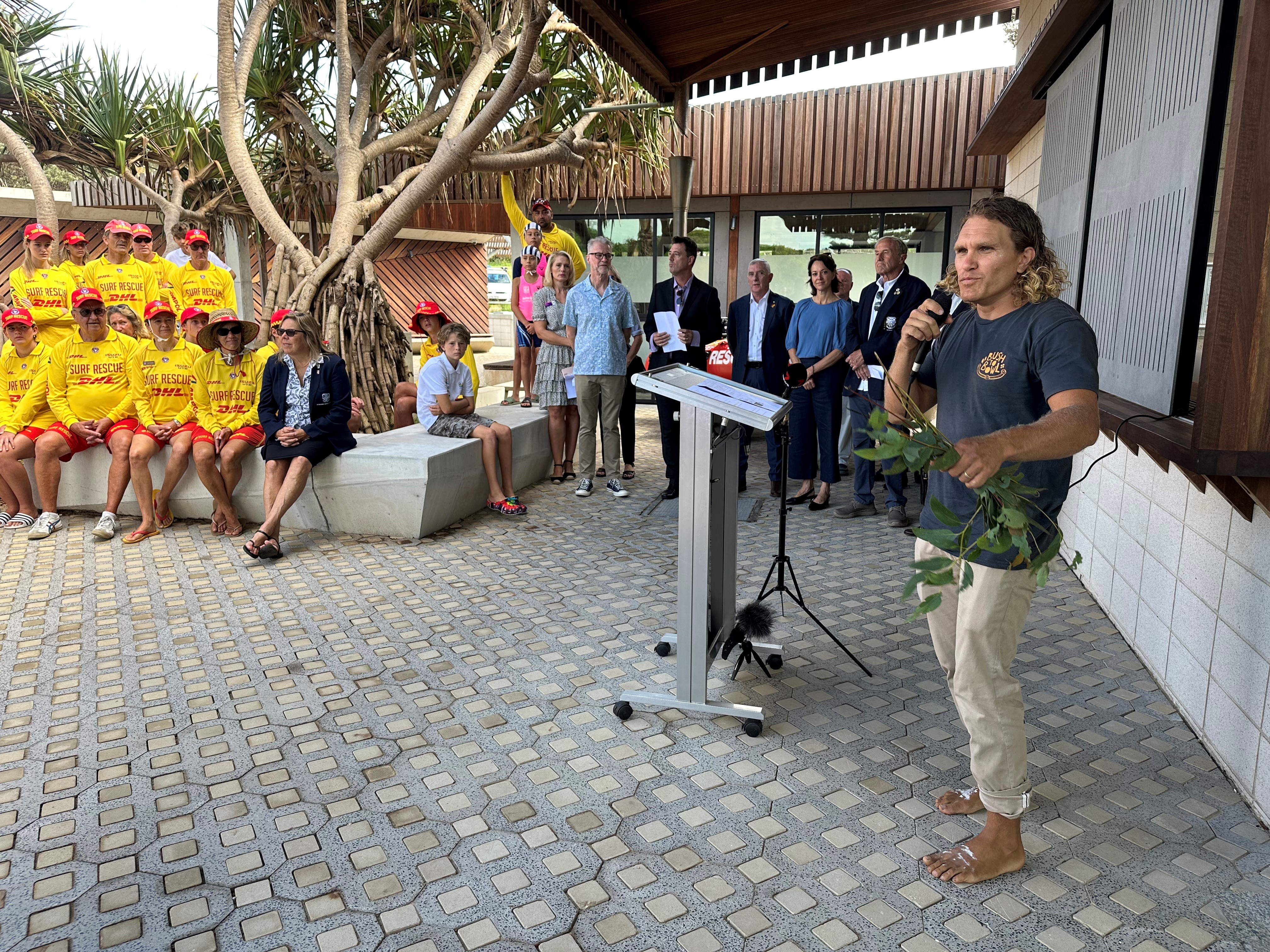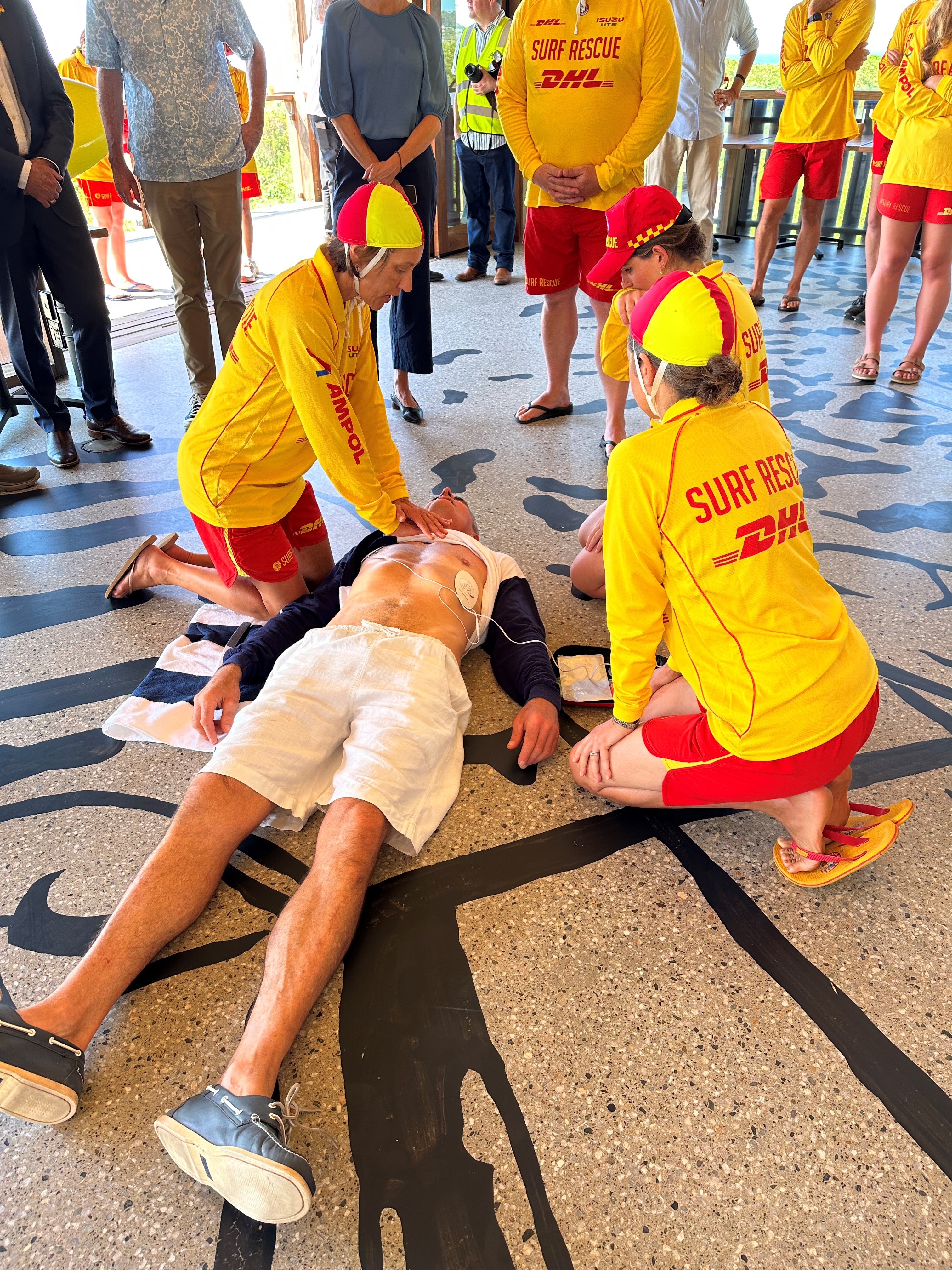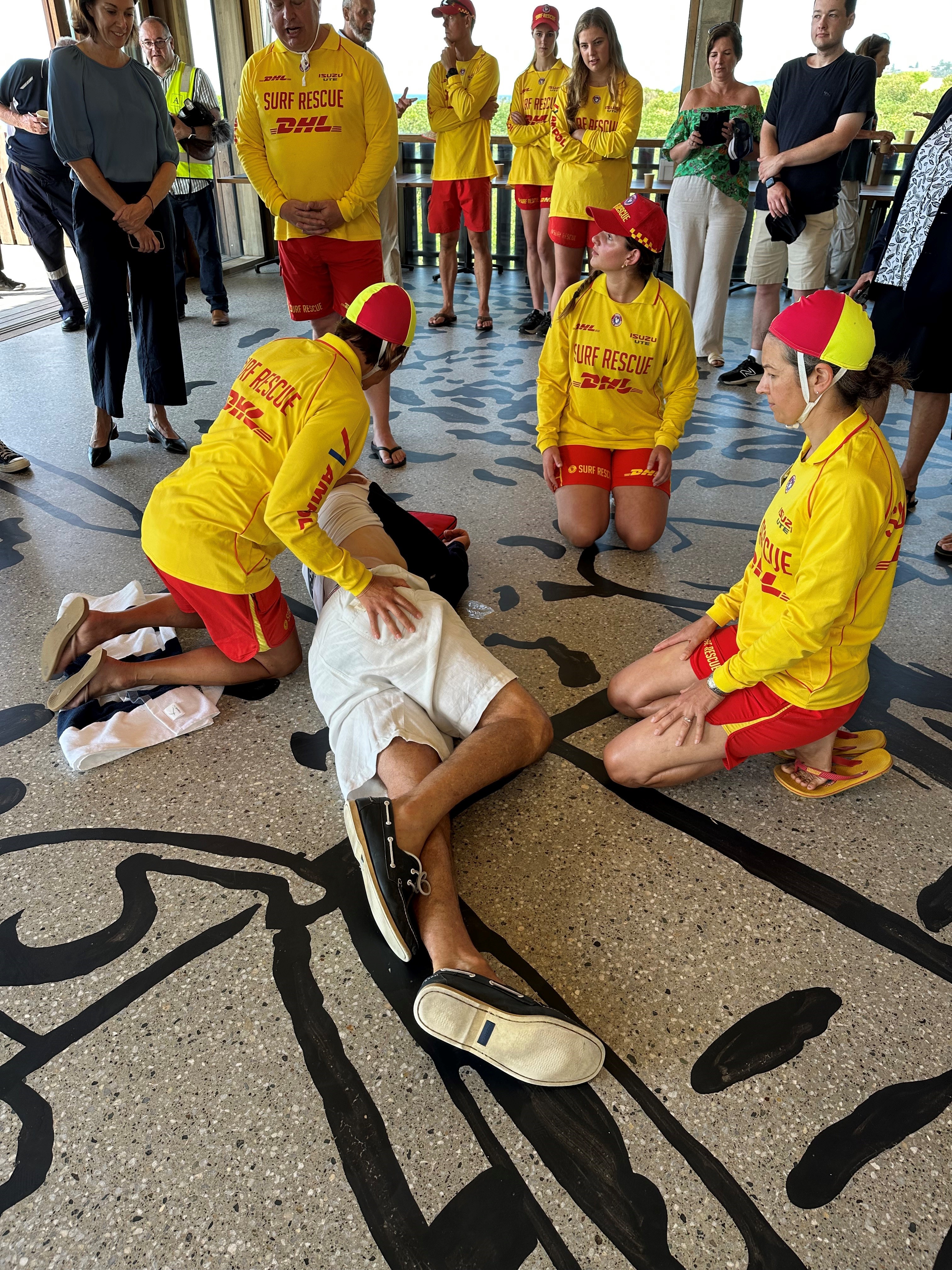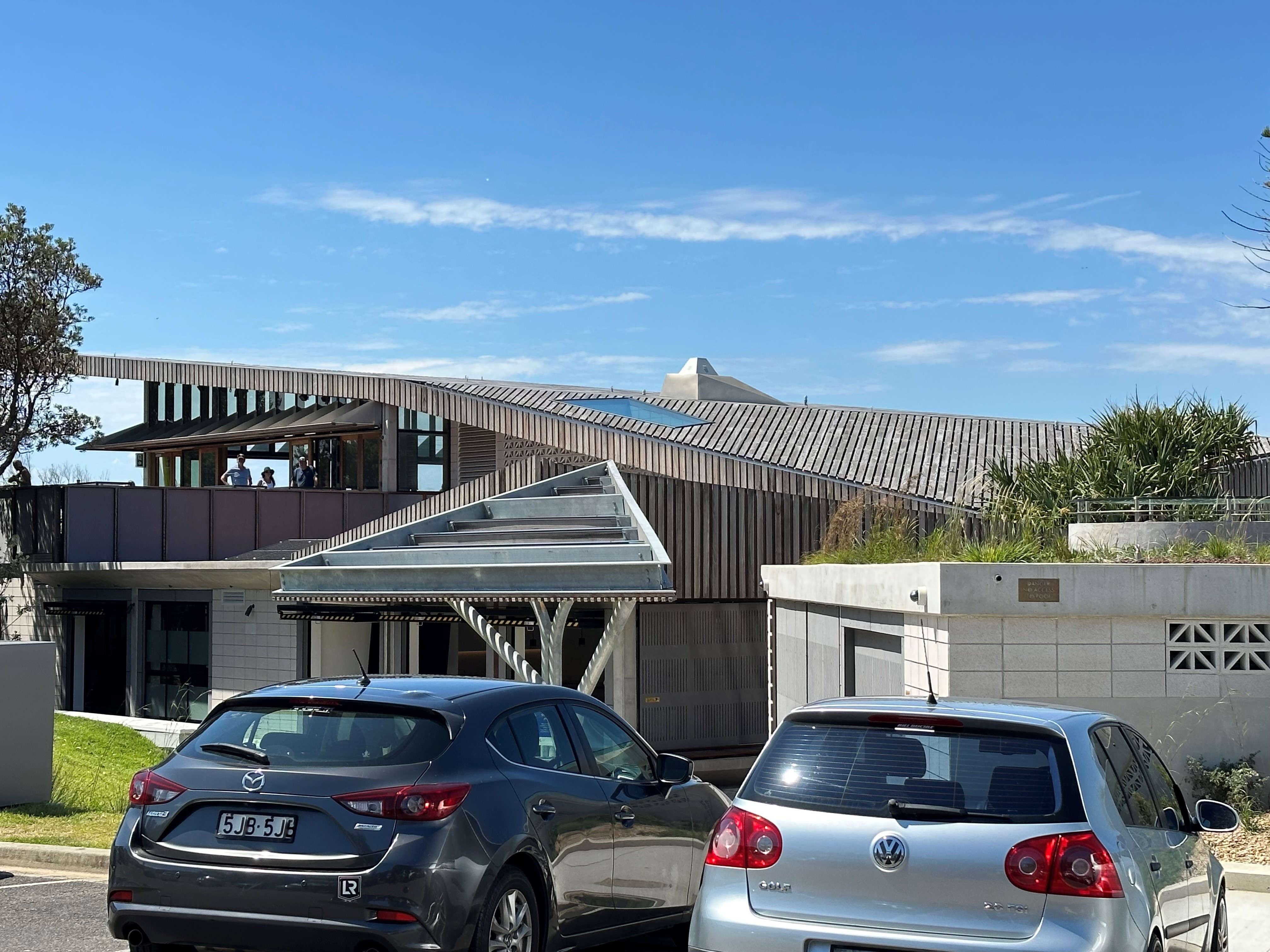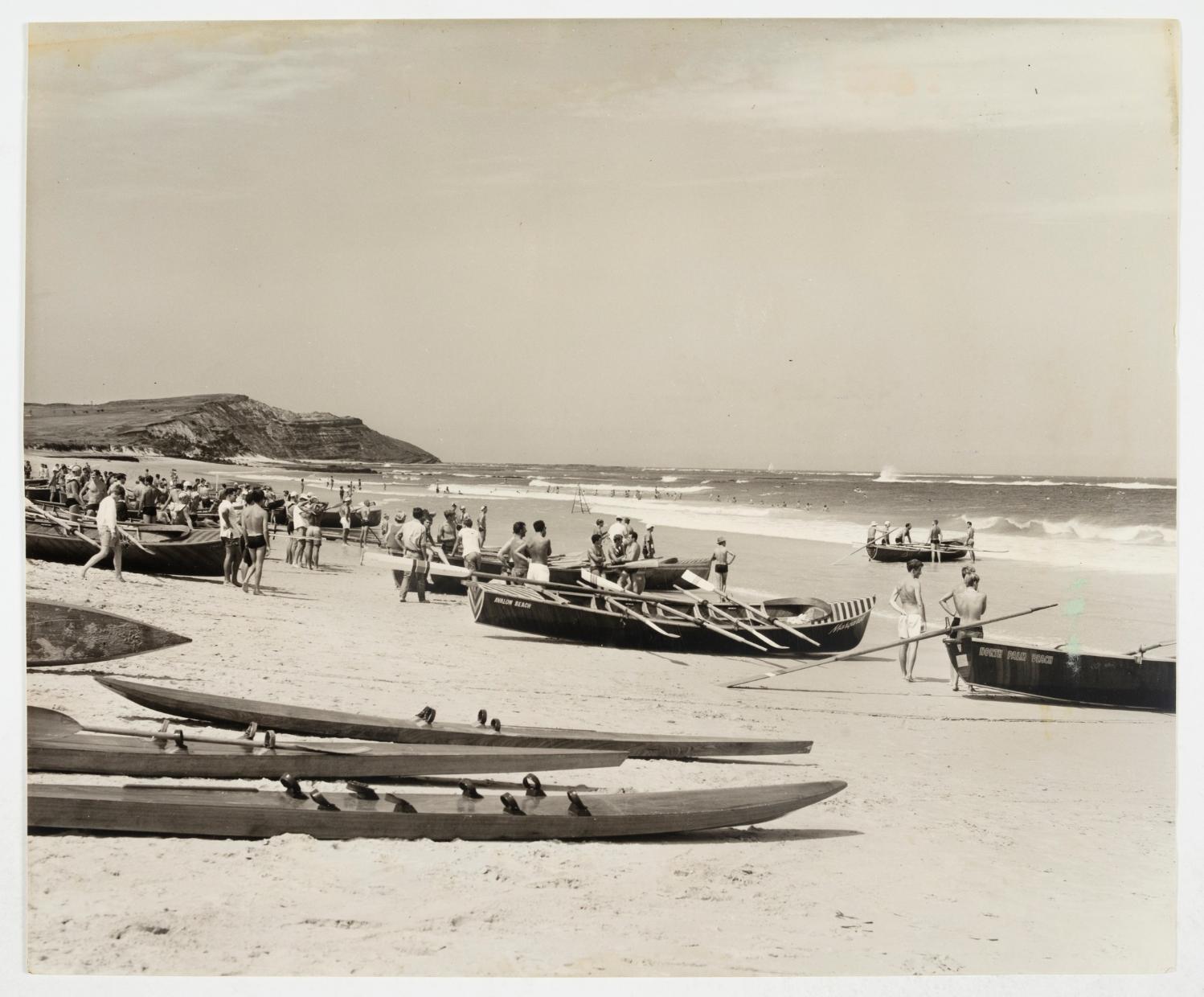 Surfboats of various clubs on Long Reef beach, early 1960's .Photo: Allan A. Hedges P/L and State Library of NSW