November 6 - 12, 2022: Issue 561

NSW WASZP And Wingfoil Slalom Championships 2022: Hosted By Palm Beach Sailing Club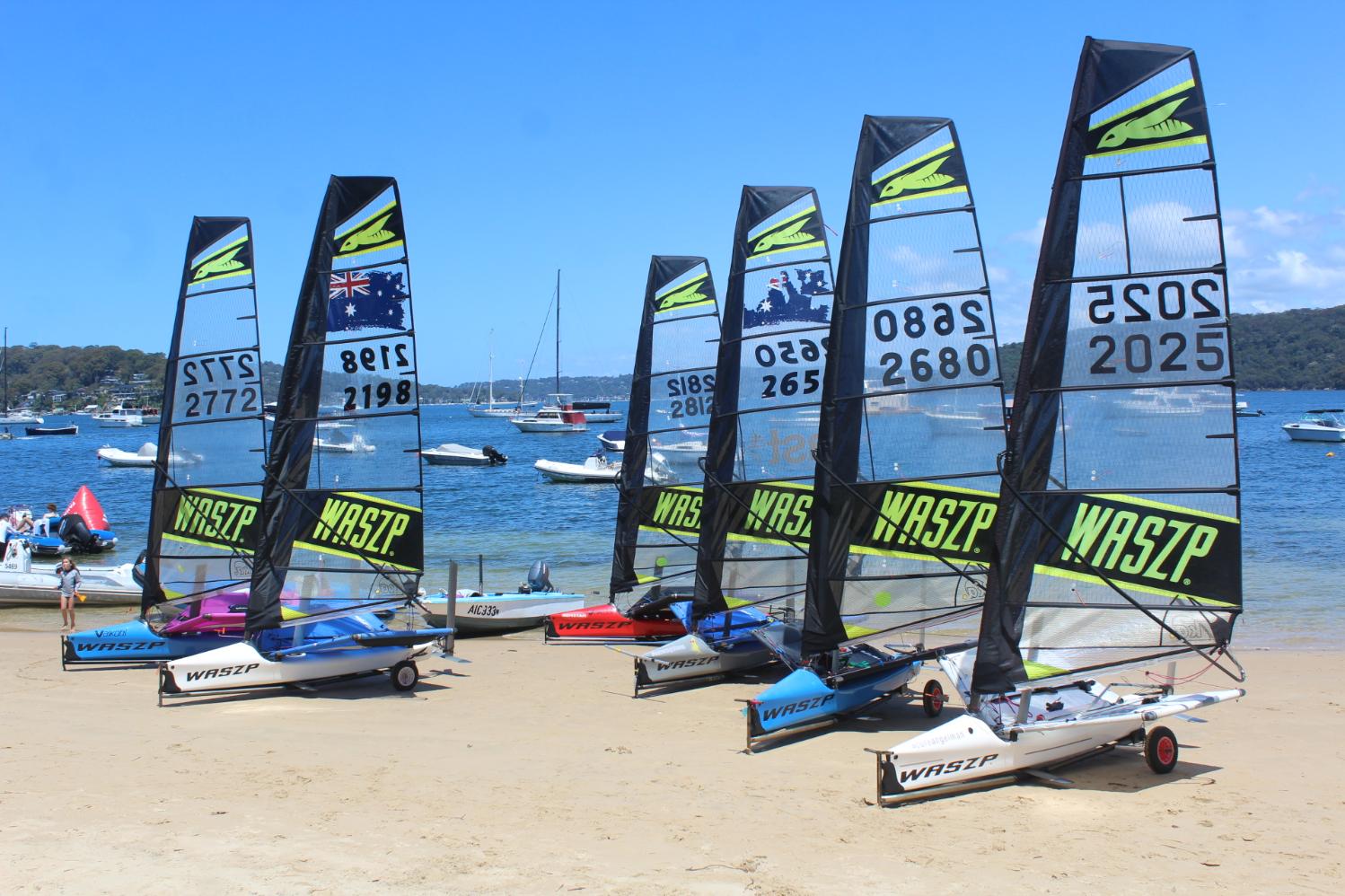 There's a BIG event at Palm Beach that's been taking on Saturday and continues Sunday November 6th. The NSW WASZP and Wingfoil Slalom Championships are launching from Sandy Point to a north estuary course. Hosted by Palm Beach Sailing Club, taking part are a great young crowd of sailors from Royal Prince Alfred Yacht Club as well as sailors from further afield.
On the course was QLD WASZP State Titles winners and father and son Louis and Jervis Tilly, who placed 1st and 2nd, along with Will Troop, who secured the 4th place slot.
The Tilly men recently took part in the 2022 International WASZP Games on Lake Garda in Italy. The event was won by New Zealander Sam Street, bringing the trophy back to our part of the world.
Jervis, who was one of the organisers of the NSW States WASZP and Wingfoil Slalom Championships, and also taking part, explained he's been sailing a WASZP for around 18 months.
''Louis has already exceeded me already and he's only been on a WASZP for around six months,'' he laughed.
Why a WASZP?
''They're great fun and a good challenge, I'm really enjoying it.'' Jervis said
Louis explained he likes sailing them as, ''They're good fun, it's great going fast. We have a Youth Fleet of WASZPs in the RAPYC, and we're all mates, so it's great sailing together and going places to compete as one group.''
Will Troop agreed, '' I like doing it for the fun and getting out foiling around.''
Then, laughing, ''and trying to beat Louis.''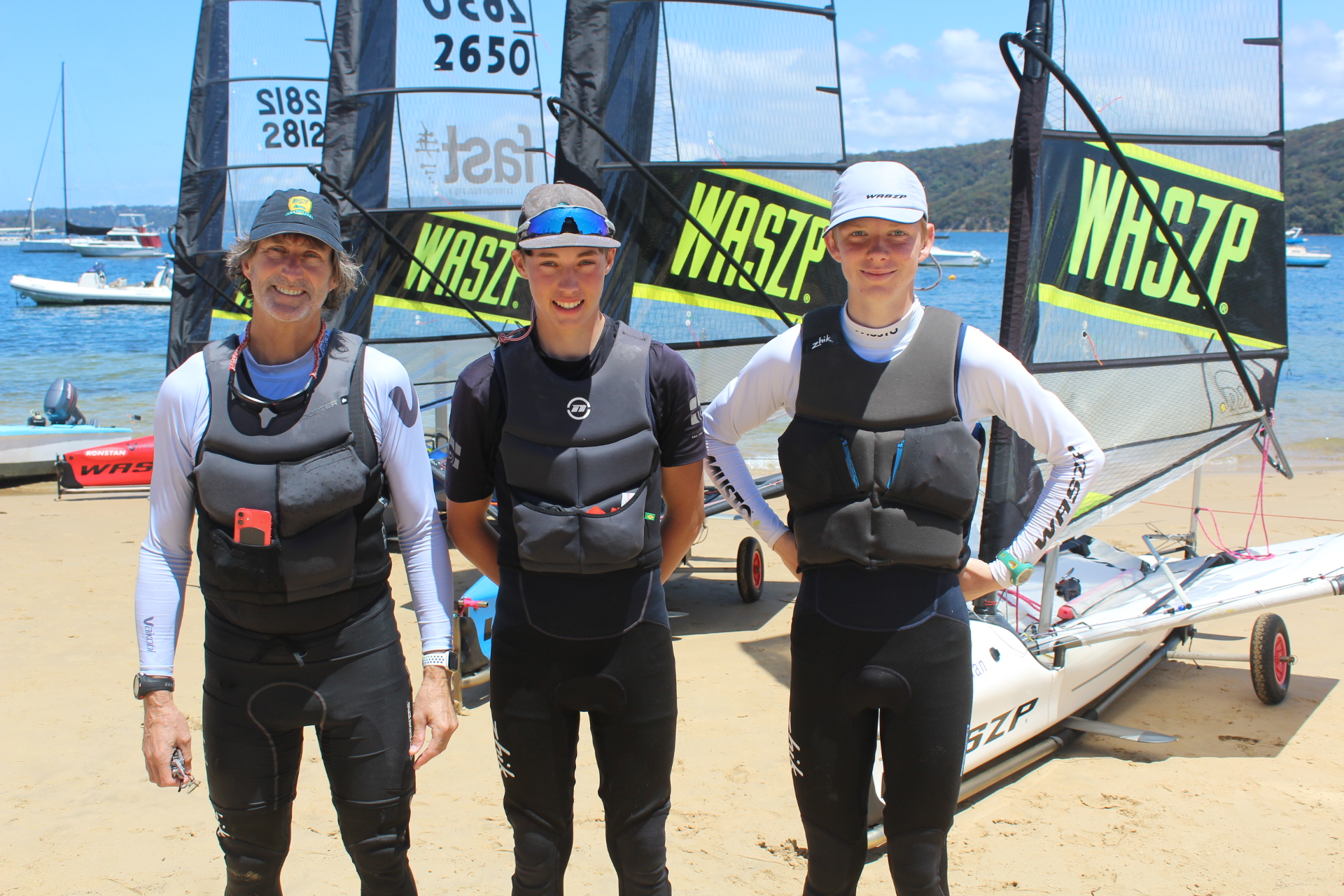 Jervis and Louis Tilly, Will Troop

'We're looking forward to the December 2023 International WASZP Games at Sorrento in Melbourne.'' Louis said
Steph Verhaeghe and Chris Clegg were also taking part, although not as juniors.
Steph explained he's been sailing a WASZP for two years and loves it.
'I'm an ex-pilot of the Air Force and this is just like flying – so I like that, that it's fast.''
Steph Verhaeghe and Chris Clegg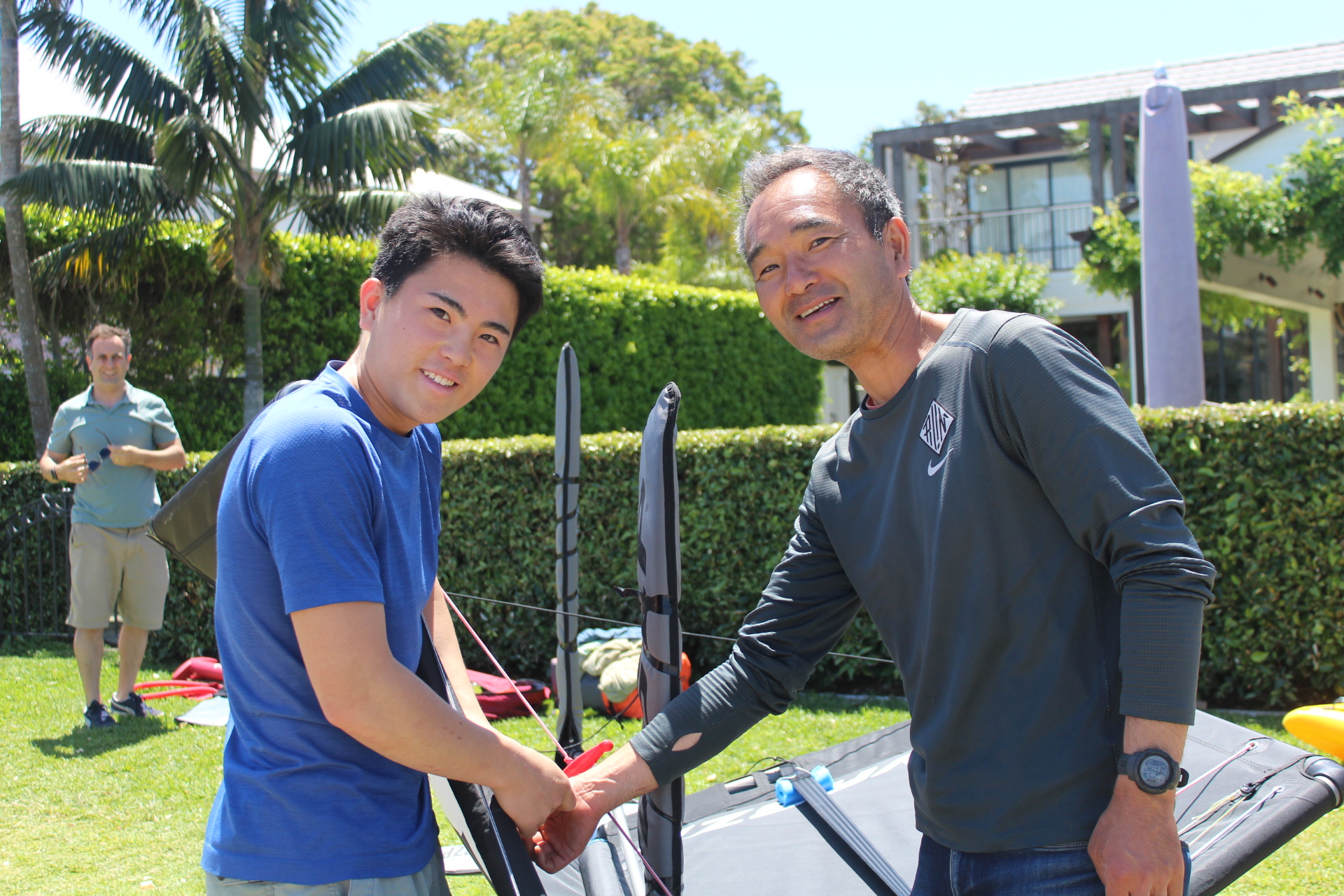 The Tomishima family; entrants in Junior and Master divisions

The WASZP is an Australian, single-handed, hydrofoiling sailboat that was designed by Andrew McDougall, designer of the world beating Mach 2 foiling Moth, as a one-design racer for youth and adults, and first built in 2015. Andrew McDougall today launched the WASZP, at Foiling Week on Lake Garda on Julky 1st 2015. The design was named 2017 Best One-Design in Sailing World's Boat of the Year Awards.
The design has been built by McConaghy Boats of Mona Vale, since 2016 and remains in production. 750 boats had been built by May 2019 and over 1,200 by 2022.
The concept was for a foiling platform that enables closer one-design racing, less complex rigging, is affordable to all sailors while being accessible to a wider range of ages and weights.
Those who follow SailGP would have seen them whizzing around Sydney Harbour last time the event was held here. WASZP is proud to be a partner SailGP and their quest to form a pathway for young sailors into the professional ranks. The SailGP INSPIRE program in conjunction with WASZP is used as a genuine talent identification pathway for young sailors Under 21 to gain exposure on the world stage.
SailGP returns to Sydney February 15th to 19th 2022 so you may see them if attending.
Those who have been on a WASZP state it's closer to surfing or gliding in terms of lifestyle – but with technical skill and sheer enjoyment at its core.
Hull Length:3.35m
Width Sailing:2.25m
Top speed:24 knots+
You can find out more at: waszp.com
Taking part in the Wingfoil event was 16-year-old Will McMillan from Bilgola. Will heads to Japan on Tuesday to take part in the Pro Windsurfing World Tour. Will is an Olympics possibility for 2024 Paris Olympics, although he may be representing Thailand due to the costs involved in running an Olympics campaign – he already has strong support there in sponsorship from Thai Airways and Singha beer, which helps with the ongoing travelling expenses he's incurring.
His brother Joe was with him, and claims responsibility for first teaching him to sail.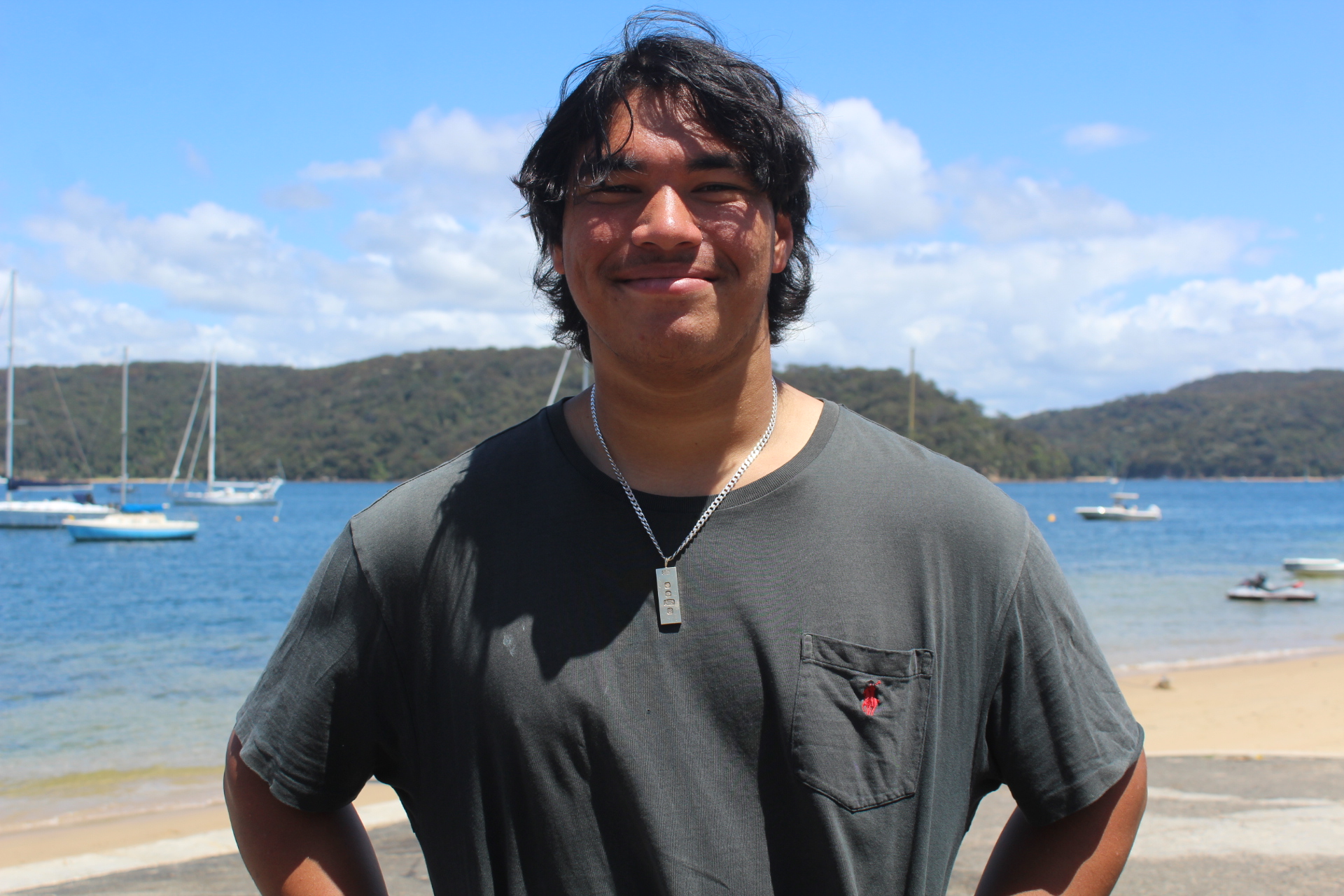 Will McMillan

Windfoiling is the new super-fast Sailing event where Windsurfing boards fly out of the water at speeds of more than 30 knots.
Will is amongst the best riders in Australia when the wind is up although he has a background in other classes and even skateboarding.
He has been Windfoiling for a few years nearly full-time here in Australia and sailing (racing) in many classes of boats and boards since he was 6, including Optimists, Bytes, Lasers, WASZPs, Moths, Ok dinghies and Finns.
''Windsurfing on the Bic, then RSX and now the Windfoil is my passion and future.'' Will explained
''I have won Australian titles and been the top junior in several classes in Australia and competed at world championships in the past – the last one being the Bic Techno Plus Worlds in 2019 in Portugal when I was 13.
Will is a scholarship holder with the NSW Institute of Sport and a member of the Australian Sailing Futures Program (which is the sports local governing body).
On Day 3 at the iQFOiL European Championships on Lake Garda in Italy earlier this year, Australian Sailing Futures program (ASF) athletes Natasha Bryant and Will McMillan made it into their respective Gold fleets for the Final Series.
The Professional Windsurfers Association (PWA) is officially recognised by World Sailing (WS). The PWA World Tour has been promoting several types of windsurfing, including slalom, freestyle, wave, indoor, super x, and more recently, foiling. The PWA World Tour runs a men's and women's circuit with between eight and 12 stages in some of the world's best windsurfing spots.
The 2022 Fly! ANA Yokosuka, Miura, Windsurf World Cup, Japan, takes place November 11th to 15th off Tsukuihama Beach, Yokosuka City.
Tash Bryant also clearly has a passion for foiling and has inspired Sienna Brown and Eva Attwood, both 17, to get involved. The girls said they're both very new to the sport but they're liking the challenge, although 'it's a steep learning curve'.
Eva actually started sailing at the Albury-Wodonga Yacht Club before her family moved to Sydney and she got involved at the RPAYC. Sienna commenced her sailing through the RPAYC, which both girls state has an outstanding sailing program for young adults.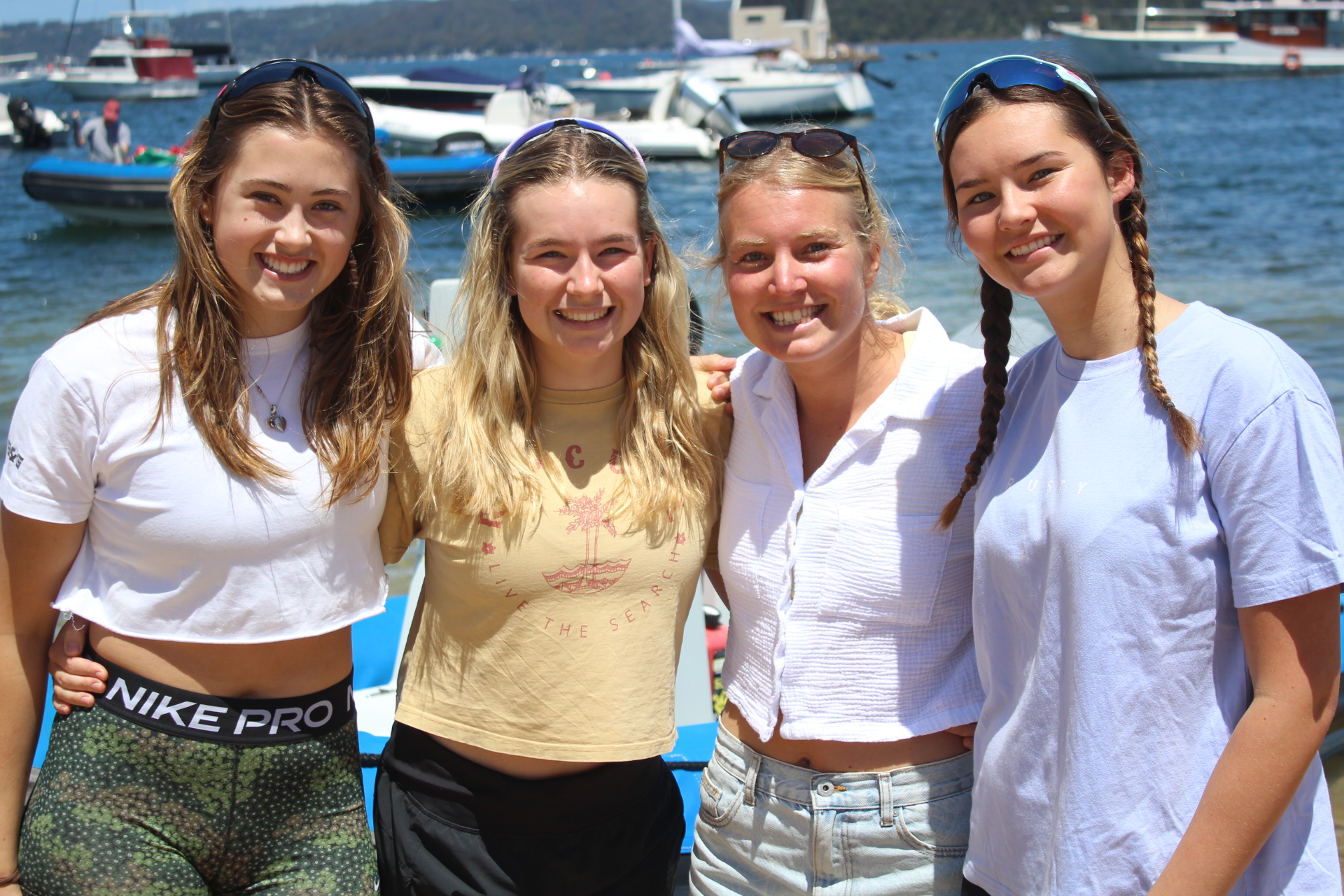 Photo L to R: Darcy Robbins, Eva Attwood, Tash Bryant and Sienna Brown.
Wing foiling or wing surfing is a wind propelled water sport that developed from kitesurfing, windsurfing and surfing. The sailor, standing on a board, holds directly onto a wing. It generates both upward force and sideways propulsion and thus moves the board across the water. The recent development of foilboards, which plane very early on a hydrofoil fin and thereby lift off the water producing low friction, represent the ideal complementary hydrodynamic platform for wings. This young sport is already incredibly popular.
Local retailers are Windgenuity at Cromer, through NAISH. John Messenger, who has been enjoying the sport for almost a decade, and at the states on Saturday, can provide you with all the information you will need.
If you need a few lessons to get going Dan Wilson, of Wilson Windsports is the go to man locally. Visit: www.wilson.windsports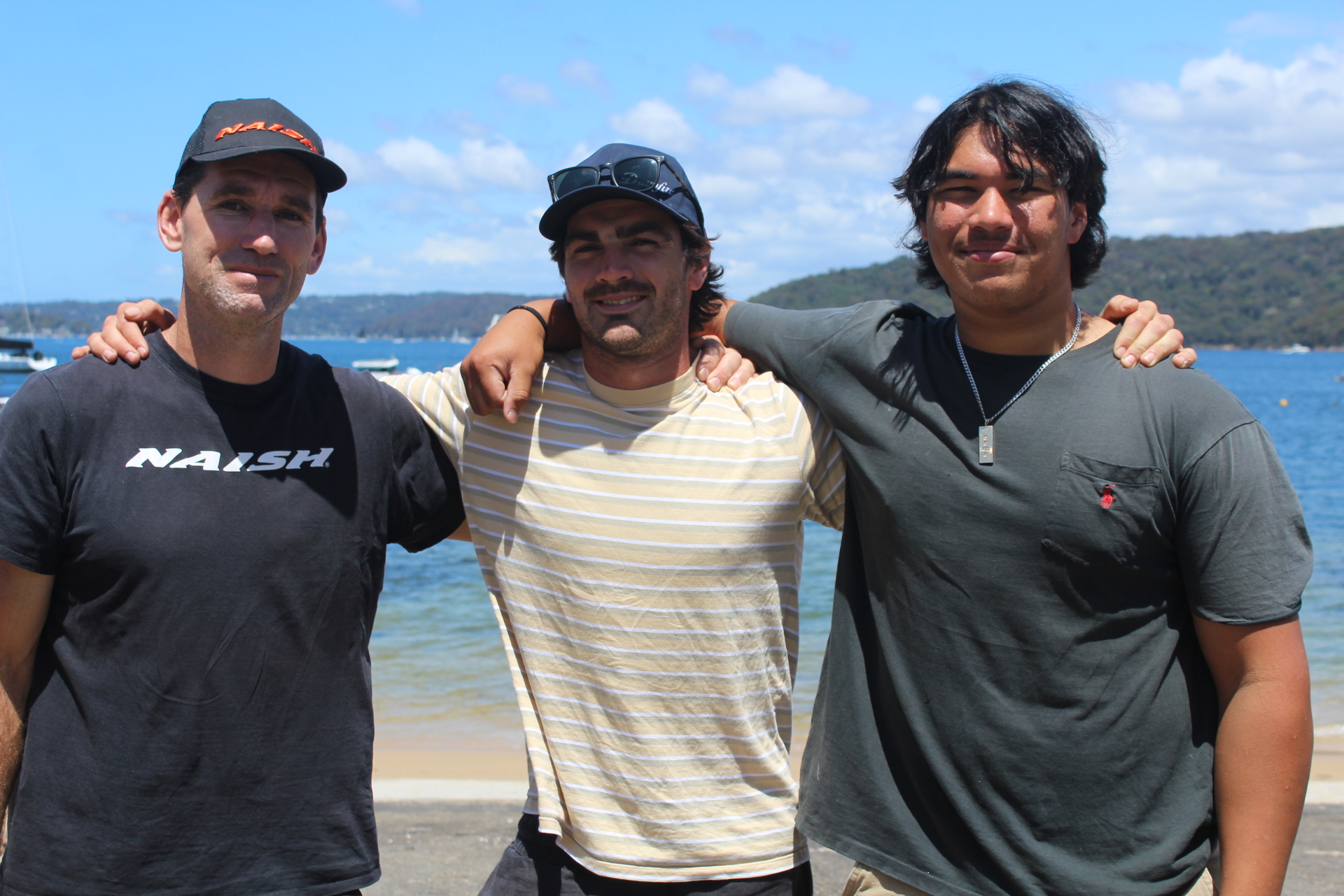 John Messenger with Joe and Will McMillan

Former head sailmaker at America's Cup and RPAYC legend Geoff Kitchen was also on hand, putting out the markers, running the safety boat and possibly wishing he was taking part. Geoff like windsurfing, is quite the proficient, when he's not taking part in the Twilight Sailing at RPAYC.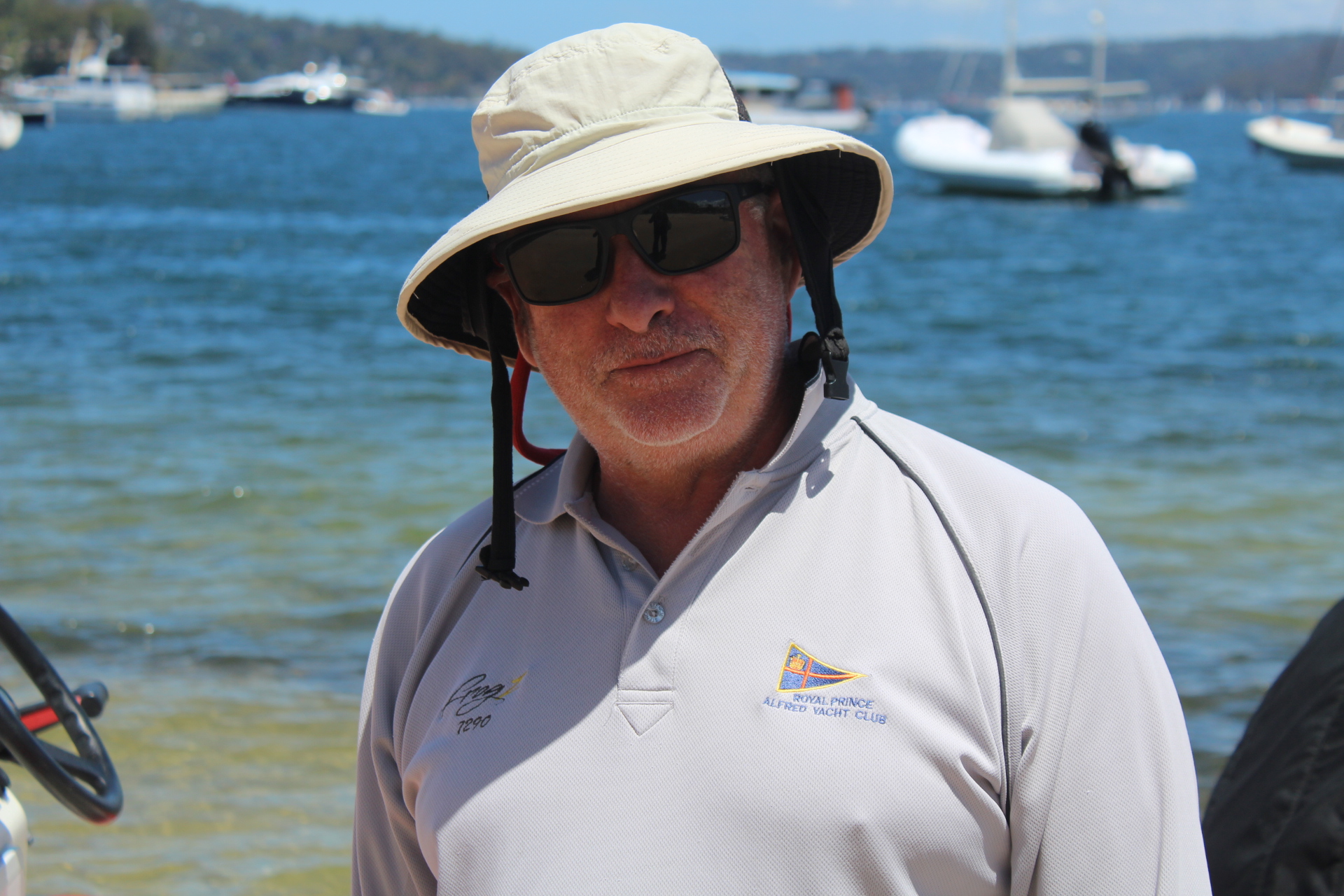 Geoff Kitchen

Past Commodores of PBSC Anthony Duchatel and Richard Lacey along with PBSC sailor Evelyn Curtis were on hand meeting the sailors and watching the fun.
Asked why PBSC was hosting the states Anthony explained, ''The Club loves supporting sailing on Pittwater.''
Anthony Duchatel and Evelyn Curtis have excelled in Hobies over the years, winning multiple championships at state, national and worlds level and representing Australia for years in the sport of sailing. They too like to go fast, and may have also been looking at something they will get involved in.
''New Foils are the Future of Sailing and they will all be on display this weekend.'' Richard said
''Slalom on Pittwater is brilliant; the estuary is a great natural amphitheatre for this exciting racing format. The Event combines with Wingfoilers to make it as accessible as possible.''
And as the Palm Beach Sailing Club motto states; ''if you can sail here, you can sail anywhere.''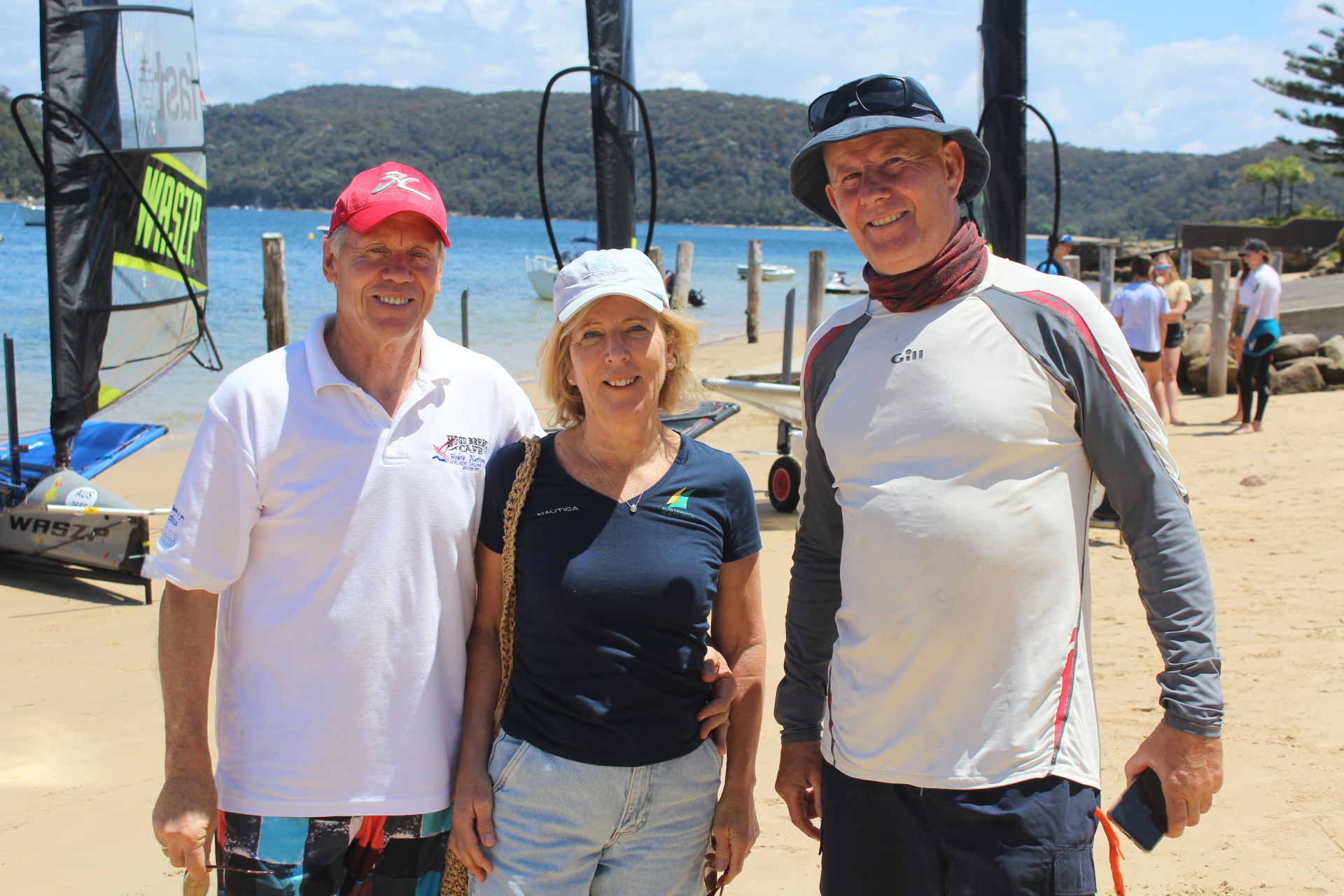 Anthony Duchatel, Evelyn Curtis and Richard Lacey
A few more pictures and results below.