February 12 - 18 2023: Issue 571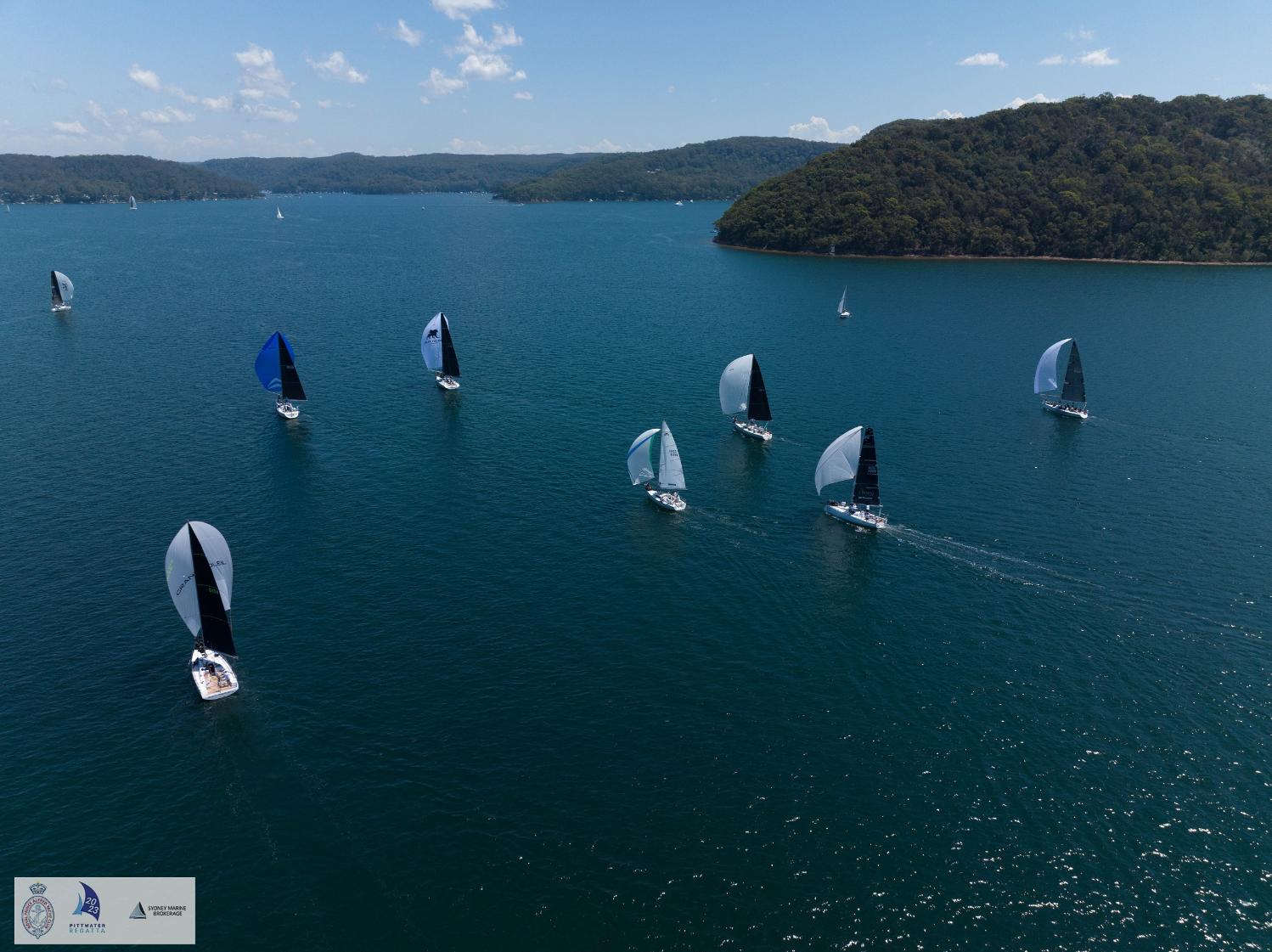 Pittwater Regatta competitors in ideal conditions, Photo: RPAYC
Defending ORC NSW champions come out firing
Friday February 10, 2023
The second running of the ORC NSW Championship, hosted Royal Prince Alfred Yacht Club (RPAYC) at Pittwater, opened on Broken Bay today, with two inshore races put to bed and the defending champions putting their rivals on notice.
Both Gerry Hatton's Bushranger in Division 1 and Simon Grosser's Young at Heart in Division 2, won both inshore races, each named Boat of the Day in their respective divisions.
Both currently hold onto the titles they won last year, but there are two days of racing remaining.
Hatton, as is usual, is joined by son-in-law Michael Fountain, who called tactics today, with Fountain's 21-year-old son, Tom, also on the crew.
"A real family affair," commented Hatton, whose son, Andrew, is missing the event, choosing to go skiing instead.
Today, Bushranger won both races, the first from Keiran Mulcahy's King 40, Soozal and Bob Cox's DK46, Nine Dragons, from Middle Harbour Yacht Club. In the second race, Bushranger defeated the same two boats, but in the reverse order.
Hatton described the day: "The north-easterly of up to 10-12 knots max finally arrived after alight 4-5 knots. It was a really beautiful day of sailing.
"We had long works and spinnaker runs, especially the second race, which we finished in one hour 46 minutes and 22 seconds."
In April, Hatton will take delivery of his new yacht, a MAT 1220. Slightly smaller than his current MAT 1245, Hatton explained, "It has a longer bowsprit which is great for bigger reaching and running sails."
Asked why he had bought a new boat when this Bushranger continues to do the job nicely, Hatton said laughing: "Because I wanted a new toy!"
"I told my son and my son-in-law we were spending their inheritance on buying the new boat and they said they'd prefer the new toy too!"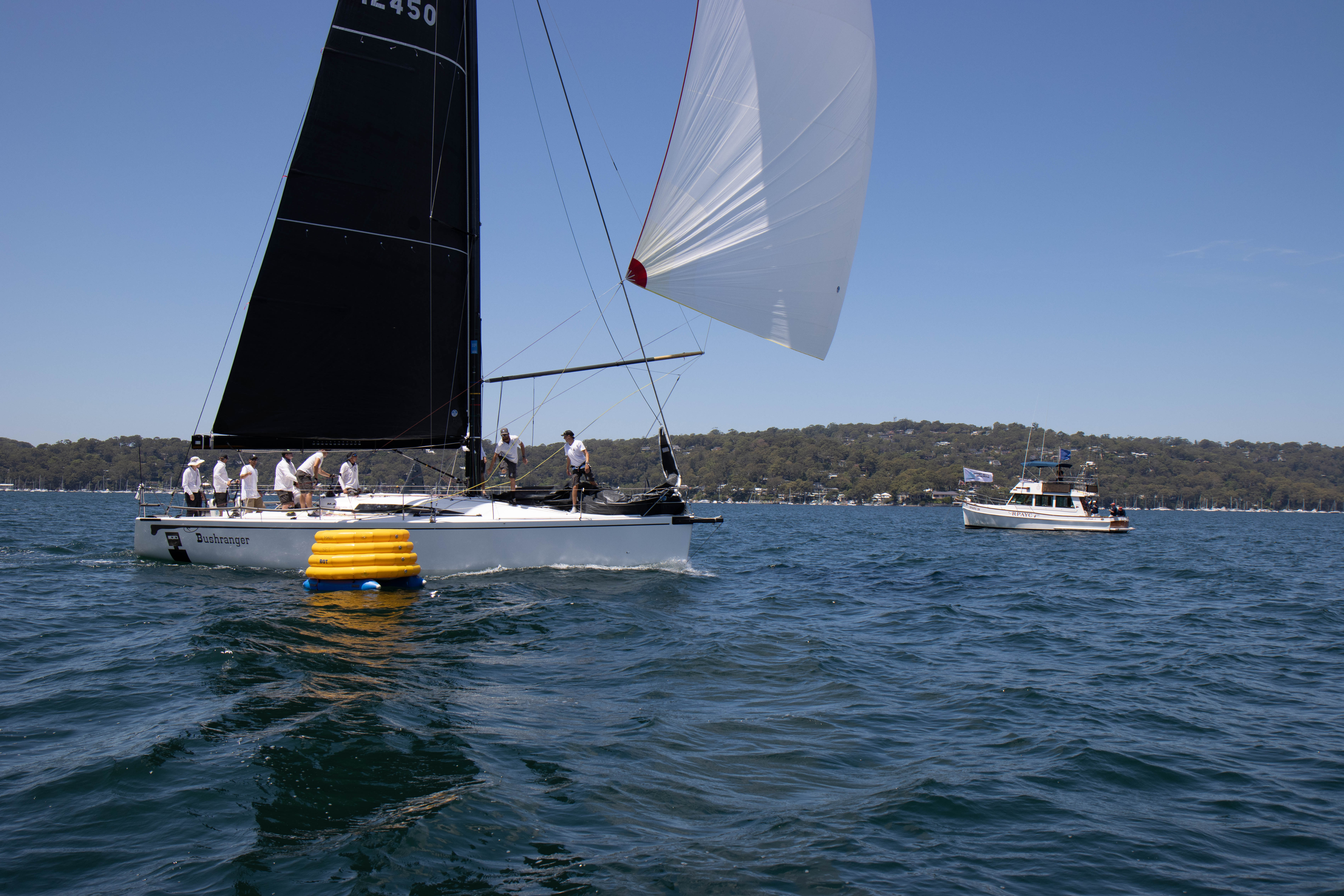 Bushranger leading at a mark. Photo: RPAYC

In Division 2, the 2022 winner, Simon Grosser, came up trumps again with Young at Heart. In the first race he held another Young 88, Coyote (Rob Brewer) at bay, with Martin Cross sailing his Jeanneau Sun Fast 3300, Transcendence Crento, into third.
Race 2 and it was Bullwinkle, the Bull 9000 owned by Regatta Chairman, Peter Farrugia, in second place. Transcendence Crento was third again.
"It was a big day. I had a good crew and we had a lot of fun. The racing was pretty close. Bullwinkle was way out in front, so we had to sail extremely well to beat them," a succinct Grosser commented.
"There were boats close around us throughout racing -lots of different designs and sizes," he said of the 12-strong Division 2 fleet.
In Race 2, Division 2, the wind decided not to play for a spell and boats parked at the Ellis Buoy MarkSetBot mark. Event sponsor and Sydney Marine Brokerage owner, Andrew Withers, took advantage and sailed around the fleet at the helm of the Grand Soleil 34, Expresso, but it did not convert to a top three result.
This morning there was barely any breeze on Pittwater and the flags onshore hardly worked up a flutter. Race Officer, Ted Anderson, hoisted the AP flag as his team waited for the breeze to fill in for the fleet's 11.30am start south of Longnose Point.
A delayed start, as officials were at the mercy of a typically sickly and fluky westerly on Pittwater. Eventually, the westerly dissipated, the breeze swinging to a light but mainly stable north and north-easterly sea breeze.
Racing continues tomorrow when officials plan to send entrants in the ORC NSW Championship on a 25 nautical mile offshore race.
The two-day Pittwater Regatta begins tomorrow with two inshore races and ends on Sunday, when the ORC NSW Championship also concludes.
Socially, bands will keep competitors, families and friends entertained on both afternoons, with the prize giving to be held post-racing on Sunday.
The ORC NSW Championship and Pittwater Regatta are proudly sponsored by Sydney Marine Brokerage
For full results and all information, please visit the official website: payc.com.au/pittwater-regatta-inc-nsw-orc-championship
Video highlights of today's racing: https://youtu.be/I6Pjh2dlJzw
Report by Di Pearson
Revolver takes aim at Conspiracy in Pittwater Regatta
Saturday February 11, 2023
While the ORC NSW Championship resumed at Pittwater today, Pittwater Regatta competitors relished their first outing with two inshore races across three divisions, both events hosted by Royal Prince Alfred Yacht Club (RPAYC).
Under ORC, the main scoring system this weekend. David Hudson and Peter Byford's Conspiracy scored two Division 1 wins to lead from the Susan Walters skippered Cape Fear, a Cape 35. Carl Russett's Windy Too is in third place.
Michael Ritchie's self-designed Ritchie 38, Revolver just missed a top three, finishing the day fourth, however, he turned the tables in PHS. Ritchie leads that pointscore by a lone point to the tenacious crew on the Sydney 38, Conspiracy. Revolver scored third and second places compared to Conspiracy's fifth and a win.
An effervescent David Hudson declared after racing, "You know we have a big red Conspiracy on our backs to hide the blood where our tactician, Allen Stormon (he is also RPAYC's Commodore) whips us into shape! He's a hard taskmaster, but we love him for it."
Hudson steered Conspiracy in the opening race: "It started comparatively light, 10-12 knots, so it was more of a tactical race. We weren't necessarily sailing for speed, more for height, to take advantage of the light breeze. All went smoothly," he said.
"Peter steered the second race in 16-22 knots, so we sailed to the boat's maximum potential. It couldn't get any better. It was a standard two-sausage and a tight triangle in the middle, so it was challenging and tested all the crews."
Alpha Crucis, Bob Stoddard's 5.5 Metre yacht, won both Division 2 races. Heath Walters skippered the Melges 24, Banta (the new Melges 24 Australian Champion), is in second place overall, just three points in arrears.
"We got off the start line well. In the second one we had to push two boats over early to start on time. I was very pleased that the wind came in for the second race, because we revelled in that. We have a flat headsail, which worked well in the second race," Stoddard said.
"We have to beat Banta tomorrow. They beat in all three races last year, so I'm out to get them," Stoddard ended, amid laughter.
Under PHS, Time Bandit made the best of time around the race track in Division 2, Russell Murphy scoring a win and a second to lead the tied Joji and Alpha Crucis.
Murphy, whose boat is an 11 Metre One-Design, commented, "We had a great day. It was a beautiful day on the water. It started out light with holes in the course, but the nor' easter built in the afternoon to 18-20 knots. It was like someone turned the fan on."
ORC Division 3 is led by John Afaras' Oceanis 35.1, Eirini from Phillip Smith's Wahoo. Under PHS, Leon Wilson's Nirvana's Kitchen leads and was named Boat of the Day. One point behind is Peter Barry's Jeanneau 389, Shearwater. This PHS division is mainly made up of cruisers and it's pleasing to see so many out racing.
Day 2 of the ORC NSW Championship and a lovely sea breeze for the 25 nautical mile offshore passage race kept all happy. Division 1 headed north to Box Head and finished off West Head, while Division 2 took in the Box Head mark and finished off West Head.
Gerry Hatton's Bushranger (RPAYC), with son-in-law Michael Fountain skippering (Hatton was absent today), cleaned up Division 1 again, with Keiran Mulcahy's Soozal in second place again – by one minute 35 seconds. Bushranger is proving hard to beat.
Bushranger three wins equate to a four-point overall lead to Soozal and a further point to Bob Cox's DK46, Nine Dragons from MHYC. Three offshore windward/leeward races are the plan for tomorrow and will decide the new champions.
Division 2 was close and went Mark Hellyer's Italia 11.98, Cicero's way by 28 seconds. Jack Stening and Colin Gunn's Sydney 36S, Stormaway from MHYC, placed second.
Mark Hellyer: "It was perfect conditions for Cicero; 15-20 knots and the opportunity to stretch our legs. My tactician, Atho, made a great call upwind that put us in the right place and the crew did everything right. It was a great day for us. Not too many better places in the world to sail than this."
Simon Grosser's Young 88, Young at Heart, remains at the top of a very tight Division 2 leaderboard. In fact, Grosser's lead is on countback to Martin Cross' Sun Fast 3300, Transcendence Crento, with a few other still in the running.
Strong southerly winds have been forecast for tomorrow's races, which will decide both the ORC NSW Championship and the Pittwater Regatta.
The ORC NSW Championship and Pittwater Regatta are proudly sponsored by Sydney Marine Brokerage
For full results and all information, please visit the official website: rpayc.com.au/pittwater-regatta-inc-nsw-orc-championship
Video highlights of today's racing: https://youtu.be/XgmeJVi9ZWE
Report by Di Pearson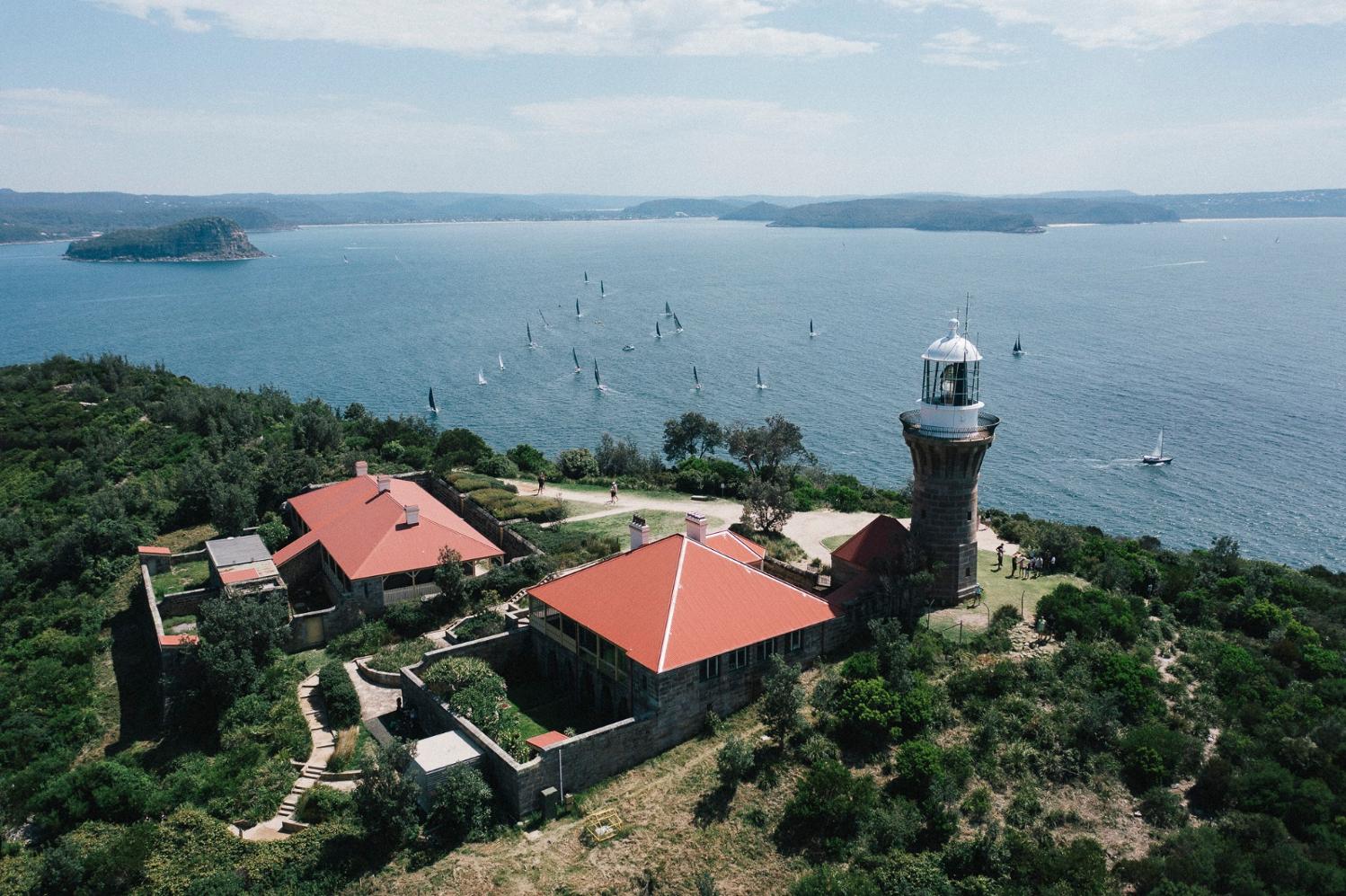 The ORC fleet from aloft. Photo: RPAYC
New ORC NSW and Pittwater Regatta champions revealed
Sunday February 12, 2023
Three days of racing in varied conditions across a combination of inshore races, a passage race and finally three offshore windward/leeward races in high winds, tested all in the Royal Prince Alfred Yacht Club's (RPAYC) ORC NSW Championship and decided the new champions late this afternoon.
Defending Division 1 champion Bushranger, owned by Gerry Hatton, scored victory in five of the six races and placed second in the other. Behind Bushranger, the battle raged for the minor placings as Keiran Mulcahy's King 40, Soozal fought to stay ahead of Bob Cox's DK46, Nine Dragons.
Soozal prevailed, despite some knockdowns (see video), Mulcahy and crew toughed it out. Their Race 3 helped them place second overall and beat Nine Dragons by three points.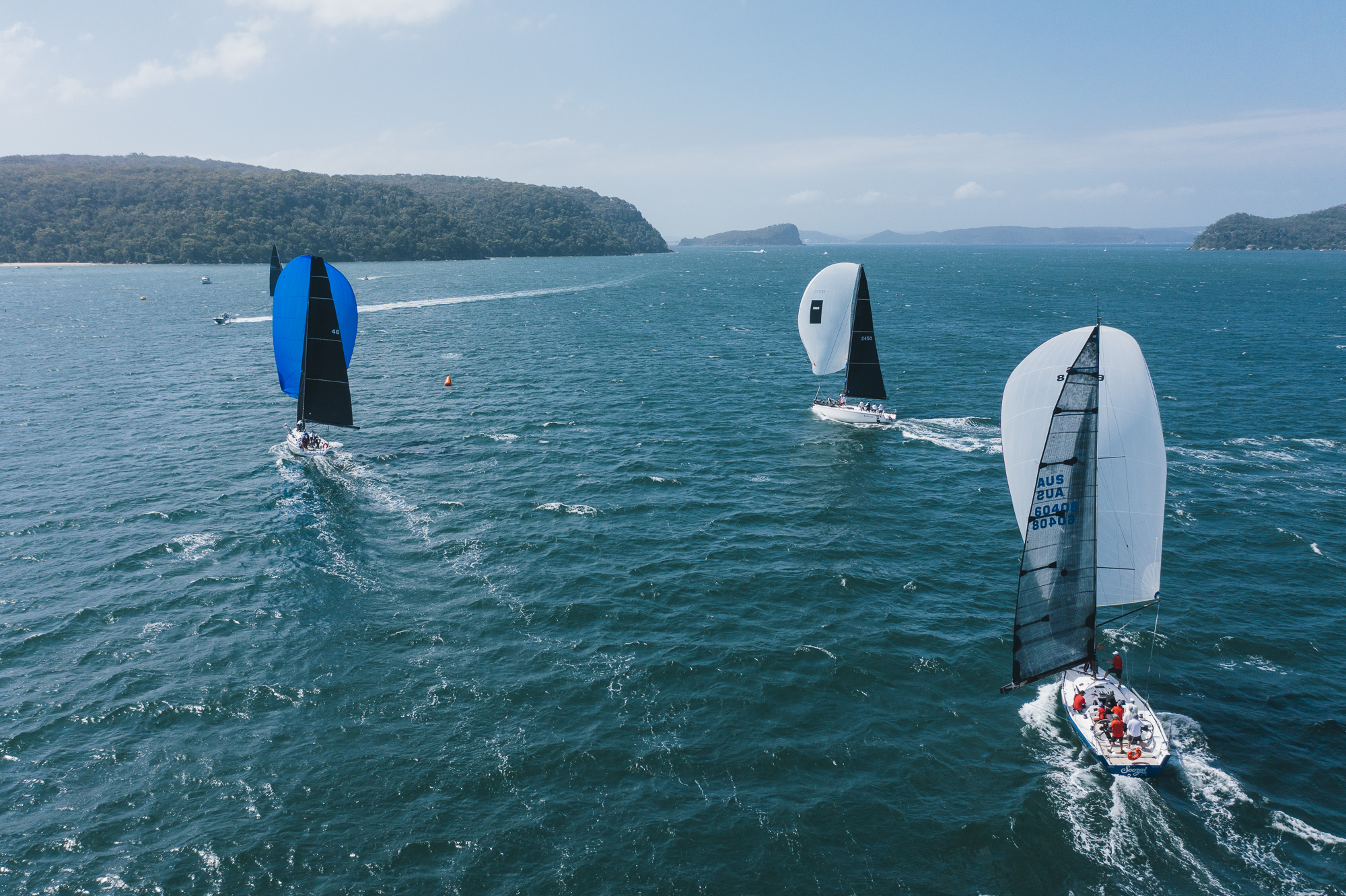 From left, Kayimai, Bushranger and Soozal. Photo: RPAYC

"A bit rough offshore today," commented Hatton's son-in-law, Michael Fountain, who took charge in Hatton's absence. "A building breeze moved south-west to south-east. We saw 28 knots in the last race. The first two races were offshore, then they moved us inshore for the last one. It was really hard racing," Fountain admitted.
"We were boat-for- boat with Soozal as usual. There's never much between us - and Nine Dragons is always there. It was a huge test of crew work, you had to be mechanical in your work and you really paid for your mistakes."
Simon Grosser retained the Division 2 title with Young at Heart, his Young 88. With four wins in his tally, he was too good for the rest.
"It's an honour to win the title again, to get these results. We had a good day with plenty of breeze offshore. The crew did a fantastic job. We had a good crew mix. It was good to have the experience of Phil Eadie on board."
Grosser added: "Rob McClelland, Peter Farrugia and the RPAYC team did an awesome job. On the water, the race management was exceptional. To get the full complement of races in, under quite difficult conditions, ranging from light fluky airs inshore to 20 plus knots offshore was fantastic," he said of the team led by Ted Anderson and Elaine Fowler.
Four others scrapped race-by-race to decide second and third overall. Peter Farrugia and his Bull 9000, Bullwinkle, thrived on the windward/leeward courses, rewarded with results that lifted her up to second. Transcendence Crento was sailed well throughout by Martin Cross, who finished third, two points adrift of Bullwinkle.
"We loved the tight racing and fierce competition. We had some wild rides on Bullwinkle today," Farrugia said. "It was fantastic to see so many visitors on the water – and on the dance floor throughout the regatta. We're looking forward to Act 2 at the Sydney Harbour Regatta in three weeks' time."
Racing was conducted on Pittwater, Broken Bay and its surrounds. Competitors in the ORC NSW Championship faced everything from very light fluky airs, to a lovely north-easterly sea breeze, followed by the southerly today.
The Pittwater Regatta was held in conjunction with the ORC NSW Championship and was held over two days this weekend. The Sydney 38, Conspiracy, won Division 1 under ORC after four inshore races on Pittwater. Is there any beating David Hudson and Peter Byford, the reigning Sydney 38 NSW champions? They won all four races.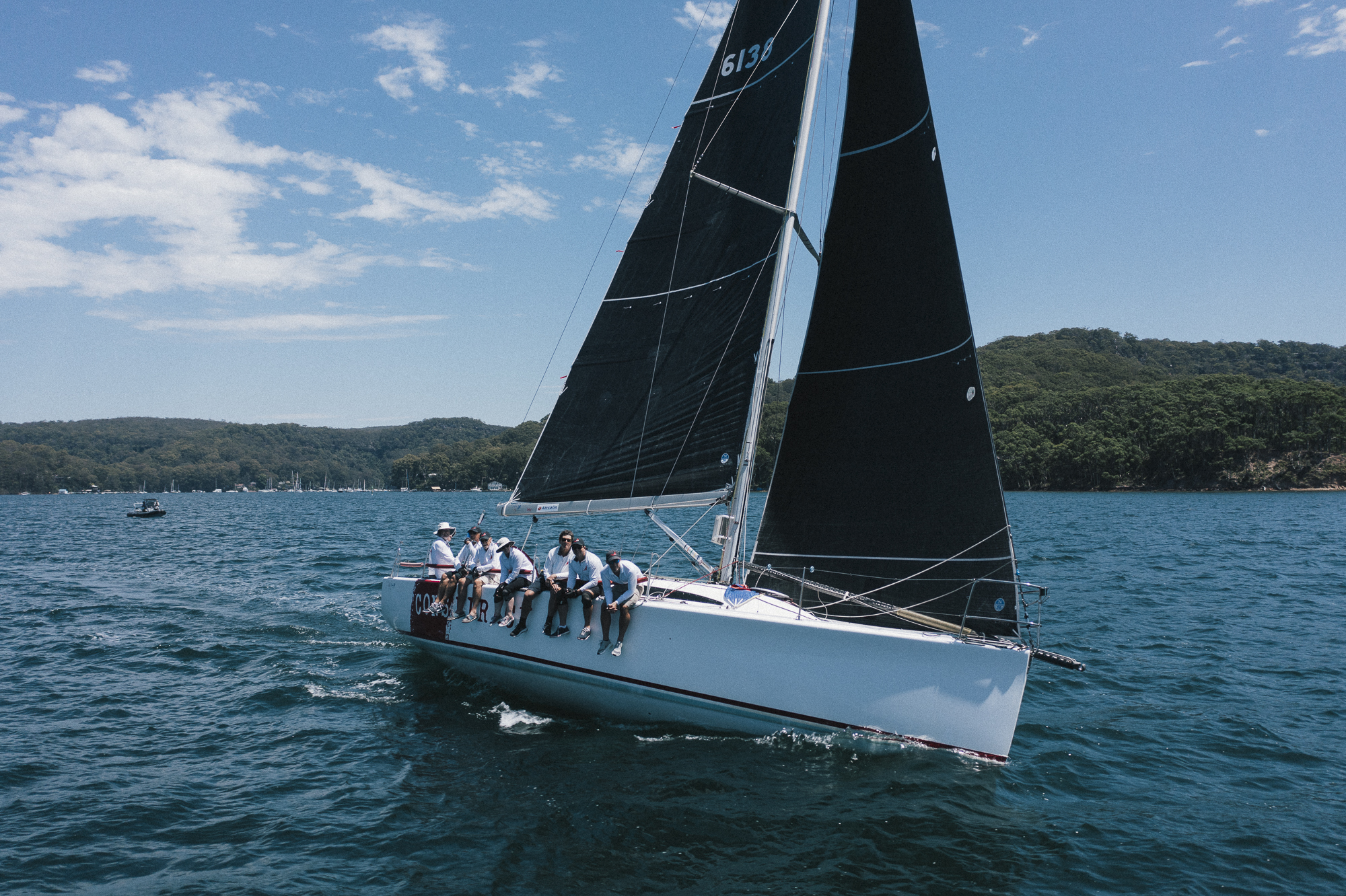 Conspiracy won all four of her races. Photo: RPAYC

Susan Walters kept the momentum going, adding a pair of second places on Cape Fear to finish second overall from PHS overall winner, Michael Ritchie's Revolver.
"It was a big day. We saw high teens and had long square runs. We were right on the limit. We were quite pleased with ourselves; we had the boat balanced upwind. Hats off to Speedy on the mainsheet. He earned his money and made steering easy," Hudson said.
"The second race was 22-26 knots with white caps. We used our three-quarter spinnaker (sometimes called the chicken chute), but it was a good call. We got good speeds downwind. Very testing; wind inconsistent and gusting. At the end, the crew felt they had a good outing and all contributed.
"It wasn't a day for passengers. Good practice for the 2023 Sydney 38 NSW Championship in March."
Division 2 went to Bob Stoddard. He won all four races to claim victory with his 5.5 Metre, Alpha Crucis. Russell Murphy held Time Bandit steady to place second, while Chris Hornsby's Pick Pocket finished a point behind for third overall. PHS victory went to Sean Rush's Ensign, which pipped Time Bandit on countback.
Not all was a bed of roses on Alpha Crucis: "Very windy and we damaged the main in the first race. It started to tear at the base," Stoddard said. "In the second race, it got bigger and bigger, the whole bottom of the main was missing.
"On the run, we put the spinnaker up, the tweaker let go, the pole was up in the air. We kept racing and made it around the course! I was surprised we won that race, but there was other carnage out there. Despite all that, it was fun," he ended, laughing.
In Division 3 ORC, there were just two entrants and John Afaras' Eirini was just too good for Phillip Smith's Wahoo. However, there was more competition in PHS, with seven boats entered. Yesterday's leader, Nirvana's Kitchen, stayed at the top, Leon Wilson keeping up the good work to win by three points.
"The final day of the ORC NSW Championship and the Pittwater Regatta was fast and furious. With gusts up to 26 knots and a building sea state, there was plenty of outstanding boat handling and a bit of carnage on show today," said Peter Farrugia, Regatta Chairman.
"We had increased numbers this year, which is pleasing - and competitors appeared to have had a good time on and off the water, which is the aim of the two events," he ended.
The ORC NSW Championship and Pittwater Regatta were proudly sponsored by Sydney Marine Brokerage
For full results and all information, please visit the official website: rpayc.com.au/pittwater-regatta-inc-nsw-orc-championship
Video highlights of today's racing: youtu.be/mnOvAOIFGUA
Report by Di Pearson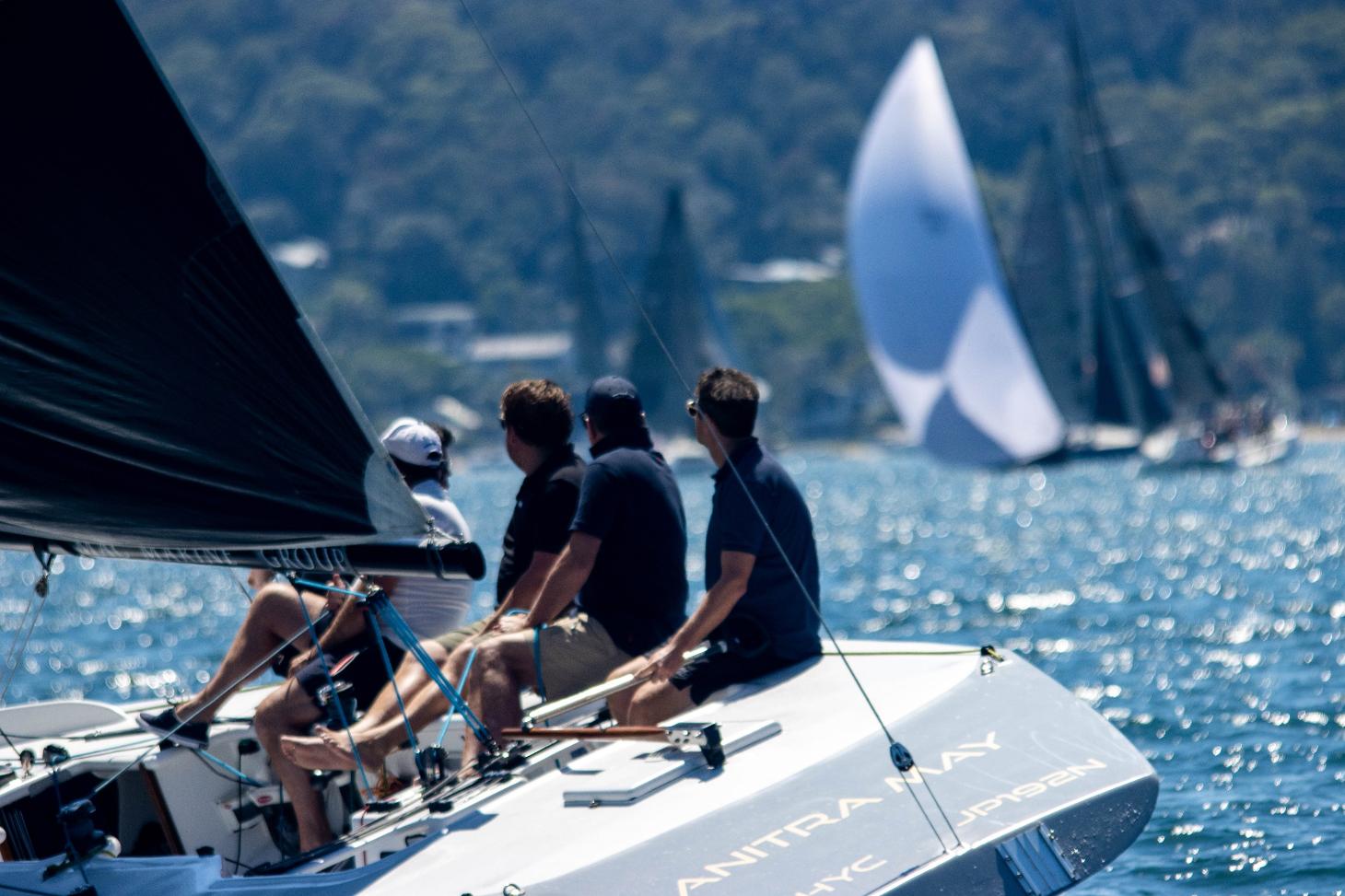 Crew of Anitra May takes in the view. Photo: RPAYC