August 21 - 27, 2022: Issue 551
Commissioning Of MRNSW Rescue Vessel Broken Bay (BB21) 'Bungaree' + New Base Construction Progress Inspection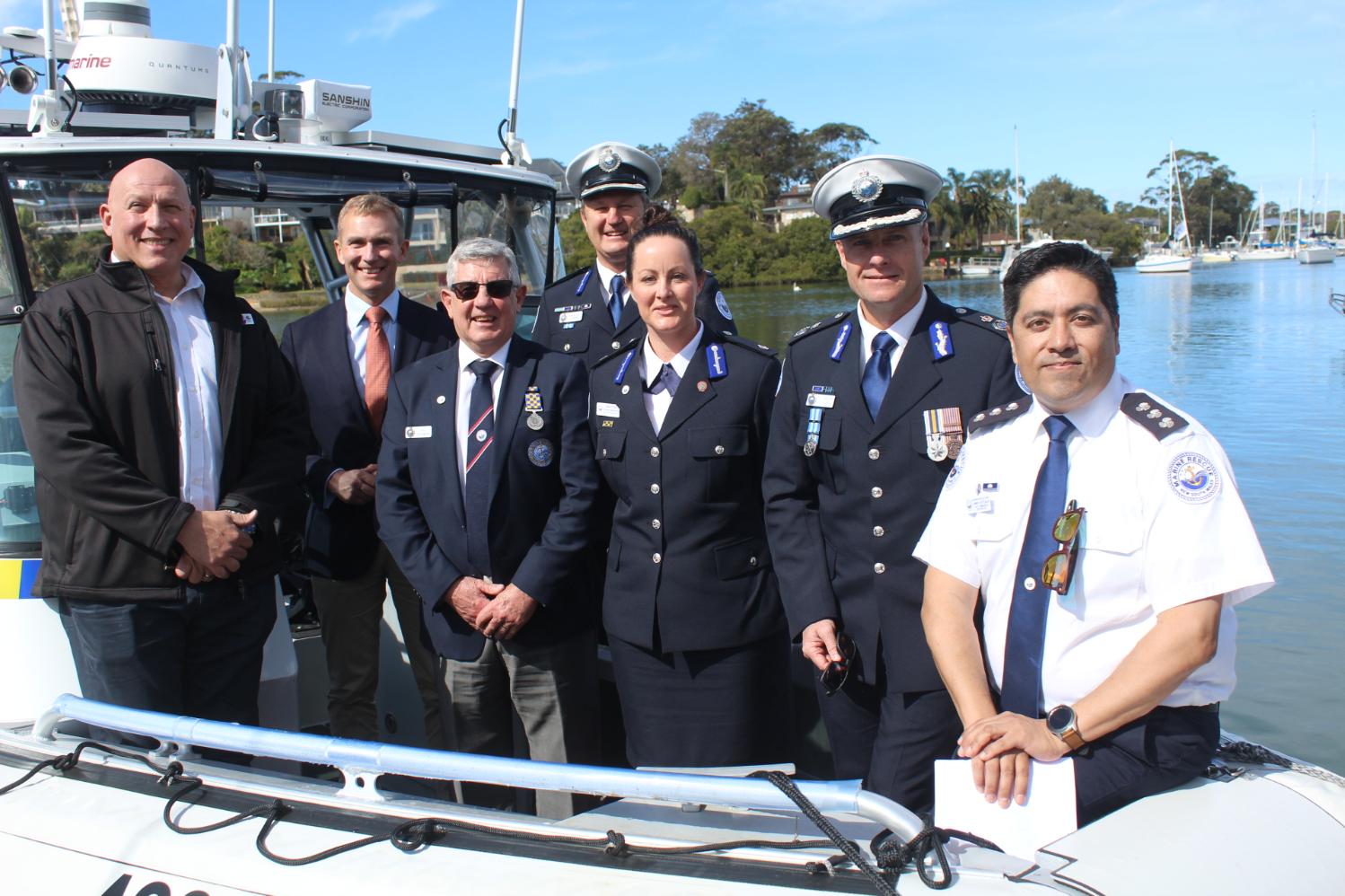 Left to right - back: Cr. Michael Gencher, The Hon Rob Stokes, Darren Schott, MRNSW Zone Commander, front: Ken Edwards, MRNSW Greater Sydney Board Director, Inspector Courtney Greenslade MRNSW Zone Duty Operations Manager, Alex Barrell, MRNSW Deputy Commissioner, Jimmy Arteaga, MRNSW Broken Bay Unit Commander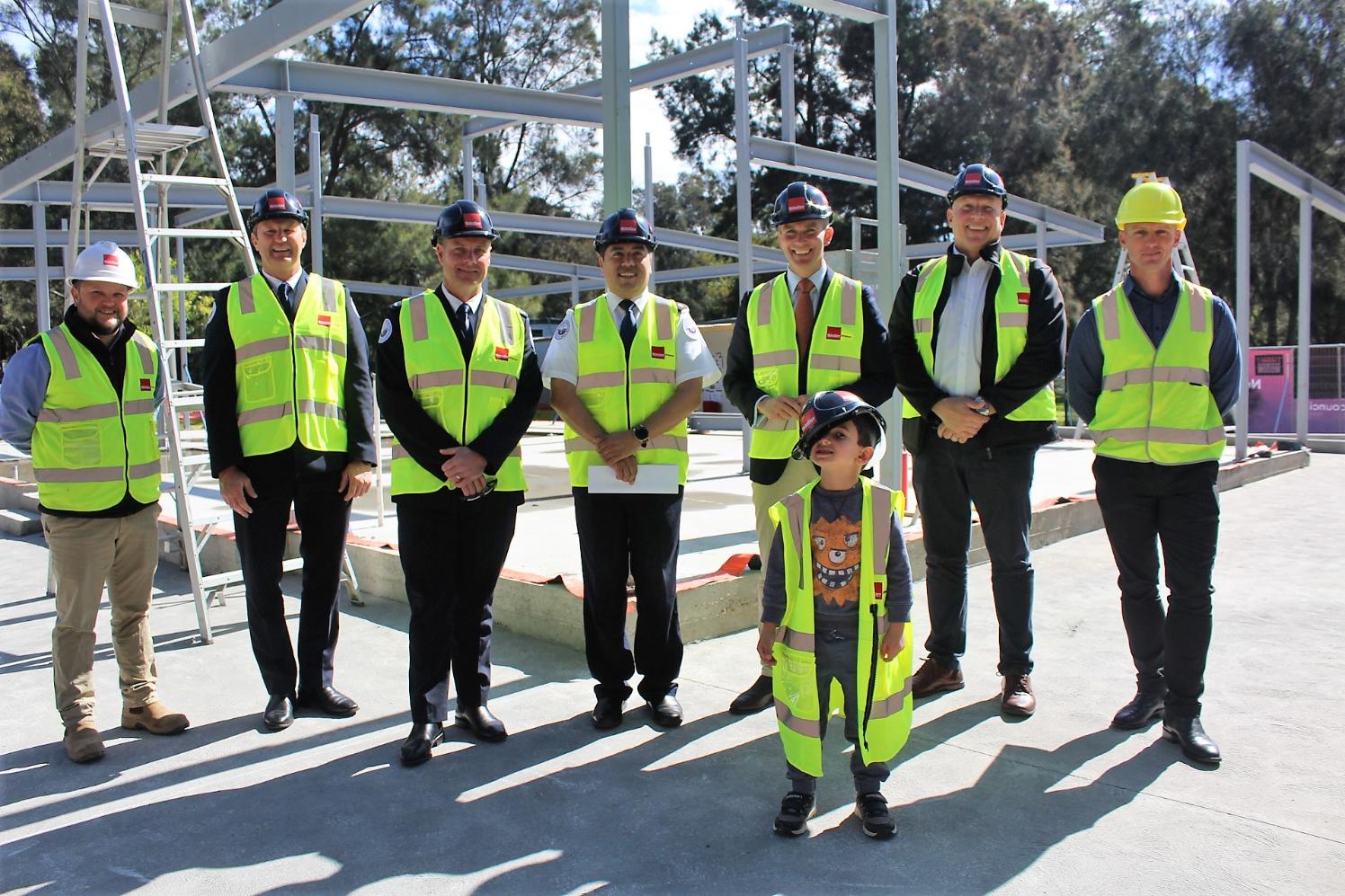 Inspecting the new MRBB works
On Saturday August 20th 2022 two brilliant events took place at the Bayview base of Marine Rescue Broken Bay; the commissioning of a new rescue vessel for the Unit and a Progress Inspection of the building site where a new purpose-built base is being constructed.
Unit Commander Jimmy Arteaga provided an update of the Base building works, where the ground slabs and primary beams are already in place, explaining the layout of the build. Jimmy explained that the community will have access to a space in the Base, 'because we are part of the community', which is also alongside where the new kitchen and bathroom will be.
Marine Rescue Deputy Commissioner Operations, Alex Barrell, said that the new facility would showcase the latest generation of online marine radio technology, as well as a large training and meeting space, storage for rescue equipment, offices, amenities, kitchen facilities, a wet area for boat crews, and improved access for volunteers living with a disability.
The new rescue vessel, built specifically for local conditions, has several unique features.
"Designed with input from our volunteers, the new rescue vessel boasts a drop-down bow allowing it to pull up to beaches to rescue stranded boaters and walkers; as well as sonar, radar, a full Raymarine navigation suite and greater safety and protection on the water for its volunteer crew." Deputy Commissioner Barrell said.
Unit Commander of Marine Rescue NSW Broken Bay Unit Jimmy Arteaga revealed the name for the new vessel, as chosen by the Unit's Members, is 'Bungaree' to honour Broken Bay's most revered of saltwater men.
Attending the ceremony were the Hon. Rob Stokes, MP for Pittwater, Minister for Infrastructure, Minister for Cities, and Minister for Active Transport, Alex Barrell, MRNSW Deputy Commissioner, Ken Edwards, MRNSW Greater Sydney Board Director, Councillor Michael Gencher, Northern Beaches Council as well as Unit Commanders and Deputy Commanders from surrounding units and Broken Bay itself.
Pittwater MP Minister Rob Stokes was representing Minister for Emergency Services and Resilience, and Minister for Flood Recovery, Steph Cooke, and said that the new base, on the shores of Pittwater on Sydney's northern beaches, was being developed thanks to a contribution of $915,000 from the State Government's four-year investment of $37.6 million in Marine Rescue NSW; with the remainder of the funding from a $100,000 Community Partnerships Grant and a $200,000 investment by Council.
The 7.5 metre state of the art rescue vessel, Broken Bay 21 'Bungaree', has been funded from the State Governments ongoing investment in the modernisation of the Marine Rescue NSW fleet.
"I'm delighted to be here today as we inspect progress on this exciting new project," Minister Stokes said.
"When complete, this tremendous new facility will mean the Marine Rescue Broken Bay volunteers will have an operations base specifically designed to support them in their work to keep watch over the Pittwater and Broken Bay boating community and save lives on the water."
"This new facility will be fitted with the latest marine communications and search and rescue technology, enhancing their ability to listen for distress calls from boaters in trouble and to respond to emergencies around the clock."
"When coupled with a new 7.5 metre state of the art rescue boat, designed in conjunction with the volunteers of the Marine Rescue Broken Bay unit, they represent a major boost to the safety of boaters on Broken Bay."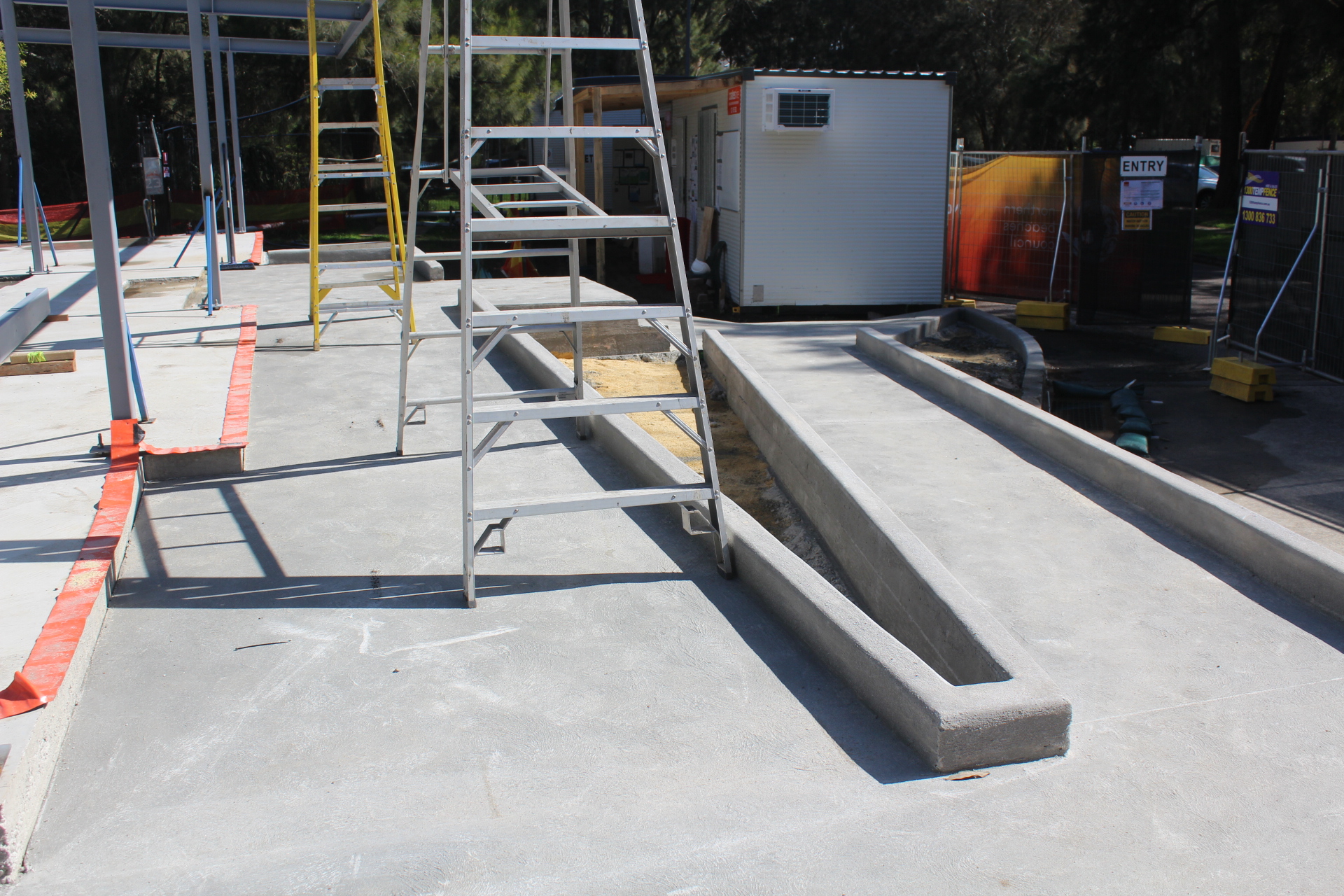 new access ramps at MRBB Base
UC Jimmy Arteaga opened the official events:
Welcome to the Broken Bay Unit of Marine Rescue NSW, I'm Jimmy Arteaga the Unit Commander. I want to extend a sincere welcome to our VIP Guests, Mr. Rob Stokes, MP for Pittwater and NSW Minister for Infrastructure, Minister for Cities and Minister for Active Transport, Alex Barrell, MRNSW Deputy Commissioner, Ken Edwards, Darren Schott, MRNSW Zone Commander, Cr. Michael Gencher, and Reverend Carmelo Sciberras and all of our unit members, their families and our generous supporters amongst the boating community, thank you very much for joining us.
Before we proceed, I'd like to acknowledge the Traditional Custodians of the land on which we meet today, and pay my respects to their Elders past, present and emerging. I extend my respect to the Aboriginal and Torres Strait peoples who are present today.
As a Unit we are extremely fortunate and eternally grateful for the ongoing support from Minister Rob Stokes, so much so it feels as though Rob is part of the Unit and one of our members.
I'd like to invite Rob to Address our gathering.
The Hon. Rob Stokes, MP for Pittwater:
Thank you, Jimmy, thank you ladies and gentleman and distinguished guests. It's a great privilege for me to be here with you today for two very very exciting developments as part of the continuing contribution of this Unit to the Pittwater, obviously the Commissioning of the new vessel as well as the inspection of the base headquarters.
Why this is strategically important to everyone in the community is because Pittwater, believe it or not, is actually the largest recreational port in the country. There is more recreational activity in the Pittwater and surrounding waterways than anywhere else in Australia. This provides a real focus on the need for the volunteer support service that Marine Rescue provides.
It is worth considering that this has been a continuing legacy of service here since the 1930's when you look at all the antecedent organisations that form the basis on which Marine Rescue is built. This is a proud inheritance that you all share and carry forward.
When Governor Phillip first visited this area in March 1788 and met some of the local indigenous people who inhabited these parts, and had done so for thousands and thousands of years, he noted that it was 'the finest body of water I have ever saw and which I honoured with the name of Pitt Water'.
When you consider someone with the experience of Captain, later Admiral Phillip, it's extraordinary that this was the finest piece of water that he had ever observed. It's noteworthy that while he called Sydney Harbour the 'finest harbour', he called this 'the finest body of water', and significant that he named Sydney Harbour after Thomas Townshend – Lord Sydney (1733-1800), who became British Secretary of State in 1783 and recommended the British establish a colony in Australia, but reserved the highest name, the name of the Prime Minister, for the Pitt Water. He obviously considered this worthy of a more important and special name than he did in relation to Sydney Harbour itself.
The body of water for which you are responsible and on which you keep the boating public safe is a very important piece of water, it's a very busy piece of water, it's a very historic piece of water and it's important that we reflect on the history that you are all the custodians and inheritors of.
I was speaking earlier with Andrew about the role Mike Stringer played and that of Michael Seale, who is here today and the vessel named to honour his long volunteer service is here behind us. I recall people like Peter Phillipson who was the Commander of the Royal Volunteer Coastal Patrol at the time it combined and became Marine Rescue NSW, along with David Harrison; some really extraordinary volunteers form part of the wonderful and rich tapestry of this place.
The recent flood events, and we now know that La Niña conditions are likely to persist for at least another few months, have really focussed us on the importance of these rescue services that you provide. Sadly, the reality of what we now know about climate change is we are likely to have more extreme events, so the services and training and professionalism that you provide will become even more important in the future than it has been in the past.
So I'd like to thank Jimmy for his leadership. I'd like to thank every one of you for the work you provide, for the service you provide, for the training for the boating public you provide – I want to salute you for your efforts and recommit myself to doing all I can to help you in your jobs of keeping us all safe. Thank you very much.
UC Jimmy Arteaga then invited Cr. Gencher to speak.
Cr. Michael Gencher:
Thank you. Distinguished guest, volunteers, it is great to be here this morning. I'm here representing Northern Beaches Council and extend sincere apologies from the Mayor.
As I stand here and see the progress of the building I think it's just fantastic – a purpose-built facility to allow the incredible work that all you volunteers do to be more efficient and effective in the work you do. It is great to see the different levels of government and organisations working together on this; the Council, the State Government, Marine Rescue NSW, to help this tremendous organisation do the work that it does on Pittwater.
It is wonderful to see this new boat, this new equipment, because what it does, for those of us who are on the job, and what we do at the end of the day is keep people safe, is gives us that trust in that equipment which is as important as the trust we have in our crewmates and team. So it's wonderful to see this new boat on the water.
Thank you.
UC Jimmy Arteaga:
This is certainly an exciting time for the unit and our members. We have a double celebration – today we officially come together to celebrate the construction of the new base, which is well and truly underway, and he commissioning of our new boat, Broken Bay 21.
There has been a significant amount of work done over the years to get us to this point with the Base. Similarly with Broken Bay 21 there's been a heck of a lot of work done there as well.
There are a few people and organisations I'd like to thank as a result. In no particular order they are; Minister Rob Stokes, Northern Beaches Council, the Royal Motor Yacht Club Broken Bay, Marine Rescue NSW, Kelvin Parkin Senior Manager of our Fleet from Marine Rescue NSW, Mark Cooper Senior Manager Property and Structure Marine Rescue NSW, our own Broken Bay Members who volunteer their time to make these projects a reality for our local community, and I'd also like to extend a special thanks to Andrew Majewski, Deputy Unit Commander Marine Rescue Broken Bay, for all his efforts, assistance and taking my phone calls and emails every time I have an idea to ensure our new vessel comes online – but finally thank you everyone who has worked towards helping our Broken Bay Unit achieve these milestones.
To reveal the name of our new Broken Bay vessel I'd like to invite MRNSW Deputy Commissioner Alex Barrell to stand with me.
It has been a long-standing tradition for new vessels to be named after an outstanding member of our Unit, someone who has excelled and given above and beyond selflessly to the Unit's growth. Today though we are doing this differently. We wanted to select a name that would incorporate our community, our community's history and also pay our respects to our Traditional Elders.
I would like to officially announce the name of our new Broken Bay 21 vessel as 'Bungaree'.
Bungaree became the first known Aboriginal person to circumnavigate Australia and contribute to the mapping of the Australian coastline, and best of all, he was from Broken Bay.
Bungaree was born around 1775 and was from the Garigal clan of Broken Bay. He sailed with Matthew Flinders on that circumnavigation and would sail again with Captain Phillip Parker King, who surveyed the north and west coasts of Australia. Bungaree spent his life ceremonially welcoming visitors to Australia, educating people about Aboriginal culture (especially boomerang throwing), and soliciting tribute, especially from ships visiting Sydney.''
Pittwater Online News spoke to Neil Evers, a direct descendant of Bungaree who still lives in Pittwater, after Saturday's ceremony.
Neil said he was absolutely thrilled his ancestor has been honoured in this manner and wished to express his gratitude to the Members of Marine Rescue Broken Bay and Marine Rescue NSW.
''As he was known as the Chief of Broken Bay peoples, his legacy and spirit being honoured in the naming of this vessel is not only a fitting tribute to our ancestor and the original custodians of this place, it is also a reminder to we who are still present in this place of all the knowledge of these waterways his clan shared generously with others, and what we can still share with those now here. I thank you for honouring our people, and my relative, in this way.''
(for younger readers who may not have heard much about Bungaree yet, this Issue's History page runs an insight on Bungaree's life, written by one of his still living locally relatives)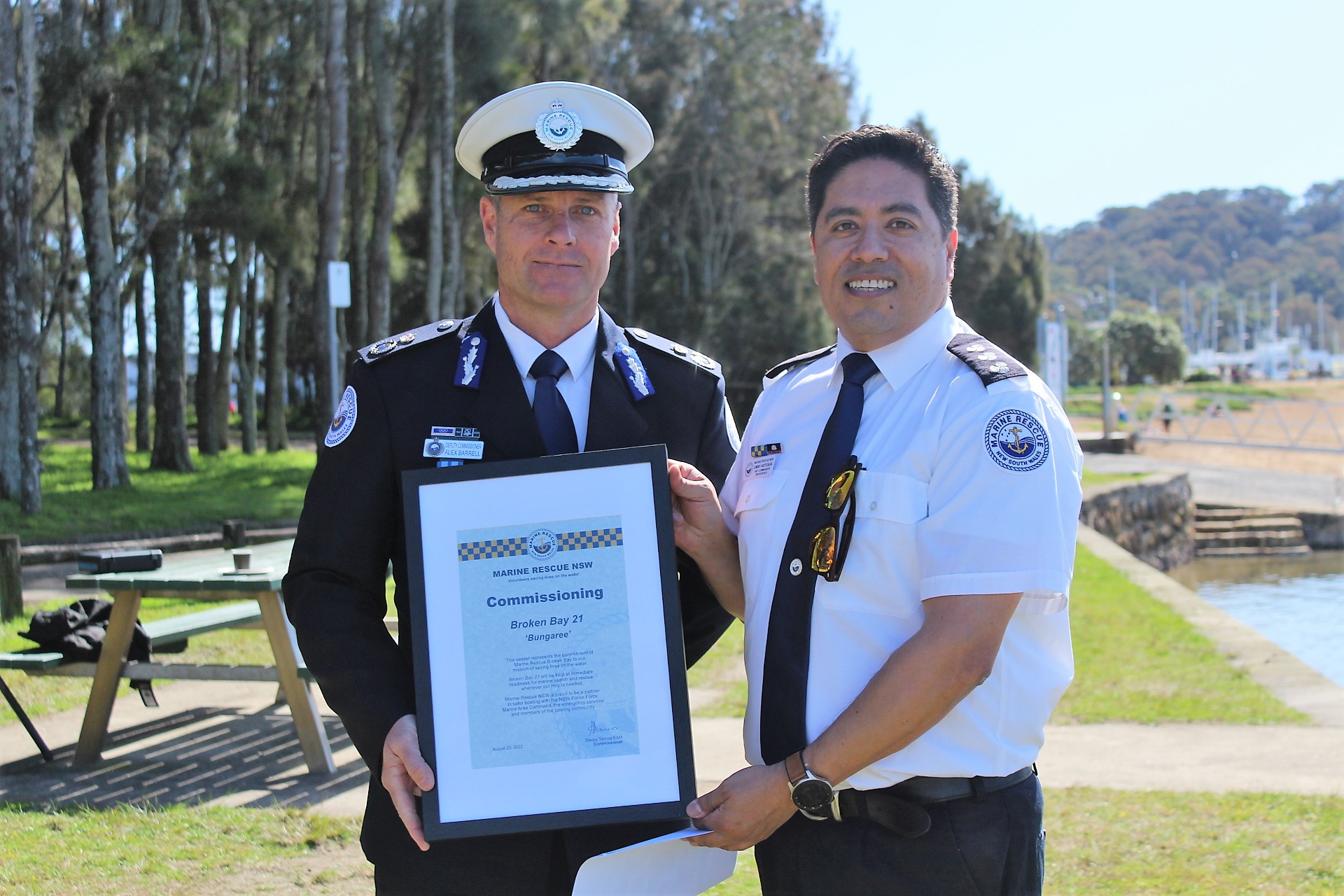 MRNSW Deputy Commissioner Alex Barrell and MRNSW BB Unit Commander Jimmy Arteaga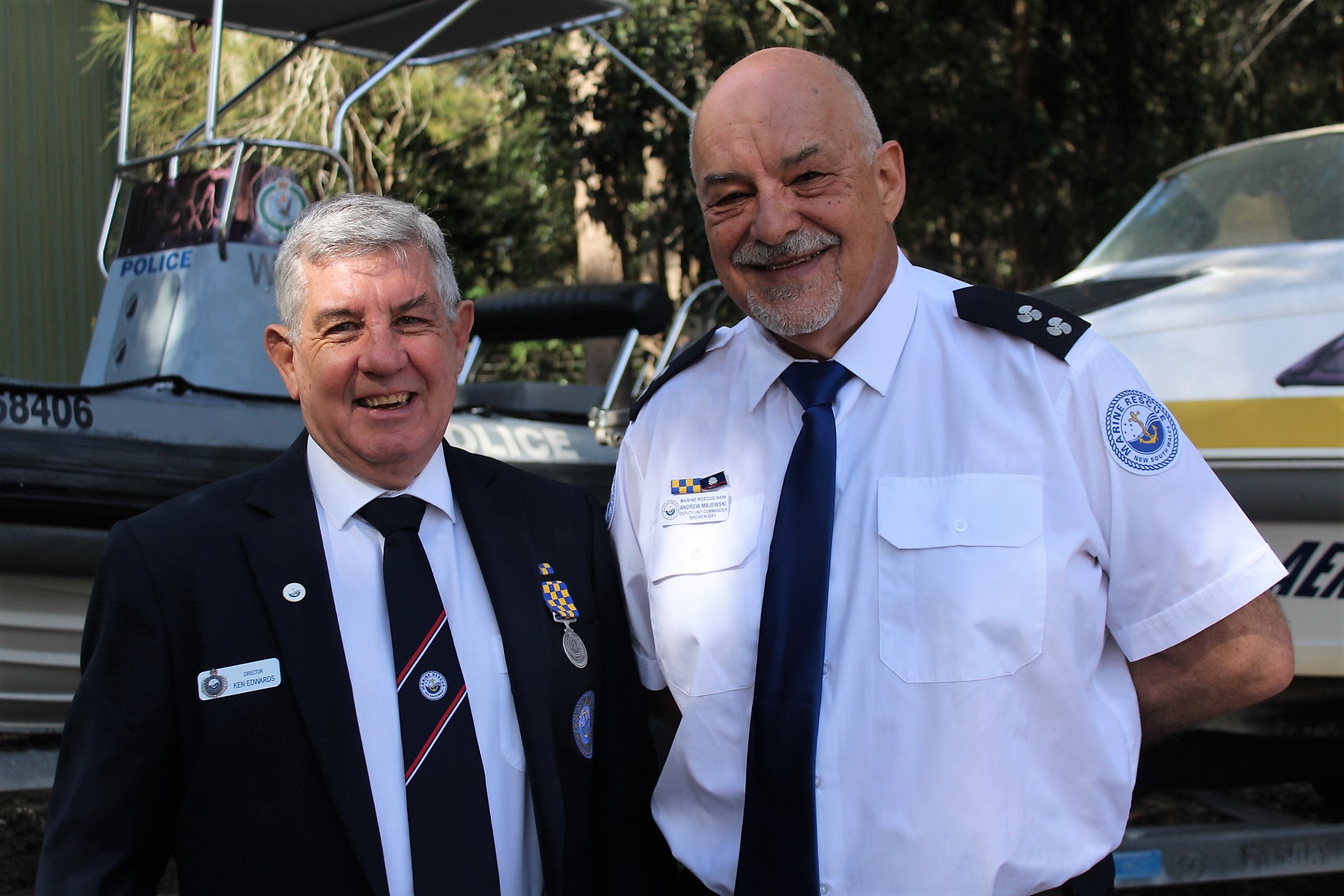 Ken Edwards, MRNSW Greater Sydney Board Director and Andrew Majewski, Deputy Unit Commander Marine Rescue Broken Bay
Newport Breakers Rugby Club Final Home Game For 2022: The Grand Stand Round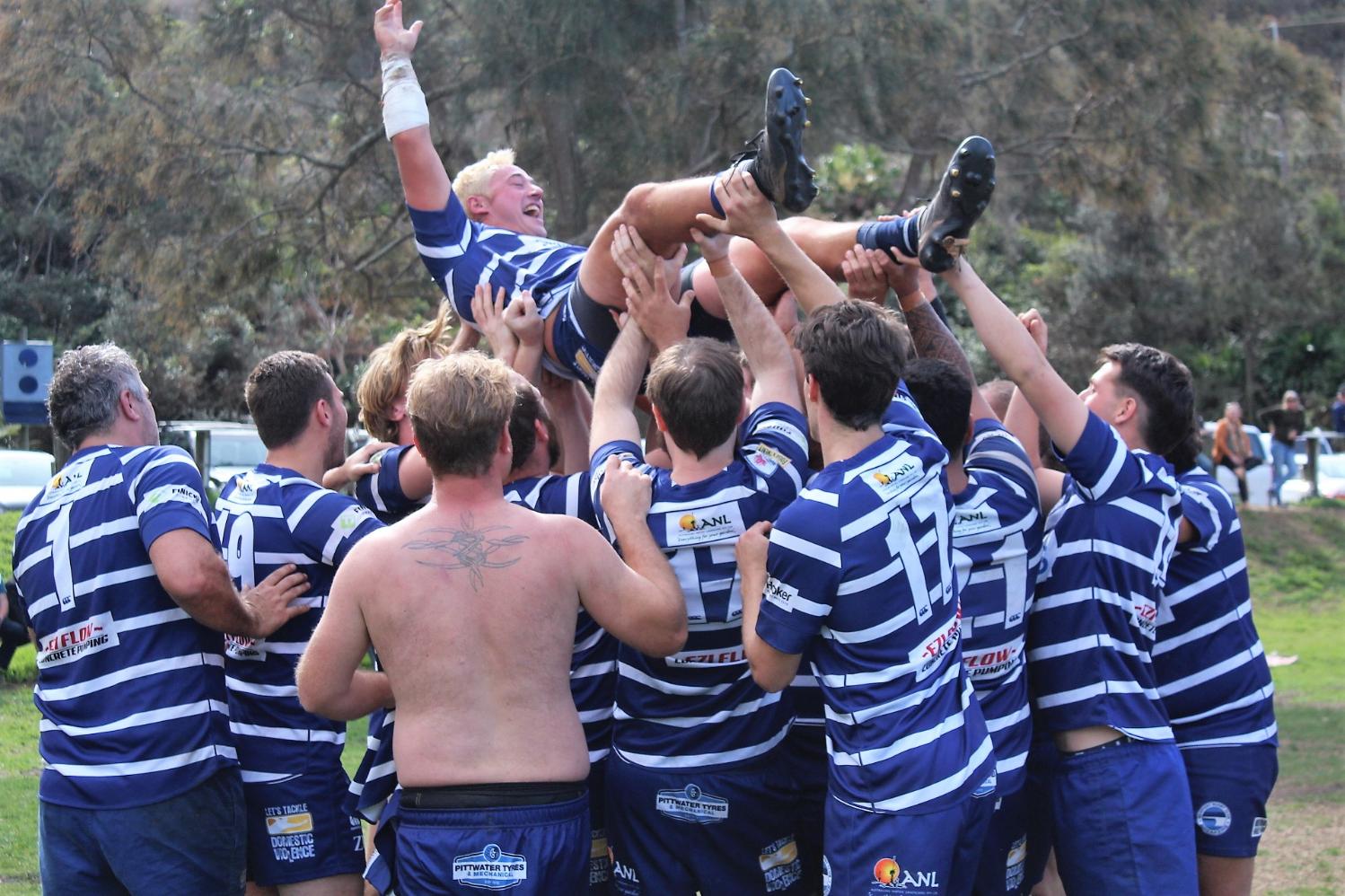 In 2020 Newport Breakers Rugby Club played in Division Three and were Club Champions, the Keith 'Doc' Harris Shield, Clark Cup Premiers, Farrant Cup Premiers, Nicholson Cup Premiers and almost scooped the pool by securing the Campbell Cup, being knocked out in the Semis for that one - either way
Newport won four of the five available cups in their Division
.
In 2021, and for the for the first time since 1945, with Covid lockdowns across the range of NSW Suburban Rugby Union, the Board made the difficult decision to cancel the season and, as a result, no premierships or club championships were won, no individual awards were presented and our records will sadly reflect the season that wasn't.
However, in 2022, the games were on and Newport Breakers Rugby Club, now playing in Division Two, set their sights on not only being a community hub for everyone young and old and in between, they also aimed to do better in their focus on their community engagement and in their sport.
Their first home game, complete with The Breakettes playing, was in May 2022.
Strong playing and consistent results have marked their Season in all grades.
At their final home game for this Season, at Porters' Reserve Newport, Saturday August 20, 2022, with Semis commencing next week, Newport results were:
Barraclough Cup: 1st Grade
Newport 32 v 28 Hawkesbury Valley

Stockdale Cup: 2nd Grade
Newport 47 v 17 Hawkesbury Valley

Robertson Cup (Colts)
Newport 52 v 5 Hawkesbury Valley

Blunt Cup: 3rd Grade
Newport 26 v 0 Hawkesbury Valley

Richardson Cup: 4th Grade
Newport 0 v 28 UNSW Forfeit to UNSW
Prior to the Semis Newport places in the following:
Barraclough Cup: currently sits at 1st
Stockdale Cup: currently 3rd overall
Robertson Cup (Colts): currently 2nd overall
Blunt Cup: currently 1st overall
Richardson Cup: currently 3rd overall
Newport is also currently sitting at 1st place in the Cowboy Cup and Division 2 Club Championship.
At the beginning of their 2022 Season Newport announced that Greg Lee had been appointed 1st Grade Coach for Season 2022. Greg came to the Breakers with a rich rugby pedigree:
* 2021 1st Grade Shute Shield Western Sydney Two Blues
* 2016-2020 Warringah Rugby Club incl. 2018 Premiership
* Ex- Waverley Suburban Rugby Player, Coach and Committee level including Barraclough and Kentwell Cup
Greg shares a few insights on coaching as this Issues Profile of the Week - a first ever Profile on one of our local coaches.
For their last home game for the 2022 Season Newport hosted their annual Sponsors Day, had four players in their 100th game in blue and white; congratulations to Mark Burns, Jordan Rides, Matt "Bruiser" Andrews and Byron Scott, and were also keeping their eyes on growing a great and caring community, one of their main objectives.
At Newport they don't just focus on physical fitness but also mental well-being in all aspects of their players lives. They want to help make better people not just better players.

In the past few years Newport Rugby members have been part of BlazeAid in 2020, and continue their annual Ladies Day and Family Day. In conjunction with the numerous programs the club have run over the past, the club this year teamed up with NSW Health who have helped multiple volunteers within the club become mental health ambassadors, to help bring awareness and stand up against Domestic Violence.
At the end of June, members participated in a scenario based workshop that provided them with the skills and confidence to be advocates for the prevention of domestic abuse in the community.
As a part of their giant Saturday program, they were holding a special Grand Stand Round.
Do You Want Pittwater Leashed? Let The Council Know Why!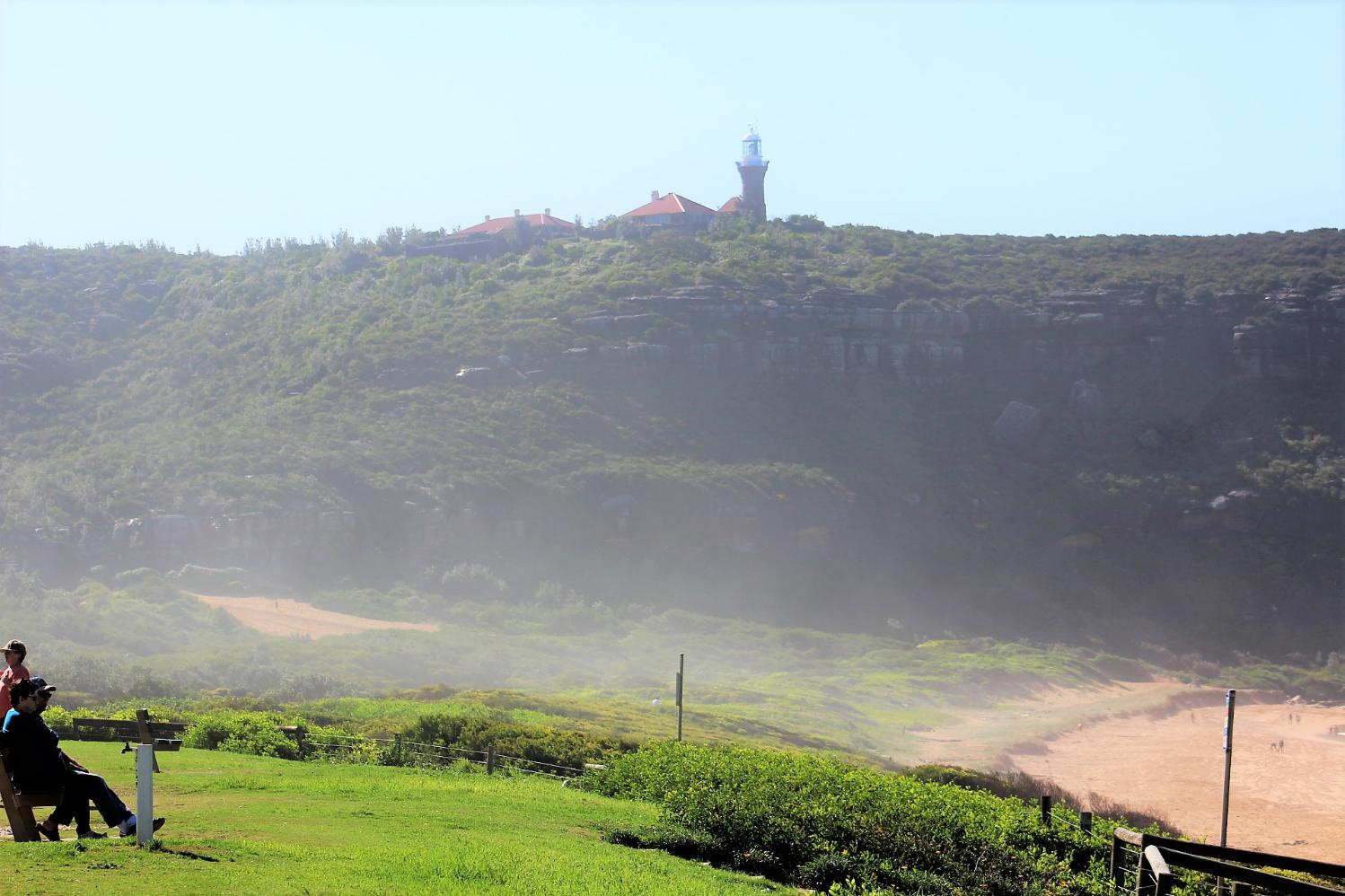 By Miranda Korzy
If you don't want dogs running loose on Palm Beach or Mona Vale Beach - please let the council know!
Before an off leash trial could go ahead, the council was obliged to carry out an environmental study. The result, its Review of Environmental Factors (REF), which is currently on public exhibition. So to help those opposed to off leash dogs on these beaches, I've collected a few issues from it that you might like to consider when writing a submission (which only needs to be a few sentences long.)
To make a submission see: https://yoursay.northernbeaches.nsw.gov.au/proposed-dog-off-leash-areas
Residents have raised a range of general issues with the proposal, which I'll mention below but I'll start with those I see in the REF - which is the document in question at the moment.
I believe the council still faces a legal minefield over this proposal - as the REF illustrates. We have already spent about $800,000 on the quest for off leash dog beaches: about $700,000 on legal fees and another $100,000 on studies, public consultation and other work towards the proposal.
However, the REF indicates the complex web of legislation and regulations that the council must navigate to satisfy legal requirements. These include: the NSW Environmental Planning and Assessment Act; the Crown Land Management Act; the Pittwater Local Environment Plan 2014; and the Pittwater Council Dog Control Policy (enacted under the Companion Animals Act) - which bans dogs from Pittwater's beaches. The Governor Phillip Park Plan of Management and Ocean Beaches Plan of Management will also need to be amended under the Local Government Act - and approval gained from the NSW Lands and Water Minister. (See pp 12-24.)
In short, the council can't afford to slip up on any of this, but would still not be immune from more legal action and insurance claims anyway.
I'm surprised that while the REF classifies "Land use adjoining beachfront" at Turimetta, Bungan and Avalon Beaches as "Environmental Conservation", this has not been applied to Palm Beach North and Mona Vale South, with their extensive areas of surrounding open space (See pages 10 -11).
Under the Environmental Planning and Assessment Act, Section 5.5, the council has a duty to "examine and take into account to the fullest extent possible all matters affecting or likely to affect the environment by reason of that activity".
However, surveys for migratory birds (and other wildlife) were carried out at both subject beaches on only four separate occasions last December and January - so don't account for wildlife at any other time of year (pp 44-45). I believe the REF cannot therefore reliably assess whether wildlife visits these areas outside this midsummer period.
Further, the report notes that "the presence of dogs was observed at both Activity Areas" during observations (p61). Local ecologists have told me that this means the consultants would not have seen any wildlife at these beaches during this period because wildlife would be scared away - so any data collected would have been unreliable. Given that it's illegal for dogs to be present on these beaches at any time, it's a shame the surveys went ahead without first ensuring dogs were not present - and had not been for some time.
As a result, I believe the claim by the REF that the assessment shows allowing unleashed dogs on beaches at Palm Beach (North) or Mona Vale (South) "is not likely to significantly affect threatened species" is unreliable.
Similarly, I think the traffic and parking studies carried out at both sites were limited (P49-52). Parking at Palm Beach (North) was surveyed on only two days, January 27 and February 23 - and an underlying assumption made that because January 27 was the Australia Day public holiday, it would represent the busiest time of the year. However, no evidence was supplied to support this assumption and I know from residents' that parking is normally in very short supply in Palm Beach generally. Any further pressure on parking in Governor Phillip Park will then impact parking further south along the beach.
For Mona Vale (South), the REF provides no parking study and the report notes that:
"Parking in the area is heavily used by a mix of dog walkers, surfers, hospital staff, paragliders, people accessing the coastal walk and residents.The demand for parking spaces in the area is high with 90%-95% of the spaces occupied for most times of the day…"
Many of us who visit the area already have problems finding a space at times, and the report's statement that: "The formation of the off-leash trial area is not expected to result in any material change from the existing patronage and therefore no material additional traffic or parking impacts are expected," is unsupported by evidence.
Mitigation strategies suggested in the REF are likely to be unsuccessful because of problems with enforcement (pp63-65). As noted, even when the REF's wildlife surveys were carried out, dogs were present on the beaches, with council rangers having failed to prevent this.
However, I also believe the recommendations to ameliorate the impact of dogs have not worked elsewhere. For example at the North Curl Curl Beach off-leash dog area, for the first six months of this year, rangers had already carried out 75 dog patrols, registering 300 observations over 60 hours. They had also issued 30 fines for dogs not under control and dogs in prohibited places. That averages one fine every two hours of patrol time. You can do the arithmetic to work out the level of non-compliance even when a ranger is present. (See my June council meeting report.)
For anyone concerned about plastic pollution at the beach, the recommendation to supply dog faeces bags with bins will just increase the supply and likelihood that some dog owners will deposit them in the dunes nearby.
Finally, the report fails to provide a framework for systematic and rigorous data collection throughout the trial period, by which the impact of unleashed dogs on the beaches could be assessed. Given what I believe is the weakness of the environmental surveys in the first place, there would be no baseline to which this data could be compared to anyway.
Other issues
These sites, particularly Palm Beach (North), are amongst the most unspoilt and isolated beaches in urban Sydney. The northern end of Palm Beach is adjacent to Barrenjoey Headland, which is part of Ku-ring-gai Chase National Park. The headland is also surrounded by an aquatic reserve extending south along Pittwater to Station Beach. No homes are present on the isthmus, which limits the amount of disturbance to wildlife and helps make it a peaceful place for humans to walk, swim or surf.
Local ecologists and environmentalists have told me that a range of wildlife visit Palm Beach (North) in particular, including Terns, Turtles and tiny bats flying over the dunes.
On Lion Island in Broken Bay - not far across the water from the headland - is a colony of Little Penguins, protected in a nature reserve. Residents sometimes see penguins on local beaches (athough this tends to be on the Pittwater rather than ocean side).
There is also a seal colony on the rocks at the base of Barrenjoey Headland, and seals come to shore along the Northern Beaches. We have a record of an attack on one at Long Reef:
Wildlife carers encourage residents to report sightings of seals hauled up on beaches, but visits by these as well as other wildlife are unpredictable and dog attacks can happen unexpectedly.
Mona Vale Beach (South) is also relatively unspoilt and tranquil because it sits below cliffs, with a large reserve above them (Robert Dunn Reserve), which itself adjoins the relatively open Mona Vale Hospital site (the closest hospital building is a palliative care unit) and the golf course. This was originally a wetland and still has a stream running through it. So there is very little road traffic and the closest homes are a significant distance away.
Local ecologists I've spoken to are opposed to the trial - or any permanent off-leash dog area being established at either of these sites. A local wildlife photographer also contacted me earlier in the year to voice his concerns, saying that Terns roost on the sand at Palm Beach (North) but their numbers were decreasing as more and more dogs were being taken onto the beach.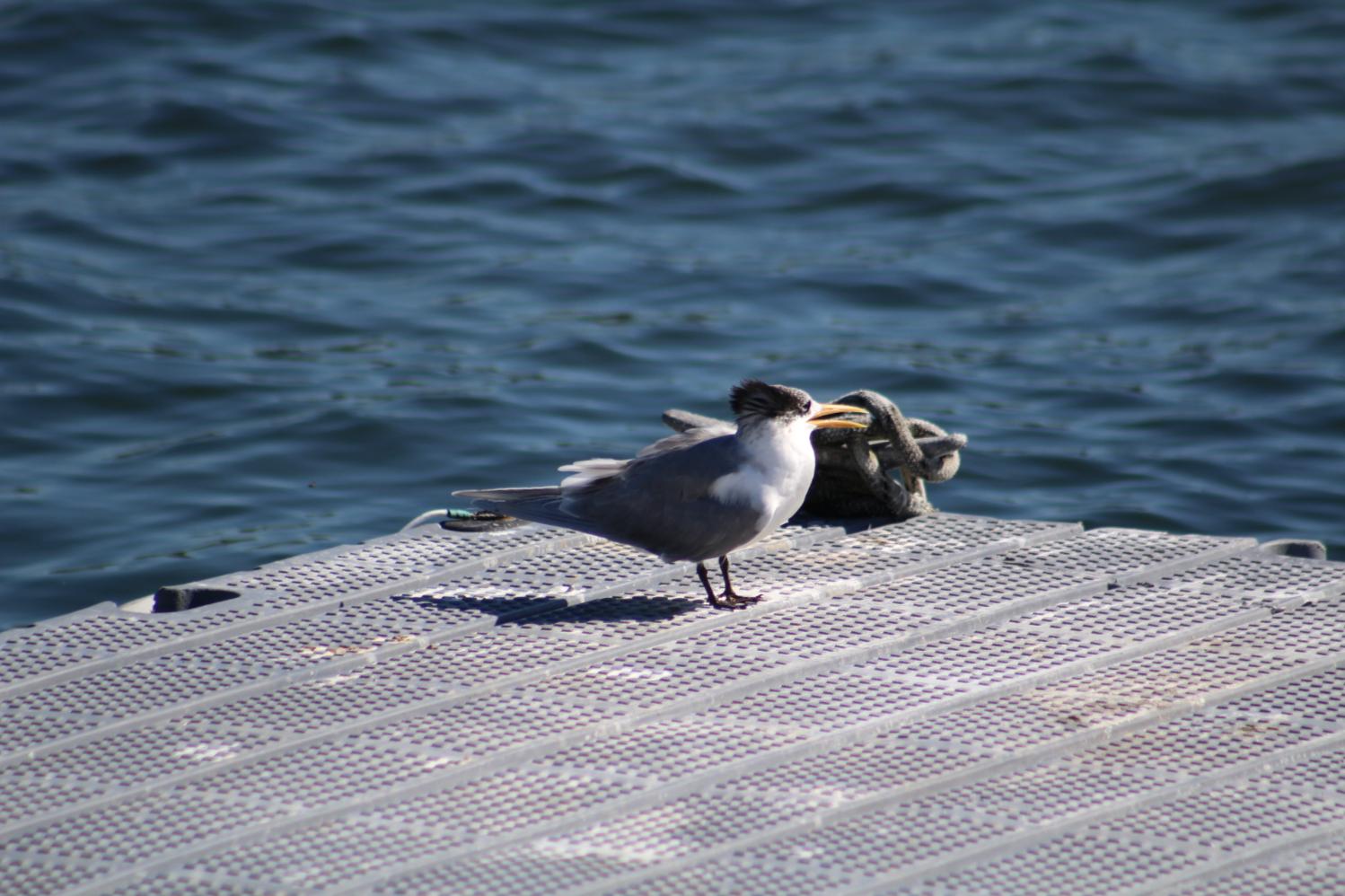 Crested Tern at Palm Beach, one of a pair that live here
PEP-11 Legal Challenge Given Extra Air Due To Revelations Of Former Prime Minister's Self-Appointment To Multiple Portfolios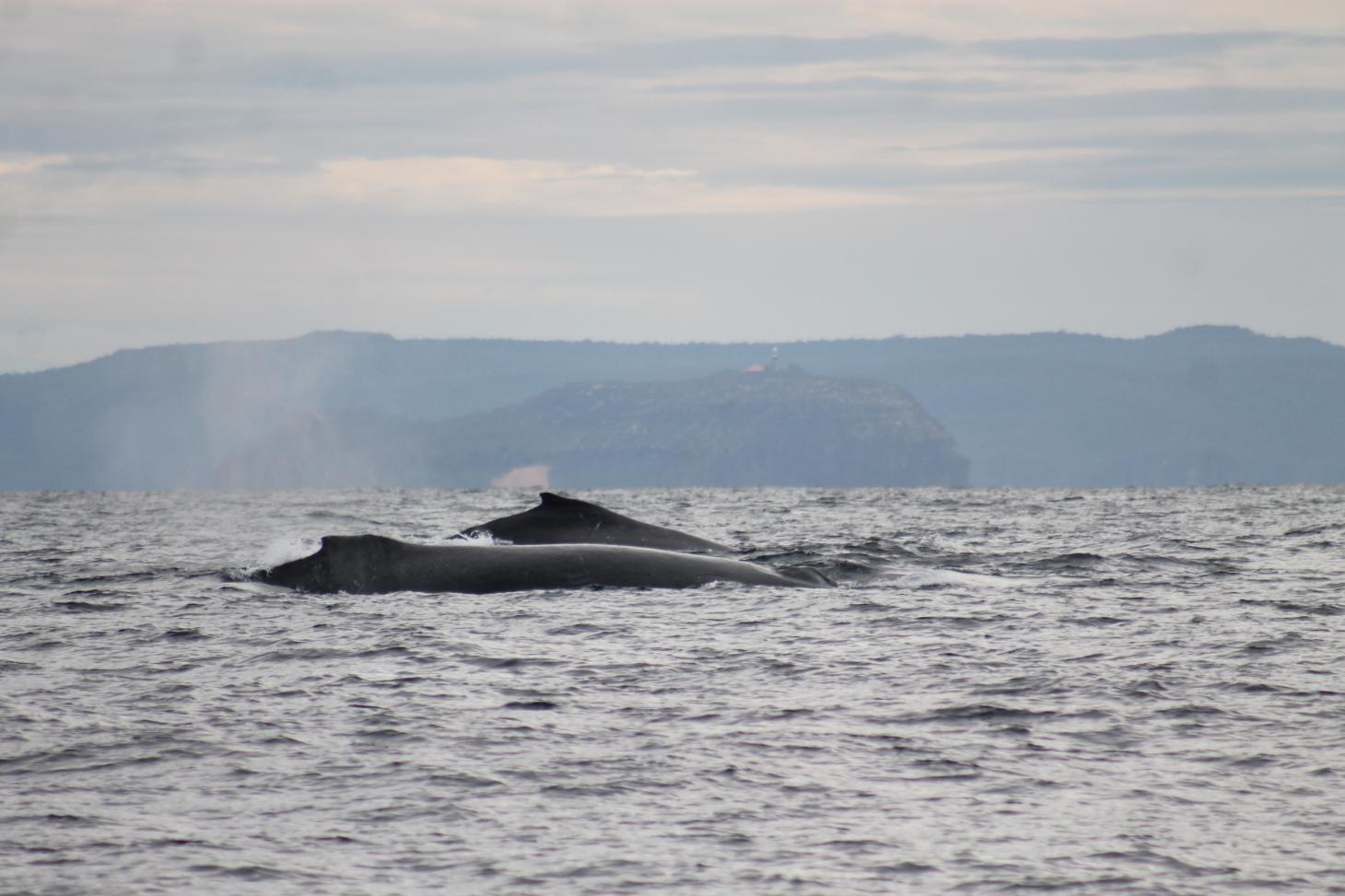 On June 2nd, 2022 in a statement to the Australian Stock Exchange BPH Energy Limited (ASX:BPH) advised that investee Advent Energy Limited's subsidiary Asset Energy Pty Ltd had applied to the Federal Court pursuant to section 5 of the Administrative Decisions (Judicial Review) Act 1977 (Cth) and section 39B of the Judiciary Act 1903 (Cth) to review the decision of the Commonwealth-New South Wales Offshore Petroleum Joint Authority (Joint Authority), constituted under section 56 of the Offshore Petroleum and Greenhouse Gas Storage Act 2006 (Cth) (Act), to refuse to vary and suspend the conditions of Exploration Permit for Petroleum No.11 (PEP 11 Permit), pursuant to section 264(2) of the Act, and to refuse to extend the term of the PEP 11 Permit, pursuant to section 265 of the Act.
On December 16th 2021 then Prime Minister Scott Morrison, in a joint press release with the Member for Robertson, Member for Mackellar, Member for North Sydney and Member for Wentworth announced 'The Petroleum Exploration Permit PEP-11 will not go ahead under steps taken by the Morrison Government to reject the project.'
The statement continued:
The Morrison Government has advised NSW Deputy Premier Paul Toole as the joint authority partner, as well as the National Offshore Petroleum Titles Administrator (NOPTA), of the Commonwealth's intention to refuse the application.

Prime Minister Scott Morrison said the Government was taking steps to protect local communities and the environment by putting a stop to PEP-11.

"This project will not proceed on our watch," the Prime Minister said.

"Gas is an important part of Australia's current and future energy mix but this is not the right project for these communities and pristine beaches and waters.

"From Newcastle through to Wollongong my Government has listened to the concerns of local Liberal Members and candidates and their communities and we're putting our foot down."
This week amid revelations Mr. Morrison did not disclose to Ministerial colleagues, the Australian Parliament and the Australian public that he had had himself sworn in, between March 2020 and May 2021, to the health, finance, industry, science, energy and resources, home affairs and treasury portfolios, the one time he did exercise his extra ministerial powers, to veto PEP11, has come under renewed scrutiny. As has the June 2022 announcement by BPH Energy.
Then resources minister Keith Pitt, whose statements were suggesting he would approve PEP11, has since indicated he knew of the dual ministerial power some time before and wasn't happy.

The records indicate that, with the election approaching, Mr. Morrison used his power to veto the permit for the PEP11 gas exploration off the NSW coast.
Although this was clearly a highly political move to try to save or win votes, the community from Manly to Newcastle didn't care - residents had been battling for years to save fisheries, pointed out planned seismic testing during whale migrations should be delayed, and alternatives in the form of clean energy would negate the need for drills off local coasts.
In February 2022 the Federal Government announced it had taken "the next step" in formally rejecting the application for renewal of the PEP11 permit, which had expired on February 12th, 2021.
Then Prime Minister Scott Morrison said, following the Government's proposed decision to not suspend, extend and vary the title conditions of the permit announced on December 16, 2021, the National Offshore Petroleum Titles Administrator (NOPTA) issued the applicant a Notice of Intention to Refuse and granted the applicant 30 days to respond to the notice.
"After considering the applicant's response, I have made the decision under section 59(3) of the Offshore Petroleum and Greenhouse Gas Storage Act 2006 to propose to refuse the application," Mr. Morrison said.
"As a result, I have written to NSW Deputy Premier Paul Toole, as the Joint Authority partner, advising of the Government's proposed decision."
This was a more formal advice than the notification sent to Mr. Toole in December of the Government's "intention" to refuse the application.
A spokesman for NOPTA confirmed on February 17, 2022, the Federal Government had announced its decision to propose to refuse an application to suspend, extend and vary the title conditions of PEP-11.
"The NSW member of the Joint Authority, Deputy Premier (Paul) Toole, has 30 days to respond, following which a decision will be finalised," the spokesperson said.
"If Minister Toole agrees with the Commonwealth member of the Joint Authority's proposed decision to refuse the current suspension, extension and variation application, within the 30-day period, the decision on this application will then be finalised.
"Any action to be taken after a decision is finalised is a matter for the titleholder."
However, PEP-11 is still listed as 'pending application' on the NOPTA 'Neats' website.
Despite the pre-election announcement being unsuccessful politically, all four backbenchers whose names were on the press release lost their seats to Independents, the move to overrule Mr. Pitt is still backed at a local, state and federal level.

The new Labor Government also stated prior to the last election that they too would not provide an extension.
It is understood Asset Energy is now lobbying Mr Albanese and NSW Premier Dominic Perrottet to overturn the decision.
Incumbent MP for Mackellar, Dr. Sophie Scamps stated this week, ''The community here on the Northern Beaches, as well as communities all along our coast up to Newcastle have rejected the proposed PEP-11 licence.
''Here in Mackellar our community is not willing to risk a potential environmental catastrophe off our coastline and will never accept offshore drilling for oil and gas.
''If the PEP-11 proposal is revived, we will fight it every step of the way.
I strongly urge the Albanese and Perrottet Governments to resist the lobbying efforts of the fossil fuel industry. We should listen to the science, and the wishes of our community and ensure the PEP-11 exploration licence remains dead in the water.
The reality is we should not be opening up any more oil or gas wells – either offshore or onshore. The science is clear. It's time we focused on investing in renewables and the clean technology industries of the future and leave fossil fuels in the ground, where it belongs.'' Ms Scamps said
Dr. Scamps' calls have been echoed throughout the local community. Surfrider Foundation Northern Beaches, who joined in demonstrations and initiated some actions along our coats, including at Mona Vale Beach, stated as the revelations about Mr. Morrisons' veto emerged;
''Whatever the political shenanigans carried out in Canberra corridors, it is still right that the PEP 11 lease was not renewed. The oil and gas well project in Sydney waters was a dud deal and fiercely opposed on environmental, economic, climate change and social/community grounds. Apart from the lease holders, no one other than National Party Resources Minister Keith Pitt thought it was a good idea, and he has never met a mine he didn't like!
The risk to Sydney's coast is and always will be unacceptable.
As for the legal challenge, the coastal communities welcome the Federal Court's scrutiny of BPH and it's tangle of related companies as well as it's past performance.
Whatever happens in the courts PEP 11 will never go ahead. We have assurances from the current Albanese government, the NSW government, and there is a current Australian Greens Bill that should put an end to any PEP 11 offshore fossil fuel madness once and for all.
We await the outcome of the Federal Court (hearing).''
In a piece for The Conversation, published August 17, 2022, Samantha Hepburn, Professor at Deakin Law School, Deakin University, stated,
''Even before this week's revelations, Asset Energy was challenging Morrison's decision in the Federal Court, asking for a judicial review.
Asset Energy's executive director David Breeze this week said the project could supply 20 years' worth of gas to NSW, adding:
In light of significantly changed circumstances in the international energy market following the war in Ukraine, and the prospect of sustained higher energy prices and gas shortages in Australia, we are urging Federal and NSW governments to reconsider their position and allow limited, safe, and sustainable exploration activity.
''But many of the company's claims about the project simply do not stack up.''

Ms Hepburns' analysis continues:

Not an energy solution
Extending PEP 11 will not resolve the domestic gas supply concerns on the east coast, for several reasons.
First, it usually takes many years for gas to be produced commercially from oil and gas fields. This is particularly true in the offshore zone. By the time the field is in production, renewable energy is likely to have progressed extensively and our dependence on gas is likely to have diminished.
Second, the supply crisis on the east coast is not caused by too few gas projects, but by the lack of robust export regulation.
Large gas producers contract to sell almost 90% of extracted gas to countries such as Japan, China and South Korea. Asset Energy says it would direct all gas from the project to the domestic market, but there is no legislative mandate requiring this.
What's more, Russia's invasion of Ukraine has triggered a spike in global gas prices. This creates yet another incentive for producers to sell gas on the international market.
An environmental risk
Advent Energy, which owns Asset Energy, says an environmental plan for the proposal was lodged with authorities and must be approved before commencement of any surveys.
But this did not appease community groups that feared the project would destroy the marine environment. Among their concerns was that the project may disrupt one of the world's largest whale migration routes and endanger marine wildlife such as the Manly colony of little penguins.
Research shows offshore drilling for oil and gas in other parts of the world has brought substantial environmental risks.
Oil spills or gas leaks can permanently damage fragile marine and coastal ecosystems. We need only look to BP's Deepwater Horizon oil spill in the Gulf of Mexico in 2010, which devastated marine and coastal wildlife.
During the exploration phase, sound, traffic and physical disturbance – from anchor chains, drill cuttings and drilling fluids – can be extensive.
Oil and gas rigs are large industrial facilities that operate continually. They can disturb species and ecosystems, impacting biodiversity that supports life on our planet.
During the production phase, physical impacts include disruption from installing infrastructure and possible contamination from the discharge of drilling mud and produced water that can damage surrounding ecosystems.
Further, gas and oil extraction undermines global efforts to tackle climate change. As the International Energy Agency has warned, no new fossil fuel projects can be approved if the world is to reach net-zero emissions.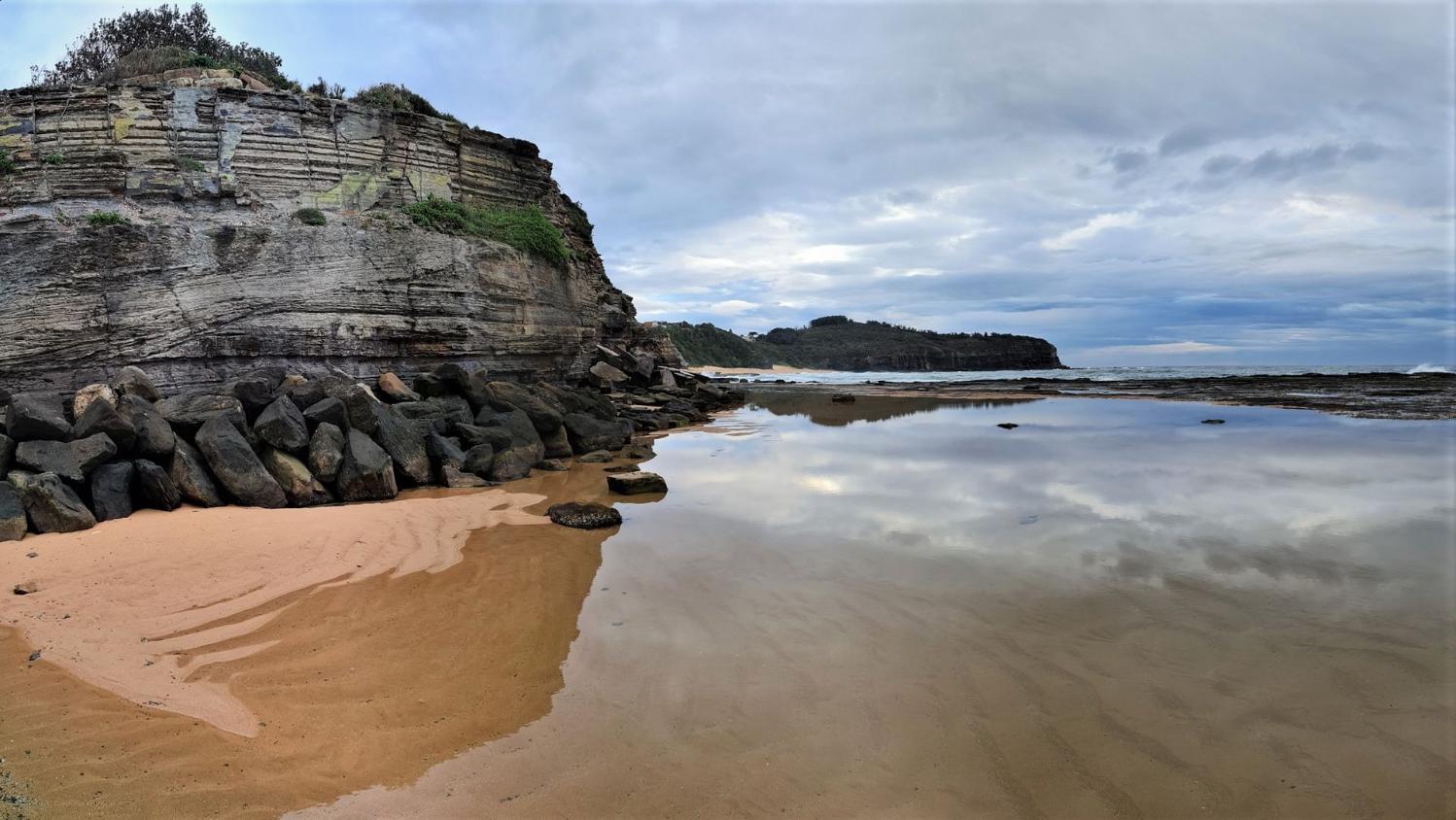 North Narrabeen stillness. Photo by Joe Mills, August 2022
Past Features Archives (pre 2014)
Pittwater Online News was selected for preservation by the State Library of New South Wales and National Library of Australia. This title is scheduled to be re-archived regularly.
Archived Issues (2014 on) may be accessed here: pandora.nla.gov.au/tep/143700