May 1 - 7, 2022: Issue 536
Newport Rugby Club's Breakettes First Home Game for 2022 - at Porters' Reserve Newport Beach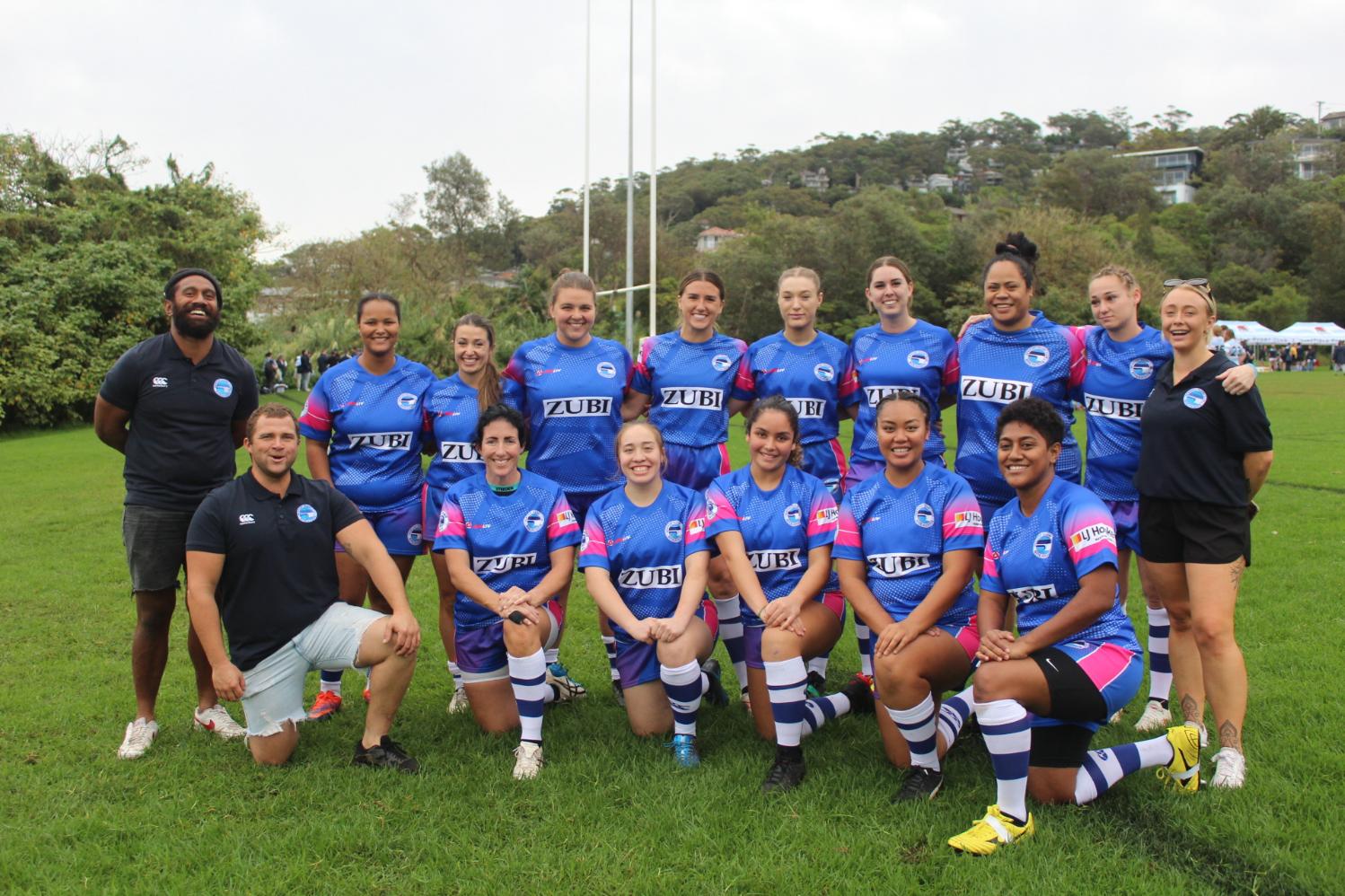 After the very disappointing 2021 season, with games cancelled because of COVID 19, the Newport Breakers are looking forward to a full batch of games in 2022.

This season the Breakers will be playing in a Subbies experiment competition involving a combination of sides in Second and Third Division – twelve teams in all.

The Breakettes had a strong start to their at home games for the 2022 Season, overcoming the Lindfield Legacy girls in a tough match that saw Newport's team dominate just slightly in ball possession and ultimately take out the match 36-0.
Caitlin Hennessy, Iva Vurai, Filomena Tubuna Dalituicama, Mikaela Reffold and Iuna Couy scored points for the Breakettes.

Overall the Newport Breakers had a good day on their home ground, Saturday April 30th, Round 2 for the Season. Unfortunately the Colts (Robertson Cup) match is set to be replayed due to an injury to a Lindfield player which suspended play. The club and all players gave the injured player a loud round of applause as he was carried from the field. Newport wishes to express sympathy for Lindfield's 2nd Grade No 8 who suffered a badly broken leg.
Other results were:
4th Grade (Richardson Cup): Newport 24 - Lindfield 12
3rd Grade (Blunt Cup): Newport 28 - Lindfield 6
2nd Grade (Stockdale Cup): Newport 6 - Lindfield 10
1st Grade (Barraclough Cup): Newport 42 - Lindfield 10
The Breakers kicked off Season 2022 with a dominant 33 - 0 win in 3rd Grade Blunt Cup against Hawkesbury Valley at Deerubbin Park on Saturday April 23rd. Best for Newport was Dylan Farrell who scored 2 tries. Mark Burns picked up 2 tries, and Harry Condon scored a try as well.
Newport's Robertson Cup Colts side made a cracking start to season 2022 with a commanding 62 - 0 win over Hawkesbury Valley. Best for Newport was fullback Shay Essenstam.
The Breakers continued their winning start keeping Hawkesbury scoreless in the 2nd Grade Stockdale Cup match 23 - 0. Best on ground was Newport's everywhere man Bryton Caldwell.
Half time in a close 1st Grade Barraclough Cup match against Hawkesbury Valley, Newport were up 10 - 8. The Breakers completed a clean sweep at Hawkesbury Valley winning the 1st Grade Barraclough Cup fixture 27 - 18.
The Breakers are fielding four senior teams and Colts as well as the Breakettes – the club's ladies team. The men's teams have six remaining home games at Porter Reserve in Burke Street Newport on the dates shown below:
May 14 – Vs Blacktown
June 18 – Vs Barker Old Boys
July 2 – Vs Old Ignations
July 23 – Vs Beecroft
July 30 – Vs Briars
August 20 - Vs Hawkesbury Valley
The Breakers have been playing rugby at Porter Reserve since 1969 and next year will mark the 50th anniversary of their first premiership in 1973. The club is looking to emulate their very successful 2020 season with three from four premierships and being named Club of the Year from all Subbies divisions. Already this year the club has been runner up in the Hamilton 7's tournament and was the winner of the Warringah 7's for Subbies teams.
Supporters are urged to attend games, especially at home, where ample refreshments are always available and a great day is guaranteed. Past members who have not done so yet are encouraged to rejoin the Broken Breakers. New members are also sought. This is a group of former players and other supporters who provide financial and other assistance to the club as well as perceptive sideline commentary and resultant entertainment. Information about the club and joining the Broken Breakers is available in the club's website – newportrugby.com.au.
The Breakettes
took on the Cluch Subbies 7's out at Hunters Hill in their Round 1 match up. As the weather was on their side the girls played a total of 3/4 games scoring 29-0 (w), 10-15 (l), 7-19(l) and a forfeit from Briars left that with a 28-0 (w by forfeit) Overall the girls placed THIRD, just missing out on some silverware.
The Newport Breakettes Rugby team was formed in January of the year 2021. With many discussions in the previous year to have a women's team play in the Newport Breaker competition and included in the Newport Breaker community. Previous manager Lupe Tali Lomu who had originally pushed and pushed hard for the girls team, along with club president Jake Osbourne, decided that the year 2021 would be the year the Newport Breakettes would be formed.
The Breakettes are a part of the Suburban Rugby for Women. The competition is run on most Saturday's unless there is a bye, wet weather or forfeit from other teams. The Breakettes then take part in Sunday tournaments which will be run three times in the 2022 Rugby season.

The times of the games are dependent on the format. For the 7's format (7 players aside) the Breakettes play 20 minutes into 10 minute halves. If the format is 10's (10 players aside)they play a total of 30 minutes into 15 minute halves.

Joey Osborne and Jed Cram are coaching the Breakettes in 2022.
Breakettes 2022 Team: Ellie Woollard, Caitlin Hennessy, Iva Vurai, Filomena Tubuna Dalituicama, Indy Rose, Mikaela Reffold, Lupe Tali Tomu, Lupe Fesolai, Ella Johnstone, Isabella Marinovic, Sarah Randall, Kate Murray, Iuna Couy, Georgia Harvey.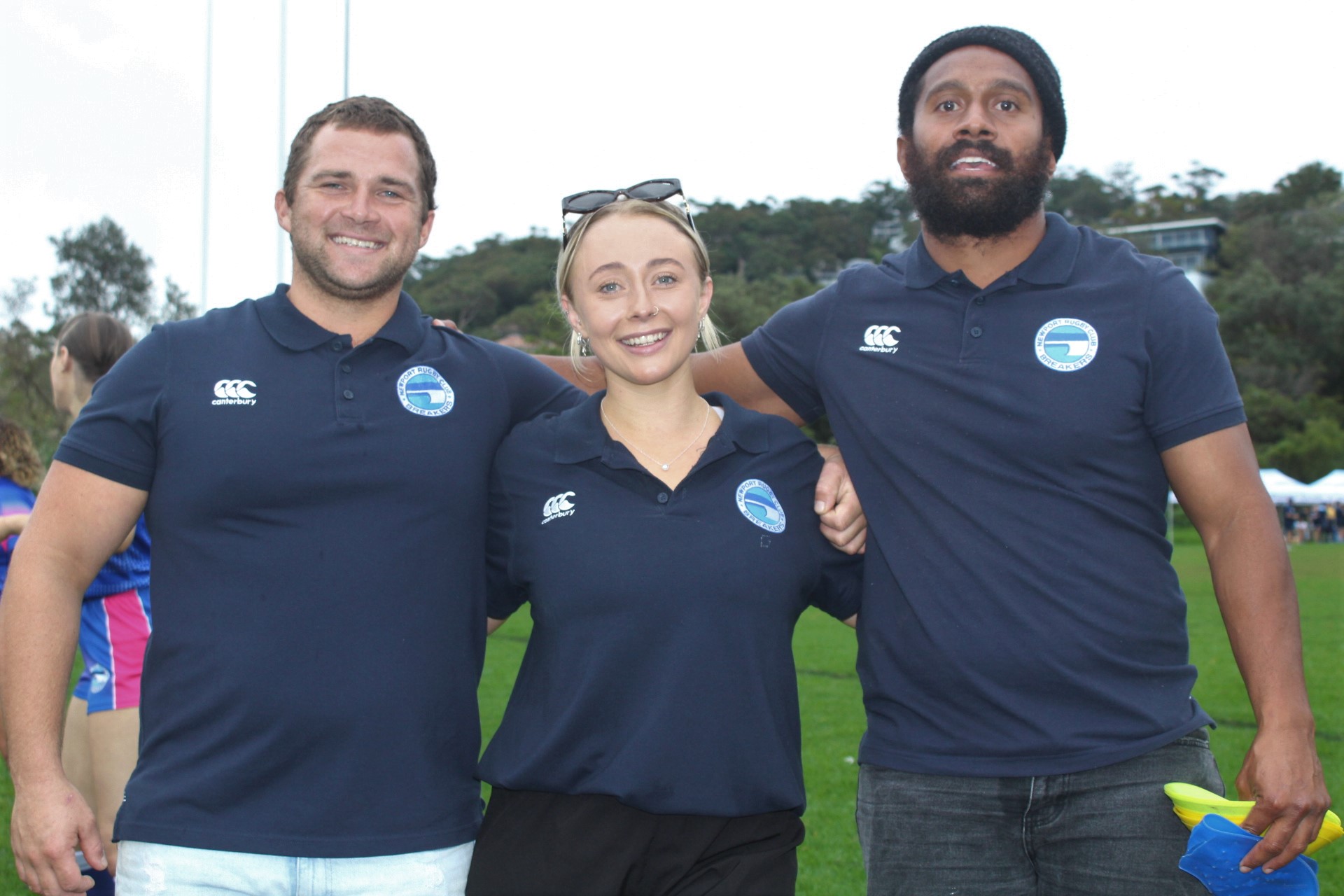 Jed Cram, Emma Matthews, Joey Osborne
Below run some action captures from the Breakettes first home game at Porters, known by members and supporters as 'The Portress', along with a few from the men's 2nd Grade match.
Album here.
The Breakettes match was a GREAT game - exciting, fast, with some pretty skilful players showing us how it's done and a
n outstanding commencement for their 2022 Season.
Congratulations Breakettes!