August 21 - 27, 2022: Issue 551
commissioning of MRNSW Rescue Vessel Broken Bay (BB21) 'Bungaree' + New Base Construction Progress Inspection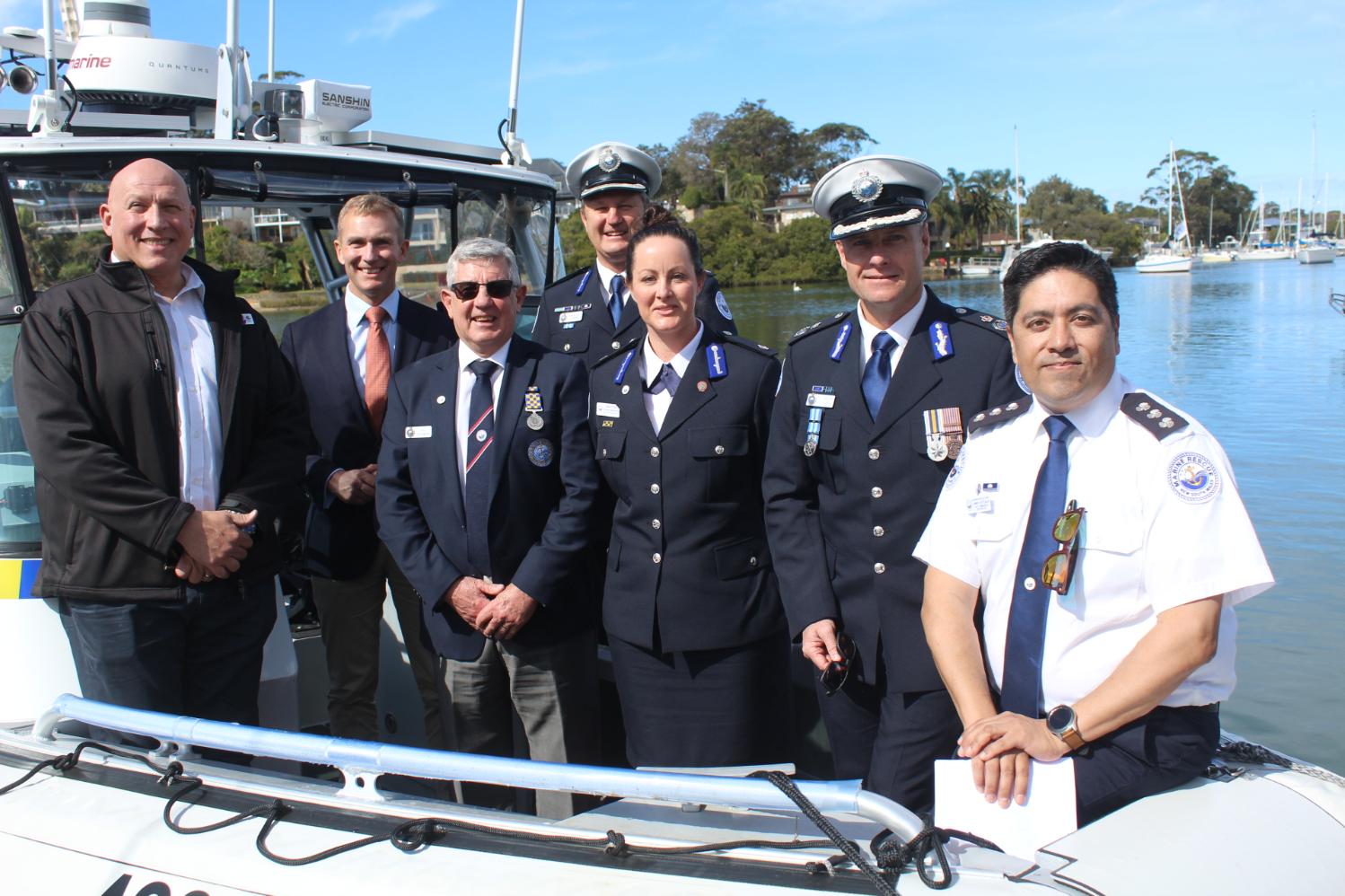 Left to right - back: Cr. Michael Gencher, The Hon Rob Stokes, Darren Schott, MRNSW Zone Commander, front: Ken Edwards, MRNSW Greater Sydney Board Director, Inspector Courtney Greenslade MRNSW Zone Duty Operations Manager, Alex Barrell, MRNSW Deputy Commissioner, Jimmy Arteaga, MRNSW Broken Bay Unit Commander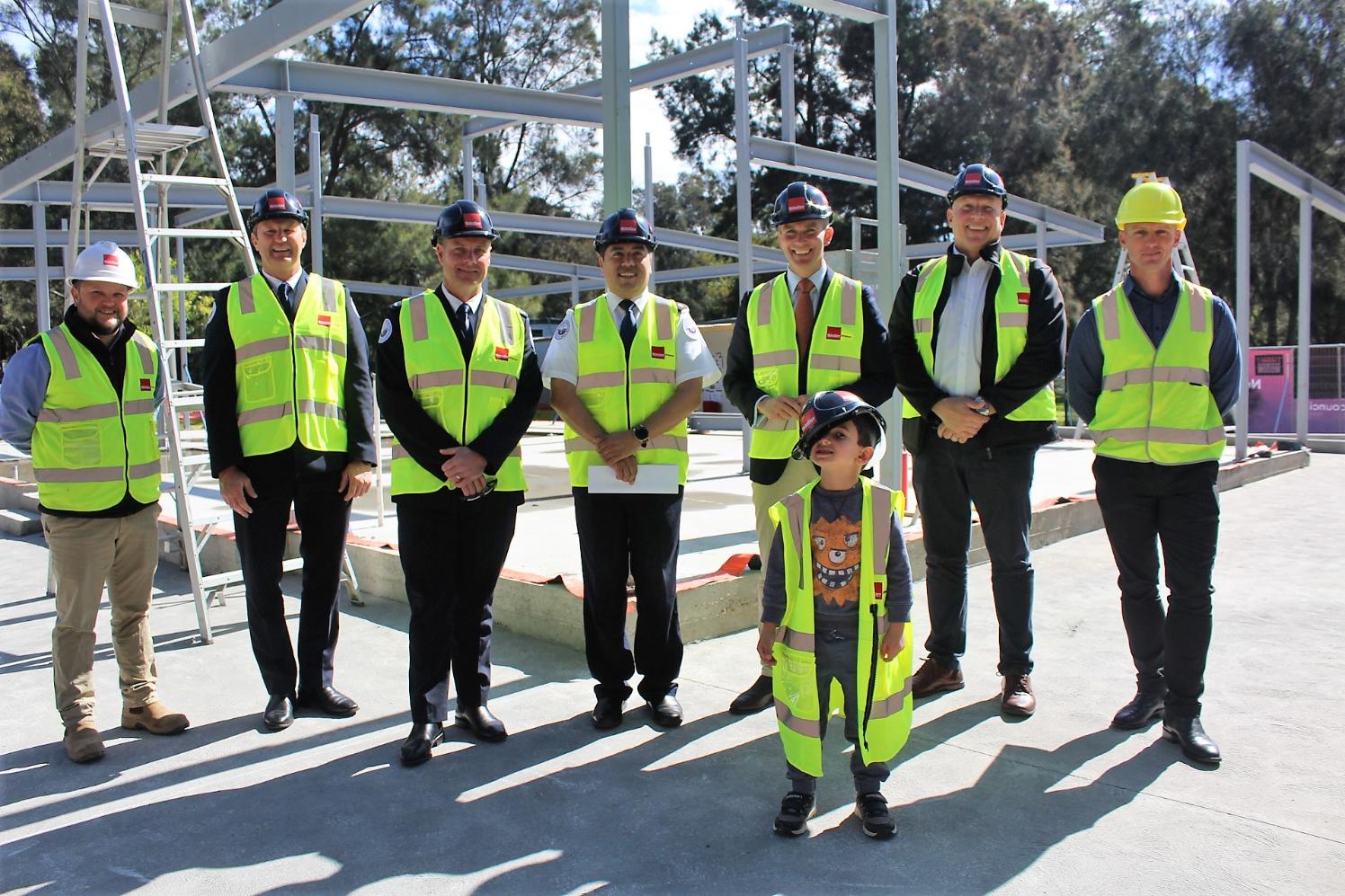 Inspecting the new MRBB works
On Saturday August 20th 2022 two brilliant events took place at the Bayview base of Marine Rescue Broken Bay; the commissioning of a new rescue vessel for the Unit and a Progress Inspection of the building site where a new purpose-built base is being constructed.
Unit Commander Jimmy Arteaga provided an update of the Base building works, where the ground slabs and primary beams are already in place, explaining the layout of the build. Jimmy explained that the community will have access to a space in the Base, 'because we are part of the community', which is also alongside where the new kitchen and bathroom will be.
Marine Rescue Deputy Commissioner Operations, Alex Barrell, said that the new facility would showcase the latest generation of online marine radio technology, as well as a large training and meeting space, storage for rescue equipment, offices, amenities, kitchen facilities, a wet area for boat crews, and improved access for volunteers living with a disability.
The new rescue vessel, built specifically for local conditions, has several unique features.
"Designed with input from our volunteers, the new rescue vessel boasts a drop-down bow allowing it to pull up to beaches to rescue stranded boaters and walkers; as well as sonar, radar, a full Raymarine navigation suite and greater safety and protection on the water for its volunteer crew." Deputy Commissioner Barrell said.
Unit Commander of Marine Rescue NSW Broken Bay Unit Jimmy Arteaga revealed the name for the new vessel, as chosen by the Unit's Members, is 'Bungaree' to honour Broken Bay's most revered of saltwater men.
Attending the ceremony were the Hon. Rob Stokes, MP for Pittwater, Minister for Infrastructure, Minister for Cities, and Minister for Active Transport, Alex Barrell, MRNSW Deputy Commissioner, Ken Edwards, MRNSW Greater Sydney Board Director, Councillor Michael Gencher, Northern Beaches Council as well as Unit Commanders and Deputy Commanders from surrounding units and Broken Bay itself.
Pittwater MP Minister Rob Stokes was representing Minister for Emergency Services and Resilience, and Minister for Flood Recovery, Steph Cooke, and said that the new base, on the shores of Pittwater on Sydney's northern beaches, was being developed thanks to a contribution of $915,000 from the State Government's four-year investment of $37.6 million in Marine Rescue NSW; with the remainder of the funding from a $100,000 Community Partnerships Grant and a $200,000 investment by Council.
The 7.5 metre state of the art rescue vessel, Broken Bay 21 'Bungaree', has been funded from the State Governments ongoing investment in the modernisation of the Marine Rescue NSW fleet.
"I'm delighted to be here today as we inspect progress on this exciting new project," Minister Stokes said.
"When complete, this tremendous new facility will mean the Marine Rescue Broken Bay volunteers will have an operations base specifically designed to support them in their work to keep watch over the Pittwater and Broken Bay boating community and save lives on the water."
"This new facility will be fitted with the latest marine communications and search and rescue technology, enhancing their ability to listen for distress calls from boaters in trouble and to respond to emergencies around the clock."
"When coupled with a new 7.5 metre state of the art rescue boat, designed in conjunction with the volunteers of the Marine Rescue Broken Bay unit, they represent a major boost to the safety of boaters on Broken Bay."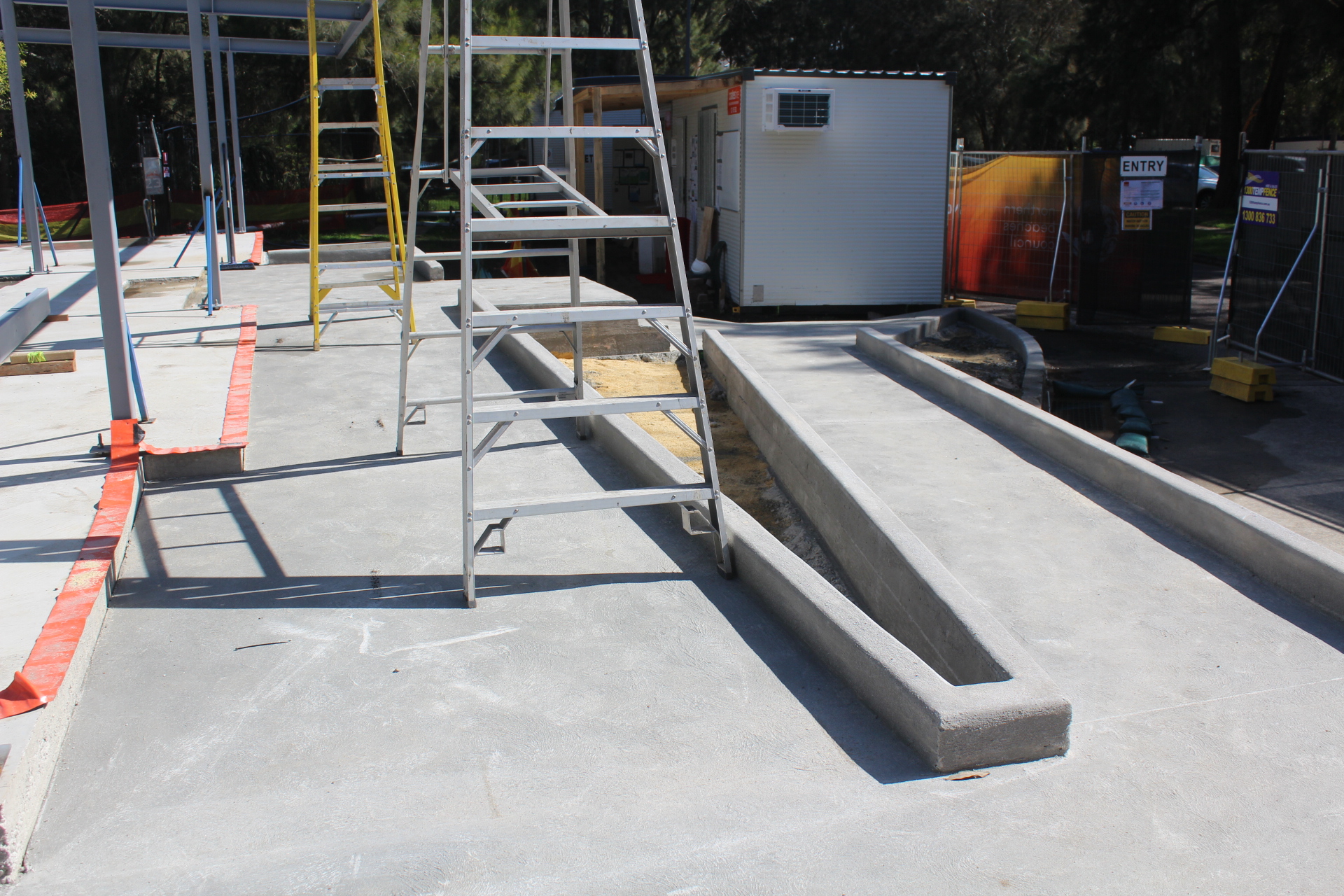 new access ramps at MRBB Base - this is also part of Council's developed policies to make all places accessible for all people
UC Jimmy Arteaga opened the official events:
Welcome to the Broken Bay Unit of Marine Rescue NSW, I'm Jimmy Arteaga the Unit Commander. I want to extend a sincere welcome to our VIP Guests, Mr. Rob Stokes, MP for Pittwater and NSW Minister for Infrastructure, Minister for Cities and Minister for Active Transport, Alex Barrell, MRNSW Deputy Commissioner, Ken Edwards, Darren Schott, MRNSW Zone Commander, Cr. Michael Gencher, and Reverend Carmelo Sciberras and all of our unit members, their families and our generous supporters amongst the boating community, thank you very much for joining us.
Before we proceed, I'd like to acknowledge the Traditional Custodians of the land on which we meet today, and pay my respects to their Elders past, present and emerging. I extend my respect to the Aboriginal and Torres Strait peoples who are present today.
As a Unit we are extremely fortunate and eternally grateful for the ongoing support from Minister Rob Stokes, so much so it feels as though Rob is part of the Unit and one of our members.
I'd like to invite Rob to Address our gathering.
The Hon. Rob Stokes, MP for Pittwater:
Thank you, Jimmy, thank you ladies and gentleman and distinguished guests. It's a great privilege for me to be here with you today for two very very exciting developments as part of the continuing contribution of this Unit to the Pittwater, obviously the Commissioning of the new vessel as well as the inspection of the base headquarters.
Why this is strategically important to everyone in the community is because Pittwater, believe it or not, is actually the largest recreational port in the country. There is more recreational activity in the Pittwater and surrounding waterways than anywhere else in Australia. This provides a real focus on the need for the volunteer support service that Marine Rescue provides.
It is worth considering that this has been a continuing legacy of service here since the 1930's when you look at all the antecedent organisations that form the basis on which Marine Rescue is built. This is a proud inheritance that you all share and carry forward.
When Governor Phillip first visited this area in March 1788 and met some of the local indigenous people who inhabited these parts, and had done so for thousands and thousands of years, he noted that it was 'the finest body of water I have ever saw and which I honoured with the name of Pitt Water'.
When you consider someone with the experience of Captain, later Admiral Phillip, it's extraordinary that this was the finest piece of water that he had ever observed. It's noteworthy that while he called Sydney Harbour the 'finest harbour', he called this 'the finest body of water', and significant that he named Sydney Harbour after Thomas Townshend – Lord Sydney (1733-1800), who became British Secretary of State in 1783 and recommended the British establish a colony in Australia, but reserved the highest name, the name of the Prime Minister, for the Pitt Water. He obviously considered this worthy of a more important and special name than he did in relation to Sydney Harbour itself.
The body of water for which you are responsible and on which you keep the boating public safe is a very important piece of water, it's a very busy piece of water, it's a very historic piece of water and it's important that we reflect on the history that you are all the custodians and inheritors of.
I was speaking earlier with Andrew about the role Mike Stringer played and that of Michael Seale, who is here today and the vessel named to honour his long volunteer service is here behind us. I recall people like Peter Phillipson who was the Commander of the Royal Volunteer Coastal Patrol at the time it combined and became Marine Rescue NSW, along with David Harrison; some really extraordinary volunteers form part of the wonderful and rich tapestry of this place.
The recent flood events, and we now know that La Niña conditions are likely to persist for at least another few months, have really focussed us on the importance of these rescue services that you provide. Sadly, the reality of what we now know about climate change is we are likely to have more extreme events, so the services and training and professionalism that you provide will become even more important in the future than it has been in the past.
So I'd like to thank Jimmy for his leadership. I'd like to thank every one of you for the work you provide, for the service you provide, for the training for the boating public you provide – I want to salute you for your efforts and recommit myself to doing all I can to help you in your jobs of keeping us all safe. Thank you very much.
UC Jimmy Arteaga then invited Cr. Gencher to speak.
Cr. Michael Gencher:
Thank you. Distinguished guest, volunteers, it is great to be here this morning. I'm here representing Northern Beaches Council and extend sincere apologies from the Mayor.
As I stand here and see the progress of the building I think it's just fantastic – a purpose-built facility to allow the incredible work that all you volunteers do to be more efficient and effective in the work you do. It is great to see the different levels of government and organisations working together on this; the Council, the State Government, Marine Rescue NSW, to help this tremendous organisation do the work that it does on Pittwater.
It is wonderful to see this new boat, this new equipment, because what it does, for those of us who are on the job, and what we do at the end of the day is keep people safe, is gives us that trust in that equipment which is as important as the trust we have in our crewmates and team. So it's wonderful to see this new boat on the water.
Thank you.
UC Jimmy Arteaga:
This is certainly an exciting time for the unit and our members. We have a double celebration – today we officially come together to celebrate the construction of the new base, which is well and truly underway, and he commissioning of our new boat, Broken Bay 21.
There has been a significant amount of work done over the years to get us to this point with the Base. Similarly with Broken Bay 21 there's been a heck of a lot of work done there as well.
There are a few people and organisations I'd like to thank as a result. In no particular order they are; Minister Rob Stokes, Northern Beaches Council, the Royal Motor Yacht Club Broken Bay, Marine Rescue NSW, Kelvin Parkin Senior Manager of our Fleet from Marine Rescue NSW, Mark Cooper Senior Manager Property and Structure Marine Rescue NSW, our own Broken Bay Members who volunteer their time to make these projects a reality for our local community, and I'd also like to extend a special thanks to Andrew Majewski, Deputy Unit Commander Marine Rescue Broken Bay, for all his efforts, assistance and taking my phone calls and emails every time I have an idea to ensure our new vessel comes online – but finally thank you everyone who has worked towards helping our Broken Bay Unit achieve these milestones.
To reveal the name of our new Broken Bay vessel I'd like to invite MRNSW Deputy Commissioner Alex Barrell to stand with me.
It has been a long-standing tradition for new vessels to be named after an outstanding member of our Unit, someone who has excelled and given above and beyond selflessly to the Unit's growth. Today though we are doing this differently. We wanted to select a name that would incorporate our community, our community's history and also pay our respects to our Traditional Elders.
I would like to officially announce the name of our new Broken Bay 21 vessel as 'Bungaree'.
Bungaree became the first known Aboriginal person to circumnavigate Australia and contribute to the mapping of the Australian coastline, and best of all, he was from Broken Bay.
Bungaree was born around 1775 and was from the Garigal clan of Broken Bay. He sailed with Matthew Flinders on that circumnavigation and would sail again with Captain Phillip Parker King, who surveyed the north and west coasts of Australia. Bungaree spent his life ceremonially welcoming visitors to Australia, educating people about Aboriginal culture (especially boomerang throwing), and soliciting tribute, especially from ships visiting Sydney.''
Pittwater Online News spoke to Neil Evers, a direct descendant of Bungaree who still lives in Pittwater, after Saturday's ceremony.
Neil said he was absolutely thrilled his ancestor has been honoured in this manner and wished to express his gratitude to the Members of Marine Rescue Broken Bay and Marine Rescue NSW.
''As he was known as the Chief of Broken Bay peoples, his legacy and spirit being honoured in the naming of this vessel is not only a fitting tribute to our ancestor and the original custodians of this place, it is also a reminder to we who are still present in this place of all the knowledge of these waterways his clan shared generously with others, and what we can still share with those now here. I thank you for honouring our people, and my relative, in this way.''
(for younger readers who may not have heard much about Bungaree yet, this Issue's History page runs an insight on Bungaree's life, written by one of his still living locally relatives)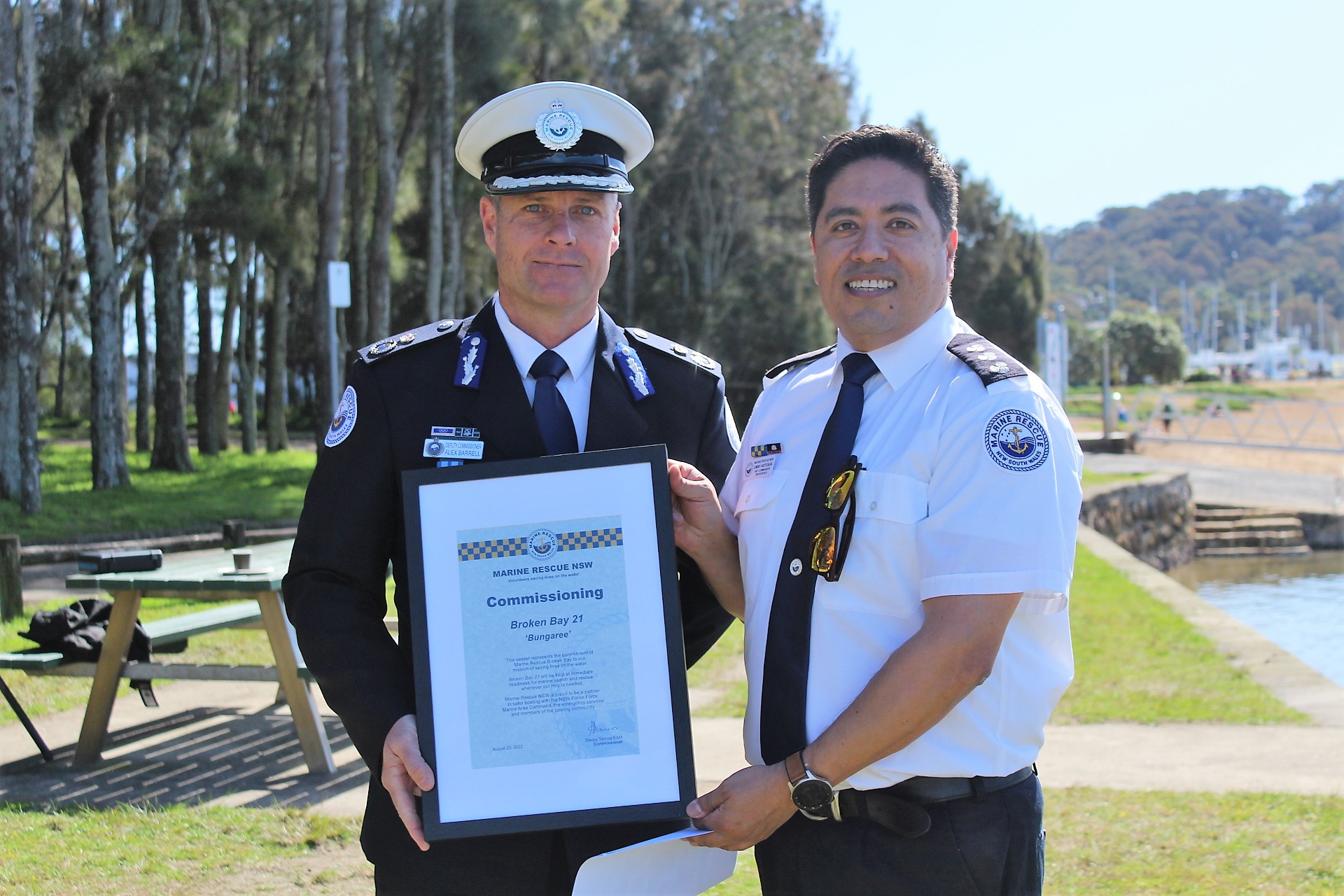 MRNSW Deputy Commissioner Alex Barrell and MRNSW BB Unit Commander Jimmy Arteaga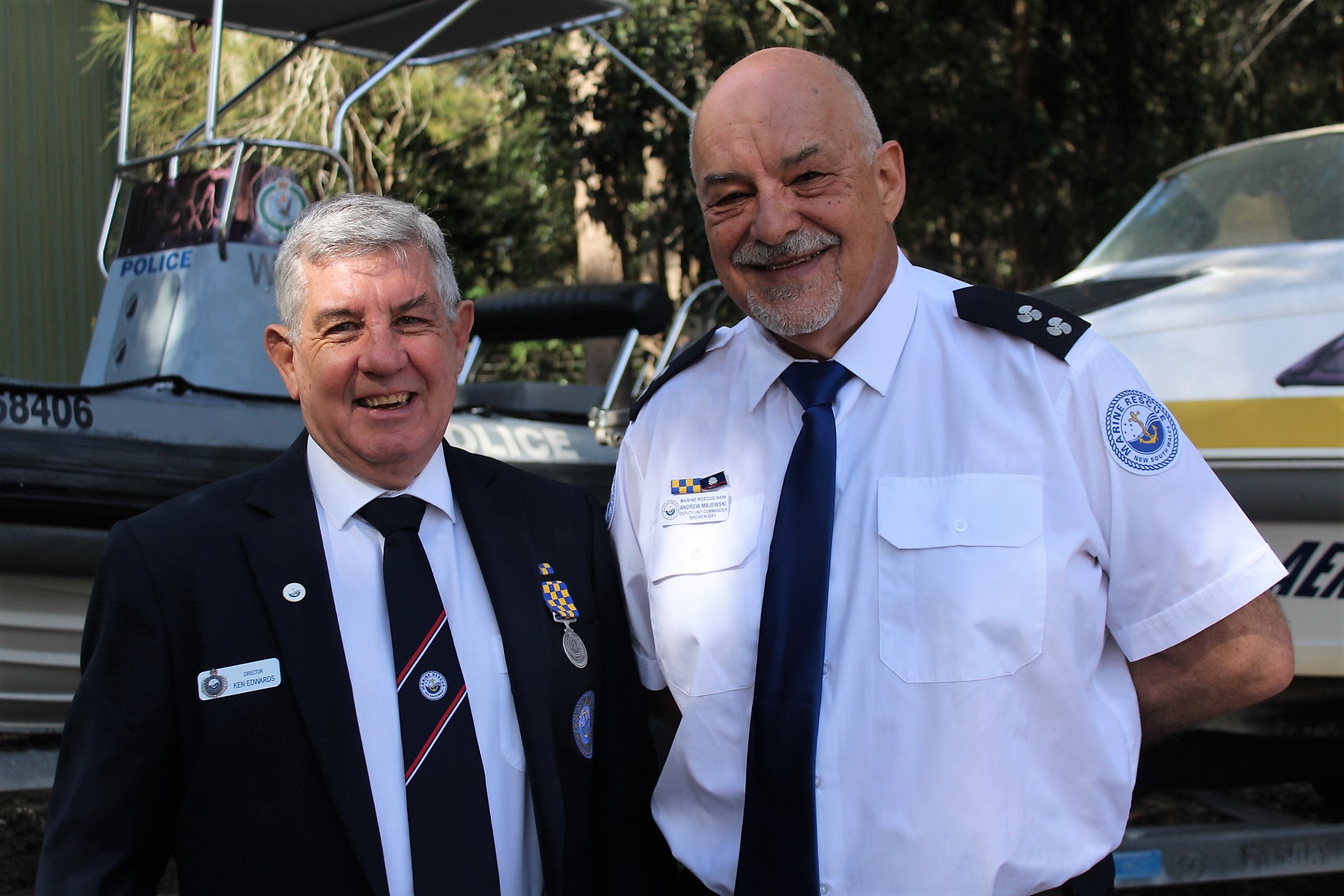 Ken Edwards, MRNSW Greater Sydney Board Director and Andrew Majewski, Deputy Unit Commander Marine Rescue Broken Bay

MRNSW Deputy Commissioner Alex Barrell:
Thank you, Jimmy, – I think it's a very fitting tribute and name that you have chosen as a Unit for this vessel.
Welcome everyone, what a special day for the Broken Bay Unit and for Marine Rescue NSW. I too would like to thank our special guests for their attendance today, Minister Stokes and Mr. Gencher from Northern Beaches Council. Whenever I hear you speak Minister it's always a history lesson for me as you know so much about this area. But it is fantastic to think about this area and its history in the context of the ongoing work done by the Broken Bay Unit here on Pittwater.
I would like to specifically thank the NSW Government for the contribution they have made and continue to make in support of Marine Rescue NSW. We couldn't do what we do as an organisation, our members couldn't do what they do day in and day out, without the ongoing support of our State Government and of course our local council.
As many of you know, three years ago we received a funding arrangement through the NSW Government of 37.6 million dollars, which was really a gamechanger for Marine Rescue NSW and meant we could upgrade many of our facilities and assets to make sure our members have the safest and best equipment to do what they do. Mike touched on it very appropriately when he spoke. The important thing for our members is that they have the right equipment and the right training to be able to do what they do safely.
Last year Marine Rescue launched a little under 4000 rescues across New South Wales, many of those out of this Unit here. For us to continue that important work it is vital that we have that great support from government and from the local council as well.
Minister, I guess we're at a complex time in terms of flood response and the emergency network. It is known that Marine Rescue as an organisation is very well respected – we've gone ahead in leaps and bounds in recent years about how we can contribute to those types of emergencies, and I see, as we go forward, that we have an important role to play in the state response, particularly around those major emergencies.
I would like to acknowledge this Unit over the recent flood events, the members here really went above and beyond under the leadership of Jimmy – this really is a great team to get out there and support the communities around the Hawkesbury and I thank you.
We only have to go back a little over 2 years ago and we wouldn't have the fantastic assets that we have sitting at this jetty. It was only late in 2020 that BB30, the Michael Seale was commissioned. To see these two purpose-built assets to enable us do the job that we do is fantastic. I thank the contribution that the membership of this Unit have made and continue to do. The work that we do is solely on the back of our members. It is so important that we continue to grow our membership right across this region and events like this are a great opportunity to showcase the work that we do. It is disappointing when I turn up to events like this and our two guests of honour are already members of other volunteer organisations, but I'll give them the recruitment package anyway prior to them leaving.
I want to wish this vessel and this Unit all the success and safety as it moves forward and is used to undertake rescue operations. I would like to acknowledge the work of our Headquarters team that have assisted the Unit in getting to this point, and I thank you Jimmy and your team for doing all that. I would also like to acknowledge Ken Edwards our Board Member who is here today who has ben a massive advocate for the Sydney region and for this Unit, so thank you Ken for all your work on behalf of Marine Rescue NSW.
__________________________________________________________________
The launching and naming of a ship accompanied by a blessing or christening has a long history. In British naval history the ceremony was looked upon as both a form of Christian baptism and a marriage between the vessel and her crew, especially the captain. Although there have been changes to this ceremony, it was and still is celebrated both religiously and civilly. While the Minster of Religion christened her with holy water, the civil representative christened her mostly with champagne but at times with brandy.
This ceremonial blessing was performed by the Reverend Carmelo Scriberras and included a reading from the gospel according to Mark 4:35 which speaks of how even the wind and the seas obey him.
The Prayers of Intercession form part of this record for all they speak of and to:
Fr Carmelo: Having listened to the encouraging word of God let us now make our prayers to him with strong and renewed faith.
Leader: We pray for our country, for our leaders, religious and civil, and for all who have gathered here today. Lord assist them in their work and endeavours.
Lord hear us
All: Lord hear our prayer
Leader: We pray for the first people of Australia and for the original owners of this land on which we stand. May they prosper and flourish as they are fully recognised in the Australian Constitution, so that we may one day become a truly reconciled, united, multi-cultural nation. Lord hear us.
All: Lord hear our prayer
Leader: We pray for the safety of those who serve our communities. At this time we commend to you in a special way the members of the Australian Defence Force, the Police Service, the Fire Brigade, paramedics and ambulance drivers. Lord hear us.
All: Lord hear our prayer
Leader: We place in your caring, loving hands all the members of Marine Rescue NSW and especially the members of the Broken Bay unit. Keep them safe in their work of saving people on the waters and make them generous, dedicated, and skilled in their voluntary service for those who travel on the seas. Lord hear us.
All: Lord hear our prayer :
Leader: We bring to mind those who served in Marine Rescue Broken Bay, those who volunteered their skills and those who have now crossed the bar to live the new life of eternity. May they be rewarded for their generosity. Lord hear us.
All: Lord hear our prayer
Chaplain: Lord we trustfully come to you and with confidence call you Abba, Father. Listen to our prayers and in your familial love grant them to us for we pray through Christ our Lord.
All: Amen.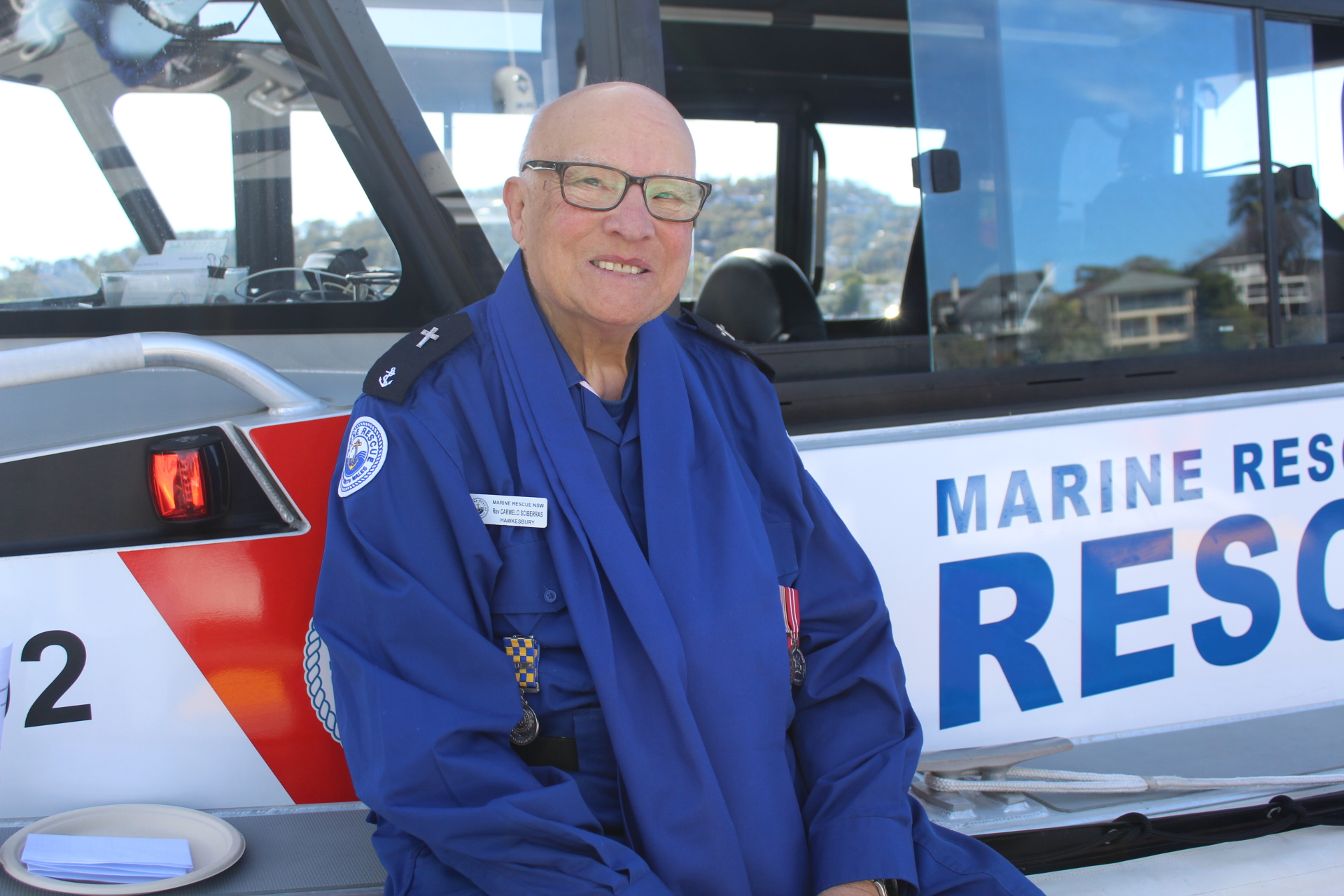 Reverend Carmelo Sciberras
___________________________________________________
MRBB21 'Bungaree' Specifications
Manufacturer: Naiad
Model: 7.5m
Hull material: aluminium
Vessel Length
Overall: 7.5
Surveyed Length: 7.2
Power: Twin 175hp engines
Speed
Cruising: 20 knots
Maximum: 40 knots
Range: 211 NM at 22 knots
Max POB: 6
Fuel;: 400l
Nav and Comms Aids: Raymarine navigation and communications suite
Safety Equipment: Surveyed Vessel lifesaving appliances, OXY Defib kit.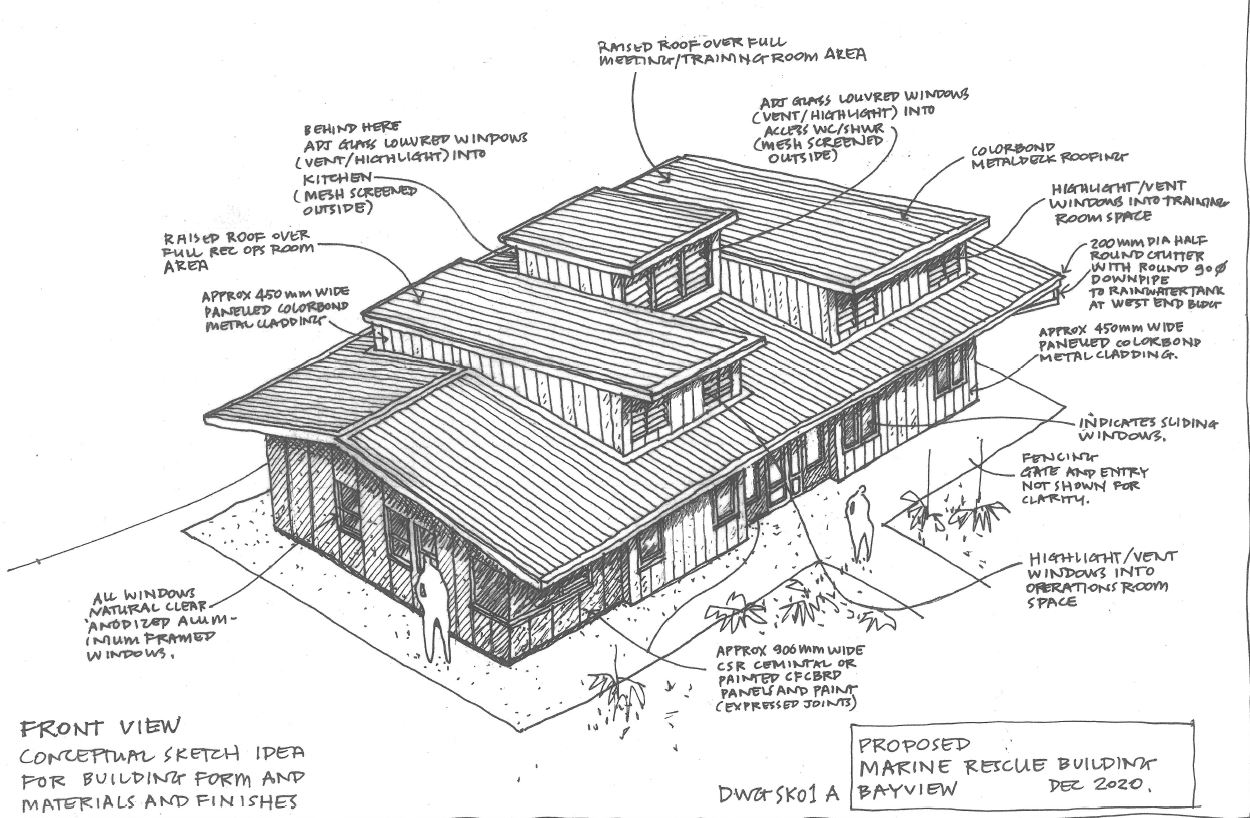 3D drawing of new unit base for Marine Rescue Broken Bay and (below) site scaled drawing. Plans/drawings courtesy Northern Beaches Council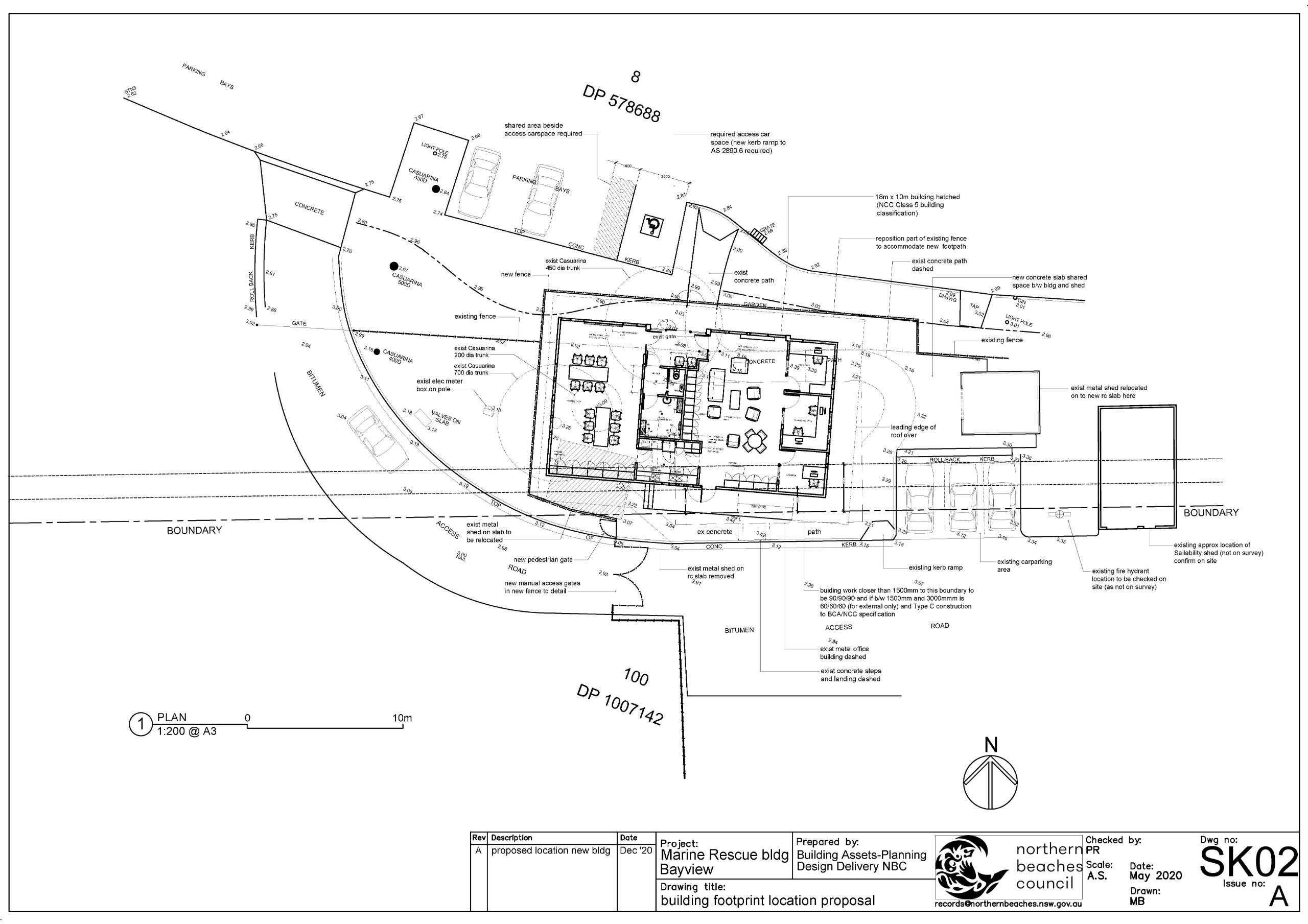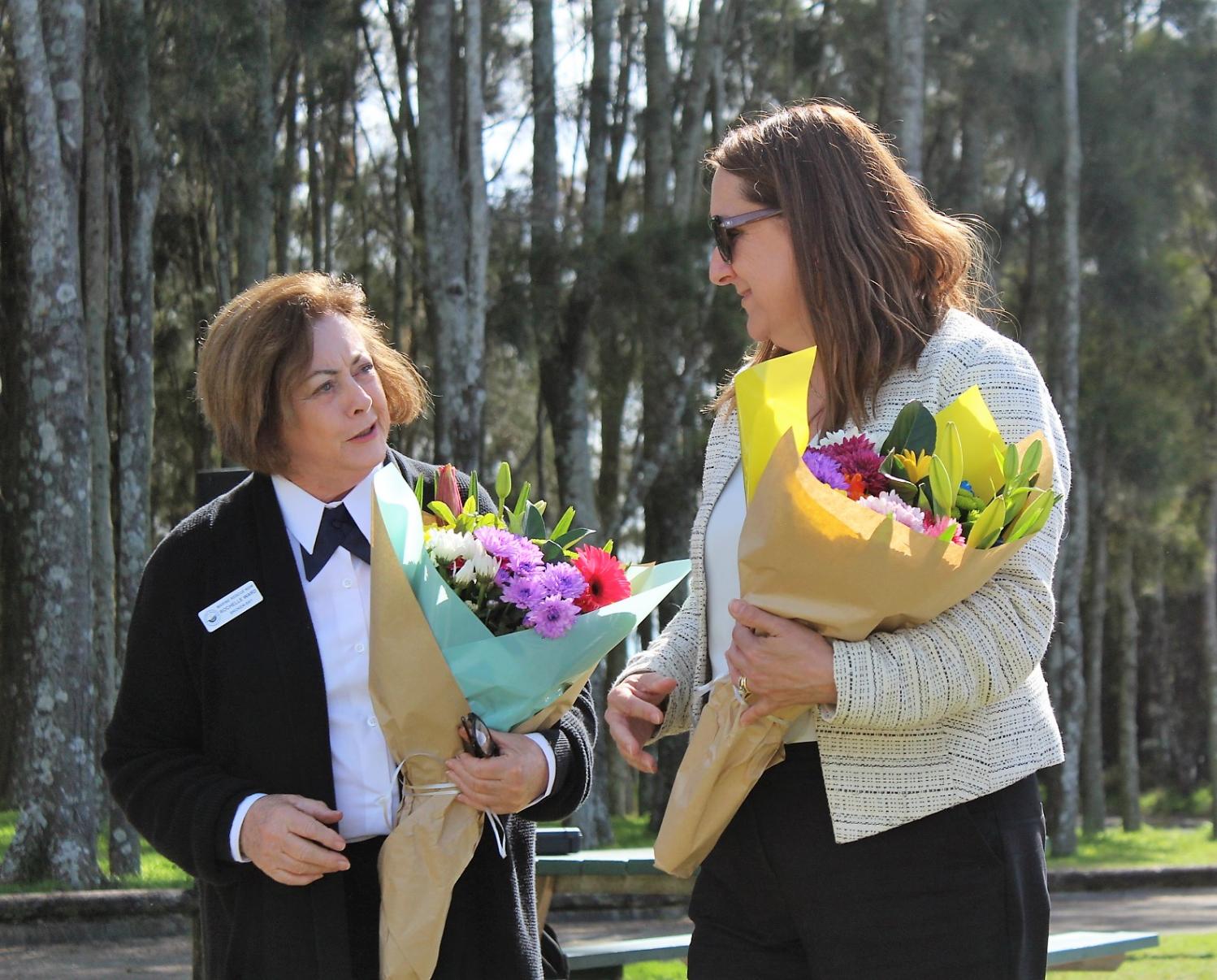 Marree Doherty, MRNSW Executive Assistant to the Commissioner (at right) and Rochelle Ward, MRNSW Broken Bay Unit were thanked for all the work they did to ensure the success of Saturday's dual celebrations
Report/photos; A J Guesdon