July 16 - 22, 2023: Issue 590
Narrabeen JRLFC's 90th celebratory History A Shark's Tale Book Launch featured a Legends Q&A with Alan Thompson, Anthony Watmough, Mark Gerrard, Anthony Balkin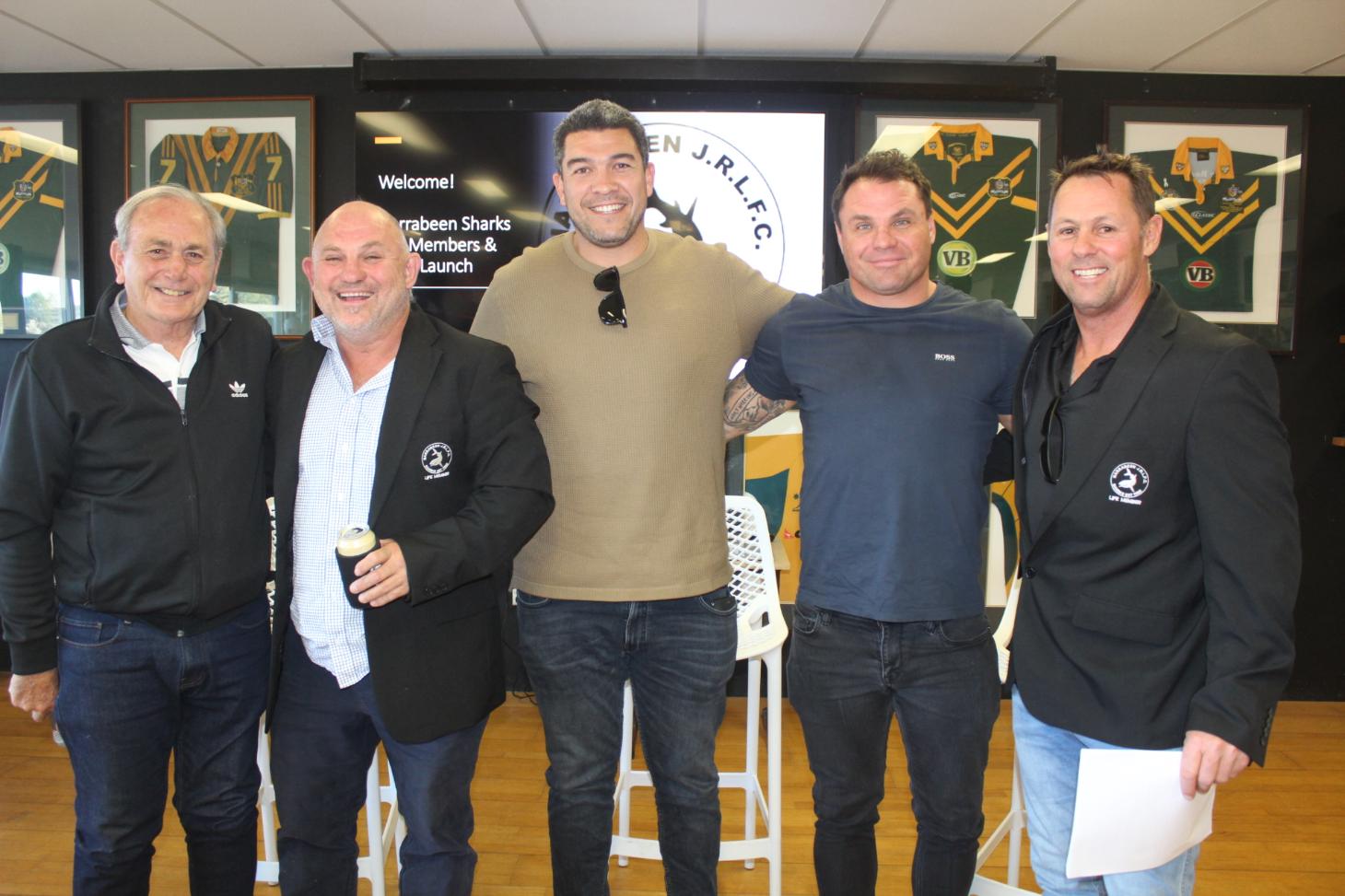 Left to right: Narrabeen Sharks Legends Alan Thompson, Tony Balkin, Mark Gerrard, Anthony Watmough, Shane Bullock. Photo: A J Guesdon
The Narrabeen Sharks' Life Members luncheon and launch of A Shark's Tale; 90 Years - The History of the Narrabeen J.R.L.F.C. took place on Sunday 25th June at Lake Park, and turned out to be a truly remarkable celebration.
The clubhouse was filled with over 80 guests, and a massive crowd gathered to show their support for the U17s and A-Grade games. It was heart-warming to see familiar faces, individuals who have been a part of the Sharks' illustrious 90-year history.
Following a fantastic lunch, guests were privileged to hear from the book's author, Phil Hunter, along with Scott Nagle and Brian Adams, who shared their journey in creating this incredible tribute.
For those of you who are not aware, Phil Hunter the Narrabeen Sharks historian, has worked tirelessly over the last few years putting the 90 year history into a beautifully presented hard cover book.
This is an amazing account of a brilliant core of the community club, put together in chronological order and featuring stories and photos from the ages. To grab a copy go to the Narrabeen Sharks website and order through the shop section.
The event continued with an engaging and entertaining panel session, featuring some of the game's legendary figures Alan Thompson, Anthony Watmough, Mark Gerrard, and Anthony Balkin.
Others attending included John Trbojevic and Geoff Toovey, and wonderful Life Members such as Doug Miller, George Aprile, John Rousell and Jeff Foster.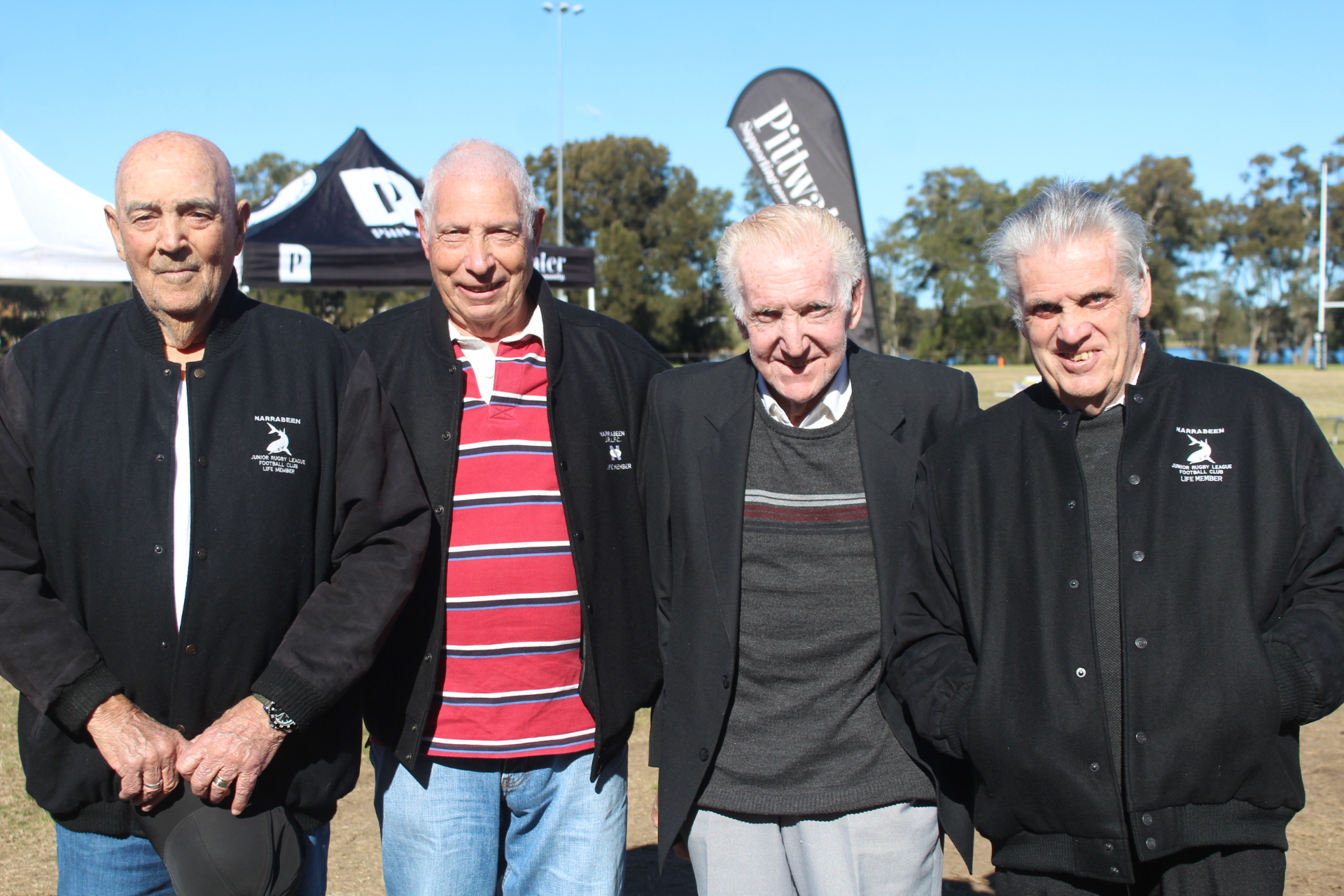 Life Members Doug Miller, George Aprile, John Rousell and Jeff Foster

This was a celebration of Narrabeen community itself as much as Tales told by the Sharks achievements. With 120 Premierships across all Grades, including 13 A Grade Premierships, winning that 13th one in 2022 under coach Jamie Van Buuren, who has taken this team from U6 to A Grade, in their 90th year, and fostered and given Australia 7 International and First Grade players, there's something brilliant coming out of Lake Park at Narrabeen.
Narrabeen Junior Rugby League Football Club had its beginning on March 7, 1932 in Jack McLean's barber shop at the Narrabeen tram terminus. Jack McLean was elected the Club's first President, W. Lloyd Secretary and P. Moore Treasurer. Other original members of the club were: Messrs D. Bryson, W. Pilon, S. Clayton, D. Elliot, T. Clark, S. Compton, C. Fletcher, J. Kirkwood, F. Aldridge and F. Crocket.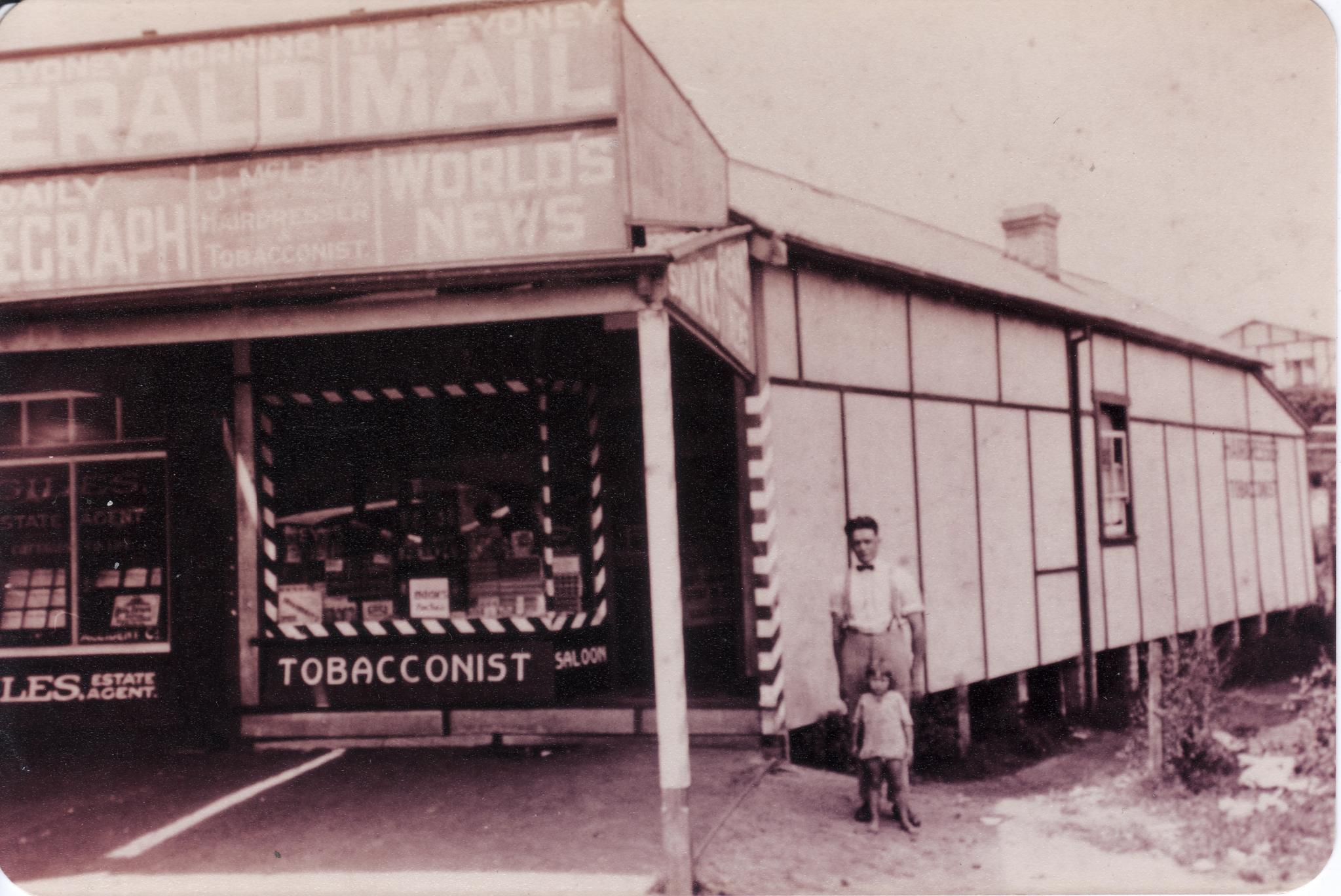 Jack McLean Store at Narrabeen. Photo courtesy Don Shearman via Flickr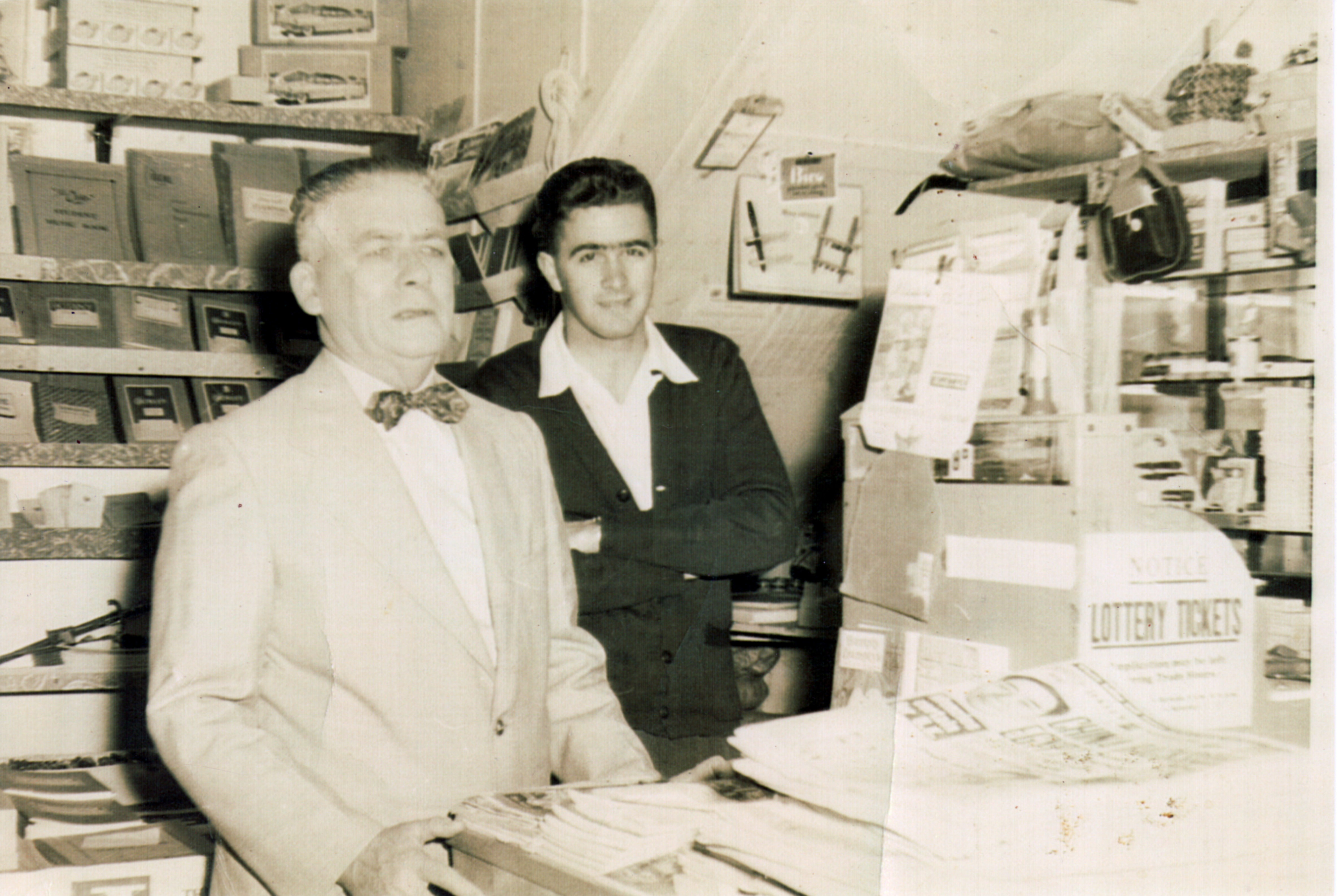 Jack McLean's store in Narrabeen, circa early 1930s. Photo courtesy Don Shearman via Flickr
Among the decisions made at the inaugural meeting was that the club enter "A" and "B" grade teams in the Manly Warringah Rugby League competition becoming the first registered rugby league club in the district. Those first two sides took the field in the same colours we play in today-BLACK and WHITE. Of the original members, Jack McLean and P. Moore served as President and Treasurer respectively until 1940 and Jack Kirkwood as Secretary from 1934 to 1940.
In those early months of 1932 the generosity of Narrabeen Football Club supporters was established, not unlike it is today. A Mr W Aldridge donated a football, Mr W Pilon donated his premises known as Pilon's Hall in Octavia St. for a dance, probably the club's first social function and Mr Moore donated the funds to cover the electric light bill.
For the 1932 season the "A" Grade team made the semi-finals and the "B" Grade team won the inaugural Premiership a feat they also accomplished in 1933.In 1935 the "A" Grade won their first premiership a photo of the team including some of our early administrators is included in the club's photo gallery. In 1938 the "A" Grade won their 2nd Premiership and the "B" Grade backed up with Premierships in 1938 and 1940.

Warringah Shire Councils Minutes of Meetings record for May 23, 1932:
Use of Lake Park by Narrabeen Rugby League Football Club: Resolved, - That the Club be granted the use of the Lake Park ground under the conditions recommended by the Inspector, the use to for this season only.
However, next year Council's records show record in the Minutes for the August 28, 1933 meeting:
Narrabeen Rugby league Football Clubs 14/8/33,(a) thanking Council for the work done on Lake Park (b) pointing out need for fencing of park, and stating Club will remove and re-erect. around the park the rail fence outside the wall around-Brookvale Park, if agreeable to Council Noi.2 -(c) inquiring-how it is proposed to dispose at; the existing Clubhouse at South Narrabeen, stating that members of the Football Club assisted in the erection of the building, and suggesting it be re-erected on lake Park. Council's decisions.. (b) That the fence on Brookvale Park will be required for the approaches to Harbord Lagoon bridge; (c) that the building at South Narrabeen is the property of the South Narrabeen Surf Club
The following year, on May 7th, 1934:
Narrabeen Rugby League Football Club, 2/5/34, on the "urgent necessity" for a dressing room and shelter shed on Lake Park, stating Club prepared to erect the building if the Council will supply the material. 53a. Narrabeen Cricket Club, 2/5/34, supporting the Football Lake Park Club's request, and stating preparedness to co-operation in the erection of the building. 53b. Manly & Warringah District Junior Rugby Football League, 1/5/34, also on the need of a dressing shed on this park. Resolved, - That they be asked to supply plans, specifications and estimate of the Cost of the proposed building.
A Minute in an October 1939 Meeting shows the club built the first 'shed' themselves on Lake Park No. 2., with materials sourced from members and supporters, and that it required repairs.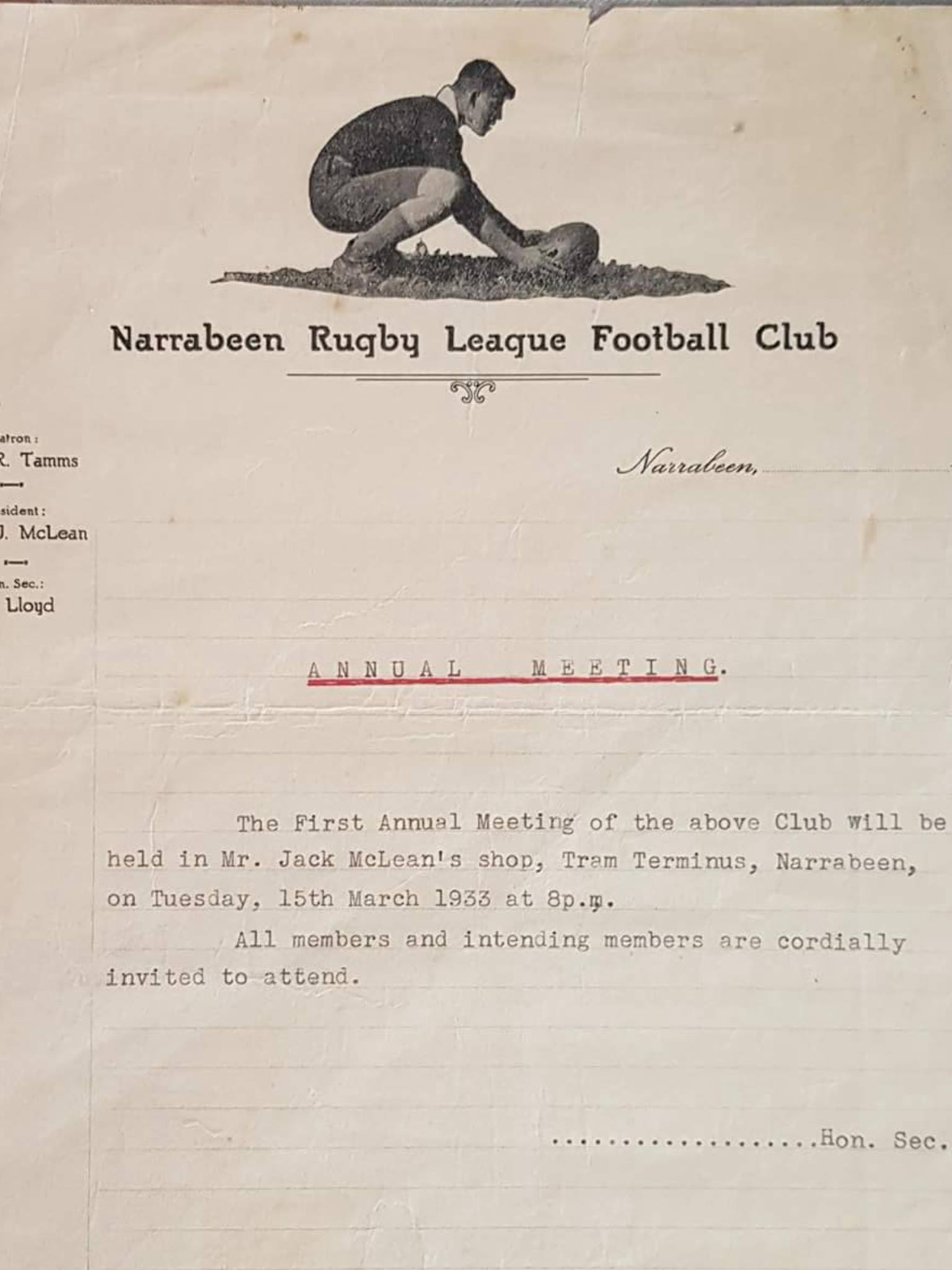 Narrabeen Sharks First annual Meeting 1933 - image courtesy Ken 'Sava' Lloyds dads' records

During World War Two much of Lake Park became camping grounds for war workers and, by late 1944, holiday relief from the same, along with military forces occupying some sections, although games did take place on Sunday's, sometimes not without that 'got your back' tenacity, as record in May 1944 - the Manly & Warringah Junior Rugby Football League had already attracted the ire of local churches for playing games on Sunday's - younger readers would have had no experience of shops being closed on Sunday's by law or alcohol being banned from sale, which made for a much quieter Sunday with emptier streets - but this did happen - when passions over spilled a Narrabeen it backed up the calls from local pastors to shut such play down.
Council's May 2nd, 1944 Meeting records that the Shire Clerk orally conveyed a report from Constable Kirby, officer temporarily in charge of police at Narrabeen, of a regrettable occurrence at Lake Park No. 2 last Sunday. One of the football players who was being apprehended by Constable Davies for using objectionable language, after being warned to desist, resisted arrest and during the struggle the Constable had been assaulted by an unidentified person. Constable Kirby suggested that the Council take such action as it might a better most affective to Obviate repetition of any unseemly incident on football grounds or public reserves' on Sundays.' Resolved: That-the Manly-Warringah Junior Rugby Football League be notified of the Police report of what transpired last Sunday, that the Council takes a serious view of the matter, and that if objectionable conduct occurs on the grounds again, the Council will seriously consider the question of prohibiting the playing of football on public reserves on Sundays. :(Crs. Spicer, McLean) .
By the net Meeting, next week, on May 9th, 1944:
Manly & Warringah Junior Rugby Football League, 4/5/44, advising that owing to the condition of the ground at Lake Park No. 2, the League has decided not to play any fixtures on it until it is put in order and attention given the dressing-room;
The ground has been 'put in order' since of course and a decent clubhouse built, with plans for future extensions. Recently the club was successful in achieving a Community Grant to install a cafe within the premises.
In Celebrating 90 years of Narrabeen Sharks in 2022, the club announced it now has 345 registered players and 28 teams including 4 girls' teams consisting of 55 players. Six teams qualified for Grand Finals with U11 White, U12 Girls, U15 Gold and A Grade being crowned premiers, capping another successful season for the Sharks. A 90th Anniversary dinner was held on Sunday July 31st at DY RSL with over 200 guests in attendance.
The Club's aim is and has always been, to promote the game of rugby league in a fun and fair environment. And all that began by the Narrabeen community doing for the Narrabeen community, which is articulated best by the Narrabeen community itself.
From that bonus 90th anniversary celebration during the book launch of A Shark's Tale, a few insights.
First up Phil Hunter, Scott Nagle, and Brian Adams spoke about the journey to begin and complete A Shark's Tale:
Phil Hunter:
The idea of the book started when Brian and I compiled histories on the club for our 60th, 70th and 80th anniversary celebrations. In 2016 I met with Scott Nagle the publisher, a North Narrabeen local who played juniors for the Sharks and a member of the North Narrabeen boardriders, and we submitted a plan to the club to do this book.
None of this would have been possible without Scott's expertise.
This history has been compiled from a number of sources, including the Club's publication 'The Black and White Rag', photos displayed in the Clubhouse, old newspapers and interviews with past and present members.
We are indebted to Doug Miller, Mick Gerros, Vic Baker and Cec Hodkinson for their memories of the club's past and the materials, old photos and newspaper clippings kept by Lorna Williams. Our thanks to all other interviewees who have contributed to the publication.
I'd like to make special mention of fellow Life Member John Lawler (R.I.P.) who was our original historian. John started the collection of memorabilia that I inherited and without his foresight to start this collection, this task would have been very daunting.
This book is to be a legacy to one of the oldest Junior Rugby League Football Clubs in Australia that has survived due to community support for 90 years and will continue.
Scott Nagle:
I'd like to take this opportunity to thank everyone that contributed to the book. As you know, it's a long process doing a book like this, and when Phil came to me I had my doubts, to his credit, along with Brian, we got it over the line and now have a great publication.
It's a great love for me, being a Shark, and was also for my father, who was involved in the club in the 1960's with the B-Grade Premiers and the 1961 A-Grade Premiers. Along with living up the road from the legendary Alan Thompson, the Sharks have been a big part of my life. Thank you very much.
Brian Adams:
It's great to see such a great selection of people here today, alike, as they say in the movies, The Good, The Bad and the Ugly. [laughter]
There's a fitting entry in the book of Narrabeen's Best Ever Team, and you know what, there's a page dedicated to Narrabeen's Worst Ever Team as well. I don't know which is the most popular …. But anyway.
More seriously, without Phil putting this book together we certainly wouldn't be celebrating its launch here today.
We should be very very proud of where we stand today, as a club and as community. The North Narrabeen surf club started in 1910, I think the swimming club made their start in 1933 and the Rats started in 1960 – so we have a lot of history, and a lot of clubs, and a lot over a long period of time. We also have the North Narrabeen boardriders club who have been going strong for 49 years also, who have among them, like this club, many World Champions as well. We should be very very proud of this club and Narrabeen in general.
I'd just like to extend a couple of thanks – to Alf from the Manly Leagues Club who helped us out with promos, and to John Trbojevic and Geoff Toovey for coming down here today. It's good to see Clarkie up and about, thanks for coming down here today John. And I see Alan Thompson – I think they're going to get up and say a few words in a bit. So thank you, and thank you to everyone who has helped put this great book together.
We extend our heartfelt gratitude to our sponsors, dedicated committee members, and all those who have joined us, making this a truly unforgettable day.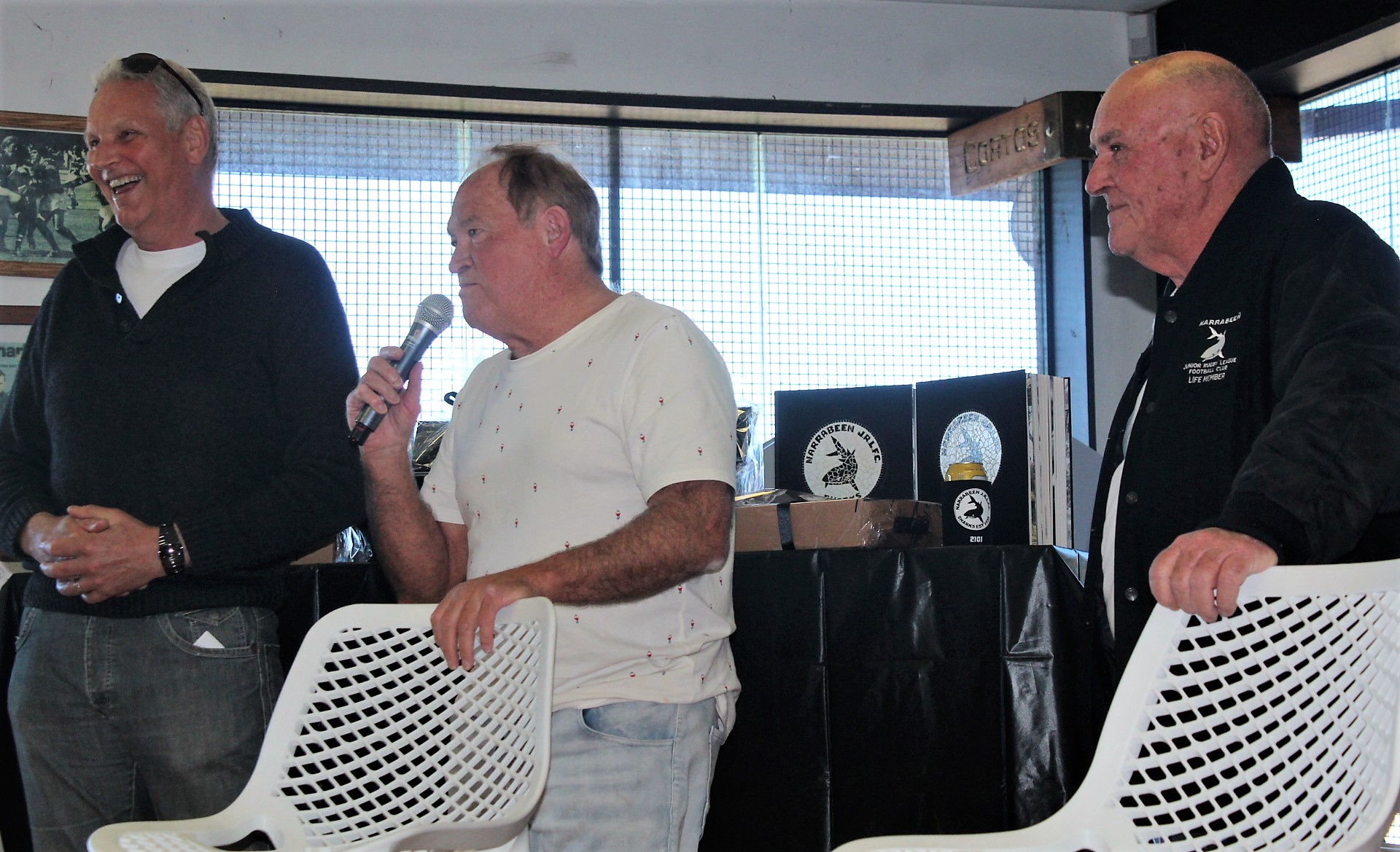 L to r: Scott Nagle, Brian Adams and Phil Hunter

Narrabeen legends: Toni Couper with Clarkie
Featured Legends and Life Members talk with President Shane Bullock as MC. Shane first played for the Sharks in 1981. He interviewed club legends Tony Balkin, Alan Thompson, Mark Gerrard and Anthony Watmough
President Shane Bullock introduced these Narrabeen Sharks Legends and Life Members with a brief overview of their careers in sport.
Tony Balkin - Started playing with the Sharks as a 6-year-old and played until his mid 40's and still coaches and helps out in the club, Life Member.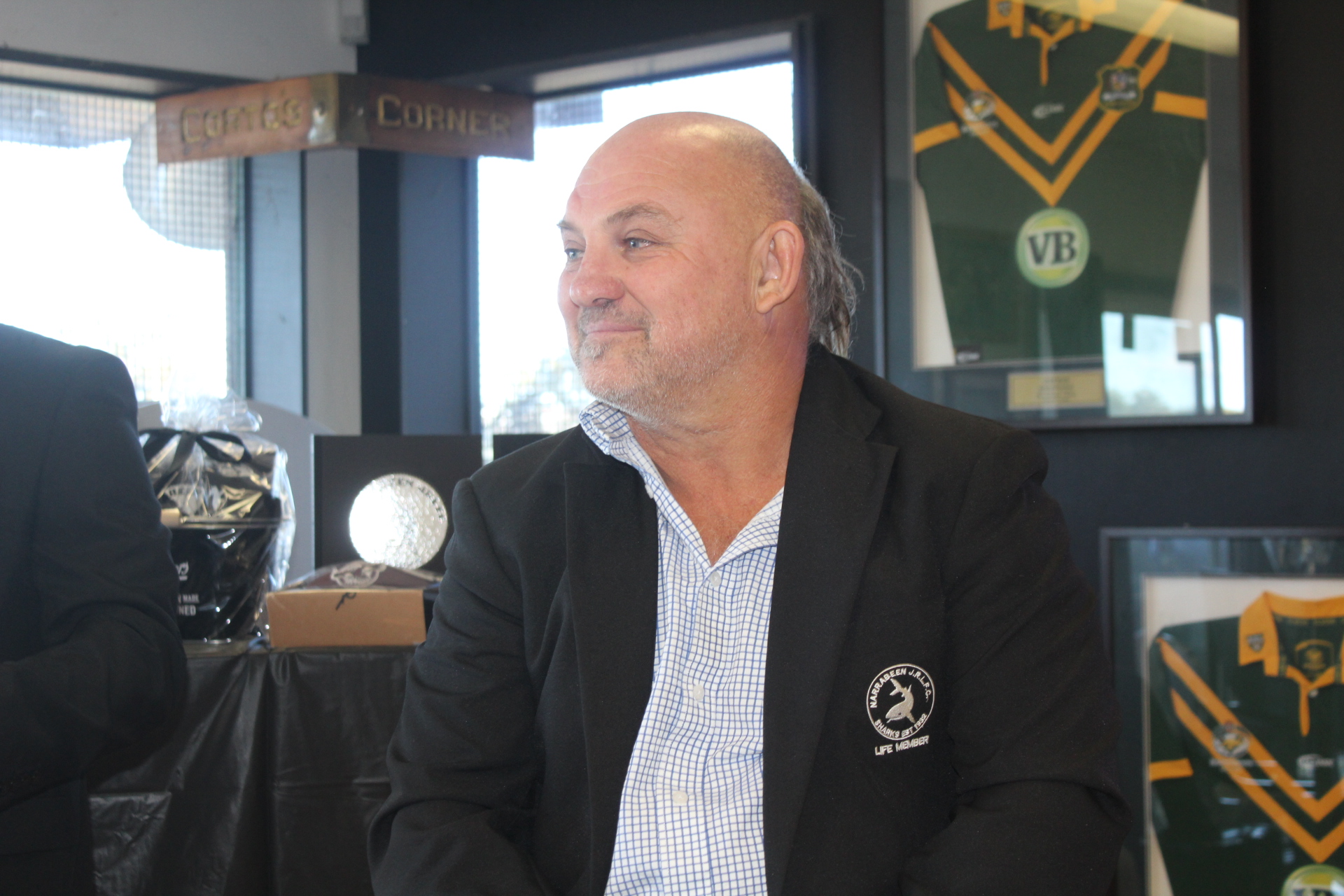 Tony
Alan Thompson is a former NRL Player and Manly Captain and later Coach, and in the first ever State of Origin NSW side. Alan played for the Manly-Warringah Sea Eagles in the New South Wales Rugby League (NSWRL) competition from 1973-1984 – 263 First Grade Games - and coached the club in 1989. He primarily played at Five-eighth.
Mr. Thompson (born 10 October 1953) was a Manly district junior who could also play at Halfback or in the Centres. He was graded by the Sea Eagles in 1973 and played in the club's Reserve Grade premiership win that year (the first grade team also won their second straight premiership in 1973). Thompson went on to play five-eighth in Manly's 1976 Grand Final win over Parramatta, and their 1978 Grand Final win over Cronulla.
After Manly's 1978 premiership, he was selected for the 1978 Kangaroo tour and made his test debut for Australia from the bench in the second Ashes series test against Great Britain at Bradford's Odsal Stadium. Mr. Thompson played from the bench in the Kangaroo's 18-14 loss to the Lions, but retained his place for the deciding test at Headingley where Australia won convincingly 23-6. He played another six tests in his career, with his last being the second test of the 1980 Trans-Tasman series against New Zealand at Carlaw Park in Auckland.
Mr. Thompson was selected to represent New South Wales as five-eighth on ten occasions, seven of which were State of Origin matches. He played in the inaugural 1980 game, the complete 1982 series, games I and II of the 1983 series and game I of the 1984 series, the final year of his playing career.
At the time of his retirement in 1984, Thompson held the record for the most Manly club games: 261 with 62 tries and two field goals.
Mr. Thompson moved into coaching and took the Manly reserve grade side to the Grand Final in 1987 (losing to Penrith), before winning the Reserve Grade Grand Final in 1988. In 1989, following Bob Fulton's appointment as Australian coach, Thompson was appointed as first grade coach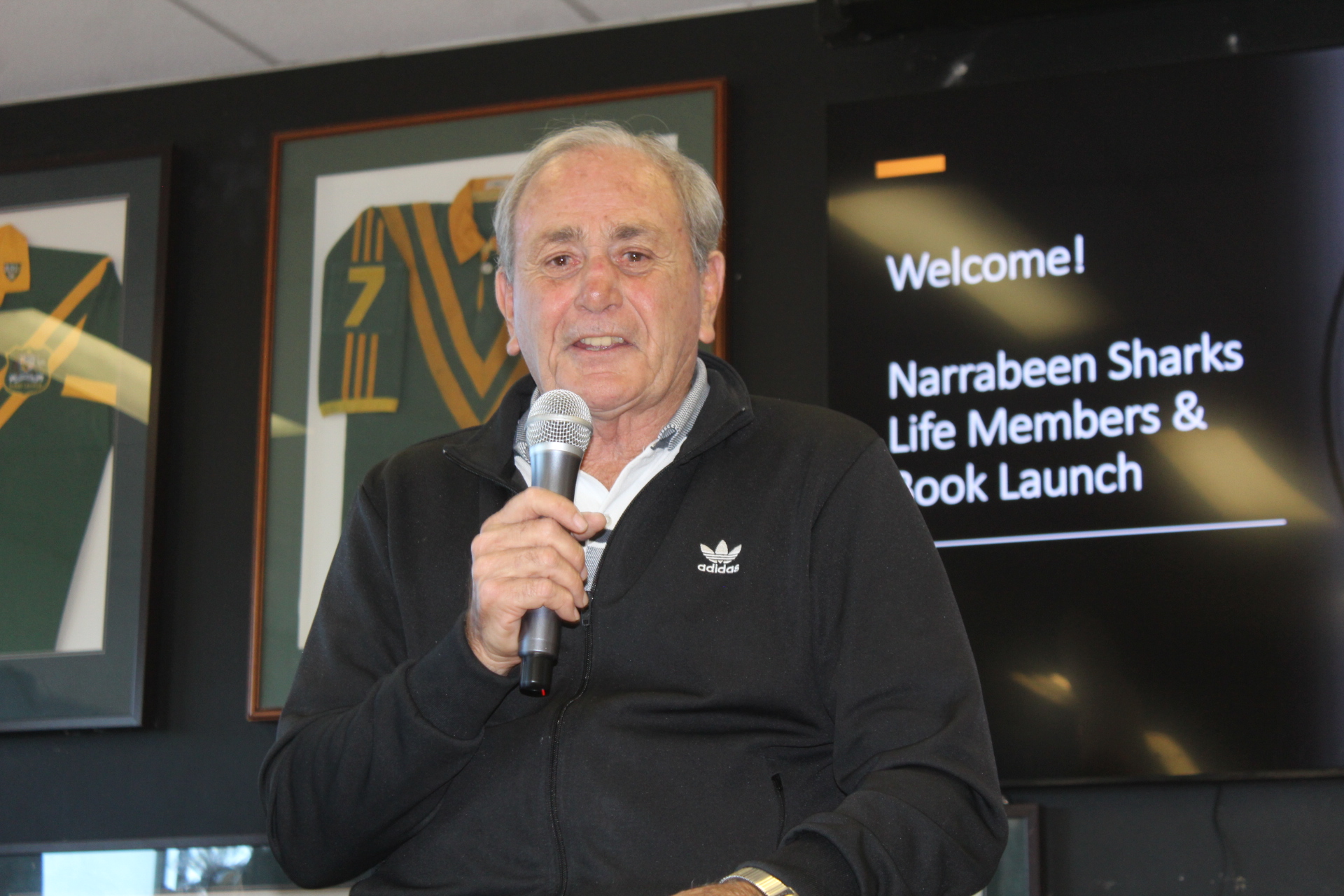 Alan
Mark Gerrard is a former Australian professional rugby union footballer. Mr. Gerrard has played for the Australian Wallabies and previously played for the NSW Waratahs and the ACT Brumbies. He usually played at fullback or wing but can also cover in the centres and sometimes flyhalf.
Mark was educated at both Narrabeen North Primary School and Narrabeen Sports High School, where he started playing rugby league, representing Australian School Boys in that code before switching to Rugby Union. Mr. Gerrard made the Australian Schoolboys team in 1999. He went on to play for the Warringah Rugby Club and represented Australia in the national under-19s side in both 2000 and 2001; also in 2001 he represented Australia in the under-21s side. After the successful appearances for junior representative sides, he made his Super 12 debut for the New South Wales Waratahs. He continued to make the under-21 Australian side for the next two years, before touring Japan with Australia A in 2003. He signed for the ACT Brumbies for the 2003 season. He made his debut for the Brumbies against the Sharks at Durban, scoring a try. He played for the Brumbies in 2004, with the team winning the championship. He missed out on a mid-year test match against England in Brisbane due to injury. He was a member of the Australian squad that toured England, Scotland and France at the end of the year. In late 2005 he made his Test debut for Australia when he came on as a replacement against Italy in Melbourne.
Mark
Anthony Watmough is an Australian former professional rugby league footballer. An Australian international and New South Wales State of Origin representative forward, he played the majority of his career with the Manly-Warringah Sea Eagles, winning both the 2008 NRL Premiership and the 2011 NRL Premiership with them.
A product of the Narrabeen Sharks, Mr. Watmough first played in the NRL in 2002 for the Northern Eagles club. In 2005 he was first selected for the New South Wales State of Origin team. Anthony was awarded the 2007 Dally M Second Rower of the Year award. He played in the 2007 NRL grand final defeat by the Melbourne Storm. He played in the 2008 NRL Grand Final victory over the Melbourne Storm and was then named in the Australian squad for the 2008 Rugby League World Cup.
Anthony continued his playing career until 2016, representing Australia and NSW at the elite level and played in 303 First Grade Games, 278 of these for the Manly Sea Eagles, 14 State of Origin Games and 16 games representing Australia.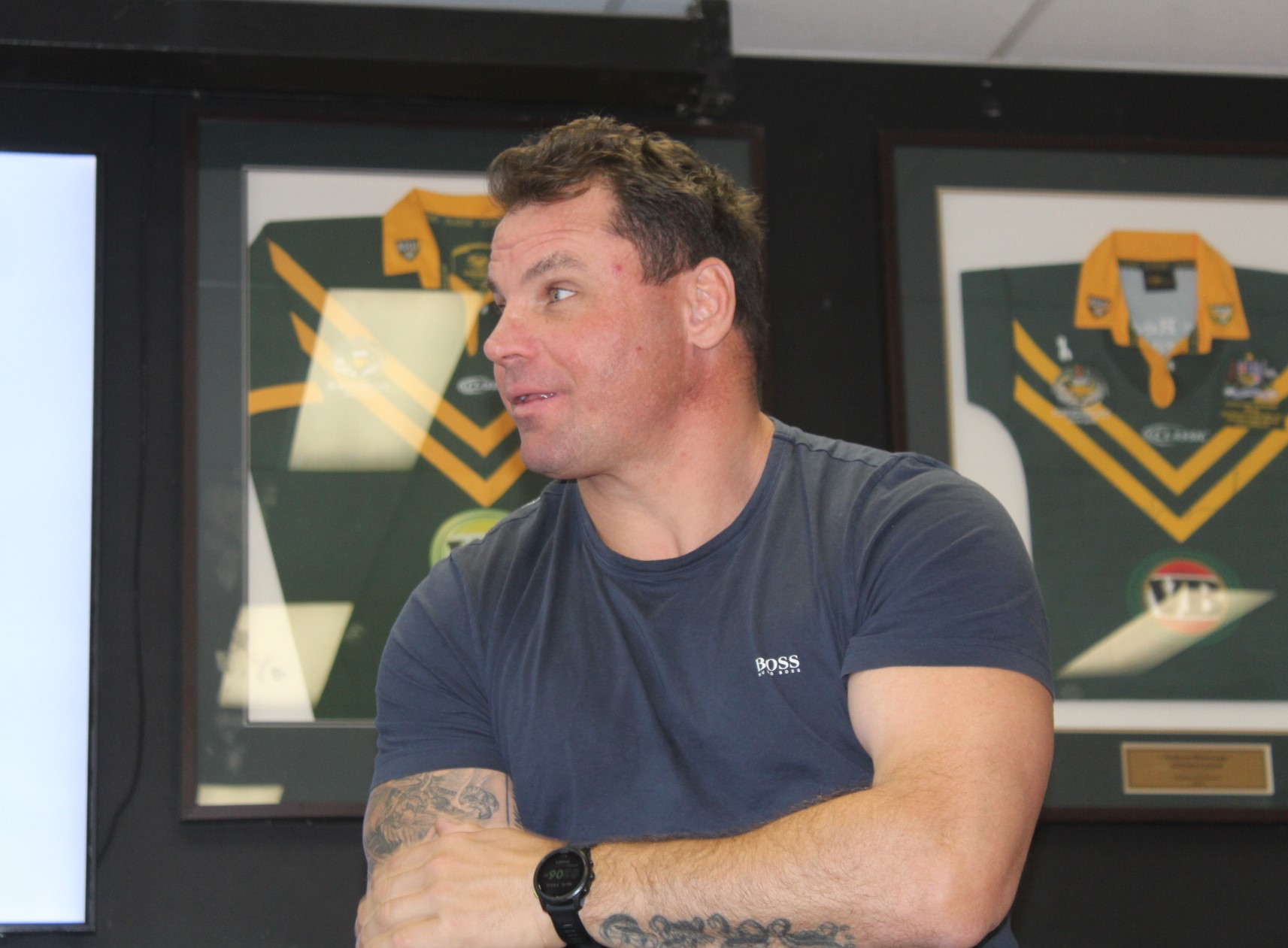 Anthony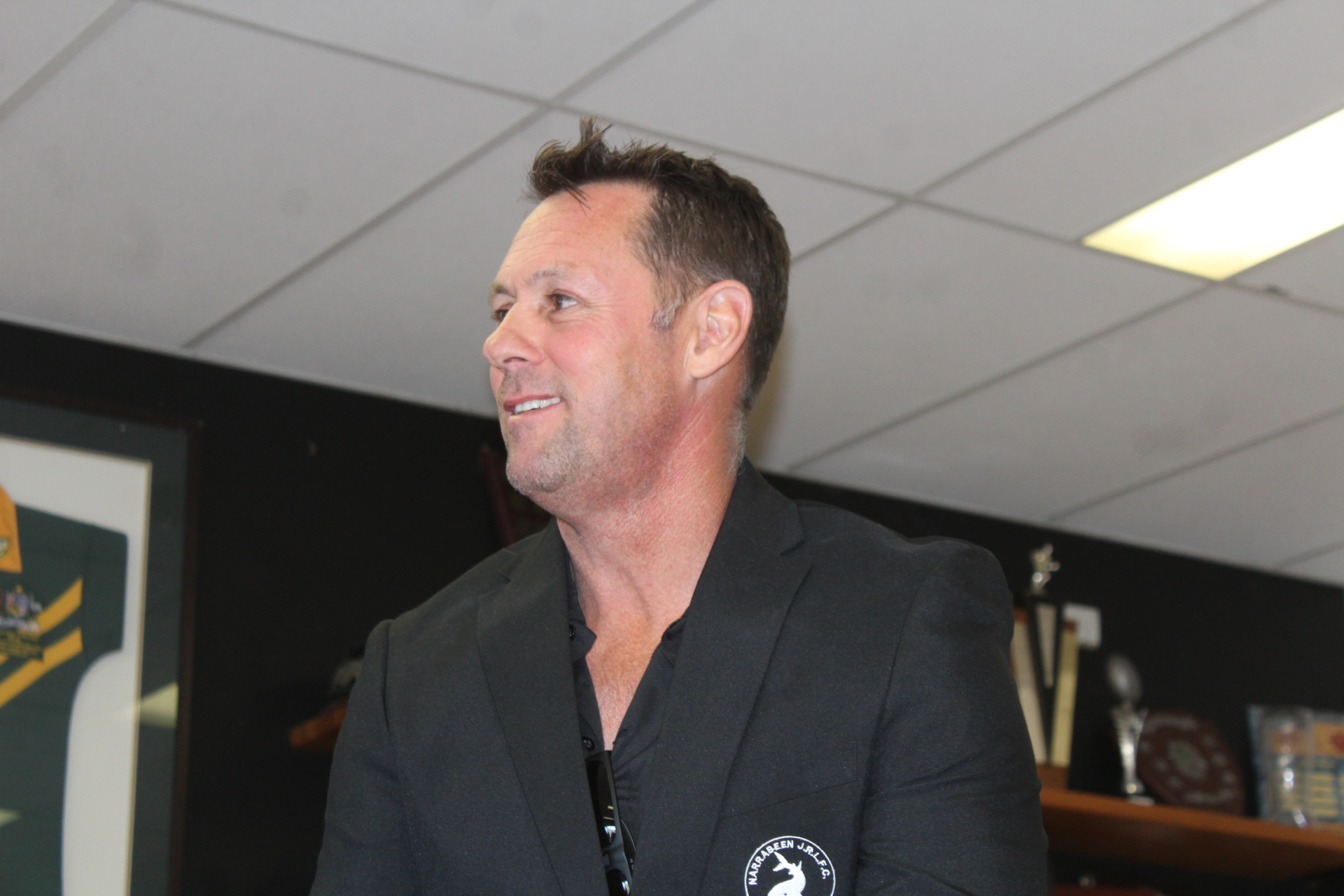 Shane
The Interview:
Narrabeen JRLFC President Shane Bullock with Tony Balkin, Alan Thompson, Mark Gerrard and Anthony Watmough
Shane Bullock to Alan Thompson: What year did you start playing with the Sharks and how did you become a Shark?
Alan Thompson:
That's a long time ago. I was 4, my birthday was always at the end of the Season in October, and I was playing in the Under 10's with my brother and they used to just throw me on the wing because they were short of players. So I played about 3 or 4 years before I actually went up a Grade. I think that was the higher grade when I started, then they brought in the lower grade, the Under 8's. even though I was 4 playing in the Under 10's they protected me pretty well. It was a different game in those days, you had to work hard in the scrums.
Shane: I remember watching a replay of the first State of Origin game. People may not be aware that Alan Thompson played in the inaugural State of Origin game, where big Artie Beetson was Captain/Coach of the Queensland side. If anyone has ever seen that they will know there was a pretty big all-in brawl in that game – how did you go in that Thommo?
Alan: Like all brawls in games I've ever played in, I was running late. [laughter] Never go in early!
Look, the first Game of Origin game was a set-up by Queensland, there's no doubt about it. We'd just come back from a three week tour of New Zealand playing and we didn't know anything about it. Don't forget we had Kenny Arthurson then.
So we came back and they said 'we're going to play State of Origin. They picked the team on Sunday night, I had to go to a medical on Monday morning and then we played on the Tuesday – that was our preparation camp. The Queensland players knew two weeks ahead who was in their team and even then we out-fielded them.
It was two tries each and then Mal Meninga kicked 7 goals, which he'd never done in his life – so 14 points of that game was from goals, not tries.
It was a rank up, and it changed the game – and when you think of it now, Queensland has 4 teams, and in those days it was a Sydney comp.. dominated by a culture where they didn't care for anything else. The NSW players are still more interested in what their club is doing than their state whereas Queenslanders don't think like that.
Shane: So Choc,(Anthony Watmough), 303 First Grade Games, - I didn't actually know you had played that many First Grade games but then I Wikipediaed you and was blown away. Only 48 players have ever played over 300 games, so that's a pretty amazing achievement.
How did you become a Shark and what are your greatest memories of laying in the black and white?
Anthony: How did I become a Shark? Well I lived in Narrabeen and obviously that's what you do when you live in Narrabeen, you play for the Sharks. My greatest memory?; probably when I made my A Grade debut. They actually changed the rules because I was too young and made me wait a few weeks before I could start playing – I think I was Under 16's – but I got to play with Mark and Balko and all the other great guys who were playing and it was a pretty special comp. to be a part of. You learn from a young age the toughness that you need to play here, the resilience that comes from this area itself, and I think that showed in the way we played on the field and the steel that got put into you from being a part of this club.
Shane: Did you feel that carry into your First Grade, State of Origin and Australian career?
Anthony: Yeah, I think it did. I never once thought that I was ever good enough to play at that level, thought I was very lucky to be in any of those teams, even to be in a First Grade team – I never thought I would be. I was just a kid who had a couple of young kids and got a call up to come and train and might get a start. Never in my life did I think I'd be working for Balko.
Shane: Balko you coached Choc for a while didn't you?
Tony Balkin: Yep – I'd coach him at 11 o'clock and then I'd put him in the car and take him to A Grade at 3 o'clock. So yeah, I feel like I found the talent.
Anthony: Balko was good – he'd flog the guys at work and me and him would be on the others side of the roof having a chat about footy and how to play. The guys would come over and say 'geez why isn't he working?' and I'd get back to it.
Tony: I was Choc's first sponsor.
Anthony: No it was good. Obviously Balko is a legend of this club and I was able to stick close to hm for many years and still call him a good mate now. He took me under his wing and showed me the way it is done in Narrabeen. There's not many people with as much grit and blood in their body as Balko and I was lucky to have him to look up to as a young kid.
Shane: Mark, you grew up in a pretty talented family, with both your sister Mo'onia and yourself playing at the highest level in your individual sports. Do you put this down to your dad's genes?
Mark Gerrard: [laughs] I'll just get his mates to answer that.
Shane: When did you start playing for the Sharks and what are some of your early memories before you switched over to Rugby Union?
Mark: I'll give you the story about why I went over to rugby union in a moment, but basically I was ball boy, because the old man coached, and I was here with everyone else. As Choc said I'm a Narrabeen boy through and through and I'm not going anywhere – I live across the lake – why would I go anywhere else? That steel is in me too, that's just who we are here - and the only reason why I played was this was the closest rugby league club we had and that's all I knew, and what's more I'm glad that's all I ever knew.
So I started coming here when I was about 4 years old and started playing up a few ages. I was just telling Pommy I found some old VCR tapes with his commentary, and even though we couldn't play those here today, all those guys and all those faces are just home for me and I'm very comfortable now I'm back home. It's really good to be back here and share a few memories with everyone else.
I should probably keep it a bit PG today, so my greatest memory is probably knocking off every other team that comes up to Lake Park and thinks they can beat us. So it's not just one memory, it's all of it and all I've enjoyed about playing for the Sharks.
Shane: I do remember about 4 or 5 years ago Frankie and me were coaching the A Grade and we actually got Mark back to play in the A Grade and he had a blinder out there, played a really good game. We had a celebration afterwards and when he got home at about 3 or 4 in the morning he wasn't allowed to play anymore and hasn't played for Narrabeen since.
Mark: Yes, we should have retired our celebrations after that episode. I always said when I finished professionally, I wanted to finish where I started, so that year I had a run around with the Rats and had a run around with the Sharkies because this is in my blood and I'm proud to be here.
[applause]
Shane: Balko – I reckon out of all the Narrabeen players who have ever played you have probably played the most games. How many have you actually played?
Tony Balkin: I've actually lost count. It's a shame they never kept records because I went for a long time…
Shane: it would have to be over 400?
Tony: I wouldn't know, I couldn't count over 50, so once we went past that …. [laughter]
But it was a real privilege to play out there. I was hoping Jamie was going to be short today because I brought my boots and …
Shane: so you're here today with that mouldy old bag again? People may not realise that Balko used to turn up with his old boots in a Woolworths bag and he never ever bought a brand new set of boots.
Tony: I was trying to be deceptive; if you look good you've got to play good. [laughter]
Shane: So Balko, what do you think your favourite memory of playing with the Sharks is?
Tony: There's been a few. Alan here is a cop-out saying he only had 48 hours' notice to play – I've played for 40 years with only 20 minutes notice. My greatest memory without doubt would be the '07 Grand Final when we won. Not only the fact of the game, when from the first minutes we were the underdogs, but Zach Marsh had a big head-on with a big islander, put his nose across his face and played the rest of the game with a broken nose. It was not only a great day but then we had the trip to Thailand the next day. We signed every wall in every Thailand pub 'Narrabeen - A Grade Premiers' with an asterisk and '*Marshy was not here'. So it was the 2007 Grand Final and then winning it, and partying all night, and then going off to Thailand the next day. This is what football is all about to me. I made a lot of lifelong friends and they were all and are good days.
Shane: Thommo, you played in one of the more memorable Grand Finals of all time which was between Manly and Cronulla in 1978 and a draw – and then you had to back up, because in those days if it was a drawn Grand Final there was no golden point and you had to back up and play another game, how many days later?
Alan: 2 or 3.
Shane: 2 or 3 days later – how was that?
Alan: We drew with Parramatta in the Semis, we had to replay that one as well. So we had two draws in one year in the Semis – I think we played 5 or 6 games in three weeks – but when you win it doesn't matter. Stevie Rogers had a shot for goal in the last few minutes of the Grand Final to win the game and he missed. Then we came back on the Tuesday and had to play then because the Kangaroos were going to England – so they had to wait until they picked that team after the game.
We got up – Wombat had a magnificent game, he scored two tries, ran 400 metres or something, and we won 16-nil in the replay. Winners are grinners.
Shane: Choc, you played your first of three Grand Finals in 2007 and 2008 and then again in 2011, winning both the 2007 and the 2011 Finals. I was at that 2008 Grand Final, 40-nil versus Melbourne. How was that game and even watching Steve Menzies in his last game score that try and being on that field? That would have been incredible.
Anthony: Yes, that was the one where the year before we didn't have any confidence and experience on that field and area – we only played one semi-final before that. Going into that it was just everything was falling our way and we just knew, as soon as Cameron Smith got suspended we were home. Not that he had that roar about him then, but we were just very confident and knew what we were walking into and I think there were 85 thousand people there and 80 thousand of them were Manly fans.
We just knew we had their measure, we knew as soon as we went out. We actually used to run a play in practice and then the night before on the news, the Chemist wondered how they were going to defend it – and that was Matty Ballins' first try. So they knew we were going to play it and we got out the back on the field and we said, 'mate, you've just got to dummy and go'. Everything just fell our way, we knew that the first time we an it. It was amazing – all the way back to the leagues club, we caught the bus back to the club, halfway up the hill we were crowd surfing into the leagues club there were that many people – it was pretty special.
Shane: Mark, you made your debut for the Wallabies in 2005 playing Italy in Melbourne. How did you find the step up from Super 12s into paying an International game?
Mark: It was fast and physical. I don't; see it as a step up to be honest, a lot of it is just a mindset. We had Eddie Jones as coach, who has come back in 2023, who is pretty ruthless as a coach and his mentality is alike my old mans' so it suited me as that's what we're like here at the Sharks; everything was based around hard work, backing each other up and working for your mate. That's the way we played and that's the way we trained and he instilled that in us from early on. That transition from Super 12s to Internationals was a bit of a blur to be honest – it wasn't solely just a run out to represent your country, you had to bring all of yourself.
I remember the old boy said to me that week 'just remember where you are from' and I've always had that picture in my mind every time I've played (points to Lake park Sharks field). I can still remember my first game here at the Sharks and it's still something I'm proud of. Being a born and bred Narrabeen boy. That has instilled in me, as Coc said, a resilience and toughness and, excuse the French, and an attitude of 'I don't give a damn about you' when you play against others. I think you have to take that mentality into those bigger games otherwise you take a backward step and lose that 'it' factor you need, you don't want that.
Shane: You played and lived in Japan for a few years – how was that? You must have been a superstar?
Mark: No, no. I enjoyed it. In the 2010's period nobody really knew there was rugby in Japan – even though the competition has been around for a while – and it as good to live that life and that nice culture, which is very enjoyable. I hated Australian rugby, that's why I left – there was this whole old boys mentality that bugged the sh*t out of me and still does. To be brutal I left because the game was stale, and still is. Around 20 years ago a bunch of us now old players got together and pitched an idea to the hierarchy about the junior game and how we could revamp it by bringing some league rules over to rugby. They looked at us and shrugged it off and here we are now, 21 years later, where the game is still where it's at and I can tell you why; because they're still in charge. That's just where it is at. As I said previously, I'm proud to be a Sharks boy and proud to have represented my country, it all started right here.
Shane: what about you Choc, did you find playing State of Origin a big step up from playing NRL footy?
Anthony: To go back to what Mark said, that was exactly how we got put in, and it was a lot easier for me to play at that level by just going straight in. It is a dog-eat-dog world and you had to just give it everything and it's what we learnt as juniors here, and not just here but growing up here as kids – we grew up surfing, fighting and playing rugby. There is nowhere else in the world that is like here at Narrabeen and I guarantee those kids playing out there today are exactly the same as we were – surfing, playing footy, backing their mates up. That mentality, you're born into it, it's not created, and we may not have thought we were that successful but we had people who thought we could do it at that level. The way we live here on the beaches is like nowhere else, you put your self into thew community and you represent that wherever you go.
Shane: Balko and Thommo, are you two related in some way? Have you got connections through the Narrabeen Sharks?
Alan: We're cousins.
Tony: Yeah, one got all the skills and…
Alan: Yeah, well done mate. [laughter]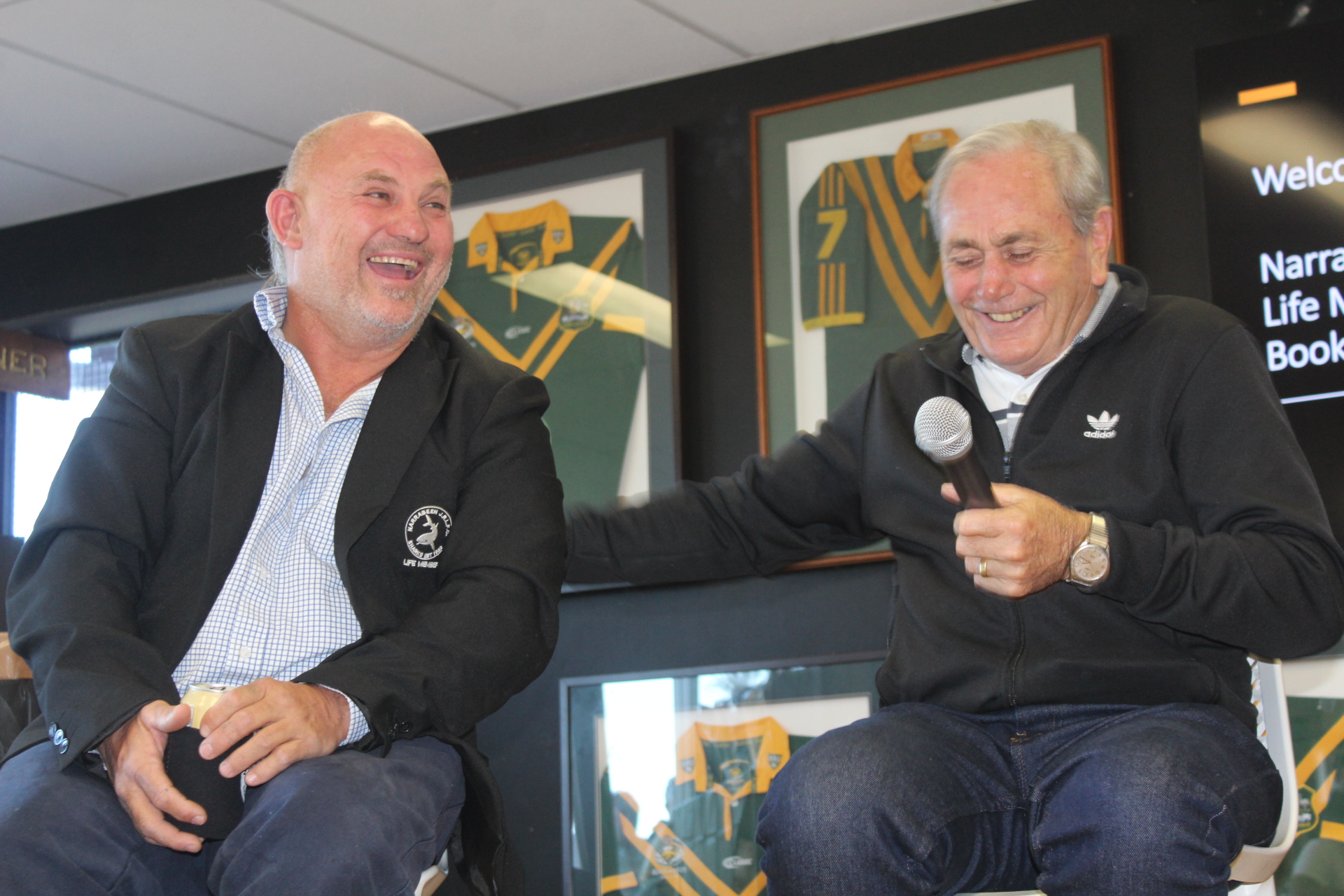 Shane: Thommo we were talking before about 4 generations of Thompsons coming through the Narrabeen Sharks.
Alan: Yes, my grandson was playing in the Under 6's the other day.
Shane: That's amazing, and plenty more Thompsons to come.
Guests and members then enjoyed the U17's Game being played followed by the presentation to 2022 Inductee to Life Membership Jason MacGregor, another stalwart of this club by the lagoon that has been a part of the entrance and ethos of Pittwater.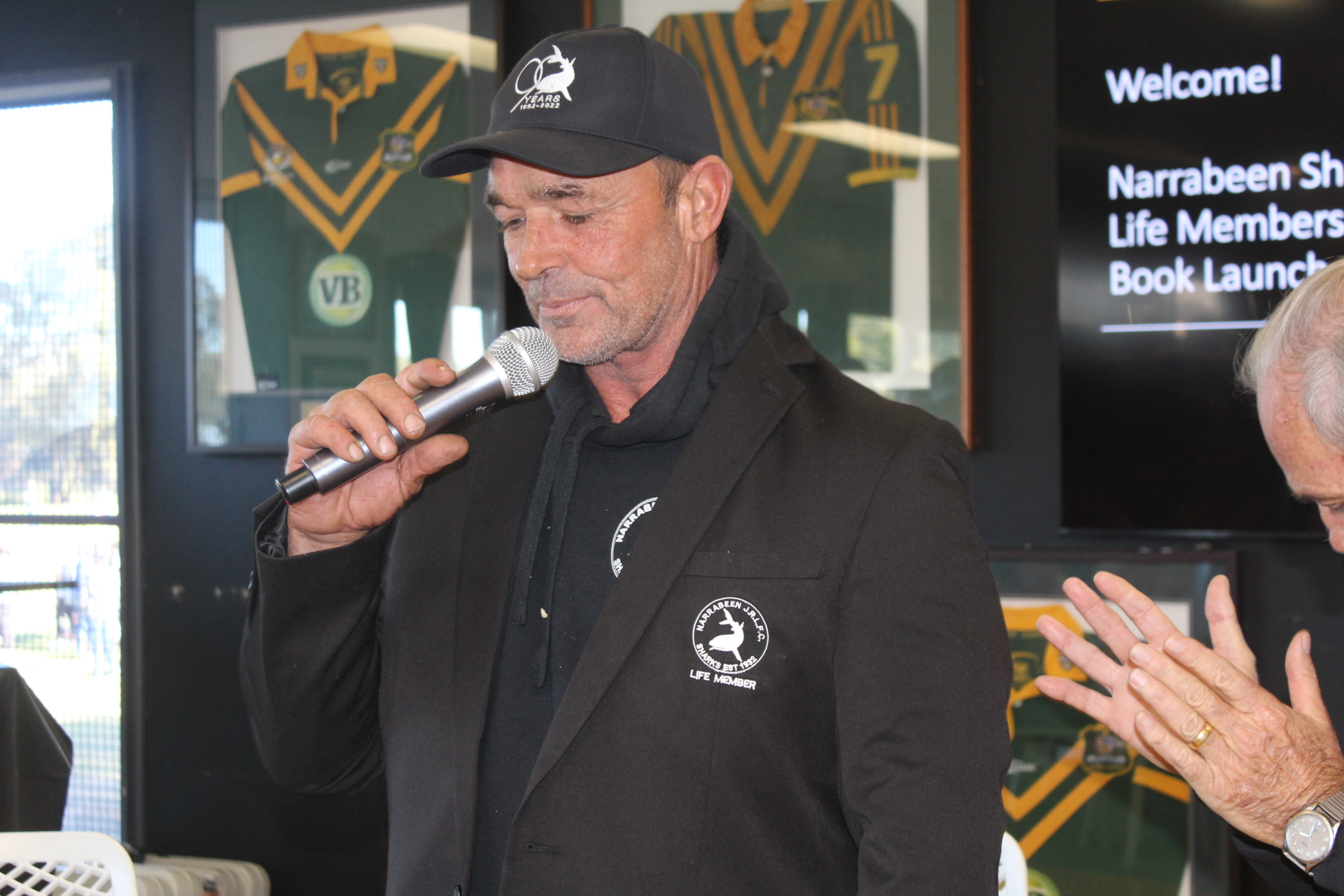 Do yourself a favour, get a hold of a copy of this beautiful hardcover comprehensive tome before they are gone.
A Shark's Tale
90 Years
The History of the Narrabeen J.R.L.F.C.
Author: Phil Hunter
Research and development: Phil Hunter and Brian Adams
Contributing writers: Jamie Van Buuren, Mick Fox, Tim Stuart, Mark Gerrard Snr., Ian Hanson and Scott Nagle.
$55 - Available at: narrabeensharks.com.au/shop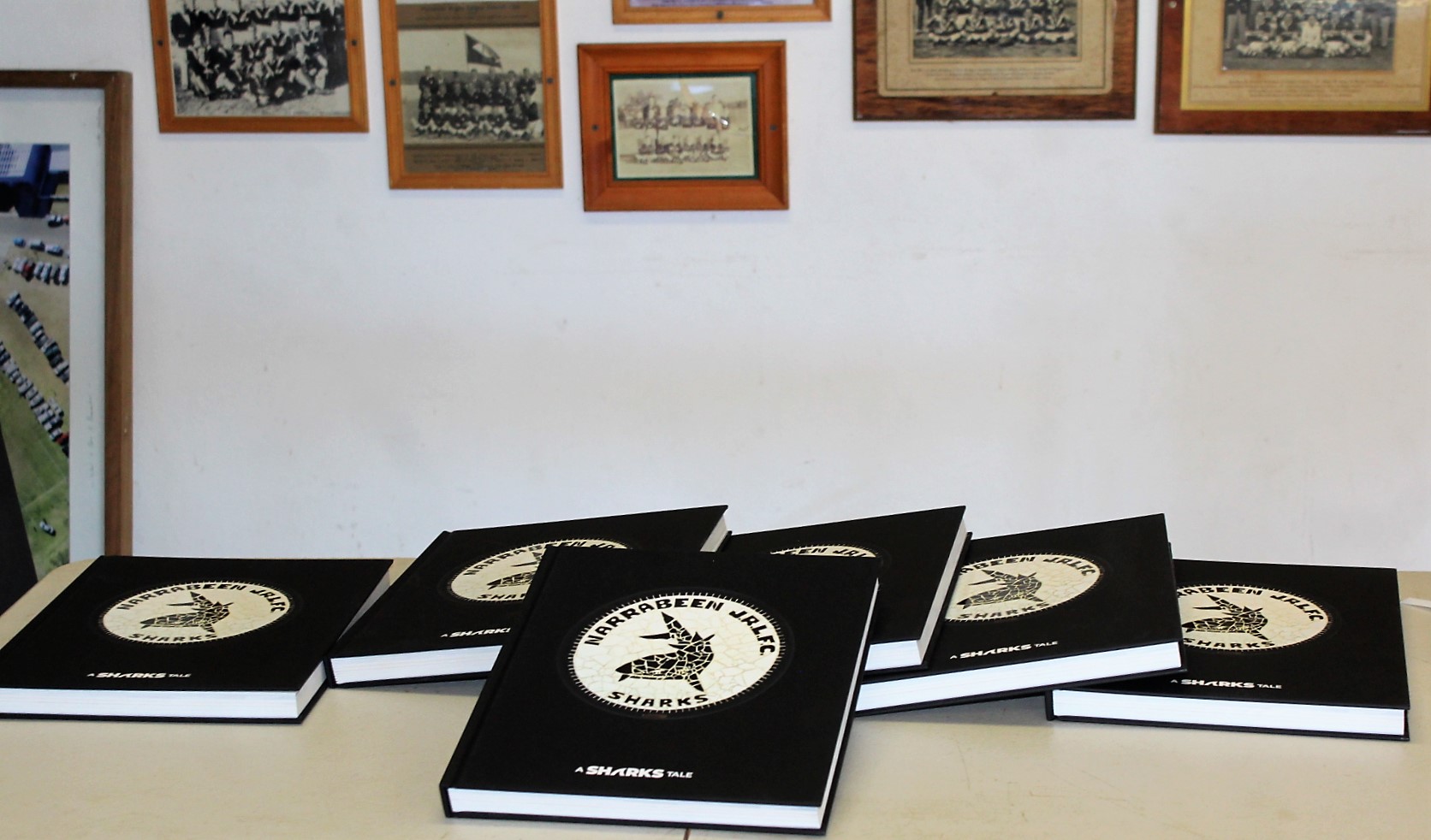 More photos from the A Shark's Tale book launch
A Shark's Tale book launch Edit/Transcription and Photos by A J Guesdon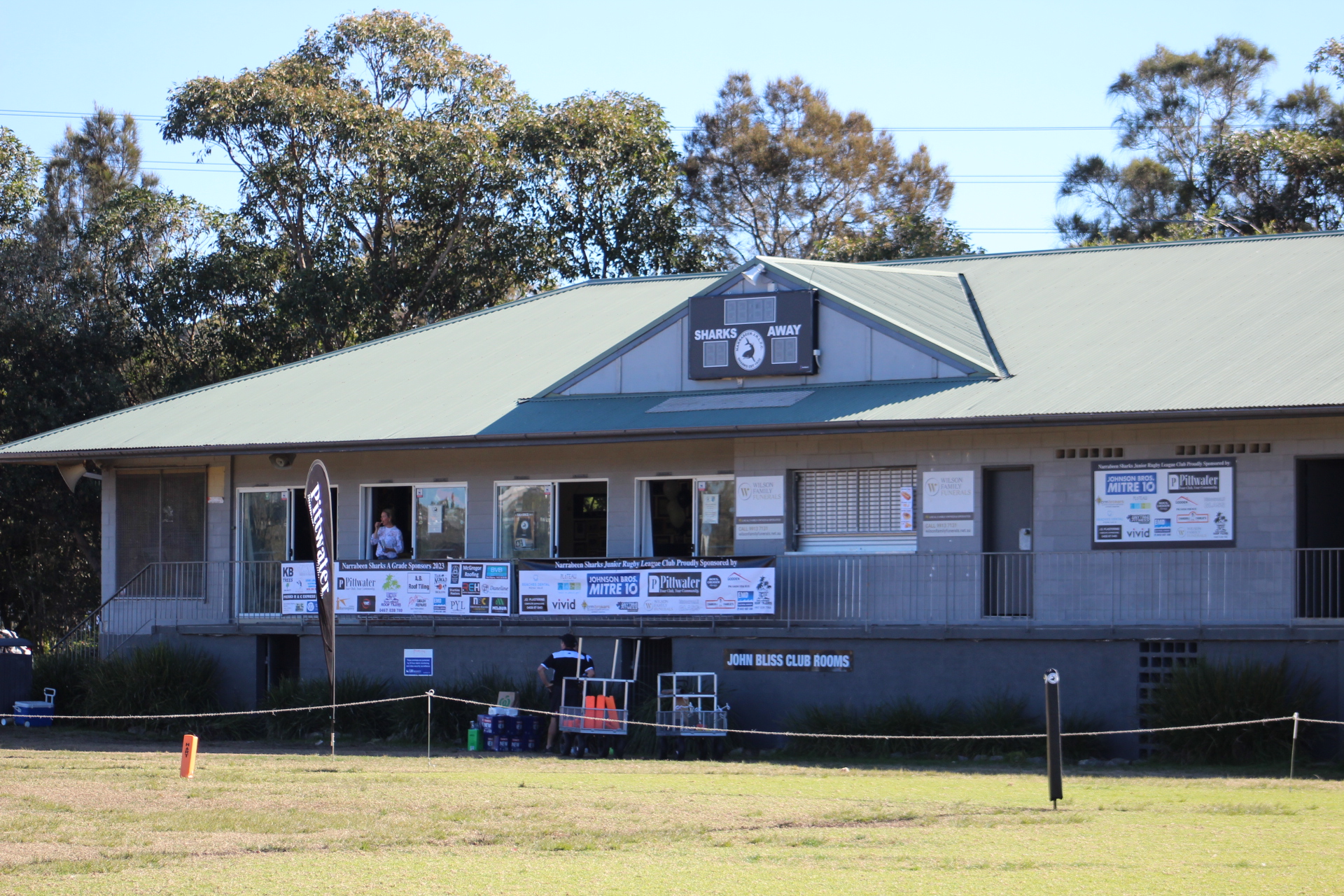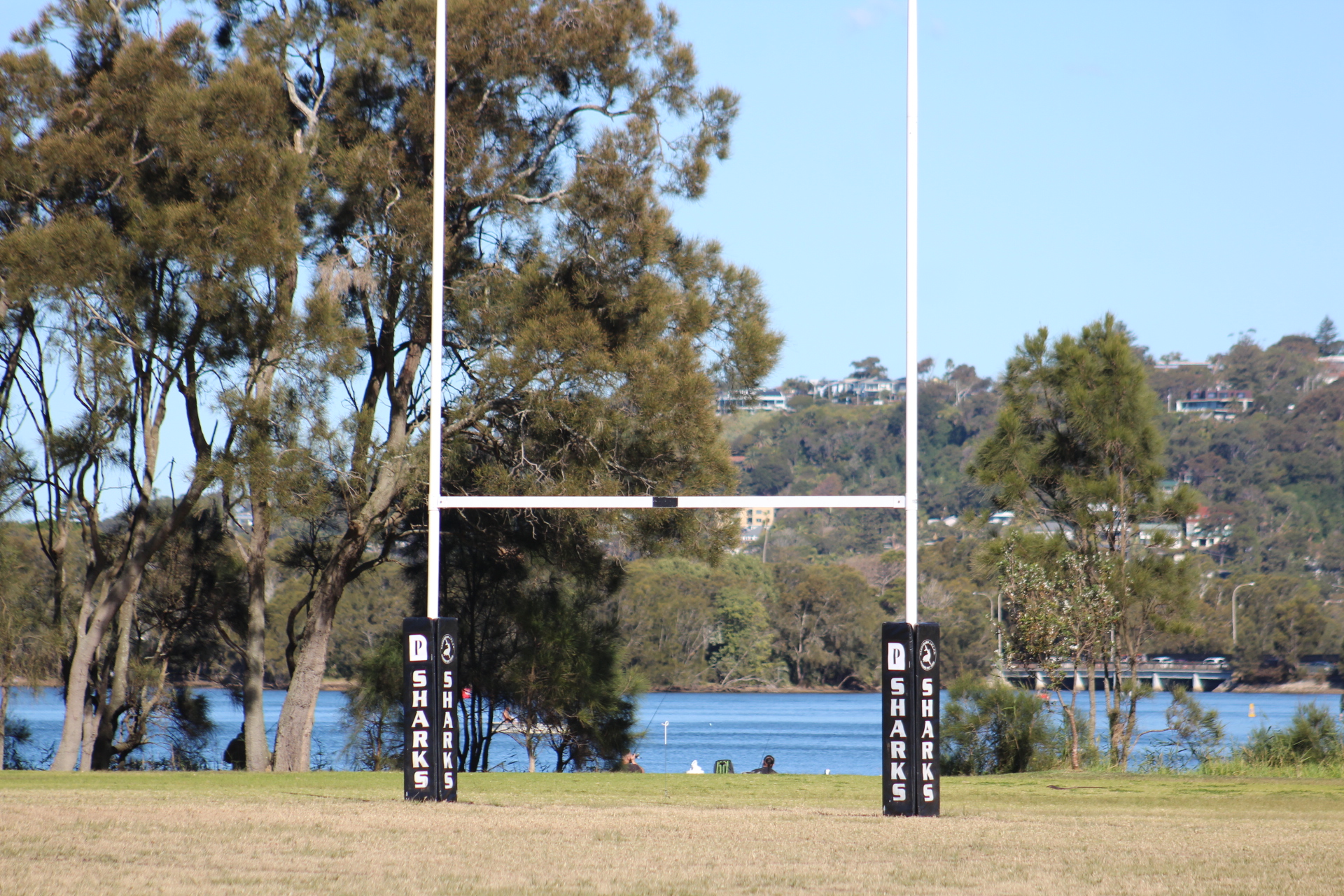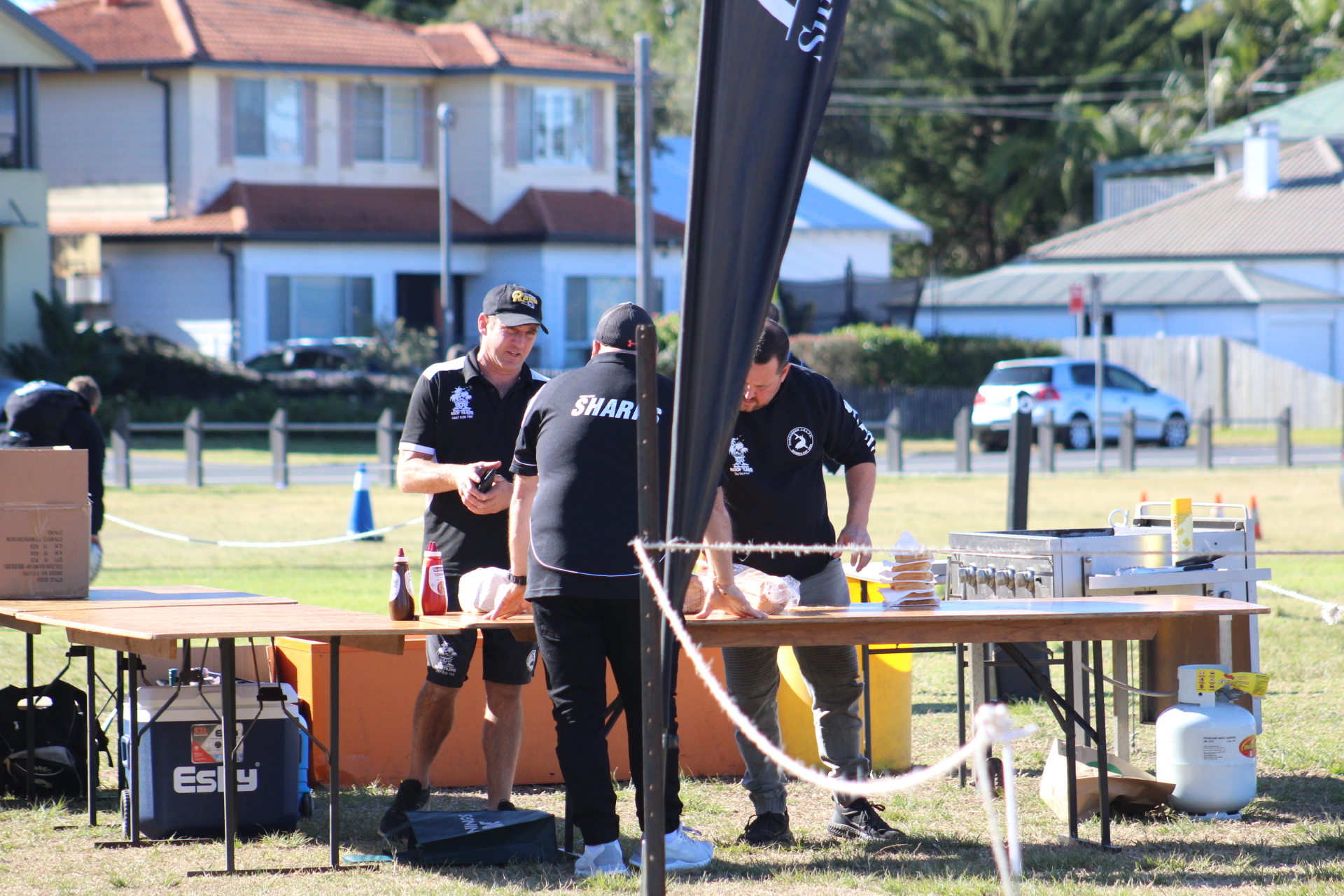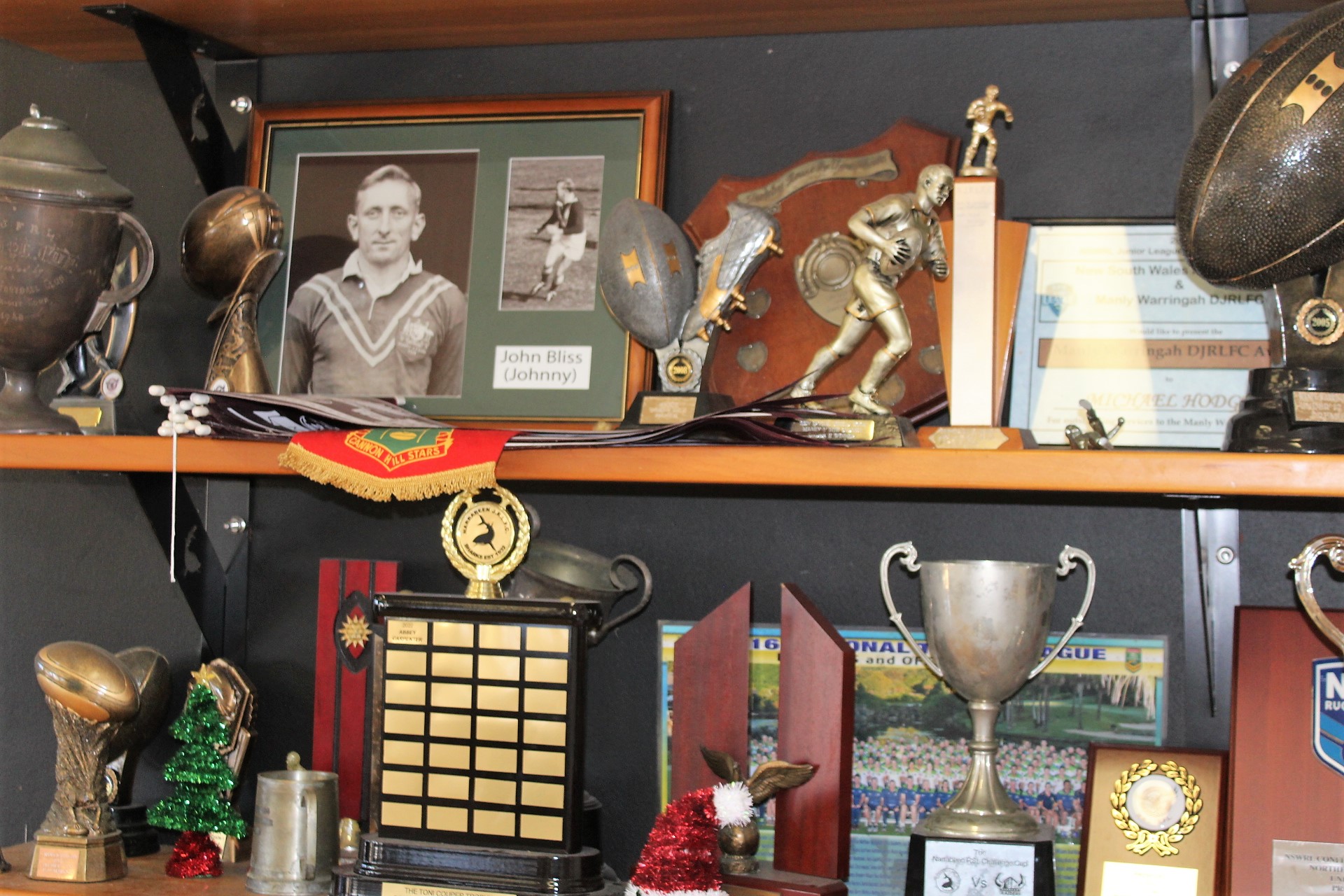 John Charles "Johnny" Bliss (30 August 1922 – 9 September 1974) was an Australian rugby league footballer who played for Balmain, North Sydney and Manly-Warringah in the NSWRL between 1942 and 1951. Born in Queensland but raised right here, Bliss, nicknamed Blistering for his outstanding speed, was a scrawny Manly district junior who started out as a Hooker with the North Narabeen Surf Club. He was shifted to the Wing as 16-year-old after his coach Tom Ballard saw him packing into a scrum and then showing incredible pace in general play. Ballard told him "You're too fast for a hooker boy - you're now on the wing".
As the Manly club wouldn't have a first grade team until 1947, he was graded with Balmain in 1939. He went to North Sydney in 1941 but the Tigers claimed him on residence grounds for the 1942 and 1943 seasons (at the time a player was bound to play for the club in whose city zone he lived and a transfer involved proving residence for 12 months prior).
Bliss's general play, speed and try scoring ability was first recognised in 1945 when he was chosen for City firsts in the annual City vs Country match. He would go on to play four games for City (1945, 1947, 1948 and 1951), scoring three tries.
In 1947 he moved to Manly and played on the wing in their first ever premiership match against Western Suburbs at Brookvale Oval, scoring a try in the teams hard fought 13–15 loss to Wests.
Bliss topped the try scoring for the North Sydney club in 1944 scoring seven tries, including a club record 5 tries in the 51–10 win over Easts in round 9 at North Sydney Oval, and again topped the list in 1945, scoring nine tries. He would also top Manly's try scoring list in 1947 and 1950, scoring 10 tries in each season.
In 1947 he played the first of six games for New South Wales, scoring a total of nine tries between 1947 and his last game in 1951. He was selected to represent Sydney against France during their 1951 tour of Australasia in a match that ended in a 19-all draw. He is listed on the Australian Players Register as Kangaroo number 281.
Also in 1951, Bliss was selected on the wing for Australia for the first test against the Puig Aubert led France at the Sydney Cricket Ground. France ran out easy 26-15 winners in front of 60,160 fans. Following a poor game in which he, along with several teammates were criticized for 'timid tackling' (even though he twice ran down French players saving what looked to be certain tries), Bliss was one of six players dropped for the second test held in Brisbane. This was to be the only international match Bliss was selected for in his career.
Unfortunately for Bliss, his form dropped off after his one-off test appearance and he was dropped from first grade before the semi-finals. He returned to the side for the final but missed selection in Manly's first ever grand final appearance against South Sydney that year through injury, Manly-Warringah went down 14–42 to Souths at the Sydney Sports Ground.
In total Bliss played 121 games and scored 78 tries during his NSWRL career. After his retirement, Bliss was the speed guru to several Manly players, including Bob Fulton, Graham Eadie, Russell Gartner and fellow beach sprint champion Nick Yakich. - Wikipedia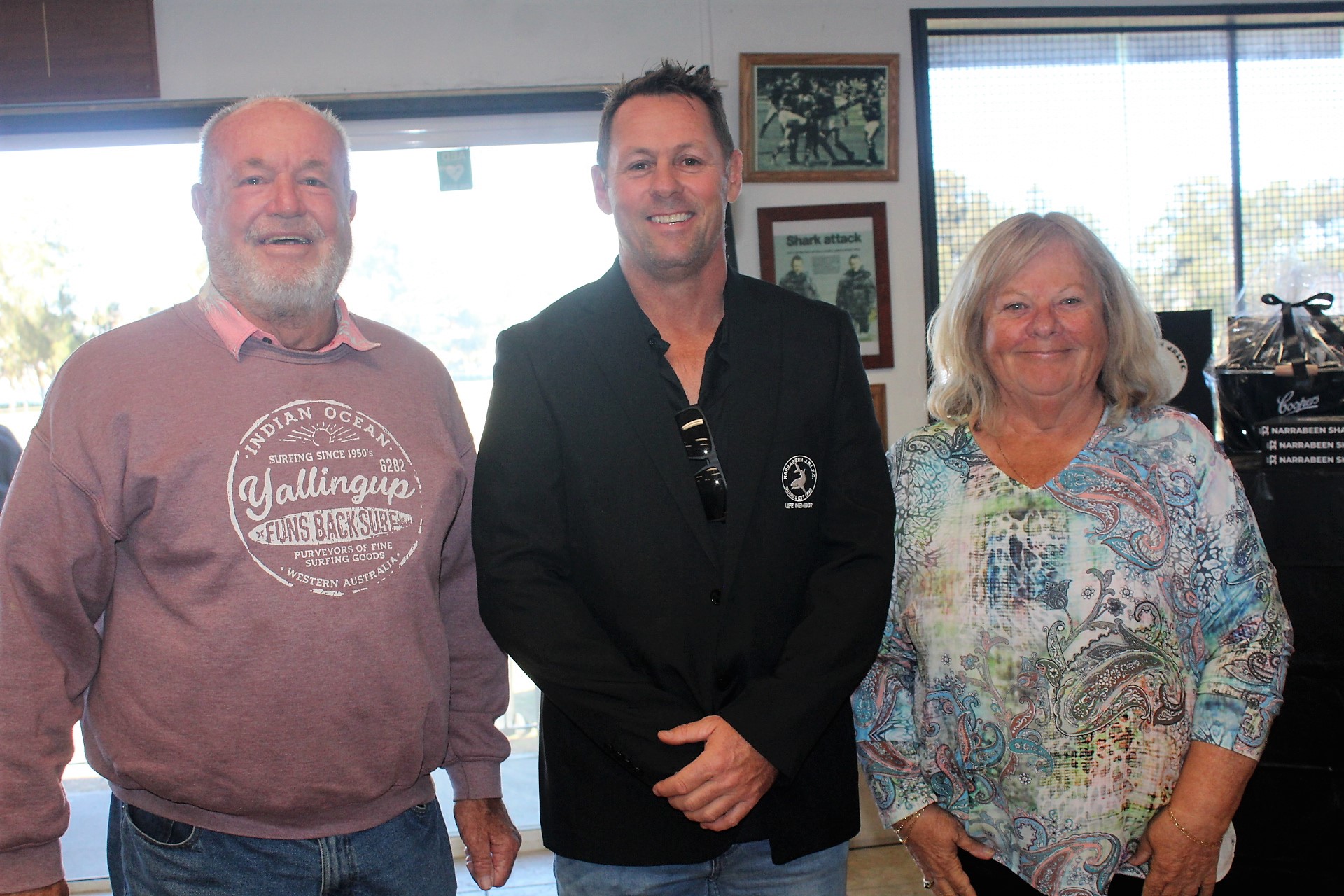 Mick Marlin, Shane Bullock and Fiona Murphy - Mick and Fiona are legendary Narrabeen historians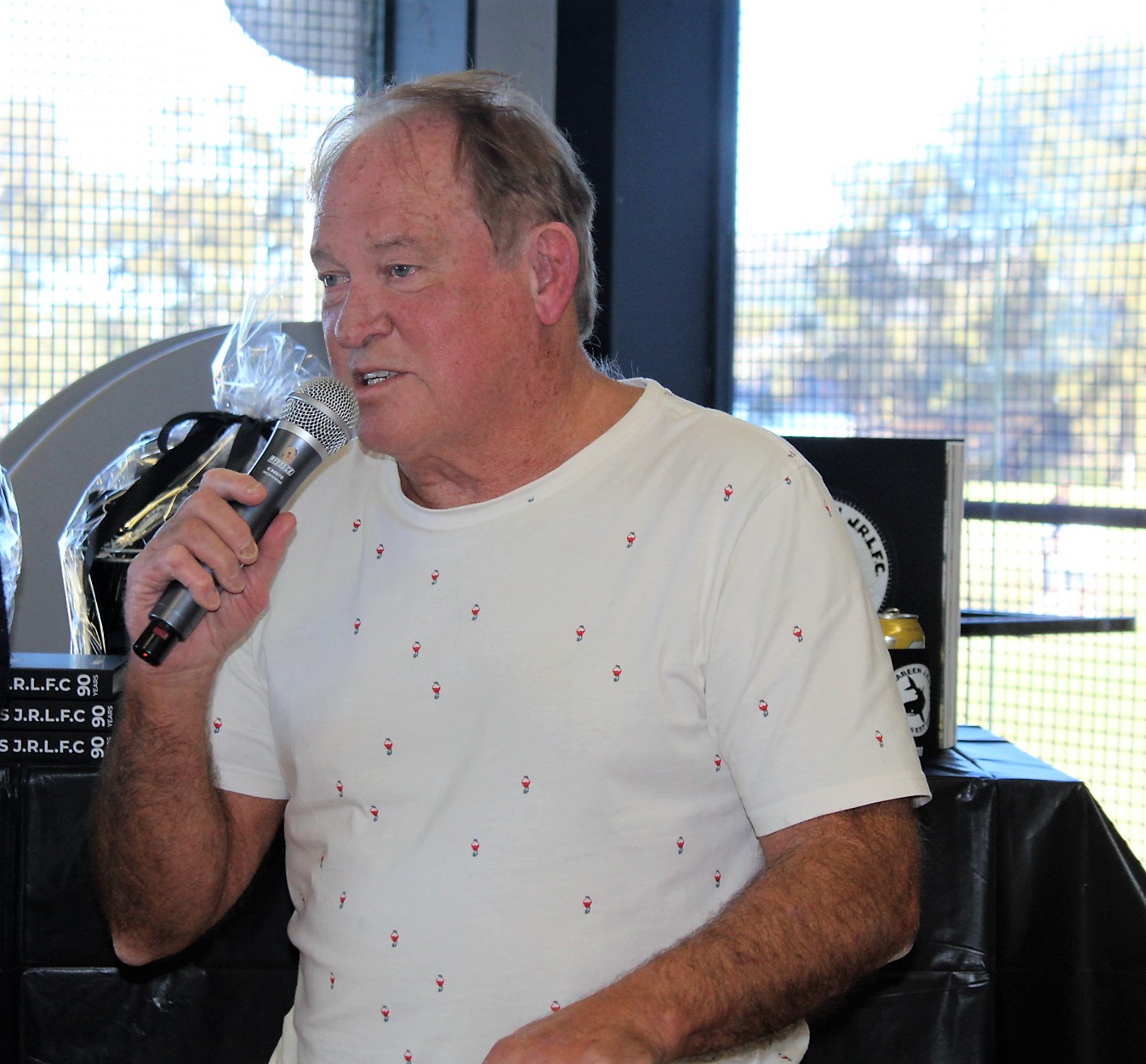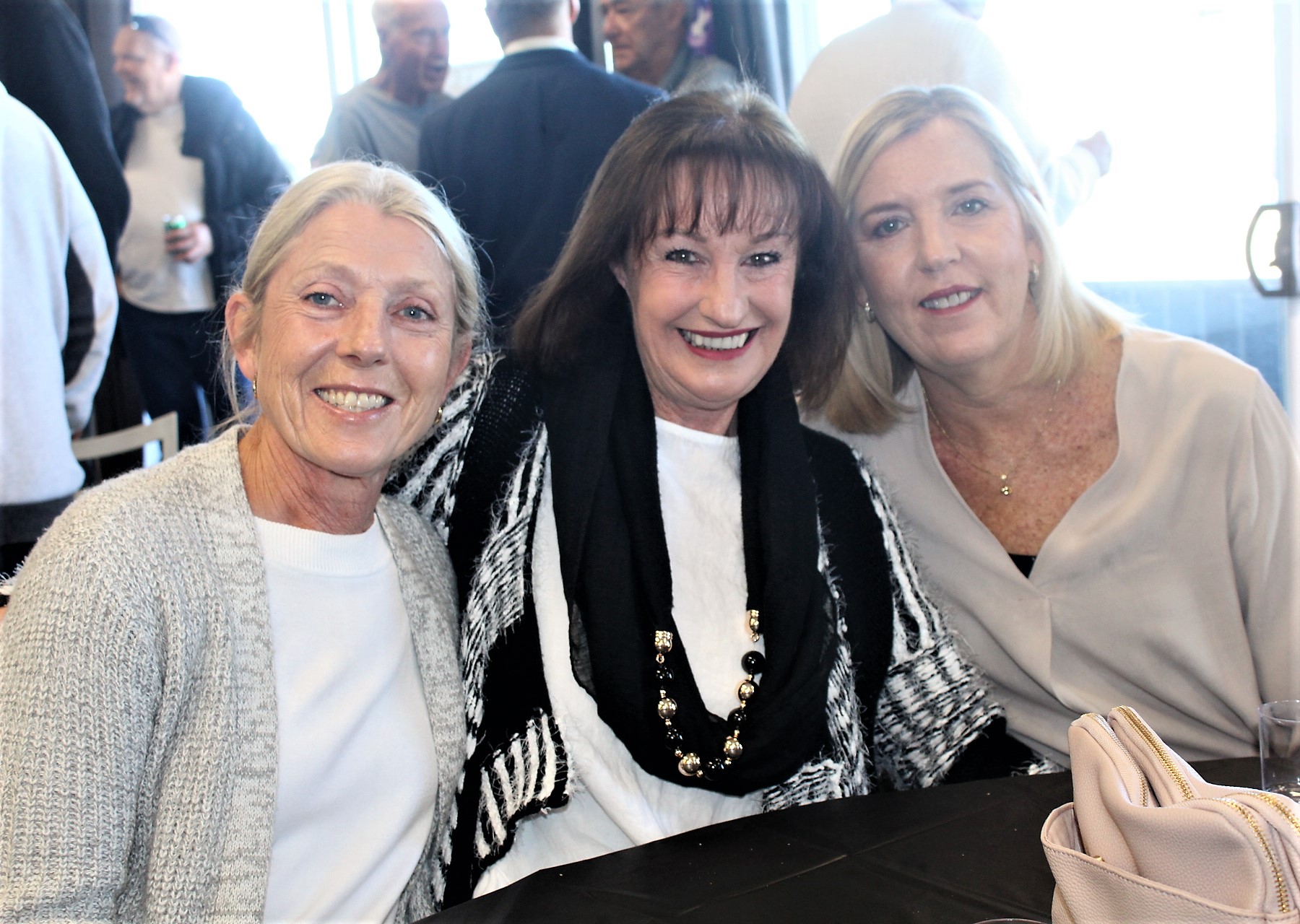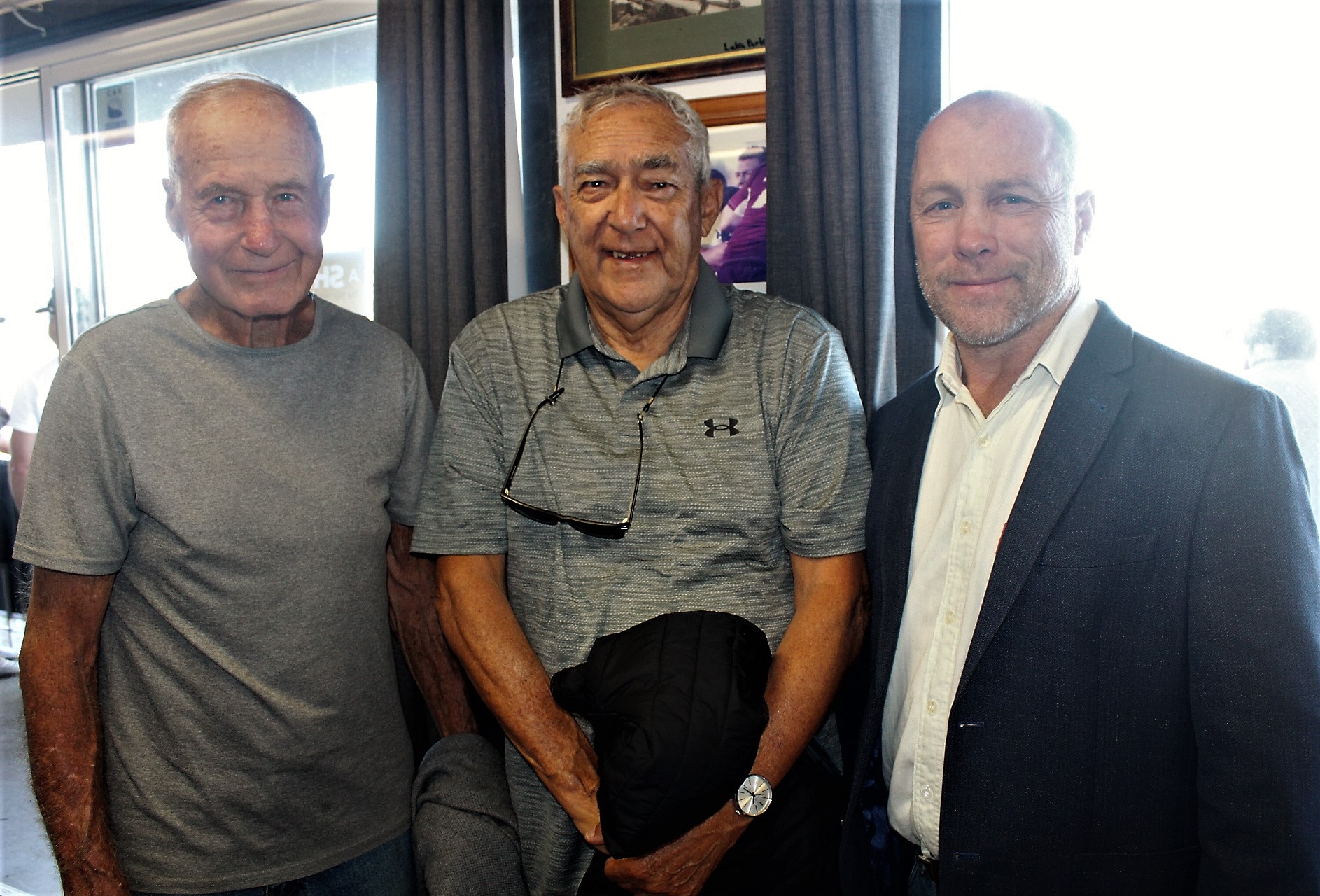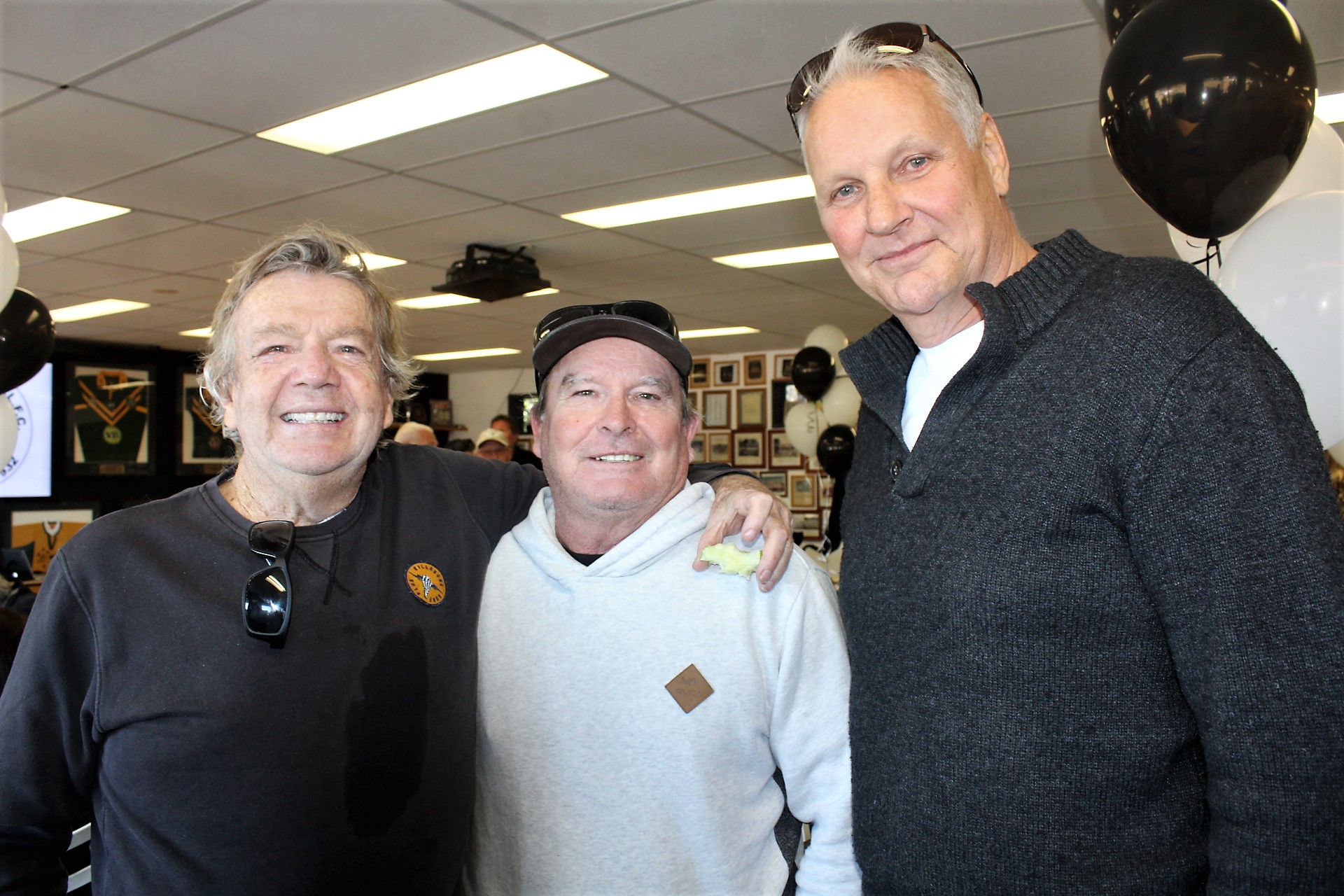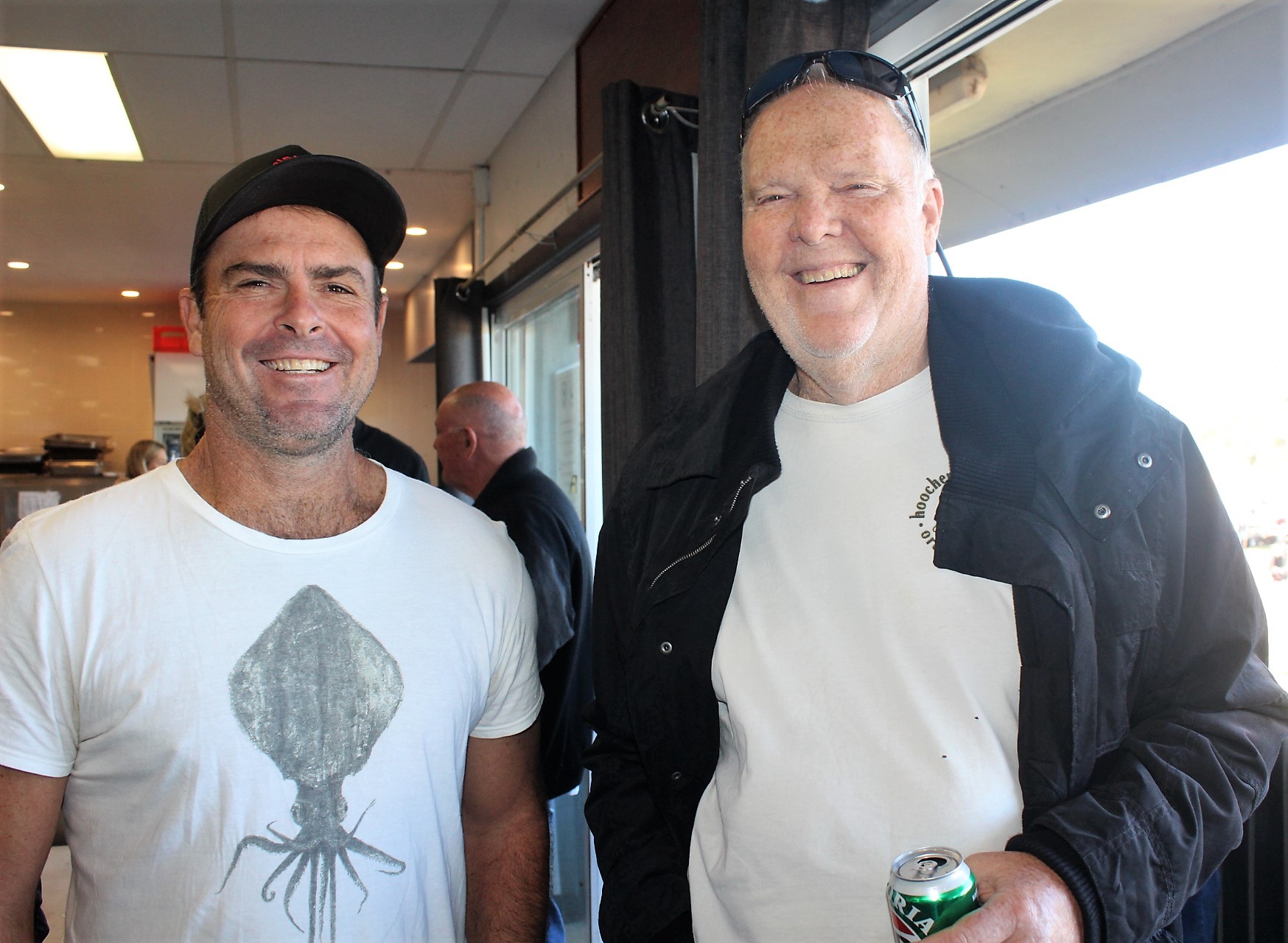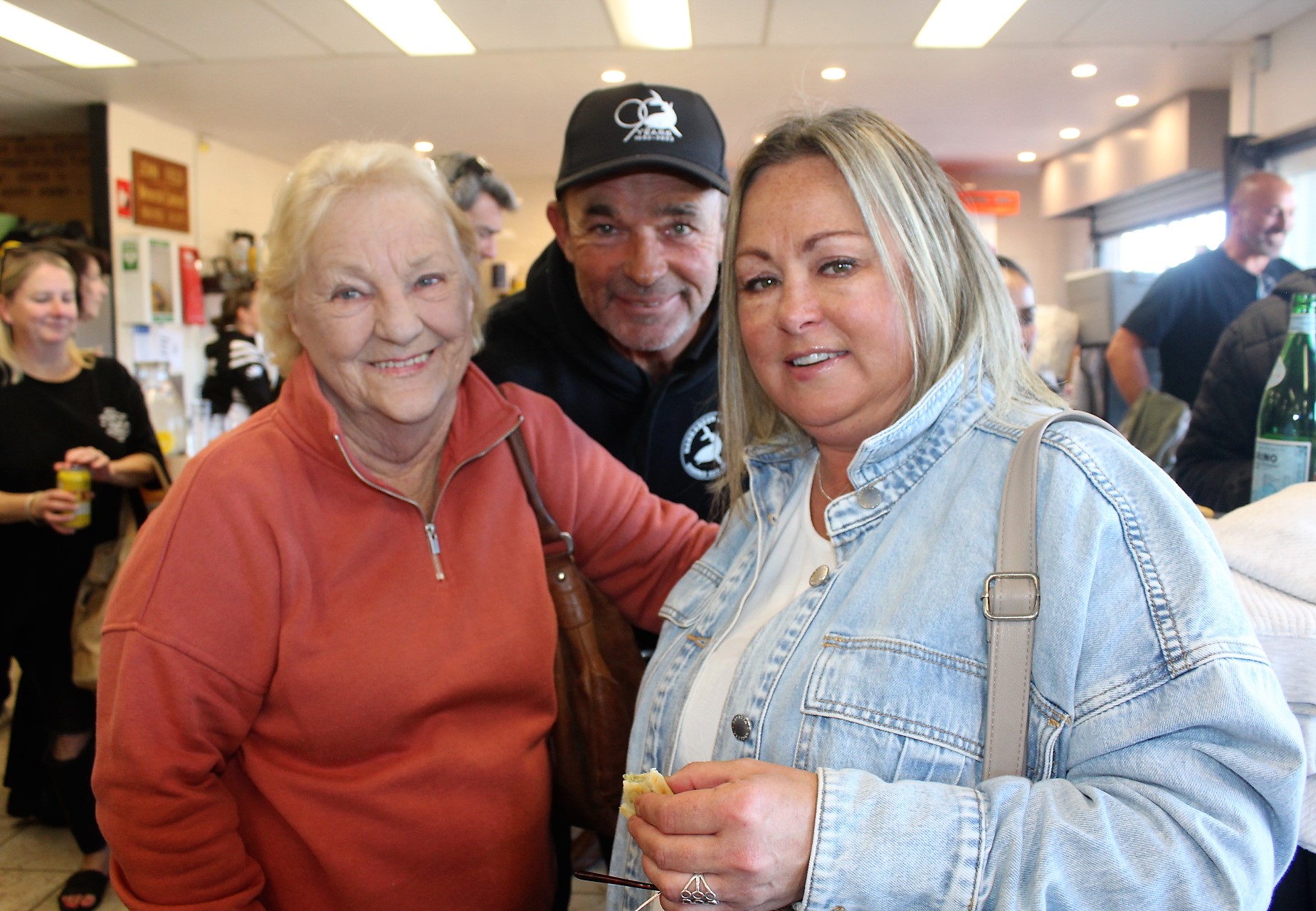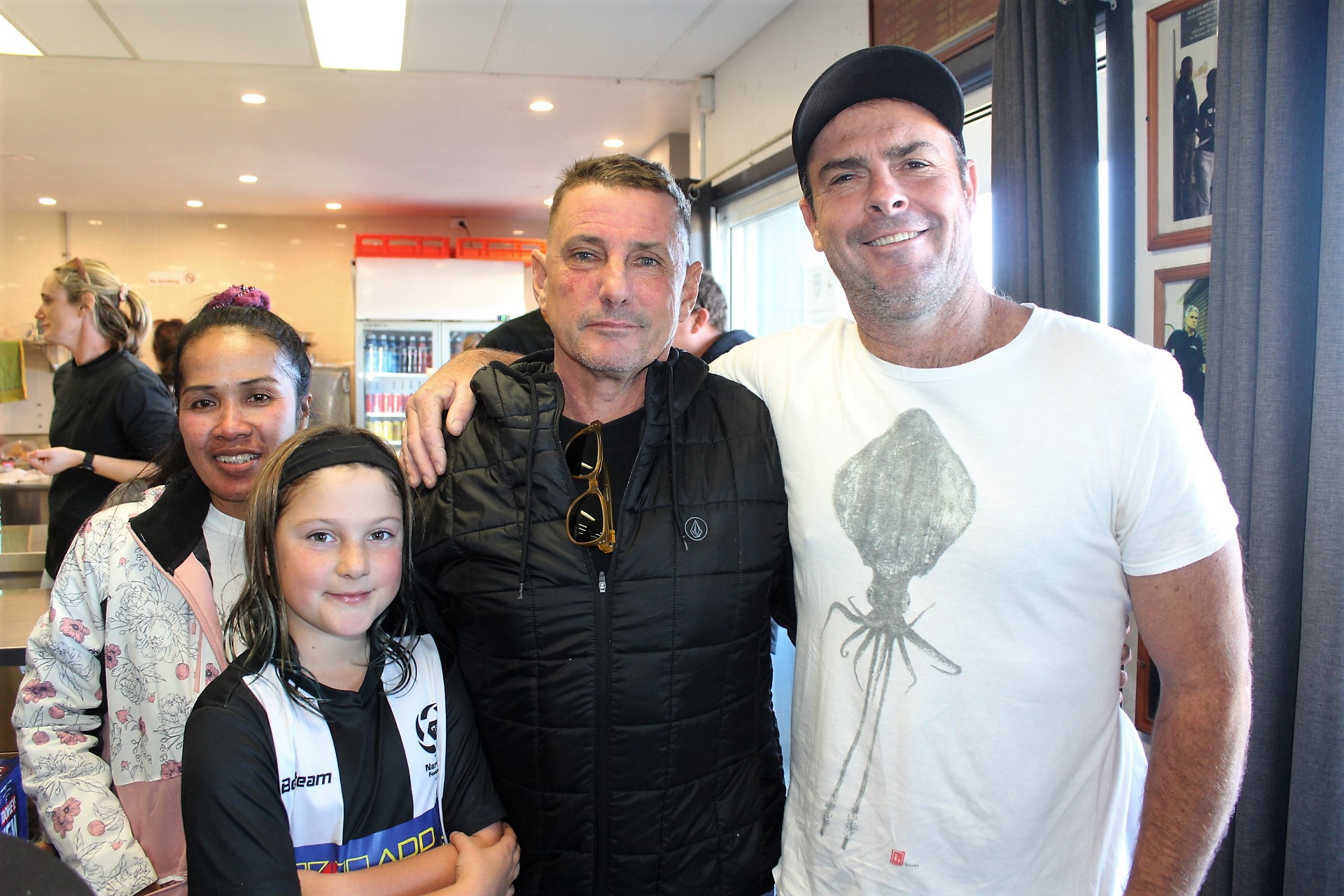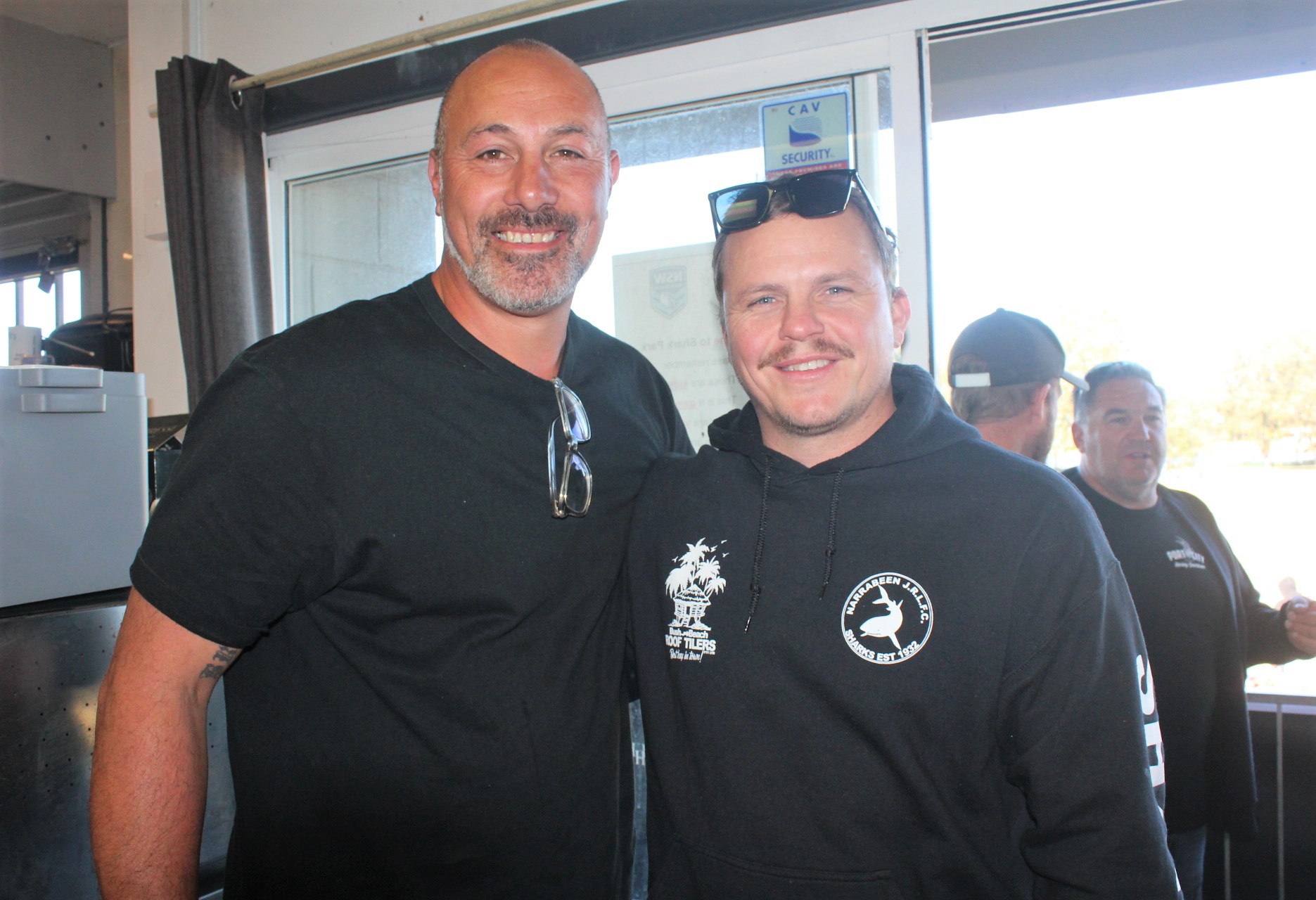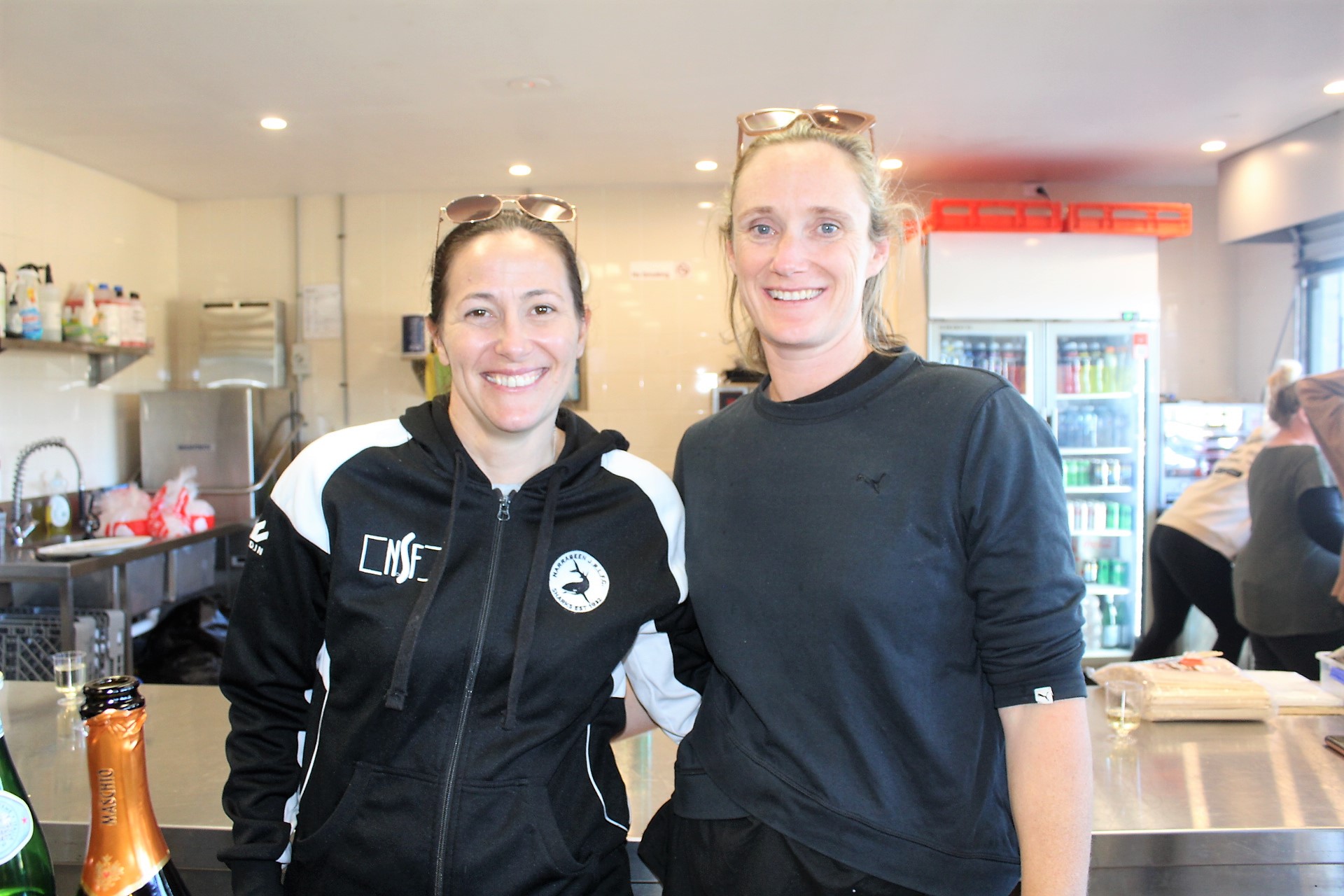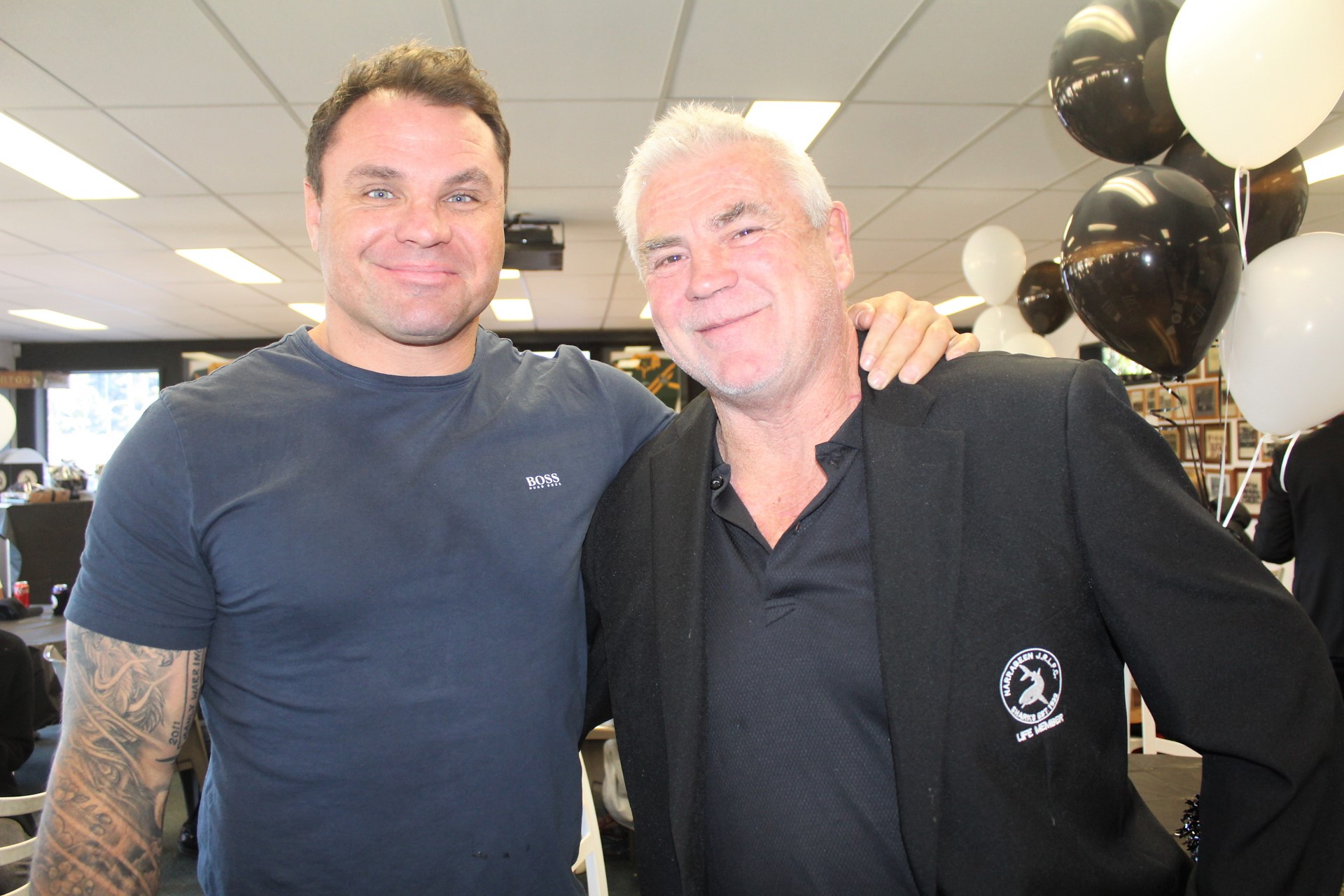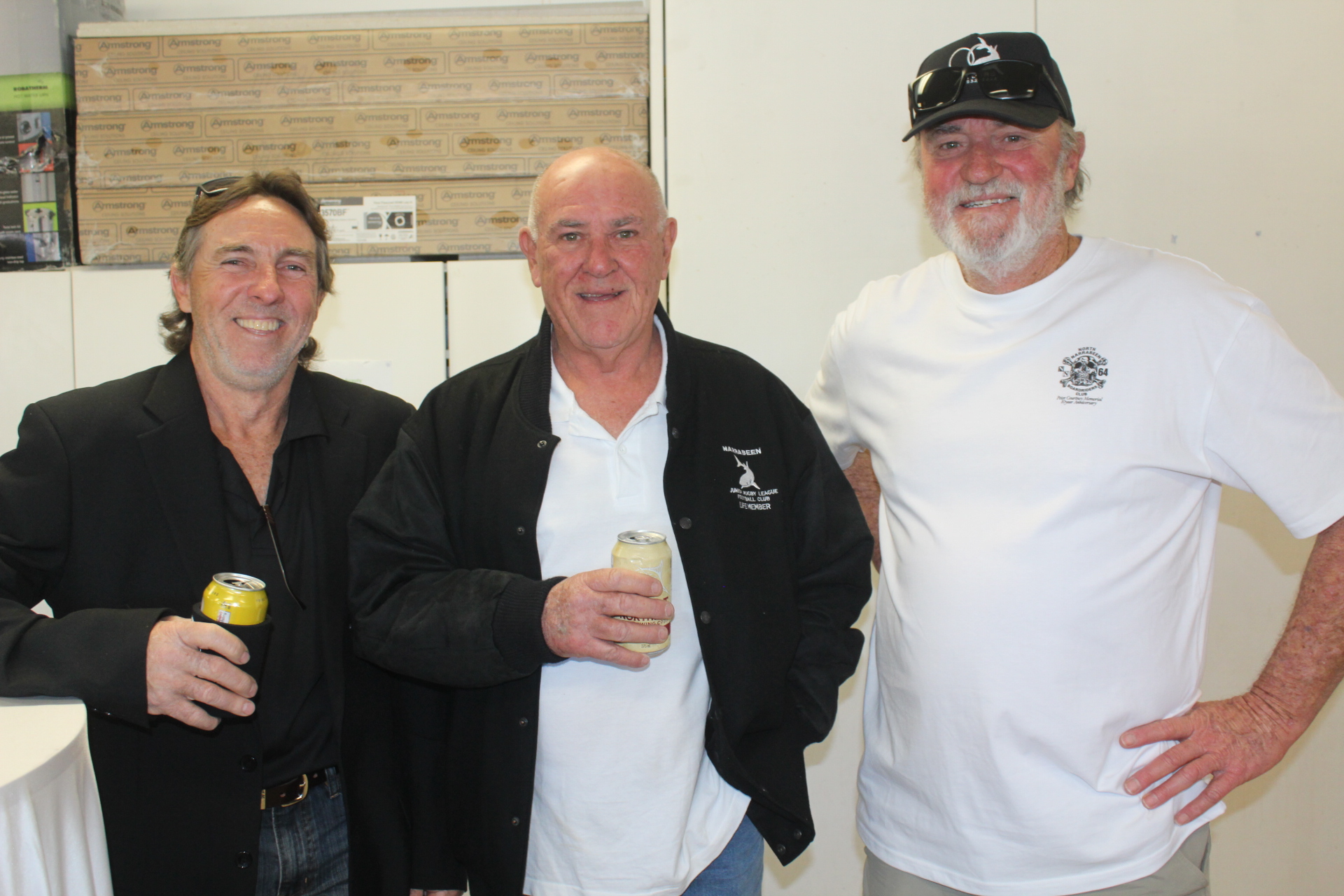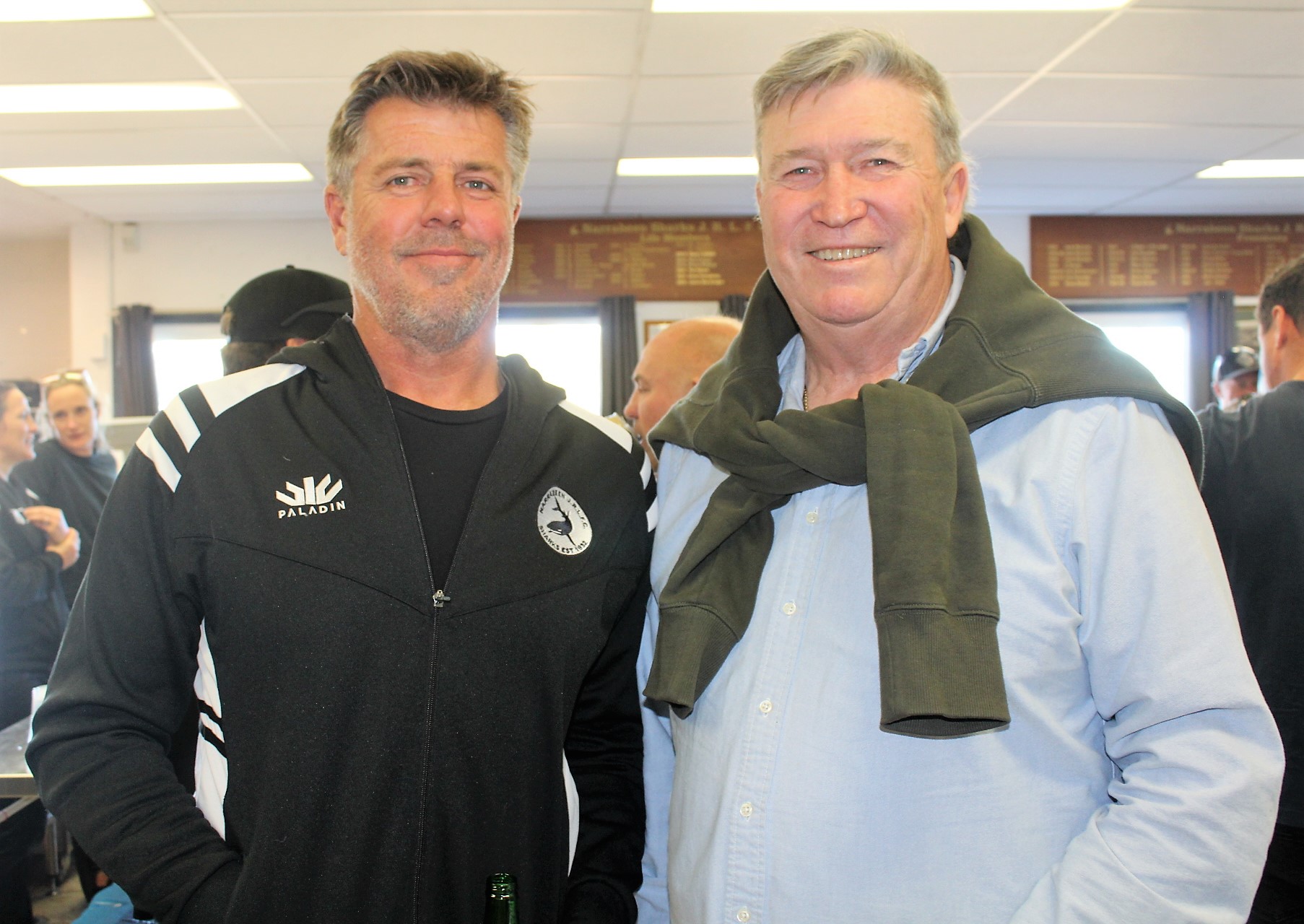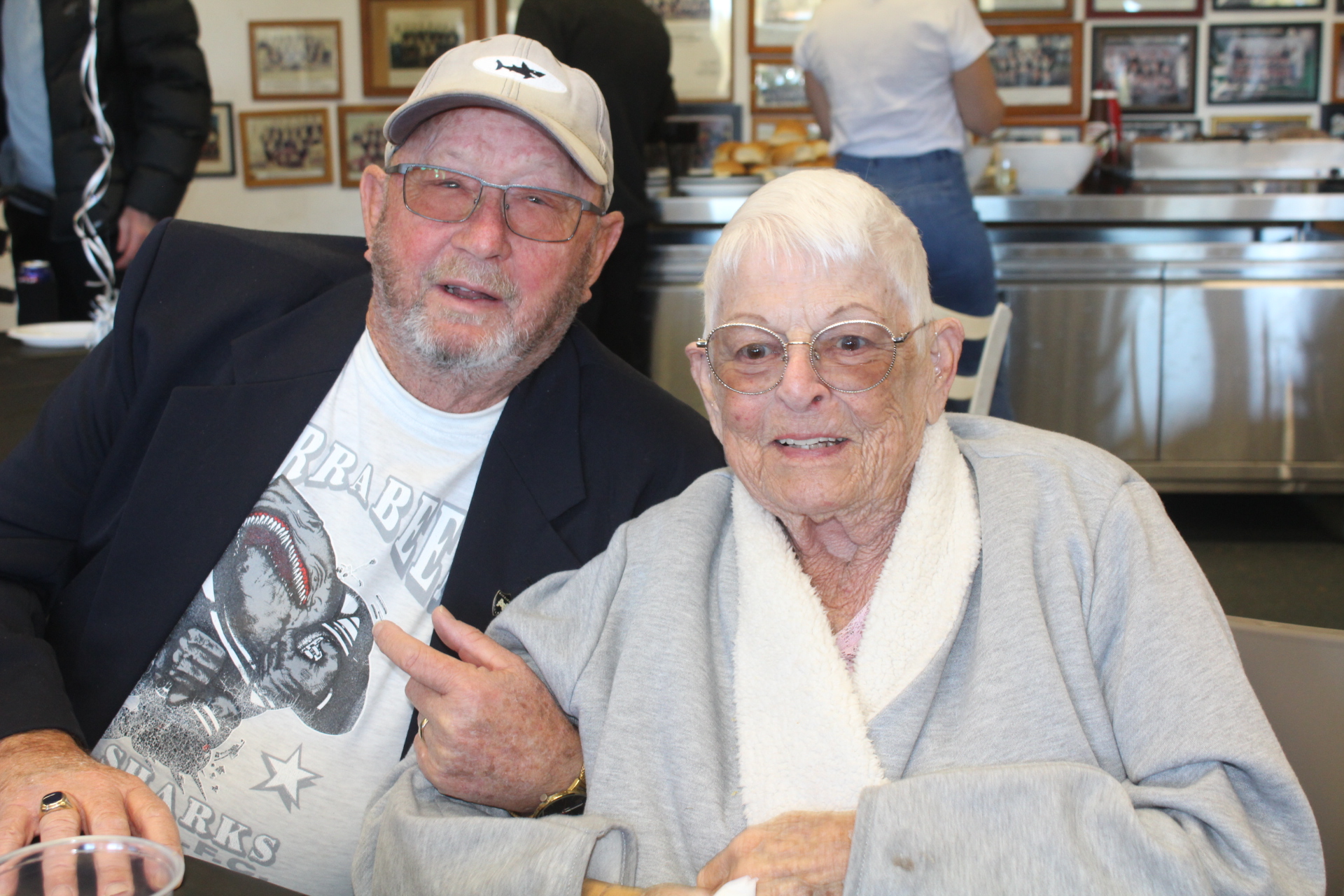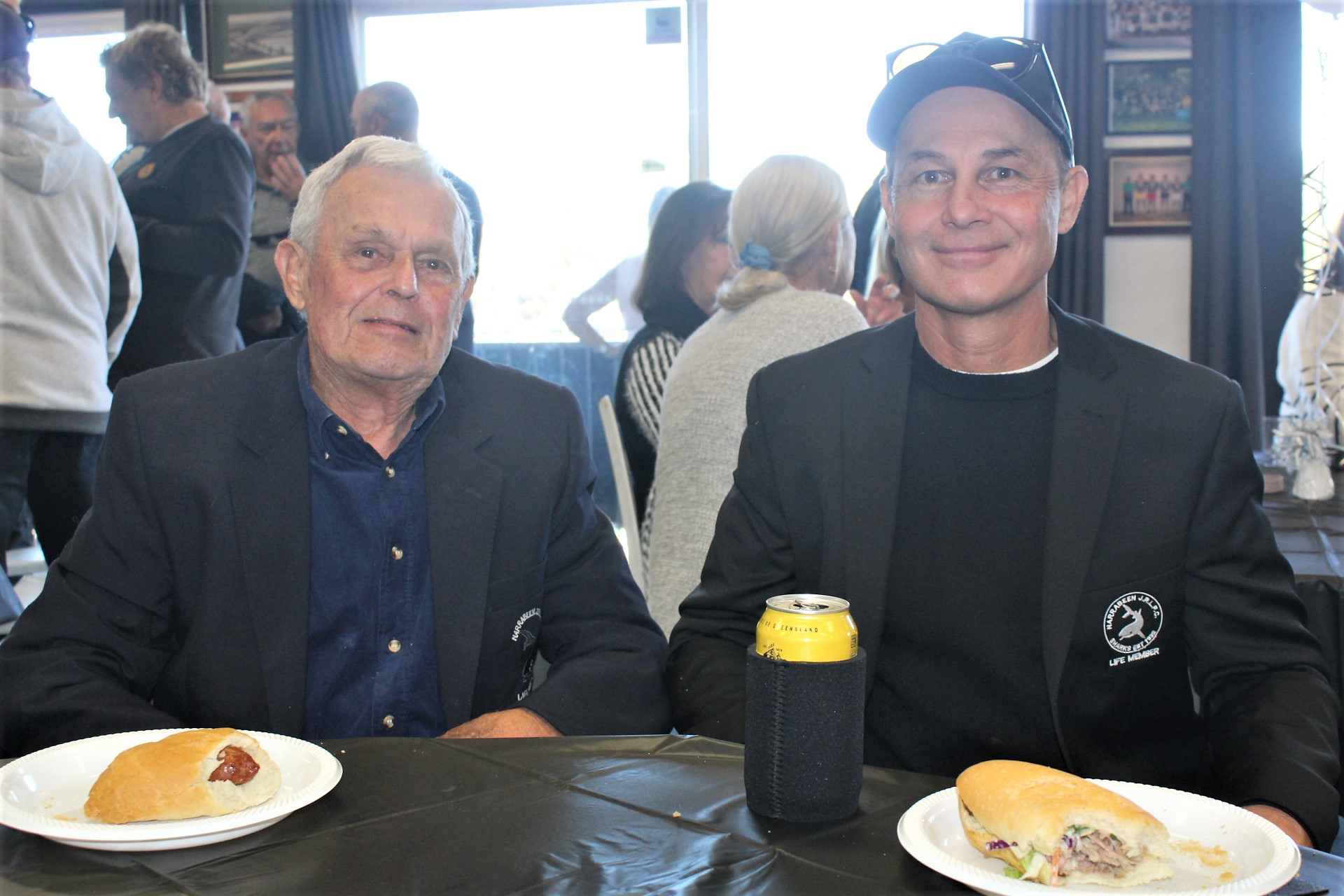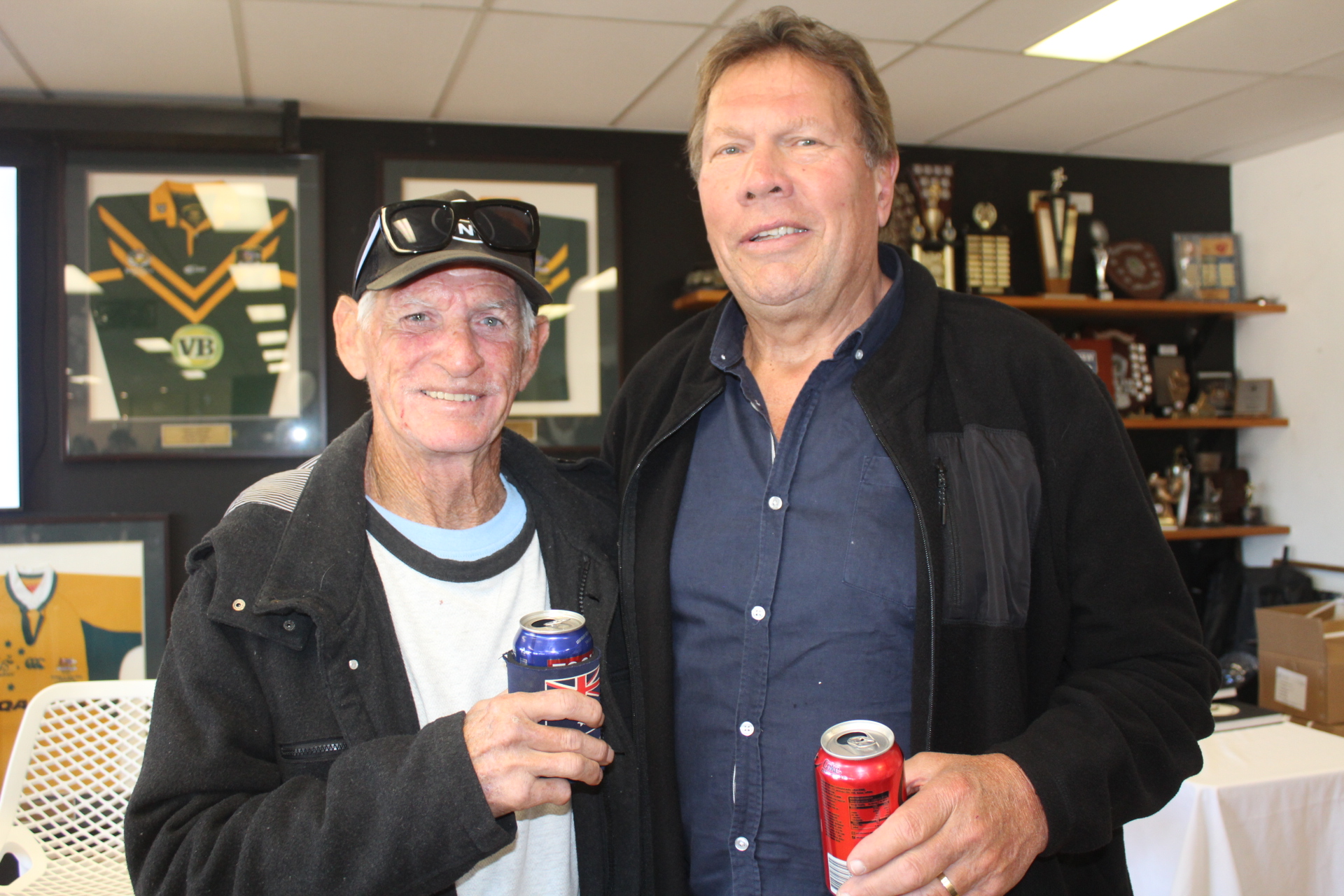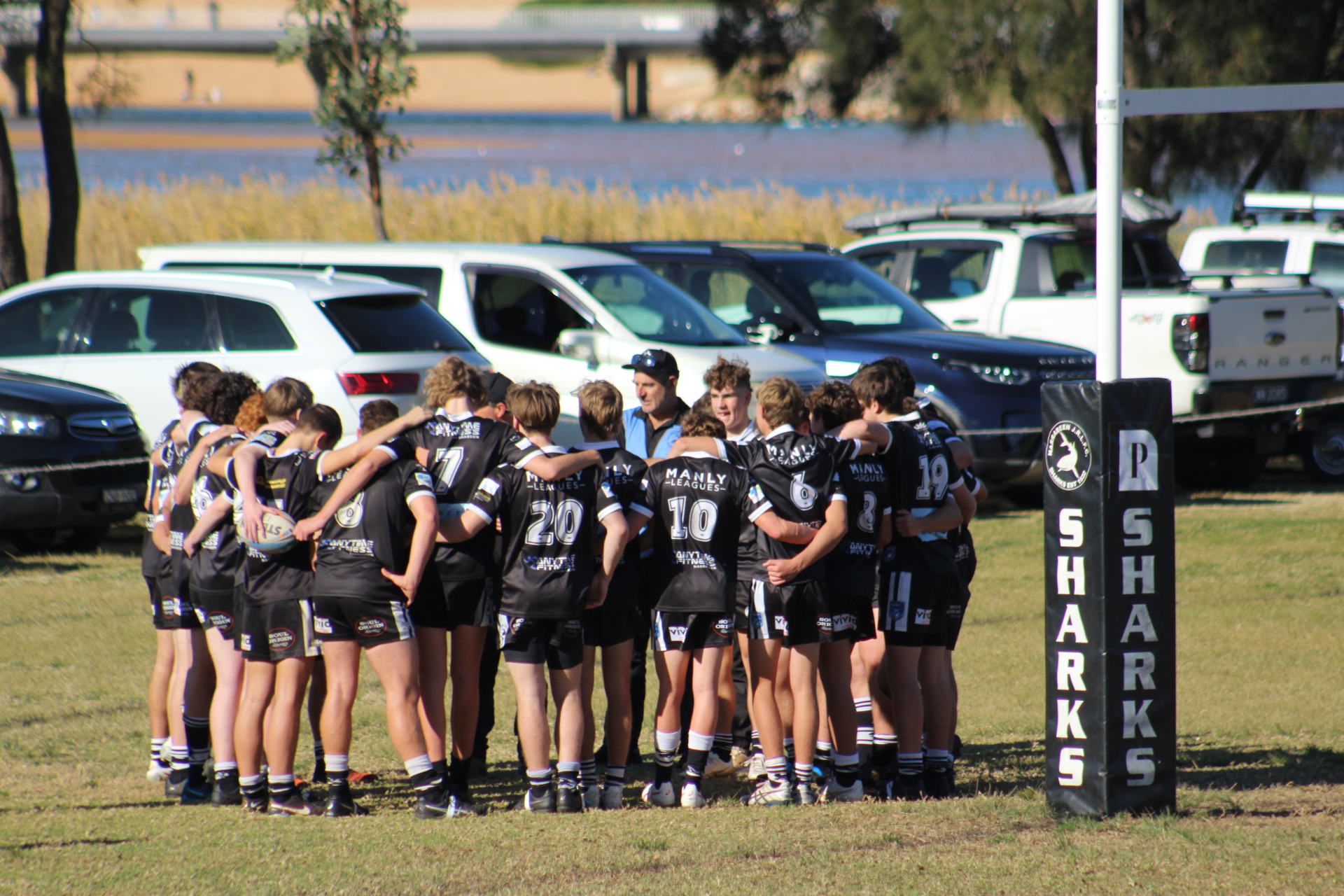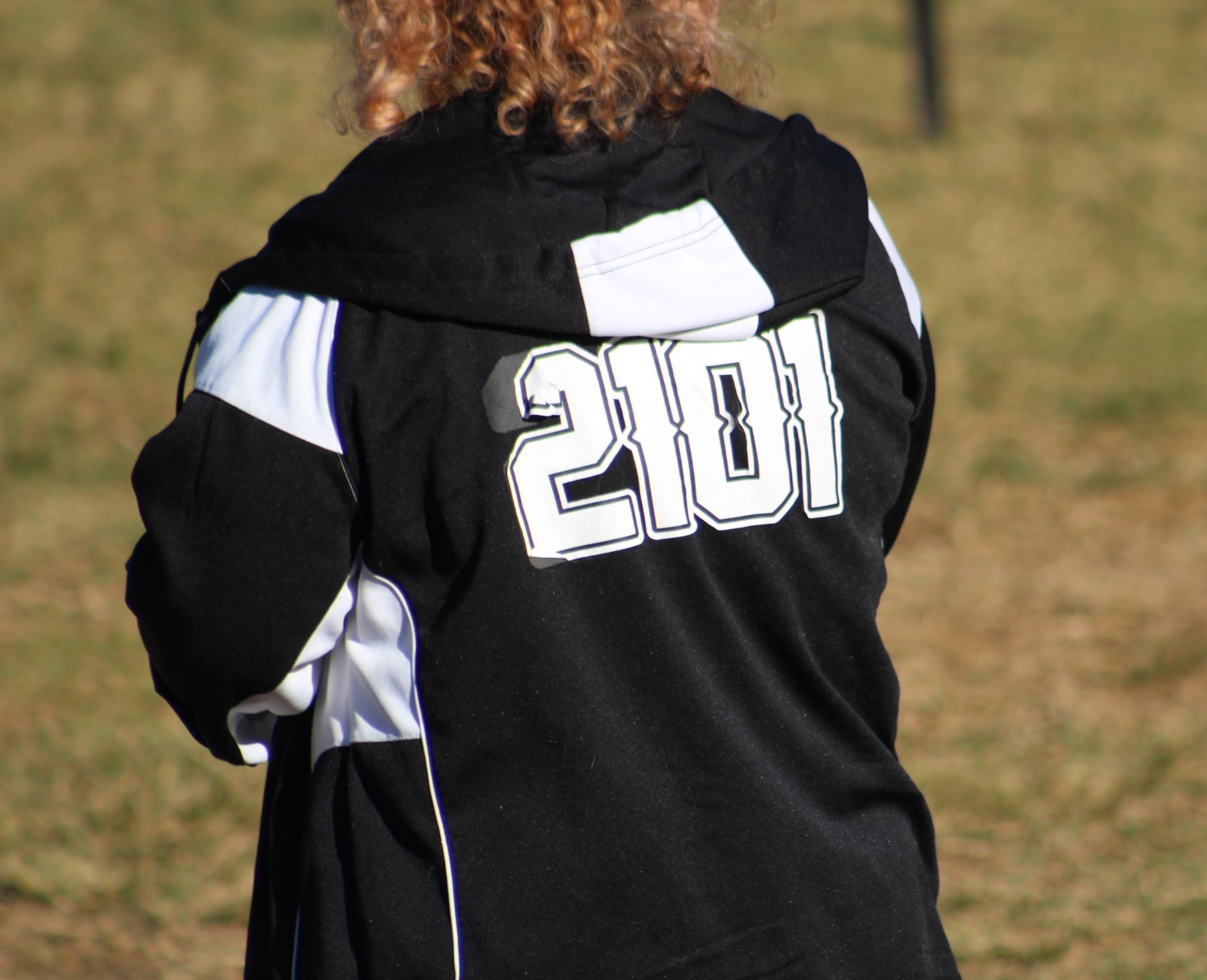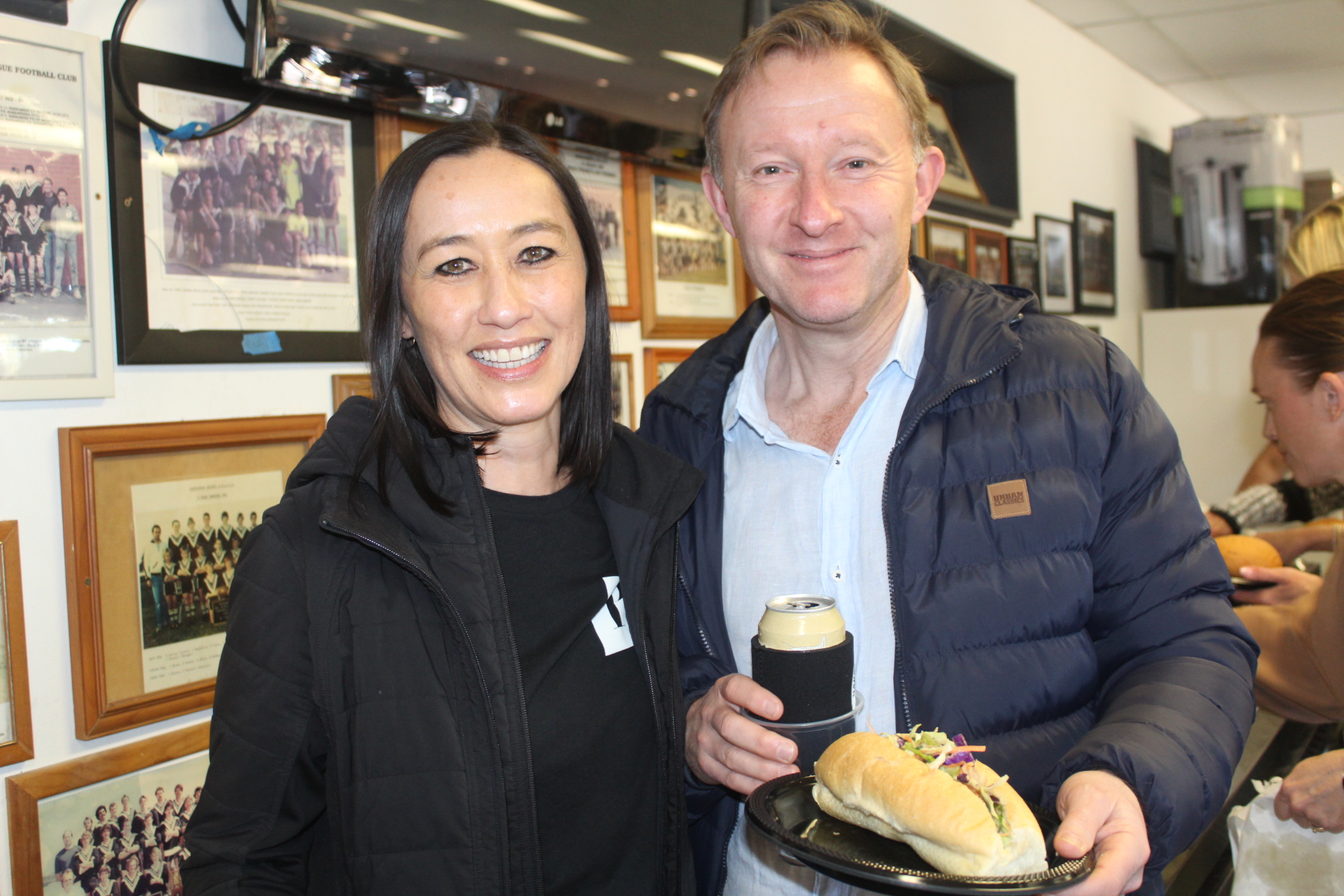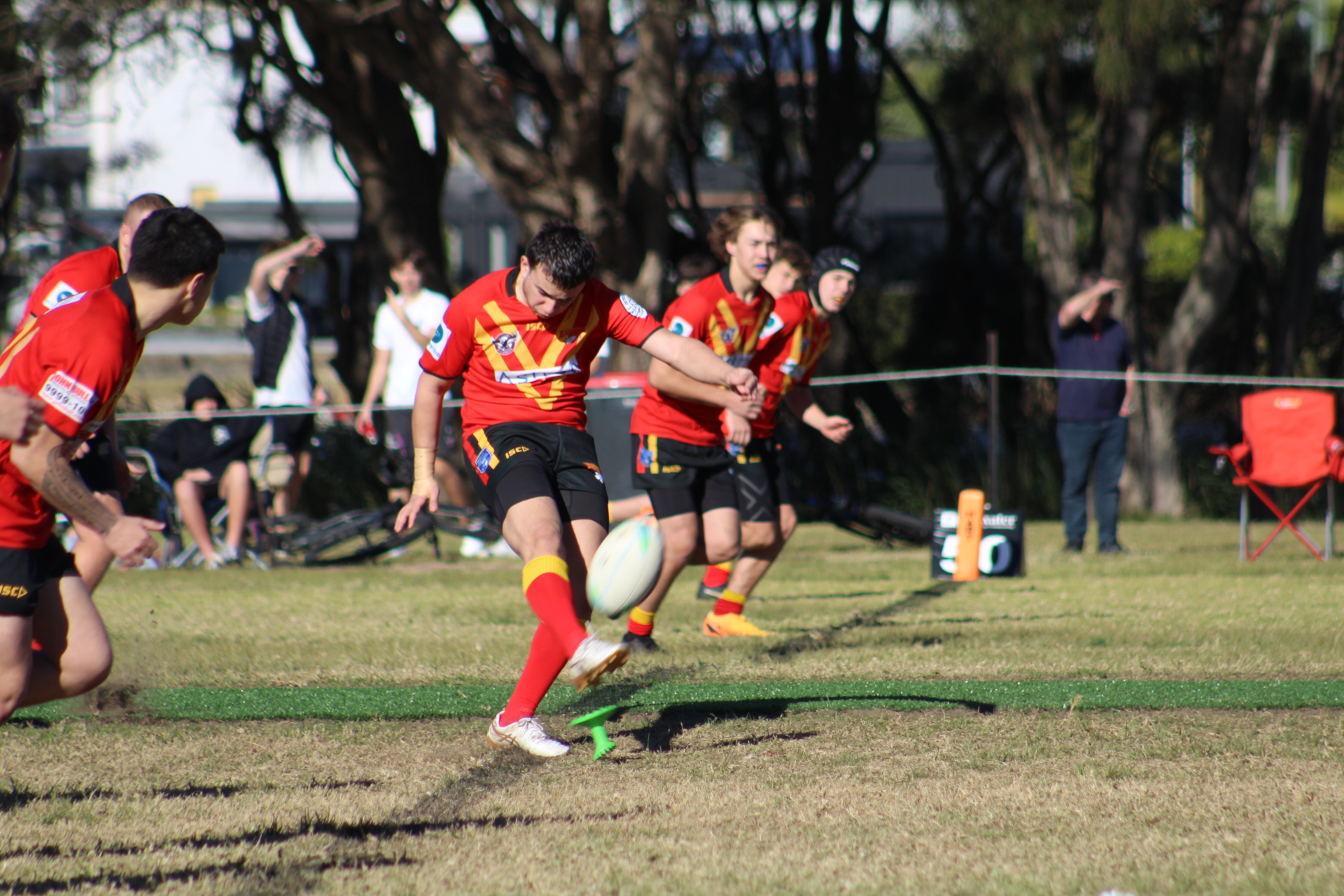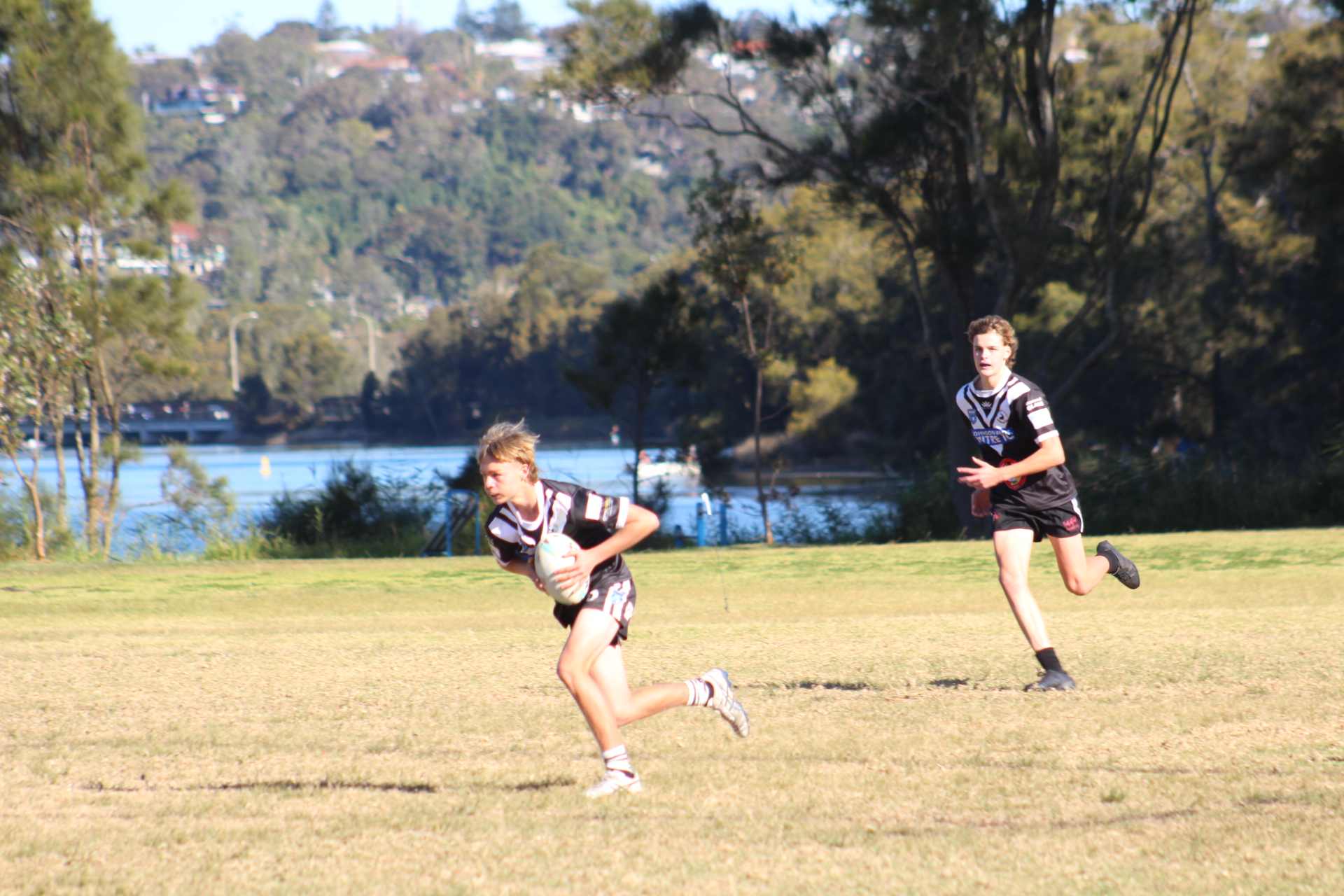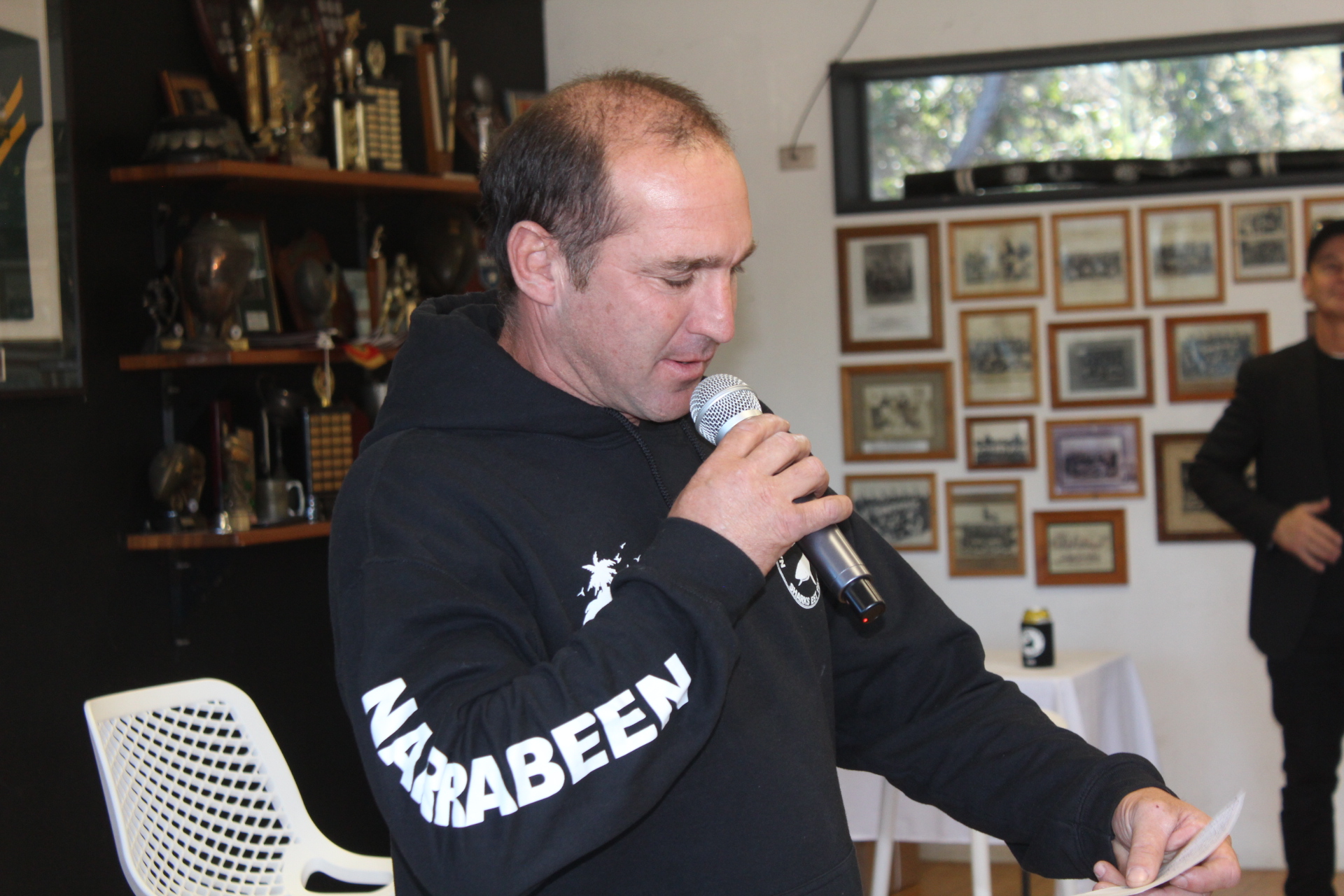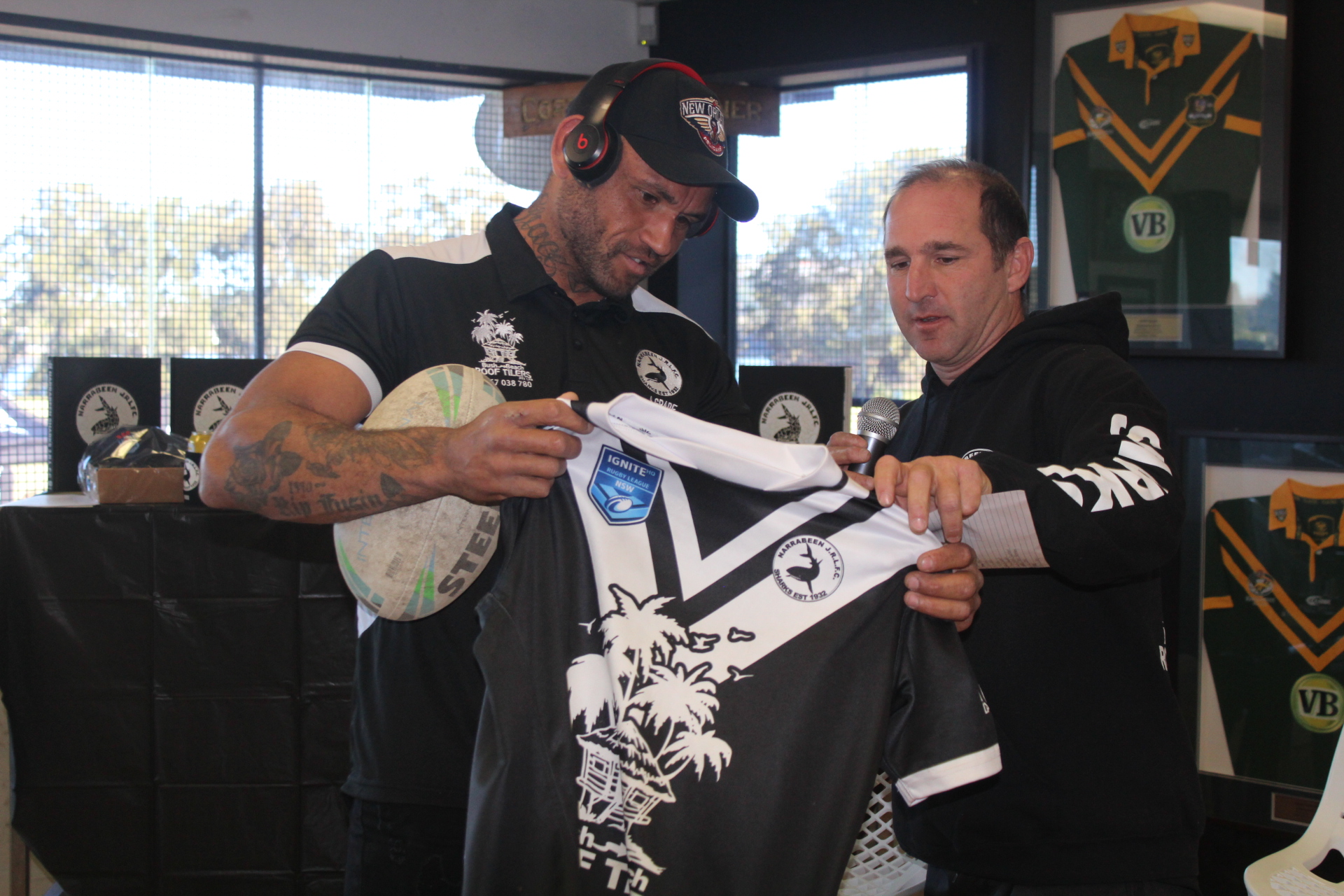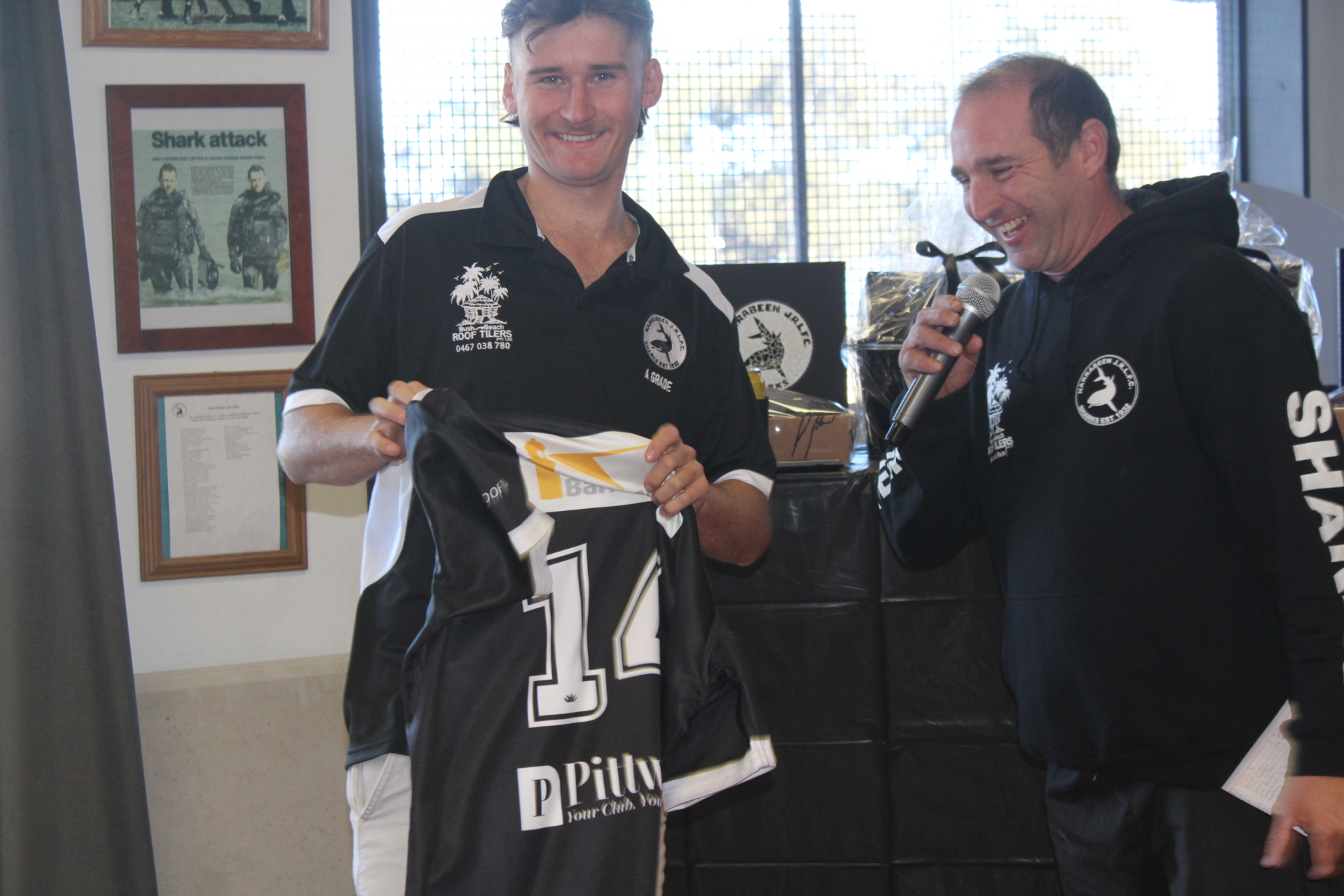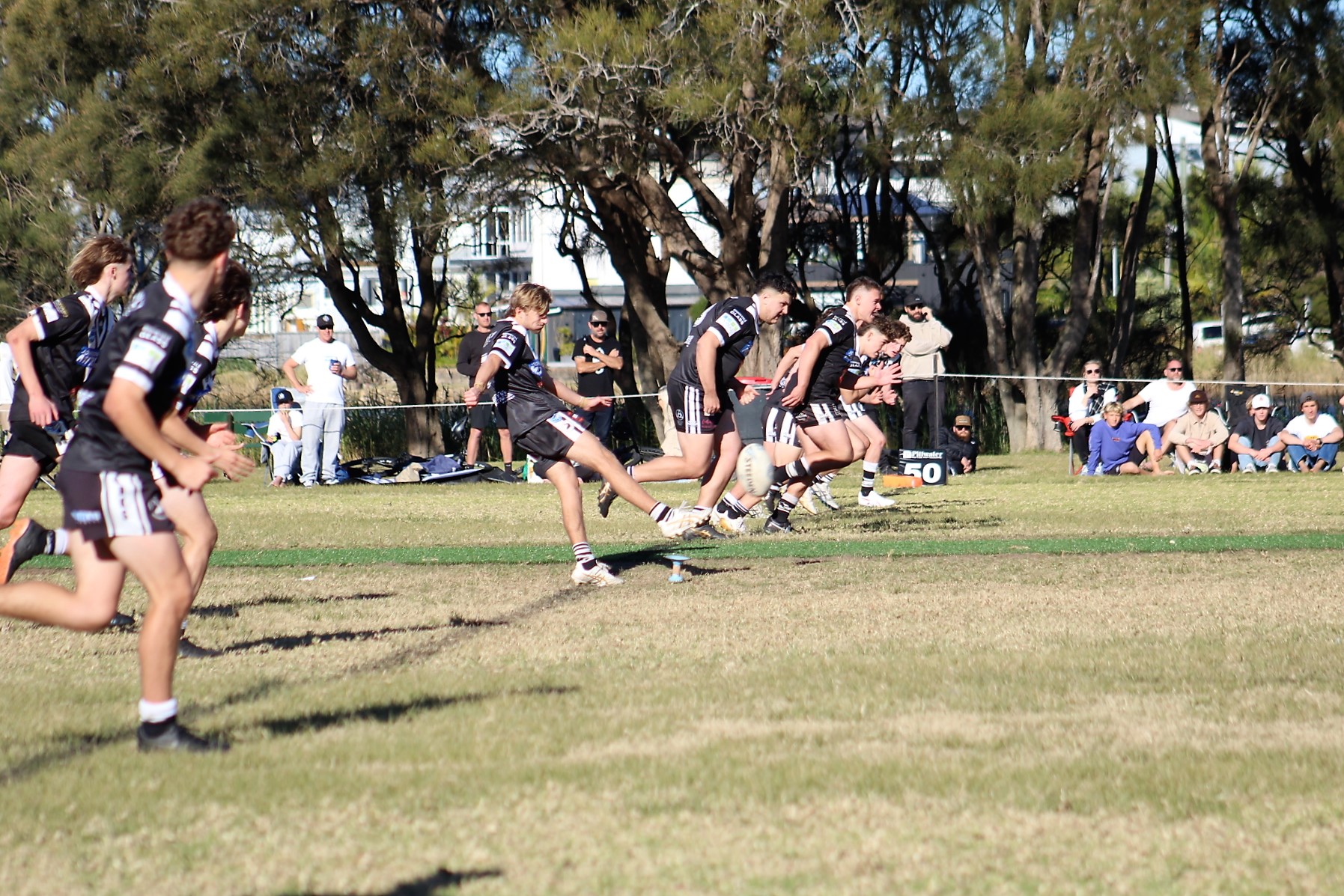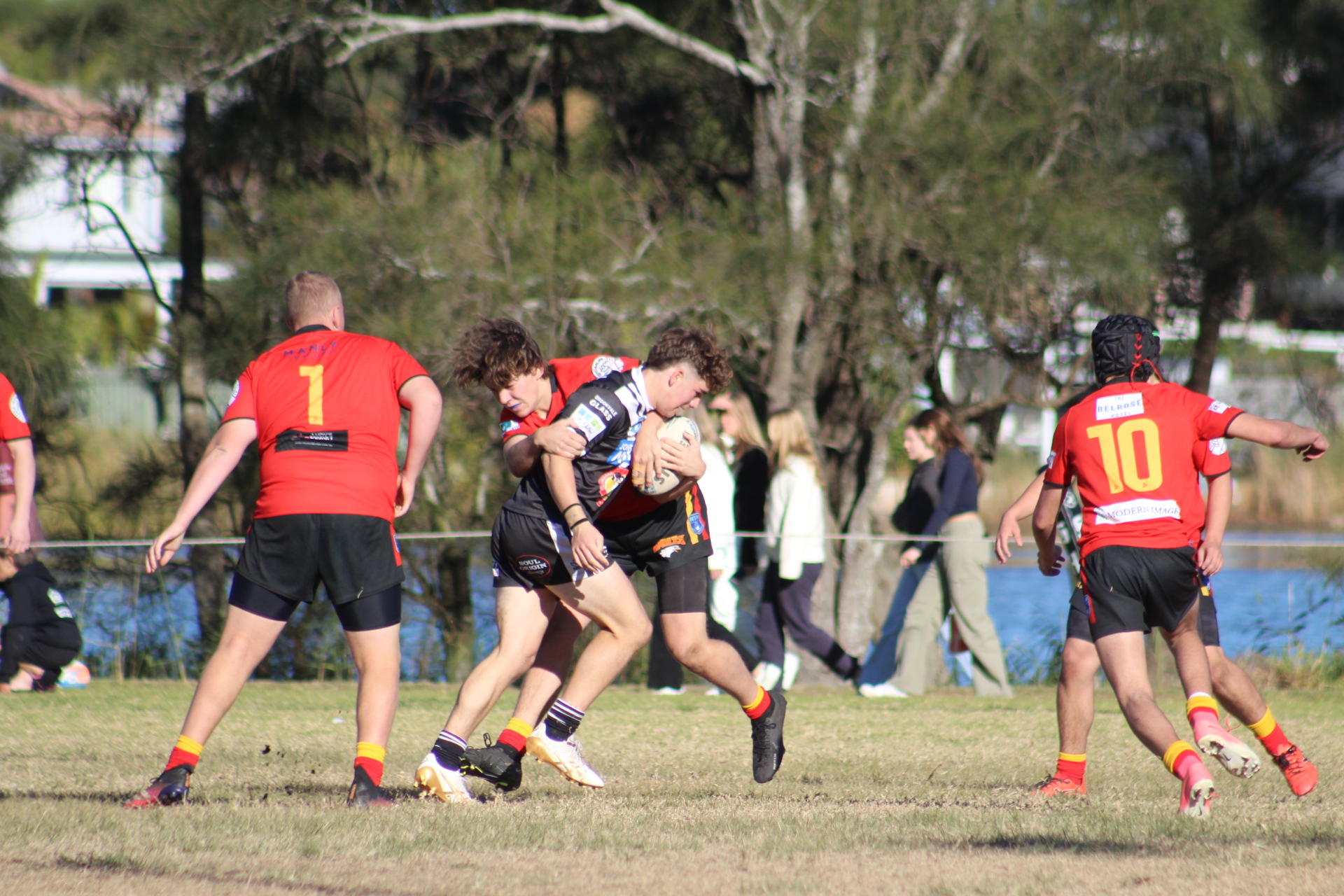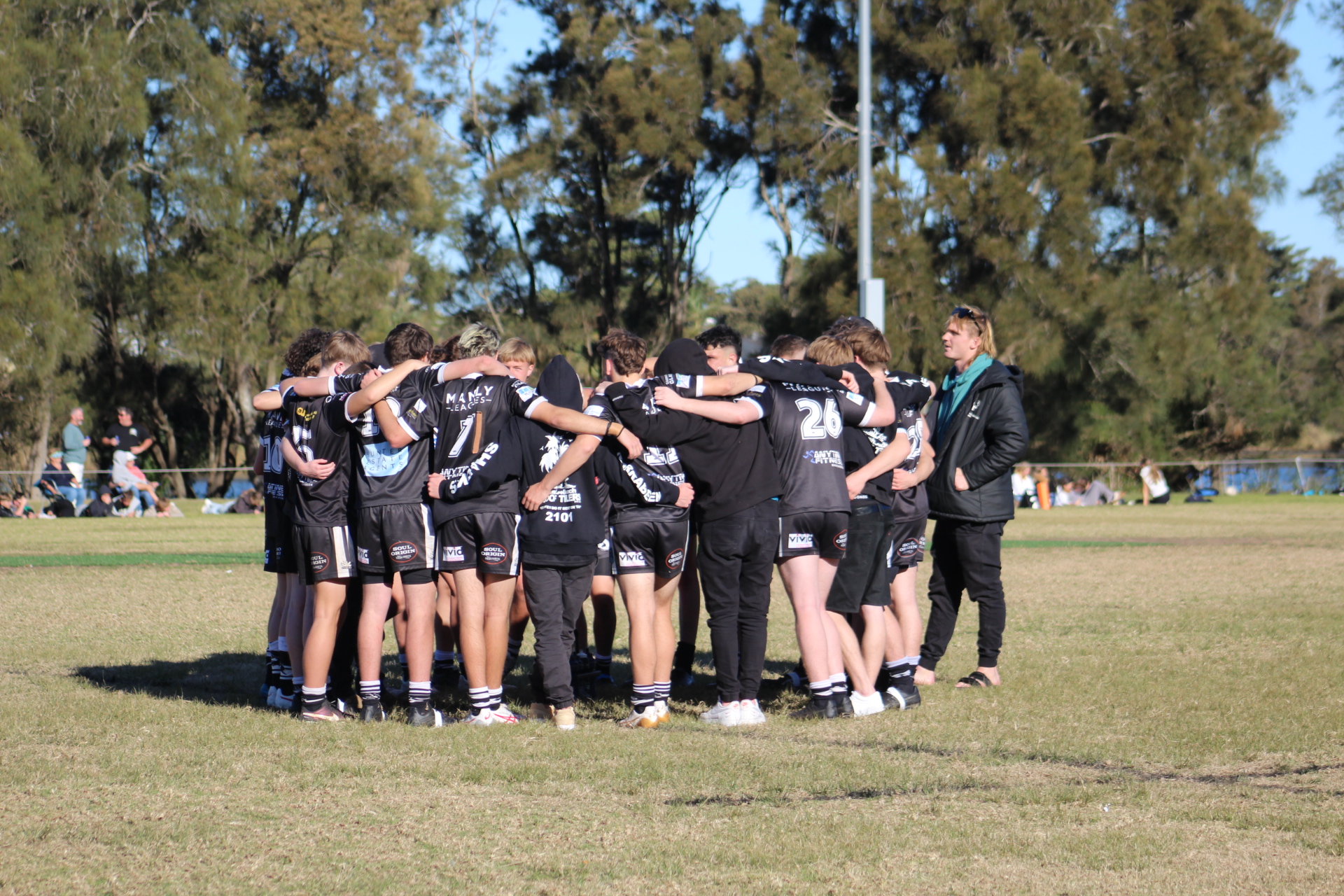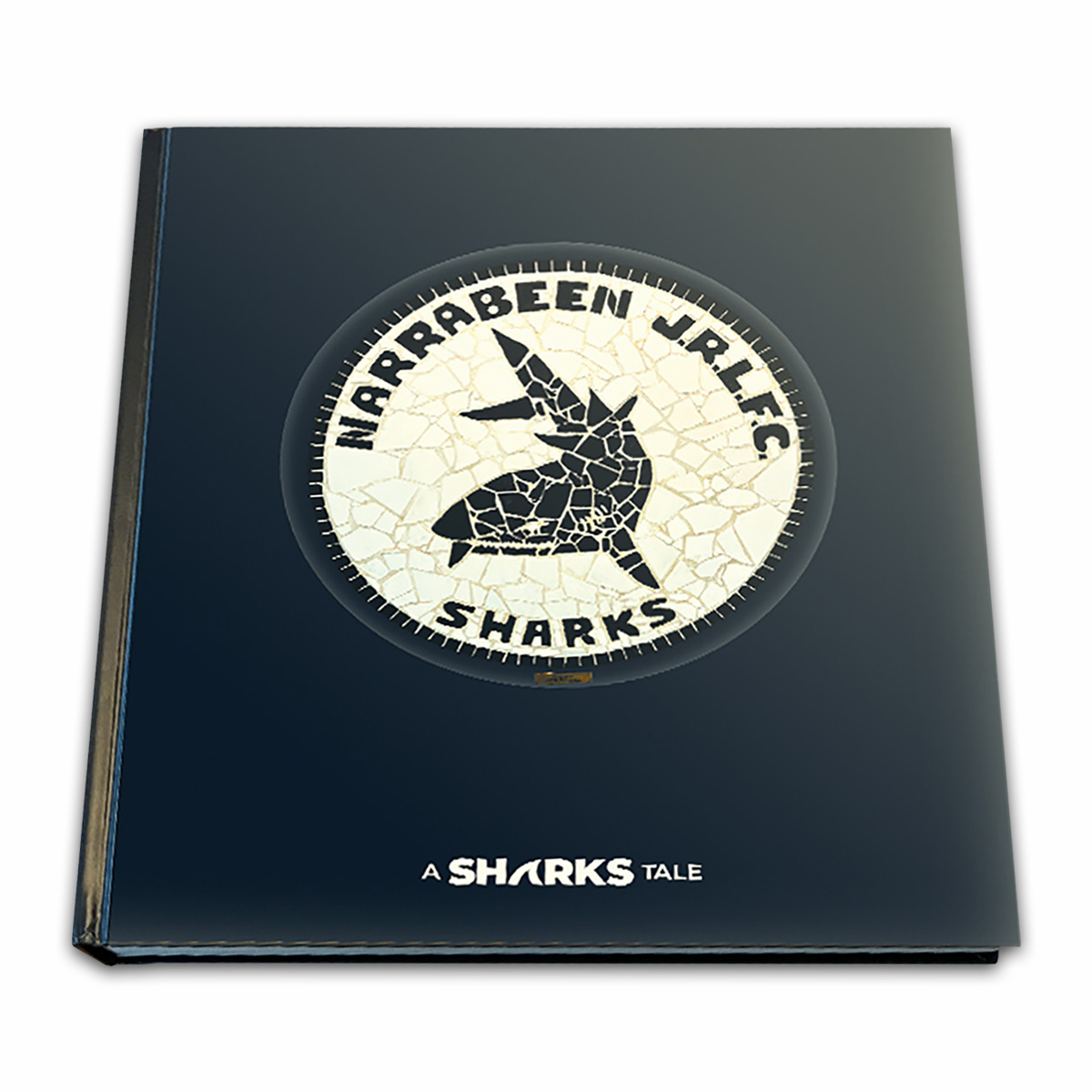 Notes
Kenneth Richard "Arko" Arthurson AM (born 1 October 1929) is an Australian rugby league football identity. Affectionately known as "The Godfather of Manly".
The first State of Origin game was played on 8 July 1980 at Lang Park in Brisbane. The Maroons won 20-10. Legendary Queensland players Arthur Beetson, Wally Lewis, John Lang, Kerry Boustead, Chris Close and a young Mal Meninga (then only 20 years old) played on the day.
This first Origin match was controversial, with players representing their 'state of origin' rather than the state where they currently played i.e. the state in which he was born or in which he started playing registered first grade rugby league football. Many of Queensland's best players had been lured by the higher paying New South Wales clubs, so it made for a tense match.
It was the third match of 1980's annual interstate series between the Blues and the Maroons, and was only allowed to go ahead because the first two matches (and the title) were already won by New South Wales under established 'state of residency' rules.
The first match of the annual best-of-three interstate series was played at Lang Park in Brisbane and won by NSW 35–3. In the second game at Leichhardt Oval in Sydney (described by Qld Halfback Wally Lewis as being played on a Tuesday night in front of two men and their dog, with the dog going home at half-time. The official paid attendance was just 1,368 compared to the 25,000 crowd for Game 1 in Brisbane), the Maroons put up more of a fight against a NSW side that was missing a number of players through injury, but were defeated again, this time 17–7. The first State of Origin game very nearly didn't go ahead in 1980. The Queenslanders had put in a spirited and much improved performance in the second game at Leichhardt Oval, with officials confirming that had they actually won the game then the third game of the series would have been played under the State of Residency rules and Origin as it has become might have died then and there. Queenslanders Kerry Boustead, Rod Reddy, Rod Morris, John Lang and Graham Quinn had actually played for NSW in the first two games of the 1980 Interstate series, with all bar Quinn being selected to represent Queensland in the Origin game.
Former Australian test captain and at the time coach of Eastern Suburbs Bob Fulton, who would later go on to be a successful Australian coach and ironically become a long-term NSW Origin selector, was also against the concept. He wrote in The Daily Mirror that "Rugby league's non-event of the century will be staged in Brisbane next month, a totally useless State of Origin clash between NSW and Queensland. Only the $ 30,000 gate could make it acceptable to administrators ... No Sydney club could possibly want the match but no doubt it will go ahead. As far as I'm concerned it's strictly a non-event and will achieve absolutely nothing".
Prior to the game getting the go ahead, the President of the NSWRL Kevin Humphreys, had called a meeting with league delegates from the 12 Sydney based clubs and allowed all to put forward their views on having the Origin style match. In the end, a vote was held with the vote 9–3 in favour of it going ahead (and proving Fulton wrong in the process). Only South Sydney, Eastern Suburbs and St. George opposed the game. Following the meeting, Humphreys rang his QRL counterpart, Senator Ron McAuliffe, with the good news.
Queensland players such as captain-coach Arthur Beetson and Kangaroos back rower Rod Reddy were enthused to be able to represent their home state while some, such as Australian winger Kerry Boustead, believed that players should represent the state in which they lived (at the time Boustead was playing for Sydney club Eastern Suburbs). However, the test winger offered no objections to his selection for the Maroons and went on to become the first Qld player to score a try in Origin football.
In front of a capacity Lang Park crowd of 33,210, which included State of Origin's instigator, senator Ron McAulliffe, Federal Defence Minister Jim Killen, and journalist Hugh Lunn, the Maroons were led out by former Kangaroos skipper, 35-year-old Arthur Beetson who was playing for Queensland for the first time. Beetson, after starring for Redcliffe in Brisbane in 1964 and 1965, had been told by the QRL that if he stayed in Brisbane he would be in line for state selection in 1966. However, he received an offer he couldn't refuse from Sydney club Balmain and ended up playing 18 games for NSW between 1966 and 1977 under the old state of residency rule. Beetson was actually playing Reserve Grade for the Parramatta Eels in Sydney at the time that Ron McAulliffe approached him and offered him the chance to finally play for his home state.
The first points scored in Origin Football was a penalty goal by heavyweight Queensland centre Mal Meninga - the first of seven goals from seven attempts he would kick in the match (on his 20th birthday no less), while New South Wales' winger Greg Brentnall had the honour of scoring the first try in State of Origin football following good lead up work by Kangaroos pair Graham Eadie and Mick Cronin. After an all-in brawl in the first half and leading 9–5 at the break, Queensland took over the game and with Mal Meninga kicking 7/7 goals defeated NSW 20–10, the first time the Maroons had won a state game over NSW since 1975. Queensland centre Chris Close was the standout player from both sides, scoring a try in the second half and was a clear choice as Man of the Match. From a standing start, Close received the ball only 25m out from Meninga. He then simply accelerated through a big hole in the NSW defense and evaded fullback Graham Eadie to put the ball down next to the goal posts without a NSW player touching him.
Alan Clarkson, a journalist for The Sydney Morning Herald wrote of the State of Origin experiment, "I was strongly against such a match, but last night's gripping clash showed that such a fixture would be a welcome addition to the League program."
Although they had already represented Queensland in under the old residency rules, the win by the Maroons brought Queensland's new generation players such as heavyweight centres Chris Close and Mal Meninga, as well as lock forward Wally Lewis into the spotlight. The trio, along with other Queensland-based players such as Colin Scott, Gene Miles, Brad Backer, Mark Murray, Bryan Niebling, Wally Fullerton-Smith and Greg Conescu would dominate Origin football over the next 4 years.
Graham 'Wombat' Eadie
Coming to Manly as an 18-year-old from Woy Woy, Graham Eadie secured the top fullback spot following the retirement of Bob Batty in 1971 and became one of the most prolific point-scorers in the post-war game. Eadie won four premiership titles with the Sea Eagles (1972-73, 1976 and 1978) and became an institution in Australia's Test and World Cup teams during the 1970s. A rampaging attacking player, one of his finest matches was in the 1978 grand final replay where he single-handedly destroyed Cronulla in scoring a try, setting up two others for Russel Gartner and kicking three goals and a field goal. Eadie's representative career started on the 1973 Kangaroo tour when he was called into the final two Tests against Great Britain following an injury to captain-coach Graeme Langlands. He went on to play 12 Tests in all, as well as the 1975 and 1977 World Cup competitions, but retired from Test football following a second Kangaroo tour (1978) and the three-Test whitewash of Great Britain in 1979. The winner of the Rothmans Medal as best and fairest player in 1974 Eadie was the season's leading point-scorer in three consecutive seasons. His 14 goals in the 70-7 thrashing of Penrith in 1973 remains an individual postwar record. In 1978 Eadie added a further sporting achievement to his resume when he represented Australia in a World Sporting Superstar competition in Jamaica. Eadie's final rep match was in the first State of Origin clash (1980) and he surprisingly announced his retirement after playing in successive grand final losses to P'matta (1982-83). He also holds the record for scoring the first four point try in Australia in the first game of the 1983 season. At the time he was the game's greatest point-scorer (bettered by Mick Cronin soon after) and remains the greatest point-scorer in Manly's club history. The feeling that he still had a lot to offer the game was borne out in his remarkable comeback with English club Halifax in the mid 1980s. Under the coaching of fellow Australian Chris Anderson, Eadie scored a club record 16 tries at fullback and helped Halifax to victory in the 1986-87 Championship title and 1987 Challenge Cup. In the latter victory Eadie became the first Australian to win the Lance Todd Trophy as man-of-the-match. He then took over as coach of Halifax in 1988 but the move was short-lived, as was his time as lower grade coach of G'Coast(1991-92) and with South Queensland (1995-96). His son, Brook Eadie, won a premiership with the Crushers' President's Cup team in 1996. - ALAN WHITICKER AND PAUL CARTER. From: https://www.rugbyleagueproject.org/players/graham-eadie/summary.html
The 2008 NRL Grand Final was the conclusive and premiership-deciding game of the 2008 NRL season. It was played between the Manly Warringah Sea Eagles and the Melbourne Storm on Sunday, 5 October at ANZ Stadium in Sydney.
The 2008 Grand Final was the first Grand Final played in daylight since the introduction of the night Grand Final in 2001. The two teams had previously played in the 2007 NRL Grand Final, with Melbourne winning 34-8. Manly reversed this result in 2008, winning 40-0; the largest Grand Final winning margin in the history of the game, and the first Grand Final since 1978 where the losing team did not score a point.
Melbourne captain Cameron Smith was controversially suspended for a grapple tackle during the Broncos game; the two-week suspension causing him to miss the rest of the finals season.
2005: Mark Gerrard won his first Test cap off the bench when he replaced Wendell Sailor on the right wing in the 69-21 thumping of Italy in Melbourne. He made the run-on XV for the first time when picked at No.14 in the 13-30, 1st Test loss to New Zealand in Sydney. Gerrard scored his first Test try in the 24-34, 2nd Test loss to New Zealand in Auckland. He tallied 7 caps over the season, three of which were won on the end-of-season Spring Tour. 2006: He earned a career high 11 caps over the course of the 13 Test season and finished the year as the Wallabies' top try scorer.
Notes from Wikipedia, Rugby Legends