December 7- 13, 2014: Issue 192
Star Performance Seals Blackmores MC38 Open Win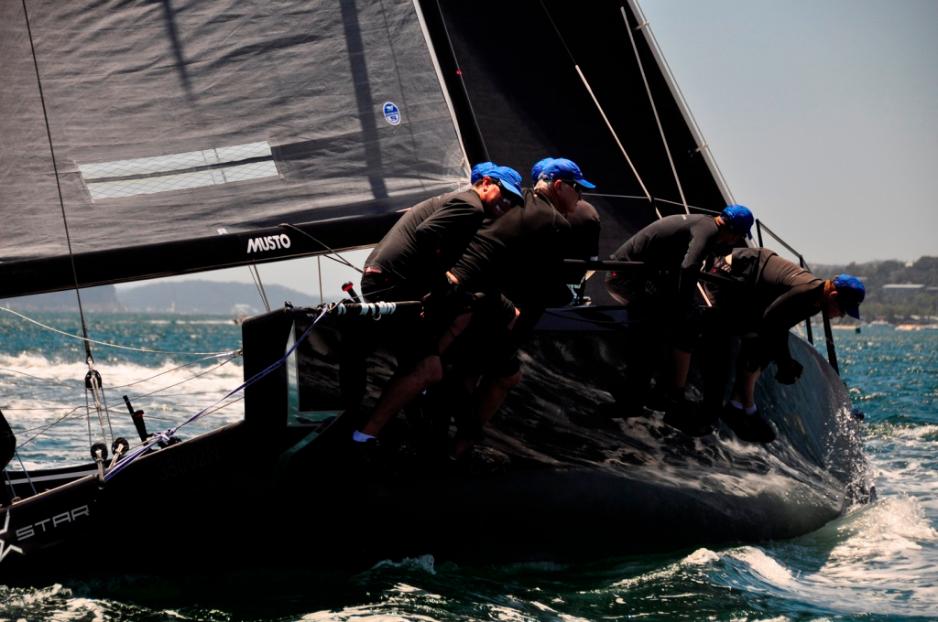 Winning Dark Star crew - Photo by Bob Fowler.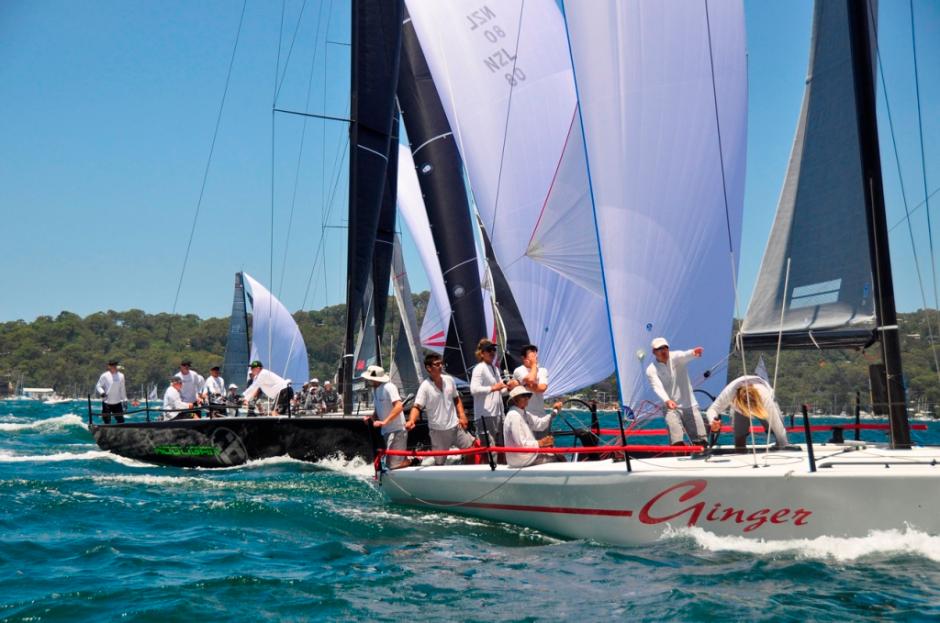 Ginger & Hooligan - Photo by Bob Fowler
Star Performance Seals Blackmores MC38 Open Win
Australian MC38 class President John Bacon and his Dark Star crew proved consistency is the key to winning a high performance one design series when they clinched the Blackmores MC38 Open regatta that wrapped up on Pittwater today, Sunday November 30.
Race five looked lost to Dark Star when an infringement, their first ever in the class, punted them to the rear of the fleet. Once again a back seat proved the best motivator and Bacon, prized navigator Cameron Miles and the rest on board the RPAYC MC38 clawed back to be third at the finish. A bullet in the next race and a third in the final passage race sealed Dark Star's overall regatta win.
That's two from two weekends for Bacon and a couple of his crew, this weekend with his MC38 and last weekend with his Melges 24 Roger That at the class' state title.
"We put our year together aiming to peak at this regatta and it's mission accomplished," said the delighted skipper back at the host Royal Prince Alfred Yacht Club. "We knew we'd have eight boats racing by the end of the season and the bar would lift. People asked me 'what do you think about all these hot shots coming into the fleet?' We knew we didn't want to suddenly come fifth so we took Traks Gordon on as our coach and put the work in. I love it when a plan comes together," Bacon said grinning.
Being part of the first generation of MC38 crews and with three years' experience, Dark Star's navigator Cameron Miles says the intensity level is definitely higher thanks to the latest injection of owners. "Add considerably more wind than we've had in the past and all manner of traffic on the course this weekend and the anxiety and intensity definitely lifted."
Current Australian MC38 champion, Leslie Green and his Ginger crew left any hangover from yesterday's mixed results back at the dock and returned to the start line resolute, taking a bullet in the first race of the day. They sailed smartly and cleanly in the summer sea breeze to finish three points off the regatta winner in second and five points from their nearest challenger, Lang Walker's Kokomo (CYCA) in third.
Green's foray into the exciting MC38 class has given him a "new lease on life" says the most senior of the owner's group. He enjoyed the race track off Scotland Island and praised the RPAYC race management team. "If you make mistakes in this class you are unforgiven," Green reminded.
Elsewhere on the track in race five was a messy affair and a busy time for on-water umpires David Ellis and Richard Slater with at least two obvious touches. "I would like to remind everyone that sailing is not a contact sport," said Slater on the radio prior to race six.
A good sized spectator fleet tracked the eight one design MC38s up and down the two windward/leeward races then for the longer final passage race north to Mackerel beach, around a buoy between West Head and Palm Beach headland then back to the finish. Downhill speeds of 15 knots in the gusty nor'easter sent the crew weight aft and threw a fair old wave out the back.
Regatta sponsor Marcus Blackmore finished sixth in the fleet with Hooligan and thoroughly enjoyed racing on his home waters. He echoed Green's remarks, "One mistake and you are out the back door." On his time in the class so far Blackmore added, "This class aims to deliver the best experience for the owners. It's about high performance sailing, and having fun."
Principal Race Officer Steve Merrington and his RPAYC team ran an excellent series and were congratulated at this evening's prize presentation. No protests to drag out the afternoon meant crews were able to relax and enjoy the setting as the cold beer flowed and the smoke and smells from the BBQ cooked by the for'ard hands wafted through the weary but buoyant crowd gathered at the Alfreds.
The final event for the class' 2014 season is a twilight series out of the Royal Sydney Yacht Squadron December 15-17 and owner of the MC38 Maserati Neville Crichton agreed at this morning's owners meeting to support the regatta.
Blackmore's MC38 Open Regatta 2014
Updated: 30/11/2014 2:36:18 PM
Series Results [OD] for Mc38 up to Race 7
Place Sail No Boat Name Skipper Sers Score Race 7 Race 6 Race 5 Race 4 Race 3 Race 2 Race 1
1 38002 DARK STAR John Bacon RPAYC 21.0 3.0 1.0 3.0 3.0 4.0 3.0 4.0
2 38011 GINGER Leslie Green CYCA 24.0 2.0 4.0 1.0 4.0 8.0 4.0 1.0
3 38883 KOKOMO Lang Walker CYCA 29.0 6.0 5.0 2.0 6.0 1.0 1.0 8.0
4 80 MASERATI Neville Crichton RNZYS-CY 29.0 1.0 3.0 7.0 1.0 5.0 7.0 5.0
5 101 VINO Chris Hancock MHYC 30.0 5.0 2.0 4.0 7.0 7.0 2.0 3.0
6 521 HOOLIGAN Marcus Blackmore RPAYC 31.0 4.0 6.0 5.0 5.0 3.0 6.0 2.0
7 403 GHOST RIDER Ross Hennessy RPAYC 39.0 7.0 7.0 6.0 2.0 2.0 8.0 7.0
8 49 ASSASSIN Clare Crawford CYCA 50.0 8.0 8.0 8.0 9.0R 6.0 5.0 6.0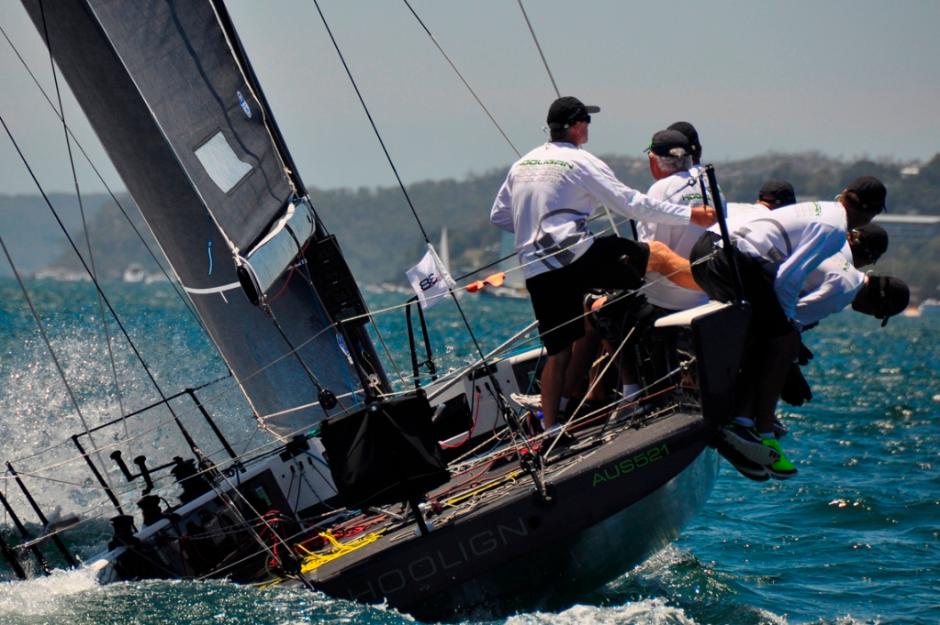 Above: Marcus Blackmore's Hooligan Below: Ghost Rider - Photos by Bob Fowler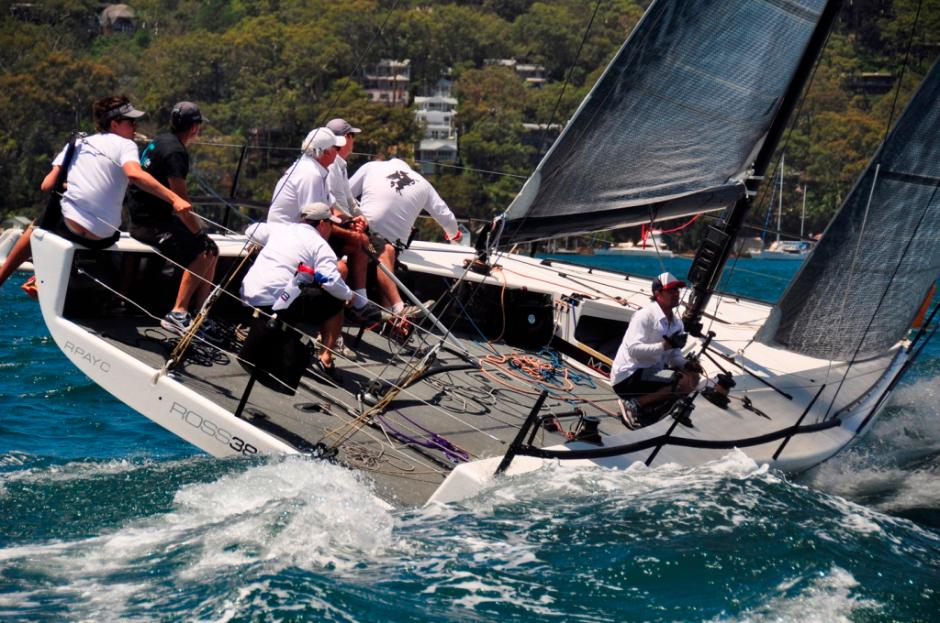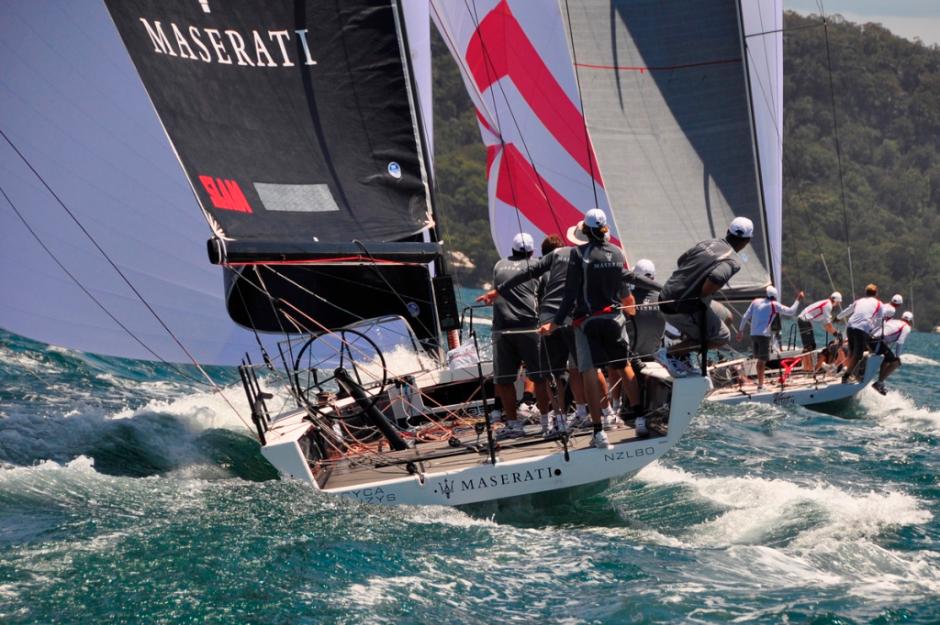 Above: Fleet downwind day 2 Maserati in foreground - Below: Third placed Kokomo. Photos by Bob Fowler.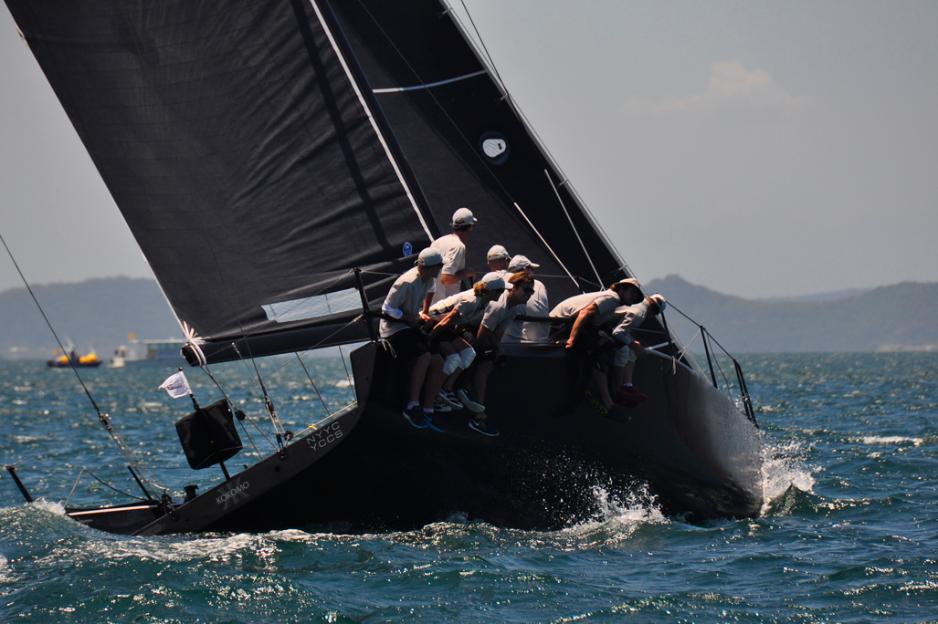 Article by Lisa Ratcliff and images by Bob Fowler, 2014