February 15 - 21, 2015: Issue 202
Surf Life Saving Sydney Northern Beaches 2015 Branch Championships A Demonstration of One Great Community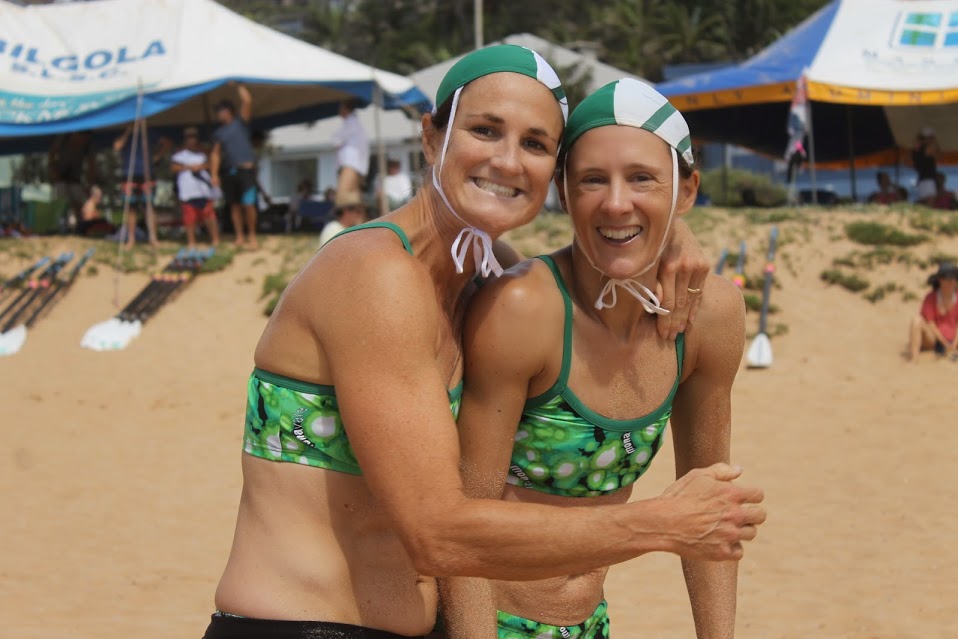 Mona Vale SLSC's Kris Monnock and Sophie Stokes.
The 2015 Surf Life Saving Sydney Northern Beaches Branch Championships, hosted by Palm Beach SLSC was a colourful spectacular that showcased every kind of surf sport there is on and in the water and on the sand.
What was plainly obvious is that this is what keeps the Northern Beaches of Sydney one community, and keeps this community so strong. On the sand all age groups from every club were catching up with each other in between heats and races, some having known each other, and been mates, for years.
Although competition was very focussed and intense while on, the strengths of each club, whether it was sprinting on sand events, or the timeless iconic March Past, water events where experience and skill as well as fitness showed strengths, as soon as it was done competitors either readied for their next event or shared a laugh or two. It was a celebration of a great season of local carnivals, strengthening friendships within clubs as well as with other club's members.
More HERE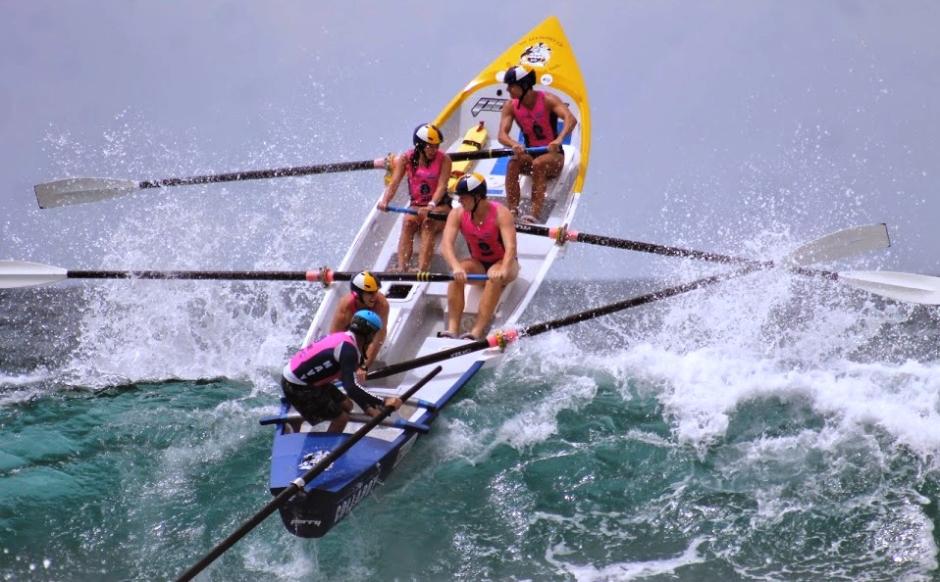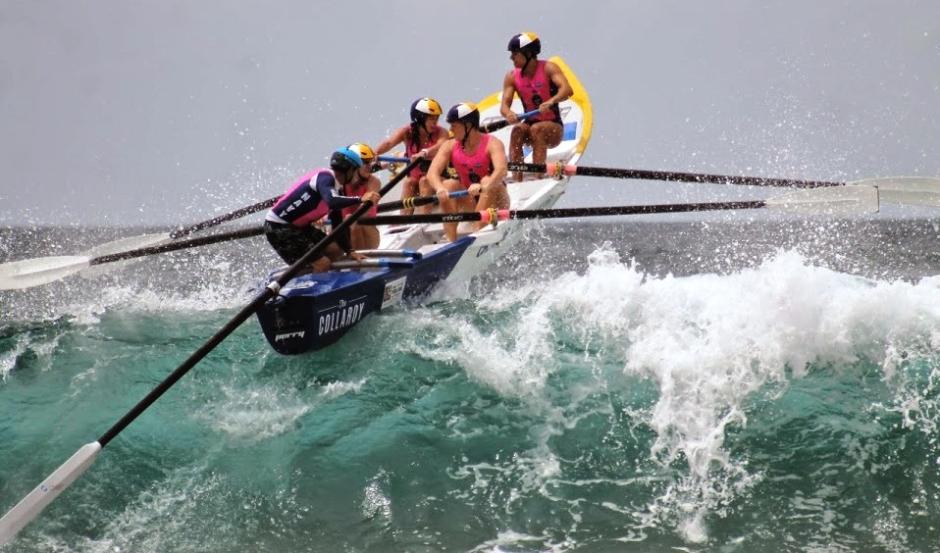 Royal Prince Alfred Yacht Club Hosts First MC38 Regatta of 2015 MC38 Australian Season Championship Series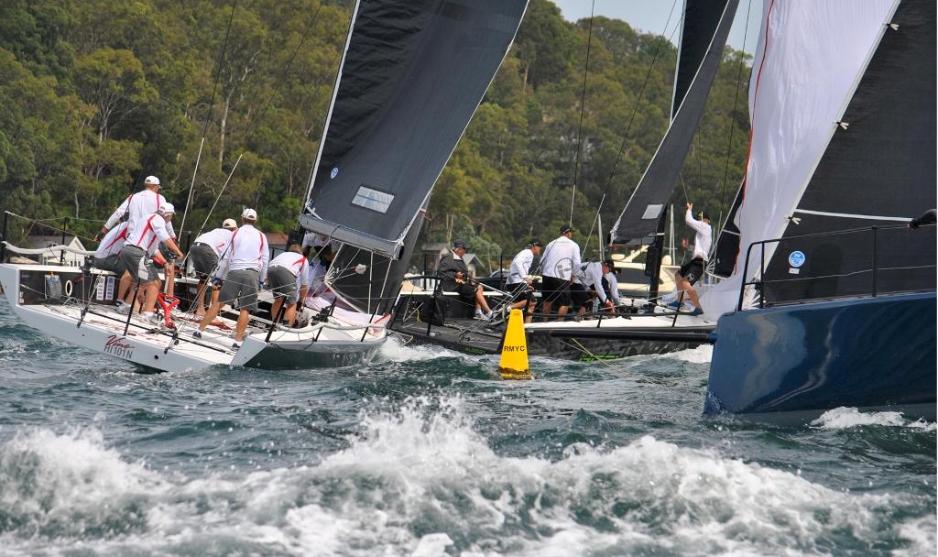 Mark action off Scotland Island, Vino, Hooligan & Dark Star - photo by Ellen Pragnell-Rasch.
14 FEBRUARY 2015
Event: 2015 MC38 Australian Season Championship & first event, the MC38 Summer Pittwater Regatta, February 14-15, 2015 at the Royal Prince Alfred Yacht Club at Newport, Sydney
Boats boats everywhere. Saturday afternoon on Pittwater and weaving through the MC38 Spring Pittwater Regatta race track to the north of Scotland Island are classic Couta boats, Etchells, and a fleet of keelboats contesting a Royal Prince Alfred Yacht Club inshore race.
One inshore race skipper who had to clear a path through the amped-up one design fleet in order to make a mark of his course later described the MC38s whizzing past as "like hornets buzzing around".
Day One and Day Two reports report by Lisa Ratcliff -
Hornets swarm Pittwater
and
Menacing on and off the water
HERE
Broken Bay Marine Rescue Supported by Pittwater RSL Community ClubGrants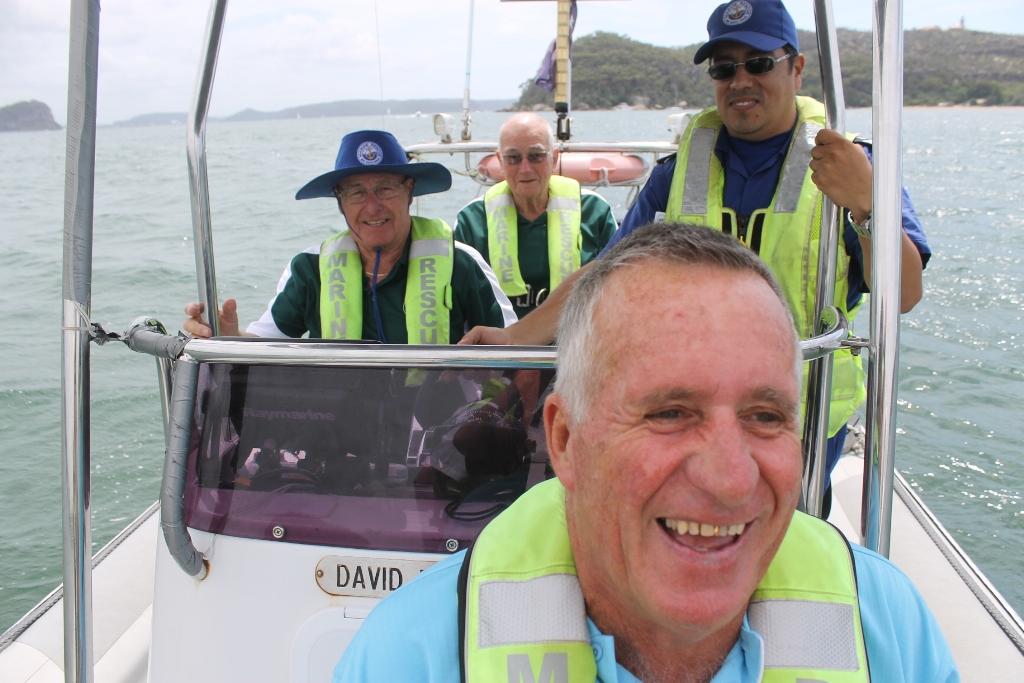 Pittwater RSL Directors William Brockhurst (front), Cec Robinson, Brian Sargeson (back) are aboard the David B. Harrison learning all about this Marine Rescue Broken Bay vessel from Jimmy Arteaga - picture by A J Guesdon, 2015.
The Marine Rescue unit for Broken Bay hosted five Directors of Pittwater RSL yesterday (Saturday 14th of February) and after a morning tea at their base at Bayview, Unit Commander Keren Muir-McCarey, supported by his able team of volunteers, took their guests aboard their two Rescue Vessels to further inform them of all aspects of BBMR does while on our estuary.
Pittwater RSL, under its ClubGrants scheme for community organisations and groups, handed a cheque for $5000.00 to this vital Pittwater based unit of Marine Rescue which was utilised for repairs and maintenance of these vessels.
Marine Rescue's 2013-2014 Annual Report, which forms part of our article, indicates how many thousands of people were assisted by Marine Rescue units throughout NSW in the last year, and why this 100% volunteer organisation should have all our community's support to further its rescue work and educational courses.
Full story HERE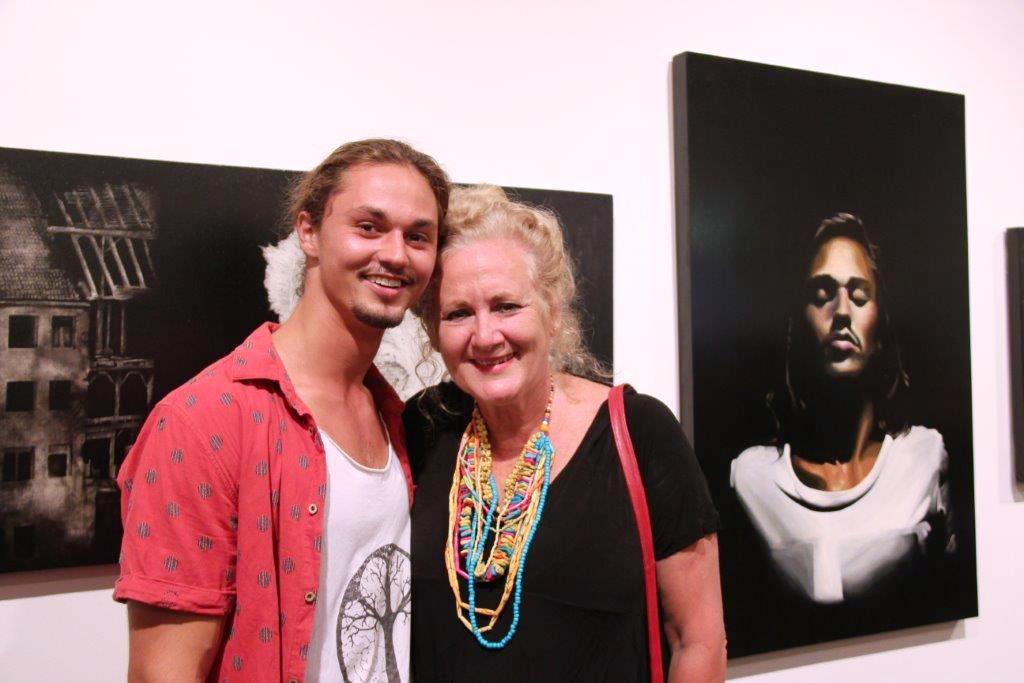 Tom Hammond and Debby Waters - picture courtesy Jean Bentley.
Express Yourself is a vibrant, fascinating and dynamic exhibition showcasing the immense talent and creativity of the 2014 crop of HSC Visual Arts students from Sydney's Northern Beaches.
The exhibition kicked off at the Manly Art Gallery & Museum (West Esplanade, Manly) on Friday 13 February 2015 and was opened by Professor Colin Rhodes, Dean, Sydney College of the Arts.
Express Yourself is an exhibition that celebrates the range of emerging artists from the region and is a show not to be missed. The Express Yourself 2015 works feature at Manly Art Gallery until March 22nd.
Two awards are granted annually to students featured in the exhibition. Manly Art Gallery & Museum Society presents a $3,000 award and the Theo Batten Youth Art Award of $5,000 is awarded to a student continuing studies in the arts. The winners of the 2015 Manly Youth Art Award and Theo Batten Youth Art Award were announced on the opening night.
Tom Hammond won the Theo Batten award at Express Yourself 2015. This will give him $5000 dollars to further his art career. Tom is going to look into getting into architecture.
The Manly Art Gallery & Museum Society Award was split this year between two artists, Jessica Pollock and Thomas Kobula.
More HERE
NSW Community Members ask Premier Baird to Reduce the Burden - Cancer Council 'Saving Life' campaign gets major boost from Manly MP Mike Baird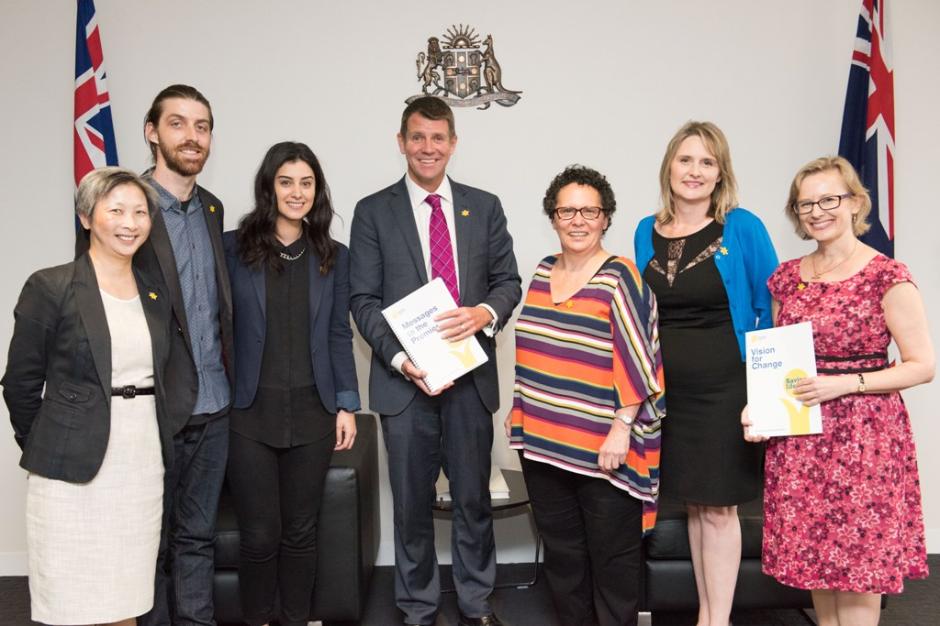 Anita Tang, Michael and Lillian Birchall, Mike Baird, Julie Hendicott, Nicole Winram and Kathy Chapman
Personal messages from northern suburbs residents who have been affected by cancer have been directly delivered to NSW Premier Mike Baird, as part of a book of almost 400 messages from people across the state, highlighting the need for government action on key cancer related issues.
Following the meeting, Premier Baird said:
"I am grateful these community members from across NSW took the time to come and meet with me. It is impossible not to be touched by their stories and we want to do everything we can to make their lives easier.
"Under the Baird Government, 95 per cent of the NSW population now has access to a comprehensive cancer care centre within 100 kilometres of their home.
"But we know we can always do more and that is why it is so important to have received these nearly 400 personal messages."
In NSW alone, by 2016 over 45,000 people will be diagnosed with cancer in a single year. With a strong community focus, Saving Life: Change Starts Here looks to address the five issues affecting not only Sydney and metro-based cancer patients but regional and rural cancer patients too.
This Tuesday, February 17th, 2014, you can learn more about the Cancer Councils vision for change as The Gentleman's Club hosts, on Northside Radio 99.3FM, have Davidson MP Jonathan O'Dea and the Cancer Council's Liz Hing as guests between 3.30 and 4.00pm.
More HERE
Sweet Summer Rain at Sunset - 2015