June 21 - 27, 2015: Issue 219
New faces in pivotal roles for MC38 Winter Regatta‏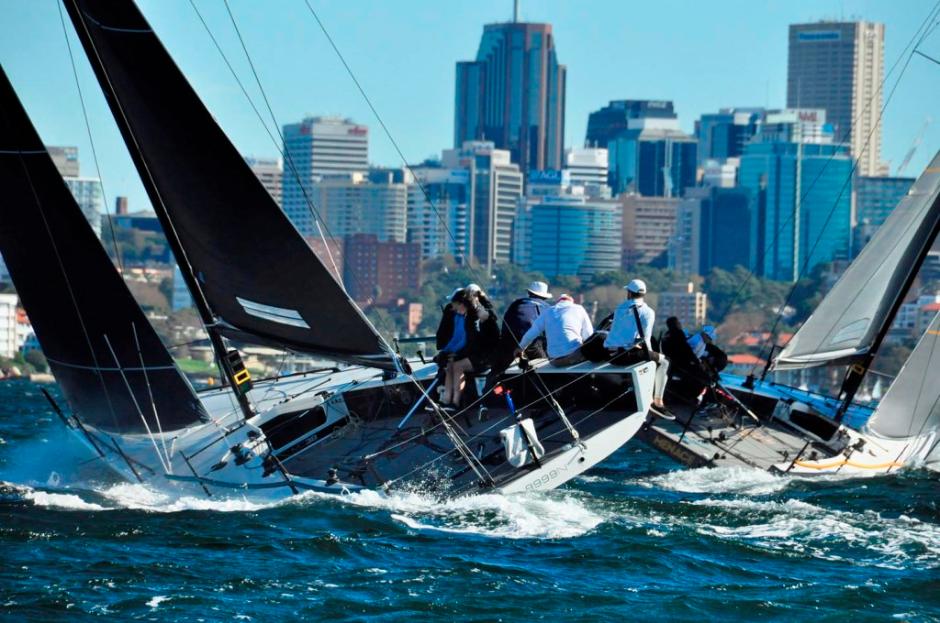 Ghost Rider & Menace - photo by Bob Fowler
New faces in pivotal roles for MC38 Winter Regatta‏
17 June 2015

Event: MC38 Winter Regatta, June 20-21, 2015 hosted by Middle Harbour Yacht Club with racing on Sydney Harbour
New faces taking on pivotal roles will shuffle three of the MC38 crews heading out of Middle Harbour Yacht Club this weekend, June 20-21, for the class' Winter Regatta; stage three of the 2015 Australian Season Championship.
John Bacon's Pittwater based Dark Star and Howard Spencer's Auckland based Menace are one apiece on the inaugural season-long pointscore. Leslie Green's Ginger is the two-time and current Australian champion, but yet to crack a stage win. The Cruising Yacht Club crew is contesting this weekend without their regular tactician and so is Menace, the New Zealander's usual tactical wizard sending his apologies.
Crew consistency is a key component of Dark Star's repeated success and will be a big advantage when long-standing tactician Cameron Miles and skipper John Bacon take their place for the first warning signal of the seven race series MHYC is running in conjunction with MC38 class technical advisor, Richard Slater.
Menace regulars Chris Reid, boat captain, and America's Cup heavyweight Ray Davies, tactician, are in the northern hemisphere. Rigger and VOR sailor Nick Burridge and Will Tiller, the youth America's Cup skipper and Beau Geste helmsman who bears the most perfect surname in the business, have been called up to stand in for the senior duo.
"Tiller has some big shoes to fill! He will be calling the shots in place of Ray," Spencer told Live Sail Die's Suellen Davies, jesting: "No pressure at all!
"The MC38 racing is always world-class and no matter what, you always have to remain completely focused. If you drop the ball even for a second, then your race can be over. We will have some crew bonding both on and off the water before racing gets underway. The course is in the vicinity of Sydney Heads so we're looking forward to big wind and bigger waves," Spencer added.
The most wind the Kiwi's will see is due early Saturday, the forecast indicating southerly winds 15-20 knots decreasing to 10 knots in the afternoon and a 60% chance of showers.
Owner Leslie Green will be back on the helm of Ginger, supported by Olympian Colin Beashel as tactician. Beashel has called tactics for Green before and is well qualified to take the place of his customary young maestro, David Chapman, who is overseas.
Clare Crawford is another new face. Not among the crew of dad Robin Crawford's MC38 Assassin (CYCA), but at the helm. This weekend Crawford makes her driving debut and she says the 'L' plates are definitely required. "I'm going to have a crack at driving. I'm very much aware that the crew is solid and it will be OK because of this fact…it's not all up to me. Our tactician Evan Walker is very calm, and trusting him is going to be a big part of it."
Ross Hennessy's Ghost Rider rounds out the MC38 class line-up. Hennessy came to the sport late and is one of the original MC38 owners, based at Pittwater sailing for the Royal Prince Alfred Yacht Club. Interestingly, he's also a former competitor on the long and short board surfing circuit.
Four races are scheduled for Saturday, the MC38 fleet sharing the racetrack and MHYC's on-water resources also running the club's regular inshore sprint series.
On Sunday, June 21 the final three races are slated, intersecting off Middle Head with the CYCA's winter series and the boats heading for the Manly turning mark. The forecast is woeful with just 5 knots of WSW breeze at the scheduled start of racing, down to 3 knots by mid-afternoon.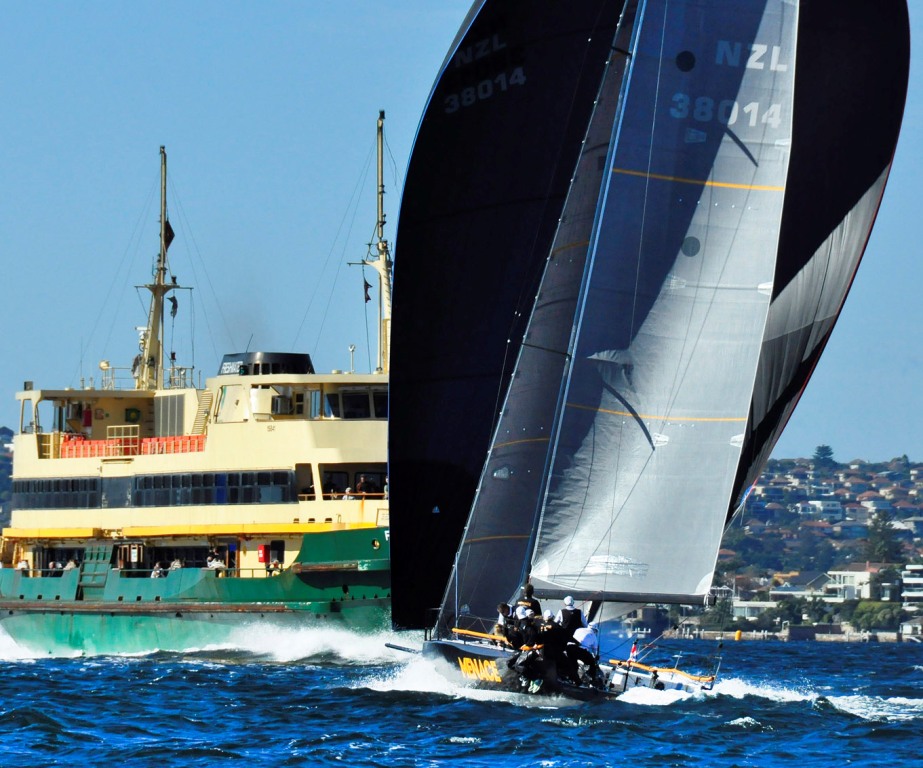 Menace takes on the Manly Ferry in the Autumn Regatta - photo by Bob Fowler
Saturday June 20
Registration and crew weigh-in 0800-0900
Race committee briefing @ MHYC 0930
First scheduled warning signal of the day 1100 (up to 4 races)
Daily prizegiving
Sunday June 21
First scheduled warning signal of the day 1100 (up to 3 races)
No warning signal after this time 1500
Prizegiving ASAP after dock in
For the 2015 Australian Season Championship the final score will be the sum of the owner or charterer's regatta score in the MC38 Open Regatta, November 14-15, and the lowest three scores in the other regattas. The owner or charterer with the lowest season score takes out the championship.
By Lisa Ratcliff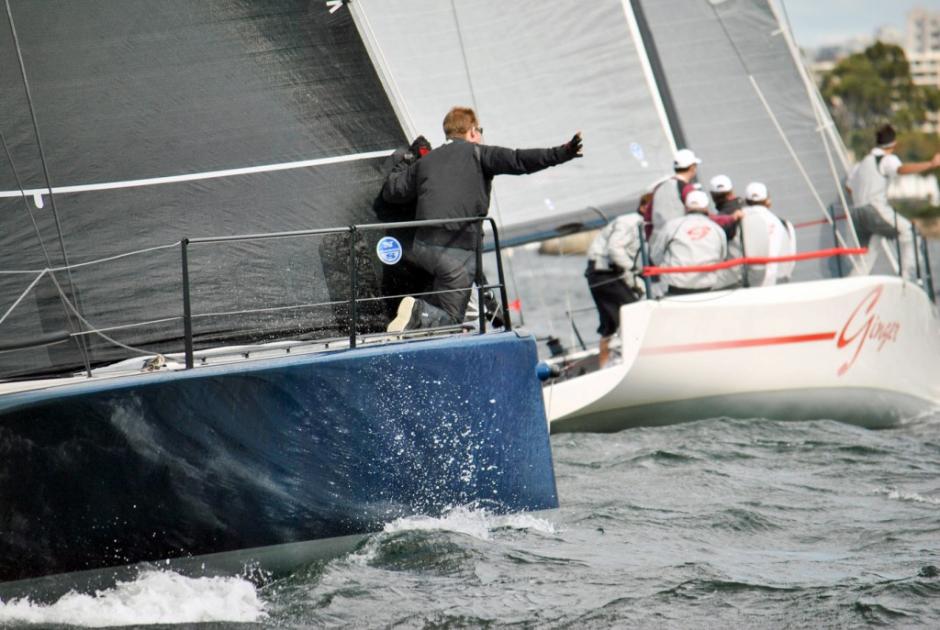 Autumn Regatta Dark Star & Ginger - photo by McConaghy Boats
Weekend chillin' at the MC38 Winter Regatta: on Sydney Harbour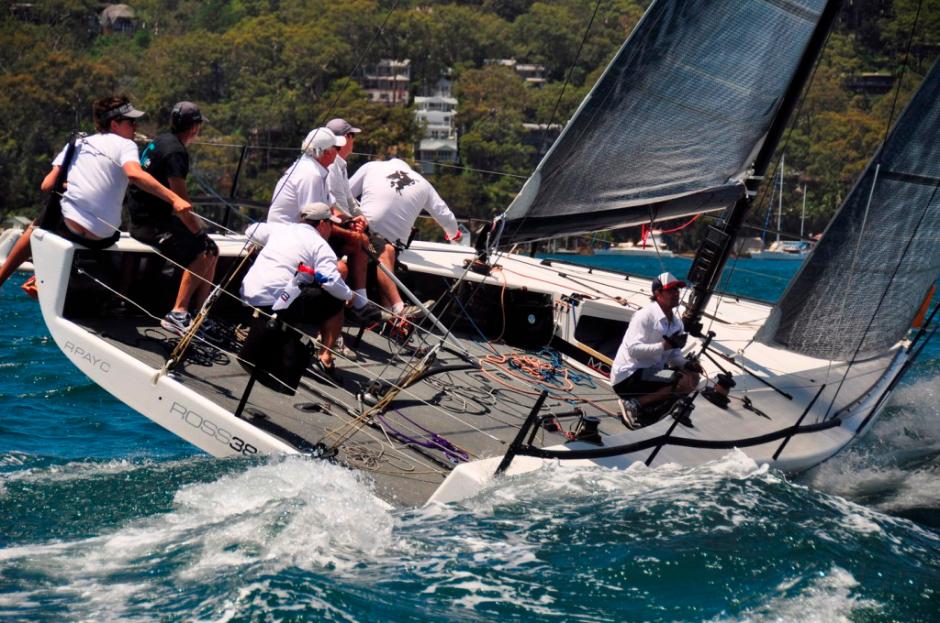 Ross Hennessy's Ghost Rider photo by Bob Fowler
Weekend chillin' at the MC38 Winter Regatta
20 June 2015

Event: MC38 Winter Regatta, June 20-21, 2015 hosted by Middle Harbour Yacht Club with racing on Sydney Harbour
MC38 crews were rugged up as Sydney's clear skies and south westerly winds added a wintry chill to the Winter Regatta raced off Middle Head.
So far this season the waves from the Manly Ferry on the Sydney Harbour racetrack is about the only swell the one design fleet has faced, making the legendary lumpy ocean in the Sydney Heads vicinity a new phenomenon for a number of skippers.
The rain cleared overnight paving the way for a clear, cold day with 10 knot westerlies for the opening race building to 18 out of the south west, and then things got funky though the breeze stayed above 10 knots for the rest of the afternoon. Crews were delighted with the race management provided by Middle Harbour Yacht Club, the first time the class has sailed from The Spit.
Boat of the day and clubhouse leader by three points, John Bacon's Dark Star, came out strong, the usual Pittwater crew from the Royal Prince Alfred Yacht Club sailing a slick 1,2,1 set of results before a mistake in race four made them pay, such is the way in this tight fleet.
"We sailed really well today then made one error and we couldn't get it back," Bacon said.
Second overall is Howard Spencer's Menace flying the burgee of the Royal Akarana Yacht Club in Auckland, New Zealand.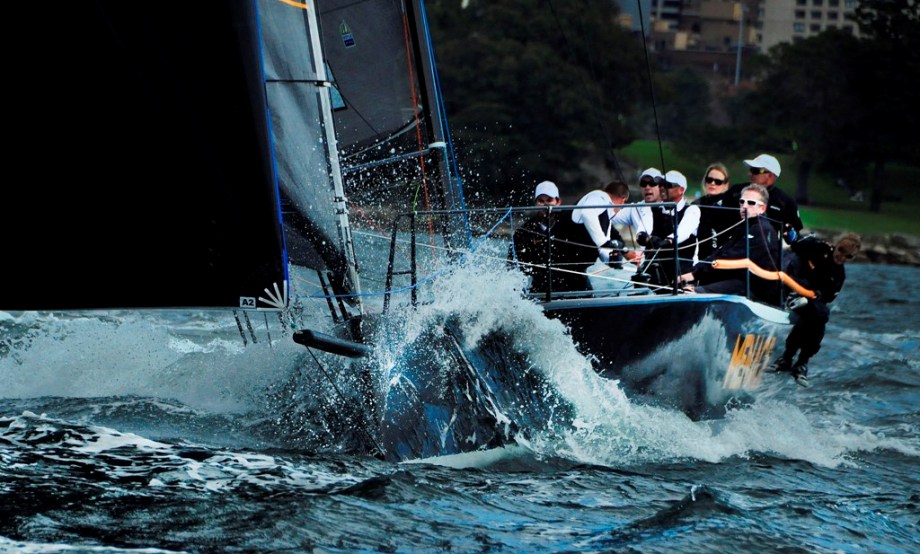 Menace - photo by Bob Fowler
On equal 11 points with the Kiwis is Ross Hennessy's Ghost Rider (RPAYC), the first time Hennessy has featured in the top three this season.
As he took his aching body home for a hot shower Hennessy said, "There wasn't much in it today. I was surprised we went as well as we did in the waves, it was pretty bumpy and I've only ever steered in flat water." Hennessy is switching crew around trying to build the nucleus of a steady team and today he was pleased that newcomers to the Ghost Rider program, Chris Williams on mainsheet and Tom Braidwood on the bow, combined so well with tactician Ben Lamb.
"Tommy 'the little Colonel' was trying to whip everyone into shape. He brings organisation to the boat, which allows Ben to do his job. Ben called some good starts and some good shots. We've got to get the boat faster downwind; I'm getting a new sail wardrobe from Doyles in July that may make a difference," Hennessy added.
He's married to a New Zealander and added "you can't have Kiwi power all the time. I'll just have to beat Howard tomorrow. It will be interesting to see the changing fortunes on a lighter day."
Clare Crawford's first helming foray was a huge buzz and Assassin was right amongst the action. "It was great fun and everyone was together. It was our first encounter with swell and it was quite lumpy. I am excited about tomorrow… I am better steering in light air," Crawford said.
Normally on the bow which is a very physical role, she found helming less strenuous and a lot colder. The management change also brought a few more laughs than normal to the outing she confessed, referring to the regular more serious skipper of Assassin Robin Crawford, her dad, who wasn't able to drive this weekend.
Chief umpire Richard Slater added, "everyone had a go today. All boats had a turn leading and then a turn at the back. Clare sailed really well."
Class President John Bacon thanked MHYC's on-water team and the RPAYC volunteers who drove down from Pittwater to assist.
Tomorrow's forecast is for south-westerly winds 10-15 knots becoming variable below 10 knots in the early afternoon. The warning signal for the first of three remaining races is due to sound at 1100hrs.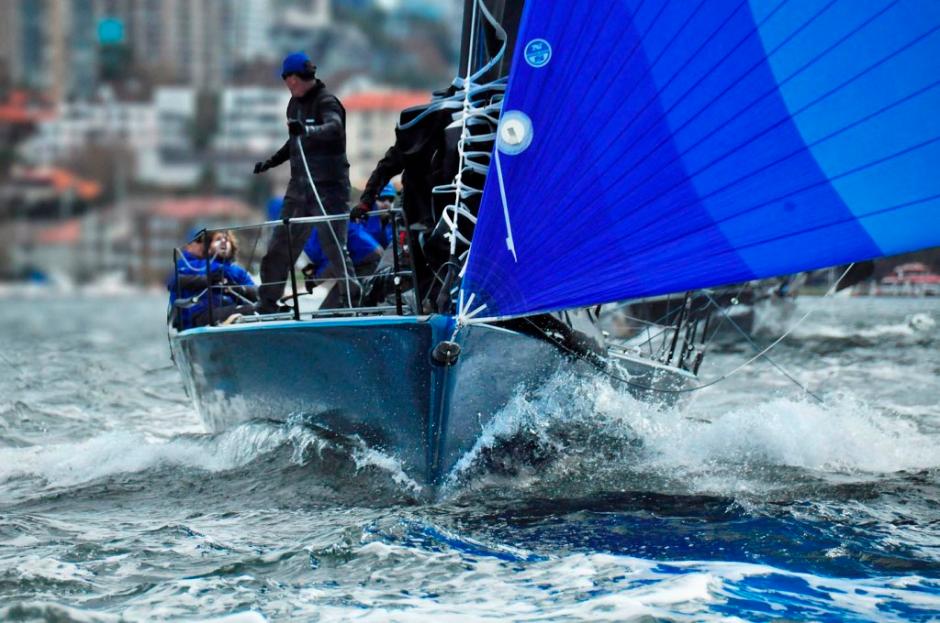 Winter Regatta day 1 leader Dark Star - photo by Bob Fowler
Kiwis break stalemate to take out MC38 Winter Regatta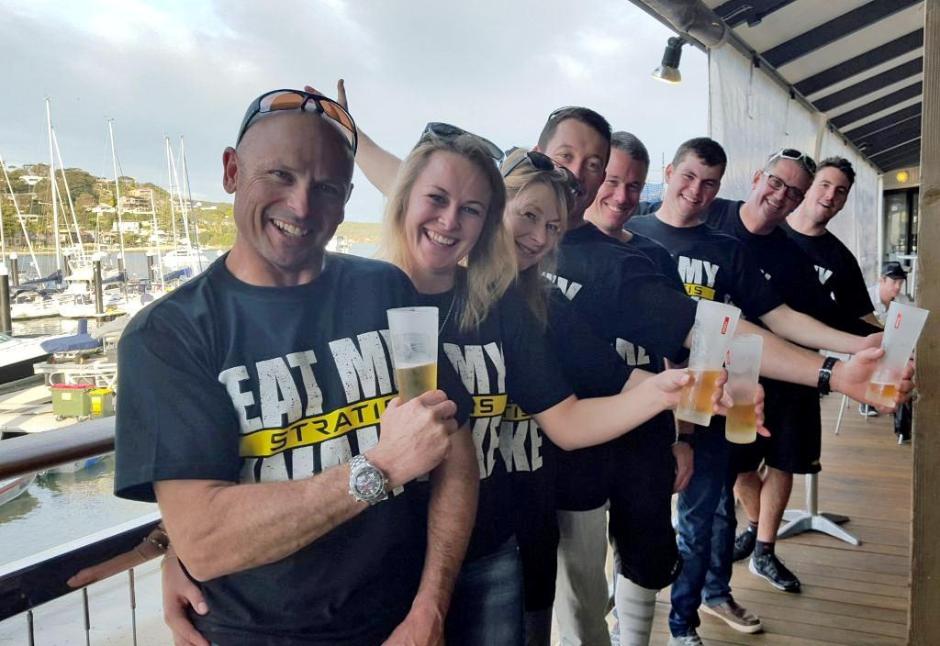 Winning Menace crew - photo by Lisa Ratcliff
Kiwis break stalemate to take out MC38 Winter Regatta
21 June 2015

Event: MC38 Winter Regatta, June 20-21, 2015 hosted by Middle Harbour Yacht Club with racing on Sydney Harbour
The Kiwis prevailed in round three of the MC38 Australian Season Championship, the Winter Regatta staged by Middle Harbour Yacht Club in lighter, showery conditions at the four way junction just inside the sandstone cliffs of Sydney Heads.
John Bacon's Dark Star, winner of the Autumn Regatta, and Howard Spencer's Menace, winner of the opening Summer Regatta, were in a Trans-Tasman stalemate going into the final race on Sunday June 21, 2015. Then Menace blew the start. The race committee led by PRO Steve Tucker called them back and at that point the regatta was Dark Star's for the taking.
Bacon and tactician Cameron Miles blanketed the New Zealanders who figured they had nothing to lose and went for the split from Dark Star at the last gate. The Kiwis' numbers came up and they and got inside the Royal Prince Alfred boat at the final top mark to take out the series by two points.
Menace's mainsheet trimmer Alistair Gair said it was a regatta of two halves for the Royal Akarana Yacht Club team. "Dark Star sailed beautifully yesterday, and we pulled it together today. The biggest thing for us was getting out of the blocks well… excluding the last race. Will [Tiller] did really well on tactics, he held it together nicely. Today could have been quite dicey if you were caught on the wrong side. All-in-all we are pretty happy; it was a nice way to finish."
On the head start they gave Dark Star at the start of the last race he added, "We got a little buried at the start, we did well to get back in it. We figured we had nothing to lose opting to split, lucky the call went our way."
Miles agreed Dark Star's crew struggled in the cold 6-8 knot sou-wester. "One minute you were tipping over and the next your jib was inside out. It was very hard for the steerer. We had our chances in that final race and we missed out. You can come from behind in those conditions… it's such close racing in this class," Miles said, shaking his head.
Leslie Green's Ginger, the current class national champion, had a much better day and finished third on the podium. The older owner found the slop at Sydney Heads hard going and Ginger's tangle with a starboard tacker in the CYCA's winter fleet was ill-timed, but overall results capped off by a win in race seven added up to a better day for the CYCA crew.
America's Cup sailor and six time Olympian Colin Beashel stepped in for regular David Chapman to call tactics for the winter series, his first time on an MC38. On the McConaghy built class he reckons, "It's good fun to sail a boat that's exciting. It's like a big sports boat and I have wanted to get back into that style of racing. Today was smoother, which made it a bit easier for Leslie. There was a little less breeze and it wasn't quite as puffy or choppy. It's a matter of getting used to sailing on the harbour again."
Green clearly enjoyed having Beashel on the boat. So will he be invited back? "Maybe…if Chappo does more work overseas. I didn't yell at anyone today, though I did throw Richie's [Allanson] radio over the side today," Beashel chuckled.
The North Sails Boat of the Day was Menace.
The class association's next calendar entry is the MC38 Spring Regatta in October however owners have requested President John Bacon and technical adviser Richard Slater look into creating an additional regatta between June and mid-October.
MC38 ONE DESIGN TROPHY hosted by Middle Harbour Yacht Club
Series Results [One Design ET] for Mc38 up to Race 7
Place Sail No Boat Name Skipper Sers Score Race 7 Race 6 Race 5 Race 4 Race 3 Race 2 Race 1
1 NZL38014 MENACE Howard Spencer 15.0 2.0 1.0 1.0 1.0 2.0 5.0 3.0
2 38002 DARK STAR John Bacon 17.0 4.0 2.0 3.0 4.0 1.0 2.0 1.0
3 38011 GINGER Leslie Green 20.0 1.0 4.0 2.0 2.0 3.0 3.0 5.0
4 403 GHOST RIDER Ross Hennessy 23.0 3.0 5.0 4.0 3.0 5.0 1.0 2.0
5 9999 ASSASSIN Clare/Robin Crawford 30.0 5.0 3.0 5.0 5.0 4.0 4.0 4.0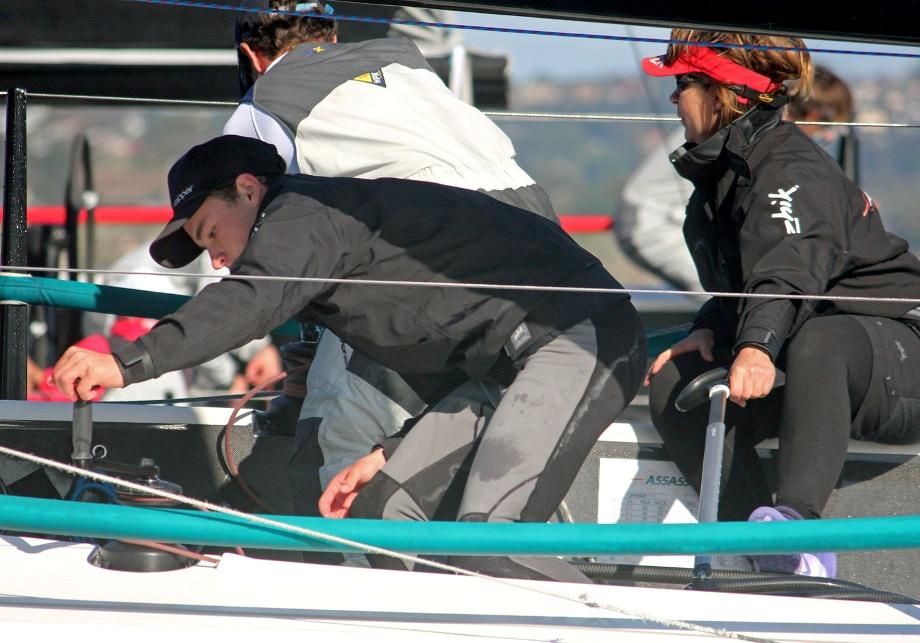 Clare Crawford helming Assassin - photo by MHYC
By Lisa Ratcliff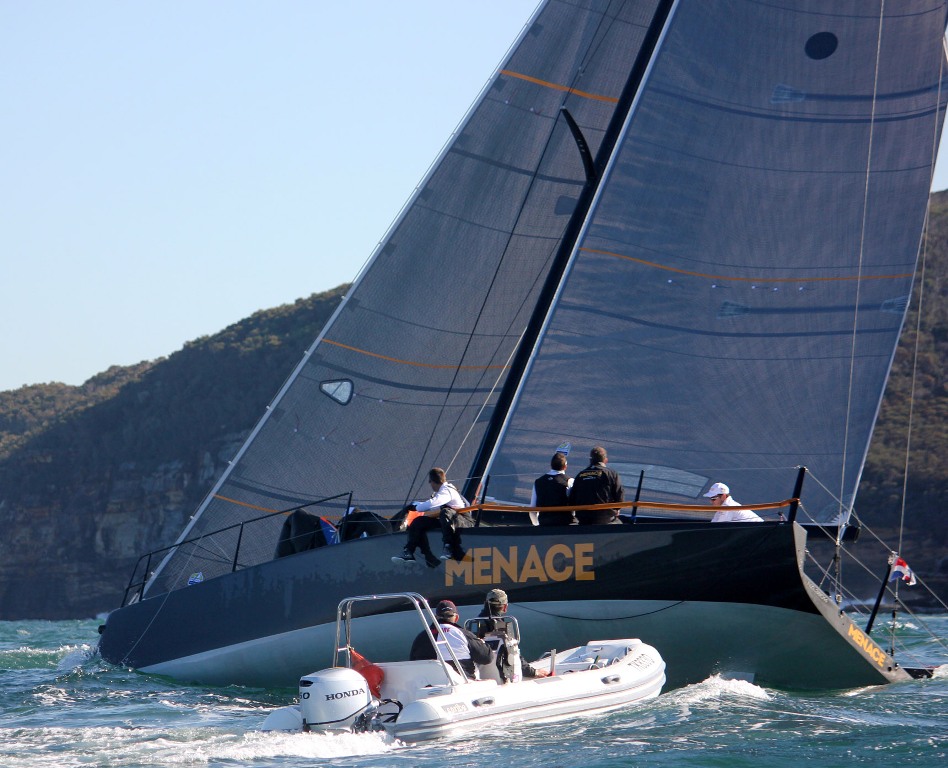 Howard Spencer's Menace & umpires - photo by MHYC