March 31 - April 6, 2013: Issue 104
Peter Verrills
One of our true originals, who represents three generations of the people who built Palm Beach on the land and on the water, is Peter Frederick Verrills. Grandson of Albert George Verrills, the contractor who constructed so many of the first homes in Palm Beach, son of Frederick Leonard Verrills who built Mullers 'Houise of the Year - 1956' in Byna Road, with Gonsalves blood in his veins, this gentleman comes from hard working honest fishing and building families. It should come as no surprise that he has quietly contributed to Pittwater and left legacies that may not be known by our younger generations if he had not agreed to allow us to share a few small glimpses of his life so far.
When were you born?
Born 21st of May, 1939. I was born in Waratah street, Palm Beach. My granny Gonsalves delivered me. Dad was away in the Army and so mum lived with her parents in their home while he was away. When the Gonsalves first arrived they settled on what we call today 'Portuguese Beach'; they were coming here for around three years before they moved in permanently here. They'd row around every Summer because old Goni was a fisherman and Mrs Gonsalves was a Walter from the Newcastle ferry family from Stockton, how they met I don't know, but he probably went up and down the coast fishing, and they settled over on Portuguese Beach. They were a Portuguese family, the Gonsalves, and that's how it has got its name; Portuguese. The authorities eventually got them off out of there and they then bought land in Waratah street also. She set up a dairy there and grew veggies and everything to supply the weekenders with milk and veggies, and all the golf course here; they had that as agistment for their stock. In some of the old photos you'll see cows wandering around on it. The Gonsalves and Verrills have all inter-married, and then the Goddards.
THE SON and daughter of two of the oldest families in Palm Beach were married at the Manse, Clareville, last Saturday afternoon. They were Mr. Frederick Verrals, younger son of Mr. and Mrs. A. Verrals, who were the first residents of Palm Beach, and the bride was Miss Nell Gonsalve, youngest daughter of Mr. and Mrs. H. Gonsalve, of Palm Beach. Mr. and Mrs. Gonsalve used to travel to Palm Beach by boat long before a road was built through. Mrs. A. Goddard, also of Palm Beach, was matron of honor. After the reception, which was held at the Palm Beach Golf Club, the bride and bridegroom left for the honeymoon on the yacht Carlo, which was followed by a fleet of motor boats and yachts down to West Head, Barrenjoey. Smart Set At The Tennis (1937, January 31). The Sun (Sydney, NSW : 1910 - 1954), p. 34. Retrieved from http://nla.gov.au/nla.news-article230794137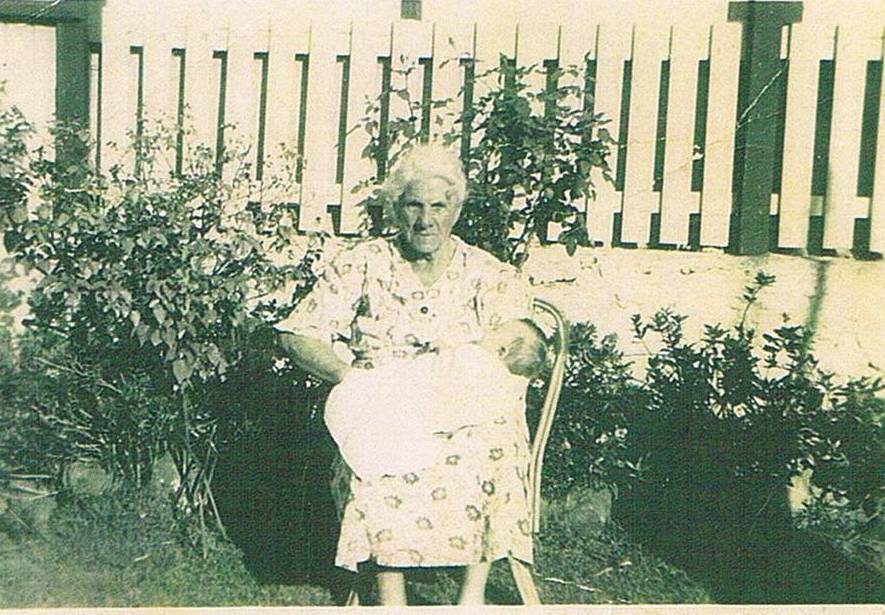 Caroline E Gonsalves (nee Walter) wife of Henry F Gonsalves, married 1896, holding Peter Verrills.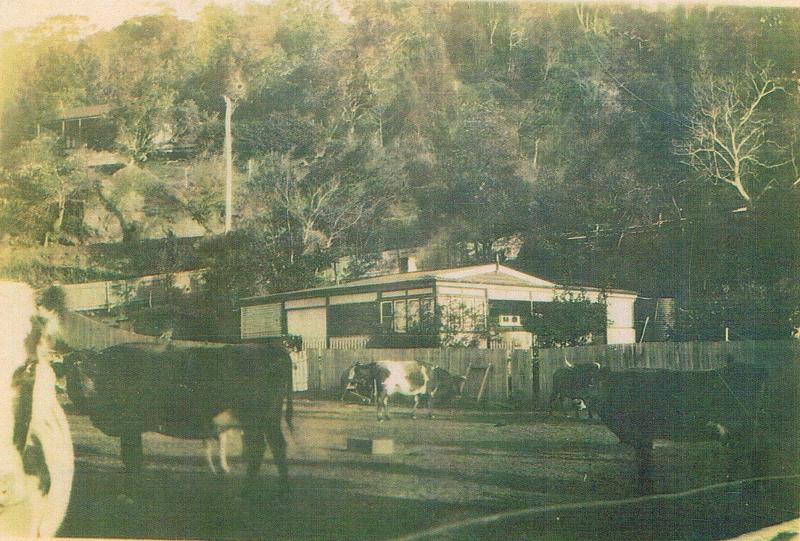 Gonsalves family home in Waratah Street, Palm Beach. From Verrills family album.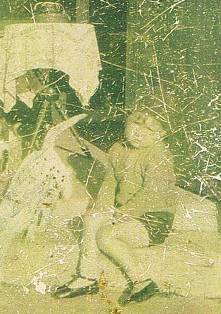 I went to Newport school too; I'll never forget it, the camouflage bus. All the windows were blackened out, everything had to be blacked out then; no street lights, no nothing. I only got to know dad from when I was about seven years old because he was in the Army and I was born just prior to the war starting. Not long after that he got a War Service loan so we moved to almost opposite the Gilberts, in Careel Bay. He started building there. He got an army tent, he put that up, and he built a shed there and we lived in that while he was building the house. I was in about my second year at Newport school and I used to, they all thought I was faking, get these bloody horrible back pains. It was usually just before I was due to go down the hill and catch the school bus. This would be half an hour of on my back and then I'd be alright again for a little while and of course by then the school bus had gone and there was only one bus. So I didn't go to school. Mum used to belt the tripe out of me and send me down the road and I was buggered.
So what was it though, what was causing it?
I had polio. It was called Infantile Paralysis in those days. Eventually it got worse and worse and worse and of course ..
When was this?
1948. Anyway, Dr Sanders, the local bloke, he eventually realised what was going on with me and he said 'don't move him, we'll get an ambulance' so dad went to hospital with me in Freddy Williams …no Charlie Williams ambulance. The Ambulance station was round at Bayview then, where the Boy Scouts and the tennis courts are, that's where the ambulance station was. Charlie Williams arrives at our home; so they give him a beer don't they…you gotta have a beer before you do anything in those days, so they give him a beer. Eventually we take off for Manly Hospital in the Ford V8 ambulance, which was a pretty flash ambo, and Charlie said to me;
"What you want, what you want you poor little bugger, what can we do for you?"
And the old man (dad) says; "He's had a yarn to me and said 'I hope they put the siren on'; can you do that?"
And Charlie said, "Yeah we can do that."
So the ambulance went all the way to Manly with the siren going and I thought that was Christmas, it was beaut'.
How did you recover from that?
Well, they couldn't treat me at Manly; I was there for about two days I think, and then they moved me over to Camperdown to the Children's Hospital. I spent three months there. I'll never forget it; it was winter when I came home..
Tom Gilbert: you certainly stirred up the local community up I'll tell you…people were worried about this disease being here; wondering how the hell it happened and who was going to get it next. He went on for a little while in the early part of it before it was detected and that was probably what worried people.
Did anyone else in the community contract polio?
Yes. There was one from Newport; Phil Kemp. I never knew it but he was at hospital at the same time as me. I didn't know it then but in my late teens, when we were in the Avalon Surf Club together and I got to know him really well it came up in conversation and we discussed all this.
When it came time to pick me up to take me home mum arrives, it was the middle of the week, and it was a big journey to come from Palm Beach, the old man couldn't go, he was at work, and she arrives and she's got, because we all used to wear overcoats in those days, some boots and a beanie; a hat, and she's brought everything except a pair of pants for me. And there was no way I was going to go home like that. She said "I'll have to go and come back again tomorrow."…and I said "Pigs button you are, I'm out of here."
So we did all the buttons up on this coat and away we went into the Gowings or something in town, but to go from Camperdown into Broadway and down George Street to catch the bus we had to catch the tram and in the tram the seats were like benches going straight across the tram. I'm sitting there and I'm embarrassed because everyone opposite me can see up my overcoat and…I've never forgotten that.
When did you know you were free of the effects of polio?
It took a while, a good two years. Then I went to Manly Boys High… I got expelled from Christian Brothers first..then went to Manly; up where all my mates were, and when we did attend school it was fun.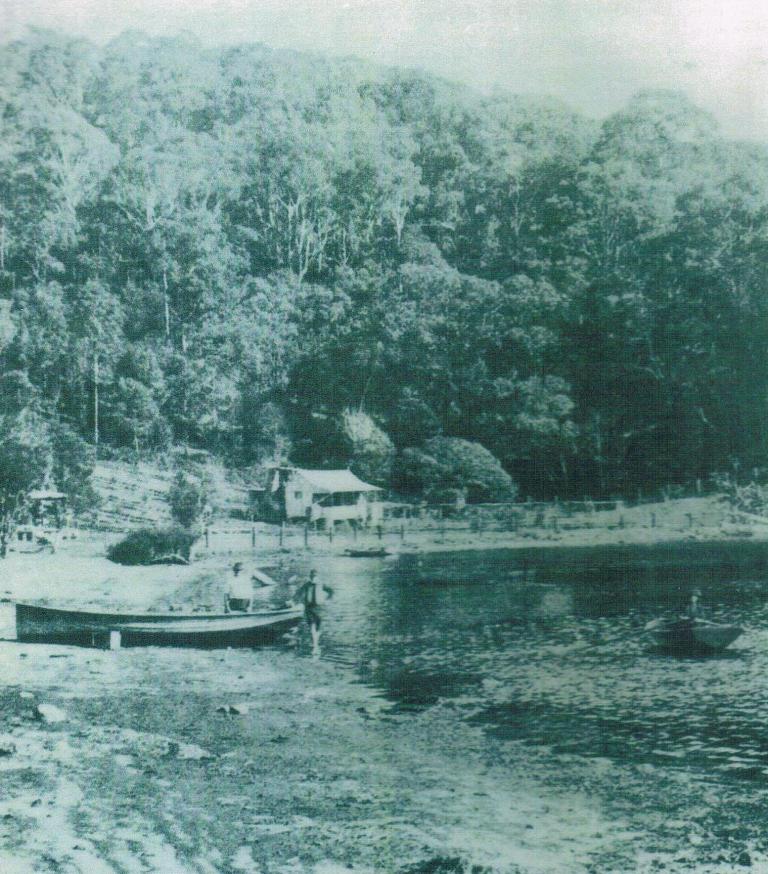 Careel Bay circa 1900-1910, courtesy Peter Verrills.
What was the best thing about growing up on Pittwater during the 1940's?
Growing up on Pittwater in the '40's was unbelievable. We'd come along here (Station Beach) of a night prawning with hand-scoops or a net on poles. One would be out in the deeper bit and one on the sand here and we'd catch that many bloody prawns. Do this two nights a week and you'd live on prawns for a week, beautiful prawns they were, real prawns. The other good thing was the surf ; we were mad surfers, we were riding plywood boards in those days, they were 14feet long.; anything from 14 to 16 feet.
What was it like in Winter?
It was just as good. We were never involved in Boy scouts but the surf clubs. I was in Whaley and then North Palm Beach surf clubs. Dad built Moby Dicks.
How old were you when you started your apprenticeship?
15. I didn't do my intermediate, I left on my 15th birthday and went straight to work, much to dad's disgust. He wanted me to keep going and get it; he wanted me to be an architect. I had no intention of doing that…no, no, no. Me stuck inside all day…no way. So that was the end of my schooling and into my career. As a schoolkid I worked weekends and after school. There was no water or electricity for the brickies and the building of the house; so down where the Palladian is, that was the bus terminus, there used to be a hydrant there for the buses because they all ran out of water by the time they got here and they'd top them up, we used to go down there with 44 gallon drums, and I was only about 14, I used to drive the truck and go down and fill the 44's up with water and take them back up to the job. I used to love it; that was my job.
Dad did a lot of country work. In the 1960's there was a big, almost Depression virtually, and a slump in the building industry, and all these people that owned houses here in Palm Beach were a lot of cockies; they had rural properties. So we'd go and build a new homestead or manager's cottage do repair work.
There has always been that connection between rural Australia and the Palm Beach early weekenders?
Oh yes, for the Summer. And the weekenders were the Eastern Suburbs doctors and lawyers. We built the Curlewis's place (Albert's project) around on the beach there and then Ian Joye ended up with that one. Donny Goddard did a lot of work on it and now they've had plans passed to change it again. We built Miller's Brewery(Owned by trucking magnate RW Miller), located at Taverner's Hill in Sydney. , and then when we went to Warragamba Dam to do the Workers Club there; Miller's supplied the money for that, which was a bloody god job. His other rural projects; we went down to Holbrook and did one for the Crawfords who were intermarried with the Veskys; Albert built Elizabeth Cottage here (Palm Beach) for Mrs Crawford and then we built, when they bought a block of land at the side of Elizabeth Cottage, the new one which is right opposite Cynthea road, for them. From Holbrook we went to Talcutta, the MacTackney's properties on the Wagga road; built a new homestead there and a manager's cottage. From there we went to Gunnedah.
Peter has the top section of his index finger missing
How did you do that?
I did that down there one weekend. The manager of the place was away, it was a Hereford stud, and it was pretty dry times and I said I'd do the feeding for them, drop the hay off for the stock and water the while they all had the weekend off. I'd loaded the truck up with all the bales of hay and I had the station dogs and mum was down cooking for us and mum had a little black poodle and all these station dogs are chasing the truck through all the paddocks. I got to this gate and it was pretty flat with a gentle rise in this old farm truck, no brakes, no nothing; got out, opened the gate, drove through, had the gate at right angles to the fence and had my hand on the gate and my back to the truck whistling all the dogs through so I could close the gate because they were all rabbit proof fences then, and had just got all the dogs through and this bloody truck rolled back. There was one bolt sticking out at the back of the tray and it went straight through my finger and took it off.
I didn't feel a thing; never felt a thing. It was just hanging by the skin; so I thought 'stuff the dogs' and jumped back in the truck. It was seven miles to the hospital in Holbrook and by the time I got to the car park I passed out; I couldn't get out of the truck; I passed out and someone found me. I don't know how long I was there. They stuck it back on again but it had gangrene so they had to take it off; there's no knuckle in there, they had to take that.
How long were you building with Fred?
Right up until 1974. He retired about 1973 or '74. I'd left him just before he retired because I'd had enough of being a builder and Mrs bloody Brown who didn't have a clue but would come along when you had your plan and build it to that and say 'but I didn't want that there…' and then trying to get paid for building what's on their plans, so I said to the old man "I'm not going to be part of this anymore.'
What is the most memorable aspects of that for you?
The blokes I worked with; I worked with some excellent blokes. I enjoyed all the new work but when you had to go and chop out white ant eaten rooms; kitchens and bathrooms; I didn't like that. I loved the new work. I used to like doing the fixings; all the architraves and skirtings and hanging doors, doing cupboards.
And then you went on to the ferries in 1976. What was the first ferry you had?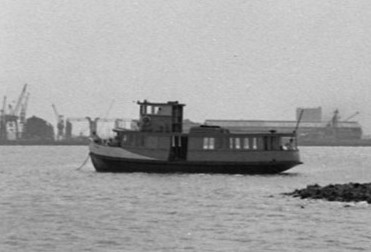 I decided I'd get into ferries. I didn't get the first ferry until 1976. In 1974 I went with a mate of mine called Billy Martin being an absolute hard basket over in the New Hebrides. He was in carting cargo and salvage of wrecks on Middleton reef. We salvaged the Runic, a couple of others off Middleton reef, a couple of Jap trawlers there; then a couple in New Caledonia and then I came back to do the ferries because I'd earned the money to do it. The first boat was one I named after my mother, it came from her mother's family in Newcastle, from the Walters, the Stockton Ferries, I bought one of their boats. Up there she was called the Arthur G Walter; we brought her down here and rebuilt her and called her the Ellen Anne after mum.
Now the Goddards had a ferry service out here..
They were the originals.
So yours was a carrying forward of a local Palm Beach ferry service?
Yes, the water was always in my blood, I loved the water, loved boats. So I started Palm Beach Ferry Service; took over from Don MacKay.
Where were you running to?
When I first started the run was to Bobbin Head on a daily basis. I bought the Ellen Anne in '76. Later in '76 I bought the Merinda with the Basin-Mackeral Beach Ferry Service. So then I had two runs, which didn't leave me with a back-up boat if something went wrong or if we had overloads anywhere. So I figured we needed three boats and of course it just kept growing from there; you had to get your contracts through the Department of Transport, as it was called then, in those days. Then it became the Department of Motor Transport now it's the Roads and Transport.
How many ferries did you have over that time?
I had 19 ferries. There was Ellen Anne, second one was Merinda, third was Merinda II, 4 was the Hawkesbury, a Brooklyn boat, which I renamed Melissa after my daughter, then the Myra which was my mother in laws name, then we were starting to get everything else; I'd sold the Ellen Anne to build the Merinda II…and everything was starting with an 'M' and we didn't realise it at the time, and ending with an 'a'. so we kept that going for quite a while. After the Myra came the Mirrigini which was a local boat from here; Don Mackay was the previous owner, then the Mia, which was named after my dog; she was named Mia, she originally came from Brisbane River. She was a little cross river ferry up in Brisbane River and I used her as a backup for The Basin run. Mind you, as I was buying one I'd be selling one, so really we did increase in numbers but after we'd have three or four I'd sell a boat.
Friendly used to drive one; the Ellen Anne; she was a good boat to drive, like the Merinda. Merinda was a good boat to drive but a terrible boat for passengers; she was a well decker where you've got to walk down into them, and the Mia was a well decker too; they were the only two well deckers I had.
Friendly: Melissa II was a heap of junk; that was that twin screw single rudder…
Peter: Melissa II was great; it's Melissa I you're thinking of.
Friendly: Don Mackay was always on the southern end with the Marrigini and then we'd come in on the Melissa I from the northern end and it'd be blasting from the south, and as soon as you'd get your stop-go to bring her in the bow would just get blown away and you'd get blown towards Gonzales boatshed because this thing wouldn't go backwards. You'd give if full stern and it'd still…so you'd have to come in at this angle, and I taught his young son, young Mark (Peter's son) who was my deckhand at the time, I taught him to take a pylon with the deckline at 70 feet; I'd come at the wharf and he'd give it a hoy, get the pylon and and begin tying up!
Cowboys of Pittwater it sounds like!
Friendly; Geez they were good days.
Peter: Yep.
Tom Gilbert: Friendly certainly was.
Which was your favourite?
My favourite ever…the Myra, she's still running. She's just the most beautiful boat to handle. She did everything you asked her; it shouldn't have been called 'Myra', it should have been named after a bloke because it behaved so perfectly.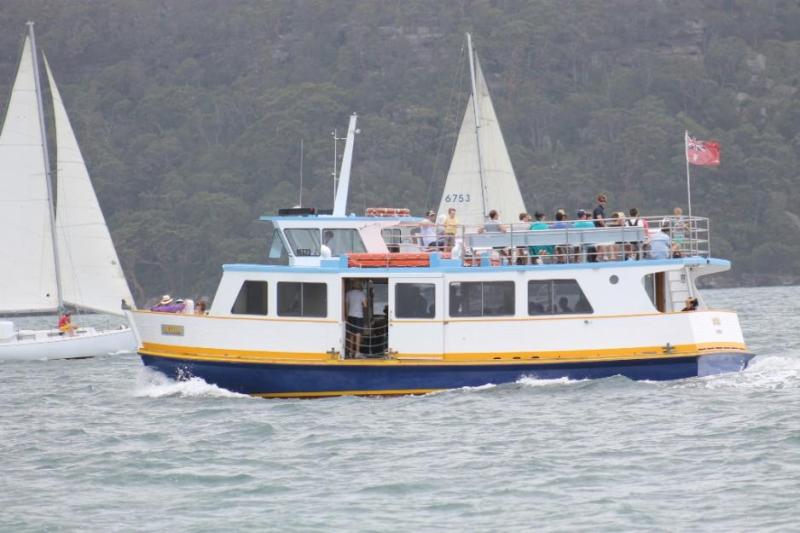 The Myra
Friendly, Brian Friend, kindly provided a bit more about Palm Beach Ferries;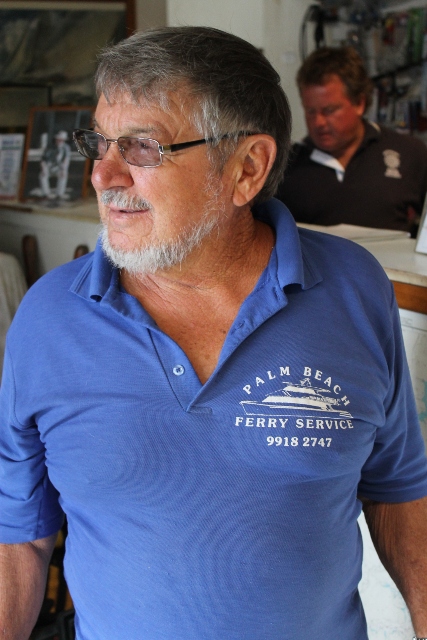 As his business flourished and he became more popular, in 1981, Peter bought his 3rd. ferry the HAWKESBURY which he renamed MELISSA after his daughter. This boat was a dog of a thing with twin propellers that, if you used them as a fan, they would not keep you cool on a hot day. Anyway Pete was on a roll and no one could stop this man who was on a mission. After consulting his mates (Martin, Dicko, Goddard etc) in 1983 he decided to actually build a new ferry to HIS specifications. Now according to Pete, if I can build a house, then there's not much more needed to build a boat. Norman Wright & Sons of Queensland agreed to Peter's demands and with a bit of changes here and there (they removed the ensuite and the sauna from the plans) they built the ferry MERINDA II for the Bobbin Head run and of course this vessel is still carrying out those duties today. In 1985 he again requested Norman Wright & Sons to build him another ferry but left the plans up to them. This ferry was called the MYRA which was named after his mother-in-law. Now she must have a wonderful woman because this ferry (with her name there on) is still operating to day as efficiently and effective as the day she went in to service.
And of course the 'sky is the limit' when things are going well so in 1986 he purchased the MIRIGINI which he used as a charter boat both here and on Sydney Harbour (at this time he was trying his hand at challenging the 'legends' on Sydney Harbour). In 1988 he again went to the bank and purchased another ferry from the Brisbane River area called the GOLDEN GULL and renamed her the MIA after his pet dog. In 1992 we all went to town after he had purchased the PRODUCE from Stannard Bros and sailed her back to Pittwater although after a certain man by the name of Goddard produced a bottle of rum, half the crew have no memory of the vessel entering Broken Bay. In 1996 he bought the FIESTA and used her for mainly charter work but, working the two ports was hard as each charter on Sydney Harbour meant that the crew had to spend 3 hours each way and then carry out the charter which made for a long day so he sold her in 1999.
CATAMARANS: In October 1999, the brain cells were running amok and he could feel it in his water that a ferry run between Palm Beach and Ettalong would be a viable product. First he would have to buy a ferry that was stable and fast and could handle rough conditions that were often found between Barrenjoey and Box Head. He found an aluminium catamaran by the name of AMAROO up near Forster so he took a gamble and purchased her and renamed her SPIRIT. All of a sudden this ferry service became a popular item as people from the peninsular now had a chance to get to the Central Coast in about 20-25 minutes without driving. They could have lunch up there, wander through the village markets and return the same day. What a great man this Peter Verrills is coming up with such a great idea. Now we have regular commuters each day attending work, school, family visits and shopping. Anyway, the SPIRIT was an old girl and she needed a backup, so in 2000 he built a new catamaran which he named SILVER SPIRIT which had a top speed of about 25 knots and carried about 220 passengers. Now Pete knew that the Olympics where approaching so this ferry arrived at the right time. Sydney Ferries had seen this ferry in operation and knew the background of one 'L.S.F.P.' so they chartered 'the man and his boat' for the entire games. Pete was on fire and another ferry was imminent so in 2001 along came GOLDEN SPIRIT, a bit smaller and capable of carrying 160 passengers and a top speed of about 22 knots. This one was a backup for the Ettalong run and the Sport & Rec. camp near Juno Point. In 2002 he completed the building of a new catamaran which he designed and supervised himself and called her AQUA SPIRIT which had a top speed of about 27 knots and carries about 250 people. This vessel was such a success that it is regularly on stand by for Sydney Ferries and has worked the Parramatta River and Taronga Zoo run on many occasions. The need once again hit home and Peter decided that AQUA was a good vessel so, her sister ship CHRYSTAL SPIRIT hit the scene and of course the rest is history. On the 30th. November, 2004 Peter drove his last ferry and moved in to retirement.
Did you sell any of these to Church Point Ferry Service?
I sold one boat to there, to a bloke by the name of Jack Kirkpatrick; I sold him the last Melissa which he renamed Kuringgai.
So you got out of Palm Beach Ferries. What did you do then?
Went caravanning all around Australia; anywhere a caravan could go.
Did you go to Tassie?
Not in the caravan, no; Goddards was down there though so I used to go down there regularly.
What was it like growing up around the Gonsalves and the Goddards and the Hilliers and young Tom Gilbert? You have seen Palm Beach go from a fishing village and horse and cart days to where we have planes landing off the jetty here
Excellent. The Hilliers had where the fish shop at Palm Beach is today.
Could you share some of the dramatic changes that you've seen occur to the area…you've seen Pittwater change from being a rural area to a suburban one.
Mind you I was only very very young, just born, but it was discussed so many times around the family table, was when the electricity came on. That was a big thing. A lot of the locals, well not so much the locals, but the weekenders opposed it. They didn't want it because it was going to ruin the country atmosphere of Palm Beach. The permanent people like mum's family and dad's family and the Goddards, the Websters, they were of course all for it. And of course as soon as the poles were put in and the wires strung everyone had it, not just the permanent people, and it was just forgotten about; that was one dramatic change. The second one was when Howlett's Store around at Palm Beach was demolished and this consortium of business people bought all of that corner, at Livistona lane, where the buses terminate and they built this 'Flamingoes'. Everyone, everyone opposed it; there were protests and meetings everywhere. Mary Ash owned that place, she developed it ..so everyone opposed that on the basis of what it was going to do to Palm Beach and of course it did nothing, and of course it was all forgotten about once it was passed and built. Another would be Vic Walton starting up the seaplanes here on the Beach House wharf. The other would be the closing of the Palm Beach Camping Area; that was the demise of Palm Beach.
According to those with long memories the reason given for closing the camp was due to a proposed visit to Palm Beach by Queen Elizabeth II on her first tour of Australia and authorities not wanting her to look down on 'tent city'. Many residents of Pittwater lined the road to Palm Beach to see the Queen drive out and all, despite reports in newspapers the following day stating she did not, and claim to have seen and waved to her. According to Palm Beach residents she lunched in a luxury home in Northview rd., Palm Beach before spending the afternoon on Pittwater in Frank Albert's, the phenomenal Australian music success story of Australia, yacht Boomerang: The Boomerang is still afloat and forms part of the Sydney Heritage Fleet. Mr and Mrs Albert brought her out to numerous Pittwater Regattas during the late 1920's and '30's.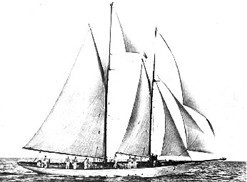 Queen, Duke At Church
The Queen and the Duke of Edinburgh will attend Divine Service at St. Andrew's Cathedral, this morning. This is their only official engagement on to-day's programme. They will leave Government House at 10.50 a.m. and arrive at the cathedral at 10.58 a.m. They will drive along Macquarie Street, Martin Place and George Streets. Archbishop of Sydney, the Most Reverend H.W. K. Mowil, will meet the Royal couple and present them to the Dean of Sydney, the Very Rev. E. A. Pitt, and the Lay Canon. The Archbishop will precede her Majesty and the Duke past the choir, which will form two lines at the entrance, and usher them to the Royal pew. During the service, the Duke will read the Lesson.The return journey to Government House will be along George Street, Martin Place and Macquarie Street.
Rumour On Palm Beach visit.
It is understood the Queen and the Duke may visit Palm Beach this afternoon. If so, they may travel up the Pacific Highway, and then through St. Ives along Pittwater Road. On the other hand they may go through Manly. A number of influential people have been trying to get them to visit Manly, which is not on the official itinerary. It has been suggested the Queen may visit the Far West Home at Manly, and the Duke may go sailing at Pittwater. To-morrow will be the first free day for the Royal couple. On Tuesday they will leave Central Station on the Royal train at 10.15 a.m. for Newcastle. Queen, Duke At Church. (1954, February 7). The Sun-Herald(Sydney, NSW : 1953 - 1954), p. 4. Retrieved from http://nla.gov.au/nla.news-article28659280

Peter: We all stood along Barrenjoey Road and waved to her. She was only out here for lunch; then they gave her a run on the yacht Boomerang; you know the Boomerang; she had a run in the Boomerang and then she was up there for lunch (Northview road, Palm Beach). The next day she did the big parade through the streets in town and all of us, we all got on the Caroline H, it was a Gonsalves boat, the local trawler and we all went around to Sydney Harbour to see her in the launch, when they took her around Sydney Harbour, and then we went up Broadway to the Crystal Palace Hotel and all of us got out on the awning over the footpath to watch her go past.
Which came first; Palm Beach or Avalon RSL?
Palmie, they were within a couple of years of each other; they both started off in tin sheds. Avalon only opened Friday, Saturday and Sunday. Where Palm Beach was going every afternoon. Just a place where you congregated after work, where you went to get your trademen, it was your local employment center.
What is your favourite place in Pittwater and why?
My favourite place in Pittwater is all of Pittwater; I love all of it; don't have any place that's a favourite. The northern end of Pittwater particularly though.
What is your motto for life or a favourite phrase you try to live by?
Eat, root and be happy!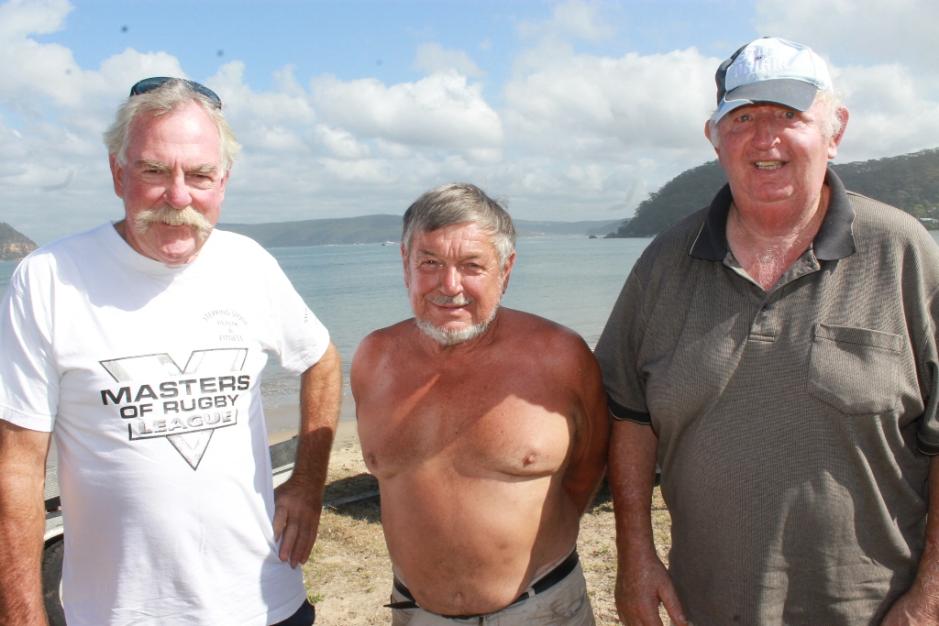 Copyright Peter Verrills, 2013. All Rights Reserved. Albert George Verrills History Page

Above: EB Studios (Sydney, N.S.W.). 1917, Panorama of Palm Beach, New South Wales, 13 , retrieved from http://nla.gov.au/nla.obj-162489097
PIC P865 LOC photographs in Hurley Stack 52/4-Enemark collection of panoramic photographs [picture]/Panorama of Palm Beach, New South Wales, 13 [picture] - Below: sections from showing Gonsalves home and cows and horses on the golf course