August 28 - September 3, 2022: Issue 552
Save the Northern Beaches Bushlands Community Meeting + Department of Planning Creates 'Aboriginal Planning Concierge' and appoints 13 new people to the Sydney District and Regional Planning Panels
Wombat in Belrose, February 2022. Video supplied.
On Sunday August 21st members of the Save the Northern Beaches Bushlands group and concerned residents met at Belrose and heard from speakers including Councillor Kristyn Glanville, Dr. Conny Harris, Julia Walsh Chair of Save Manly Dam Catchment and Uncle Laurie Bimson, who gave the Welcome to Country.

The meeting was held in regard to the decision the Minister for Planning made to approve the draft development delivery plans for six sites of the Northern Beaches Aboriginal Lands, despite a huge community response against such draft development delivery plans including members of the local Aboriginal community.
Julia Walsh pointed out that this plan is about hundreds of hectares of wildlife habitat, noting that 13 species went extinct in Australia last year. The proposal frames yet again the short-term financial gain expected by some at the cost of the long-term view and that the community is up against people whose job it is to eliminate any hurdles and ensure such developments go ahead, whatever the cost.
Both Dr. Harris and Ms Walsh pointed out it is important for the community to document what is in these areas themselves and make others aware of the critically endangered plant species and listed as endangered wildlife species specific to these sites.
''Petitions will not be enough, protests will not be enough - the community needs to create as individuals and as one whole a 'tsunami of pushing back' against more destruction'' listeners heard.
There were calls to showcase all the animals and flora that were missing from the documents presented, although, as shown in last week's Department of Planning and Environment announcement for Sydney's Koalas in the south area, both NSW government departments will forward development plans, regardless of the state or commonwealth listing for species, such as koalas, and will relegate what is left of any eco-system to 'tree museum' status to facilitate the same.
Koalas!!! Sighted recently in the Belrose area. (exact location withheld as per NPWS policy) UPDATE: This koala sighting has been entered into Bionet/Wildlife Atlas."

Please help to keep koalas safe. Their biggest threats are:

* dog attacks - please keep your pets away from wildlife

* vehicles - slow down for wildlife particularly on Wakehurst Parkway, Mona Vale Road and Forest Way

* habitat destruction - over development on the NB is a major threat to our koalas and could eventually wipe them out.

In a sad era for our native wildlife it's an exciting time for us at WIRES to learn that there are in fact koalas still living amongst us. Here are some photos courtesy of @lisa.spinks1 WIRES



The sites and their sizes are know as:
Lizard Rock & Morgan Rd - 71ha
Aquatic Drive - 1.93 ha
Forestway Belrose – 2.7 ha
Corymbia Circuit – 11.8 ha
Paxton St – 4.4 ha
Ralston Ave – 135ha
At present the Save the Northern Beaches Bushlands group are collecting signatures on a petition with the aim to get enough to have the decision debated in parliament. They are also asking everyone to wqrite to their local minister on this matter.
The group is calling for the NSW Government to:
Repeal the amendments to the State Environmental Planning Policy (Planning Systems) 2021, so that the 227.3ha of land in the Northern Beaches is no longer subject to the Development Delivery Plan;
Work with all the Aboriginal Traditional Owners of the land; and the Metropolitan Local Aboriginal Land Council, to find an alternative means of realising a fair and timely income from their landholdings, while retaining the bushland at those locations. Many alternatives have been shared with the Minister for Planning, for his consideration, including:

Leasing or purchasing the land with Environmental Zoning as a National Park
Compensating the Traditional Owners and MLALC for the loss of development potential
Investigating a land swap for a developable site elsewhere that has no conservation value
Investigating a re-tabling of the Aboriginal and Torres Strait Islander "Indigenous National Park concept";
Investigating options for long lasting financial income options for Aboriginal and Torres Strait Islander People from the lands; such as via tourism opportunities, land care and bushland and Aboriginal Culture education;
Creating a Social Justice Improvement Program for Aboriginal and Torres Strait Islander People;
Addressing the concerns of the wider Northern Beaches and Aboriginal and Torres Strait Islander Communities from an Indigenous Cultural Heritage, Recreational, Tourism and Environmental Preservation perspective.
''There are many opportunities for this beautiful landscape which contains culturally and environmentally significant value to be cared for, shared, protected and utilised in a way that benefits everyone across the entire community.
We are not against development in the right locations with the appropriate supporting infrastructure and proper planning, however this bushland is NOT the right location for development of 500+ homes, industrial sites and other land uses. It is pristine and culturally significant and as such must be properly protected.'' members state.
Members state an online petition is being launched and residents can download and help fill out the paper version by accessing it here: https://beachesbushland.mailerpage.io/petition
That can then be presented to the NSW Parliament and debate can occur on the matters being discussed.
Save the Northern Beaches Bushlands has a Facebook page to follow updates at; www.facebook.com/groups/5026719350721011

On Friday July 5th the NSW Department of Planning announced the Finalisation of Northern Beaches Aboriginal Land DDP and SEPP amendment.
Six sites owned by the Metropolitan Local Aboriginal Land Council (MLALC) in the Northern Beaches have been included in the State Environmental Planning Policy (Planning Systems) 2021 via this.
The Northern Beaches Aboriginal Land Development Delivery Plan (DDP) has also been approved by the Minister for Planning and Homes, Anthony Roberts.
The finalisation of these plans is the first step to allow consideration of planning proposals or development applications (DAs), which will involve further community consultation.
These decisions allow planning proposals for the sites to be reviewed by the North District Local Planning Panel.
On Wednesday August 24th, the NSW Department of Planning announced the creation of two new groups to speed up assessments, improve outcomes and unlock economic benefits for Aboriginal communities, the new Aboriginal Planning Concierge, through the same Department, and 13 new appointments to the current pool of people who make decisions on the Sydney District and Regional Planning Panels. All of these are appointed by the same Department, NSW Planning.
The Department of Planning and Environment's Deputy Secretary of NSW Planning, Marcus Ray said a dedicated service had been set up within the Department of Planning and Environment, to help Local Aboriginal Land Councils (LALCs) and Native Title Body Corporates navigate the planning system.
"This is an important step in returning to a level of 'self-determination' for Aboriginal communities, so they can control the destiny of their land," Mr Ray said. "Ultimately, the new Aboriginal Planning Concierge will help unlock opportunities on Aboriginal-owned land, by reducing backlogs and accelerating the assessment process.
"Whether it's clearing hurdles holding up a proposal's determination, or resolving complex issues with agencies and industry, this team is skilled at removing barriers and simplifying pathways to avoid delays and keep the economy going."
Marcus Leslie, a Gomeroi man from North West NSW with a background in natural resource management and environmental regulation, will lead the Concierge to offer advice, build relationships, and ensure seamless experiences in the planning system.
Mr Ray said Aboriginal communities will also benefit from the appointment of 13 new specialists to the current expert pool for the Sydney District and Regional Planning Panels.
"These new specialists, with expertise in strategic planning and Aboriginal land planning, will join the existing pool of alternate members on a case-by-case basis when needed to improve decision-making, and help speed up the assessment and delivery of new homes, jobs, and infrastructure," he said.
"This will give existing panels the additional resources they need to improve rezoning reviews, planning proposal timeframes and unlock more opportunities for Local Aboriginal Land Councils."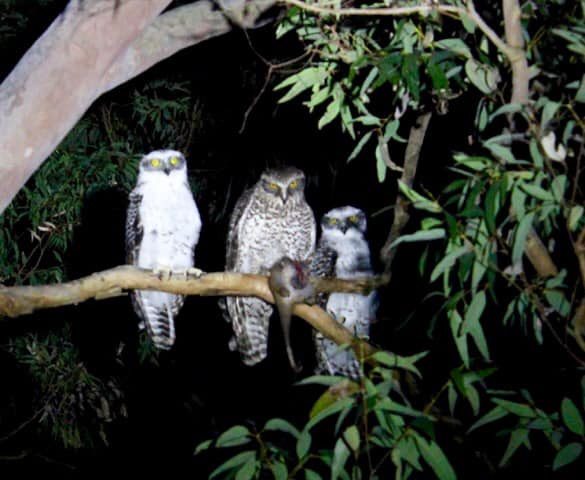 Powerful owl and chicks at Belrose and 'Fuzzy Butt' the Wombat of Ralston Avenue, Belrose.
With the state governments' followed intention to hand lands to LALC's, along with provide support through the NSW Department of Planning to formulate documents and have their contractors 'independently' evaluate the same prior to having their appointed Planning Panels approve them, the discussion taking place in our own community is not occurring in isolation and brings up similar points in places being impacted elsewhere where the people are for aboriginal determination and economic development but against the destruction of the environment and wildlife purely based on greed, as occurs in any other Developments.
On January 31st 2022 an announcement that the State Government and Darkinjung Local Aboriginal Land Council (DLALC) are in talks over the possible transfer of ownership of Peat Island to the Land Council was met with fierce opposition from Traditional Bloodline Owners.
DLALC's plans for the island would include the possible development of an Aboriginal Discovery Centre and Indigenous Walking Path as well as cultural tourism opportunities to capture and help preserve the rich Aboriginal cultural heritage on and surrounding the island.
Minister for Planning and Homes, Anthony Roberts, said the move would aim to reunite the site with the custodians of the land, ensuring it will be preserved and acknowledged well into the future.
Parliamentary Secretary for the Central Coast, Adam Crouch, said the statement of intent marked another step forward in reconciliation.
"The Government recognises the significance of Peat Island, in both its Indigenous and European histories, and the impact it has had on all Australians over the last hundred years," Crouch said.
"Working with the Darkinjung Local Aboriginal Land Council gives us an opportunity to partner with a local land council to pay respect to these shared histories.
"We are also working closely with local community representatives to establish a memorial in the proposed chapel precinct to remember the residents of the island's institutional past."
DLALC Chairperson, B J Duncan, said the move would benefit the local Aboriginal community and all Coast residents.
The announcement also stated that DLALC CEO, Brendan Moyle, said the Land Council and the State Government were building a strong partnership, with a number of land claims under negotiation.
However, direct descendant of historical figure Bungaree, Tracey Howie, said Traditional Bloodline Custodians find the proposed land transfer "shocking and deeply disturbing".
"Our ancestors called the Hawkesbury River Dyarrubin; it was a place where all the Guringai clans and our neighbours the Dharug would come together for ceremony and to enjoy the abundance of natural resources it provides," she said. "In recent years we have been meeting in this area and have continued our ceremonies in order to reactivate and maintain our deep connection to Dyarrubin.
"To have the land of our ancestors palmed off by the State Government to the DLALC is a slap in the face to those who have an ancient cultural connection to this very special place."
Ms Howie said the government was well aware of the Guringai's intention to use the Peat Island area for traditional purposes.
"Sadly, yet again the Bloodline Descendants are disenfranchised and denied an opportunity for future generations on so many levels," she said.
Ms Howie said Bloodline Descendants of the Guringai would like to see the island turned into a Site of Conscience – a place of memory dedicated to the people who lived and were traumatised in the area.
The exact amount of land which would be transferred is still being finalised.
Ms Howie is not the only person upset at Traditional Bloodline Custodians being ignored during these development plans being pushed through the NSW Department of Planning. Earlier this year a petition was launched, titled 'An ICAC Investigation into Aboriginal Land Councils' and states:
Aboriginal Land Councils in NSW need to be investigated for misappropriation of funds and dispossessing traditional owners of aboriginal land. Shady deals with politicians past and present and developing and destroying sacred lands and sites. With enough numbers we would like to see corrupt Land Council Boards face prosecution and traditional lands returned to mobs with unbroken ancestral connections.
On April 26, 2022 the Central Coast Council endorsed the 'Greater Lake Munorah Structure Plan', a Darkinjung Local Aboriginal Land Council (DLALC) project to develop part of its total 154ha site with about 60ha for housing at Lake Munmorah. The 154ha site straddles the western and eastern side of Chain Valley Bay Rd at its intersection with the Pacific Highway.
It is currently vacant rural land zoned E2 Environmental Conservation and E3 Environmental Management and would require rezoning to allow low to medium density housing on about 60ha of the land over four sections, as well as central open recreational space.
NSW Department of Planning and Environment Executive Director of Local and Regional Planning, Malcolm McDonald, said the community could help shape Lake Munmorah's growth, by sharing its views on the DLALC project. That feedback closed on May 24th, 2022.
"Showcasing this proposal to the public represents a significant milestone in Darkinjung's journey, to use its land to reap economic rewards for local Aboriginal people and deliver much-needed new homes," he said. "It lays the foundations for a new park and up to 600 homes at various price points, close to existing services and jobs, not just for the Traditional Owners but everyone on the Central Coast.
"The proposal balances development with environmental conservation by protecting 21ha of untouchable bushland, home to wildlife such as the masked owl." Mr. McDonald said.
"We will continue to work with Darkinjung to identify how its land can best be planned, managed, and developed.
"This is one of three Darkinjung projects currently being assessed under a streamlined planning system, to support the local Aboriginal community.
"It follows the 2020 approval for an industrial hub in Wallarah, with the potential to create 1,200 new jobs," McDonald said.
Darkinjung is one of 120 Local Aboriginal Land Councils in NSW. In 2016 Darkinjung held a portfolio of approximately 3,500 hectares — making it the largest non-government landowner on the Central Coast. That land portfolio was expected to grow over the coming years as further land claims are determined, with over 14,000 hectares subject to land claim applications by Darkinjung as at 2016.
On April 23rd, 2022 The GuriNgai and Darkinoong peoples released the following Press Statement:
The Government plans on using Darkinjung Local Aboriginal Land Council to exploit our environment and disempower the true Custodians.
PLEASE READ THE PRESS RELEASE BELOW & SHARE THIS FAR & WIDE
Traditional Bloodline Custodians of the Central Coast and Northern Sydney are coming together outside Central Coast Council at Wyong on Tuesday afternoon from 4.30pm to protest against the proposed 'Central Coast First Nations Accord' which will acknowledge the Darkinjung Local Aboriginal Land Council as the official Indigenous authorities of the Central Coast.
The group who identifies as "GuriNgai" claims that the local and State Government are trying to misrepresent Aboriginal people and "give all the decision making powers to Aboriginal developers to get through as much unsustainable development as they can."
Traditional Custodian and direct descendent of historical figure Bungaree, Paul Craig said, "Council has rightfully stated that Native title has not been successfully claimed in this area. If that's the case, then why are they acknowledging a local land developer such as DLALC? The signs saying "Welcome to Darkinjung Country" on the lands of our people need to come down immediately. They are outright false and misleading."
"How can they possibly acknowledge an organisation that is well known for claiming land due to its cultural heritage values, then allow it to be destroyed for profit; and at the same time doing their best to discredit the true Custodians of the Central Coast?"
Mr Craig said "DLALC has publicly stated that the GuriNgai are a "fiction" and that our Native title claim was rejected. That is simply not true and we can prove it. A successful native title claim would acknowledge the GuriNgai as the Traditional Custodians of the Coastal region and the Darkinoong as our neighbours to the West."
"People need to learn the distinct difference between Darkinjung Land Council and the Darkinoong people. Darkinoong people who have a strong connection to their culture would never destroy sacred sites. We are working closely with Darkinoong people to protect Kariong Sacred Lands from a proposed development by DLALC."
"While our Native title claim has been temporarily put on hold, the GuriNgai are still well and truly in the process of working towards being officially recognised as the first people of the Central Coast. It is a complicated, lengthy and expensive process, but nevertheless something that we are absolutely pursuing."
Mr Craig said "GuriNgai was a general name given to Bungaree's people by an 18th century linguist. Bungaree was certainly not a Darkinoong man, there's no evidence suggesting that. Our main clans were the Garigal, Walkalowa, Wannangini and the Wannabe. The word GuriNgai was used due to our local word for 'man' being Guri or Koori and the word for 'woman' was Ngai. So the words Guri and Ngai were blended to form the name GuriNgai and the term was used for many clans up and down this part of the East Coast."
"DLALC's entire argument is that our people aren't from the Central Coast because we didn't make up the name GuriNgai. It's not even a valid argument, but the local and State Governments have not only accepted it, they are trying to wipe us out for the second time."
Mr Craig added "It's like saying that a person isn't an Australian because they didn't personally name the Country "Australia". It's ridiculous."
"We can prove our ancestral connection to this area and we are in the process of officially doing that. Meanwhile we urge locals to do some research into my direct ancestor Bungaree who was famous for circumnavigating Australia with Captain Matthew Flinders in the early days of settlement. While we didn't necessarily have kings and queens as such, Bungaree was made the brass chest plate "King of the Broken Bay tribe" as he was born in Patonga."
Mr Craig added "Hundreds of people identify as GuriNgai. If we aren't who we say we are, then who are we?"
"Our people have been through so much over the past 233 years since 1500 souls landed on our shores from Europe in 1788. To think that some of our fellow Indigenous brothers and sisters would team up with the Government to dispossess us of our land for the second time is just unfathomable."
Mr Craig said "We are reaching out to the Central Coast community to support us by turning up to our peaceful gathering on Tuesday at 4.30pm - 5.30pm outside of the Central Coast council building at Wyong. There will be a welcome to Country ceremony and then guest speakers addressing the issues facing our people."
"DLALC is the largest private land owner on the Central Coast. Time and time again they have shown no regard for culturally or ecologically sensitive land."
"While some people may think this issue won't impact them or their way of life, wait until DLALC starts planning developments in their local area that show no concern for the local community or the place we all have the privilege of calling our home."
Mr Craig added "Our community must unite and defend our way of life. If we don't, this precious and beautiful place will be unrecognisable to future generations."
_________________________________________
The Draft is still available on the Central Coast Council website with analysis of feedback currently being undertaken. The webpage states the;
'Accord acknowledges the significance of the existing Memorandum of Understanding (MOU) with Darkinjung Local Aboriginal Land Council and commits to strengthening this important relationship to ensure both parties are able to maximise outcomes for the community.

Key commitments within the Draft Accord including:
To establish a new MOU with DLALC
To establish a broad-based Aboriginal Advisory Committee – to provide a mechanism for representation of the local Aboriginal community to have meaningful engagement with Council while we work through the next steps on our shared journey in a collaborative manner.
Other critical focus areas within the Accord are to advance opportunities for increased employment, and better education and health outcomes locally.'
The next steps are listed as; 'Feedback from exhibition analysed and documents finalised' and 'First Nations Accord and Acknowledgement of Council adopted'. Should a Native Title Claim be made by peoples directly linked to these lands the council will adjust its documentation.
The State Environmental Planning Policy (Aboriginal Land) 2019 ('SEPP') came into force on February 6th 2019. The SEPP provided for the making of 'development delivery plans' ('DDPs') for land owned by Local Aboriginal Land Councils ('LALCs') which must be considered when determining development applications. DPPs are also required to be considered when preparing planning proposals. Then the SEPP only applied to certain land owned by Darkinjung Local Aboriginal Land Council ('Darkinjung') in the Central Coast Council local government area, who had suggested the same in a 2016 submission to the government on the Draft Central Coast Regional Plan.
In September, 2019 the Metropolitan Local Aboriginal Land Council (MLALC) requested the Aboriginal Land SEPP be amended to include its land holdings in the Northern Beaches local government area. The request resulted in a proposal to include nine sites, the six initial sites listed above and three future sites, in the Aboriginal Land SEPP and the preparation of the development delivery plan (DDP).

In November 2020 the NSW Government released the Aboriginal Land State Environmental Planning Policy (SEPP) Guideline.
Department of Planning, Industry and Environment Executive Director of Local Government and Economic Policy Luke Walton said the guideline is based on the framework currently being used by Darkinjung Local Aboriginal Land Council on the Central Coast and will help 120 Local NSW Aboriginal Land Councils (LALCs) engage in the planning system to get better use out of their land.

"Darkinjung is the largest non-Government landholder on the Central Coast with 3,700 hectares of land. Their new planning framework has been successful in helping them progress planning proposals through the system for residential development, employment lands and conservation plans," Mr Walton said.
"The new guideline will help to unlock opportunities for LALCs so they can deliver economic and community benefits from their lands for future generations.
"The measures align the planning system more sympathetically with the Aboriginal Land Rights Act 1983, stimulating improved governance, empowerment, strategic planning and more efficient land use."
The new Guideline provides tools and assistance to LALCs by outlining:
The process for having land included in the Aboriginal Land SEPP;
The process for having a Development Delivery Plan prepared;
Guidance to assist LALCs to determine whether the Aboriginal Land SEPP is the most appropriate development pathway; and
Planning support to help LALCs navigate the planning system.
Below runs a video where the speaker, Ms Howie, who continues her objections to development plans on Kariong Sacred Lands, explains the importance of these places.
More soon.