January 15 - 21 2023: Issue 567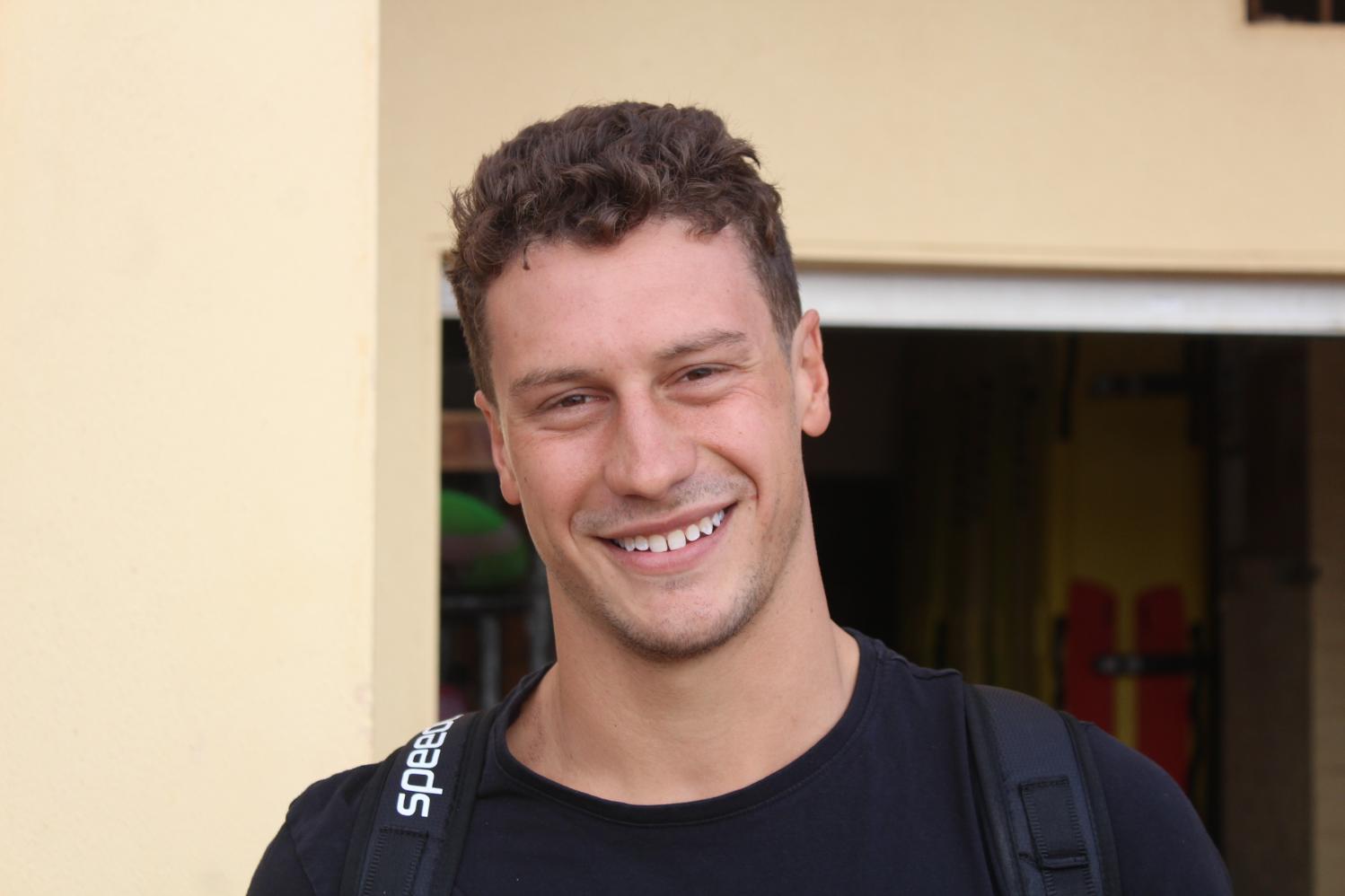 The Nutri-Grain Ironman/Ironwoman and Summer of Surf series are a celebration of some of Australia's greatest surf lifesaving athletes. These are also placing an up-to-date focus on the role of surf sports in surf lifesaving not seen since the commencement of the movement when thousands used to attend carnivals. Those same carnivals generated funds for the surf clubs hosting them and enabled them to purchase equipment and improve facilities that in turn supported the saving of lives on our beaches. Surf Sports themselves are a means to hone the skills used by those who go the rescue of people in trouble in the surf.
One athlete taking part in both series is Newport SLSC's Jackson Borg, who states he 'wasn't great' at surf sports when he first commenced racing. His rise in the echelons of these contests he attributes to putting in the hard yards and going the distance, consistently.
However, it's his passion for the surf lifesaving movement, love of Newport Surf Club and being on the beach that has led to a sustained effort as both an active volunteer Patrol Member at Newport along with his success in the surf sports arenas.
To open our 2023 Profiles you could not get more Summery than a young man who has grown tall and into a great human being through his connection to the movement since five years of age.
Congratulations on placing 1st in Round 2 of the Nutri-Grain IronMan Series for 2022-23 run at Manly on December 18th – how is that going so far?
Round 1 didn't go the way I was hoping but I was then able to back up in Round 2 the next day and get the win in that one. I've really wanted this for a long time, coming down that last wave and seeing Benny (Carberry) not on…I couldn't believe it. The first few races I was just trying to stay out of the bottom six, and save a few of my biscuits for the last race. But I was just able to string things together, hang in there and that's really what this format is about.
The Summer of Surf Series, which also runs each Season, are using you as their poster boy for their event at Manly Open Surf Classic on January 20th and 21st, clearly seeing you as one of this year's strong contenders?
Oh yes, it's definitely nice to get some publicity through that. I'm hoping that through being a part of the Summer of Surf Series that I'll be able to keep the ball rolling and get another win on the same beach.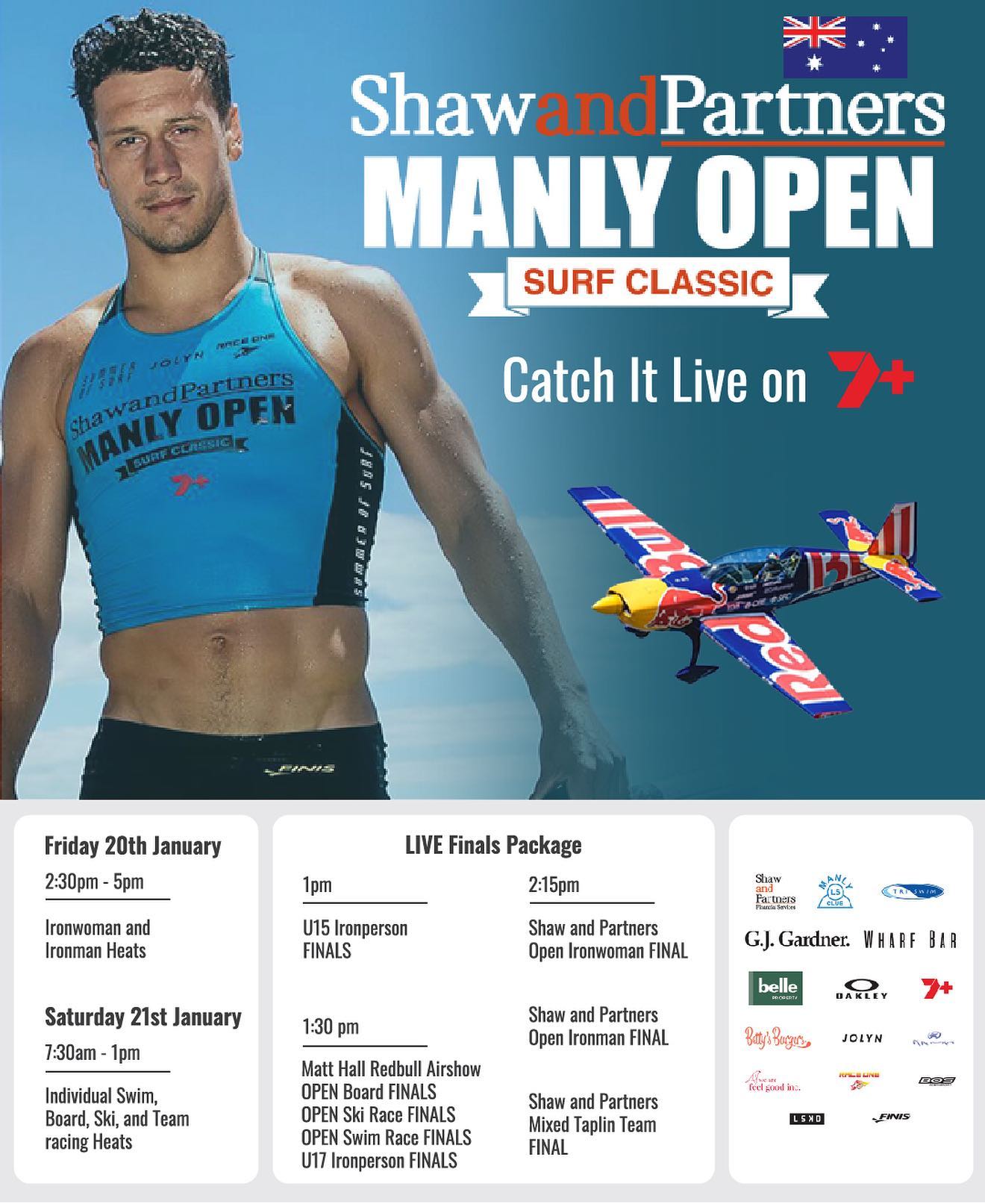 As we got to press you are taking part in Rounds 3 and 4 of the Nutri-Grain IronMan Series at Maroubra. That's a very full schedule you're meeting in surf sports this Season?
Yes, it's great to have the next two rounds close to home as well. The final two rounds at Kurrawa Beach on the Gold Coast on February 4th and 5th.
When did you first join Newport SLSC?
I started as an under 6 Nippers, when I was five years old. Mum and dad joined me up and they joined at the same time. They wanted me to have more surf and ocean water awareness as we lived so close to the beach. The Nippers program run through the club provides this as you are provided with safety and awareness lessons such as basic safety practices during activities, what makes up a beach environment, sunsmart guidelines, and the importance of having an adult with you at the beach when so young. You also learn what a lifesaver is and what they do.
As you progress you learn whether you or someone else is in an emergency situation and how to get help. Nippers discusses the beach environment and communities surf lifesavers operate in. You are also introduced to surf sports skills as you get older; bodyboarding, wading, dolphin-diving, beach sprint starts and beach flags starts, to use a nipper board, so basic board positioning and paddling is introduced. By the time you are a teenager you are completing basic first aid and resuscitation and previous board skills come into play as participants learn how to conduct a board rescue. Nipper's focus on surf sports skills provides you with skills; rolling under a wave on a board, diving under large waves, as well as beach sprint race strategies. It's a great place to start learning about the surf when you live by the ocean.
When did you become a lifesaver?
When I was 13, in the Under 14's, in 2011. That's our last year in Nippers and we can then get the SRC (Surf Rescue Certificate). We're then allowed to be an Active Member of a Patrol. The SRC course provides you with skills and knowledge of surf awareness, aquatic rescue operations and resuscitation in order to participate in lifesaving operations and act in the role of Water Safety Personnel.
You have also gone on to be a Team Leader and Presenter for Surf Education Programs for Surf Education Programs with Surf Life Saving Sydney Northern Beaches. Why was it important to you to do that?
To be able to give back to and work with an organisation that has given me so much. I enjoy teaching and feel it's very important to spread the word on what beach safety is to kids who might not do Nippers. Those beach programs provide those outside of surf clubs with great insights of the hazards of the environments they live in. They also allow you to share why volunteers are on the beach, why we put the flags up in a certain place, and what being part of surf lifesaving gives to you.
You have a degree in Biotechnology, what is Biotechnology and does that help with the Surf Education?
Biotechnology is the combination of Biology and any sort of Technology. There is a few different Majors I could go into, such as Medical or Environment, but I chose Biosensis. This is the combination of Biology and Mechanical Technology, so prosthetics and CPR machines. I'm not working in this field at present as I've been focused on getting the degree and fitting all the training in for taking part in surf sports.
When did you first commence competing in surf sports?
I started a little bit before the Newport Kinghorn Surf Racing Academy was established in 2013. I began racing in the Under 9's/Under 10's and was always a part of the Nippers surf sports prior to the Under 9's.
What was the road that led to being selected to be part of the Nutri-Grain Ironman and Summer of Surf series?
When I started I wasn't great at it at all and took part in it just for the love of being at the beach and because mum and dad wanted me to do Nippers and have all you learn through doing that.
Then once I hit about 15 or 16 I started to get a bit better at it. I was then juggling a lot of sports, was part of rugby. I was playing for the Newport Breakers and the Warringah Rats then. Rugby was probably my first love when I was younger.
Once I got to 16 mum and dad pointed out I was doing too many sports and advised me to drop something and focus in one area so I could keep all the sport and school going. It was hard for me to pick between rugby and surf lifesaving as I love them both, but I ended up choosing surf lifesaving. My progress in surf sports improved, got better and better.
I qualified for my first Nutri-Grain series in 2018 and debuted in the 2019/20 Nutri-Grain Series on the back of a NSW Open Ironman Title and a strong Trials performance. I finished 11th overall and gained automatic selection into the past two series. Then I finished 2nd in the Open Ironman at the 2021 Australian Surf Life Saving Championship. I've been building from there.
This is a bit of an understatement. Jackson was awarded the Surf Sports Athlete of the Year Award at the Surf Life Saving NSW Awards of Excellence that same Season.
The Athlete of the Year is a highly competitive award with all the finalists that season achieving considerable success on the state, national and international stage. Newport's Jackson Borg took out the award due to the consistency of his performance at every level of competition. He won from a group of eight finalists from across NSW.
"I'm super stoked. I didn't expect to win the award. I'm glad all the hard work paid off.
"Everyone who was nominated are extremely amazing athletes, so I was just pleased to be in the running with them," Jackson said then.
Not only was Jackson the 2019 NSW Open Ironman champion, his outstanding results across all levels of competition included gold in the NSW Interstate Board Race, the Interbranch Open Ironman and the Sydney Northern Beaches Taplin and Board Rescue events.
He brought home silver in the Open Ironman at the International Life Saving World Championships and the Ocean 6 Series Run Swim Run.
"In ten years' time I still want to be competing in Ironman competition. I want to be solidified in the Nutri-Grain series - hopefully in the top five," said Jackson.
Jackson was a member of the successful Australian Life Saving Open Team competing for the Sanyo Bussan International Lifesaving Cup in Japan. This was the third time he represented Australia and returned with a swag of medals.
As well as spending countless hours training, he is an active and popular member of the Newport Surf Life Saving Club, promoting positivity and perseverance in everyone.
"I also want to help all the younger guys at the surf club. Help them to hopefully be where I'm at. It's extremely important for me to be able to give back to the surf club.
"It's a goal of mine to be a good role model for the younger kids," said Jackson.
Jackson has spent a lot of time passing on his skills and surf knowledge as an instructor and team leader with the Surf Life Saving Sydney Northern Beaches education team.
"It's great to be fit and to be able to compete at a high level but it's awesome to be able to help someone in trouble and potentially safe a life. It's the foundation of what we do," Jackson said in an interview with Surf Life Saving New South Wales when accepting the award at the 2019 SLSNSW Awards of Excellence
Has the Newport Kinghorn Surf Racing Academy helped?
The Kinghorn Academy has been awesome. We didn't really have a large surf sports program at Newport before the Academy started, there was only around 8 or 9 of us at Newport racing. So it was a really small club at that time. Now, with all the support of and help from the trainers of the gun Kinghorn Academy it has grown into this massive thing that's been such a positive for so many younger athletes. If it wasn't for the Kinghorn Academy I probably would have had to move up to Queensland to race and compete. So I'm really appreciative of the academy.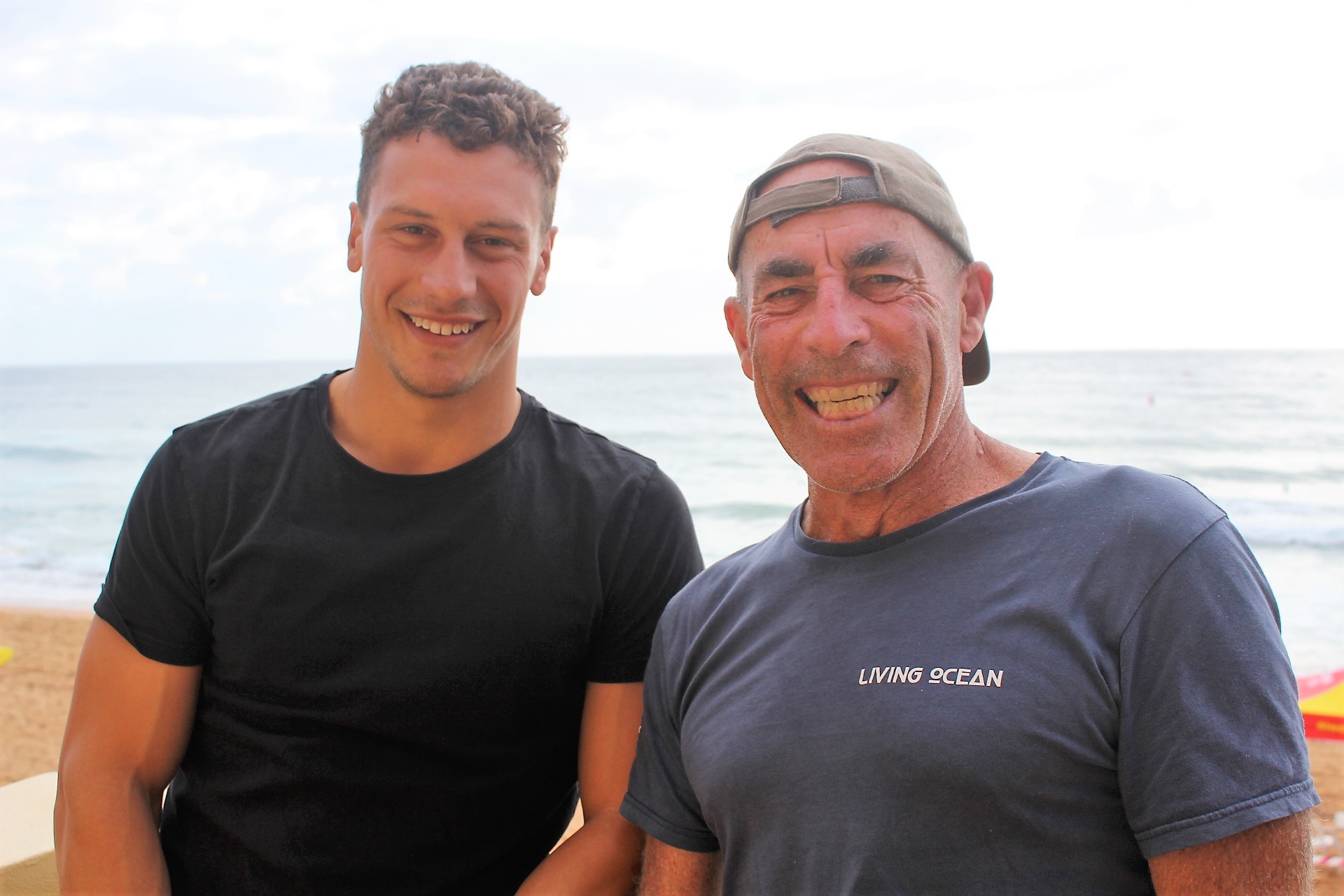 Jackson Borg with fellow Newport Surf Club member Nick Carroll, one of the founders of the Newport Academy at the 2023 Pool to Peak Ocean Swims, January 8th, 2023
You are also an Active Patrol Member at Newport, you were at the 2023 Pool to Peak Ocean swims doing water safety, so it's clearly not all about surf sports for you. Why is it important for you to continue fulfilling volunteer hours as a member at Newport? If you started as a 5 year old and you're 24 now, that's a huge and long-term commitment, are you close to Long Service?
(laughs) I just got Active Reserve this year, so another two years and that will be Long Service. Although Long Service allows you to race and compete without fulfilling Patrol hours I still go down and do all my Patrols and my teaching roster and a little bit more simply because I enjoy being at the beach and the surf club and staying connected to the community we have as members. My stance is that the club has given so much to me that I want to come down and do water safety at events, I want to help out in Nippers when I can, I want to be part of the Patrols.
I'm still a member of the same Patrol I started with, Patrol 8. My mum and dad are on Patrol 8 as well and my brother Sam also was a member of Patrol 8. Sam is now a member of the NSW Police Force so his schedule means he can't really come down to do Patrols so much anymore as he's serving the community in that way.
So what is your schedule this Season Jackson? You work to support yourself, are still an Active Member at Newport SLSC – but what else is on the calendar?
I'm focusing on the Nutri-Grain Ironman and Summer of Surf commitments at the moment. There's 2 more Rounds of the Summer of Surf and 4 more Rounds of the Nutri-Grain series. I'll also be part of the States again this year, which is to be held down at Queenscliff, it will be awesome that that too will be local. Then it's into Aussies, which is being held in Perth this year.
What do you do for 'time-out' – how do you clock off?
Time out is usually hanging around at the beach with either my partner or friends. I also like cracking a book and reading. When I'm not 'on' I try to not do anything – every morning and every afternoon I'm training so it's important to just step back and relax and recuperate when possible.
What are your favourite places in Pittwater and why?
Newport beach would have to be an obvious one. I also love Bangalley Headland because it's a great walking spot with brilliant views.
What is your 'motto for life' or a favourite phrase that you try to live by?
Always try to enjoy what you're doing so it's not so hard. The motto at the Kinghorn Academy is 'be the best, enjoy it the most' which is another version of that.
I also bear in mind, as motivation, 'if you put in the work the results will come'.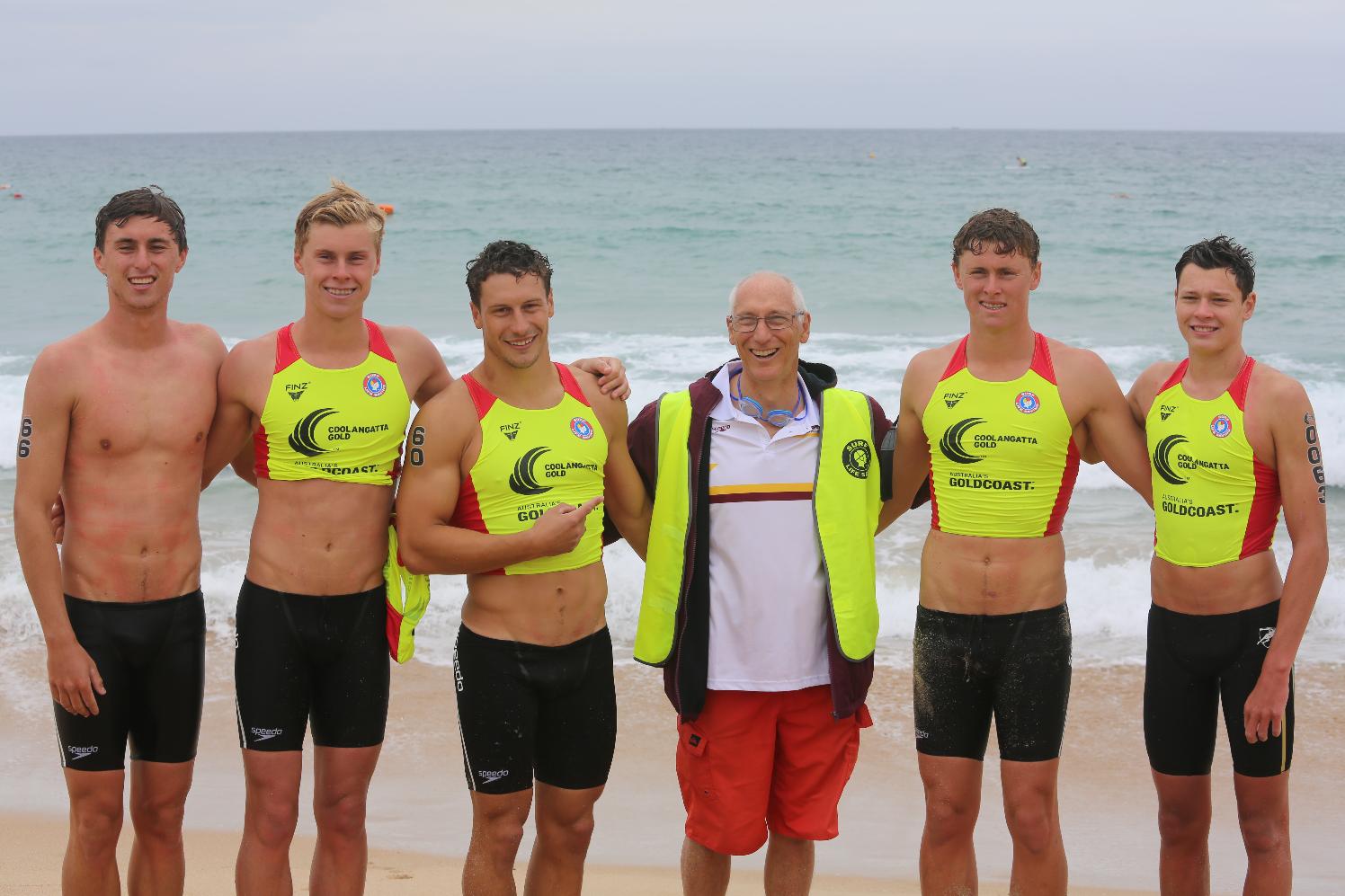 Newport SLSC Members Zach Morris, Jake Morris, Jackson Borg, Glen Borg, Mitch Morris, Conner Maggs at the
2021 Bate Bay Gold.
Photo: Surf Life Saving
New South Wales
Background Information
Previously
(selected - there are a few reports Pittwater Online News has run celebrating/recording Jackson's progress over the past decade):
The Nutri-Grain IronMan schedule
Events
Rounds 1 & 2. 17 & 18 Dec 2022. The opening rounds of the 2022/23 Nutri-Grain Series held at Manly Beach, NSW.
Rounds 3 & 4. 14 & 15 Jan 2023. The middle rounds of the Nutri-Grain Series held at Maroubra Beach, NSW.
Rounds 5 & 6. 4 & 5 Feb 2023 at Kurrawa Beach on the Gold Coast.
The Nutri-Grain Iron Series is the pinnacle of Surf Life Saving Australia's elite sports program and is steeped in over 40 years of tradition.
This summer Surf Life Saving Australia is once again delivering the 2022/23 Nutri-Grain Series, which will bring athletes and audiences six rounds of action-packed racing.
The Nutri-Grain Series features 40 of the fittest and fastest surf sports athletes in Australia, who are all volunteer surf lifesavers and spend their weekends patrolling our beaches and saving lives.
The Nutri-Grain Series has previously made household names out of surf lifesaver such as the legendary Trevor Hendy OAM, Grant Kenny OAM, Darren Mercer and Karla Gilbert OAM.
The 2022/23 Nutri-Grain Series will be funded and promoted by SLSA, with the ongoing proud support of Kellogg's Nutri-Grain.
You can follow the series via their Facebook page: www.facebook.com/ironseriesau and website: ironseries.com.au
Summer of Surf
The Summer of Surf is the home of the most exciting Surf Life Saving racing for the 2022-23 season. The toughest, most elite lifesavers in the world will face Mother Nature, each other, and ultimately challenge themselves to be better.
The Summer of Surf showcases the Surf Ironman Qualifying Series, Australian Surf Ski Series, First National Board Series, Australian Surf Swim Series, Australian Taplin Series and Australian Beach Flags Series.
On July 20th 2022 the Summer of Surf announced its biggest Shaw and Partners Financial Services Summer of Surf racing schedule to date which will feature three premier 10,000 point rated events and an expanded race offering of 5,000 & 7,000 point rated events across Australia and a first ever event in New Zealand.
The expanded series boasts a $400,000 prize pool, an additional $250,000 of jackpot prize money if athletes can win multiple races at the premier events and the overall Shaw and Partners Summer of Surf Ironman and Ironwoman series champions will be taking home an additional $10,000 and a Subaru XV valued at $40,000.
BOS Oceansport will be giving the highest placed under 19 ironman and ironwoman in the overall ironperson rankings a BOS Tomahawk surf ski.
Northcliffe Surf Club will be once again hosting the official awards dinner and afterparty which will see the presentation of overall series champions as well as special awards including MVP, Oceanmaster, Biggest Battle and the Dean Mercer most inspirational performance award.
Shaw and Partners Financial Services Co-CEO Earl Evans is delighted to be involved for the second instalment of the Shaw and Partners Summer of Surf series.
"Our first ever Shaw and Partners Summer of Surf series was such a success and the athletes all did such an incredible job racing and entertaining at the highest level. Shaw and Partners look forward to rolling out an even bigger summer for the athletes which will see an expanded prize pool, jackpot incentives and a better racing experience for athletes of all levels. We are so excited for the summer ahead!"
Summer of Surf is also proud to announce the continued support from Finis, Jolyn, We Are Feel Good Inc, LSKD, Ryan Softboards, Sunshine Coast Council, Major Events Gold Coast and welcomes Oakley, Race One, BOS Oceansport and Seven Network to the Summer of Surf.
The two-year official broadcast partnership with Seven marks the first free-to-air broadcast of the Summer of Surf, with further content also made available via Seven's digital streaming platform, 7plus.
As the Summer of Surf looks forward to showcasing its biggest summer racing schedule to date on Seven, this partnership will see live racing, highlights packages and behind the scenes action become more accessible than ever before.
Managing Director Seven Melbourne and Head of Network Sport, Lewis Martin, said the alignment with Summer of Surf is another valuable addition to Seven's unrivalled sport offering.
"As Your Home of Sport, we are rapt to deliver the Summer of Surf to Seven's vast and highly-engaged audience on 7plus," Martin said.
"We know that Australians are hungry for sport content and we look forward to bringing all the action of an incredible 22/23 Summer of Surf campaign on Aussie shores to both the core and emerging audience of surf sports."
Summer of Surf General Manager Trent Goulding extends a warm welcome to both existing and new partners.
"Rolling out the biggest possible racing schedule is our absolute favourite thing to do. With Shaw and Partners support we have been able to reach our vision of running the greatest summer racing series in the world for athletes by athletes. To have globally recognised brands like Oakley and a broadcast deal with Seven network highlights just how much momentum we have and we look forward to continued growth across all elements of our series."
Current Shaw and Partners Summer of Surf Ironman Champion Matt Bevilacqua hopes he can go back to back with his ironman and board titles and is looking forward to racing on the Shaw and Partners Summer of Surf's biggest platform yet.
"The expansion we are seeing in the Shaw and Partners Summer of Surf is absolutely mind blowing. Everything from the iconic racing locations, beach atmosphere, broadcast quality and never before seen prize money is all so inspiring. With so much on the line I know we are all chomping at the bit for the summer to roll around and racing to get underway!"
2022/23 Shaw and Partners Summer of Surf Jackpot Prize Money
10k cash bonus to any athlete who can win two of the same discipline races across the three premier events. (Eg win 2x swim races and you walk away with $10k jackpot)
25k cash bonus to any athlete who can win all three of the same discipline races at all three premier events in the ski, swim and board race. (Eg win all three ski races at the premier events and you walk away with $25k jackpot)
50k cash bonus to any athlete who can win all three of the ironman/ ironwoman races at the three premier events. (Eg win all three ironwoman races and you walk away with $50k jackpot).
2022/23 Shaw and Partners Summer of Surf Premier Racing Schedule:
27th – 30th October – Summer of Surf World Cup 7,000, Coffs Harbour – Tentative
20th November – City of Perth 7,000 – City of Perth, WA – Confirmed
26th November – Wanda Tradies One Club 5,000 Wanda – Tentative
2nd & 3rd December – Shaw and Partners Hayden Kenny Surf Classic 10,000, Alexandra Headland – Confirmed
10th & 11th December – Whangamata Classic 5,000, Whangamata NZ – Confirmed
7th or 8th January – Shaw and Partners Senior Carnival 5,000 – Sorrento WA – Confirmed
8th January – Jim Wall Ironman 5,000, Torquay Vic – Tentative
20th & 21st January – Shaw and Partners Manly Surf Open, Manly 10,000 – Confirmed
22nd January – Freshwater Classic 7,000 – Tentative
27th & 28th January – Murphy Builders Maroochy Classic 7,000, Maroochydore – Confirmed
28th January – Warrnambool Battle of the Bay 5,000 – Confirmed
January – Burnie Statewide Carnival exhibition event, Tas – Tentative
10th & 11th February – Shaw and Partners Shannon Eckstein Ironman Classic 10,000, Northcliffe – Confirmed
You can follow the series via their Facebook page: www.facebook.com/summerofsurftv and website: www.summerofsurf.tv