November 17 - 23, 2019: Issue 429
Inaugural Surf Life Saving Day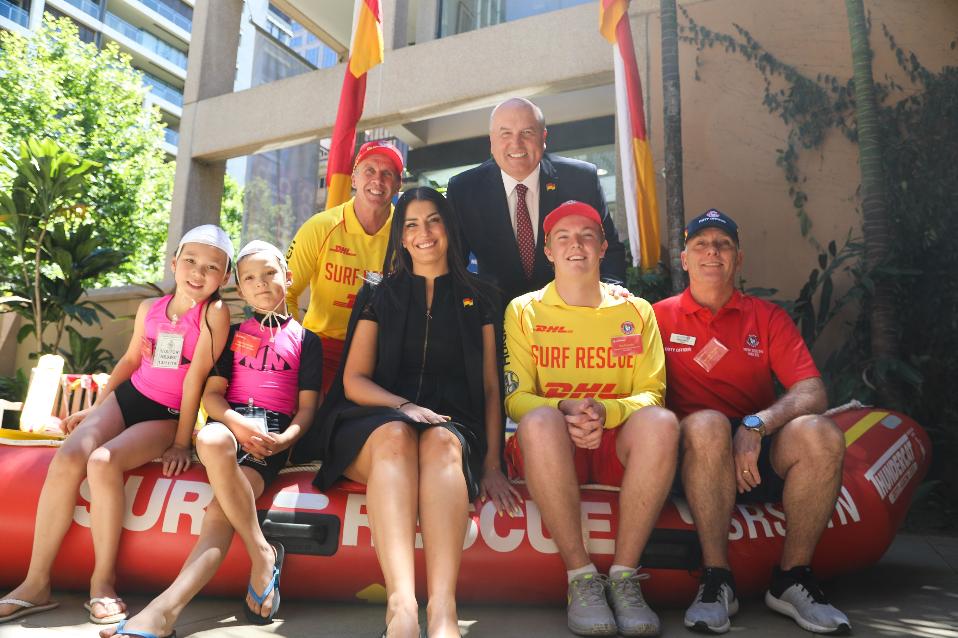 North Narrabeen Nippers with SLS NSW CEO Steven Pearce, Eleni Petinos MP, David Elliott MP and George Shales, Surf Life Saving NSW President.
A SEA OF RED AND YELLOW FLOODS NSW PARLIAMENT HOUSE
Visitors to NSW Parliament House on Wednesday November 13th could have been forgiven for thinking they'd stepped onto a beach, as a large group of the state's top volunteer surf lifesavers, wearing their iconic red and yellow patrol uniforms, gathered to celebrate the first ever Surf Life Saving Day.
Hosted by the Minister for Police and Emergency Services, David Elliott, the inaugural Surf Life Saving Day brought together award-winning volunteer lifesavers, surf sports athletes and political leaders in an informal setting to celebrate the dedication and achievements of the state's 75,000 volunteer surf lifesavers leading into summer.
The event was an opportunity to recognise the bi-partisan government support Surf Life Saving NSW enjoys and to acknowledge the commitment Surf Life Saving has to strengthening coastal safety. It was also an opportunity for NSW politicians to thank volunteers personally for the work they do in protecting lives along the coastline.
Minister for Police and Emergency Services, David Elliott, said the Surf Life Saving Day event helped raise awareness of Surf Life Saving NSW's activities across the state and sent a message to patrolling surf lifesavers ahead of what's expected to be a long, hot summer.
"We want to say a big thank-you to all surf lifesavers this summer," said Minister Elliott.
"Australian summers are synonymous with surf lifesavers. We are grateful for the volunteer hours they put in, for the training they do and the risks they take to keep our families safe," he said.
Elected representatives spanning the political spectrum had an opportunity to speak to volunteer lifesavers from across generations and backgrounds, including Ironman Jackson Borg from Newport SLSC, the winner of the national Youth Lifesaver of the Year Award, Kai Darwin (Umina SLSC) and Australian of the Year Nominee, Doug Hawkins (Coogee SLSC). Recent Rescue of the Month Award winners Brad Dawson and Toby Streamer from Kiama also attended.
For the first time ever, an inflatable rescue boat (IRB) was installed in the Speaker's Courtyard of NSW Parliament House to highlight the role this iconic workhorse has played in saving lives on Australian beaches over the past 50 years.
Parliamentary Friends of Surf Life Saving Chairperson Melinda Pavey, Minister for Water, Property and Housing attended the event along with co-chairs Adam Crouch, Member for Terrigal and Yasmin Catley, Member for Swansea.
"On the Central Coast alone, volunteer surf lifesavers commit over 100,000 hours a year to keep our beaches safe for both locals and visitors alike. Without that contribution we know that lives would be lost," said Adam Crouch, Member for Terrigal.
"I want to say to all surf lifesavers; thank you so much for dedicating your volunteer time to surf life saving. It is one of the organisations that is synonymous with Australia and synonymous with summer. Make sure that you keep those beaches safe and have fun - because that's part of surf lifesaving too. Let's have another successful summer," said Yasmin Catley, member for Swansea.
Surf Life Saving NSW President George Shales, Deputy President John Restuccia and Joel Wiseman, Director of Lifesaving also attended the event.
"Surf Life Saving Day is a great opportunity for the community to reflect on the work our 75,000 volunteer surf lifesavers do in keeping the beach-going public safe and to celebrate the bi-partisan support we enjoy from parliamentarians across the political spectrum for our vision of zero preventable deaths on the NSW coastline," said George Shales.
Following the Surf Life Saving Day event, Surf Life Saving NSW President, George Shales and Steven Pearce, CEO Surf Life Saving NSW, were invited to attend Parliamentary Question Time in the Legislative Assembly where they were recognised by the Speaker of the House, The Hon. Jonathan O'Dea.
Surf Life Saving NSW CEO, Steven Pearce said that the inaugural Surf Life Saving Day event at NSW Parliament House was a huge success and that he looked forward to the event becoming an annual celebration in years to come.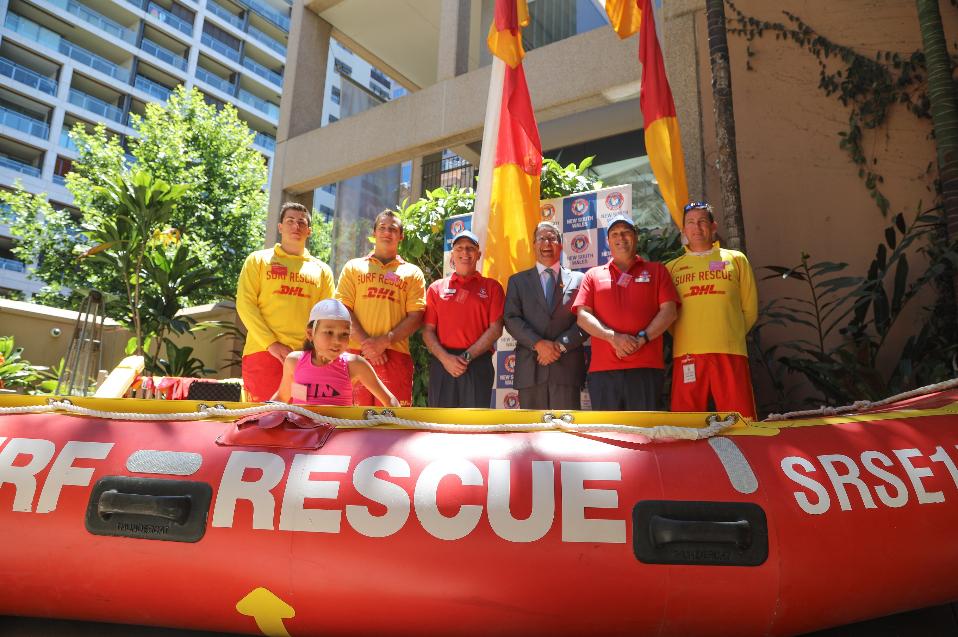 L to R; Matt Ingersole, Brad Dawson, George Shales, Mayor Danny Said, George Shales, Toby Streamer - photo by SLSNSW
Surf Life Saving Day at NSW Parliament House - MP's messages
David Elliott- Minister for Emergency Services:
"A big thank you to all surf lifesavers this summer I mean Australia is, Australian Summers are synonymous with Surf Life Saving, we are very grateful for the volunteer hours they have put in, we are also very grateful for the training and risks that they take to make sure that our families are safe"
Lee Evans MP for Heathcote:
"First of all for Surf Life Saving, thank you for what you do and have a safe summer, but I know you guys in the red and yellow, if you are not there we will have more deaths on beaches so thank you so much for the work you do, you are the best volunteer organisation I have in my electorate and I think you for all the work that you do"
Adam Crouch MP for Terrigal:
"All of our fantastic surf lifesavers thank you for everything you do, on the Central Coast alone almost 100,000 volunteer hours every year to keep our beaches safe for both locals and visitors alike, without that contribution we know that lives would be lost, we have not had a drowning on a patrolled beach for years and that is because of all the fantastic work that our thousands of surf life savers do every year to keep our beaches safe, our volunteers and also the work that is done from one day to the next is just incredible"
Dugald Saunders MP for Dubbo:
"The Beach to Bush program is incredibly important for regional areas like mine, having surf lifesavers come out in the bright yellow and red it really stimulates children's imaginations straight away. We have different waterways inland like rivers and dams but of course a lot of families do go away for beach holidays particularly over Christmas so I think the Beach to Bush program is a really important one to keep doing year to year to make sure that we keep spreading that safety message for our young people. Look we are all obviously really grateful for the volunteers to get out there and patrol our beaches and help spread that message of safety around our major waterways during this summer period, so well done keep doing the good work and thanks for what you do."
Eleni Petinos MP for Cronulla:
"To all our amazing volunteers throughout the state who are protecting our community wearing that red and yellow uniform, a big thank you for keeping our communities safe and to those clubs in the south Wanda, Eloura, North Cronulla and Cronulla thank you for making sure Bate Bay has had no lives lost in recent years we really appreciate your efforts and I want to thank you for everything you do for our community"
Gurmesh Singh MP for Coffs Harbour:
"To all the Surf Live Savers out there, to all the volunteers you absolutely do a fantastic job, you are the reason that we have such fantastic beaches and keep them open during some pretty challenging conditions and you are the reason that we can have our tourism industry do what it does, getting so many people onto our beaches and enjoy them in a safe way"
James Griffin MP for Manly:
"James Griffin, Member for Manly and an important message for all of our Surf Life Savers across the beaches across the beaches of New South Wales; thank you for doing what you do, keep up the great work and lets hope it is a safe but happy summer ahead"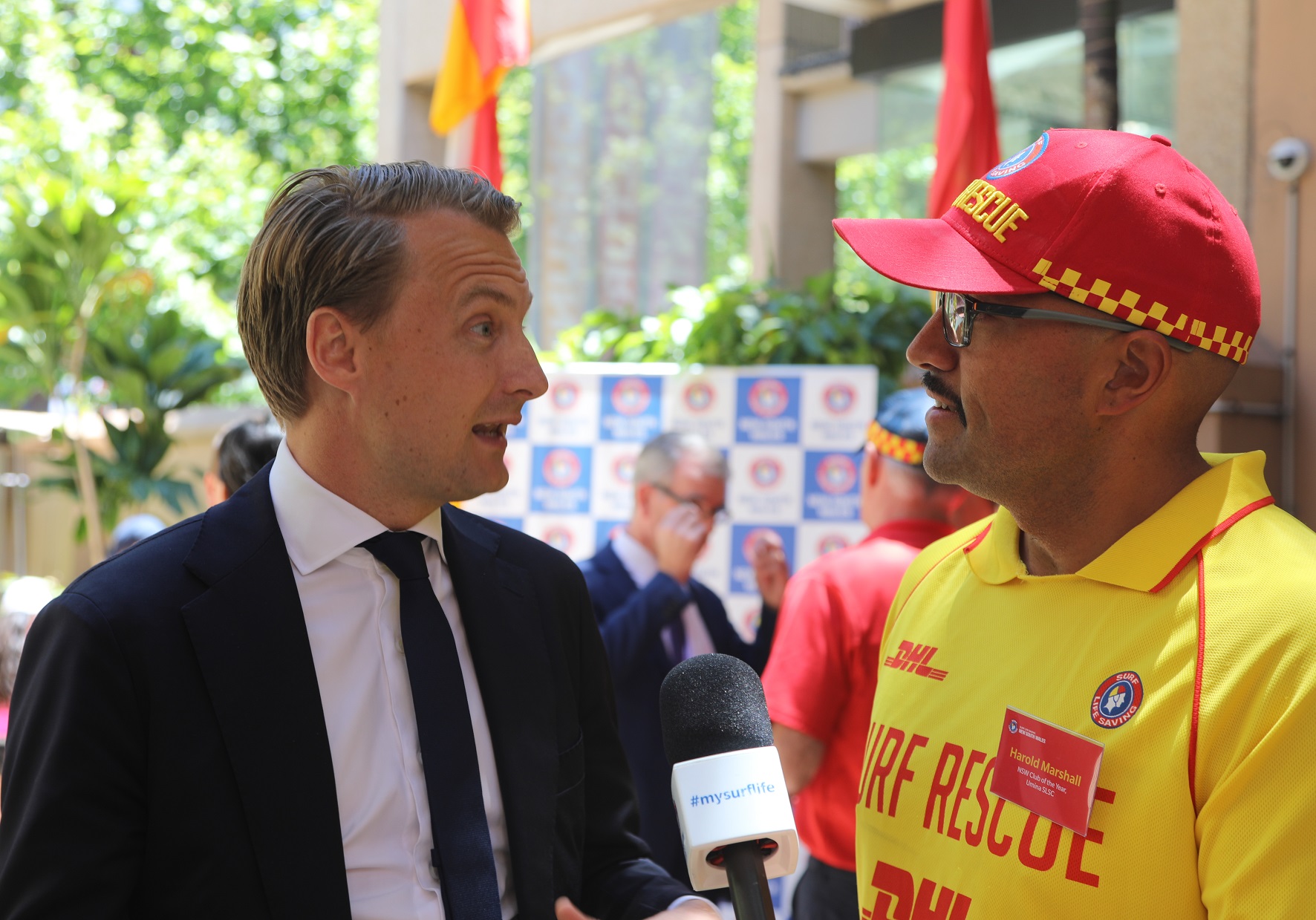 James Griffin, MP for Manly, and Harold Marshall

Paul Scully MP for Wollongong:
"To all our volunteer Surf Life Savers, whether you are in the Illawarra or further afield in the state thank you for the time, energy and effort that you are putting in on the beach but also behind the scenes to make sure your clubs are ready and that everyone who does come to your beaches are safe and protected, you do an incredible job and as a member of a club I know all the hard work that goes in to ensure everyone that comes to a beach leaves a beach safe and secure."
Marjorie O'Neill MP for Coogee:
"I just want to say a big thank you to all our volunteer Surf Life Savers who are our patrolling this summer, last summer was the most dangerous we have had on record so the fact we are getting more and more people who want to be out there volunteering it is so important and I just want to say thank you."
Yasmin Catley MP for Swansea:
"I want to say to all you Surf Life Savers out there thank you so much for dedicating your volunteer time to Surf Life Saving, it is one of the organisations that with the work you do is synonymous with Australia it is synonymous with our summer on that note make sure we keep those beaches out there safe, have fun because that is apart of Surf Life Saving too, and lets have another successful summer."
Tim Crakanthorp MP for Newcastle:
"Keep up the awesome work that you do in our communities particularly in Newcastle with my six clubs, I know you are all very passionate, you love to give to the community and the community is so grateful to have you there all the time, so I know you are going to be very vigilant so have a great season and we don't want to see many rescues in fact so I hope you enjoy yourselves… cheers."