April 7 - 13, 2019: Issue 400
SLSA Australian Championships -Aussies 2019: Masters And Opens!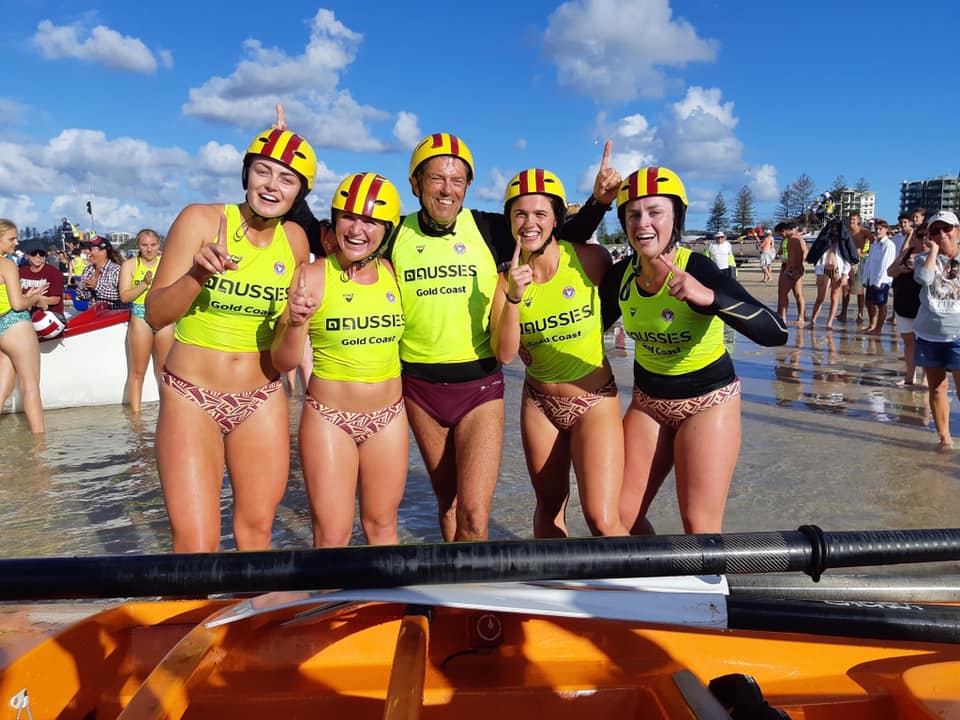 Newport SLSC's Under 23,
Newport Thunder crew of Meagan Barr, Abby Ballesty, Tara Doyle, Claudia Harris, and Michael King
securing Gold. This is Newport's
First female Australian Boat Gold in Newport Club HISTORY!
After the weekend of youth competition at North Burleigh, 1700 Masters competitors, aged 30 to 80+, including a large contingent from the local Surf Life saving Sydney Northern Beaches Branch, went to test their skills at Broadbeach in Queensland for this year's Australian Surf Life Saving Championships - the Aussies.
Participants from local clubs showed their strength on the sand and in and on the sea again this year with Mona Vale SLSC's Kristyn Monnock again bringing home a swag of Gold - 2 in the Ironwoman and Single ski, Silver- 5 one on the sand in the Sprint and in the Board Race and 3 in the Team events with club members Lise Layard and Sophie Stokes in the Board Relay, with Andrea Smith and Janet Proudfoot in the Surf Team, with Paula Tocquer in the Double Ski event and a Bronze with Janet Proudfoot and Lisa Critoph.
Fellow team members also picked up a number of medals - there was Aussie Gold in the Board Rescue for Chrisitine Hopton OAM and Lisa Critoph, Gold for Andrea Smith in the Single Ski and a Silver with Sophie Stokes in the Double ski, while Lisa Critoph secured Bronze in the 1 k Beach run and the Board race.
The MVSLSC Surf Boat crews brought home some great results too with Silver for the 'Masters of the Universe'; Sean Needs, Matthew Collins, Kai Cooper, Ryan Halangahu, Nathan Wilson in the 160 years Division. Their Open Surf Boat Crews have brought home some Bronze as well - Mona Vale SLSC's 'Sludge'; Christopher Bridge, Fraser Campbell, Luke Chivers, Matthew Collins, Ethan Farmer in the Open Male Surf Boat Short Course Race and Bronze for Mona Vale SLSC's 'Snow Whites'; Matthew Collins, Yvette Giblin, Taylor Richards, Kristina Larsen, Ash Watson in the Open Female Surf Boat Short Course Race.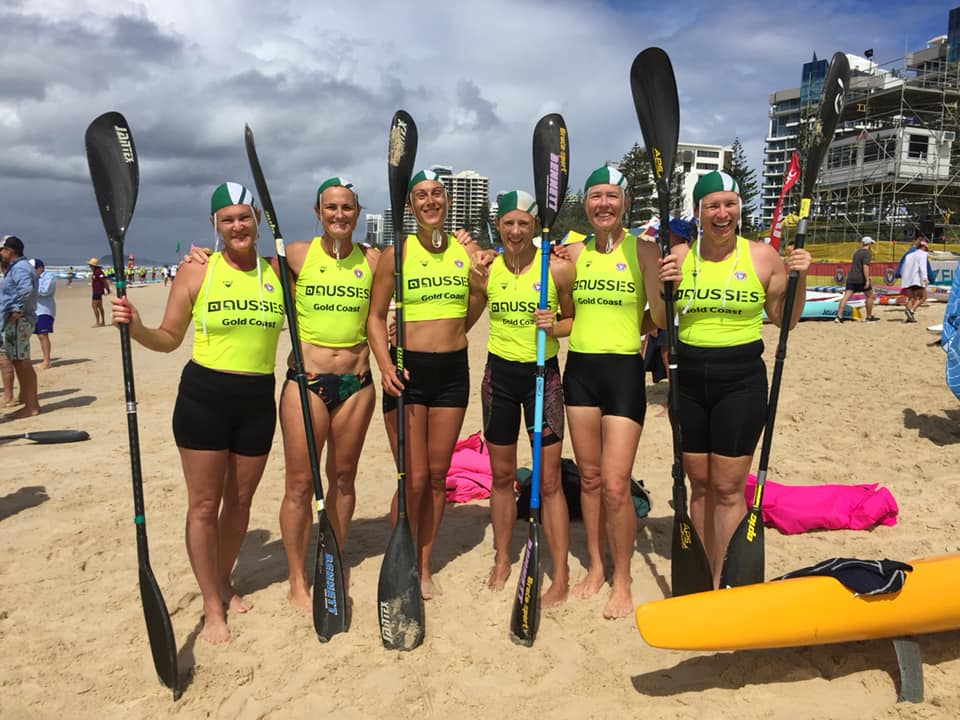 Mona Vale SLSC Double Ski Medallists: Paula Tocquer, Kristyn Monnock, Andrea Smith, Sophie Stokes, Lise Barry and Jan Proudfoot - photo by Christine Hopton OAM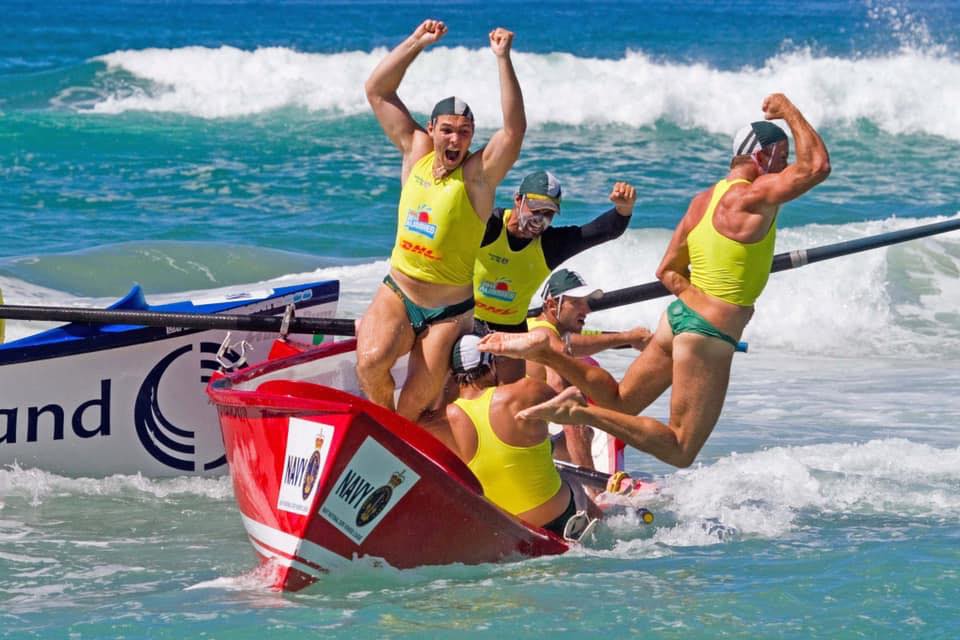 MVSLSC Surf Boaties - pretty happy about that!

Mona Vale SLSC's Masters Team accrued the most points of all clubs in the SLS SNB with 105 in total while that other very strong Masters Team Queenscliff notched up with 99 points and Manly LSC continue to fly their club's colours across Youth, Masters and Opens - in fact Anthony Vieceli won Bronze behind legend Grant Kenny in the Single Ski as some gauge as to how good the level of athleticism is on our beaches and some indication as to why these people continue to save lives. Manly Masters had 92 points by the time their 2019 Aussies
Golds, Silvers and Bronze have been secured in all clubs that participated from Palm Beach SLSC to Manly LSC with many backing up their efforts from last year in.
Warriewood SLSC's 'Rusty's' have successfully defended their Masters 200 years Female Surf Boat bout with Alex Coates, Tanya Deer, Louise Kemp, Russell Lamb and Kathryn Maguire bringing back their second successive Australian Championship while fellow Masters Surf Boat Team - 220 years, the 'Crustys'; David Peaston, Stuart Torrington, Mark Hodgson, Carl Quitzau and Russell Lamb, secured Bronze.
Australian Champions - Warriewood SLSC's 'Rusty's

Warriewood's sand dancers continued their medal run at the 2019 Aussies with a Silver in the relay for Glen Bauder, Adam Gee, Ben Hargy, Justin McDonald and a silver and an individual Silver in the men's 45-49 for Adam Gee.
Queenscliff's 200 yrs min Male Beach Relay Team of Brian Dolly, Michael Gedz, Stephen Hoy and Stephen Nelson secured Gold for their club in the Masters relay events.
The Surf Boat races remain one area where the SLS SNB are strongly represented at this year's Aussies with all clubs having crews among the Semi-Finals and medallists after the Grand Finals in both the Masters and Opens. For example, in the aforementioned Open Male Surf Boat Short Course Race the results were:
South Curl Curl SLSC; Rob Lowery, Christopher Hughes, Trent Rogers, Michael Egan, Jordan Thurlow, Death Riders, Grand Final - 1st
Mona Vale SLSC; Christopher Bridge, Fraser Campbell, Luke Chivers, Matthew Collins, Ethan Farmer, Sludge, Grand Final 3rd

And for the Open Female Surf Boat Short Course Race:
South Curl Curl SLSC; Charlotte Walters, Sophie Coolican, Mark Spiteri, Ellie Winstanley, Lara Campbell, Straw Hats, Grand Final - 1st
Mona Vale SLSC; Taylor Richards, Matthew Collins, Ash Watson, Kristina Larsen, Yvette Giblin, Snow Whites, Grand Final - 3rd
Avalon Beach SLSC; Peter Carter, Rachel Strong, Rebecca Elliott, Ashleigh Norman, Ellie Mackay, Avalon Beach Bandits, Grand Final - 5 th.
The spirit of Rick Millar and a determination to honour him has seen some great results for the Avalon Beach SLSC boaties: Gold in the 180 yrs min Female Surf Boat, Avalon Beach SLSC; Melinda Akehurst, Amanda Dale, Shannon Fletcher, Matthew Mayall, Stephanie Stoddard, the 'DBs' , and Bronze in the same division for Avalon Beach SLSC's Sally Macintosh, Kate Munro, Beverley Tilbury, Nathan Wellings, Donna Wishart, the ' Antiques' while the men in the 180 yrs min Male Surf Boat Avalon Beach SLSC's President Ashley Cardiff along with Peter Carter, Daryl Johnson, Adam Schofield, and Nathan Wellings, the 'Avalon Beach Rockstars' have also won Bronze.
Bilgola SLSC romped home too, Gold for their 140 yrs min Male Surf Boat crew of Jason Crump, Ben Gill, Mark Hooley, Matthew Nugent and Luke Perrin, the ' Bilgola Bends', and Gold again for 200 yrs min Male Surf Boat crew of Ben Gill, Grant Jacobs, Mark Parsons, Norman Pounder and Garett Smith.
Avalon's Chris McGuckin and Robert Richardson boosted their club's Masters point score this year - Gold in Board Rescue and Chris went on to notch up another Gold for himself in the Board Race. Avalon's Jean Harper won Bronze in the 50-54 Male Beach Flags and points in the Grand Final for the Beach Sprint. All up Avalon Beach SLSC's Masters Team secured a very respectable 45 points.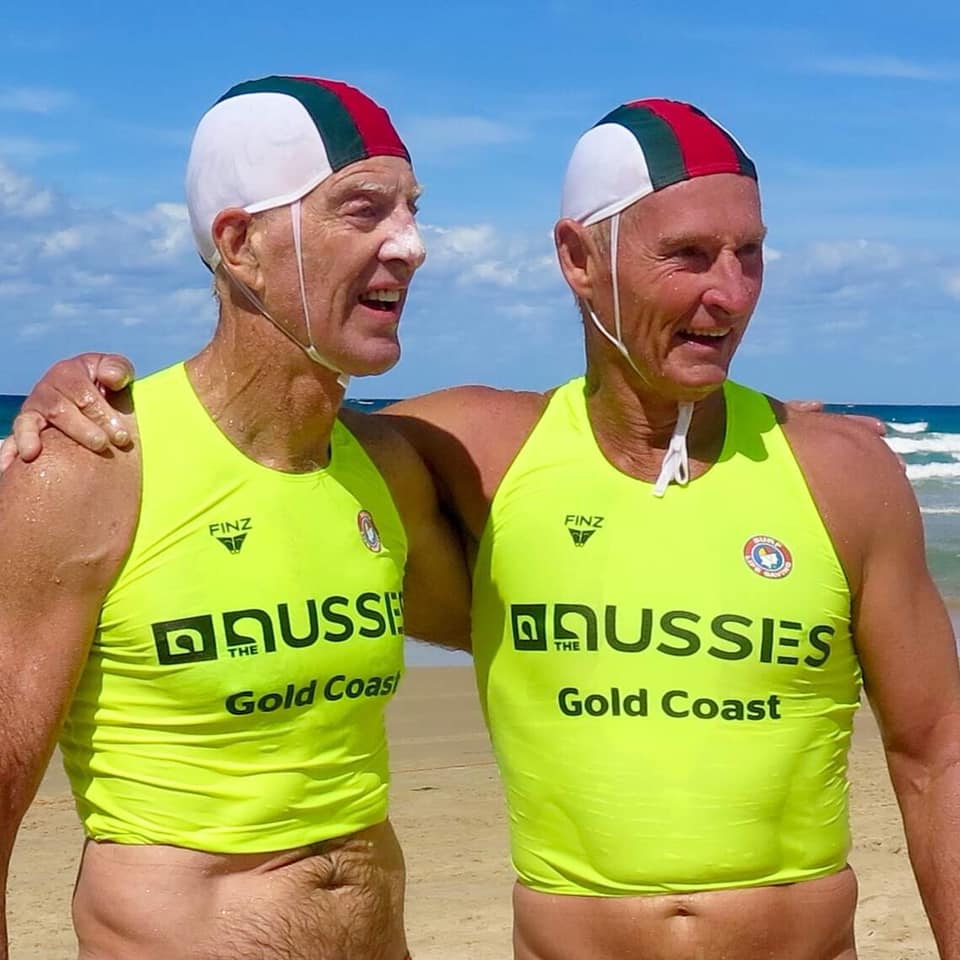 Australian Champions - Chris McGuckin and Robert Richardson
The Palm Beach SLSC's Masters Team of Annabelle Chapman, Karen Begg and Fi Rae won Gold in the Board Relay and Silver for their Female Taplin Relay Team of Annabelle Chapman, Fi Rae and Di Van Ooi. Fi Rae won an individual Bronze in the Ironwoman, and Silver for Di Van Ooi in the Surf Swim, while this same team of girls appeared among the finalists in other Masters events too and had a total of 43 points overall for their Masters participants - outstanding considering they weren't the largest team there.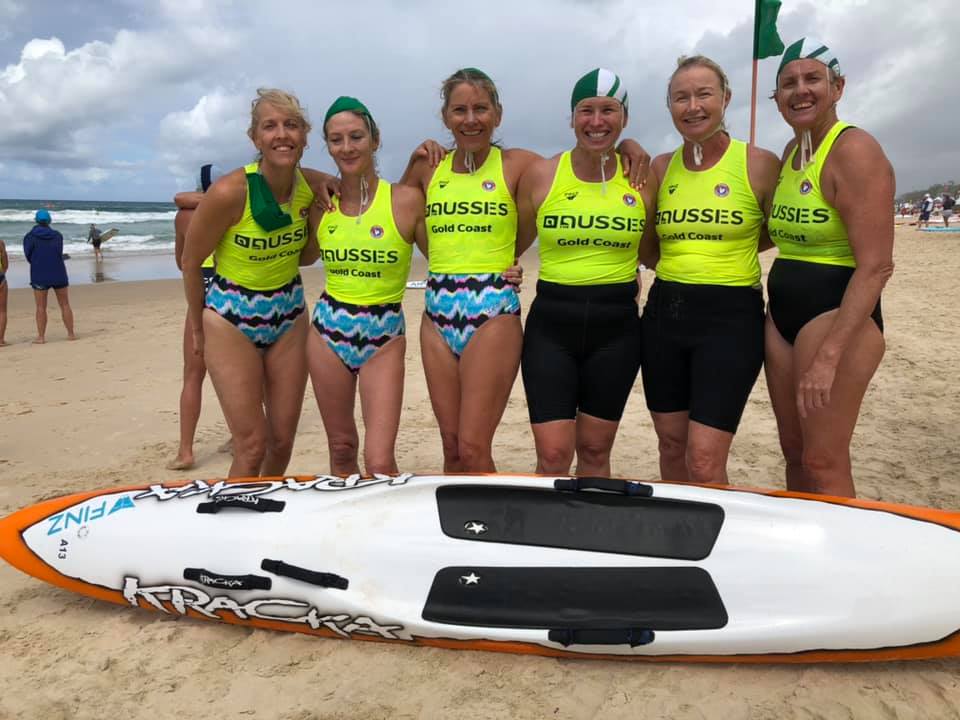 Palm Beach SLSC's Fiona Rae, Karen Begg and Annabelle Chapman, with Mona Vale SLSC's Jan Proudfoot, Christine Hopton OAM and Lisa Critoph - Australian Champions! - photo by Joanne Nelson.

Newport SLSC continued with their strong representation in both the sand and sea events, Ted Smithies securing another Australian Championship Gold medal in the 65-69 Beach Sprint while their 200 yrs min Male Beach Relay Team of Tristan Conn, Stephen Hatch, Martin Lynch and Ted Smithies were Grand Final material and just missed out on the medals but still added points.
While on these sprinters on Tuesday, April 2nd, SLSA President Graham Ford AM was delighted to induct 10 new members to the SLSA Masters Hall of Fame - Martin Lynch, Georgina Lynch, Don Marsh, Prof. Neville de Mestre, Paul Lemon, Alison Pegg, Stephen Fry, Mark Bennetts, Michael Cook, and Gavin Hill were all recognised for their sporting achievements and contributions to the Surf Life Saving community.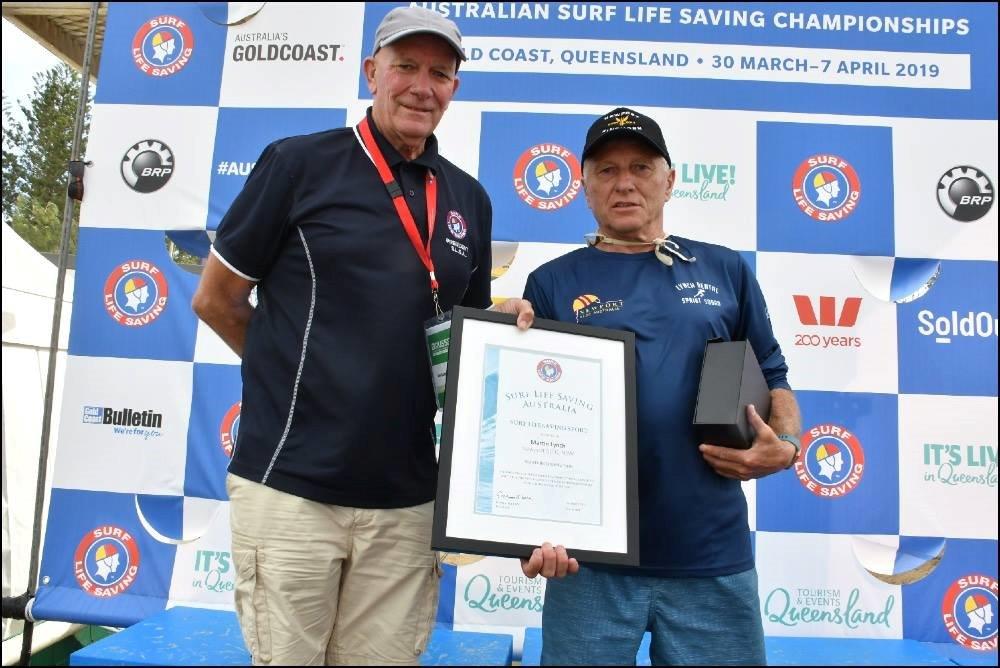 SLSA President Graham Ford AM with Martin Lynch

Congratulations Mr. Lynch, well deserved considering how much and for how long you have worked with the Australian Youth and Open Teams for World Championships, among other dedicated feats of this runner's icon.
Newport's Open Team members have secured Gold in the U19 Girls Surf Team of Emily Doyle, Jami Prowse, Lexi Harrison and Madison Louw while Manly LSC's U19 girls took the silver - Piper Harrison, Naomi Scott, Georgia Singleton and Madison Ward. Emily Doyle also won Bronze in the U19's Ocean swim.
Gold again for Newport in the U17 Australian Ski Relay of Zach Morris, Braden Newling and Finn Askew, and Goldvcfor their U19s Rescue Tube Rescue squad of Emily Doyle, Jami Prowse, Madison Louw and Analiese Melbourn. In the Open Male Single Ski Relay Team, Mitchell Trim, Jackson Borg and Jayke Rees, have secured Silver and Silver again in the U19 Mixed First Aid for Linda Leck and Lily Tancred while a 6th for Lucinda Bentley and James Simmonds is more points and also underlines every aspect of what a surf club membership is trained for and dedicated to.
Australian Champions in Newport's U17 Ski Relay Team of Zach Morris, Braden Newling, Finn Askew

Australian Champions - Newport's U19 girls Surf Team win Aussie Gold!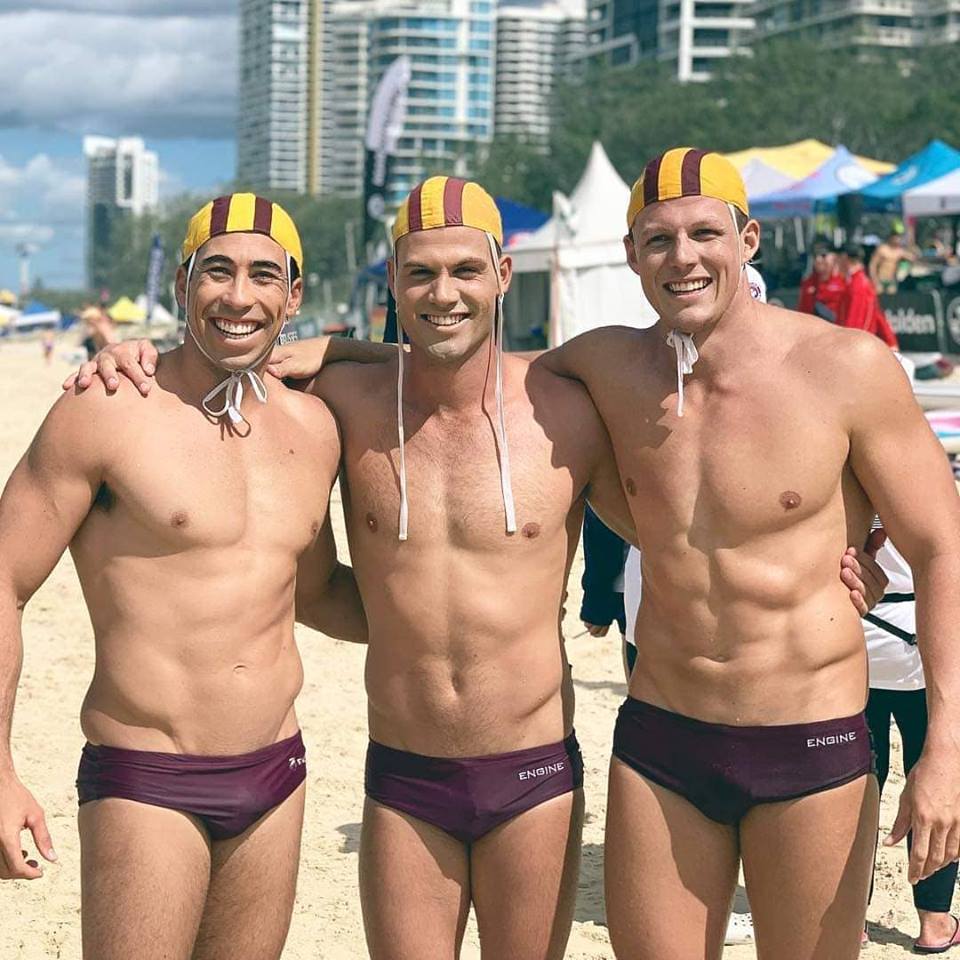 Newport's Ski Relay Team winners in Mitchell Trim, Jackson Borg and Jayke Rees
Newport's dedication in the Surf Boat arena has been rewarded at this year's Aussies too with their Under 23, 'Thunder' crew of Abby Ballesty, Meagan Barr, Tara Doyle, Claudia Harris, Michael King and daughter Zoe King securing Gold. This is Newport's First female Australian Boat Gold in Newport Club HISTORY! and means there will be a bit of dancing going on at the clubhouse over the next few weeks - long trained for and hard earned. Congratulations girls and Mr. King - your dad and granddad Bert King will be dancing with glee too!
While on the U23 Female Surf Boat results, SLS SNB crews dominated the finals places with the sole team from south of here often seen in local carnivals:
1st: Newport SLSC's 'Thunder' ; Abby Ballesty, Meagan Barr, Tara Doyle, Claudia Harris, Michael King, Zoe King
2nd: North Cronulla SLSC's 'Funkys 23 Women'; Nicole Glasson, Alysha Lerond, Maggie Mahoney, Madeline McDonald, Mark Mcdonald, Hayley Urquhart
3rd: Palm Beach SLSC (NSW)'s 'Peaches'; Gabriela Chubb, Lucy Courtenay, Stephen Cox, Grace Shipway, Nicola Thomas
4th: North Narrabeen SLSC Inc.'s 'Chickpeas' ; Letitia Alford, Tamara Alford, Claire Farkas, Aleesha Gibby, Donald McManus
5th: Mona Vale SLSC's 'La La Ladies'; Kai Cooper, Grace Seaglove, Antea-Allegra Crvelin, Jaimee Henery, Natasha Cowper
Newport's Open Team have 92 points as we go to press, Saturday April 6th. Their Masters Team have 51 points for their 2019 Aussies efforts.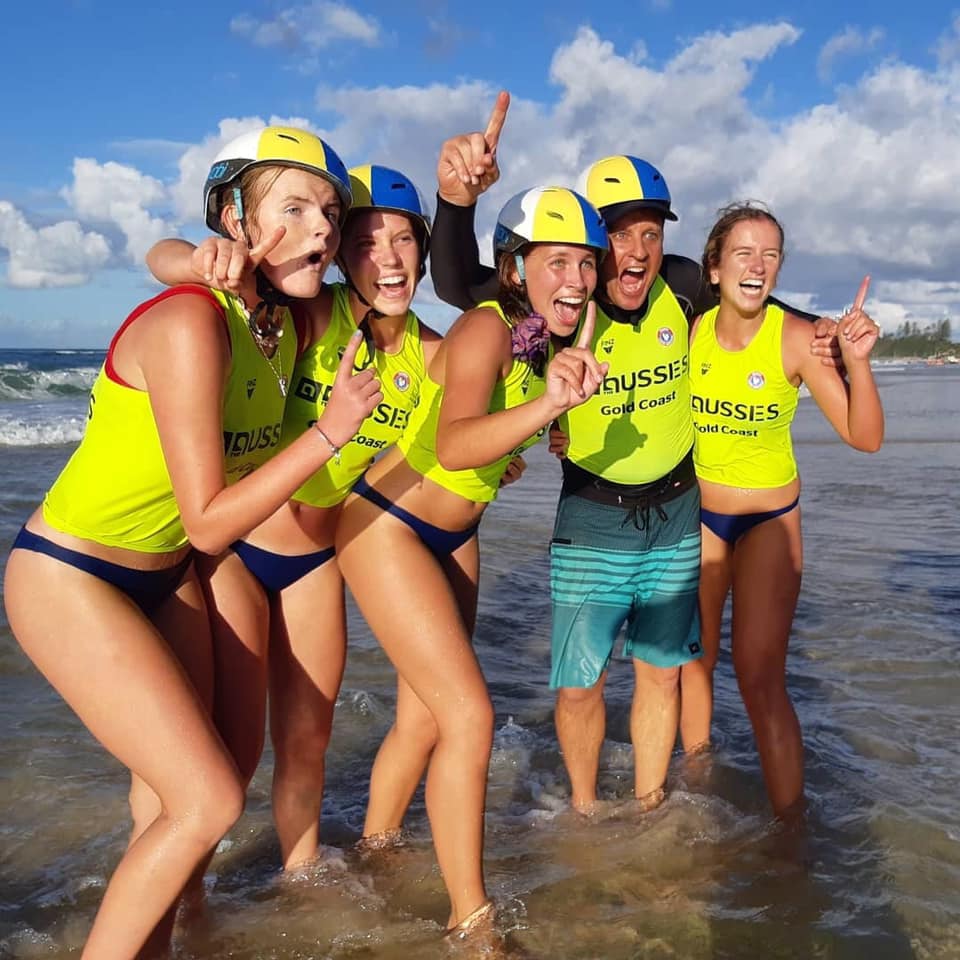 Sth. Curl Curl's U19s Girls Surf Boat Crew the 'BumpsNHumps' crew of Malawi Warneford, Nicola Berry, Laura Oliver, Vivienne Saunders and Mark Spiteri - Australian Champions!
On the last day of competition Max Brooks (Newport SLSC) won the Australian Ironman Championships at Broadbeach holding off eight-time champion Shannon Eckstein who finished second in what was his final Ironman race.
Max was speechless following the win.
"It's been a really tough season for me, I haven't got one result yet this season, that's as good as it gets there, it feels like a bit of dream really," Brooks said.
"I've loved the sport since I was 10 years old and he (Shannon) was always the one at the top of his game and to be able to race with him for the last four years and then to be in his last ever two races it means a lot, I'm really happy."
Eckstein's smart racing challenged the field through the three stages and he was looking good for the win after the board stage.
But the race opened up during the ski when Eckstein came up against a 'wrong wave at the wrong time.'
"I couldn't go down I had to pull off and 360 around," Eckstein explained. "I gave away 100 metres and I had to try make that up…and nearly got there."
James Brooks, Newport coach and dad of Max was on the sand and stoked!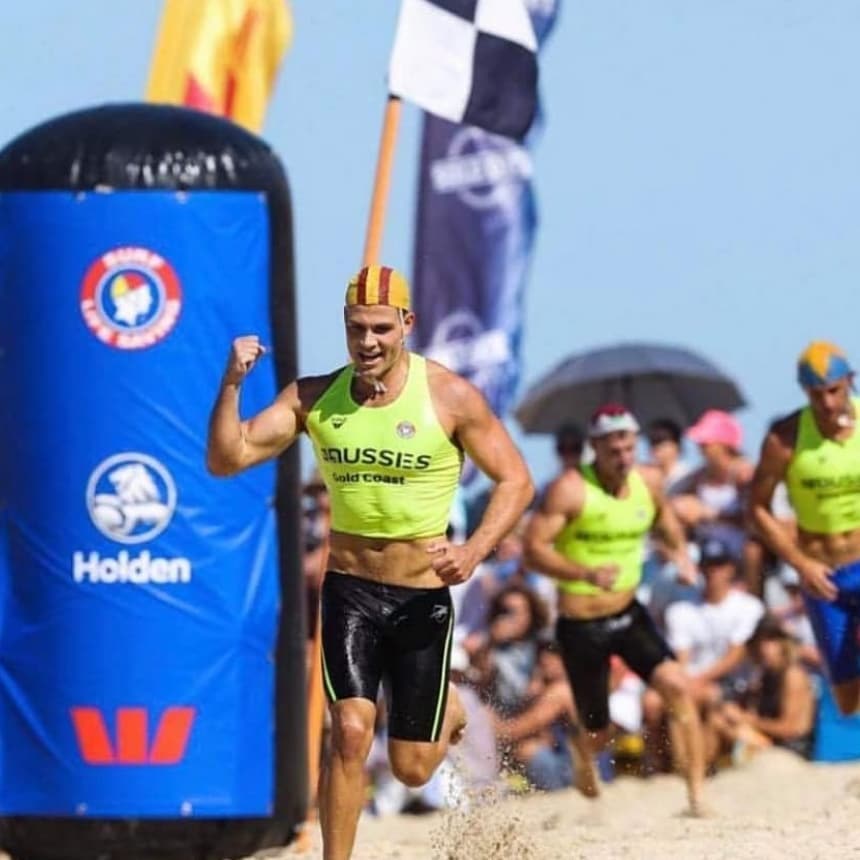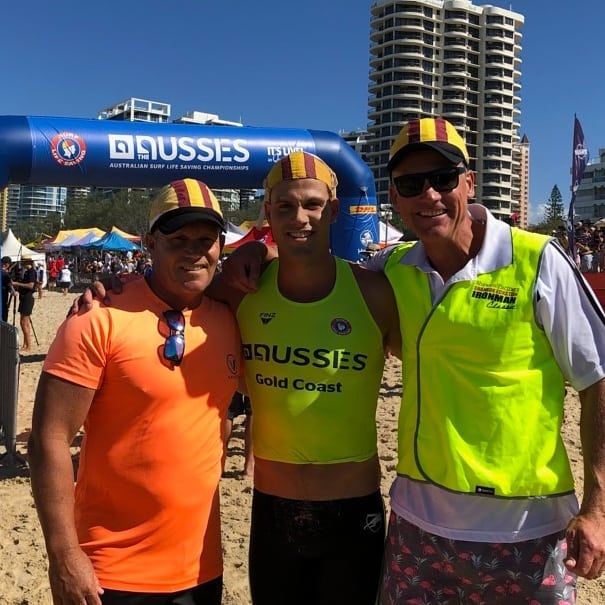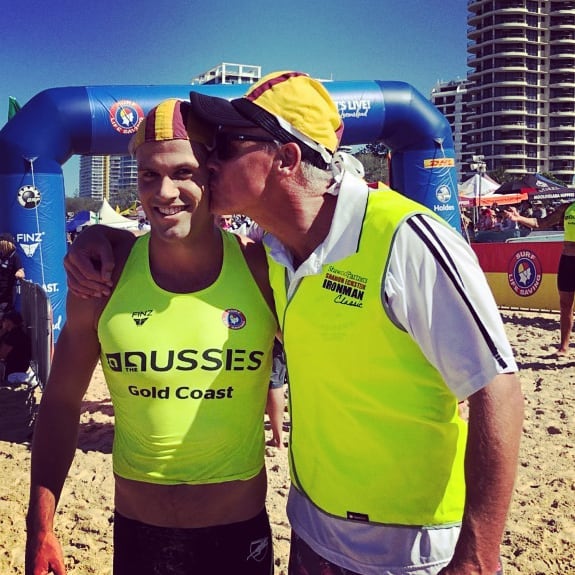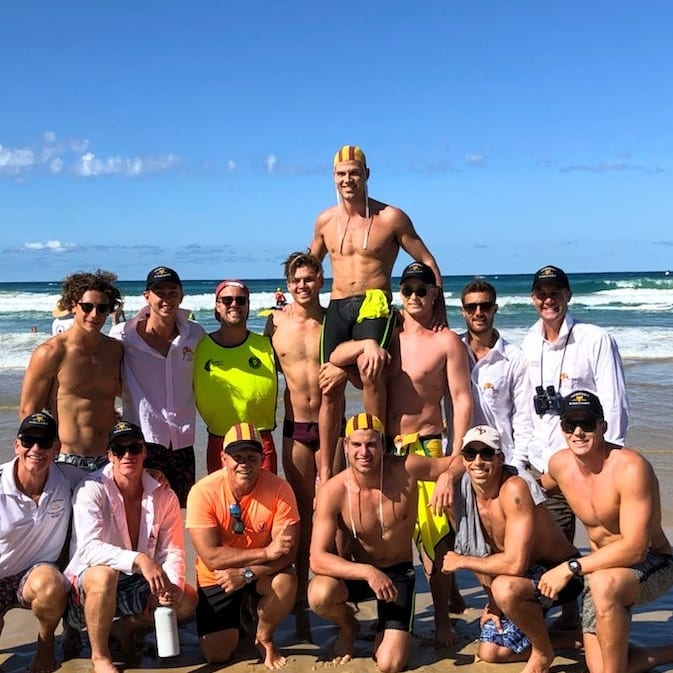 Newport SLSC's Madison Louw won Silver in the U17 Female Ironwoman on Sunday, while Alex Lefevre took the Bronze in the U17 Female Board Race. All up their Open Team secured 128 points.
This is only a taste of what's been happening. Some more SLSA 2019 Aussies news such as the article just below this section on Dee Why SLSC's latest boatie Masters Womens' Double Bleck' Australian Champions for example, although this report was run prior to Dee Why's results from Sunday when their 'Gorgonites' Surf Boat crew took out 1st in the Open Male Division and the girls made the Finals too, adding more points to their club's total. Congratulations Dee Why SLSC's Christopher Mackinnon, Jason Rowe, Harrison Selby, Shaun Stacey and Jay Yeomans - GOLD! Congratulations Dee Why SLSC's Nicki Daley, Lyndsay Dowsett, Robyn Moore, Alexandra Salier and Shaun Stacey - GOLD!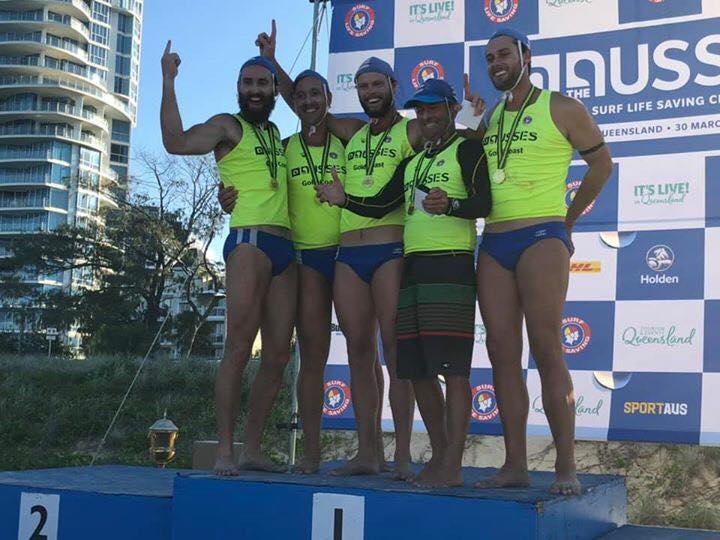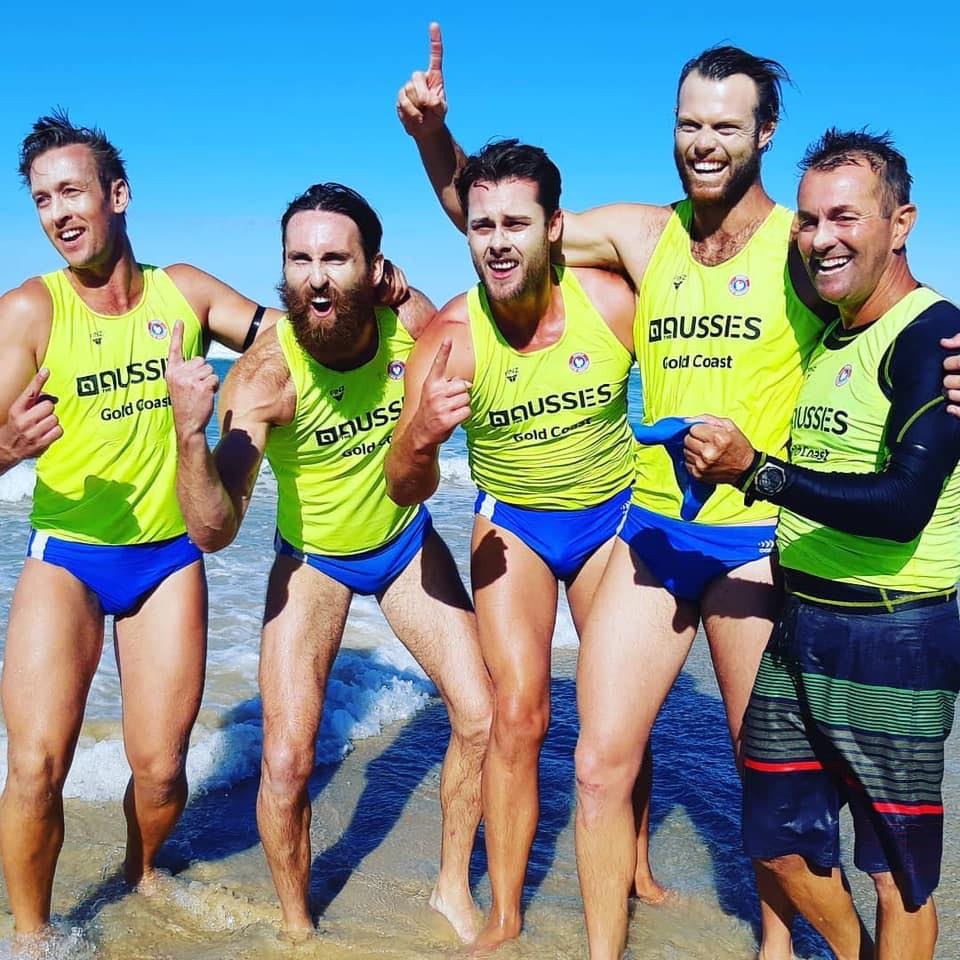 Dee Why's 'Gorgonites' - Australian Champions!

Masters events results run below. All results are available at: results.sls.com.au
Dee Why Finish Equal With Lorne World Champions At Aussie Masters: Surf Boats
BY SLSA
In their first season together the crew from Dee Why have finished equal first with Lorne, who are the reigning world and Australian champions, at the Australian Masters Championships at Broadbeach.
The seven crews completed three round-robin races, in testing conditions on Tuesday, and the top two female 160 year crews could not be separated.
"It was an amazing day, pretty testing conditions with a few thrills and spills but generally a lot of fun" 49-year-old Lorne captain Paula Matthews said.
"After the three races we were on equal points with Dee Why, which is fabulous."
The sweep of the boat is Paula's husband Geoff. And the crew is Shea Grant, Tamara-Leigh Brawn, and Jo Siebenga.
"Jo is the new member of our crew this year from the one that won the Aussies last year in Scarborough and the world title in Adelaide," Paula explained.
The Lorne crew were equally as happy with performance against the experienced champions.
"They are a really, really good crew so to come away as equal gold medallists is great," 33-year-old Lyndsay Dowsett said.
"This is our first season together as a crew, so we are really happy to be on the podium with them and both be successful."
'Families and different priorities' meant a crew from Dee Why and Warriewood disbanded, forming this Dee Why crew of two women from each club.
"The conditions were good for us, we like a bit of chop," Dowsett, who has raced for 15 years, said.
"We've got a great sweep in Shaun Stacey who can definitely hold a wave and has been sweeping for several years.
"It was really enjoyable being back here with surf, as surf boat racing should be."
Robyn Moore, Alexandra Salier and Nicki Daley with the other members of the champion Dee Why crew who have been training everyday of the week for the Championships.
"In the boat we train three days a week. We do ergs about twice a week and then weights and fitness by ourselves. So we train every day or twice a day."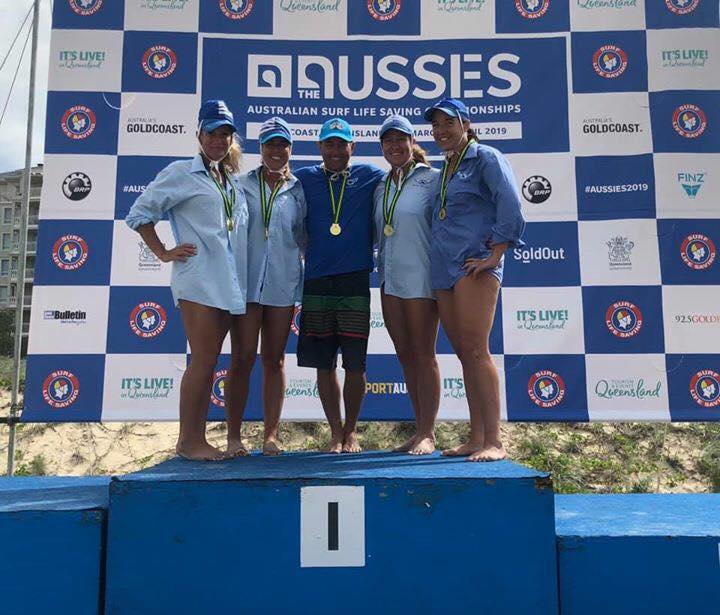 Dee Why's 'Double Bleck': Nicki Daley, Lyndsay Dowsett, Robyn Moore, Alexandra Salier, Shaun Stacey - Australian Champions!
The Lorne crew trains together in relatively flat conditions on Port Phillip Bay once a week and try to get down to the coast on weekends when they can to train in the surf. Three of the four women train together more regularly in their reserve crew.
'We have loved the challenging conditions here and are looking forward to the (open) reserve races on Thursday," 49-year-old Matthews, who has been rowing for 20 years, said.
Yamba took bronze and the other Surf Boat winners on Tuesday were Caloundra SLSC in the female 120 years and Torquay in the 140 years.
In the men's events, Bilgola won the 140 year event, Stockton won the 160 year title, the Mairangi Bay crew from New Zealand led from start to finish to take the 180 years gold medal. Bilgolga SLSC won again in the 200 years event, St Kilda won the 220 years and Burnie SLSC the 240 years Australian title.
You can find full results here.
Surf Life Saving Sydney Northern Beaches Branch Clubs Results For Aussies 2019 Masters Events
Palm Beach SLSC : 43 points
Avalon Beach SLSC Masters: 45 points
Bilgola SLSC: 12 points
Newport SLSC: 51 points
Mona Vale SLSC: 105 points
Warriewood SLSC: 23 points
Collaroy SLSC: 29 points
Long Reef SLSC: 8 points
Dee Why SLSC: 12 points
North Curl Curl SLSC: 6 points
South Curl Curl SLSC: 6 points
Queenscliff SLSC: 99 points
North Steyne SLSC Inc.: 1 point
Manly LSC: 92 points
Men's Events
35-39 Male Beach Flags Newport SLSC Tristan Conn Grand Final 1
50-54 Male Beach Flags Queenscliff SLSC Michael Gedz Grand Final 1
50-54 Male Beach Flags Avalon Beach SLSC Jean Harper Grand Final 3
50-54 Male Beach Flags Warriewood SLSC Glen Bauder Grand Final 7
55-59 Male Beach Flags Queenscliff SLSC Stephen Nelson Grand Final 4
55-59 Male Beach Flags Queenscliff SLSC Simon Dorahy Grand Final 7
65-69 Male Beach Flags Newport SLSC Martin Lynch Grand Final 6
70 Yrs+ Male Beach Flags Queenscliff SLSC Robert Wilson Grand Final 4
35-39 Male Beach Sprint Newport SLSC Tristan Conn Grand Final 2
40-44 Male Beach Sprint Warriewood SLSC Ben Hargy Grand Final 7
50-54 Male Beach Sprint Queenscliff SLSC Michael Gedz Grand Final 1
50-54 Male Beach Sprint Queenscliff SLSC Brian Dolly Grand Final 2
50-54 Male Beach Sprint Avalon Beach SLSC Jean Harper Grand Final 4
50-54 Male Beach Sprint Warriewood SLSC Glen Bauder Grand Final 5
55-59 Male Beach Sprint Queenscliff SLSC Stephen Nelson Grand Final 4
65-69 Male Beach Sprint Newport SLSC Ted Smithies Grand Final 1
70Yrs+Male Beach Sprint Queenscliff SLSC Robert Wilson Grand Final 2
170 yrs min Male Beach Relay Warriewood SLSC Glen Bauder, Adam Gee, Ben Hargy, Justin McDonald Team A Grand Final 2
200 yrs min Male Beach Relay Queenscliff SLSC Brian Dolly, Michael Gedz, Stephen Hoy, Stephen Nelson Team A Grand Final 1
200 yrs min Male Beach Relay Newport SLSC Tristan Conn, Stephen Hatch, Martin Lynch, Ted Smithies Team A Grand Final 4

65-69 Male 1km Beach Run Palm Beach SLSC (NSW) Anthony Way Grand Final 11
70 Yrs+Male 1km Beach Run Long Reef SLSC Inc David Sams Grand Final 3
70 Yrs+ Male 1km Beach Run Long Reef SLSC Inc Peter Kinsey Grand Final 8
30-34 Male 2km Beach Run Newport SLSC Quentin Reeve Grand Final 1
55-59 Male 2km Beach Run North Curl Curl SLSC Andrew Stuart Grand Final 1
55-59 Male 2km Beach Run Palm Beach SLSC (NSW) Tim Gates Grand Final 4
110 yrs min Male Taplin Relay (3 team) Manly LSC Chris Morgan, Stewart McLachlan, Marc Pasques Villalba Semi-Final 2
130 yrs min Male Taplin Relay (3 team) Manly LSC Matthew Gibbs, Mitchell Roberts, Anthony Vieceli Team A Grand Final 1
150 yrs min Male Taplin Relay (3 team) Manly LSC; John Edwards, Grant Ellison, Raymond Ingle Team A Grand Final 5
110 yrs min Male Taplin Relay (3 team) Manly LSC Chris Morgan, Stewart McLachlan, Marc Pasques Villalba Grand Final 5
30-34 Male Board Race Manly LSC Stewart McLachlan Grand Final 1
45-49 Male Board Race Avalon Beach SLSC Ashley Brown Grand Final 9
50-54 Male Board Race Manly LSC Raymond Ingle Grand Final 2
55-59 Male Board Race Queenscliff SLSC Ian Poole Grand Final 5
55-59 Male Board Race Freshwater SLSC Michael Kirkby Grand Final 8
60-64 Male Board Race Queenscliff SLSC Phillip Bird Grand Final 3
65-69 Male Board Race Avalon Beach SLSC Chris McGuckin Grand Final 1
65-69 Male Board Race Newport SLSC Kevin Flood Grand Final 4
150 yrs min Male Board Relay Avalon Beach SLSC Ashley Brown, Chris McGuckin, Darren Warrener Grand Final 3
150 yrs min Male Board Relay Newport SLSC Glen Borg, Kevin Flood, Laurence McCoy Grand Final 6
110 yrs min Male Board Relay Manly LSC Raymond Ingle, Stewart McLachlan, Mitchell Roberts Grand Final 2
40-99 Male Board Rescue Manly LSC Matthew Gibbs, Raymond Ingle Grand Final 5
65-99 Male Board Rescue Avalon Beach SLSC Chris McGuckin, Robert Richardson Grand Final 1
70 Yrs and Over Male Board Rescue Queenscliff SLSC Edward Kwanten, Danny White Grand Final 1
35-39 Male Single Ski Collaroy SLSC Gregg Armstrong Grand Final 2
65-69 Male Single Ski Newport SLSC Kevin Flood Grand Final 4
55-59 Male Single Ski Alexandra Headland SLSC Grant Kenny Grand Final 1
55-59 Male Single Ski Manly LSC Anthony Vieceli Grand Final 3
55-59 Male Single Ski Freshwater SLSC Michael Kirkby Grand Final 4
150 yrs min Male Single Ski Relay Newport SLSC Glen Borg, Kevin Flood, Greg Tobin Grand Final 6
55-59 Male Double Ski Manly LSC Peter J. Clark, Anthony Vieceli Team A Grand Final 1
55-59 Male Double Ski Freshwater SLSC Stephen Bennett, Michael Kirkby Team A Grand Final 5
50-54 Male Double Ski Queenscliff SLSC Gary Whittaker, David Slennett Team A Grand Final 6
40-99 Male Double Ski Mona Vale SLSC Peter Lever, Bryce Munro Team A Grand Final 6
35-99 Male Double Ski Collaroy SLSC Gregg Armstrong, Matthew Gittoes Team A Grand Final 3
30 - 99 Male Double Ski Newport SLSC Luke Jones, Greg Tobin Team A Grand Final 2
150 yrs min Male Surf Team Freshwater SLSC Sigi Hill, John de Mestre, Andrew de Vries Grand Final 1
150 yrs min Male Surf Team Manly LSC John Edwards, Matthew Gibbs, Anthony Vieceli Grand Final 5
170 yrs min Male Surf Team Avalon Beach SLSC Leonardo Pinheiro, Patrick Quinlan, Robert Richardson Grand Final 8
40 Yrs and Over Male Champion Lifesaver Newport SLSC Guyren Smith Grand Final 4
30-34 Male Ironman Manly LSC Marc Pasques Villalba Grand Final 3
40-44 Male Ironman Manly LSC Matthew Gibbs Grand Final 6
45-49 Male Ironman Avalon Beach SLSC Ashley Brown Grand Final 6
55-59 Male Ironman Dee Why SLSC Cam Wyllie Grand Final 4
55-59 Male Ironman Palm Beach SLSC Tim Gates Grand Final 7
65-69 Male Ironman Newport SLSC Kevin Flood Grand Final 4
65-69 Male Ironman Avalon Beach SLSC Chris McGuckin Grand Final 6
30-34 Male Surf Race Manly LSC Marc Pasques Villalba Grand Final 2
45-49 Male Surf Race Avalon Beach SLSC Ashley Brown Grand Final 4
50-54 Male Surf Race Freshwater SLSC Andrew de Vries Grand Final 5
55-59 Male Surf Race Freshwater SLSC John de Mestre Grand Final 2
70 Yrs + Male Surf Race Queenscliff SLSC Danny White Grand Final 6
Women's Events
50-54 Female Beach Flags Queenscliff SLSC Robyn Henderson Grand Final 8
55-59 Female Beach Flags Queenscliff SLSC Merrilee Linegar Grand Final 6
55-59 Female Beach Flags Collaroy SLSC Philippa Wight Grand Final 8
60-64 Female Beach Flags Collaroy SLSC Kerry Armstrong Grand Final 6
65-69 Female Beach Flags Queenscliff SLSC Helen Molloy Grand Final 1
35-39 Female Beach Sprint Manly LSC Melanie Thomas Grand Final 5
40-44 Female Beach Sprint Mona Vale SLSC Sophie Stokes Grand Final 4
45-49 Female Beach Sprint Mona Vale SLSC Kristyn Monnock Grand Final 2
50-54 Female Beach Sprint Queenscliff SLSC Robyn Henderson Grand Final 5
55-59 Female Beach Sprint Queenscliff SLSC Merrilee Linegar Grand Final 1
55-59 Female Beach Sprint Collaroy SLSC Philippa Wight Grand Final 2
55-59 Female Beach Sprint Queenscliff SLSC Linda Burrell Grand Final 5
60-64 Female Beach Sprint Collaroy SLSC Kerry Armstrong Grand Final 5
65-69 Female Beach Sprint Queenscliff SLSC Helen Molloy Grand Final 1
60-64 Female 1km Beach Run Collaroy SLSC Kerry Armstrong Grand Final 1
60-64 Female 1km Beach Run Mona Vale SLSC Lisa Critoph Grand Final 3
65-69 Female 1km Beach Run Queenscliff SLSC Helen Molloy Grand Final 1
40-44 Female 2km Beach Run Mona Vale SLSC Andrea Smith Grand Final 6
45-49 Female 2km Beach Run Queenscliff SLSC Selma Stensland Grand Final 4
50-54 Female 2km Beach Run Collaroy SLSC Miho Kawasaki Grand Final 3
230 yrs min Female Beach Relay Queenscliff SLSC Linda Burrell, Robyn Henderson, Merrilee Linegar, Helen Molloy Grand Final 1
40 Yrs and Over Female Champion Lifesaver Newport SLSC Rebecca Capell Grand Final 5
40 Yrs and Over Female Champion Lifesaver North Steyne SLSC Inc. Deborah Foote Grand Final 6
45-49 Female Ironwoman Mona Vale SLSC Kristyn Monnock Grand Final 1
50-54 Female Ironwoman Palm Beach SLSC (NSW) Fiona Robin Rae Grand Final 3
50-54 Female Ironwoman Mona Vale SLSC Lise Layard Grand Final 7
40-44 Female Ironwoman Manly LSC Melinda Pelly Grand Final 2
40-44 Female Ironwoman Manly LSC Melanie-Jane Brock Grand Final 4
40-44 Female Ironwoman Manly LSC Georgina Pelly Grand Final 5
40-44 Female Ocean Swim Avalon Beach SLSC Amanda Lehman Grand Final 6
35-39 Female Surf Race Manly LSC Melanie Thomas Grand Final 10
50-54 Female Surf Race Mona Vale SLSC Janet Proudfoot Grand Final 6
55-59 Female Surf Race Palm Beach SLSC Diane Van Ooi Grand Final 2
60-64 Female Surf Race Mona Vale SLSC Lisa Critoph Grand Final 1
60-64 Female Board Race Mona Vale SLSC Christine Hopton Grand Final 7
45-49 Female Board Race Mona Vale SLSC Kristyn Monnock Grand Final 2
50-54 Female Board Race Mona Vale SLSC Lise Layard Grand Final 2
55-59 Female Board Race Palm Beach SLSC (NSW) Karen Begg Grand Final 6
60-64 Female Board Race Mona Vale SLSC Lisa Critoph Grand Final 3
40-44 Female Single Ski Mona Vale SLSC Andrea Smith Grand Final 1
40-44 Female Single Ski Manly LSC Melanie-Jane Brock Grand Final 2
45-49 Female Single Ski Mona Vale SLSC Kristyn Monnock Grand Final 1
45-49 Female Single Ski Manly LSC Bec Crawford Grand Final 7
50-54 Female Single Ski Mona Vale SLSC Lise Layard Grand Final 6
110 yrs min Female Single Ski Relay Manly LSC Melanie-Jane Brock, Rachael Dodwell, Melinda Pelly Team A Grand Final 2
130 yrs min Female Single Ski Relay Mona Vale SLSC Andrea Smith, Kristyn Monnock, Paula Tocquer Team A Grand Final 4

50-99 Female Double Ski Mona Vale SLSC Janet Proudfoot, Lise Layard Team A Grand Final 3
50-99 Female Double Ski Palm Beach SLSC Annabelle Chapman, Fiona Robin Rae Team A Grand Final 5
45-99 Female Double Ski Mona Vale SLSC Kristyn Monnock, Paula Tocquer Team A Grand Final 2
40-99 Female Double Ski Mona Vale SLSC Andrea Smith, Sophie Stokes Team A Grand Final 2
40-99 Female Double Ski Manly LSC Georgina Pelly, Melinda Pelly Team C Grand Final 4
30 - 99 Female Double Ski Manly LSC Melanie-Jane Brock, Rachael Dodwell Team A Grand Final 1
130 yrs min Female Board Relay Mona Vale SLSC; Lise Layard, Kristyn Monnock, Sophie Stokes Grand Final 2
110 yrs min Female Board Relay Manly LSC; Bec Crawford, Georgina Pelly, Melanie Thomas Grand Final 7
110 yrs min Female Board Relay Manly LSC Melanie-Jane Brock, Rachael Dodwell, Melinda Pelly Grand Final 3
170 yrs min Female Board Relay Palm Beach SLSC Annabelle Chapman, Karen Begg, Fiona Robin Rae Grand Final 1
170 yrs min Female Board Relay Mona Vale SLSC; Christine Hopton, Janet Proudfoot, Lisa Critoph Grand Final 3
35-99 Female Board Rescue Manly LSC Georgina Pelly, Melanie Thomas Grand Final 4
40-99 Female Board Rescue Manly LSC Melanie-Jane Brock, Melinda Pelly Grand Final 4
45-99 Female Board Rescue Mona Vale SLSC Lisa Critoph, Paula Tocquer Grand Final 6
50-99 Female Board Rescue Palm Beach SLSC Fiona Robin Rae, Diane Van Ooi Grand Final 4
50-99 Female Board Rescue Mona Vale SLSC Janet Proudfoot, Lise Layard Grand Final 5
55-99 Female Board Rescue Palm Beach SLSC Annabelle Chapman, Karen Begg Grand Final 2
60-99 Female Board Rescue Mona Vale SLSC Christine Hopton, Lisa Critoph Grand Final 1
130 yrs min Female Surf Team Manly LSC Melanie-Jane Brock, Bec Crawford, Melinda Pelly Grand Final 7
150 yrs min Female Surf Team Mona Vale SLSC Janet Proudfoot, Lisa Critoph, Kristyn Monnock Grand Final 3
150 yrs min Female Surf Team Palm Beach SLSC Karen Begg, Fiona Robin Rae, Diane Van Ooi Grand Final 5
130 yrs min Female Taplin Relay (3 team) Mona Vale SLSC Andrea Smith, Janet Proudfoot, Kristyn Monnock Grand Final 2
110 yrs min Female Taplin Relay (3 team) Manly LSC Melanie-Jane Brock, Rachael Dodwell, Melinda Pelly Grand Final 6
70 Yrs+ Female Taplin Relay (3 team) Palm Beach SLSC Annabelle Chapman, Fiona Robin Rae, Diane Van Ooi Grand Final 2
130 yrs min Female Taplin Relay (3 team) Mona Vale SLSC Andrea Smith, Janet Proudfoot, Kristyn Monnock Grand Final 2
150 yrs min Female Taplin Relay (3 team) Mona Vale SLSC Lisa Critoph, Lise Layard, Paula Tocquer Team A Grand Final 5
Surf Boat Events
U19 Male (cond Ski Age) Surf Boat, Avalon Beach SLSC Peter Carter, Regan Dale, Jordan Hawke, Charlie Lewis, Lachlan Mills, 'Avalon Beach Hueys' - Grand Final - 3rd
Open Female (Conditional Age) Surf Boat - Avalon Beach SLSC, Avalon Bch Open Women; Tegan Bilson, Rebecca Lock, Lauren Petersen, Simone Polly, Nathan Wellings - Grand Final- 4th
Open Female (Conditional Age) Surf Boat - Dee Why SLSC's 'Double Bleck'; Nicki Daley, Lyndsay Dowsett, Robyn Moore, Alexandra Salier, Shaun Stacey - Grand Final 5th
140 yrs min Male Surf Boat Bilgola SLSC; Jason Crump, Ben Gill, Mark Hooley, Matthew Nugent, Luke Perrin, Bilgola Bends Grand Final - 1st
160 yrs min Male Surf Boat Mona Vale SLSC; Sean Needs, Matthew Collins, Kai Cooper, Ryan Halangahu, Nathan Wilson, Masters of the Universe Grand Final- 2nd
160 yrs min Female Surf Boat Dee Why SLSC; Nicki Daley, Lyndsay Dowsett, Robyn Moore, Alexandra Salier, Shaun Stacey, Double Bleck Grand Final - 1st
180 yrs min Female Surf Boat, Avalon Beach SLSC; Melinda Akehurst, Amanda Dale, Shannon Fletcher, Matthew Mayall, Stephanie Stoddard, DBs, Grand Final - 1st
180 yrs min Female Surf Boat Avalon Beach SLSC; Sally Macintosh, Kate Munro, Beverley Tilbury, Nathan Wellings, Donna Wishart, Antiques Grand Final - 3rd
180 yrs min Male Surf Boat Avalon Beach SLSC; Ashley Cardiff, Peter Carter, Daryl Johnson, Adam Schofield, Nathan Wellings, Avalon Beach Rockstars Grand Final - 3rd

200 yrs min Male Surf Boat Bilgola SLSC; Ben Gill, Grant Jacobs, Mark Parsons, Norman Pounder, Garett Smith Team A Grand Final- 1st
200 yrs min Female Surf Boat Warriewood SLSC; Alex Coates, Tanya Deer, Louise Kemp, Russell Lamb, Kathryn Maguire, Rustys, Grand Final - 1st
220 yrs min Male Surf Boat South Curl Curl SLSC; Peter Rogers, Robert Buckingham, John Mark Campbell, Christopher Flemming, Anthony Mulvey, White Bread, Grand Final - 2nd
220 yrs min Male Surf Boat Warriewood SLSC; David Peaston, Stuart Torrington, Mark Hodgson, Russell Lamb, Carl C. Quitzau, Crustys, Grand Final - 3rd
260 yrs min Male Surf Boat Long Reef SLSC Inc; David Sams, Bruce Gaal, Peter Kinsey, Malcolm MacCormick, Robert Pearson, Long Reef Vets, Grand Final - 3rd
Worth noting (as we go to press):
Open Male Surf Boat Short Course Race South Curl Curl SLSC; Rob Lowery, Christopher Hughes, Trent Rogers, Michael Egan, Jordan Thurlow, Death Riders, Grand Final - 1st
Mona Vale SLSC; Christopher Bridge, Fraser Campbell, Luke Chivers, Matthew Collins, Ethan Farmer, Sludge, Grand Final 3rd

Open Female Surf Boat Short Course Race South Curl Curl SLSC; Charlotte Walters, Sophie Coolican, Mark Spiteri, Ellie Winstanley, Lara Campbell, Straw Hats, Grand Final - 1st
Mona Vale SLSC; Taylor Richards, Matthew Collins, Ash Watson, Kristina Larsen, Yvette Giblin, Snow Whites, Grand Final - 3rd
Avalon Beach SLSC; Peter Carter, Rachel Strong, Rebecca Elliott, Ashleigh Norman, Ellie Mackay, Avalon Beach Bandits, Grand Final - 5 th
Report by A J Guesdon, 2019