April 19 - 25, 2015: Issue 210
Aussies 2015 – Australian Surf Life Saving National Championships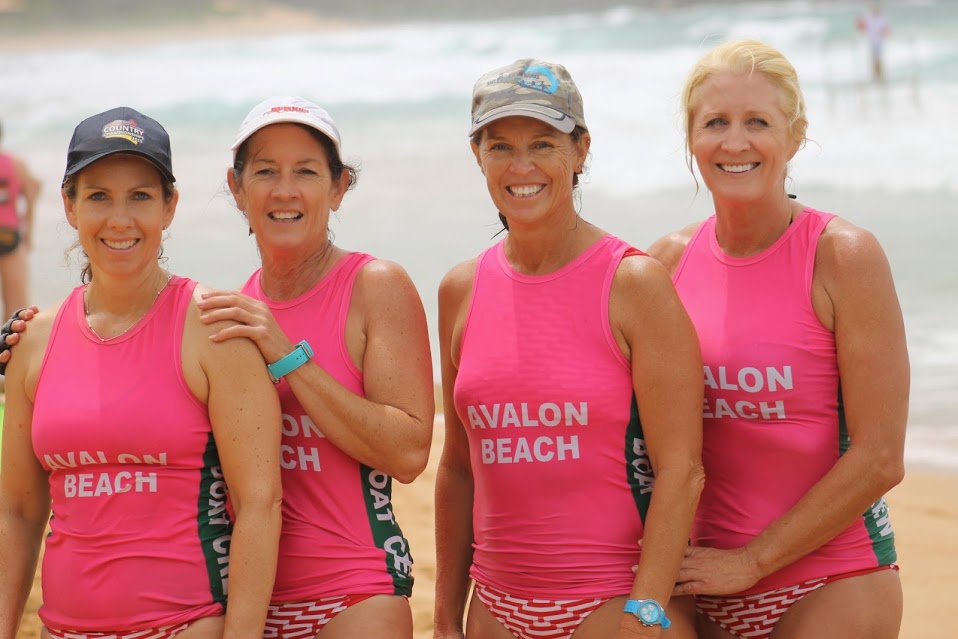 Avalon Beach Antiques at Branch Championships this year: Donna Wishart, Bev Tilbury, Kerry McEwan and Tracey McSullea. AJG Pic.
Aussies 2015 – Australian Surf Life Saving National Championships
Avalon Beach SLSC's Antiques Women's Boat Crew Win Branch, States, National and Worlds in One Year - Palm Beach, Whale Beach, Avalon, Bilgola, Mona Vale, Newport and Warriewood Champions at 2015 National Titles
April 18, 2015
In deference to today, April 19th, being the last day of this year's Aussies we will hold off running a quite long list of Pittwater results until Sunday 26th of April, 2014, the day the 2014-15 Patrol Season closes and run something after all the results are in – as well as a celebration of a brilliant season by every Pittwater Surf Life Saving Club.
One of the biggest stories to come out of this year's surf sports calendar, and just completed this week as part of Aussies 2015, has to be that of Avalon Beach SLSC's Masters Boat Crew – the ladies who comprise The Avalon Antiques. In one year these girls have won the Gold Medal in Branch, State, National and Worlds. Two members, Kerry and Bev are rowing with a group from Warriewood Beach SLSC have already left our beaches to be part of the Gallipoli 100 surfboat race*.
Donna Wishart, Tracey McSullea, Kerry McEwan, Bev Tilbury and Sweep Nathan Wellings currently comprise this superlative team who won Gold at the Aussies last season in Perth, defended their Gold at Worlds and have done the George Bass Marathon a few times too.
We contacted Donna for a 'congrats' and 'how does it feel?' earlier this week. This Mum of a few, who also works, answered:
"We are certainly breathing a sigh of relief at getting the Aussies title again as the surf was big and tricky and it could have gone either way. Crews were wiping out all over the place and a rollover in those conditions would have spelt the end to our season's campaign for sure.
For a few years we've had the goal of trying to clean sweep the competition by getting gold at Branch, State and Nationals along with the ASRL Open and World Championships. Each year at least one of these eluded us but this season it all fell into place.
It's been a great season, but a long one as we began training back in July as we were heading to Worlds in France in September. Our sweeps Rick Millar and then Nathan Wellings for the last part of the season were amazing and really focused on our technique instead of just fitness in the boat.
Two of the crew flew straight out after the race to Gallipoli and are rowing 100 kilometres into Anzac Cove for the memorial next week so we didn't even get time to celebrate properly. Kerry and Bev are rowing with a group from Warriewood Beach SLSC.
Medals aside though, we just love the thrill and the challenge of surfboat rowing and we have a great supportive club at Avalon Beach so we'd like to continue rowing as long as we can. Most of us are in our 50s but we think we go alright. We joke to our young Under 23 boys that one day they'll be picking us up from the nursing home to take us out for a row!'
A little north of Avalon is Palm Beach SLSC who were 26th overall after the Masters competitions at this year's Aussies. The Masters tally: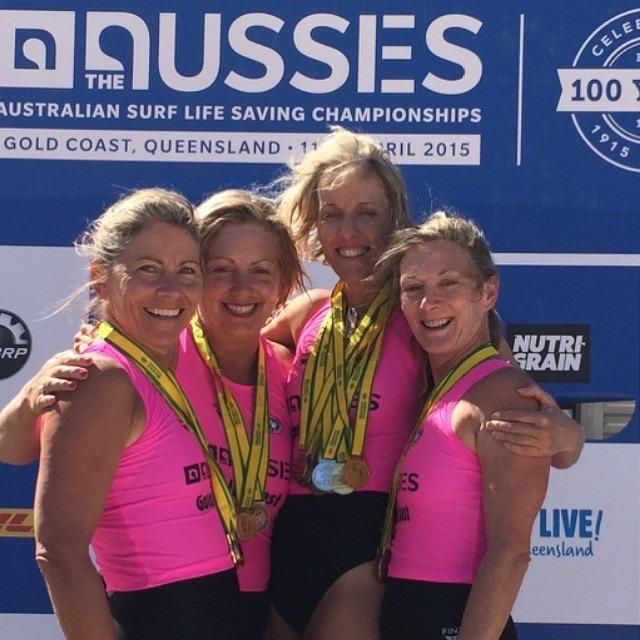 Gold: Tim Gates - 55 - 59 2 km run, Fi Rae - 45 - 49 Female Ski and Di van Ooi, Annabelle Chapman, Fi Rae - 150 Female Taplin
Silver: Annabelle Chapman & Fi Rae - 45 + Female Double Ski.
Bronze: Karen Begg & Annabelle Chapman - 55 - 59 Female Board Rescue, Di van Ooi & Fi Rae - 45 - 49 Female Board Rescue, Fi Rae, Karen Begg & Annabelle Chapman - 150 Female Ski Relay and Fi Rae - 45 - 49 female Ironwoman.
4th: Di van Ooi, Annabelle Chapman & fi Rae - 150 Female Surf Teams, Karen Begg, Fi Rae & Annabelle Chapman - 150 Female Board Relay.
5th: Karen Begg - 55 - 59 Female Ski. 6th: Karen Begg - 55 - 59 Female Ironwoman, Karen Begg - 55 - 59 Tube
Members who also competed and cheered when not in or on the water and sand were Sarah Webster, Andrew Webster and Tony Way. We thank Gordon Lang, Masters Captain at Palm Beach SLSC for forwarding this great news.
Two times Gold lady Fi Rae is Project Manager for the new restaurant slated to open in Avalon Beach SLSC's clubhouse around mid June and has agreed to letting us run a Profile of the Week on her in late May – more on that dynamic lady soon!
Avalon Beach SLSC's superlative Masters waterman Chris McGuckin won Bronze in the Ironman while Club President Christine Hopton gained a 4th in the Women's Board final as part of Newport's Masters Team.
Whale Beach SLSC's Master in the swim, Bill Phillips won silver in the 70 yrs and Over Rescue Tube Race and bronze in the 70 Yrs Over Surf Race.
Bilgola SLSC competed in the Surf Boat races, with the wonderful Don McManus sweeping - Don has only ever missed two Aussies!
Newport SLSC has always been strong in surf sports and has become more so since launching the Kinghorn Surf Racing Academy. With great examples like their Masters Relay Team of with Ted Smithies, Martin Lynch, Rob Emerson and Brett Budd winning gold in the 230 years beach relay and Lise Layard and Jan Proudfoot who also took gold in double ski, Ted Smithies winning the 60-64 years beach sprint, and club mate Marty Lynch securing silver, and backed up by parents and coaches who support their striving to 'be the best and enjoy it the most' it's no surprise that all that hard work is producing the results strived for.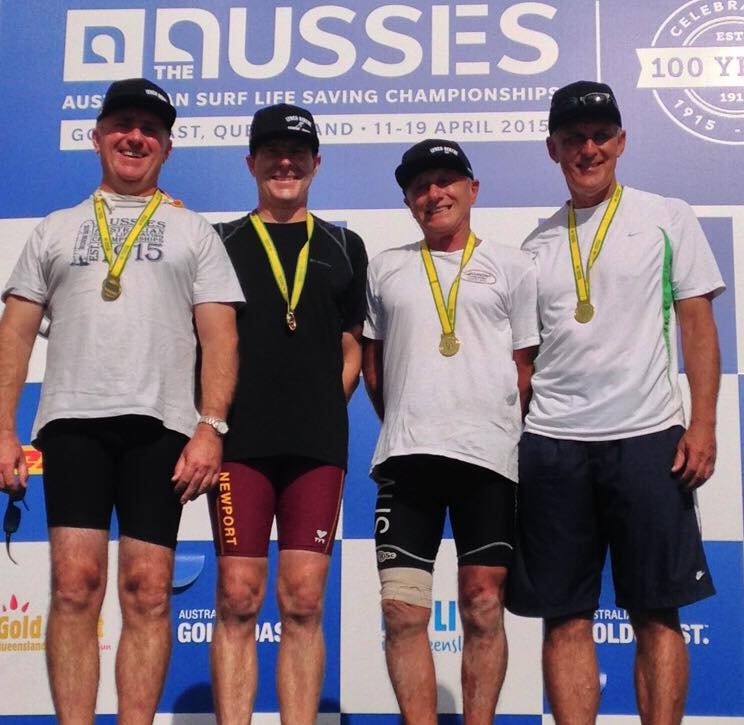 Newport's Masters Relay Team
On Wednesday April 15 Jayke Rees, Lachie Reid, David Euers and Ollie Signorini won the under 19 surf teams from Northcliffe and Currumbin at North Kirra, while Kendrick Louis, Mitchell Trim and Luke Morrison secured silver with Avoca, who had four-time Aussie single ski champion Lachlan Tame paddling for them, securing the gold.
The Newport under 19 girls Sam Wilcox, Lara Moses and Georgia Miller picked up two bronze medals in both the Taplin Relay and board relay at the Aussies, and Jackson Borg has taken bronze in the under 17 Champion Life Saver. Newport member Kristie Edwards is now Australian u15 Beach Sprint Champion and Australian Champion U15 Flags thanks to her great efforts earlier in the week.
On Friday the Under 17 board relay gold medal was won by Guy Rees, Charlie Brooks and Jackson Borg who then went on Saturday to secure gold in the prestigious Taplin Relay from Kurrawa. This makes the third gold for Charlie and Jackson at this year's National titles and the second gold for Guy.
Dave Rees, James Brooks and Glen Borg with their sons, Guy Rees, Charlie Brooks and Jackson Borg with fellow Kinghorn Surf Racing Academy coach Nick Carroll - photo by Tania Marr
Yesterday, Saturday April 18th, Newport's B team won the under 19 Taplin Relay final. The decision to promote Charlie Brooks from the under 17s proved to be a great idea when ski paddler David Euers led them home to a convincing win.
"We grabbed Charlie from the under 17s because he is paddling really well at the moment,'' David said. "He smashed it and we couldn't have asked for a better lead after the board leg. Then Ollie [Signorini] took over in the swim and held the lead and swam all the way in and tagged me.
''It was then up to me. A lot of pressure but I was just so glad to hold my lead. I know we were the B team but we wanted to get the guys in the A team. We knew we'd be up there.''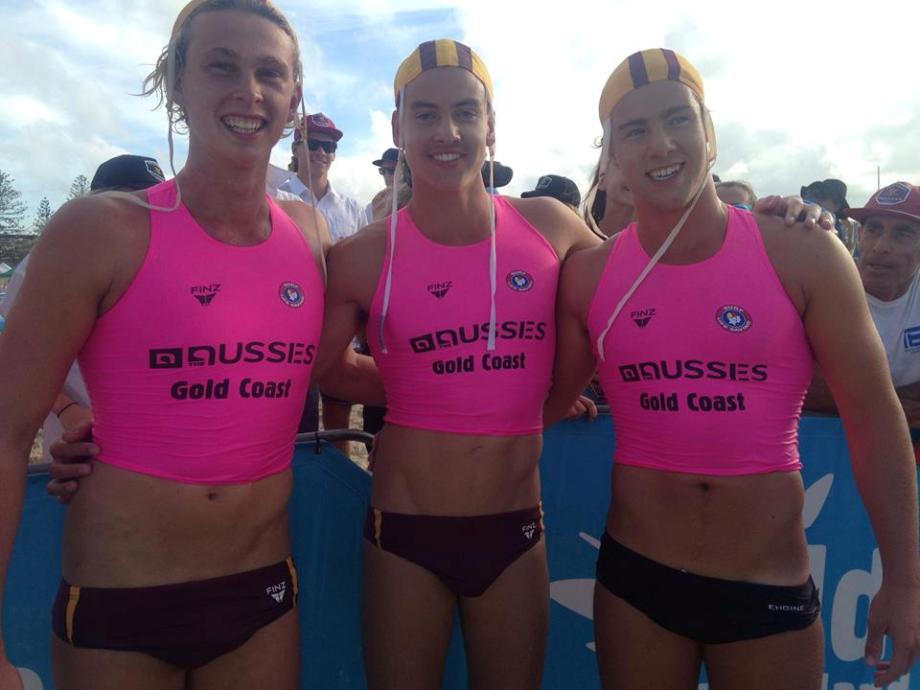 Picture: Ollie Signorini, Charlie Brooks and David Euers.
Georgia Miller also won gold on Saturday, and her second Australian women's open surf race championship in three years – and she's still an under 19 competitor.
''It's absolutely incredible. I wouldn't have thought in my wildest dreams that would have panned out that way,'' she said after running across the line ahead of Courtney Hancock and Rebecca Creedy.
"I am just so thrilled. I think I was pretty young an naive when I won it the first time [also .at North Kirra] and didn't really know what it meant to win an open surf race. I think coming through and racing all the open girls more has definitely put it into perspective.
''It's huge. I can't believe it.''
Georgia said she was just sitting in behind Courtney and Miranda Bell around the cans.
''On the way in I just got some good runners and ended up getting a wave and held it all the way to the gutter and then I just sprinted my heart out coming in as I didn't know if anyone had caught the wave.''
Soon after the surf race Georgia was back in the water with her partner Lara Moses for the under 19 final rescue final – and that brought home gold too.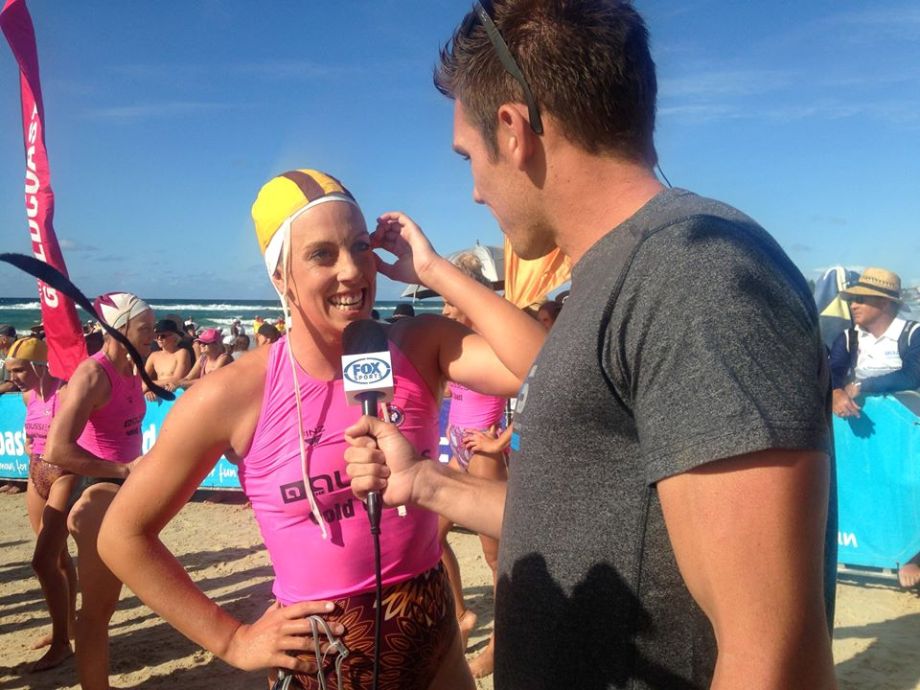 Picture: Georgia being interviewed by Josh Minogue after the open surf race final.
Mona Vale SLSC sent a great team north to compete in Masters with Kristyn Monnock winning gold in the 40-44 Female Beach Sprint and bronze in the 40-44 Female Rescue Tube Race.
Kristyn also competed in the 30-44 Female Double Ski with team member Paula Tocquer, who went in the 40-44 Female Single Surf Ski as well where the gold was won by Palm Beach SLSC member Fiona Rae. Bryce Munro was in the 35-39 Ironman, David Spencer in the 50-54 Male Surf Board, Hugh Monnock in the 130 Yrs Male Surf Board Relay with Bryce Munro and David Spencer and Mr. Monnock and Mr. Spencer again teamed up for the 35-39 Male Surf Board Rescue.
Warriewood SLSC has done well too taking bronze medals in Monday's events when Adam Gee and Ben Hargy won bronze in the 40-44 Male Beach Flags and their 170 Yrs Male Beach Relay Team of Adam Gee, Ben Hargy, James Leggett-Budden and Justin Burgess sprinted over the line. Adam also gained a 4th in the 40-44 Male Beach Sprint. Warriewood's 180 Yrs Female Surf Boat crew of Louise Barnett, Alex Coates, Tanya Deer and Robyn Humphrey, Sweep Russell Lamb finished 4th behind Killcare SLSC's Team A, Cape Hawke SLSC 's Hawks and the Avalon Beach Antiques showing this club will be one to watch in the Surf Boat Comps. next season. Glen Bauder also represented his club in competitions.
The 2015 Aussies conclude today, April 19th – good luck to all those still at Kirra!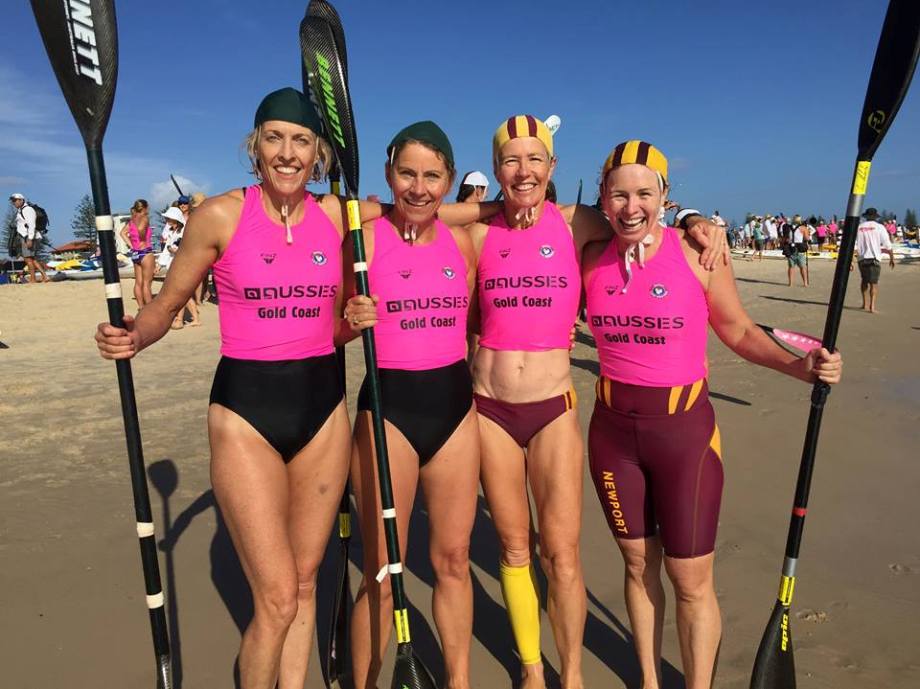 Double ski; Newport Gold: Jan Proudfoot and Lise Layard - Palm Beach Silver: Fi Rae and Annabelle Chapman - Chris Hopton photo.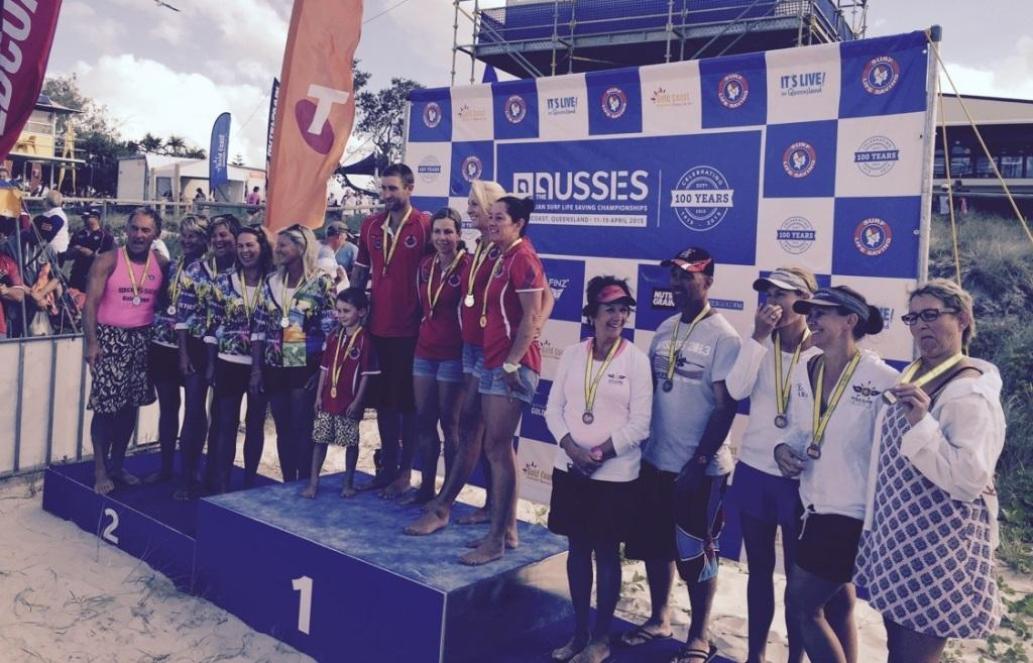 Avalon Beach Antiques with Sweep Nathan Wellings (minus Kerry) - GOLD!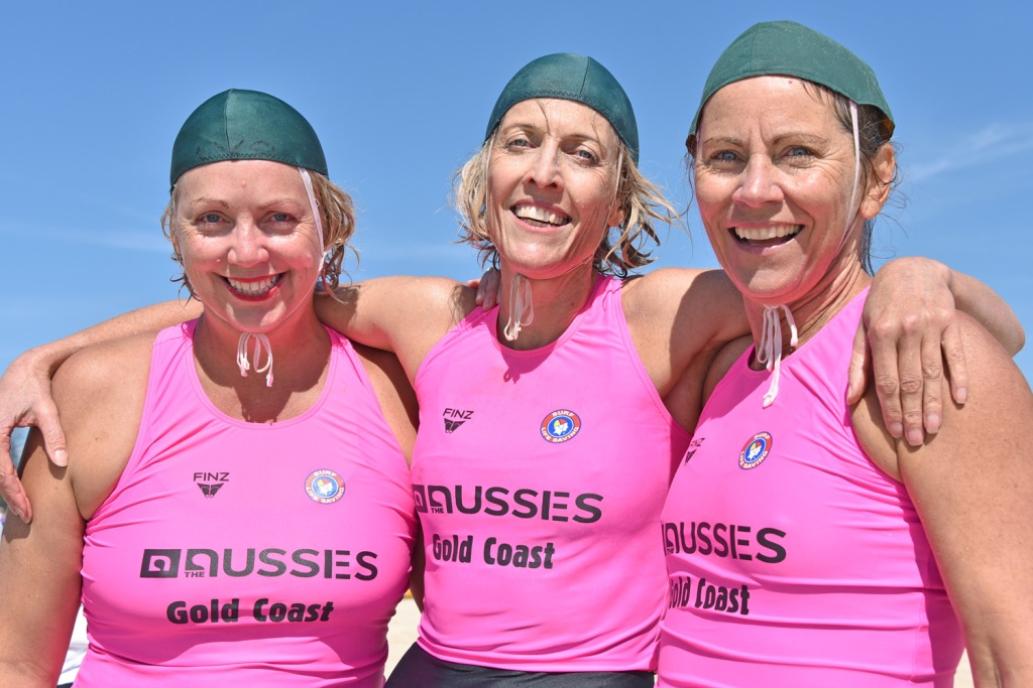 Di van Ooi, Fi Rae and Annabelle Chapman - 150 Female Taplin - GOLD! - photo courtesy Harvpix/www.harvpix.com
*The Gallipoli 100 Organisation is commemorating the 100th anniversary of the landing on Gallipoli by the ANZACs with a long row featuring surfboats manned by Australian, New Zealand and Turkish crews. This will be held on 21 and 22 April 2015 starting at Eceabat on the Dardanelles then head south to Morto Bay, a landing spot for the French soldiers.
On Day Two the crews row closely past V beach where the British first came ashore when they rammed the Steamer the River Clyde up onto the beach disgorging its soldiers directly onto the beach to be met by ferocious resistance from three Turkish Machine Guns. They will continue past Lancashire Landing where again the allied forces were met by heavy resistance. Next is Y beach where more of the allied forces landed including our ANZACs.
Particpants will see Fusiliers Bluff and row past the highly concentrated landing areas of ANZAC Cove, North beach and finally the vicinity of Fisherman's Hut where most of our men never made it past the beach on that first day. The boats and crews will then turn back to Gaba Tepe Wharf, this will give second crews to pass ANZAC Cove.
The Gallipoli 100 Organisation is composed of a group of passionate surfers who also share an interest in military history and have experience in managing surfing events and overseas tours.
The initial team is made up of Paul Murphy's company, Military History Tours, all information on it is at the website at www.militaryhistorytours.com.au. Representing the G100, Paul visited Turkey in February 2009, and found nothing but enthusiasm for the G100 concept. The other side of the team is Dr Paul Cooper, boat captain at Tamarama SLSC in Sydney who together with Mark Walton, ex Duntroon Graduate and recently retired from full time army service, and also a Tamarama boatie, came up with the G100 concept.
Gallipoli 100 is supported by Surf Life Saving Australia and the Australian Surf Rowers' League.
Report by A J Guesdon - Pictures: Palm Beach Girls – photo courtesy Harvpix/www.harvpix.com – Avalon Antiques Picture courtesy Donna Wishart's phone – Newport Surf Club Pictures – courtesy Christine Hopton, Tania Marr, Surf Life Saving Sydney Northern Beaches and Surf Life Saving New South Wales.