July 16-22 2023: Issue 590
Narrabeen JRLFC's 90th Celebratory History A Shark's Tale Book Launch Featured A Legends Q&A With Alan Thompson, Anthony Watmough, Mark Gerrard, Anthony Balkin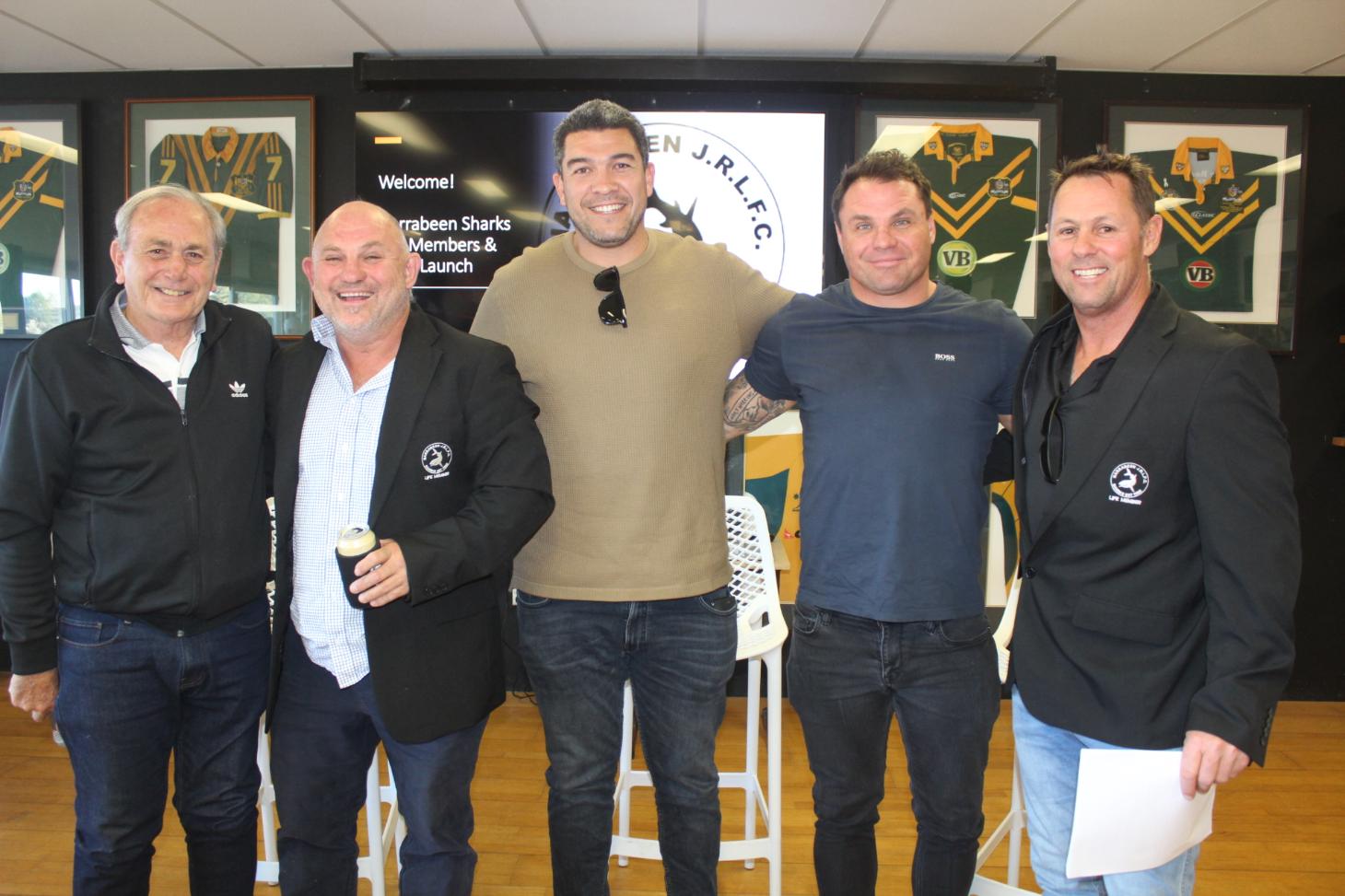 Left to right: Narrabeen Sharks Legends Alan Thompson, Tony Balkin, Mark Gerrard, Anthony Watmough, Shane Bullock. Photo: A J Guesdon
The Narrabeen Sharks' Life Members luncheon and launch of A Shark's Tale; 90 Years - The History of the Narrabeen J.R.L.F.C. took place on Sunday 25th June at Lake Park, and turned out to be a truly remarkable celebration.
The clubhouse was filled with over 80 guests, and a massive crowd gathered to show their support for the U17s and A-Grade games. It was heart-warming to see familiar faces, individuals who have been a part of the Sharks' illustrious 90-year history.
Following a fantastic lunch, guests were privileged to hear from the book's author, Phil Hunter, along with Scott Nagle and Brian Adams, who shared their journey in creating this incredible tribute.
For those of you who are not aware, Phil Hunter the Narrabeen Sharks historian, has worked tirelessly over the last few years putting the 90 year history into a beautifully presented hard cover book.
This is an amazing account of a brilliant core of the community club, put together in chronological order and featuring stories and photos from the ages. To grab a copy go to the Narrabeen Sharks website and order through the shop section.
The event continued with an engaging and entertaining panel session, featuring some of the game's legendary figures Alan Thompson, Anthony Watmough, Mark Gerrard, and Anthony Balkin.
Others attending included John Trbojevic and Geoff Toovey, and wonderful Life Members such as Doug Miller, George Aprile, John Rousell and Jeff Foster.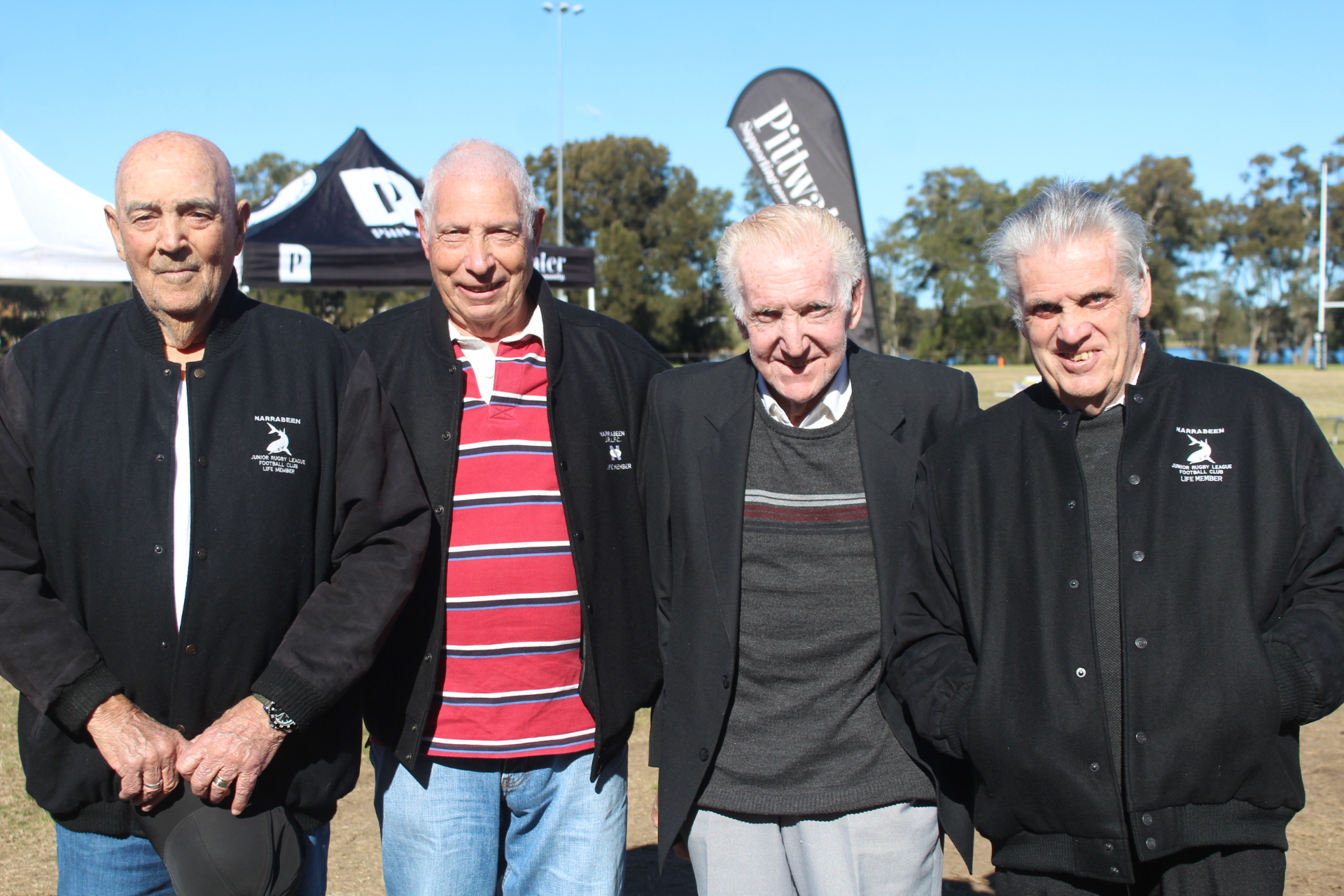 Life Members Doug Miller, George Aprile, John Rousell and Jeff Foster

This was a celebration of Narrabeen community itself as much as Tales told by the Sharks achievements.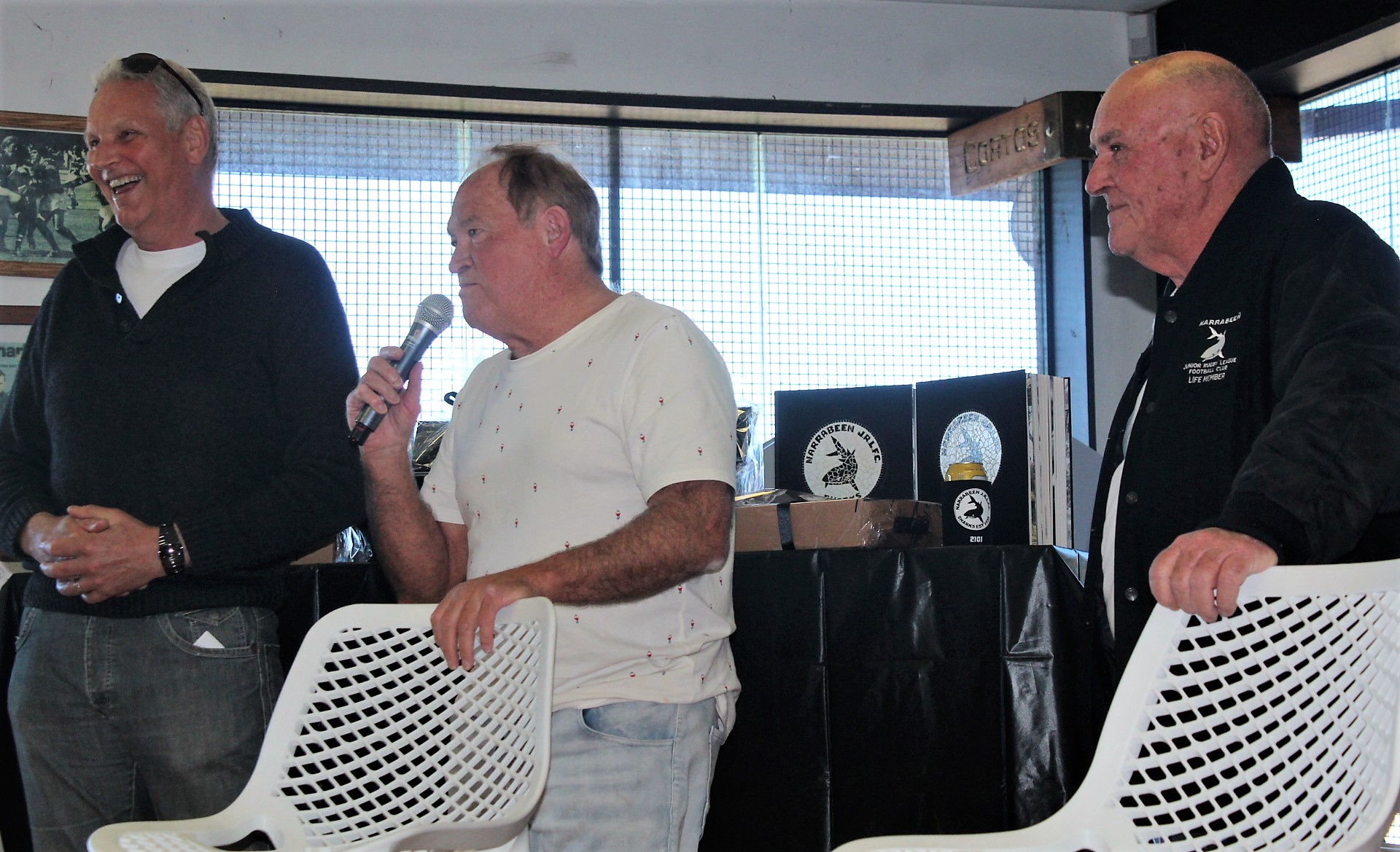 L to r: Scott Nagle, Brian Adams and Phil Hunter

Narrabeen legends: Toni Couper with Clarkie
Get the full story in this Issue's PROFILE OF THE WEEK
Weeds: A Round Table Discussion At Narrabeen On Friday July 21 - All Welcome!
Over the past few years residents have sent in images of weed infestations in our area, expressing their discontent with Council's actions on requests to remove the same.
Part of the problem is that although the Council can apply for grants to remove large patches of weeds on Crown Land, and issues the work to Contractors once grants have been won, there is a cap on how much is allocated annually. Additionally, many places are not listed as Crown Land and therefore there is no grant to assist with weed management.

Council relies on what can be allocated from its own annual budget and on the hundreds of bushcare volunteers who work to maintain these areas, the bulk of whom have been doing so for years and are now seniors in many instances and unable to do as much as they may have when younger.
At the May 2023 Council Meeting PNHA founder Marita Macrae and FoNLC committee member and professional Ecologist Jayden Walsh addressed Councillors on the subject of weeds in our area. They were speaking in support of a Motion tabled by Pittwater Councillor Miranda Korzy.
Ms Korzy's Motion sought to make information about those weeds that are escaping from private gardens into bush reserves, along with weed information reach-outs and encouraging more, younger, people to get involved in bushcare, as a means of turning back the tide of weeds engulfing so many areas since the forced amalgamation of the three Manly, Warringah and Pittwater councils.
The Motion was passed unanimously - but is that enough?
A glance over what has been successful in the recent past, such as the PNHA initiative to trail a Trad Biocontrol Release In Pittwater in 2020, which is proving effective, may help.
Joining your local bushcare group and just doing a few hours each month will help too.
How can we get those inheriting the place involved now that those who have carried the load are getting too creaky of joint and limb to keep on?
In 2013 Pittwater Council and the Pittwater Natural Heritage Association successfully ran an Asparagus Fern weeds out day at Palm Beach dunes years ago which attracted 110 younger bushcarers as a ticket to a concert was the reward - with lots of support from Optus see; Give-Get Given Barrenjoey Asparagus Fern Out Day
Would the next generation to carry forward environment keeping swap a few hours of bushcare each month for a ticket to an all-ages concert by The Rions or the Lime Cordiales? You bet they would!
Pathways in our schools are already allowing youngsters to connect with bush restoration and the benefits from it, along with the Duke of Edinburgh award allowing for bushcare volunteering as part of what you can do - why not extend that into an Ecology pre-uni 'try it out' pathway for work experience?
Our kids LOVE the environment; they're always out and about in it - giving them an opportunity to via The HSC + School Based Apprenticeship and Traineeship (SBAT) already allows for Horticulture options - why not campaign for that be expanded into Ecology courses with waived fees as there is for other Apprenticeships? The future needs them - in fact, the present needs them to follow their passions right now.
There is also those who have long worked on this problem coming up with ideas.
On Friday July 21st a new move to find innovative ways to address the weeds in our area, with all welcome, will take place as a Weeds Roundtable Discussion at the Narrabeen Tramshed.
Conny Harris has organised this Round Table to discuss the problems with weeds in our area, which are a serious threat to our biodiversity.
You might enjoy this event if you battle with weeds in your garden, work in a Bushcare group, or just tire of seeing weeds along roadsides everywhere.
The Agenda is below, with some reading for you before the event. Another attachment (also below) explains just what is a priority weed.
This Issue an old page in the JBH DIY section includes Pittwater Council's list of weeds and photos to support us all in ripping out what may spread into bush reserves, runs again. Now is a great time to get on top of weeds before Spring arrives and they bloom then seed further.
Details of Weeds: A Round Table Discussion; The Tramshed, Pittwater Rd Narrabeen, Friday July 21, 6-8pm, PLEASE RSVP to Conny Harris if you would like to attend. Her email: conny.harris@gmail.com (Conny is providing Pumpkin soup and sourdough bread for supper) and more runs HERE
Milla Brown Wins 2023 Pro Junior + Skullcandy Oz Grom Open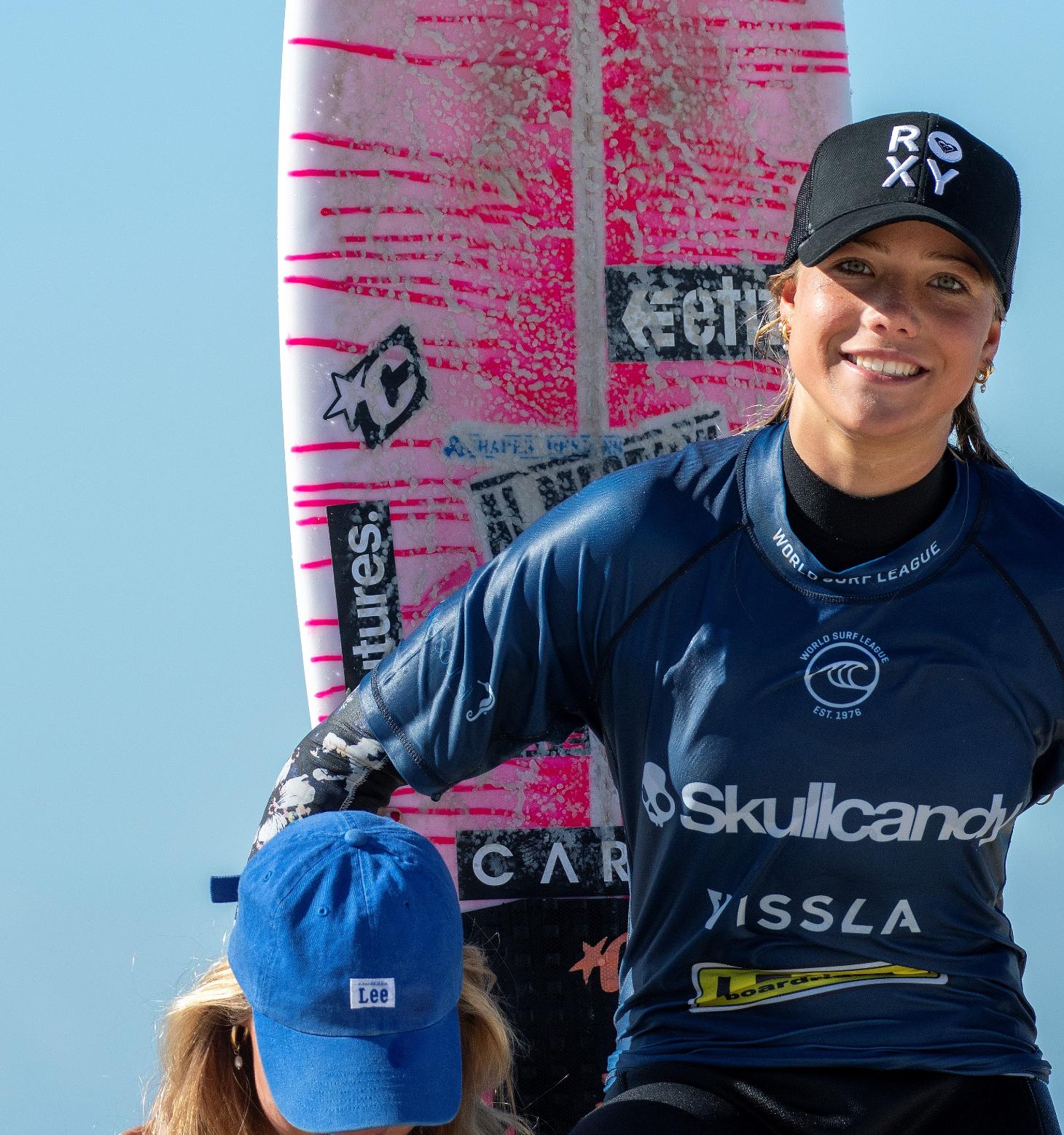 Milla Brown. Photo: Ethan Smith/Surfing NSW
In 2021 Milla Brown finished her State Title campaign with a bang as she
took out the Under-16 Girls final
.
In 2022 Milla Brown Won her Division in the 2022 Australian Junior Surfing Titles and Qualified for the 2023 Irukandjis Team.
On July 11 2023 15-year-old Milla Brown (Bungan Beach) showed she remains one to keep an eye on in future years as she took out the coveted Pro Junior title as well as the Under-18 Girls division in the 2023 Skullcandy Oz Grom pres. by Vissla as well as the World Surf League (WSL) Junior Qualifying Series (JQS) Pro Junior division. After posting the highest heat total of the event the day before (19.40 out of a possible 20 points), Brown returned to Lennox Head and proceeded to make light work of the Lennox Head conditions.
Milla executed a respectable 10.50 heat total in the Pro Junior division to take a win ahead of perennial event standouts Rosie Smart (Sawtell, NSW), Sierra Kerr (Coolangatta, QLD) and Isla Huppatz (Bilinga, QLD) who finished in second, third and fourth respectively. While, in the Under-18 Girls, Brown finished the heat with a decent 10.43 heat total to claim the win ahead of Isla Huppatz, Zahlia Short (Austinmer, NSW) and Willow Hardy (Margaret River, WA).
"This is the best day of my competitive career so far for sure," said Brown. "I didn't even expect to win one division let alone two, especially competing against people like Sierra, who I think is one of the best surfers in the world. I was just stoked to compete against her. Looking forward, I'm heading down to the NSW state titles, but hopefully I can win more titles like this and eventually get onto the World Tour. That's the goal."
The six-day event ran from 6 July –11 July 2023 at Lennox Head and comprised the World Surf League (WSL) sanctioned Pro Junior Qualifying Series (JQS) event as well as an elite competition for promising grommets in the 14, 16 and 18-year age divisions.
From day 1 onwards Milla Brown sent a warning shot over the head of their competitors, notching up a series of impressive scores for critical carves and snaps.

By 8 July 2023 the 2023 Skullcandy Oz Grom Open pres. by Vissla continued to see some of the nation's best grommet surfers tear apart tiny conditions as competitors looked to cement themselves positions into the quarterfinals.
Avalon Beach local 12-year-old Locana Cullen surfed well beyond his years in the quarterfinals of the Under-14 Boys, with the talented natural-footer performing a handful of critical snaps and carves to put his fellow competitors on the ropes. When the final hooter sounded at the end of the heat, Cullen had finished with a gigantic 16.17 two-wave heat total and advanced into the quarter-finals.
At the end of the epic competition Locana finished just behind 13-year-old Rio Luther Barr, a Sawtell based surfer.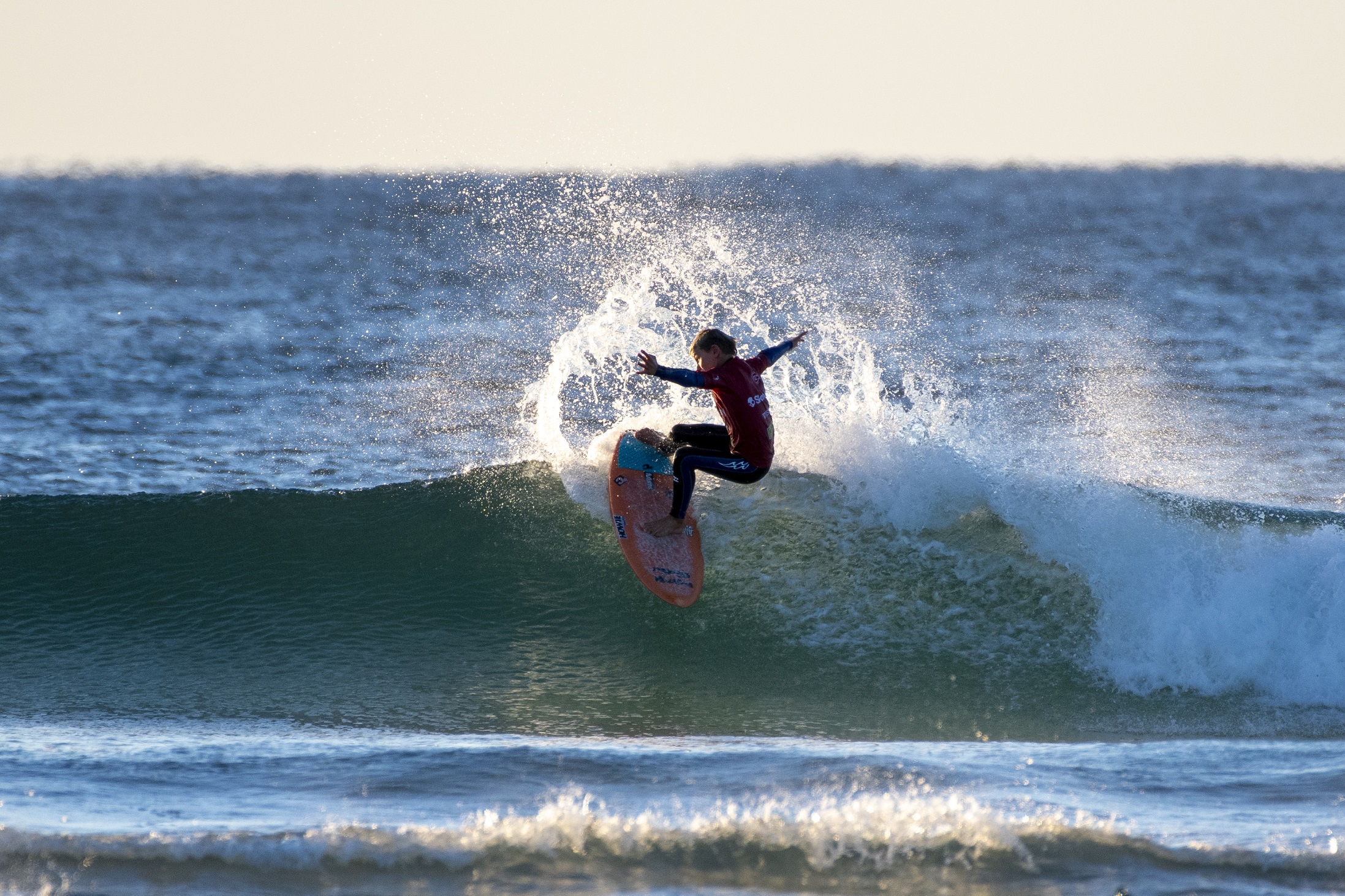 Locana Cullen. Photo: Ethan Smith/Surfing NSW

Monday July 10 set the stage for what was to come as competition intensified and the 2023 Skullcandy Pro Junior, World Surf League (WSL) Junior Qualifying Series (JQS) event saw all semi-finalists decided after a day of exciting battles in near-perfect four-to-five foot conditions.
Once again, Milla Brown was a standout in the solid conditions, smashing out a series of critical re-entries to lock in a decent 14.53 two-wave heat total in the quarterfinal of the Women's Pro Junior division. Competing against fellow wave-smith Sierra Kerr (Coolangatta, QLD), Milla showed she wasn't daunted, as she nailed the aforementioned score and claimed the win in the quarterfinal.
MB then backed up her performance in the Under-18 Girls division posting the only perfect 10-point ride of the event, for a giant frontside straight air, which she was then able to back up with an excellent 9.4 to take her two-wave total to 19.40, the highest heat total of the entire event.
"I've never got a ten-point ride before, so to get one here feels amazing," said Brown. "My whole goal was to lock in a couple of keeper scores and then just try to send it as hard as I could. Those airs were something I've been working on a lot with my coaches at Surfing Australia and I hope I can do more of them in my age division and the Pro Junior tomorrow."
And then came Finals day and that dual win.
Milla then headed south to Wollongong to compete in the 2023 Woolworths Junior State Titles, the event she won in 2021, running 13-18 July which will also include the 2023 NSW High School Titles: 19-20 July (U16 and U19).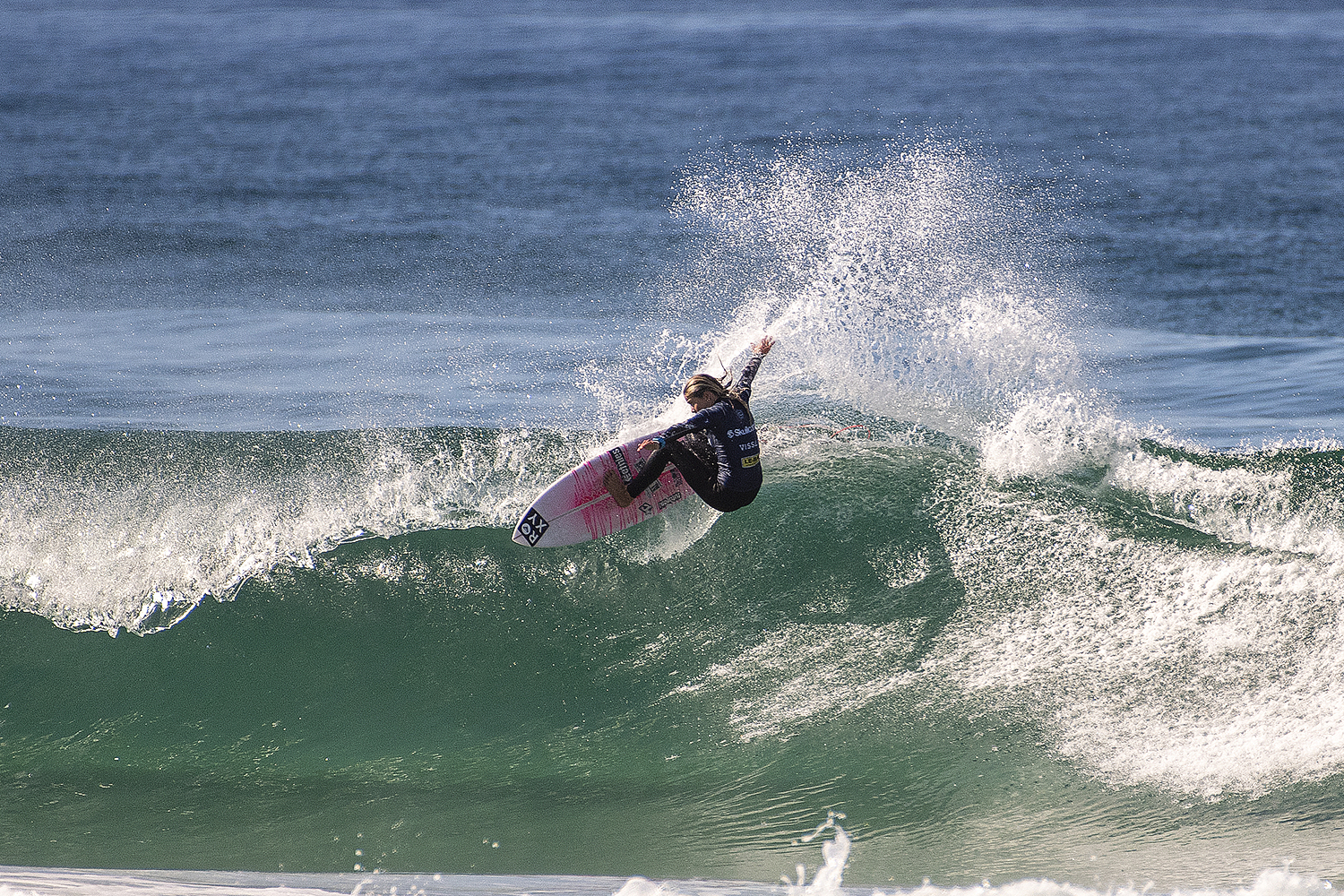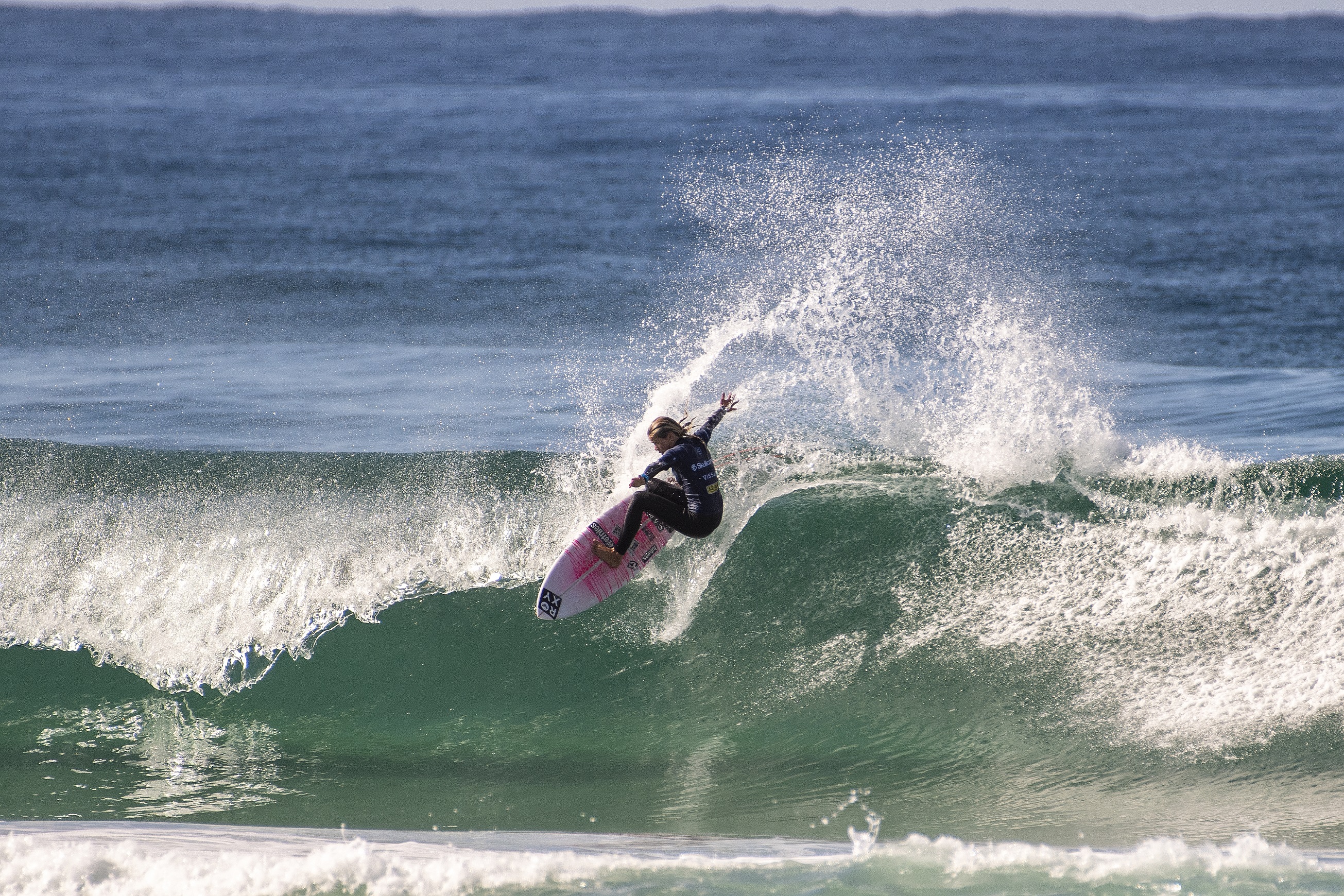 Milla Brown. Photos: Ethan Smith/Surfing NSW
Northern Beaches Para Surfer Boardriders Club Makes Waves In Community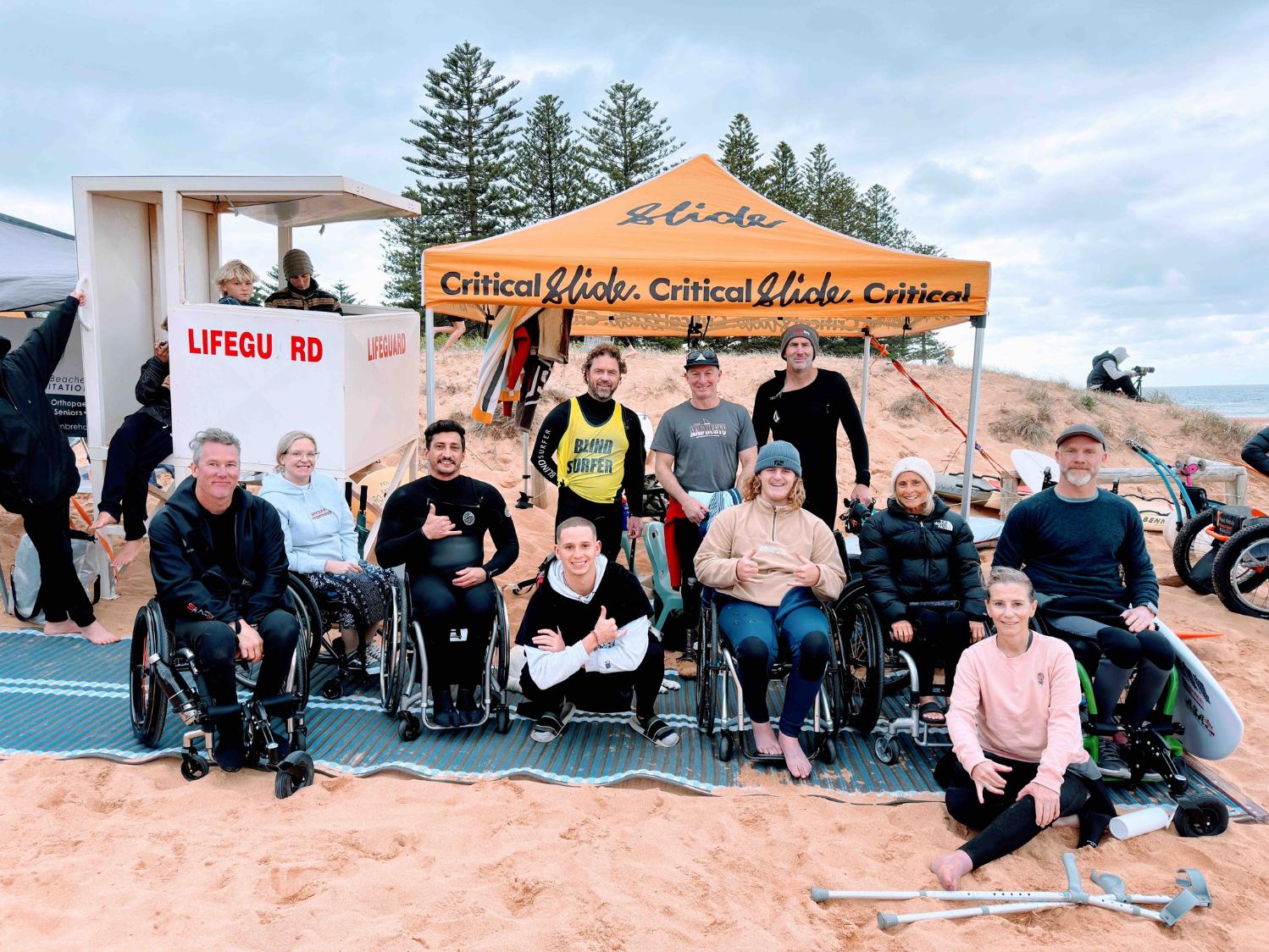 Northern Beaches Para Surfer Boardriders Club members and supporters. Photo: Byron Chadwich
There's a new boardriders club in town and it's one that's changing lives and helping more people feel the incredible power surfing and being in the ocean has.

Northern Beaches Para Surfer Boardriders Inc aims to provide a platform dedicated for para surfers to engage and mentor others in the sport of surfing. Through its services and activities, the club aims to empower para surfers and create a positive impact on their lives by fostering a sense of community and to promote inclusivity by raising awareness in the wider community. This will then facilitate skill development and competitive opportunities for the para surfers.
NBPSB:

Enter the raffle now to win a brand new board and loads more prizes all while supporting the start-up of the club. Find out more.
On 4th June, Australian Irukandji Para Surfing representative Em Dieters (pictured below) and a group of her good mates including World Champion Sam Bloom, together with Mona Vale Boardriders Club, held the first ever Northern Beaches Para Surfer Boardriders Club (NBPSB) round at Mona Vale Beach.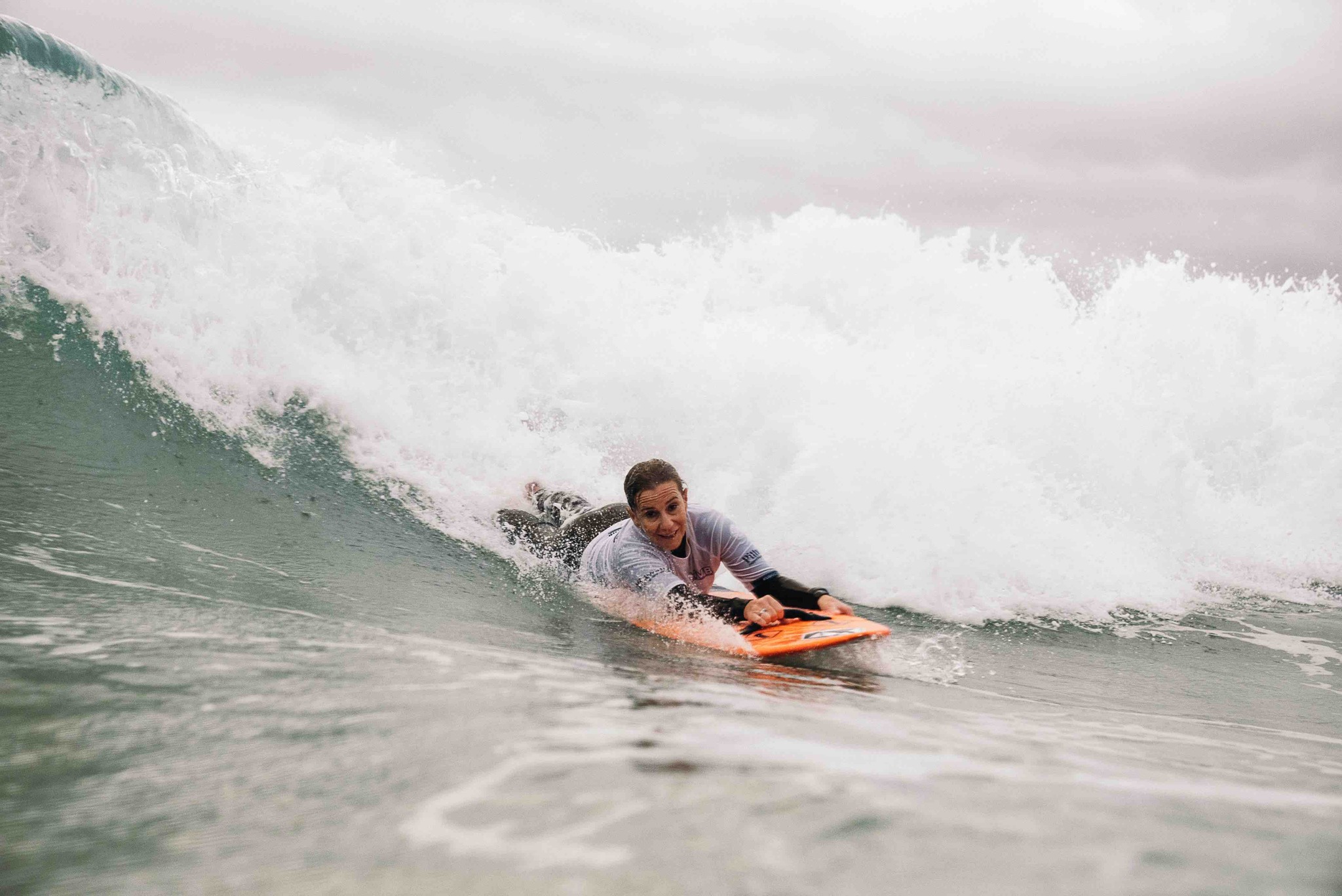 Para Surfing, also known as Adaptive Surfing, is a rapidly growing sport that provides individuals with physical disabilities the opportunity to experience the thrill of riding a wave.
NBPSB Inc is envisioned as a non-profit organisation aimed at promoting and supporting para surfing activities.
It wasn't just a club round of surfing, the whole community came together and it was a festival feeling. The full day event included the MVB club round, a celebrity para surfing exhibition heat, gourmet lunch with a spit and pancakes and live music.
"Conditions were tough. Windy, sometimes rainy, sloppy surf conditions. But it was decided that 4 June had to be the day and everyone involved just took it on the chin with a tonne of enthusiasm," said Emma.
"The MVB crew were groms small and big and surfed it as best as they could, to support the first official round that NBPSB crew were so excited about."
"The Pro's who came and showed absolute professionalism and tried their hardest to give us an explosive expression session," she said.
Emma said her favourite part was seeing everyone step up and support each other.
"I love that we are leading the way, the first stand-alone and active Para Surfer Boardriders Club. Every region needs a club like ours. I'm proud that we're already kicking goals and I'm excited to see where it all leads."
2023 Sharkskin NSW IRB State Championships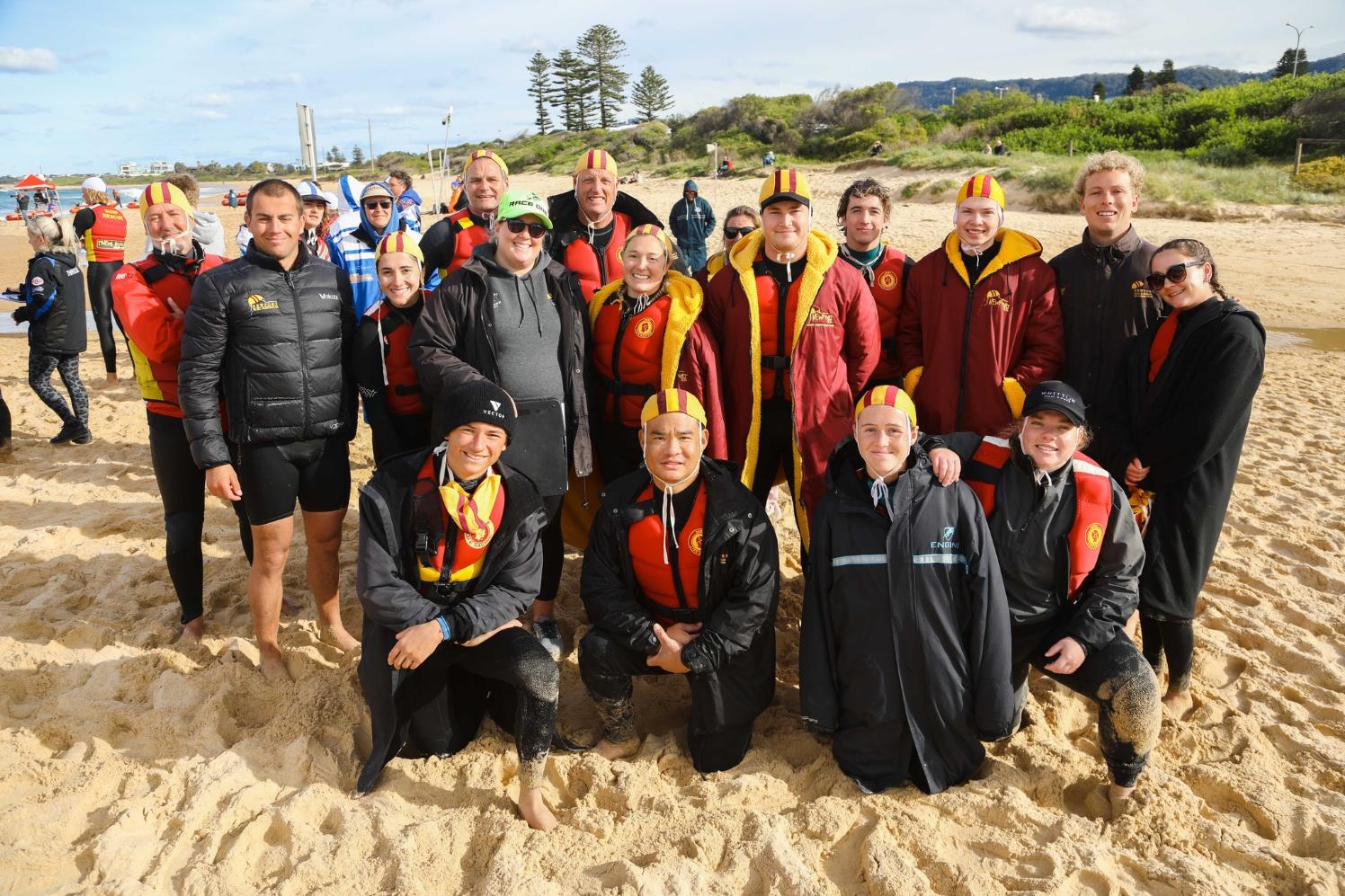 Newport SLSC IRB Team racers at 2023 State Championships. Photo: Malcom Trees.
A clean slate and pristine conditions greeted the state's best and most passionate Inflatable Rescue Boat racers as the 2023 Sharkskin NSW IRB Championships descended on the Central Coast's Ocean Beach over the weekend of July 7-9, 2023.
Coming into the 2023 States Competition teams had completed 5 rounds of the 2023 Sharkskin NSW IRB Premiership Series, with host clubs Warilla Barrack Point SLSC, Queenscliff SLSC, Bulli SLSC, Broulee Surfers SLSC, and South West Rocks SLSC ensuring racers visited a variety of NSW beaches and competed in a range of conditions.
While overall results from the series were announced during a presentation ceremony on Saturday afternoon, by far the revelation of the last two months has been Caves Beach SLSC, Surf Life Saving NSW reported.
For many years the Hunter club nipped at the heels of competition heavyweights, Kiama Downs SLSC only to fall short at the final hurdle, however the script was flipped entirely on its head from the moment racing began in Warilla on the last weekend in April.
Newport SLSC and Terrigal SLSC remained in a ding-dong battle for the final podium place for much of this Winter Rounds, with just nine points separating the pair heading into Round 4. That margin hadn't moved for nearly a month after both registered the same total – 99 points – in Round 3.

However, a hoodoo of nearly a decade was broken on the Central Coast on Sunday July 9 as Caves Beach SLSC emerged victorious from the 2023 Sharkskin NSW Inflatable Rescue Boat (IRB) Championships.
In doing so, the Hunter club ended an eight-year run of Kiama Downs SLSC dominance and brought up its first Championships overall point score win since 2015.
Avalon Beach SLSC's IRB team report they also brought home the bling (2 Gold and 1 Silver) from the State carnival.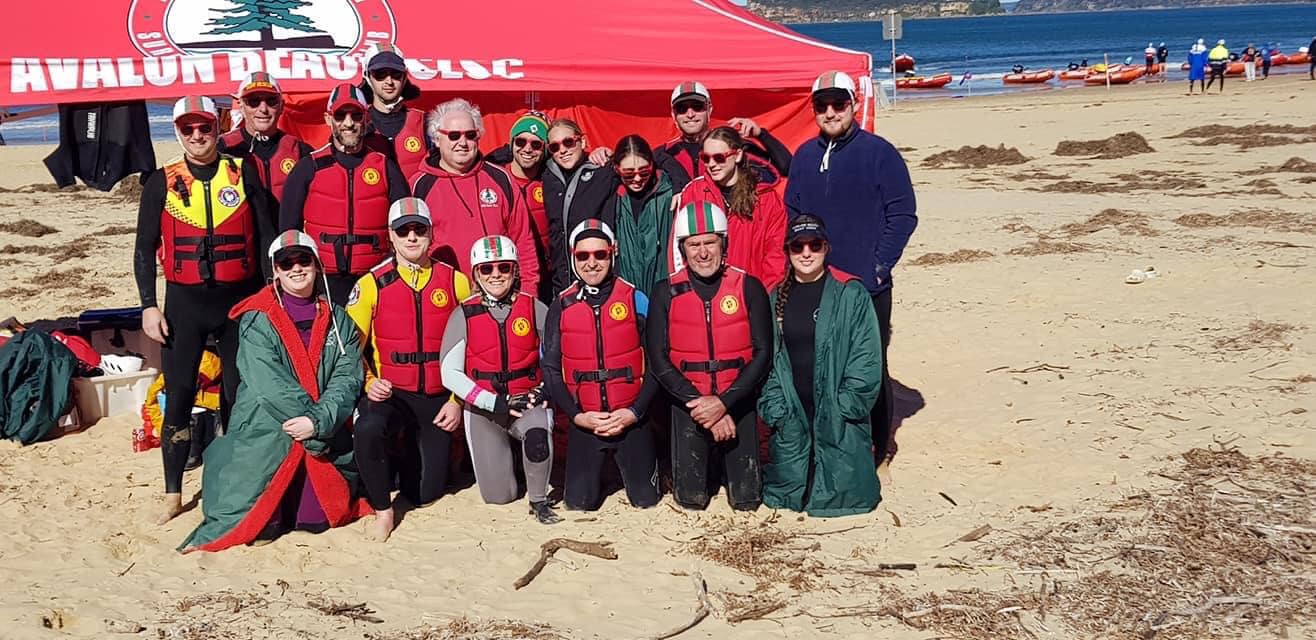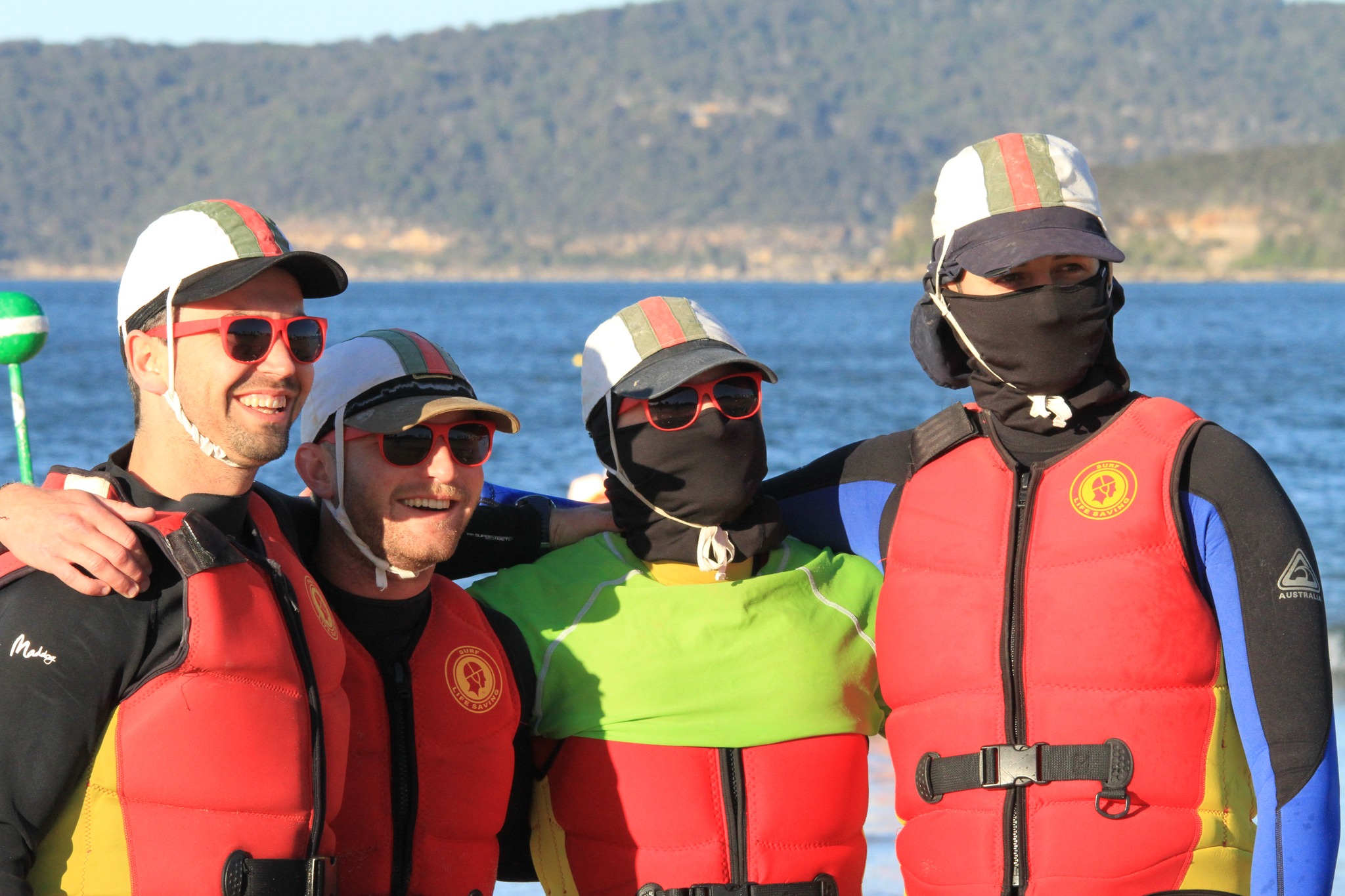 In the 2023 Sharkskin NSW IRB Premiership Series Newport finished 3rd in the premiership point score over the past 5 rounds and 5th for the State point score, both times being the top Sydney Northern Beaches Branch club.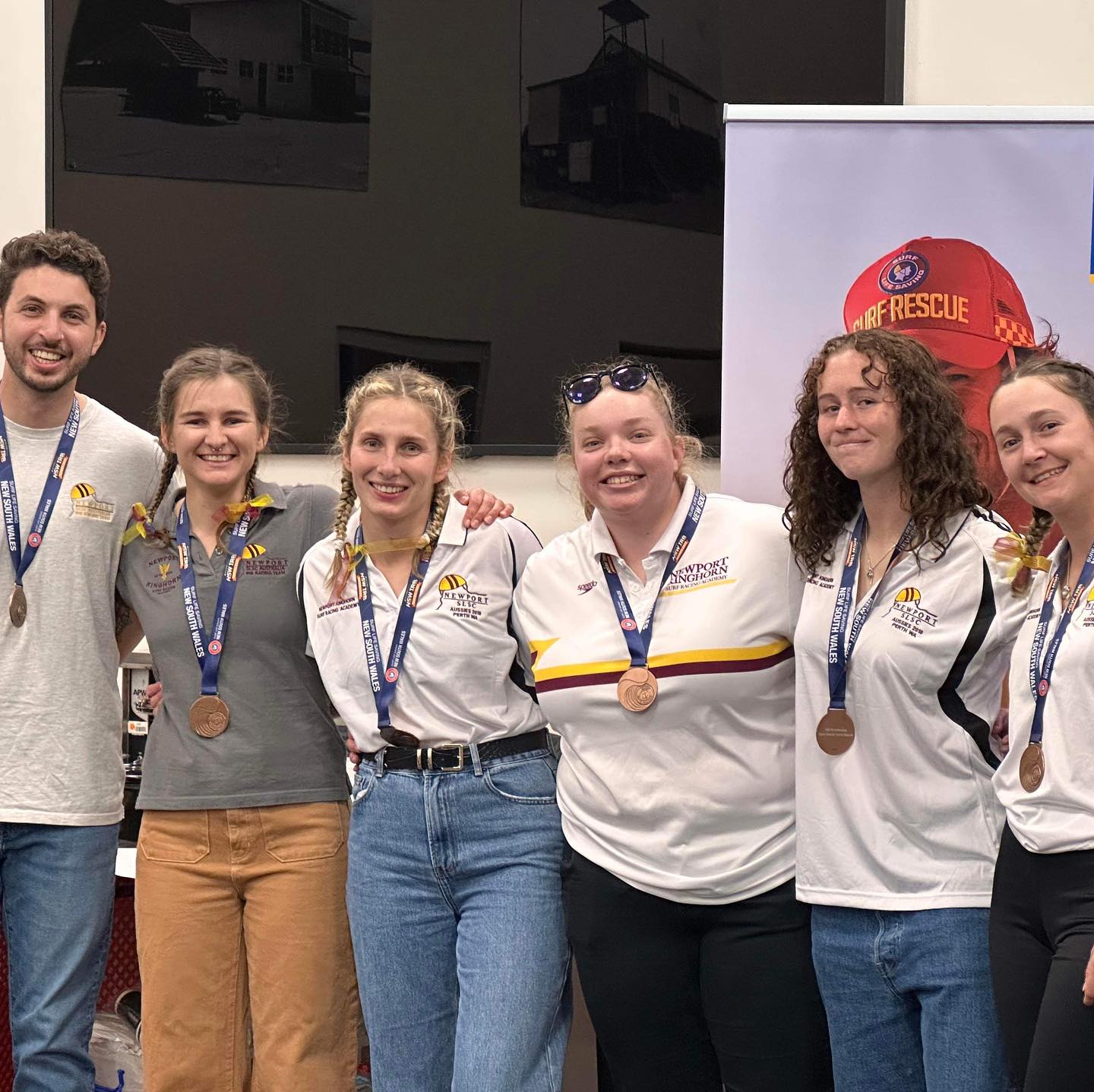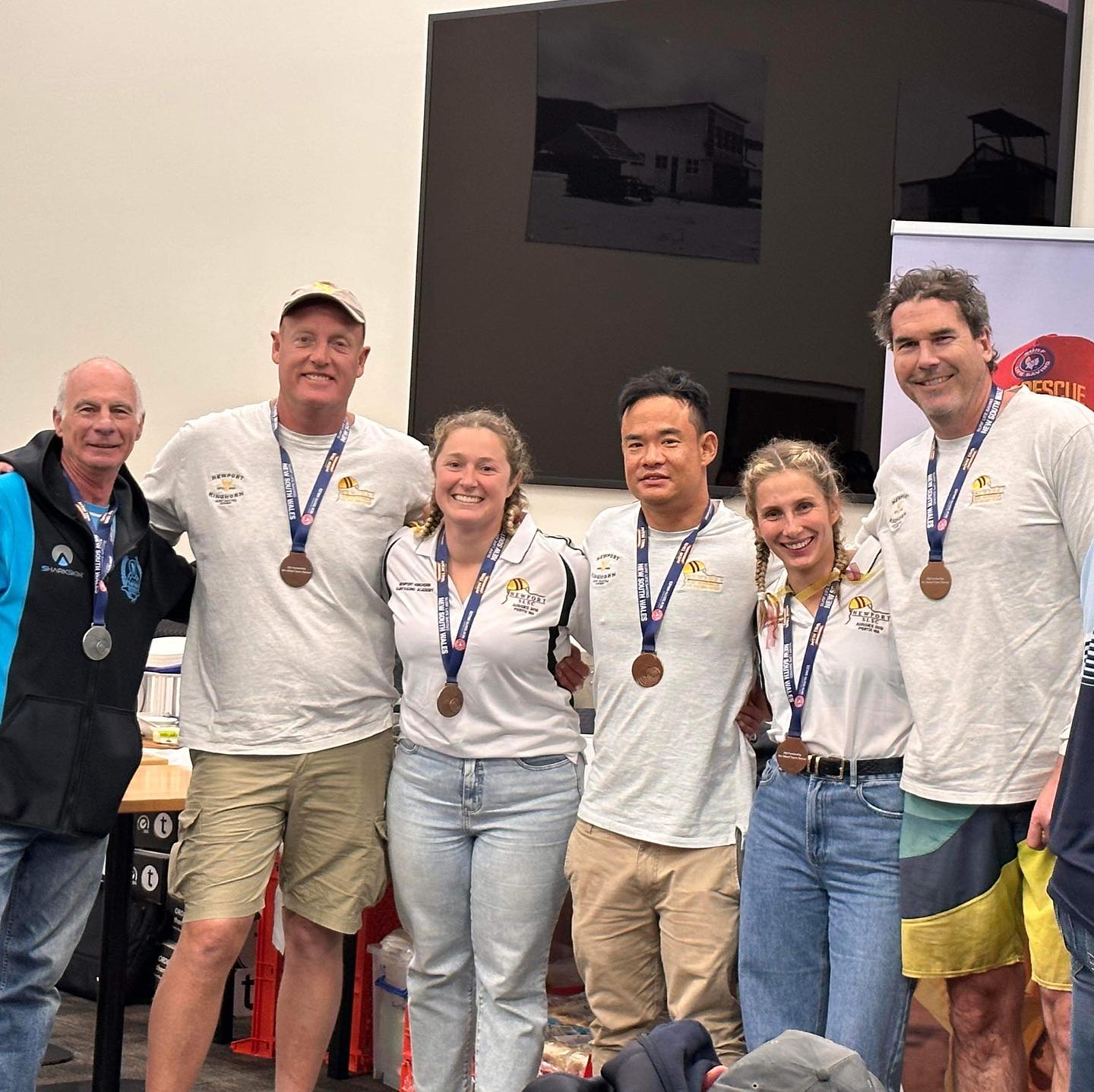 Queenscliff came next among local clubs, followed by Bungan SLSC, Mona Vale SLSC and Avalon Beach SLSC, where the idea of using rubber duckies for rescues was born.
Following the end of racing on Sunday, the NSW IRB Interstate Team and NSW IRB Development Team was announced ahead of the Australian IRB Championships at Kingscliff on the NSW North Coast from 20-23 July. This year the NSW IRB Team includes Newport SLSC Members.
Avalon Soccer Club's Women's 16'S Return To Vanuatu - 2023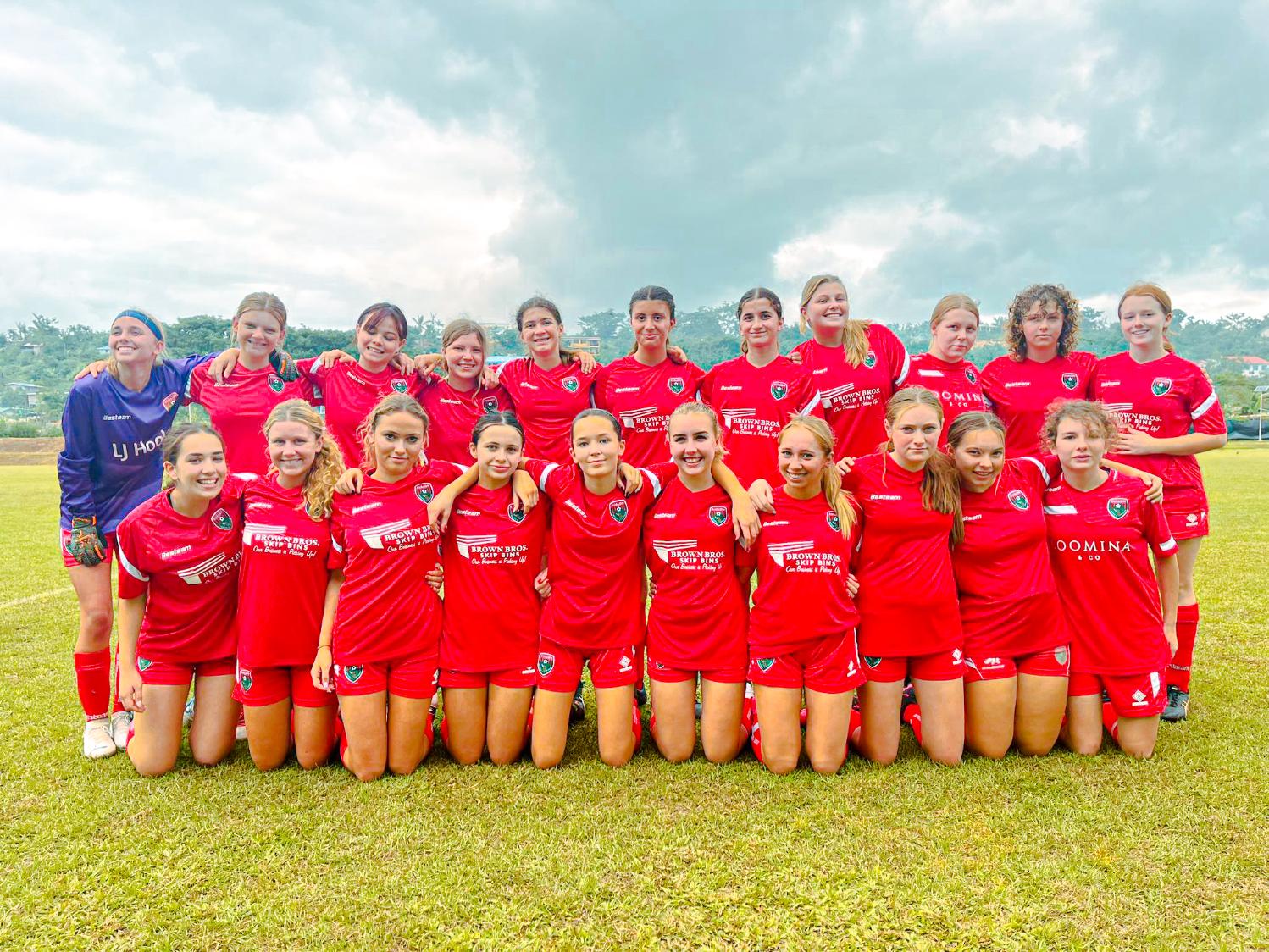 Avalon Soccer Club's W16's 2023 Vanuatu contingent. Photo: Vanuatu Football Federation
After a three year COVID enforced hiatus, the traditional W16 tour to Vanuatu was back for 2023. Started in 2012, the tour is used to promote women's sport in the region, to offer the team the chance to play against local opposition and allow the Avalon community to make charitable donations to projects on the islands.
This year Avalon Soccer Club had 21 girls from our 2 W16 teams travelling at the end of June for a 9 day trip that would encompass 3 matches, community visits, cyclone recovery work and a meeting at the Australian High Commission in Port Vila.
The trip is entirely self-funded with the team commencing fundraising in August 2022 with numerous cake bakes and BBQs at local events.
Despite a number of travel challenges, our W16 squad returned home on Sunday July 9 following the successful resumption of the Vanuatu tour, the 9th since 2012.
The original 9 day itinerary was cut back to 7 after the group were bumped from their initial Air Vanuatu flight on Friday June 30, and cut back further to 4 days, after their rescheduled flight was cancelled due to the Sydney airport chaos over the first weekend of the Winter School Holidays break.
But despite the logistical challenges, the group still managed to spend an extremely productive few days on Etafe, with a number of community visits, football projects and even a little down time!
Arriving in the early hours of Thursday morning, the group grabbed a few hours sleep before reconvening at 7am and heading off to drive around the whole island on a donations drop. With 27 containers of goods donated by the public, the club and one of our sponsors Mike Pawley, and delivered to Port Vila courtesy of the IVE Group, it was a mammoth effort to organise and distribute in a short time frame.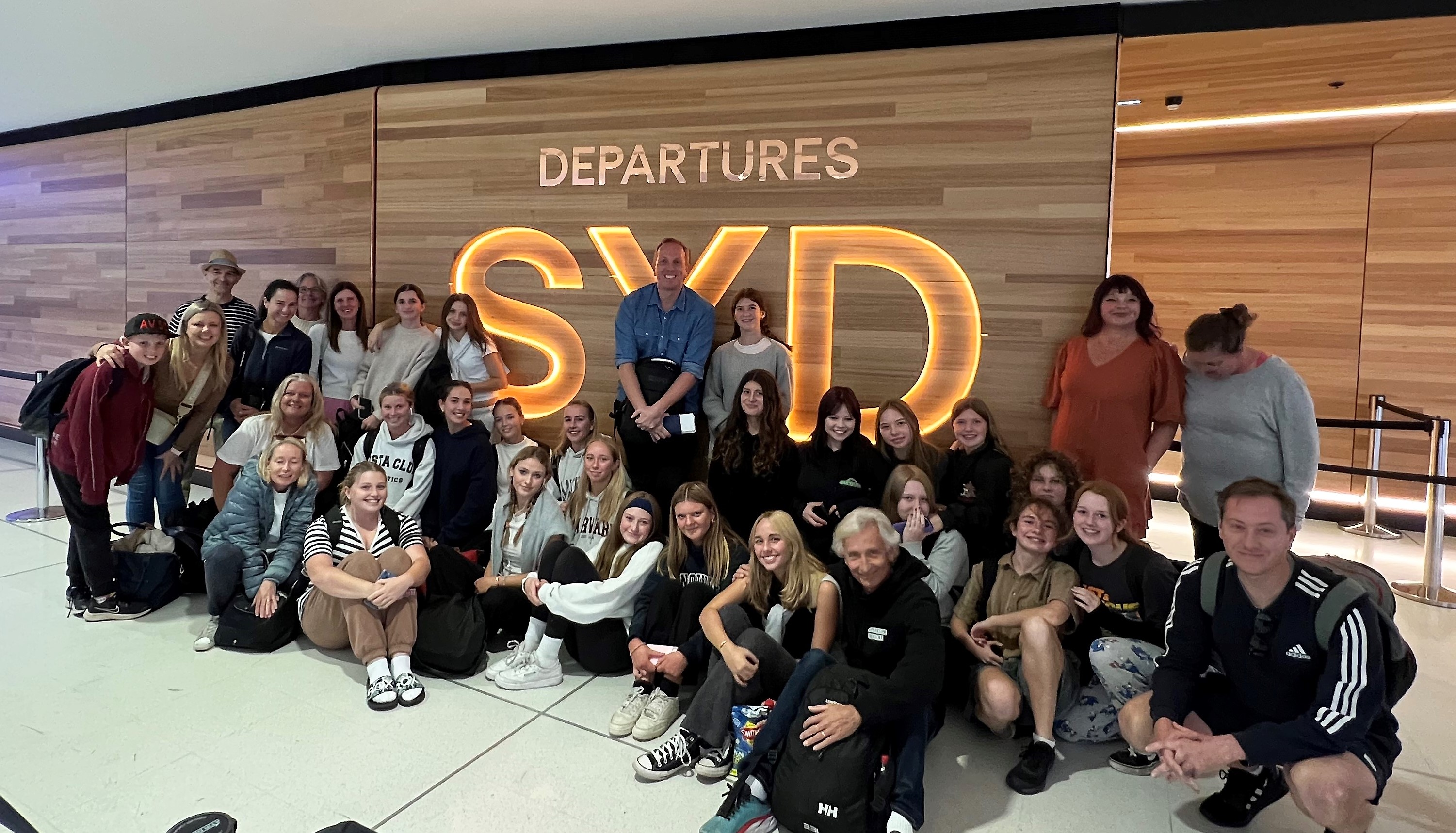 2023 NSW Community Sports Awards: Congratulations Maureen North, Eli Demeny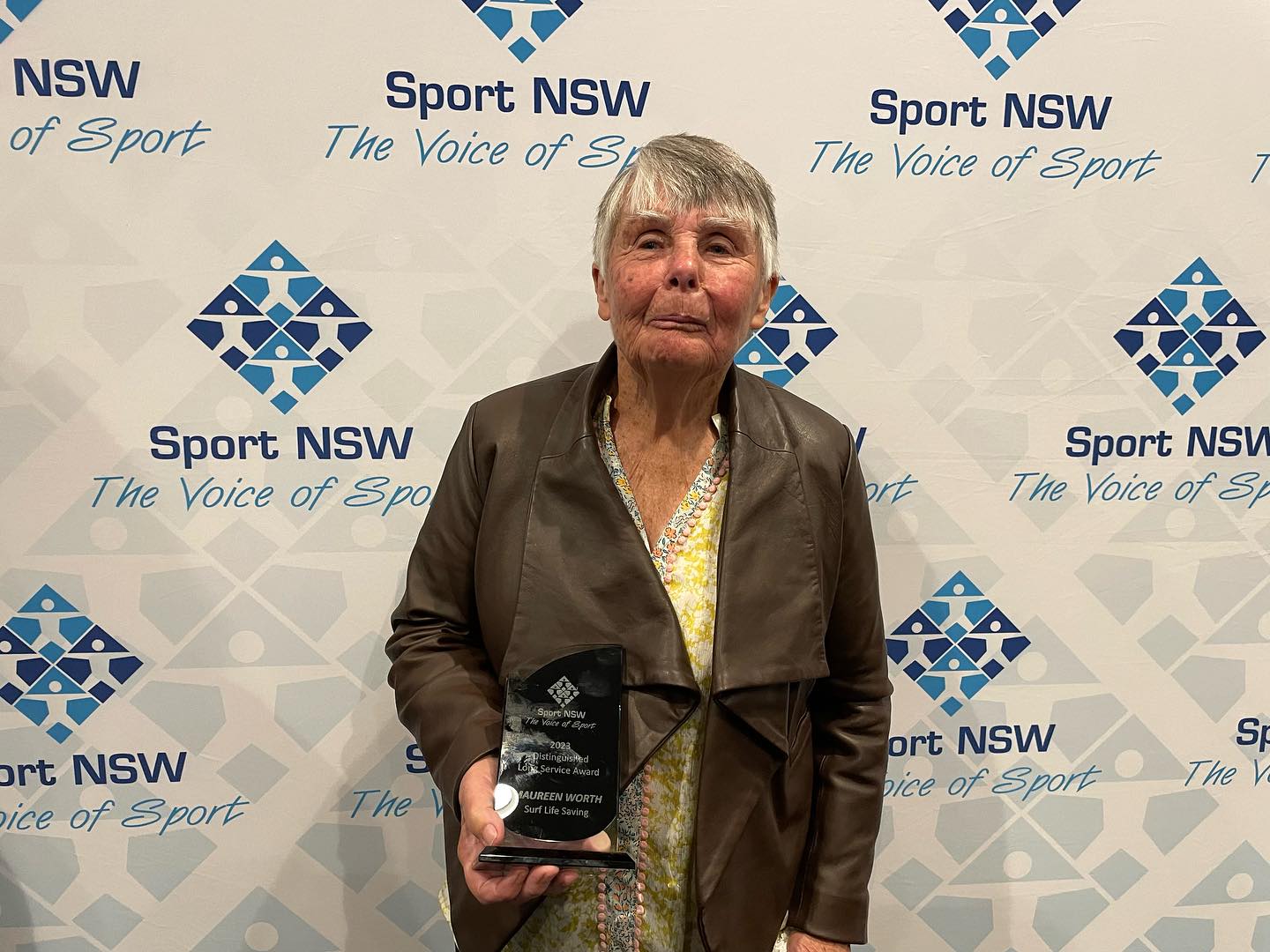 Maureen Worth from North Narrabeen Surf Club with her award. Photo supplied
Maureen Worth from North Narrabeen Surf Life Saving Club was honoured with a Distinguished Long Service Award at the 2023 NSW Community Sports Awards, announced on June 29, 2023.

Maureen joined North Narrabeen SLSC Junior Club as a Family Member in 1975. She immediately took up office with the Junior Association and served as Treasurer for six years from 1979 to 1985. Maureen went on to join North Narrabeen Senior Club in 1984 and achieved her Bronze Medallion in 1985.
She was Delegate to Manly Warringah Branch from 1979 to 1985, Communications Officer from 1985 to 1991 and Club Vice Captain from 1991 to 1992. Maureen joined SNB Board of Examiners in 1983 and was honoured with Life Membership of North Narrabeen SLSC in 1992.
Maureen has been involved in all social events and championship carnivals over the last 40 years. She was awarded Distinguished Service of Surf Life Saving Sydney Northern Beaches in the 1997-1998 season and was also awarded the Warringah Shire Community Award. Maureen has been a Branch, State and Australian Competition Official in the Boat and Craft events for over 20 years.
Maureen was awarded Life Membership of SLS Sydney Northern Beaches in 2001.
Eli Demeny OAM, Sailability Manly, was also honoured with a Distinguished Long Service Award.
In 2009 Eli's was recognised with the awarding of an OAM, 'For Services to people with a disability' for her volunteer role at Sailability Manly and schools throughout our area. Eli was instrumental in establishing and running community initiatives such as schooling programmes for children with special needs prior to retiring from teaching. In 1997 she became a founding member of Sailability Manly, and has been the Club Secretary, ran the bookings programme, coordinating the individual disabled sailors and the sailing commitments of various disability organisations, contributed to and edited the Sailability Manly newsletter "Signals" and helped with the website, and you will even find her on the radio 'Comms' during sailing sessions.

Now 81 and a great-grandmother, Eli is stepping back from many of her duties to spend more time with her growing family and enjoy some well-deserved rest. She officially steps down from her leadership roles in August but will still be at sailing days from time to time.
Manly MP James Griffin said when asked for a contribution for her Profile;
''As the Member for Manly, I have seen the extraordinary work Eli Demeny has done for Manly Sailability since 1996! She has been an unassuming powerhouse who has been instrumental in guiding and growing Manly Sailability to the level it is today, with sailing dates for the disabled running twice a week (weather permitting) from their site in Manly Cove.

I am very honoured to have Manly Sailability in my electorate and know that as Eli steps back from her roles, her dedication and expertise will be sorely missed. All the best Eli and thank you for all you have done for the Manly Sailability community!''
Federal MP for Warringah Zali Steggall said
''For 27 years that's what Manly Sailability have been providing to members of our community living with a disability. I'm so proud to have such a compassionate and dedicated group right here in Warringah. It is particularly lovely to acknowledge the work of Eli Demeny - the heart and soul and "bulldog" of the organisation! ''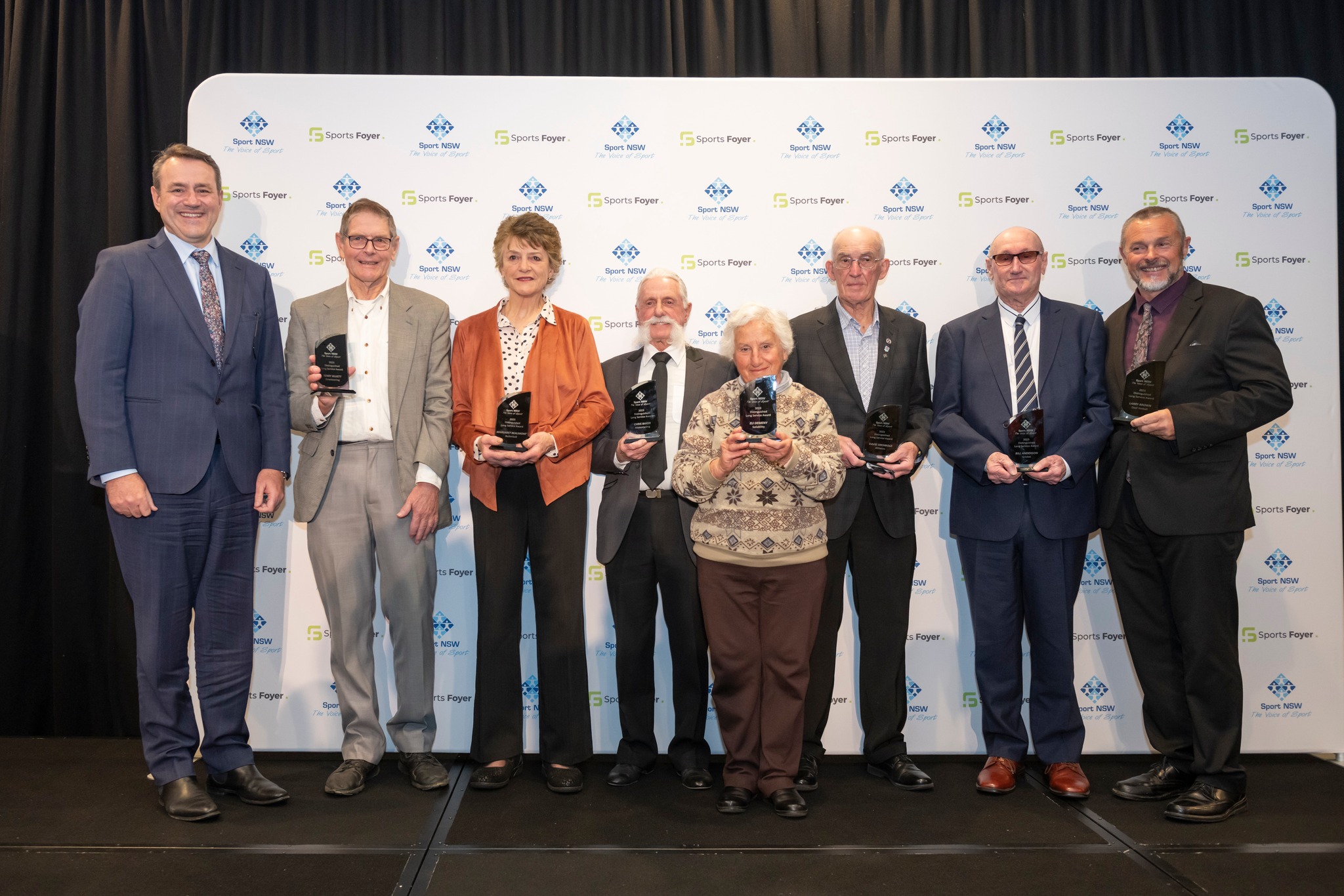 Eli Demeny OAM, Sailability Manly with her award (at front in middle in brown/taupe jumper)

Sport NSW announced 12 Community Sports Award category winners and honoured 23 men and women with a Distinguished Long Service Award at the 2023 Sports Foyer NSW Community Sports Awards.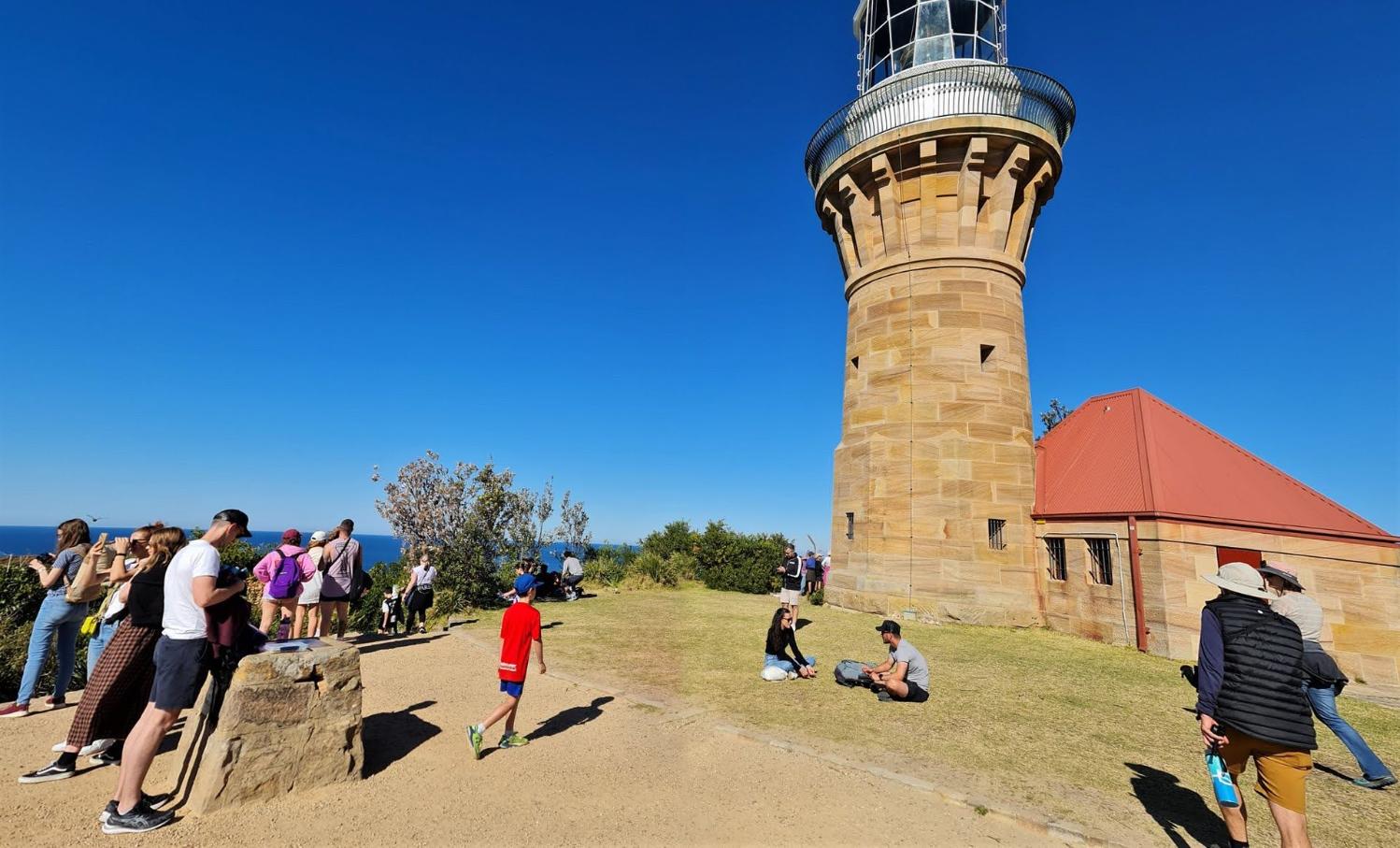 Photo by Joe Mills from, A Walk To Barrenjoey Headland: Thursday July 13, 2023 photos by Kevin Murray and Joe Mills - in full
HERE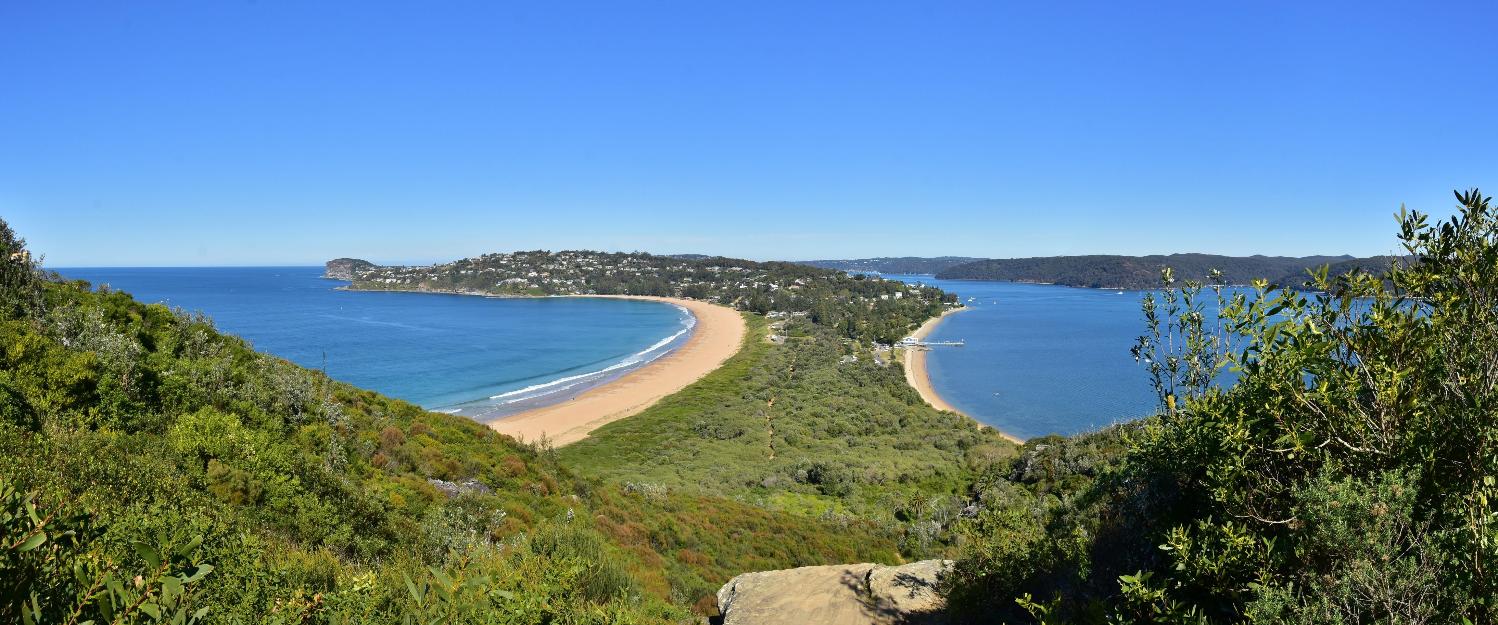 Panorama from Barrenjoey Headland by Kevin Murray, from - A Walk To Barrenjoey Headland: Thursday July 13, 2023 photos by Kevin Murray and Joe Mills - in full
HERE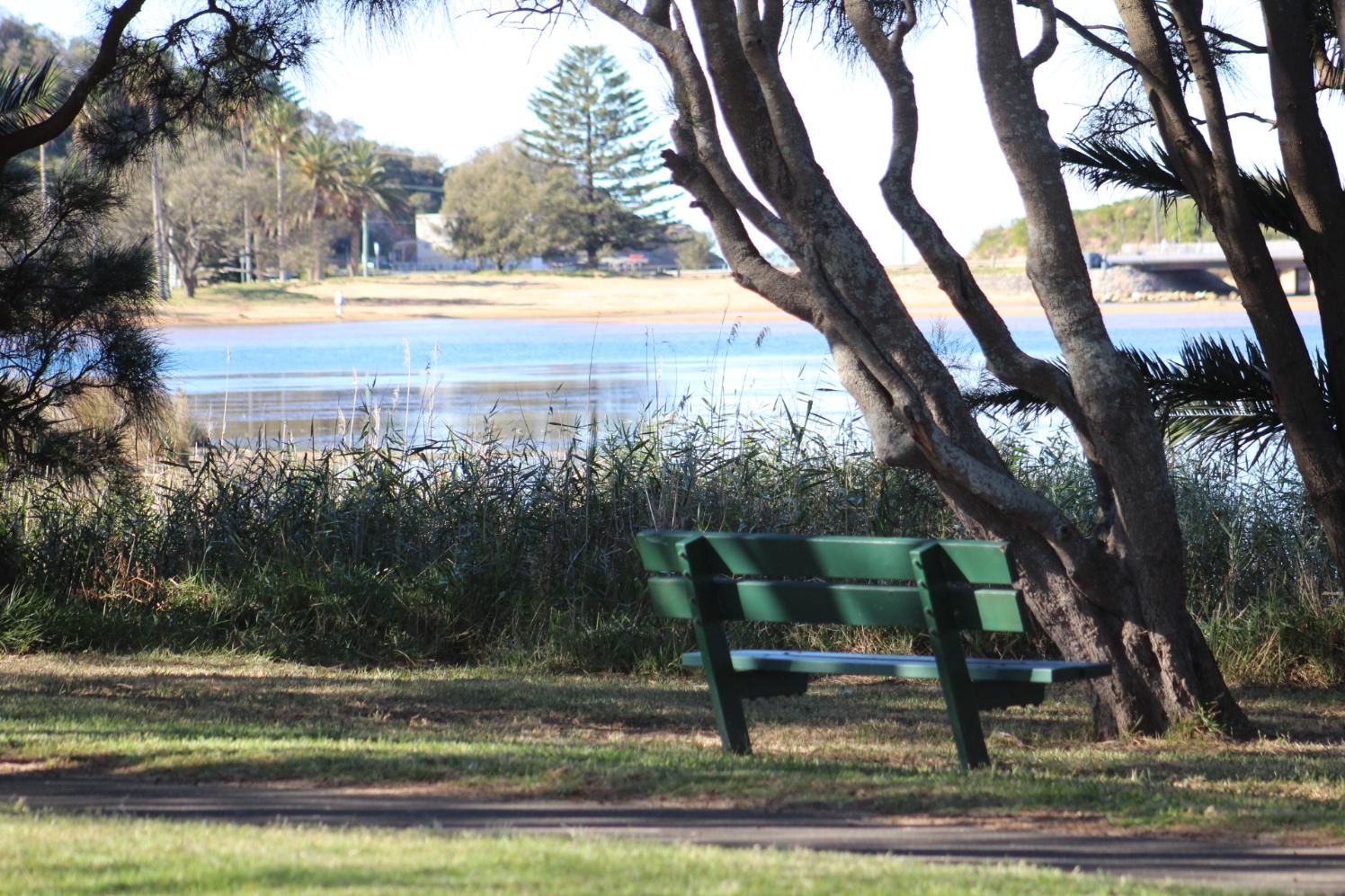 North Narrabeen Lagoon on a Sunday afternoon. Photo: A J Guesdon.
Past Features Archives (pre 2014)
Pittwater Online News was selected for preservation by the State Library of New South Wales and National Library of Australia. This title is scheduled to be re-archived regularly.
Archived Issues (2014 on) may be accessed here: pandora.nla.gov.au/tep/143700
Past Issues are also listed on site on the Community News page, by month.