November 20 - 26, 2022: Issue 563

Emma Dieters
'Making Lemonade out of Life's Lemons'
Inspirational local mum to represent Australia at the World Para Surfing Championships in the US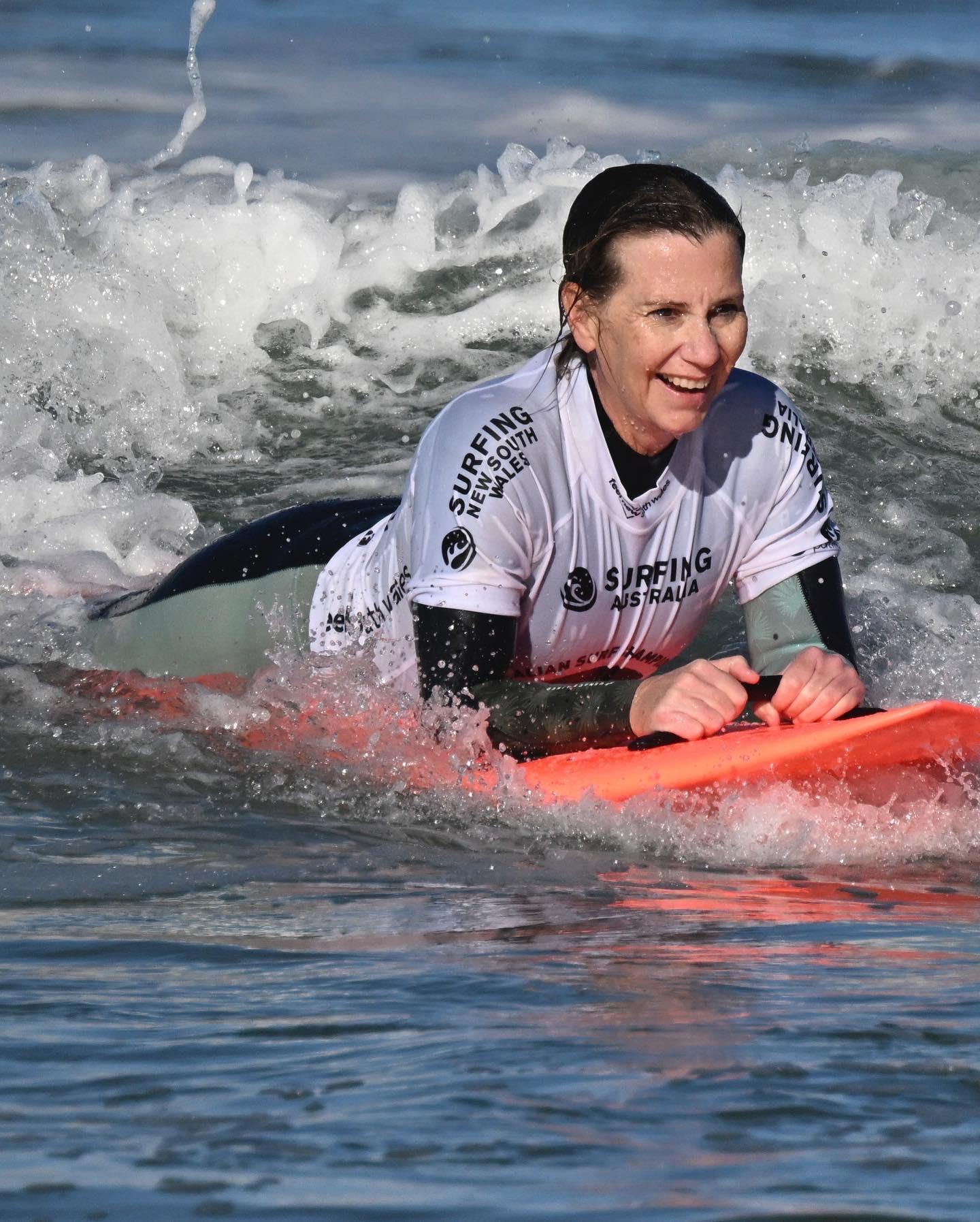 Emma Dieters 40 of Mona Vale, was an active teenager/ young adult who was into all kinds of sports when she was growing up in Avalon Beach.
She went to Barrenjoey High School, was in Avalon Soccer Club, played touch footie, and was a valued patrolling member of Avalon Beach SLSC, also competing in IRB Racing.
Her normal active life, surfing and walking in particular, continued after she married and had a family, a boy Jackson and a girl Indi, at Mona Vale.
Her life, and her family's lives, changed dramatically in February 2021.
In Emma's words:
''On February 24th 2021, I walked into hospital with the belief that after a few days there and a couple of months of rehabilitation, I would be back to being more mobile, symptom and pain free.
The surgery was a discectomy and spinal fusion at the C6/C7 level.
Fast forward to today, life is forever different.
The bulge and original pain are gone, BUT I am now classified as C4 A SIA D Quadriplegic. Mind blowing.
Reliant upon crutches or a wheelchair. Reliant on my husband, kids, family & friends.
Rehabilitation wont be just a couple of months it is now part of my everyday life ongoing.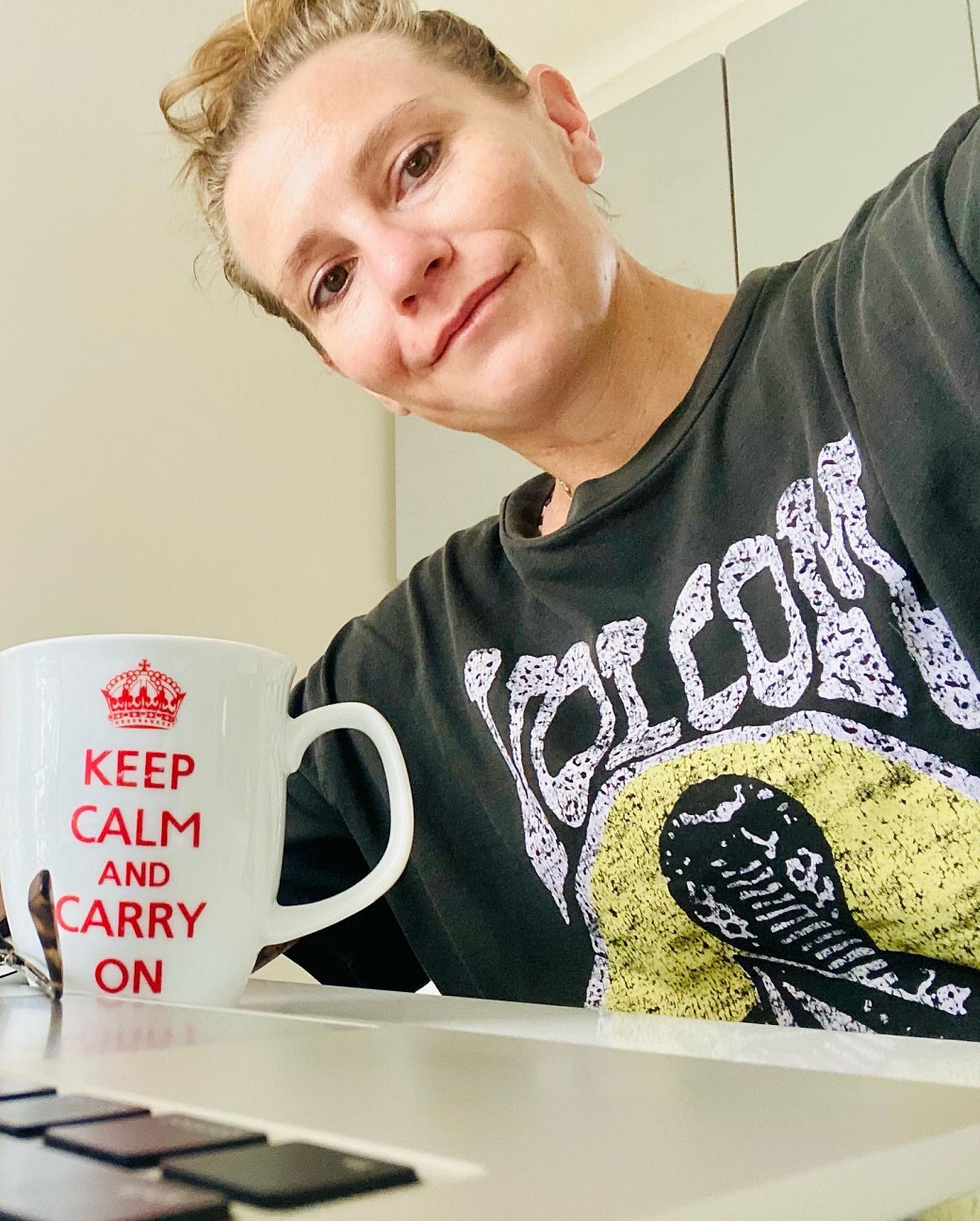 For two years prior to surgery, I had dealt with constant pain and could no longer play touch footy, soccer or ride my moto x bike. I couldn't surf as holding my neck up was so painful and neuro symptoms would occur. Walking was the only "sport" I could manage. I did a lot of that to be as fit as possible going into the surgery.
My biggest hope after recovery was to get back in the water and on my surfboard to enjoy time in the ocean with the kids. That was my goal!!!
Originally getting on an adaptive surfboard was purely to lead the kids by example. If you have goals, get after them, even if you have to do it in a different way.
Through local Para Surfing Champ Sam Bloom, I found myself surfing in the Australian Surf Championships in the Prone 2 division on the 20th of August 2022. It was a bit of fun and an opportunity to really showcase to the kids, you never know what could happen when you work hard and achieve your goals!
On the day, given the surf conditions, really all I wanted to do was stay alive! I hadn't been out in surf like this since well before having the kids.
I pulled it together, I did it. Something happened though. Adrenaline that I had been missing for the last 18mths really kicked in. That dopamine hit was real.
Competitive Emma came out and I told Chook (my husband and able bodied team mate/lifeline): We're coming back next year and I want to win!
That I thought was that.
Until word came through that I would be soon offered a spot in the Australian Team for the ISA Para Surfing World Championships in Pismo Beach, California.
Unbelievable!! I am amped! I feel very honoured to accept the offer that has now come through. I want to be competitive, and give 100%.
This sounds completely surreal to say, but, I want to do Australia proud and show anyone that is disabled no matter the reason, you can hit your goals and surpass them and shoot for that spectacular Southern Cross.
I'm determined to make lemonade out of lemons.
This may be a silver lining to all I have been through in the last one and a half years. But I want to turn it in to GOLD!
Thank you, I appreciate you taking the time to read my story."
Emma was announced as part of the Surfing Australia Irukandjis team at the beginning of November - the announcement from Surfing Australia sent to this news service runs below.
In a historic moment for Australian Surfing, a new team name and identity was unveiled on March 17th, 2021 at the Novotel in Manly for Australia's national surf team. The much-anticipated new namesake and tagline was revealed to be 'The Irukandjis: Deadly in the Water', after the Irukandji jellyfish – an extremely venomous species of jellyfish that inhabit Australian marine waters.
Australian representatives across all surfing genres, including Junior, Open, Masters, Olympic, Longboard, Big Wave, Stand Up Paddleboard (SUP) and Adaptive disciplines, will compete under The Irukandjis national identity and united colours at international events such as the Olympics, International Surfing Association (ISA), World Surfing Games, WSL World Juniors and Longboard Championships.
The Irukandjis name was generously gifted to Surfing Australia by the local Yirrganydji people of North Queensland, driven by the efforts of Indigenous athlete and former World Tour surfer, Soli Bailey. The team branding and uniforms were developed in collaboration with BWM Dentsu and Indigenous artist Jasmine Craciun, who derived inspiration from her ancestors, the Barkindji people. The organic shapes on the uniform represent fluid movement within the water and emulate light hitting the ocean when viewed from below. With The Irukandjis representing Australia on the world stage, the incorporation of Australia's national green and gold colour palate is a dominant factor in the design.
More in 2021 report:
'The Irukandis' - Australian National Surf Team Unveils New Name and Identity Ahead Of Tokyo Olympics + Olympic Torch Has Commenced 121 Day Run Through Prefectures Of Japan
Emma's friend and neighbour, Alison Boyd organised a fundraiser in the Mona Vale community, explaining:
"During 2019-2021 Emma struggled with limited neck movement and constant pain from a bulging disc at the base of her neck. After various specialist opinions, she made the call to have the surgery to finally "fix" her neck.
In February 2021, Emma headed to Hospital, her bag packed for a 1‐2 night stay. Routine surgery they said.
Surgery didn't go as planned. The surgeon, who had performed this surgery thousands of times, said what happened to Emma was unheard of, it had never happened on his watch before. Emma was one those cases that changes your life.
Emma spent five months in various hospitals and spinal rehab units; she finally came home in June but this time in a wheelchair.
The day after getting home, Sydney was thrown into lock‐down due to COVID. Her cherished pup, Cisco, passed away. It was tough, there's nothing fun about being unable to lift your leg, being on crutches, or being in wheelchair and navigating how an NDIS package might work. '' Alison explains
''I met Emma years ago when we played soccer together, Emma being the star striker of our team. We're now neighbours. I frequently see Emma try and navigate the flight of stairs into her house, manoeuvre her wheelchair into the back of her Ute and hear about her daily physical therapy. She can't lift her foot as she has foot drop.
That's the physical hurdles. Then there's the pain. Emma's on medication to deal with nerve pain in different parts of her body on the left side and on the right there's parts of her leg she can't feel a pinch, scratch or temperature.
Then there's the mind shift going from being an active person; she loved to hook up the caravan and head out to Hartley, she surfed, she walked and she walked.
I'm organising this because I want to try and give Emma back some of her spark. Maybe that's by way of helping her get to a Para Surfing Competition.
Through all of this I've only seen some of the tears; we all know Em's a very private person. But Em continues to press on, she's taken up para surfing, she's always down at the beach with Jacko and Indi or watching them play footy, doing whatever she can to keep herself smiling.
I also feel that life's been tough for many of us over the past few years with COVID, it's time to get friends together and raise funds to support Emma, because she well and truly deserves some spark."
Her dad Rob, who was also until recently an Active Patrolling member of Avalon Beach SLSC, said that Emma is happy for her story to be told as it is a great way to promote Para surfing, which has been a life changing part of Emma's journey.
Rob and mum Beth are so proud and happy for her and the family as she and they have been through so much since Emma's operation in February 2021.
Apart from Emma's story it has also been an amazing story of how her friends and the community around Mona Vale and the beaches have rallied to support Emma, Blake (Chook) and the kids during the months Emma was in hospital and rehab. That support has continued since Emma was able to come home in late June 2021.
"It's not possible to express how thankful Beth and I are for what the local community has done over this whole time."
Emma wrote to Volcom after some locals who had contacts within the company suggested they might be able to support Emma. The result was that Emma is a Volcom ambassador.
Emma's sister Jodie and her cousin Bec who are in Newcastle started a Go Fund Me page for people that could not make the function and will be open until Emma heads off to California on the 26th of November.
The link to the Go fund me page is https://gofund.me/32db4a1e
A video made by Chook's cousin Patrick Harris, who is a professional videographer, tells Emma's story.
The link to the video is HERE - we've embedded it below too.
Emma was a happy positive competitive person when I was Club Captain of the surf club. Her dad and I were on the same patrol together until recently. Emma knew my daughters at Barrenjoey High and she played touch footie with one, and another was in surf club IRB racing with her.
Clearly, anyone who knows Emma wants to help in any way they can and wish her all the success in the world at the World Para Surfing Championships! She deserves it.
Go Emma!
Roger Sayers OAM
Life Member of Avalon Beach SLSC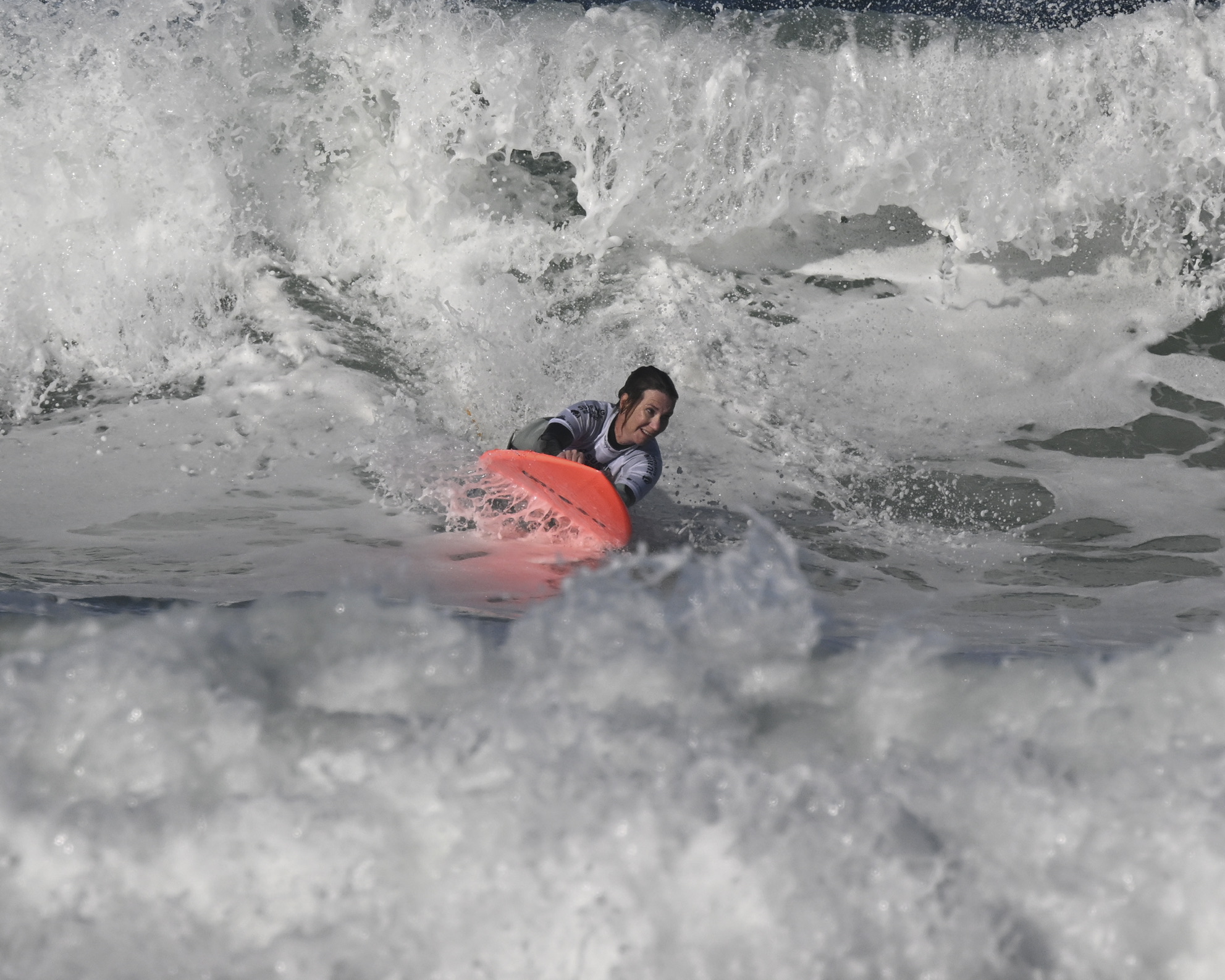 Surfing Australia Team Prepare For 2022 ISA World Para Surfing Championships
November 2nd, 2022
From Surfing Australia - ran Issue 562 in Community News
Some of our top para athletes are heading to California to compete in the 2022 ISA World Para Surfing Championships from December 4 – 11.
The Irukandjis team includes former world champions as well as ISA rookies.
Matt Formston, from the NSW Central Coast, is hoping to win back his title in the men's Para Surfing Vision Impairment 2 class division.
"I didn't win last year for the first time since 2016 so I'm super hungry to get my title back," he said.
Formston has been representing Australia in some form of sport for 15 years.
"The community aspect is great, but I'm a competitor at heart. I love beating people and being a winner that's just what pushes me," he said.
Para surfing has experienced significant growth since the first ISA World Para Surfing Championship in 2015.
134 athletes from 24 countries participated in the 2021 edition of the event in Pismo, breaking records and further building on the amazing global growth of the sport.
Women's involvement also saw greater numbers in 2021 than ever before.
Sydney's Sam Bloom will compete in the women's Para Surf Prone 1 class division after a career highlight in June.
"I competed in the Adaptive Surfing Professionals World Tour event in Hawaii and won. I was so lucky. In the right place at the right time," she said.
It's the 51-year-old's fourth Championship.
"It's such an awesome event. The whole para community from around the world comes together. You meet some incredible people, and they all have a different story. That's what I love," she said.
"We always do pretty well considering we're a small team and it's always such a buzz representing your country. You feel super proud."
Joining the Aussie athletes at Pismo Beach will be team coach, Brittani Nicholl and team manager Kate Searle.
It's the second year in a row that the event will be held in the Californian city.
Last year the United States won the team title.
Adaptive surfing allows competitors with additional challenges, such as those with a physical or visual impairments, to use specialised equipment or an adapted surfing experience to match their abilities.
FULL TEAM LIST:
Mens' PS-Stand 1: John Wheele
Men's PS-Stand 3: Chris Blowes
Men's PS-Kneel: Michael Foti
Men's PS-Knee: Mark Mono Stewart
Women's PS-Prone 1: Sam Bloom
Men's PS-Prone 2: Lee Ferrier
Women's PS-Prone 2: Jocelyn Neumueller
Women's PS-Prone 2: Emma Dieters
Men's PS-VI 1: Kirk Watson
Men's PS-VI 2: Jack Jackson
Men's PS-VI 2: Matt Formston