July 16 -22, 2023: Issue 590
2023 NSW Community Sports Awards: Congratulations Maureen North, Eli Demeny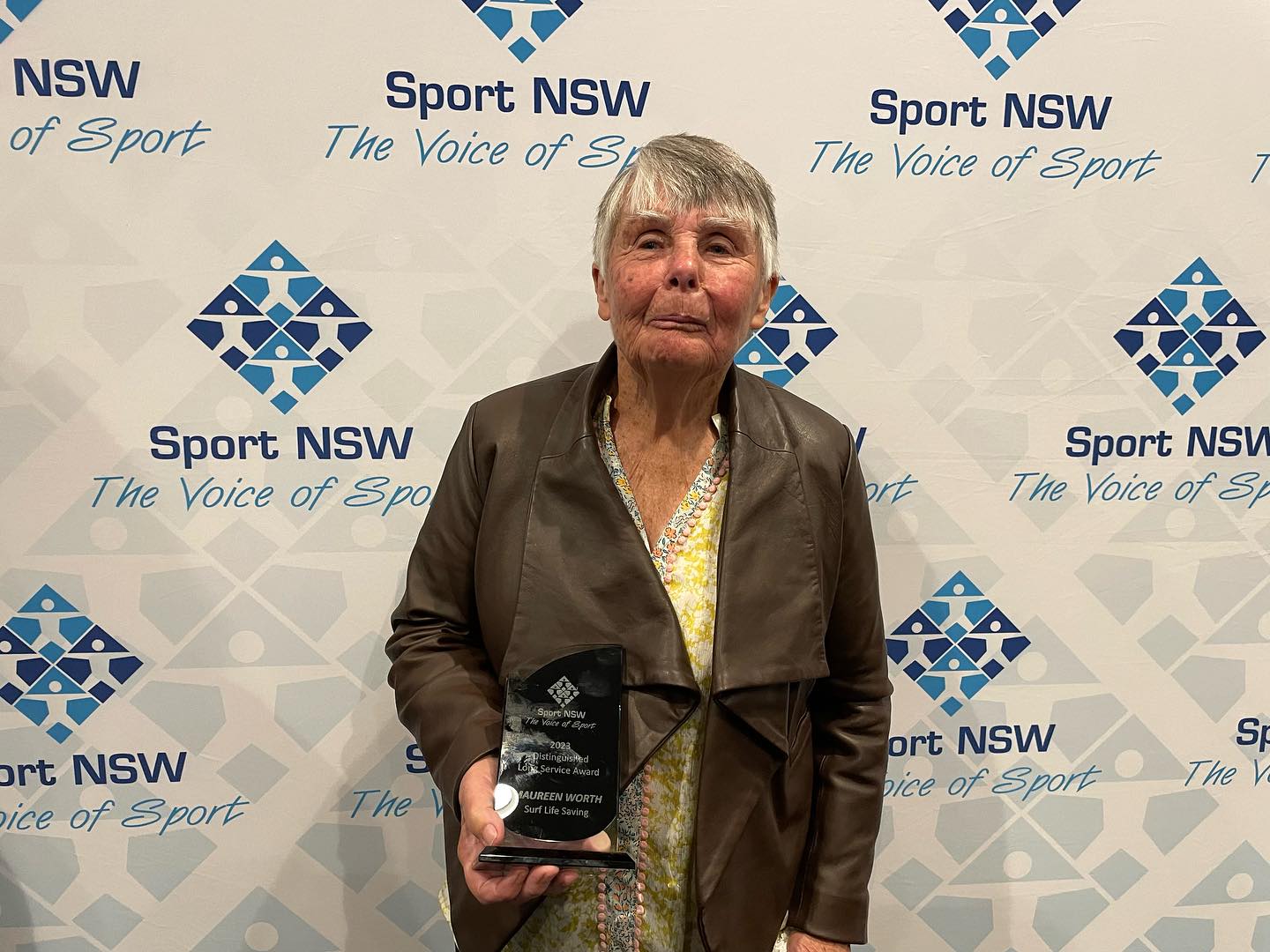 Maureen Worth from North Narrabeen Surf Club with her award. Photo supplied
Maureen Worth from North Narrabeen Surf Life Saving Club was honoured with a Distinguished Long Service Award at the 2023 NSW Community Sports Awards, announced on June 29, 2023.

Maureen joined North Narrabeen SLSC Junior Club as a Family Member in 1975. She immediately took up office with the Junior Association and served as Treasurer for six years from 1979 to 1985. Maureen went on to join North Narrabeen Senior Club in 1984 and achieved her Bronze Medallion in 1985.
She was Delegate to Manly Warringah Branch from 1979 to 1985, Communications Officer from 1985 to 1991 and Club Vice Captain from 1991 to 1992. Maureen joined SNB Board of Examiners in 1983 and was honoured with Life Membership of North Narrabeen SLSC in 1992.
Maureen has been involved in all social events and championship carnivals over the last 40 years. She was awarded Distinguished Service of Surf Life Saving Sydney Northern Beaches in the 1997-1998 season and was also awarded the Warringah Shire Community Award. Maureen has been a Branch, State and Australian Competition Official in the Boat and Craft events for over 20 years.
Maureen was awarded Life Membership of SLS Sydney Northern Beaches in 2001.
In a 2020 interview with Surf Life Saving NSW Maureen shared a little of her passion as a volunteer for North Narrabeen Surf Life Saving Club:
HOW DID YOU GET INVOLVED IN SURF LIFE SAVING?
We lived in Manly and I used to go to Queensie but I married 'Worthy' (Bill Worth) who was in North Narrabeen and I've been there ever since. We got married in 1958 and when Barry was eight and Brett was four and that's when Bill took them down to Nippers and I went with them.
I was the four-year-old manager for some time and I progressed from there, been with the club ever since.
YOU AND BILL SPENT MUCH OF YOUR MARRIED LIFE AT THE CLUB – WAS IT A PARTNERSHIP?
Bill was very involved and I would help with many things. I was Treasurer of the Nippers Association of Manly Warringah and that sort of thing. Wherever they needed help and I could assist – I did it.
WHY HAVE YOU CHOSEN TO CONTINUE YOUR WORK WITH THE CLUB?
It's my home. They're my family. So, I still go. Once we got involved, we were there for the long haul. I've been the Secretary and I've done things like that.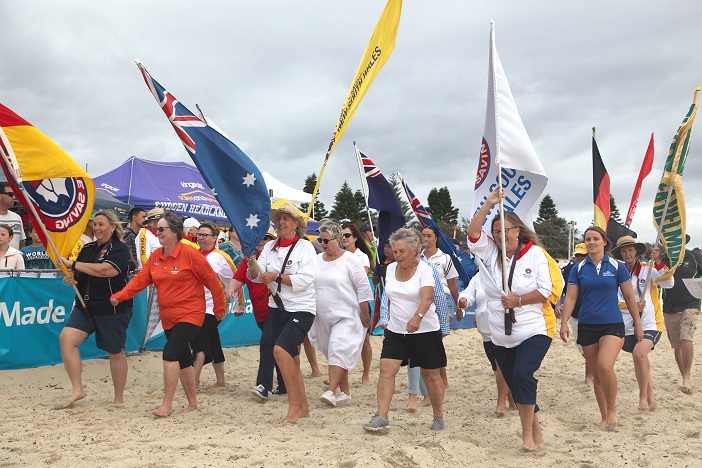 Maureen Worth (second from right) marching in the Women's Colour Party at the 2020 NSW State Championships March Past
DID YOU GET YOUR BRONZE MEDALLION?
I've done a few patrols. I did my bronze when I was 45. That was hilarious because some of the women, in 1985, wanted to get together to do it. And I said yeah okay - because I thought it wouldn't go through. So, we ended up with a group of nine – a few blokes and a few women. Bill was the instructor and he made me get up to do my laps in the baths before I went to work to make sure I could swim. And we were the last people to do the line and belt before it went to scenarios and that sort of thing.
I think it was Anzac Day and it was up at Collaroy, with the big surf and shore dump, so we had to do the run-swim-run in eight minutes, but we all got through.
WHAT'S YOUR MOST REWARDING CLUB MEMORY?
I think when we got the new club grant. We got the new club because the old one was only little. The men got together and they built the top section. So, I think that was tremendous the way everyone pulled together. That's one of my standout things. Not many clubs do that.
WHAT ARE THE BENEFITS OF VOLUNTEERING?
It gives you an outlet and you make friends and you have fun if you want to. Go for it!
WHAT'S YOUR FAVOURITE STATE CHAMPS MEMORY?
When we had the state champs ourselves. And in those days you'd come off the beach for lunch. We had a big marquee on the deck. You'd have salad and ice cream and fruit. Everybody came together and we'd have sandwiches after everything was over. And we'd do the clothing ourselves too.
Eli Demeny OAM, Sailability Manly, was also honoured with a Distinguished Long Service Award.
In 2009 Eli's was recognised with the awarding of an OAM, 'For Services to people with a disability' for her volunteer role at Sailability Manly and schools throughout our area. Eli was instrumental in establishing and running community initiatives such as schooling programmes for children with special needs prior to retiring from teaching. In 1997 she became a founding member of Sailability Manly, and has been the Club Secretary, ran the bookings programme, coordinating the individual disabled sailors and the sailing commitments of various disability organisations, contributed to and edited the Sailability Manly newsletter "Signals" and helped with the website, and you will even find her on the radio 'Comms' during sailing sessions.

Now 81 and a great-grandmother, Eli is stepping back from many of her duties to spend more time with her growing family and enjoy some well-deserved rest. She officially steps down from her leadership roles in August but will still be at sailing days from time to time.
Manly MP James Griffin said when asked for a contribution for her Profile;
''As the Member for Manly, I have seen the extraordinary work Eli Demeny has done for Manly Sailability since 1996! She has been an unassuming powerhouse who has been instrumental in guiding and growing Manly Sailability to the level it is today, with sailing dates for the disabled running twice a week (weather permitting) from their site in Manly Cove.

I am very honoured to have Manly Sailability in my electorate and know that as Eli steps back from her roles, her dedication and expertise will be sorely missed. All the best Eli and thank you for all you have done for the Manly Sailability community!''
Federal MP for Warringah Zali Steggall said
''For 27 years that's what Manly Sailability have been providing to members of our community living with a disability. I'm so proud to have such a compassionate and dedicated group right here in Warringah. It is particularly lovely to acknowledge the work of Eli Demeny - the heart and soul and "bulldog" of the organisation! ''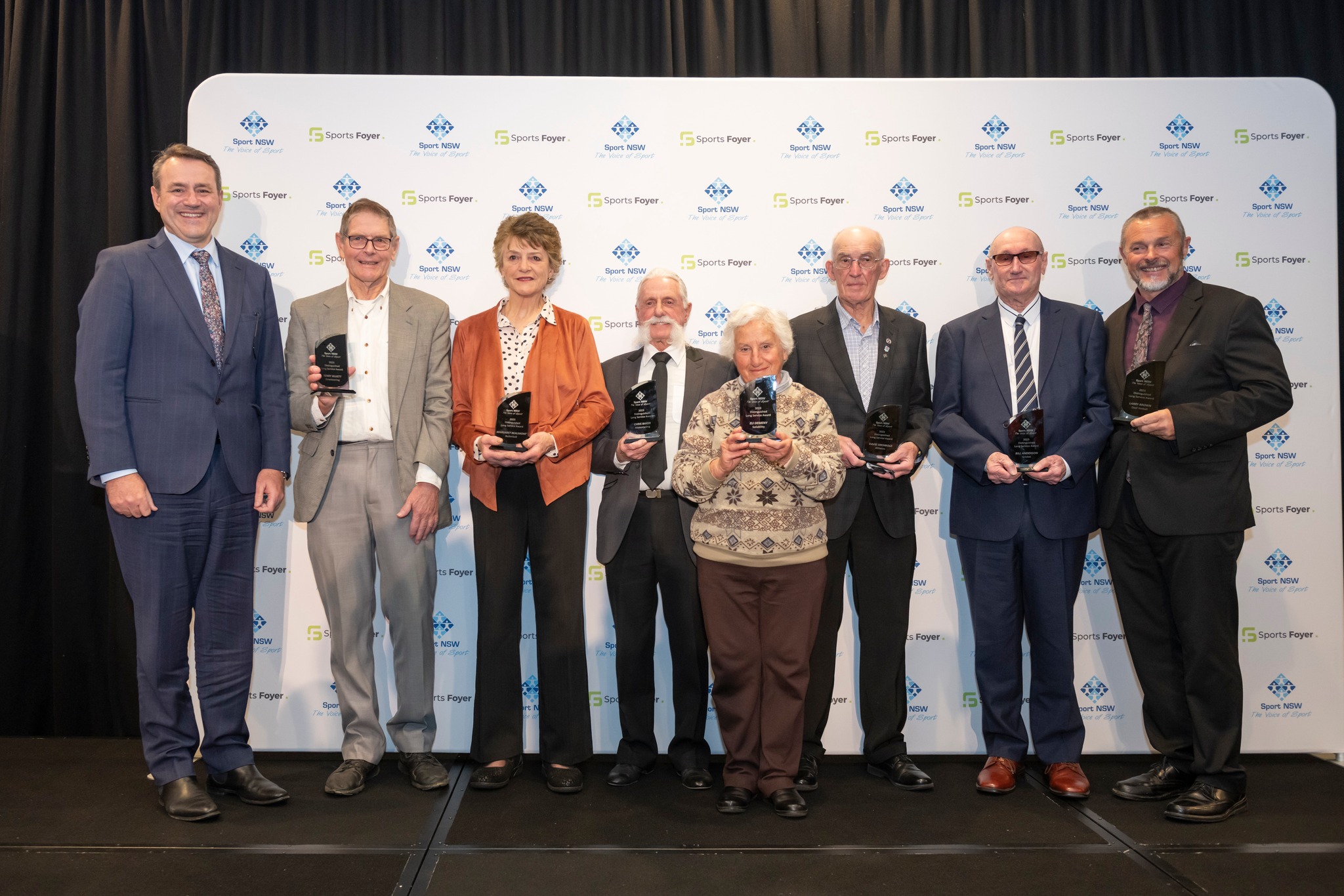 Eli Demeny OAM, Sailability Manly with her award (at front in middle in brown/taupe jumper)

Sport NSW announced 12 Community Sports Award category winners and honoured 23 men and women with a Distinguished Long Service Award at the 2023 Sports Foyer NSW Community Sports Awards.
Conducted at CommBank Stadium, the presentation evening saw recipients from a wide cross-section of sports receive their Awards from the Hon. Stephen Kamper, NSW Minister for Sport.
The Community Sports Awards and the Distinguished Long Service Awards acknowledge outstanding achievements and contributions to community sport.
This years Awards also saw the introduction of two new Awards, the Inclusion Award and the Innovation Award.
The 12 Community Sports Award were shared among nine different sports with Royal Life Saving, Cricket, Surf Life Saving and Gymnastics each collecting two Awards.
Sport NSW Chairperson, Chris Hall paid tribute to Award recipients.
"It is fitting these community sports recipients are recognised and honoured. It is because of their efforts that NSW remains the premier sports state in Australia," said Mr Hall.
"Sport in NSW relies on these selfless volunteers who have dedicated their time to community sport. Put simply, sport would not exist without them.
"Their enduring contributions showcases why community sport is the beating heart of community sport in NSW and we thank all staff and volunteers for their exceptional dedication," said Mr Hall.
The Community Sports Awards category winners are: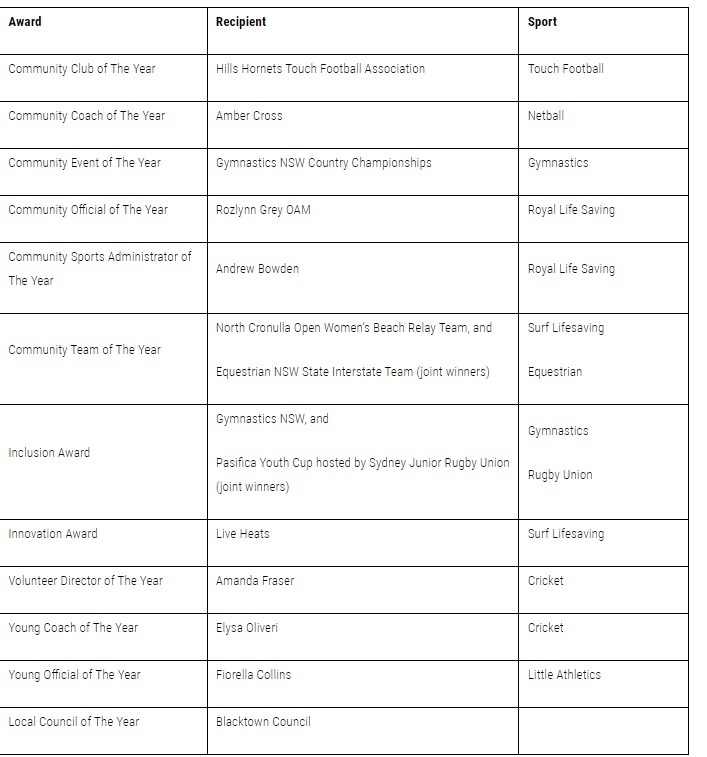 The Distinguished Long Service Award recipients are: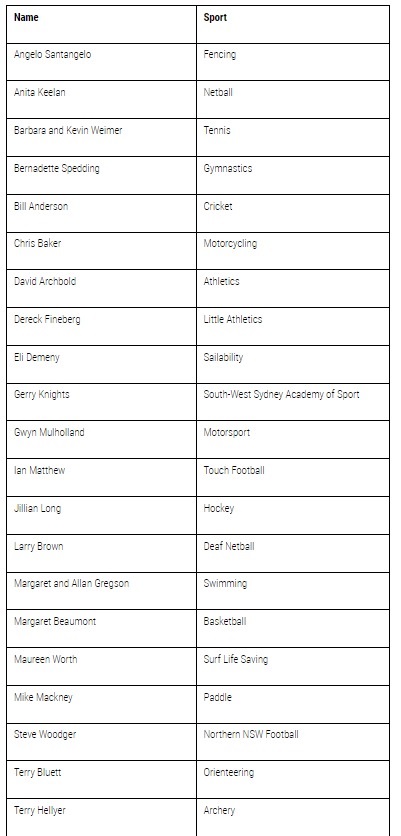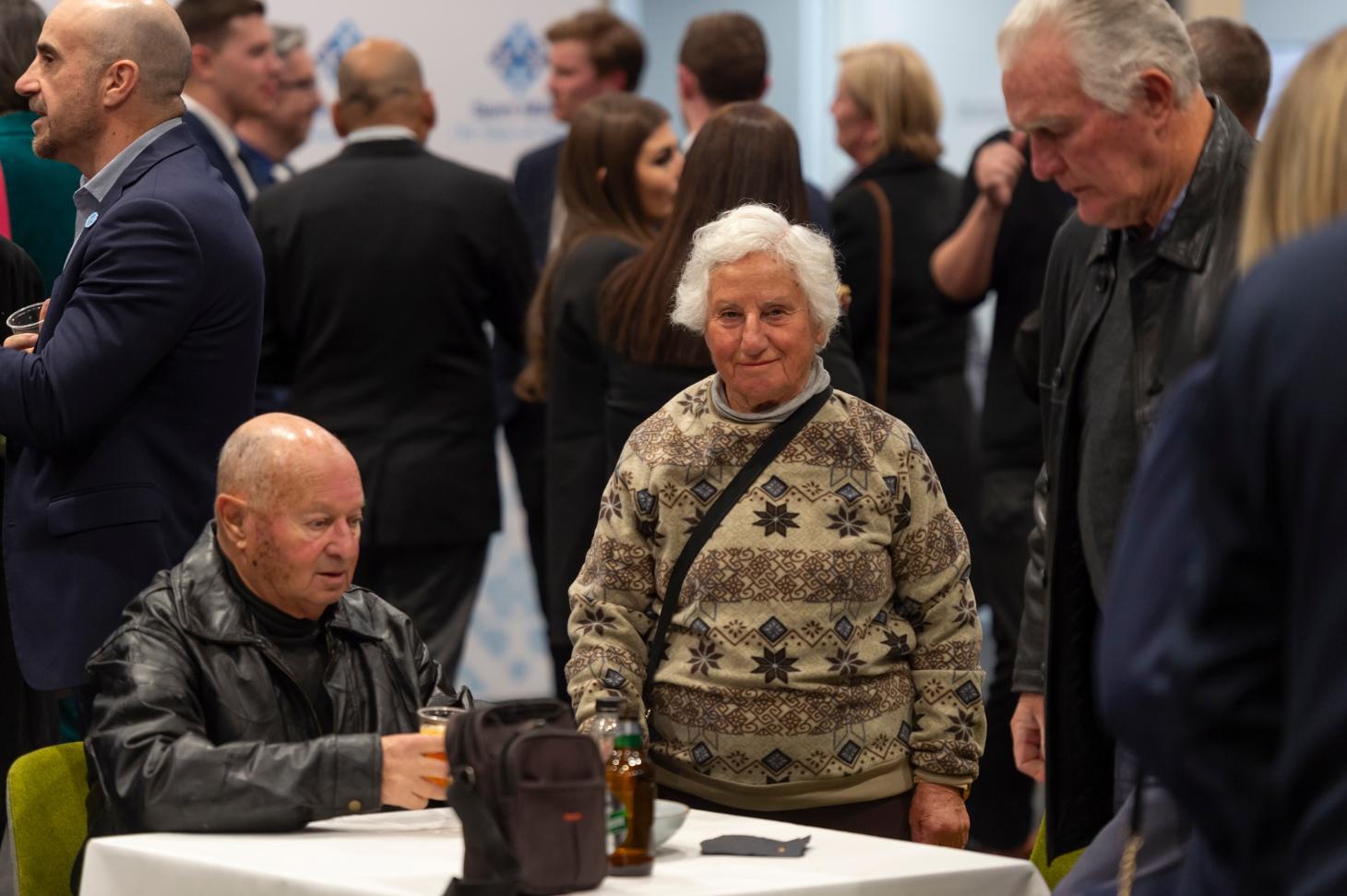 Ivan and Eli Demeny OAM at the 2023 NSW Community Sports Awards