June 12 -18, 2022: Issue 542
Profiteers Seek To Destroy Palm Beach With Yet Another Over The Top Development Proposal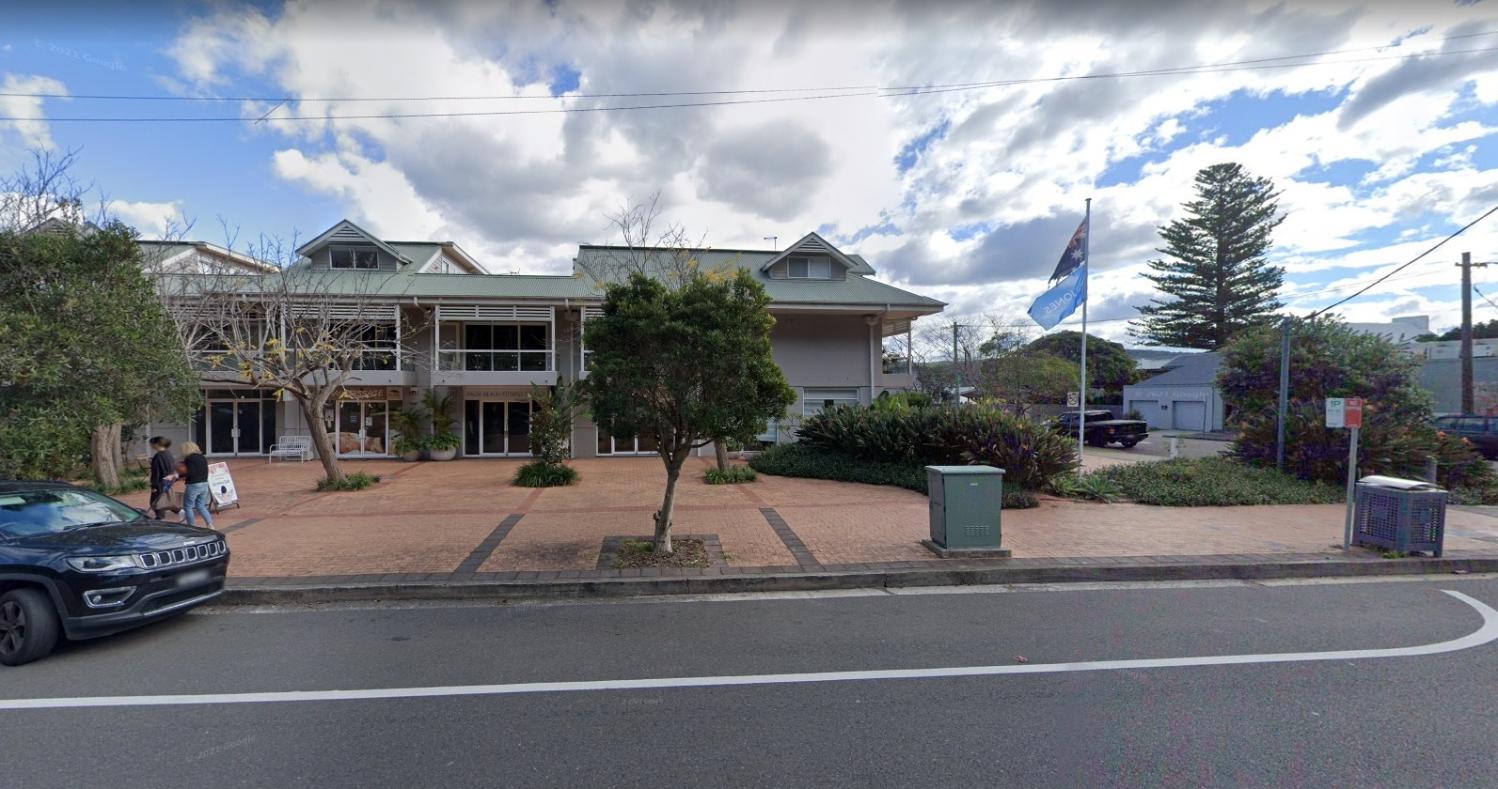 1105 Barrenjoey Rd - courtesy Google Maps
Residents of Pittwater are concerned about a proposal for 1105 Barrenjoey Road Palm Beach which is, again, completely out of character with the local area.

The proposed development covers the entire site, removing all trees.
A building height control of 8.5 metres is in place, however, this development proposal exceeds the control by around 2.5 metres across the entire development - failing to meet Council's Building Height planning controls. Additionally, the front boundary setback has a DCP control of 3.5 metres. The proposed development is submitted with a 1 metre front boundary setback.
The DA, over 4 levels, (including basement parking) seeks to erect a 3 storey above ground shop-top complex comprising 5 shops at ground level and 11 apartments, the bulk of these with 3 bedrooms. Just 31 car spaces will be provided for all retail and apartments, which includes 10 for the retail outlets.

Residents state they have a legitimate expectation that the development on properties in the area will comply with the area's planning controls.
Council's refusal of Development Application No. 2021/2362 has led the Land and Environment Court, with a Meeting commencing on the site at 9.30am June 23rd 2022.
This is an open meeting. The Palm Beach Whale Beach Residents Association is encouraging all concerned residents to attend the meeting and register to speak by contacting Council's legal representatives at jede@wilshirewebb.com.au by no later than June 16, 2022. If residents objecting to this proposal want to provide any evidence to the Court by way of further written submissions these need to be emailed to Council's legal representatives at jede@wilshirewebb.com.au by no later than June 16 2022.
This Meeting will be held at the Iluka Apartments opposite the Palm Beach Wine Shop.

At the conciliation conference, a Commissioner of the Court will meet with the parties, their legal representatives and any experts which the parties are relying upon to ascertain whether the matter is capable of resolution or whether the issues can be reduced.
The montage and plans of this particular proposal may be accessed on Council's website.
A further date for a Registrar Directions Hearing is listed for June 30th.
This development proposal is down the road for a similar plan for the former Palm Beach Fish and Chips site. This is another 3-storey proposal that will tower over the heritage listed Barrenjoey House, obliterate the beautiful sight of green banks above it, and stare an overreaching façade at the historic Snapperman Beach and Pittwater Park estuary front should it proceed as is.
That proposal, as of June 10, 2022, needs to address Council's Natural Environment Referral Response - Flood - which finds that the application is considered unsatisfactory from a flood planning perspective of section B3.11 of DCP and the applicant is required to submitted amended plans indicating compliant with clause C7.
This proposal was based on a 2014 DA approval for four apartments and three retail spaces which was 'modified' and submitted in May 2021 as 6 apartments instead of 4, and had a height breach of approximately 3.13 metres (Mod2021/0203). A handful of residents surrounding the proposal site were notified and given just two weeks to provide feedback.
Word quickly spread though and due to the community backlash to the vast changes that were deemed not merely 'modifications' the developer was required to submit new plans.
These were submitted for feedback in May this year (DA2022/0469). Another barrage of residents submissions from the community pointed out this was pretty much the same development as that submitted before - another three-story edifice that will dominate the landscape and exceed the site's 8.5m height by as much as 2.99m in some parts.
A height variation request has been submitted.
Residents find the rejiggled proposal 'a monstrosity, imposing, grossly out of character with the area' and, according to the owner of a property behind the site, even higher than the previous proposal, while the homeowner beside it has concerns about the excavations presented in the DA documents, especially since these state they will need to use that neighbours property to do so and no permission has been sought.
"It is a bulky building that not only flaunts height restrictions but is of an ugly, pretentious post-modern design; a complete anachronism," one objection reads. "With heavy neo-classical porticos and a pitched federation roofline it is not at all sympathetic to the site and the lifestyle of the area."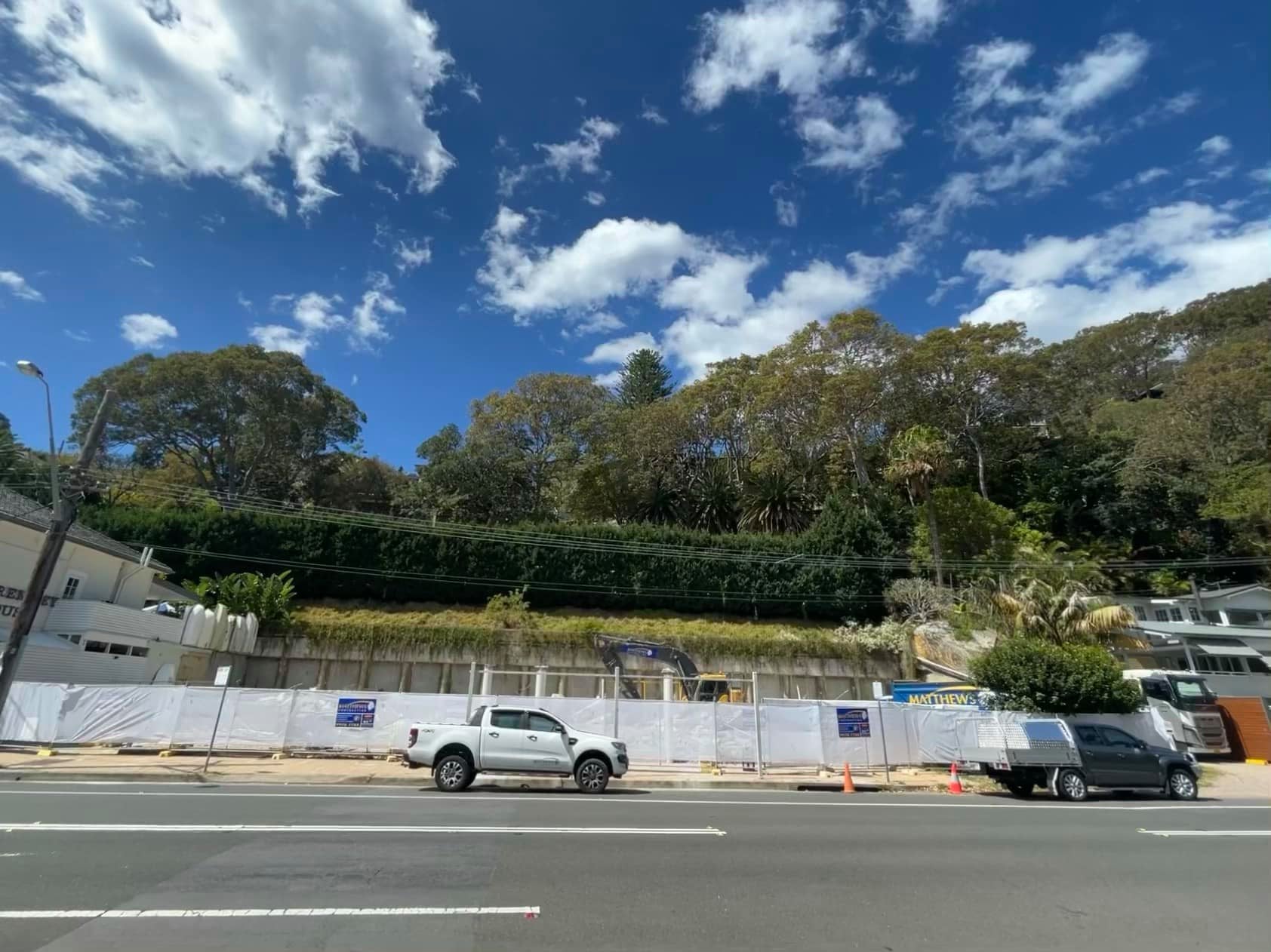 the Palm Beach fish and chip shop site has been cleared by the developers. Image supplied
The Greece based owner of land on the other side of Barrenjoey House and up to the northern edge of the old Palm Beach Milk Bar has accepted an offer for that parcel of land. Plans for a development more sympathetic to the site were drawn by Architect Stephen Lesiuk, who has since passed away. Nothing has, as yet, been lodged with Council.
Residents state it is clearly time for an Heritage and Environment value to be placed on the Pittwater end of the peninsula before those with too much money who are keen to make too much more run further amok.
Palm Beach house prices has seen a spate of development proposals during recent months which seek to not only excavate the hillsides flat but fill the block with so much concrete that not one tree or inch of ground right up to the kerb of the road is spared. In the reckless pursuit of mammon profiteers seeking to cash in destroy what it is they are seeking to sell, before they quickly depart, leaving the natural beauty of the area ruined and the community robbed of the places it once gathered communally in.
These proposals all breach height limits, all disregard the cultural values and village feel of the area they seek to impose themselves on, and all want to line the road with edifices designed to not only block out the sun but tower over those travelling along these paths so not one vista of green hills flowing into blue water is left.
Instead of a DCP compliance a DCP free for all is occurring over and over where a developer will take the Council and its ratepayers to the Land and Environment Court instead of adhering to what is in place as that extra 3 metres above the height limit means an extra storey and millions more, disregarding where a pavement, plaza or communal spaces were also means millions more.
Richard West AM, President of the Palm Beach Whale Beach Residents Association stated this week that the PBWBA has put in a submission to Council to make this a 'Special Precinct' in order to preserve the seaside village atmosphere of the Barrenjoey peninsula.
It is hoped this will be included in the new DCP Council is working on at present.
However, these DCP's need to have teeth and be backed up at a state level with the firm message there is no more 'wiggle room' - plans drawn should demonstrate a clear understanding and respect for the local Development Control Plan (DCP) not view this as mere 'guidelines'.
Similarly LEP's need to be the rule, not an aspiration, of what must be adhered to.
Marine Rescue Broken Bay + Marine Rescue Cottage Point Part Of Whale Disentanglement Training + Old Base At Bayview Removed As Build Commences + ORRCA's Whale Census Day 2022 + Living Ocean Traditional Welcome To Country For The Southern Humpback Whale Migration - June In Pittwater!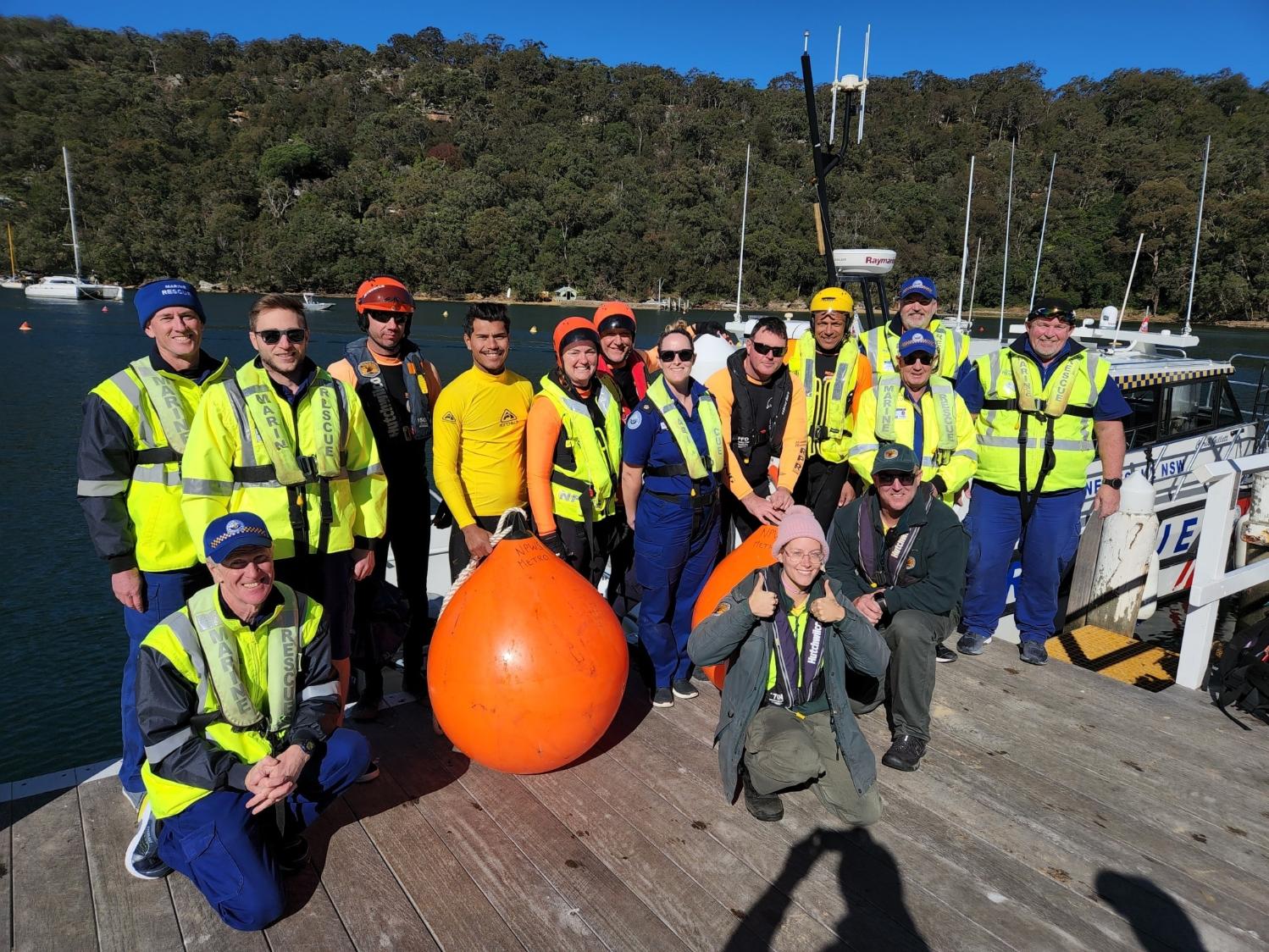 Marine Rescue Broken Bay and
Marine Rescue Cottage Point volunteers undertaking Whale Disentanglement exercises with NPWS, June 7, 2022 on Pittwater.
Photo: MRBB
Our local Marine Rescue NSW Units have been doing some Winter Training in recent days. Marine Rescue Cottage Point has been undertaking Night Navigation with members while Marine Rescue Broken Bay members have been busy with their first aid and vessel emergency drills - something they are required to do every 6 months. Under the watchful eye of the weekend duty officer, members are supervised completing their drills and are signed off as competent.
If you're boating at night, please make sure your navigational lights are fitted correctly and working. For a refresher on the rules visit: https://bit.ly/3MRQ5bT

Marine Rescue Broken Bay also said goodbye to their old base this past week with Council's contractors going into high gear to remove the old demountable so construction can commence on a new fit-for-purpose Base for MRBB volunteers. The volunteer members of Marine Rescue Broken Bay spent the weekend of May 21-22 packing up their old Base building. A new Base building, to replace the decades old demountable Marine Rescue Broken Bay have been operating out of, will be complete in time for the peak season at years' end.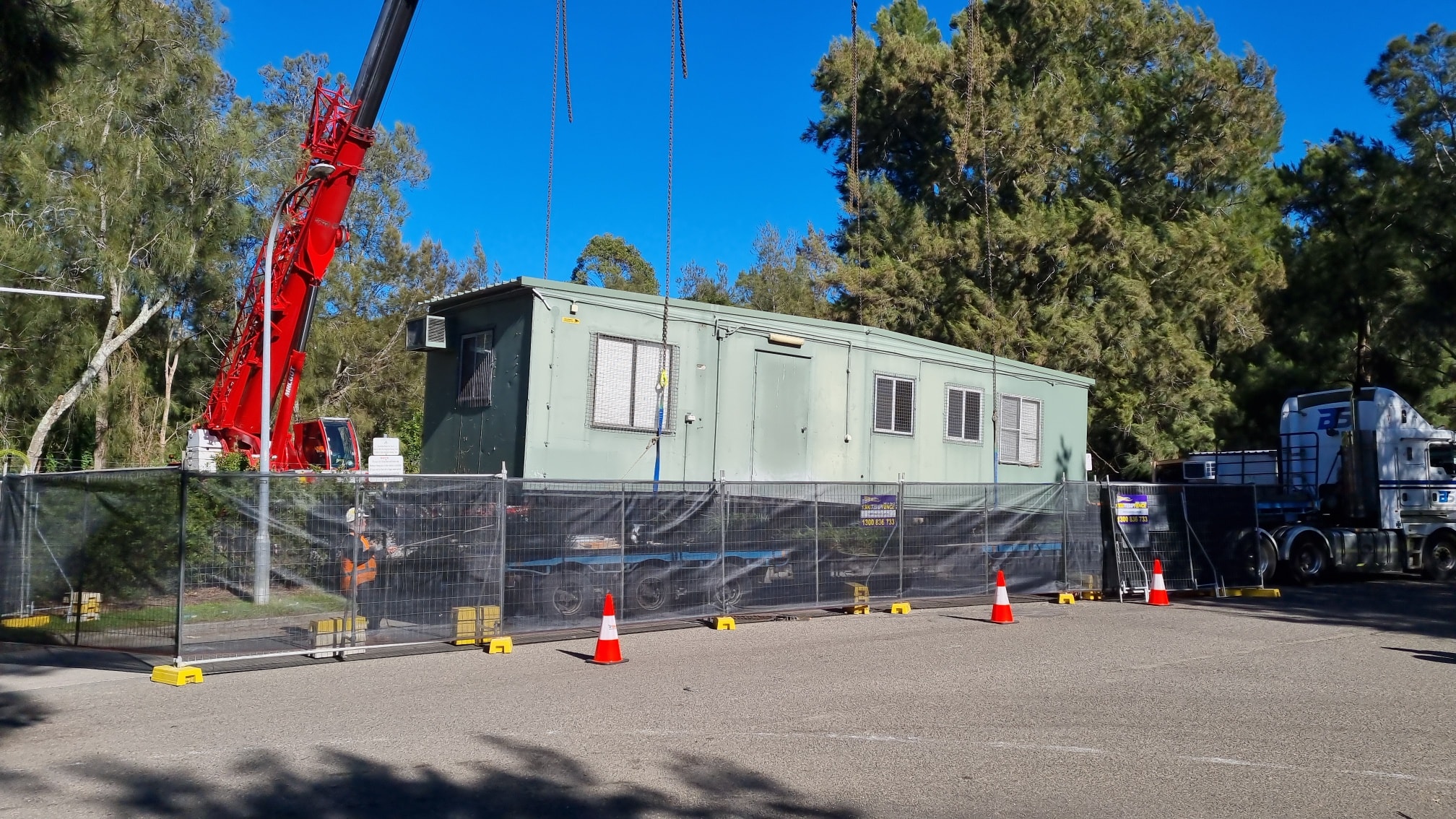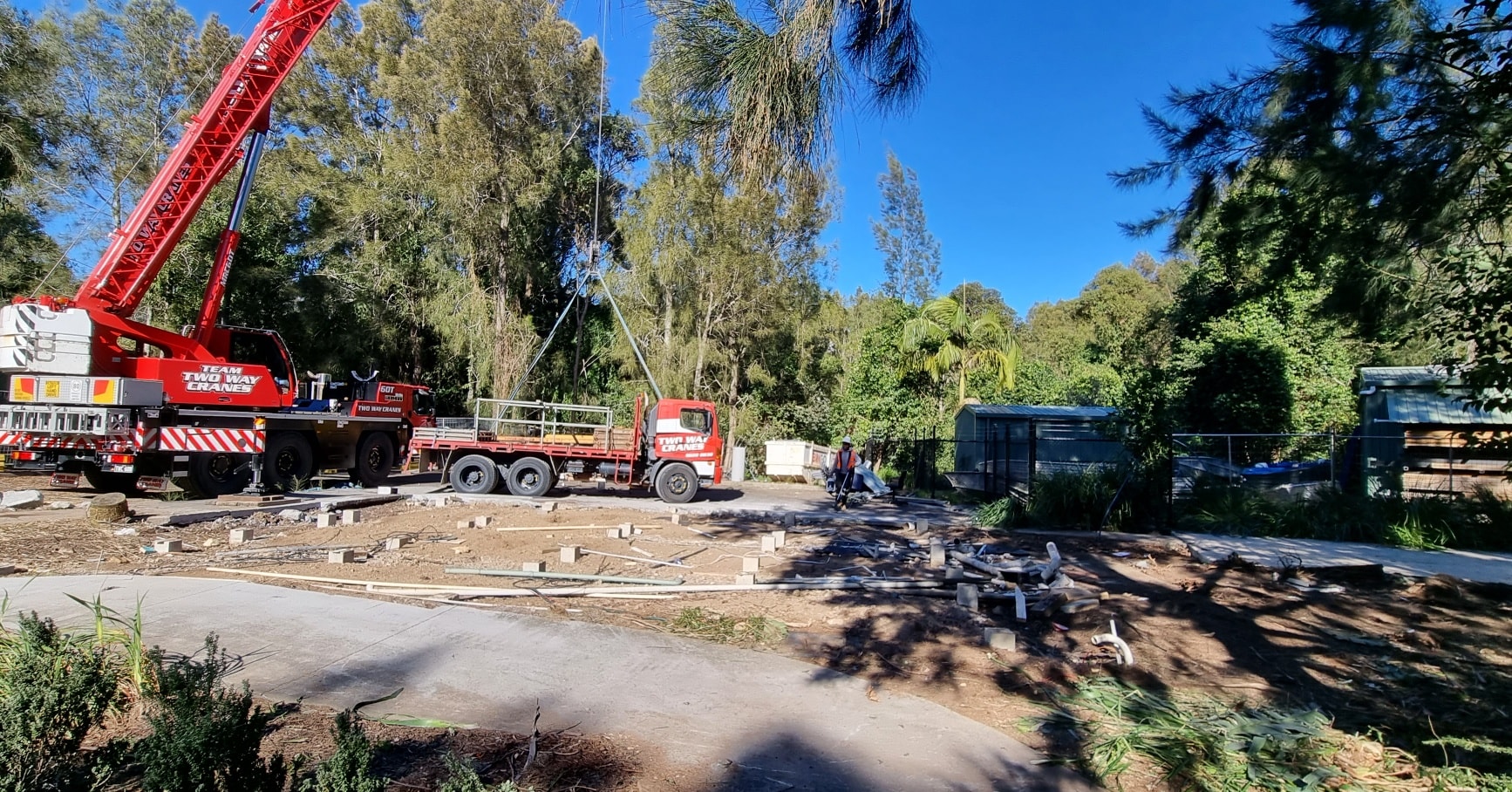 MRBB old base demounted. Photos: MRBB
The other training our local Marine Rescue NSW units have been involved in has to do with some of our coasts' larger annual visitors.
Whale migration season has commenced with the peak of the season occurring towards the end of June and throughout July.
Although Humpback whales are the main species you will see off our coastline, southern right whales, sometimes even blue whales, minkes and orcas (killer whales) are passing this place.
On Thursday June 9, local Marine Rescue NSW Units MR Cottage Point and MR Broken Bay joined in a training exercise on Pittwater with the NSW National Parks and Wildlife Service.
Marine Rescue NSW and the NPWS have a memorandum of understanding that sees the two organisations collaborate when a whale requires assistance, with volunteer members training together and our rescue vessels providing a large work platform or 'mother ship' during actual responses.
Whale disentanglement exercises on Pittwater. Photos: MRBB and MRCP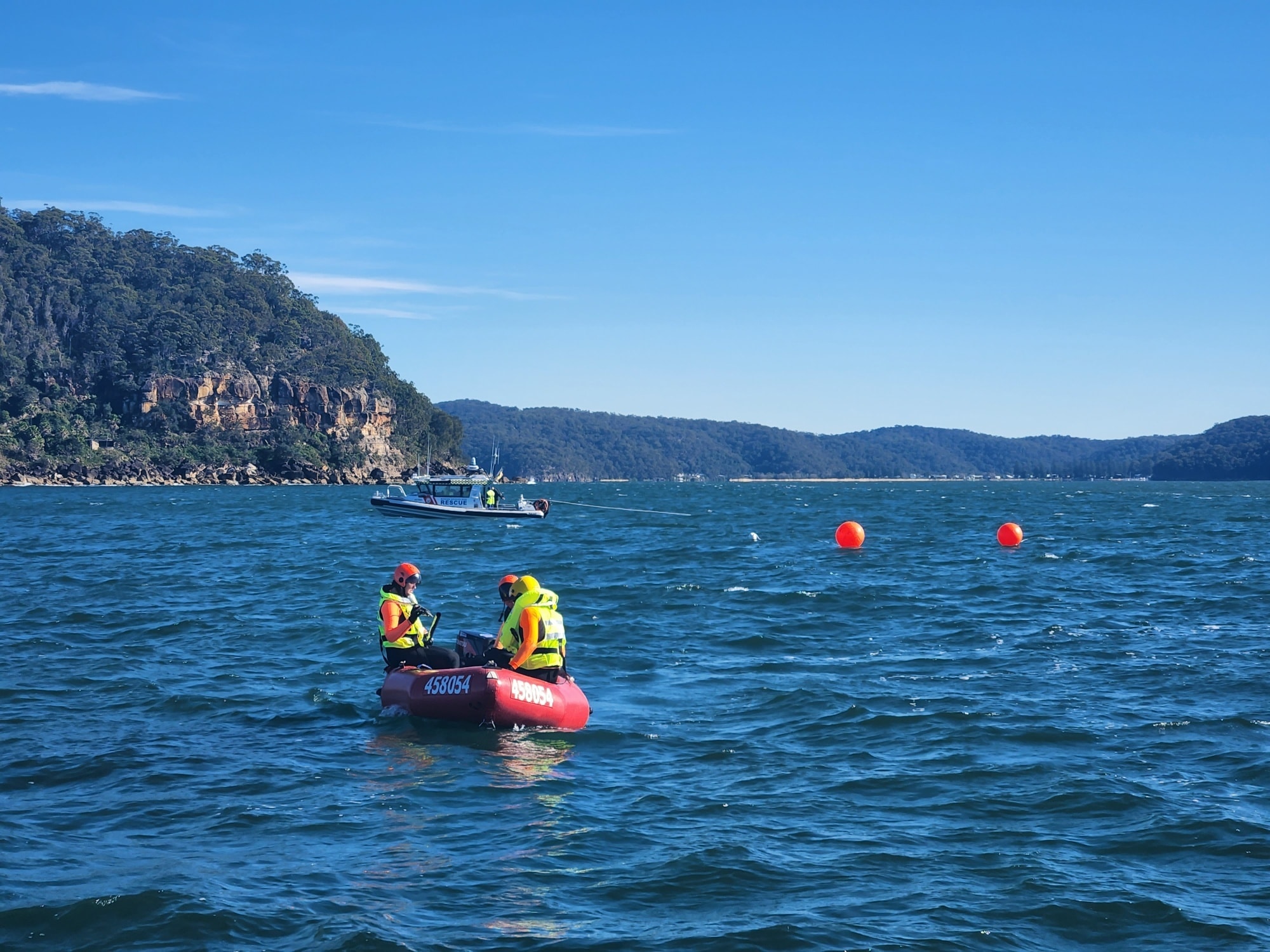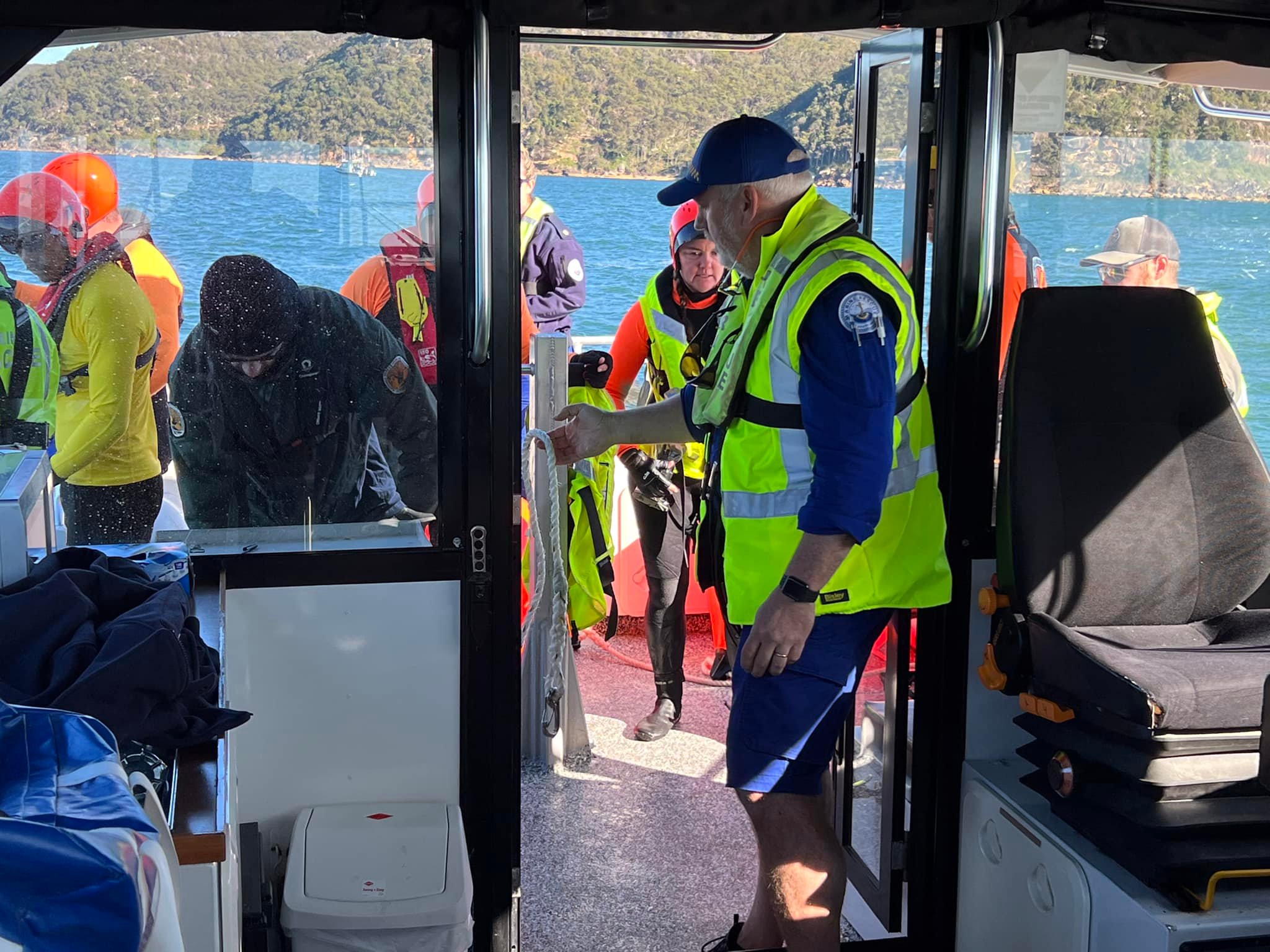 But that's not all happening locally during this year's Great Whale Migration - MORE HERE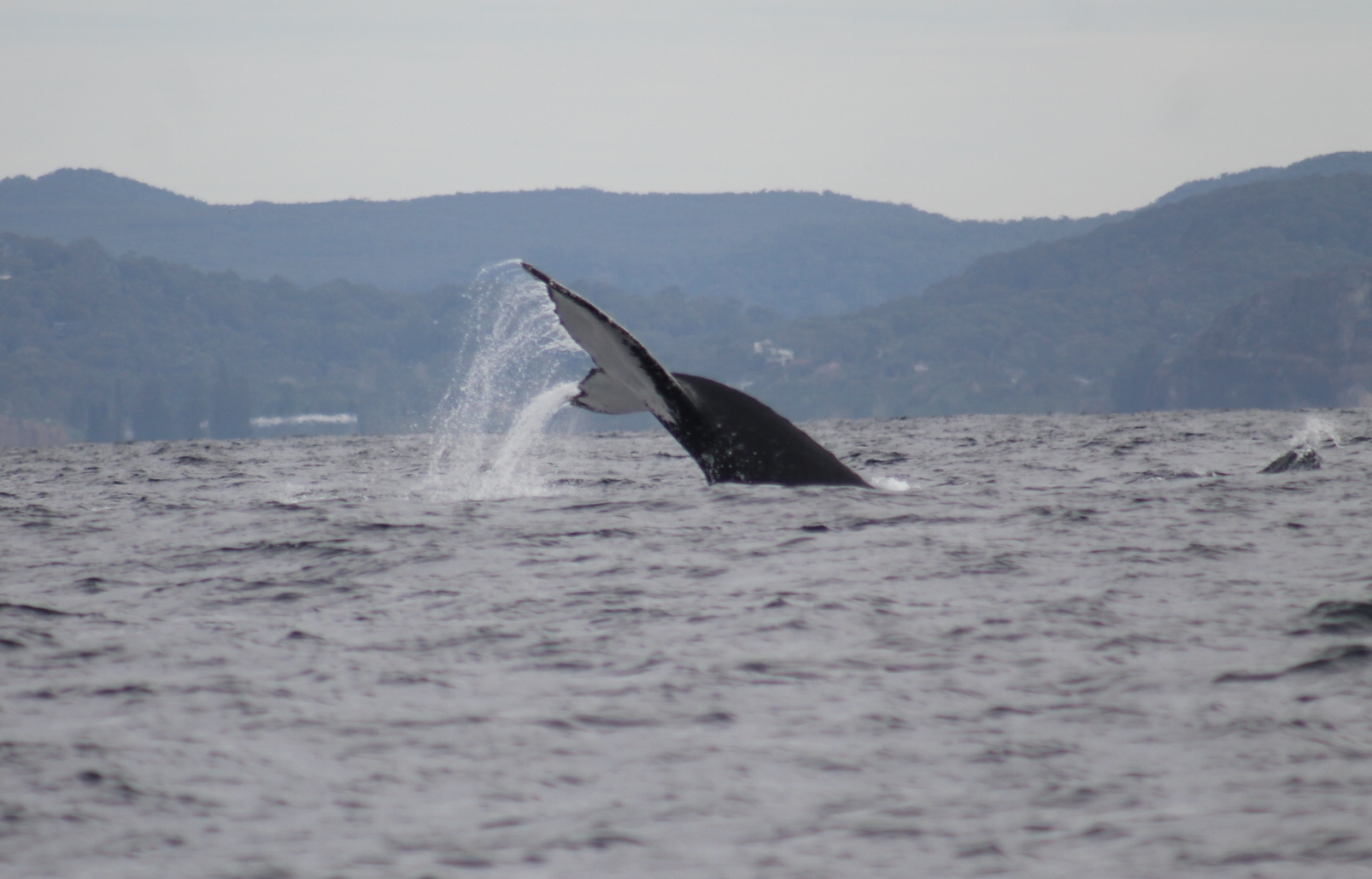 Avalon Beach Historical Society's 10th Great Historic Photograph Exhibition Opening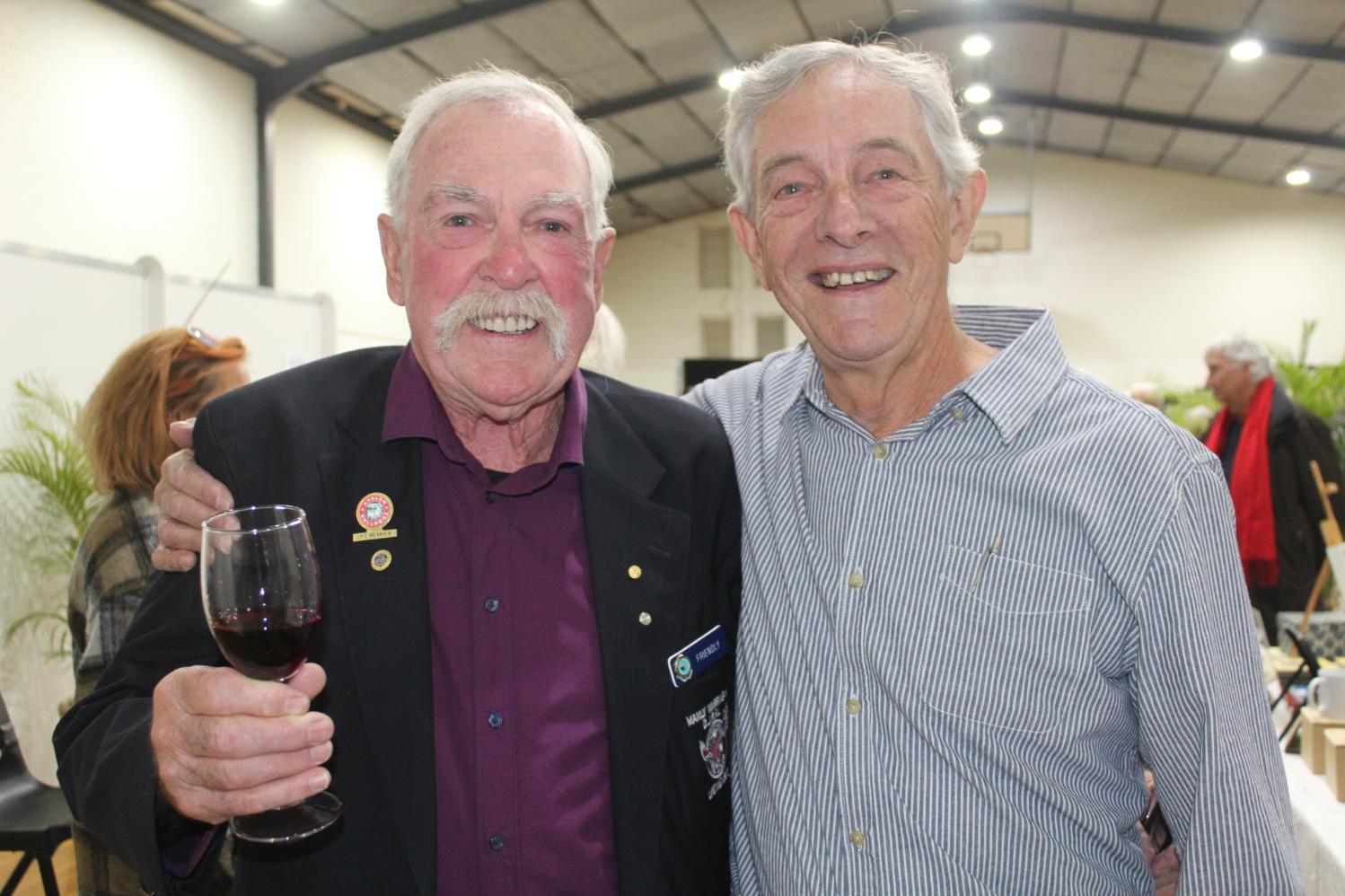 Brian Friend OAM and Geoff Searl OAM
Members and guests of the Avalon Beach Historical Society gathered on Friday evening, June 10th, for the official opening of the 10th Great Historic Photographic Exhibition.
This forms part of the year long Avalon Beach 100th celebrations being co-ordinated through
the Avalon Beach Cultural Collective
and fittingly is being held in the Avalon Recreation Centre on the verge of Avalon Beach's village green, Dunbar Park.
The Exhibition is open over the Queen's Birthday June long weekend, with the Tuesday always reserved for the youngsters from local schools to walk through.
This means visitors can peruse this exceptional display Sunday and Monday from 9am.
President of the ANBHS, Geoff Searl OAM welcomed everyone to the opening. Brian Friend OAM was asked to give the Address this time.
Their remarks, for the Historical Records, were;
Geoff Searl:
I'd like to welcome everybody to the 10th Great Historic Photographic Exhibition, to celebrate one hundred years since Arthur Jabez Small named Avalon Beach on December 4th 1921.
We were aiming to do this last year but of course Covid wouldn't let us do that, so as not to be beaten we've brought this about this year to help celebrate those 100 years.
I have a few people I'd like to mention, in fact 130 of them. (laughter)
I'm not going to thank them individually but I'd like to thank our members.; there's 130 of them and they do a fabulous job., especially the 15 that came today and helped set up this exhibition. It took several hours for us all to put all these stands up and then all the photographs, including the correct captions under the correct photograph.
Over the next 3 days we have 160 hours that our volunteer members are chalking up, which is a fabulous feat also.
At a Pittwater Council Christmas celebration for volunteers 7 years ago I remember volunteers were asked to put a $22 per hour value on their volunteering and when I apply that to this we're looking at about $3600.00 worth that you folk are putting in and that underlines to me especially how worthwhile what we do is.
I'd also like to thank all the sponsors. Four years ago we opened up the idea that members could sponsor a particular panel; and so if someone wanted to sponsor the public school panel because they attended this in 1964 they could. We had 25 members sponsor different panels this time, you will see their names up there – so thank you for those members coming forward and helping to defray the costs of the stands, which were expensive but work so well for us.
I think we have 7 OAM's and 1 AM here this evening, so this is quite a group.
Another special thanks up front is to my mum and dad who brought me here when I was six months old in 1947, which I consider a very fortunate occurrence. I've lived in Avalon Beach for 75 years this year and have never left. I was going to say 'I've never looked back' but since we formed the Society (ABHS) in 1983 I've done nothing but look back (laughter) with interest and enthusiasm and your support, which is wonderful.
There is a quote; 'The more you know of the past the better you are prepared for the future'.
I'd like to share a small insight into mum and dad coming here.
Mum and dad came down here for their honeymoon and stayed at Sand Point in 1944 and thought this was a fabulous area. Mum's mum and dad had already built in Avalon Parade at No. 64. Mum and dad thought 'this is good, £110 for a block of land', how could they possibly go wrong? They paid it off in a short time and then dad approached his bank manager in Jamieson Street in the city;' 'How can I help you Mr. Searl? – 'We own a block of land and would like to borrow some money to build a house.' – 'that shouldn't be a problem, where's the land Mr. Searl?' – 'Avalon Beach.' To which eh said, 'I'm sorry, we don't lend money for housing north of Narrabeen Lakes, it will never go ahead.'(laughter)
And so Bob Oatley paid 20 million for Finisterre on Stokes Point in 2016. … (more laughter)…yes, 'it'll never go ahead…'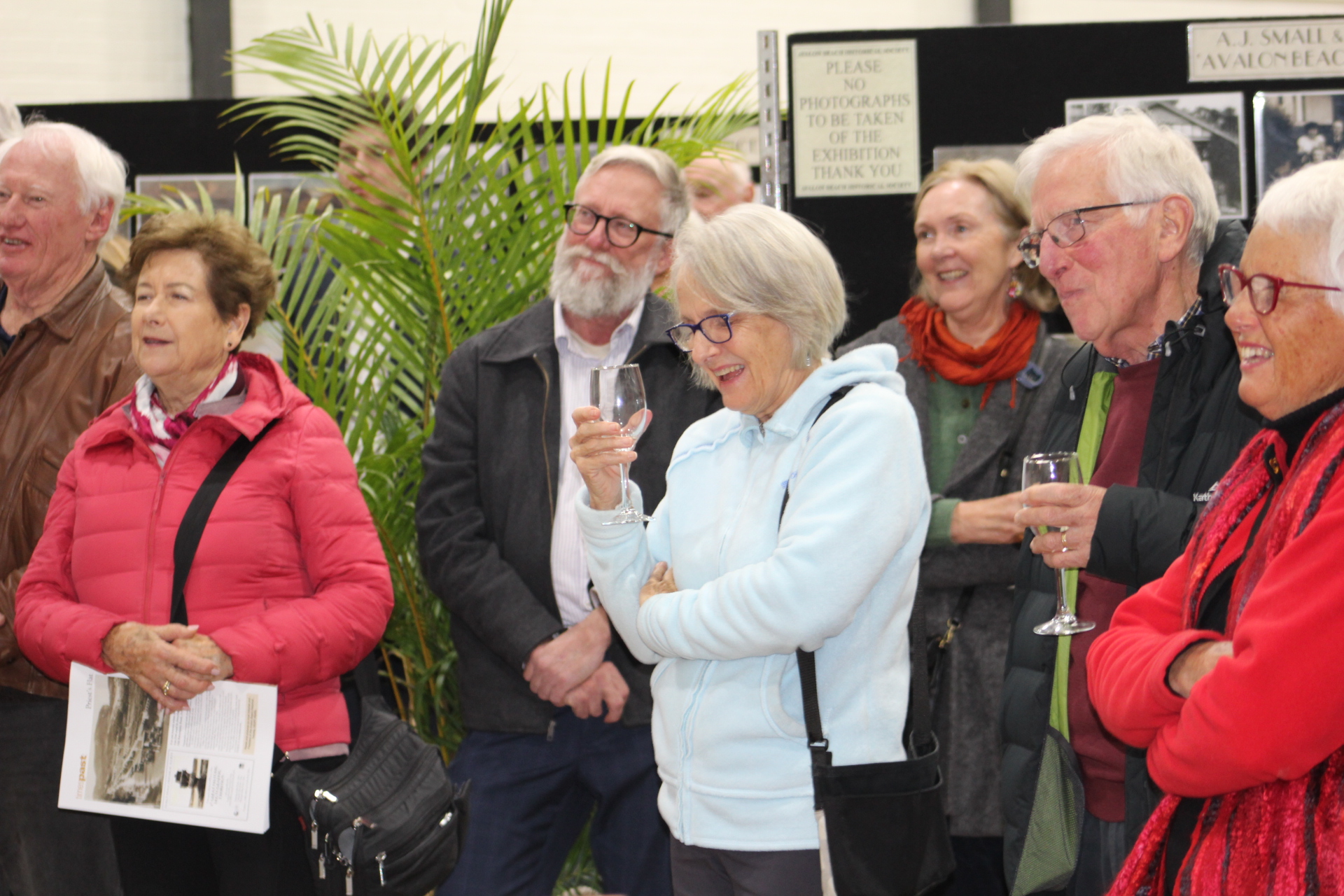 The other thank you is to my remarkable wife, Collette (loud applause), and my family, they are truly wonderful.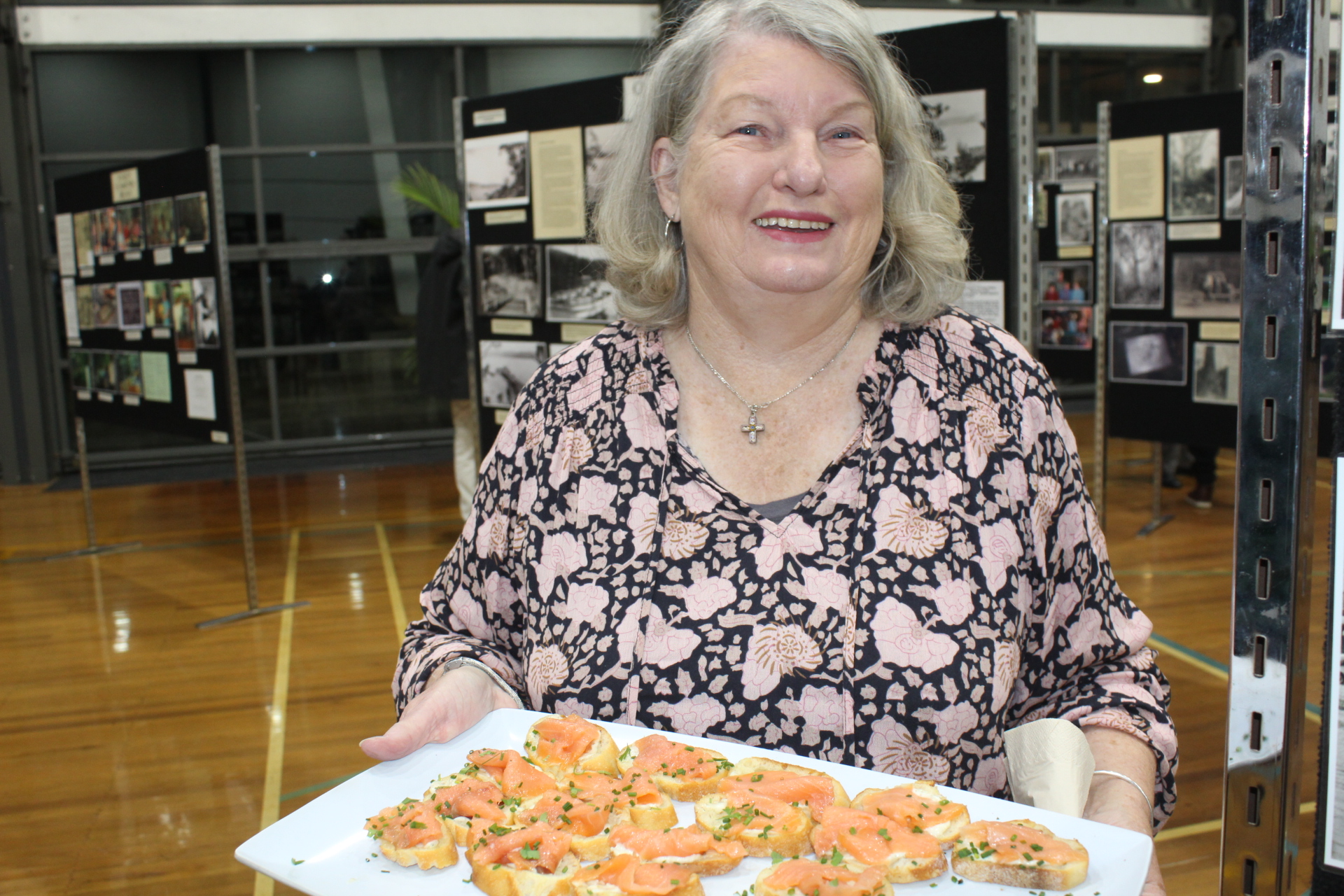 Collette
Thanks also to Arthur Jabez Small – thanks to him we have an Avalon Beach and I don't know what it would look like if somebody else was involved there. We're delighted to have two grandchildren of A J Small here tonight, Jennie Small and Peter Small, thank you very much for coming.
Without A J Small who knows what we'd be celebrating or commiserating if the Right Reverend J J Therry had discovered coal on the second green of the golf course in 1860 – a hundred metre coal wharf off Avalon Beach just doesn't bear thinking about or imagining.
I'd also like to thank Rob Stokes – Rob managed to secure a wavered fee of the hall hire, which we do appreciate.
This year there are 60 areas of interest to look through, along with a selection of the Society's panoramas, architectural plans and even videos. For those returning there are a feast of new panels – Bilgola Bends Pictorial History, Paintings of North Avalon Beach over the years from 1862 to 2012, and some wonderful Residences of Avalon Beach.
Tradition during past Exhibitions has been for me to ask someone to come along and please open the Exhibition. This is always someone prominent, someone who has given enormously to the area and this bloke, I don't know how he does it all – I'd like to welcome Brian Friend, everyone knows him as Friendly.
This bloke has four Life Memberships of four different organisations, Chairman of three organisations, a Centenary Medal, Queens Commendation for Bravery in 1974, NSW Police Commissioner's Commendation for Courage in 1974, Australia Day Citizen of the Year from Pittwater Council, he's in Master Rugby League, Touch Football, he is a backbone of the Doggies Rugby league Club and a 2103 Order of Australia Medal.
Ingleside Place Strategy Will NOT Proceed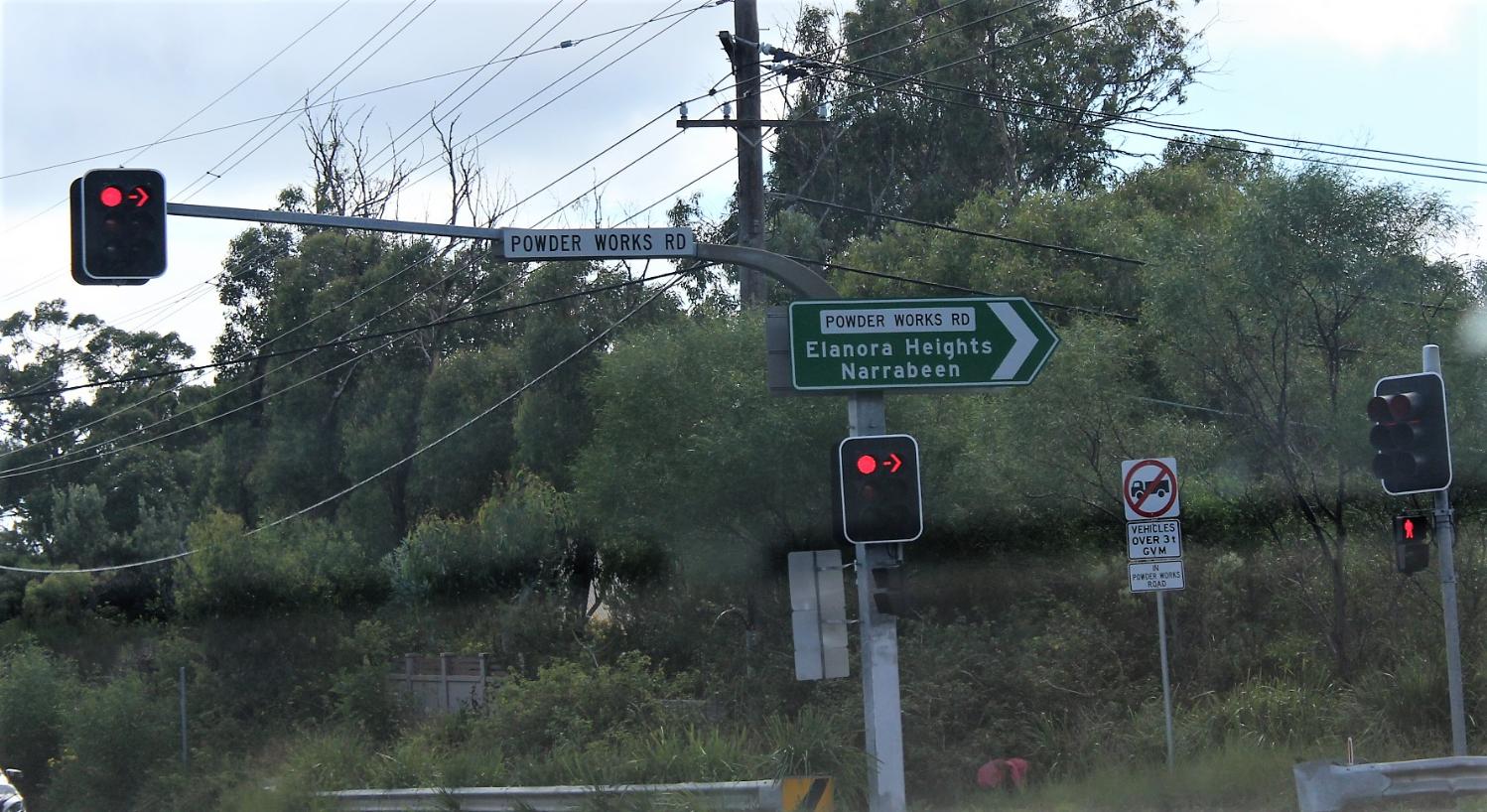 On Friday June 10, 2022 the NSW Department of Planning announced the department has completed its planning work for Ingleside and will not be proceeding with the Ingleside Place Strategy.
''The draft Ingleside Place Strategy was exhibited from 25 May to 23 July 2021.
Thank you to everyone who provided feedback and made submissions, which have informed our decision not to proceed with the place strategy.
The department acknowledges the cost of providing infrastructure and acquiring land for water management, flooding and riparian corridor protection affects the viability of delivering homes in Ingleside.'' the Department said in a statement.
You can find out more about the place strategy exhibition in our Consultation Outcomes Report (PDF, 661 KB). The exhibition documents can be seen on the planning portal.
''Planning for Ingleside will now be led by Northern Beaches Council, as part of the Northern Beaches Comprehensive Local Environmental Plan (LEP). The department will help co-ordinate input from state agencies.'' the Department said
The revised draft Ingleside Place Strategy went on exhibition with feedback closing in July 2021. The Ingleside Precinct, as part of the Greater Sydney Commission commitment to accelerate development as part of a plan for meeting anticipated housing requirements, commenced mid-2013. A draft Land Use and Infrastructure Plan was exhibited from December 2016 until 28 February 2017, the target being for the Housing of 9000 thousand more people in 3500 more dwellings.
On November 28th, 2018 the State Government announced the proposed development plans for Ingleside would not proceed after an independent bushfire risk assessment found the 2016 draft plan would put future residents in danger. Department of Planning and Environment's Acting Deputy Secretary, Planning and Design, Brett Whitworth, said then the safety of residents is of paramount importance.
"Above all, we need to ensure the safety of residents at Ingleside," Mr Whitworth said.
"During consultation, we heard loud and clear that bushfire risk and mitigation was a key concern to residents in the area. We listened and responded to these concerns, by going back and relooking at the way we were planning for bushfire protection in Ingleside," he said.
An independent assessment was undertaken, including a peer review of previous studies and report on bushfires in the area and in line with the latest research and NSW Rural Fire Service (RFS)' latest risk assessment requirements. The report found the draft plan would put the community at risk.
Mr Whitworth said the Department have halted plans at this stage to work with the Council and NSW RFS.
"We need to ensure we have the right evacuation measures in place for current and future residents – especially in the context of other nearby areas such as Elanora Heights, Warriewood, Bayview and Church Point," he said.
"This evacuation assessment, as well as consultation with landowners will help determine whether any further development could safely exist in the area.
"Any development would need to be at a much lower scale and we would need a guarantee that the road network could handle the extra development in the event of an evacuation.''
The revised draft Ingleside Place Strategy aimed to provide:
Up to 980 new dwellings with a mix of dwelling types including houses on larger lots, low rise apartments and townhouses;
A local community hub and shopping centre;
Attractive and welcoming public areas that positively contribute to Ingleside's character;
Public open spaces including attractive streetscapes;
Better pedestrian and cycling connections;
Enhanced ecosystems and green spaces for people to relax outdoors;
A model resilient, sustainable and low-carbon community; and
New development only in areas that allow for effective and safe evacuation in the event of a bushfire.
The existing minimum lot size over most of Ingleside is 20,000 m2, or 2 ha. This coincides with all RU2 – Rural Landscape land. Areas retaining the RU2 – Rural Landscape zone will retain this minimum lot size
The 2021 draft Place Strategy proposed:
R2 – Low Density Residential:

minimum lot size of 450 m2

R3 – Medium Density Residential:

minimum lot size of 225 m2

R5 – Large Lot Residential: minimum lot size of 1,500 m2.
An existing maximum height of 8.5 metres applies to most of Ingleside. This is largely retained in the bulk of the land area allocated for the proposal apart from a 10.5 metre control in the proposed R3 – Medium Density Residential zone as well as the areas covered by the SP2 and B1 zones as focussed on the location for neighbourhood shops to allow for apartments and townhouses.
Opposition to aspects of the plan was strong in the community, leading to the formation of the Residents Against Inappropriate Developments In Ingleside (RAID) group, from a number of local residents, environment and wildlife organisations, as well as being opposed by Council.
Among their concerns are a bushfire evacuation modelling that does not take into account volumes of traffic that would be created from surrounding suburbs and a bottleneck on the proposed route, no real fauna thoroughfares, and even a glaring gap between the currently being built fauna pass from Katandra Bushland Sanctuary connecting to a pathway for wildlife in Ingleside, a razed earth plan for the environment which would wipe out two Endangered Ecological Communities present and kill the animals these support, along with the $ contribution cap on each new proposed home not meeting infrastructure needs – a hole that ratepayers across the LGA may be expected to fill.

The Northern Beaches Council voted to reject the draft Ingleside Place Strategy on July 28, 2021, raising a number of serious issues which need to be considered by the NSW government.
Council noted the significant concerns of continued bushfire risk, lack of traffic and transport planning, the significant cost to ratepayers to provide the most basic of infrastructure, significant impacts on biodiversity and the ability to deliver any affordable housing in line with Council's adopted policy.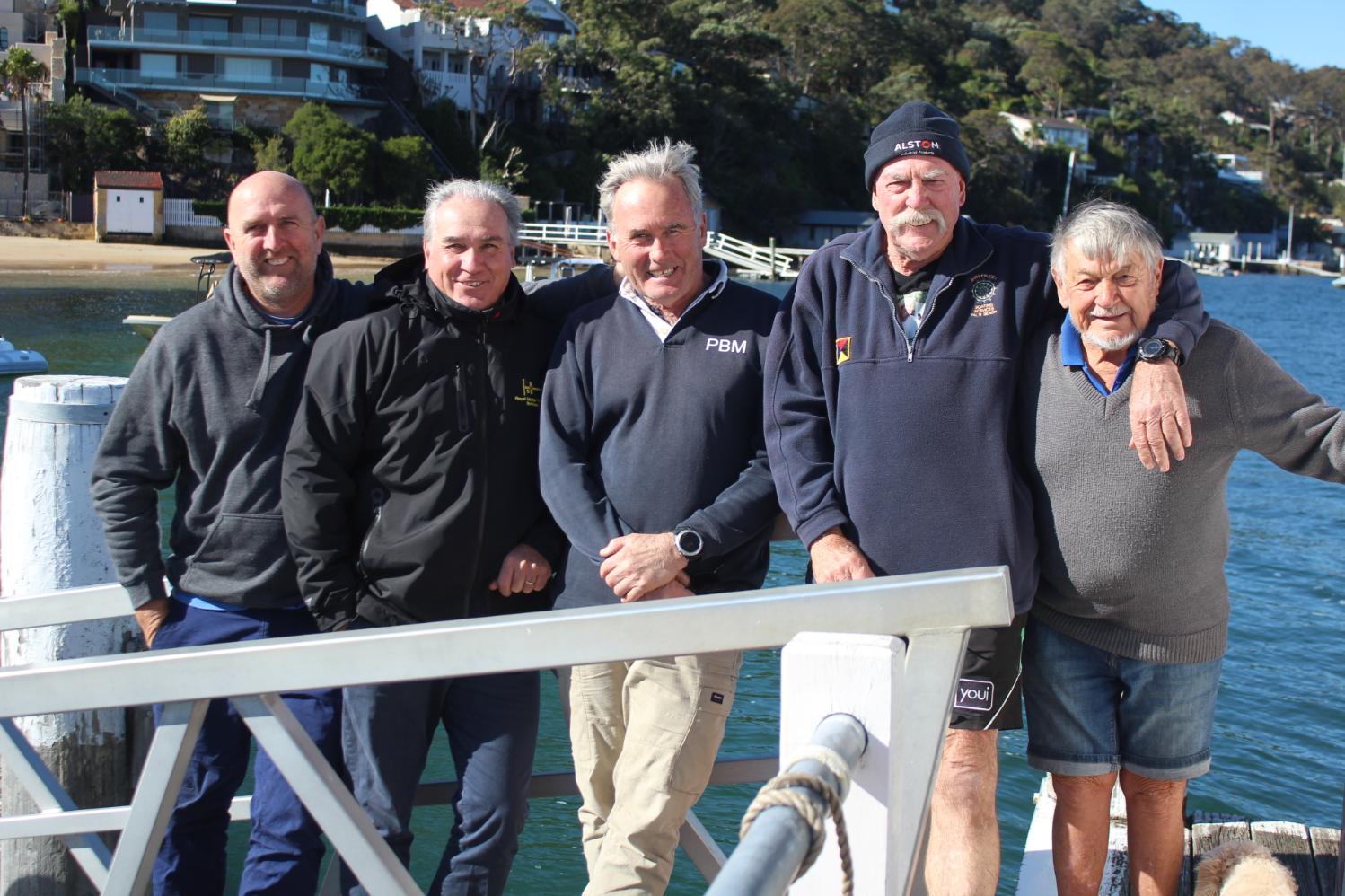 Wonderful to catch up with these local legends on June 9, 2022 and learn more about old Palm Beach Boatsheds - that's will form the basis of a 'Palm Beach Boatsheds Some History' page coming up this Winter in Pittwater.
At Sand Point, Palm Beach: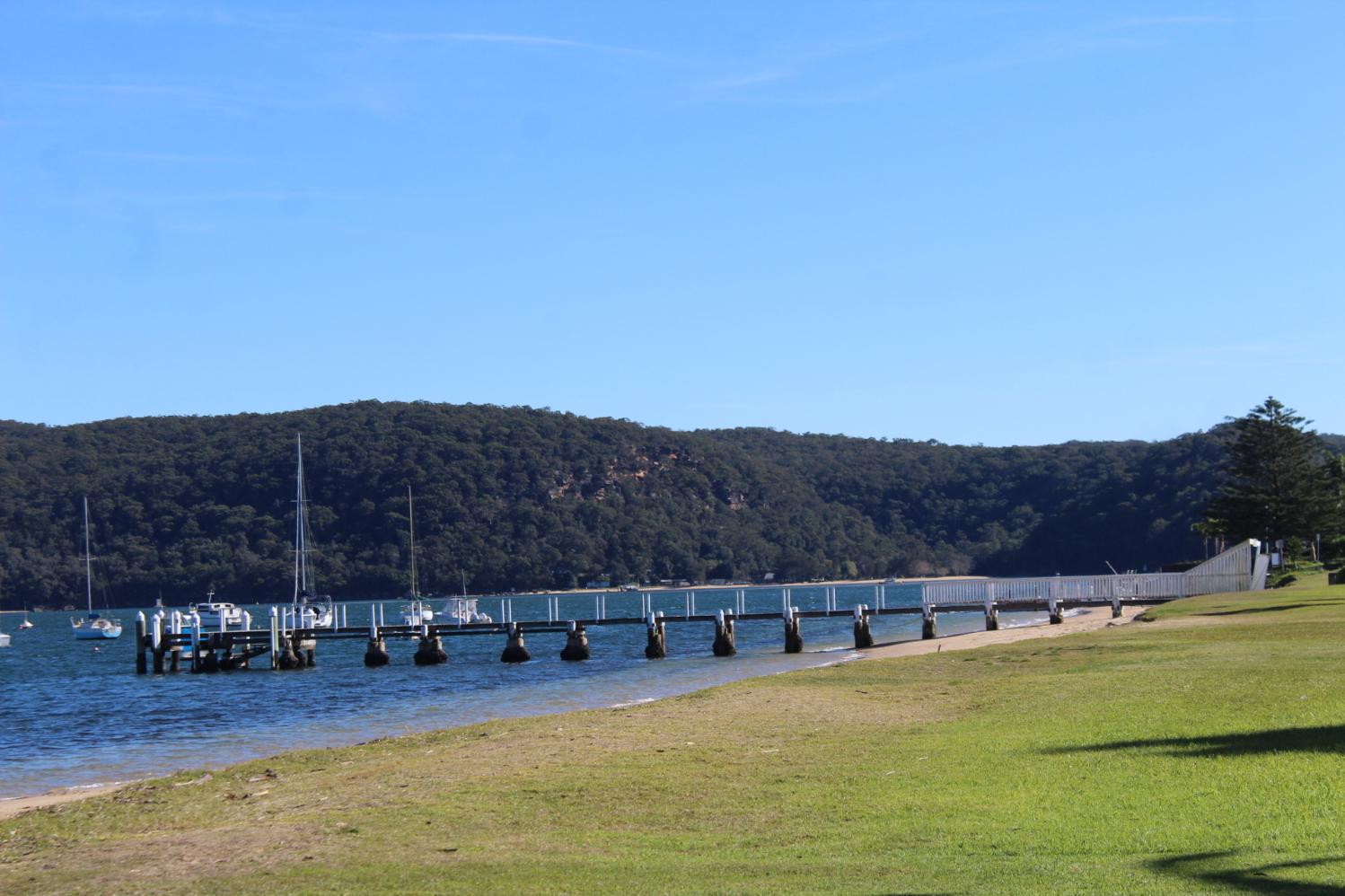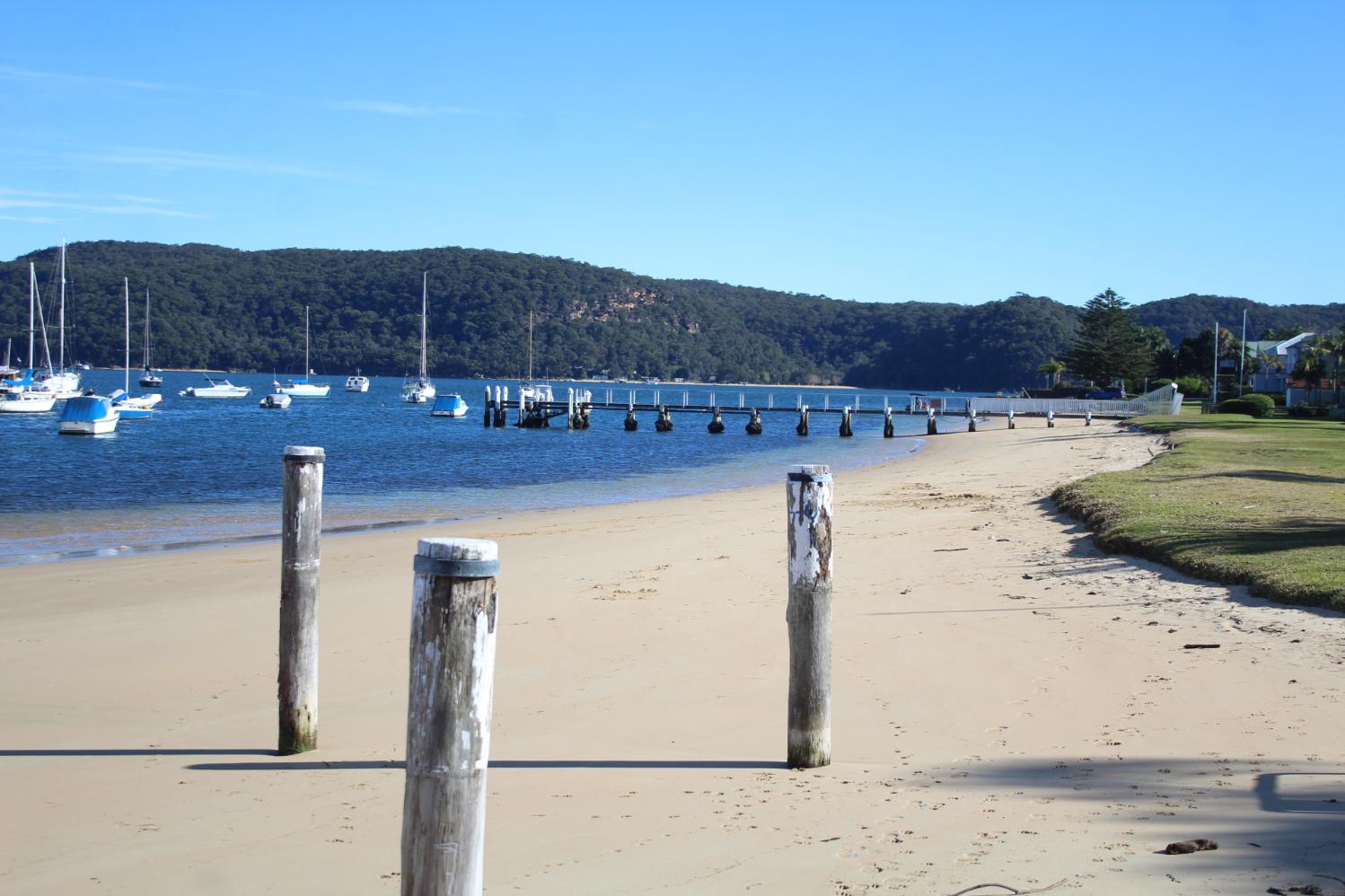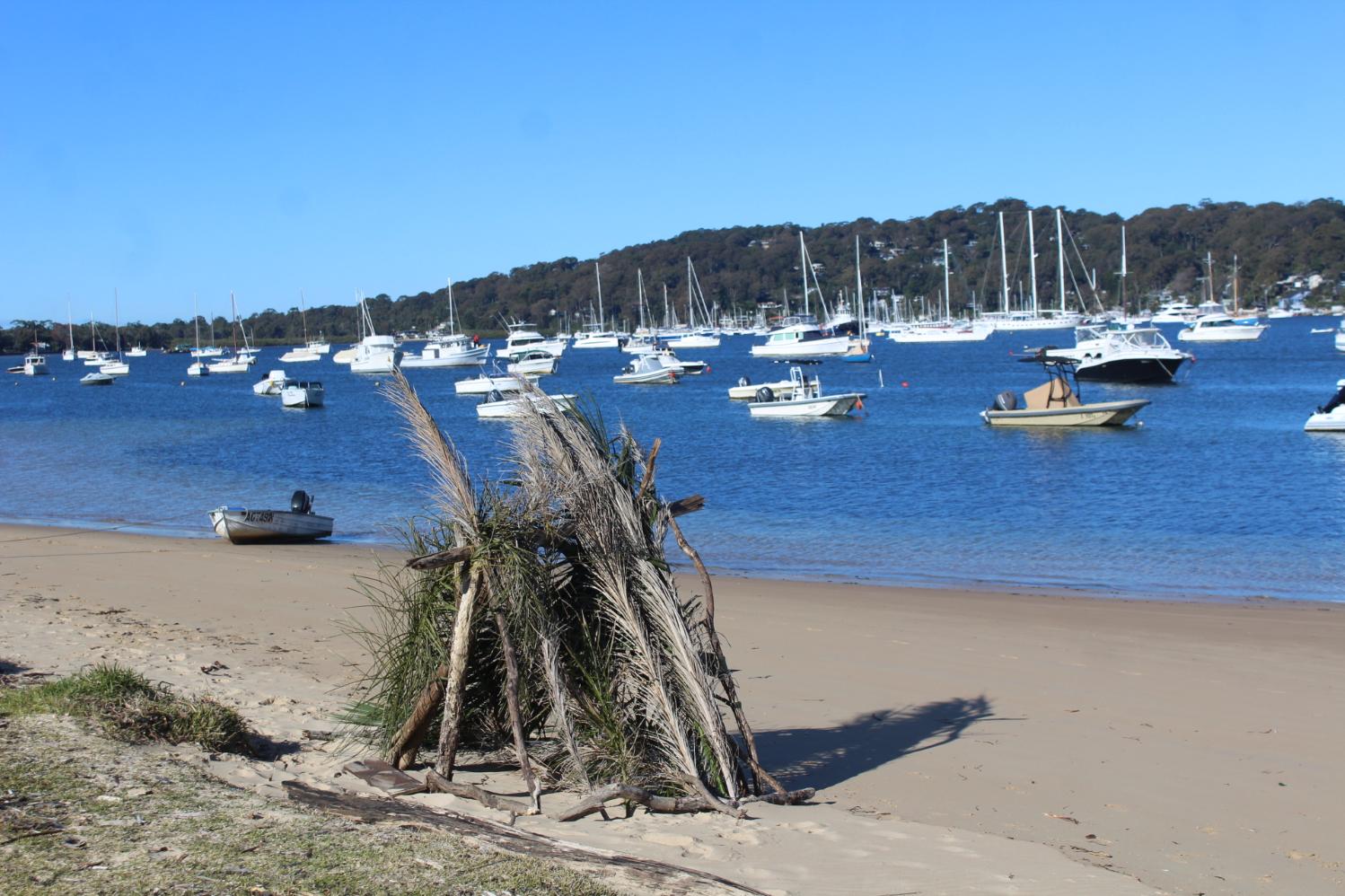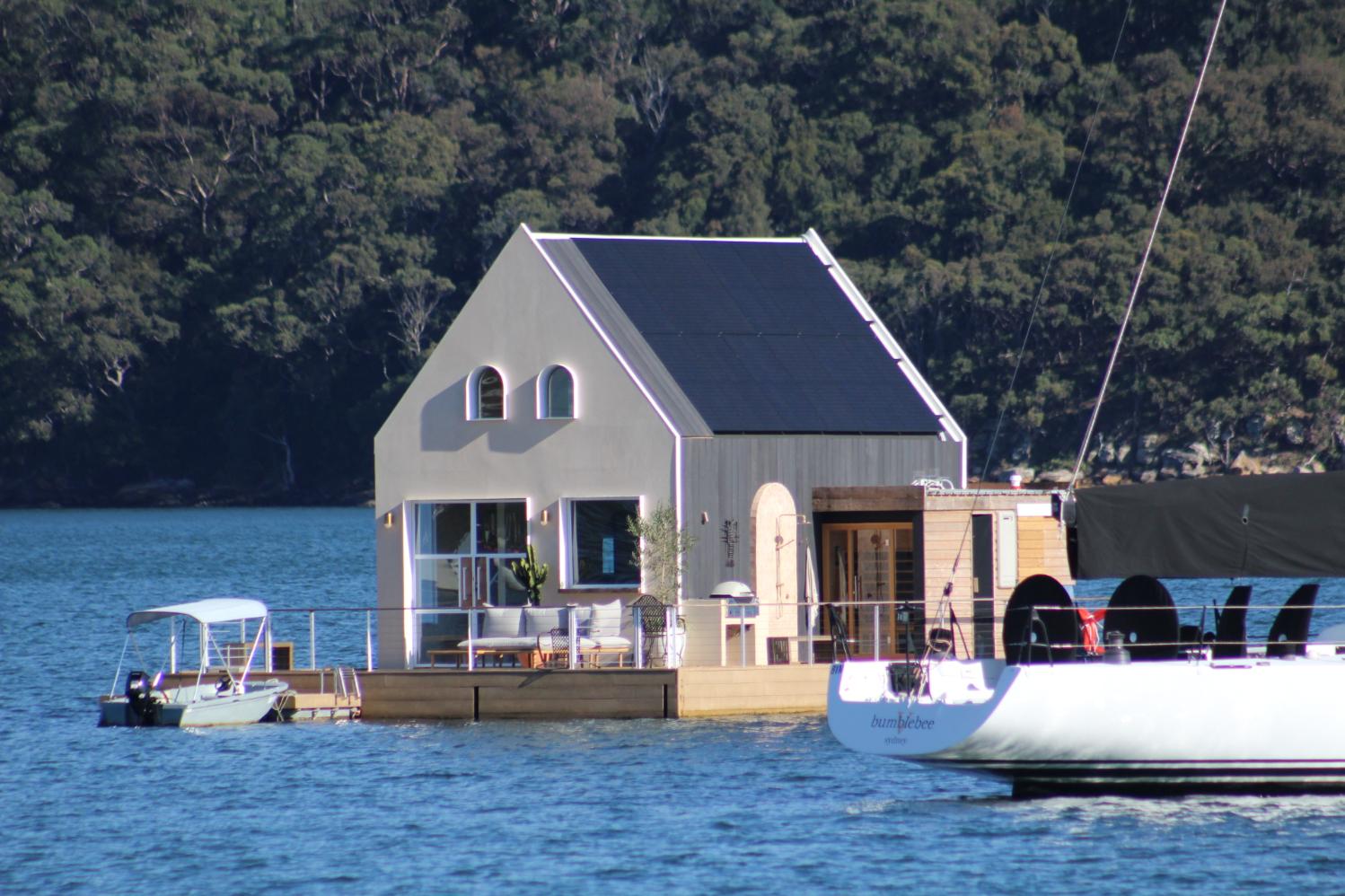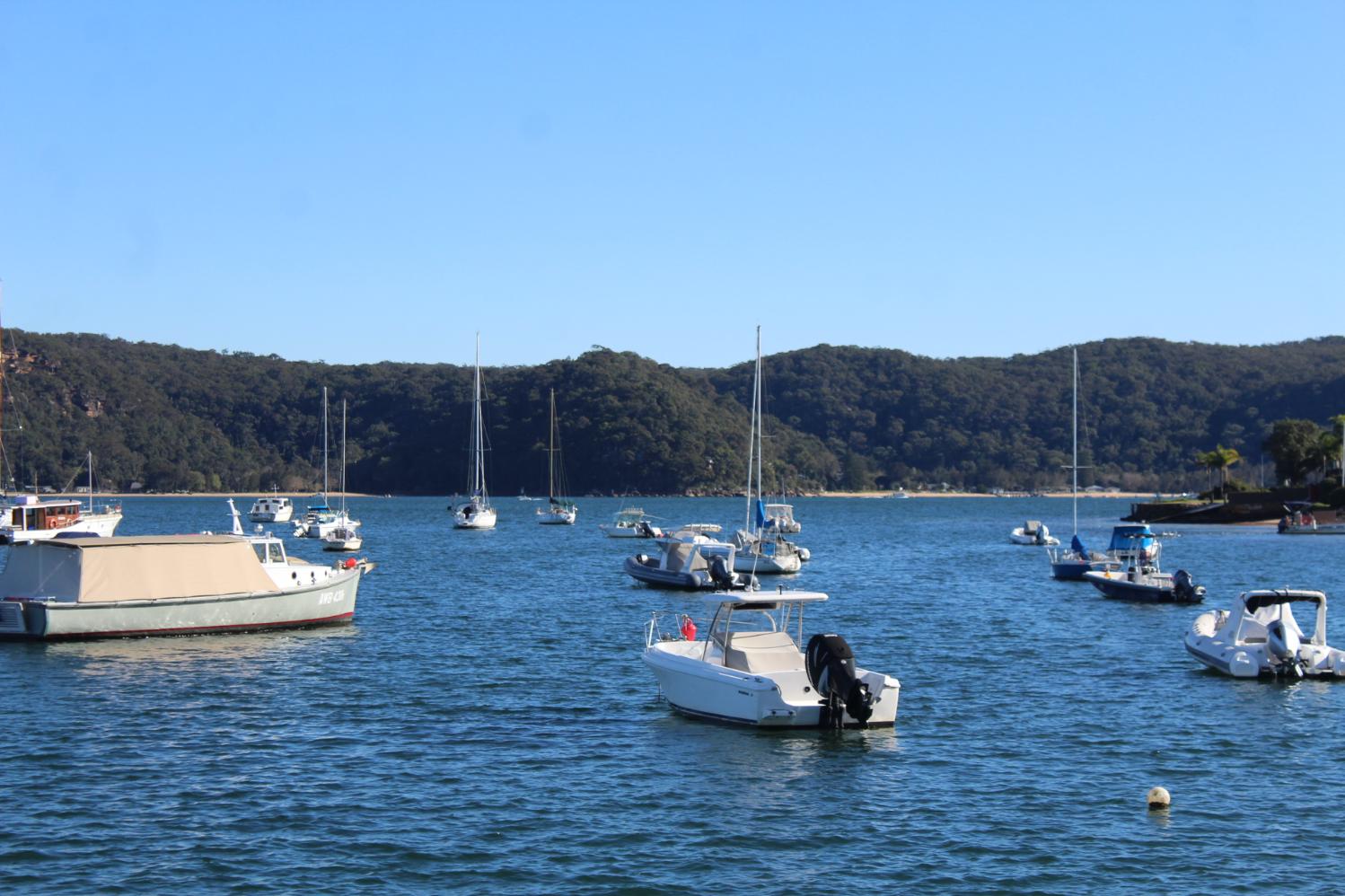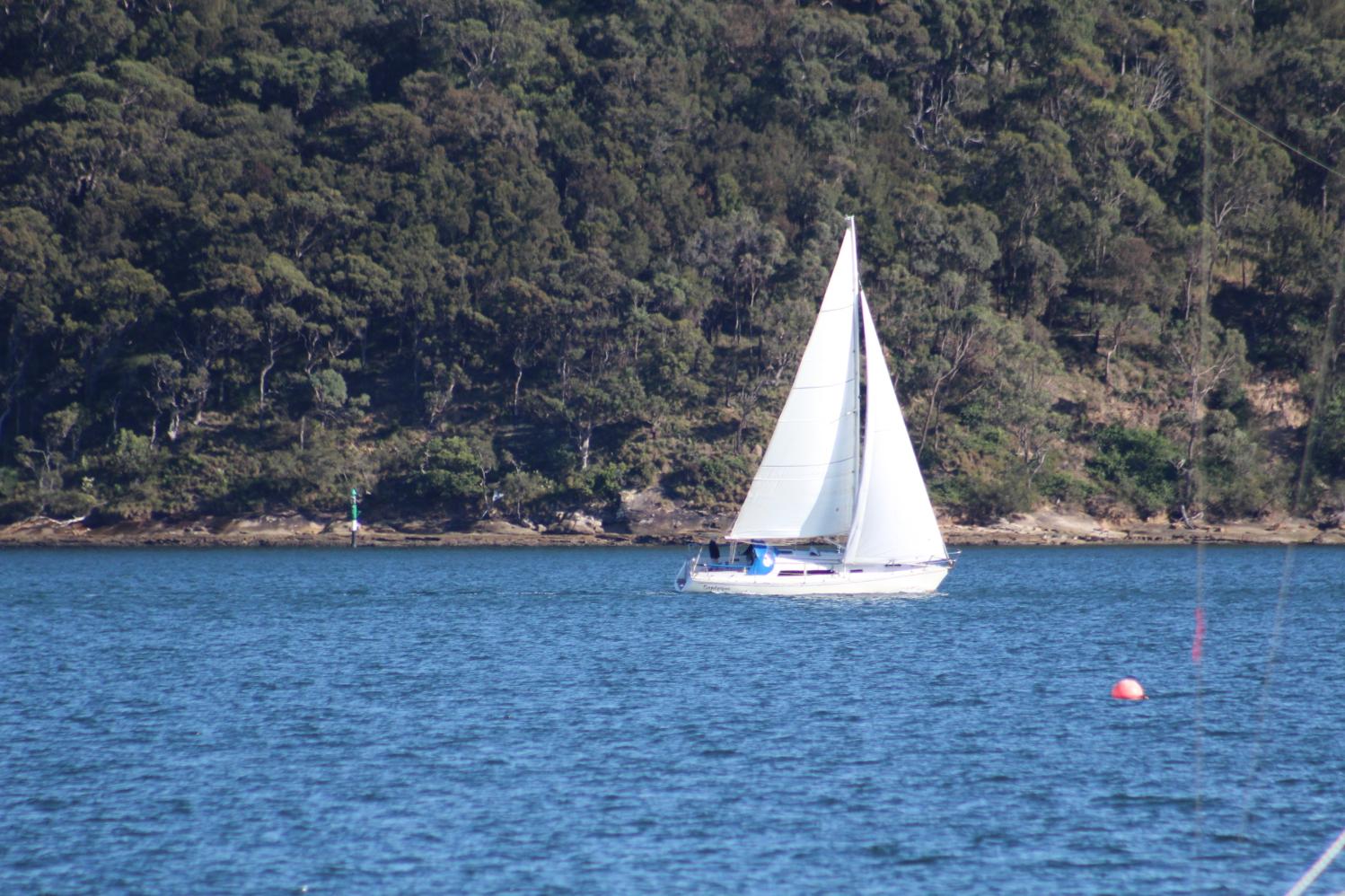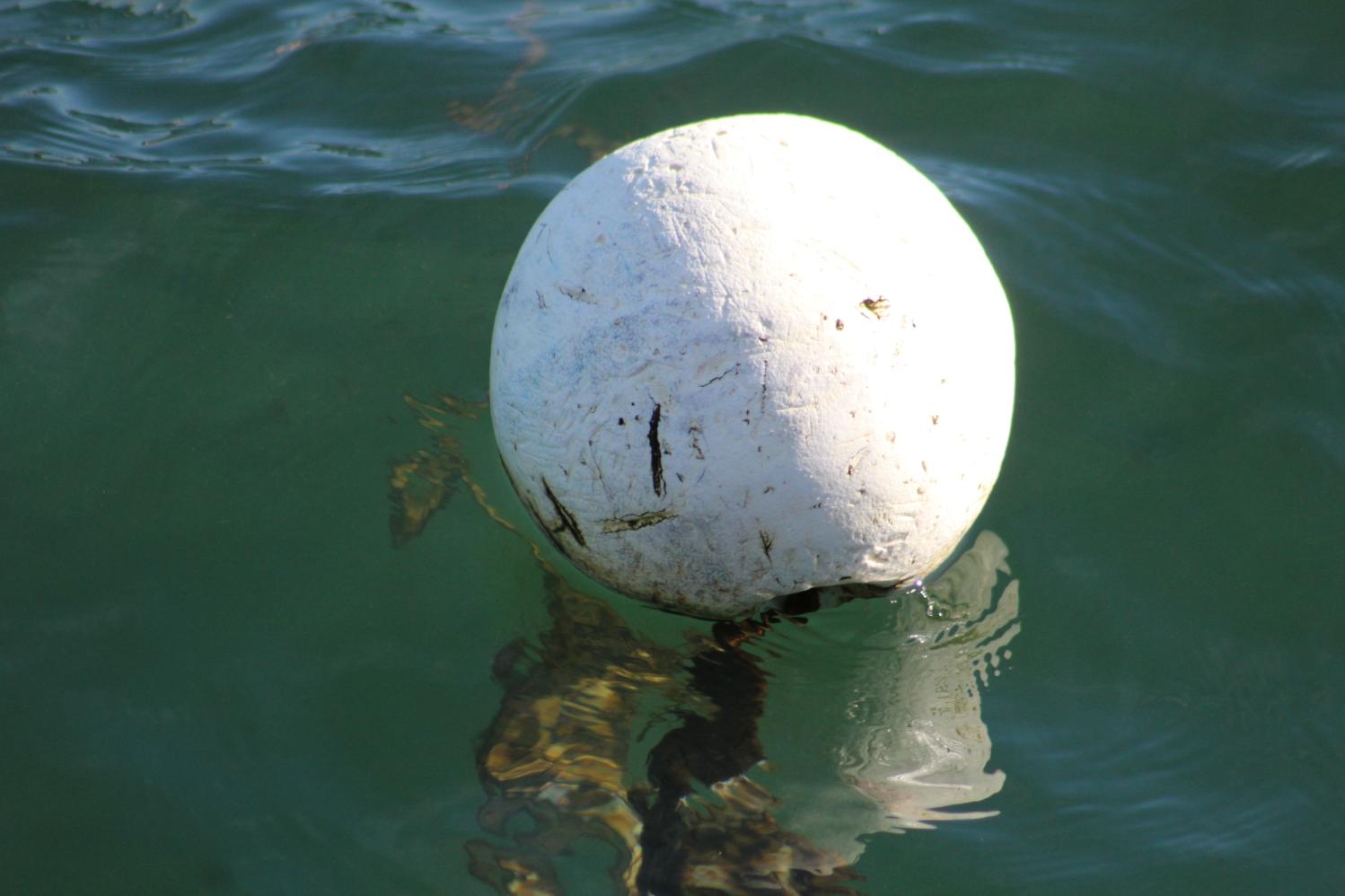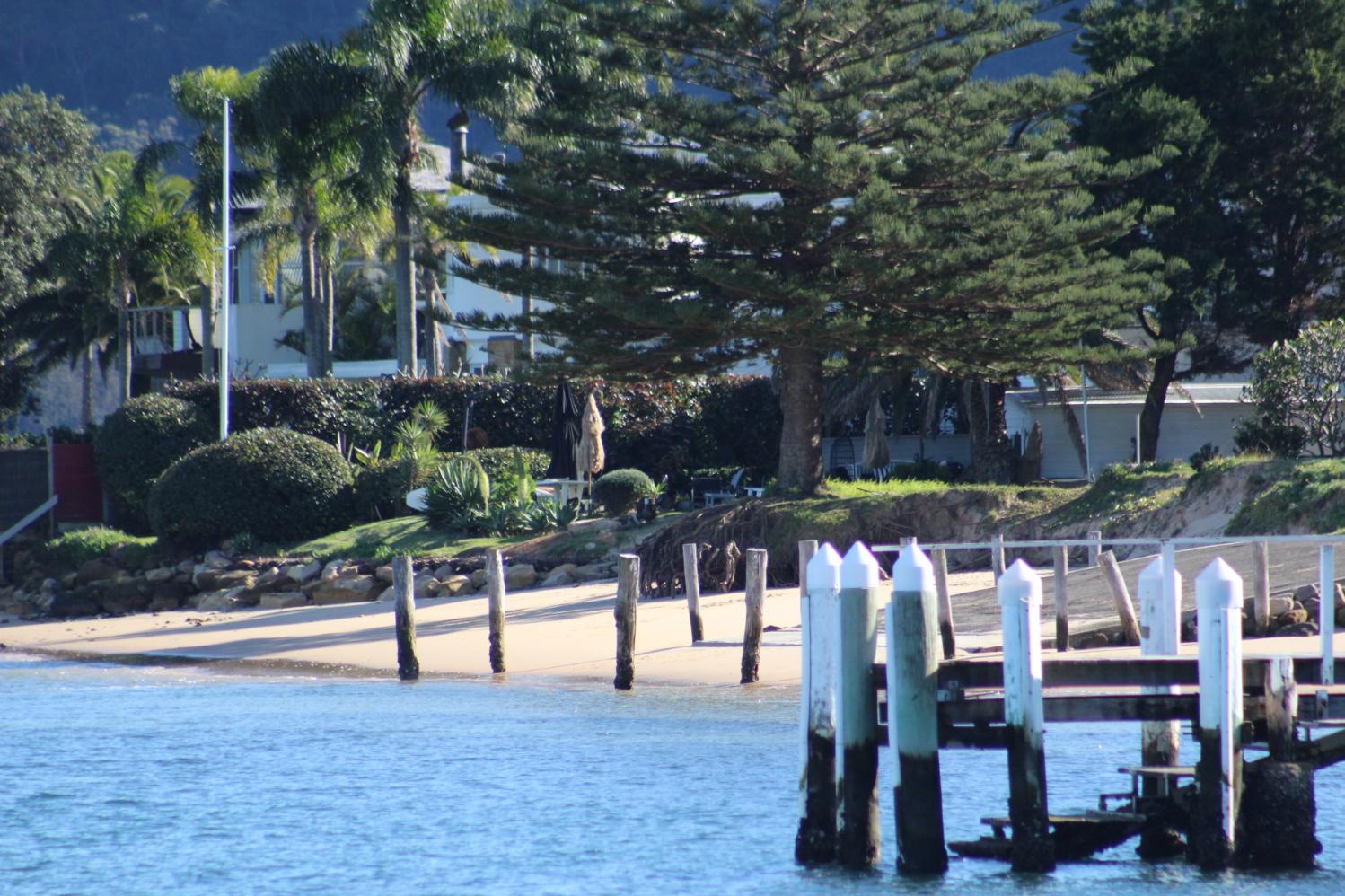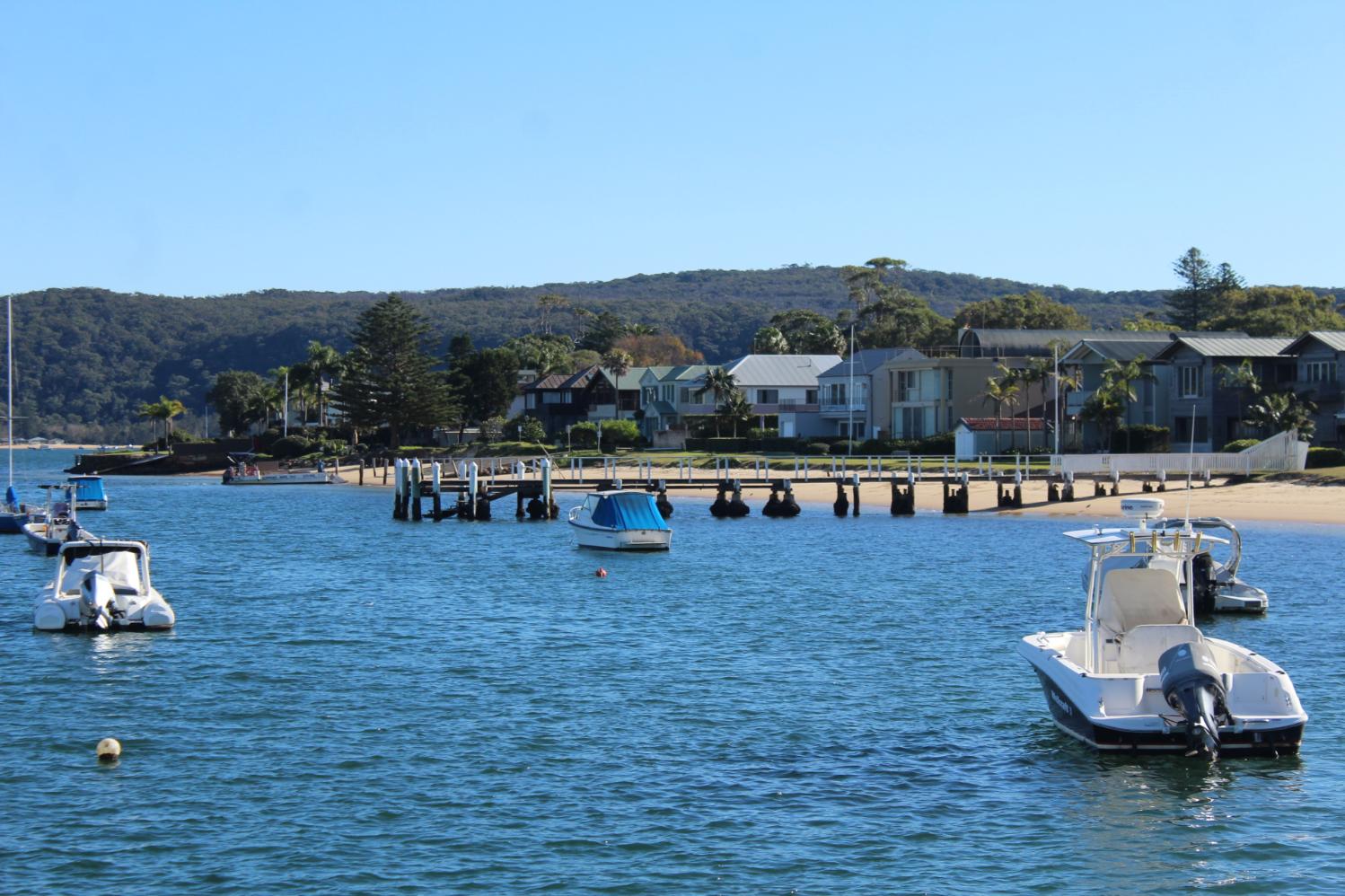 Sand Point, Palm Beach. June 9, 2022. Phtoos: A J Guesdon.
Past Features Archives (pre 2014)
Pittwater Online News was selected for preservation by the State Library of New South Wales and National Library of Australia. This title is scheduled to be re-archived regularly.
Archived Issues (2014 on) may be accessed here: pandora.nla.gov.au/tep/143700