August 28 - September 3, 2011: Issue 21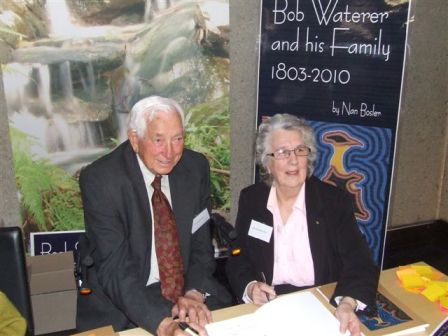 Above: Bob and Nan at the Warringah Council Event.

AN INVITATION
Come and celebrate this amazing book
The Story of Bob Waterer and his Family
1803-2010
At Mona Vale Community Hall
7.30 pm Monday 12th September 2011
Meet Bob Waterer and author Nan Bosler
Hear about the background and the research that led to information in the book
There will be time for questions
The Story of Bob Waterer and his Family 1803 - 2010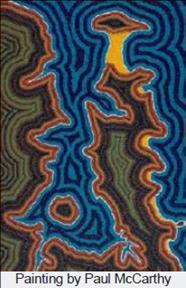 This book is the story of one family who can trace its heritage back to Sarah (Biddy) Wallace, c.1803-1880. Sarah is believed to have been a member of the Broken Bay clan led by Bungaree. She settled on Marramarra Creek in the Hawkesbury with her husband John (Ferdinand) Lewis, a convict who was a German soldier sentenced to transportation to NSW for life.
It is both a family and local history covering the early days of the Lower Hawkesbury River, Scotland Island, Pittwater and Brookvale. Bob Waterer's great grandmother Catherine Bens, 1838-1920, was known as The Queen of Scotland Island. Brookvale was home to Bob for more than 80 years and the book follows his school and working years, his passion for Rugby League and his love for his family.
Copies of the book will be for sale $25
To order a book Contact donandpatfrater@bigpond.com
Please stay for Tea and Coffee with us
Enquiries: Leigh Bowden 0405 381 038 or Anna Bell 9913 7940
For catering purposes, please reply to this invitation by the 9th September so we know you are coming. Click on logo above to vist their website.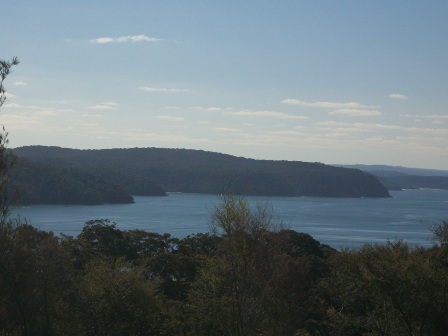 Copyright Nan Bosler, 2011.
All Rights Reserved.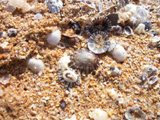 The Story of Bob Waterer and his Family 1803-2010
By Nan Bosler
When Bob Waterer found a leather pouch containing family certificates he was elated.
For him "…it put beyond doubt that our family's heritage, traced through the female line, went back to the Broken Bay Aboriginal clan led by Bungaree."
The Story of Bob Waterer and his family covers more than 200 years and this book project began in a very small way some 4 years ago. The Aboriginal Support Group published a story in Elimatta about Bob's discovery of that leather folder containing family history records for some of his ancestors.
Earlier his cousin Agnes had seen a book advertised in a Gosford newspaper, Love among the Prawns written by Hawkesbury historian Tom Richmond. She purchased the book thinking it might be interesting as it was about families of the Hawkesbury River and they knew that their families came from that area.
In the book there was a chapter on an Aboriginal woman called Biddy and a German convict who lived in an isolated place on the Hawkesbury River called Marramarra Creek. They had ten children; three were thought to have died as infants and of the other seven only the first four were known about; no trace could be found of the last three. These had been identified in the book as Catherine, James and Charles.
Agnes realised that their great grandmother was Catherine and that they had two great great uncles named James and Charles. Agnes made contact with Tom Richmond who was delighted with what Agnes told him. The missing three had been found.
Bob was determined to locate his parent's certificates to begin to prove their ancestry and the day before his sister's house was demolished he was successful.
The Aboriginal Support Group-Manly Warringah Pittwater was excited about Bob's find. Perhaps they could expand what was known about Bob's ancestors and write a book. Tom Richmond kindly allowed us access to his early research.
In 2008 Warringah Council provided a small scoping grant to the Aboriginal Support Group to allow us to explore the possibility of recording the story. The group unsuccessfully sought an Aboriginal writer who had time to research and write the book. I am a member of the Aboriginal Support Group – Manly Warringah Pittwater and am very proud that I was given the opportunity to write this book.
It has been a journey of discovery. There were times of frustration but slowly challenges slipped away and writing and editing became a great pleasure as Pat Frater and I teamed to bring to life this incredible story.
We never ceased to be amazed by Bob's incredible recall of the details of his life. There were bursts of excitement as additional descendants of Sarah Biddy Wallace were found; many providing valuable new family information. There was satisfaction as additional documentation allowed us to expand the story. I was keen to help readers understand more about the people, places and happenings that were the background of this book, and so expanded the endnotes to provide far more than references.
The book has combined family and local history and every endeavour has been made to be respectful and as historically accurate as possible. Even though some early family stories would have expanded the story the book has only used information that could be backed up by documentation.
There are many to thank for their support, encouragement and assistance and most of them were present at the launch hosted by Warringah Council when her Excellency Professor Marie Bashir AC CVO, Governor of New South Wales launched the book.
Sarah Biddy Wallace, later Sarah Biddy Lewis, was an incredible person; it would seem that she began life as a member of the Aboriginal Clan led by Bungaree. She adapted to the changing lifestyle as Sydney grew from a village to a city. She lived to see railways crossing the nation and the telegraph linking the settlements. She was industrious and compassionate as were her children. She loved her family and would have been intensely proud of the achievements of all of her descendants.
Her daughter Catherine was known as the Queen of Scotland Island. I hope that the book allows more of Catherine's story to become known. One of those who read an earlier version of the book for us posed a question about the ownership of Scotland Island after the death of Joseph Bens. We didn't have a very good answer so more research was needed, before we unravelled the full story.
Bob Waterer learnt of his Aboriginal Heritage at the age of 81 and this discovery has given him a thirst for knowledge about his ancestors. He has constantly sought to learn and understand more of the culture and history of the Aboriginal peoples. But who is Bob?
He was Brookvale born and bred; as a youngster he sought odd jobs to help support his mother as she brought up 4 children on her own; he had no fear of racing his billy cart down the steepest of hills; he was a sportsman; he was a soldier; he was a baker; he was a loving husband and he is a loving father. He is a Guringai Man.
Learn more about the lives of Bob Waterer, his relatives and friends. Step back in time as the lives of the descendants of Sarah Biddy Wallace unfold and find out more about the places they lived – especially Marramarra Creek on the Hawkesbury, Brookvale and two chapters about Scotland Island.
Contact donandpatfrater@bigpond.com for more details or to order copies of the book. The book is available for $25 plus postage.