October 26 - November 1, 2014: Issue 186
Pittwater's Mayor Calls for Premier Baird to Come Clean on Council Amalgamations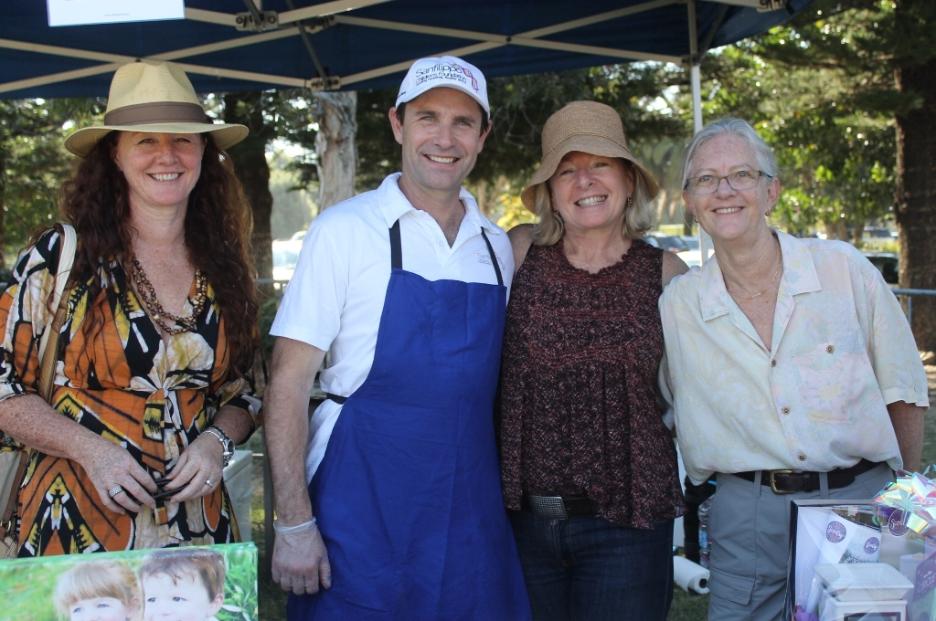 Deputy Mayor, Cr. Kylie Ferguson, Mayor of Pittwater, Cr. Jacqueline Townsend and Cr. Sue Young at the Garage Trail Sale in Dunbar Park, Avalon with Sanfilippo Children's Foundation representative yesterday (October 25th, 2014) - Pittwater Councillors will be attending all upcoming Market Days. Picture by A J Guesdon, 2014.
Pittwater's Mayor agrees, come clean Premier Baird on Council Amalgamations
24 October, 2014
Mayor for Pittwater, Jacqueline Townsend fully supports Local Government NSW president Keith Rhodes' comment that the NSW Government should come out from "hiding behind their current policy" and assure councils that forced mergers won't be on the cards post the 2015 election.
"Fit for the Future has become one big waiting game – we're waiting for an answer on forced amalgamations and we're still waiting for the release of the self-assessment tool," Cr Townsend.
Mayor Townsend won't be accepting NSW Premier Mike Baird's advice – to accept amalgamation as a solution to councils' financial problems – because Pittwater is financially sustainable and very much 'in the black'.
"Since our inception, Pittwater Council has maintained continual operating surpluses, a strong asset base and appropriate cash flows," Cr Townsend added.
Mayor Townsend said that Pittwater Council has proven it is financially sustainable, inherently demonstrating that with sound management, governance and financial planning a medium size Council such as Pittwater can maintain an ongoing healthy financial status, regardless of its population base.
Pittwater's financial strength has been recognised by NSW's Treasury's T-Corp and recent Financial Sustainability Assessment ratings that ranked Pittwater as one of Sydney's top 10 metropolitan councils for current and future financial sustainability.
Mayor Townsend questions Premier Baird's address to NSW councils that their "nineteenth century boundaries need to be challenged", saying this was another example of a blanket approach to reform, and one not relevant to Pittwater.
"Pittwater's boundaries are far from nineteen century; in fact they are quite contemporary having been established only 22 years ago," she said.
Earlier this week at the LGNSW conference, the Premier was promoting his agenda for amalgamation and the Fit for the Future package.
"Fit for the Future is a blanket approach to reform and it's not suitable for Pittwater," says Cr Townsend.
"Pittwater doesn't agree with a one council approach for the Northern Beaches, it's not in the best interest of our people, and we won't be entering discussions with neighbouring councils with this outcome in mind" she added.
Mayor Townsend says Council is wholeheartedly committed to advocating for a strong and independent Pittwater.
Next month, Pittwater Council will talk with other SHOROC councils – Manly, Warringah and Mosman - with a view to developing a suitable solution to reform that suits all councils; for Pittwater that being an outcome that retains all that our community has fought for and one that addresses the its future needs.
"What's best for the people of Pittwater will be at the heart of all discussion and decision making with our neighbours and one council won't be on the agenda," she said.
The Pittwater community retain a strong local focus and are passionate about local representation, delivering local services to residents as well as protecting the area's environmental, historic, urban and social characteristics.
Mayor Townsend says Pittwater will always consult with the community and act in their best interests. Pittwater's councillors will attend upcoming market days.
"My fellow councillors and I advocate a consultative approach to local representation, and will always be available to consult with the community. I urge residents to come forward to discuss their personal views on all local issues including how they feel about local representation and amalgamation," she said.
For local reform updates, please visit pittwater.nsw.gov.au/council/local_government_reform
_______________________________________________
Councils debate reform at LGNSW Annual Conference
October 20, 2014 - President of Local Government NSW, Cr Keith Rhoades AFSM, said councils were questioning whether the NSW Government will stand by its policy of 'no forced amalgamations' if NSW councils do not fall into line with the Fit for the Future reform package.
The Premier of NSW, the Hon Mike Baird MP addressed 745 delegates at the Local Government NSW Annual Conference and asked the sector to seriously consider the reform package, as carrying on with the status quo is not sustainable.
In his opening address, Cr Rhoades focused on the need for councils to be proactive in working with their communities through reform and prospective amalgamation processes.
"What councils really want to know is whether the Government intends to change its 'no forced amalgamation' policy if councils aren't willing to merge or if their proposals are rejected.
"Rest assured LGNSW will continue to fight forced amalgamations. We urge councils to respond to the 'Fit for the Future' package and get your proposals in earlier rather than later.
"The challenges we now face include how we, as the elected representatives of NSW communities, address questions of financial sustainability, governance, asset management and service provision.
"The Premier spoke of the need to work together, and that both State and Local Government will be stronger and more effective by working in partnership.
"LGNSW agrees with the Premier that genuine commitment and partnership is required for reform to succeed.
"We can't ignore the impact of cost-shifting from both State and Federal Governments onto the NSW Local Government sector, which is now estimated to be more than $520 million a year.
"Working in partnership implies a reciprocal relationship, I therefore call on the Premier and his Government to honour the Intergovernmental Agreement and include LGNSW in discussions early in the piece, not at the last hour."
The IGA puts emphasis on early consultation and is vital in ensuring that LGNSW can communicate the valid issues raised throughout the review process with the NSW Government.
The NSW Government's Fit for the Future package will continue to be a major focus of the Conference on day two, when the Minister for Local Government, the Hon Paul Toole MP gives and address and participates in a Q&A session with council delegates.