October 23 - 29, 2022: Issue 559
Northern Beaches Eco Awards 2022 Announced
Conserving and protecting our unique natural environment, rescuing native animals, preserving habitat, and campaigning for change, are just some of the valiant efforts recognised by the Northern Beaches Eco Awards 2022.
Dr Judy Lambert, Taylor Springett, Lorraine Woodward, Nigel Howard, Tom Hazell, Marina Barker, Ann Collins and Wendy Orchard have each been acknowledged along with the Alpine Odyssey team, in the 17th Eco Awards ceremony, recognising our local high achievers when it comes to protecting the natural environment.
"With a think global, act local attitude, each of these volunteers represents an ordinary person doing extraordinary things for the conservation of our environment.
"These awards are a great opportunity to stop and recognise community members who have volunteered their time and effort to enhance the region's diverse and valuable natural habitat. We could not be prouder of the people that this award celebrates," Northern Beaches Council, Mayor Michael Regan said.
Across eight categories as diverse as Caring for Bushland, Coast, Native Animals and Waterways, these awards recognise local people volunteering to preserve our natural resources and enhancing sustainability initiatives related to climate change. The final two awards from the evening included a Youth Achievement Award, (16-25yrs) and Lifetime Achievement Award for over 25 years of service to the environment.
2022 Winners: Northern Beaches Eco Awards
Caring for our Bushland. Recognises individuals who are working to conserve and restore Northern Beaches bushland and promote biodiversity of native flora species. Winner: Ann Collins
Ann Collins is passionate about biodiversity and green living space. She has made great efforts to keep a living war memorial intact at Manly War Memorial State Park and has been involved in saving Manly Dam Catchment bushland.
Save Manly Dam Bushland's nomination reads:

As a prominent member of the Save Manly Dam Catchment Committee, Ann has worked tirelessly to protect our local bushland and biodiversity. Through skilled advocacy, education and lobbying she has made sure that the precious natural areas within Manly Warringah War Memorial Park (and adjoining corridors) have a strong voice. Ann has risen to the time consuming challenge of writing a plethora of submissions, endeavouring to keep this important green space and "living" war memorial as intact as possible. Ann spreads the bushland conservation message at Council Meetings and Community forums and builds important bridges between local community groups. The Northern Beaches Council is very lucky to have her within its jurisdiction.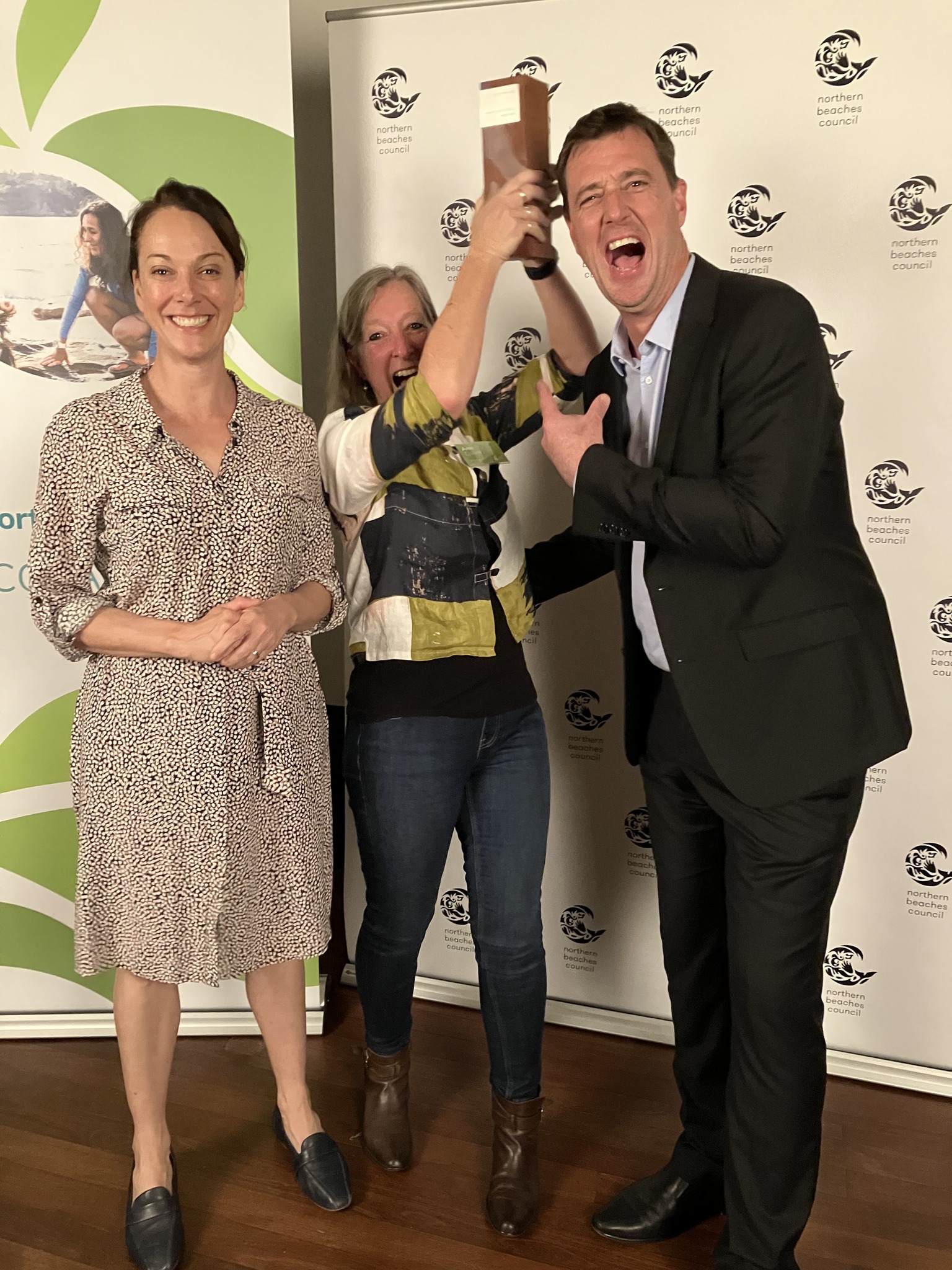 L to R: Dr. Sophie Scamps, MP for Mackellar, Ann Collins, Mayor Michael Regan. Photo: Save Manly Dam Bushland

Caring for our Waterways. Recognises people who are protecting or improving the condition of our receiving waters, riparian areas and aquatic ecosystems including lagoons, creeks and estuaries. Winner: Tom Hazell
Tom Hazell has spent over 15 years establishing the Manly Lagoon Bushcare Group, creating a lush habitat out of bare land and significantly improving the habitat of the lagoon, for wildlife.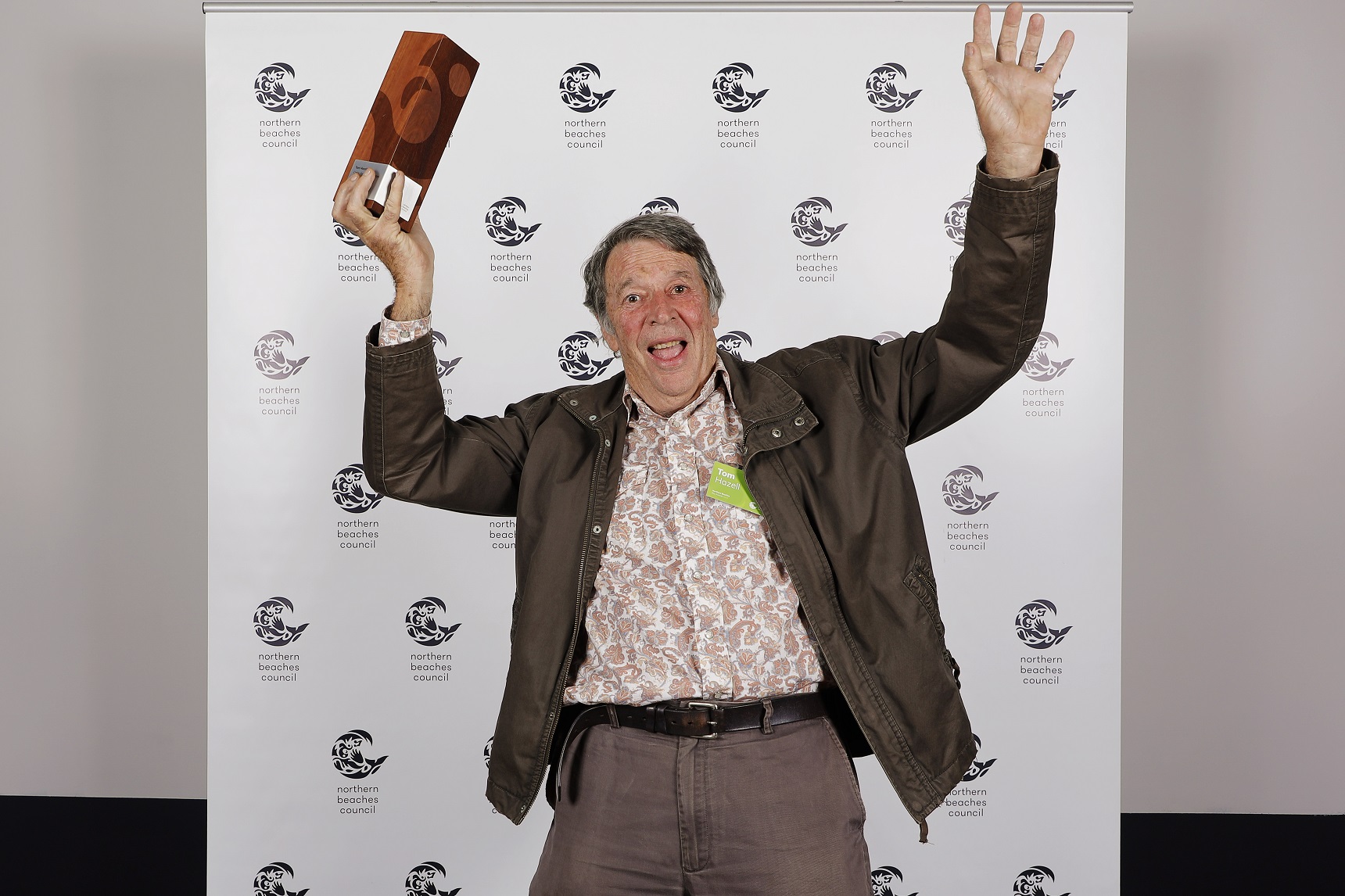 Tom Hazell

Caring for our Coast. Recognises individuals who demonstrate initiative in protecting, restoring and enhancing our marine and coastal ecosystems. Winner: Wendy Orchard
Wendy Orchard has worked since 2006 as a volunteer with Long Reef Aquatic Reserve Fishcare group, helping to protect the diversity of this important ecosystem for Northern Beaches residents and organising the Guided Walks. Her volunteer role as an educator on invertebrates on Long Reef as well recognised as a specialist in migratory birds.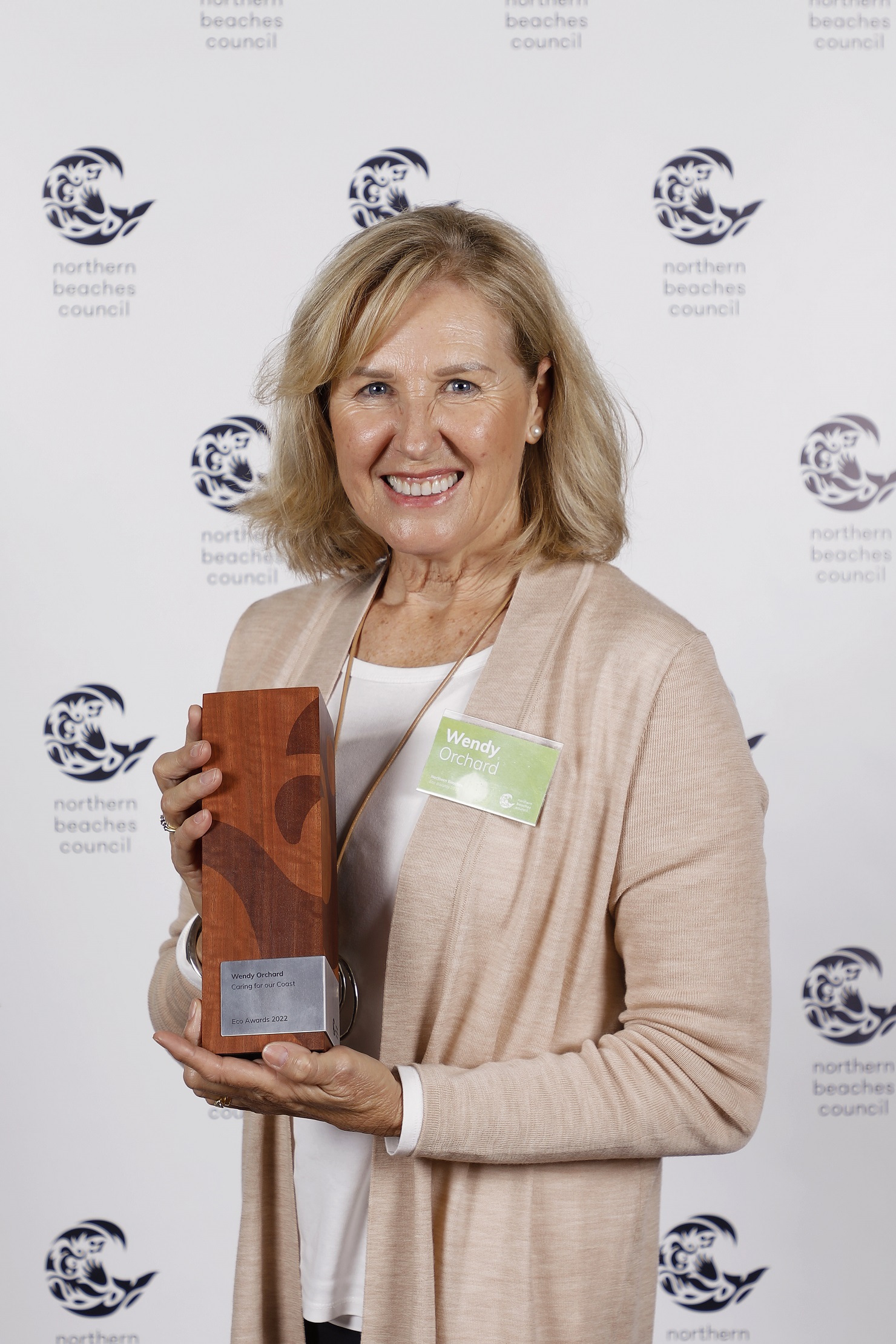 Wendy Orchard

Caring for our Native Animals. Recognises individuals committed to protecting Northern Beaches native animals - marine and terrestrial. Individuals may be providing direct care for wildlife or indirectly, for example improving the ecological condition of key habitats, reducing the impact of pest species, or working to improve our wildlife corridors. Winner: Lorraine Woodward
Lorraine Woodward has been involved with Sydney Wildlife Rescue since 2011. She responds to calls 24/7and has shown unflappable commitment to rescuing and caring for wildlife patients on the Northern Beaches.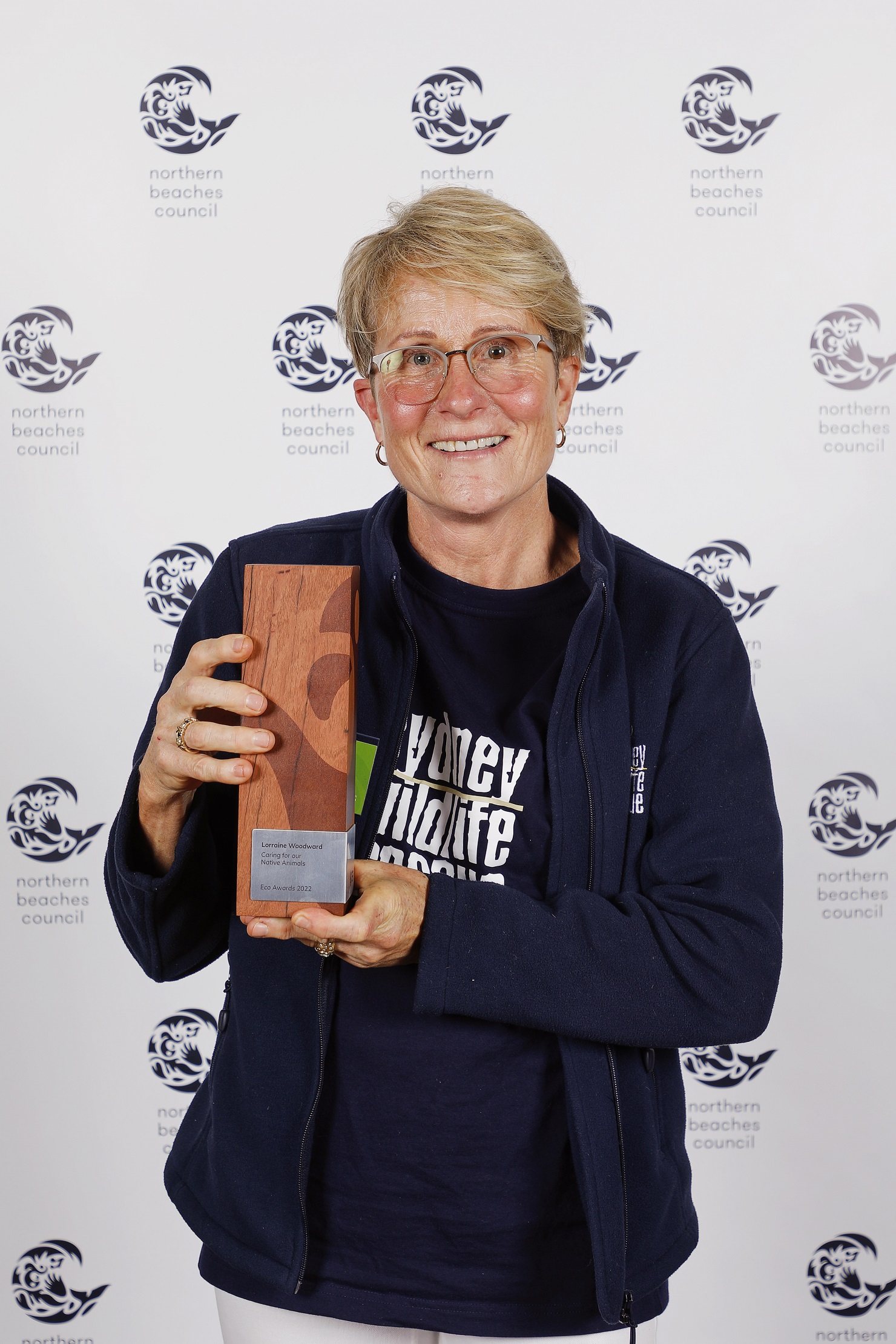 Lorraine Woodward

Special Commendation: Alpine Odyssey, Trekking for Wildlife
Earlier this year six local men trekked 680km over six weeks, through rugged terrain, across three states and raised $20,000 to purchase a Search and Rescue ATV (all- terrain vehicle) for Sydney Wildlife. This vehicle will assist rescuers on the Northern Beaches to reach distressed wildlife in difficult locations, especially after flooding and fires. The Alpine Odyssey group included: Connor Greig, Ben Harris, Yannick Muller, Harry Peters, Alex Burton and Jonty Earp. Visit: Alpine Odyssey - Trekking For Wildlife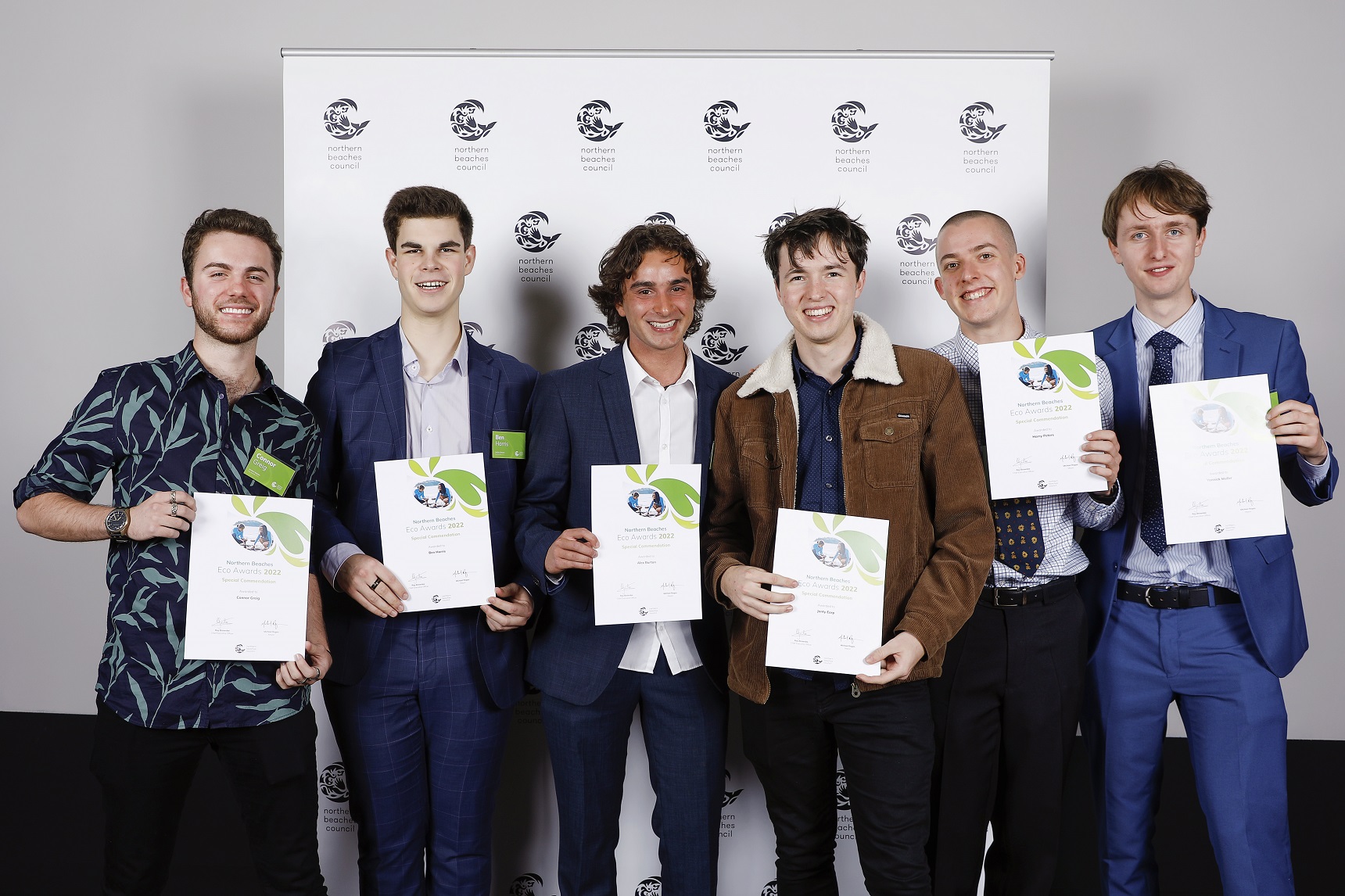 The Alpine Odyssey Trekkers

Sustainable Resources Award. Acknowledges an individual or community organisation whose vision is to rethink how we sustainably manage our resources by reducing waste or re-using, repurposing or recycling used materials, with demonstrable results of diverting a significant amount of waste from landfill or extending the life of used materials. Winner: Marina Barker
Marina Barker is an inspirational figure working to reduce waste with innovative initiatives including Boomerang Bags and Piskie Parties that seek to reduce single use plastic on the Northern Beaches.
Sustainability and Climate Change Award. Acknowledges those who have taken active steps to improve sustainability or respond to climate change, for example by taking part in Council's Charge Ahead program to reduce their carbon emissions or are working to ensure the community is more resilient to the effects of climate change. Winner: Nigel Howard
Nigel Howard is passionate about renewables. As an energetic volunteer member of the Solar Alliance in Brookvale he is actively working to help the LGA transition to solar and by doing so, reach ambitious 2030 targets.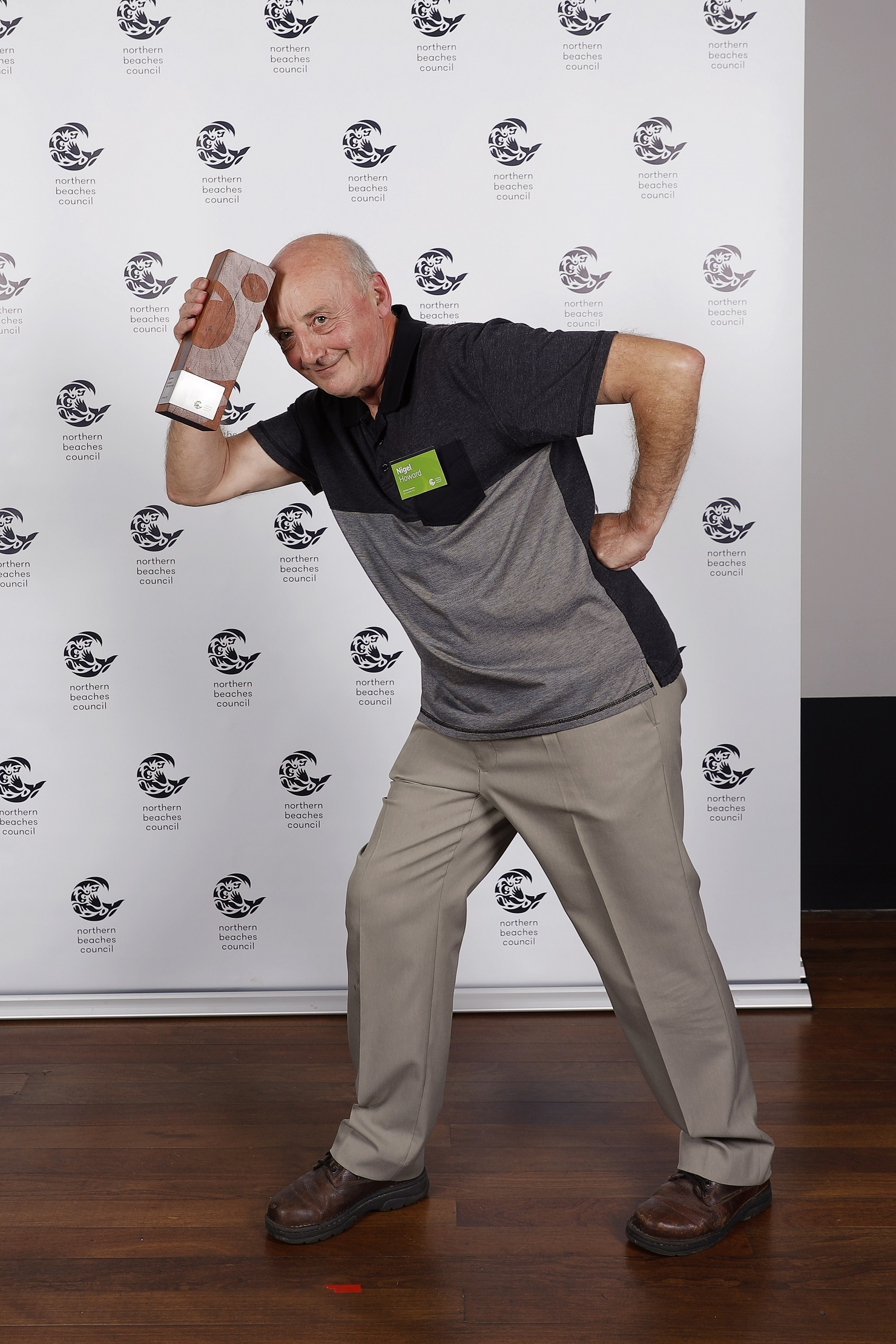 Nigel Howard

Achievement Award - Youth. This award acknowledges a young person between the ages of 16yrs - 25yrs who demonstrate a dynamic approach to increasing awareness and taking action on environmental conservation or resource issues either at school or in the community. Winner: Taylor Springett
Taylor is a tireless devotee of the Manly Penguin Wardens who serve to protect the endangered Little Penguin colony from predators. She is seeking to foster greater public awareness via education to help protect them.
Achievement Award - Lifetime.
This award acknowledges a person who has dedicated more than 25 years of the conservation of our local environment. Dr Judy Lambert has been strongly focused on North Head for becoming a national heritage site. Among many important conservation efforts, Judy is a Founding Member and ongoing member of the Friends of Quarantine Station as well as the Founding President of the North Head Sanctuary Foundation, fondly known as Bandicoot Heaven. Judy was one of the leading advocates for the listing of Cabbage Tree Bay as a No Take Aquatic Reserve and is also a Founding Member of the Friends of Cabbage Tree Bay and continues to volunteer for this group who celebrate 10 years this year.
Dr Lambert's scientific background, combined with her enthusiasm and commitment, makes her a very valuable resource for the community. Always willing to share her knowledge on all matters of conservation and environment, Dr Judy Lambert is highly deserving of this year's Lifetime Achievement Award.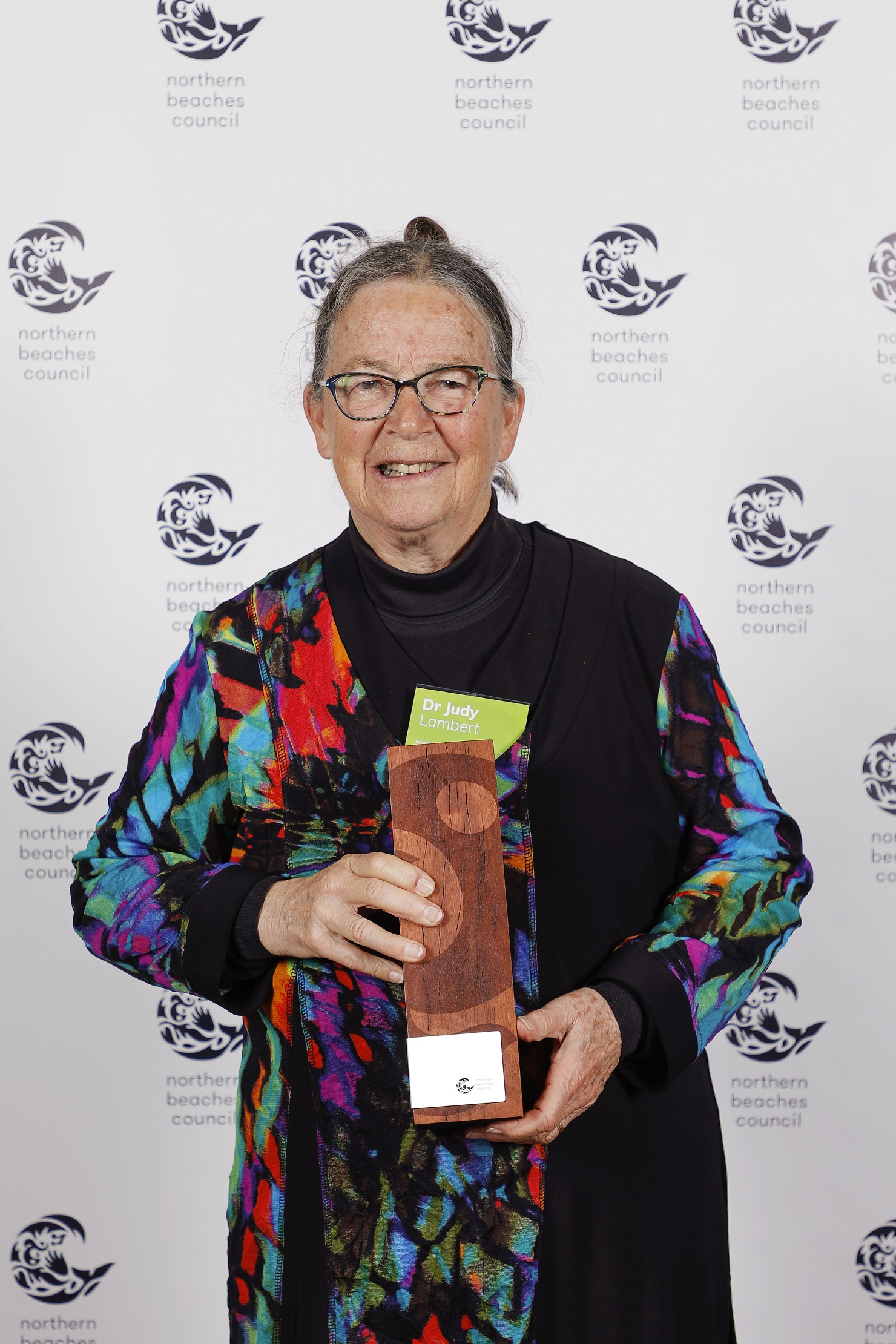 Dr Judy Lambert

Photos: Karen Watson.