November 4 - 10, 2018: Issue 382

Patients Forced To Travel Out Of Area After Mona Vale Hospital Downgraded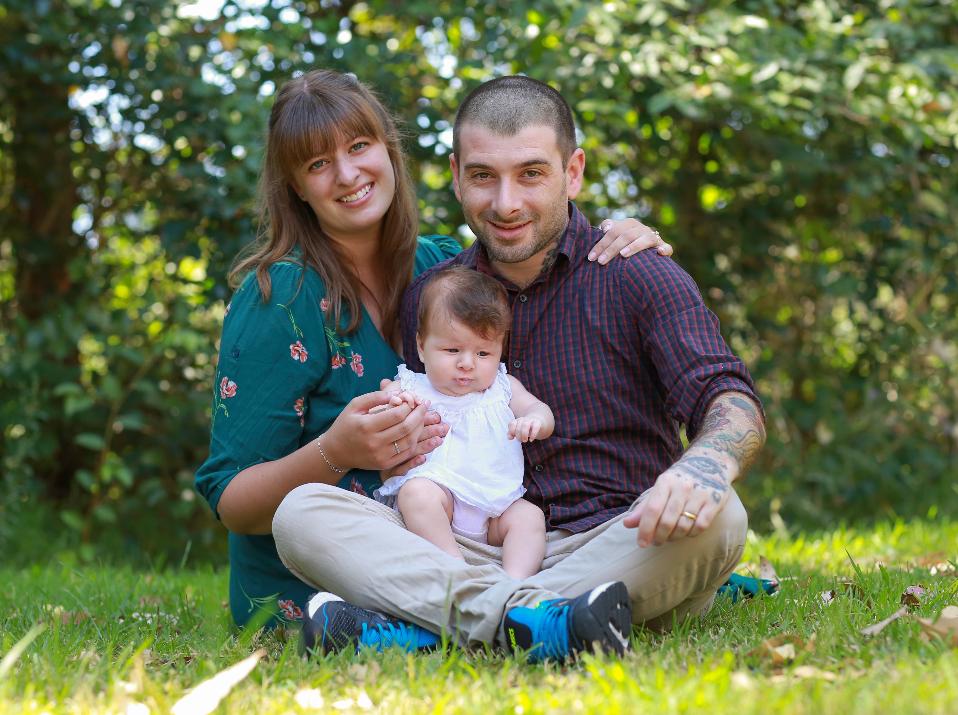 Emma and Hrac Mezoghlian with their 11-month-old daughter.
The new Northern Beaches Hospital had a chaotic opening this week as protesters marked the closure of acute services at Mona Vale Hospital and patients faced problems accessing treatment at the new facility.

Mona Vale Hospital's Emergency Department and Manly Hospital shut their doors on Tuesday when the Northern Beaches Hospital at Frenchs Forest opened. Patients were transferred there on Wednesday when other acute services at Mona Vale closed.
Since then residents have reported long waits, chaotic scenes, problems using private health insurance and exclusion from some treatments for public patients at the hospital since then.
Avalon accountant John Whitehead, 60, says he discovered six weeks ago that he needed to have a mitral valve in his heart replaced and would require a pre-surgery angiogram as part of that procedure.
Mr Whitehead said his cardiologist booked him in a week ago for the angiogram at NBH and he then completed an admission form online that included details about his NIB health insurance policy.
However, last Tuesday Mr Whitehead had received a letter from the hospital, dated October 27, saying the operator Healthscope did not yet have an agreement with NIB and so he could be out of pocket as a result.
Without effective insurance coverage, Mr Whitehead rang the hospital the next day, electing to be admitted as a public patient for the procedure.
On Friday hospital administration contacted him again to inform him the procedure was likely to cost him $4,945.00.
"I was told that Healthscope isn't allowed to provide interventional cardiology services - including angiograms and stenting - all the things that require access via arteries for public patients," Mr Whitehead told Pittwater Online News.
"My cardiologist wasn't even aware of it and he's contracted to the hospital."
Mr Whitehead said he had then spoken by phone to a manager at the hospital who had said NSW Health would not pay the hospital for those operations and procedures on a public patient.
"So in their words, the services provided for public patients in the hospital are a Level 3 and for private, Level 5," he said.
"It's not a question you want to be asking when you get in an ambulance: do you have private health insurance?"
Mr Whitehead said his cardiologist regarded his heart surgery as urgent but the debacle over his angiogram had probably added two weeks to his wait for the operation.
"I have serious mitral valve reflux that my cardiologist wants operated on as soon as possible because its' starting to impact on my heart muscle," he said.
On one Facebook page, Lost Manly and the Northern Beaches, many residents posted angry reactions in support of a post from Mr Whitehead about his experiences.
However, Mackellar MP Jason Falinski defended the hospital saying it was not private.
"What is true is that this government wants the best outcomes for the people of the northern beaches and don't care about ideology just outcomes," Mr Falinski said on Facebook.
"If you want everything run and owned by government there is this country called Venezuela, you can try it out."
Retired Royal Prince Alfred Hospital Professor of Surgery, Richard West, was appalled by Mr Whitehead's experience.
"Public and private patients must all receive the same treatment at the Northern Beaches Hospital," Prof. West told Pittwater Online News.
A response to Mr. Whitehead's experience was sought from NSW Health Minister Brad Hazzard and Healthscope – but was unavailable at time of publication.
One of the first of a number of reports to emerge of problems at the new hospital was in the early hours of Thursday by Hrac Mezoghlian - shortly after he gave up waiting for treatment at NBH and returned home.
Mona Vale council worker Emma Mezoghlian, 27, said her husband, a nursing home recreational activities officer, was suffering intense pain from suspected pancreatitis when his mother took him to the Mona Vale Urgent Care Centre about 7.40pm on Wednesday.
Staff at the unit gave Mr Mezoghlian some pain relief but had been unable to test his blood overnight or do ultrasounds and so directed him to Northern Beaches Hospital.
"I waited four hours at Northern Beaches Hospital and left after being told it would still take another three," Mr Mezoghlian said in his early morning post on the Save Mona Vale Hospital page.
"People were waiting in agony with burns, screaming children etc. Others also walked out untreated because they just couldn't wait any longer so went home or to RNS (Royal North Shore Hospital)."
Ms Mezoghlian, who had joined a recent Save Mona Vale Hospital picnic and rally with her family, said they had been "shocked to be the crash-test dummies" at NBH.
"I think we knew it would be a private business but it comes back to the issue that we were worried about - people having to triage themselves," Ms Mezoghlian said.
"We even said last night: 'At least we know now what to do: just go to North Shore Hospital.' We won't bother with Northern Beaches Hospital again."
Ms Mezoghlian called for the state government to reopen acute services at Mona Vale saying: "I think they're going to have blood on their hands."
Save Mona Vale Hospital Chairman Parry Thomas said Pittwater MP Rob Stokes should come up with a plan and start renovations on Mona Vale Hospital acute services before the state election in March.
"The chaos at the new hospital highlights the need to reopen emergency and acute services at Mona Vale Hospital," Mr Thomas told Pittwater Online News.
The community always believed that Mr Stokes' election promises about saving the hospital included all acute services and retention of a genuine emergency department, the SMVH chairman said.
"He's recently come out strongly in support of a proper emergency department but that means, of course, that he's also supporting the reopening of the hospital's acute services because you can't have an emergency department without them," Mr Thomas said.
"His statement has certainly raised the community's expectations that he's going to act not just talk.
"Our campaigning will get louder and stronger the longer it takes the government to move forward with a plan to reopen and action to renovate acute services in the lead up to the state election."
The group, including the first baby to be born at Mona Vale Hospital, Chelsey Baker, held a silent protest at Mona Vale Hospital on Wednesday.
The demonstration against the closure of emergency, surgery, intensive care, maternity and other acute services aimed not to disturb patients being transferred but attracted a chorus of car horns honking support when it moved to Pittwater Road.
However, the gathering also honoured the dedication and service to the community of doctors, nurses, other staff and volunteers since the hospital opened in 1964, Mr Thomas said.
Another rally to protect public maternity services will be held outside Northern Beaches Hospital, on the Warringah Road side from 10.30 to 11.30am today, hosted by Friends of Northern Beaches Maternity Services.
Midwifery Professor Hannah Dahlen, from Western Sydney University will join the rally and address the crowds about the problems with privately-run maternity services.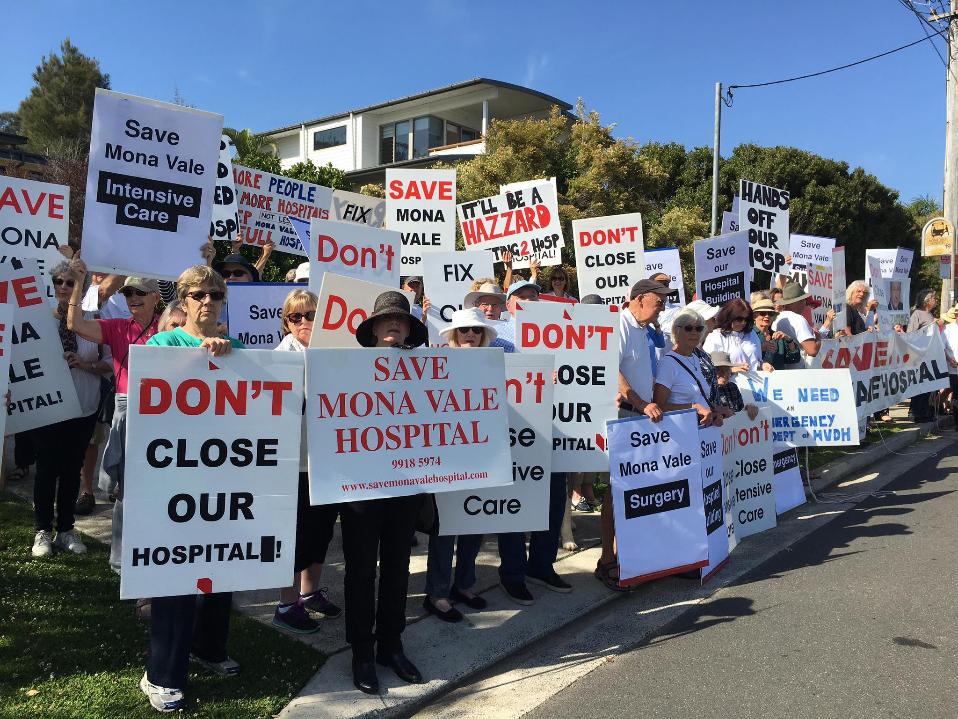 Palm Beach Sailing Club Honours World And Olympic Champion Members At 2018 'Come Have Some Fun' Open Day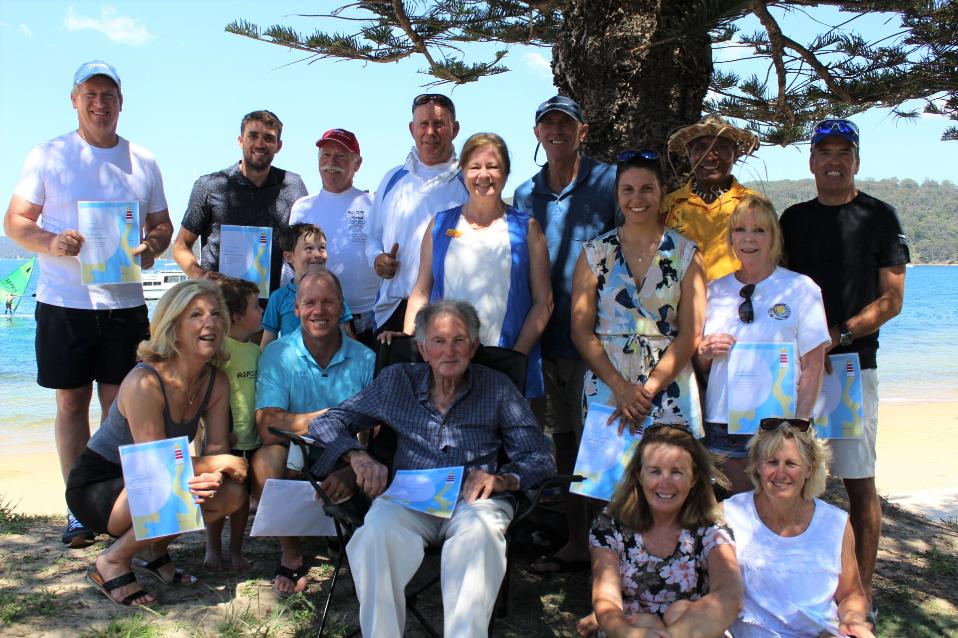 PBSC held their 2018 Open Day yesterday, Saturday November 3rd. As part of the 'get on the water' celebrations they launched the first phase of a program past Commodore Anthony Duchatel has been working on for the past four years – the recognition of members of the club who have excelled in the sport of sailing. Palm Beach Sailing Club is rich in a family focused ethos and enjoying the great sport of sailing. This, in turn, has produced a plethora of some of Australia's great sailors, among them World Champions and Olympic medallists.

The PBSC Members received a certificate and a life-long Honorary Membership of the club. In the future the club will be installing a plaque with their names at the PBSC Clubhouse.
Those honoured are a long list of sailors who have won multiple events, including many World Championships on the way to becoming Olympians and multi winners among the World Champions too. They include:
Olympics:
David Forbes OAM - gold in Munich in 1972 Olympics in Star class,

Chris Cairnes - bronze in 1984 in Los Angeles in Tornado class

Mitch Booth – bronze in Barcelona in 1992 (with John Forbes) and silver in 1996 in Savannah

John Forbes - bronze in 1992 in Barcelona in Tornado

John Forbes - silver in Sydney 2000 in Tornado

Jason Waterhouse and Lisa Darmanin - silver in Rio in 2016
World Titles:
Rod and Kerry Waterhouse

Peter Martin

Martin Cross

Anthony Duchatel and Evelyn Harves

Don Wood

Ian Bashford

David Forbes

Chris Cairns

Mitch Booth

John Forbes

Jason Waterhouse

Lisa Darmanin

Susan Miller-Duchatel
Ali and Kerli Corlett
Additionally, Members recognised the outstanding contributions of PBSC Member Upu Kila who was awarded an M.B.E for services to sailing in Papua New Guinea earlier this year. Upu will be presented with his M.B.E. by the Governor General of New Guinea on November 29th.
Pittwater Online News will be running a Profile on this champion after his presentation.
November is set to be a busy month for the club. In addition to the Open Day run, over the weekend of November 17-18th the club hosts the 2018 instalment of their annual Beware the Bullets Regatta. This will be the 53rd consecutive running of the annual regatta.
Classes/brands of boats attending: Hobie Cat 16, Hobie Cat 18, Taipan, Formula 18, A Class, Wetta. This year the regatta also incorporates the NSW State Titles for the Taipan Catamaran Class.
Bilgola SLSC Hosts Round 1 Of The 2018-2019 SLS SNB Surf Boats Premiership
You know you're on the verge of Summer when the Surf Life Saving Sydney Northern Beaches surf-boat premiership begins.
Bilgola SLSC hosted Round 1 in pristine conditions that were a little dumpy towards the shore as the tide lessened but provided smooth clean glorious waves for the run back in. A Brilliant Billy Day - and perfect for new crews having their first carnival!
In other Bilgola SLSC news the Surf Life Saving Foundation announced, officially, on November 2 that Bilgola's President Romilly Madew has been elected to the SLSF Board;
It is with great pleasure we announce the appointment of Romilly Madew to the Surf Life Saving Foundation Board.
Ms Madew is one of Australia's most cutting-edge female leaders, as well as President and Patrol Captain of Bilgola Beach Surf Life Saving Club.
The Green Building Council of Australia's CEO has a tremendous amount of innovative corporate expertise to share with the cause that's incredibly close to her heart.
We are very excited to welcome Ms Madew to our Board and we are looking forward to learning from her extensive experience and insights.
Her deep understanding and personal connection to our frontline lifesaving services will also be of enormous benefit, helping the Foundation team and our amazing donors and supporters get closer to the work our volunteers do every day.
Read more about the appointment of Ms Madew and her accomplishments here
Congratulations Romilly - wonderful news!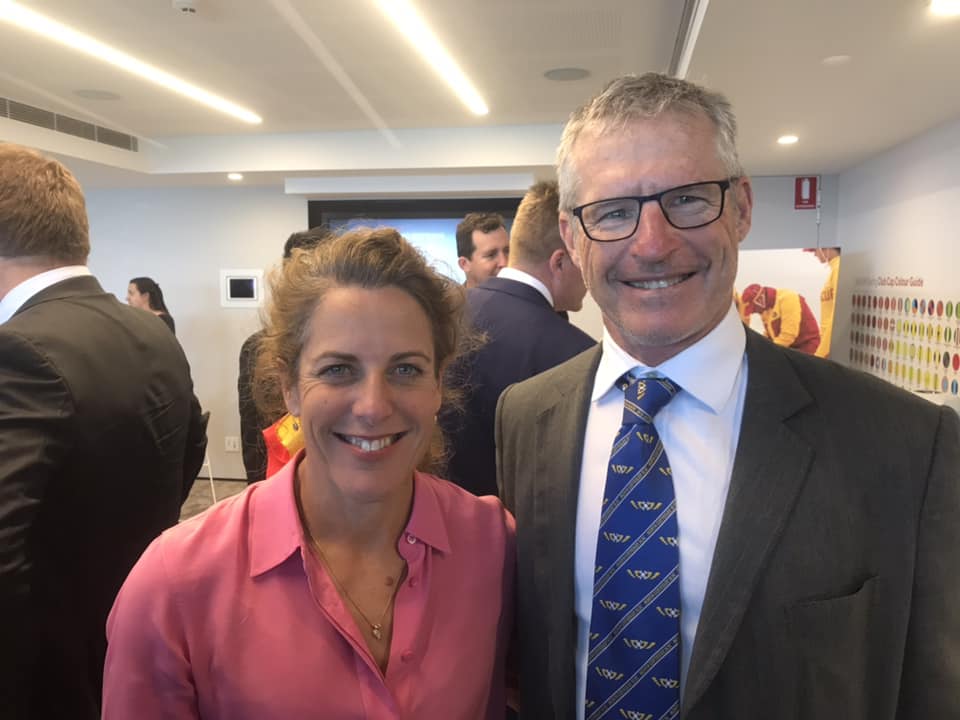 Romilly Madew with Craig Smith-Gander, President of SLSWA at the October 26th, 2018 SLSA AGM

Coming up at Bilgola is their Ocean Swim.
The Blackmore's Billy Swim is Part of the Pittwater Ocean Swim Series - The Highlight of The Ocean Swimming Season in the Northern Beaches.
Thanks goes to the NSW State Government for their support of the Pittwater Ocean Swim Series. The first swim in the series is at Newport on Sunday, 6 January, Bilgola on Sunday 13 followed on 20 January at Mona Vale and the Big Swim (Palm Beach to Whale Beach) on Sunday 27 January. Avalon have changed their swim date to Sunday 14 April.
Each surf club has a range of swim courses and prizes to make the Series the highlight of the ocean swimming season. The Billy Swim includes a 500M and 1500M on this picturesque beach. More on the Pittwater Ocean Swim Series soon.
Round 2 of the 2018-2019 SLS SNB Boat Premiership will be hosted by Newport Surf Club on Saturday November 17th. Well worth getting along and seeing if you're thinking about a visit to another great local surf life saving club and beach.
Round 3 will be at Freshwater November 24th, Round 4 at Long Reef on December 1st, the same day the Australian Selection Event is taking place at Lorne.
The Ocean Thunder Series commences the following weekend, December 8th, at Dee Why and comes back to the same beach after the New Year's break on January 12th.
Results from Round 1 of the Surf Life Saving Sydney Northern Beaches 2018-2019 Premiership and more
Brilliant photos by Bill Sheridan and Rowan Jacob run
HERE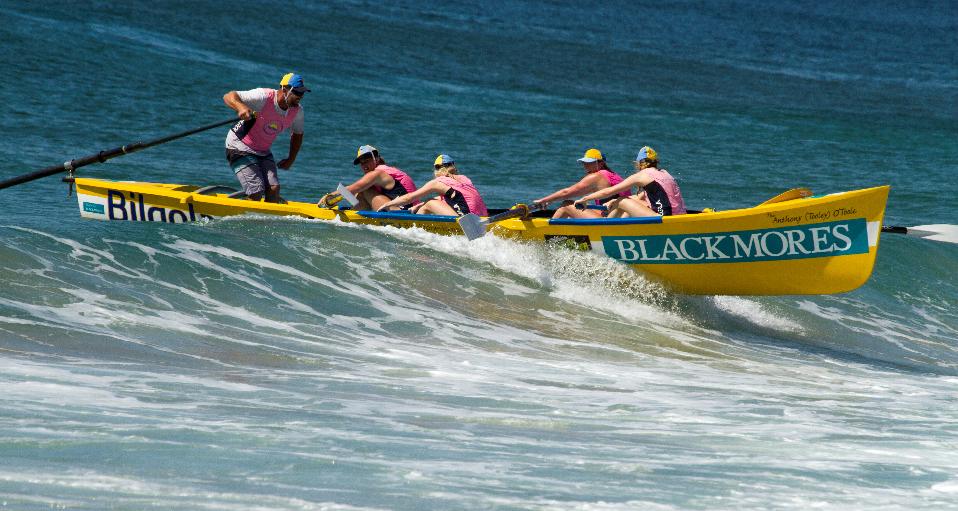 Sydney Wildlife Totally Wild 2018 Fundraiser Mobile Clinic Goal Reached!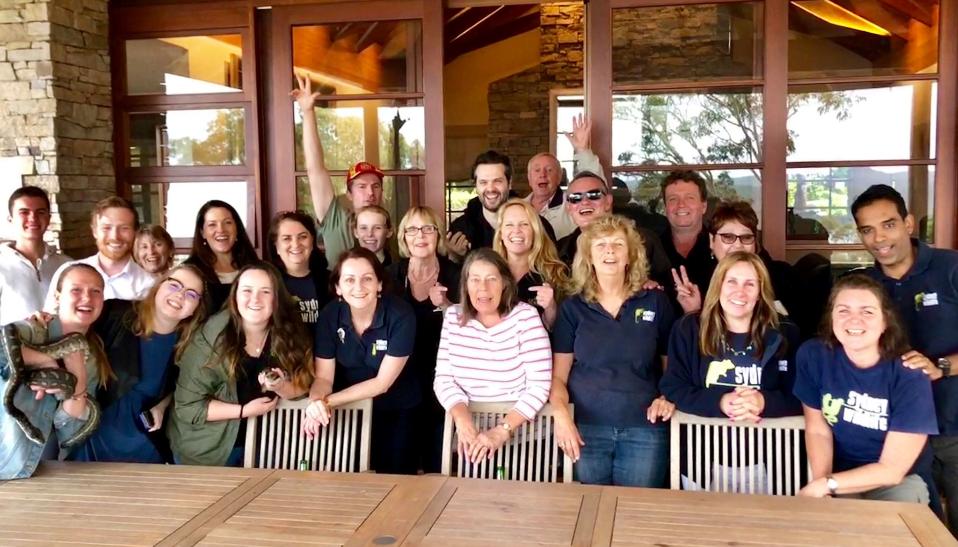 Following a particularly bad trauma season in 2016 (bushfires, heat-stress events, drought) Joan Reid - one of our most dedicated Sydney Wildlife volunteers - was determined to devise a plan to provide immediate treatment for our injured wildlife. In one of the bushfire-affected areas, she noted that rescuers were filtering in and collecting as many victims as possible and then having to drive them long distances to veterinarians who were prepared to see them. Many of these animals would have benefited from immediate onsite veterinary treatment. And so, the idea of a mobile clinic began to form in Joan's mind.
Knowing that it would be a huge pioneering project, Joan enlisted some help. I joined the ranks and my daughter, Kayleigh, asked if she could get involved. We decided her cute face might just help in raising much-needed funds for the project!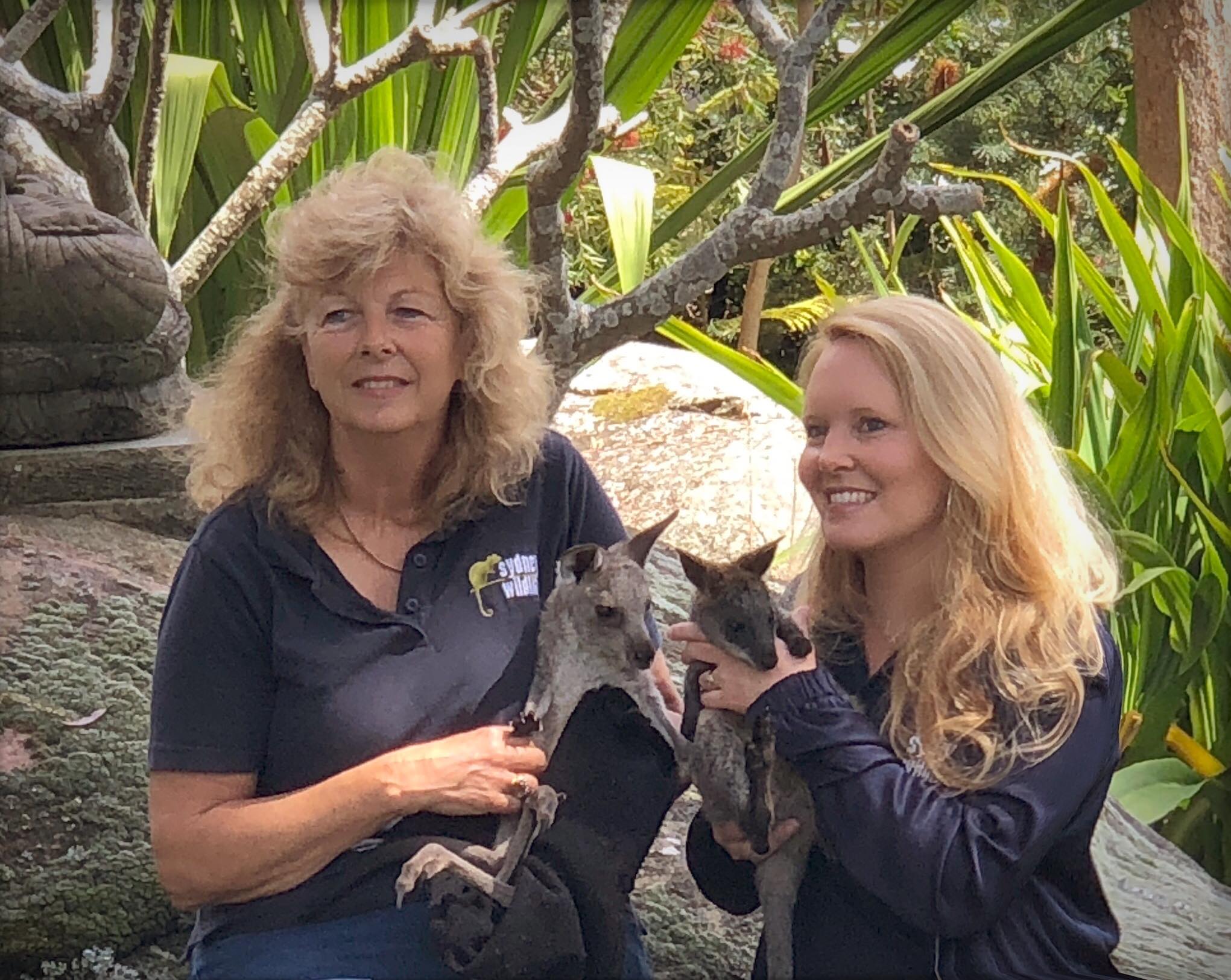 Joan Reid and Lynleigh Grieg - photo by Kayleigh

We did some costings and calculated that we would need at least $200,000 to buy a second-hand van, gut and re-fit it with veterinary equipment and then stock up on supplies required for treating wildlife.
We had meetings with many of our local politicians, applied for Government Grants and approached companies for sponsorship. We started up a Go Fund Me page and a Mobile Wildlife Clinic Facebook page to start getting the word out about our goal.
Our first-ever fundraiser was held at the beautiful home of Sue and Peter Glasson in Bayview. We raised $26K! Our second major fundraiser was held a year later at the Cardinal's Palace up on the hill in Manly. With the help of Lisa Oldfield (television celebrity, businesswoman and author), Laurie Sword (our graphic designer extraordinaire) and Ali Watlington (wildlife rescuer and seasoned fundraising champ) on the committee, we raised a further $50K!
Between major fundraisers we were lucky enough to receive some sizeable donations from the amazing Harris family, the wonderful Scott and Andra of Future Vet Kids Camp, the indefatigable Bob Irwin and magnanimous megaentrepreneurs, Dick and Pip Smith. These donations, teamed with a few extra mini-fundraisers (Santa Paws photos by Pampaw'd Pets; Mona Vale Veterinary Hospital's Open Day, Pittwater High's Green Day and Pittwater Doggies to name a few) and radio support from Wendy Harmer from the ABC ensured that we were sitting on a grand total of $162,000 by the time our final fundraiser rolled around.
The Go Wild Garden Party was set to be our goal-breaker. It was held, once again, in the Glassons' glorious gardens in Bayview.
Well it was a roaring success! And, guess what…?
We reached our $200K target!!! So now we can go shopping for a van!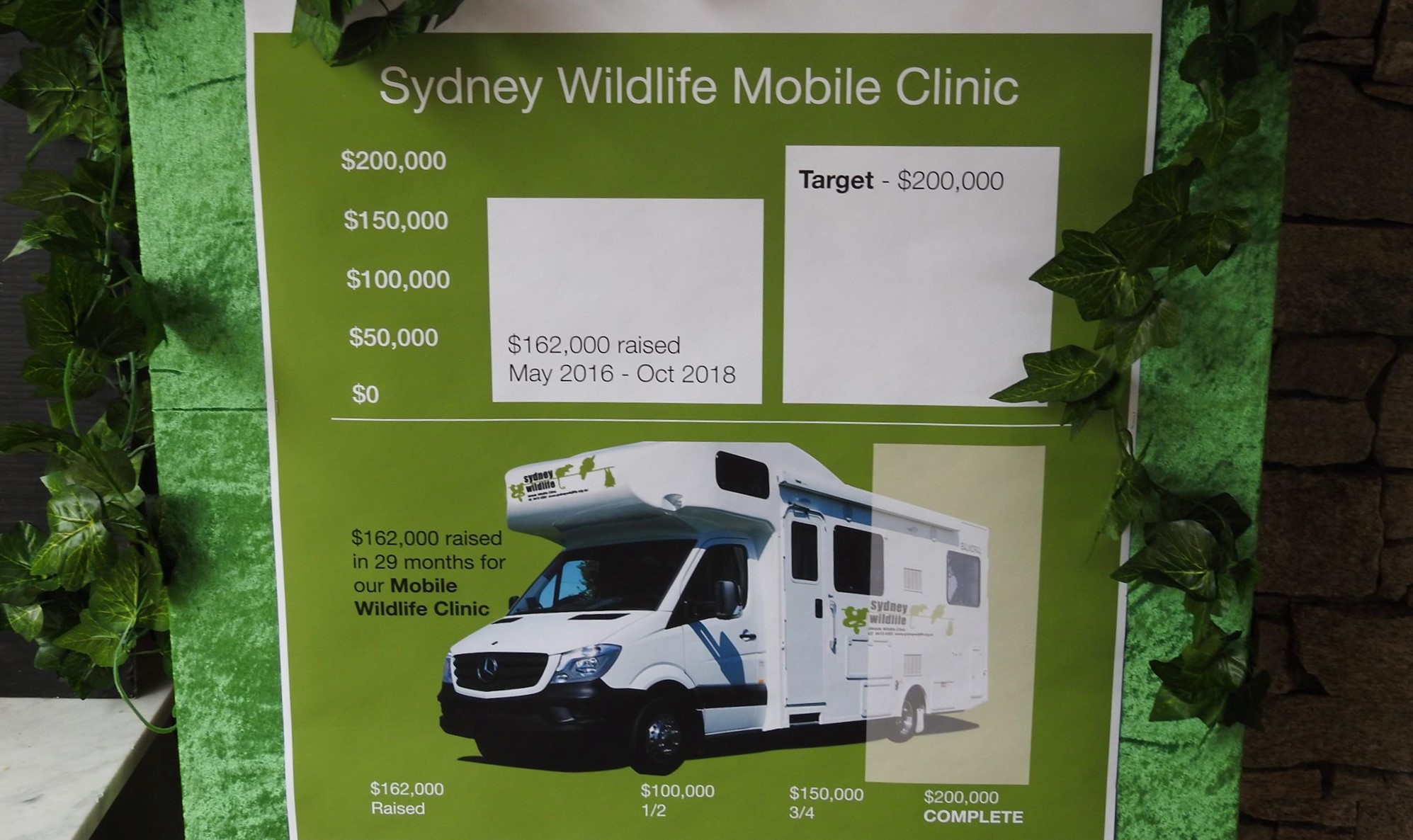 Without the help of our wonderful hosts - Sue and Peter Glasson - this fantastic Go Wild Garden Party could never have happened. We had the best team of helpers and the most incredible and generous guests!!!
Northern Beaches Council's Nice Little Earner
Hundreds of people are being booked at Mona Vale because of RMS incompetence and NBC laziness. They know about this but do nothing .... except continue to fine you. It's probable that more than $20,000 has been ripped out of unsuspecting punters' wallets because of this. Anyone for a GIPA to find out:
1. How many have been booked at $187 a pop and paid up?
2. How often has Northern Beaches Council been notified of the problem with the lines and the signs – and failed to act?
3. Why does the State Debt Recovery Office – the enforcer – autocratically refuse to acknowledge this incompetently marked pavement and poorly positioned signage?
If you've been booked and you've not yet paid the fine consider an appeal in writing. And if they refuse you perhaps consider defending the matter in court as I successfully did.
If you've already coughed up could you appeal for a refund? After all, if it's good enough for the banks why not State Revenue and the NBC?
This is not legal advice. This video is offered in good faith without prejudice.
RMS PAVEMENT MARKING: https://www.rms.nsw.gov.au/business-i...
RMS SPECIFICATION R145: http://www.rms.nsw.gov.au/business-in...
Report and video by John Illingsworth - Pittwater Pathways
Pittwater Mens Probus Club - Visit To The 2018 Temora Warbirds Airshow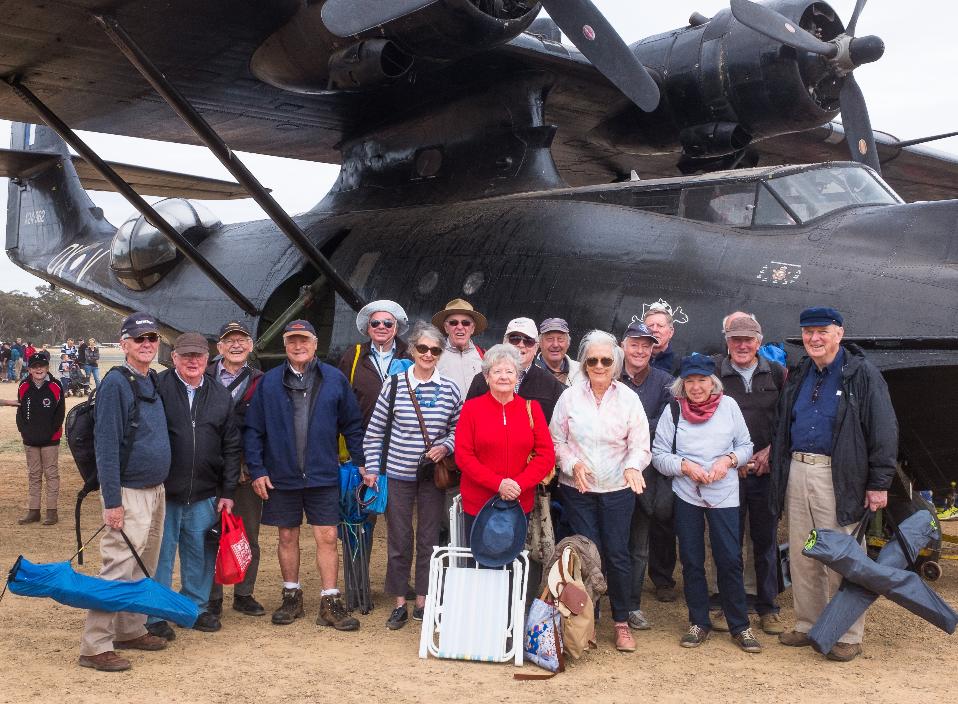 Club members at Temora with a Catalina - photo by Michael Mannington
Members of the Pittwater Mens Probus Club recently visited the Temora Warbirds airshow at Temora, NSW. his show is the largest gathering of Warbird aircraft in Australia.
A local highlight of the show was the Cessna Dragonfly flown by Darren Crabb, Vice President of the Pittwater RSL Sub Branch. Darren was also the 'Air Boss' controlling the air movements during the show.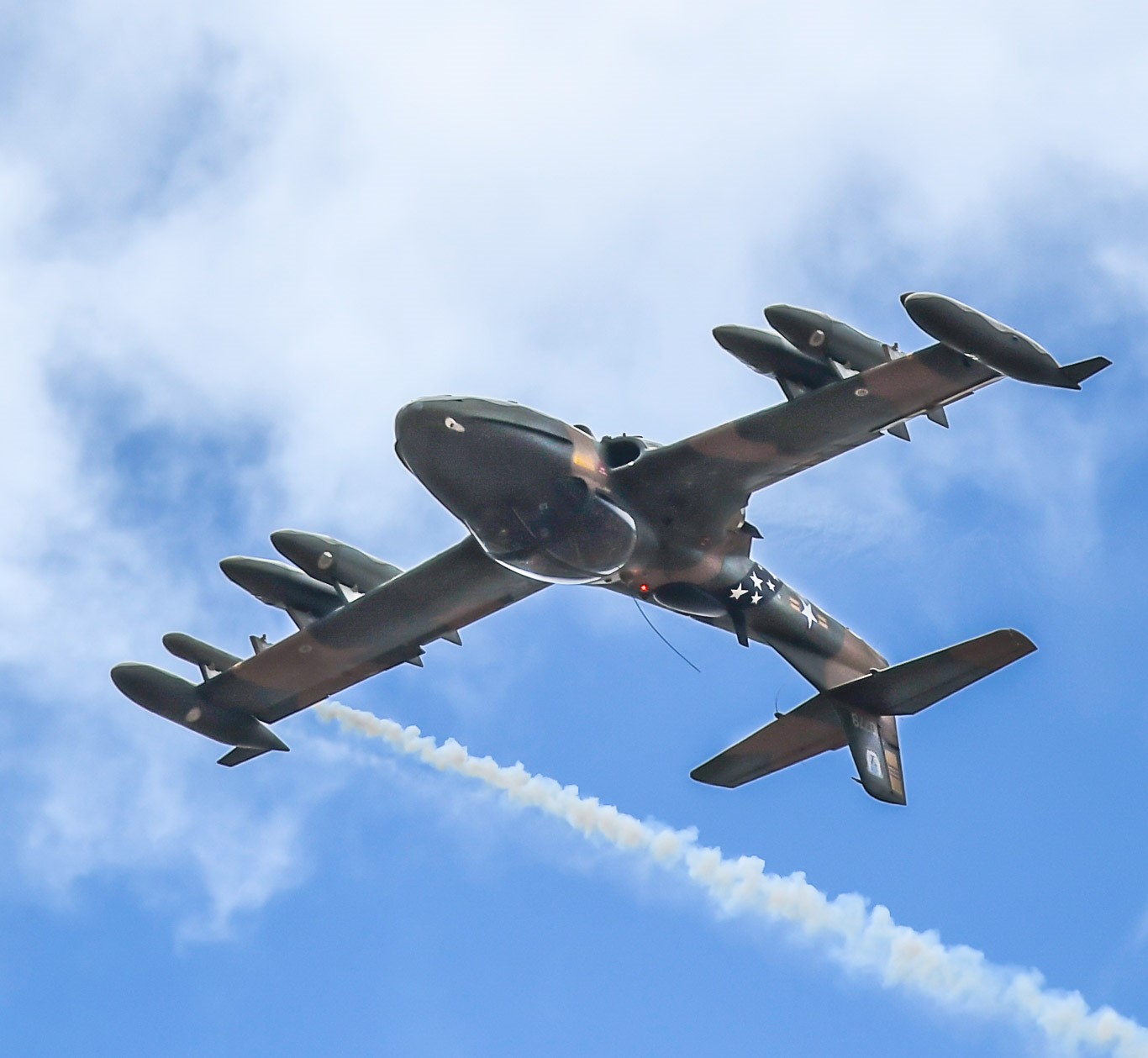 Cessna Dragonfly. Pilot Darren Crabb - Vice President Pittwater RSL Sub-branch

This biannual show features military aircraft from the beginning of Australian military aircraft to the recent FA-18 Hornets.
Report by Ron Seldon and more spectacular photographs by Michael Mannington HERE
Living Ocean Join AUSMAP Program: Call For Volunteers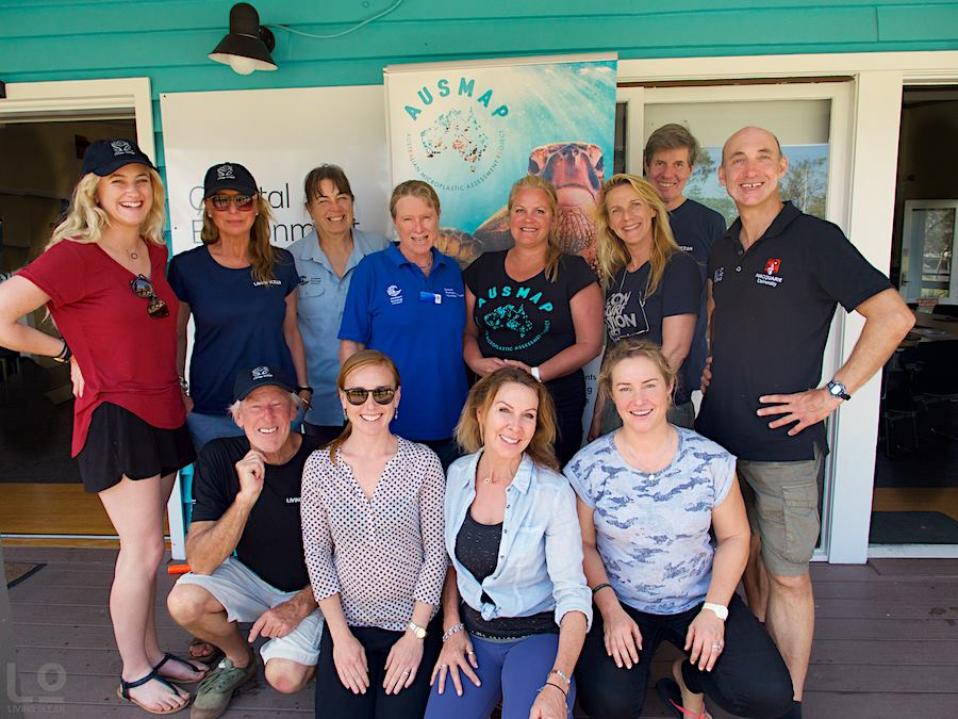 Living Ocean's No Plastic Please team attended a workshop to be accredited as team leaders for the AUSMAP program. Sensational work group with many attendants including Humane Society International Australia & Surfrider Foundation Northern Beaches.
Thanks to the brilliant dedication of Michelle Lemon Blewitt & Scott Wilson and Total Environment Centre for developing the program.
Please contact us
here at Living Ocean
if you would like to be part of our new 'citizen science' program for the northern beaches.
This will target certain areas for Pittwater/Broken Bay/Brisbane Waters and the ocean beaches.
We will be studying and monitoring certain beach and bay locations in these locations for micro plastics and the data will be peer valid for study as part of a global web to understand and control plastics in our marine environment.
This is great 'stuff' and huge move forward. Its fun, rewarding and empowering.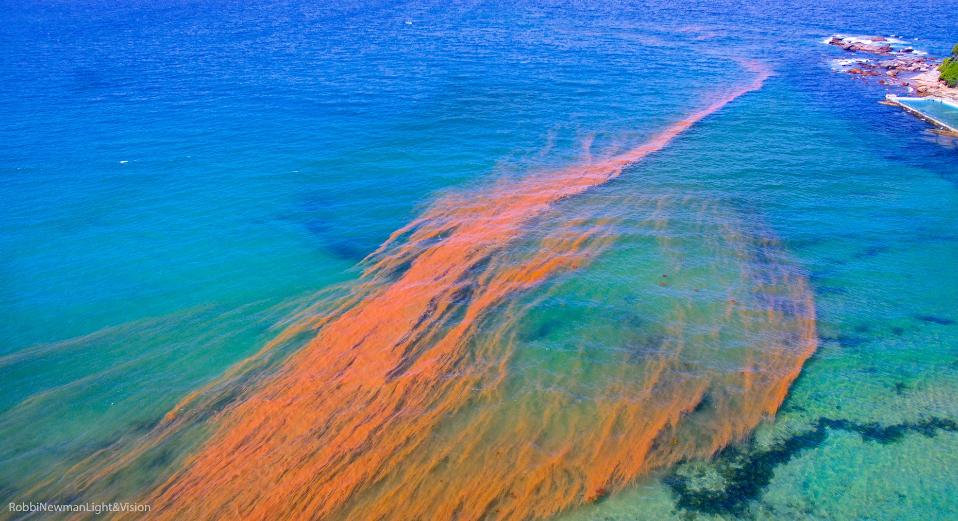 Palm Beach had a 'red tide' this week. Photo by Robbi Luscombe-Newman; 'This just shows the scope of the bloom out to the 'jump' rock at S.Palm Beach' - Robbi
Red tides contain dense concentrations of organisms and appear as discoloured water, often reddish-brown in colour. It is a natural phenomenon, but the exact cause or combination of factors that result in a red tide outbreak are not necessarily known. However, three key factors are thought to play an important role in a bloom - salinity, temperature, and wind.
A "red tide" is a common term used for a harmful algal bloom, algae that produce toxins that kill fish and make shellfish dangerous to eat.

Past Features Archives (pre 2014)
Pittwater Online News was selected for preservation by the State Library of New South Wales and National Library of Australia. This title is scheduled to be re-archived regularly.
Archived Issues (2014 on) may be accessed here: pandora.nla.gov.au/tep/143700