November 4 - 10, 2018: Issue 382
Palm Beach Sailing Club Honours World and Olympic Champion Members at 2018 'come have some fun' Open Day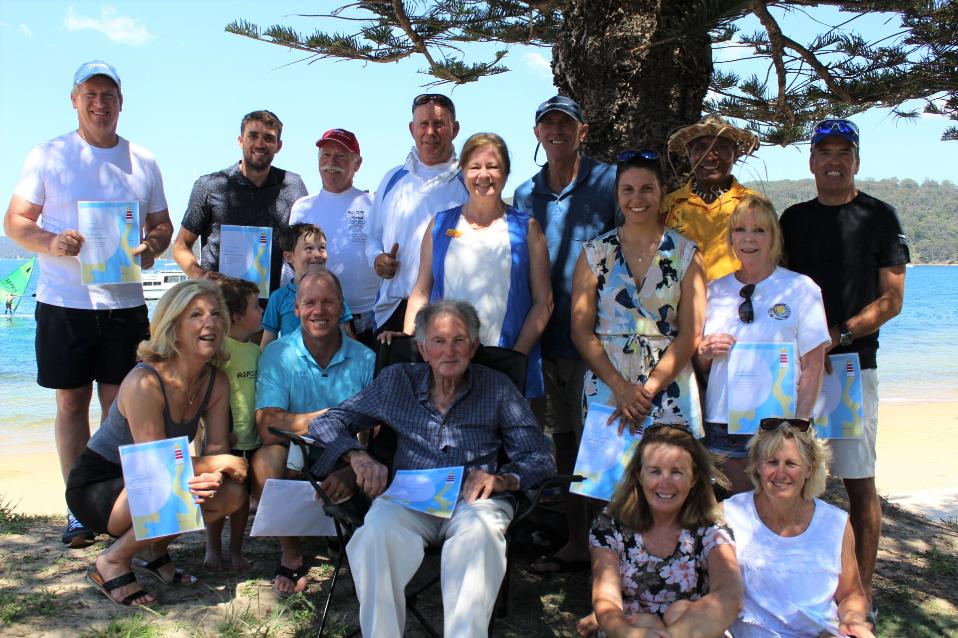 PBSC held their 2018 Open Day yesterday, Saturday November 3rd. As part of the 'get on the water' celebrations they launched the first phase of a program past Commodore Anthony Duchatel has been working on for the past four years – the recognition of members of the club who have excelled in the sport of sailing. Palm Beach Sailing Club is rich in a family focused ethos and enjoying the great sport of sailing. This, in turn, has produced a plethora of some of Australia's great sailors, among them World Champions and Olympic medallists.

The PBSC Members received a certificate and a life-long Honorary Membership of the club. In the future the club will be installing a plaque with their names at the PBSC Clubhouse.
Those honoured are a long list of sailors who have won multiple events, including many World Championships on the way to becoming Olympians and multi winners among the World Champions too. They include:
Olympics:
David Forbes OAM - gold in Munich in 1972 Olympics in Star class

Chris Cairnes - bronze in 1984 in Los Angeles in Tornado

Mitch Booth – bronze in Barcelona in 1992 (with John Forbes) and silver in 1996 in Savannah

John Forbes - bronze in 1992 in Barcelona in Tornado

John Forbes - silver in Sydney 2000 in Tornado

Jason Waterhouse and Lisa Darmanin - silver in Rio in 2016 in Nacra17
World Titles:
Rod and Kerry Waterhouse

Peter Martin

Martin Cross

Anthony Duchatel and Evelyn Harves

Don Wood

Ian Bashford

David Forbes

Chris Cairns

Mitch Booth

John Forbes

Jason Waterhouse

Lisa Darmanin

Susan Miller-Duchatel
Ali and Kerli Corlett
Additionally, Members recognised the outstanding contributions of PBSC Member Upu Kila who was awarded an M.B.E for services to sailing in Papua New Guinea earlier this year. Upu will be presented with his M.B.E. by the Governor General of New Guinea on November 29th.
Pittwater Online News will be running a Profile on this champion after his presentation.
The ceremony, in the PBSC usual informal way, was held under a shady Norfolk Pine on Sand Point beach, the place this "off the beach multihull" go sailing from on Pittwater. Deputy Mayor Sue Heins was on hand to congratulate the Members.
Palm Beach Sailing Club began as the Palm Beach Catamaran Club in 1949. They mostly sailed from the southern end of Sandy Beach on Pittwater. PCC was strictly for catamarans, of all types and was the breeding ground for State, National, World and Olympic champions. In 1999 the Palm Beach Sailing Club merged with the Pittwater Catamaran Club.
The Palm Beach Sailing Club's Annual Open Day gives visitors the chance to visit the club and have a sail on a catamaran.
Visitors were also able to try out the latest kayaks, SUP's and surfboards from The Life Aquatic in Mona Vale.
On the day members were on the beach with their boats rigged and ready to take visitors out for a spin on beautiful Pittwater.
"Just bring your swimmers and your sense of fun."current PBSC Commodore Richard Lacey said earlier this week.
"We want everyone to come down and give it a try. The club has a policy to encourage sailors at all levels, from young beginner sailors to Grand Masters. Come out on beautiful Pittwater and enjoy sailing in a friendly and supportive atmosphere.
There was a BBQ at the clubhouse afterwards with great food.
Over the weekend of November 17-18th the club hosts the 2018 instalment of their annual Beware the Bullets Regatta. This will be the 53rd consecutive running of the annual regatta.
Classes/brands of boats attending: Hobie Cat 16, Hobie Cat 18, Taipan, Formula 18, A Class, Wetta.
This year the regatta also incorporates the NSW State Titles for the Taipan Catamaran Class.
What Does 'Beware The Bullets' mean?
The sailing course area near Barrenjoey Headland and the sand spit connecting it to the mainland allows the traditional nor-east seabreeze to blow over the sand spit, but also bend around the headland. At times there are freak gusts that bounce down onto the water in short bursts that can catch the sailors by surprise. These unexpected gusts are called Bullets. When sailing close to Barrenjoey Headland you therefore need to be careful or beware of the bullets. Every year we see catamarans flying a hull very high as a result of the bullets and, if you are not careful and react swiftly, the bullets can make the boat capsize and you will lose your position in the race. You've been warned! Beware the Bullets.
Beware the Bullets Regatta 2018 NOR and Online Registration at: pbsc.org.au/Bullets
Photos from the World and Olympic Champions Presentations run below. An album has been published HERE for family to download their own images. High res. copies can be provided on request - please email us and let us know the image number/s.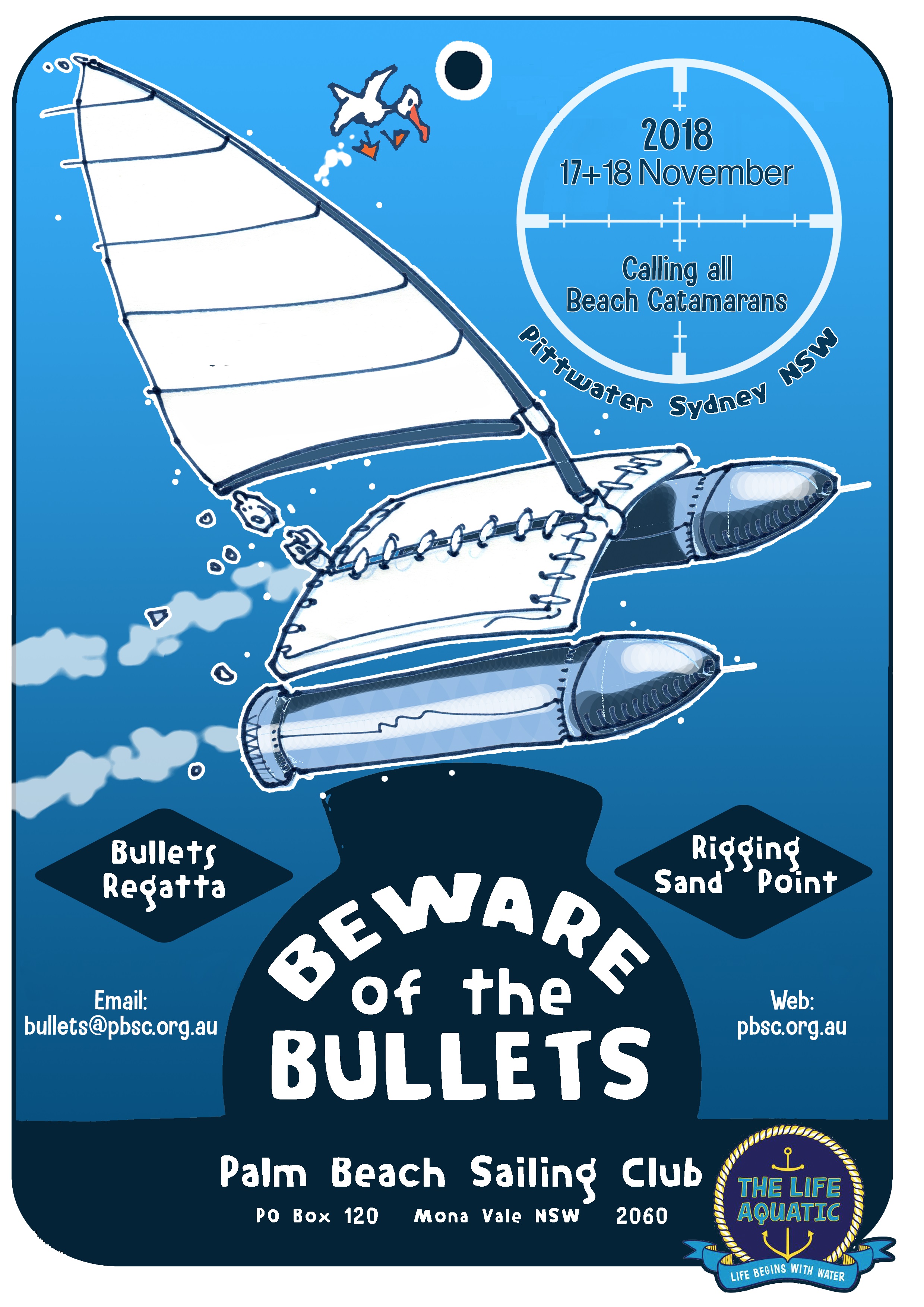 John Forbes, Olympian and World Champion - Pittwater Online News is running John as Profile of the Week in Issue 383!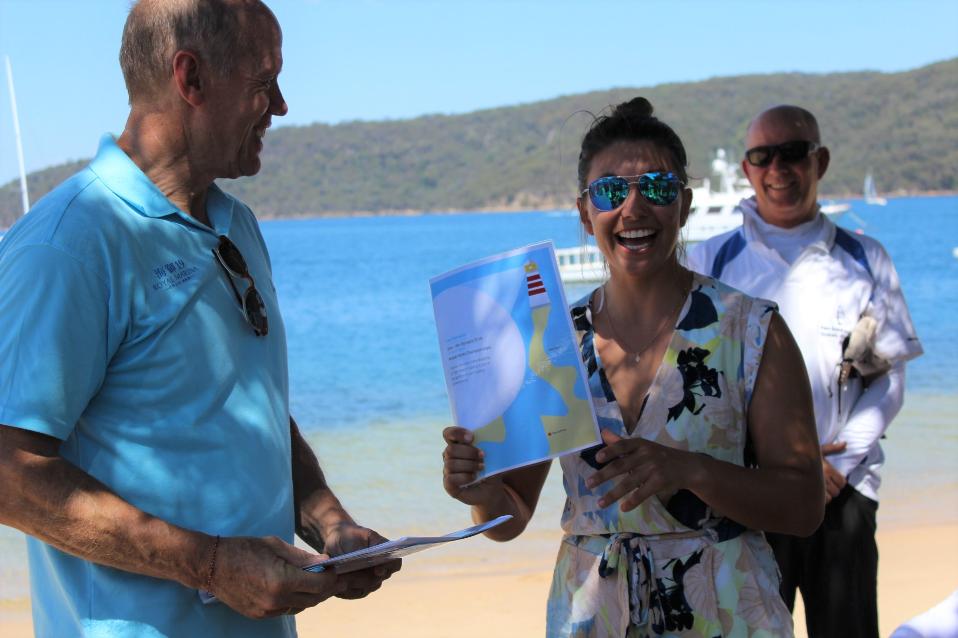 Lisa Darmanin, Olympian and World Champion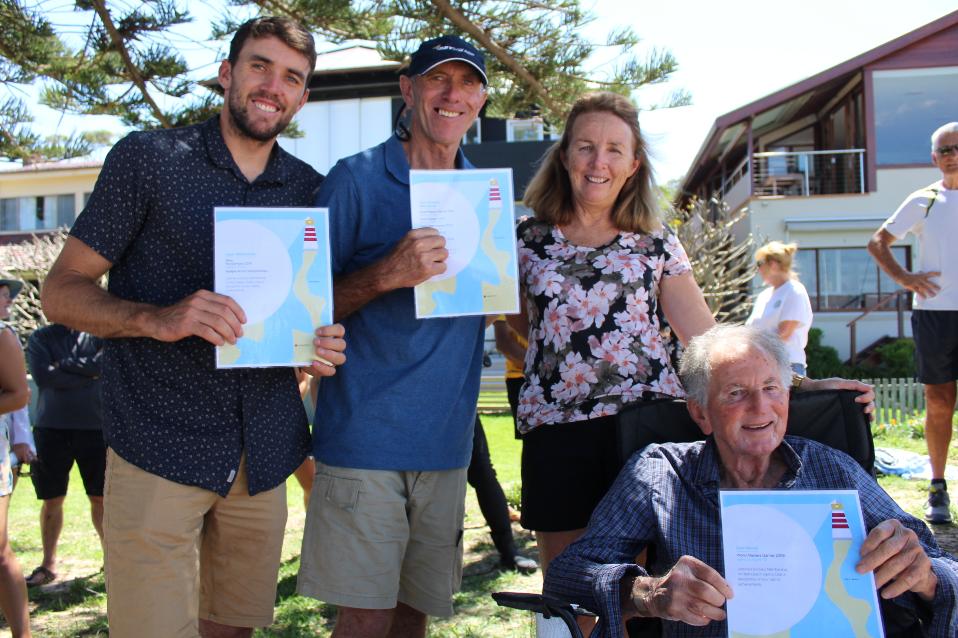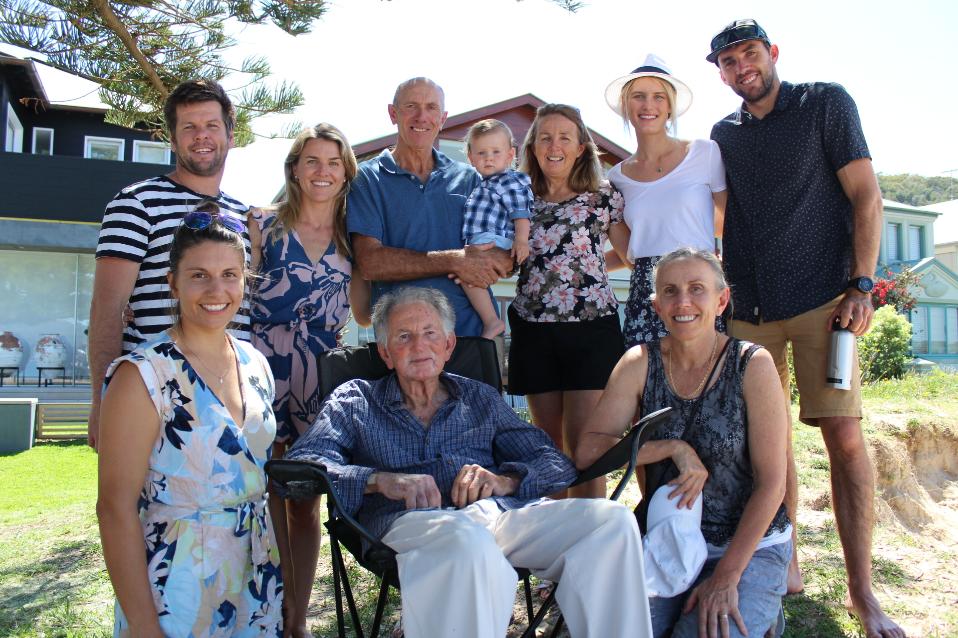 Four Generations of the Waterhouse, Bolewski, Darmanin and Wood family - multi World Champions and Olympians (except for the littlelest one - so far...)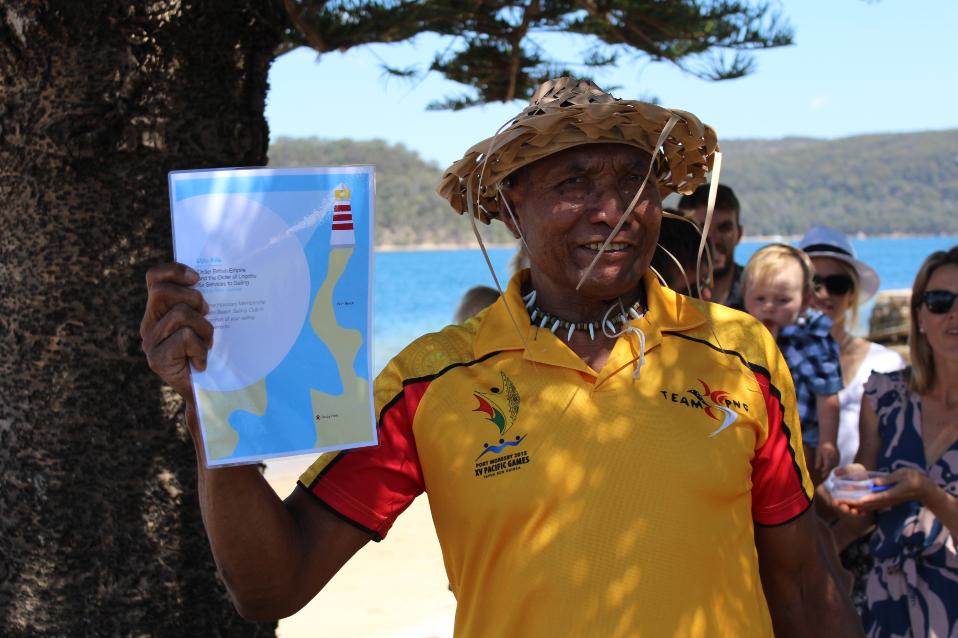 Upu Kila M.B.E. - Upu will also recieve the Order of Logohu. The Order of Logohu is the principal order of the Order of Papua New Guinea. Logohu is a Motuan word for the bird-of-paradise, the official national symbol of Papua New Guinea since its independence. The Order consists of three classes and a medal.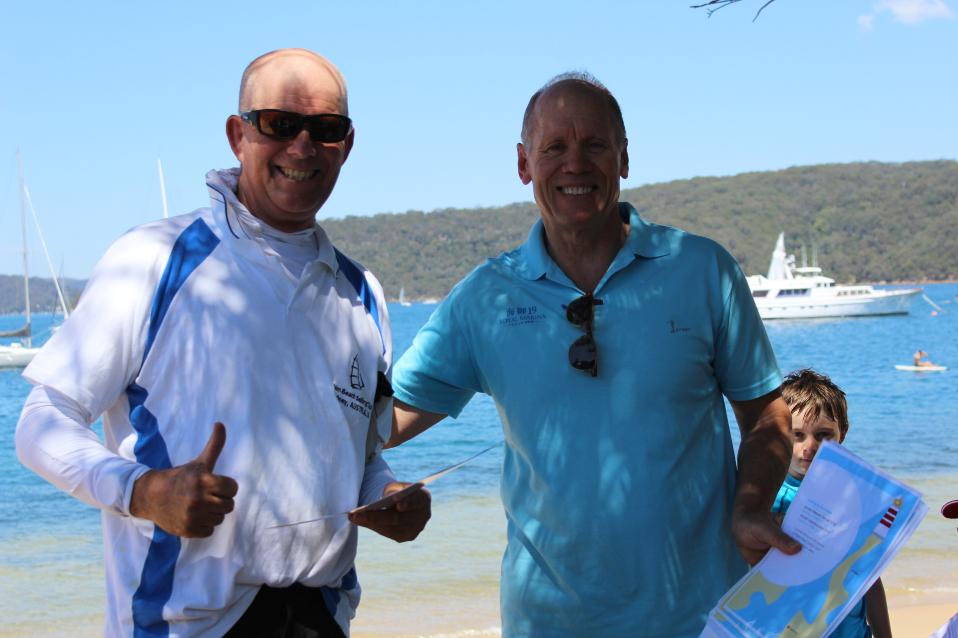 Commodore Richard Lacey with Anthony Duchatel and Evelyn Harves - multi Word Champions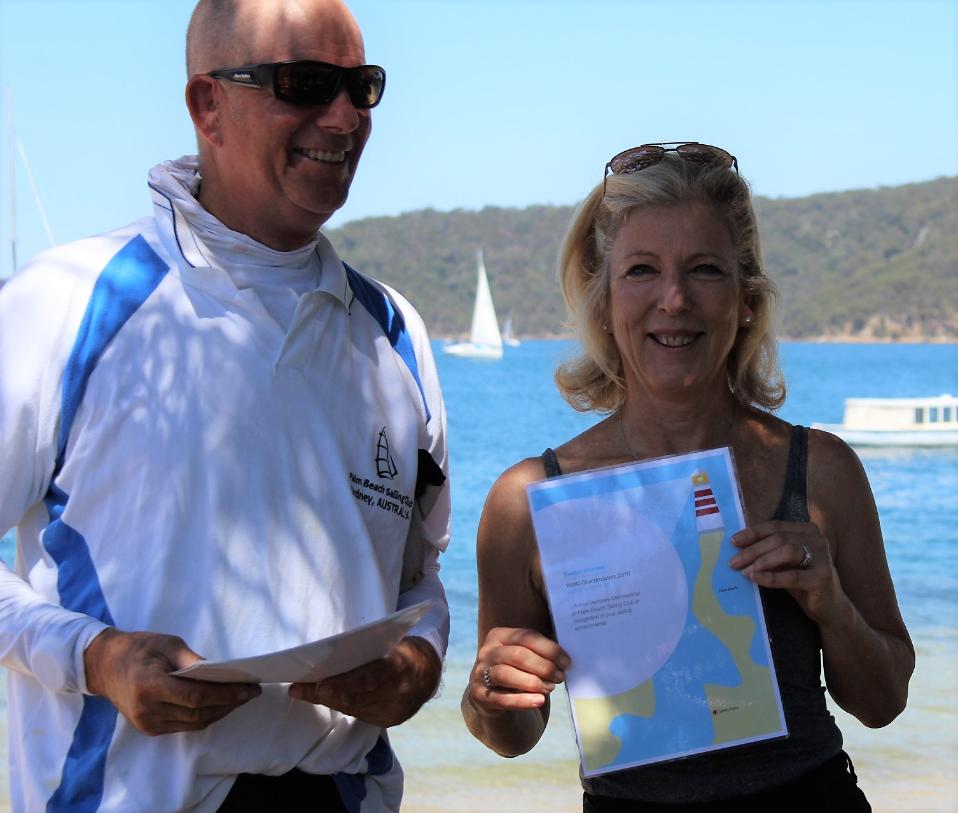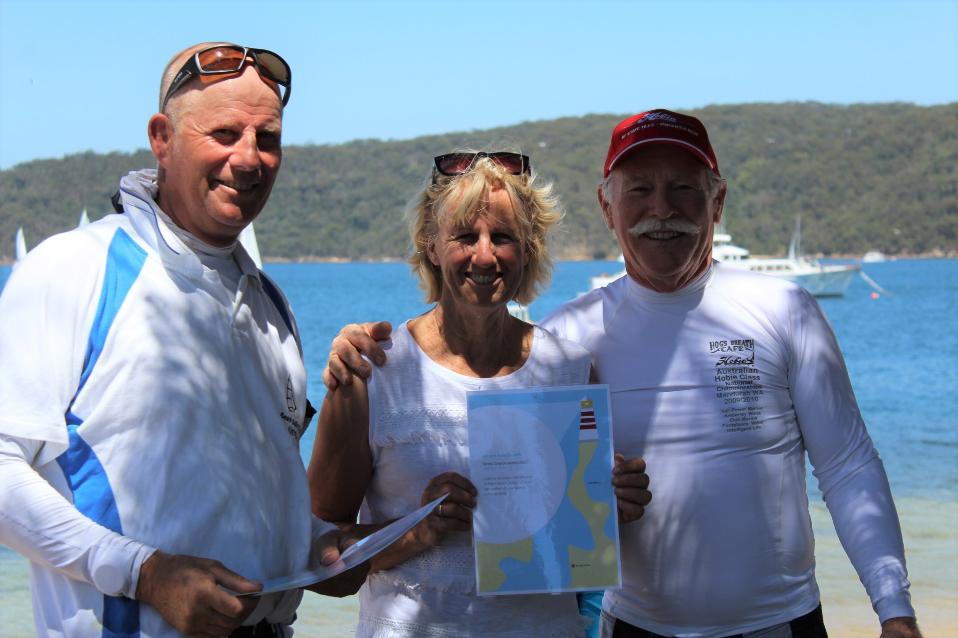 Ali and Kerli Corlett, World Champions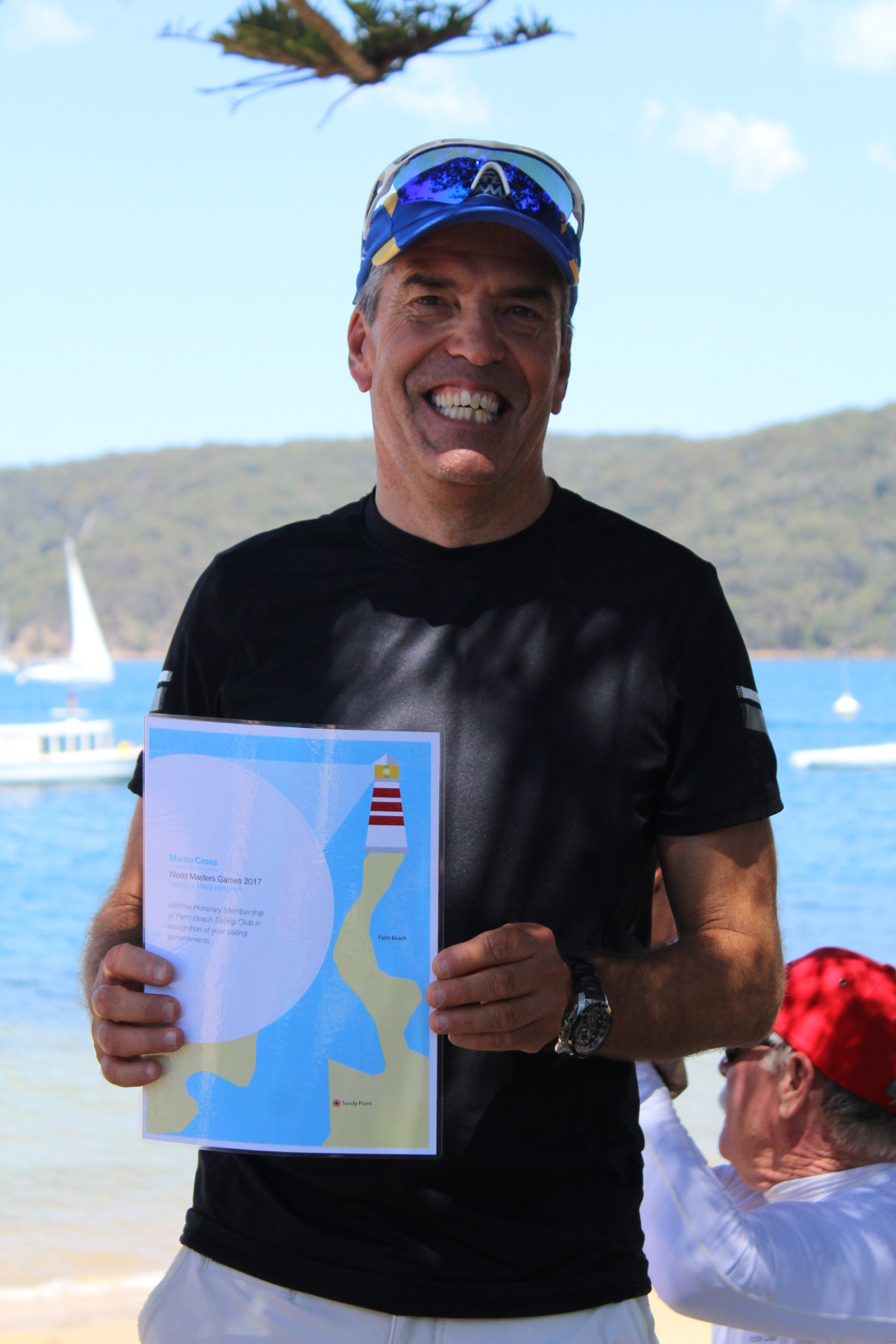 Martin Cross, World Champion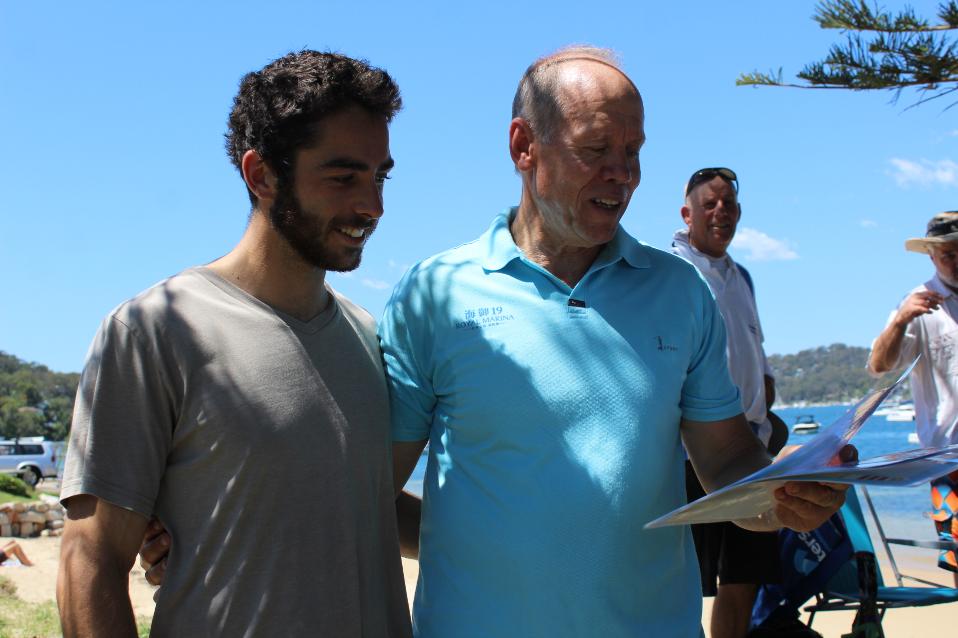 Jordy Booth, accepting Honour on behalf of his dad Mitch, World Champion and Olympian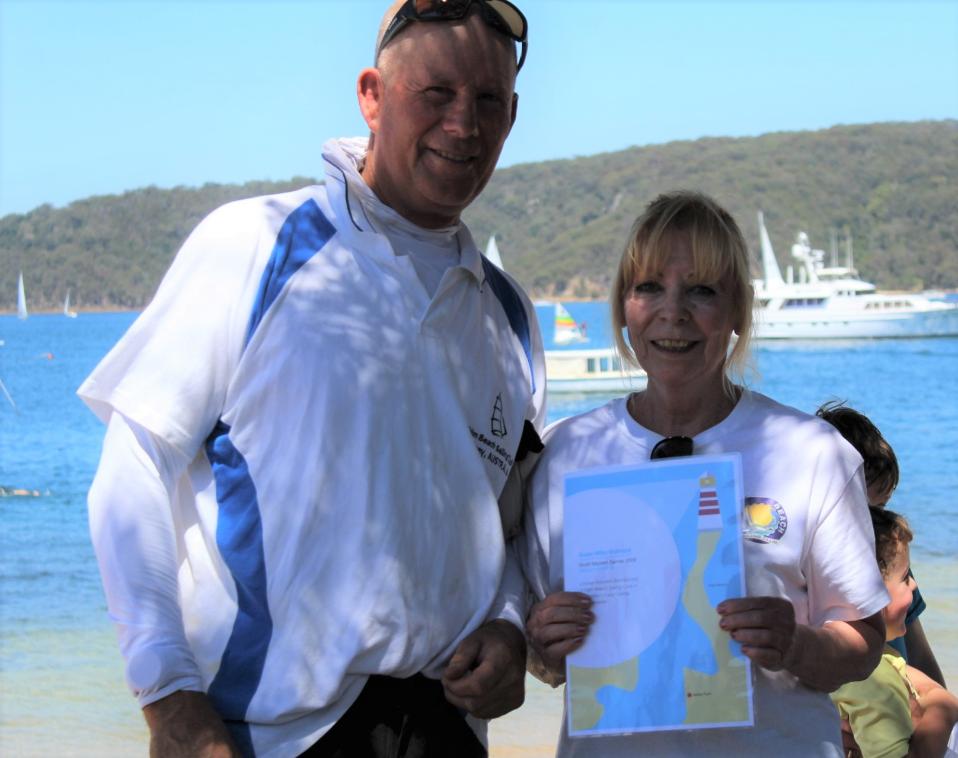 Susan Miller-Duchatel, World Champion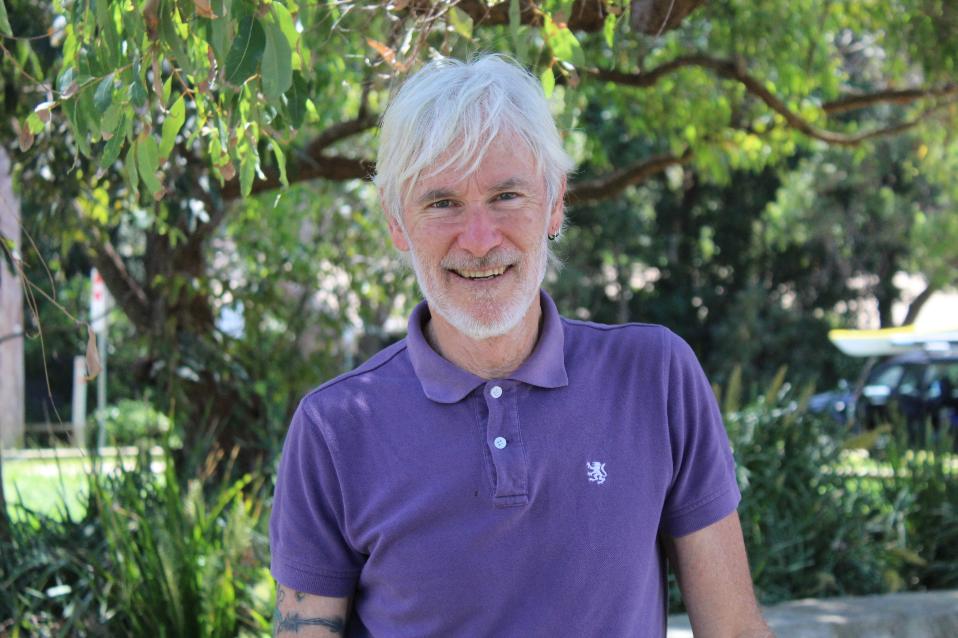 Chris Cairns, World Champion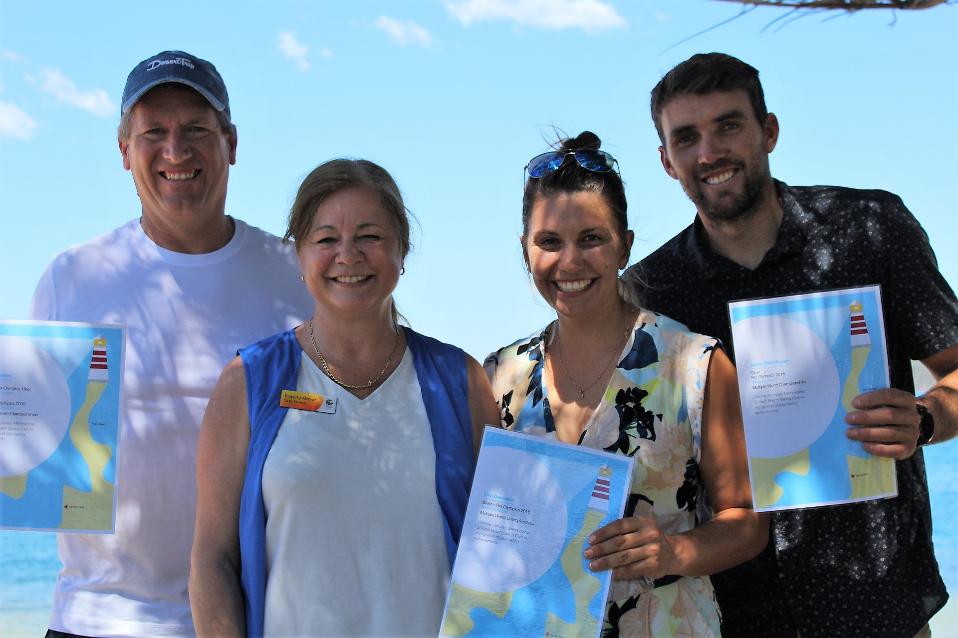 Deputy-Mayor Cr. Sue Heins surrounded by Australian Olympic sailors!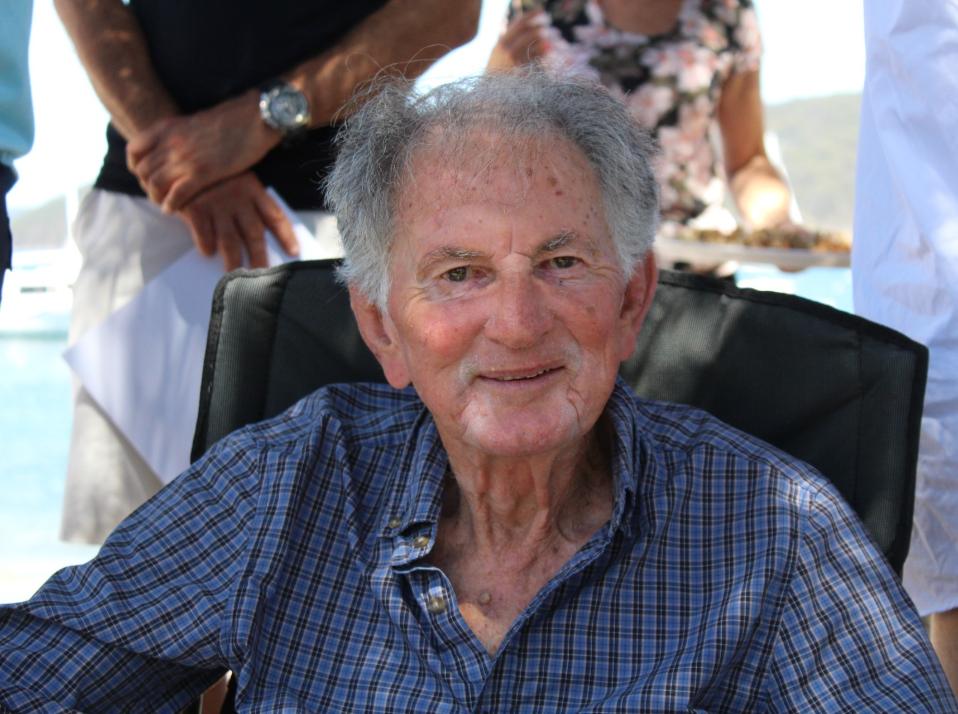 Don Wood - a Pittwater Sailing Patriarch and local legend to many.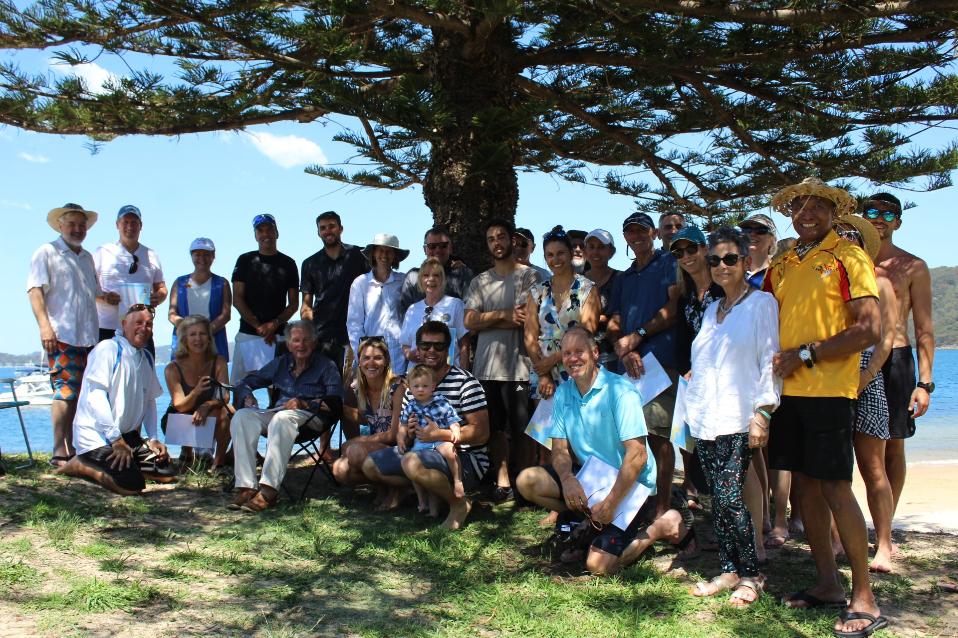 The whole PBSC crew (and guests) yesterday - ready to share the joy of 'messing around in boats'!