January 29 - February 4, 2017: Issue 298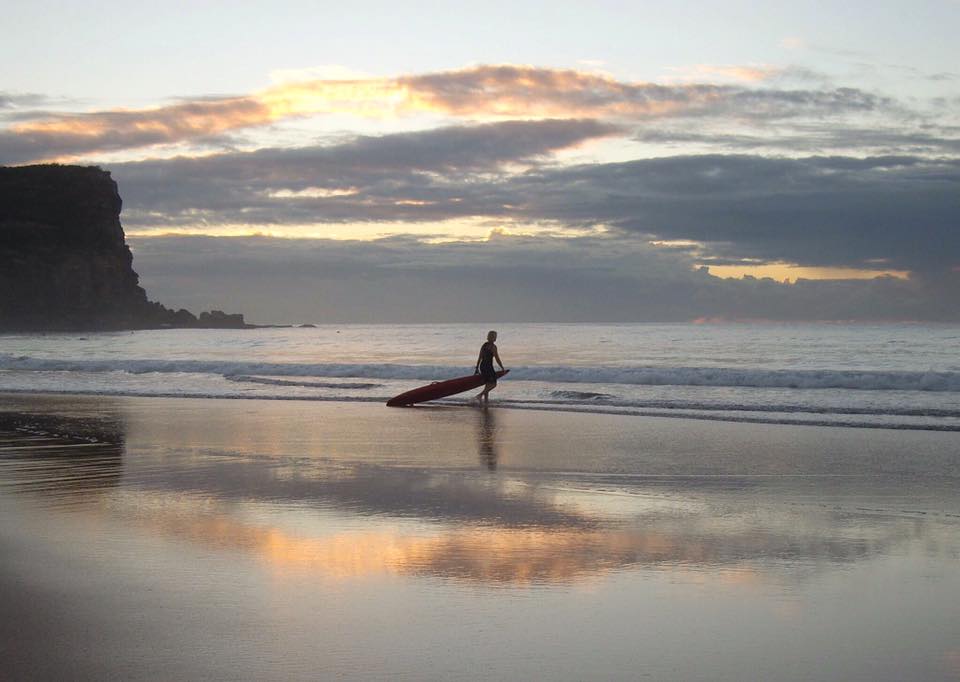 Congratulations to former Avalon Beach SLSC President Christine Hopton who was awarded the Medal of the Order of Australia (OAM) in the General Division in the Australia Day Honours List for service to surf lifesaving this week.
Christine currently serves as a Director of Surf Life Saving Australia. She is a past Vice-President of Surf Life Saving Sydney Northern Beaches and was President of Avalon Beach Surf Life Saving Club for 8 years as well as the first female president. In
2014 she was the Pittwater Woman of the Year
.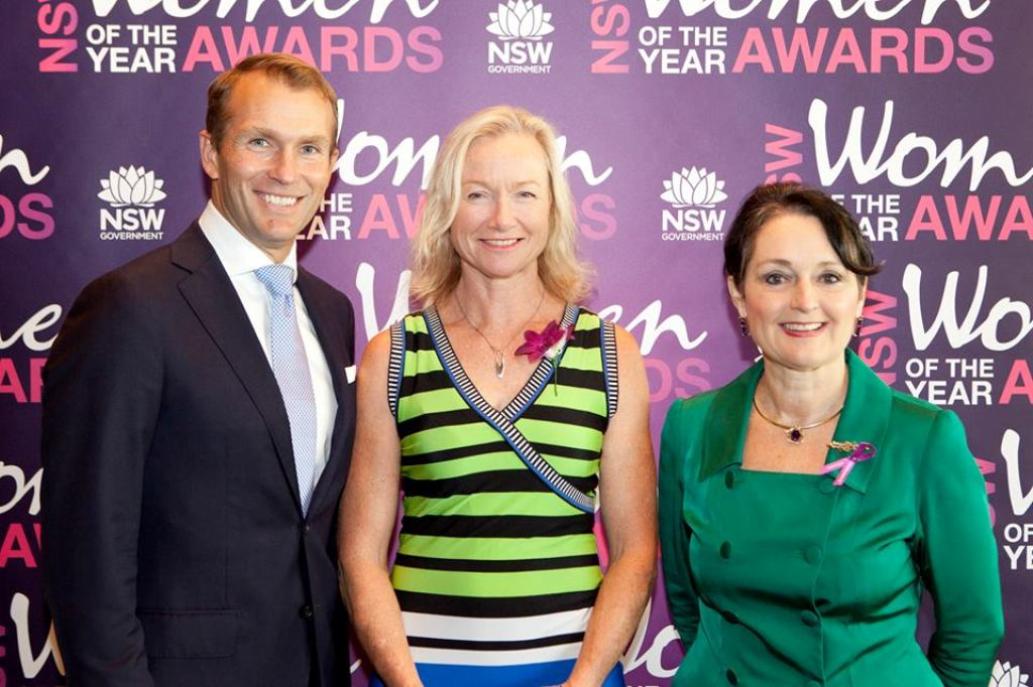 With Pittwater MP Rob Stokes and The Hon. Pru Goward MP Minister for Family and Community Services, Minister for Women at Parliament House.
Christine was also nominated for the Local Woman of the Year Award in 2014 and attended the ceremony and presentations at Parliament House. The Local Woman of the Year Award recognises women who have made outstanding contributions and achieved great things in their local area. Christine was nominated by Rob Stokes MP (Pittwater) who stated "President of Avalon Beach Surf Life Saving Club, Christine is a role model recognised for her extraordinary contribution to the Surf Life Saving movement."
Chris is viewed by many as a mentor for younger women, and said after winning the 2014 Women of the Year award;
I like to think I'm a good example but I haven't done this intentionally. When I spoke at the Zonta Breakfast I stated that I had found myself in a position to take on challenges all my life and had done so. When I worked for the Melbourne Age I was put into Police Rounds, being the first female journalist to do so up until that stage at that paper, then I went into television and was the first Executive Producer who was female at Channel Nine, so I've always felt that women should be in those roles because they are absolutely capable if not more so. I suppose what frustrates me though is that a lot more women don't put up their hands to have a go.
One of my volunteer roles is to provide Leadership, Inspiration and to Mentor other women, particularly young women. I spoke recently at the Surf Life Saving Australia Young Leadership Conference that was run at Sydney University and have since connected with one of the girls from there who I'd like to think I'm mentoring now. She rang me on Saturday to talk over a few issues. As a young girl in Media, a young upcoming leader in Surf Life Saving hers is a classic example of someone who I may be able to help by leading them down the pathways or helping them along on their journey. I also have three daughters, a 26 year old, a 23 year old and a soon to be 18 year old, so this has always been very important to me.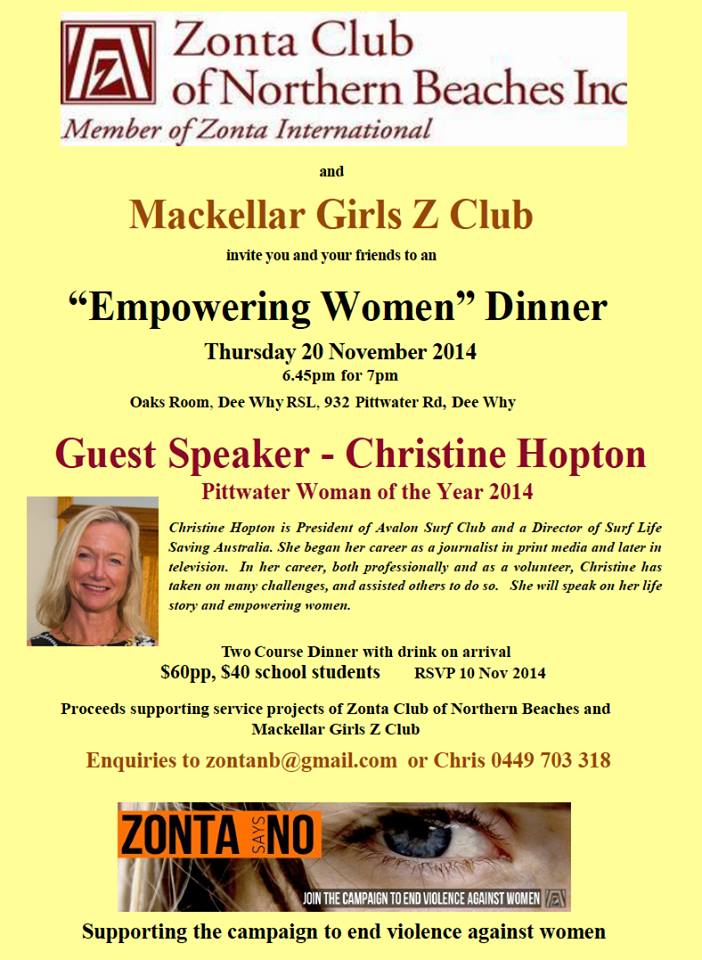 Christine was instrumental in the rebuilding of the new Avalon Beach SLSC clubhouse - a large project that required a lot of work and effort by herself and husband Robert Hopton and current Avalon Beach SLSC President Richard Cole.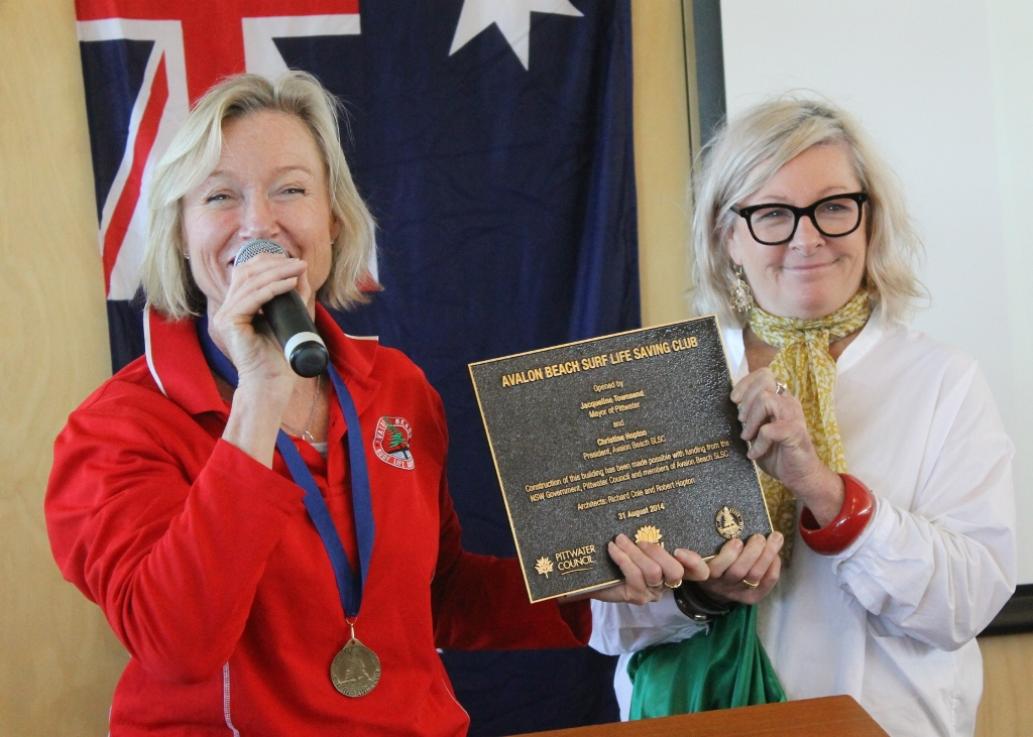 Opening of new clubhouse: then President of Avalon Beach SLSC Christine Hopton with then Mayor of Pittwater, Cr. Jacqueline Townsend - September 2014
In July 2015 Chris stepped down as Avalon Beach SLSC President as she had intended to once the new clubhouse building works were completed.
We spoke then of her new focus on yoga, promoting the club's social side as well as
sponsorship
.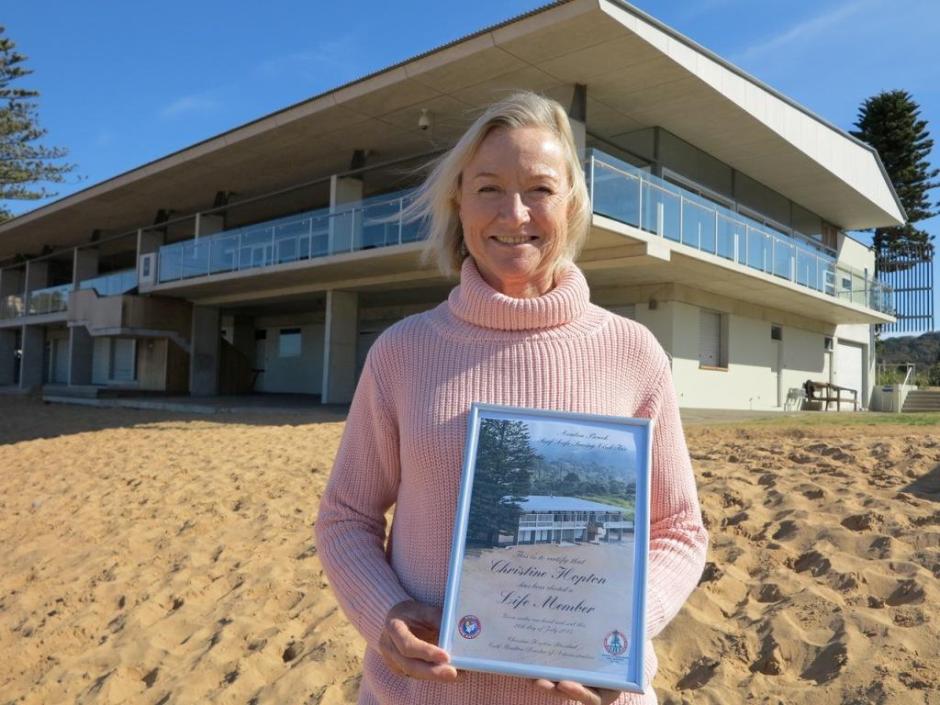 Christine Hopton - Life Membership of Avalon Beach SLSC - photo by Warren Young OAM
What are the highlights of your eight years as President of Avalon Beach SLSC?
There are many but one of the most satisfying of being involved in Avalon Beach SLSC has been to see just how much it has grown in the community sense. It is just such a focal point in the Avalon Beach community now, particularly with the Kiosk and the Restaurant open. I've been down there everyday and there are crowds of people looking at the beach, whales and dolphins. We have 1200 people involved in our club now and this is a massive increase from 8 years ago when we had around 400 members. Apart from this growth I love the fact that it is now so engaged with the rest of the community as opposed to being a little club on the beach that nobody took much notice of unless you were involved.
One of the highlights would be to see the youth that is retained by our club. There has been some fantastic work done by Mike Stanley and Jeff Nesbitt and their crew. The number of young kids that have stayed engaged with the club, using the Cross Fit gym, patrolling, doing some wonderful activities is really a testament to the trainers that we have currently at the club.
Are you going to get a bit of time to yourself now?
I'm staying on as Sponsorship and Marketing Officer as that's my background in the work sphere. I've had all these ideas for years but haven't been able to do these due to other work commitments. Now I can look at the ways we can engage with local businesses and people and get others involved. Even if they are not members of the club they can assist the club in its endeavours to keep the beach safe and train our youngsters.
Your fitness levels seems to be constantly going up and now you're teaching yoga at dawn a few mornings each week?
I am. I did my Level One Teacher Training with A Fine Balance last year and am now teaching at the Surf Club one day a week and at the Avalon Yoga Studios two days a week. I'm using the yoga as part of the warm-up exercises for our Masters group that trains on Saturday mornings. I'm also doing Swimming Training now at the Barrenjoey Swim School in Patrick street and teaching youngsters three to four mornings a week teaching those from the age of around 3 upwards to 10 or 11. It's wonderful dealing with children and seeing hw they progress in the water even after a few weeks when their confidence is built up.
Last year I decided to give away the computer and office jobs and go more into wellness and health so yoga and swimming obviously ticked those boxes. It's also such a great way to energise your body and calm the nervous system, as well as build strength and endurance. People may think it's just a bit of stretching but there is a very strong practice involving mind, body and breath which is very important. This is a mindful activity which promotes grounding and centering in people. I find quite a few of the paddlers are now coming to the classes and are feeling the benefits and understanding that there is more to an hour's yoga practice that helps them with more than just fitness.
Christine has won gold medals in surf sports at branch, state, national and world championship levels. Competing as part of the Newport Masters Team, undertaking Winter paddling training alongside Palm Beach SLSC as part of the 'Peninsula Paddlers' or competing each January in the Adrian Curlewis Twilight Masters Carnival also underlines her emphasis on all clubs being part of one surf life saving movement as much as enjoying keeping herself physically fit.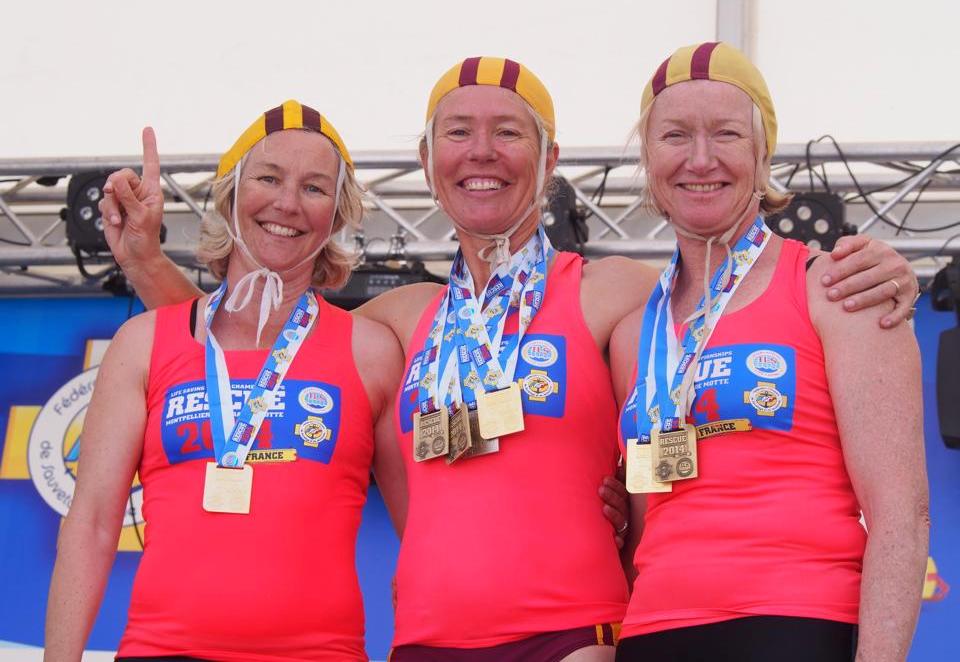 Left to right: Eva Channells, Lise Barry and Christine Hopton - Gold Medal in Ski Relay in 2014 Worlds in France. Photo by Chris McGuckin.
Another Award for recognising sustained and committed building up of their clubs, the branch, and thereby the saving of lives through Surf Life Saving, is the Outstanding Service Award, given to members of clubs in the Sydney Northern Beaches Branch who have rendered outstanding service to their clubs and the SNB branch over a period of ten years. In 2016 Christine Hopton received this award.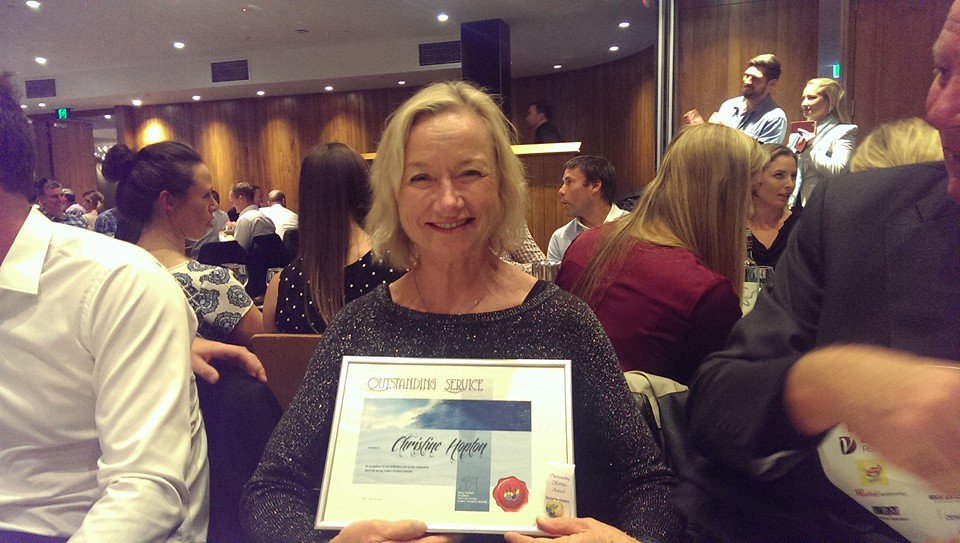 Avalon Beach SLSC's Christine Hopton - photo by Richard Cole
Well known for her generosity of spirit, determination, leadership and kindness, Christine is the lady who regularly contributes wonderful photographs of our area that highlight the beauty of Pittwater - there is actually a Christine Hopton section in our Past Features because Chris has supported what we do here for so long. Chris is one of those who took a chance on this News Service during its first year, then an unknown, and allowed us to run a
Profile
on her:
What drew you to Surf Life Saving to begin with?
Like many, I began as a nipper parent, then my husband Robert and I decided we needed a challenge for the year 2000 so we did our Bronze Medallion. From there I became hooked. I loved paddling a board so competed, love writing so did the newsletter, loved being part of such a great Club so put my hand up to be the club's vice president which led to my current position as President.

You are President of Avalon Surf Life Saving Club, what does involve?
This role is what you make of it. I am a hands-on person so tend to be very involved at all levels of the Club from administration and organising events through to on the beach assisting with patrols and the nippers. I suppose you could liken it to being the manager of a small business, the difference though that you have to constantly remind yourself that you are dealing with volunteers, not paid staff, and everyone is in it for different reasons.
Obviously as President I have to very aware of compliance and ensure that our Club ticks all the right boxes in regards to our lifesaving agreements. I attend at least 2 to 3 meetings per month and spend at least an hour or so per day doing admin behind the scenes which might be writing nominations for our members or securing sponsorship.
I work hard to make ensure our Club continues to be a friendly, family orientated club which engages all its members from our older Life Members through to our youngest nippers. We provide a great service to the community and, as President, maintaining our relevancy and importance in this area is one of my number one goals.

What are the future plans for the Club?
Our Club is facing some exciting times over the next couple of years as we are embarking on a major renovation of our building. Members of Avalon Beach Surf Life Saving Club have patrolled the beach for 86 years old and the current building is now more than 60 years old. Only 5 years ago we had only around 500 members - that number is now close to 900 and growing every year. Our building is far past its use by date and is continually requiring maintenance to keep it up to scratch.
We believe we are an integral part of the Pittwater community and want our building to reflect this. Our immediate challenges are to raise the necessary funds, satisfy our members, the community and Pittwater Council with the design and manage the project in the appropriate time frame, whilst maintaining our services in patrolling our beach.
In the meantime we will continue to ensure our members and the public are educated in saving lives, both on and off the sand.

Nippers registration begins soon, what age groups are welcome and what will they be doing once they've enrolled?
Children from the age of 5 years to 13 years are eligible to take part in the nipper program. At Avalon Beach we hold Nippers most Sundays from the middle of October through to March from 9 am till around 11 am. Nippers enjoy a range of activities which not only keep them fit and healthy but teach them surf and beach awareness. On the beach they will do beach sprints and play flags, in the surf they will learn to surf swim and paddle boards. In between these activities they are taught the fundamentals of keeping themselves and their friends safe on the beach. Of course the most important message a nipper learns is to swim between the flags. By the time they are in the Under 14 years age group they will have a basic understanding of CPR and first aid in preparation for undertaking their Bronze Medallion.

Could you share with us one or two pivotal moments that best illustrate or encapsulate what SLS means to you?
There are many moments which continually remind you that you are part of a great organisation from watching hundreds of nippers running excitedly down the beach on a Sunday morning to seeing members enjoying each others camaraderie. One of the most significant moments for me however occurred a couple of years ago when I helped save an elderly man's life after he collapsed in front of me. I performed mouth to mouth while another person did the CPR and after a few minutes, the elderly gentleman - who was grey as a ghost and with no pulse - took a deep breath and opened his eyes. If I had not done my surf life saving training I would not have known what to do in such an emergency. My story is just one of many experiences that our members have in emergency situations which more often than not happen off the beach than on.
What is your favourite place in Pittwater and why?
Nowhere else make me happier than sitting out the back of the surf at Avalon Beach on a calm winter's morning with my paddling mates. Sitting on our paddleboards alongside the headland looking back towards the club, we are often the only ones on the beach at this time of year. I always think how lucky we are to be living in a major city like Sydney and yet can have the entire beach to ourselves.

What is your 'motto for life' ?
Believe in yourself and have a go.
There's much much more of course - we see Christine on the beach supporting other members at Carnivals, we see her at Art and Historic Exhibitions supporting other facets of local community. Every ANZAC Day Chris is there beside fellow Avalon Beach SLSC Members as part of the tributes to all those who serve and the March prior to the Commemorative Service.
Chris has worked tirelessly at Avalon Beach SLSC such as Ocean Swims or Lion Island Challenges and even the celebrations of this great club itself - the 90th year, the in-club presentations for her home club and those that support other clubs.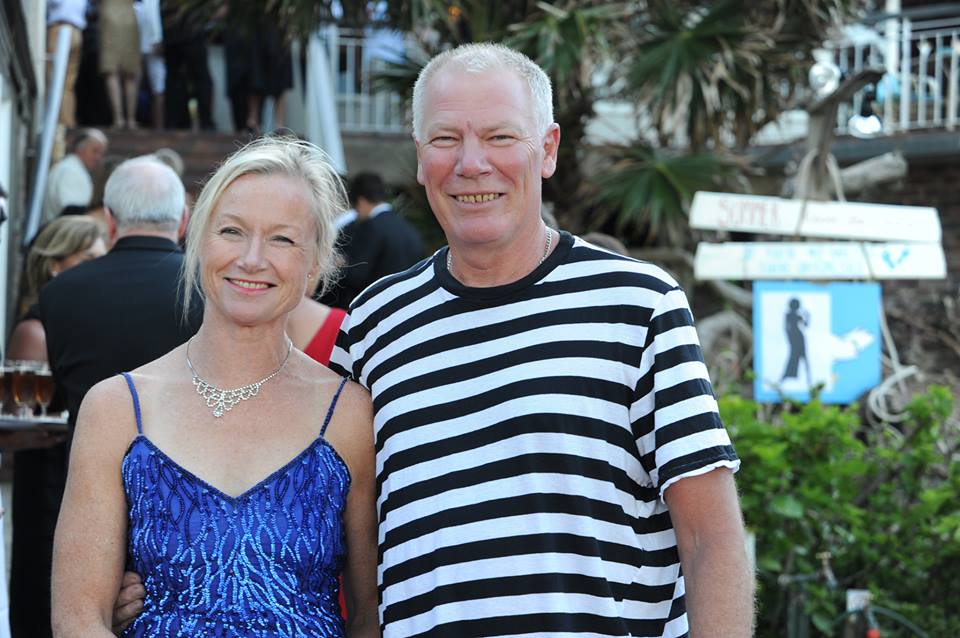 Christine and Robert Hopton at Casino Royale fundraiser for Bilgola SLSC, 2014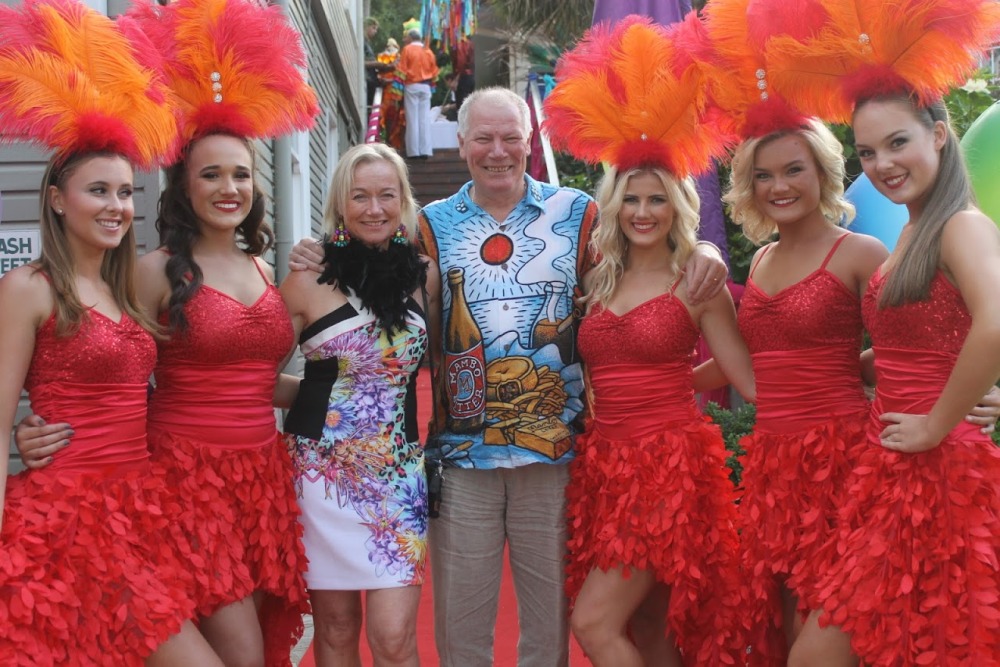 Christine and Robert Hopton at Pacific Club's Carnival Rio fundraiser for Palm Beach SLSC, 2016
Loved by all in our community, congratulated by thousands for her Australia Day award, Christine responded to this latest recognition with acharacteristic refocusing on others:
Thank you to everyone for your kind words. This is very humbling. As you know we don't volunteer for the recognition but I truly appreciate everyone's lovely thoughts. And thanks to my daughter Anjee Hopton who asked me for my CV a few weeks ago and her post which started this train of comments. And of course to my family (specially Joan Morris, Brian Morris, Rikki Hopton, Elle and Robert) and all friends who have made me who I am.

Christine HOPTON:
MEDAL (OAM) OF THE ORDER OF AUSTRALIA IN THE GENERAL DIVISION
For service to surf lifesaving.
Service includes
Surf Life Saving Australia:
Independent Director, since 2013.
Director, Surf Life Saving Foundation, since 2013.
Deputy Branch President, Surf Life Saving Sydney Northern Beaches, 2012-2013.
Avalon Beach Surf Life Saving Club:
President, 2007-2015.
Vice-President, 2004-2005.
Past Treasurer.
Past Registrar.
Past Marketing and Publicity Officer.
Level 1 Official, since 2010.
Level 1 Coach, since 2007.
Patrol Captain, since 2006.
Volunteer, since 1998.
Member, since 1998; Life Member, since 2015.
Awards and recognition includes:
Pittwater Woman of the Year, 2014.
Pittwater Volunteer of the Year - Surf Life Saving, 2010.
Christine's daughter Anjee provides a more comprehensive list of all her mum has done - thank you Anjee:
* Amazing Mother
*
Studied Journalism cadetship; Post Graduate degree in PR at RMIT University
* The Age's first female police round reporter based up at Melbourne's Russell Street. This was the early days of underbelly
* Worked for Rupert Murdoch at Channel 10. Producer of Australia's first breakfast television program "Good Morning Australia" hosted by Gordon Elliott and Sue Kellaway
* Reporter for Channel 10 Eye Witness news
* Senior producer of a prime time current affair show Terry Willesee Tonight on 7
* The first female Executive Producer at the Nine
* Network producing The Today Show
* Work with Kerry Packer and Jamie Packer was sent down to work for her
* Looked after Lindy Chamberlain after her release from gaol
* Interviewed Bob Hawke
* Producied a series with Doctor Rosie King for Foxtel
* Helped round the world sailor Kay Cottee write her second book
* Filmed a sequence with Chopper Read who played Russian roulette with our reporter on camera
* Writer/Producer, video documentary "1988 The Year That Was", celebrating the highlights of Australia's Bicentennial year
* Senior Producer, "Live at Five" (later called "Eye on Australia")
* Channel 9 Senior Producer, "A Current Affair", Channel 9
* Researcher/Producer "The Extraordinary", Channel 7 and Channel 9
* Associate Producer, "Your Money and Your Life" with David Koch, Channel 10
* Producer the NSW Small Business Awards, a live award event not for broadcast
* Producer/Interviewer, "Operation Chill Out", Channel 9, a documentary on an expedition to the South Pole.
* Researcher, Producer/Interviewer "Australia and the Olympic Games" Channel 7. Documentary featured interviews with more than 60 gold, silver & bronze Australian Olympians
* Lab Assistant with international fragrance company Drom Fragrances. Produced their 50th anniversary flacon exhibition
* First female President of Avalon Beach Surf Life Saving Club
* Surf Life Saving SNB representative at SLSA National Leadership Conference.
* Marketing, Sponsorship and Communications Officer for Surf Life Saving SNB
* Team leader of Sydney Northern Beach Surf Life Saving School
* Sponsorship, Marketing and Media officer for SNB
* Deputy President, Surf Life Saving Sydney Northern Beaches
* Swim Teacher - Barrenjoey Swim School
* Gold, Silver and Bronze medals at all Surf Life Saving levels
* Independent Director, Surf Life Saving Australia
* Independent Director, Surf Life Saving Foundation
* Level 1 Yoga Teacher
* Fitness Coach Curves Gym
* Avalon Beach SLSC President's Award
* Norman Cook Club Member of the Year
* Pittwater Council Volunteer of the Year - Surf Life Saving
* Pittwater Woman of the Year 2014
* First female to receive Life Member Avalon beach Surf Life Saving Club
* Outstanding Service Award - Surf Life Saving Sydney Northern Beaches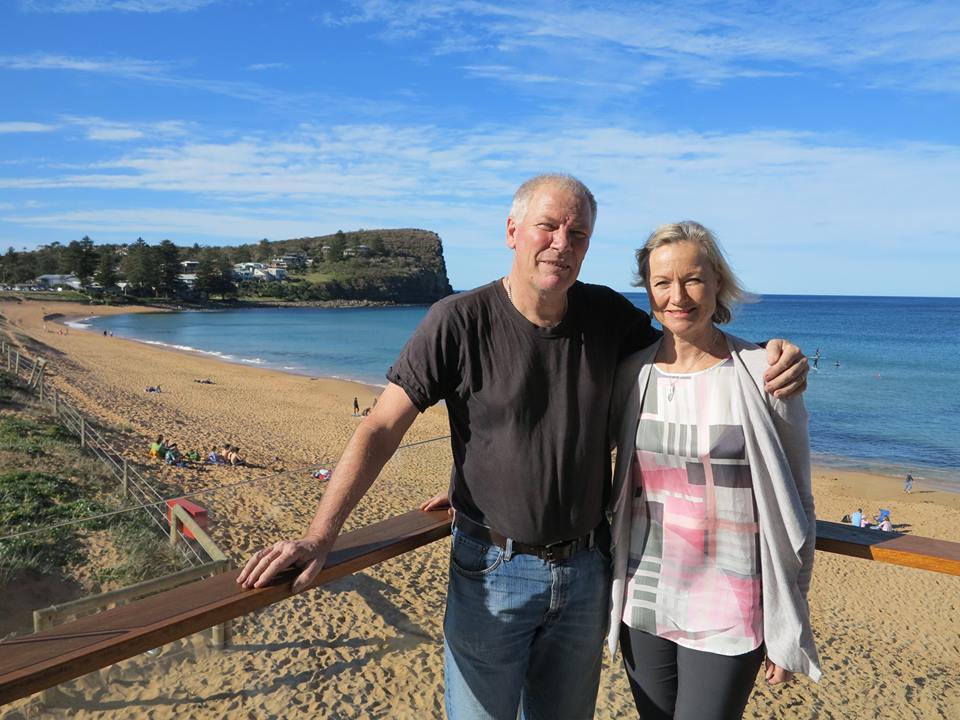 Robert and Christine Hopton at Avalon Beach SLSC - photo by Warren Young OAM