September 14 - 20, 2014: Issue 180
Pittwater Masters Training Group - Fit for Rescue 2014 World Life Saving Championships and For LIFE!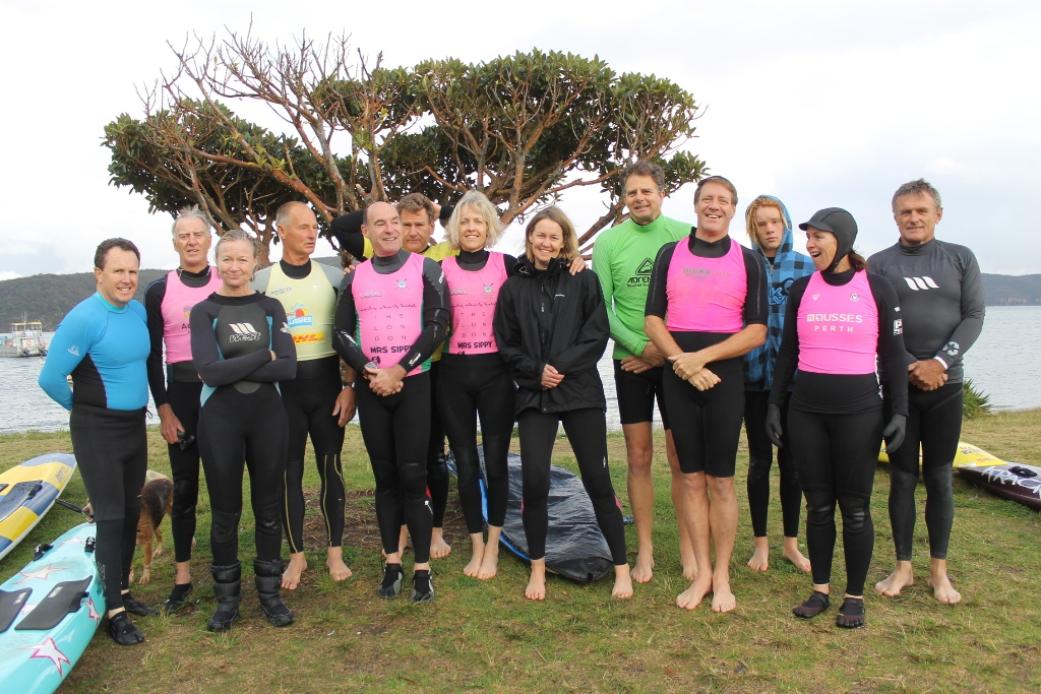 Masters Peninsula Paddlers Training Group - Saturday morning sessions
Pittwater Masters Training Group - Fit for Rescue 2014 World Life Saving Championships and for LIFE!
On Saturday 6th of September we braved 10 degrees an hour after dawn to speak to some of the members of the Masters division in Pittwater, aged over 35 in increments of five years, who train together year round.
As it turns out, this group of 35+ years to 60+ years are braver still, as not only did no one have more than a wetsuit on, they were also going into the water…
Among this group, which stems from surf lifesaving members of Mona Vale, Newport, Avalon and Palm Beach Surf Lifesaving Clubs, are some who are in France as we speak to be part of the Rescue 2014 Surf Lifesaving World Championships – a full list of all Northern Beaches Masters, and the events they are entered in, is listed below for the record.
The Masters Championships Carnival is a two day event commencing Tuesday 16th and as many of our Peninsula representatives are competing, we hope you will keep an eye on results and cheer them on from wherever you are. To many they are already winners just by going, and even those staying home are a constant source of inspiration to all here as they embody what is brilliant in surf lifesaving – friendship, fitness and an infectious passion for life.
We love the surfboats – the history inherent from adapted whalers to the evolultion of this craft – and followed the Avalon Antiques around, amazed at how committed they are to their sport – they too are currently in France - defending their World Title.
Our other favourite Carnival each Season is the Sir Adrian Curlewis Twilight Masters – organised by Gordon Lang of Palm Beach SLSC. It is the fastest, most fun reminder of how being part of surf water sports leaves even those just there in a spectator capacity brimming with adrenalin.
The two days of the Masters Championships, and the amount of events our Northern Beaches masters are competing in indicates they are either very fit, or prepared to get a little worn out – both really.
Since attending the Sir Adrian Curlewis Twilight Masters Carnivals, watching in amazement a fair few other training sessions, or those who have entered the Lion Island Challenge each year, and always leaving with a big smile on our faces – these people keep reminding that they are fast, fit and pretty happy as a result.
In some competitive sports the reaching of the age of 30 or over is given as a time to think about retiring – not in Surf Lifesaving- not with all that experience and fitness
The training group that opens every Saturday and Sunday morning with revelling in the conditions keeps proving how there is no 'us and them', there's just us. Over an hour of on water exercises, pacing themselves with each other, continuing to hone skills on board and ski, there's something about this crowd that prompts a few questions – like those we asked Gordon Lang – this week's Profile of the Week - another Palm Beach SLSC Master.
Getting to run a Profile on Gordon also gave us the opportunity to speak to some of those he trains with:
What's the best thing for you about this Masters Training Peninsula Paddlers Group for you?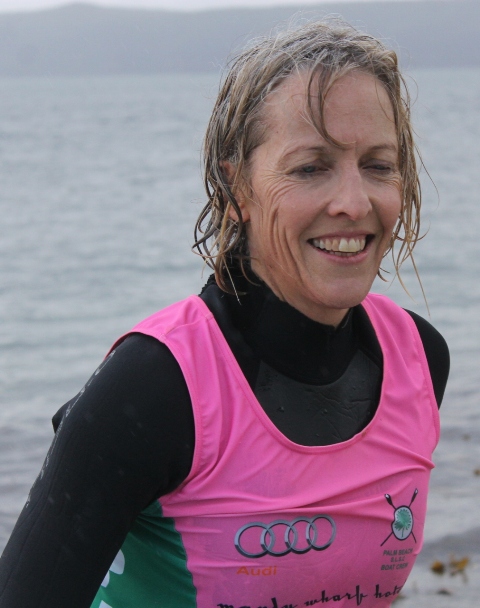 Fiona Rae - Palm Beach SLSC
There's a great camaraderie in this group – I think a lot of people do it for that – for the fitness and the camaraderie without even necessarily aiming to compete in a particular event. It's a great way of keeping fit and having a bit of fun.
Bob Richardson – Avalon Beach SLSC
You're going to France Bob; what are you looking forward to?
First of all, to some warmer weather, and warmer water. I think after what we've had here lately we'd like that pleasant change.
It will be still-water in France, and you have been training on Pittwater today – what do you think will be the biggest challenge for you?
I think it will be that the Europeans are used to that, those conditions – they've trained in that and have competed in that much more then we do. We're used to the ocean and a bit of swell. It may be quite windy there as well; so I think there will be a few challenges.
Are you coming home straight after the Master's Championships?
No; I'm heading up to Northern France to check a bit of the war history. My grandfather was in Northern France around Villiers Bretagne in the First World War, so I'm trying to trace a bit of his record and find out where he was and see what was happening there.
How long have you been training for France 2014?
We did the Nationals earlier in the year, in April, and we took a bit of a break after that – we tend to not stop training for very long, so off and on since then, a few little breaks.
But you seem to train out here week in and week out – I've seen you up here all year practically…
Yes: We don't know any better (laughs).
How long have you been in Surf Lifesaving Bob?
I've been part of Surf Lifesaving since 1988 but I've only been competing for the last four years.
What do you like about it?
It's just good fun training with a group of people – the social aspect is great. We also get to travel around a bit; we went to Perth for the Nationals. A couple of years ago we wree in Adelaide for the Worlds and we've also been up to the Gold Coast.
Because some of us do some distance paddling we went to Hawaii last year and did the Maui race. That was pretty exciting – it's a downwind paddle.
So it's good – it keeps us fit.
Do you do any complementary training?
I do normal stretches to warm up at the start of each day – that's just a matter of keeping the body moving. We do a little bit of gym work as well. Quite a few of us do ski training as well as board training so they tend to compliment each other as well.
What would you say to anyone who is reaching middle age like yourself and is thinking of getting into surf lifesaving and training with the Masters Peninsula Paddlers?
Just get along to your local surf club – most surf clubs are going to be happy to have someone coming along and training with them.
We do this as a group from a combination of surf clubs. It's great to get three or four or five clubs together and just have fun together.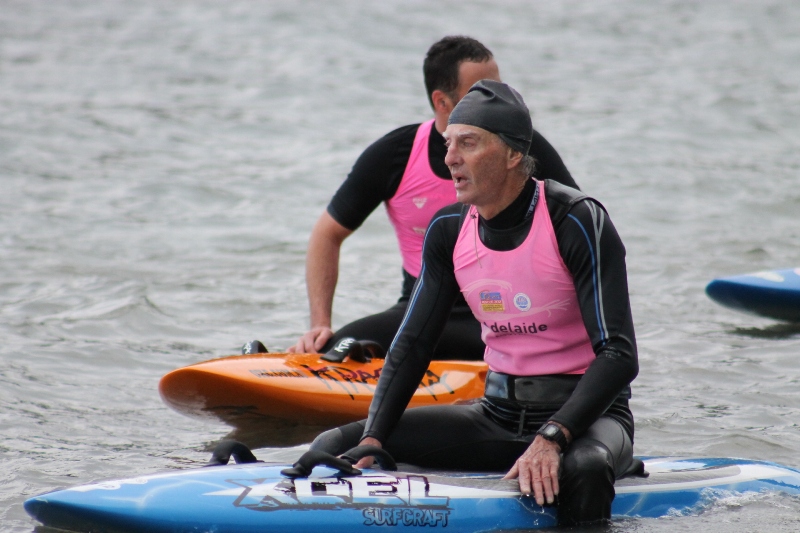 Richard Alston – Avalon Beach SLSC
How long have you been coming along to the Masters Peninsula Paddlers traing sessions Richard?
I've been coming to the Masters training for about a year.
What attracted you to doing this?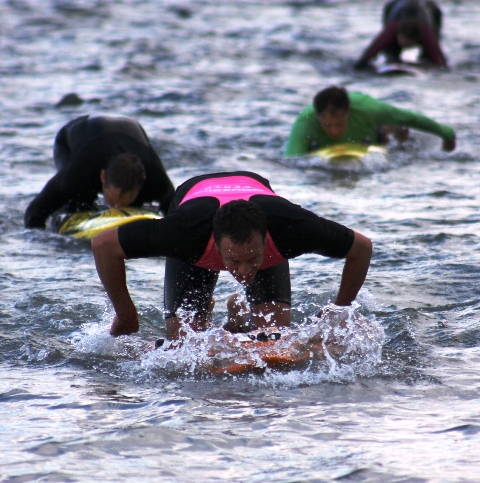 To try and keep fit – but I'm definitely the slowest Master there is. No; I need to invest in a board that takes my weight, the one I'm using currently keeps going uncle the water and is not geared for my size and weight.
But I'm enjoying it – it's good fun.
What attracted you to surf lifesaving?
I've been a member of Avalon Beach SLSC for about six years. We have a young family – so Nippers was the first thing. We then began doing Patrols and we then decide we'd get into a bit of this exercising too. It's a bit of fun really, and on the beach.
Are you going in the Twilight Masters Carnival this year?
I did have a go last year – they're great fun. I went in one at Collaroy too, which again was great fun but it's quite hard to compete against these 60 year olds you know.
Are you feeling fitter now that you've joined this group?
I like to think I have, yes. I'm only doing the Saturday at present, on the board. I haven't got the paddling on a ski down pat as yet.
Julia Alston – Avalon Beach SLSC
How long have you been doing the Master's Training?
One year.
Are you enjoying it?
Yes, it's good. For me the best thing about it is the fitness and doing this in a group.
Are you fitter now than when you began?
Yes, definitely.
What is the best thing about surf lifesaving for you?
Getting in the water. It's fun. Making friends – there's lots of good things about it.
What would you say to anyone who is maturing and thinking about getting into surf lifesaving r joining a paddling group such as this?
I think you've just got to give it a go. Just start. You don't have to be fazed – you can do a little bit, you can do a lot. In just giving it a go you will find that you can do it , even if you've never done this before you will be able to do it. Just start. Just join and give it a go.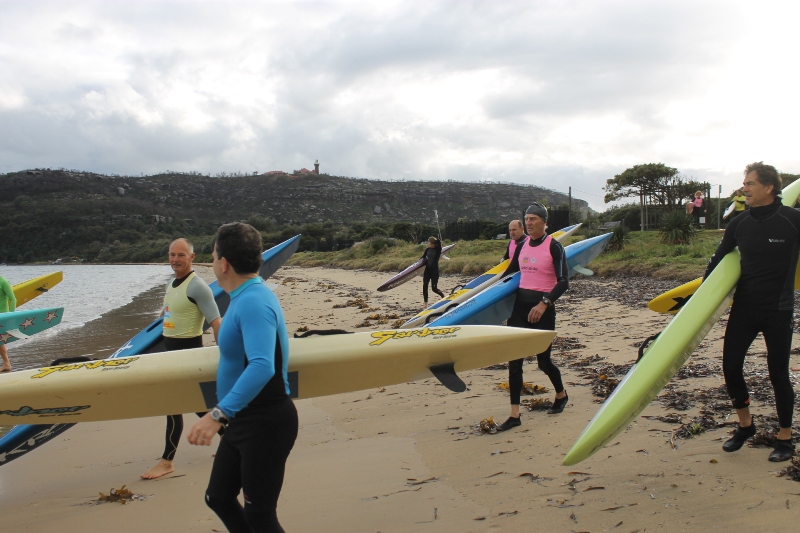 Chris Hopton – President, Avalon Beach SLSC
What do you want to achieve in France?
I 'm going to France to have fun basically. No; I'm going to the World Surf Lifesaving Championships to compete and enjoy and share our skills – but I'm not expecting anything this year as I've had a bit of a down season due to rib injuries, skin cancers being cut out of my back – you name it I've had it this year, so that's fine – I'm not competitive this year, I'm just going to join in and go and have a good time.
What's the best thing about being part of the combined clubs Masters Training Group for you?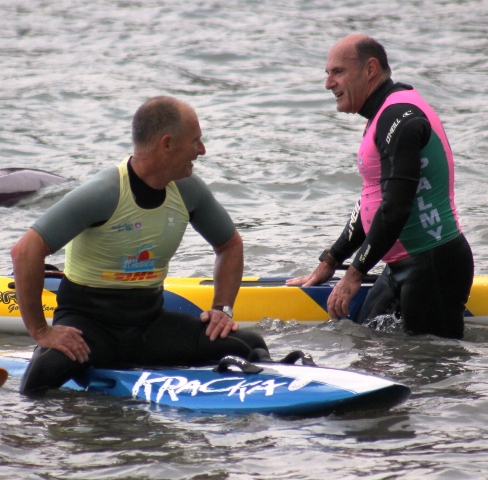 A combination of things; I love the camaraderie, it's great fun to be with people our age. When we first started this group it included a lot of kids and although that was good we wanted to develop a strong Masters Group and so began this. To me it's great to see people doing something that's challenging them; it's also great to see people like Julia, whom you just spoke to, develop their skills. Hers have risen dramatically – some people can be nervous in the surf and to see their skills and confidence develop over the course of the training sessions and over the years that they've been doing this is great – it's people pushing people along when you train as a group together. This is in turn upping their skills further, upping their competitive levels, upping their fitness, and then afterwards we all go off for coffee and having a good time.
It's also great to see all the clubs getting together as historically surf clubs were 'us and them' – you trained with your own club, did your own thing.
We have expanded our group to include anybody from beginners to advanced. Some weeks we have 35 people up here.
And of course, all are welcome – if they want to join a surf club and meet us up here, they are more than welcome.
What complementary training do you do Chris?
I've just started Cross Fit training as we now have a Cross Fit trainer within our gym at Avalon Beach surf club – this is a lot of core and technique in terms of weight lifting. I've always done some sort of aerobic exercise, spin classes and I also do yoga as well.
I've done cardio classes, a variety of supporting regimes over the years – I've always done that; worked in a gym and outside of a gym.
How do you do all this – you've been re-elected President at Avalon Beach SLSC , you're an Independent Director Surf Life Saving Australia, commit time to mentor young women, run family businesses as well as look after your family – how do you do it all?
Well, sometimes I wonder – the last few weeks have been pretty frantic but I get up really early, basically. This week I've been doing a yoga intensive with and have been up at 5 o'clock – we've been doing this from 5.30 until 8.00.
Then I go home and start my day – my girls say 'mum, you never sit down ' – so that's probably what it is, I'm not one to sit spending too much time relaxing. I'm active and enjoy getting out and getting things done – I'm passionate about surf lifesaving so it's simply putting my passion into action.
The Lion Island Challenge will be held on Saturday 11th of October this year – more paddling for many ?
Yes; the Lion Island Challenge is one of the most prestigious ski races on the circuit – we're expecting bigger numbers, we're expecting a variety of conditions as there are each year.
People like this race because it takes them out into the ocean and brings them back around Palm Beach and brings them around Barrenjoey Lighthouse – it's one of the most spectacular races. It's also challenging but if you're at that level or even a bit lower you can do something that takes you out of your comfort zone a little but still know you're in safe hands with the Avalon Beach SLSC crew looking after you.
We hope to see a return of athletes like Tim Jacobs, Jeremy Cotter, Nathan Baggaley and Jo Brigden-Jones and Deb Salmons again this year – this level of skill not only inspires other entrants but reminds us hat others like this race and see it as a challenge.
Once again there will be a range of courses – 14km for the skis and OC's – a 8 km for SUP's, 12 foot and unlimited paddleboards which can also be a short course for skis and a 6km for racing Mals – so something for all who want to take the challenge.
People can keep up to date on the Lion Island Challenge Facebook page and entries will open two weeks out from the race.
Brett Greenwood, who has paddled from Victoria to Tasmania on his kayak, is co-ordinating the race this year, so it's going to be a great Lion Island Challenge for all those who enter.
_______________________________________________________
The Rescue 2014 World Surf Lifesaving INTERCLUB MASTERS TEAMS – OCEAN AND BEACH EVENTS will be held on COUCHANT BEACH, LA GRANDE MOTTE from Tuesday 16 September to WEDNESDAY 17 SEPTEMBER 2014
It's probably going to seem a little bit like home week on these sands of beaches in France. If you look through the lists of Masters competing, some of whom are clearly from the same families even if training with Masters Divisions in Surf Lifesaving Clubs at either ends of our Northern Beaches, you will realise what we keep reiterating – this is one big family.
This is further underlined when looking at this great team mascot designed by Lisa Heath at Penguin Graphics for part of our Pittwater contingent – great stuff!
And…GOOD LUCK! Hope you win some great memories for Life!
Further - Winners at Rescue 2014:
Rescue 2014 World Life Saving Championships - Australian Teams Golden Moments: Day 1 of National Teams Ocean and Beach Events concluded 1.30am Australian Time - great results for our Open Team on the beach... Front Page Issue 181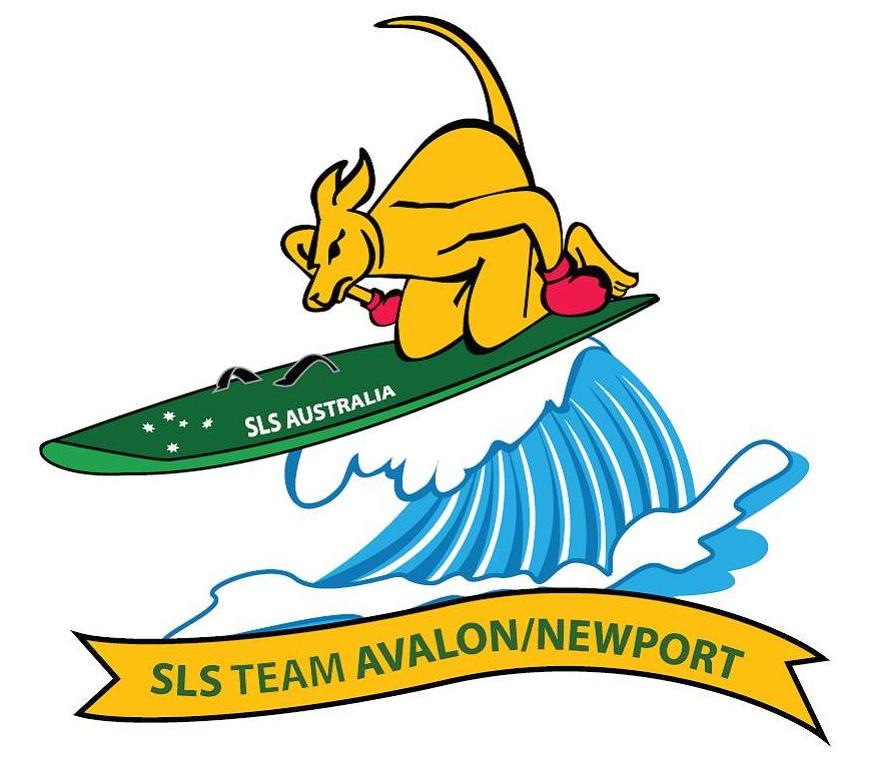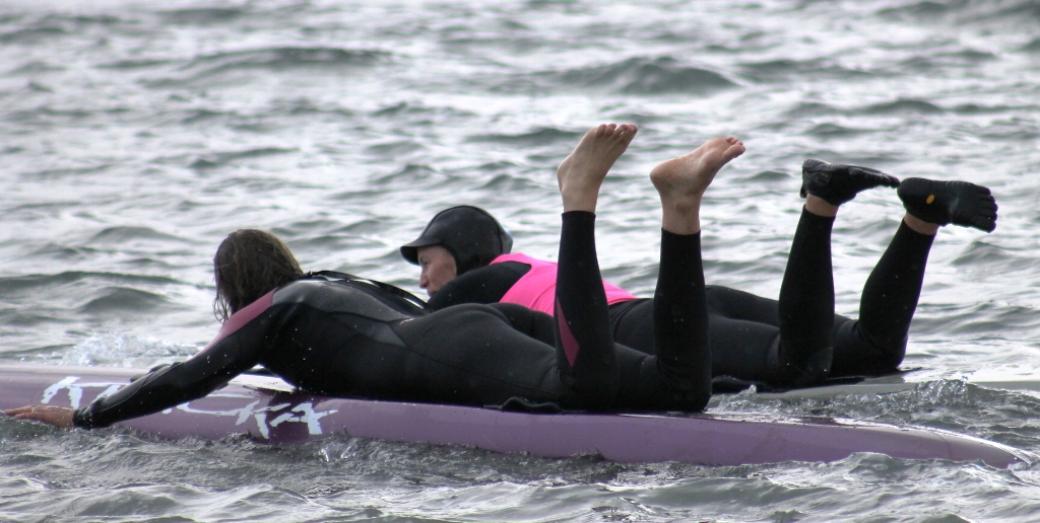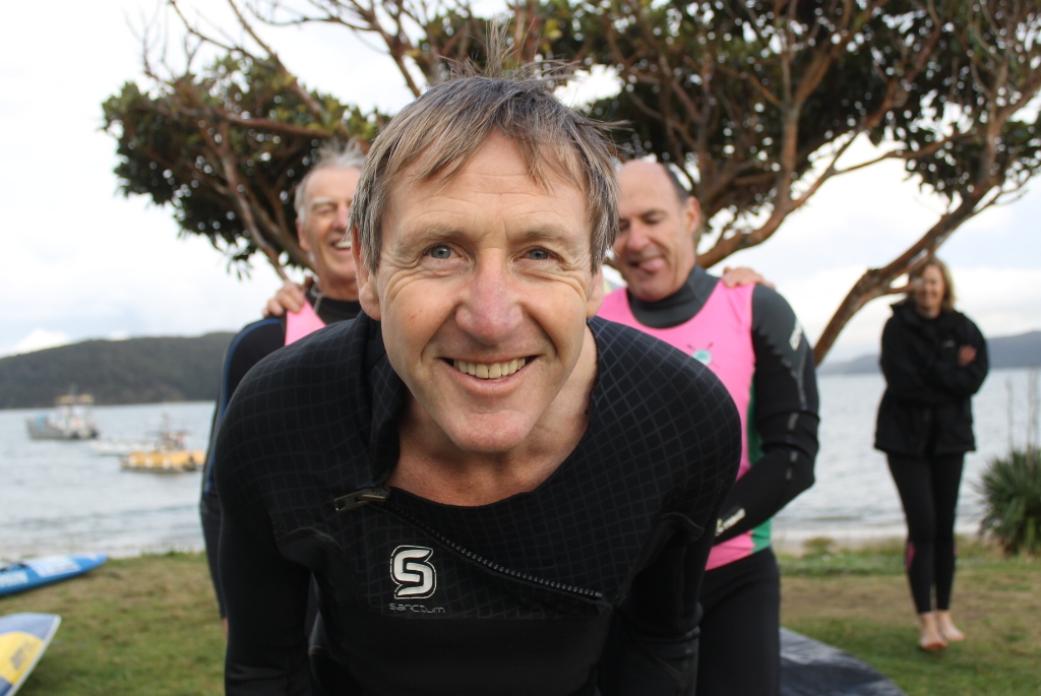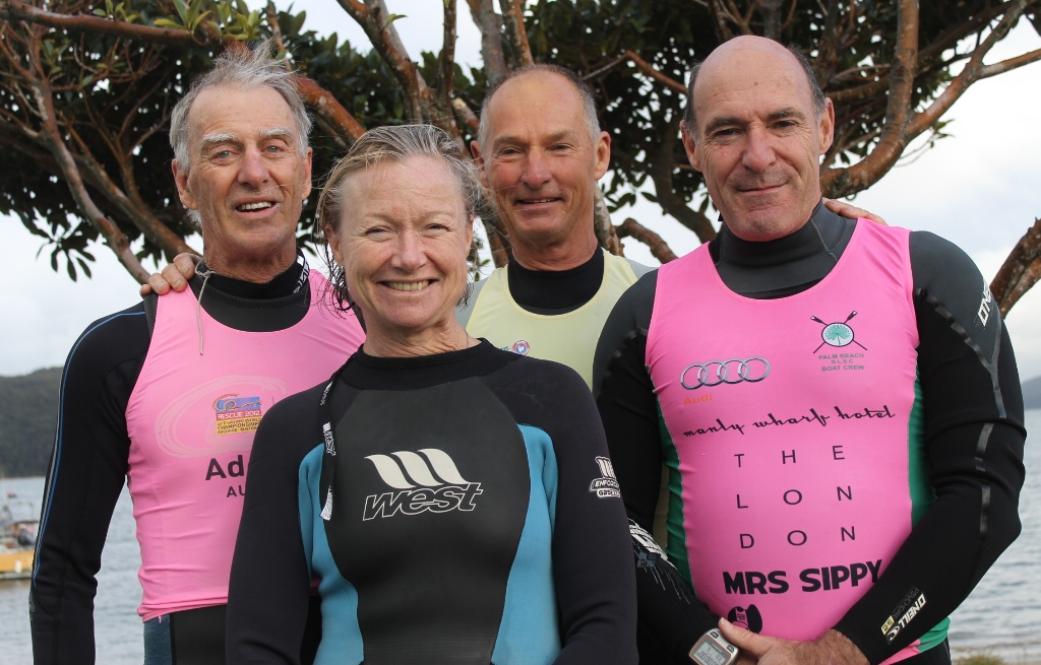 Bob Richardson, Chris Hopton, Chris McGuckin and Gordon Lang - Avalon Beach and Palm Beach SLSC Members going to Masters Competition at Rescue 2014 World Life Saving Championships.
Report and Pictures by A J Guesdon, 2014.