December 4 - 10, 2022: Issue 565
Be The Boss: I Want To Be A Podiatrist
If you want a career in the field of health but still able to retain your independence as well as entering a field with rising demand, then looking after people's feet may be for you.

To become a Podiatrist you need to complete a degree such as a Bachelor of Podiatric Medicine or Bachelor of Podiatry. The coursework includes theoretical and practical lessons, as well as clinical experience.
Complete an accredited podiatry degree. Entry requirements for these courses usually require that you have completed high school, studied a number of science subjects and achieved an appropriate ATAR. Alternatively, you may complete an approved undergraduate degree and a Master of Podiatric Practice.

Many Podiatrists choose to specialise based on their experience and interests. Common areas of specialisation include sports medicine, biomechanics, arthritis and gerontology.
Tasks and duties
Diagnosing diseases and deformities of the foot using medical histories, x-rays, laboratory tests and physical examinations.
Treating deformities, prescribing and making orthotic inserts for patients when they're required.
Performing minor surgical procedures, like ingrown toenail surgery, using a local anaesthetic.
Podiatrists work in hospitals, in private practices, nursing homes and community medical clinics.
A Doctor of Podiatric Medicine (DPM), or a podiatrist, is a healthcare professional who diagnoses and treats conditions affecting the structures of the foot, ankle, and leg. The podiatric medical school curriculum includes lower extremity anatomy, general human anatomy, physiology, general medicine, physical assessment, biochemistry, neurobiology, pathophysiology, genetics and embryology, microbiology, histology, pharmacology, women's health, physical rehabilitation, sports medicine, research, ethics and jurisprudence, biomechanics, general principles of orthopaedic surgery, and foot and ankle surgery.
Podiatry is a high-paying specialization and was listed by Forbes in 2007 as the 15th-best-paid profession in the United States. The median annual salary of a podiatrist in the US was $124,830 in 2016 according to the US Bureau of Labor and Statistics.
Podiatry is practiced as a specialty in many countries, while in many English-speaking countries, the older title of chiropodist may be used by some clinicians.
In Australia, graduates of recognised academic programs can register through the Podiatry Board of Australia as a "podiatrist", and those with additional recognised training may also receive endorsement to prescribe or administer restricted medications and/or seek specialist registration as a "podiatric surgeon".
History of
The professional care of feet existed in ancient Egypt, as shown by bas-relief carvings at the entrance to Ankmahor's tomb dating from about 2400 BC, where work on hands and feet is depicted.
Corns and calluses were described by Hippocrates, who recognized the need to physically reduce hard skin, followed by removal of the cause. He invented skin scrapers for this purpose, and these were the original scalpels.
Until the turn of the 20th century, chiropodists—now sometimes known as podiatrists—were separate from organized medicine. They were independently licensed physicians. Lewis Durlacher, who was appointed as surgeon-chiropodist to the British royal household in 1823, was one of the first people to call for a protected profession.
There are records of the King of France employing a personal podiatrist, as did Napoleon. In the United States, President Abraham Lincoln suffered greatly with his feet and chose a chiropodist named Isachar Zacharie who not only cared for the president's feet but was also sent by President Lincoln on confidential missions to confer with leaders of the Confederacy during the U.S. Civil War.
The first society of chiropodists was established in New York in 1895—and still operates there today as NYSPMA. The first chiropodist school opened in 1911. One year later, the British established a society at the London Foot Hospital and a school was added in 1919. In Australia, professional associations appeared from 1924 onwards. The first American journal appeared in 1907, followed in 1912 by a UK journal. In 1939, the Australians introduced a training center as well as a professional journal.
Sports podiatry covers the following two areas: foot and lower limb chronic overuse injuries and mechanical performance enhancement to minimise injury and maximise efficiency. Podopaediatrics is a specialty of podiatric medicine that focuses on the treatment of medical lower limb issues in children.
Australian podiatrists
In Australia there currently exist two levels of professional accreditation and professional privilege: General Podiatrist and Podiatric Surgeon. There is current lobbying for other specialties to be recognised in Australia, such as podopediatrics, diabetes, high risk, musculoskeletal and sports podiatry. Australian podiatrists are able to practise abroad, with their qualifications recognised in some Commonwealth countries.
Australian podiatrists must register with the Podiatry Board of Australia. The Podiatry Board of Australia is responsible for regulation and recognition of podiatrists and podiatric surgeons, and assessing foreign trained registrants in conjunction with the Australian & New Zealand Podiatry Accreditation Council (ANZPAC).
The Podiatry Board of Australia recognizes 3 pathways to attain specialist registration as a podiatric surgeon:
Fellowship of the Australasian College of Podiatric Surgeons
Doctor of Podiatric Surgery, University of Western Australia
Eligibility for Fellowship of the Australasian College of Podiatric Surgeons
Entry into undergraduate Podiatric Medicine degrees can be done after the completion of a Year 12 Certificate with an Australian Tertiary Admissions Rank (ATAR). The cut-off scores from the Universities Admissions Centre (UAC) generally range from 70.00 to 95.00, dependent on the popularity and intake of each podiatric medical school. Prospective students can also be of mature age (21 and over) and they apply directly to the university instead of going through UAC. The UWA DPM program has admission requirements of: completion of a UWA bachelor's degree or equivalent, a minimum GPA of 5.0 from the most recent three years (FTE) of valid study, suitable GAMSAT score, and English language competency. There is no interview requirement for the DPM at UWA (applications are handled via the university).
All podiatrists may refer patients for Medicare rebatable plain x-rays of the foot, leg, knee, and femur, as well as ultrasound examination of soft tissue conditions of the foot. Podiatrists may refer patients for other radiologic investigations such as CT, MRI, or bone scans, however Medicare rebates do not currently exist for these examinations. Similarly, podiatrists may refer patients when needed to specialist medical practitioners, or for pathology testing, however similar exclusions in the Medicare Benefits Schedule prevent rebates being available to patients for these referrals.

Australian podiatric medical schools
Australian podiatrists complete an undergraduate degree ranging from 3 to 4 years of education. The first 2 years of this program are generally focused on various biomedical science subjects, including functional anatomy, microbiology, biochemistry, physiology, pathophysiology, pharmacology, evidence-based medicine, sociology, and patient psychology, similar to the medical curriculum.[citation needed] The following one year will then be spent focusing on podiatry specific areas such as podiatric anatomy & biomechanics, human gait, podiatric orthopaedics or the non-surgical management of foot abnormalities, podopaediatrics, sports medicine, rheumatology, diabetes, vascular medicine, mental health, wound care, neuroscience & neurology, pharmacology, general medicine, general pathology, local and general anaesthesia, minor and major podiatric surgical procedural techniques such as partial and total nail avulsions, matricectomy, cryotherapy, wound debridement, enucleation, suturing, other cutaneous and electro-surgical procedures and theoretical understanding of procedures performed by orthopaedic and podiatric surgeons.
Australian podiatric surgeons are specialist podiatrists with further training in advanced medicine, advanced pharmacology, and training in foot surgery. Podiatrists wishing to pursue specialisation in podiatric surgery must meet the requirements for Fellowship with the Australasian College of Podiatric Surgeons. They first complete a 4-year degree, which includes 2 years of didactic study and 2 years of clinical experience. Following this, a master's degree must be completed with a focus on biomechanics, medicine, surgery, general surgery, advanced pharmacology, advanced medical imaging, and clinical pathology. They then qualify for the status of Registrar with the Australasian College of Podiatric Surgeons. Following surgical training with a podiatric surgeon (3–5 years), rotations within other medical and surgeons' disciplines, overseas clinical rotations, and passing oral and written exams, Registrars may qualify for Fellowship status. Fellows are then given Commonwealth accreditation under the Health Insurance Act to be recognised as providers of professional attention for the purposes of health insurance rebates.
There are currently nine universities in Australia (plus one in New Zealand) offering varying degrees of podiatric medicine, from a Bachelor of Podiatry/Podiatric Medicine (BPod), a Masters of Podiatric Medicine (MPod), and a Doctor of Podiatric Medicine (DPM) (DPM is a master-level degree). All podiatry schools are accredited by the Australian and New Zealand Podiatry Accreditation Council (ANZPAC). ANZPAC is an independent body comprising members consisting of the Podiatry Registration Boards in Australia and New Zealand. The Board of Management comprises registered podiatrists (nominated by the Registration Boards), nominees from the professional associations (Australasian Podiatry Council and Podiatry New Zealand), nominees from the educational institutions offering podiatry programs and community representation. ANZPAC has been assigned the accreditation functions for the Podiatry Board of Australia under the National Registration and Accreditation Scheme for Health Professions. There are also two more podiatry schools currently being developed at the Australian Catholic University and the University of Ballarat. The local universities offering podiatry are; University of Western Australia, Charles Sturt University, La Trobe University, University of Western Sydney, University of South Australia, University of Newcastle (NSW), Queensland University of Technology, Central Queensland University, Southern Cross University, and Auckland University of Technology (New Zealand).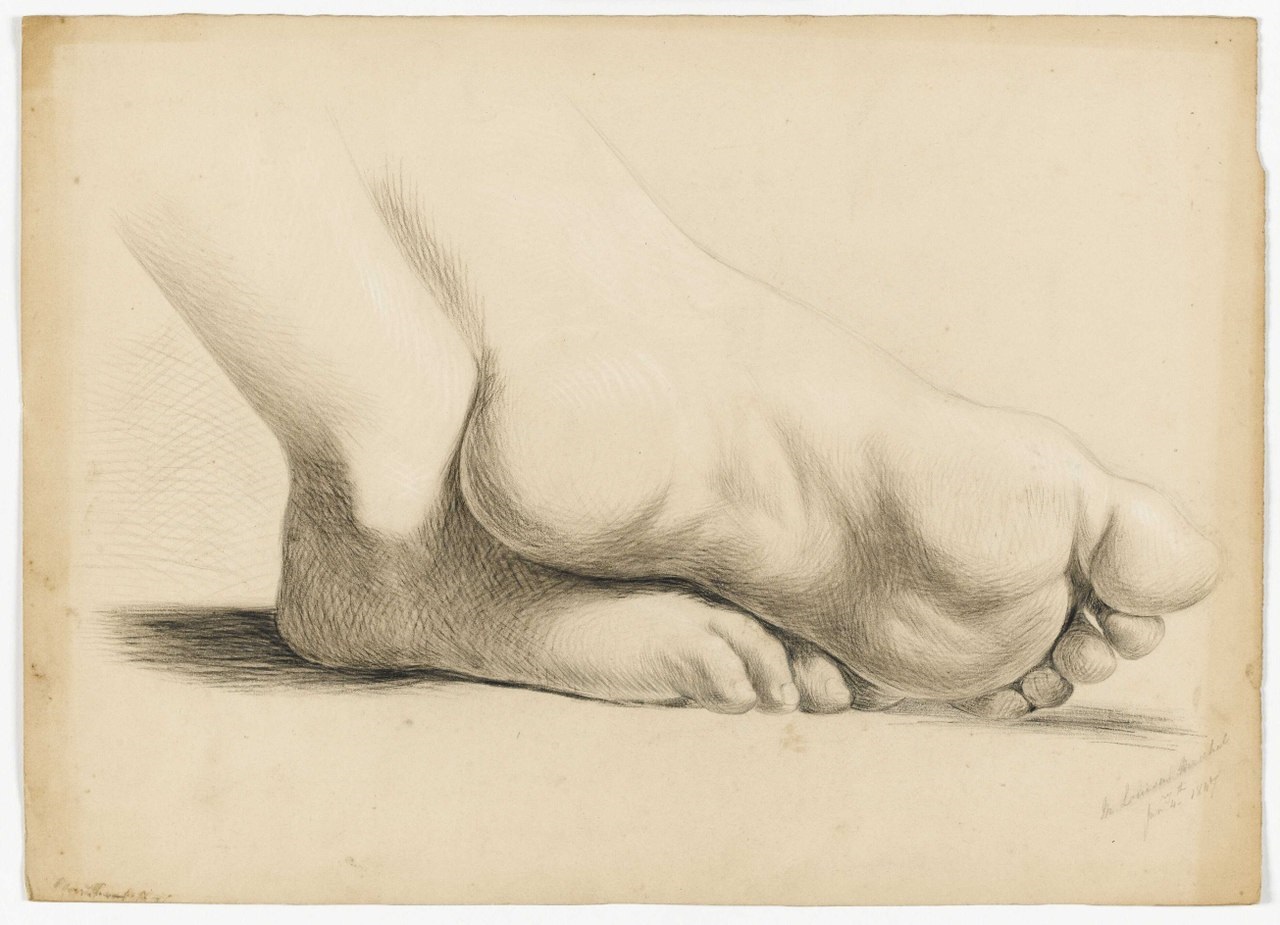 Study of a pair of feet crossed, 1847, by Margaret Louisa Herschel, daughter of John Herschel, from the Royal Museums Greenwich

Summer Skills Fee Free Courses
Summer Skills is a fee-free* short course program to support school leavers, aged between 15 – 24 years, obtain job-ready skills over the summer months.
Whether you plan to attend TAFE NSW, university, have a gap year or are still undecided, we have a course that can give you the skills for a brighter future.
Priority industry areas have been identified under Skilling for Recovery and include short courses in Early Childhood Care, Aged Care, Disability, Hospitality, Construction, Agriculture, Business and Administration, IT and Digital, Retail, Transport and Logistics, Manufacturing/Engineering and Sport and Recreation.
Find out more at: https://www.tafensw.edu.au/summer-skills
Also Available: