March 11 -17, 2012: Issue 49
Samantha Shaw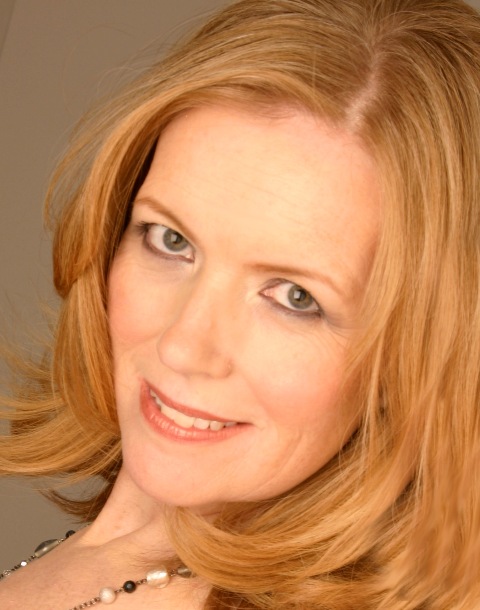 Sam is from Essex in the UK just on the border of North East London. A love of the outdoors and playing in the Epping Forest as well as horse-riding and dancing filled her childhood. Daughter of Olivia Shaw, a singer and actress, Sam began attending a local dance studio from age 4. Brother Steve is an 'aging rock star drummer' and her sister still sings in a choir. Sam moved to Sydney with her Aussie husband, Graham Browne, and their 2 boys, just over 3 years ago. After training in Musical Theatre at the Arts Educational College in London she went on to have a successful 30 year career in theatre, recording, concerts, TV and radio. With a very flexible vocal ability Sam was in demand to play character roles. A precis of her work includes: - the West End of London - Fantine in Les Miserables, Jenny Diver in The Beggars Opera (Royal Shakespeare Company), Anthony and Cleopatra (RSC), Louisa in The Art of Success (RSC Fringe), Chess (Prince Edward Theatre), Witch in Which Witch (Piccadilly Theatre), one of the cast of 3 in Starting Here, Starting Now (original London cast), Rose Seller in Oliver!; (national and international tours), Oliver! (Aldwych Theatre). In repertory theatres and national tours - Rose in Aspects of Love, Audrey in Little Shop Of Horrors, Dorothy in The Wizard of Oz, Laura in From A Jack To A King, Becky in Mr Cinders, an Ayola Sister in Dona Rosita, Godspell, It's A Girl, Be Bop A Lula, Balthazar in Romeo and Juliet, Annie.
Sam has worked extensively as a voice over artist in TV and radio commercials (e.g. Honda, Bundaberg Rum, Smiley's Tyres and Exhausts, Metro Radio Newcastle) and character dubbing for animation (Hairy and Scary, Millennium Actress, Santa's Apprentice, Laura's Star, Blanche, Fantagiro, Football Stories). Her main source of work since having children has been as a session singer on film soundtracks including Nine, Mama Mia, A Christmas Carol, Transformers, 300, Troy (recorded in LA), Bee Movie, Lion King 3 and as a soloist in concert in London and the UK performing with the BBC Radio Concert Orchestra on many occasions, The London Symphony Orchestra and The Royal Philharmonic Orchestra at The Barbican Concert Hall and The Royal Albert Hall. Sam also featured in BBC Radio 2's adaptations of musicals alongside many well known artists. She has appeared many times on TV in the UK including three series of a children's programme called "Let's Pretend" for Central Television.
Sam has also sung backing vocals for many well-known artists such as Robbie Williams, Donny Osmond, Michael Ball, Mischa Paris, Hayley Westenra, Sarah Brightman, Marti Webb, Elaine Page, Michael Crawford and others. Sam has written many songs and had one piece of music published and used for a TV commercial in Europe.
Recently this dynamo has appeared in two concerts here in Pittwater, raising money for the village of Soibada in East Timor. She is a member of the committee of Pittwater Friends of Soibada who helped to organise the concerts and runs their website (www.pittwaterfriendsofsoibada.org.au ). She helps to run the children's choir at Maria Regina Church in Avalon with Simon Hyland who is the Minister for Youth and Music in the Catholic Parish of Pittwater and she also runs the choir at Maria Regina Catholic Primary School.
OUT LOUD! Singing and Voice Coaching
Apart from all of that, Sam is now running her own Singing and Voice Coaching School in Avalon called "Out Loud!" (www.facebook.com/OutLoudCoaching), coaching children and adults alike in singing technique, voice production for public speaking, assisting with repertoire, and generally guiding people to a better understanding of their voice and to have FUN in the process! She teaches individuals but also groups, especially for younger children who don't necessarily benefit from a great deal of technique until they're in their teens but can learn to listen and understand music and enjoy singing their favourite songs. She love's to assist kids and adults with their presentations and public speaking commitments, getting them to clearly communicate their message to their audience using speech techniques, emotion and physical expression. She is also working as a vocal coach at Erana Clark's recording studio in Dee Why, Meshach Musik (www.meshachmusik.com). Erana is the Vocal Director of the X Factor and Australian Idol and has been an inspiration to Sam professionally and as a friend.
Next term (School Term 2) Sam is starting a regular community singing group called The Big Sing which is for adults who can sing, can't sing, want to sing, have never sung but want to have a go, think they can sing, sing in the shower, love a laugh and a sing, young or old or middle aged and thrive on socialising!! Details are as follows: The Big Sing, Tuesdays 10 - 11, Avalon Recreation Centre. Bookings essential, $10 per session. Call 0401 343 569 or email sammeeshaw@gmail.com.
What is your most memorable moment on stage ?
First performance as Fantine in London's West End production of Les Miserables. It was something I had dream about for years beforehand. Terrifying but at the same time exhilarating!
Funniest experience in the business ?
I was playing a flying witch in a musical called "Which Witch" at The Piccadilly Theatre, London. It was about a medieval witch hunt of the 13th century. In one scene I would fly across the stage hanging by a harness on wires with a couple of guys working the pulleys in the wings! I'd fly from one side of the stage, land the other, then going back again I'd do a backward somersault over the cauldron, land then fly across and off the other side. One night a new guy was on one of the pulleys and on trying to execute my impressive backflip I ended up IN the cauldron!! No harm done, just a lot of very unprofessional corpsing going on!!
What is your favourite song or album ?
Eva Cassidy's Songbird or anything by Earth Wind and Fire- yes, showing my age!! Saw them live at Albert Hall about 10 yrs ago....... As awesome as ever!
Which album or single did you first buy with your own pocket money and how old were you ?
Dad used to get records through a record club at work and I ordered Sister Sledge Circle of Love (disco queen or what?!!) age 12 ish.
What is your favourite place in Pittwater and why ?
I love The Boathouse at Palm Beach. On a glorious day it's the best place in the world to just hang out with friends over a glass of chilled crisp white wine and a plate of their unbeatable fish and chips. Love taking visitors from home in the UK there to watch the seaplane taking off and landing. Such a contradiction to chilly England!
What is your 'motto for life' or a favourite phrase you try to live by ?
Ironically, "Enjoy life! This is not a dress rehearsal"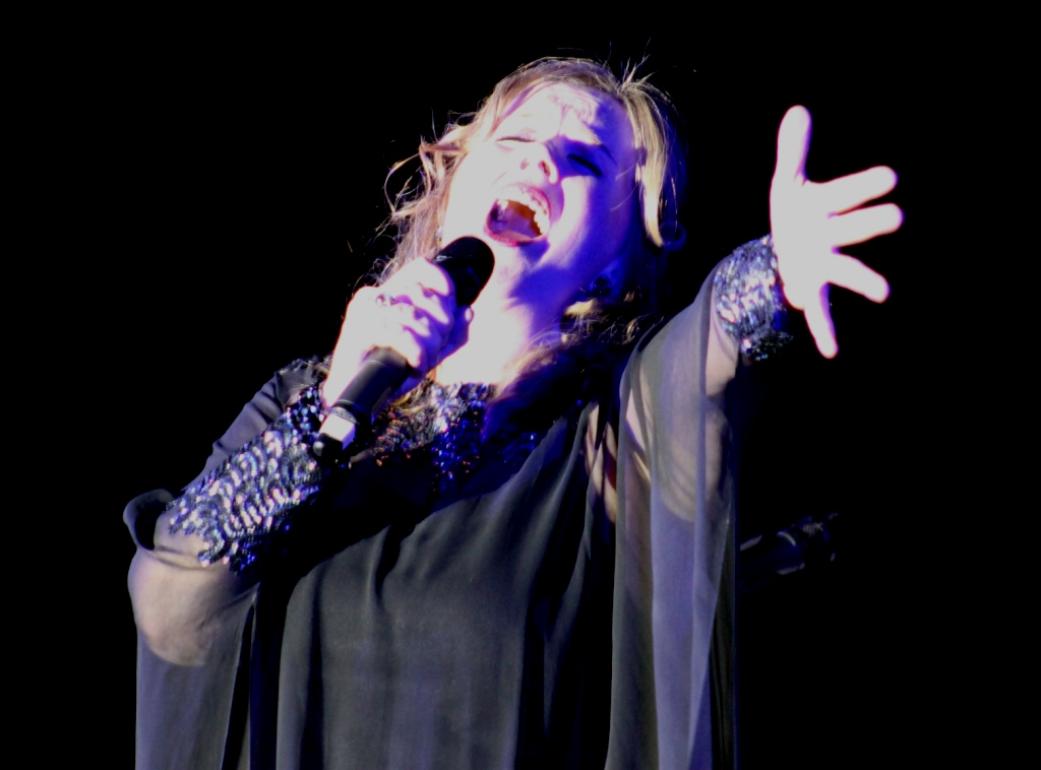 In full voice at
Songs for Soibada III
- 2013 - Sam was organiser of one of the best SFS concerts ever. Picture by A J Guesdon.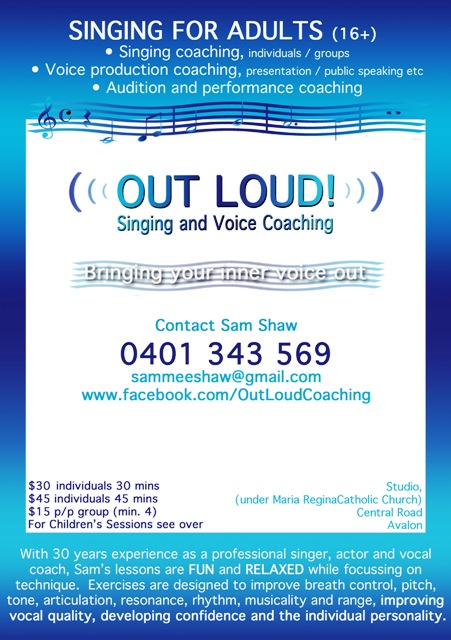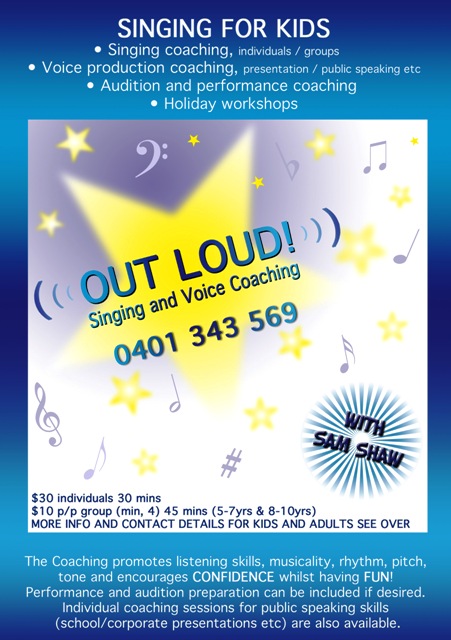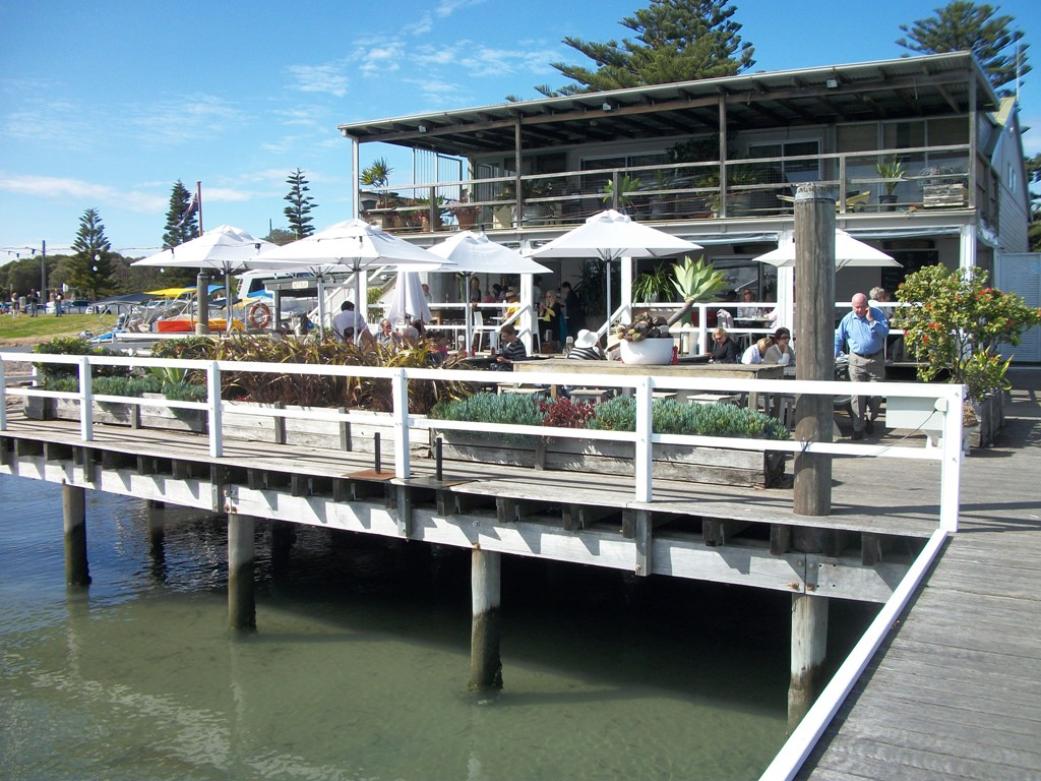 The Boat House at Palm Beach