January 10 - 16, 2016: Issue 246
NSW Premiers Award for Community Service Presented to Gary Cook at Newport Surf Club's Ocean Swim 2016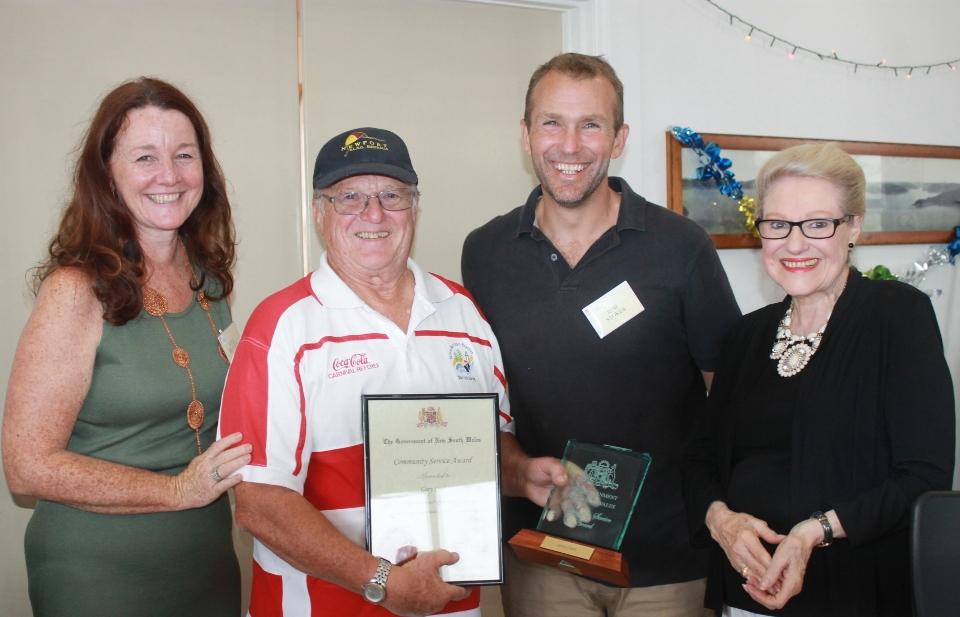 Deputy Mayor of Pittwater Kylie Ferguson with Gary Cook, Hon. Rob Stokes, MP for Pittwater and Hon. Bronwyn Bishop, MP for Mackellar - A J Guesdon photo.
Life Member of Newport Surf Club, Surf Life Saving News South Wales and Sydney Northern Beaches Surf Life Saving Gary Cook has begun his 55th year of service as part of the Newport Club in January 2016 - work he hopes to continue for many years yet.
On Sunday January 3rd his passion for surf life saving, along with numerous other activities he has done to build up our community, were recognised when Pittwater's MP, Hon. Rob Stokes presented him with a NSW Premier's Award for Community Service - the highest award the NSW Government may give to recognise an individuals works for others.
Full story HERE
Summer 2016 Art Exhibitions in Avalon Beach Celebrate HSC Students and Established Artists Works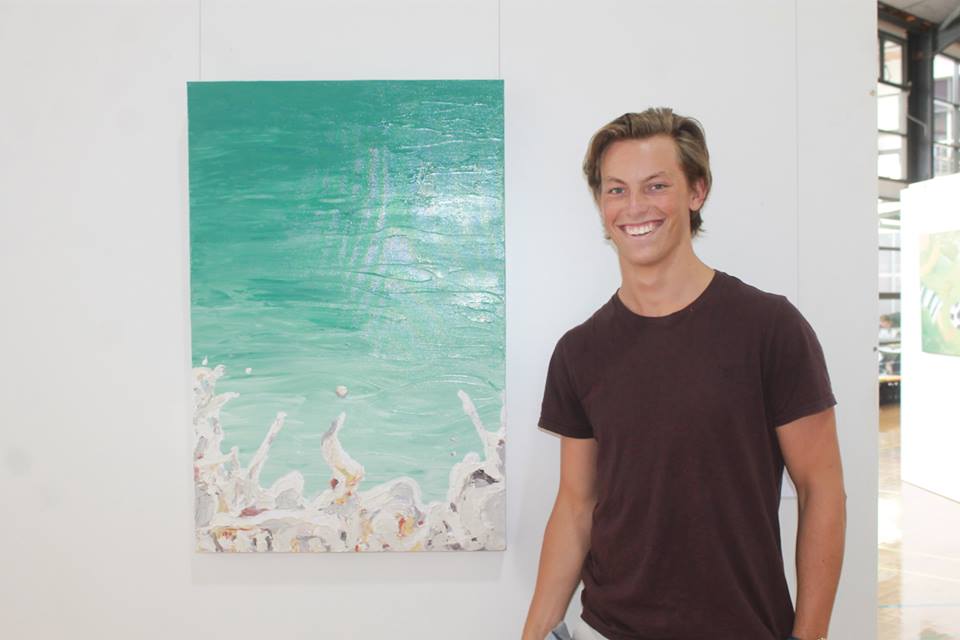 Harrison Power with 'Frothy Blue', 2015 - part of the Fresh Art Exhibition
Today, Sunday January 10th, is the last chance to see Fresh Art - the great HSC Students works in the main hall at Avalon Recreation Centre, along with the the beautiful mixed media and photographs in the Two Sisters Exhibition by Lisa Wilkes Hunter and Melinda Moran and Simon Barlow's wonderful new works.
Doors are open from 10 a.m.
The launch of these exhibitions occurred on Sunday January 3rd where visitors and guests could talk to the artists and hear Speakers Jessica b Watson, selecting works in the Fresh Art for commendation and work of the show, and John Brabant's inspiring words in opening the Two Sisters exhibition.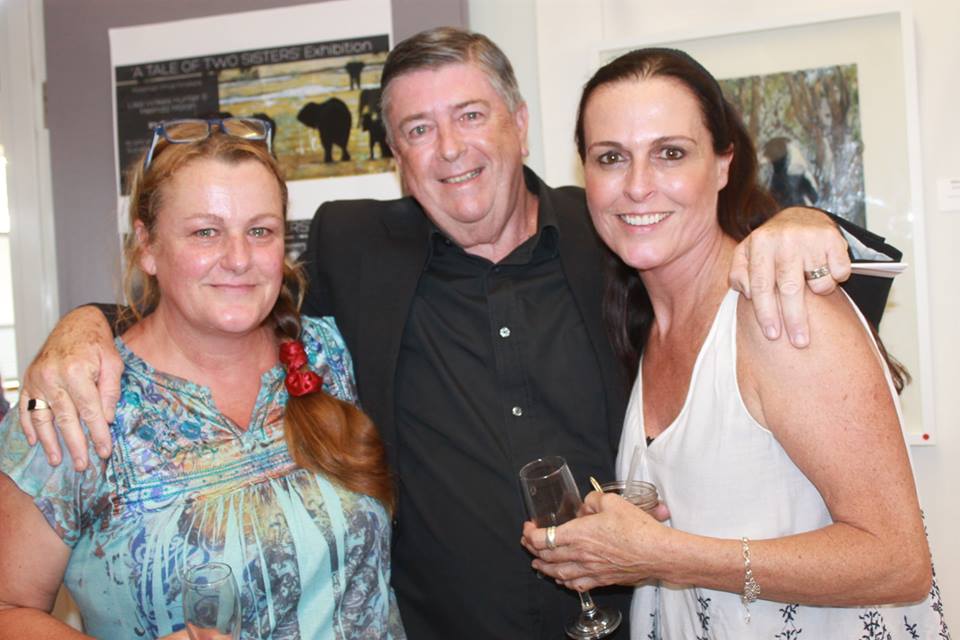 Two Sisters Exhibition: Moran, John Brabant and Lisa Wilkes-Hunter
George Bass Surf Marathon 2016: Local Crews 'Rustiques' Masters Win 3rd - Long Reef Open Women Win 1st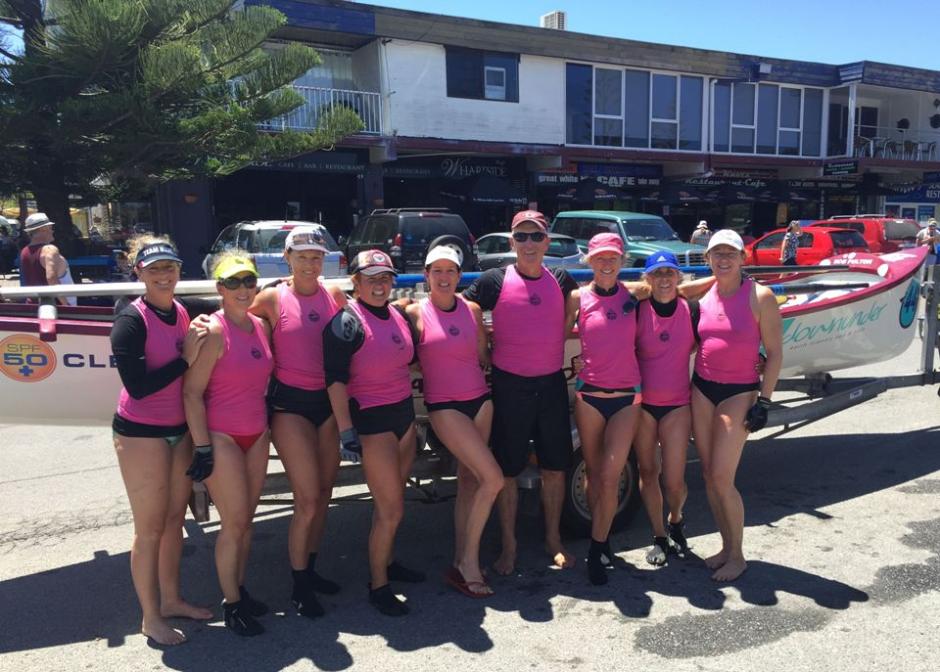 The Rustiques - Day 7, at Eden - photo courtesy their support crew
Warriewood SLSC Sweep - Russell Lamb, Masters Women: Rowers – Louise Barnett, Alex Coates, Tanya Deer, Phillipa Lowe - Avalon Beach SLSC – Rowers – Kerry McEwan, Kate Munro, Beverley Tilbury, Donna Wishart. Support Crew – Phil Deer, Carl Quitzau. Leg 5 Winners - 3rd Overall in Masters Women.
The Rustiques - Leg 5 Winners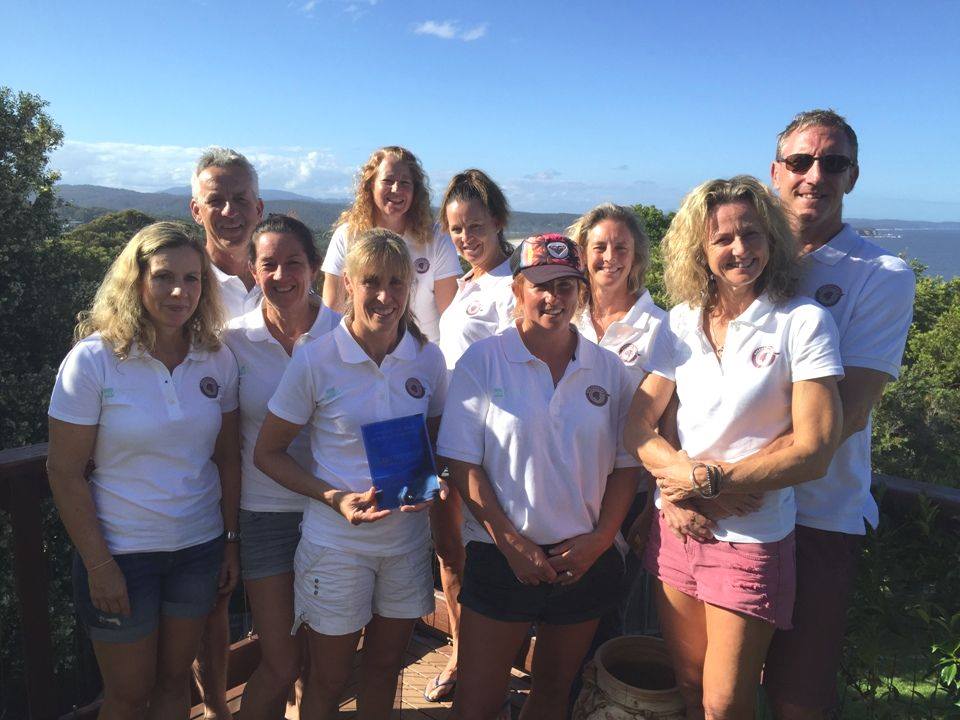 Northern Beaches surf boat crews have completed the gruelling 170 kilometre 2016 George Bass Marathon during some of the most challenging conditions ever experienced in this iconic race with two of the first four days forced onto inland waters due to dangerous seas and torrential rains.
Long Reef SLSC's Open Women's composite crew (with Moruya) finished 1st overall, while their Open Men's (Shady Tradies and Dem Apples crews combined) finished in a very respectable 4th.
A crew combining Warriewood and Avalon Beach SLS Clubs, as the 'Rustiques', secured 3rd in the Masters Women. The Rustiques also won Leg 5 of the 2016 George Bass despite a southerly change that came though with 60kph winds and the girls capsising a kilometre offshore. They recovered to win in 2 hours 40mins.
Long Reef's Open Women's crew won 6 of the 7 legs. The one leg they lost occurred when they broke a rowlock - darn rowlock!
Full report of all 7 days and great pictures of the action, courtesy of George Bass media, HERE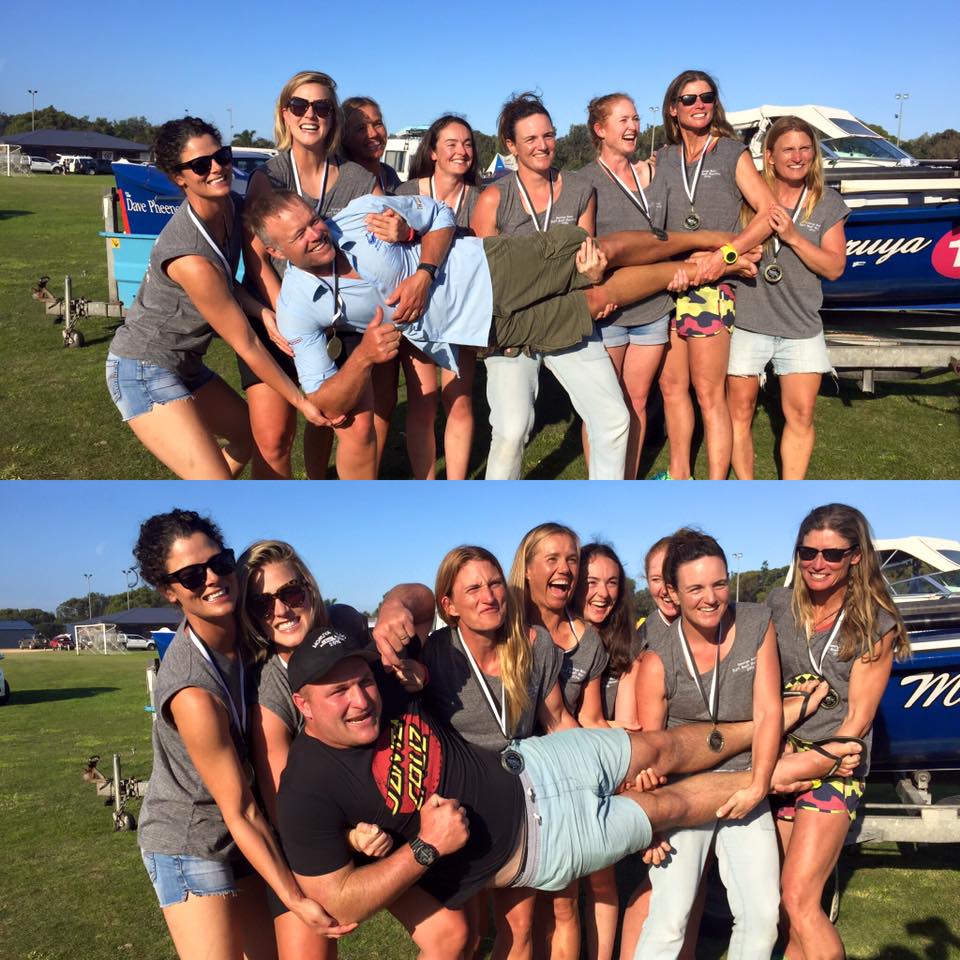 Our wonderful sweep from Moruya and boat support Mick Weyman - 2016 George Bass winners!!! photo courtesy Long Reef SLSC
Long Reef / Moruya Open women: Kylie Ryder, Marnie Gordon, Sophie Lovett, Margaret Pearson, Jane Coppin, Ali Weyman (wife of Mick Weyman), Clare Immens, Nicole Cowdroy - swept by Brad Coppin.
Pittwater Sailors Excel at Youth Sailing World Championships 2015/2016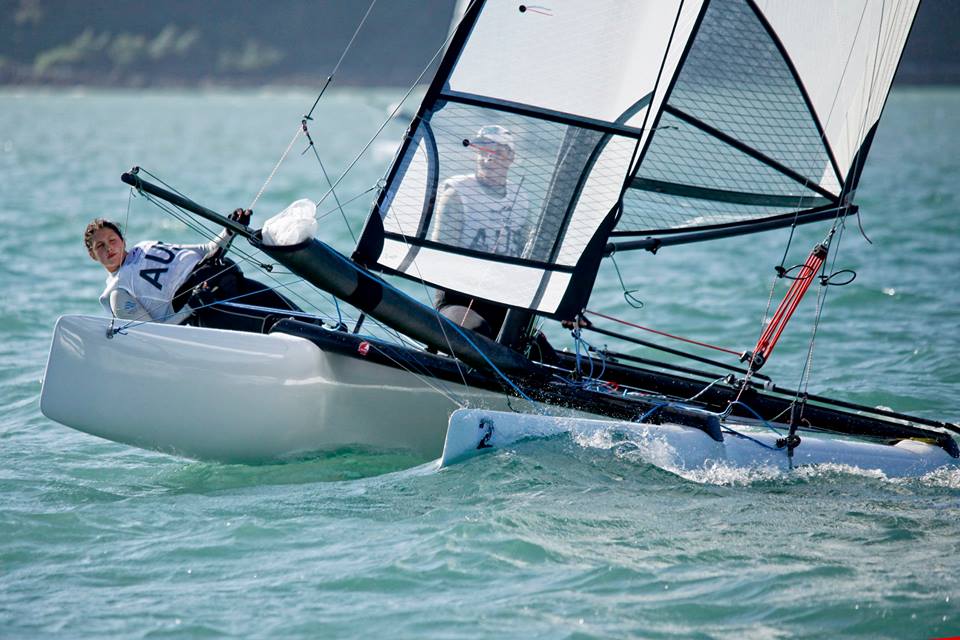 Sophie Renouf and Shaun Connor at Youth World Championships Photo by Christophe Launay for World Sailing
Palm Beach Sailing Club and Royal Prince Alfred Yacht Club members have excelled at the the 45th Youth Sailing World Championships on the waters of Langkawi, Malaysia.
Sailing in her first Youth Worlds Championship Sophie Renouf, with Shaun Connor in the SL16 won a Silver medal, while Jim Colley and Youth Worlds first-timer and 2014 29er World Champion Kurt Hansen narrowly missed out on Bronze in the 29er class.
The four Pittwater sailors were part of the Australian Youth Sailing Team which this year has brought home the Nations Trophy with boy's Laser Radial sailor Alistair Young leading the charge for the team.
With a total of 303 points, the Australian team beat New Zealand in to second on 279 and France in third on 245.
This is Australia's fourth Nations Trophy and sees the country tied in second place historically with Great Britain. France are still out in front on 11 wins.
Over the regatta a record 425 sailors from 76 nations competed in nine fleets, hunting for a Youth Sailing World Championships title.
Further details in the Australian Sailing Team's report HERE
Jack Carter Cup 2016 – 20th Year
Palm Beach SLSC Summer Events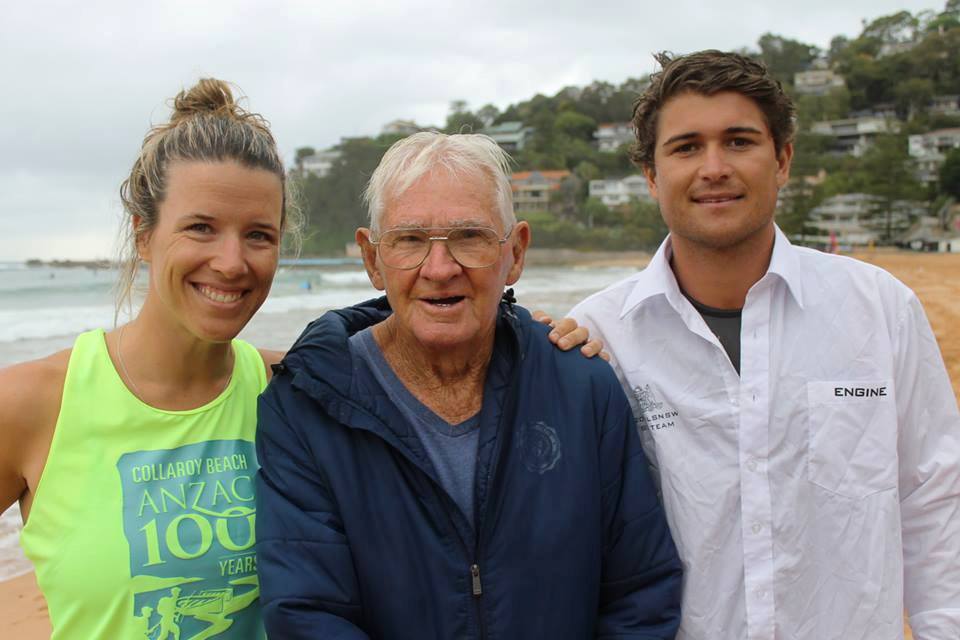 Palm Beach SLSC's Captain Alex Tyrell with Jack (Johnny) Carter and Palm Beach SLSC's MTM Michael Tuck
This iconic marathon iron(wo)man event celebrated its 20th year on Sunday January 3rd 2016. It is named after Jack (Johnny) Carter – who has been a part of Palm Beach SLSC history for over 50 years as a beach inspector and as a swimming instructor.
Jack (Johnny) Carter is currently teaching the third and fourth generation of some families how to swim at Palm Beach's Rock Pool. In 2005 he was awarded an Order of Australia 'For service to the community of Palm Beach as a swimming teacher and lifesaver.'
More HERE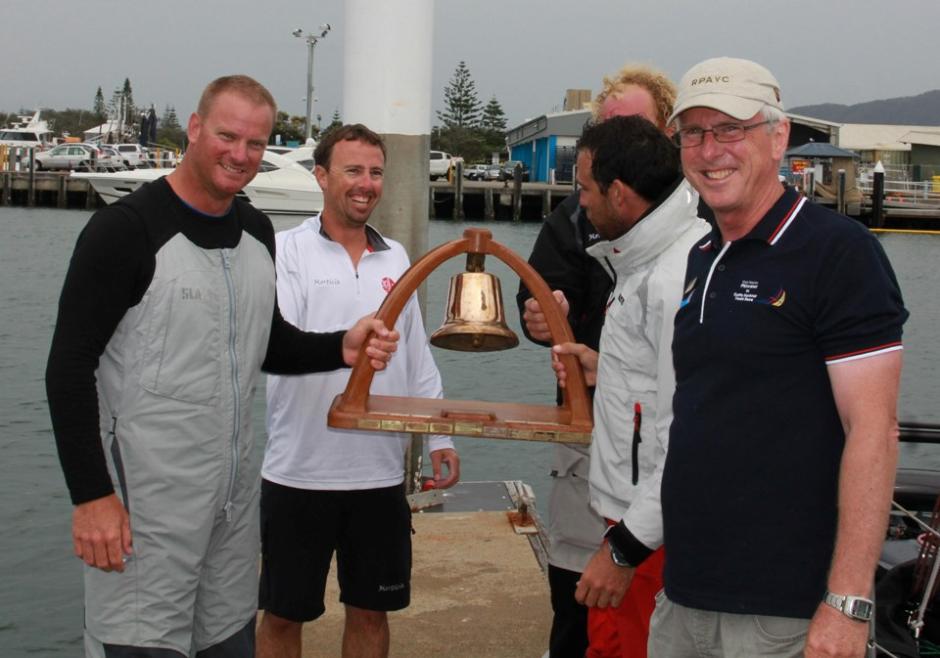 Above: RMYC Broken Bay at Newport member's boat - Morticia won multihull line honours, Skipper and crew with RPAYC Commodore Ian Audsley - photo by Stephen Collopy
3 January 2016: Lisa Ratcliff report
From the bulk of white coloured yachts contesting the 35th edition of the Royal Prince Alfred Yacht Club's key offshore event, the Club Marine Pittwater to Coffs yacht race, the charcoal coloured Beau Geste won the monohull line honours contest and the black-hulled Morticia easily took out the multihull race.
A final fast reach to the finish line in morning sou'west breeze swept Karl Kwok's maxi Beau Geste to its second consecutive line honours win, this time tantalisingly within 16 minutes of the 2003 race record.
More HERE
Bungan to Mona Vale - interlude with John Barry
by Pittwater Pathways: Published on 6 Jan 2016
A wistful interlude from John Barry's largely forgotten film score for the feature film 'Walkabout', set to drone footage from Sydney's Northern Beaches.
Summer in Pittwater - January 2016
Pittwater Online News is Published 8 a.m. Every Sunday Morning and is By, For and About Pittwater - and all that adjoins her green hills and blue waters.
8 a.m. - Winter and Spring - 6 a.m. Summer and Autumn