January 10 - 16, 2016: Issue 246
George Bass Surf Boat Marathon 2016: Local Crews 'Rustiques' Masters Win 3rd - Long Reef Open Women's Crew Win 1st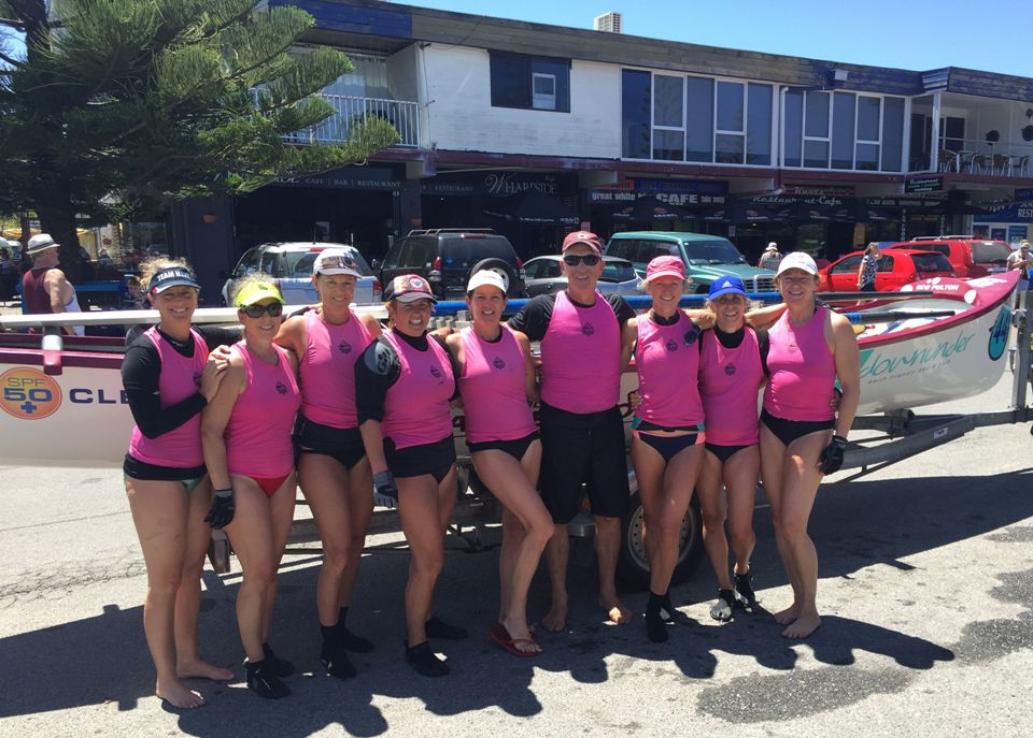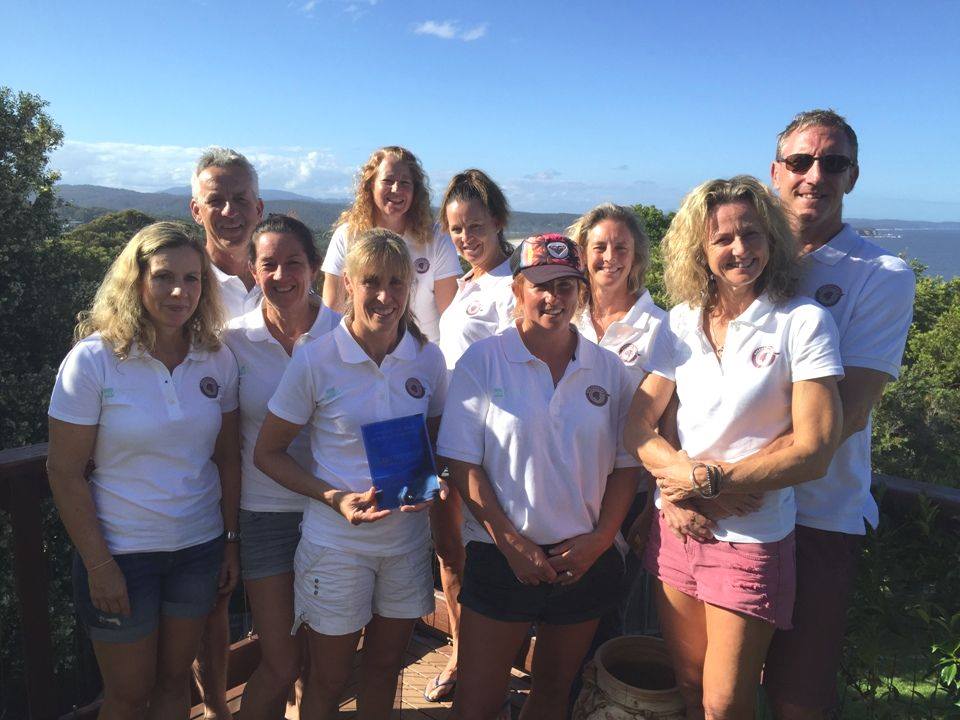 Above The Rustiques - Day 7, at Eden and Leg 5 Winners - photos courtesy their support crew
Below: Long Reef /Moruya Open Women's wonderful sweep from Moruya and boat support Mick Weyman - 2016 George Bass winners!!! photo courtesy Long Reef SLSC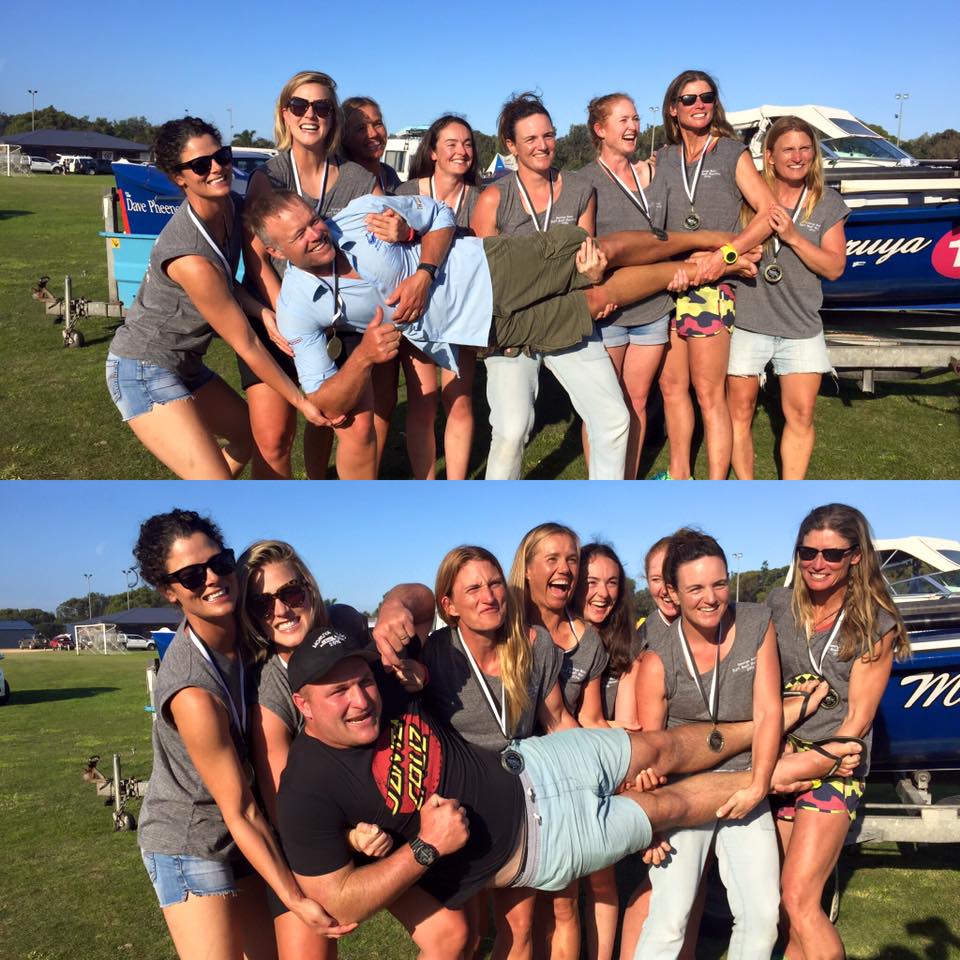 Northern Beaches surf boat crews have completed the gruelling 170 kilometre 2016 George Bass Marathon during some of the most challenging conditions ever experienced in this iconic race with two of the first four days forced onto inland waters due to dangerous seas and torrential rains.
Long Reef SLSC's Open Women's composite crew (with Moruya) finished 1st overall, while their Open Men's (Shady Tradies and Dem Apples crews combined) finished in a very respectable 4th.
A crew combining Warriewood and Avalon Beach SLS Clubs, as the 'Rustiques', secured 3rd in the Masters Women. The Rustiques also won Leg 5 of the 2016 George Bass despite a southerly change that came though with 60kph winds and the girls capsizing a kilometre offshore. They recovered to win in 2 hours 40mins.
"These were tough legs this year. Torrential rains and unsafe seas meant we had to move two of the first four days for the 2016 George Bass Marathon," 2016 George Bass organiser Mr. Edmunds told us yesterday.
"The Sydney crews have done very well though. Coogee has placed well overall, the combined Long Reef/Moruya crew have been almost unbeatable and the Warriewood/Avalon team, some who have rowed in previous George Bass Marathons, have combined fitness with experience to again win one of the most challenging Legs and take a place in the Overall Prizes."
The Rustqiues - grinning winners of Day 5 Leg

Long Reef's Open Women's crew won 6 of the 7 legs. The one leg they lost occurred when they broke a rowlock - darn rowlock! - and showing that even though they'd won as they headed into the final day of racing they still kept pushing themselves for another Leg 7 win.

Warriewood SLSC Sweep - Russell Lamb, Masters Women: Rowers – Louise Barnett, Alex Coates, Tanya Deer, Phillipa Lowe - Avalon Beach SLSC – Rowers – Kerry McEwan, Kate Munro, Beverley Tilbury, Donna Wishart. Support Crew – Phil Deer, Carl Quitzau. Leg 5 Winners - 3rd Overall in Masters Women.
Long Reef / Moruya Open Women: Kylie Ryder, Marnie Gordon, Sophie Lovett, Margaret Pearson, Jane Coppin, Ali Weyman (wife of Mick Weyman), Clare Immens, Nicole Cowdroy - swept by Brad Coppin. Boat support - Mick Weyman.
The 2016 George Bass Surf Boat Marathon Open Women winners became a composite crew a short three weeks ago via Facebook when neither could find 8 rowers.

Long Reef Open Men: swept by Rob Pearson, Rowers: Chris Hipsley, Sam Walling, Andrew Dummet, Adam L'Green, Luke Joas, Nick Hadzi, Matt Russell-Jones, Xavier Doran. Open men are the combined Shady Tradies and Dem Apples crews.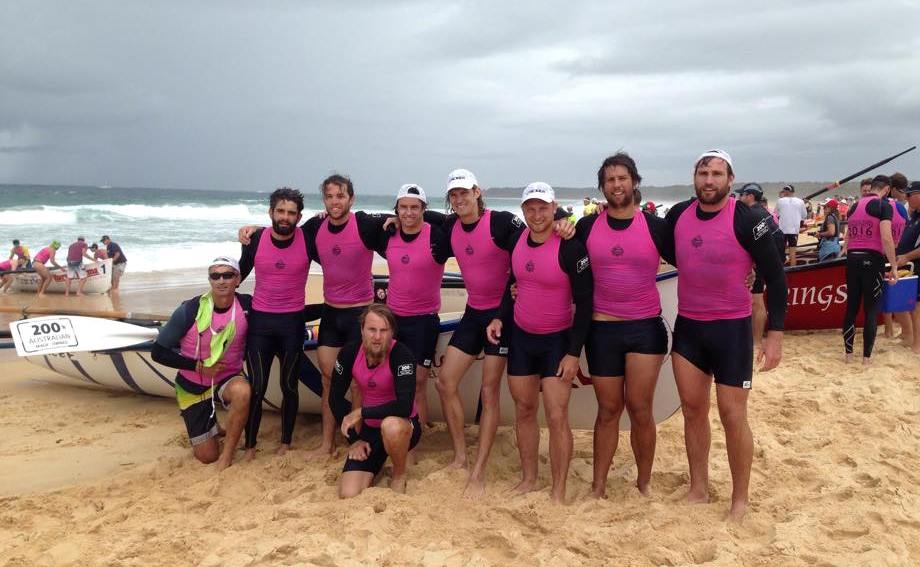 Long Reef SLSC's 2016 George Bass Marathon Open Men Team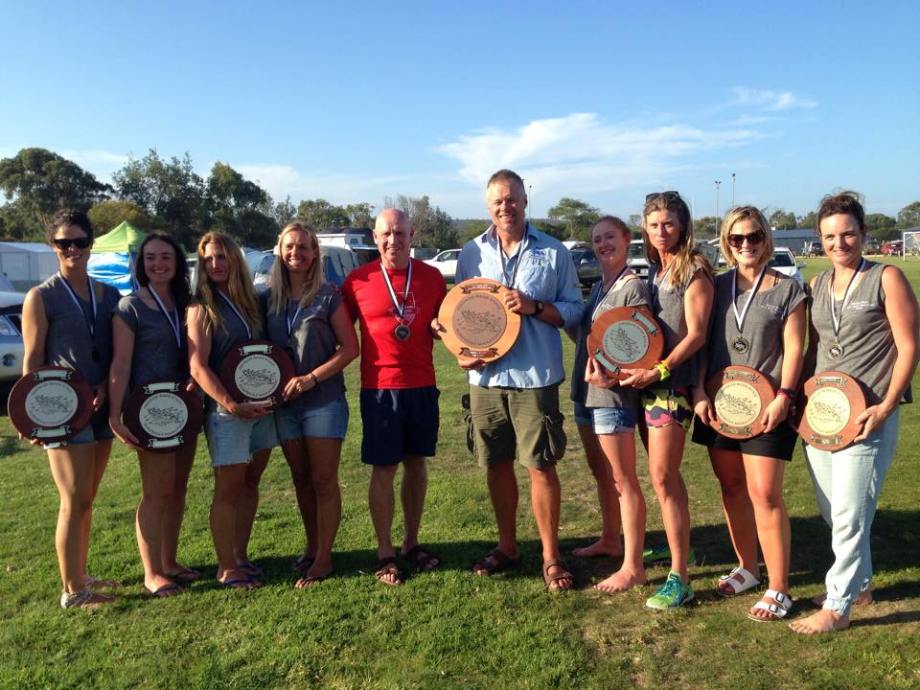 Long Reef SLSC and Moruya SLSC's - 6/7 Leg Winners

The very first Bass was run in 1975 with 12 crews including one from Atlantic College in Wales competing. This race was the first time sliding seats had been used in open water surfboat racing.
The race was the brainchild of Bega Newspaper editor Curly Annabel as he came up with the concept of tracing part of the journey of early explorer Surgeon Commander George Bass in 1797. Surgeon Commander Bass with a crew of 6-naval oarsman rowed a longboat not unlike surf's original double-ended clinker from Port Phillip down the NSW coast and around the southern end on Victoria mapping the coastline as they went.
The race has been held every 2 years since and is run by a committee of the Far South Coast Branch of SLSNSW. Crews consist of 8 rowers and a sweep. The original seven days for the 2016, prior to changes due to dangerous conditions, were a start at Batemans Bay on January 3 2016 to Moruya a 27 km course - Day 2: Moruya to Tuross, this is the sprint day a mere 19Km - Day 3: Tuross to Narooma some 22Km, Day 4: Narooma to Bermagui a distance of 24Km, Day 5: Bermagui to Tathra, the big one 35Km, Day 6: Tathra to Pambula, 27Km and Day 7: Merimbula to Eden nominally 20 Km.
Our thanks for the great reports and excellent photographs by the 2016 George Bass media team, which give a rundown of this year's challenges, capture the action and gave brilliant coverage via live tracking throughout the 7 days:
CLASSIC START TO GEORGE BASS SURF BOAT AND SKI MARATHON
The 19th George Bass Surf Boat Marathon got underway today in fine fashion at Batemans Bay today. 20 surf boats and seven skis hit the water just after 9am at the Batemans Bay Bridge for the grueling opening leg to Moruya.
The George Bass Surfboat Marathon has stood the test of time with this year's race being run in it's 40th year!
It began in 1975 and has been held nearly every second year since. The Bass has proved the toughest event on any rowing calendar anywhere in the world and crews of both men and women compete over seven gruelling days in every element that the ocean can throw at them.
Today's 31 kilometre leg was hotly contested with defending Bass champions Bulli taking out the Open Men. In the Open Women the combined crew of Long Reef Moruya took out the Open Women while QLD crew Tallebudgera narrowly defeated defending champions Narooma in the Masters Men and local crew Pambula took out the Masters' Women.
Marathon organiser Andrew Edmunds said crews were tested in the challenging conditions.
"Unfortunately one ski paddler was forced to withdraw from the race in the tough southerly winds, while Moruya beach proved challenging," he said. "A couple of surf boats were dumped by the surf and oars were snapped."
"However, the event ran otherwise smoothly with very close racing in all divisions."
Mr Edmunds said organisers were still assessing conditions for tomorrow with tough weather expected and large surf.
"We'll continue to monitor day by day but are hopeful of running the traditional course for the 19 kilometre leg to Tuross Head.
George Bass Marathon Day 1 Results. Batemans Bay to Moruya 31 Kilometres.
Masters Women
1st Pambula 3 hours, 31 minutes 17 seconds.
2nd Broulee Bates 3 hours, 46 minutes, 16 seconds
3rd Warriewood 3 hours 51 minutes, 50 seconds
4th Anglesea 3 hours 54 minutes 34 seconds
Masters Men
1st Tallebudgera 2 hours 49 minutes, 45 seconds
2nd Narooma 2 hours 50 minutes
3rd North Cronulla, 2 hours, 51 minutes 08 minutes
4th Yeppoon 3 hours, 04 minutes, 31 seconds
5th Tathra 3 hours, 8 minutes, 43 seconds
6th Bulli 3 hours, 19 minutes, 38 seconds
7th Pambula/Tathra Juniors 3 hours, 30 minutes, 06 seconds.
Open Women
1st Moruya/ Long Reef 3 hours, 16 minutes, 37 seconds
2nd Broulee Capitals 3 hours, 21 minutes, 29 seconds
3rd Metropolitan Caloundra 3 hours, 28 minutes, 11 seconds
4th Wollongong City 3 hours 29 minutes 39 seconds
Open Men
Nick Dixon Trophy Winners – Bulli
1st Bulli 2 hours, 47 minutes, 01 seconds
2nd Moruya Vikings, 2 hours, 50 minutes, 02 seconds
3rd Long Reef 2 hours, 50 minutes, 09 seconds
4th Coogee 2 hours, 52 minutes, 22 seconds
5th Pambula 3 hours, 07 minutes, 42 seconds.
Ski Race
1st Stew O'Regan, North Bondi
2nd Will Hardman, North Bondi
3rd Craig Vipond, Maroochydoore
4th Nick Ziviani, Narooma
5th Andrew Stone,
6th Chris Ryan
Withdrew from race: Ed Gwynne
Did not start: Chris Bond, Andrew Peacock.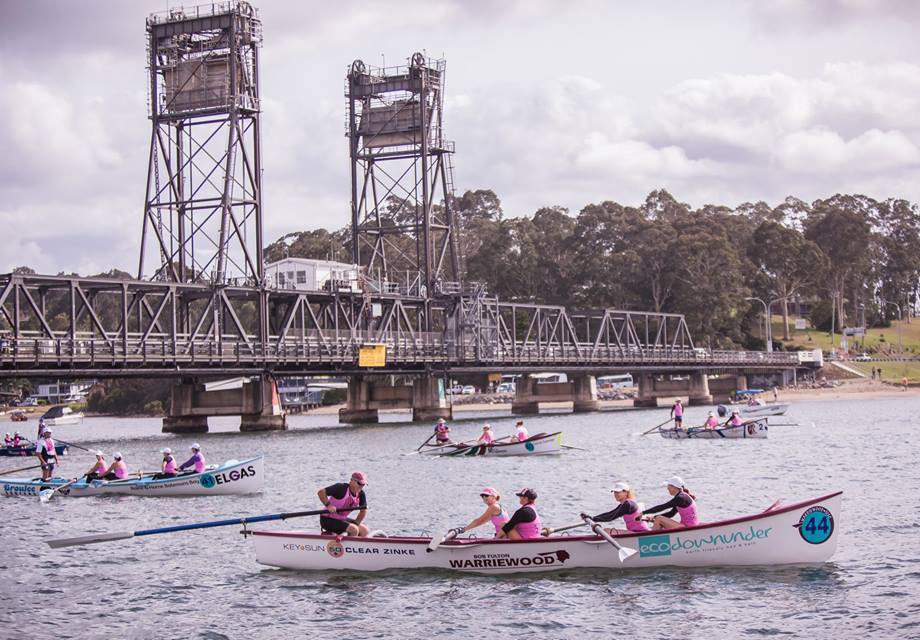 Day 1 - Surf Boats are GO!

TREACHEROUS CONDITIONS FOR GEORGE BASS MARATHON
Day two of the George Bass Marathon proved highly challenging with organisers forced to plot an inland course for the ocean ski and surfboat event. Today's race was held on the Moruya River from Preddy's Wharf to the Town Wharf over a three lap circuit.
Bulli and Long Reef/Moruya continued to dominate proceedings today with both taking out Open Men and Women respectively for the second day in a row. Pambula continued their unbeaten run in the Masters Ladies, while marathon defending champions Narooma bounced back from yesterday taking out the Masters Men.

The day wasn't without its challenges however. A female rower from Wollongong City was taken to hospital, while another Anglesea rower also received first aid treatment for a minor injury.

Race organiser Andrew Edmunds said the crews competed really well in the challenging conditions.
"The crews had a fairly challenging night at camp with torrential rain at the high school. Fortunately we were able to get today's leg completed before more rain and the high tide which now has flood warnings out for the Moruya River."
Mr Edmunds said he regretted changing the course but safety of the competitors and support craft was paramount.
"Conditions just didn't allow for a race at sea today. Instead we have are using a contingency plan for a 15 kilometre row on the river which will test the rowers."
Unfortunately for the competitors and supporters Day three is not looking any easier with more rain and large dangerous surf forecast. Mr Edmunds said organisers would again be assessing the beaches in the morning but have contingencies available if required.
George Bass Marathon Day 2 results. Moruya River 15 kilometres
Open Men
1st Bulli 1 hour 23 minutes, 0 seconds
2nd Coogee 1 hour, 23 minutes, 06 seconds
3rd Moruya 1 hour, 25 minutes, 43 seconds
4th Long Reef 1 hour, 26 minutes, 52 seconds
5th Pambula 1 hour, 36 minutes, 26 seconds
Masters Men
1st Narooma 1 hour, 28 minutes, 30 seconds
2nd North Cronulla 1 hour 29 minutes, 19 seconds
3rd Tallebudgera 1 hour, 35 minutes,39 seconds
4th Yeppoon 1 hour 31 minutes, 11 seconds
5th Tathra 1 hour 31 minutes, 14 seconds
Juniors
Pambula/Tathra 2 hours, 4 seconds
Open Women
1st Long Reef/ Moruya 1 hour, 32 minutes, 16 seconds
2nd Broulee Capitals 1 hour 35 minutes, 31 seconds
3rd Metropolitan Caloundra 1 hour 37 minutes, 53 seconds
4th Wollongong City 1 hour 38 minutes, 37 seconds
Masters Female
1st Pambula 1 hour, 42 minutes, 43 seconds
2nd Broulee Bats 1 hour, 46 minutes, 53 seconds
3rd Warriewood 1 hour, 47 minutes, 16 seconds
4th Anglesea 1 hour, 48 minutes, 30 seconds
Ski Race
1st Stew O'Regan 1 hour, 15 minutes, 08 seconds
2nd Will Hardman 1 hour, 16 minutes, 19 seconds
3rd Nick Ziviani, 1 hour 18 minutes, 36 seconds
4th Craig Vipond 1 hour 18 minutes, 49 seconds
5th Ed Gwynne 1 hour 24 minutes, 56 seconds
6th Chris Ryan 1 hour, 26 minutes, 56 seconds

GEORGE BASS MARATHON DAY THREE FORCED INLAND
For the second consecutive day the George Bass Marathon has been forced inland due to dangerous surf conditions.
Marathon organiser Andrew Edmunds said conditions today are not favourable for a race at sea. Narooma Bar, Bermagui Bar and Moruya not ideal for support boats to cross and messy dangerous surf at Coila and Narooma beaches.

Instead of the usual Tuross to Narooma leg, a 22 kilometre race was conducted on the Wagonga Inlet at Narooma. Mr Edmunds said organisers never like going inland, but have looked for a number of options and a race at sea today was just not possible.
Defending champions Bulli, who had previously started the marathon strongly surrendered a valuable lead to the Moruya Vikings.
Race Referee Greg Johnston said that result keeps the whole race wide open.
"It will mean at this stage anyone can still win the 2016 marathon," he said. "That is great news as with four days to go, with challenging and testing conditions and a long way left to row."
Conditions tomorrow are unfortunately not looking any better, but will be closely assessed in the morning.
"We're not sure what the course will be just yet for tomorrow just yet. We need to see what the sea is doing."
"If conditions abate we will run normal course from Narooma to Bermagui, or if need be an ocean course from Bermagui."
"Our inland options remain available too with Corunna Lake being a potential alternative."
George Bass Marathon Day 3 Results
Open Men
1st – Moruya Vikings 2 hours, 5 minutes, 11 seconds
2nd – Coogee 2 hours, 5 minutes, 56 seconds
3rd Long Reef – 2 hours, 7 minutes, 11 seconds
4th – Bulli 2 hours, 8 minutes, 28 seconds
5th – Pambula 2 hours, 17 minutes, 14 seconds
Open women
1st – Moruya/Long Reef 2 hours, 15 minutes, 25 seconds
2nd – Broulee Capitals 2 hours, 16 minutes, 07 seconds
3rd – Met Caloundra 2 hours 26 mimutes, 41 minutes
4th – Wollongong City 2 hours, 30 minutes, 13 seconds.
Masters Women
1st – Pambula 2 hours, 21 minutes, 04 seconds
2nd – Broulee Bats 2 hours, 26 minutes, 04 seconds
3rd – Anglesea 2 hours 26 minutes 20 seconds
4th –Warriewood 2 hours 31 minutes 34 seconds
Masters Men
1st – Narooma 2 hours, 4 minutes, 59 seconds
2nd – North Cronulla 2 hours, 6 minutes, 2 seconds
3rd – Tallebudgera 2 hours, 9 minutes, 18 seconds
4th – Yeppoon 2 hours 10 minutes, 51 seconds
5th – Tathra 2 hours, 11 minutes, 40 seconds
6th – Bulli 2 hours, 11 minutes 53 seconds
Juniors
Pambula/Tathra 2 hours 17 minutes, 58 seconds
Ski Race
1st Stu O'Regan 2hours 24 seconds
2nd Nick Ziviani 2 hours 4 minutes 08 seconds
3rd Will Hardman 2 hours 8 minutes 59 seconds
4th Craig Vipond 2 hours 10 minutes 10 seconds
5th Andrew Stone 2 hours 12 minutes 23 seconds
6th Chris Ryan 2 hours 15 minutes, 31 seconds/Seventh Ed Gwynne 2 hours 21 minutes 19 seconds.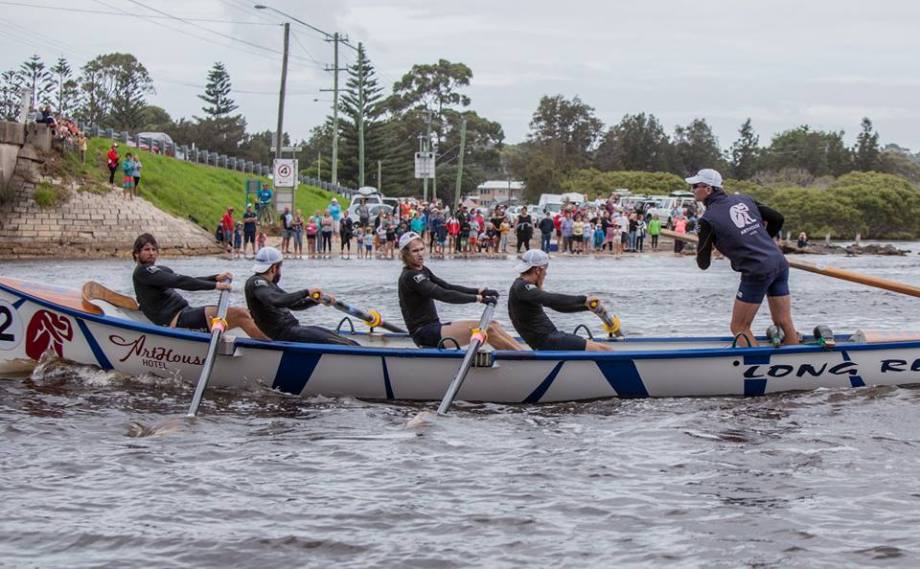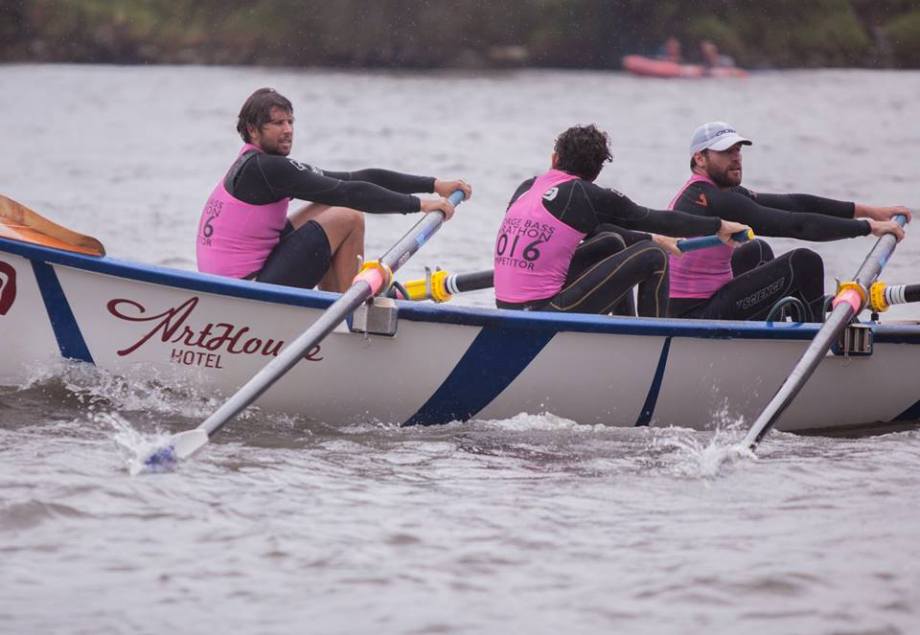 Day 3 - A Bit wet - powering anyway!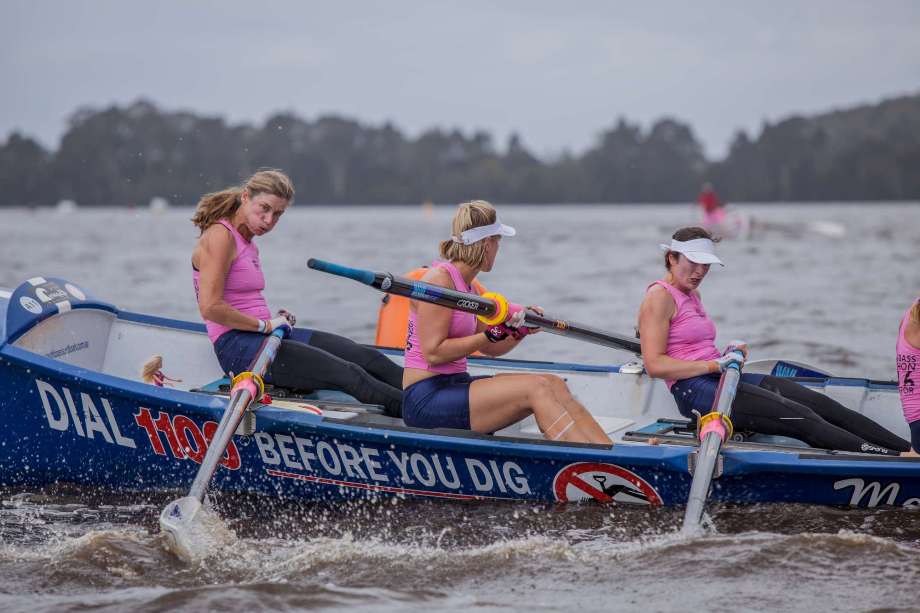 GEORGE BASS MARATHON WIDE OPEN
Day Four of the George Bass Marathon has blown wide open the race in the Open Men's category with four crews vying for top position.
Coogee leaped to title contenders after taking out today's amended leg out of Horseshoe Bay to Cemetery Beach Tilba back to Bermagui. They now are locked in a four way race with sitting at equal first with Bulli, and Moruya Vikings and Long Reef sitting in equal second just one point behind.
Marathon organiser Andrew Edmunds said at this stage of the race it is unclear who will be the 2016 champions.
"It is just fantastic to have the seven day marathon going down to the wire," he said. "Anyone could win it from here."
Tomorrow is traditionally the toughest leg, a 35 kilometre race from Bermagui to Tathra.

Mr Edmunds said the organising committee was hopeful it could run its usual course, but are still concerned about a very strong southerly wind that is forecast.
"We will still need to look at conditions in the morning and make a decision."
"The rowers have all been fantastic this week with the course changing on a regular basis."
During today's race one competitor was treated for hypothermia, and a ski competitor withdrew from the race.
George Bass Marathon Day 4 results
Ski Race
6th Ed Gwynne, did not finish
5th Chris Ryan, 1:53:02
4th Craig Vipond, 1:49:58
3rd Andrew Stone, 1:44:59
2nd Nic Ziviani, 1:39:30
1st Stew O'Regan, 1:37:28
Masters Women:
4th Anglesea, 2:05:42
3rd Warriewood, 2:02:02
2nd Broulee Bats, 1:59:37
1st Pambula, 1:52:48

Open Women:
4th Wollongong City 1:57:39
3rd Met Caloundra, 1:55:42
2nd Broulee Capitals, 1:52:09
1st Moruya/Long Reef, 1:48:36
Masters Men:
7th Pambula-Tathra Jns, 1:54:35
6th Bulli, 1:51:34
5th Yeppoon, 1:47:35
4th Tathra, 1:46:17
3rd Tallebudgera, 1:43:08
2nd Nth Cronulla, 1:40:03
1st Narooma,1:38:27
Open Men:
5th Pambula, 1:46:40
4th Moruya/Vikings, 1:41:53
3rd Bulli, 1:40:10
2ndLong Reef, 1:38:39
1st Coogee , 1:37:51
Overall pointscore to date:
Open Men
=1st Bulli 5 points
=1st Coogee 5 points
=2nd Moruya Vikings 6 points
=2nd Long Reef 6 points
5th place Pambula 16 points
Masters Men
1st Narooma 1 point
2nd North Cronulla 5 points
3rd Tallebudgera 8 points
4th Yeppoon 12 points
5th Tathra 14 points
6th Bulli 19 Points
7th Pambula/Tathra Juniors 24 points
Open Women
1st Long Reef Moruya 0 points
2nd Broulee Capitals 4 points
3rd Met Caloundra 3 points
4th Wollongong City 4 points
Masters Women
1st Pambula 0 points
2nd Broulee Bats 4 points
3rd Warriewood 9 points
4th Anglesea 11 points
Ski Race
Overall score not available yet.

STRONG WINDS CAUSE HAVOC IN GEORGE BASS MARATHON
30 knot southerly winds have proved challenging for competitors on day five of the George Bass Marathon. The challenging conditions not only vindicated the organisers decisions to alter the course but also led to a boat capsize and forced some competitors to withdraw from today's difficult leg.
Bulli regained form to stake their claim in the Open Men narrowly defeating Moruya Vikings.

Warriewood overcame a capsized boat and a long row to take out the Master's Women, Narooma continued their dominance of the Master's Men and the Broulee Capitals took out the Open Women for their first ever leg win.
Marathon Organiser Andrew Edmunds praised the event water safety team and first aid team who enacted the emergency and safety plan when conditions worsened.
"At the height of the action we had the Warriewood Masters lady crew capsize their surfboat off Wallaga Lake, three ski paddlers were pulled from the water and taken on board the referee's boat. It turned out that only one of the paddlers was actually a competitor in the event but the water safety team did an absolutely fantastic job making sure all were safe."

"The Narooma Support Boat also broke down at the same time, but they eventually managed to get underway."
"The Pambula Masters ladies also struggled to handle the conditions and withdrew around the halfway point. That's a real shame for them as they had been undefeated to date, however the Warriewood ladies were deserving winners of the Masters ladies after a courageous effort.
Moruya Long Reef was unfortunate to have damaged equipment which made it difficult for them to race today.
George Bass Marathon Day 5 Results
Skis: 6 – 1
6th Ed Gwynne DNF
5th Chris Ryan 1:22:27
4th Craig Vipond 1:12:28
3rd Andrew Stone 1:12:26
2nd Nik Ziviani 1:03:50
1st Stew O'Regan 1:02:53

Masters Women
4th Anglesea Lay Day
4th Broulee Bats Lay Day
2nd Pambula DNF
1st Warriewood 2:34:54

Open Women
4th Wollongong City Lay Day
3rd Moruya/Long Reef 2:21:16
2nd Met Caloundra 2:05:13
1st Broulee Capitals 2:00:23
Masters Men
7th Pambula/Tathra Jnrs 2:09:59
6th Yeppoon Slsc 1:50:38
5th Tathra 1:49:42
4th Bulli 1:48:07
3rd Tallabudgera 1:43:46
2nd Nth Cronulla 1:39:38
1st Narooma 1:38:46
Open Men
5th Pambula 1:49:53
4th Long Reef 1:42:58
3rd Coogee 1:37:29
2nd Moruya Vikings 1:36:16
1st Bulli 1:35:04
Today's briefing will be held at event sponsors the Tathra Country Club at 4pm. The George Bass is also sponsored by Green Homes Australia, Tathra Beachside.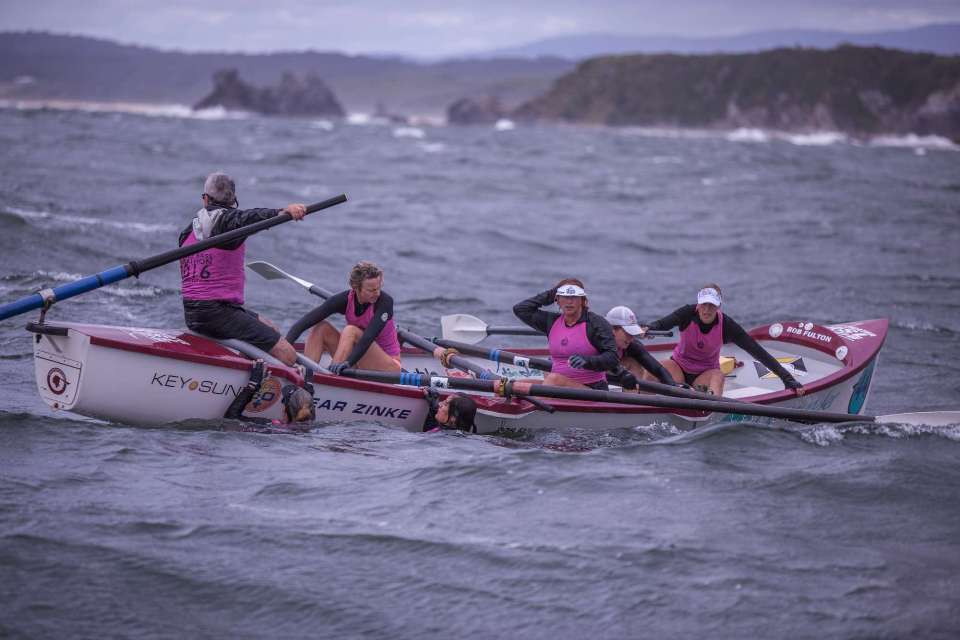 The Rustiques at sea - Day 5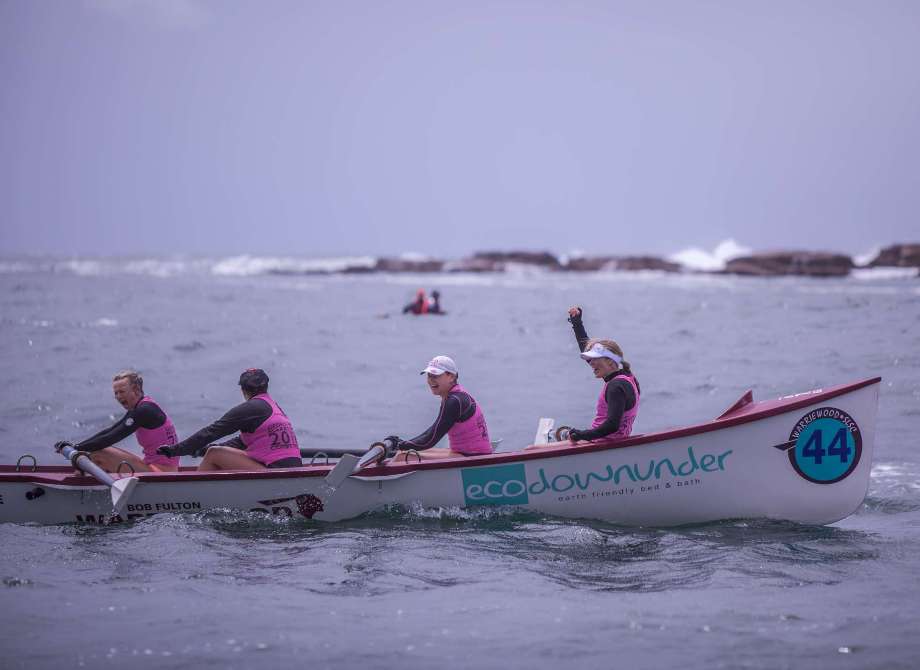 Coming into shore winners of Leg 5

GEORGE BASS SET FOR THRILLlNG FINISH
The George Bass Marathon is set for a thrilling finish. Conditions have eased on the NSW Far South Coast, allowing the George Bass Marathon to get back on track.
Racing this week has been hampered with torrential rain, large dangerous surf and strong winds which forced alternative courses for four of the first five legs.
Bulli are the team to beat in the open men, with Moruya and Coogee all in the hunt. Narooma continued their strong run in the Masters Men today, also beating a number of Open Crews as well.
Marathon organiser Andrew Edmunds said he was pleased the event could finally stick to the planned routes.
"It's been tough for the crews to plan for as each day we've had to make a call on locations and set various courses," he said.
"Conditions today were fantastic on the water."
The marathon will finish in Eden tomorrow.
George Bass Marathon Day 6 Tathra to Pambula Results
Open Men
1st Bulli 2 hours 22 minutes 39 seconds
2nd Coogee 2 hours 24 minutes 7 seconds
3rd Moruya 2 hours 25 minutes 33 seconds
4th Long Reef 2 hours 27 minutes 11 seconds.
5th Pambula 2 hours 35 minutes 49 seconds
Masters Men
1st Narooma 2 hours 25 minutes 25 seconds
2nd Tallebudgera 2 hours 26 minutes 41 seconds
3rd North Cronulla 2 hours 28 minutes 54 seconds
4th Yeppoon 2 hours 31 minutes 6 seconds
5th Tathra 2 hours 32 minutes 18 seconds
6th Bulli 2 hours 36 minutes 10 seconds
7th Pambula Tathra juniors 2 hours 55 minutes 53 seconds
Masters Women
1st Pambula 2 hours 46 minutes 55 seconds
2nd Broulee 2 hours 54 minutes 37 seconds
3rd Warriewood 3 hours 1 minute 06 seconds
4th Anglesea 3 hours 10 minutes 05 minutes.
Open Women
1st Moruya Long Reef 2 hours 41 minutes 21 seconds
2nd Broulee Capitals 2 hours 44 minutes 28 seconds
3rd Met Caloundra 2 hours 45 minutes 48 seconds
4th Wollongong City 2 hours 49 minutes 20 seconds
Ski Race
1st Stew ORegan 2 hours 23 minutes 37 seconds
2nd Nick Ziviani 2 hours 28 minutes 23 seconds
3rd Andrew Stone 2 hours 32 minutes 50 seconds
4th Craig Vipond 2 hours 33 minutes 42 seconds
5th Chris Ryan 2 hours 44 minutes 30 second
6th Ed Gwynne 3 hours 28 minutes 08 seconds.

BULLI WINS GEORGE BASS MARATHON
Bulli have gone back to back in the George Bass marathon successfully defending their title in the Open Men. Bulli had a strong marathon taking out three legs, winning the Nick Dixon Trophy and the Curly Annabell Trophy.
Narooma also won back to back titles in the Masters Men, while Pambula took out the Masters Women.
The Open Women was won by the composite crew Moruya/Long Reef.
Today's 22 kilometre leg from Merimbula to Eden capped off an eventful seven days rowing.
The Fastest boat over the Marathon was Bulli with 13 hours, 55 minutes, 17 seconds. The fastest female boat over the marathon was the Broulee Capitals with 16 hours and 14 seconds.
Results Day 7
Ski Race
6th Ed Gwynne 2 hours 27 minutes 08 seconds
5th Chris Ryan 2 hours 11 minutes 55 seconds
4th Andrew Stone 2 hours 3 minutes 40 seconds
3rd Craig Vipond 2 hours 1 minute 30 seconds
2nd Nick Ziviani 1 hour 54 minutes 26 seconds
1st Stew O'Regan 1 hours 53 minutes 03 seconds
Masters Women
4th Anglesea 2 hours 32 minutes 56 seconds
3rd Broulee Bats 2 hours 16 minutes 49 seconds
2nd Warriewood 2 hours 16 minutes 24 seconds
1st Pambula 2 hours 9 minutes 52 seconds
Open Women
3rd Wollongong City 2 hours 14 minutes 53 seconds
2nd Broulee Capitals 2 hours 11 minutes 7 seconds
1st Moruya/Long Reef 2 hours 7 minutes 34 seconds
Masters Men
7th Pambula/Tathra Juniors 2 hours 21 minutesd 56 seconds
6th Bulli 2 hours 7 minutes, 08 seconds
5th Yeppoon 2 hours 11 seconds
4th Tallebudgera 1 hours 59 minutes 18 seconds
3rd Tathra 1 horus 58 minutes 10 seconds
2nd Narooma 1 hour 58 minutes 7 seconds
1st North Cronulla 1 hour 57 minutes 22 seconds
Open Men
5th Pambula 2 hours 3 minutes 44 seconds
4th Long Reef 2 hours 5 seconds
3rd Bulli 1 hour 57 minutes 57 seconds
2nd Coogee 1 hour 56 minutes 36 seconds
1st Moruya Vikings 1 hour 56 minutes 11 seconds
MAJOR AWARDS
Al Armstrong Hat for dedication to the Bass – David Butt (Broulee) and Lincoln Costello (Bulli)

Ski Race
3rd overall Craig Vipond
2nd overall Nick Ziviani
1st Stew O'Regan
Masters Women
3rd overall Warriewood
2nd Broulee Bats
1st Pambula
Masters Men
3rd Tallebudgera
2nd North Cronulla
1st Narooma
Open Men
3rd Coogee
2nd Moruya Vikings on a count back
1st Bulli

More great pictures of Northern Beaches Surf Boat Crews in the 2016 George Bass Surf Boat Marathon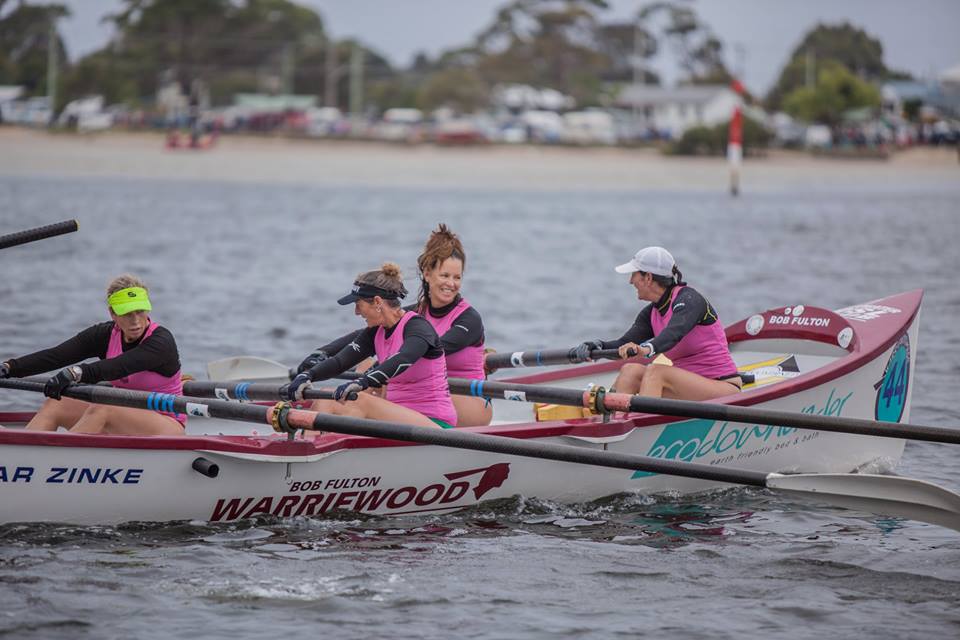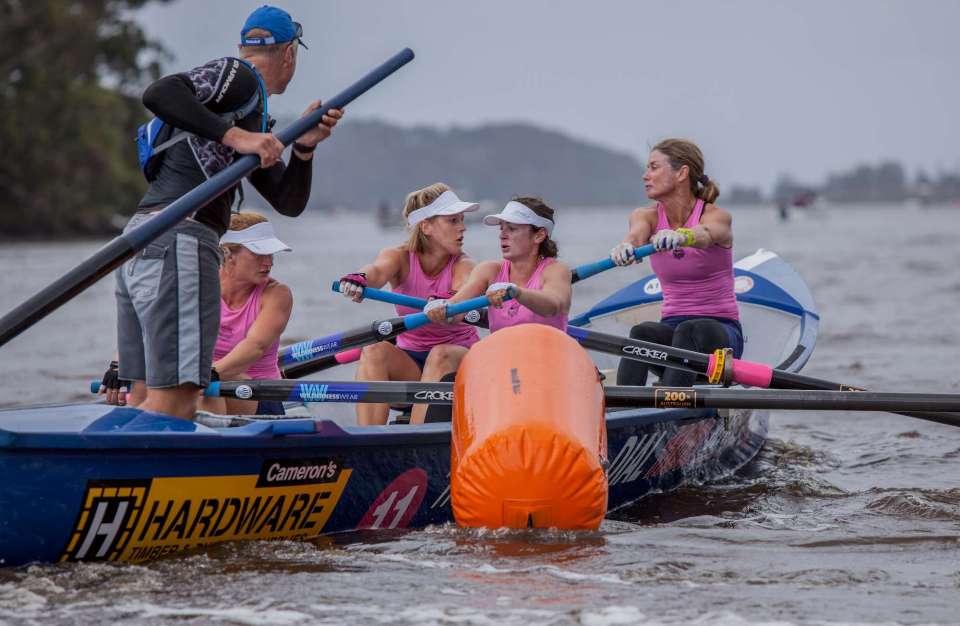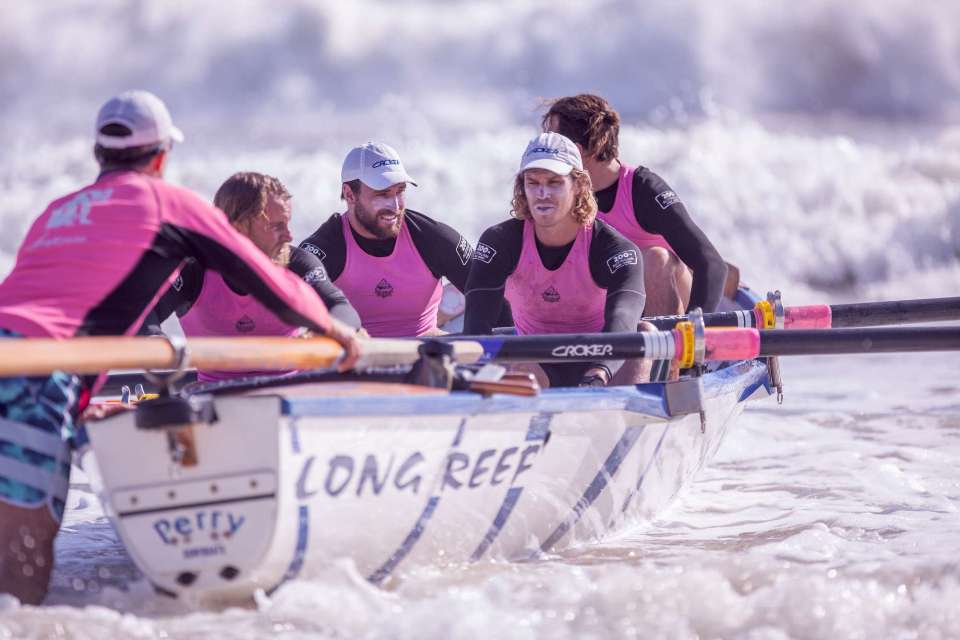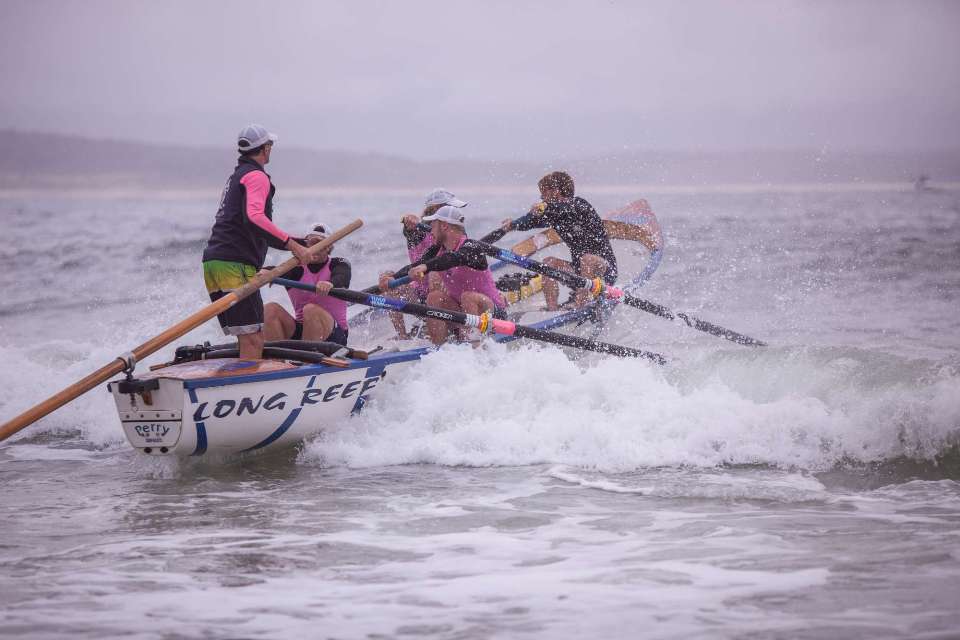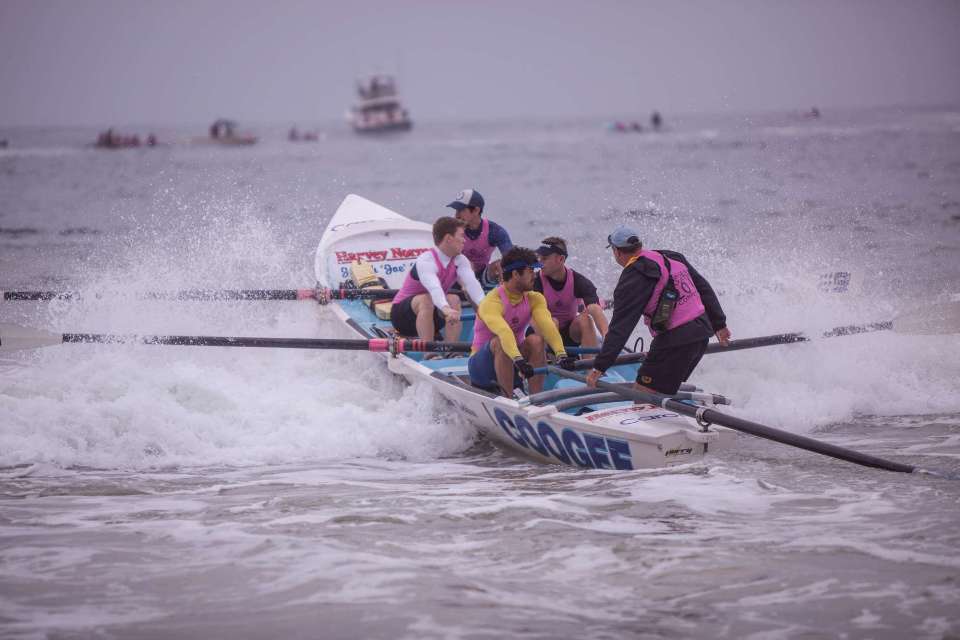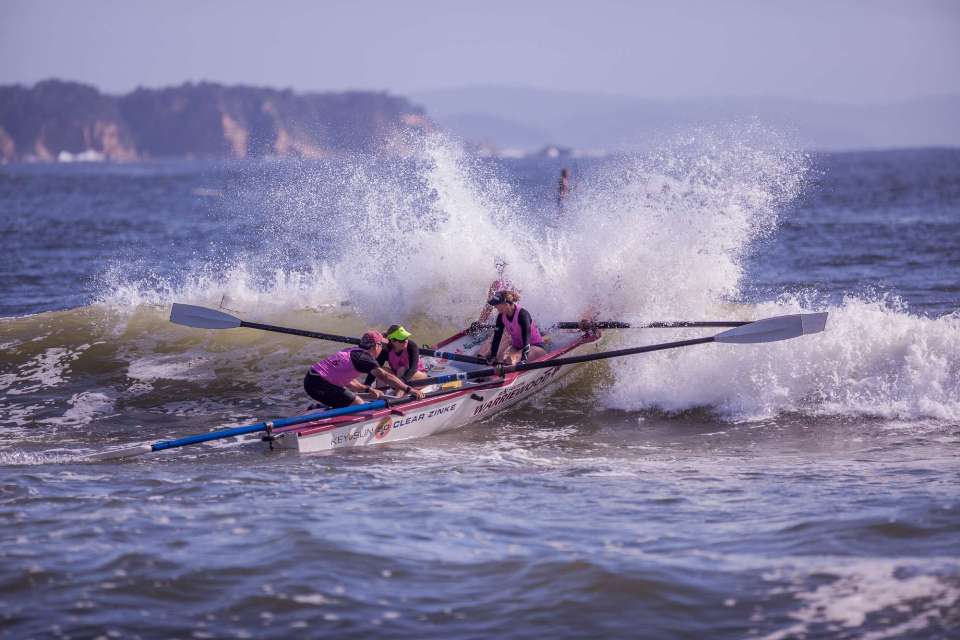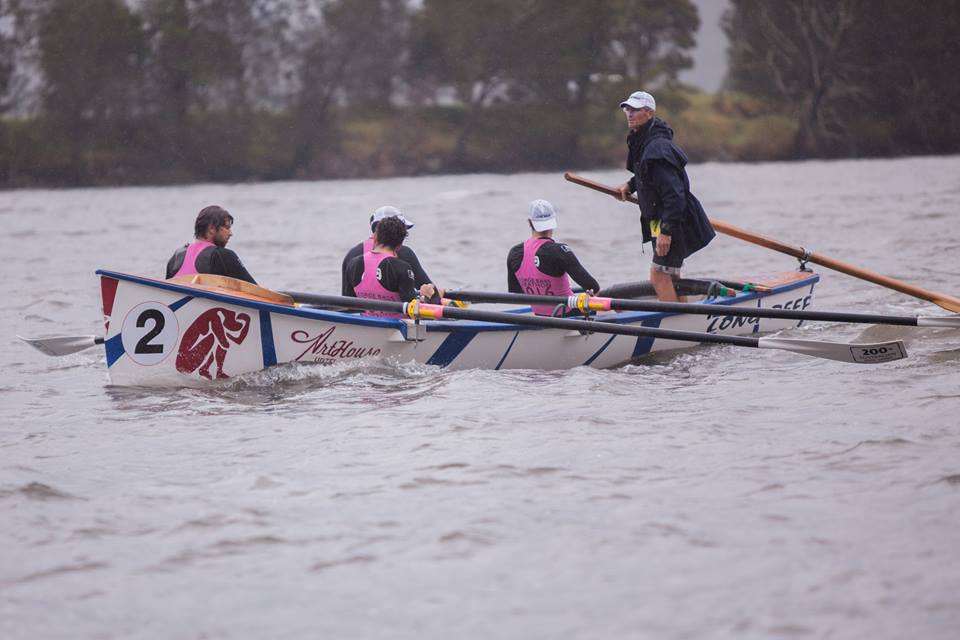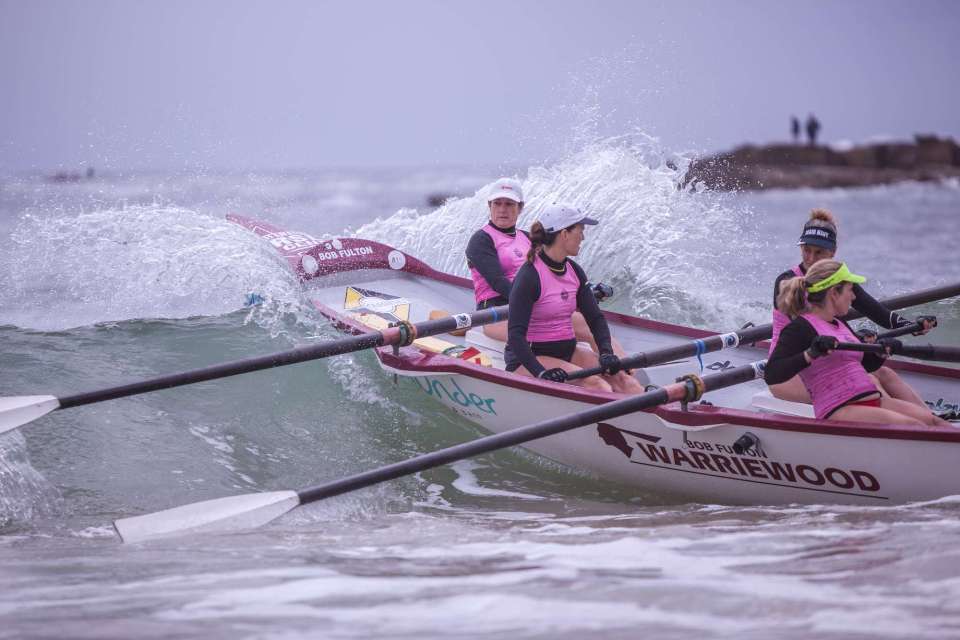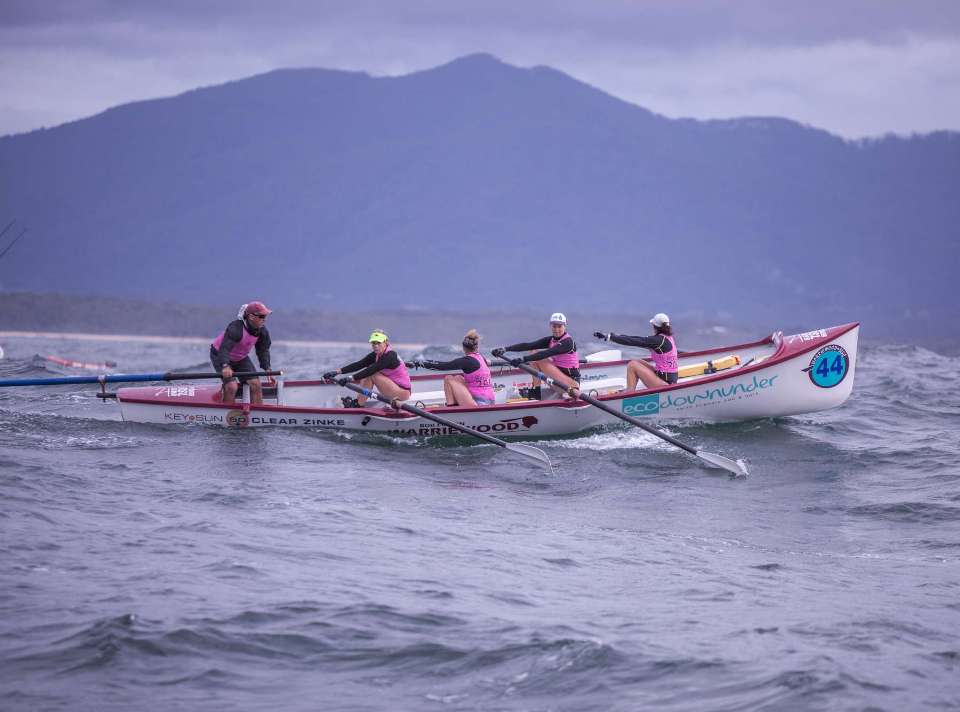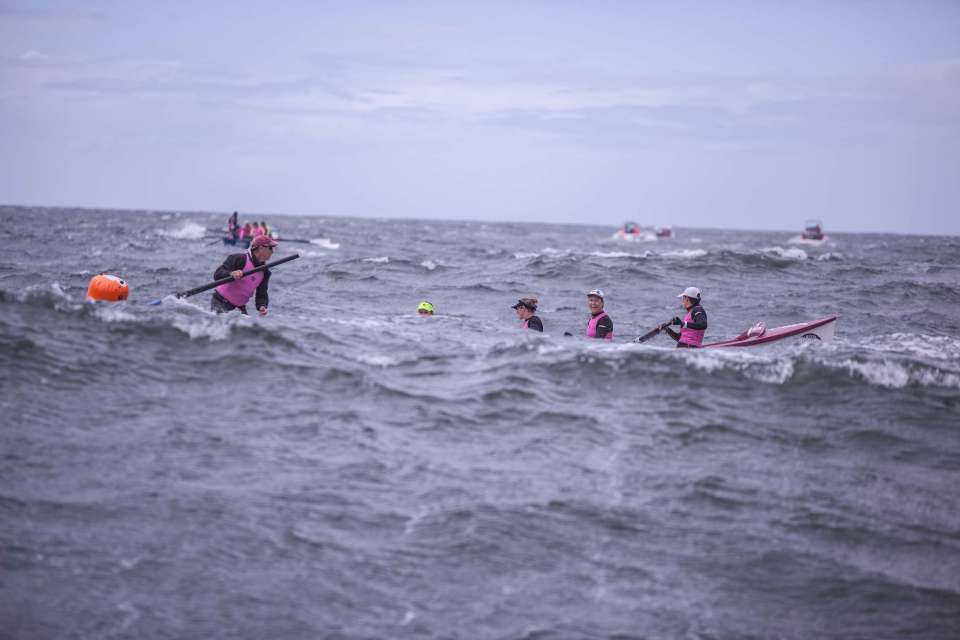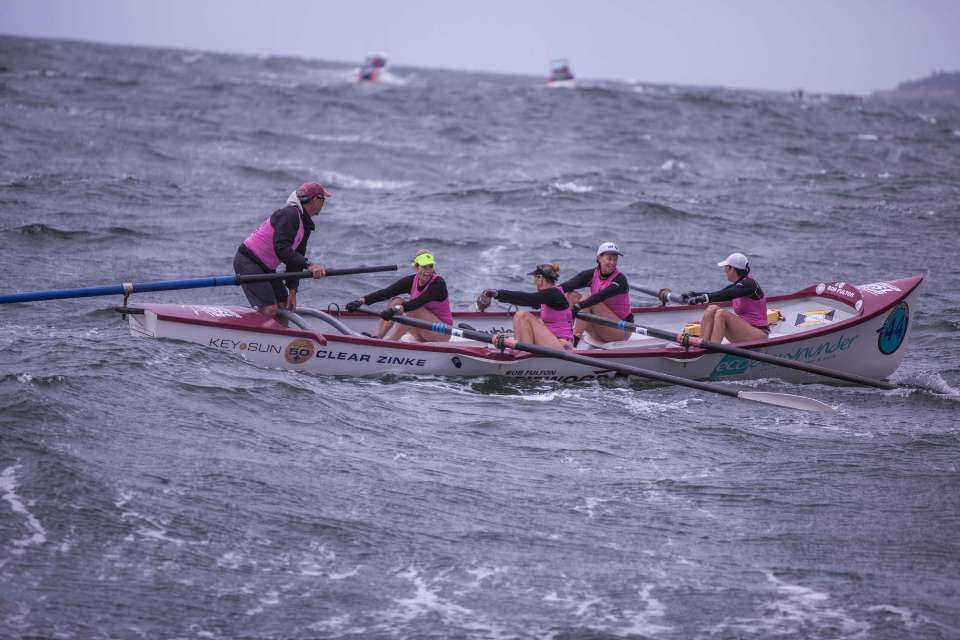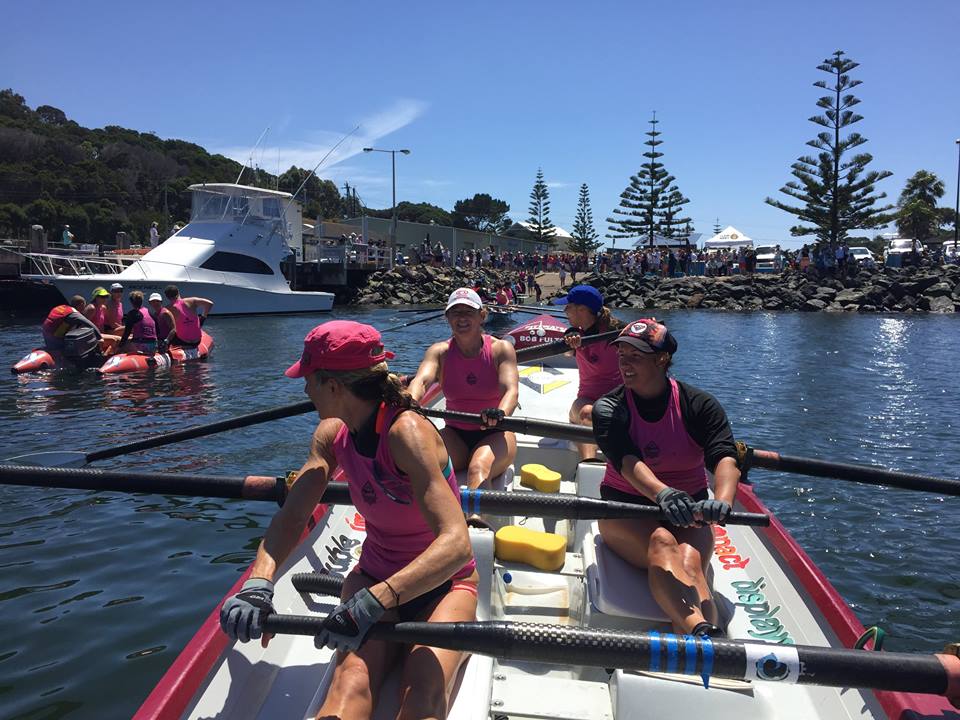 The Rustiques coming into Eden on Day 7 - that's the 2016 and 19th George Bass Marathon done!