January 10 - 16, 2016: Issue 246
Pittwater Sailors Excel at Youth Sailing World Championships 2015/2016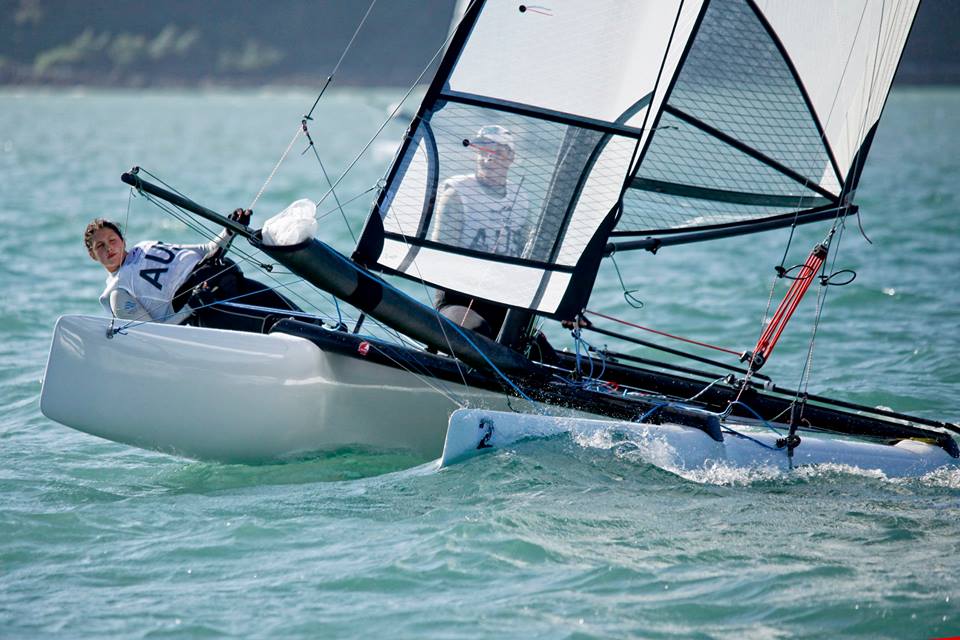 Sophie Renouf and Shaun Connor at Youth World Championships Photo by Christophe Launay for World Sailing
Palm Beach Sailing Club and Royal Prince Alfred Yacht Club members have excelled at the the 45th Youth Sailing World Championships on the waters of Langkawi, Malaysia.
Sailing in her first Youth Worlds Championship Sophie Renouf, with Shaun Connor in the SL16 won a Silver medal, while Jim Colley and Youth Worlds first-timer and 2014 29er World Champion Kurt Hansen narrowly missed out on Bronze in the 29er class.
The four Pittwater sailors were part of the Australian Youth Sailing Team which this year has brought home the Nations Trophy with boy's Laser Radial sailor Alistair Young leading the charge for the team.
With a total of 303 points, the Australian team beat New Zealand in to second on 279 and France in third on 245.
This is Australia's fourth Nations Trophy and sees the country tied in second place historically with Great Britain. France are still out in front on 11 wins.
Over the regatta a record 425 sailors from 76 nations competed in nine fleets, hunting for a Youth Sailing World Championships title.
Further details below in the Australian Sailing Team's report.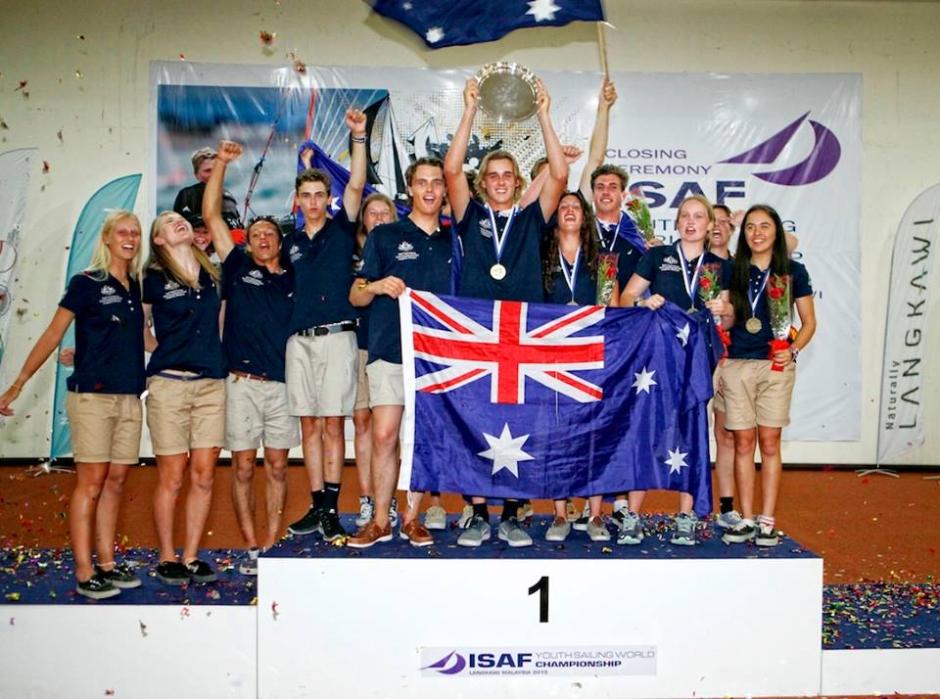 Australian Youth Sailing Team wins Nations Trophy at Youth World Championships Photo by Christophe Launay for World Sailing
One Gold, two Silver & Nations Trophy for Australian Sailing Youth Team at 2015 Youth Sailing World Championships
By AST Comms, January 4, 2016
The Australian Sailing Youth Team (ASYT) brought in 2016 with a bang winning one gold and two silver medals at the 2015 Youth Sailing World Championships in Langkawi, Malaysia (29 December 2015 – 3 January 2016).
Western Australian Alistair Young secured gold in the boy's Laser Radial on Saturday (2 January) with one day to spare. On the final day (Sunday, 3 January), 420 girls Nia Jerwood (WA) and Lisa Smith (WA) as well as SL 16 crew of Shaun Connor (NSW) and Sophie Renouf (NSW) added another two silver to the successful Australian medal-haul.
The team's strong performances across the nine classes also secured Australia the Nations Trophy for the most successful team.
Laser Radial
The first gold medal of the Youth Worlds and World Champion title went to Alistair Young who won the boy's Laser Radial on the penultimate day of the event and with one race to spare.
With an uncatchable 21 points total on the fifth day (Saturday), Young went in to the final race on Sunday safe in the knowledge that his work was done. A 15th place finish, which he discarded, saw him finish the regatta on 32 points and 20 points ahead of New Zealand following in second.
"I was pretty relaxed and it was nice because I was so stressed in all the other races and I knew in this one I could just sail around," Alistair Young said after the final race.
Young is a returnee to the Youth Worlds arena and he credits the experience gained from Tavira in 2014 in helping him win, "After finishing fifth last year I really wanted to better that results and get to the top. The win feels amazing and I'm so stoked. It hasn't sunk in yet but words can't describe it."
"The Youth Worlds is a totally different regatta to anything else that you can do and having one under the belt, the experience has helped me heaps."
"Gold was the ultimate goal here. The plan is to move into the Laser standard next and see how that goes. The big end goal are the Olympic Games and a gold medal," Young added confidently about his plans for the future.
In the girl's Laser Radial, fellow Western Australian Jacinta Ainsworth finished her first Youth Worlds in eighth after a solid week, including a strong fifth place in the final race as well as a race win and sixth place on the penultimate day.
420
Western Australians Nia Jerwood and Lisa Smith led the 420 fleet until the penultimate day of the regatta when Poland's Julia Szmit and Hanna Dzik overtook them after a double win day for the Polish team.
With the two crews unable to be caught by the rest of the field, the fight for gold was still on but silver was already secured for Nia Jerwood and Lisa Smith going into the final race, in which they finished 13th.
Thanks to day five double bullets, the Polish team had a slender advantage, and it was those results that made the difference in the end. Poland had a 22nd place, which they discarded and Australia had a 13th place, which they also discarded. That meant Poland finished on 29 points and just one point ahead of Jerwood and Smith.
"We finished in second overall which we are fairly happy with. Our goal coming into the event was to get on to the podium and we achieved our goal," Nia Jerwood said.
"The competition was really high and we had the top sailors from every country here. It's almost like a mini-Olympics with all the different boat classes and countries here. I'm only 17 years old and could do one more Youth Worlds, but Lisa can't, so transitioning into the 470 class is our next goal and then hopefully into AST (Australian Sailing Team) and work our way up from there," Nia Jerwood added with Tokyo 2020 on her mind.
The silver medal tops a successful season for Nia Jerwood and Lisa Smith, who are coached by Olympic gold medallist Belinda Stowell (WA) and were the only full pair returning to the girls 420 fleet after finishing ninth last year.
In the boy's 420 New South Welshmen and newcomers in the 33-boat fleet Alec Brodie and Xavier Winston-Smith put in a solid regatta to finish fourth overall. Carrying a DSQ from Saturday's last race the pair missed out on podium by two points. But with two race wins and top-10 finishes for most of the regatta, including a ninth place in the final race, the pair was satisfied with their performance.
"The conditions were super light and tricky, but we got a good start in the final race and were in the pack the whole way around. It was a tough day but we're super proud on where we ended up. As for the regatta as a whole, we surprised ourselves in some races and put together all the training we've done, so we're super satisfied," Alec Brodie said.
"The event was great. The atmosphere was good, including staying with all the sailors and it all was very well organised," Alec Brodie added about his first Youth Worlds.
SL 16
Shaun Connor and Sophie Renouf had a strong regatta winning five out of thirteen races in the open multi-hull but just not enough to catch the defending champions from France. France won the final three races with Shaun Connor and Sophie Renouf in second and thus securing the silver medal.
2014 Youth Worlds 29er sailor Shaun Connor and Sophie Renouf had never sailed a SL16 before the regatta, which made the silver medal extra special.
"We've been training in three different classes since our selection in July and in the lead up to this regatta. It was a bit tricky to get your head around this boat on the first day, but we got the hang of it pretty quickly," Shaun Connor said.
And crew Sophie Renouf added: "Transferring between boats in training has really helped us to be able to get used to a new boat at this regatta and we thought we picked it up pretty well. We came in with not too many expectations, were aiming for the top five and are really stoked to win a silver medal. It's also really exciting to win the Nation's trophy, which has been such an achievement for all of us."
"Australia has not won the Nation's Trophy since 2007 so this is pretty special," Shaun Connor agreed. "It's been awesome to be part of the team. The team spirit has been great and we all know each other really well. Everyone has been backing each other and there's always someone helping you out and that's been good to see."
29er
Youth Team returner Jim Colley (NSW) and Youth Worlds first-timer and 2014 29er World Champion Kurt Hansen (NSW) sailed a solid regatta to finish fourth overall. They just missed out on the podium by four points after a sixth place in Sunday's final race.
"We've come away with fourth place, narrowly missing third and narrowly beating fifth, but we're pretty happy after the week and the work we put in and it's a good result in the end," Kurt Hansen said.
And Jim Colley added: "It was a fairly tough regatta for us. We had some shockers and some good races. It probably wasn't ideal conditions for us but we managed to pull through and we're really stoked to come away with fourth."
About the event as a whole Colley added: "The Worlds were amazing, especially the team aspect behind it. We had a really strong team here, we all turned it on for this regatta and the Aussies did really well. We were all helping and encouraging each other so it was a really good atmosphere."
It was the last regatta in the 29er for the pair with new projects on the horizon.
"This was our last 29er regatta ever. We have a 49er waiting at home and we're looking forward to sailing that for a bit, possibly a 470 too. Either way, we're definitely looking forward to the future and more international competitions ahead," Kurt Hansen said.
In the 29ers girls fleet Amelia Stabback (NSW) and Pia Doyle (NSW) finished the regatta with a bang by winning the last race of the series and moving up the results ladder to finish seventh overall.
Malaysia was the first Youth Worlds for the pair and their first time competing in an all-girl fleet. .
The 29er class reflects the increase in participation at the 2015 Youth Sailing World Championships and for the first time was separated into a boys and girls fleet.
RS:X
Both Australian RSX sailors scored DNF in their final race with Emma Baillie (QLD) finishing 17th overall in the Girls RSX at her first Youth Words and Jock Calvert finishing 18th overall in the Boys RSX.
Nations Trophy
The Nations Trophy was won by Australia with boy's Laser Radial sailor Alistair Young leading the charge for the team.
With a total of 303 points, the Australian team beat New Zealand in to second on 279 and France in third on 245.
This is Australia's fourth Nations Trophy and sees the country tied in second place historically with Great Britain. France are still out in front on 11 wins.
"The nations trophy is such a great achievement by the team. We've had a great group and everyone was very focussed, which has been great to see. All our crews, except in the RSX girls, won a race in this regatta, which shows their understanding of the racing and their standard and for others their improvements through the Championships," head coach Belinda Stowell said proudly.
"But Alistair and Nia said it best when they agreed that it was really when the whole team were on the podium and Alistair raised the Team trophy, that they felt the most joy, and that is when he really felt like a World Champion, being with the team."
Fourteen young Australian sailors and three coaches contested the 45th Youth Sailing World Championships in nine classes and as part of a record number of 425 sailors from 76 countries.
The States of New South Wales, Tasmania, Western Australia as well as Queensland were represented on the team with six athletes on the team returning from last year's team and eight sailors making their Youth Worlds debut for Australia in Malaysia.
With Olympic gold medallist Belinda Stowell OAM (WA), New South Wales Sailing Performance coach Larry Cargill (NSW) and former Laser Radial World Champion Tristan Brown (WA) three experienced coaches accompanied the team.
The Youth Sailing World Championship is the largest youth sailing regatta in the world for sailors under the age of 19.
Australian Sailing Youth Team – Youth Sailing World Championships Results:
Laser Radial – Boys
Alistair Young (WA – FSC): 1, 4, 1, 1, 5, 2, 7, 11, (15) – 1st
Laser Radial – Girls
Jacinta Ainsworth (WA – FSC / SoPYC): 13, 6, 12, (23), 12, 13, 1, 6, 5 – 8th
420 Boys
Alec Brodie & Xavier Winston-Smith (NSW – MHYC): 1, 1, 6, 9, 2, 6, 14, (34 DSQ), 9 – 4th
420 Girls
Nia Jerwood & Lisa Smith (WA – FSC/SoPYC): 4, 1, 2, 2, 1, 12, 3, 5, (13) – 2nd
29er Boys
Kurt Hansen & Jim Colley (NSW – RPAYC/MH16SSC): 7, (16), 3, 10, 10, 4, 1, 5, 5, 3, 13, 9, 6 – 4th
29er Girls
Amelia Stabback & Pia Doyle (NSW – MH16SSC): (16), 6, 6, 8, 8, 8, 11, 14, 4, 7, 5, 5, 1 – 7th
SL 16
Shaun Connor & Sophie Renouf (NSW – RPAYC/PBSC): 1, 1, 2, 3, 1, 2, 2, 1, 3, 2, 1, (6), 2 – 2nd
RS:X Boys
Jock Calvert (TAS – RYCT): 18, 1, 20, 3, 12, 13, 3, 20, 22, 18, 24, 21, (30 DNF) – 18th
RS:X Girls
Emma Baillie (QLD – RQYS): (22DNF), 14, 22 DNF, 14, 12, 22 DNF, 22 DNF, 13, 17, 18, 22 DNF, 19, 22 DNF – 17th
All results for the Youth Worlds are available here: www.isafyouthworlds.com/results/index.php
Follow the Australian Sailing Youth Team on www.facebook.com/aussailingyouthteam for more information, pictures and video interviews