January 10 - 16, 2016: Issue 246
Summer 2016 Art Exhibitions in Avalon Beach Celebrate HSC Students and Established Artists Works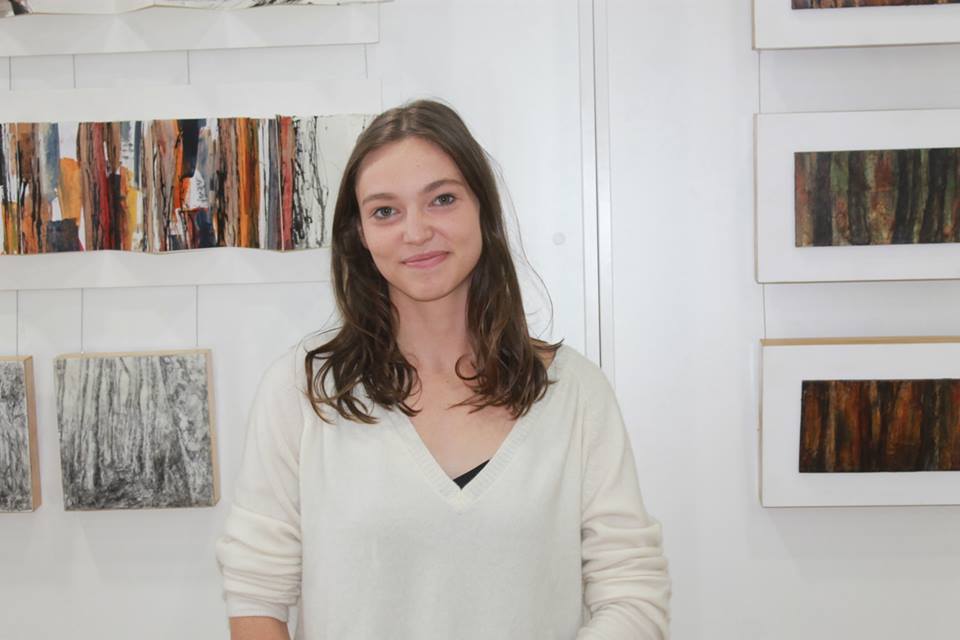 Jennifer Dunn with 'Murramarang', 2013 - part of the Fresh Art Exhibition - Highly Commended
Summer Art Space: Exhibitions at Avalon Recreation Centre
'Fresh Art': Pittwater's HSC Artists, a group exhibition showcasing the major works created by our very talented local HSC artists has its last opening day today (Sunday January 10th.
One of several art exhibitions currently available to view in Avalon Recreation Centre, 'Fresh Art' as part of Pittwater Council's ongoing Enliven Pittwater impetus and the creating of a 'Summer Art Space', offers a diverse range of extremely talented artists works to be seen.
Those for sale are being snapped up fast, Simon Barlow's glorious fauna new works are almost all gone. The wonderful "Mermaid Beads" Series by Melinda Moran should be seen by local art photographers before these too all disappear. Mark Rhodes huge skies in 'Tempus II' works are as popular as earlier works. Lisa Wilkes-Hunter's paintings and 'eggs' won't last long either, these are Art people fall in love with and want to have as part of their home.
The 'Fresh Art': Pittwater's HSC Artists shows just as many brilliant creators, and showcases wonderful young artists many of whom you will hear more about in coming years. These young artists are coherent, articulate when explaining their work and its workings, and incredibly humble when any praise is given to their works.
Exhibitions such as these are an affirmation of positivity, and through Pittwater Council's ensuring all younger voices get heard, are instilling confidence in the next generation of professional creators as much as ensuring we who are continually blown away by the level of their work get an opportunity to see it.
Jessica b Watson, one of the artists who participated in 2015's Avalon Art Carnival and who, thanks to Enliven Pittwater and Eramboo Artists center, will be undertaking a three month Artist's Residency at Eramboo commencing in April 2016, spoke words of encouragement in announcing some standouts from Fresh Art.
Jessica will feature as one of Artists focuses for 2016 and kindly provided us with her wonderful remarks -
Jessica B Watson:
Thank you to Pittwater Council for arranging this exhibition, and to Megan Treharne for her curatorship.
When I was first approached to judge this exhibition I had flashback to my own HSC major work. A time of experimentation and exploration…
The Visual Arts HSC art curriculum has definitely moved forward and improved with students now being required to produce a body or series of work. This will prove invaluable to the students throughout their lives. Whether they continue their art making journey and enter the challenging world of the professional artist, move into art education or curatorship or move into other spheres of life with the enjoyment of knowing that they can 'understand' art, visit exhibitions and enrich their lives.
So thank you to the teachers who, with looking at the high standard of work displayed here, have dedicated much time energy and enthusiasm into their students art making.
After considerable thought and deliberation I have decided on the two highly commended works and the Best in Exhibition. It was not an easy task as the standard of the students work is very high indeed.
The two highly commended artists, in no particular order are:
Sara Oughtred for her mixed media work 'People of Myanmar, 2015. -For her inventive compositions within each work and the series as a whole. In addition to her clever use of materials.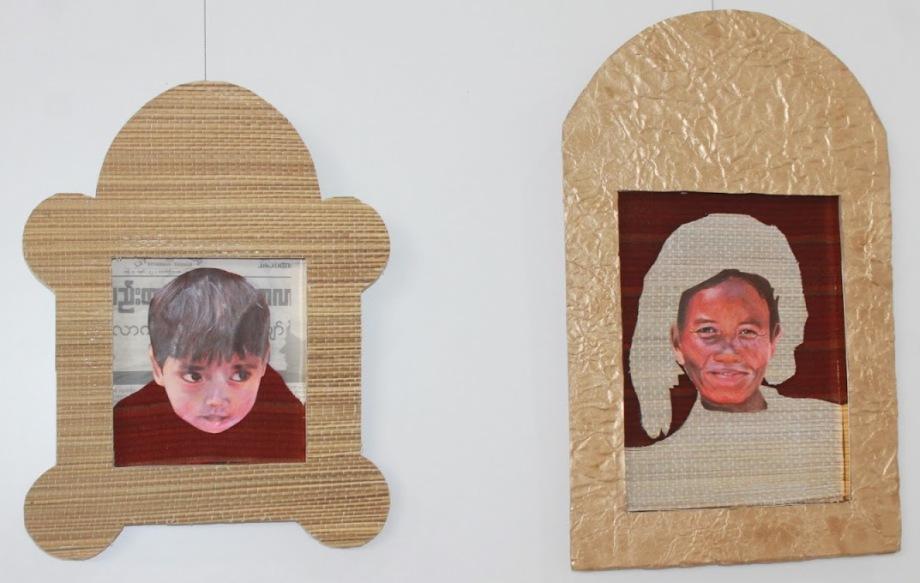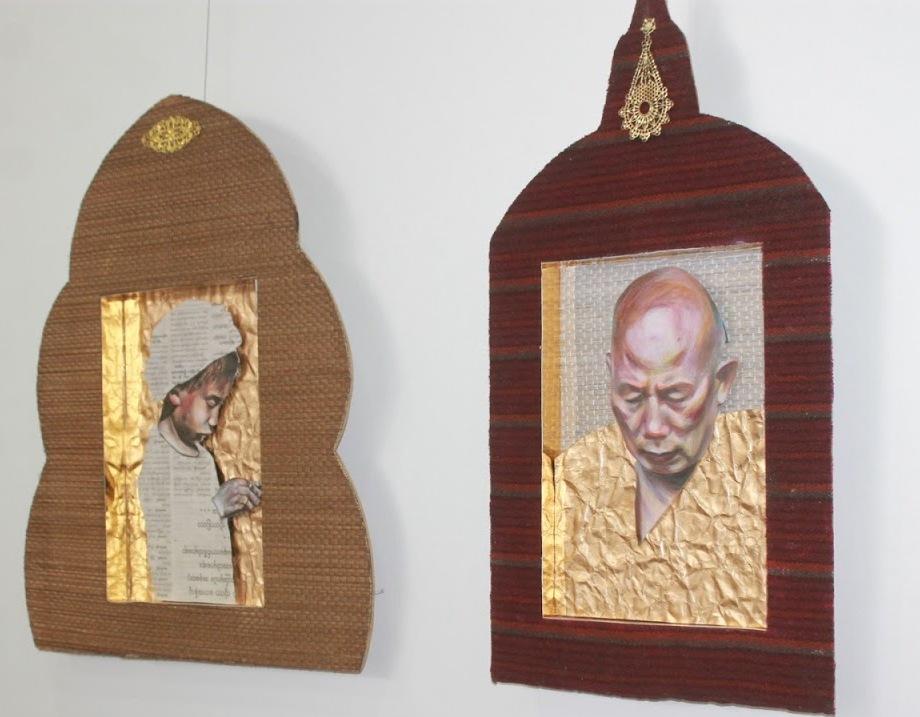 Sara Oughtred mixed media work 'People of Myanmar
Also Highly Commended for her mixed media work titled 'Murramarang' 2013, is Jennifer Dunn. Jennifer's colour palette and exploration of different techniques within her Murramarang theme has created a series which so well captures the Australian landscape.
The Best in Exhibition is awarded to Tom Kusturin for his energetic line work which captures and holds the viewer enticing one to linger and feel the city pulse.
Thomas Hugh Kusturin
The boiling pot
HSC year 2014
ART EXPRESS year 2015
Artist's statement
My work represents the city as a boiling pot of energy. The city will engulf you, trap you within its arena. The concrete pavement rumbles under the tremor of black boots, leather bound, buckled. Rubber, beaten tyres burn slowly, lining the streets like frantic ants. Staring down, intimidating you, the buildings above imprint their sheer dominance. Underneath the bustling surface, lost between the cracks, lie those who sleep alone on cold concrete. Advertisements boom, bellowing billboards scream 'Buy me' while you dodge through crowds of capitalist animals, hungry for success.
My influencing artists are Jean-Michel Basquiat, Brett Whiteley, and John Olsen.
Tom is a graduate of the Northern Beaches Secondary College, Freshwater Senior Campus and a promising young artist who has been highly commended at PCA Art Shows and in Pittwater Council's 'Imagine' drawing competition. His work produced for the HSC was hung in the prestigious Art Express 2015 exhibition at the Art Gallery of New South Wales, Sydney.
Harrison Power
Breaking Hugo
Artist statement
Breaking Hugo is a series of portraits of a close friend of mine, which was created to show the multidimensional nature of corruption form light to darkness. The background of the artwork is a scale from white to black to show the immense silver lining between what is considered good and evil, while the subject is used to represent stages in an individual's corruption. Conceptually the artwork was inspired by the dehumanisation of TV Character Walter White. My technique is influenced by Ben Quilty's method of painting with a pallet knife on a large scale.
Harrison lives in Avalon and graduated from St. Augustine's College in 2014. his body of work, produced for the HSC, was hung in the prestigious Art Express exhibition at Manly Art Gallery & Museum in 2015. Harrison is now studying Visual Arts through the UNSW's Art & Design Department. His most recent work, Frothy Blue, is also on display as part of Fresh Art. Harrison stated this is the kind of painting he is currently liking to produce and will develop more along these lines into the future.
Jennifer Dunn
Marramarang, 2013
Artist statement
I have always been impressed by the arboreal splendour of the spotted gums endemic to Marramurang; with their tall, straight and distinctive spotted trunks. My long association and deep connection with this particular place is the foundation of my art making. The delicate nature of the wax (impermanent) is also symbolic of the fragile ecosystem. The elongated book forms represent the continual returning to this place in an ongoing sequence of moving away and returning in a long but unbroken relationship. My desire to find the intrinsic nature of the landscape as I developed the works led to a more abstracted approach, with the layers of opaqueness and luminosity inspired by Angus Nivison, Fred Williams and Imants Titllers.
Jennifer lives in Newport and graduated from the Northern Beaches Secondary College, Freshwater Senior Campus in 2013. Her body of work, produced for the HSC was hung in the prestigious Art Express exhibition at The Armoury in Sydney Olympic Park in 2014 and reproduced on the cover of the NSW Board of Studies 2014 ATAR Guide. Jennifer is now studying a double degree (Media & Communications/Arts) at the University of Sydney.
_____________________________________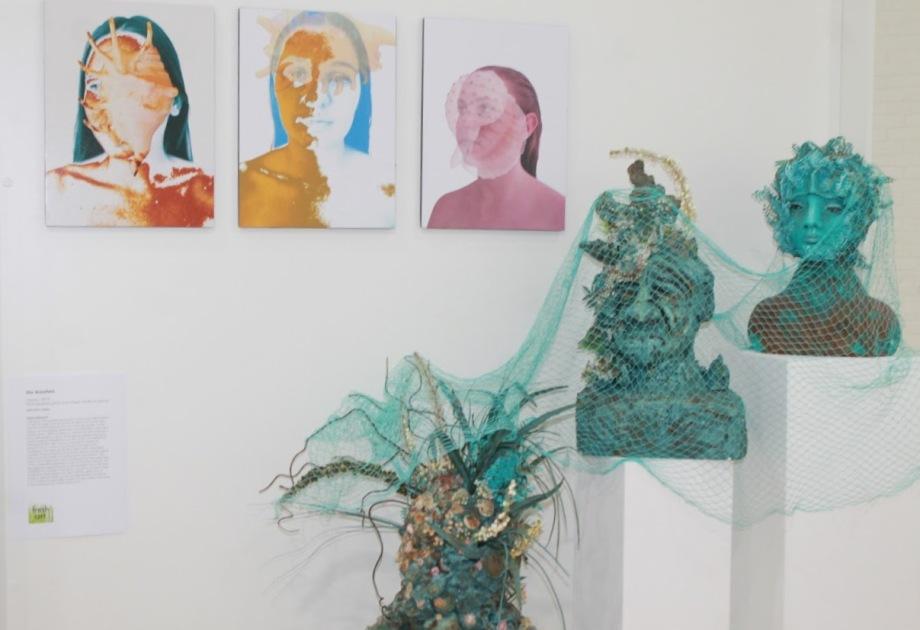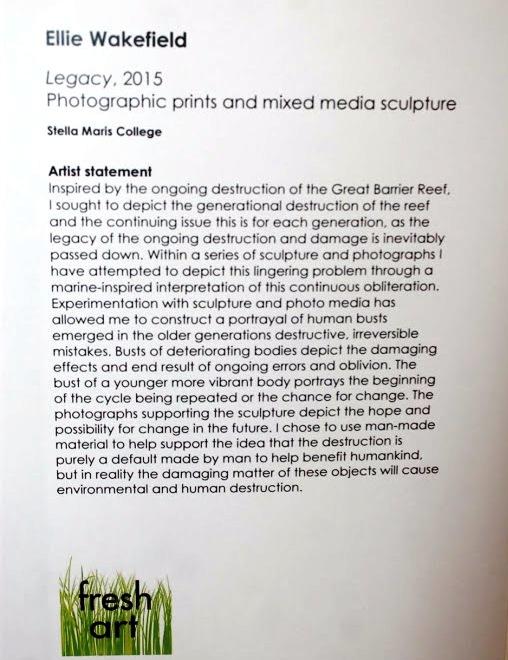 Ellie Wakefield - Legacy, 2015
_________________________________________
The 'A Tale of Two Sisters' exhibition: Lisa Wilkes-Hunter and Melinda Moran (3-10 January, 2016) was launched by their cousin, and Carevan Foundation founder, Dr John Brabant. Friends and family as well as those who love art filled the upper room the girls are showing in. A wonderful table of canapés and mouthfuls of sweetness arranged ed by Lisas' daughter Hailey, art in itself, brightened the entrance.
Dr John Brabant's words in opening the Two Sisters exhibition:
Welcome to the "A Tale of Two Sisters" Exhibition. Lisa and Melinda would like to dedicate this exhibition to their third sister, the beautiful Michelle, who tragically passed away last year. They would also like to thank the friends, and family, who helped put this exhibition together here in Avalon.
Lisa and Melinda are my cousins and I am so very proud of them. Lisa, by the medium of painting, and Melinda, by the medium of photography, have created works of art that capture the power, the colour, the mystery and the contrasts of the natural world.
Their passion for art started early in life, here on the Northern Beaches, encouraged by a creative and talented family, in particular by their grandfather and prolific author, Richard Wilkes-Hunter. Their mother Fay is still the wonderful matriarch who supports everything they do, as does their brother Nick.
Their wonderful children, Hailey, Tara, James and Sophie are also part of this talented Moran clan.
In 2009 Lisa travelled to Africa, going off the well trodden tourist track and across Botswana and Zimbabwe and traversing the channels of the Okavango Delta in Morkoro. The vision for her paintings was now established and provided the genesis for her first major solo exhibition "Eyes on Okavango". This exhibition gathered in one place, with skilful technique, a love of family, a reverence of nature, animals and Africa.
Lisa would like to thank in particular her mentor, Ted Blackall, fellow artist, who has truly inspired her over the past few years, and helped develop this passion for Africa in her artworks.
Melinda loves photography. Her work has various landscape themes through water droplets, light drawings, and rhythm and stills photography.
The "Orb Weavers View" was Melinda's first solo exhibition and it captures a suspended matrix of water droplets on magical spider's webs.
By her vision of a looking glass, through nature's water, Melinda has amazingly created mini landscapes.
Melinda has memories of sister Michelle carrying her around on Michelle's right hip to introduce her to all the fairies and spider's in Pop's Garden.
Melinda would like to thank in particular her mentor Max Hill, a teacher at Werrington TAFE, whose extensive exercises in light and optics helped in developing her unique works.
So here we have it "A Tale of Two Sisters" – OR actually, as I'm certain Lisa and Melinda would prefer, here we have it! "A Tale of THREE Sisters".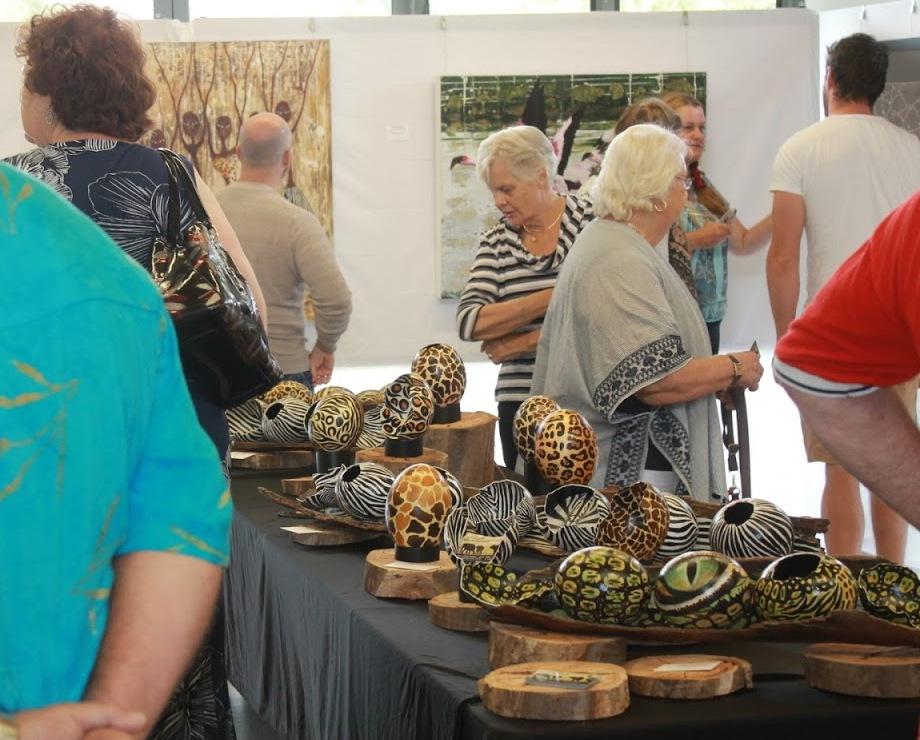 Lisa Wilkes Hunter
Website: www.wilkeshunter.com.au
Inspired by a childhood full of adventure and encouraged by a creative and talented family, my passion for art started early in life.
I am stirred by the power, colour, mystery and contrasts of the natural world and whilst I often use living energy - animals, people, the ocean, plants and trees as subject matter, I also include inert objects as a medium - eggs, sand, drift wood and recycled things (pages from my grandfather's books), as a background to create a dreamlike, textured, collage effect.
Melinda Moran
The "Mermaid Beads" Series captures a suspended matrix of water droplets on magical spider webs. It is amazing to look into water droplets of various sizes, with some as small as the tip of a pin. This series features an array of Australian landscape in the background. A looking glass, through natures water; has beautifully created multiple mini landscapes which encapsulates the true power of nature's beauty.
_________________________
Summer Art Space – January 2016 Exhibitions:
'Fresh Art': Pittwater's HSC Artists - 3-10 January - showcasing the major works created by our very talented local HSC artists.
Simon Barlow 'New Works' - 3-10 January
Mark Rhodes 'Tempus II' - 3-10 January
Lisa Wilkes Hunter and Melinda Moran 'A Tale of Two Sisters'– 3-10 January
Sally Campbell Handmade Textiles – 6-12 January
The Shed Sculpture Studio – 14-17 January
10am to 6pm in The Avalon Recreation Centre, 59a Old Barrenjoey Road, Avalon Beach
Pictures from Summer Art Space 2016 Launches
more in Pittwater Online News Photo Albums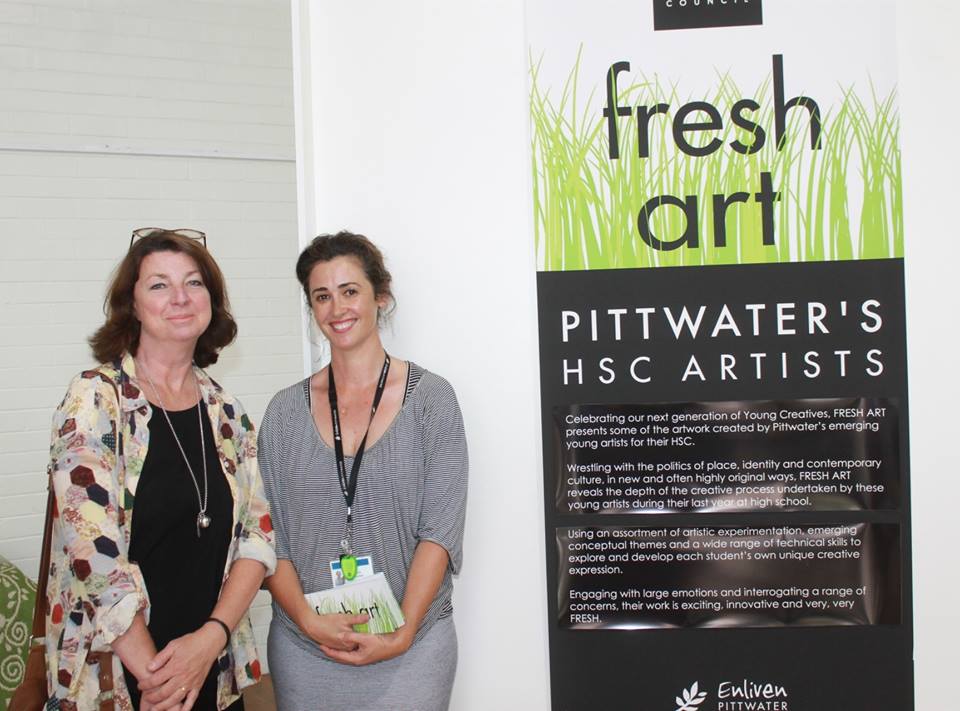 Artist and Teacher Meredith Rasdall with Megan Treharne, Arts and Cultural Officer at Pittwater Council and Fresh Art Curator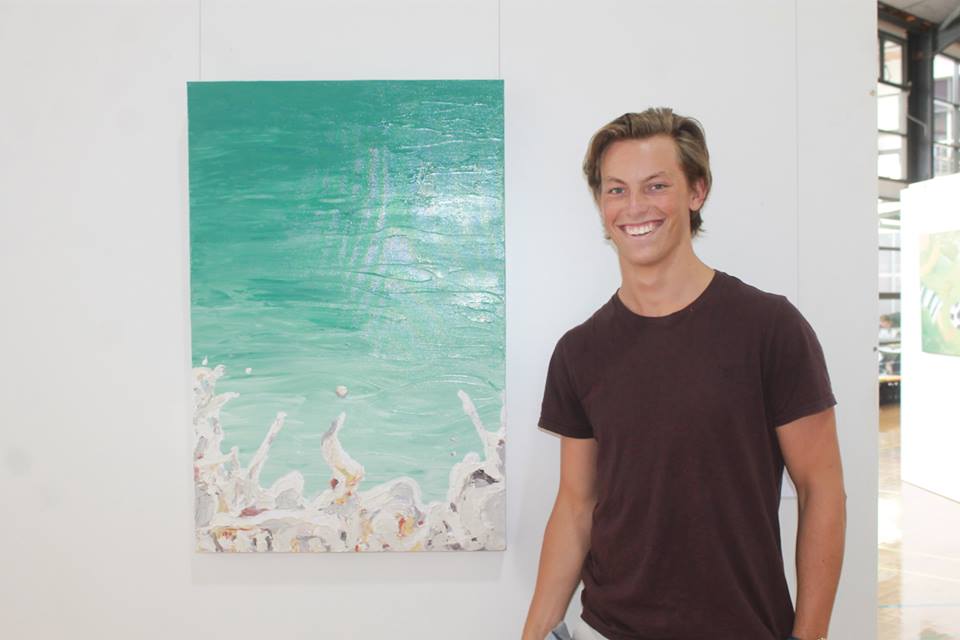 Harrison Power with 'Frothy Blue', 2015 - part of the Fresh Art Exhibition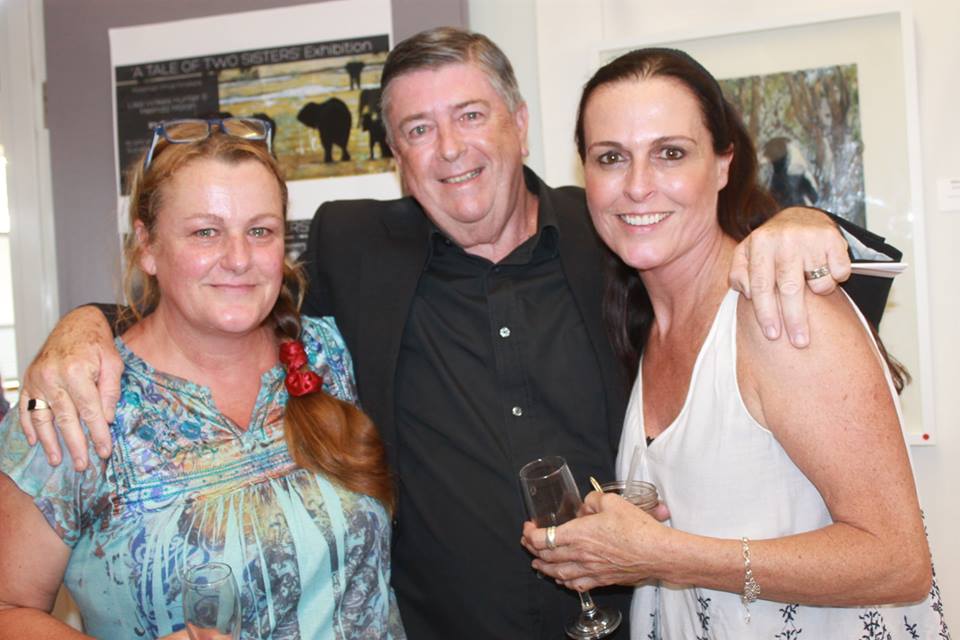 A Tale of Two Sisters Exhibition: Melinda Moran, John Brabant and Lisa Wilkes-Hunter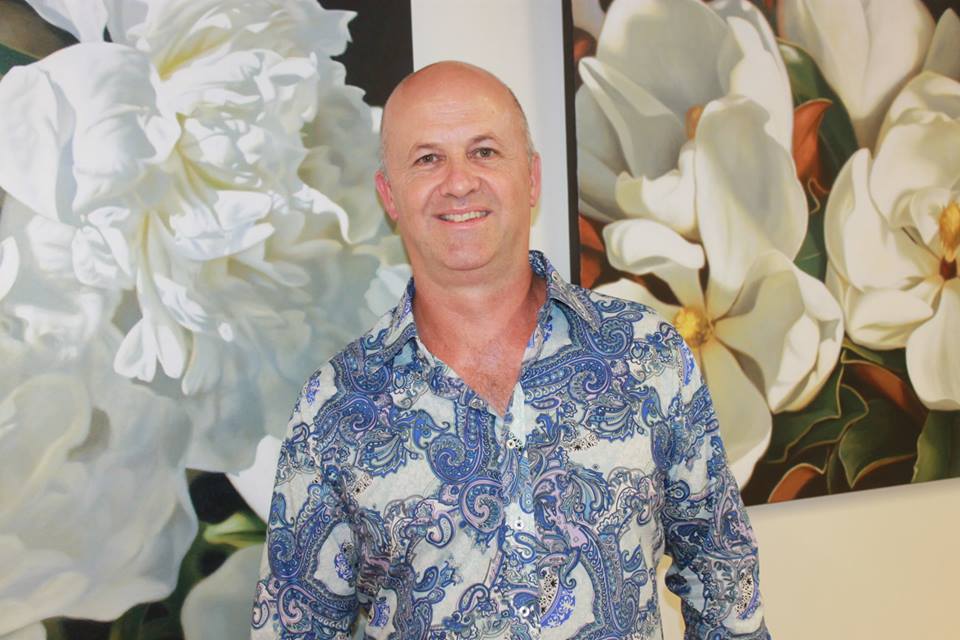 Simon Barlow and some of his beautiful Fauna paintings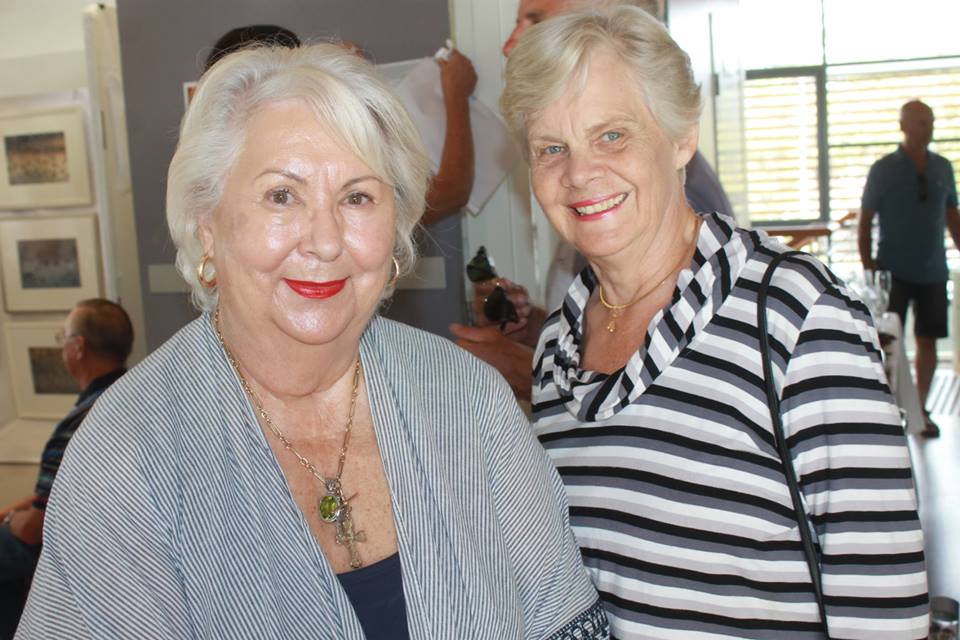 Pittwater Community Arts President Lorrie Morgan with President and Musical Director of the Peninsula Music Club, Janice Tuynman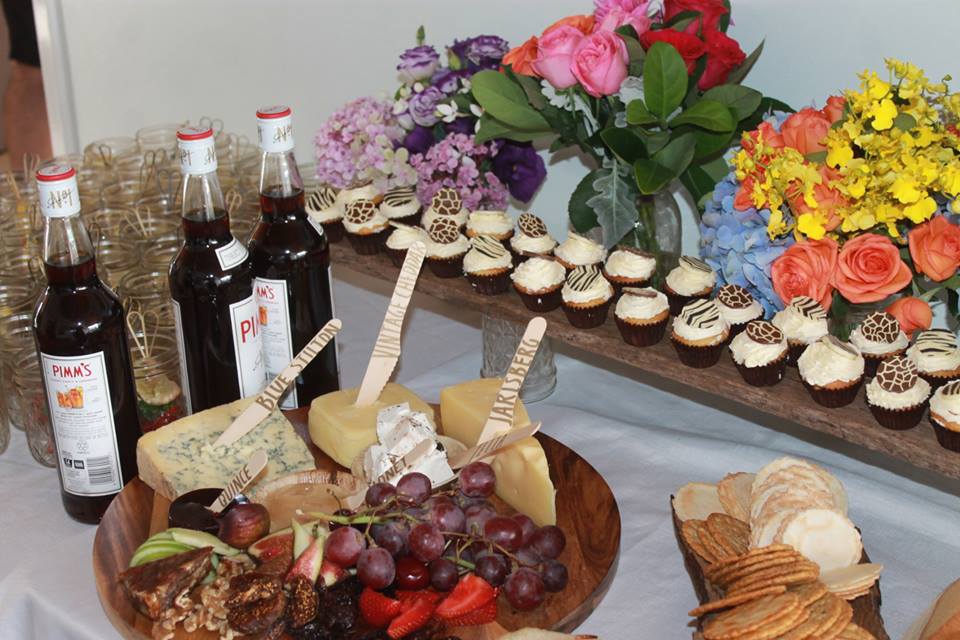 A Tale of Two Sisters exhibition launch - even the Nibblies Table was Art!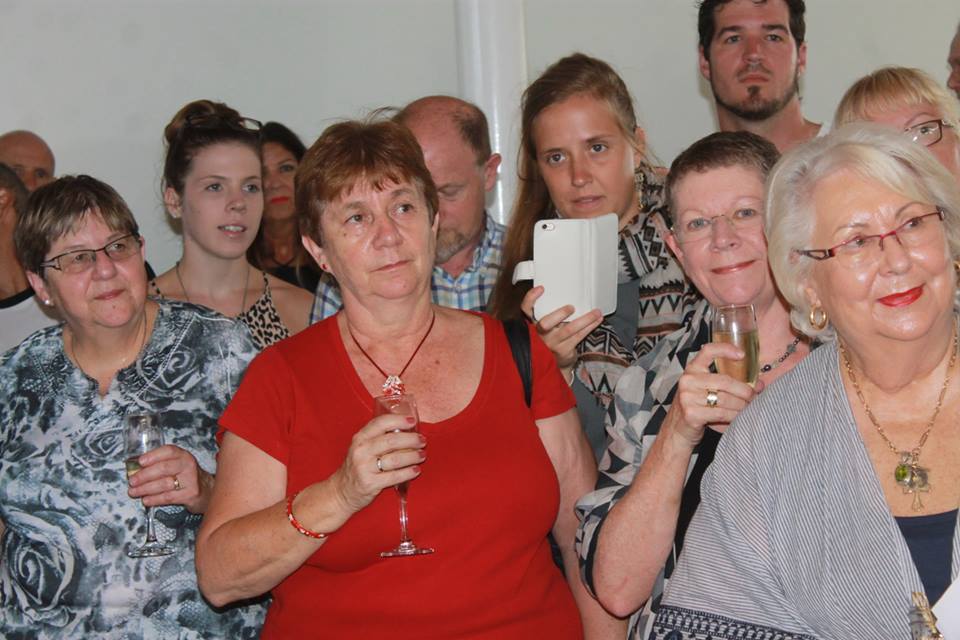 Page by A J Guesdon, 2016.