January 10 - 16, 2016: Issue 246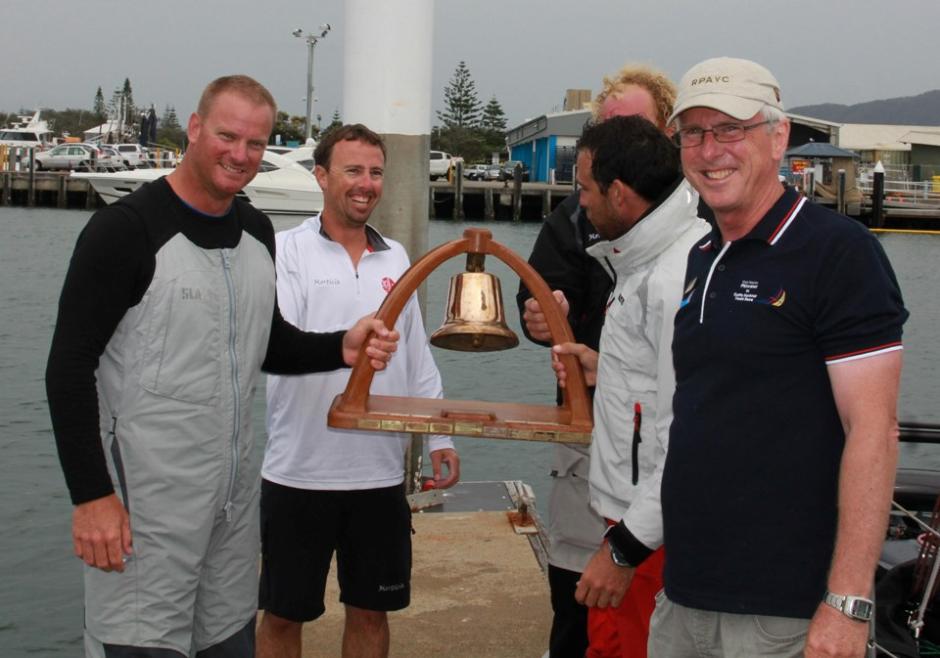 Above: RMYC Broken Bay at Newport member's boat - Morticia won multihull line honours, Skipper and crew with RPAYC Commodore Ian Audsley - photo by Stephen Collopy
Below: Line honours winning crew Beau Geste - photo by Stephen Collopy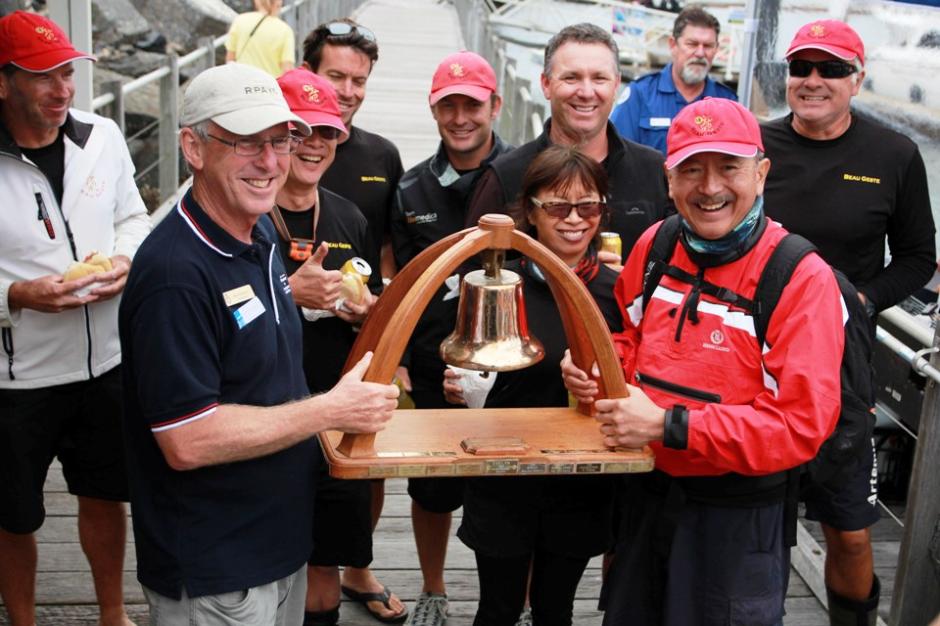 Coffs race fleet all in and placegetters declared
4 January 2016
A straightforward final night at sea for the Club Marine Pittwater to Coffs Yacht Race fleet brought the last boat, Out of Sight, from 42 starters to the finish line at 0632 hours this morning, Monday January 4, 2016.
All boats are safely tied up at Coffs Harbour marina on the NSW Mid North Coast or heading for home ports and the final placegetters have been declared. What was touted a promising smaller boat race for handicap turned out to be a big boat run north, at least for the major IRC trophy.
Line honours winner for the second year, Karl Kwok's 80-footer Beau Geste (RHKYC), also takes home the key IRC overall and IRC division 1 silverware, a bonus prize pack says Kwok. Beau Geste maintained a decent pace for most of the 226 nautical miles in the predominant sou'easterly winds and came to the finish hot doing 20 knots of boat speed, with bow spray flying. They missed Wild Oats IX's 2003 race record by just 16 minutes.
"Getting the record is something on our minds, but with the line honours and IRC overall win we achieved full marks," Kwok said today. "Taking IRC overall is definitely an unexpected bonus! For all those who participated in this great race, they must be diehards like me! It was so nice to have big fleet for this event."
Second IRC overall, first in IRC division 2 and first on ORCi handicap went to Adrian Van Bellen's J/122 Jackpot from the Cruising Yacht Club of Australia. "It's unbelievable; the conditions were perfect for us," said the first time Coffs race owner/skipper. "I cannot speak highly enough of the crew; the credit should go to them. They are an inspiration to me."
It's been a steep learning curve for Van Bellen given he bought his first boat, a Compass 28, less than eight years ago.
Jackpot's navigator Carl Crafoord said they competed without all the usual Rolex Sydney Hobart aids like MetEye and weather routing, instead "looking at the sky and sailing by seat of our pants… like back in the 80s. It was fun!"
In the downhill slide the planing asymmetric boats fared best, third overall on final IRC standings going to Bob Steel's Mills designed Quest, the current Australian Yachting class B IRC champion.
Steven Proud's Kernan 44 Swish from Middle Harbour Yacht Club, raced north by co-skippers Billy Sykes and Murray Gordon in the owner's absence, took out PHS division 1.
Dockside Sykes recounted a very random mid-race attack. "We went through a school of squid… we had 4 or 5 jump on the boat flicking around. I was standing up and one hit me in the back; I thought it was one of the guys winding me up. It was pretty funny…a first that's for sure!"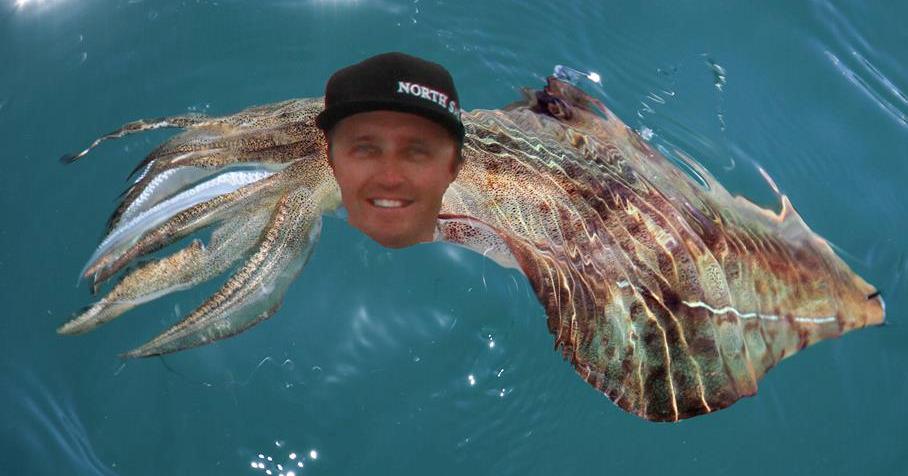 Another beamy downwind flyer, Marcus Grimes' Elliott 10.5 High Anxiety sailing for the race organiser the Royal Prince Alfred Yacht Club, finished the lead PHS division 2 boat.
"We had a great ride with big smiles all around and we are thrilled with the result," said Grimes. "I am very happy for the crew and would like to thank the organising committee at RPAYC and the Coffs Harbour Yacht Club."
Peter Wilcox's Schionning Force catamaran called Mojo beat the rest of the multihulls in division on corrected time and Jeff Dusting's AdventureSafety Jem from Sandringham won the Shorthanded division.
Video of the start on Saturday January 2 at 1pm from Broken Bay https://youtu.be/0z54yHqa930
Full handicap results in all divisions at www.pittwatertocoffs.com.au/live/race-results
This evening two members from each crew will attend a Mayoral reception at Coffs Harbour Yacht Club prior to the end of race trophy presentation at approximately 1700hrs. All crews are welcome to attend the prizegiving.
Tomorrow is the pursuit style Club Marine Solitary Island race kicking off with the race briefing at 1030hrs at CHYC where starting handicaps will be issued. The fleet of 17 will start and finish in the harbour from midday onwards and the BOM has issued a strongwind warning, which should make for a fast, fun race. The fleet can be tracked here
Black magic Club Marine Pittwater to Coffs finish for Beau Geste and Morticia
1200hrs, 3 January 2016
From the bulk of white coloured yachts contesting the 35th edition of the Royal Prince Alfred Yacht Club's key offshore event, the Club Marine Pittwater to Coffs yacht race, the charcoal coloured Beau Geste won the monohull line honours contest and the black-hulled Morticia easily took out the multihull race.
A final fast reach to the finish line in morning sou'west breeze swept Karl Kwok's maxi Beau Geste to its second consecutive line honours win, this time tantalisingly within 16 minutes of the 2003 race record.
Their official finish time of 0745hrs on January 3, 2016 gave them an elapsed time of 18hrs, 45mins 17 seconds. Video of the finish
First multihull was Shaun Carroll's 9.2m trimaran Morticia at 0855hrs. The four crew on board worked around the clock to keep the boat powered up and well in front of the two larger catamarans. Video interview with Shaun Carroll
Now the nervous wait begins for the Hong Kong and New Zealand crew of the Botin 80 Beau Geste to see if the gap back to the threatening 40 and 50 footers is wide enough for them to maintain their IRC overall handicap lead. The outcome is one they have no control over as it depends how quickly the others in with a chance take to complete the 226 nautical mile ocean passage that began yesterday at 1pm from Broken Bay.
Both TP52s, Peter Hickson's M3 with Brenton Carnell skippering, and Mick Martin's Frantic, are in the hunt for the major silverware. The pair is staging a match race within an ocean race, now off Nambucca Heads.
Adrian Van Bellen's J/122 Jackpot and the Kernan 44 Swish, with a crack young crew bringing the boat north for owner Stephen Proud who disappointingly wasn't able to join them, also feature high up in the current standings
There was very little rest for the hard-working crew of Morticia, Carroll said. "The boys will probably tell you I get the Golden Pillow (most sleep) award. It took us a few miles to get going after the start, when the breeze filled in. We always had a plan to go out to sea and it paid off.
"We spent a lot of time doing prep work for this race; we usually put 10 hours of prep in per one hour on the water, so we are confident we'll get through OK."
Sailing master Dale Mitchell spoke of last night's unique challenge, "Trimming a black boat with black sails on an overcast and moonless night is a bit tricky!"
Pre-race video of RPAYC head coach Tommy Spithill talking to Dale Mitchell about sleeping arrangements and sailing with rangas (red-heads)
Kwok wasn't fazed by narrowly missing the record; "I'm happy. Generally we had very steady wind and the boat never parked up. I didn't realise we were so close to the best time....that's the way life is."
The maxi yacht is already on its way back to Sydney aiming to beat another cut-off, Monday's strong wind warning, and the rest of the crew are ashore at Coffs Harbour enjoying a hot shower and a feed and welcoming the early arrivals in.
Marine Rescue in Coffs Harbour did a fantastic job of cooking and ferrying bacon and egg rolls out to Beau Geste's delivery crew this morning, and they'll continue to cook all day for the teams arriving tired and hungry at the marina.
Today's Macquarie coastal waters forecast is for south-easterly winds 10-15 knots reaching up to 20 knots offshore south of Crowdy Head in the evening, exactly as the Bureau forecasted. All but a couple of yachts are due to finish this afternoon and evening and there is still only one retirement from 42 starters.
View the entry list here.
For the latest updates go to Facebook
Twitter: @pitt2coffs
Instagram: @rpayc
By Lisa Ratcliff /RPAYC media

Club Marine Pittwater to Coffs Harbour - Line Honours
Hosted By Royal Prince Alfred Yacht Club
Race 1 (2/01/2016) Provisional Subject to Audit
Updated: 4/01/2016 7:53:40 AM Line Honours - Line Honours results Start : 13:00
Place Sail No Boat Name Skipper From Design Fin Tim Elapsd
1 HKG1997 BEAU GESTE Karl Kwok RHKYC Botin 01:07:45:17 18:45:17
2 AUS52 M3 Peter Hickson RFBYCFSC Tp 52 01:15:16:40 01:02:16:40
3 GBR5211L FRANTIC Michael Martin NCYC Tp52 Donovan 01:15:42:09 01:02:42:09
4 226 SWISH Steven Proud MHYC Kernan 44 01:16:32:59 01:03:32:59
5 M166365 SHAKTI Doug Coulter LMYC Rogers 46 01:17:51:49 01:04:51:49
6 M400 IGNITION Ian Bower LMYC Farr 400 01:17:56:17 01:04:56:17
7 65007 ELENA NOVA Craig Neil CYCA Judel & Vorlijk 42 01:18:00:23 01:05:00:23
8 NZL88188 YOUNG GUNS Mark Nagle RNZYS Fred Barrett-35 01:18:00:39 01:05:00:39
9 7075 QUEST Bob Steel RPAYC Mat 1180 01:18:00:44 01:05:00:44
10 18889 NINE DRAGONS Bob Cox MHYC Dk46 01:18:12:02 01:05:12:02
11 545 PRETTY WOMAN P.W. Syndicate RPAYC Farr 45 01:18:22:11 01:05:22:11
12 8008 OCC.COARSELANGUAGE 2 Warwick Sherman CYCA Ker Gts 43 01:18:28:33 01:05:28:33
13 46 KHALEESI Andrew&Pauline Dally MHYC Dk46 01:19:10:30 01:06:10:30
14 SYD5 MARGARET RINTOUL V Graham Buckeridge MHYC Frers 61 01:19:44:02 01:06:44:02
15 11011 ANGER MANAGEMENT Phil Arnall NCYC Corby 43 01:19:49:45 01:06:49:45
16 11744 XS MOMENT Fran&Ray Hudson RPAYC X Yachts Xp44 01:19:53:11 01:06:53:11
17 8181 ESPRESSO FORTE Peter Schwarz CYCA Farr 55 01:19:56:24 01:06:56:24
18 B101 RUNAWAY Drew Carruthers RQYS Sayer 11 01:20:17:02 01:07:17:02
19 7700 ABOUT TIME Max Poyser CYCA Cookson 12 01:20:36:08 01:07:36:08
20 6774 JACKPOT Adrian Van Bellen CYCA J/122 01:20:48:46 01:07:48:46
21 8009 OCC. COARSE LANG ONE Robert Alder RPAYC Cookson 12 01:20:49:08 01:07:49:08
22 51408 HARLEQUIN Williams/ Fluhrer RPAYC Farr 40 01:21:12:48 01:08:12:48
23 SM6518 ADVENTURESAFETY JEM Jeff Dusting SYC Sydney 47cr 01:21:50:25 01:08:50:25
24 6419 PEKLJUS David Suttie RPAYC Radford 50 01:22:07:33 01:09:07:33
25 11044 KERAZY R.Curtis/ G.Tailby RPAYC Ker 11.3 01:22:20:06 01:09:20:06
26 7027 THE GOAT Mitchell Gordon CYCA Sydney 38 01:22:24:14 01:09:24:14
27 10447 LE BILLET M.Waterhouse M.Tinwo RPAYC Beneteau First 44.7 01:22:47:52 01:09:47:52
28 6808 FLYING CLOUD Howard Piggott CYCA Beneteau First 40 01:22:52:45 01:09:52:45
29 M161 FRANTIC. G Furtado B Pozzey RQYS Sayer 11.9 01:23:03:21 01:10:03:21
30 3242 SOLUTIONS Stephen Dadour RPAYC Dehler 41 01:23:11:04 01:10:11:04
31 4570 HIGH ANXIETY Marcus Grimes RPAYC Elliot 10.5 01:23:13:40 01:10:13:40
32 6893 IMALIZARD Michelle Gilfoyle RSYS Welbourn 12m 01:23:35:02 01:10:35:02
33 6609 AMANTE Dennis Cooper CYCA Sydney 36cr 01:23:42:16 01:10:42:16
34 A164 STICKY Richard Harris SASC Salona 38 01:23:55:57 01:10:55:57
35 6166 SWEET CHARIOT Ralph Pickering CYCA J109 02:00:14:49 01:11:14:49
36 77 STAMPEDE J Lattimore M Mcdona LMYCNCYC Inglis 39 02:03:57:35 01:14:57:35
37 8126 REVERIE John Turnbull RPAYC Beneteau 40.7 02:04:52:25 01:15:52:25
38 6967 OUT OF SIGHT Mark Gorbatov CYCA Hanse 385 02:06:32:00 01:17:32:00
RET M62 AUSTRAL Peter Mayo RMYCT Sydney 38
Line Honours - Division 2 Mulltihull results
Place Sail No Boat Name Skipper From Design Fin Tim Elapsd
1 3002 MORTICIA Shaun Carroll RMYC Lombard Tri 01:08:54:00 19:39:00
2 M165 MOJO Peter Wilcox MYCQ Schionninggforce1500 01:10:16:07 21:01:07
3 AUS888 TOP GUN Darren Drew RMYC/MYC Crowther 50 Catamara 01:10:17:44 21:02:44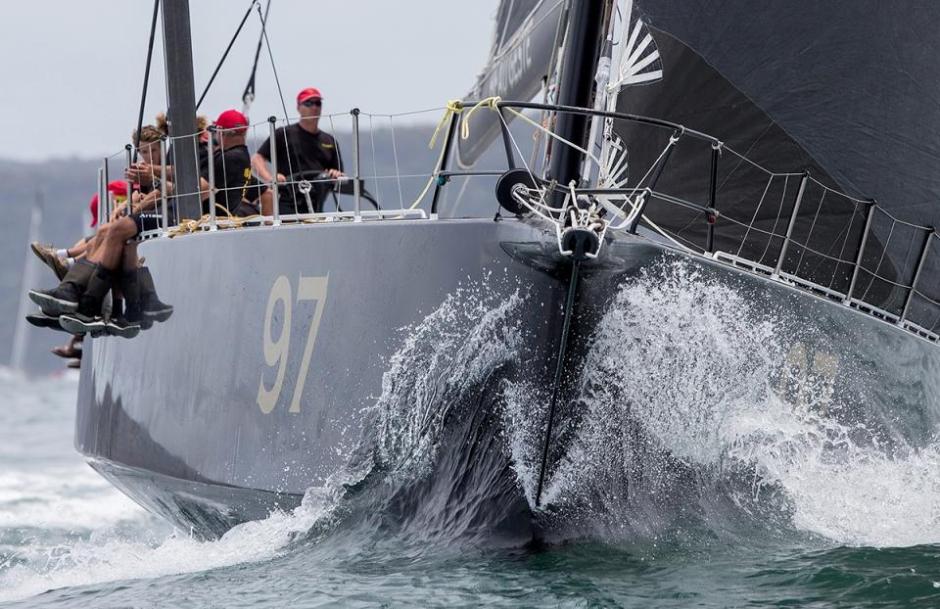 Beau Geste at the start - photo by Crosbie Lorimer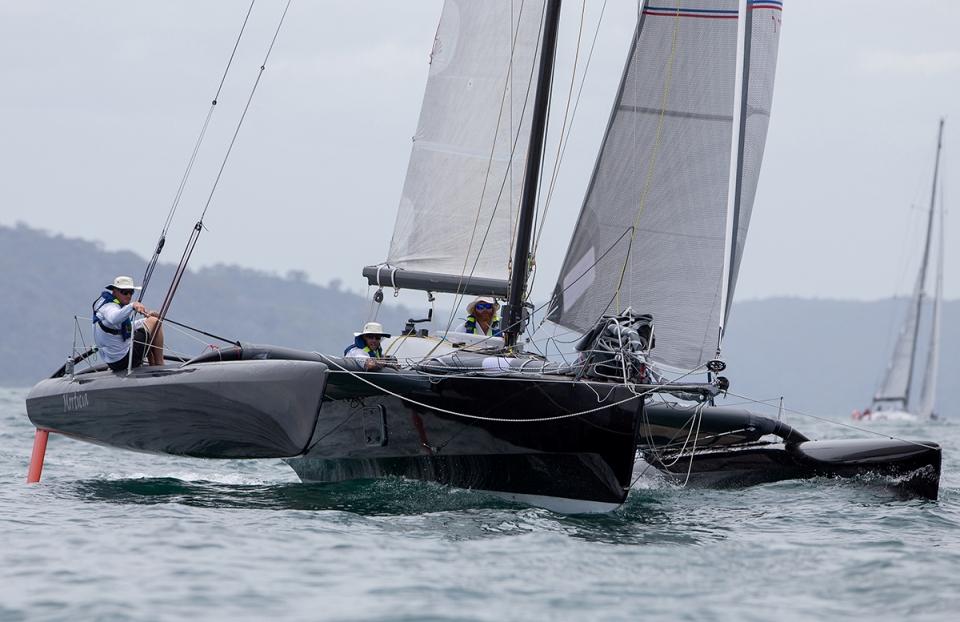 Morticia at the start of 2016 Pittwater to Coffs Yacht Race - photo by Crosbie Lorimer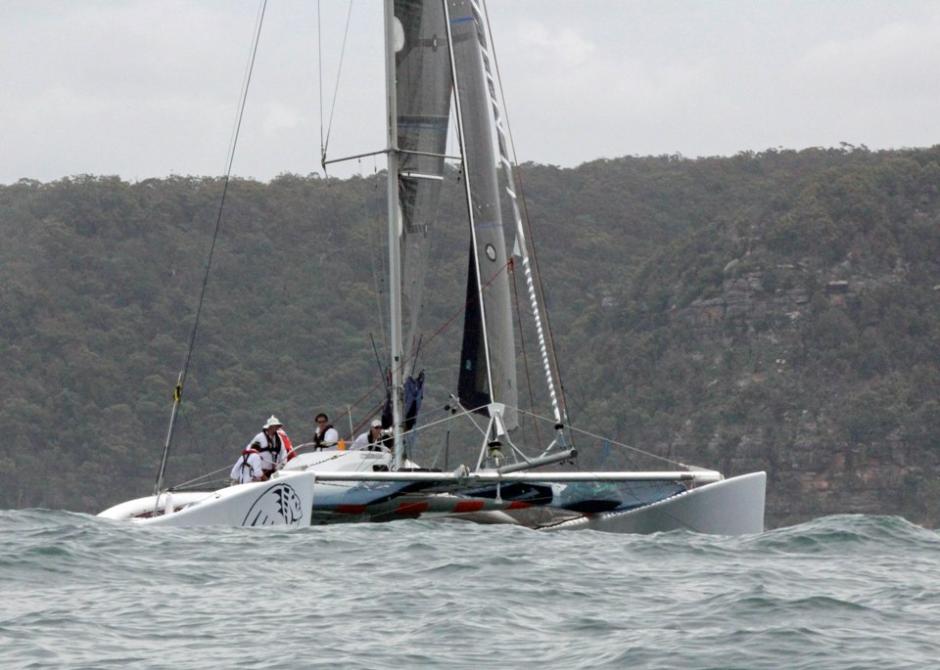 Darren Drew's Top Gear at the start of 2016 Pittwater to Coffs Yacht Race - photo by Stephen Collopy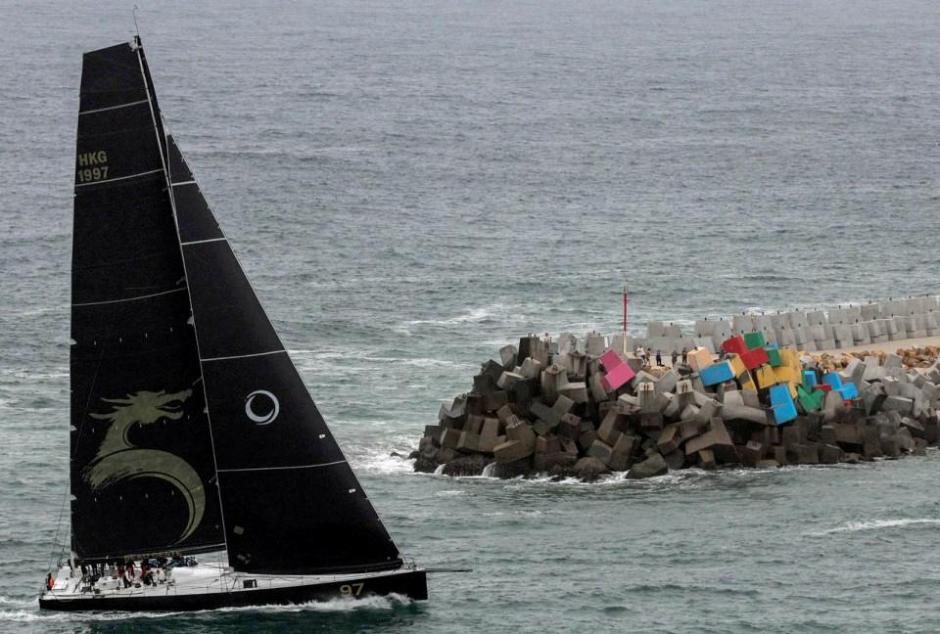 Beau Geste coming to the finish line - photo by Stephen Collopy