February 12 - 18 2023: Issue 571
Three Local Youth Focussed Sailing Clubs Matched With SailGP Sydney 2023 Teams – The Adopt A Club Initiative Ups The Passion For Being On Local Waterways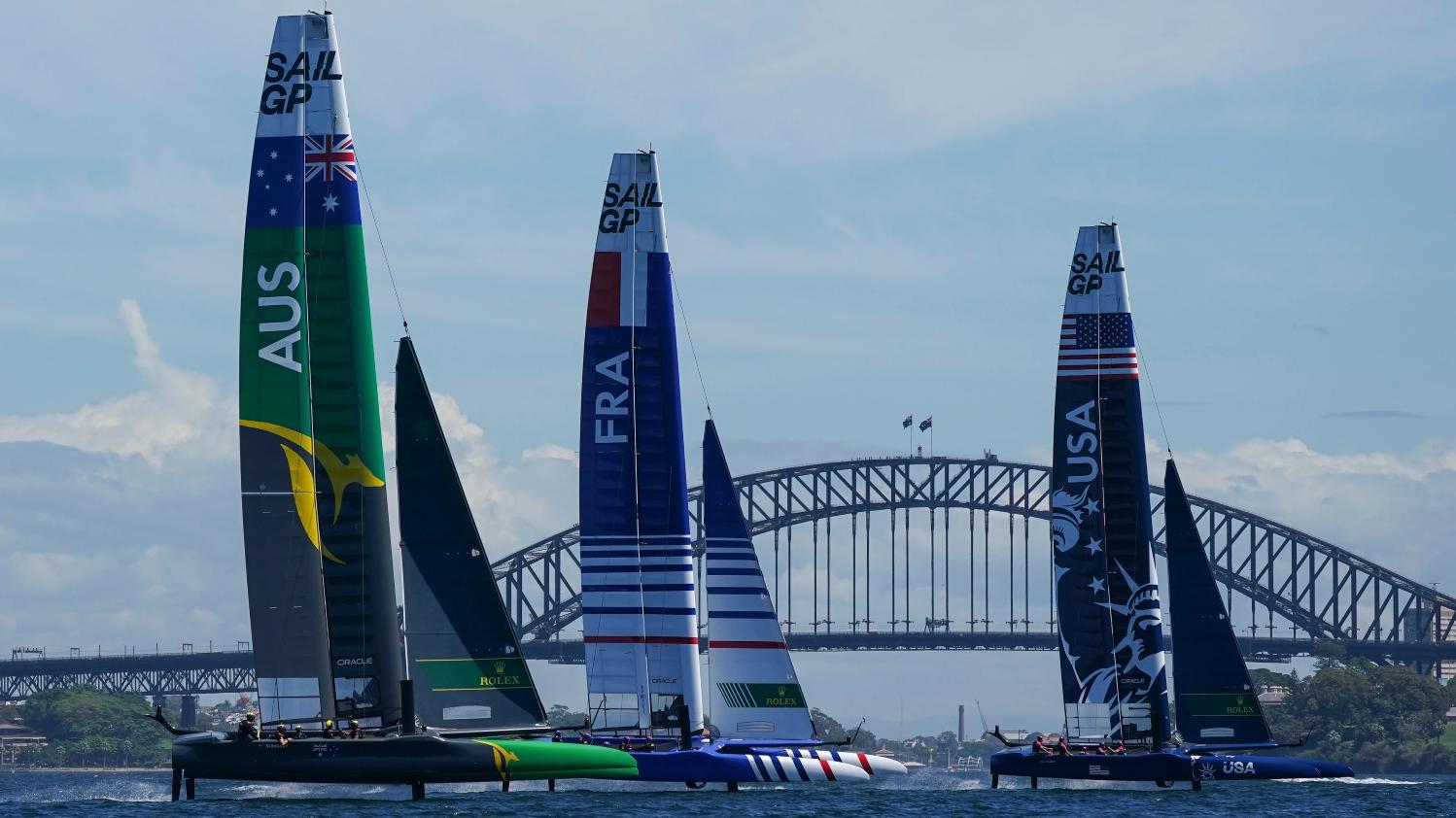 Three local clubs are among those named for the SailGP Sydney event this February as part of the Adopt a Club initiative. The Royal Prince Alfred Yacht Club has been paired with Great Britain, the Bayview Yacht Racing Association with the USA team and boat and Narrabeen Lakes Sailing Club with the French team and boat.
Following a hugely successful Australia Sail Grand Prix in SailGP Season 2 – won by the Australian SailGP Team led by home-grown Olympic gold medallist Tom Slingsby – SailGP returns to the iconic waters of Sydney Harbour on February 18-19 for the ninth event of SailGP Season 3.
The event will showcase the best Sydney Harbour has to offer, with close, heart-stopping racing and an extensive range of free and ticketed spectator experiences both on and off-water – all in front of a spectacular backdrop. For those who have missed out on tickets, SailGP Sydney 2023 will be broadcast on 7mate from 4:00 PM to 5:30 PM AEDT on both days of racing.
Since day one of SailGP, Tom Slingsby's Australia has built a reputation as a formidable racing force. The team followed its Season 1 triumph with a second Championship title in Season 2 before storming into Season 3 with the same approach. Since then, they've racked up six podium positions, including three event wins, with last minute comebacks and dominating fleet performances. Sitting comfortably at the top of the leaderboard, Australia remains the team to beat with just three events to go.

As Tom explained this week:
''The origins of the Australia SailGP Team started back in 2011 when Sam Newton, Kyle Langford, Kinley Fowler and myself all joined Oracle Team USA in the America's Cup within a month or two. At this point in time, the America's Cup had changed into fast-paced, extreme catamaran sailing and there was a real push for the next generation of talent to come through and sail these boats. All four of us got hired at the same time and went through both the 2013 and 2017 campaigns together.
During the 2017 campaign, we also became good friends with Jason Waterhouse, who was with SoftBank Team Japan. Having the experience of sailing together throughout the America's Cup meant that when SailGP came along, putting the team together was easy. These are guys I've sailed and raced with for years, and some are my best friends, so we're not going to annoy or frustrate each other off the water.''
Although national pride will be on the line as Slingsby's green and gold team race against the sport's best athletes from eight other nations, there will be a few voices raised cheering on France and the United States of America as well this year, and not just because the USA Team's James Spithill is one of our own.
SailGP Inspire's Adopt-a-Club community outreach program made its debut in Sydney at the Australia Sail Grand Prix in 2021. Initiating partnerships through local sailing clubs and organisations, the program is designed to expand opportunities in the sport for diversity and inclusion as part of the global league's Race for the Future – driving towards a better sport and a better planet.
In each SailGP host city, SailGP's eight national teams – comprising the sports best athletes – are fostering relationships within the respective communities. Recognising that sailing organisations and clubs are the entry point for many young people to a world of on-water activities, the aim of the program is to have a positive influence on their future by inspiring the next generation, provide industry insights and open their eyes to potential career paths in the marine industry.
That's not the only local connections though. The Australian SailGP team comprises Jason Waterhouse, Nina Curtis, Natasha Bryant and Lucy Copeland, all who have mentored young local sailors and grew up sailing on Pittwater and on Sydney Harbor.
Jason grew up sailing as part of the Pittwater High School program and with Palm Beach Sailing Club members and parents Rod and Kerry and sister Bridget, was part of the initial Objective Australia Youth America's Cup team launched through the Royal Prince Alfred Yacht Club, has represented Australia as an Olympian with cousin Lisa Darmanin - silver in Rio in 2016 in Nacra17.
Nina started out with BYRA, moved to Avalon Sailing Club before joining the RPAYC Youth programs as a teenager, has also represented Australia as an Olympian - silver in the 2012 London Olympics, and regularly still gets involved in Hobie Worlds with mum Evelyn Duchatel, sometimes sailing with Bridget Bolewski (nee Waterhouse) as part of the PBSC cohort, sometimes with Haylee Outteridge, sister of Nathan - who are also considered 'honorary Pittwater people' by local sailing clubs, as is their brother Beau Outteridge, whose brilliant photographs and videos of regattas are creating a record for the ages.
Natasha Bryant, 'Tash', can also be seen inspiring others through the RPAYC and PBSC. Tash started out in Avalon sailing club in the Manly junior around 2010, paired up with Manly 16foot skiff Club sailor Annie Wilmot a few years back, training with Traks Gordon, son of Angus, and shared their passion for sailing through the Opti Chicks program hosted by RPAYC.

Lucy started out of Middle Harbor Yacht Club on Manly Juniors, has competed with Paul Darmanin in the 2016 World in Melbourne in the Nacra 17 and has also sailed out on Pittwater with Paul as part of PBSC events. Lucy Copeland completes Australia's three-strong female roster for Season 3.
The local clubs, BYRA, NLSC and RPAYC, will be acting as each team's home club while they are in Australia, supporting them on and off the water, holding country themed events and cheering the teams on from the sidelines.

But that is just a mere glimpse into how locals are gearing up to celebrate SailGP Sydney 2023.
The RPAYC stated to Pittwater Online:
''The RPAYC is delighted to have been chosen to adopt TeamGBR for the SailGP Series. On Monday 13th a team of youth sailors will be taking a tour of the F50 facility before the Sydney leg of the Series.
With many club members involved in the SailGP program across various teams on water and shore side and through the Inspire Program it's a great opportunity for the club to also be associated with Team GBR. We look forward to sharing their success and connecting with the team to promote the sport of sailing.''

BYRA stated:
''The Bayview Yacht Racing Association (BYRA) is delighted to be adopted by United States SailGP Team for the upcoming SailGP in Sydney as James Spithill, skipper of Team USA, is a Pittwater local.''
BYRA has James Spithill dropping by for the launch of their foiling pathway programme on Monday February 13th, while the Narrabeen Lakes Sailing Club, after the devastating loss of their clubhouse in late 2021, is still fundraising to replace all that was lost, including that bricks and mortar gathering hall.
On hearing the story and understanding the damages sustained to the building, SailGP's Inspire partner Rooster and the Australia SailGP Team pulled resources together and provided support toward the replacement of equipment, and to aid in the raising of funds to rebuild the clubhouse.
Australia SailGP Team driver Tom Slingsby said: "Narrabeen is a tight knit sailing community, so we knew the devastating impact that the clubhouse fire would have had on the local sailors and particularly their youth program. We wanted to share our support through donating items that will help the community rebuild what is a pillar to the local sailing community of Narrabeen."
Tom's home sailing club is the Gosford Sailing Club on the Central Coast, an area that has connections to Pittwater through our First Nations residents, going back thousands of years, and to the first European settlers in Pittwater, including Barrenjoey's first Light Keeper and Australia's first rowing champion, George Mulhall. Last Sunday, February 5th, he, Nina Curtis and Jason Waterhouse dropped by for a Q and A session followed by some on water training for their juniors and SheSails members. This was followed by a visit to Speers Point Amateur Sailing Club, so SailGp's outreach to inspire youngsters to get on the water is not limited to the Adopt a Club initiative.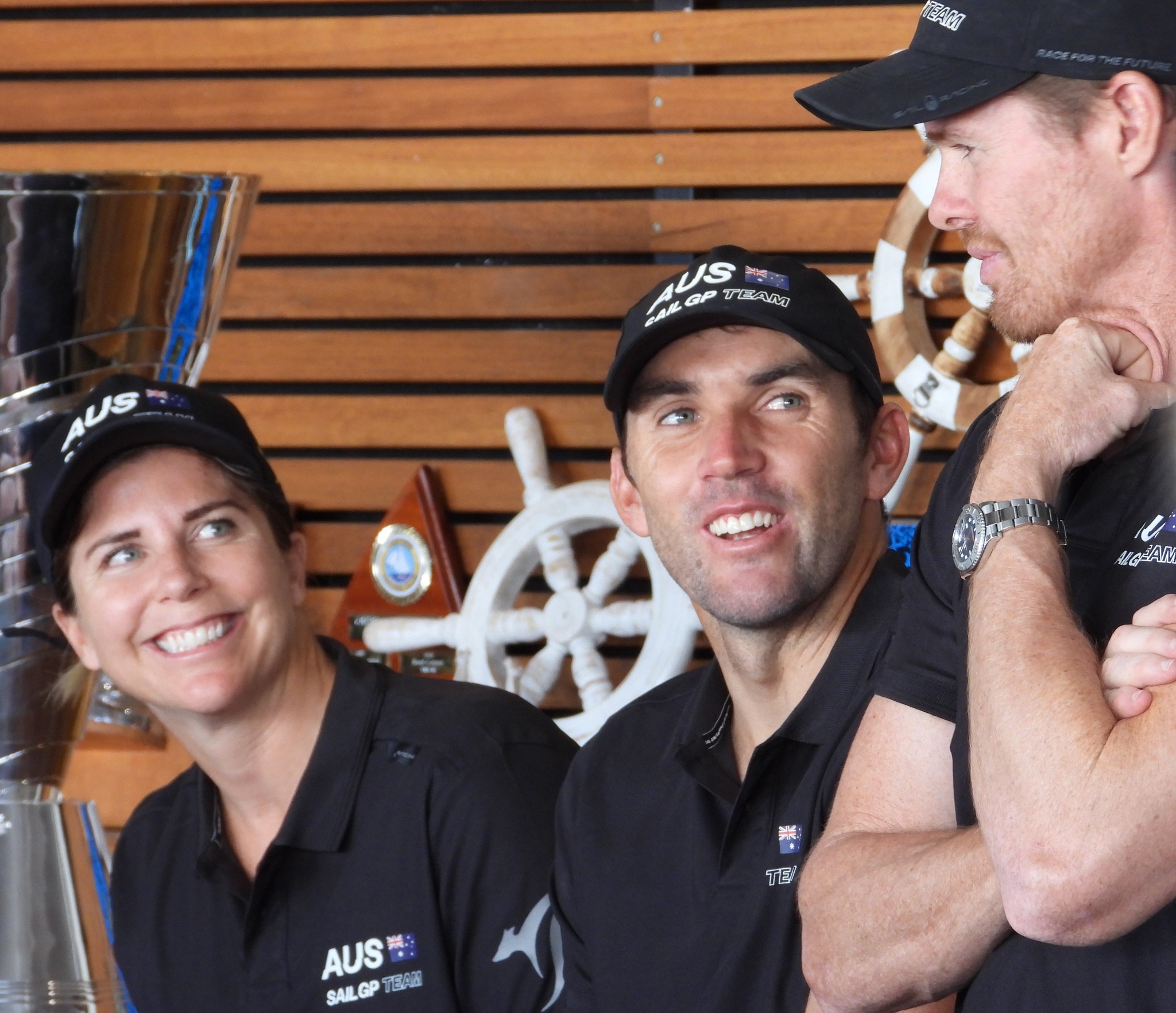 Photos: Gosford Sailing Club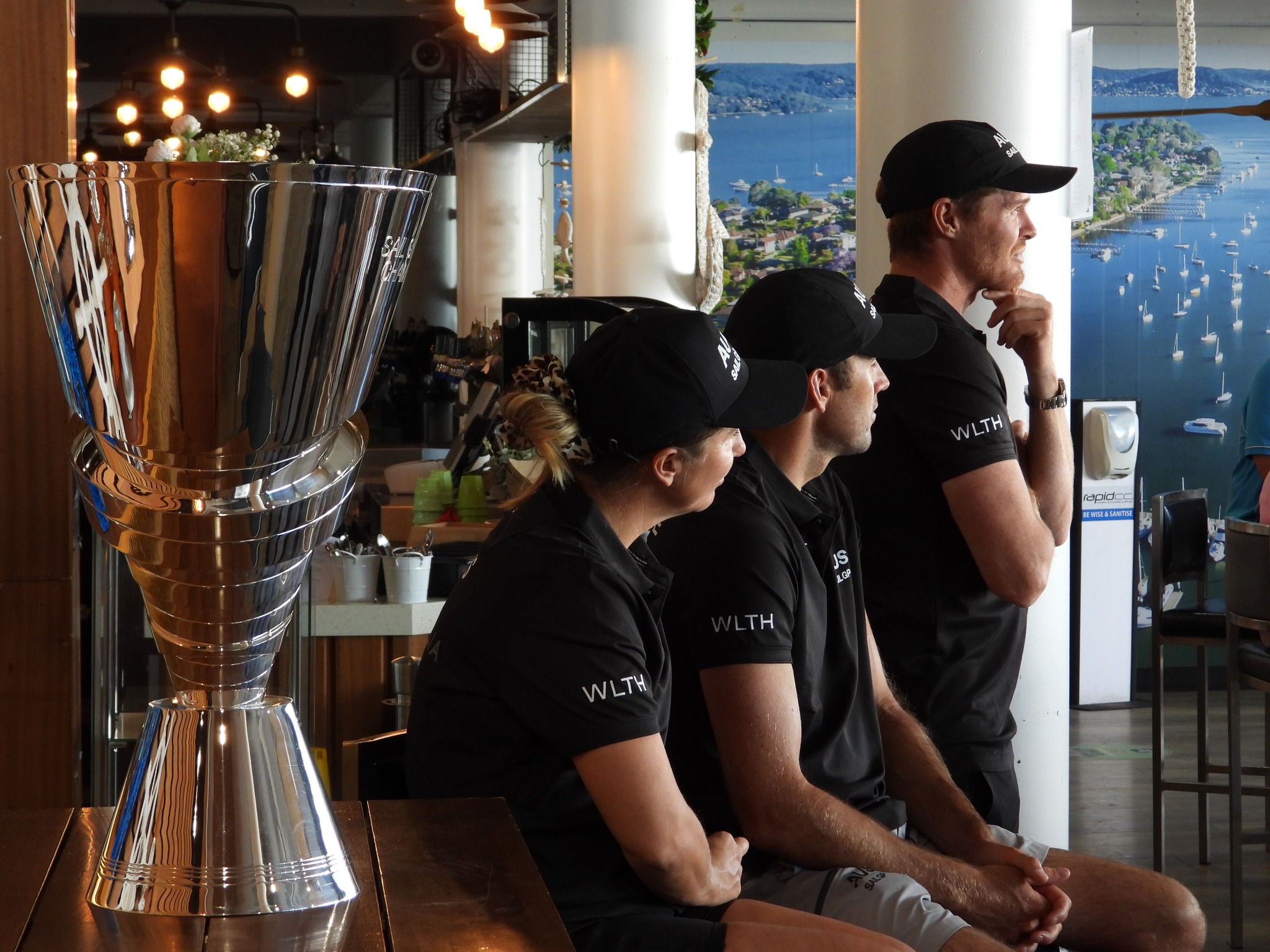 With a history dating back to at least 1905, the Speers Point Amateur Sailing Club (SPASC) is located at the northern end of the renowned Lake Macquarie and is one of only three clubs from around Australia selected to host members of the Australian SailGP team – including Jason Waterhouse and Nina Curtis.
NLSC told Pittwater Online:
''Despite the destruction of most of the club's property, it has continued to operate with the support of Whitworths and others keen to keep the club with its history on the lake afloat.
Negotiations and discussions with Council as to the construction of a new club facility in Jamieson Park are continuing.
The club is continuing to promote its existence and participate in a range of activities including Learn to Sail programs for juniors and participating in the Heron Nationals in recent weeks to name a few.
This month, the club will be hosting the French team who are in Sydney participating in the International SailGP event on Sydney Harbour. This will enable the club to be promoted further afield than the Northern Beaches and opens up a range of opportunities for club members to participate in a range of activities ranging from spectating on the harbour on the chartered vessels and others associated with the racing, whilst having the club Burgee flown. This promises to be an exciting event for all as the large catamarans match race on Sydney Harbour.
Beyond that, the club will be hosting the Heron Junior NSW Championships down on Narrabeen Lake over the weekend of 25/26th March. This is a big annual event with competitors coming from far afield. In the past they have camped at the clubhouse.''
Local Celebrations
SailGP 2023 At BYRA
On Monday, 13th February, the international sailing ace, Team USA's driver and Newport local Jimmy Spithill is set to make a very special visit to the shores of Pittwater. BYRA will be hosting the legend himself on in a not to be missed community event.
Commencing in Riddle Reserve West at 3:30 pm with special guests - including the who's who of Australian Sailing, the event will include an Aqua Park for the kids, an unboxing of a next-generation learner-friendly performance-pathway dinghy – the Nikki – followed by a spectacular All-Things-Foiling water show.
BYRA will also be launching its very own foiling pathway programme at the event. Sailors and non-sailors are welcome.
More info here: www.byra.com.au/events/175874
Nikki is the first foiling dinghy specifically designed for kids and lighter sailors. The ultimate pathway to high-performance sailing and foiling! Fully open, modern scow designed for safe learning to foil and fun, competitive sailing.
Capable of planing up and down-wind, bringing a whole new level of fun to youth sailing – a new thrill to captivate and entrench young sailors into the sport for life. The hull is stable, robust and simple. The steering is light and direct, allowing new sailors to develop their skills and feeling.
Specifications
Length: 2.9m
Width: 1.02m without wings, 1.8m with wings
Hull Weight: 27kgs
Sail Area: 4.3m², 5.5m² or 6.5m²
Launching Draft: 0.2m
Sailing Draft: 0.9m
Sailor Weight Range: 25-65kgs
Takeoff Boat Speed: 7.5 knots
Takeoff Wind Speed: 7 knots
Max Speed: 22 Knots +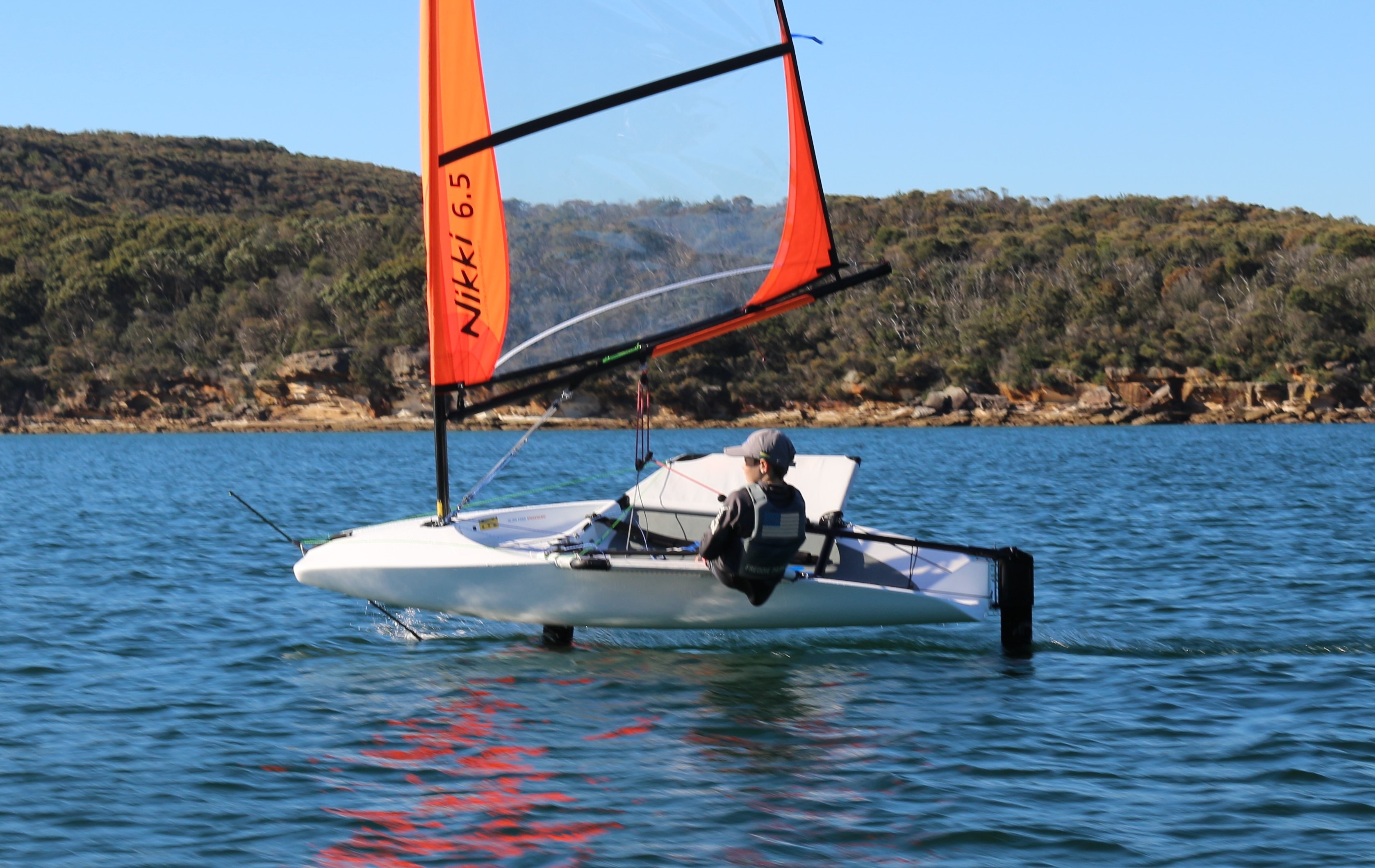 BYRA is a not-for-profit volunteer-run sailing and aquatic club with a focus on family all having fun together - their youth sailing programs are at the core of what they do, regularly hosting Learn to Sail events for all ages as well as hosting state and national regattas. BYRA is also part of local school sailing programs, alongside their weekend sailing events for members. The club hosts the Peter Loft Regatta and Lion Island Race annually, a race which harks back to the formation of this club in 1949, and was the Pittwater launch pad for the Star Class in the 1950's and later Dragon Class. The Club has also been the centre for Moths and VJ's during the mid 1950's, followed by Herons in the early 1960's - a boon for local sailors of all ages.
BYRA also has a connection with the 1906 launched Narrabeen Lakes Sailing Club, which commenced in 1906, and looked a little further north when the lagoon's waters were getting a little too crowded for weekend sailing:
Narrabeen Lakes 16-footer Club may transfer to Pittwater in the New Year. NSW Skiff Association
Commodore Reg Smee is negotiating with Bayview Yacht Club officials to affiliate the Narrabeen Lakes Club with BYRA. BYRA would sponsor the 16 - footers, but the skiffs would have their own officials' to control racing and club administration.
"There is plenty of room for 16-footers and yachts at Pittwater, and we would welcome the Narrabeen Lakes skiffs," said BYRA Commodore K. C. K. Dalton today.
Star class yachts from Bayview will compete at Avalon tomorrow. Avalon VJ and VS Club members will sail as crew members of yachts.
SailGP 2023 At NLSC
In stark contrast to the activities and celebrations in Sydney Harbour was the news of a devastating fire at the then 115 year old Narrabeen Lakes Sailing Club. Fire and Rescue NSW responders from the Narrabeen, Mona Vale and Avalon brigades attended. A video posted on social media by Ray Bush showed the extent of the blaze. The fire took around an hour for the responders to bring under control.
But NLSC is now very 'Sail GP - Allez les Bleus!'
Narrabeen Lakes Sailing Club will be going to the harbour, with their now sold out event aboard the Royale (Saturday) and the Regal (Sunday) having some of the best views of the harbour. All proceeds will go towards the rebuild of the Narrabeen Lakes Sailing Club that burnt down 18 months ago.
NLSC is one of our oldest local sailing clubs. In 1904, brothers George and Thomas Sneesby began taking their skiffs out to Narrabeen Lake to race each other. More sailors gradually joined them, until 1924 when George and two other boat shed owners – Willis Douglas and Don Maclean - formed a sailing club that is now the Narrabeen Lakes Sailing Club. By the 1930s, it was home to largest fleet of 16 -footers in Sydney.
In the 1970s the club reached a peak with close to 100 boats racing regularly.
You have to wonder if Douglas, MacLean and the Sneesby brothers realised then that they were creating a legacy that would see eager sailors still launching their boats in the former Warringah Shire's only sailing club more than 100 years on.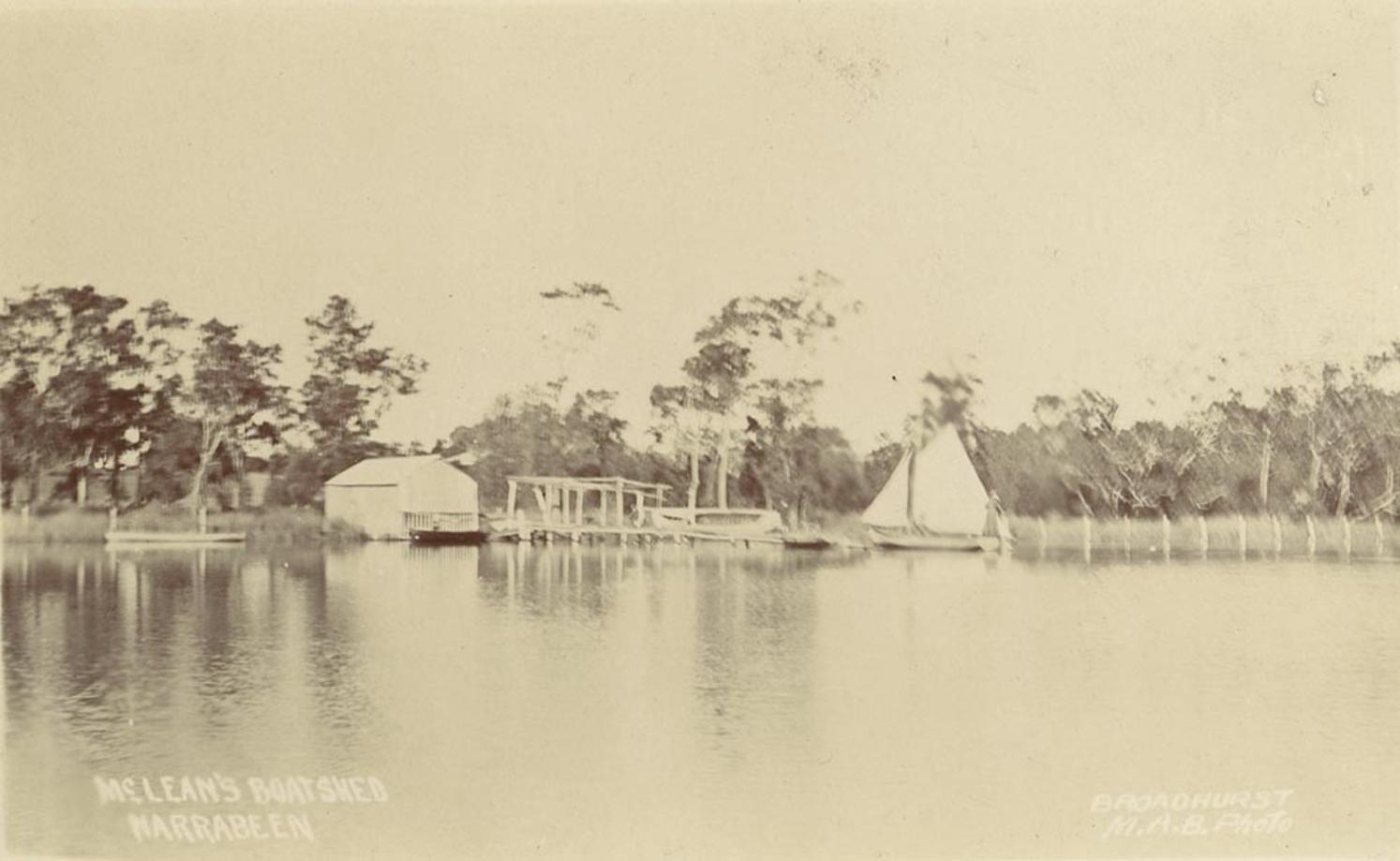 McLeans boatshed. From Scenes of Narrabeen album, circa 1900-1927 Image: a106065h, courtesy State Library of NSW - the McLean family members were among founders of the Narrabeen SLSC and part of the Narrabeen Progress Association
Ultimately, all three of these local sailing clubs, RPAYC, BYRA and NLSC, are embedded in inspiring and sharing the love of sailing with the younger members of our community and in doing so set them up for life for a sport and pastime that grows great human beings, equips them with skills and an outlook to steer themselves through life by - and a place to go when they need to get away from everything else.

Similraly, Inspire is SailGP's community, education and outreach initiative, powered by the belief that sailing can be a force for good. By working with local communities and partners, SailGP Inspire aims to help diversify the sport of sailing for youth without race, gender, and socioeconomic status presenting a barrier to entry.
''SailGP exists to make our sport better and use it as a platform for a better planet. SailGP Inspire brings this to life.''
''Inspire is SailGP's community, education and outreach initiative, powered by our belief that sailing can be a force for good, Powered by Nature, Driven by Purpose.''
Our goal: To leave a positive legacy and build a sustainable sport - by providing equal, life-changing opportunities and new career pathways for all, regardless of race or socioeconomic background.
SailGP Inspire aims to serve a leading role in helping to diversify the sport of sailing for youth without race, gender, and socioeconomic status presenting a barrier to entry.
Partnering with World Sailing, National Sailing Federations, and local community sailing clubs and programs, enables us to offer accessible entry points.
SailGP Inspire works with each of its host venues and partners - RS Sailing, WASZP, Rooster, MarkSetBot, World Sailing Trust, EPropulsion, Doyle Sails, and Marlow Ropes - to offer programs that create impact within the local community and most importantly leave a legacy.
If you want to learn more you could visit Sydney's Australian National Maritime Museum will play host to the world premiere of SAILGP | RACE FOR THE FUTURE, a two-part 40 -minute documentary that takes viewers behind the scenes of the "world's most exciting racing on water" and how it is building a better future for aspiring athletes and the planet.
It will be screened at the museum from Saturday 11 February until Sunday 19 February 2023 as part of the KPMG Australia Sail Grand Prix | Sydney happening over the weekend of 18-19 February. Screenings will take place daily at 11am and 2 pm.
Viewers will be taken behind the scenes of SailGP, the "world's most exciting racing on water" and shown how as the world's first climate-positive sporting event, SailGP is building a better future through a better sport and a better planet.
RACING ON THE EDGE: Anatomy of a Champion explores the wet and wild thrills and spills of SailGP racing and the incredible skill and talent of its athletes who go to battle in the world's most technologically-advanced foiling catamaran that reaches speeds of up to 100 km/h. It dissects how driver of the Australia SailGP Team, Tom Slingsby, has managed to pull off some of the most unbelievable comebacks ever seen in SailGP. At the times of most despair, how do you recover? Is being able to come back what defines a champion?
Championing a World Powered by Nature takes an educational angle exploring how the science of sailing; nature's gifts of water, wind and sun; plus human skill can combine to deliver winning results. Kids, teens and sailing enthusiasts will really enjoy this.
Ms Daryl Karp, CEO and Director of the Australian National Maritime Museum said: "We are the home of Australia's sailing history. SailGP is at the cutting edge of sailing science and sustainability, and it is a privilege to work alongside them. We are proud to be the venue of SAILGP | RACE FOR THE FUTURE, as well as working with their Inspire program in Barangaroo to help inspire the next generation to the thrill of the ocean."
Entry to the Maritime Museum is free of charge. To secure seats for the documentary, visitors are required to pre-register their preferred date and session time at SailGP.com/maritimeexhibition
It's certainly going to be an exciting time on the old harbour all this week and especially next weekend, for the very young and those who are young at heart.
SAILGP TEAM PAIRINGS IN SYDNEY

Australia - Woollahra Sailing Club
New Zealand - Vincentia Sailing Club
France - Narrabeen Lakes Sailing Club
Canada - Double Bay Sailing Club
Great Britain - Royal Prince Alfred Yacht Club
Spain - Newcastle Cruising Yacht Club
Switzerland - Southern Highlands Sailing Club
Denmark - Oak Flats Sailing Club
USA - Bayview Yacht Racing Association
Here's who will be racing in next weekend's SailGP Sydney:
Australia SailGP Team
Driver: Tom Slingsby
Wing Trimmer: Kyle Langford
Flight Controller: Jason Waterhouse
Grinder: Kinley Fowler
Grinder: Sam Newton
Reserve: Ed Powys
Strategist: Tash Bryant
Strategist: Lucy Copeland
Coach: Ben Durham
Canada SailGP Team
Driver: Phil Robertson
Wing Trimmer: Chris Draper
Flight Controller: Billy Gooderham
Grinder: Tom Ramshaw
Grinder: Jareese Finch
Reserve Grinder: Tim Hornsby
Strategist: Georgia Lewin LaFrance
Coach: Joe Glanfield
Denmark SailGP Team
Driver: Nicolai Sehested
Wing Trimmer: Tom Johnson
Flight Controller: Rasmus Køstner
Grinder: Julius Hallström
Grinder: Hans-Christian Rosendahl
Grinder: Luke Payne
Strategist: Katja Salskov-Iversen
Coach: Chris Nicholson
France SailGP Team
Driver: Quentin Delapierre
Wing Trimmer: Kevin Peponnet
Flight Controller: Francois Morvan
Grinder: Matthieu Vandame
Grinder: Timothe Lapauw
Grinder: Olivier Herledant
Strategist: Amelie Riou
Coach: Thierry Douillard
Great Britain SailGP Team
Driver: Ben Ainslie
Wing Trimmer: Iain Jensen
Flight Controller: Luke Parkinson
Grinder: Matt Gotrel
Grinder: Nick Hutton
Grinder: Neil Hunter
Strategist: Hannah Diamond
Strategist: Hannah Mills
Coach: Rob Wilson
New Zealand SailGP Team
Driver: Peter Burling
Wing Trimmer: Blair Tuke
Flight Controller: Andy Maloney
Grinder: Josh Junior
Grinder: Marcus Hansen
Grinder: Louis Sinclair
Strategist: Liv Mackay
Coach: Ray Davies
Spain SailGP Team
Driver: Diego Botin
Wing Trimmer: Florian Trittel
Flight Controller: Joel Rodríguez
Grinder: Joan Cardona
Grinder: Jake Lilley
Grinder / Flight Controller: James Wierzbowski
Strategist: Nicole van der Velden
Switzerland SailGP Team
Driver: Sébastien Schneiter
Wing Trimmer: Stuart Bithell
Flight Controller: Jason Saunders
Grinder: Julien Rolaz
Grinder: Jérémy Bachelin
Reserve Sailor / Grinder: Nils Theuninck
Strategist & Grinder: Laurane Mettraux
Sailing Advisor & Strategist: Nathan Outteridge
Coach: Will Ryan
United States SailGP Team
Driver: Jimmy Spithill
Wing Trimmer: Paul Campbell-James
Flight Controller: Hans Henken
Grinder: Cooper Dressler
Grinder: Alex Sinclair
Strategist: Erika Reineke
Coach: Philippe Presti