March 15 - 21, 2020: Issue 442
News from the Nesting Box: March 2020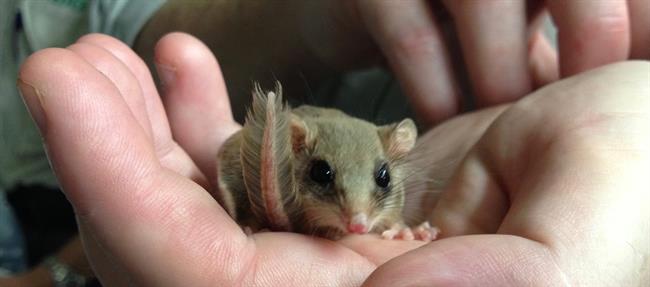 It was a different kind of a year for our Pygmy Possum Project. More nesting boxes went up around the Bays and Northern Beaches, however, many were different homes for a greater range of fauna.
JANUARY 2019
Once again it was our Feathertail Gliders in their regular boxes who kicked off the year. The residents of Rocky Point's Box 17 remained in situ in January and never left again all year.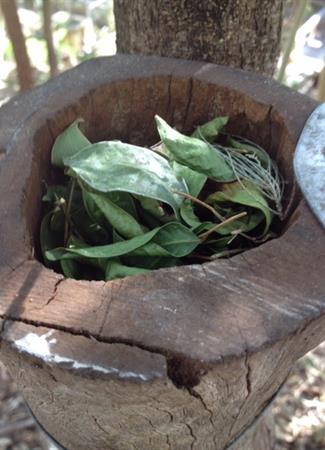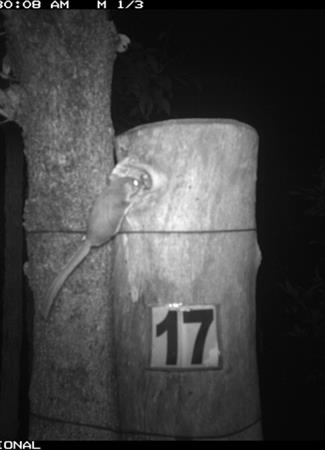 And Box 11 in South West Lovett Bay showed us just how cosy they can get in there!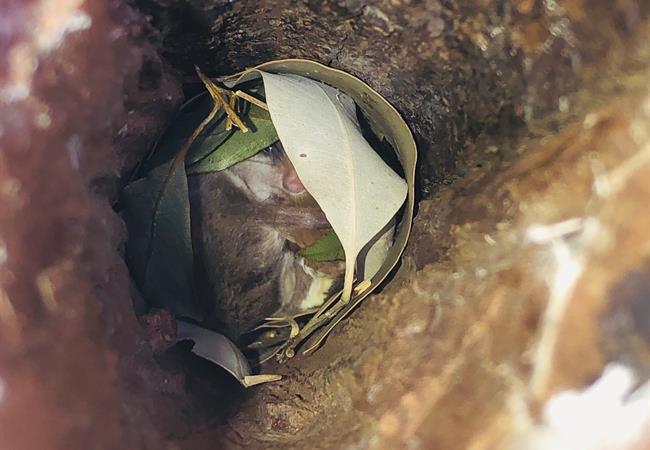 But action in other areas was brewing…
NESTS FOR BEES
Native bees pollinate our bushland. Most are solitary, however the stingless bee, Tetragonula carbonaria, is the only social bee found in the Sydney area.
For some time now a few Western Shores residents had been providing homes for these sugarbag bees with the Beaumont, Hoffman-Mace, James and Stevens-Didsbury households all supporting hives.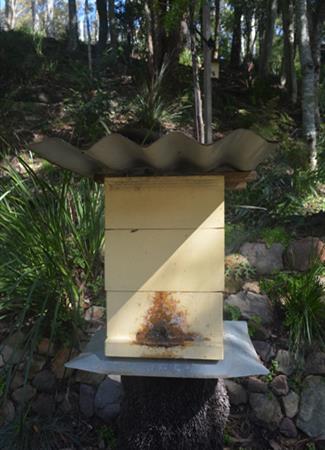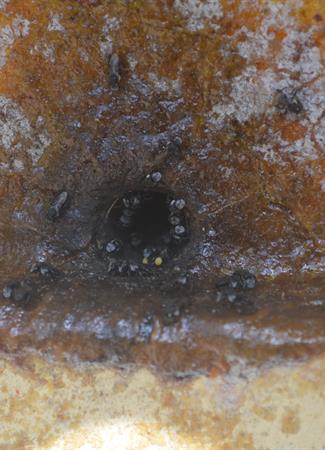 Last year renewed interest in these tiny social bees saw more native beehives going up in the Stidwill, Bulpitt and Cooney backyards.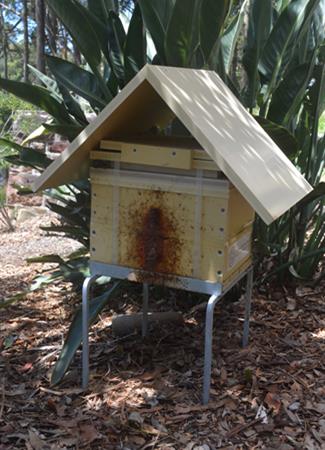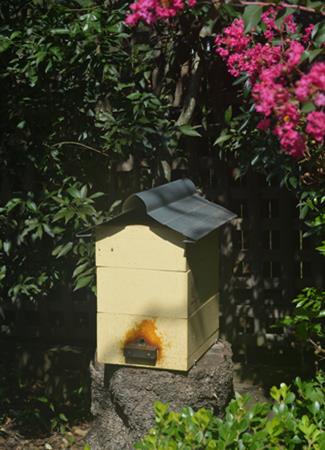 Stidwill Beehive left and Cooney Beehive right
Now there is a move on to start a Beehive Carpentry Collective to develop a beehive that better mimics the wild hives and ensures that any hive split is able to be done with minimal damage to the bees and hive structure. We'll keep you posted on developments in this area.
NESTS FOR OWLS
In March PPP Nesting Boxer and Balgowlah resident, Emily Fewster, kept watch over a Powerful Owls nest as part of the Birds of Australia owl monitoring program. To her great joy she both heard the 2 new chicks and then watched them fledge.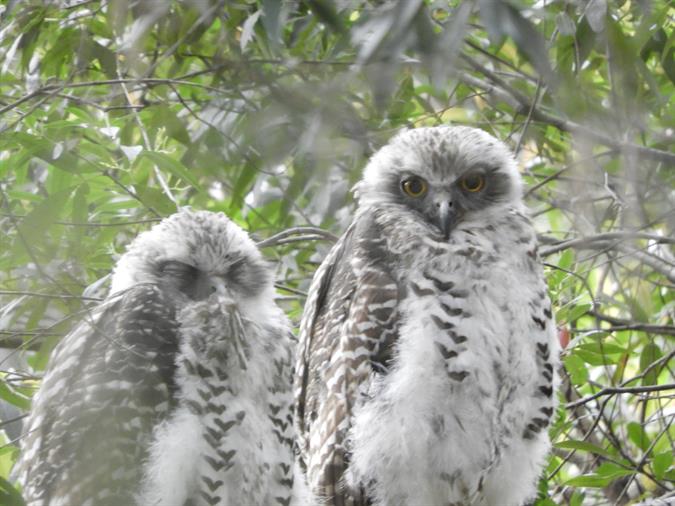 NESTING BOXES IN MOSMAN
In May we hosted 3 committee members from the Mosman Parks and Bushland Society, Kate Eccles, Janice Haworth and Marg Woodforth, on Rocky Point and then gave a PPP presentation at the Society's AGM. They had been successful in attracting a grant for their own nesting box project and were coming to grips with all the issues regarding placement, inspection and safety issues. The nesting boxes in Wyargine Reserve are now up and survived the recent storm, as did the bat flats at Sirius Cove. The Society is still considering the use of infrared cameras to detect movement as the boxes are all in public reserves where cameras may prove just too tempting. However they do have an inspection camera!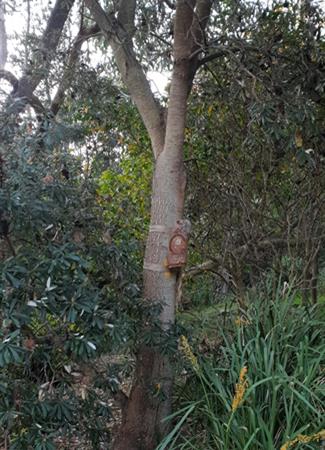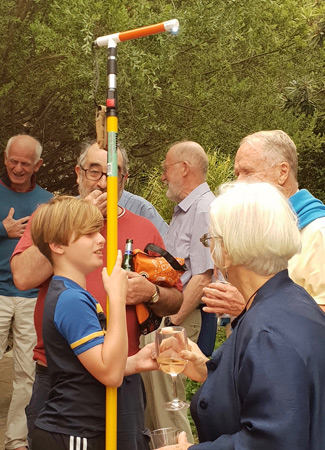 NESTING BOXES GO TO SCHOOL…
Local Newport Primary teacher, Mrs Rosser, had a problem. She wanted her Year 4 class to engage in a practical project but she needed some ideas. 9 year old Mali Stidwill smartly volunteered her father Ryan.
Local builder Ryan and his work mate Dominic Walker decided to develop a Build your own Nesting Box Kit for the kids to put together boxes and place them in the school grounds.
The guys thought through the issues of skill levels, safety, and engagement, and then cut raw plywood into the pieces needed; cut the entrances, drilled the holes and assembled the six boxes. Then they disassembled the boxes and set off for Newport Primary with their 'IKEA' pack, a big power drill, 6 screwdrivers, screws and protective resin.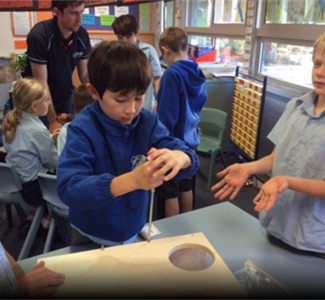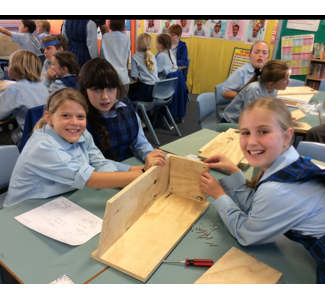 The class was divided into 6 groups all tasked with building a nesting box. Every student had a turn on the tools including the power drill. The end of Day 1 saw 6 complete nesting boxes awaiting the final touches.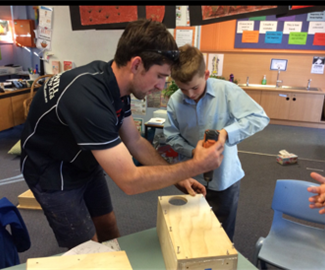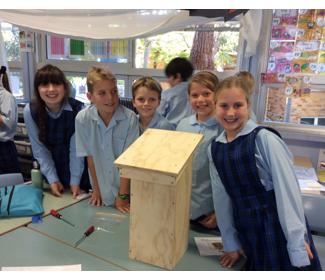 On Day 2 they glued paper leaves to the boxes and put a protective timber stain over the top. Once dry the students peeled off the paper leaves revealing the glowing plywood underneath, which was further coloured according to personal tastes.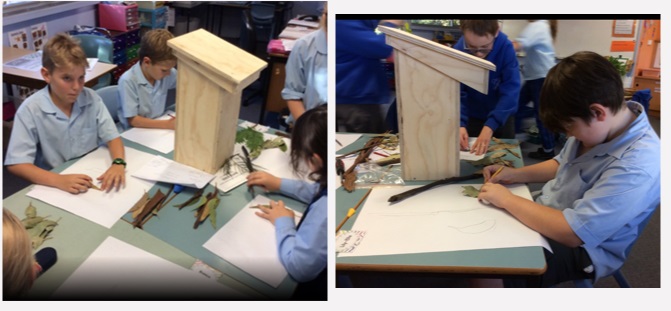 On Day 3 stick ladders, made from twigs the student had collected, were installed both inside and outside the boxes and the 6 finished boxes were put up in the trees inside the school grounds.
The kids were ecstatic. The teacher was thrilled. And the school was extremely proud of the achievement. A big congratulations to Ryan and Dom for this wonderful nesting box initiative. But they wouldn't be the last…
NESTING BOX? WHY NOT USE A WHOLE TREE?
In April Towlers Bay resident Bronwyn Gould noticed a dying tree on her property. Rather than cut it down she decided to have it re-shaped as a Habitat Tree.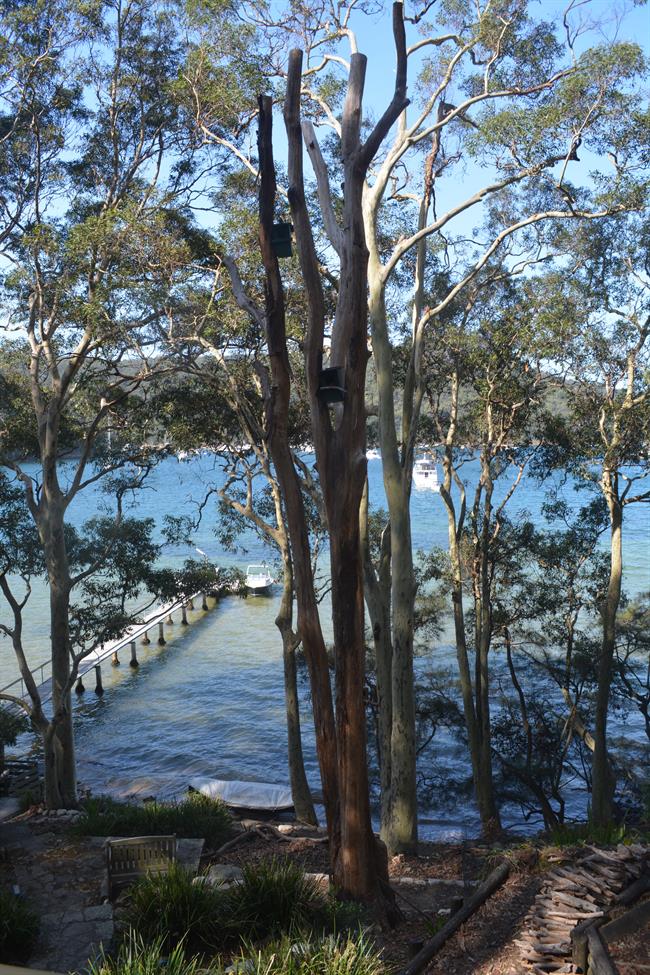 The finished tree now sits comfortably within her front garden and houses a fascinating array of homes for owls, other birds big and small, possums, gliders, antechinus, microbats and an army of wood-loving invertebrates.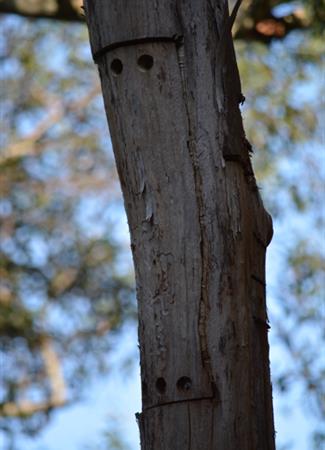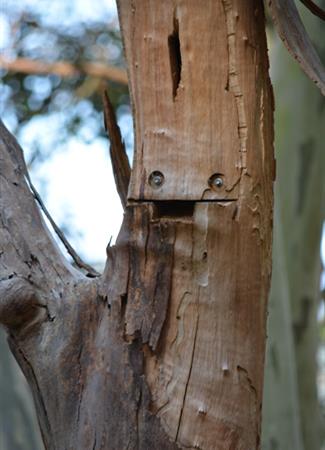 The homes include hollows carved out of the trunk with entrances for smaller fauna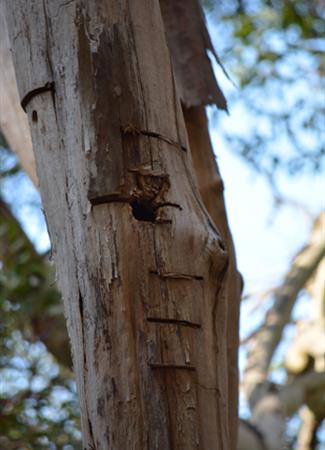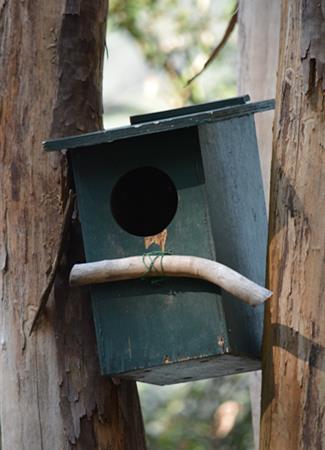 Ladders up and down the tree, and boxes with perches and large entrances.
NESTING BOXES IN A PUBLIC PRIVATE PARTNERSHIP
Watching on was her neighbour Edwina Dusseldorp. With a dead tree on the public reserve boundary next door to her cabin Edwina rang Northern Beaches Council, discussed the public liability issues, and suggested they use the opportunity to create another habitat tree. And they did! A big tick to our Northern Beaches Council.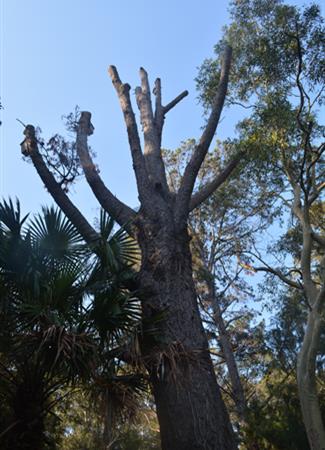 After commissioning a few nesting boxes Edwina decided that the rest should ideally be sourced locally so she went to talk to neighbour and shipwright Mick Cardiff. Mick's 16 year old passed on the opportunity but not twelve year old Tom.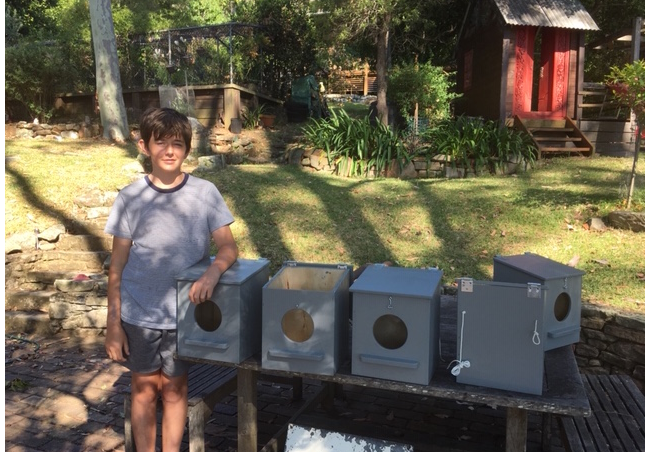 Congratulations to Tom for his work and we will be watching his future moves with interest.
THE NESTING BOX YOU DON'T REALISE IS A NESTING BOX
On May 1 Jennifer Cook opened the hatch of her yacht, Waltzing Matilda, and out flew a microbat. The tiny bat flew to the next boat and seemed to find its cabin just as suitable!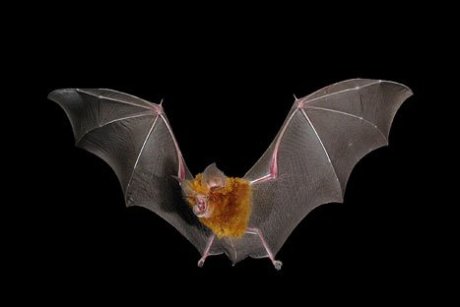 THE NESTING BOX YOU WISH WAS A LITTLE BIGGER
Box 4 in Elvina Bay seemed to attract a lot of hopefuls
As did Box 17 on Rocky Point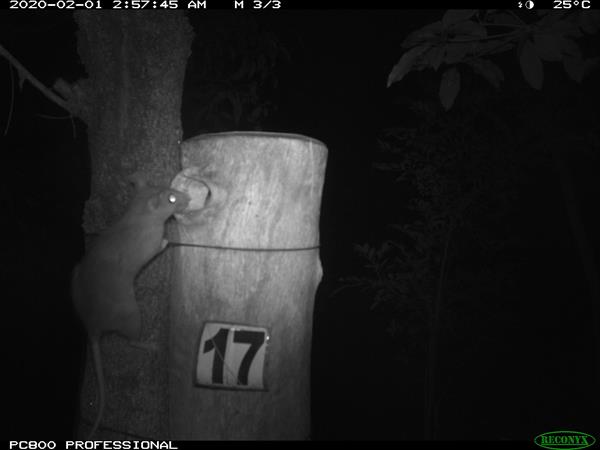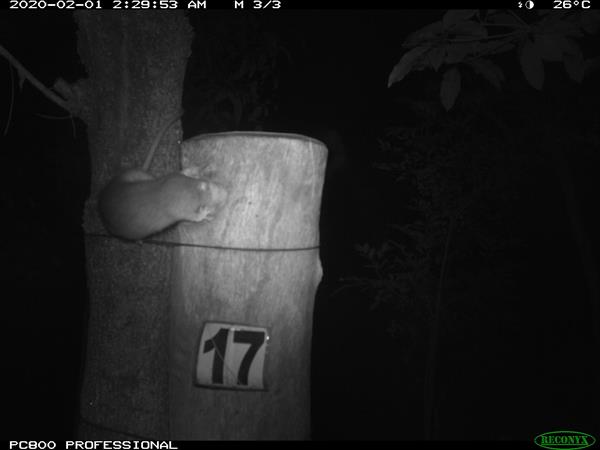 But this hopeful just had to be dreaming…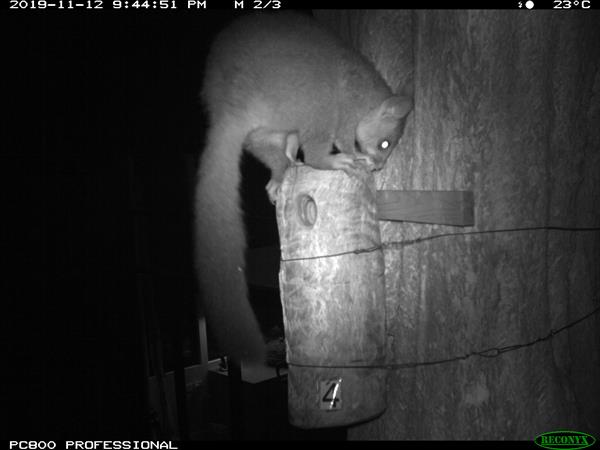 AND FINALLY A NESTING BOX STORY FOR ADULTS ONLY
Not only did Box 11 provide us with the cutest photo of the year it has also provided us with an eye-wateringly frank account of the sex life of Freddy (not his real name) the Feathertail Glider.
If you feel these pictures might offend you - return to your desktop now. We don't want any complaints about sending sexually explicit material over the Internet.
For those of you who remain interested - this is a visual record of 66 days of activity captured by our cameras around Box 11. The star of the show, Freddy has provided us with a personal and at times emotional account of this time in his life.
FREDDY'S DIARY
DAY 1: SEPTEMBER 24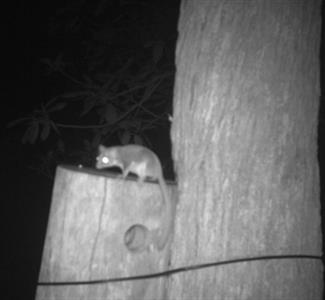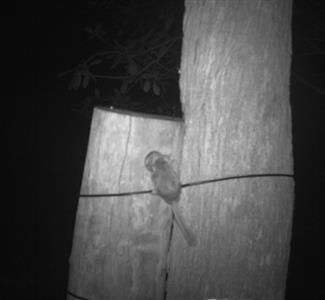 There was something in the air that night So I thought I'd check in…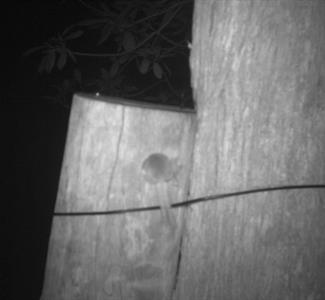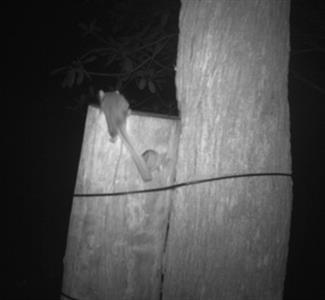 …a little further Too soon apparently.
DAY 3: SEPTEMBER 26
It was early days but always worth a shot So I yoohooed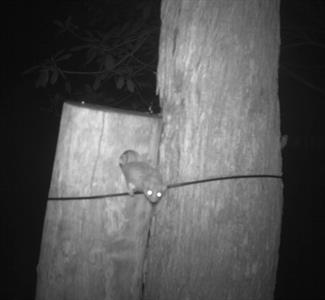 We could become endangered any day… They said it was still too early
DAY 5: SEPTEMBER 28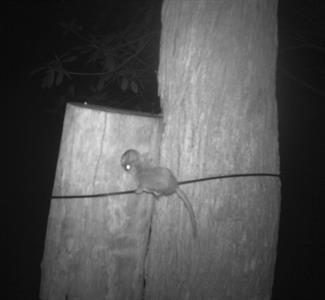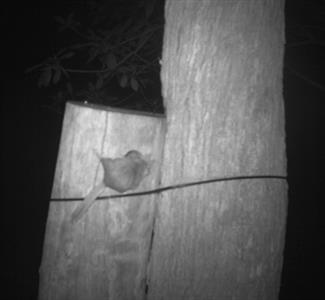 There was a lovely moon outside this night So I invited them all to have a look…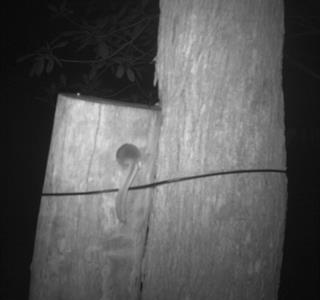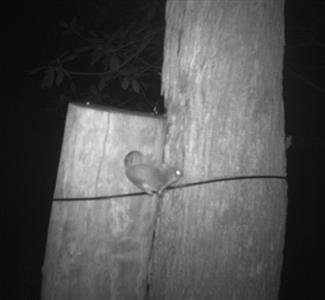 …in person They didn't have to shout
DAY 8: OCTOBER 1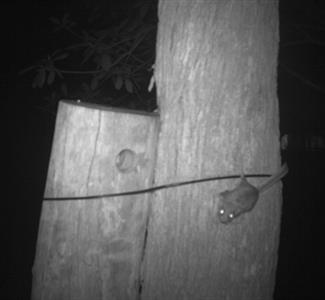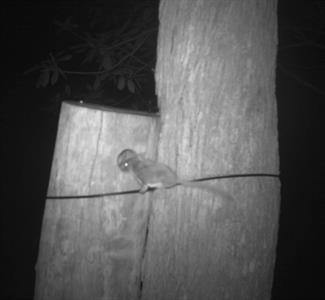 I thought I heard someone calling me Naturally I quickly responded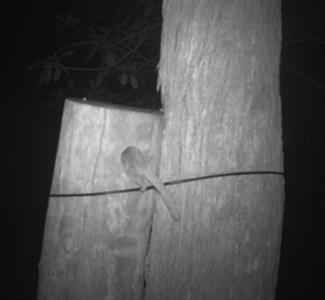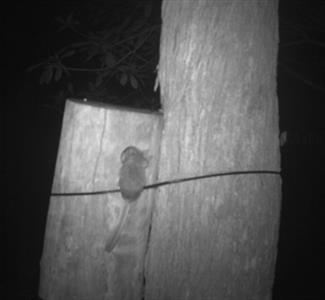 But still not permitted inside They were really quite technical about it
DAY 10: OCTOBER 3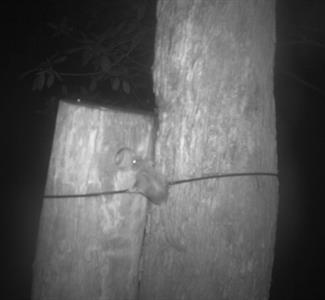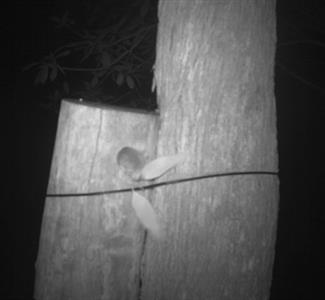 This day I had a brainwave I should have thought of this before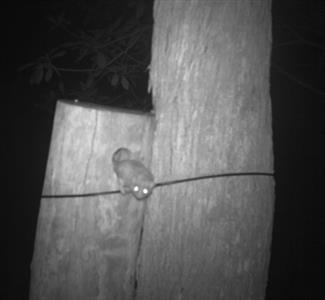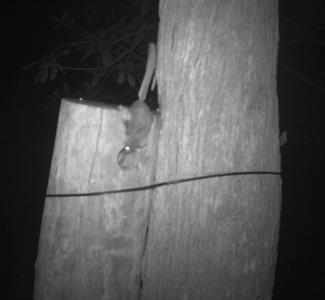 Not even a thank you They said I was puffing and should exercise
DAY 14: OCTOBER 7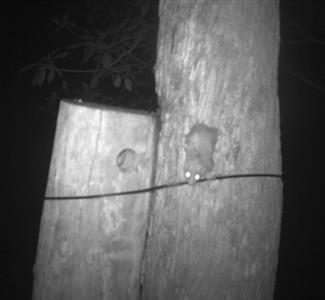 Crouching Tiger Downward Dog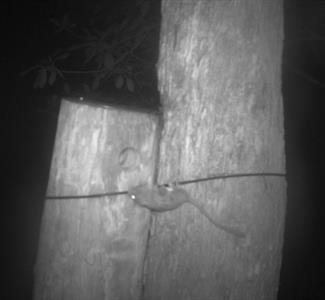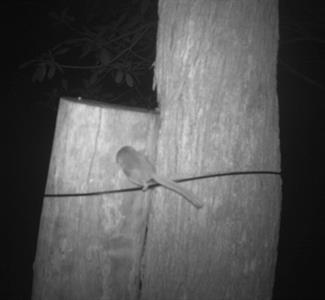 Caterpillar Crawl Goanna Leaping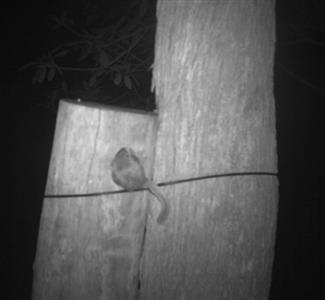 A pretty impressive routine actually But not according to those inside that box
DAY 16: OCTOBER 9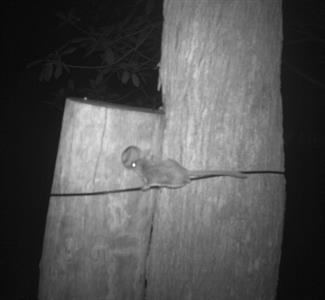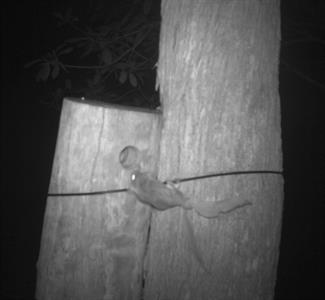 So I went back and offered more leaves Yes! Leaves coming up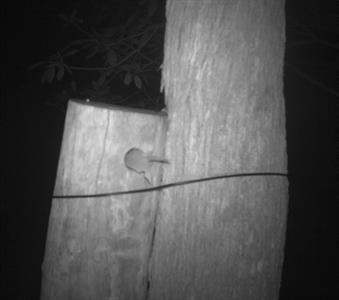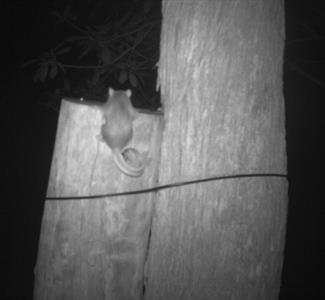 Inside the box! And out again in less than 2 seconds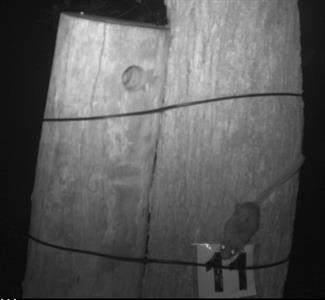 I ask myself - is it worth it?
DAY 19: OCTOBER 12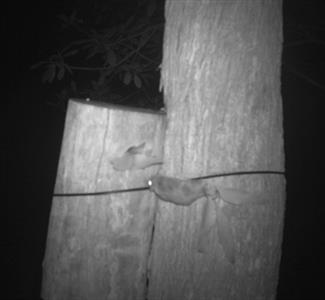 More leaves? You can never have enough leaves
DAY 22: OCTOBER 15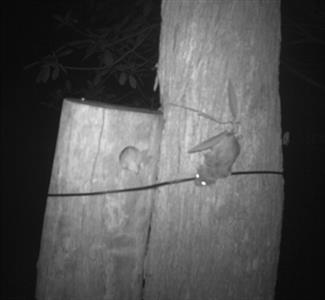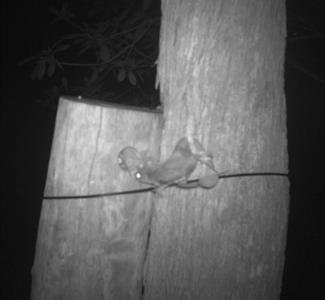 Actually I think you can have enough leaves It's getting difficult to squash them in
DAY 27: OCTOBER 20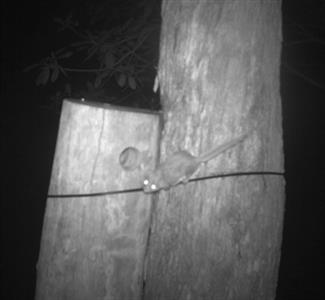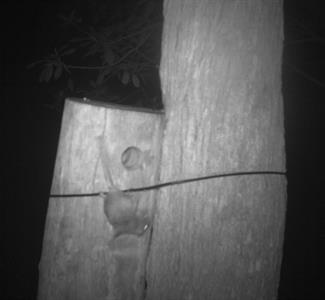 Mustn't forget my exercises Noisy Miner swinging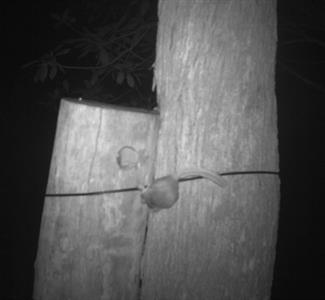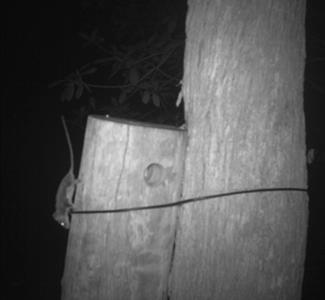 Scary Cockatoo Moon-walking
DAY 30: OCTOBER 23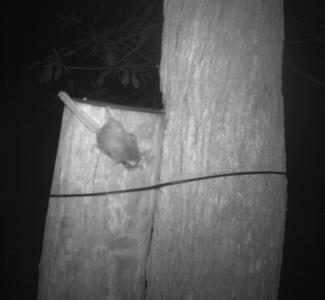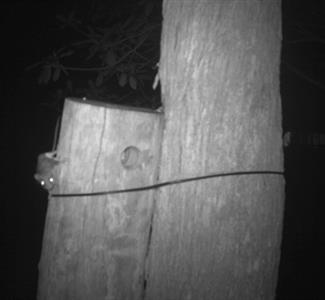 It's been days since I last asked Oh my! The language!
DAY 34: OCTOBER 27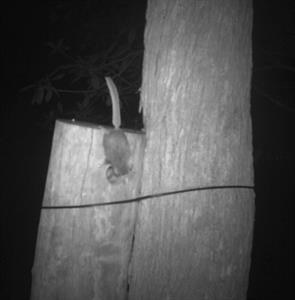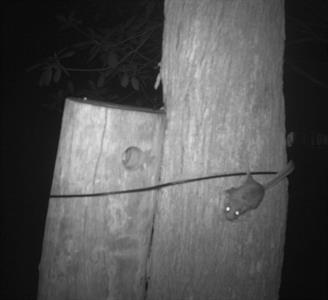 Just checking in again I don't think they know what they want
DAY 37: OCTOBER 30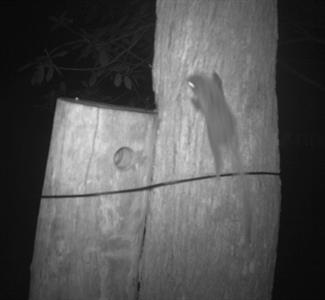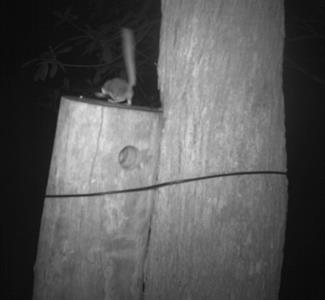 The Glider with the moves is back I'm doing The Frisk…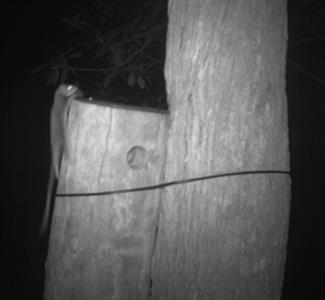 I'm doing The Stretch But still no reaction…
DAY 48: NOVEMBER 10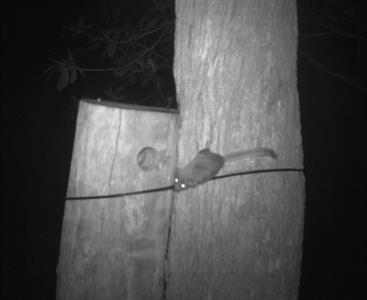 At this stage I have completely run out of ideas
DAY 66: NOVEMBER 28 - 3.32am - 4.02am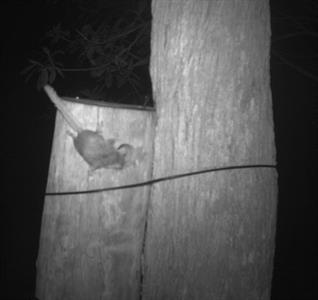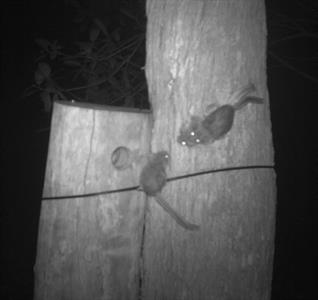 Just for old times sake I asked one more time And all of a sudden it happened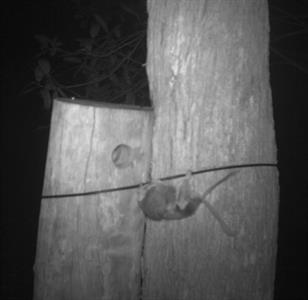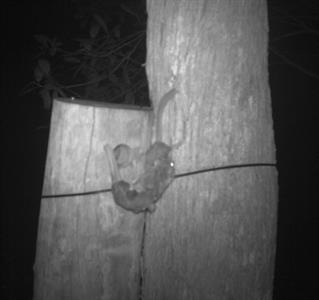 One minute it's a twosome Then a threesome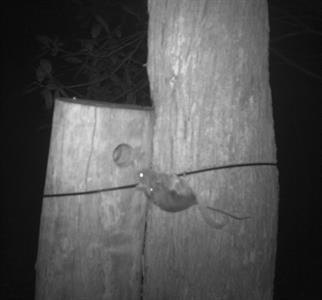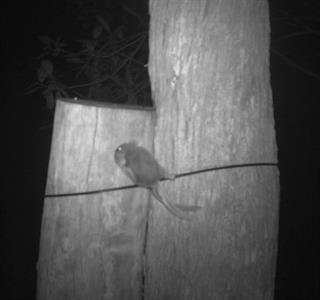 Twosome again On the move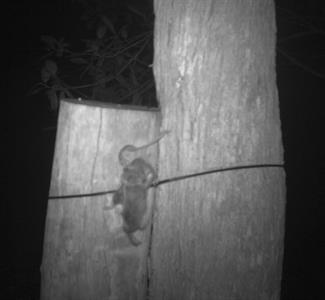 On the wire Acrobates pygmaeus living the dream!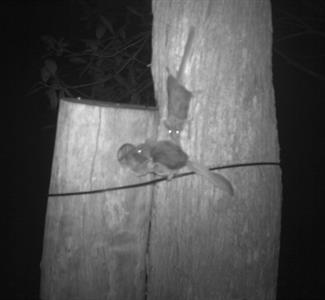 Could have been a foursome. Who knew? On the move again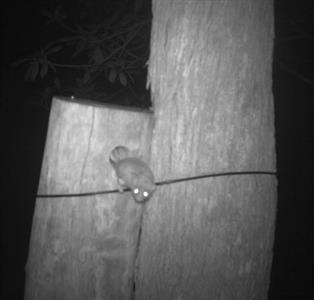 And then all of a sudden it was over. But gee it was fun…..
And that's the Nesting Box News for the last year - sensible, sober, and scientific as always!
A big thank you to all our Nesting Boxers who continue to provide homes for fauna delivering essential ecological services to the bushland; and to those who support us.
Until next year…

Lesley Stevens and Judy James
Previous Pygmy Possom Project (PPP) Updates: