March 17 - 23, 2019: Issue 397
News from the Nesting Box - March 2019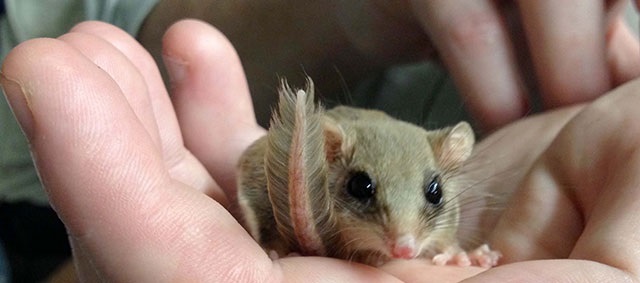 It was another action packed year for the Western Shores Pygmy Possum Project with our nesting boxes once again providing valuable homes for small marsupials.
Here's a snapshot of who was using our Nesting Boxes this year.
JANUARY
Once again the Feathertail Gliders came knocking and our cameras picked up all the visitors.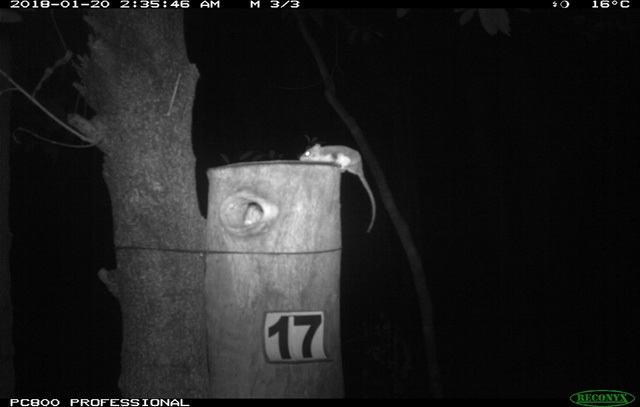 Some of them unwanted...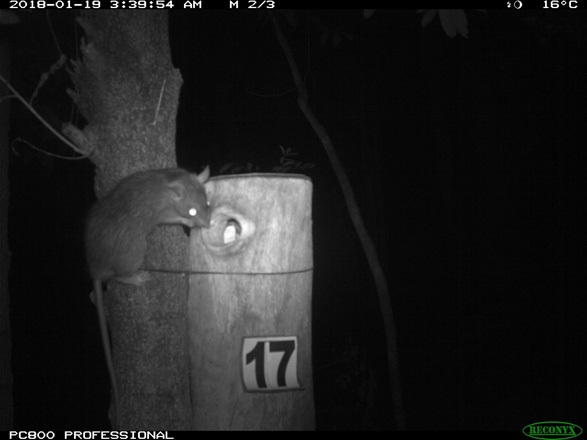 MARCH
Sugar Glider Squad member, Ruby Cumming, took a photo of a visitor in Box 8 up on the escarpment.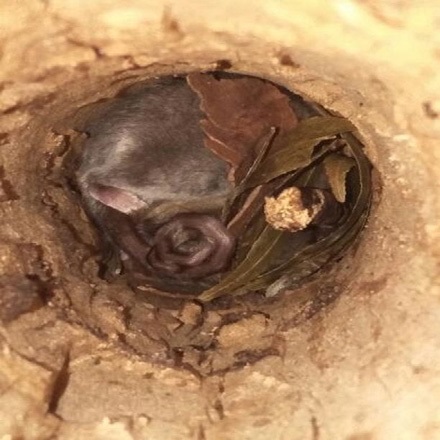 We got our cameras up there and saw the Pygmy Possum depart that night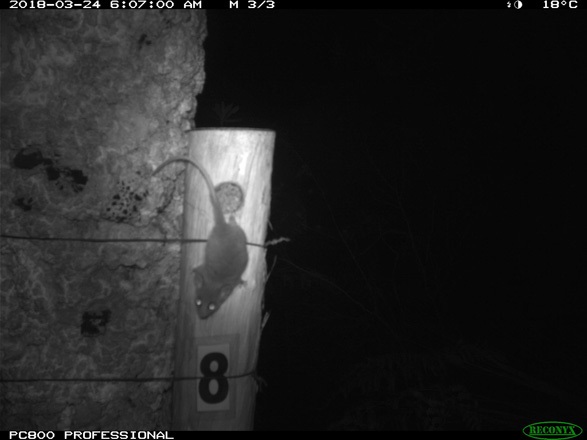 Meanwhile an unidentified visitor was spotted back at Box 17. A big visitor!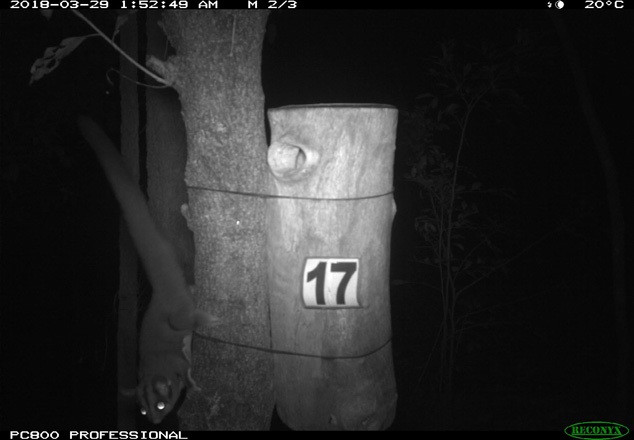 Was it a Sugar Glider? Or was it a Squirrel Glider? And was it just a one off visit?
While we were pondering this question the Powerful Owls came swooping over from Church Point to their Western Shores hunting grounds.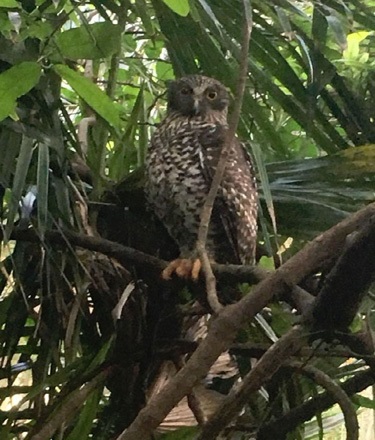 Whether or not their visit spooked our local Pygmy Possums and the Feathertail Gliders - there were no nests or sightings reported for the next couple of months, apart from a free spirited Feathertail Glider found hiding inside the McCarrs Creek house of Ghislaine Llewellyn.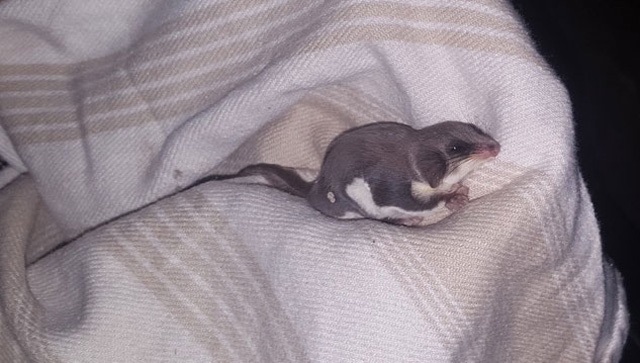 JULY
At the end of July fresh green eucalypt leaves appeared in the top of the Box 17. Those little Feathertail Gliders had come back.
Susie Theissen's nesting box also had a visitor.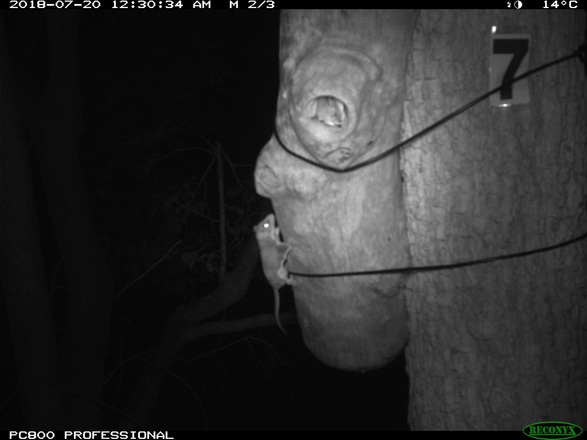 AUGUST
At the end of winter those unidentified Gliders returned. Readers of Nesting Box Newswill recall last year's grisly find of a dead Sugar Glider in Morning Bay. So this was the most likely answer to the identification puzzle. But Central Coast Ecologist Alf Britton wasn't sure. To him the base of the tail had a certain Squirrel Gliderish look about it.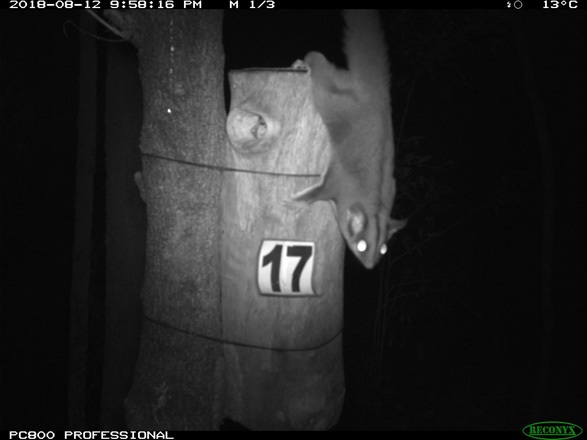 OCTOBER
Mel and Paddy Broughton were the next to offer an opinion. One night, as they were walking home, a large Glider flew directly across Mel's face and onto a tree about a metre away. The Glider paused briefly for photos, and then scooted up into the canopy. No injuries were sustained, and after some intensive consultations with Dr Google, the Broughton's decided they had seen a Sugar Glider.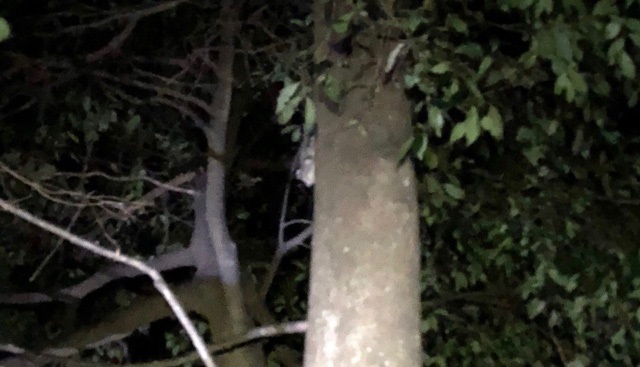 As a complete aside - Mel's calmness around wildlife is well known but a late night visit from a Feathertail Glider later that month tested her. The scurrying of tiny Feathertail Glider feet in the roof have often been a feature of life at Chez Broughton on Rocky Point, however this night they heard a footfall closer than normal. Switching on the light they spotted the FTG doing laps around the windows followed by a jump onto the bed, up Mel's arm, and into her hair. Mel reported that our visit to Taronga Zoo stood her in great stead. "As trained', she said, 'I stayed still, collected the little critter in my hand, and placed it outside. No wrangling or hyperventilating from either party was involved!'
NOVEMBER
Not put off by the attentions of the Big Glider, Box 17 continued to provide a home for our Feathertail Gliders.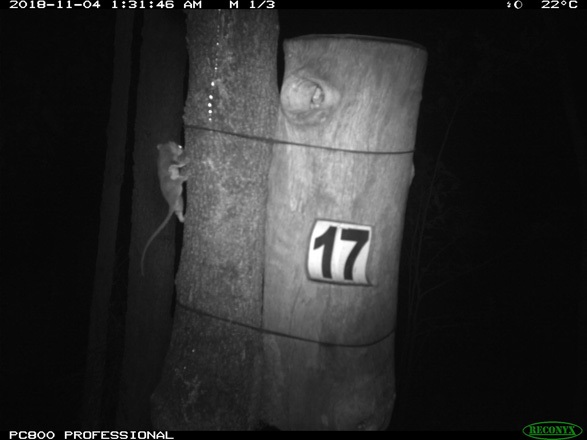 Even when the Big Glider came back - you have to admire the sangfroid of the Feathertail Glider - just having a wee doorstep chat…as you do when the neighbours pass by.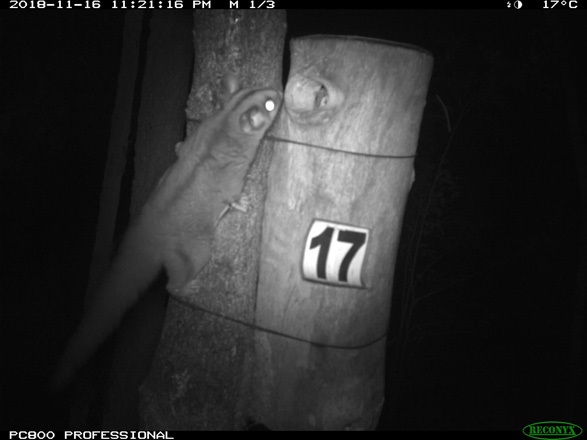 DECEMBER
The following month the Stidwill's nesting box hosted a very shy Pygmy Possum.
Closely followed by their second visitor...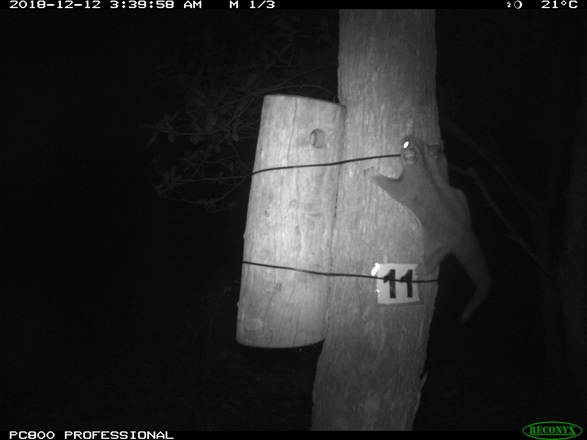 So now we had another smaller Big Glider visiting and our camera was dancing between Box 11 and Box 17 not quite knowing where the next bit of action would be.
While Sugar Gliders are not a threatened species they are uncommon throughout bushland in Pittwater and confirmation of their presence would be locally significant. However, if the visitor was a Squirrel Glider, that would be very big news indeed. This glider is listed as a threatened species and while Pittwater's local population is listed as endangered, Department of Primary Industry's Principal Research Scientist Dr Brad Law suspected that it was now extinct as there had not been any confirmed sightings for quite a while.
'It is possible', said Dr Law, 'that they persist in the spotted gums along the Western Shores of Pittwater, but a confirmed record is needed. If these images are identified as Squirrel Gliders it would be very significant indeed'.
Obviously we had to call in all the big guns. Our photos went to the Australian Museum, Taronga Zoo's Nocturnal House Senior Keepers Rob Dockerill and Wendy Gleen, Dr Brad Law, andRoss Goldingay and Darren Quin from Southern Cross University- all of them experts in mammals and most of them with particular expertise in Gliders. Despite having the best in the country on the job the identification took until the New Year. Rob Dockerill commented on the difficulty of identification. The Zoo themselves had put a Sugar Glider in with a group of Squirrel Gliders for several months before they spotted the difference.
Finally, in a split decision, the majority of experts identified our big newcomers as Sugar Gliders. So a big Western Shores welcome to Petaurus Breviceps it is!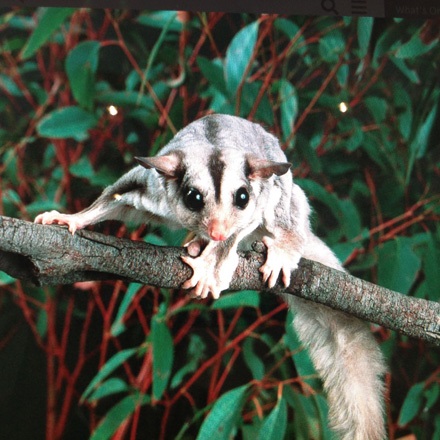 SUGAR GLIDER STUFF
The Sugar Glider is a small arboreal marsupial. It has a head-body length of 16 - 21 cm and a 16-21 cm tail. Social and nocturnal, they live in woodlands that contain tree hollows and sufficient food. Their nights are spent gliding between trees and climbing through the foliage in search of tree sap, nectar, pollen and invertebrates. During the day small social groups containing several adults and that season's young generally share a common nest in a tree hollow or nest of leaves.
Threats to this Glider include clearing of native woodland habitat and predation by introduced predators such as cats and foxes.
All native species have an ecosystem service that they provide and the Sugar Glider plays an important ecological role as a pollinator of a range of natives (including spotted gums), and also as a consumer of insects.
OLD FRIENDS
Kobe Martin
Remember our PhD student Kobe Martin, with her wonderful thesis on the possibility of language and dialects amongst discreet Feathertail Glider populations? You may also recall that the research was based on recordings of FTGs, including our little chatterboxes. Well a lot has been happening in Kobe's life last year.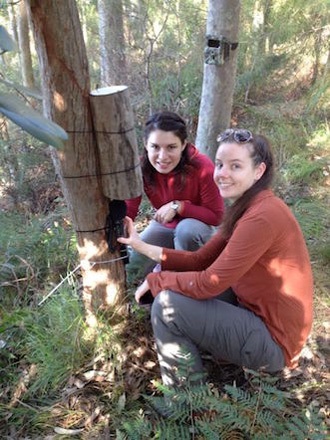 (R to L) Kobe Martin with fellow PHD student Catherine and her recording equipment
She handed in her thesis last year in July, got married in September, her thesis marks and corrections came back the same month and she has just submitted the final polished thesis two weeks ago. Fingers crossed it all goes through smoothly and she can finally call herself Dr Martin.
And while Kobe is not yet able to report on the findings until they are published, she did tell us that she identified at least 8 different call types that the FTGs were producing - an extremely exciting result, given the view prior to her research that they didn't talk at all! However, with no additional grant money for further research forthcoming, Kobe is now planning to go off and explore the world. Their gain is our loss but we wish her all the best for the next chapter in her life.
Northern Beaches Council Bushcare Team
Under the wing of our Northern Beaches Council Bushcare Officers, Michael Kneipp and Jillian Macintyre, 10 delegates from the Australasian Weeds Conference in September came to ramble over our Bushcare sites, scramble up and down slopes inspecting the Nesting Box program, and indulge in a typical Lisa Atkins inspired Western Shores picnic lunch on the grassy slope between Ventnor and the Swiss Chalet. The visit came at the end of the Conference and the morning after their big farewell shindig,which goes some way to explaining that, of our three events, the lunch won. But it was close! And it was Lisa…
Taronga Zoo
Senior Keeper Rob Dockerill tells us that since September 2017 the Taronga Zoo Feathertail Glider program has successfully bred about 60 Feathertail Gliders.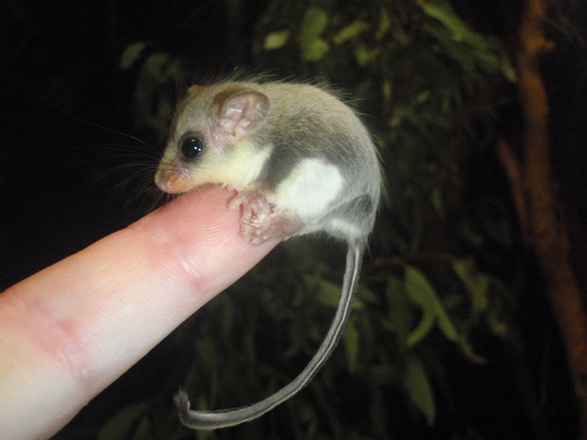 Taronga Zoo nestling
NEW FRIENDS
Locals
The Western Shores nesting box program continues to grow. Sally Anne Gaunt and Ged Brennan from Elvina Bay bought a nesting box after watching a Pygmy Possum walk across their verandah rail one evening and are now scheduled along with the rest of the Nesting Boxers to have a two week stint with the camera to assist them to monitor their box.
Nesting Boxes have also been gifted. When Sarah Gardner and Lyn Hughes left the Western Shores to be closer to family in Thirroul they asked the new owners, Monique and Ryan Stidwill, if they would take on their 2 nesting boxes. The Stidwills were delighted to take up the monitoring challenge.
Helen Dauncey did the same thing, leaving her Microbat nesting boxes for new owner.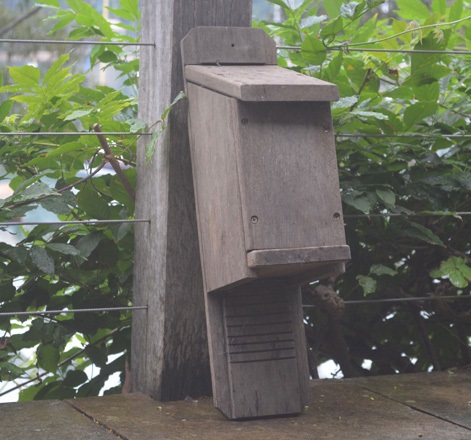 A Microbat Nesting Boxes known as a 'bat flat'. The opening is directly above the bat 'ladder' below the box.
Another example of neighbourhood sharing was that of Candy le Guay who shared her camera time with Coasters retreat neighbours, Jeff and Jean Bulpitt, while she was overseas.
Aside from the generosity involved - these warm-hearted gestures will also help us keep the monitoring project data consistent over the years, building up a reliable and credible picture of Pygmy Possum and Feathertail Glider patterns of behaviour throughout the Bays. Something for all Nesting Boxers to consider should they, heaven forbid, be thinking of leaving us.
Mosman calling
In October last year the delightful Kate Eccles from Mosman Parks and Bushland called. She had heard about our Pygmy Possum Project through the Bushcare Network and thought that a Nesting Box monitoring project was something her organisation could also put into practice on their bushcare sites.
There had been no previous monitoring of the Reserves but Mosman Council thought it was an excellent idea as did Taronga Zoo. As Kate said 'we are not optimistic of anything other than Ringtail Possums and Microbats but it's a case of we'll never know until we try.'
Once again Alf Britton rose to the challenge and has since produced 3 Ringtail Possum boxes, 6 Microbat boxes, 8 Pygmy Possum boxes, 8 Feathertail Glider boxes and 6 Sugar Glider boxes.
The intention is to install them in the two sites where Mosman Parks & Bushland people regenerate the native bushland - the Bradley Bushland Reserve and Wyargine Reserve - and a third site where microbats have been seen around dawn.
We wish this esteemed bushcare group all the very best of luck and look forward to hearing about any sightings
FUTURE
Finally an academic paper with the snappy title 'Outcomes of decades long installation of nest boxes for arboreal mammals in southern Australia' was published by Ross Goldingay, Karen J Thomas, and Devi Shanty in August 2018.
The paper looked at the effectiveness of community-led nest box projects for periods of 10 to 25 years. Their findings suggested that infrequent maintenance by community groups can sustain nesting box projects over periods of several decades.
Did you get that? Infrequent was good enough. You don't have to do it every week! Now that's what I call cheering news.
Once again a big thanks to all our nesting box participants. Remember to keep an eye on your box and if you spot a nest - let us know and we'll divert a camera to record just who your visitor might be.
Lesley Stevens & Jude James.
Western Shores Pygmy Possum Project
A Rocky Point Bush Care Initiative