January 14 - 20, 2018: Issue 343
News From The Nesting Box January 2018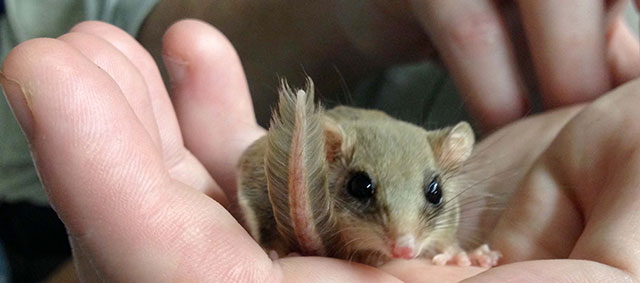 News From The Nesting Box January 2018
The headlines called it 'Australia's Weird Winter'. And it certainly was. On the lower Western Shores of Pittwater we experienced record low rainfall and a huge leaf drop. But under our spotted gum canopy those resilient little marsupials still came knocking…

APRIL
First sighting of the season was a Feathertail Glider prowling over the nesting box at the back of Hazel Sullivan's north facing Lovett Bay property. Hazel tells us there was no subsequent sign of a nest - but at least they know the box is there.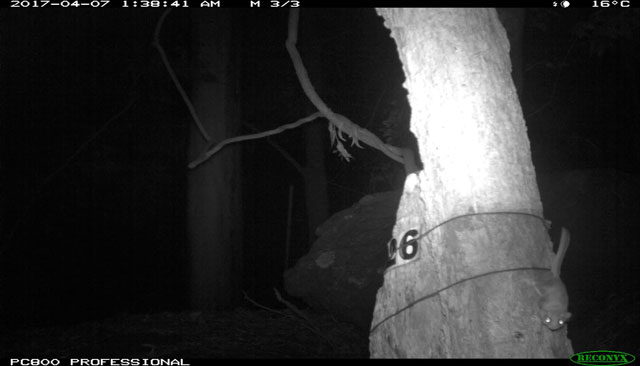 MAY
The next sighting was on one of Bronwyn Gould's nesting boxes in Morning Bay.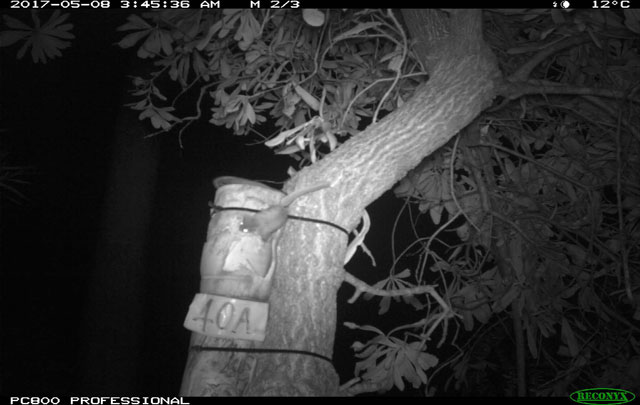 This little Feathertail Glider is sitting right over the entrance but once again no nest was built. Others also checked it out - among them an overly optimistic bush rat.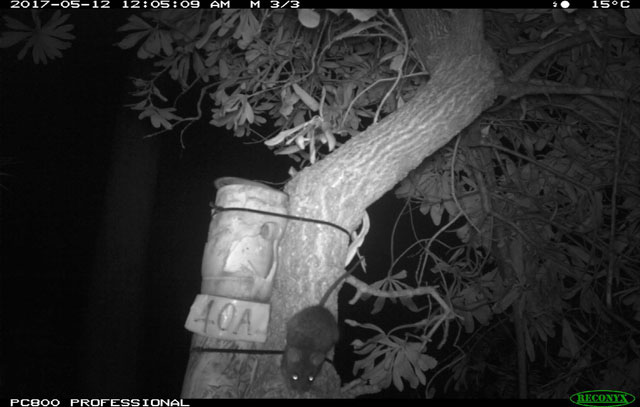 May also brought Feathertail Gliders to Mel Broughton's on the south east tip of Rocky Point.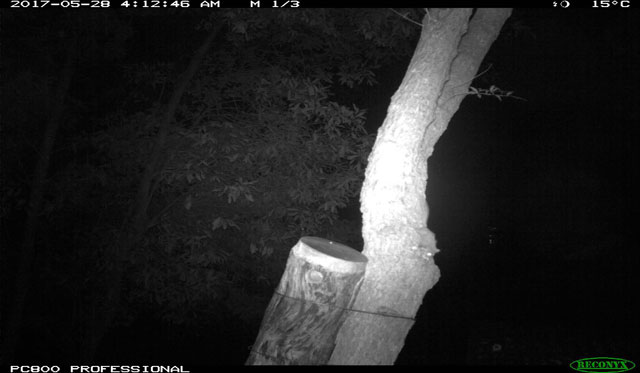 However, once again there was no evidence of any nesting activity inside the box. Clearly, as Bronwyn commented, this seemed to be the year for marsupial tyre kickers.

JUNE
However in June someone actually built a nest in a box up the back of my property. Ecologist Alf Britton thought it could be either a Pygmy Possum or a Feathertail Glider.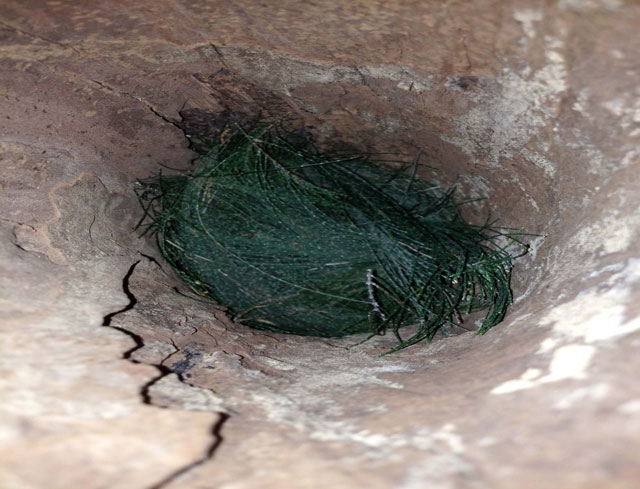 JULY
A week later our cameras captured the nest builder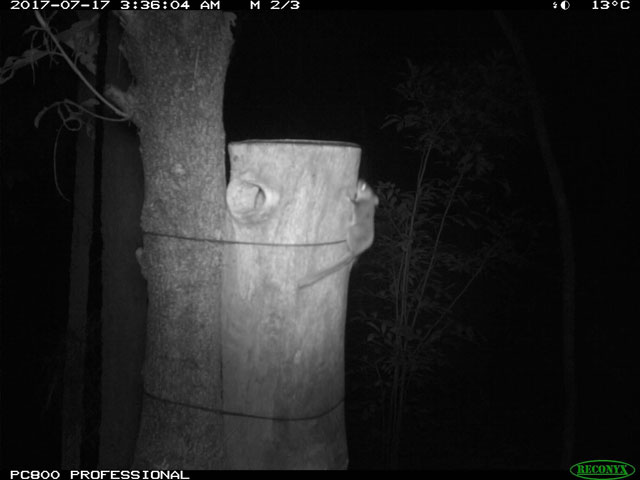 Or did we? I thought that this nest would be it for the season, however, I was wrong.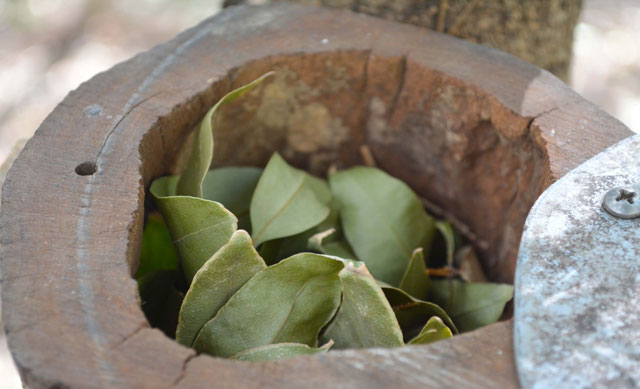 Late in August the same box was sporting some fresh green eucalyptus leaves. Perhaps a Pygmy Possum had built the original nest and the Feathertail Gliders simply moved in and built their own nest on top. All theories or improved storylines are welcomed.

JULY
In the meantime, back in July an Antechinus nest appeared in my box on the side path.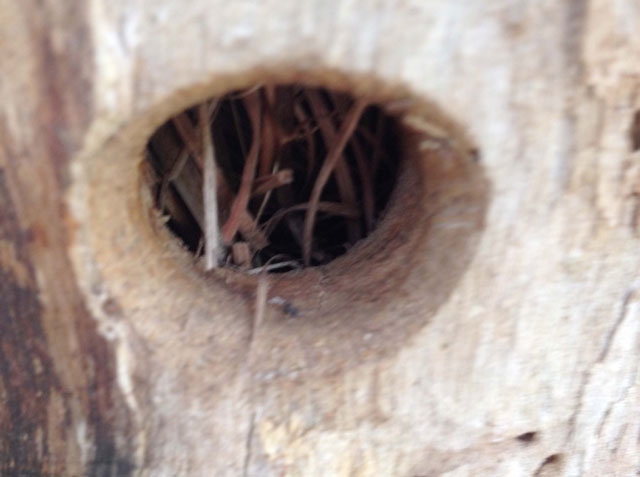 Our cameras spotted the inhabitant. You have to look hard but the nest builder is on a small branch right up in the top left corner.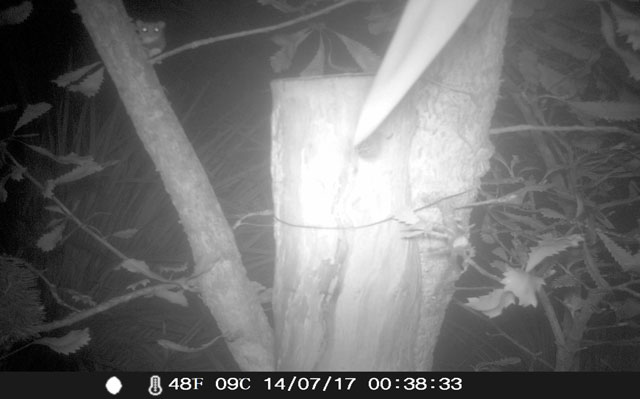 In the meantime Rocky Point resident and builder Pete Cumming shared a photo of a nest in Don and Heather McLeay's roof again on the south east side of Rocky Point.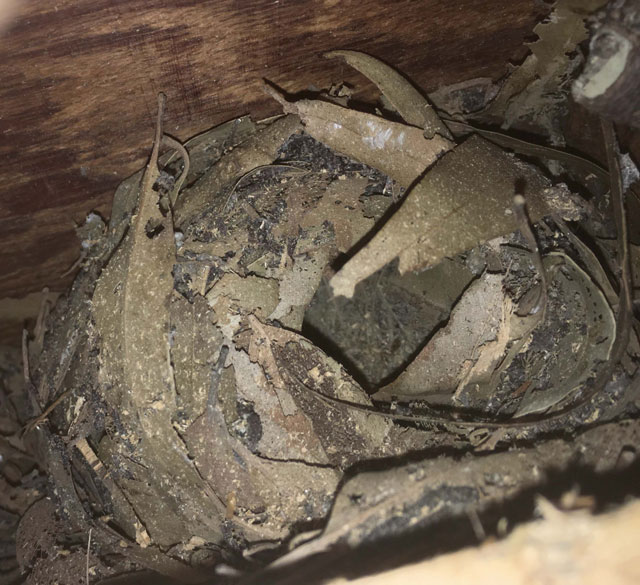 The next story comes with a warning. It's about a dead thing.

SEPTEMBER
In September came the Morning Bay team of Bronwyn Gould and Jan Jobson with a gruesome but intriguing discovery.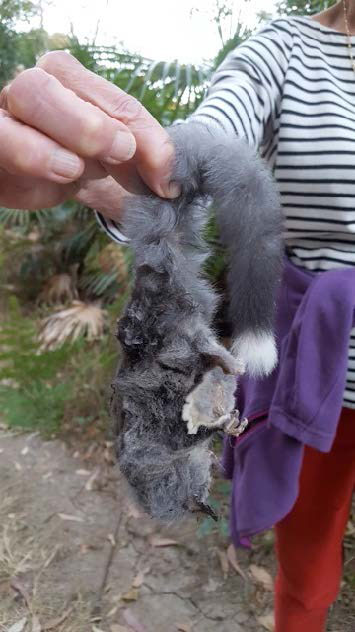 Stephen Jackson, a research scientist with Department of Primary Industries and author of taxonomic and other science textbooks, identified the body as that of a Sugar Glider.
This is the first recorded sighting of a Sugar Glider on our shores in European times (that we know about) so it's a very precious find indeed. Bronwyn has uploaded the discovery to the Atlas of Living Australia.

In the same month Monique and Mali Stidwill snapped a Pygmy Possum having a snooze in one of the Sugar Glider Squad nesting boxes up on the escarpment.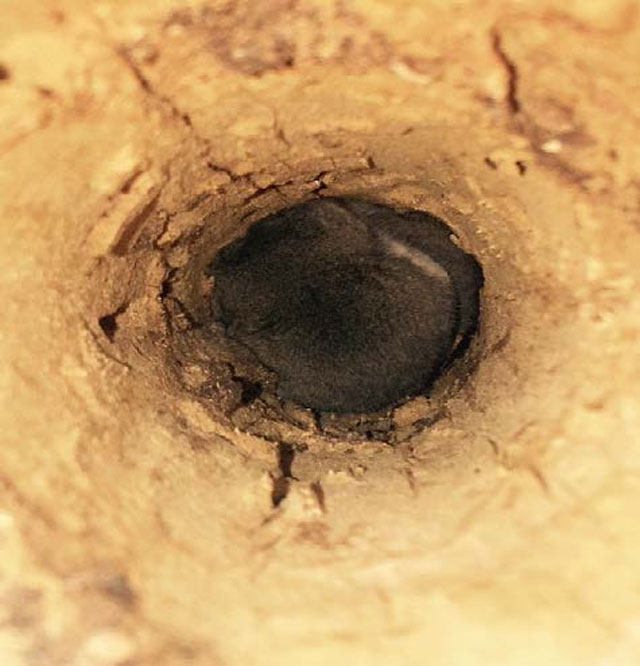 Despite some major earthworks around its base -Sarah Gardner & Lyn Hughes' nesting box managed to attract some interested home makers.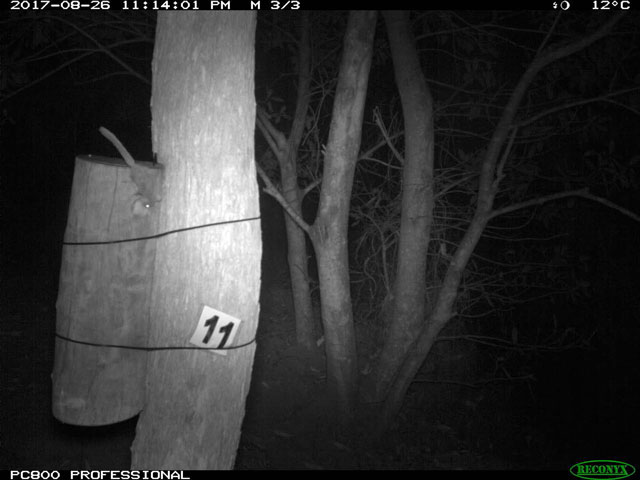 Unhappily they too proved to be more tyre kickers who once again failed to carry through on their apparent interest and build a nest.
And now another warning - this next story is also about a Dead Thing.

OCTOBER
Alan Yuille and Alan Hill made a second gruesome discovery inside one of their pots. A Pygmy Possum about the length of a biro had ventured inside and, unable to get out again, sadly drowned.

However, the discovery was also of great interest. The Allans live below the escarpment in Elvina Bay - a well-known Powerful Owl beat. We had presumed that our small marsupials stayed well away from this spot. But now we know they do come in search of food and a warm place to stay - a very encouraging thought for our Elvina Bay Boxes.

Andrew and Nina Warden also reported an October sighting from Coasters Retreat.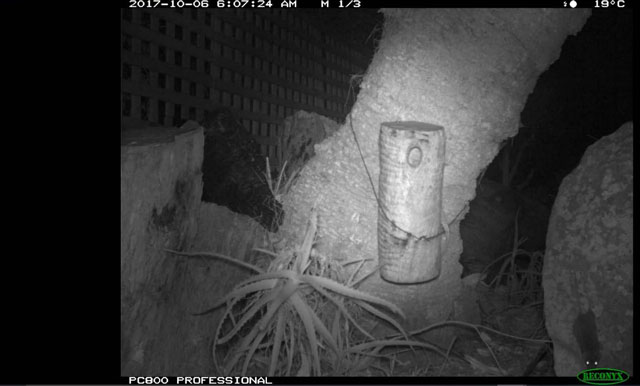 This sighting was almost identical to a sighting In January 2016. The jury is out as to whether it is a bush rat or a Pygmy Possum, however, Andrew has reported that the nesting material is brown not green which lends some additional weight to the bush rat camp.

NOVEMBER
In the meantime I finally think I know where that Feathertail Glider I found in my living room and the little baby FTG found on my back deck might have come from.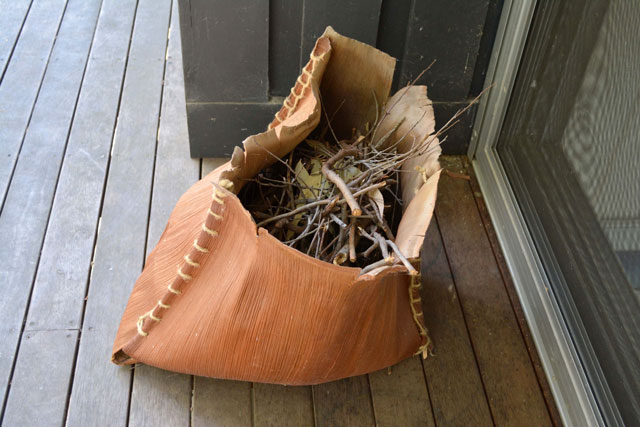 This is a pandanus palm 'bucket' I use to collect those twigs and small branches that fall on my deck. I now realise it is also a perfectly decent ready-made Feathertail Glider home! Note the small entrance at the bottom left-hand side for the kids.

DECEMBER
Also in November we set up one of our cameras on Box 17 - the one with a Feathertail Glider nest in it. We now have over 400 photos capturing all the activity over the past 8 weeks of a very busy nesting box. And, as we settle into the New Year, the Gliders show no signs of leaving anytime soon.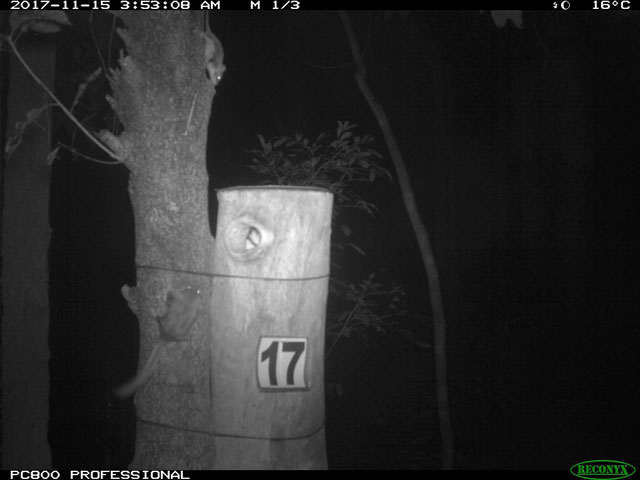 This is interesting because we have never captured a nesting box in use past October. We had assumed our little marsupial mates scurried back up the escarpment in the summer months but we could never figure out why. So perhaps they don't. Again all theories or, improved storylines, or even better, actual facts on this subject, gratefully received.

OTHER NEWS
PHD candidate Kobe Martin
Regular readers of the Nesting Box News will remember Kobe Martin and her discovery and pursuit of Feathertail Glider vocalisations and dialects. Kobe tells us she is still finalizing all the data from the Taronga Zoo and Rocky Point recordings, however she is looking at publication in February.
We wish her all the best for her academic future and will continue to offer assistance in any future FTG research she might undertake.

Other Local Wildlife Visitors
Some time ago local Western Shores weekender and busy GP, Bronwyn Gould, decided to become a carer with Sydney Wildlife. This means that every weekend a 'zoo' arrives in Morning Bay in an assortment of containers. Here are just a few of Bronwyn's charges over the last couple of months.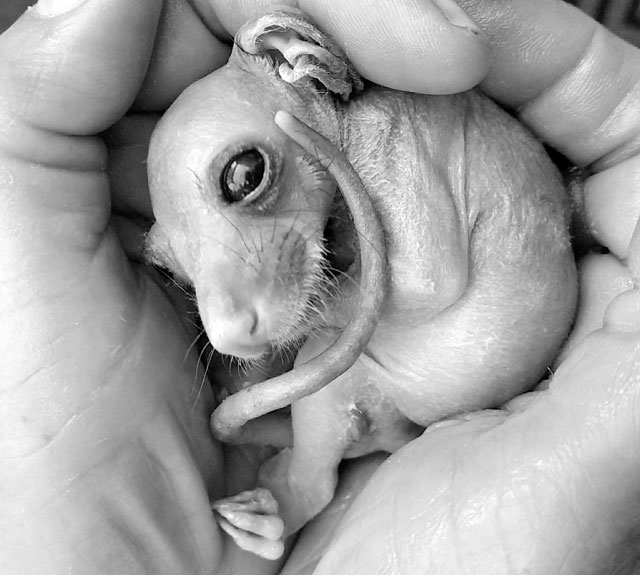 Baby Brushtail Possum from pouch of a dead mother in Bondi. Weight at rescue - 50 Good morning. –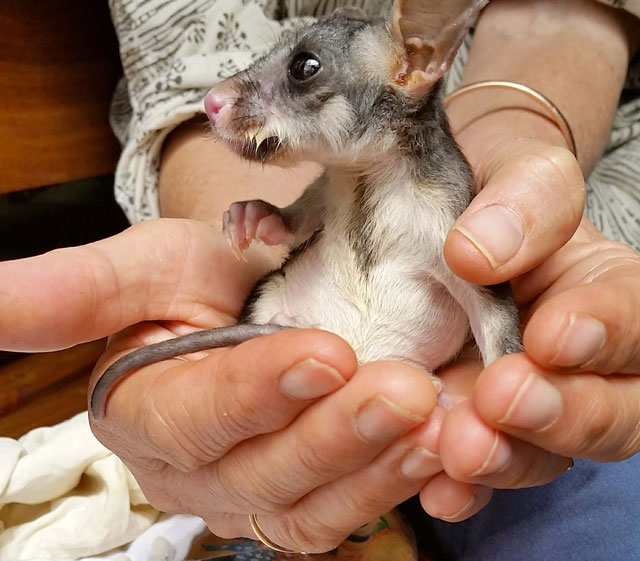 Same little baby possum 6 weeks later weighing in at 150gm.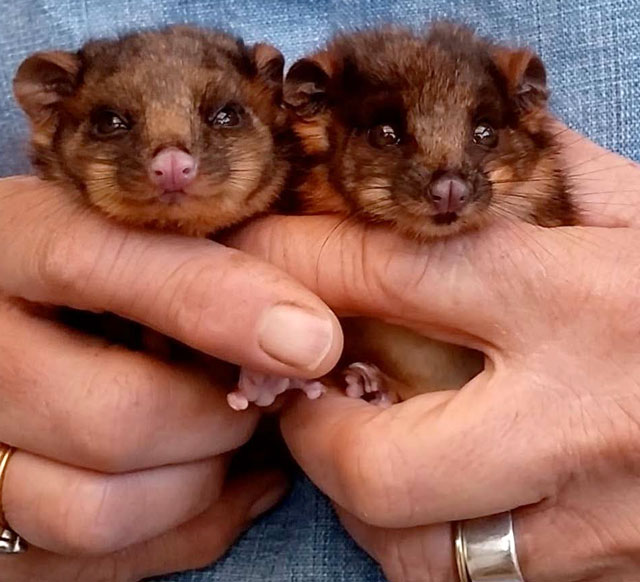 Two little lost Ringtail Possums, one from Balgowlah and one from Woollahra. 130gms apiece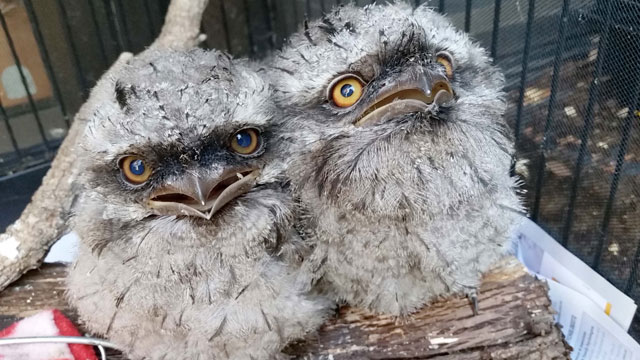 2 Tawny Frogmouth nestlings, fallen from a tree in Enfield and rehabbed with Bronwyn
Providing water
Our Pygmy Possum incident in Elvina Bay highlights the need for us all to try to provide water for our small marsupials as well as emptying water out of pot plants containers after rain. Jude James points out that if you put some rocks in the bottom of the water bowl - it allows those smaller animals to get in and out of the bowl to drink. Alf Britton also recommends stones or sticks that can be climbed to safety.

And as Bronwyn's next series of photos suggest - its not just the usual mob of birds that avail themselves of a thoughtfully provided bowl or pool.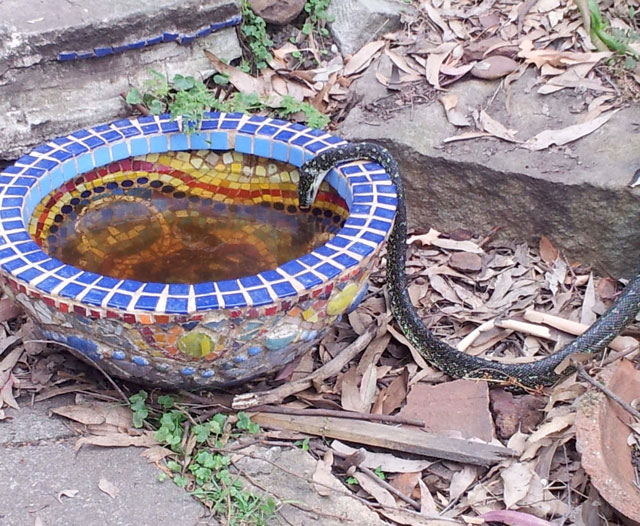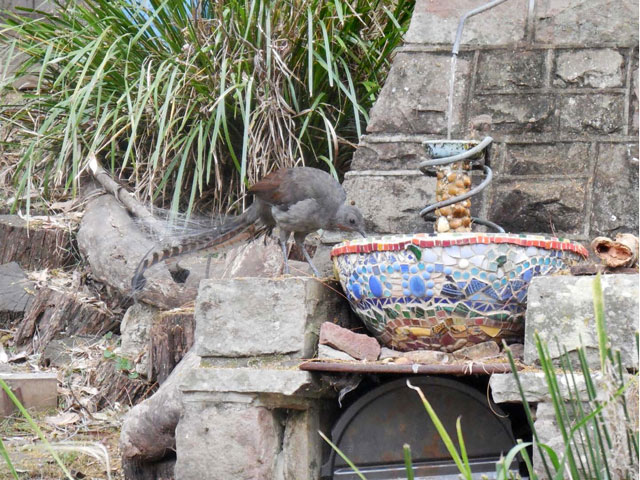 The Pygmy Possum Program Speaking Circuit
Unbeknownst to us - our Pygmy Possum Project has been attracting the attention of other bushcare groups, Council staff and state agencies. Back in 2015 we spoke to a Greater Sydney Local Land Services Regional Forum about our Project. Last year we were asked by GSLLS to speak to Central Coast landowners about our camera program. This November Jude James and I fronted up again - this time to a Regional Forum for Council Volunteer Supervisors to speak about the growth of the project and various directions our project had taken since its inception.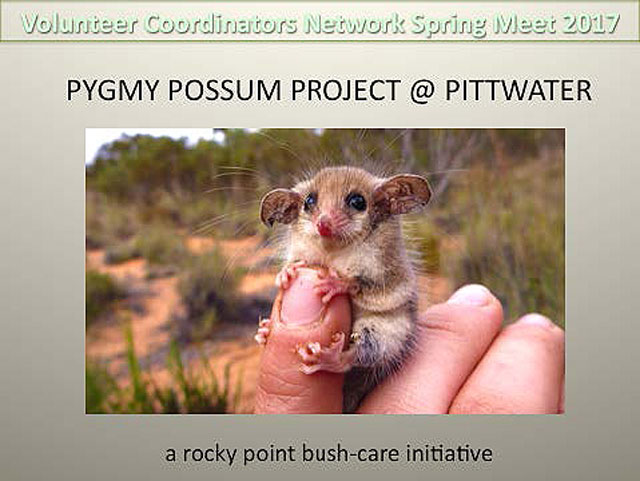 As a consequence of that Jude and I will now be speaking once again to State based Bushcare Coordinators at the Wildlife Citizen Scientist Forum in February.

The message from us is always simple. Everything flows from the interest and participation of the wider community. We also tell them the things that worked and the things that haven't. Despite this, our audiences to date have refused to believe anything other than each and every one of you are incredibly aware, fabulous, human beings, and that we are an exemplar community.

Just so you know…

Cromer Daycare joins the Project
Finally the latest news is that a Cromer Day-care Centre, Goodstart Early Learning Centre has joined our Pygmy Possum Project.
Over the past two years Centre Director, Amanda Wilson has been bringing sustainability to day-care operations and to the classroom as an educational goal. Waste has been a big focus and last year the kids set up and planted out a vegetable garden so that they can all understand the process and joy of growing fresh food, healthy eating and the concept of food miles.

Our Pygmy Possum Project caught her eye as the next step. By the time we arrived the kids had done their research and had covered all the walls with Pygmy Possum artwork.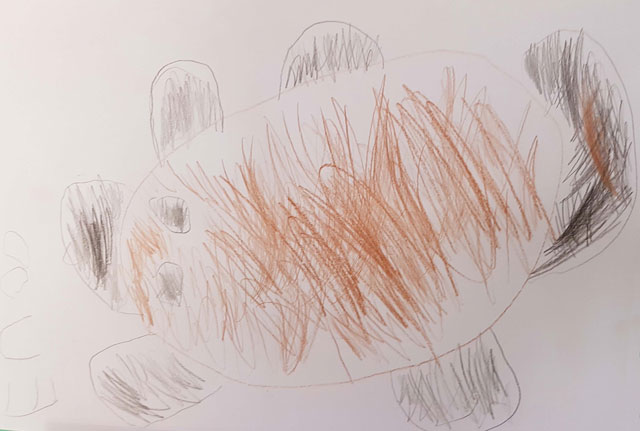 ' To say they are excited to be involved in this is an understatement' said Centre Director Amanda Wilson. "The children have been engaged right from the start of the project'.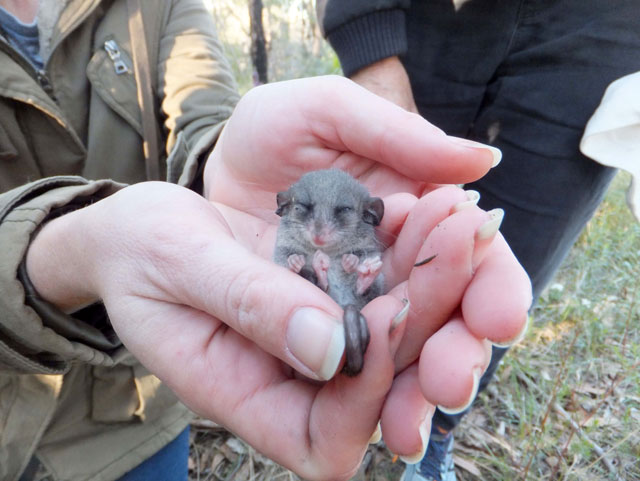 Alf Britton made a nesting box for the kids and then made another that he gave them as a gift. Both the kids and the staff were delighted. - photographer David Palmer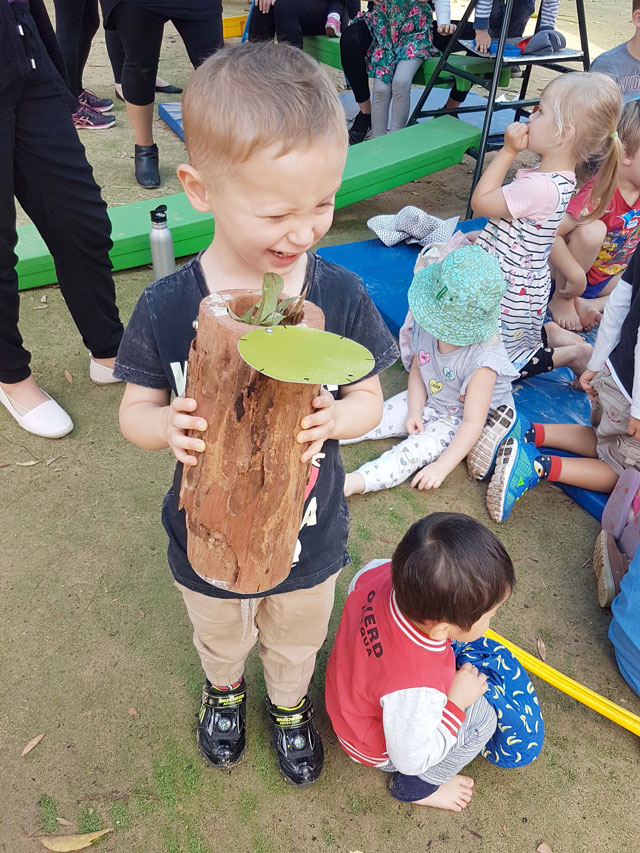 I know I speak for you all in welcoming the Goodstart Early Learning Centre on board. We will be staying in touch with Amanda and will obviously report any activity.

And on that happy note all that remains is to wish everyone the best for the New Year and we look forward to hearing about every little footfall in 2018.

By Lesley Stevens
Pygmy Possum Liaison Officer (provisional) aka PPLOP
Rocky Point Bush Care Group