July 1 - 7, 2018: Issue 366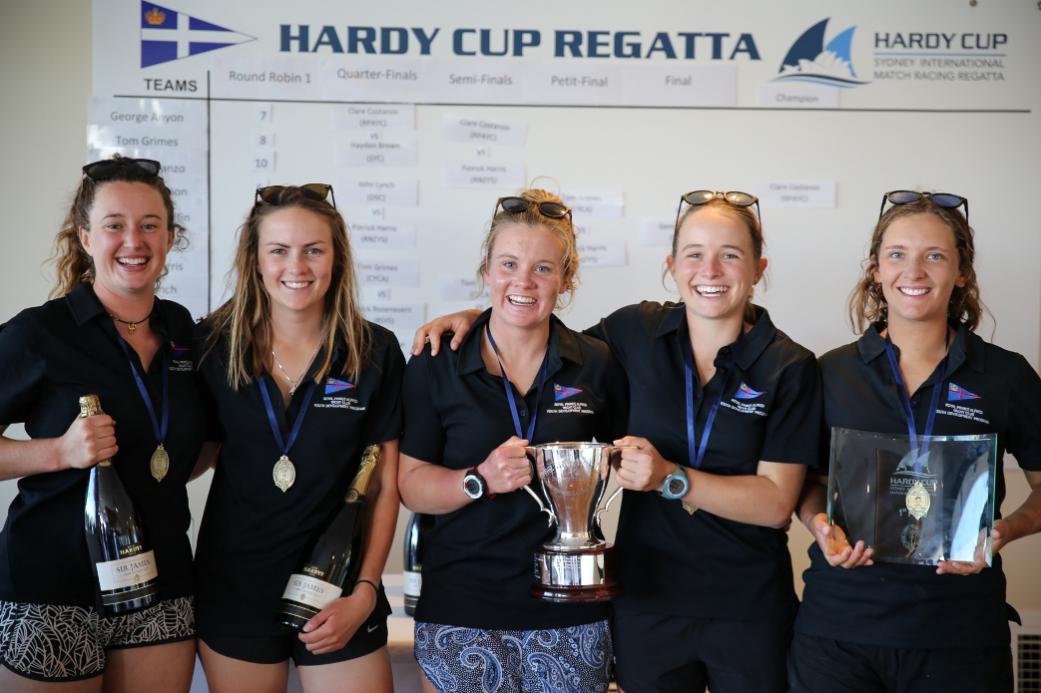 Hardy Cup 2018 Winners! Photo by Darcie Cottington, Darcie C Photography
Fusion Racing is a match racing team of 4 girls, all local RPAYC sailors. These girls are doing amazing things for women in sailing, already this year we have seen them take out the boys at the Hardy Cup International Match Racing Regatta where they made history being the first all-female team as well as the first female helm to win the regatta.
Today they fly out for Sweden.
The Fusion Racing Team was selected as one of only
5 teams
to compete in the GKSS Women's Trophy in Sweden (July 4th to 8th). This regatta will be held alongside the Swedish Match Cup which is an official event of the World Match Racing Tour and this event is the first Championship level event of the season, GKSS* Match Cup Sweden. The women's competition will be fought out in the high-performance M32 catamarans on the same race course as the open competition. This an amazing opportunity for the team as they will be sailing against the very best female sailors in the world and one team will claim the first female class trophy sailed in the M32.
Match Cup Sweden will turn the island of Marstrand into a match racing haven for it's 25th anniversary year as the home of European match racing. The unpredictable conditions, a guaranteed jaw-dropping spectator turn out and racing just inches from the island's crowd-lined rocks. Those who witnessed the
2015 Extreme Sailing Series on Sydney Harbour
, in which Katie Spithill and Stacey Jackson, also RPAYC female sailors, competed aboard 33 South Racing, may know what the girls will be up for and why these events attract large crowds.
The M32 is quick to
accelerate and fantastic to watch. The girls have had a training session with Down Under Racing, Skipper Harry Price, who will also be part of the action in Sweden commencing this week.
On top of Sweden Fusion Racing will then be heading over to the USA where they will compete in the prestigious Governor's Cup hosted by the Balboa Yacht Club in Newport Beach(International Youth Match Racing Championship. 16 – 21 July 2018). This will be their second year in a row in the oldest youth match racing regatta in the world and as competitors must be no more than 22 years old, it will be their last run at gaining a podium finish. There again they will meet up with Mr. Price, as well as W.A.'s Will Boulden.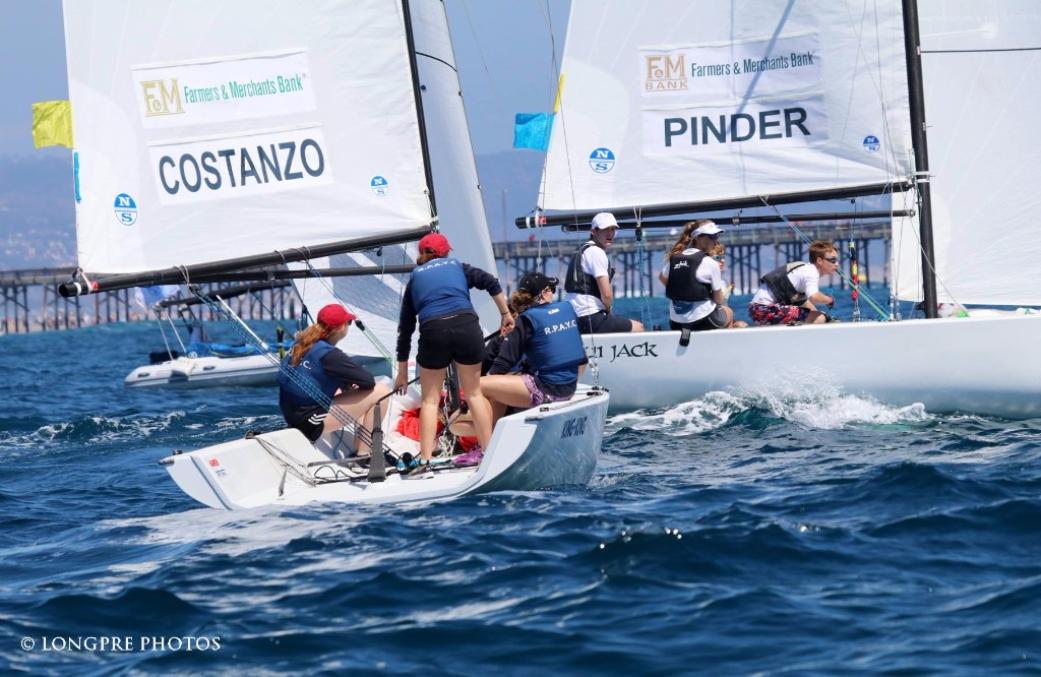 Youth Development Team of Clare Costanzo, Jess Angus, Emma May and Hannah Lanz supported by coach Tom Spithill in the 2017 Governors Cup Youth Match Racing Championship at Balboa Yacht Club in Newport Beach California.
Fusion Racing then moves on to Chicago (Chicago Grand Slam hosted by Chicago Yacht Club; August 17-19) and Detroit (Detroit Cup hosted by the Bayview Yacht Club; August 23-26) where they will sail in two regattas, both part of the US Grand Slam Series
with the aim of qualifying for the 2019 Congressional Cup at Long Beach California and increase their ranking to travel to World Match Racing Tour Qualifiers and the World Match Racing Tour.
Fusion Racing will be the first all female youth team to compete at these Grand Slam events.
Meet The Team
Current World Open Ranking: 40th
Current World Womens Ranking: 8th
Fusion Racing are four girls who grew up sailing at Avalon Sailing Club before transitioning to The Royal Prince Alfred Yacht Club - RPAYC where they joined the RPAYC Youth Development Program that has already turned out so many champions.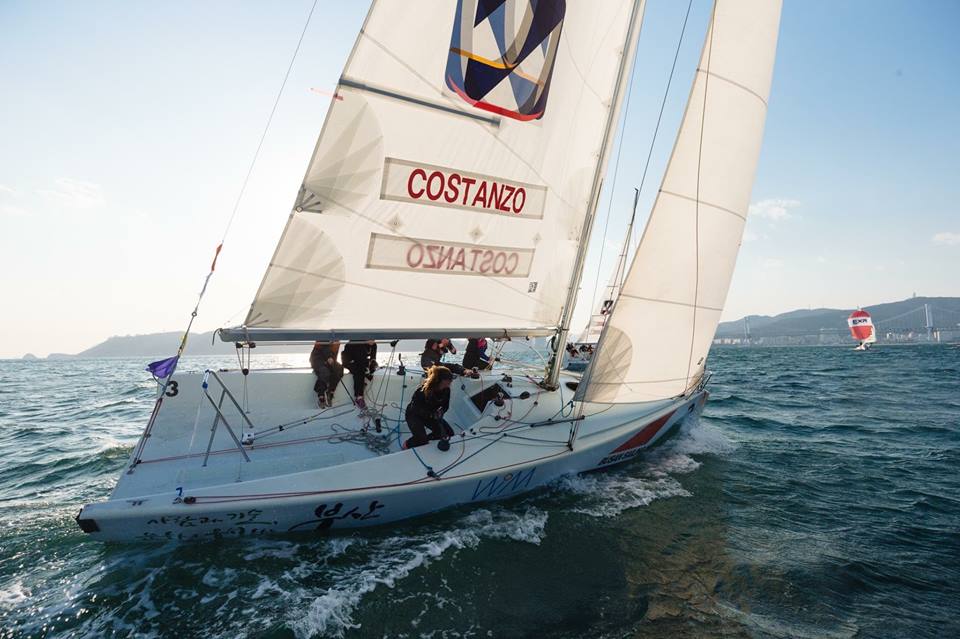 Skipper - Clare Costanzo - 21 years old
Clare is currently in her 4th year at Macquarie University studying a Bachelor of Town Planning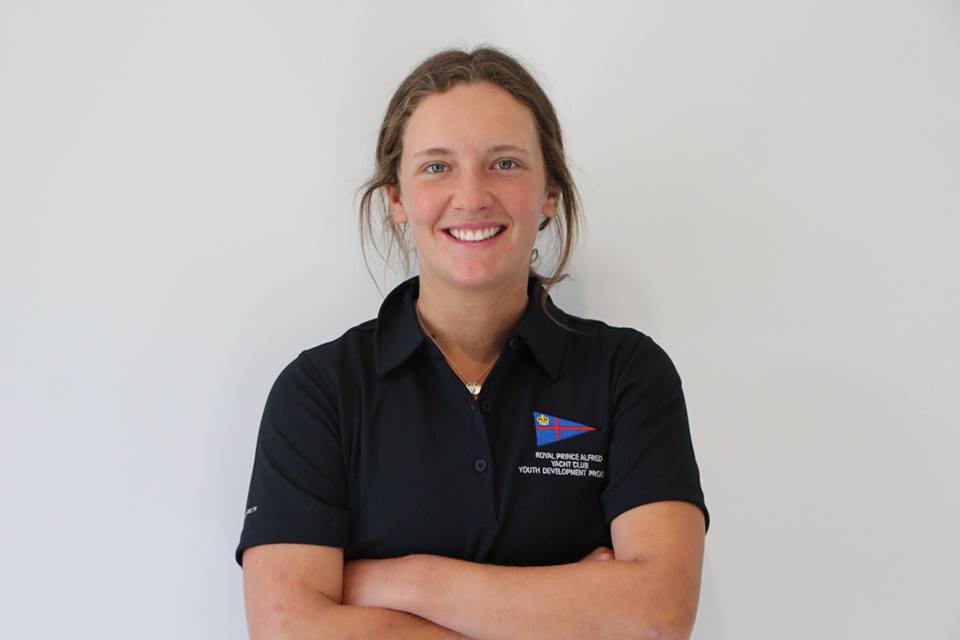 Bow - Hannah Lanz - 20 years old
Hannah is currently in her 2nd year at Macquarie University studying a Bachelor of Business. (also a
Bungan Beach SLSC Member)
Main Trimmer - Jess Angus - 22 years old
Jess is currently in her 3rd year at ACU North Sydney Campus studying a Bachelor of Physiotherapy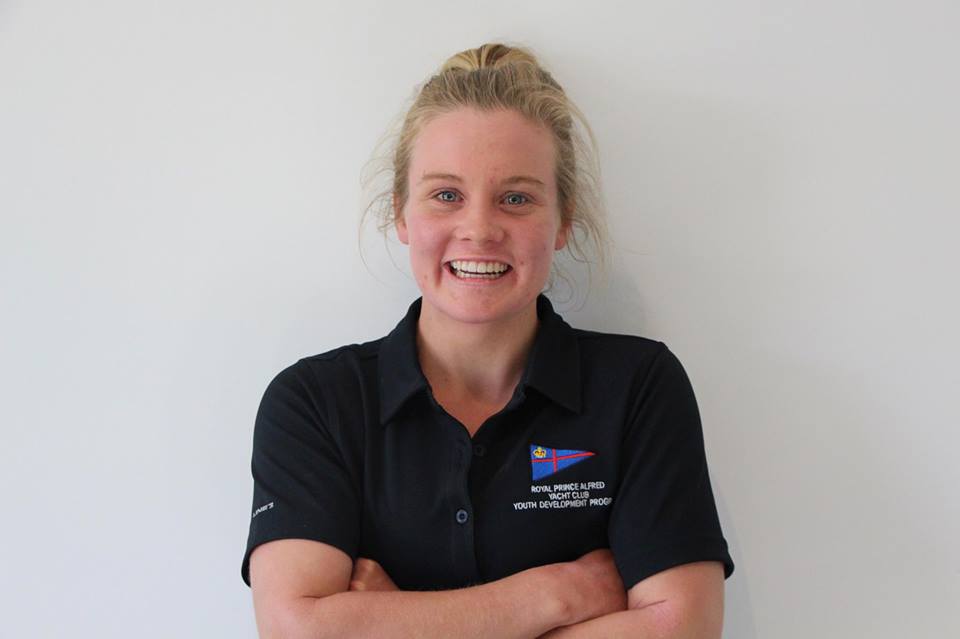 Trimmer - Ruby Scholten - 21 years old
Ruby is currently in her 2nd year at ACU North Sydney Campus studying a Bachelor of Nursing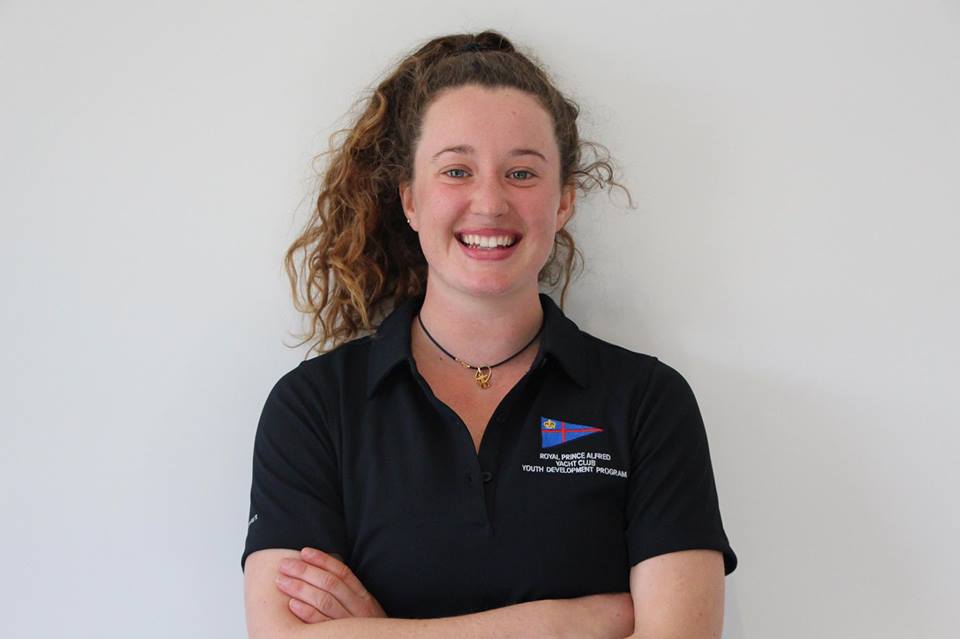 A little over a year ago they came together to become Fusion Racing. Since then and long before then their passion for sailing has seen them crewing on the ocean going yachts as part of the
Sydney to Brisbane race
, MC38's, training on the zippy M32 or in whatever boat, in whatever class, in whatever conditions they need to to get better and better as a team.
If you live on Pittwater you would have seen them practise 7 days a week using the early morning breeze (6.15 am on the water) but wouldn't have seen them backing that up with gym work in the evenings. When you consider they're all studying and just about to embark on soem pretty exciting regattas where they will be representing not Australia but women in sailing, you may udnerstand that a bit of a fan base is building around these girls - although they themselves consider their soaking in what they can learn from RPA sailors Katie Spithill, Nina Curtis and Stacey Jackson the real fan club that's going on.

We caught up with skipper Clare Costanzo for a few words late this week:
Congratulations on winning the Hardy Cup this year, another regatta you have been working towards doing well in for a few years now. In fact you and the Fusion Racing Team take on any challenge on any boat going.
When did you move from the Avalon Sailing Club to the Royal Prince Alfred Yacht Club Clare?
When I started Year 7 at Mater Maria we were doing school teams racing out of the RPA – that's when I got a taste of the yacht club and what they have to offer. Soon after I turned 15 I started sailing the 29er and joined the Youth development Program at RPA.
Sweden and being selected for the World Match Racing Tour
GKKS
Women's Trophy, how did that happen?
This is part of the World Match Race Tour and this is the first female event they're running in this class of boat. As soon as this was released we chased this up to get nominated as an entry.
As soon as you are finished there you will be returning to again for the Match Racing series for the Governor's Cup – at Balboa Yacht Club – will sailing in one class help with the other?
They're very different boats. In one you have to make split second decisions, it's a lot quicker boat so you have to make decisions a lot quicker. That actually helps us out with the Match Racing where you have a little bit more time to make the decisions. So in fact sailing in one class is actually enhancing our performance in the other. We'll be so used to making decisions quickly under high pressure racing that when we get into those high pressure races in other boats it will feel a lot more normal.
What are you looking forward to in Balboa this year?
This competition is just amazing. Everyone going is the top of the tops from all around the world so there will be no easy races but I think that's what we all like; the challenge.
And I will be the only female skipper again and I think, from looking at the crew lists, there are only one or two other females on the competing teams, so we'll be making up the female numbers over there.
Where do you want your sailing to go – what's the future the team is working towards over the next decade?
We're hoping they'll launch more events for women through the World Match Racing Tour. This is not a trail but more a 'let's get this going' initiative. So we'd like to compete in those events should that eventuate.
Long term obviously we'll keep sailing and see what opportunities open up.
Would you sail an all women crew in the America's Cup?
(laughs) I think that would be a long way off. Obviously everything we're doing now and working for and towards is to help those opportunities to arise, not just for us, but other women sailors too.
We're just giving it a crack to see what doors we can open up. There's not really a pathway there as such at present.
Katie Spithill was out with the Fusion racing Team for your last dawn session this week – is she one of your mentors?
Yes, Katie and a couple of the older girls around the club are our, I guess you'd say, sailing idols.
Nina (Curtis) and Stacey (Jackson). We are fan girls.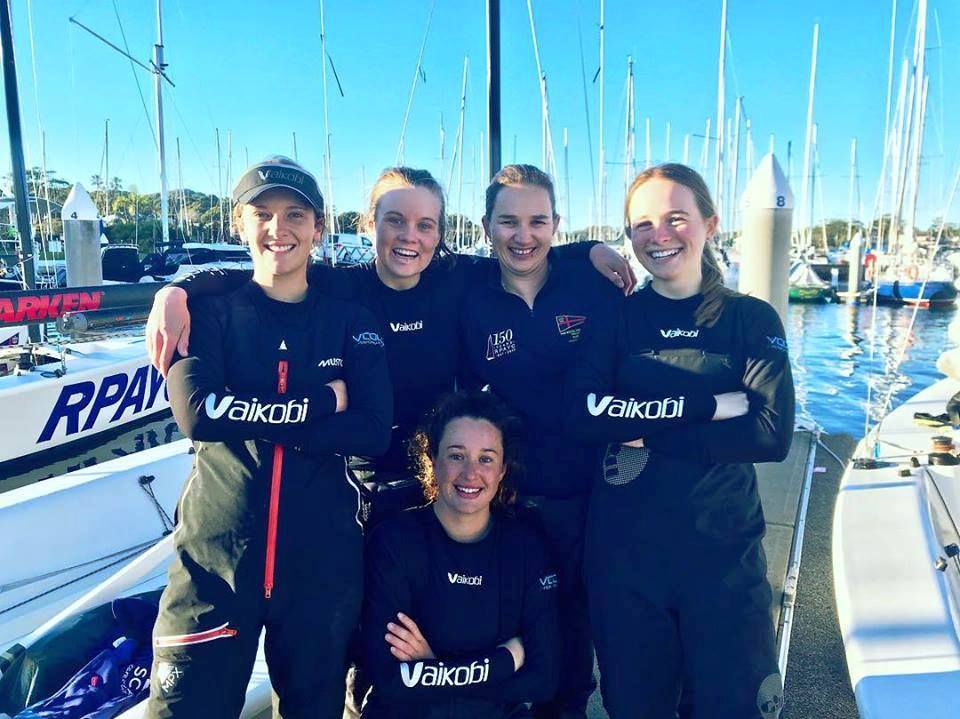 They are among the best women sailors in the world. How long have you all been sailing together?
We all started sailing when we were 8, out of Avalon. We've been doing the Match Racing together, as the same team, for just over a year.
How do you balance studying and all the commitments you make to sailing?
You don't really have a lot of time for anything else, but that's what you want to do.
Do you drink coffee to keep going?
No, not a coffee drinker – I like chocolate.
What's the best thing about training on Pittwater – how does that help you compete in a variety of classes on a variety of courses in varied places?
For us it's getting time out on the water in different conditions, as we're all local to the club we can take advantage of that. if we only have two hours we can take a boat and go out and get two hours practice as a team.
Practice as a team is really what it comes down to; having trust in what in who you're sailing with.
*
World Match Racing Tour (WMRT)
Founded in 1999, the World Match Racing Tour (WMRT) is the world's leading professional match racing series. It features world class sailors, Americas Cup heroes and Olympic champions, with events staged around the globe. WMRT is officially sanctioned with 'Special Event Status' by World Sailing, the sport's world governing body.
Taking it back to the beginning – the only event to feature in every Word Match Racing Tour season, Match Cup Sweden will turn the island of Marstrand into a match racing haven for it's 25th anniversary year as the home of European match racing. The unpredictable conditions, a guaranteed jaw-dropping spectator turn out and racing just inches from the island's crowd-lined rocks make this competition one of the most sought after invitations on the WMRT calendar, so you can expect to see the same very best match racing talent battling for their place at this year's event as we have done over the past 24 years.
Attracting over 100,000 visitors to Gothenburg's archipelago, this event is a hit not only with sailors but has asserted itself on the city's social calendar as well. There will be plenty of action on and as well as on the water, so stay tuned for more details on what promises to be an anniversary edition not to be missed.
In July 2015, Swedish company Aston Harald AB acquired the World Match Racing Tour. The acquisition marks a major step forward for the Tour with the introduction of the one-design M32 high-performance catamaran.
The majority of events take place in identically supplied one-design M32 high-performance catamarans to place the focus on teamwork and skill. To stay in line with the pinnacle of the sport, the Americas Cup, legacy monohull events such as California's Congressional Cup have remained on the circuit.
The nature of sport, with close to shore action, intense tactical skills and live analysis, offers host cities an excellent opportunity to present themselves positively to a global audience.
Dating back to 1999, the Women's Class at Match Cup Sweden was dominated by Scandinavians in the early years. After a two year break, competition restarted and an international field stormed Marstrand from Europe, Australia and even Russia. The defending champion of the Women's class from when it was last sailed in 2013 is America's Stephanie Roble. Due to Olympic campaign schedules, Stephanie will not be attending this year's event.
Five female teams battling to take the trophy this year are made up of WMRT regulars, M32 Series and M32 World Championship competitors and several who are new to the class. This wide array of all highly skilled sailors will ensure the GKSS Women's Trophy is hotly contested this July.
Designed by experienced Swedish sailors Göran Marström and Kåre Ljung, the M32 catamaran offers a unique blend of simplicity and ease of handling, combined with lightweight construction and thrilling performance.
Built in carbon fibre with a total weight of just 510kg, the acceleration of the M32 is immediate and can lift a hull in only five knots of wind. Stability is maintained by the forward bouyancy in the hulls and C-shaped daggerboards which create some verticla lift giving the helmsman total control and confidence in all conditions.
To further maximise the stiffness of the M32 construction; every boat is built entirely in prepreg carbon fibre (including use of high modulus fibres) and epoxy over a Nomex core. All carbon parts are vacuum bagged and cured at 120°C in a pressurized autoclave, 6-8 bars for single skin and 2-3 bars for sandwich laminates.
With the racks deployed, the M32 increases its beam from 5.54m to 8.35m.
The Royal Gothenburg Yacht Club (GKSS)
GKSS was founded in 1860 and is today one of the largest sports clubs in Sweden with about 2,700 members and the leading club when it comes to sailing. The base of the club's activities are racing, training and education with a focus on young people but also adults sailors who want to develop further.
The base of the club's activities is racing, training and education with a focus on young people but also adults sailors who want to develop further.
In Långedrag The Royal Gothenburg Yacht Club (GKSS) has its home port, its clubhouse and dressing rooms with showers and sauna. The clubhouse is the meeting point for many active members in both summer and winter. The property also includes the restaurant "Seglarkrogen".
Throughout the summer this venue hosts regattas, sailing camps, training and various corporate events. During the winter season different training groups gathers to plan for the upcoming season. The club also provide extensive training courses, education of trainers, and a number of events for our members this part of the year.
On Marstrand GKSS has its branch Korvetten
. The house serves as regatta office during sailing events and is a gathering place for race participants and officials. "Korvetten" also works as a local for training camps and is at some occations used for conference activities. The building also hosts the restaurant Shanti Shanti. Many major race events, such as Stena Match Cup Sweden, RC44 Sweden Cup, Marstrandsregattan and the member's regatta Sepemberseglingen are all taking place in Marstrand.
Æolusön (called "Sillfarsholmen" on nautical charts), located in the southern part of Gothenburg's archipelago, is GKSS own island since 1968. Here the club organizes sailing camps for children and youth throughout the summer.