July 31 - August 6, 2016: Issue 274
Pittwater Yachts and Sailors in the Land Rover Sydney to Gold Coast Race 2016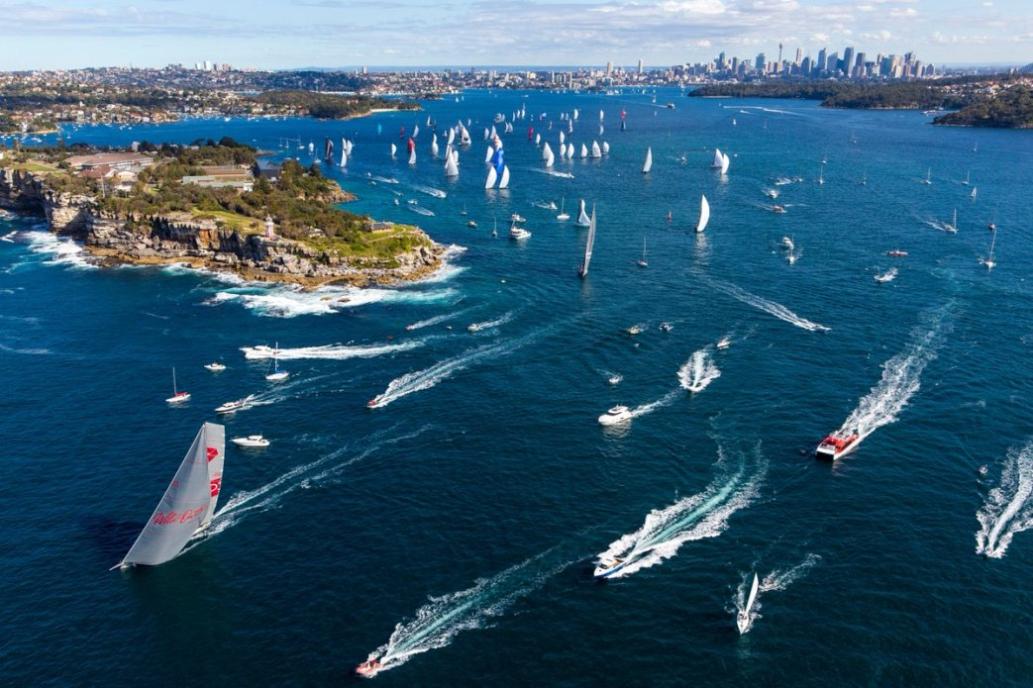 Wild Oats XI, the super maxi owned by the Oatley family and skippered by Mark Richards, was first out of Sydney Heads - Photo Credit - Andrea Francolini Photography
If you're wondering why a fleet of yacht headed north suddenly appeared on the horizon around 2.30 p.m. Saturday afternoon – that was the fleet in the 2016 Sydney to Gold Coast.
The race started 1 p.m. on the Harbour.
There are five RPAYC yachts among the fleet: XS Moment, Takani, Pretty Woman, Occasional Coarse Language One, and Le Billet which has six from RPA's Youth Development squad crewing; Harry Hall, Rachel Bower, Sarah Parker, Malcolm Parker and Josh Dawson and Clare Costanzo.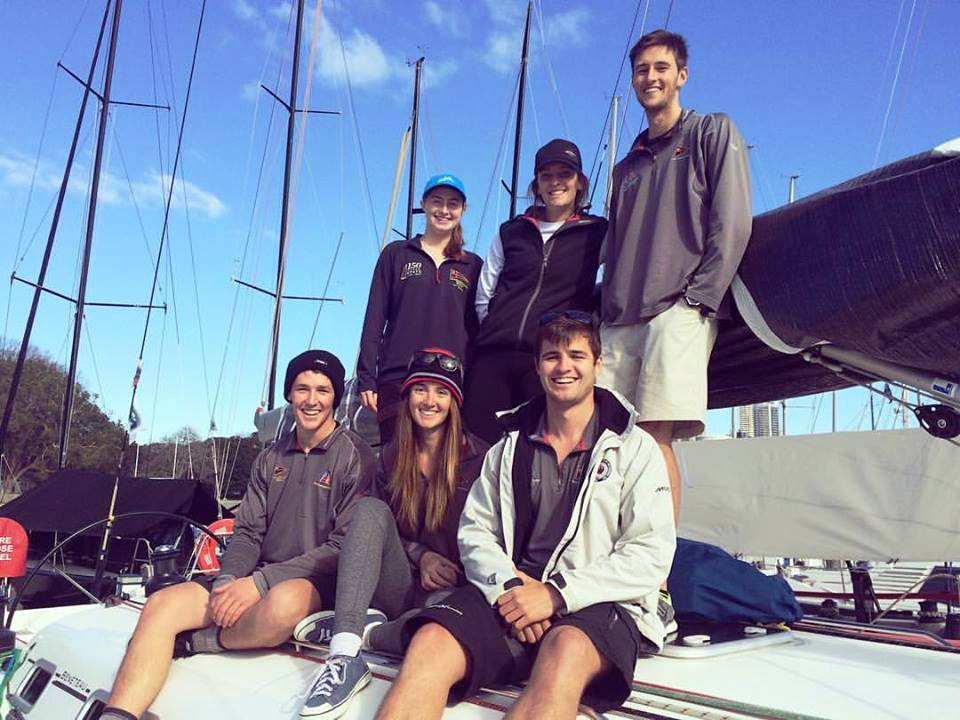 "Bring on Southport ...race to the plane!" Clare messaged at the CYCA earlier Saturday afternoon - with Harry Hall, Rachel Bower, Sarah Parker, Malcolm Parker, Clare Costanzo and Josh Dawson at CYCA Sailing Club. Picture courtesy Clare Costanzo
Update August 2nd, 2016: Le Billet finished in a challenging 2016 Sydney to Gold Coast Yacht Race which saw 10 yachts retire:
Le Billet - Line Honours 34 ; IRC 11; IRC - Div 3 2; ORCi 11; ORCi - Div 2 2; EST. ELAPSED TIME & SPEED 03:05:04:355.0. Finished 02 Aug, 06:04:35 PM
Pittwater sailors are also on board an outstanding fleet of wonderful sea craft - Moth champion Josh McKnight is part of the wonderful Ragamuffin crew, with Syd Fischer's grandson, Brenton as Skipper, his first Gold Coast race as skipper of the TP52, and multiple Olympian/VOR steerer Carolijn Brouwer and Sue Crafter, a veteran of 14 Hobarts are also aboard.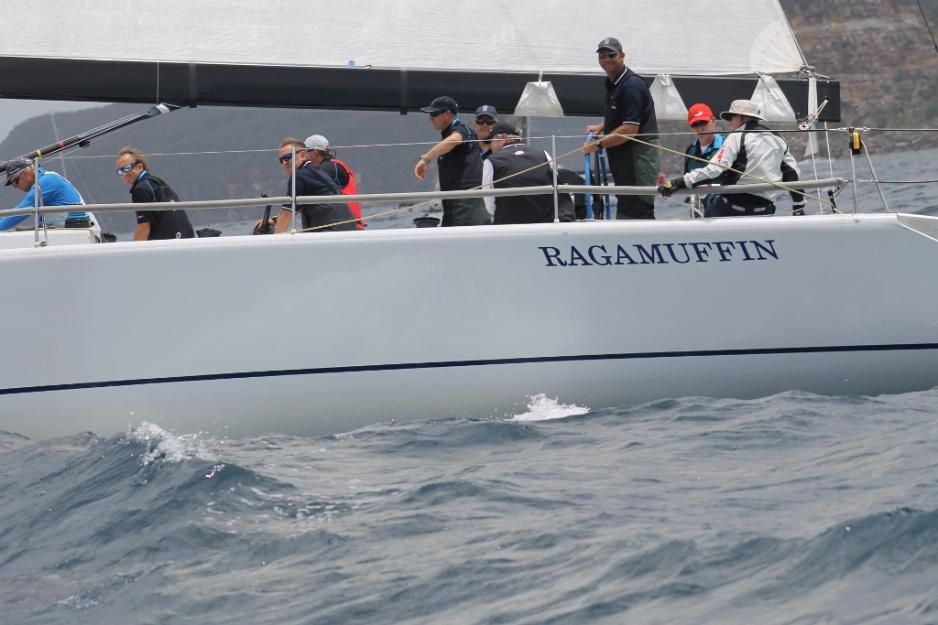 Raggamuffin at start of 2013 Pittwater to Coffs - AJG pictures
Wild Oats XI is being Skippered by Mark Richards, her entrance marks a return to ocean racing today after a six month break. This yacht broke this race's 13 year-old open record in 2012 (22hrs, 3mins, 46secs). Wild Oats XI returned in 2014, taking line honours from Perpetual Loyal by over two hours. The 100 footer underwent radical modifications ahead of the 2015 Sydney Hobart, but her main ripped in half during the race, causing her only retirement from the race ever. Bob Oatley AO passed away on January 10, 2016, leaving a big dent for all who knew him. Wild Oats XI is the only boat in the history of the Sydney Hobart to have twice achieved the historic treble of line honours, new race record and overall win (2005 and 2012).
She also holds the record for the most consecutive Hobart line honours wins – four – from 2005 to 2008, and the record for most line honours victories, as she also took line honours in 2010, 2012, 2013 and 2014, breaking a record seven held by Morna/Kurrewa IV, held from 1960 to and including 2004.
Wild Oats XI was leading as this week's Issue goes to press.
The Cruising Yacht Club of Australia (CYCA) introduced the Land Rover Sydney Gold Coast Yacht Race in 1986 as 'the great winter escape', taking advantage of the completion of the Gold Coast Seaway. Extensive harbour works funded by the Queensland Government had opened up an all-weather entrance at the Southport bar to deep keel yachts, large pleasure craft and fishing trawlers.
Appropriately, the official starter of the inaugural Jupiters Gold Coast Yacht Race was the then Premier of Queensland, Sir Joh Bjelke-Peterson, who fired the starting cannon to send a fleet of 83 boats north with the promise of much warmer weather. An equally colourful character in the late Jack Rooklyn sailed his famous maxi yacht Apollo to a double victory, taking line honours and first place on corrected time.
Since then the 384 nautical mile race has attracted fleets of between 70 and 80 yachts each year, with entries coming mainly from New South Wales and Queensland, but also from Victoria, Tasmania, South Australia and New Zealand.
This year Malaysian businessman, Seng Huang Lee's Scallywag (former Ragamuffin 100), Royal Hong Kong Yacht Club is racing and just behind Wild Oats XI. Mr. Lee spent his formative years in Sydney. He has retained some familiar faces from Ragamuffin, including skipper David 'Witty' Witt, Campbell Knox, Andrew 'Crowebar' Crowe and Marky Mark Fullerton, director at Doyles in China and responsible for the sail program, including a new larger main to fit the new extended boom. The boat received a substantial makeover in Newcastle, including mods to its water ballast.
Favourites, past boats of and visitors to Pittwater for the Pittwater to Coffs race, in 2017 the Pittwater to Southport* will be having a great practice run prior to the January 2nd start off Barrenjoey.
See: Entry Opens For 2017 Club Marine Pittwater To Southport Yacht Race by Lisa Ratcliff
Details of all in the 75 yachts in this year's Land Rover Sydney Gold Coast Yacht Race can be accessed here: goldcoast.cyca.com.au/the-yachts/
Di Pearson, CYCA media, is issuing up to the date reports on the dedicated website: goldcoast.cyca.com.au where a Tracker is also showing the fleet flying north.
Di's reports from Day One run below.
* due to damage sustained at Coffs during the June storms
By A J Guesdon

The 2016 Land Rover Sydney to Gold Coast Yacht Race fleet off Bungan Beach - 2.30 p.m., Saturday July 39, 2016
South Australians early casualties of Land Rover Sydney Gold Coast Yacht Race
Saturday, July 30, 2016 - 5:15 PM
The two entries representing South Australia in the 2016 Land Rover Sydney Gold Coast Yacht Race became early casualties after both sustained bow damage in separate incidents, joining a NSW yacht that was involved in one of those incidents, all three within the first half hour of the race.
Jason Ward was the first to report to Cruising Yacht Club of Australia officials that he was retiring after his near-new Mills 45, Concubine, sustained bow and bow sprit damage when they were left trapped with nowhere to go.
Ward's wife, Shevaun Bruland said: "There were about seven boats involved because the spectator vessel got in the way. Merlin (David Forbes Kaiko 52 with Joseph Earl skippering) was one of them and also retired. We are so disappointed after coming all this way."
Geoff Boettcher reported shortly after that his TP52, Secret Mens Business, had also sustained bowsprit damage after exiting the Heads in good shape. After struggling to get their kite down, Boettcher said, "We put up our brand new Code Zero – we haven't used it before, but we were OK. We were pushing, but without being stupid, when the bobstay went and then the bowsprit, in all the excitement."
Despite frustration, 'Boettch', whose TP52 was looking good against the eight others in the fleet, remained cheerful. The Cruising Yacht Club of South Australia Commodore, where Jason Ward is also a member, Boettcher said they had been looking forward to the race against one of the hottest fleets in years, in which both his boat and Concubine were rated among the favourites.
Meanwhile, Wild Oats XI, the super maxi owned by the Oatley family and skippered by Mark Richards, was first out of Sydney Heads, leaving Scallywag (ex-Ragamuffin 100) in her wake. The two had sailed neck-and-neck down the Harbour under Code Zeros, but just as Seng Huang Lee's Scallywag gybed off Camp Cove, Wild Oats XI hooked into some pressure and took off.
Close behind Scallywag was Rupert Henry's JV62, Chinese Whisper, followed by Tony Kirby's Ker 46, Patrice, sailing between the two headlands, clear of dirty air from the pack, which tended to hug South Head. The unexpected surprise was seeing Shane Kearns' defending champion, Komastu Azzurro, in the top third of the fleet, keeping pace with the bigger and newer boats, not too far adrift of the three V70's, which were led by Peter Harburg's Black Jack.
Kearns' 35 year-old S&S34 is the smallest and oldest boat in the race, but continues to surprise with her performances. Her most recent success was finishing third overall in the 2015 Rolex Sydney Hobart, winning the ORCi category and Corinthian division. Meanwhile, She, the modified Olsen 40 recently purchased by Philip Bell, was last out of the Head, but only by a smallest margin.
As the Bureau of Meteorology suggested, the going was slow in the first five minutes of the race, but shortly after, the 5 knot wind unexpectedly became 7-8 knots, and those behind the top six or so struggled to hold their kites, dropping them just before South Head, and then res-setting them as they turned north for Southport, with a pod of whales keeping the fleet company.
Chinese Whisper and others reported whale sightings, so if conditions lighten off, and turn north as predicted this evening, at least many can enjoy the pleasure of whale watching.
Seventy five yachts started the 384 nautical mile Land Rover Sydney Gold Coast Yacht Race at 1pm today. It will be a race where tacticians and navigators skills will feature prominently. Patrice's Michael Bellingham, an award winning navigator, gave the likely scenario.
"Navigators will not be getting any sleep, so we'll be drinking plenty of coffee," he said. "It will be very tactical. The first big decision will come on approach to and leaving Seal Rocks. Ideally we'll be there before sunrise. The next major will be at Coffs Harbour coming into the northerly system.
"We're in the division with the TP52's and being the smallest boat there (Patrice is the Ker 46 owned by Tony Kirby), we can keep an eye on what decisions are made. I'll be very interested to see if anyone breaks away from the pack – makes a big call," added Bellingham, who navigated Loki to a conventionally ballasted Sydney Gold Coast new race record in 2012.
"It's all about keeping an eye on the current and positioning for each change. It'll be interesting to see who comes out on top. There are so many boats that could do it," Bellingham ended.
All information on the Land Rover Sydney Gold Coast Yacht Race is on the official race website: goldcoast.cyca.com.au
By Di Pearson, CYCA media
______________________________________
Slow and steady will win Land Rover Sydney Gold Coast Yacht Race
Saturday, July 30, 2016 10:00 AM
In a weather update this morning, from Jane Golding, Acting Regional Director NSW, Bureau of Meteorology, there was no better news for the 75 yachts and their crews participating in the 2016 Land Rover Sydney Gold Coast Yacht Race, the fleet can still expect a weak 5-7 southerly start to the 384 nautical mile race.
When the race starts north of Shark Island on Sydney Harbour at 1pm today, tacticians and navigators skills will come into play as the boats sail up the Harbour and turn left at Sydney Head for the Gold coast.
During the late afternoon, the wind is due to back south-east at 5 knots, but tonight will be the toughest miles of the race when a 5 knot northerly is expect to hit the fleet at around 2200 hours. The yachts will be sailing upwind against a southerly current and decisions made could make or break each boat's performance.
"Can you fly in some food packages and our mail," enquired Richard Hudson, the co-owner and skipper of Pretty Woman.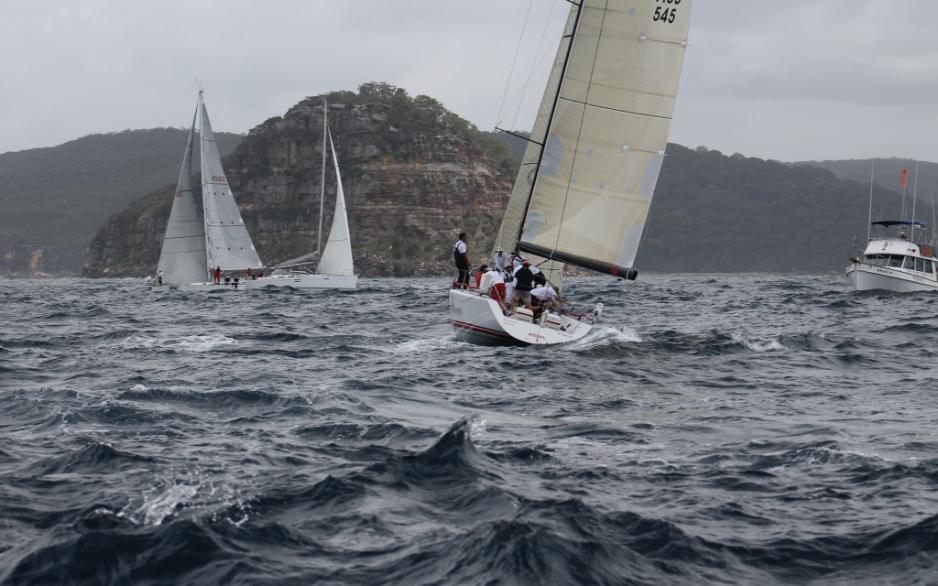 Pretty Woman RPAYC - start of 2013 Pittwater to Coffs - AJG Picture.

Conditions from tomorrow on show some improvement, depending on whether you take the inshore or offshore track, with north-westerly 10-15 knot winds forecast for early Sunday morning, tending south-west or north/west at 5-15 knots during the morning and variable winds of 5-15 knots during the afternoon
Some boats will be tempted offshore, as Monday is expected to bring 20 knot winds offshore and 10-15 closer to the coast.
"I think the plan is to stay on the coast," says Jim Delegat, the owner/skipper of the V70 Giacomo, from New Zealand.
"I just know we'll have to sail really well to succeed. I'll be leaving it to Tom Addis (his Australian navigator) to make the big decisions, and we'll see," he ended.
Peter Harburg, the Queensland owner of the V70 Black Jack, commented, "Given our modifications to make the boat better in light conditions, 'the drifter' might benefit us, but then it might benefit others."
Harburg's skipper, Mark Bradford, added: "There'll be a lot of stop, start. You will need to control your emotions in a loss, because everyone will have some."
Black Jack's navigator, Peter Elkington, commented: The wind will be from every direction, so you need to look at what others are doing and make your decisions wisely."
All information on the Land Rover Sydney Gold Coast Yacht Race is on the official race website: goldcoast.cyca.com.au
By Di Pearson, CYCA media
_____________________________________________
TP52 stranglehold on Land Rover Sydney Gold Coast Yacht Race
Monday, August 1, 2016 4:30 PM
With Wild Oats XI's line honours victory confirmed today, the chase is on to win the 2016 Land Rover Sydney Gold Coast Yacht Race overall, and as conditions remain light, it is likely the winner will not be known until late tomorrow evening or Wednesday morning, but this afternoon, five TP52s have a stranglehold on the race.
At the afternoon sked, the TP52 brigade is led by Matt Allen's Ichi Ban, which continues her glamour run. She is in the box seat, an impressive six hours ahead of nearest competition, Koa (Peter Wrigley/Andy Kearnan) on corrected time. Paul Clitheroe's Balance is sitting in third place overall.
Behind them is another TP52, M3, owned by West Australian Peter Hickson, with Brent Fowler in the skipper role. The TP52's bigger sister, the JV62, Chinese Whisper, which Rupert Henry sailed to third on line and second overall in last year's race, is behind M3.
The going is still very tough, with light and shifty airs of up to 8 knots still prevailing on most of the race track, and many boats moving up and down the standings – from roosters to feather dusters and back again.
Paul Clitheroe, barging in France while Mike Green skipper's his yacht, is never-the-less avidly keeping an eye on proceedings aboard Balance and recognises the changing nature of the race.
"I've had pretty good wireless during the day, so I've been able to keep an eye on Balance during their night. Frankly, it looked awful. Storms at sea are one thing, but at least you're never bored, but drifting in and out of wind holes is just frustrating. At times I saw them doing near zero knots pointing at all angles. At other times they were moving and others were not," Clitheroe said.
"Right now, I reckon they have done a really good job. Ichi Ban has broken away, but four of the TP52's, Balance, Koa, M3 and RKO are having a great battle. I reckon Balance and Koa must have overtaken each other a dozen times during the night and remain close enough to pass cold beers between boats - if they had any. Yacht racing at its best.
"Meanwhile, I have been doing my bit cheering Balance on, this time over a 2009 Saint Emilion Grand Cru, along with a Maine lobster, tangy palm sugar and peanut dressing with micro greens…"
Carl Crafoord navigating on Pazazz, had this to add: "Last night we came in last in our pack into the Smokey Cape parking lot just after midnight. It was one huge hole. We were jostling with Imagination, Minerva, Black Sheep, Le Billet – all of our Division 3 boats," he said from Rob Drury's Cookson 12.
"We took the inside track when the experienced guys went wide to go buffalo girls round the outside the massive wind hole. Low and behold, our inside strategy paid off, and we had a bit of a win leading the pack out.
"We still lead our group of 15 boats to Coffs Harbour. We're running low on food, no meals for tomorrow, so major weight loss program. Latest routing has us in at sunset tomorrow, so we'll be hungry and thirsty on arrival," Crafoord said earlier today.
Tony Kirby, Patrice's owner, also confirmed they would start food rations from lunchtime.
Peter Harburg's Black Jack, a V70 from Queensland is the next boat due to finish the race. Her ETA at the finish is for after 5pm today.
Retirements stand at nine boats, James Irvine retiring Mayfair, citing time constraints. Adding the finish of Wild Oats XI, 65 yachts remain at sea.
All information on the Land Rover Sydney Gold Coast Yacht Race is on the official race website: http://goldcoast.cyca.com.au
Di Pearson, CYCA media
_________________________________________________
Ichi Ban's outstanding victory in Land Rover Sydney Gold Coast Yacht Race
Tuesday, August 2, 2016 12:30 PM
Although the other top two placings are yet to be confirmed, with most of the fleet still at sea racing, two other TP52's, Peter/Wrigley/Andy Kearnan's Koa, and Peter Hickson's M3 from Western Australia, are currently in possession of second and third places overall in the 31st running of the race.
Nine TP52's entered the annual 384 nautical race, eight finished.
To give an idea as to depth of Ichi Ban's win, and her performance against the other top TP52s, she finished at 7.05.26pm last evening, over six hours in front of Balance (Paul Clitheroe), with Koa and M3 closely following Balance over the finish line. With their respective handicaps in place, Ichi Ban beat Koa eight minutes short of six hours and M3 by nearly seven hours.
In an email from Paris late last evening (Mike Green is skippering Balance), Paul Clitheroe commented: "What a super race by Ichi Ban. They are good." He also praised the hard work of his own crew.
This victory is the start of a big couple of months for Allen, the president of Australian Sailing and a past CYCA commodore. Next stop is the 2016 Olympic Games in Rio, and then the Sydneysider will return to Australia in time for the Australian IRC Championship at Hamilton Island in late August.
This morning, we spoke to Matt Allen, his sailing master Gordon Maguire, and navigator Jon Drummond. The trio knew they were the favoured TP52 going into the race, as Ichi Ban is the newest of the fleet and lighter than the others. Secret Mens Business was to be her closest competition but retired early with a broken bowsprit.
Matt: The interesting thing about this race is that the bungee cord keeps expanding and contracting – get break, fall into hole – inshore – offshore. A lot of the TP52s had already fallen of the pack early, but Koa, Balance and M3 kept with us. Then we came to Smoky Cape.
Gordon: It took us three or four breaks before we snapped the cord. It was around Coffs Harbour, just prior to Smoky that we made another break, got away by five miles, but the others were still visible, so we were vulnerable. You falter, and there is a counter move against you. And until Coffs, the counter had been successful.
Jon: We got into Smoky Cape just before sunset. Then it was a matter of being patient and staying with the plan. You had to stick to the pre-race plan. It was hard to stay with it sometimes, because it was 'our turn, 'their turn' a lot of the time.
Matt: It was about creating the plan and sailing to the plan.
Gordon: All three of us discussed the most important part of the race being Smoky Cape to Coffs Harbour. There are a lot of hills and mountains and they create a weak westerly flow at night time. It was a critical time for us, and where we made our break. The race was really won or lost there. We were first in to Smoky/Coffs for a mile or two among the TP52s – they were three to four miles behind.
Gordon: It was definitely advantageous having the other TP competition. They pushed us.
Matt: It makes you sail to a much higher level to have so many TPs which are well sailed.
Gordon: Luck, good fortune does come into play in racing. And that was the good fortune bit for us, staying ahead and missing so many of those rough spots on the course. We moved into freshening northerly winds for a short time. If one of the other TP52s had led us out of Coffs, we would probably never have got them back. It was a case of the rich getting richer.
Gordon: That morning, north of Coffs, there was a nice land breeze coming out. It was great sailing conditions, not for a long time, but for a while we were travelling along at 15-16 knots. The boat is such a good reaching boat, so we consolidated. We got up to 14-15 knots from the west at that point.
Jon: It was a race of gates, Smoky was the first gate, then Coffs, and you had to not go too close to shore, and not too far offshore. Every headland was another gate. Then you try to extend away between each.
Matt: You could see breeze sitting out there, so you had to go back to where you had come from constantly. It was very strange.
Jon: Every time we saw other TP52s going offshore and making gains, we had to say 'no' and stick to our own game plan. That was difficult.
Gordon: With this race, we had to be particularly aggressive to get the land breeze at night.
Jon: And as soon as we saw an alteration in breeze, we took action immediately. You couldn't wait like you normally could in an offshore race.
Gordon: There was no room to think about it, normally you don't make snap decisions in longer races, but we did not have that luxury.
Matt: We did stop a few times – everyone got caught out on the course at some point. We certainly stopped at Coffs.
Gordon: You were constantly sliding in and out of light patches.
Matt: I can't recall the race being slower, although there was one where the start was delayed for a couple of days. We saw everything this race, 0 knots lots of times and up to 17 knots, not enough times. Coming to the finish we had 17 knots from the north-west.
Jon: We had plenty of zero wind. You just had to try to keep the boat moving. It was lots of sail changes. The transition off Cape Byron yesterday – I was worried we'd miss that, but we didn't.
Gordon: The magnitude of what we did only sank in last night. When the bungee cord snapped, it really snapped. We were sailing into more air all the time. It's very flattering to win the race by nearly six hours, but as anyone in the race will tell you, it's a weather driven.
Matt: It was a very satisfying win for the whole crew.
All information on the Land Rover Sydney Gold Coast Yacht Race is on the official race website: goldcoast.cyca.com.au
by Di Pearson, CYCA media