September 17 - 23, 2017: Issue 330
Marinassess Women's Match Racing Regatta 2017 a double win for RPAYC Youth Development crews: hosted by CYCA
Congratulations to the two RPAYC Youth Development Program teams who took first and second over the weekend of September 9-10, 2017 at the Marineasses Match Racing Regatta sailed out of the Cruising Yacht Club Of Australia.
Both teams fought their way to the finals after sailing strong round robins and after each winning their Semi Finals they versed each other in the finals.
Well done to Clare Costanzo, Hannah Lanz, Annie Scholten, Emma May & Amy Lee who took first and Sarah Parker, Evelyn Foster, Emma Rankin, Ruby Scholten & Juliet Costanzo who placed second.
Readers may also recognise some of these names as former Avalon Sailing Club members - the place many a younger sailor has cut their jib, or teeth!
The Marinassess has been conducted annually since 1996, however with the increased participation of all women in sailing crews, a new format was implemented to assist with the broadening of women's sailing skills.
In 2006 this very popular regatta took on a new format, becoming a match racing regatta for the graduates from the CYCA Youth Sailing Academy's Women's Summer Squad.
In 2009 it was opened up to include a few of the visiting teams who are "downunder" as a lead-in event for what was then the HARKEN Women's Match Racing Regatta.
The regatta is an opportunity for women sailors to participate in a fun but competitive match racing environment and for many of the competitors, it may be their first match racing regatta experience.
Former CYCA Commodore and Marinassess managing director John Messenger said: "We have supported this event since its inception because we believe it is very important to foster the competitive nature of women in sailing. "
The event is open to 10 teams, with four or five female crew members (weight limit applies), and aims to consolidate their summer training skills in a regatta environment.
Naming sponsors
Marinassess
Pty Ltd was established in 1985 in Sydney, Australia as a firm of naval architects, surveyors, marine assessors and salvage experts.
Our work has taken us all over the Pacific Ocean and Australia, and we maintain a high level of customer service and professionalism in any location.
Our head office is based in Sydney, however our team is fully mobile and can respond quickly to any incident worldwide. We employ a very experienced group of assessors and naval architects who can offer advice and information on any aspect of the pleasure craft industry.
Details of the regatta run in reports penned by Olivia Price below.
All up for grabs in changing conditions after Day 1 of the Marinassess Women's Match Racing Regatta
It was especially tricky on Sydney Harbour for day one of the Marinassess Women's Match Racing Regatta at the Cruising Yacht Club of Australia. With wind ranging from 7-22 knots coming from anywhere between 100-310 degrees in angle, it was an open slather on the race course.
"Today became extremely shifty on the course, and was difficult because of the two breezes, one out of Rushcutters Bay and one out of Double Bay," explained Race Committee Denis Thompson. RPAYC's Clare Costanzo leads the pack after eight flights on seven wins.
Costanzo could have been unbeaten after day one, if it wasn't for a mainsail halyard problem in flight four in her match against RNZYS Celia Willison which saw her and her team lose their only match of the day.
"We had a good day, it was fun sailing together again after the Youth Worlds in Long Beach, USA, that was probably the best part," said Clare.
The two RPAYC teams had an intense pre-start with both boats being called over the line at the start signal. Clare put the pedal to the metal after returning behind the line, and extended out to the right hand side of the course to leeward of Parker.
"We had a tight race with Sarah, we rounded first at the top, but we got overtaken on the downwind. The downwinds were incredibly tricky, but we managed to get back to her and regained the lead at the bottom," Clare recalled.
When asked about the key to starting well today, she commented, "We were just keeping it simple and leading back to the line early a lot of the time to make sure we had options to stay on the right side of the shift. For tomorrow, we want to work on our time on distance, as we feel we can do better than we did today. Jess is not able to come tomorrow, so we're having a crew mix up with Amy Lee joining us for the day," she finished.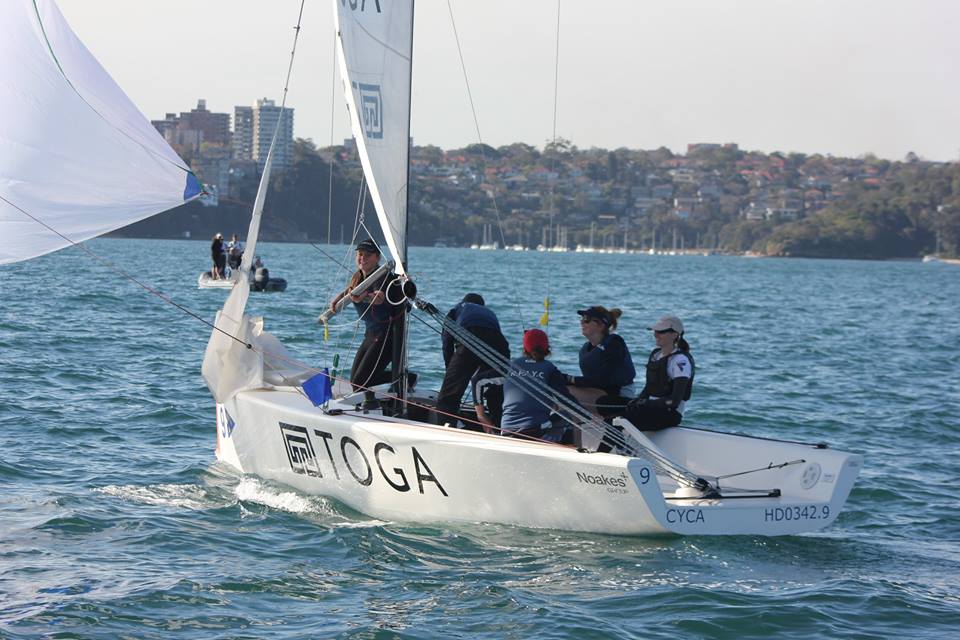 Celia Willison and her Royal New Zealand Yacht Squadron team are the only internationals this year at the Marinassess. After the NZ Women's Match Racing event was cancelled, their next option was to come across the ditch and compete here.
"It's great to come here again, we came last year for the event and loved the racing. It's super shifty here, and we're not used to sailing somewhere without tide, but it was a lot of fun today," Celia said.
"We don't have any women's regattas at home this year, so we've been sailing against the guys instead. There's a few differences between open and women's events, mainly that there is less yelling and fewer penalties with women!" she laughed. "We're looking forward to racing again tomorrow, and seeing what we can improve on."
University Match Racing World Champion, Sarah Parker came out of the day on equal points with Clare, but sitting in second on countback.
"Our day was good, it took a while to warm up out there, but we started working with each other, and backing each other up after a few races this morning. It was very shifty, but the breeze strength was nice and opened up opportunities. I probably prefer racing in light winds, and looking at the forecast, it's all on tomorrow," she ended.
CYCA's Lauren Gallaway ended her day strongly, dominating RSYS Charlotte Griffin in the final flight of the day. Gallaway locked Griffin into 'coffin corner' for the first half of the start, and then really put the hammer in when she locked Griffin above the start boat as the gun went.
Racing continues tomorrow at 9.30am, with the continuation of round robin two, and then semi-finals and finals, as well as the fifth and sixth sail offs. You can follow the results on the
CYCA YSA Facebook Page
.
By Olivia Price
Costanzo takes the win at the Marinassess Women's Match Racing Regatta
Royal Prince Alfred Yacht Club's Clare Costanzo, Emma May, Hannah Lanz, Amy Lee and Annie Scholten have won the 2017 Marinassess Women's Match Racing Regatta in what was an action packed weekend on Sydney Harbour.
Costanzo and her team defeated fellow club mate Sarah Parker 3-1 in a variable 10 knot easterly breeze, after winning the round robin and choosing to sail against CYCA's Lauren Gallaway in the semi-finals.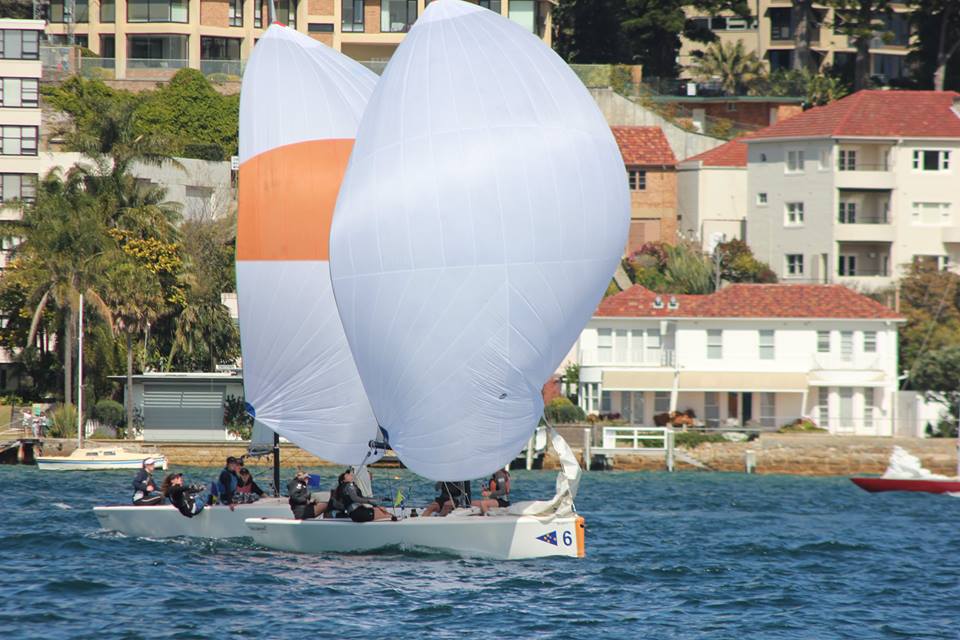 Willison and Parker in close racing in Semi Finals -
photo courtesy
CYCA
The round robin winner notched up a penalty against her CYCA competitor in the first pre-start of the semis, however was called over the line early giving Lauren a second chance. But it was not to be, as Clare sailed to the shifty conditions and won the series 2-0.
Sarah Parker was matched up against Celia Willison from RNZYS, giving us some of the most aggressive racing of the regatta. A penalty was given to each boat in separate pre-start incidents in match one, and luffing duels resulted in one given to the New Zealand team in the second match. Willison tried her hardest to wipe the penalty below the boat end of the finish line, but Parker didn't waste any time and rolled to windward whilst her competitor was packing her spinnaker away, resulting in a 2-0 win.
The finals racing was a step up from earlier racing, with more lead changes than course changes today.
Clare commented, "It was some good racing out there today. Sarah and her team were really dominant in pre-starts early on. I think the reason we were able to get back to her in those races was because we just didn't give up.
"This is my first win as skipper at the Marinassess so it's pretty exciting. I won two years ago as a crew actually, sailing with Sarah."
Clare also commented on the progress of the RPAYC's Youth Development Program saying, "Tommy (Spithill) has been running an intense training schedule at YD, and it's great to see RPA go one and two in the regatta. Our squad numbers are almost 50% female, which is great for the sport."
"It was so great to see the newer teams improve over the weekend! To see how far they've come in the two days of racing was amazing. They were really giving us a run for our money, and can't wait to see how much more they improve with more experience," she ended.
In the petite final, it was RNZYS Celia Willison over Lauren Gallaway 2-0 in a best of three series. In the shifty conditions, there were plenty of opportunities for the taking, yet there were some small errors that cost the CYCA team overall.
Celia had a two length advantage out of the start of the second race to be ahead at the top. Lauren and team were able to close down the gap and round the bottom mark tight on their hip to gain in the shift upwind. But, after rounding ahead at the top mark for the last time, they weren't able to defend their lead and got rolled before the finish.
In the fifth and sixth sail-off series between CYCA's Jess Grimes and RSYS's Charlotte Griffin, the two less experienced teams of the regatta had an almighty battle with each other. Their matches contained numerous lead changes, proving they put into practice their learnings from yesterday's racing.
Jess Grimes seemed to be the more dominant of the two younger teams, controlling all three of the pre-starts. Though they weren't able to convert them all into race wins, with Griffin claiming fifth place in the regatta 2-1.
Lauren Gallaway and Jess Grimes will join together for the CYCA team travelling to Mooloolaba later this month to sail in the familiar Elliott 6s (ex-CYCA) on the Mooloolaba River.
The Marinassess Women's Regatta was first sailed as a fleet racing regatta in 1996 and soon after became a match racing regatta. In the 18 years of this event, many strong women's teams have developed and we thank John Messenger and Marinassess for his and their support of women's sailing at the YSA.
By Olivia Price