September 27 - October 3, 2015: Issue 233
RPAYC Hosts 2015 Australian Women's Match Racing Championships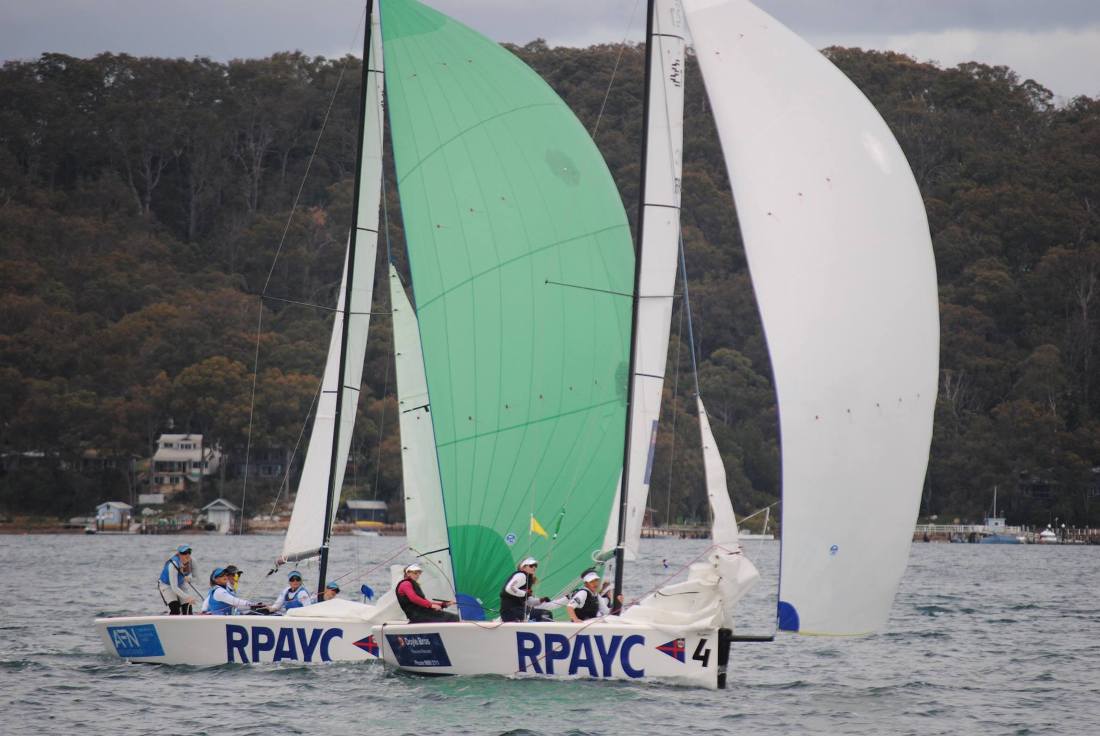 #3 EASTWELL v #4 BENNETT on Pittwater Saturday September 26th, 2015 - photo by Stephen Collopy
RPAYC Welcomes competitors to the 2015 Australian Women's Match Racing Championships
Thursday 24th September, 2015
The Royal Prince Alfred Yacht Club is proud to welcome eight teams from Australia and New Zealand to compete in three days of racing on Pittwater for the Australian Women's Match Racing Championships starting on Friday September 25th to Sunday September 27th.
The Club's fleet of Elliot 7m keelboats will be used throughout the regatta. The yachts are identical placing the focus squarely on skipper and crew.
This year's field of eight skippers includes last year's HARKEN International Youth Match Racing Champion, Milly Bennett, 2014 Marinassess Women's matching racing winner, Sarah Parker and Team SCA Volvo Ocean Race competitor, Stacey Jackson.
The RPAYC will be entering 3 teams from their renowned Youth Development Sailing Program. Alice Tarnawski, main-trimmer on Milly Bennett's team is confident that sailing on their home waters will give them a strong home ground advantage but she is wary of the competition.
"We've been on-water training 3 to 4 times a week on Pittwater which gives us a good home ground advantage considering how shifty Pittwater can be. All of the RPAYC teams have impressive rankings and we will be all trying to eye off the prize but it will be tough against three strong CYCA teams and the other teams are also helmed by talented sailors."
Jessica Eastwell and her Team Leagues have come across the country from Perth to compete on Pittwater. Jessica, a regular crew member with Katie Spithill will be on the helm and is a skipper to watch during the event.
"Jessica Eastwell is definitely the person to watch out for in this event. She's an incredible sailor and it won't take her long to get her eye in on the helm." said RPAYC Club Coach, Tom Spithill.
A welcome inclusion in this event is the team from Royal New Zealand Yacht Squadron. Helmed by Stephanie Kirkman, the New Zealand team train and compete on the same Elliott 7 boats as used by the RPAYC.
"Our friends from NZ train in similar boats and conditions in Auckland and will bring some stiff competition to this event." Said Tom Spithill.
This is the first time the RPAYC have hosted this event and the forecast is predicting stiff southerly winds which will light up the competition on Pittwater.
There will be options for spectators to watch the races over the weekend. If you are interested in watching this event, contact the Club on 9998 3700 or email sailing@rpayc.com.au.
How to follow the event:
Facebook visit HERE
Instagram visit HERE
Twitter visit HERE
Website visit HERE
Event Supporters
HARKEN www.harken.com.au
Lejen Marine www.lejenmarine.com.au

Teams:
• Milly Bennett (RPAYC) – Australia – Ranking 9th – Crew; Alice Tarnawski, Chelsea Connor, Jessica Russell, Seldon Coventry
• Sarah Parker (RPAYC) – Australia - Ranking 24th – Crew; Evelyn Foster, Rachel Bower, Grace Powers, Anne Durham
• Lauren Gallaway (CYCA) – Australia - Ranking 37th – Crew; Rayshele Martin, Angelique Kear, Kathleen Stroinovsky, Tiffany Fulde
• Clare Costanzo (RPAYC) – Australia –Ranking 38th – Crew; Lauren Crossman, Ruby Scholton, Emma May, Sophie Shannon
• Caitlin Tames (CYCA) – Australia - Ranking 43rd – Crew; Rosie Lee, Tara Blanc-Ramos, Greta Quealy, Megan Meredith
• Kirstin Norris (CYCA) - Australia - Ranking 52nd – Crew; Bryony Gregory, Louise Tillett, Alana Bracken, Nicola Bradley
• Jessica Eastwell (Perth, WA) – Australia – Ranking N/A - Crew; Stacey Jackson, Kate Lathouras, Nicola Kirk, Jen Cunningham
• Stephanie Kirkman (RNZYS) – New Zealand - Ranking N/A – Crew; Charlotte Porter, Catriona Stanton, Anna Merchant, Celia Willison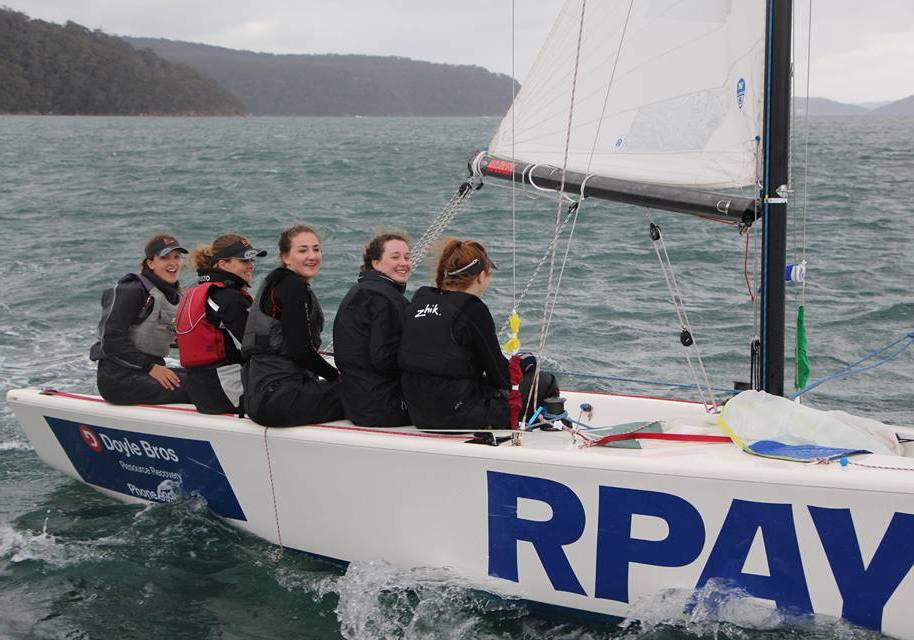 _____________________________________________________________________
Milly Bennett Sits High and Dry Finishing Day One of Racing Undefeated
Friday 25th September 2015
RPAYC's Milly Bennett and her "MAXX Team" have handled the strong winds and choppy conditions to win 7 out of 7 races in the first day of the Australian Women's Match Racing Championship.
With wind gusts reaching upwards of 34 knots funnelling through Pittwater it made for a "challenging" day to say the least.
Considering how "extreme" it may have been out there, Milly was very relaxed about her racing and has credited her team's local knowledge which helped her team finish with an undefeated scorecard.
"It was super windy, puffy and shifty, it was pretty extreme but it was a bit of fun. Pittwater doesn't get that windy so we hadn't had much training in these conditions but it was good to have the shifty sailing experience with our local knowledge which really helped us." said Milly.
Fellow RPAYC sailors, Clare Costanzo (RPAYC) are right behind Milly with 5 wins and Sarah Parker (RPAYC) is tying third place on four wins with Lauren Gallaway from the Cruising Yacht Club of Australia.
Coming an equal fourth position with Jessica Eastwell (SoPYC) is the young team from The Royal New Zealand Yacht Squadron. They shook off the nerves and raced extremely well for their first international regatta. The team's skipper, Stephanie Kirkman was happy with her team's result.
"It was good today, we were very nervous at the beginning but then we got better and better while we were racing and thought we could get a few wins back. All and all it was a good day out on the water and can't wait to do it again tomorrow." Said Stephanie.
The Race Management Team were very professional in handling the conditions. Denis Thompson & his team did a fantastic job getting in 7 flights with minimal hiccups.
Tomorrow's racing will be held in similar conditions. Milly is sitting high and dry and will go into the second day of racing with a good lead.
Results are as Follows:
1st Milly Bennett – RPAYC
2nd Clare Costanzo – RPAYC
3rd Sarah Parker – RPAYC
3rd Lauren Galloway – CYCA
5th Jessica Eastwell - SoPYC
5th Stephanie Kirkman - RNZYS
7th Kirstin Norris - CYCA
8th Caitlin Tames CYCA
__________________________________________________________________

RPAYC Teams Put on a Show
Saturday September 26, 2015
The RPAYC teams' local knowledge has allowed them to adapt to the major change in conditions to yesterday's racing to excel in the lighter conditions in the second day of racing in the Australian Women's Match Racing Championships.
Clare Costanzo (RPAYC) stepped it up a notch and almost sailed a flawless day claiming six out of seven races only losing to Lauren Galloway (CYCA.) Clare did achieve one key win over her rival and fellow RPAYC skipper, Milly Bennett.
"It was an interesting race, it was good to have a close match up against a club sailor." Said Clare.
Yesterday's racing was the first time Clare's team have sailed together and today the team really put an emphasis on tactics and it proved very successful in the shifty conditions.
"Yesterday was the first time we have sailed together and we got the communication side of things sorted to work on tactics today." Said Clare.
Milly's team was a little frustrated with their loss to Clare due to an unforced error.
"It was frustrating today, we went around the wrong mark but both teams' boat handling was really good and we sailed really well." Said Milly
The shifty south/ south east breeze made it difficult for the Race Officials with PRO Denis Thompson forced to make a few changes to the course with the wind shifts moving towards the south-east.
Tom Vincent, Race Umpire found the racing to be even and all-round with all teams putting their focus on racing rather than sailing.
"It was better today (compared to yesterday) they were matching racing rather than just sailing and keeping it together in the 30 knots, the racing lead to some close finishes and competitive starts." Said Tom
Jessica Eastwell (SoPYC), Lauren Galloway (CYCA) and Sarah Parker (RPAYC) all finished today's racing on tied scores all sharing 4 wins. The New Zealand team finished with a commendable two wins equalling Caitlin Tames (CYCA)
The forecast for the final day of racing is looking to be a shifty one with the Bureau predicting a 40% chance of showers and the wind shifting from the south west to south to south east. Milly and Clare are placed first and second with only 2 points of separation.
Stacey Jackson Presents £1000.00 Bursary to RPAYC - Saturday September 26, 2015

By Stephen Collopy - The Royal Prince Alfred Yacht Club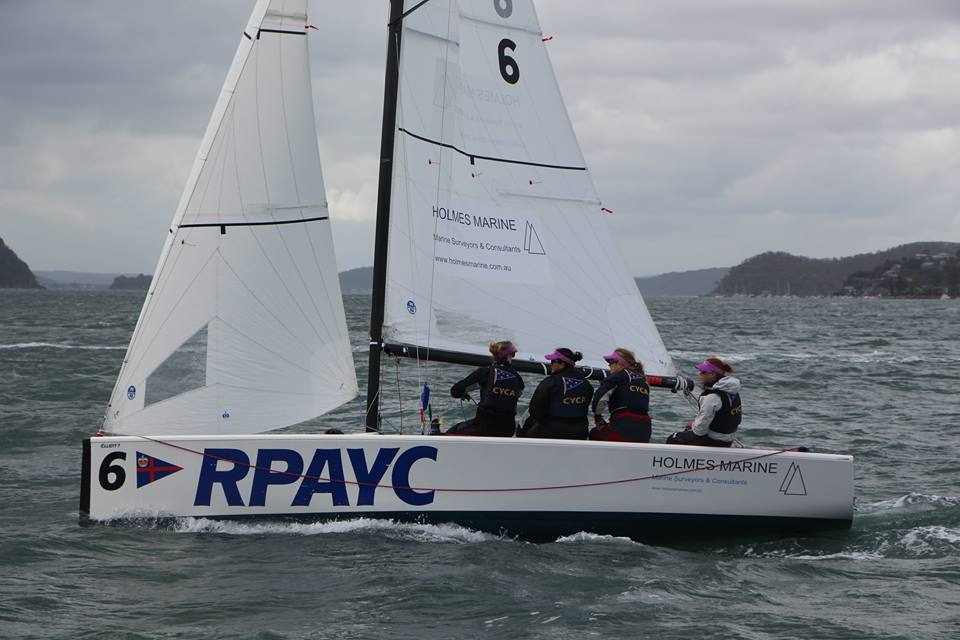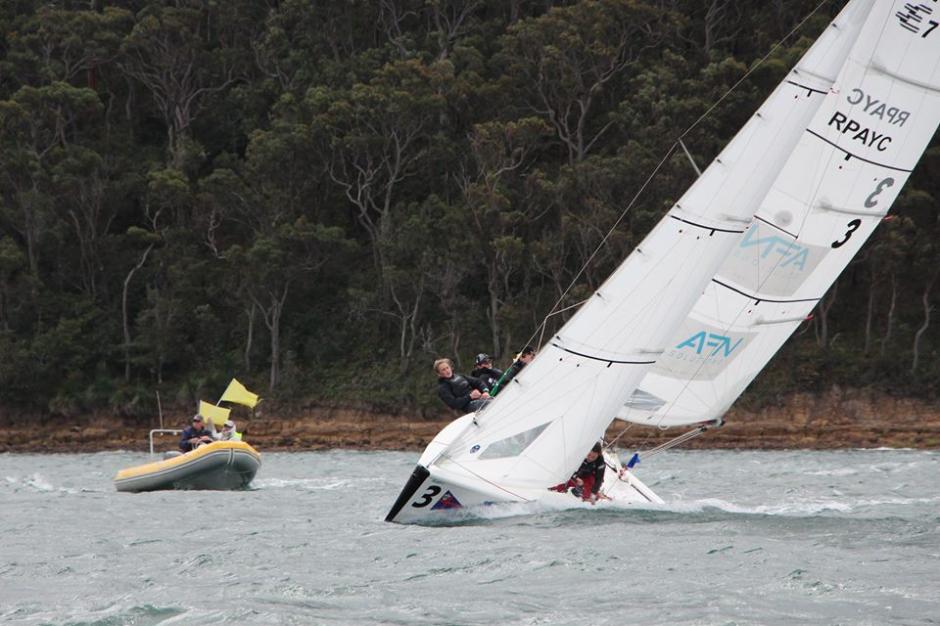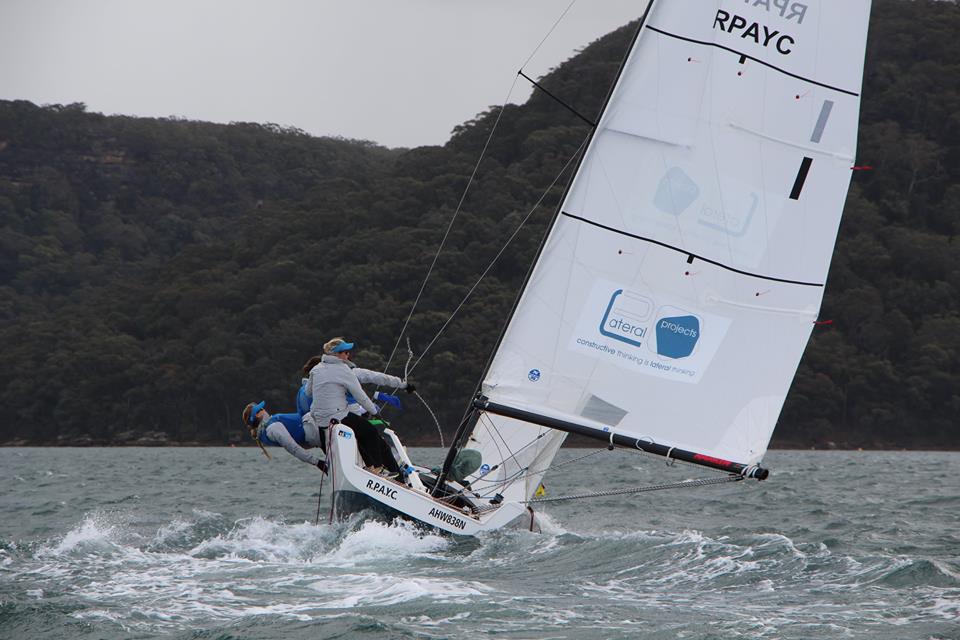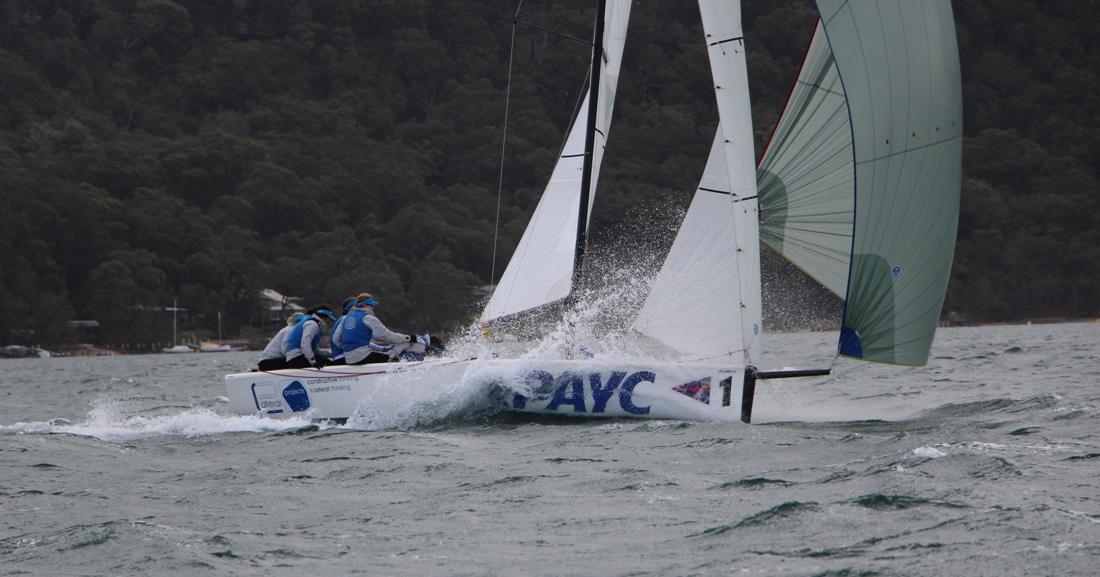 Jessica Eastwell racing downwind yesterday - Stephen Collopy photo, 2015.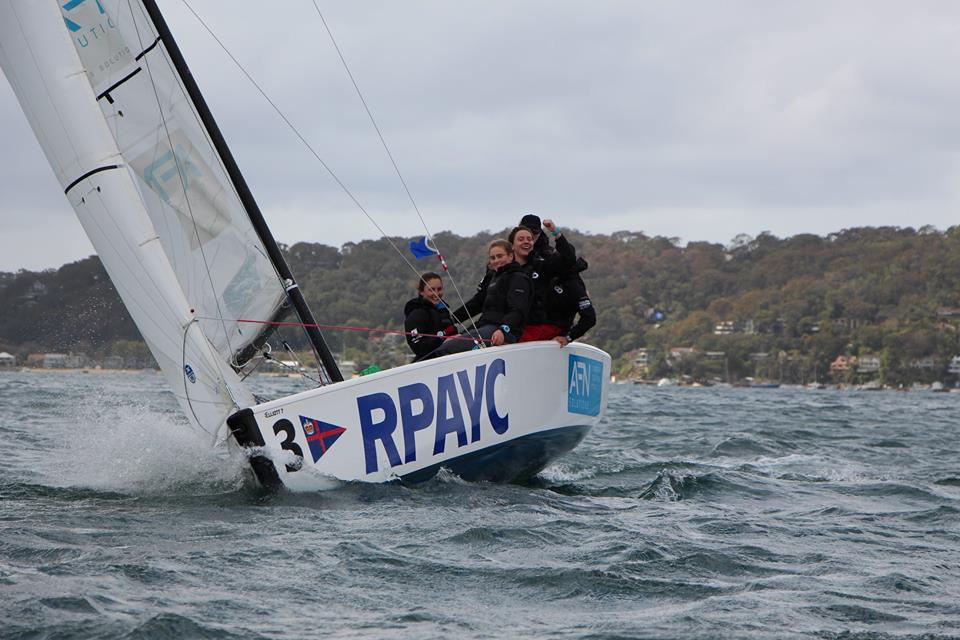 Photos by Stephen Collopy, 2015.