June 11 - 17 2023: Issue 587
King's Birthday 2023 Honours List: 15 Awards Announced To Recognise And Honour Local Contributions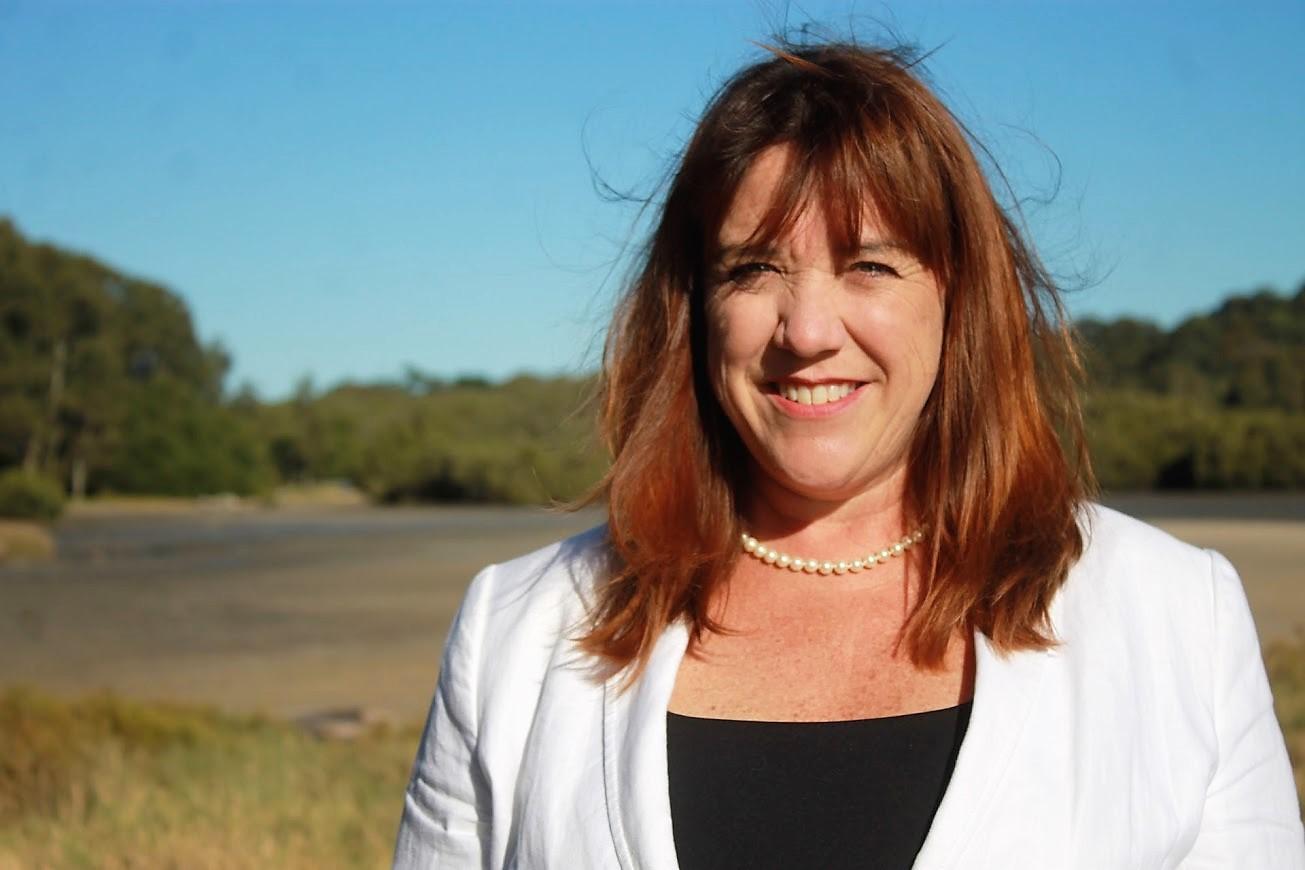 Former Pittwater Council Cr. Julie Emerson awarded an OAM 'For service to the community through a range of roles.'
The King's Birthday 2023 Honours List recognises and celebrates 1,192 recipients, including awards in the Order of Australia (General and Military Divisions), meritorious awards and recognition for distinguished and conspicuous service.
His Excellency General the Honourable David John Hurley AC DSC (Retd), Governor-General of the Commonwealth of Australia stated;
"Congratulations to the outstanding Australians recognised in today's Honours List. Recipients have made substantial contributions and had a significant impact at the local, national or international level. Some are volunteers, others have had a remarkable impact in professional roles – many have done both. They are all inspiring and their service is valued by us all,"
"Learning about the wide-ranging service of recipients, which spans almost every field of endeavour imaginable, is uplifting and makes me enormously optimistic for our country. Collectively they speak to who we are now and who we can be in the future.
"While we can take a moment to acknowledge the significance of achieving gender parity in our Honours, it should not be a cause for pause. We reflect on our progress, and then recommit our efforts to ensure nominations reflect our diverse and strong community.
"Each recipient has something in common: someone nominated them. The Order of Australia belongs to each of us because nominations come from the community. In honouring today's recipients, I also encourage all Australians to consider nominating someone they admire who has had a significant impact in the community." the Governor-General said.
The King's Birthday 2023 Honours List for our area includes 15 recognitions across academics, health, sports and volunteer organisations and a former Pittwater Councillor.
Protect Pittwater Associations' New President Simon Dunn, Son Of First Elected Pittwater Mayor, To Lead Charge To Restore Pittwater Council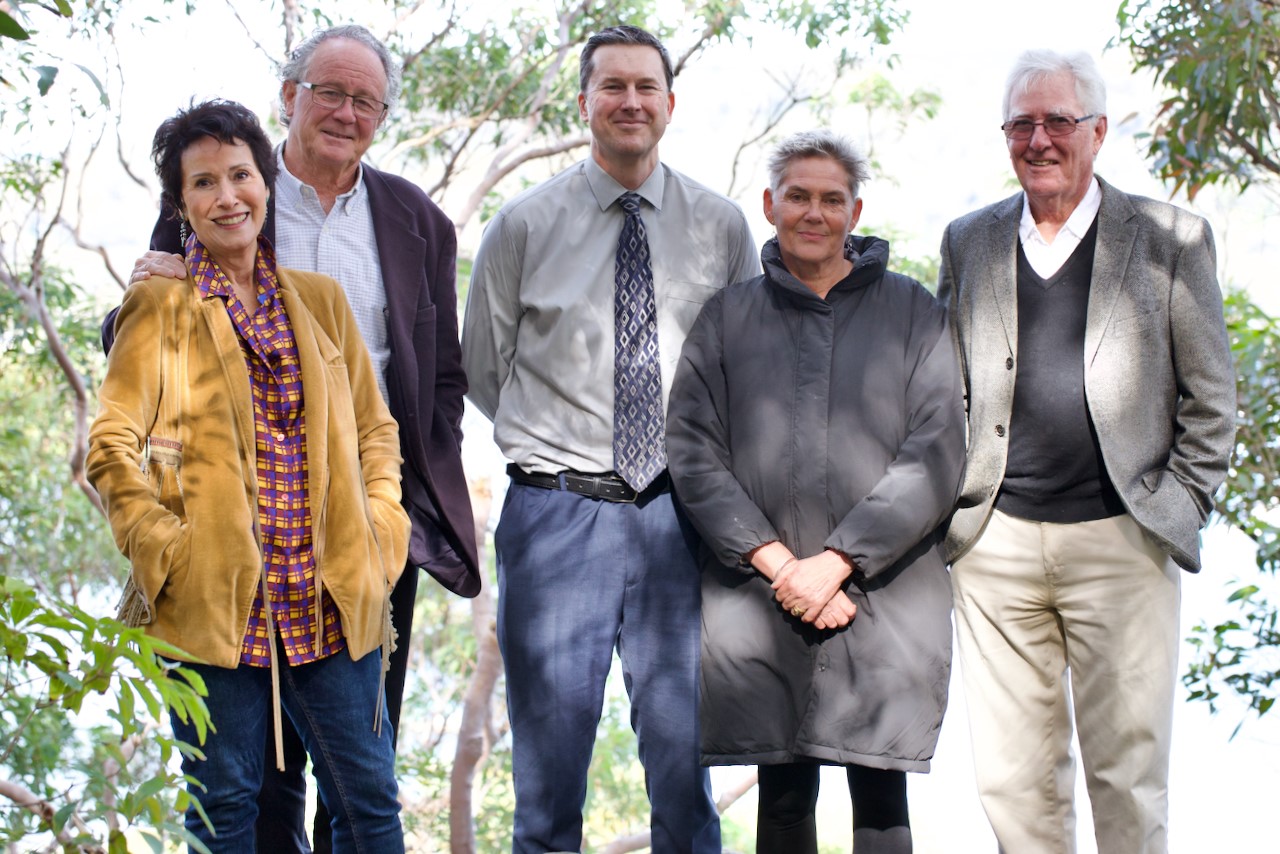 Protect Pittwater Association Committee members June 2023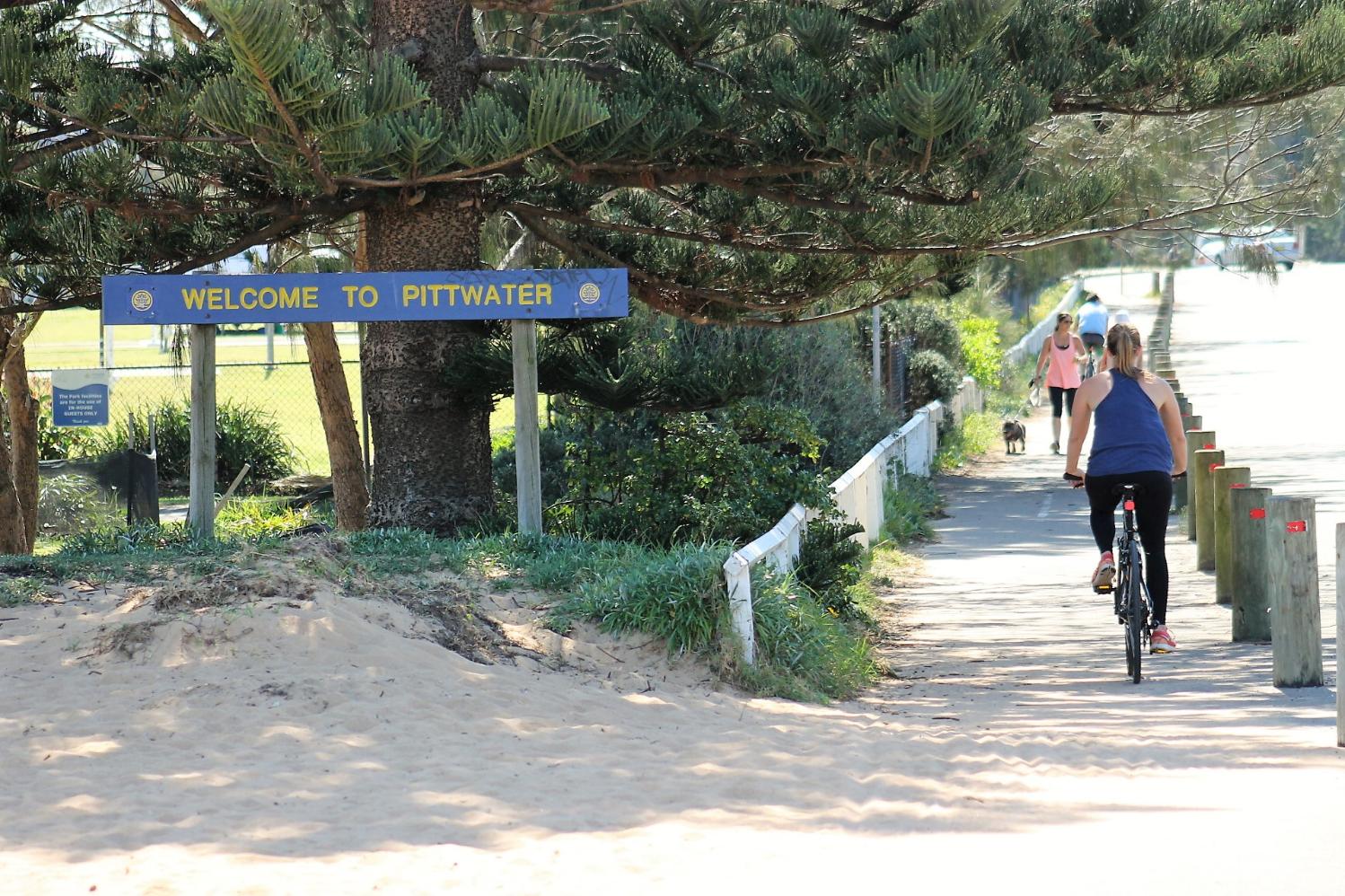 We consider the only future for this area and for the preservation of those ideals and policies for which we stand is to become an independent Shire … the need for this electoral reform has been clearly and sufficiently demonstrated to enable the Government to come to a decision and no longer forestall the issue. Put simply we call upon the Government to put the matter now to the people of A Riding to determine.
Warringah Shire Councillors Robert Dunn and Eric Green, representing A Riding - 1990
Photo: 'Welcome to Pittwater signage at North Narrabeen, where the Pittwater Council LGA commences, in 2013
Going into the 2023 State Election Pittwater Online sought comment from the then opposition Minister for Local Government, Greg Warren MP, whether an elected Labor Ministry would honour their pledge to restore Pittwater Council. Mr. Warren confirmed in January 2023 through his policy advisor that:
''a NSW Labor Government will not support the forced merger of local councils, nor will it support any forced demerger. Rather, this must be done voluntarily with the clear support of local residents as confirmed through a local plebiscite.

To this effect, a NSW Labor Government will legislate to put into place independent mechanisms to enable this to occur.''
In recent weeks Protect Pittwater members have once again been gathering signatures on a petition for a plebiscite and a return of Pittwater Council following the first one becoming 'lost' and then being rejected by the then Coalition Minister for Local Government Gabreille Upton, despite meeting the criteria under the Local Government Act for the same.
In May the Protect Pittwater Association held their AGM and elected a new committee which is led by a new president Simon Dunn, son of former and first elected Pittwater Mayor Robert Dunn, one of the original campaigners for the secession of Pittwater from Warringah Council. Pittwater Council seceded from Warringah Council in 1992 but was dismissed and merged into Northern Beaches Council on May 12, 2016, despite a Pittwater Council survey that found 89 per cent of its residents were opposed to the amalgamation.
Simon Dunn said on Saturday June 10th;
"Never has there been a more critical time to engage the Pittwater community to protect the natural environment of Pittwater. A change of State Governments presents both a threat of increased reliance on arbitrary housing targets, but also an opportunity to hold NSW Labor to its election promise to allow communities who opposed the undemocratic forced amalgamations to return to their former boundaries and restore true local government.''
The honeymoon for the oversized Northern Beaches Council is coming to an end with the temporary boost in State funding to smooth over the community anger now drying up and the impossibility of such a large organisation being able to provide any semblance of local government now resulting in a mass exodus of staff and a lack of community engagement.
More alarmingly, the promise of allowing each former council area to maintain its own planning controls has been forgotten and drastic rezoning looms large under the guise of so called "harmonisation".
With the recent passing of many of the previous great protectors of Pittwater, it is time for the next generation of Pittwater residents who appreciate the unique and beautiful characteristics of this great area we are blessed to live in to step up and join the push to restore Pittwater Council as the great protector of our natural environment it once was."
''I am honoured to have been recently elected President of Protect Pittwater and to take up the cause so passionately championed by my predecessor, the late Bob Grace and by my own father, the late Robert Dunn.'' Mr. Dunn told Pittwater Online News
''I grew up with the fight to establish Pittwater Council at times dominating our family life and now that I have my own young family I appreciate the sacrifice made by both my parents and the large group of community leaders who supported the cause to give the Pittwater Community the control of its own unique environment. Whilst it would be the easier and perhaps more sensible option for me not to get involved, I can't help but feel that the chance to restore Pittwater Council and prevent a total loss of environmental protections is a now or never moment for this generation.''
Since Pittwater Council was forcibly amalgamated with Warringah Council on May 12th 2016 residents of 'the northern end of the northern beaches' have sought to restore that council.
In May 2017 the Protect Pittwater Association was formed to progress that aim.
On June 22nd 2017 the Upper House passed The Local Government Amendment (Amalgamation Referendums) Bill 2017 to end forced council amalgamations.[Long Title: ''An Act to amend the Local Government Act 1993 to require referendums to be held in relation to the amalgamation or proposed amalgamation of local councils.''
Protect Pittwater members had been gathering signatures for a return of the Pittwater Council and presented the required number to then NSW Local Government Minister Gabrielle Upton on May 12, 2018, however, the group did not receive advice rejecting it until February 20, 2020 – the rejection stating it was not accepted as that Local Government Minister now required a 10% across the WHOLE of the new Northern Beaches Council LGA they had created – not just 10% within the former Pittwater Council LGA boundaries.
The Office of Local Government wrote to the group saying that:
"… the proposal … does not meet the legal requirement of being certain, nor is it supported by an appropriate minimum number of electors as required by the Act".
"Given that our proposal was composed with the help of two barristers, Protect Pittwater will now take advice to consider our next course of action," the group said in a statement.
Chapter 9 How are councils established? of the Local Government Act states:
Part 1 Areas
Division 2 What must be done before areas can be constituted?
215 Who may initiate a proposal?
(1) A proposal may be made by the Minister or it may be made to the Minister by a council affected by the proposal or by an appropriate minimum number of electors.
(2) An appropriate minimum number of electors is—
(a) if a proposal applies to the whole of an area or the proposal is that part of an area be constituted as a new area—250 of the enrolled electors for the existing area or 10 per cent of them, whichever is the greater, or
(b) if a proposal applies only to part of an area—250 of the enrolled electors for that part or 10 per cent of them, whichever is the lesser.
On May 2nd 2021 Protect Pittwater announced it had launched a new petition to get Pittwater Council back. On May 13th, 2021 the NSW government wrote a new opportunity for fully funded council demergers, updating local government laws to allow for council-initiated proposals within a fixed time frame.
Save Our Councils Coalition vice president and sacked when the forced amalgamations were enacted Pittwater Councillor Sue Young said then that under changes passed by both Houses of the NSW Parliament in the Local Government Amendment Bill 2021, councils amalgamated in 2016 would be able to launch demerger bids within 10 years of their establishment.
However this was applying a 'across the whole LGA' mark once again. As Warringah Council had advocated and campaigned for the amalgamation along the same lines and with the same numbers used by the Protect Pittwater petition, and with a larger former Warringah Council population that had expressed from the outset it wanted Pittwater Councils' rates back at its disposal for facilities in that former Warringah LGA (February 2016 Amalgamations Public Inquiry at Mona Vale Golf Club), this too would be a fruitless exercise of ever shifting goal posts and ever changing applying of some sections of the Act while ignoring applicable sections.
In the past several weeks renewed calls by residents for a return of Pittwater Council state the former government's policies, modified Acts and requirements have disenfranchised residents participation in shaping their community, or ignore their 'feedback' as it does not fit in with what is planned. Approved developments, whether by the council or state appointed panels, that raze once green areas, fill the whole block with bulky buildings that breach height restrictions are cited as 'a deliberate destruction' or 'uglification' of Pittwater'.
However, the newly voted in NSW Labor Government has maintained throughout the years since that May Day in 2016 that it would support communities and residents in their aim to restore their Councils.
At a 2018 community forum hosted by the Protect Pittwater Association, to bring residents up to date on the impact of the council merger of Pittwater, Warringah and Manly Council - as well as efforts to restore Pittwater, then NSW Labor Local Government spokesman Peter Primrose said that if Labor won government at the next state election, it would run binding plebiscites in the former local government area, following a petition from local residents.
"Certainly, if we form government and I become the minister for Local Government, we will join with the other political parties - other than the Liberals and Nationals - and we will introduce legislation to allow you to voluntarily demerge and bring back Pittwater council," he told the forum.
Former NSW Labor Premier Barrie Unsworth, who was also in the audience of that forum, and has attended many Protect Pittwater rallies and community meetings since, called on residents to join the Protect Pittwater Parliament House rally on May 15, to show MPs that there is deep dissatisfaction in the area, and said: "then we might start to get results".
In March 2023 Council demerger campaigners began distributing a new "Bring Back Pittwater Council" sticker in the leadup to the NSW state election. The sticker, designed by retired Avalon art teacher Pru Wawn, depicts the Pittwater symbol of a Mangrove leaf, in royal blue.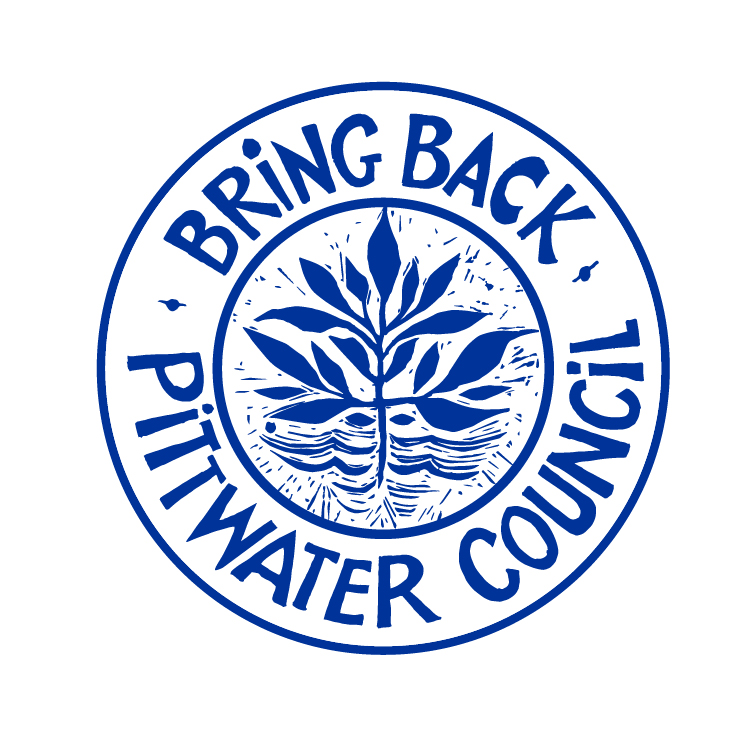 The group, including members of Protect Pittwater, Save Our Councils and the Demerge NSW Alliance, were distributing the stickers and gathering signatures in Avalon for a demerger petition and Pittwater Conservation Zones petition.
Former Pittwater Councillor Sue Young was delighted by the support they received.
"It was very encouraging to see the number of people who would like to see Pittwater Council back again, and it was surprising the number of people who were still unaware of the proposed rezonings in Pittwater," Ms Young said.
"This wouldn't be happening if we still had Pittwater Council.
"Young Mums were very vocal about a lack of maintenance, particularly of our parks, and a loss of sense of community.
"And it appeared that many residents don't know what's going on with the Conservation Zones Review.
"The council should have notified everybody in the LGA whether they were directly impacted or not by the proposed changes."
Northern Beaches Council conducted a Conservation Zones Review last year, that was publicly exhibited, proposing the former Pittwater Area would lose 3,613 Conservation Zones, compared to 54 in the former Manly and a total of one in the former Warringah.
Staff received 935 public submissions regarding the review, 60 per cent of which were from residents of the former Pittwater area.
Ms Young said the campaigners were providing information, rather than "telling people what to think".
"But it seemed pretty clear this morning what they want," she said.
To join Protect Pittwater, sign the Petition or get a Bring Back Pittwater Council stocker please contact the group via email on -: join@protectpittwater.org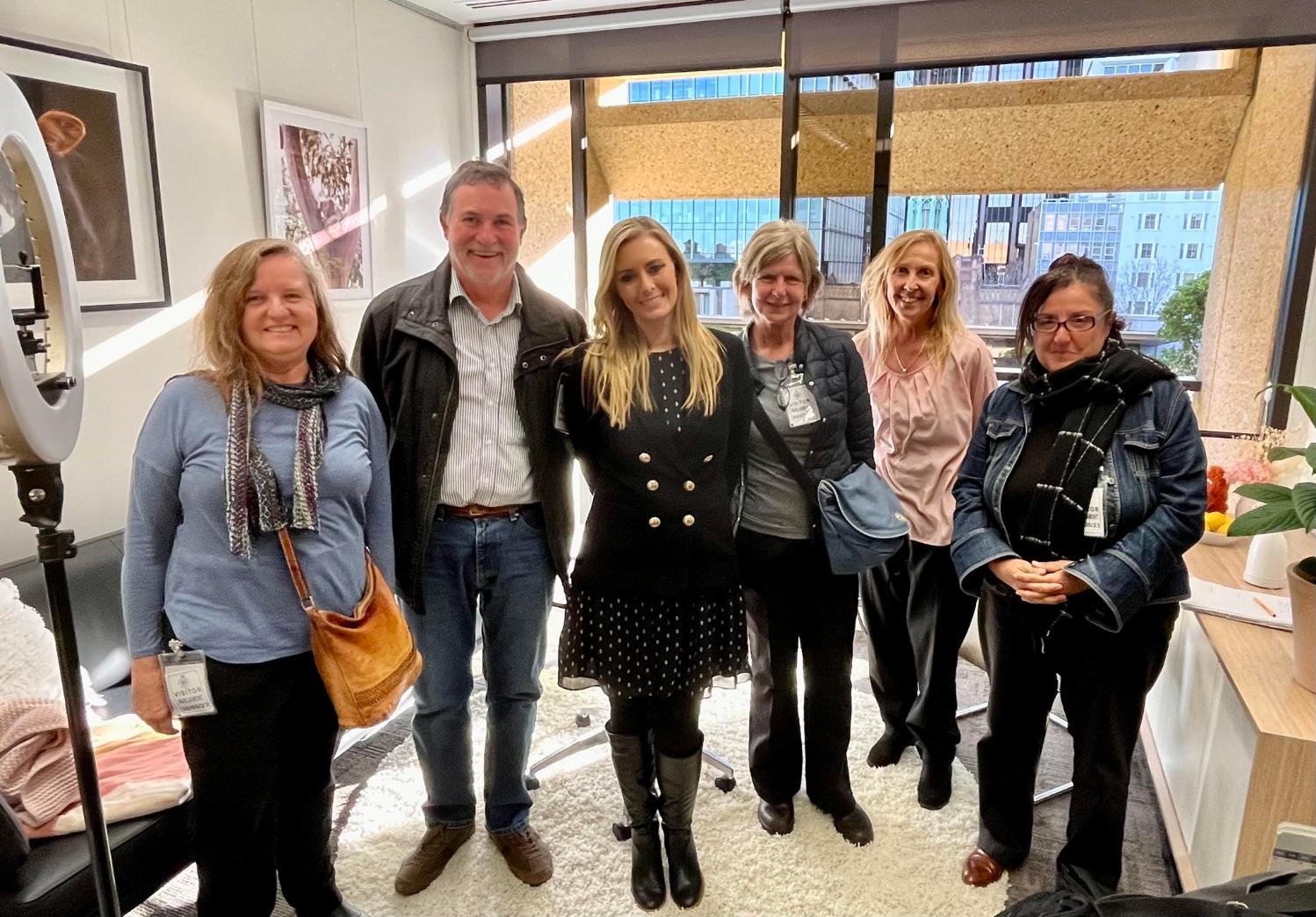 A Demerge NSW Alliance (DNA) delegation visited a number of the NSW Parliament's crossbench MPs on Tuesday June 6 2023 for a chat. We were pleased to find a broad level of support amongst the MPs, many of whom have opposed the 2016 forced amalgamations from the start. Labor policy supports binding demerger plebiscites in any former council area that wants it - so that's what we're working towards. DNA members come from as far north as Guyra and south to Bombala - and include councillors, former councillors and former senior council staff from amalgamated communities.
Photo: DNA members with Animal Justice Party MLC Emma Hurst, image supplied.
Oliver's Pies Wins 2 Gold 8 Silver Medals In 2023 Australia's Best Pie Competition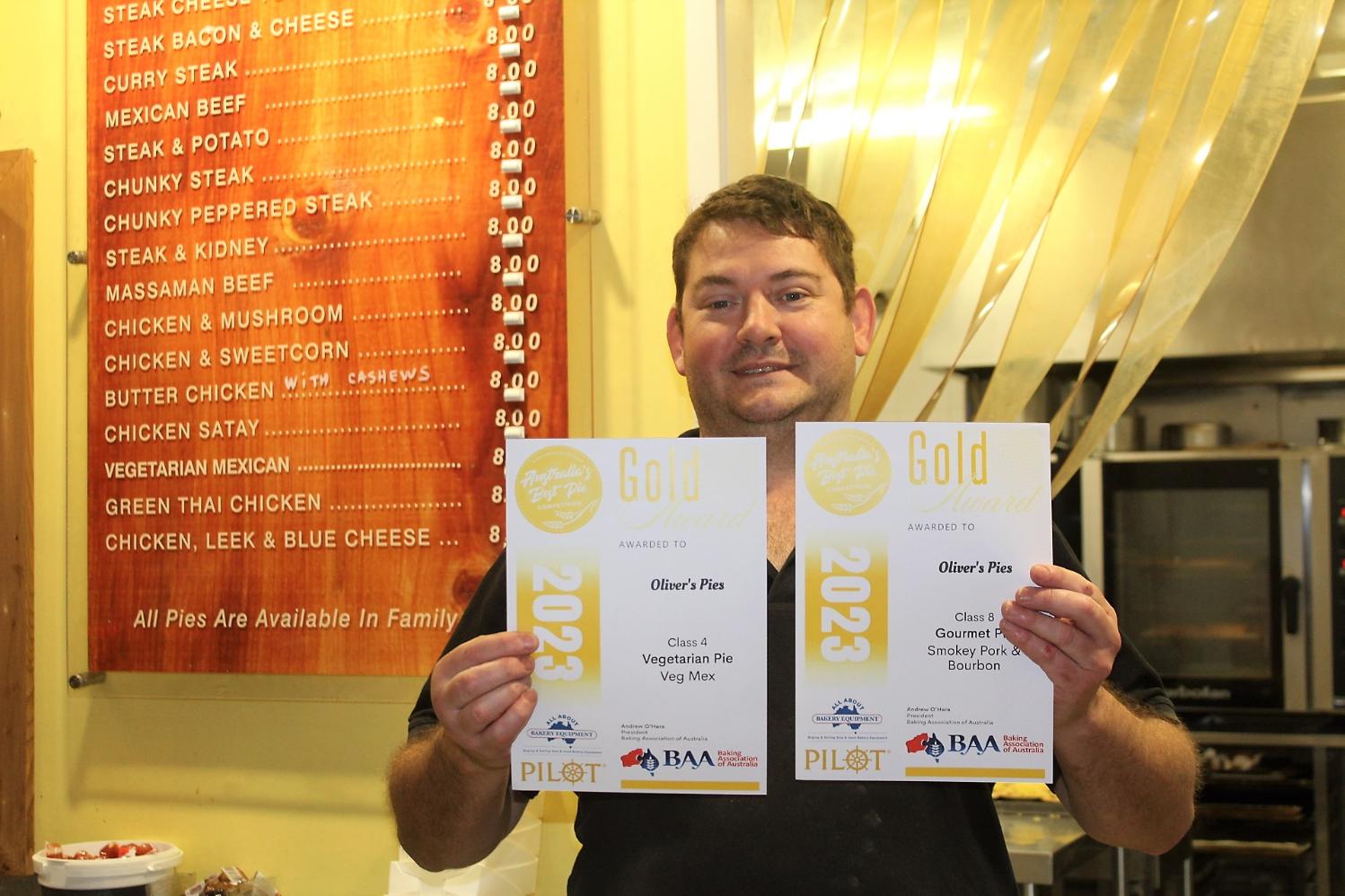 Oliver's Pies Baker and Propreietor Daniel Roberts with two newly won certificates for Gold Medal PIES!
Daniel Roberts, baker and owner of Oliver's Pies (at 1/3 Careel Head Road, north Avalon-Careel Bay shops) is 'getting on with making more pies' this morning after having won two gold and eight silver medals in the 2023 Baking Association of Australia's Best Pie Competition.

The Golds were for Oliver's Pies Vegetarian Mexican and Smokey Pork and Bourbon which are both on their permanent menu board. Many of his other medal winning pies are on the permanent list as well.
Daniel took over the business 11 years ago. He began baking as a 16-year-old with his dad, has 3 brothers who are bakers too, and has been in the industry for 26 years.
His pies were multi-award winners in 2017 too, including 5 gold medals.
During the 2017 edition Daniel's pies formed part of the Great Aussie Pie Competition and won Gold in the Seafood Pie Category: 1st – Oliver's Pies, Avalon NSW (Smoked Fish Pie), against all comers, across Australia.
He also took out anther 4 Golds and 5 Silver medals in that edition.
Council Recognises The 2023 Eco-Heroes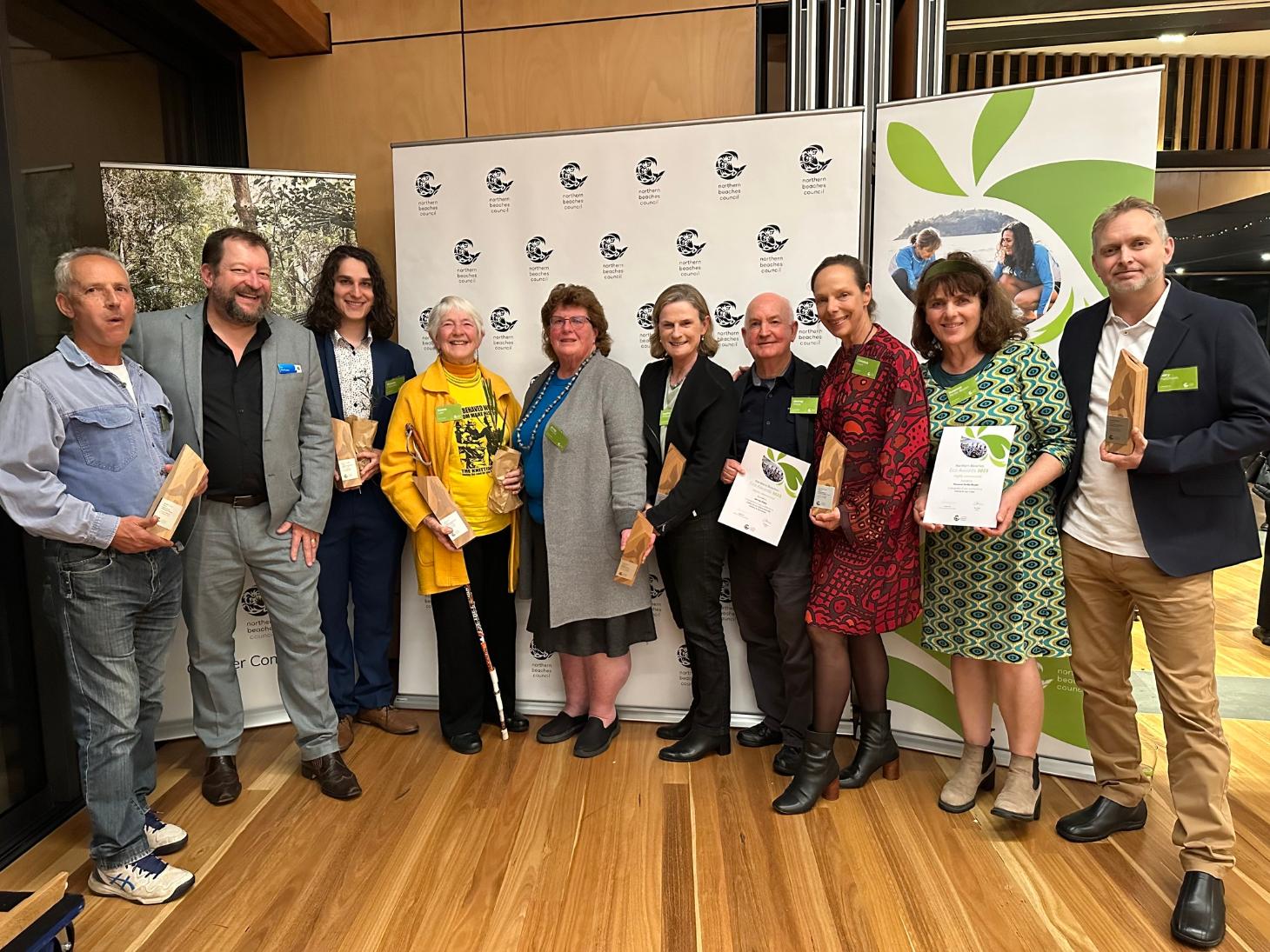 2023 Eco-Award Winners. Photo: Greens Cr. Miranda Korzy
Over 100 eco-heroes and community members attended Mona Vale Surf Club on Thursday June 8th as Council revealed the winners of the 2023 Northern Beaches Eco Awards.

Now in its 18th year, these awards celebrate ordinary people doing extraordinary things to conserve the local environment and the volunteers who spend their time enhancing the region's diverse and valuable natural habitat.
Northern Beaches Council Mayor Sue Heins said these deserving winners make the Northern Beaches a unique and beautiful place to live, work and visit.
"Our natural environment is one of our best assets and we are so fortunate to be surrounded by beautiful coastline and beaches to lush bushland and parks.
"Council received 30+ nominations across eight categories this year, reflecting a strong focus on the environment and an urgency to ensure we protect our area's unique, natural assets.
We are so proud to support and promote the work of these dedicated individuals and the organisations they represent. Congratulations and thank you to all these deserving individuals and groups – keep up your amazing work," Mayor Heins said.
To further embrace sustainability, the eight winners' trophies have been crafted from reclaimed blackbutt timber.
Each piece carries a unique look formed through its lifecycle and given a new purpose to celebrate the accomplishments of our Eco Heroes.
This year, the design on the trophy depicts the whale's tail from Northern Beaches Council logo, coinciding with the date of the ceremony – World Oceans Day on 8 June.
The 2023 winners and highly commended are:
Caring for our Bushland
Winner – Jenny Wilson
Jenny has been involved in the North Head Sanctuary Foundation for almost 20 years. The Sanctuary Foundation Nursery at North Head is a native plant nursery, and assists with the revegetation program for the nationally endangered Eastern Suburbs Banksia Scrub, found at North Head.
Caring for our Waterways
Winner – Malcom Fisher
Mal is well know for his efforts to Save Manly Dam back in the 90's as well as establishing the volunteer Bushcare group for the Mermaid Pool which adjoins Manly Dam. This group has removed tons of rubbish, planted hundreds of native plants and trees, and has worked to remove invasive weeds for over 20 years.

Caring for our Coast
Winner – Janet Kershaw
Highly Commended – Rosanna Perillo-Boutin
Winner: Janet Kershaw
Janet has contributed to protecting, preserving, and enhancing Bungan Beach's local native vegetation and fauna, watercourses and dunes. . She continues to lead others and personally nurture the care of this very significant remaining Northern Beaches biodiverse coastal community. Visit Friends Of Bungan - Bushcare Group Profile
Highly Commended: Rosanna Perillo-Boutin
Rosanna's Ocean Action Pod, in partnership with the Total Environment Centre, creates a pop-up multimedia educational experience which engages both adults and children with the problem of plastic pollution.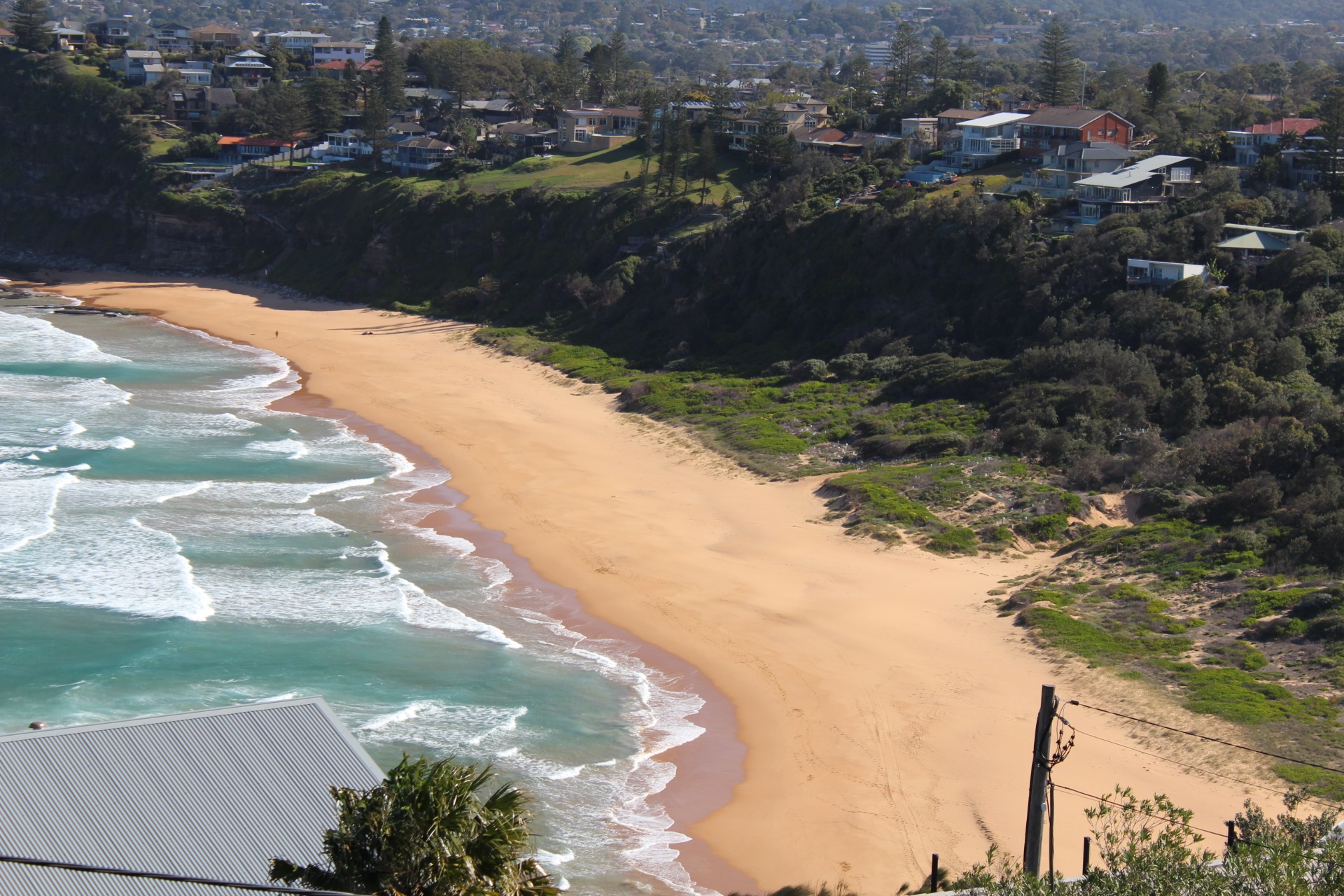 View over Bungan Beach from Bungan Castle (thanks John Webeck!). Photo: A J Guesdon
Caring for our Native Animals
Winner – Gary Pattinson
Highly Commended – Murray Sharp
Winner: Gary Pattinson
During his 19 years as a WIRES member, Gary has attended to the rescue of more than 800 native animals, mostly snakes and other reptiles. Gary has contributed to the organisation as a whole with uncountable hours of volunteer work fulfilling many roles within WIRES.
Highly Commended: Murray Sharp
Murray has been a dedicated Penguin Warden in Manly for more than 20 years, protecting the Little Penguins and educating the community about the threatened population.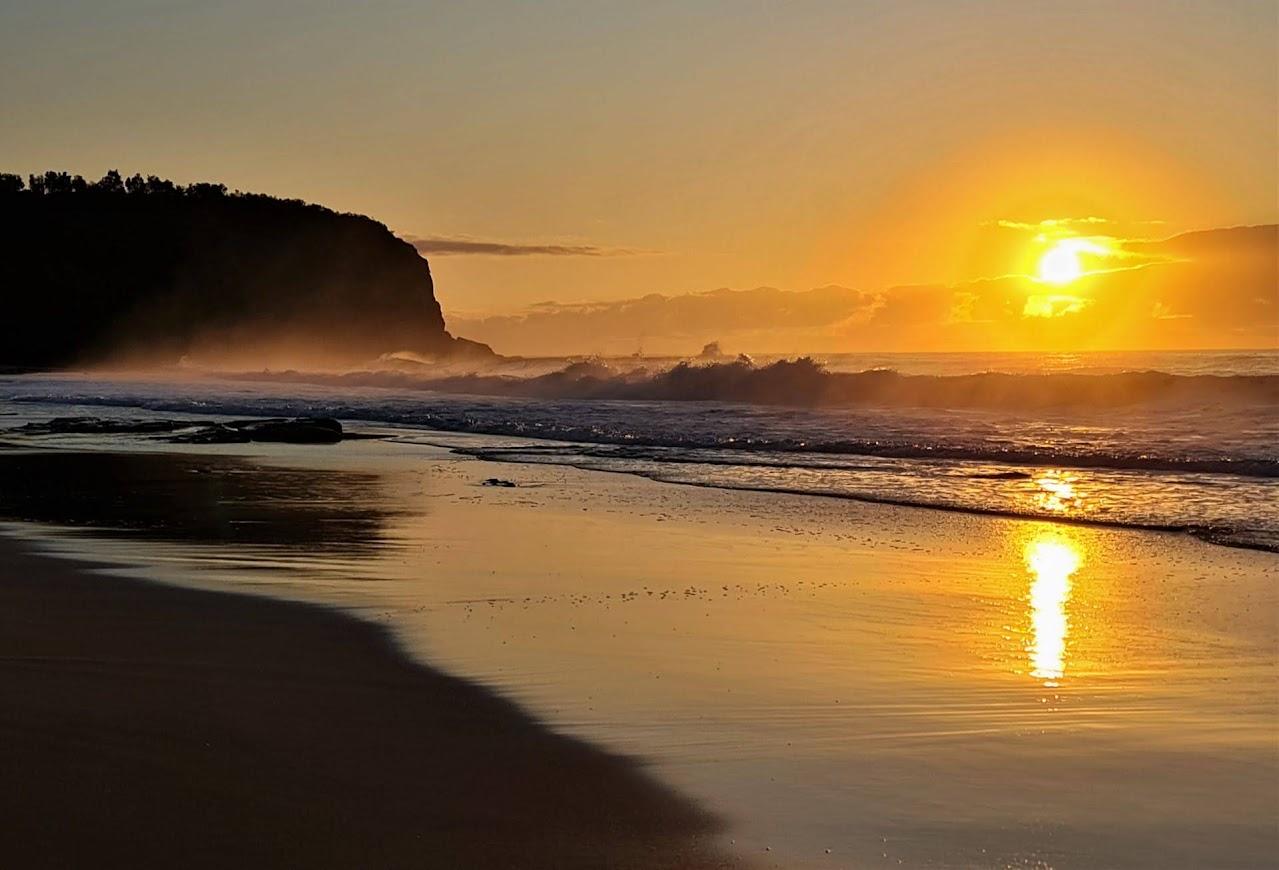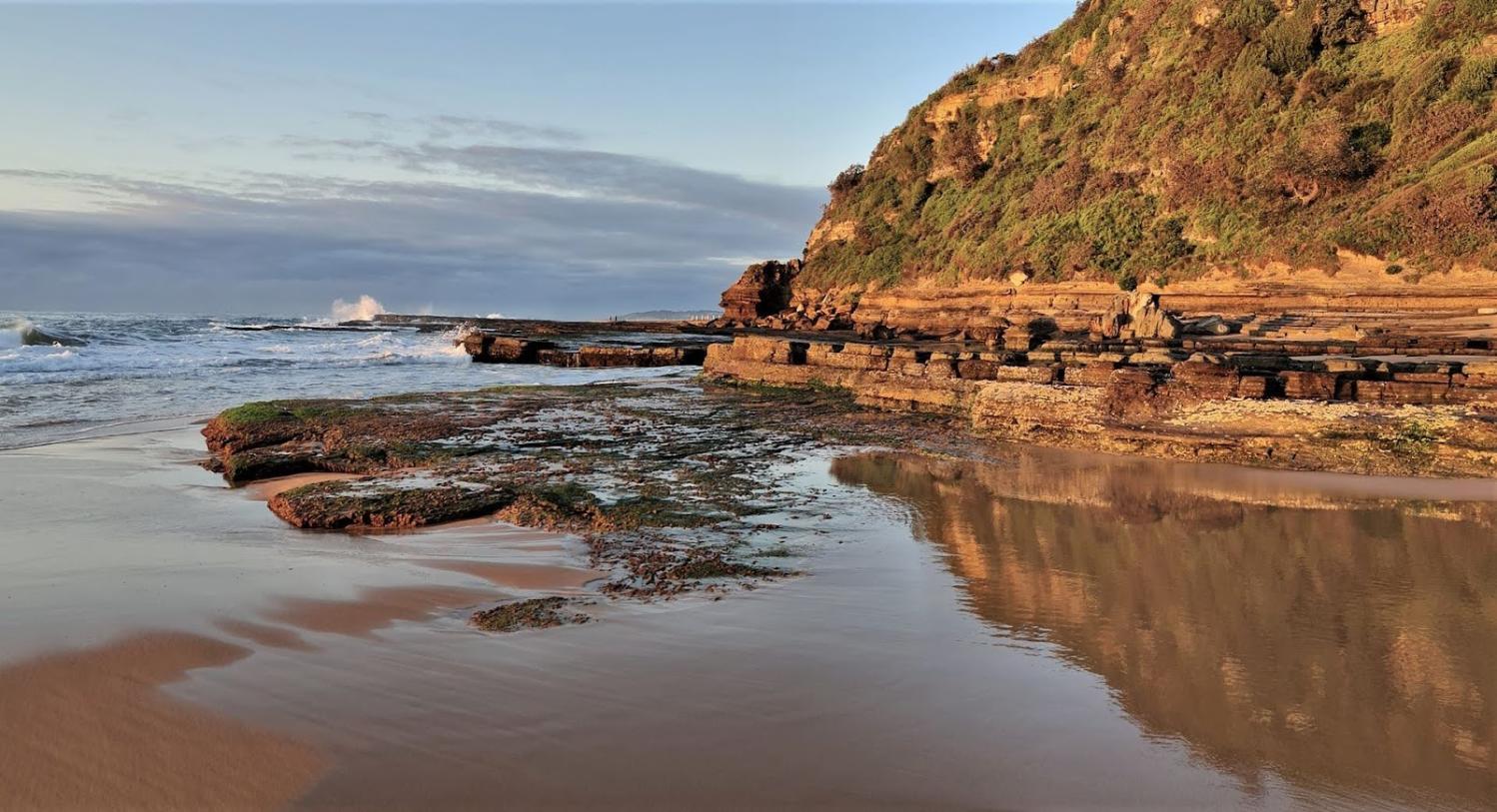 Turimetta Beach - noryth and south, Dawn and afterwards, June 7th 2023. Photos by Joe Mills
Past Features Archives (pre 2014)
Pittwater Online News was selected for preservation by the State Library of New South Wales and National Library of Australia. This title is scheduled to be re-archived regularly.
Archived Issues (2014 on) may be accessed here: pandora.nla.gov.au/tep/143700
Past Issues are also listed on site on the Community News page, by month.