June 11 - 17 2023: Issue 587
Council recognises the 2023 eco-heroes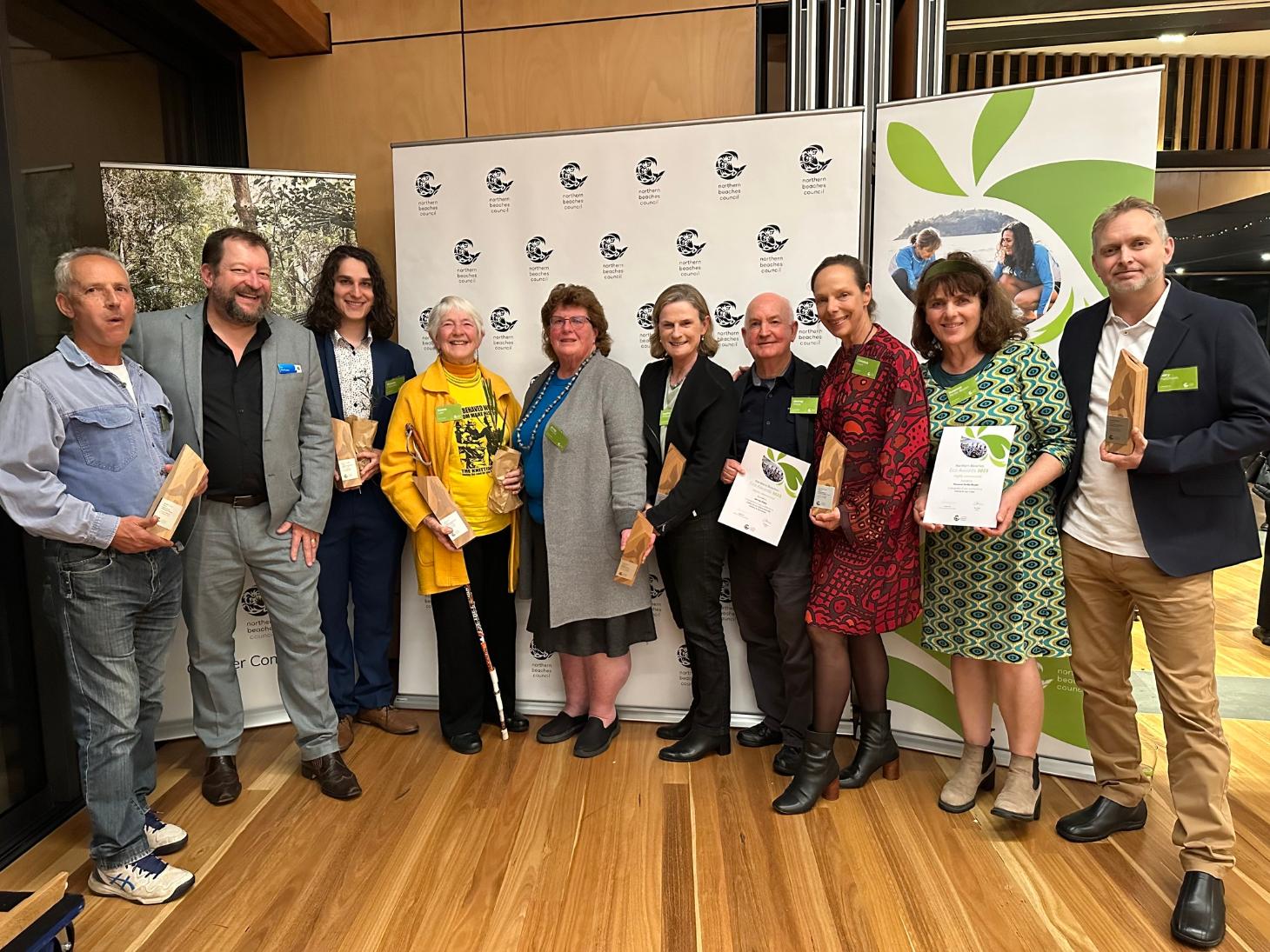 2023 Eco-Award Winners. Photo: Greens Cr. Miranda Korzy
Over 100 eco-heroes and community members attended Mona Vale Surf Club on Thursday June 8th as Council revealed the winners of the 2023 Northern Beaches Eco Awards.

Now in its 18th year, these awards celebrate ordinary people doing extraordinary things to conserve the local environment and the volunteers who spend their time enhancing the region's diverse and valuable natural habitat.
Northern Beaches Council Mayor Sue Heins said these deserving winners make the Northern Beaches a unique and beautiful place to live, work and visit.
"Our natural environment is one of our best assets and we are so fortunate to be surrounded by beautiful coastline and beaches to lush bushland and parks.
"Council received 30+ nominations across eight categories this year, reflecting a strong focus on the environment and an urgency to ensure we protect our area's unique, natural assets.
We are so proud to support and promote the work of these dedicated individuals and the organisations they represent. Congratulations and thank you to all these deserving individuals and groups – keep up your amazing work," Mayor Heins said.
To further embrace sustainability, the eight winners' trophies have been crafted from reclaimed blackbutt timber.
Each piece carries a unique look formed through its lifecycle and given a new purpose to celebrate the accomplishments of our Eco Heroes.
This year, the design on the trophy depicts the whale's tail from Northern Beaches Council logo, coinciding with the date of the ceremony – World Oceans Day on 8 June.
The 2023 winners and highly commended are:
Caring for our Bushland
Winner – Jenny Wilson
Jenny has been involved in the North Head Sanctuary Foundation for almost 20 years. The Sanctuary Foundation Nursery at North Head is a native plant nursery, and assists with the revegetation program for the nationally endangered Eastern Suburbs Banksia Scrub, found at North Head.
Caring for our Waterways
Winner – Malcom Fisher
Mal is well know for his efforts to Save Manly Dam back in the 90's as well as establishing the volunteer Bushcare group for the Mermaid Pool which adjoins Manly Dam. This group has removed tons of rubbish, planted hundreds of native plants and trees, and has worked to remove invasive weeds for over 20 years.

Caring for our Coast
Winner – Janet Kershaw
Highly Commended – Rosanna Perillo-Boutin
Winner: Janet Kershaw
Janet has contributed to protecting, preserving, and enhancing Bungan Beach's local native vegetation and fauna, watercourses and dunes. . She continues to lead others and personally nurture the care of this very significant remaining Northern Beaches biodiverse coastal community. Visit Friends Of Bungan - Bushcare Group Profile
Highly Commended: Rosanna Perillo-Boutin
Rosanna's Ocean Action Pod, in partnership with the Total Environment Centre, creates a pop-up multimedia educational experience which engages both adults and children with the problem of plastic pollution.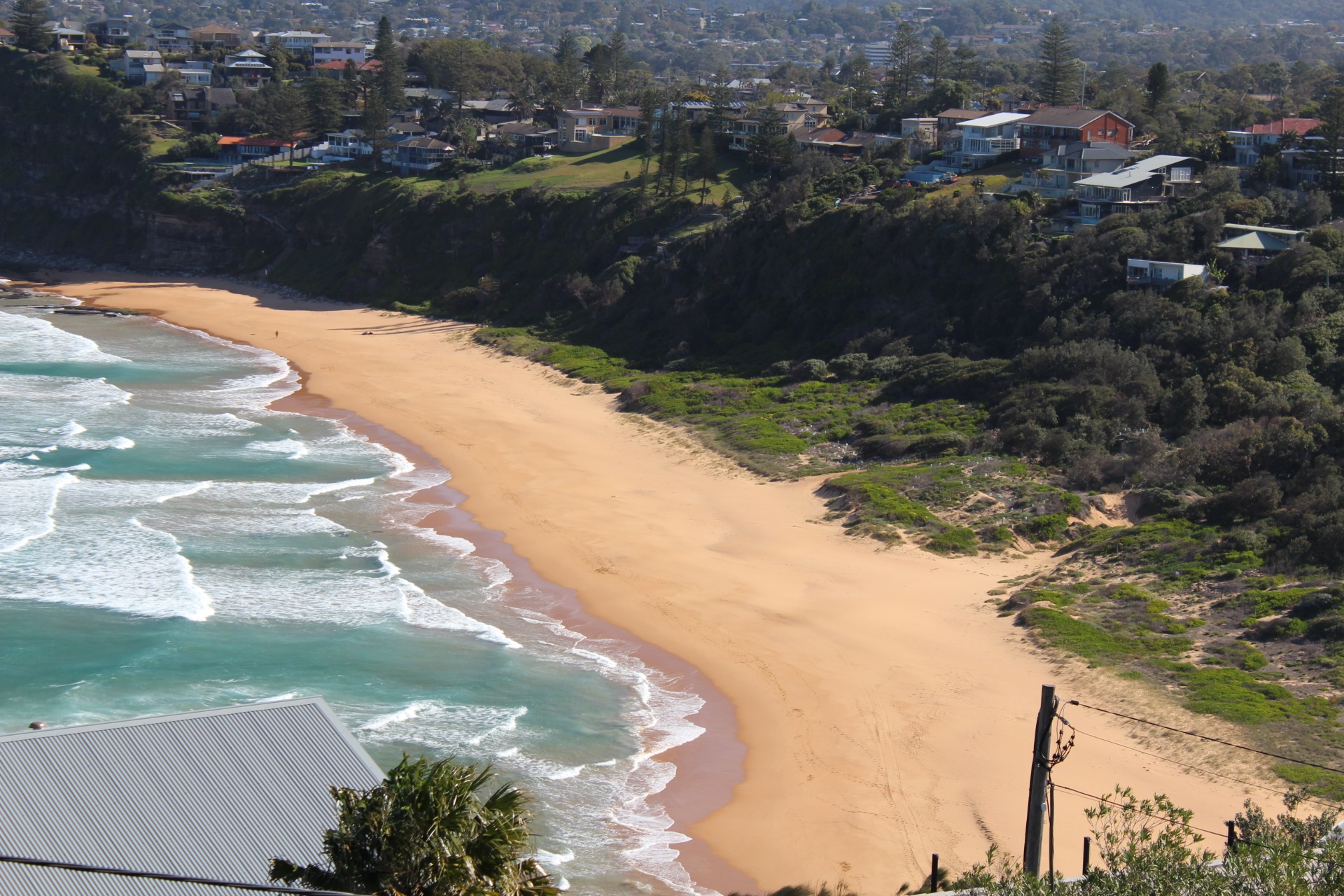 View over Bungan Beach from Bungan Castle (thanks John Webeck!). Photo: A J Guesdon
Caring for our Native Animals
Winner – Gary Pattinson
Highly Commended – Murray Sharp
Winner: Gary Pattinson
During his 19 years as a WIRES member, Gary has attended to the rescue of more than 800 native animals, mostly snakes and other reptiles. Gary has contributed to the organisation as a whole with uncountable hours of volunteer work fulfilling many roles within WIRES.
Highly Commended: Murray Sharp
Murray has been a dedicated Penguin Warden in Manly for more than 20 years, protecting the Little Penguins and educating the community about the threatened population.
Sustainable Resources Award
Winner – Louise Williams
Louise is a founding President of the Baringa Bush Community Garden in Seaforth. Her continuous and dedicated involvement since its inception has ensured that the garden has moved from strength to strength. The garden remains organic, sustainable and zero waste, a fantastic sustainable resource for the community.

Sustainability & Climate Change Award
Winner – Christina Kirsch
A former Warringah Council Councillor, Christina has worked tirelessly to raise public awareness of climate change and to bring renewable energy to the Northern Beaches. She has spearheaded the concept of locally produced, decentralised clean energy production. Her sense of commitment and courage has inspired other community members to join the organisation she has created and now leads.

Individual Achievement Award – Youth (16-25yrs)
Winner – Nicholas Chambers
Nicholas volunteers an incredible amount of time towards environmental conservation causes. He represents the Narrabeen Ward on the Northern Beaches Council Youth Advisory Group and has promoted environmental conservation and sustainability for young people throughout the Northern Beaches.

Individual Achievement Award – Lifetime (25+yrs)
Winner – Keelah Lam
Keelah is a well known, active and passionate environmental campaigner and follows her mantra of living sustainably, with solar panels, a water tank, chooks and a veggie garden as just some of the features at her home.
Keelah walks the talk when it comes to environment issues - many people will know her for her untiring efforts against plastic pollution.
She set up the Manly Food Co-op in 1997 to provide the Manly Community with organic produce following a waste free ethic. Having eliminated plastic packaging from the shop and reusing other packaging, she has saved thousands of tonnes of greenhouse gas emissions over the years.
A dedicated member of the Knitting Nannas - who campaign peacefully for a just transition to renewable energy as well as to save native species and habitat - Keelah, was also a member of the Manly Council Community Waste Advisory Committee for over 20 years.
At her home of many years, she keeps a veggie garden and chooks along with solar panels and a huge water tank. Out and about, you might see her on public transport, which she catches wherever possible. Finally, Keelah is a local Greens member and inspiration to many.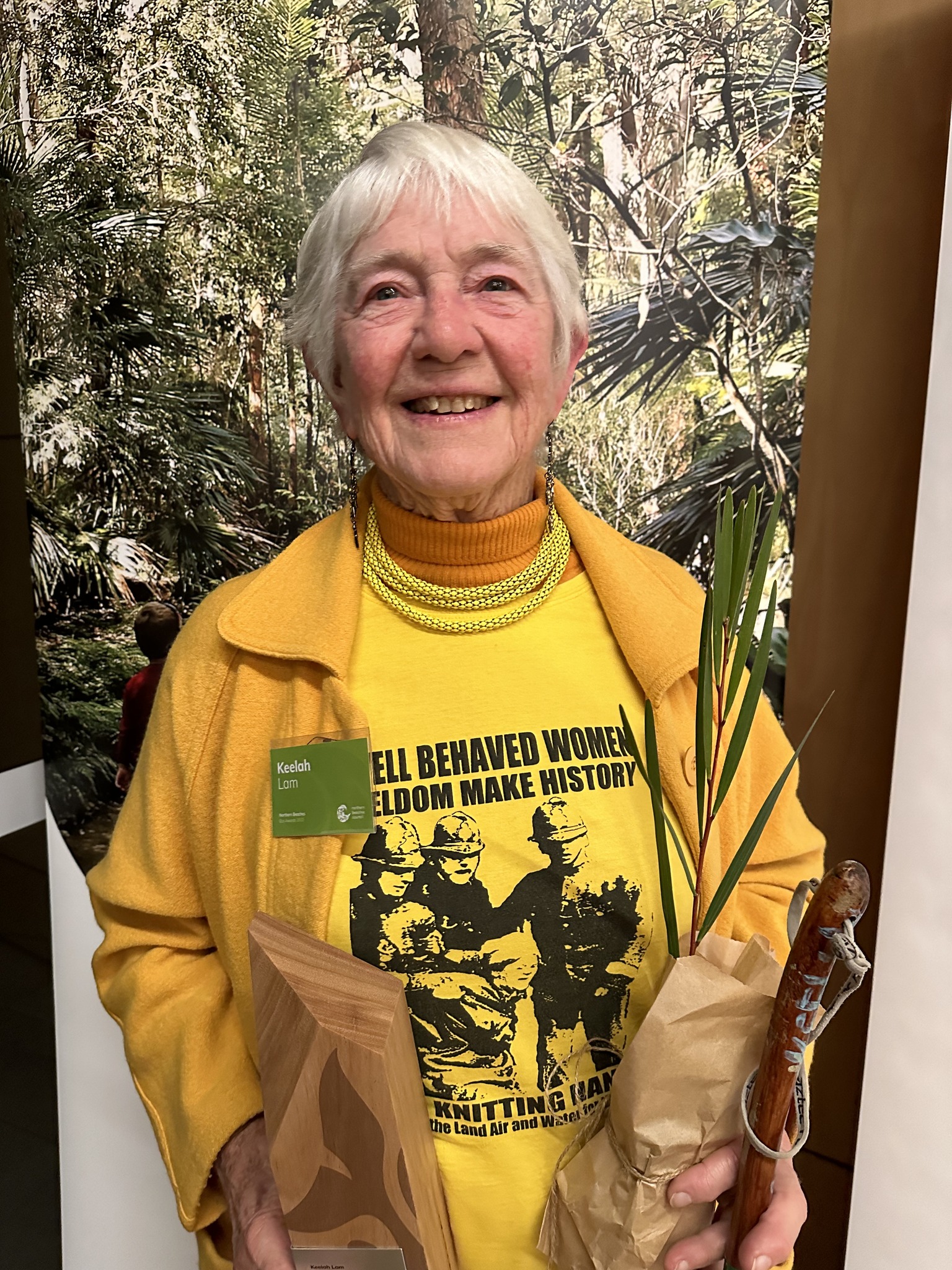 Lifetime Achievement Award, Keelah Lam. Photo: Greens Cr. Miranda Korzy