June 11 - 17, 2023: Issue 587
Oliver's Pies wins 2 gold 8 silver medals in 2023 australia's Best Pie Competition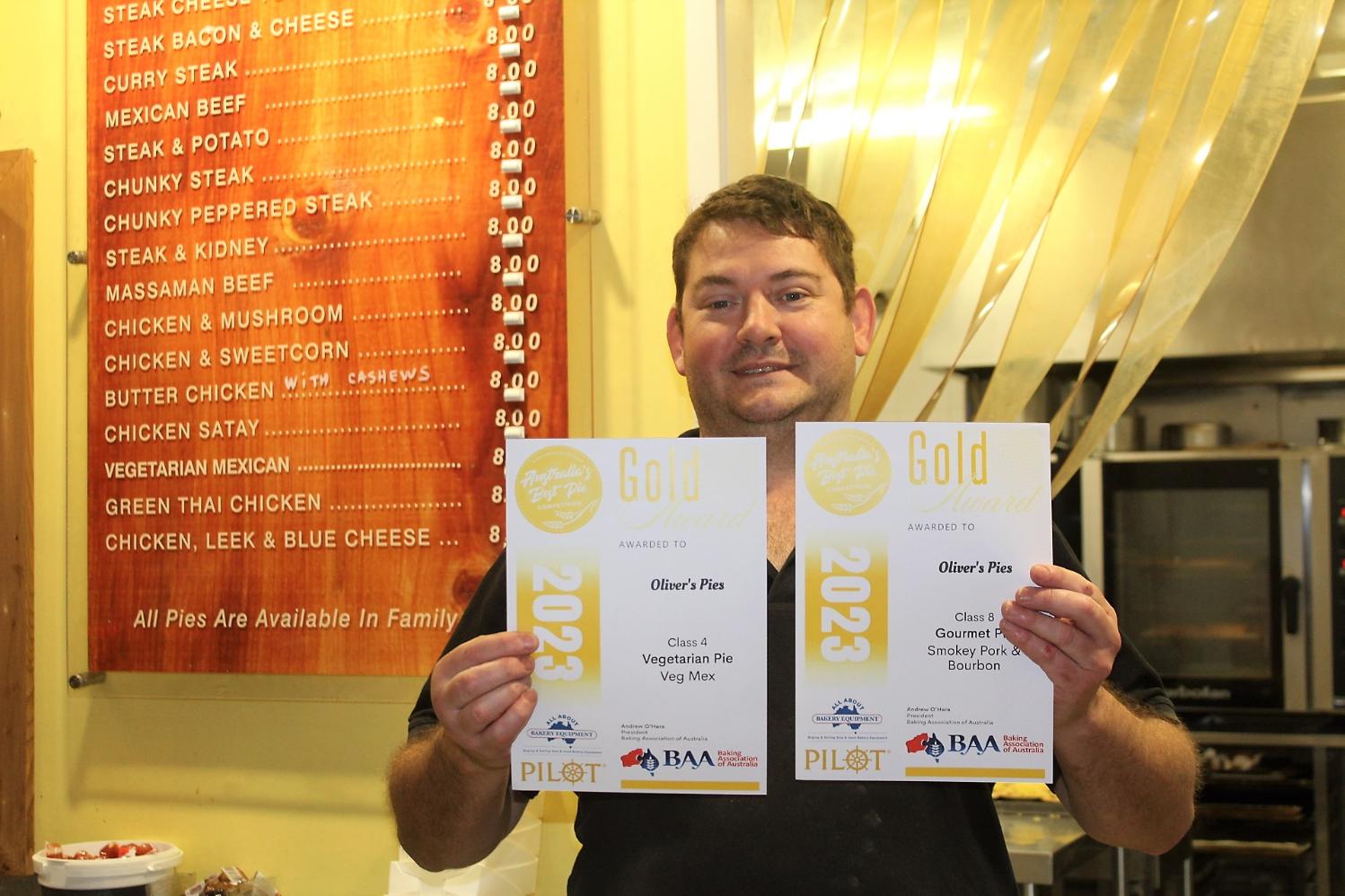 Oliver's Pies Baker and Propreietor Daniel Roberts with two newly won certificates for Gold Medal PIES!
Daniel Roberts, baker and owner of Oliver's Pies (at 1/3 Careel Head Road, north Avalon-Careel Bay shops) is 'getting on with making more pies' this morning after having won two gold and eight silver medals in the 2023 Baking Association of Australia's Best Pie Competition.

The Golds were for Oliver's Pies Vegetarian Mexican and Smokey Pork and Bourbon which are both on their permanent menu board. Many of his other medal winning pies are on the permanent list as well.
Daniel took over the business 11 years ago. He began baking as a 16-year-old with his dad, has 3 brothers who are bakers too, and has been in the industry for 26 years.
His pies were multi-award winners in 2017 too, including 5 gold medals.
During the 2017 edition Daniel's pies formed part of the Great Aussie Pie Competition and won Gold in the Seafood Pie Category: 1st – Oliver's Pies, Avalon NSW (Smoked Fish Pie), against all comers, across Australia.
He also took out anther 4 Golds and 5 Silver medals in that edition.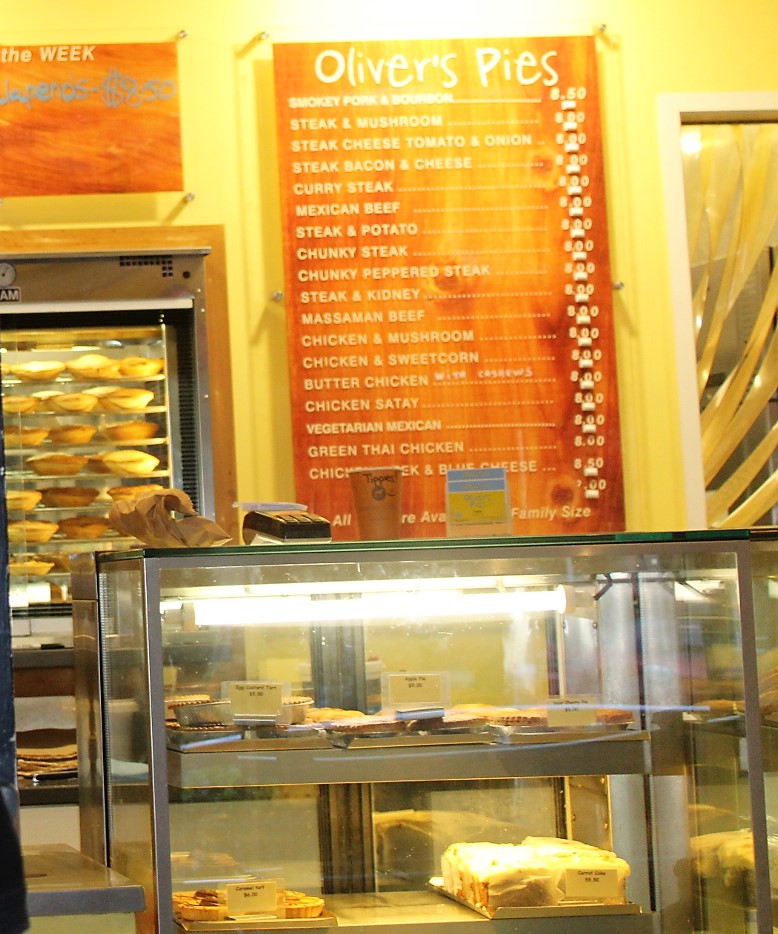 full list of awards for Oliver's Pies in the 2017 Great Aussie Pie Competition:
Oliver's Pies Lamb Vindaloo Gold
Oliver's Pies Massaman Beef Gold
Oliver's Pies Mexican Gold
Oliver's Pies Pepper Steak Gold
Oliver's Pies Gourmet Pie Seafood Smoked Fish Gold
Oliver's Pies Gourmet Pie Poultry Satay Chicken Silver
Oliver's Pies Gourmet Pie Lambs Fry and Bacon Silver
Oliver's Pies Gourmet Pie Seafood Scallop Mornay Silver
Oliver's Pies Gourmet Pie Seafood Seafood Mornay Silver
Oliver's Pies Gourmet Pie Vegetarian Spicy Lentil Silver
The full list of awards for Oliver's Pies in the 2023 Best Pie Competition:
Gourmet Pie
Oliver's Pies Smokey Pork & Bourbon GOLD
Oliver's Pies Lamb SILVER
Oliver's Pies Beef, Jalapeno & Cheese SILVER
Oliver's Pies Steak, Bacon & Cheese SILVER
Oliver's Pies Mexican Beef SILVER
Oliver's Pies Cheeseburger SILVER
Vegetarian Pie
Oliver's Pies Veg Mex GOLD
Oliver's Pies Lentil SILVER
Flavoured Beef Pie
Oliver's Pies Pepper Steak SILVER
Poultry Pie
Oliver's Pies Green Thai Chicken SILVER
The Australian Best Pie competition takes place annually. Australia's Best Pie & Pastie competition is run by the National Body for industry – the Baking Association of Australia.
The Official Industry event for 2023, the Baking Industry Trade Show which ran in Sydney at Wentworth Park May 30-June 1, was where the Australia's Best Pie and Pastie Competition took centre stage.
The Baking Industry Trade Show is a boutique style industry focused trade show, promoting and showcasing new and innovative products and manufacturers for bakeries, patisseries and bakers Australia wide.
The dates for the competition are quite significant as the 2023 competition and official presentation were held on National Pie Day, June 1st. The 3 days of this year's Trade Show saw celebrities calling in to see who has Australia's Best Pie and Australia's Best Pastie.
All entries are judged as a cold entry, and then judged again and tasted as a hot entry – with the Baker's scores combining to help find Australia's Best Pie & Pastie.
This year Southern Highlands of NSW Bakery, Sam Gees, again won the Australia's Best Pastie competition – take note all pastie lovers next time you're driving south. The overall Best Pie went to a Victorian Bakery, the Melbourne based Country Cobb Bakery which won for their seafood pie.
None of that detracts from the quality pies on offer at the Careel Bay shops on Barrenjoey Road or how many people will travel to get their hands on these goods.
From opening until close tradies, locals and visitors wend their way to Oliver's Pies to get their breakfast, lunch and dinner.
Daniel explained this week they make 3000 pies per week.
Daniel gets his ideas from home recipes and from looking around at what other bakeries might be doing and ways he could improve favourite pies. The Reps that call at Oliver's also provide insights into what's trending in the pie world.
Summer through Winter the proof is in the crust and the filling to all who keep popping in for their favourites.

Originally from New Zealand Daniel moved to Australia for, as he states it 'the opportunities'.
He also came for the Holden cars, explaining
''Deep down I'm a bogan I guess'' – then laughs, ''No, I grew up with great Holden posters on my walls and always wanted one of my own.''
And now, thanks to hard work and perfecting his own recipes, this multi-gold and silver medallist of the pie world does own a Holden.
Is that a que for a song about football, meat pies, kangaroos and Holden cars?
No;
For those who have often seen the queue out the door at Oliver's Pies, but stayed in line anyway, the motto here is 'can we have some more please'?