May 16 - 22, 2021: Issue 494
pittwater's Demerger movement grows on 5th anniversary of amalgamations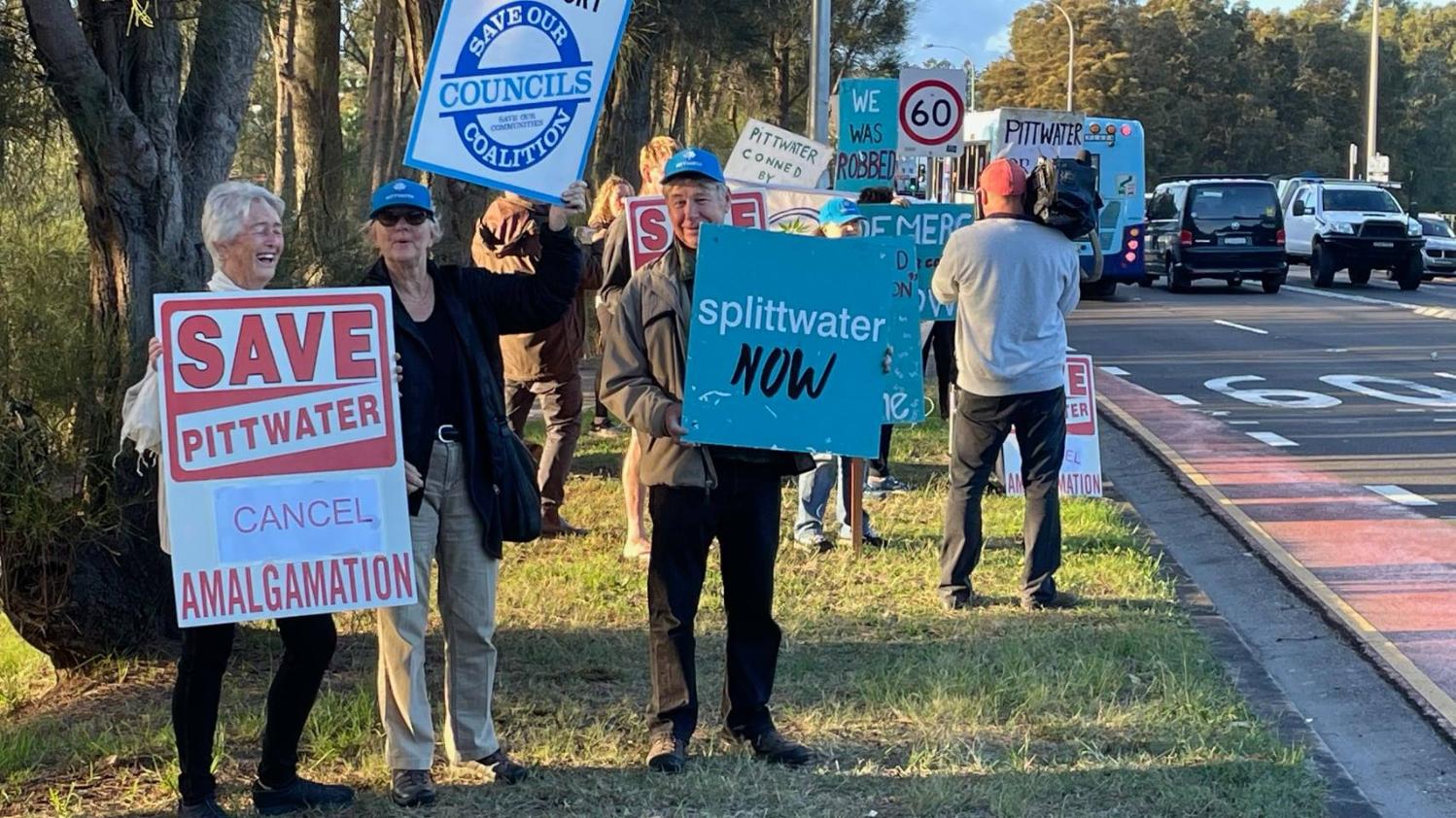 May 15, 2021
Report by Miranda Korzy
A crowd rallied at the former Pittwater Council boundary on Wednesday morning to launch a new demerger proposal on the fifth anniversary of the NSW government's forced council amalgamations - as moves for demergers gain momentum across the state.
About 40 Pittwater residents, with signs saying "We are Pittwater" and other slogans calling for a demerger, gathered to launch the new proposal – or petition - at the bridge on the northern side of Narrabeen Lagoon, Pittwater Rd, between 7am and 9am.
Protect Pittwater president Bob Grace today said residents at the launch had seized the first batches of petitions to take with them to collect signatures from family, friends and neighbours.
"I was very happy and surprised to see the number of people who were there," Mr Grace said.
"They were very dynamic and enthusiastic and the number of people who tooted at us was great!
"This marks the start of a new chapter in the fight for local democracy."
Amongst those at the rally were the children of the first elected Pittwater Mayor, Robert Dunn, who was one of the original campaigners for the secession of Pittwater from Warringah Council.
Simon and Hannah Dunn, who are both Pittwater residents, lost their father last September.
"I realise not everyone on the beaches witnessed the battle to create Pittwater Council like my family did - we lived it," Ms Dunn said later.
"But the reasons for a breakaway council are as relevant today as they were 20 odd years ago.
"The battle to break away from Warringah in the 1990s and form Pittwater was fought on the grounds of rates, that were seen as intrinsically unfair, and a series of planning and development decisions that excluded and frustrated the local community.
"When I think about shopkeepers telling me just last week, council is increasing their outdoor rent by 70 per cent, Pittwater business rates reported as rising due to harmonisation by up to 24 per cent - it's clear bigger is not necessarily better.
"The adoption of the local housing strategy also seemed out of touch with the value the community places on local character. It makes me think council have forgotten how hard we fought in the past against five storey development, buildings not consistent with the local environment plan.
"If history is indeed repeating itself - let's hope for the same outcome, the restoration of 'Pittwater Forever'."
Simon and Hannah Dunn

Pittwater Council seceded from Warringah Council in 1992 but was dismissed and merged into Northern Beaches Council on May 12, 2016, despite a Pittwater council survey that found 89 per cent of its residents were opposed to the amalgamation.
Residents dismayed and angered by the merger set up Protect Pittwater in 2017, including two former Pittwater councillors, determined to fight for a demerger of Pittwater Council.
However, Pittwater residents are not alone in their anger and frustration with the merger.
The Save Our Councils Coalition today said amalgamated councils had failed to deliver financially and communities, especially in the country, were facing huge rate increases.
"Communities are also feeling the loss of representation, sense of community and control," SOCC president Brian Halstead and Vice President Sue Young said in a statement.
Residents of two councils, Tumbarumba and Gundagai, had had their proposals for demerger examined by the Boundaries Commission in a public enquiry and the Commission sent their reports to the Local Government Minister Shirley Hancock more than a month ago, they said.
However, Ms Hancock would not release the documents and had rejected a GIPA application – so now the parliament required they be produced by May 19, the SOCC spokespeople said.
"The minister has absolute power to reject the Boundaries Commission reports and make whatever decision she desires," Mr Halstead and Ms Young, a former Pittwater Councillor said.
"We wait with interest the minister's decision and the reasoning will give indications of the possibilities for Pittwater.
"For communities to remain angry five years on about this issue shows it will not go away…
"The loss of control, representation and sense of community are very strong drivers for action."
Mr Halstead and Ms Young said a better solution would be to give communities an opportunity to have a properly conducted referendum in their former local government areas and if it was their wish, get their councils back.
"Otherwise, the government leaves itself open to a world of pain while increasingly angry and frustrated communities collect thousands of signatures for demerger proposals," they said.
Residents from Guyra, Bombala, the Inner West, Canterbury Bankstown, Central Coast and Mid Coast as well as Pittwater are either actively pursuing or considering proposals to de-amalgamate their councils.
Protect Pittwater joined members from five of these groups in an online meeting last Sunday night and Mr Grace said Protect Pittwater would combine forces with them to fight for de-amalgamations.
Protect Pittwater has previously sought legal advice on the possibility of court action to gain a demerger but this indicated that the proclamation of the new council made it unlikely to succeed.
The NSW government for two years sat on an earlier petition lodged by Protect Pittwater under the terms of the Local Government Act calling for a demerger.
It was eventually knocked back on the grounds that the proposal did not have enough signatures.
The Office of Local Government has advised the campaigners that the new petition will need 18,400 signatures to be considered.
Supporters can find the link on Facebook on the Splittwater page or in the Protect Pittwater group. Names and addresses should be entered exactly as they appear on the Electoral Roll – and those signing must live in the Northern Beaches Council area.
A PO Box address appears on the information sheet included with the petition for their return. However, Protect Pittwater is also looking for a few central locations where residents will be able to hand in sheets.
They will also hold stalls where the petition can be signed in coming months – with the first in Avalon yesterday (Saturday).
A copy of the petition may be downloaded below.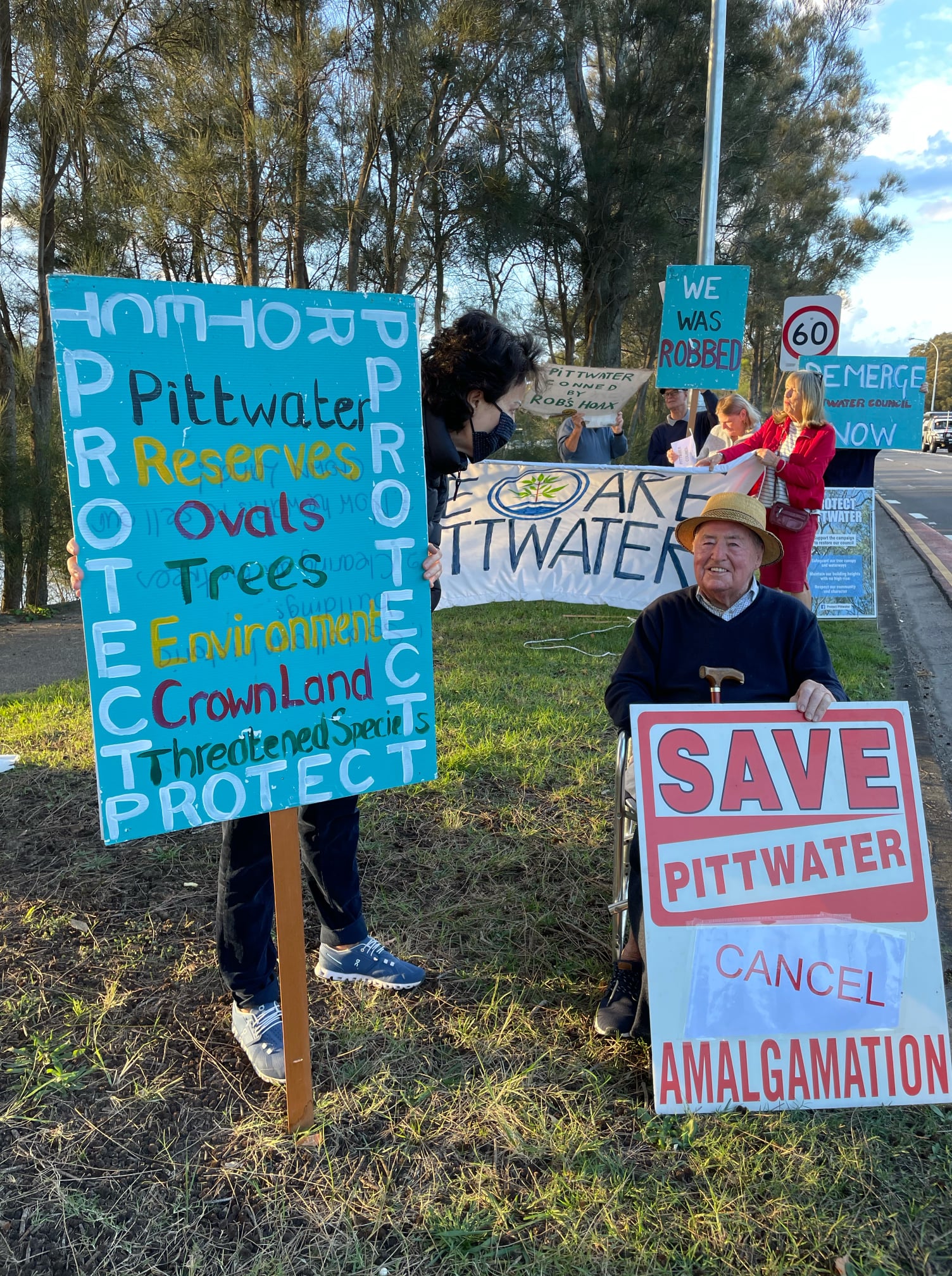 Bob Grace, president of Protect Pittwater this week