September 25 - October 1, 2022: Issue 556
Flags Fly As Surf Life Saving Volunteer Patrols Commence For 2022-2023 Season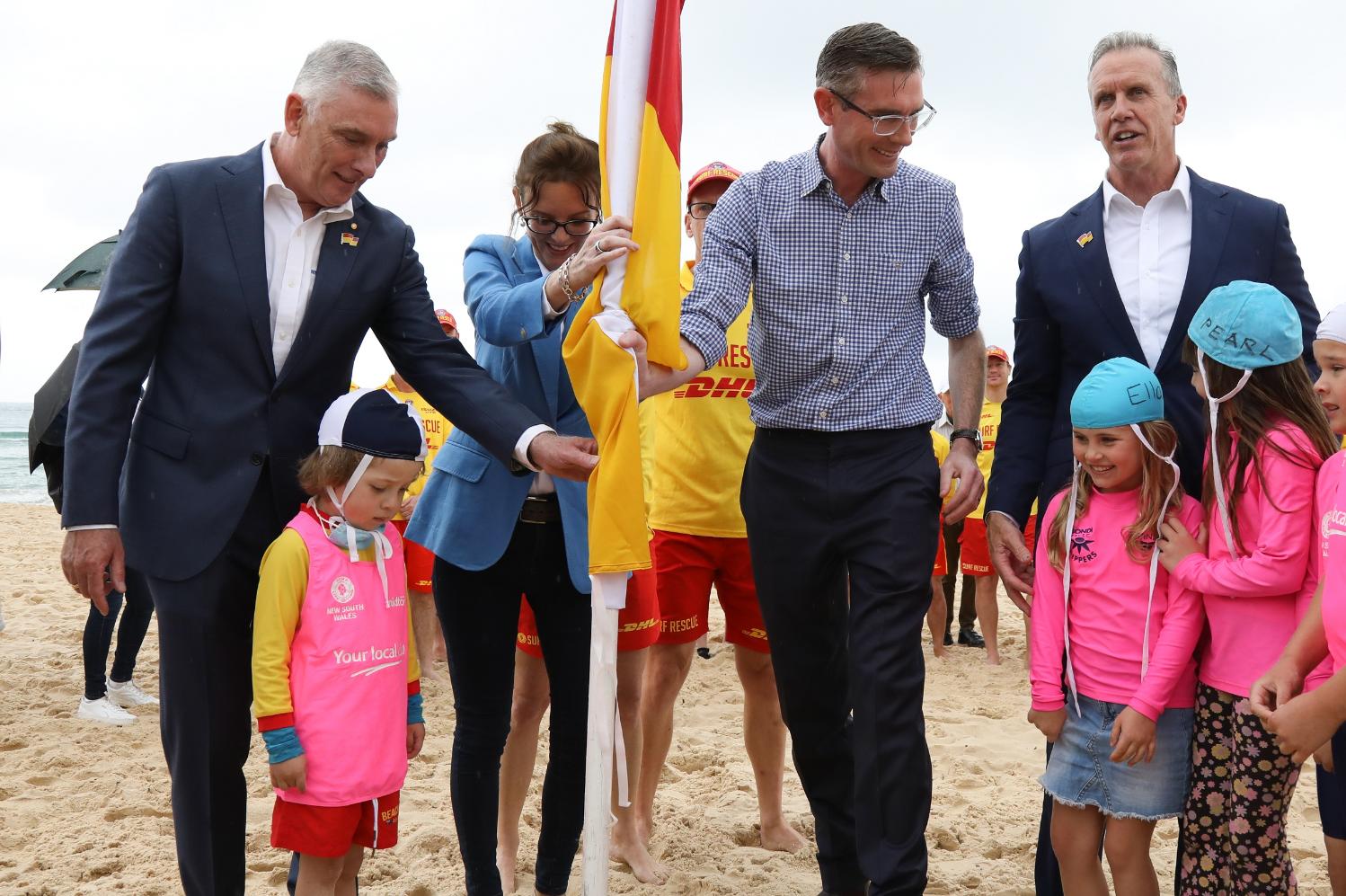 2022-2023 Flag Raising Ceremony for SLSNSW. photo: SLSNSW
More than 20,000 active patrolling volunteers are prepared to return to the beach on Saturday 24 September, with the beginning of the Surf Life Saving season – marked by a symbolic raising of the red and yellow flags – officially announced at Bondi Surf Bathers Life Saving Club on Friday morning, September 23rd, by the NSW Premier, Dominic Perrottet.
Off the back of a 12-month period where Surf Life Saving NSW recorded the equal highest coastal drowning toll since the figure was recorded – detailed within the NSW Coastal Safety Report released last week – the Premier urged beachgoers to heed caution and observe safe beach practices when heading to the coastline this summer.
"Every life lost is a tragedy," Mr Perrottet said.
"The best thing that we can do is follow the instructions of our surf lifesaving volunteers, who are also putting their life on the line each and every day to keep us safe.
"Swim between the flags, make sure you supervise your children, wear a life jacket where it's necessary, and if you do that, we'll have fun and we'll keep people safe."
Mr Perrottet also noted those in attendance, with many Bondi SBLSC surf lifesavers in attendance to mark the beginning of the season.
"I particularly want to thank our volunteers today because there is no country in the world that has a surf lifesaving volunteer organisation like we do in Australia," he said.
"I think that's remarkable and what makes our state great. We have over 20,000 surf lifesaving volunteers. We have over 30,000 Nippers and our young people that will end up becoming great surf lifesavers themselves.
"It's a wonderful thing that that spirit of service gets passed down from generation to generation to generation."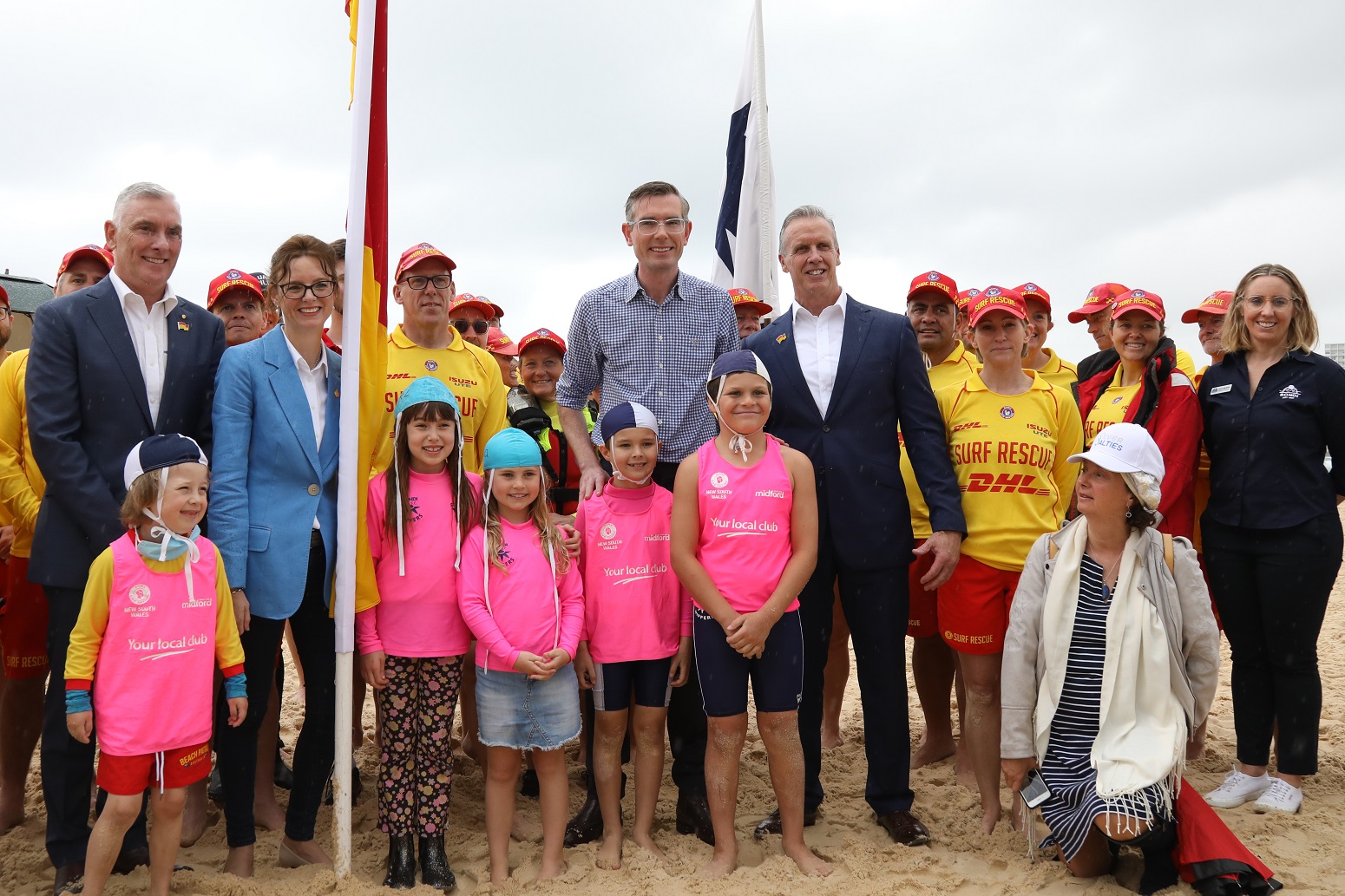 While the weather failed to hold out, a few drops from the heavens wouldn't dampen the spirits of the volunteers on the beach as Mr Perrottet, accompanied by Minister for Emergency Services and Resilience, Steph Cooke, joined local Nippers and surf lifesavers to raise the first red and yellow flag at arguably Sydney's oldest club.
Ms Cooke would also announce that $1 million in NSW Government funding had been provided to Surf Life Saving NSW for the rollout of new Support Operations equipment ahead of summer.
"It's going to be wonderful to see our volunteer lifesavers out again, particularly after the challenging years that we've experienced," she said.
"The addition of 11 jet skis and 11 fully kitted out support vehicles will further enhance the ability of our lifesavers to respond to emergencies in the water and help people when they get into trouble."
For the first time in three years, volunteer lifesavers will not enter the season under a cloud of COVID-19 restrictions, and instead can give their full attention to beach and aquatic safety.
Surf Life Saving NSW President, George Shales OAM said volunteers are focussed on providing a safe environment for beachgoers. Mr Shales said despite a third consecutive La Nina being declared, large crowds are expected at beaches throughout spring and summer.
"We had a very wet year last season but beachgoers need to remain vigilant after a record 55 lives were lost in the 12 months to June 2022," Mr Shales said.
"We're ready to help if you get into trouble but we need to work together to keep our beaches and coastal waterways safe for all to enjoy."
"NSW is blessed with beautiful beaches across the coastline, with many of them patrolled by Surf Life Saving NSW volunteers and our 129 clubs," he said.
"While our membership is constantly upskilling and undertaking education and training courses to expand their abilities, it's important to take your own safety into your hands.
"We are encouraging the public, particularly considering the harrowing statistics that came to light following the release of our NSW Coastal Safety Report, to know their limits and avoid placing themselves and their families in unnecessarily risky situations."
The role of volunteer surf lifesavers this summer includes:
Identify the safest part of the beach to position the red and yellow flags
Patrol the flagged area and monitor the beach conditions
Conduct preventative actions and rescue people in distress
Provide modified first aid and assistance to people in trouble on the beach and in the water
Work with other emergency services to assist with incident response away from patrolled locations or outside patrol hours
Provide information to beachgoers about surf conditions, beach safety and beach alert or closure information due to Covid restrictions (via Beachsafe.org.au or the Beachsafe App)
The volunteer Surf Patrol season runs until Anzac Day 2023.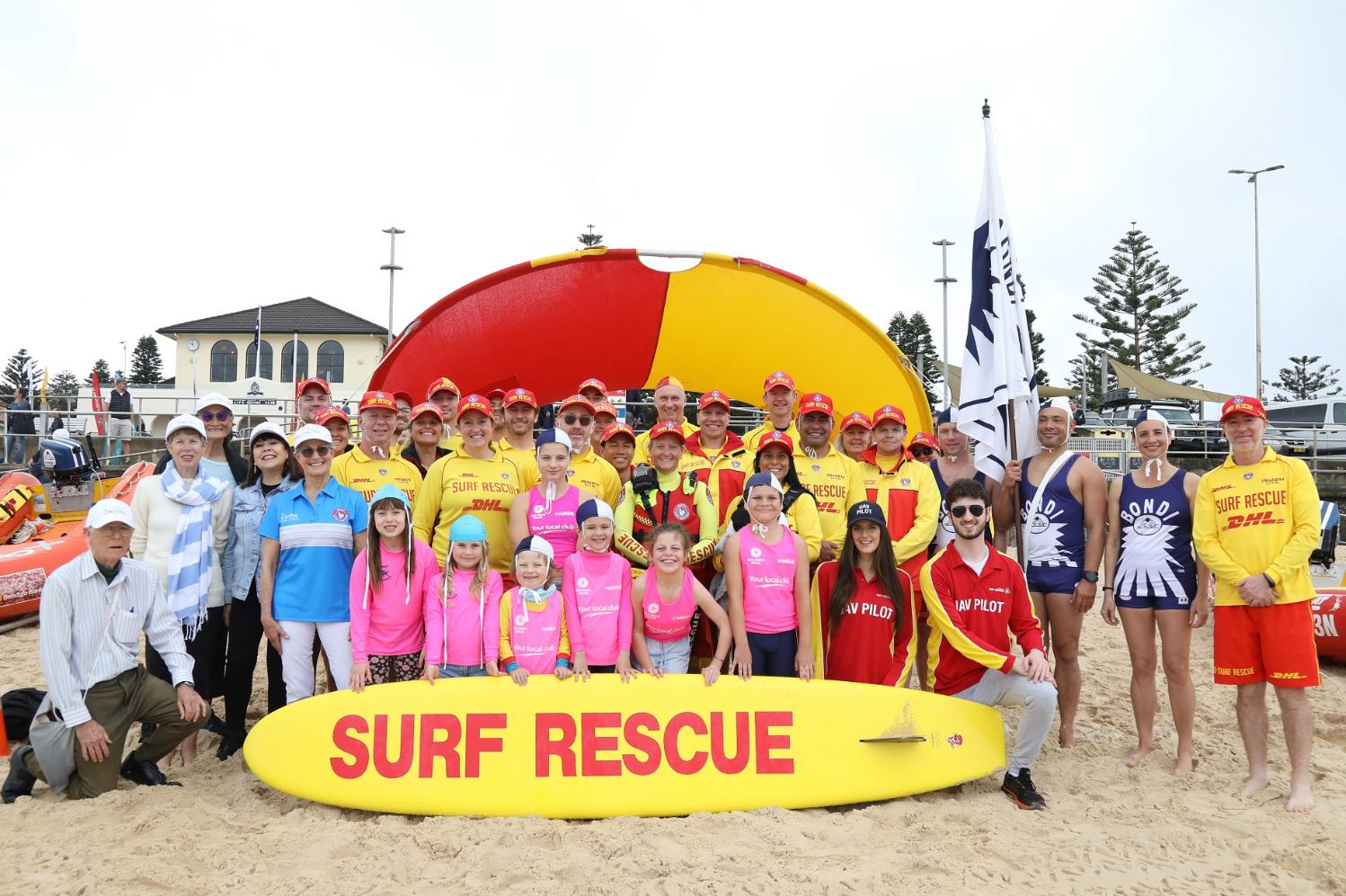 2022-2023 Flag Raising Ceremony for SLSNSW. photo: SLSNSW
Waterhouse Family Adding More Wins To Their Decades Long Totals: 23rd Hobie 16 Worlds In Spain 2022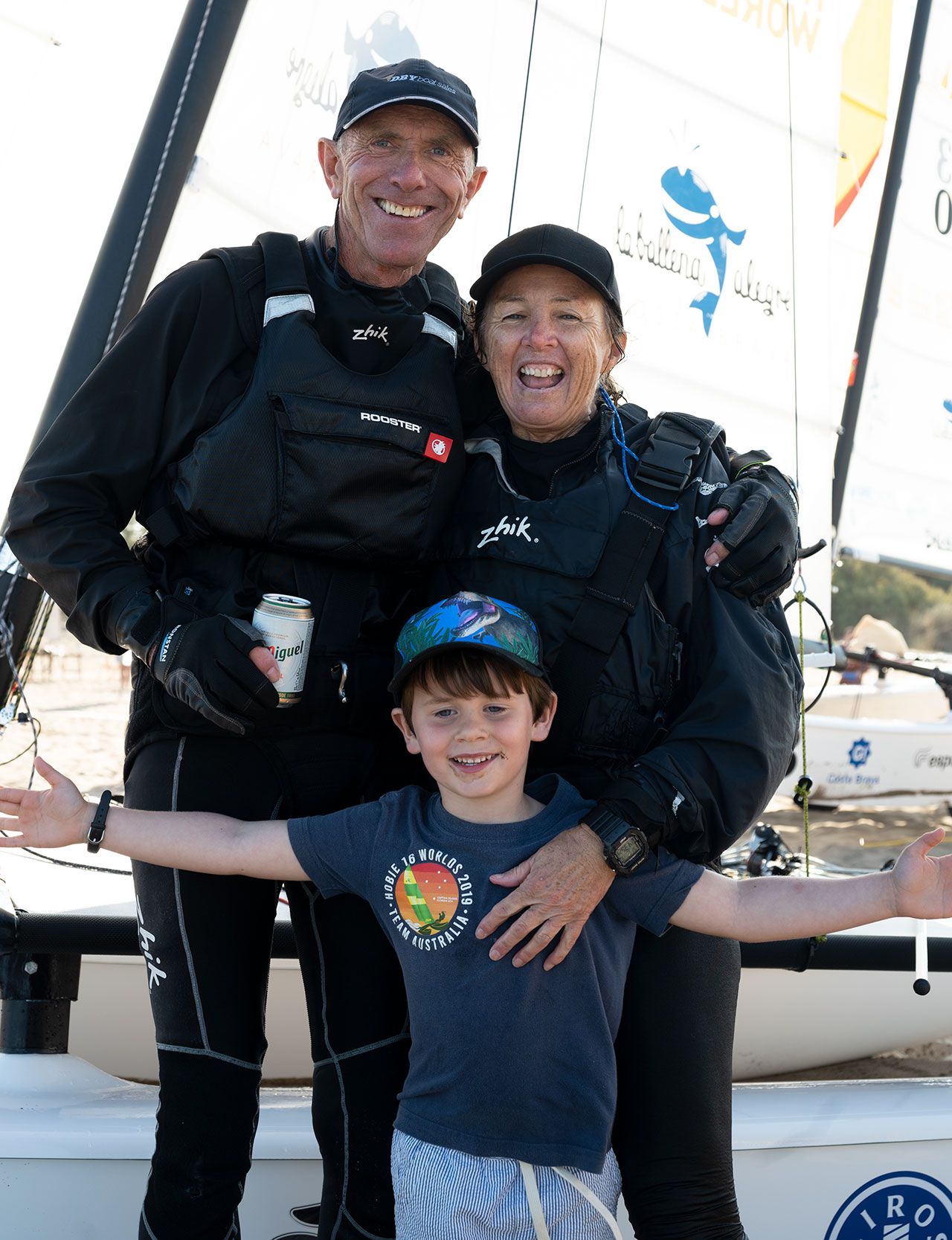 Grand Masters in the 2022 Hobie® Cat 16 World Championships: Rod and Kerry Waterhouse - Waterhouse family in Spain
The Waterhouse family of Pittwater are having a very good sailing year. In May 2022 Team Australia; Rod Waterhouse and Chris Way, won the 2022 Worrell 1000, one of the toughest long-haul sailing races you can attempt.
On September 21st Rod and Kerry Waterhouse won the Grand Masters in the 2022 Hobie® Cat 16 World Championships, one of several times they and fellow
Palm Beach Sailing Club members have won the Hobie Worlds.
The very next day Rod was back on the water with daughter Bridget Bolewski, qualifying in the Opens Championship - as we went to press it was 8pm in Spain, where the 2022 Hobie Worlds are being held, with Team Waterhouse currently sitting 3rd overall after the qualifying races.
Rod and Bridget won the Open Hobie Worlds in 2016. Rod and Kerry have won the Masters and Grand Masters in 2019, won the Masters and Grand Masters in 2016 with fellow Palm Beach Sailing Club Members John Duchatel and Evelyn Curtis placing second. Team Rod and Kerry won the Grand Masters Hobie 16 in 2014, in 2010 son Jason and cousin Lisa Darmanin won the Youth division while Rod and Kerry Waterhouse won the Masters and Anthony Duchatel and Evelyn Curtis won the Grand Masters, Rod and Kerry won the Masters in 2007, Jason, teamed up with Michael McCormick winning the Youth division, the 2006- 2nd Hobie Dragoon Worlds Championships Youth Cup was won by Jason Waterhouse and Chase Lurati, while the 2004 -16th Hobie 16 Masters was again won by Team Waterhouse.
Then, of course, there is a long list other sailing World Championships and Olympics representatives the PBSC.
Kerry and Rod Waterhouse met racing Hobie 14s in 1975 and have been sailing together on Hobie 16s ever since.
Their children Jason and Bridget were brought up in the midst of the amazing Hobie family. Hobie bonded them as a family and importantly instilled in their children the thirst for adventure.
Years ago, when asked what the Hobie had given to them, Rod said;
''It taught us how to meet and form great friendships. Hobie taught us how to compete. It taught us how to win and how to lose. It has been proven so strongly now that if you can do well in Hobie racing you can do well in any class. But most important Hobie taught us how to love life. Hobie sailing has been a true gift and we are extremely grateful for the life and opportunities that have come our way because of it.''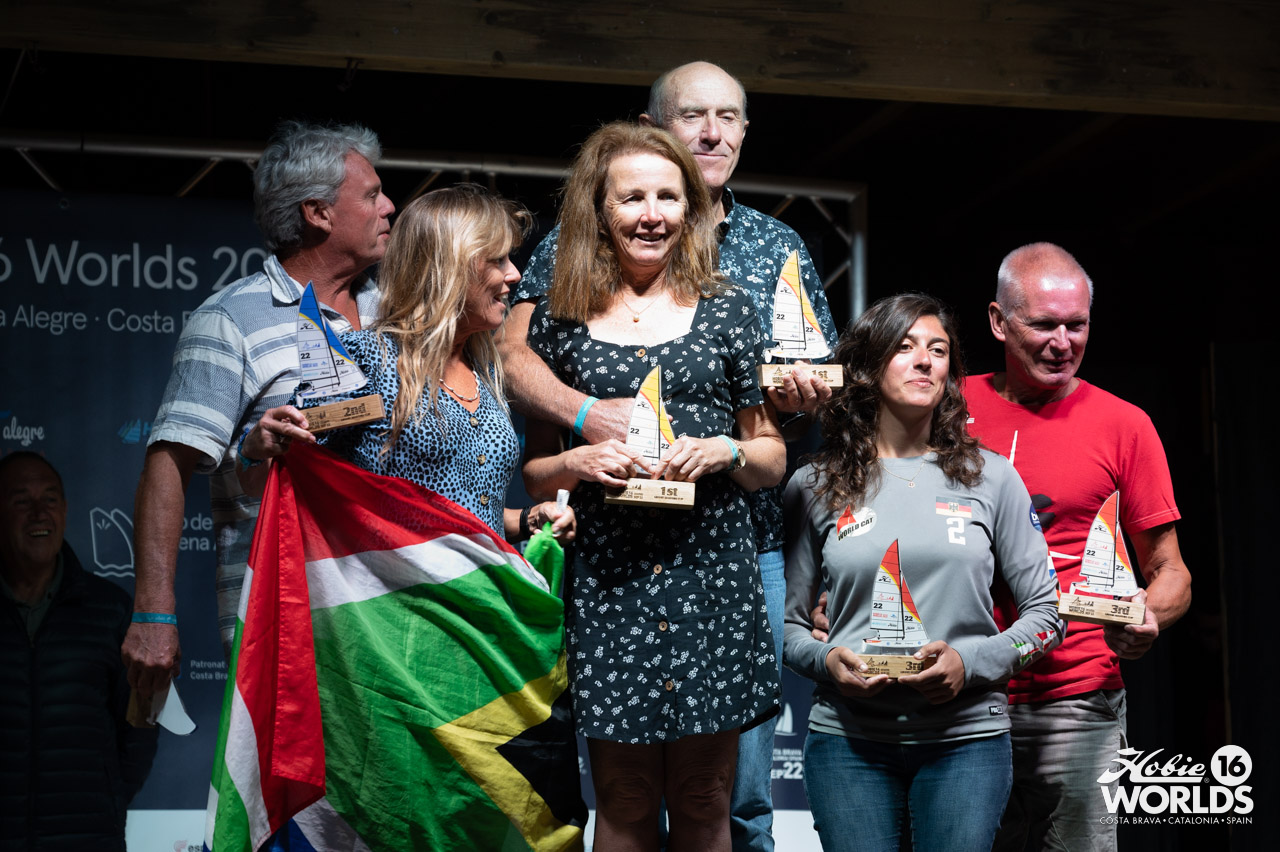 The Waterhouse family aren't the only Australians who have headed over to represent this year, although former Avalon Beach Pittwater resident and Australian Olympian Mitch Booth, who has also been have a good year, winning the IMA Trophy in 2022 RORC Transatlantic Race in January 2022 in record time, and now lives in Spain, may have a bit of a local knowledge advantage.
A 13-time World Champion, and four-time Olympian, silver and bronze medallist (he sailed in one Olympics with Bayview and PBSC's John Forbes), Mitch Booth and daughter Rita finished the qualifying rounds at 7th spot. One of his three sons, Jordi, teaming up with Ana Iacovone finished at 13th - and all the competing Booth family go into the Semis. The Booths, despite now being Spanish residents, are racing under the Australian flag.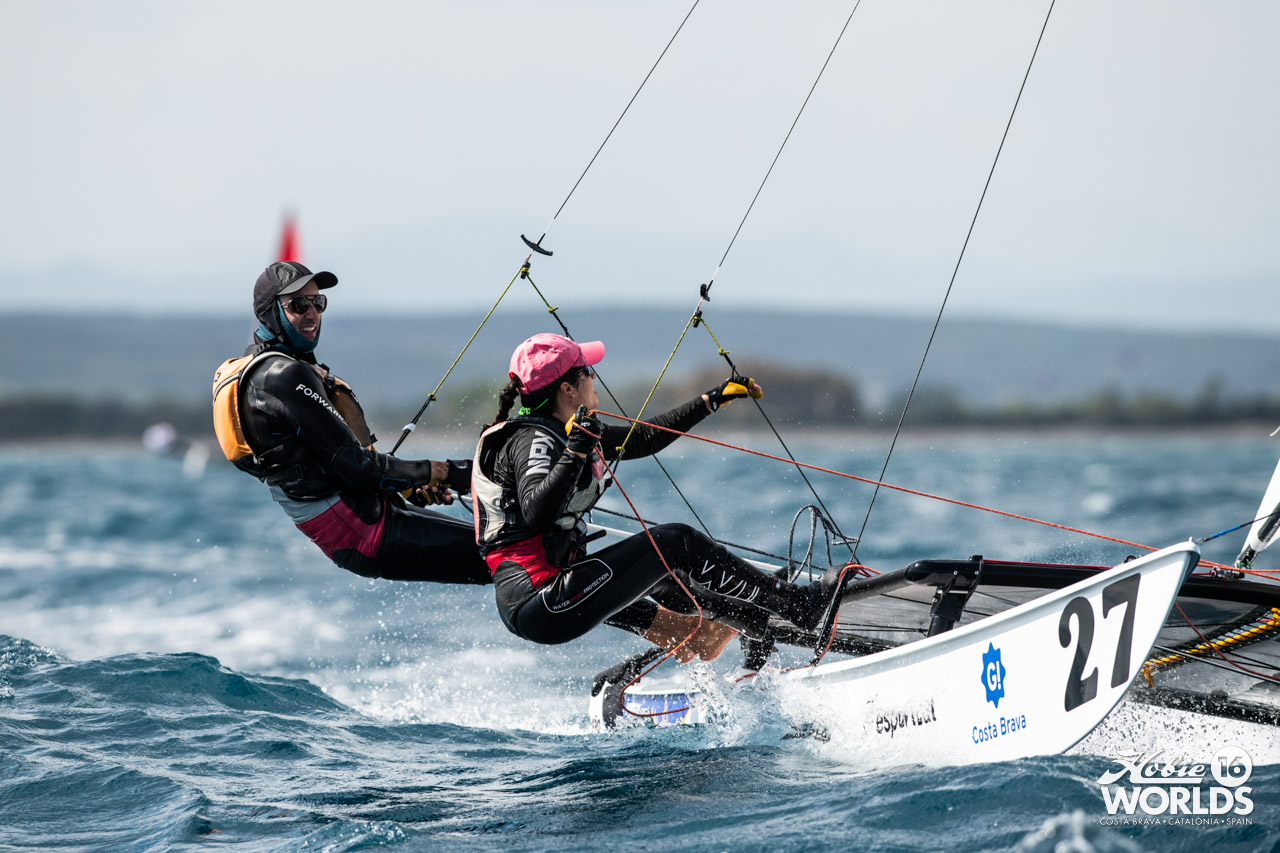 September 21st, Day 3 of racing for the Women/Youth/Grand Masters and Great Grand Masters also saw wins for other Australians.
Australian Sailing 2022 NSW&ACT Award Winners + Barranjoey Pin Recognitions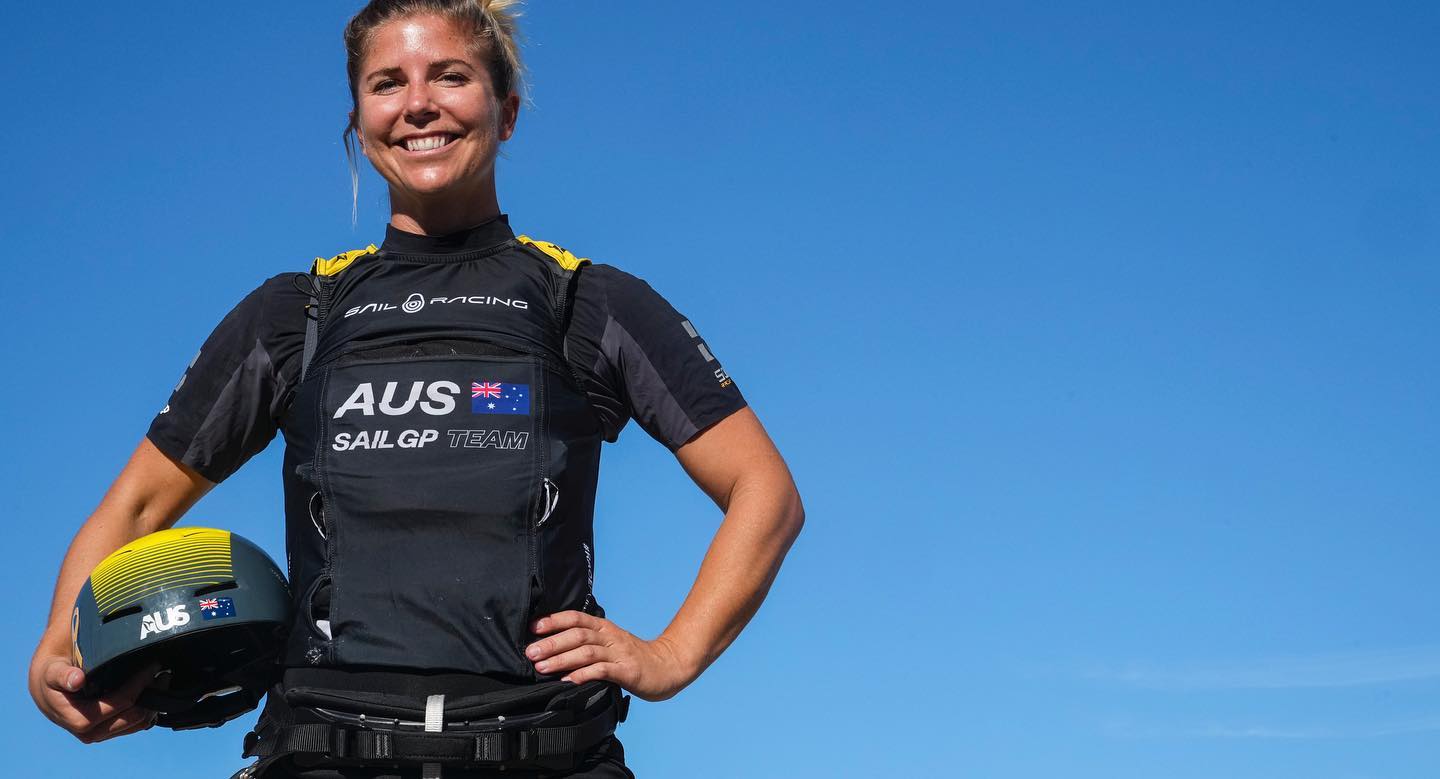 Nina Curtis, of RPAYC, ASC, PBSC and Australian SailGP Team has been named Female Sailor of the Year.
Photo:
SailGP
Congratulations to the winners of the NSW&ACT Sailing Awards for 2022 - and especial congratulations to Pittwater sailors who have been recognised for their recent, historic and ongoing contributions to the sport of sailing this year. Among those honoured this year:
Female Sailor of the Year Winner: Nina Curtis
Nina Curtis is a member of the Australian SailGP Team after being the sole female athlete selected into the team in 2021. In 2021 she was the first female athlete to ever win a Sail GP event when the Australian team took the win in Sail GP Cadiz when female athletes were first introduced into the racing. Nina and the team went on to win the SailGP Sydney event in home waters. Nina and team finished a strong season by winning the Sail GP Grand Final in San Francisco with Nina becoming the first female athlete to stand at the top of the podium in Sail GP.
Male Sailor of the Year Winner: Tom Slingsby
Tom put together a phenomenal 2021-22 season, with significant international wins. In 2021 was recognised by World Sailing awarding him his second Rolex World Sailor of the Year Award. Over the past 12 months Tom defended his Moth World Championship, winning 13 of the 14 races, securing back-to-back 2019 and 2021 title wins. He has also set the standard in the global SailGP circuit, winning four of the five events in the nomination period including the end of season Grand Final. He capped a fantastic year on the water by being a helmsman on Comanche which won the 2021 Rolex Middle Sea Race on IRC time correction, monohull line honours and breaking the monohull race.
Offshore Sailor of the Year Winner: Lisa Blair
Lisa Blair has claimed the World Sailing Speed Record for the fastest circumnavigation of Antarctica. She completed the journey from Albany around Antarctica to Albany, a full circuit in 92 days. She now holds the title for fastest solo non-stop and unassisted journey. Lisa is only the third person to ever succeed with this perilous journey, including navigating Iceberg Alley and the remotest place on the planet, Point Nemo, and she becomes the first woman to circumnavigate below 45 degrees non-stop and unassisted.
Lifetime Achievement Award Winner: David Pescud
David founded Sailors with Disability back in 1994 as President of the organisation, now known as the Making Waves Foundation. That year he put together a team of disabled sailors to contest the 50th Sydney Hobart Yacht Race. This was the first time ever a fully disabled crew had competed in a Sydney Hobart Yacht Race. Earlier in the same year, competing in the Sydney Southport Race MWF was the first fully disabled crew to compete in an ocean race. MWF has since competed in 20 Sydney to Hobart yacht races. The foundation has provided sailing opportunities to more than 64,000 disabled and disadvantaged people. 2,500 people partake in their programs each year. He went to a lot of trouble to make boats for the disabled to sail on even with wheelchairs. It's an experience they just wouldn't get anywhere else. He felt it was important to get them out in an environment that they would never have dreamed of, and that expanded their horizons. David is a great advocate for the disabled and disadvantaged in yachting, and very widely respected for this. This has very effectively demonstrated to the sailing community that sailors with a disability can seriously compete on their level, often to their surprise and amazement. Looking at what has been achieved we have a great deal to celebrate as a result of one man's vision as a catalyst for change in the sport of racing and sailing – the list of sailing achievements is significant, but more importantly it demonstrates the sailing community's ability to put aside fear and prejudice and move forward inclusively acknowledging difference rather than hiding it.
Sustainability Award Winner: Australia SailGP Team
The Australia Sail GP Team has a clear purpose – race for a better sport and a better planet, and that underpins everything they do as a team. A key focus within the team is addressing issues of plastic pollution in the ocean, which the athletes have witnessed first hand. The Australia Sail GP team uses their platform to drive awareness an educate the world on the issues of climate change and ocean pollution. The team has made many operational changes such as: removal of single use water bottles and a 60% reduction in the use of single use plastics. They also commit to cleaning beach sessions, eating a minimum of one plant based meal a day, repurposing old apparel and donate old items to reduce landfill.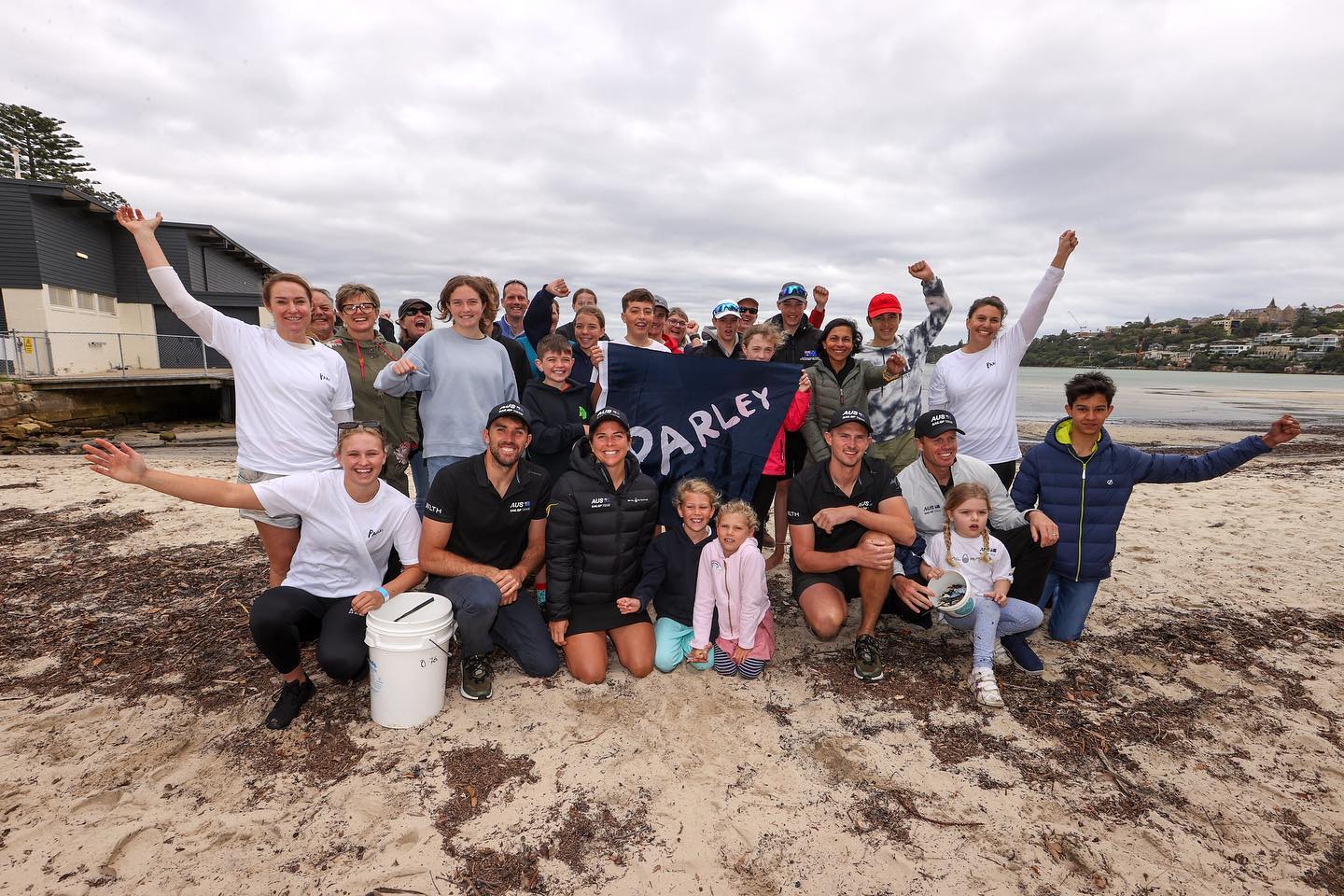 Australia SailGP Team beach clean session, June 2022. Photo: SailGP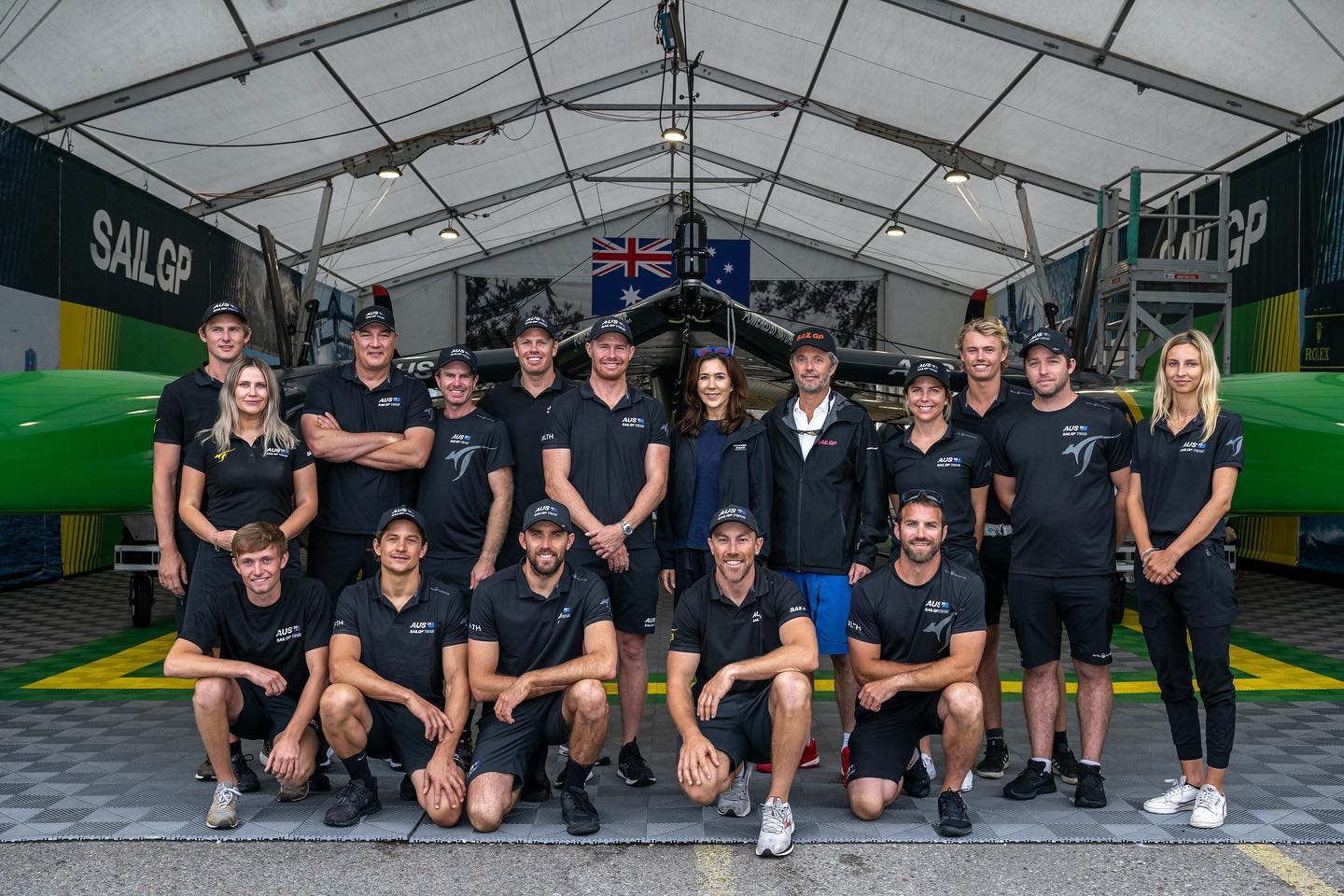 Australia SailGP Team in Copenhagen (August 21, 2022) with Prince Frederik and Princess Mary of Denmark on board for a royal race between Australia and Denmark - and yes, of course they won the race with Princess Mary behind the wheel! Photo: SailGP

Barranjoey Pin Recognition: 2022 - Congratulations Katie Spithill!
Six sailors from across New South Wales have been recognised for their extraordinary sailing achievements at the international level, receiving their personalised Barranjoey Pins at the 2022 NSW/ACT Awards Evening last week.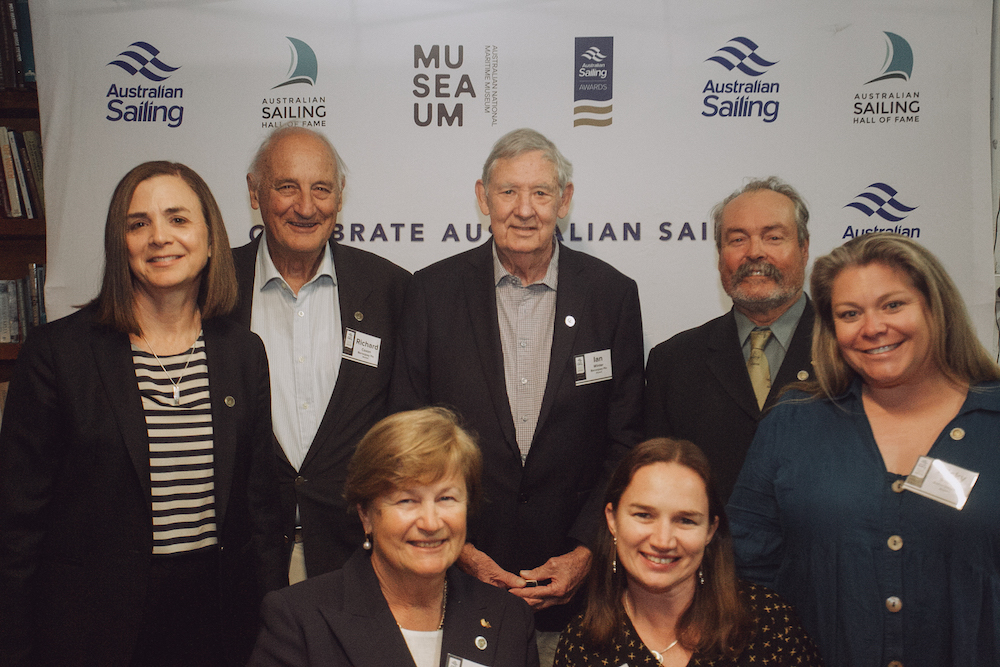 With multiple Olympic Games and World Championships between them, Ian Winter (Pin #27), Richard Coxon (Pin #73), Sarah Kenny (Pin #85), Karyn Gojnich (#104), Katie Spithill (Pin #179) and Nicky Souter (Pin #181) were presented with their pins by Olympian Neville Wittey (Pin #147) at the RAN Sailing Association on Saturday night, September 17.
An embodiment of the great traditions and values of those who have competed and continue to compete at the highest level, the Barranjoey Pin is designed to acknowledge the legacy and history of Olympic and Paralympic class sailing in Australia.
To qualify for the honour, athletes must have represented Australia at either an Olympic Class World Sailing Championship, IYRU Women's World Championship, Olympic Games or Paralympic Games and achieved a top 10 performance or have qualified for the Australian Sailing Team after 2006.
With a number of National Championship titles in various classes, Katie Spithill moved into women's match racing in advance of its debut as an Olympic event at the London Olympics. Spithill placed 2nd at the world championships in 2007 as well as 5th in both 2009 and 2011.
The final recipient awarded their Barranjoey Pin at the awards evening, Nicky Souter won the 2009 ISAF Women's Match Racing World Championship in Lysekil, Sweden. Her dominance in the field saw her go on to claim the bronze medal at the World Championships the following year, as well as qualify Australia for the London Olympics with 5th place at the Perth 2011 Worlds.
Australian Sailing wishes to congratulate each of the recipients on their incredible achievements in international sailing and welcome them proudly as the most recent Barranjoey Pin recipients.
The Barranjoey Pin is named after the yacht 'Barranjoey', which was sailed to Australia's first Olympic sailing gold medal, at the 1964 Tokyo Olympic Games.
The 5.5 metre class racing yacht was built for Bayview resident and RPAYC member (Sir) Bill Northam to contest the 1964 Olympic trials, which it won. It then became famous throughout Australia when it won Australia's first gold medal in Olympic sailing competition at the 1964 Tokyo Olympics.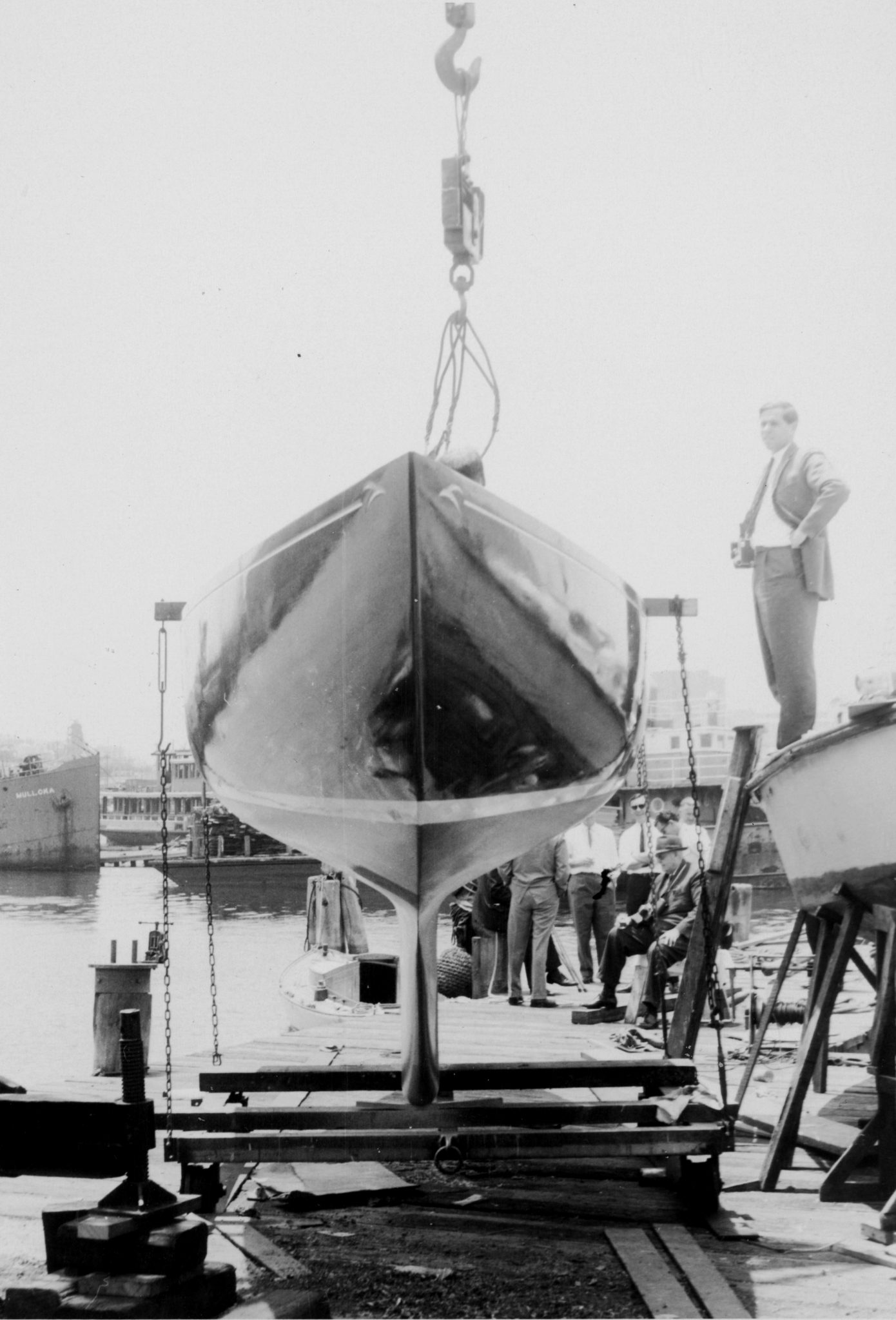 Barranjoey is launched (Christmas Eve, 1963). Photograph; Sir William Bill Northam album Sydney Heritage Fleet.
Reproduced courtesy of the Australian National Maritime Museum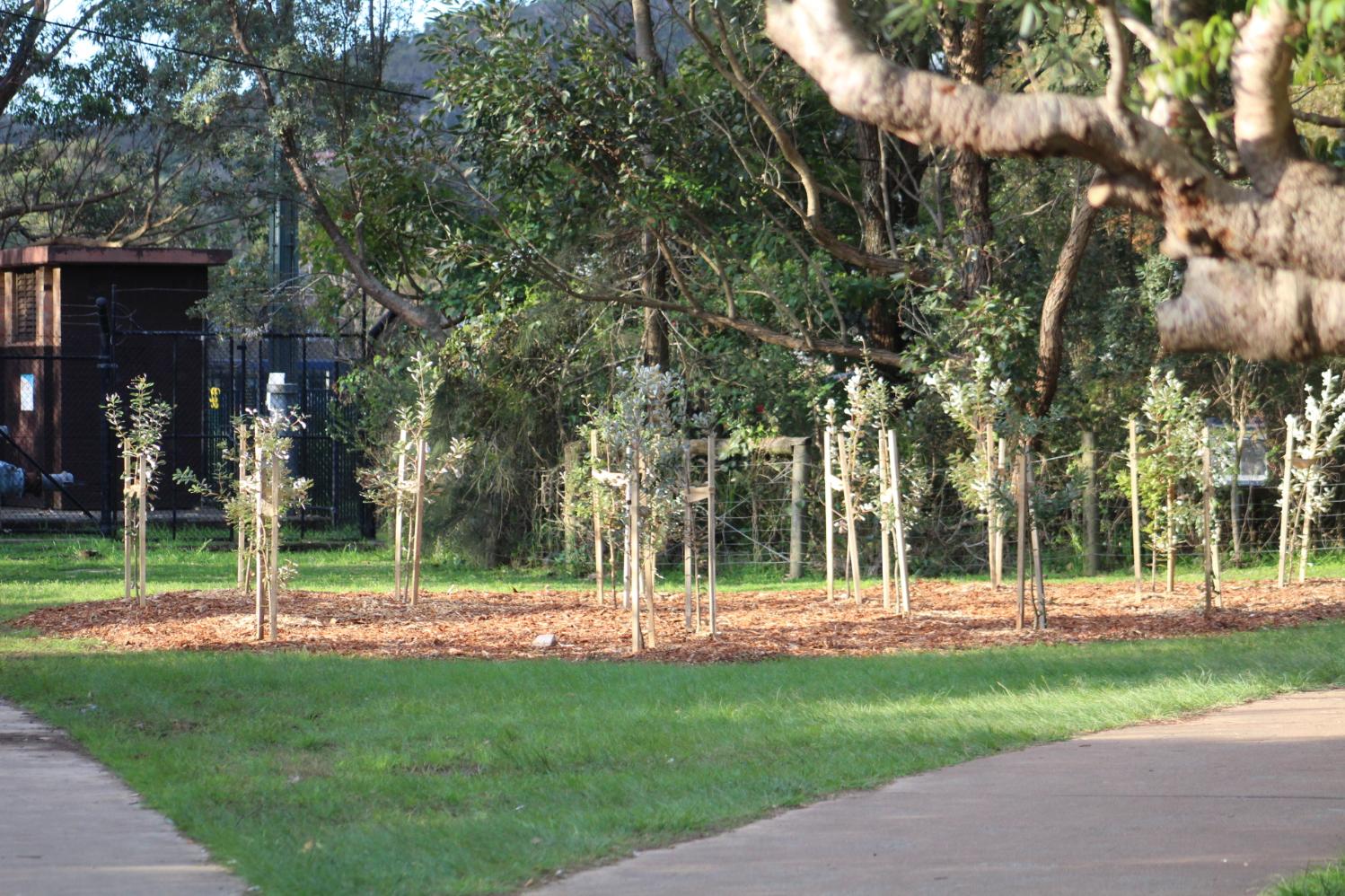 100 Trees For 100 Years Of Avalon Beach
Above are some of the 100 trees that have been planted in and around the Avalon Beach village centre over the past few months to celebrate the Avalon Beach Centenary.
An Avalon 100 Centenary wildlife talk is scheduled for Sunday 16th October at 11am in the Avalon RSL.
Roger Treagus of the Avalon 100 Committee states;

''One of the important features of Avalon life is its wildlife. We will have three speakers at the event - John Dengate will talk about the general scene and is keen to answer lots of questions that residents may have. Then Andrew Gregory, famed wildlife photographer will show his stunning pictures of the powerful owl. Finally we have Merinda Air from WIRES to explain what to do when encountering injured wildlife.''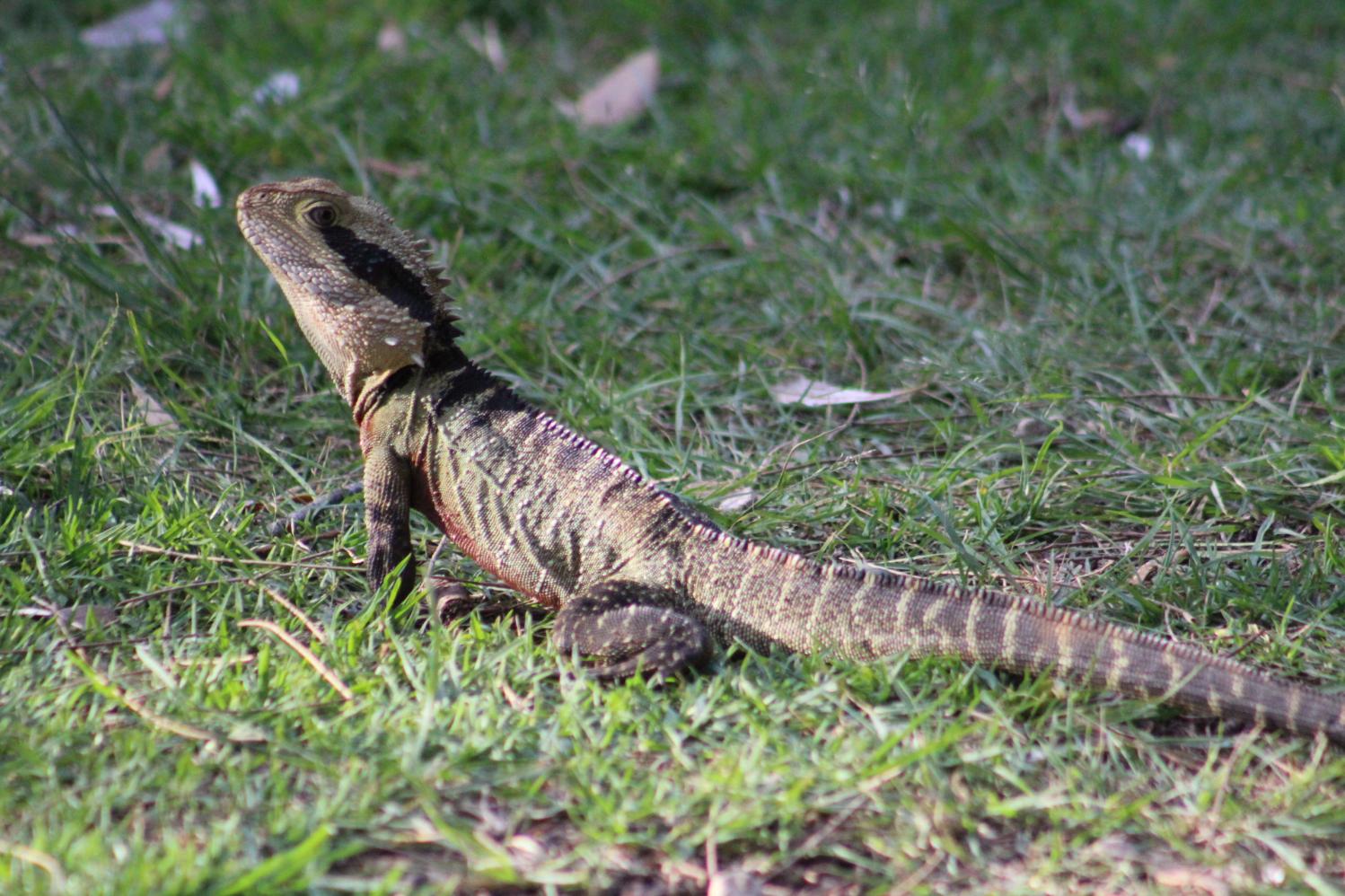 Australian water dragon, Intellagama lesueurii, catching some afternoon sun at Careel Creek, Avalon Beach. Photos: A J Guesdon
Past Features Archives (pre 2014)
Pittwater Online News was selected for preservation by the State Library of New South Wales and National Library of Australia. This title is scheduled to be re-archived regularly.
Archived Issues (2014 on) may be accessed here: pandora.nla.gov.au/tep/143700