September 25 - October 1, 2022: Issue 556
Australian sailing 2022 NSW&ACT Award winners + Barranjoey pin recognitions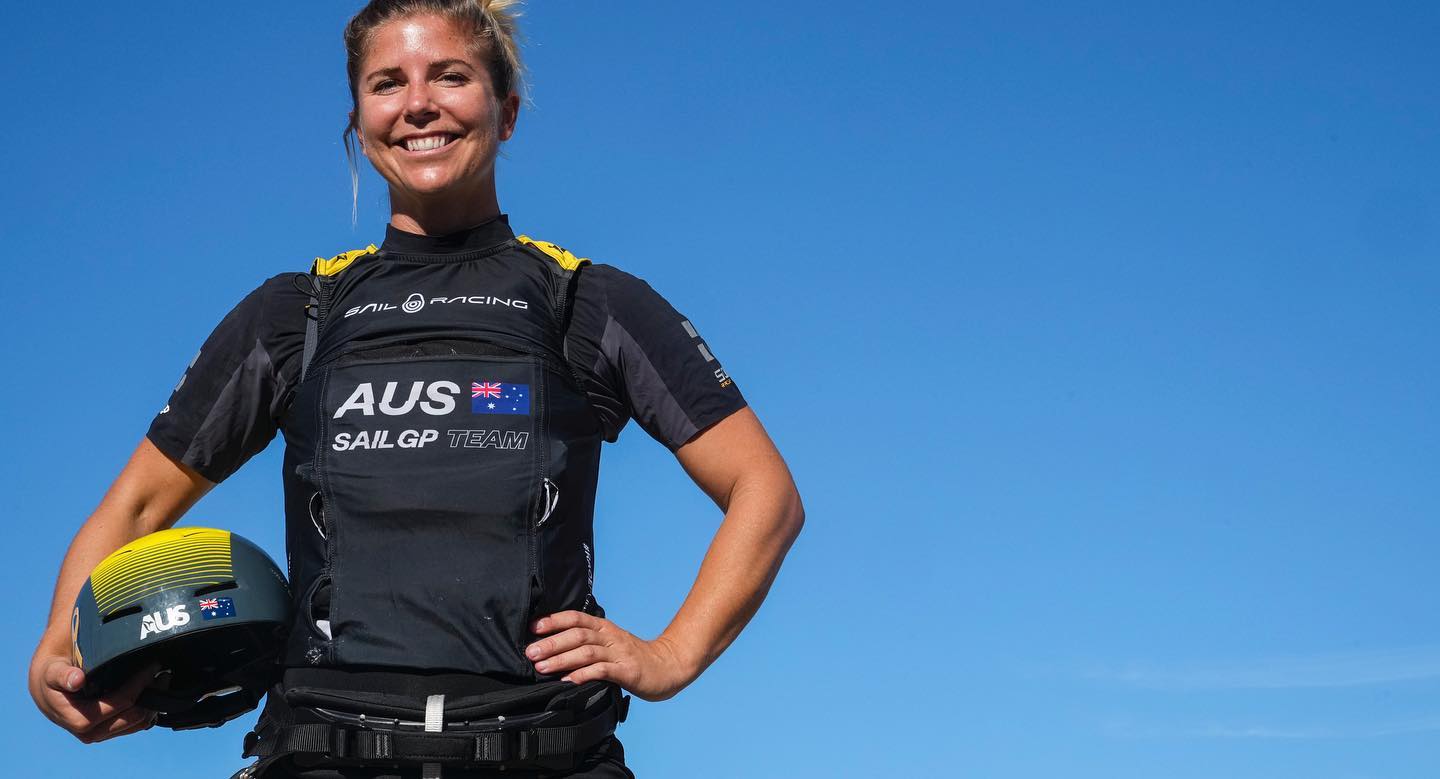 Nina Curtis, of RPAYC, ASC, PBSC and Australian SailGP Team has been named Female Sailor of the Year.
Photo:
SailGP
Congratulations to the winners of the NSW&ACT Sailing Awards for 2022 - and especial congratulations to Pittwater sailors who have been recognised for their recent, historic and ongoing contributions to the sport of sailing this year.
Female Sailor of the Year Winner: Nina Curtis
Nina Curtis is a member of the Australian SailGP Team after being the sole female athlete selected into the team in 2021. In 2021 she was the first female athlete to ever win a Sail GP event when the Australian team took the win in Sail GP Cadiz when female athletes were first introduced into the racing. Nina and the team went on to win the SailGP Sydney event in home waters. Nina and team finished a strong season by winning the Sail GP Grand Final in San Francisco with Nina becoming the first female athlete to stand at the top of the podium in Sail GP.
Male Sailor of the Year Winner: Tom Slingsby
Tom put together a phenomenal 2021-22 season, with significant international wins. In 2021 was recognised by World Sailing awarding him his second Rolex World Sailor of the Year Award. Over the past 12 months Tom defended his Moth World Championship, winning 13 of the 14 races, securing back-to-back 2019 and 2021 title wins. He has also set the standard in the global SailGP circuit, winning four of the five events in the nomination period including the end of season Grand Final. He capped a fantastic year on the water by being a helmsman on Comanche which won the 2021 Rolex Middle Sea Race on IRC time correction, monohull line honours and breaking the monohull race.
Offshore Sailor of the Year Winner: Lisa Blair
Lisa Blair has claimed the World Sailing Speed Record for the fastest circumnavigation of Antarctica. She completed the journey from Albany around Antarctica to Albany, a full circuit in 92 days. She now holds the title for fastest solo non-stop and unassisted journey. Lisa is only the third person to ever succeed with this perilous journey, including navigating Iceberg Alley and the remotest place on the planet, Point Nemo, and she becomes the first woman to circumnavigate below 45 degrees non-stop and unassisted.
Para Sailor of the Year Winner: Jason Elwes
Jason has had a very successful year in the HANSA class. Consistently in the top three and finishing on the podium in both Sail Melbourne and the National Championships. He is also involved with the Class association, being the NSW rep, responsible for arranging annual NSW State Championships.
Youth Sailor of the Year Winner: Evie Saunders
Evie's achievements over the last year have been placing 44th overall at the Open Womens world Championship in Oman and successfully gained selection to represent Australia in the Youth Worlds, where she came away with the silver medal. This is the first time in 14 years an Australian female has medalled in the ILCA 6 Class at the Youth World Championships.
Coach of the Year Winner: Carolijn Brouwer
Carolijn joined the Australian Sailing Team as the National ILCA 6 Coach in 2021 and the squad almost immediately started showing significant improvement in their results. Despite not being involved in international regattas since 2019, the Aussie contingent showed they were a force to be reckoned with under Carolijn and Assistant National ILCA 6 Coach Ben Walkemeyer. Mara Stransky won at Kiel Week, where all four Australian Sailing Squad athletes qualified for the Medal Race. There were also Aussies in the Medal Races at Palma, and Hyeres.
Club of the Year Winner: Newcastle Cruising Yacht Club
NCYC have seen strong success with their SailPass program. 30% of users have transitioned into full memberships, increasing total club membership by 31.6%. The club has a strong SheSails Committee that work hard to offer female specific keelboat courses that saw over 200 women participate in training in the last year. They are the home base for the Making Waves Foundation in Newcastle and recently added a Veteran program – Saltwater Veterans. Their Discover Sailing Centre is ranked 4th Nationally and 2nd in NSW.
Instructor of the Year Winner: Freya Slater
Freya has been an instructor since November 2020 and in this brief time she has shown incredible growth in her instructing skills, and has shown incredibly leadership, especially in Youth Development and in the SheSails programs. Lake Jindabyne Sailing Club has wildly unpredictable weather, which Freya has dealt with through excellent planning and adaptability. She always has multiple lesson plan options for her students. Freya has also contributed to the newly released Club Participation Programs, assisting in the pilot group. This has also assisted in the success of the clubs recently relaunched Green Fleet which has grown to 18 sailors of all ages.
Official of the Year Winner: Hugh Leicester
Hugh Leicester is an outstanding International Race Officer. He has been involved with running the ILCA World Championships since 2001 and recently as a World Sailing Course Representative. A major highlight for Hugh in the last year was acting as race officer and World Sailing Course representative for the Tokyo Olympics. Other recent world competitions also include 2022 Mexico, 2019 Japan, Olympic Test Series and Enoshima World Cup Series. He is also the current Vice-President of the ILCA Work Council. On the home front Hugh can be found most Saturdays laying marks and assisting the race officer at Manly 16s.
Volunteer of the Year Winner: John Byrne
John has been a member of Lake Jindabyne Sailing Club for over 8 years. Since joining, John saw jobs that needed doing at the club and got stuck in. Gradually, John took on more responsibilities. John has been responsible for planning and delivery of the club's racing, including creating and scheduling the racing calendar, administering results, calculating handicaps and being the permanent Race Officer - running all races from the start boat. And as if THAT was not enough, John took on a few extras, including – photographer, website administrator, apparel orders, security and grants officer, and safety boat roster. In the 2021-22 season, John's last season with LJSC, he performed all these duties for the club and more, adding COVID officer and even finding time to support the growing youth division and its programs, by attending to launch-and-recover the safety boat, and checking the instructors had all the equipment they needed. John has recently retired from an active role in the club, necessitated by a move away from Jindabyne and he will be missed greatly for his dedication, contribution and commitment.
Lifetime Achievement Award Winner: David Pescud
David founded Sailors with Disability back in 1994 as President of the organisation, now known as the Making Waves Foundation. That year he put together a team of disabled sailors to contest the 50th Sydney Hobart Yacht Race. This was the first time ever a fully disabled crew had competed in a Sydney Hobart Yacht Race. Earlier in the same year, competing in the Sydney Southport Race MWF was the first fully disabled crew to compete in an ocean race. MWF has since competed in 20 Sydney to Hobart yacht races. The foundation has provided sailing opportunities to more than 64,000 disabled and disadvantaged people. 2,500 people partake in their programs each year. He went to a lot of trouble to make boats for the disabled to sail on even with wheelchairs. It's an experience they just wouldn't get anywhere else. He felt it was important to get them out in an environment that they would never have dreamed of, and that expanded their horizons. David is a great advocate for the disabled and disadvantaged in yachting, and very widely respected for this. This has very effectively demonstrated to the sailing community that sailors with a disability can seriously compete on their level, often to their surprise and amazement. Looking at what has been achieved we have a great deal to celebrate as a result of one man's vision as a catalyst for change in the sport of racing and sailing – the list of sailing achievements is significant, but more importantly it demonstrates the sailing community's ability to put aside fear and prejudice and move forward inclusively acknowledging difference rather than hiding it.
SheSails Award Winner: Wendy Watson
Wendy has been the driving force and inspiration behind the inaugural Royal Motor Yacht Club Toronto female skippers event, called "SheSkippers". Through her perseverance and dedication to the task at hand she attracted 27 yachts in 2021 It was so well funded there was a surplus of funds that was donated to charity. In the second year (2022) she set out to better her efforts from the first time, which was achieved with 28 entries. She also enlisted the cooperation of sister clubs Lake Macquarie Yacht Club and Wangi Amateur Sailing Club and arranged for the three clubs to run a Tri-Series with a trophy being presented for the best performing woman from the three races series.
Sport Promotion Award Winner: Melvyn Steiner
Melvyn has held the position of Sailing Master and undertaken the responsibility for running the Heaven Can Wait Charity Sailing Regatta for Royal Motor Yacht Club Toronto. The regatta consists of a 24 hour around the buoys race on Lake Macquarie covering 30 nautical miles. Melyvn was able to raise $500,000 over the past 8 years to assist recovering Cancer Patients.
Sustainability Award Winner: Australia SailGP Team
The Australia Sail GP Team has a clear purpose – race for a better sport and a better planet, and that underpins everything they do as a team. A key focus within the team is addressing issues of plastic pollution in the ocean, which the athletes have witnessed first hand. The Australia Sail GP team uses their platform to drive awareness an educate the world on the issues of climate change and ocean pollution. The team has made many operational changes such as: removal of single use water bottles and a 60% reduction in the use of single use plastics. They also commit to cleaning beach sessions, eating a minimum of one plant based meal a day, repurposing old apparel and donate old items to reduce landfill.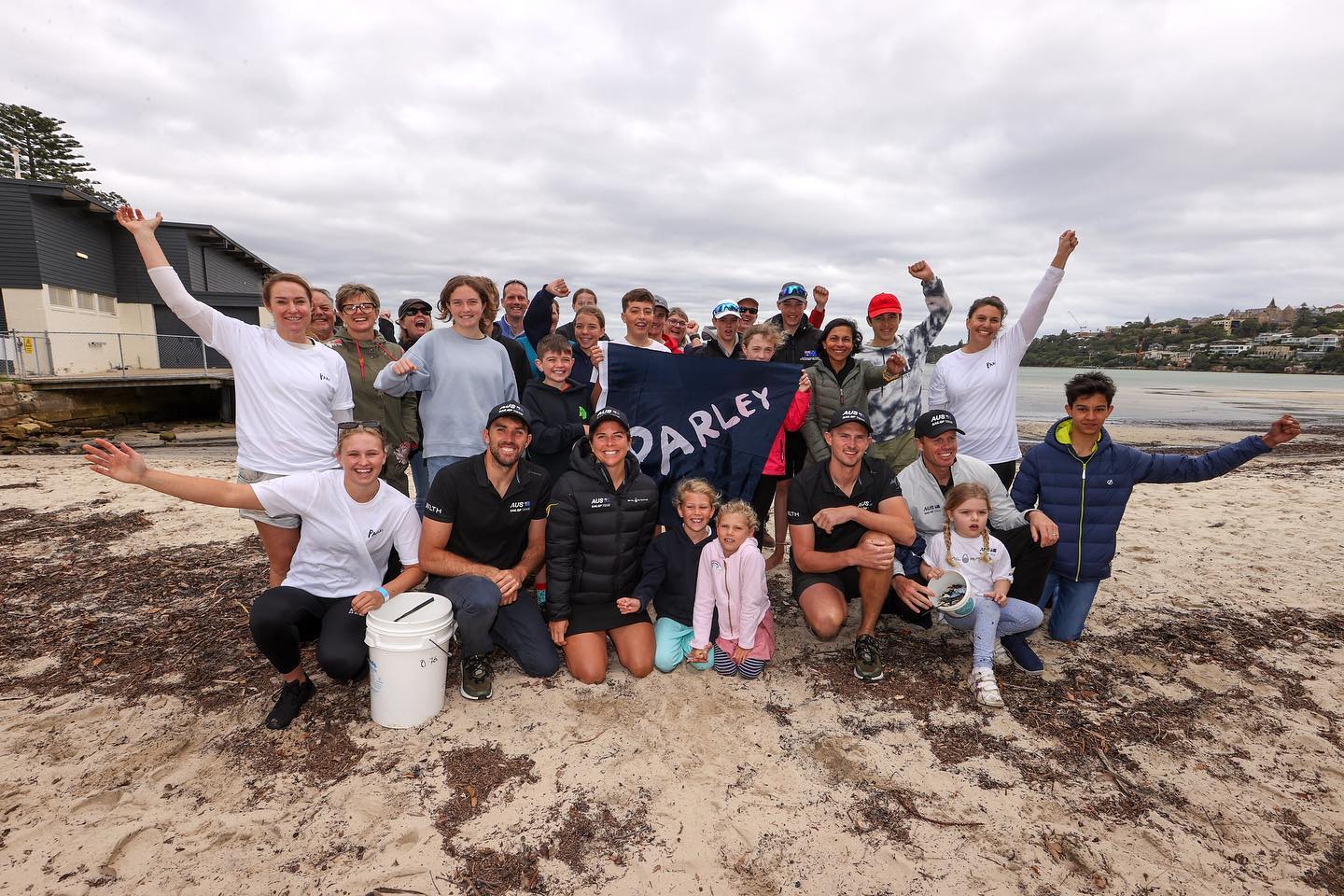 Australia SailGP Team beach clean session, June 2022. Photo: SailGP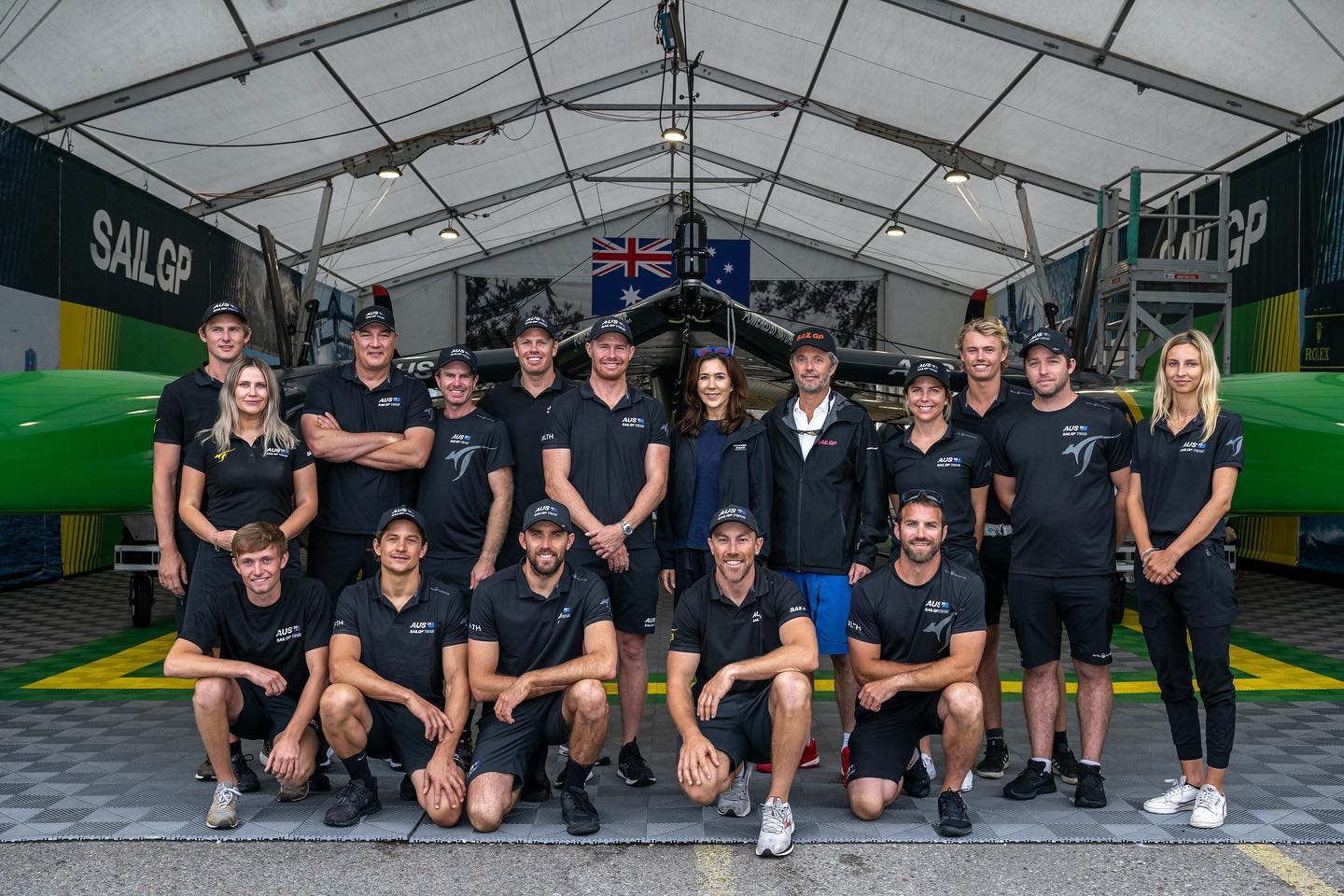 Australia SailGP Team in Copenhagen (August 21, 2022) with Prince Frederik and Princess Mary of Denmark on board for a royal race between Australia and Denmark - and yes, of course they won the race with Princess Mary behind the wheel! Photo: SailGP

Barranjoey Pin Recognition: 2022 - Congratulations Katie Spithill!
Six sailors from across New South Wales have been recognised for their extraordinary sailing achievements at the international level, receiving their personalised Barranjoey Pins at the 2022 NSW/ACT Awards Evening last week.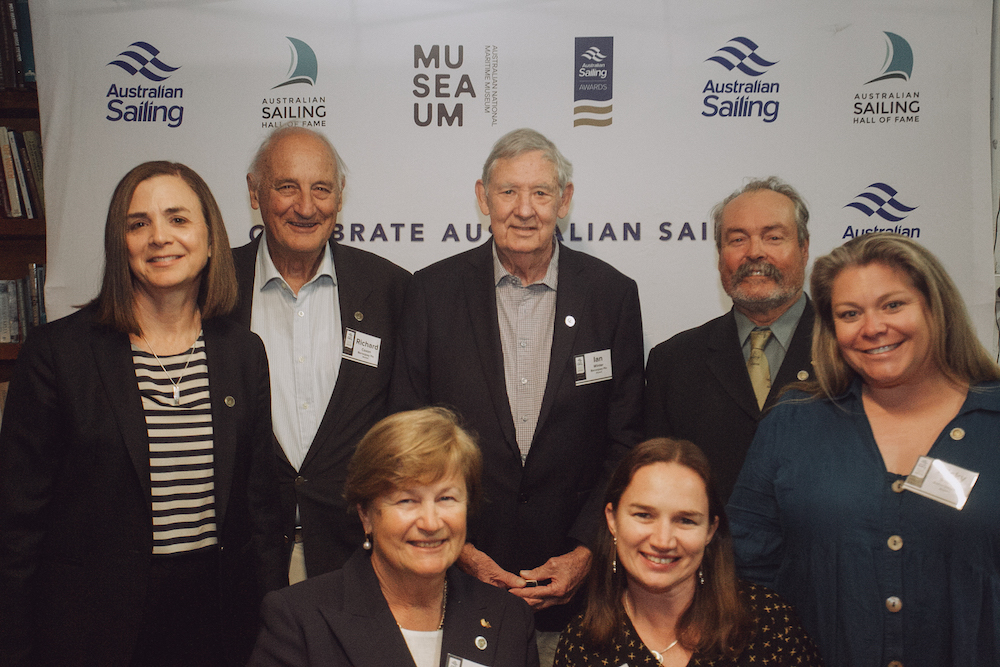 With multiple Olympic Games and World Championships between them, Ian Winter (Pin #27), Richard Coxon (Pin #73), Sarah Kenny (Pin #85), Karyn Gojnich (#104), Katie Spithill (Pin #179) and Nicky Souter (Pin #181) were presented with their pins by Olympian Neville Wittey (Pin #147) at the RAN Sailing Association on Saturday night, September 17.
An embodiment of the great traditions and values of those who have competed and continue to compete at the highest level, the Barranjoey Pin is designed to acknowledge the legacy and history of Olympic and Paralympic class sailing in Australia.
To qualify for the honour, athletes must have represented Australia at either an Olympic Class World Sailing Championship, IYRU Women's World Championship, Olympic Games or Paralympic Games and achieved a top 10 performance or have qualified for the Australian Sailing Team after 2006.
Three-time Olympian Karyn Gojnich said she felt privileged to be awarded the Barranjoey Pin and be included in a special part of Australian Sailing history.
"It's an honour to be included - there's so many of Australia's legendary names that have been awarded the Barranjoey Pin and it a privilege to recognised amongst those people," said Karyn Gojnich.
With a high-performance career spanning two decades, Gojnich also noted the importance of recognising athletes who have represented the country internationally.
"It was great to see people recognised from the 1964 Olympic Games all the way until the present day. It's important for the sport to recognise people who have competed at the highest level, and it's nice to know that the Barranjoey Pin is something that the sailors coming behind us will also be aiming to achieve."
Australian competitor in the Two Person Star class at the 1984 Olympics, Richard Coxon also noted that it was nice to be recognised and to see the Barranjoey tradition continue.
"Having been there from the beginning in 64 when the Barranjoey was selected and won the Gold medal, it's very nice to be recognised," said Coxon.
"It was a nice touch that the Barranjoey Presentation was combined with the NSW Sailing Awards. My younger sister Lyndall Patterson (Pin #63) has already received her pin and she was able to be there so it was lovely to share it with family."
Another Barranjoey Pin recipient recognised on the night, Ian Winter competed in the Flying Dutchman event with helmsman John Sawe at the 1964 Olympics in Tokyo. The event, which saw 21 nations take part saw Winter place 14th after a hard-fought regatta.
Sarah Kenny was Australia's Sailboard Representative at the IYRU Women's World Sailing Championships in 1983. Among other achievements, she won the Freestyle event and placed second in the Pentathlon, Slalom and Marathon events at the Windsurfer World Championships in Fiji in 1985.
With a number of National Championship titles in various classes, Katie Spithill moved into women's match racing in advance of its debut as an Olympic event at the London Olympics. Spithill placed 2nd at the world championships in 2007 as well as 5th in both 2009 and 2011.
The final recipient awarded their Barranjoey Pin at the awards evening, Nicky Souter won the 2009 ISAF Women's Match Racing World Championship in Lysekil, Sweden. Her dominance in the field saw her go on to claim the bronze medal at the World Championships the following year, as well as qualify Australia for the London Olympics with 5th place at the Perth 2011 Worlds.
Australian Sailing wishes to congratulate each of the recipients on their incredible achievements in international sailing and welcome them proudly as the most recent Barranjoey Pin recipients.
The Barranjoey Pin is named after the yacht 'Barranjoey', which was sailed to Australia's first Olympic sailing gold medal, at the 1964 Tokyo Olympic Games.
The 5.5 metre class racing yacht was built for (Sir) Bill Northam to contest the 1964 Olympic trials, which it won. It then became famous throughout Australia when it won Australia's first gold medal in Olympic sailing competition at the 1964 Tokyo Olympics.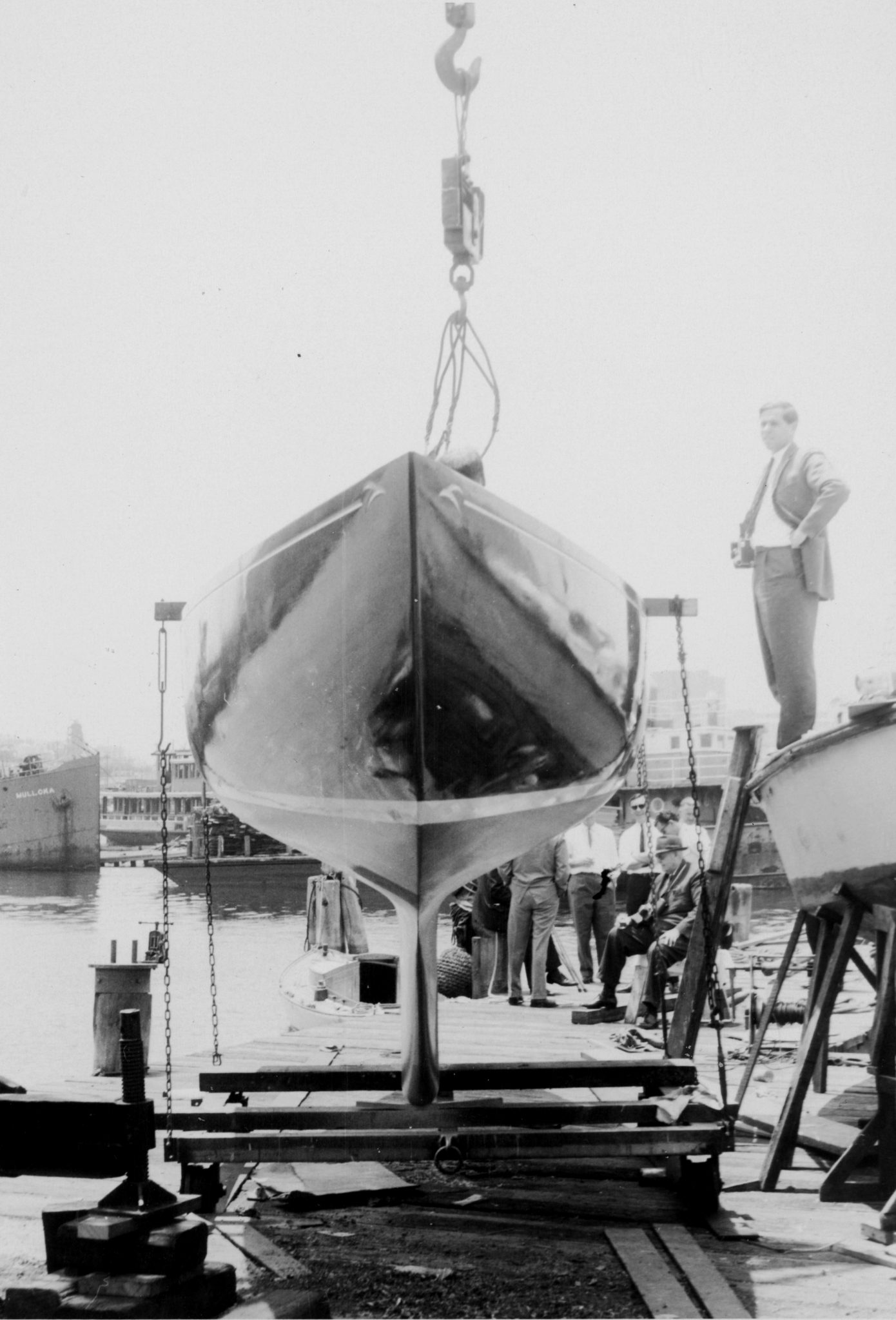 Barranjoey is launched (Christmas Eve, 1963). Photograph; Sir William Bill Northam album Sydney Heritage Fleet.
Reproduced courtesy of the Australian National Maritime Museum
BARRANJOEY is 9.75 m long, planked in mahogany, sloop rigged and handled by a three man crew. BARRANJOEY's gold medal win at the 1964 Olympics also created history in other ways. The skipper Bill Northam was 59 years old at the time and a grandfather with five grandchildren, and this made him a popular figure. He also brought a sense of fun to the Olympics in contrast to other more serious competitors.
Northam was teamed up with a young crew, Dick Sargent and Pod O'Donnell and had commissioned BARRANJOEY especially for the Australian trials. The crew beat more fancied rivals who had greater experience in the class and the Olympics.
The Olympic races took place on Tokyo Harbour and the gold medal became a hard fought affair in the last heat. Their main rival from the USA had to win that race to go ahead on points, but he was disqualified for an infringement at the finish when he made a desperate move to try and pass the leader. BARRANJOEY finished 4th and had enough points to secure the gold medal.
The wooden boat was built in Sydney to a design by the American naval architect Bill Luders, one of the premier designers for the 5.5 metre class. The builder was the Jeff Clist, a highly respected shipwright and boat builder whose attention to detail ensured it was built accurately to the plans and critical measurement points that are an essential part of the design. Bill Northam allowed others to charter the boat in later years.
In the 1970s it went on display outside of the Royal Prince Alfred Yacht Club at Pittwater.
In the mid 1980s the club and Northam's family donated BARRANJOEY to the Sydney Heritage Fleet at the Australian National Maritime Museum.
Since 2012 the yacht has been on display at Wharf 7 in Darling Harbour, showing off its beautfully varnished hull. This is the yacht you can see in the background of the video during the above presentation. In 2004 it was restored to sailing condition and raced in the 5.5 metre class world championships held in Sydney. BARRANJOEY was sailed by the same crew who had the use of the yacht in the late 1960s.
[1.]
Vessel Number: HV000061
Date: 1963
Designer: Bill Luders
Builder: Jeff Clist
Previous Owner: Sir William Northam
Dimensions: Vessel Dimensions: 9.75m x 1.83m x 1.37m (31.99ft. x 6ft. x 4.49ft.)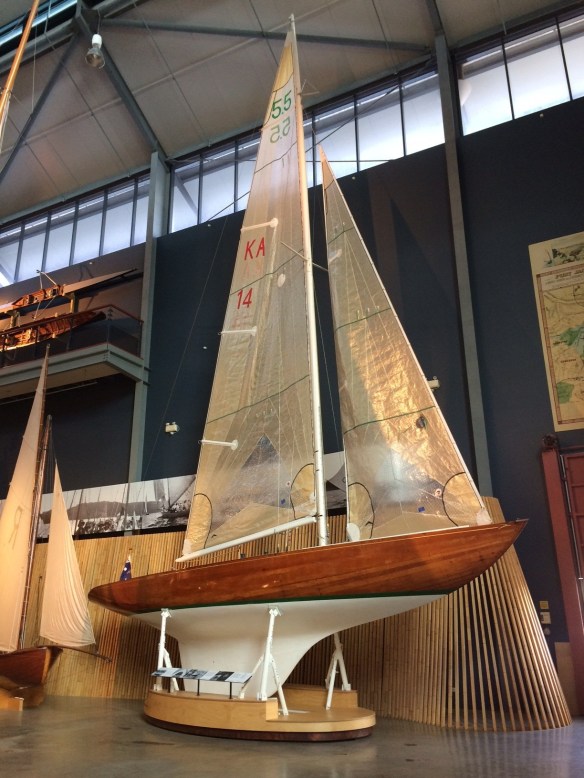 The BARRANJOEY, currently on display at Wharf 7 and part of the Sydney Heritage Fleet Collection.
Reproduced courtesy of the Australian National Maritime Museum
Sir William Herbert "Bill" Northam, CBE (28 September 1905 – 2 September 1988) was an Australian Olympic yachtsman and businessman.
Born in Torquay, Devon on 28 September 1905,
one of seven children of William Northam, 'of independent means', and his wife Kathleen, née Pardoe, his family migrated to Australia when Bill was still very young and settled in Sydney.
Mr. William Northam, who died at his residence in Roseville on Tuesday, was on the green of the Roseville Bowling Club on Monday morning, when he had a seizure. Mr.
Northam was at one time managing director of the Australian Provincial Assurance Association and chairman of directors of Starkeys Ltd. Up till the time of his death he was a director of the Chilcott Engineering Co and of the Victoria Park Racing Club. He was also a prominent Mason.
Mr Northam who was born in Tavistock England 70 vears ago is survived by Mrs Northam, four daughters and three sons.
The funeral took place yesterday afternoon at the Northern Suburbs Crematorium. A service at Wood Coffill's funeral parlours at Chatswood was conducted by the Rev W J Roberts. The Masonic ritual was read at the Crematorium by Mr C H Finch of Lodge
Roseville.
The chief mourners were Mrs Northam (widow) Misses Olga and Joan Northam (daughters) Messrs William, Dudley and
Kenneth Northam (sons).
Amongst those present were Messrs E S Paul chairman of directors of the Australian Prudential Association and G Bruce Smith
(manager), B Davidson, F Bligh and T Watson (Tooth & Co), KL Colloway and MJ Molloy (Tooheys Ltd) CH Finch and J W Cattad (Lodge Roseville
Crlonil) H M Bolera (Wine and Spirit Association) Messrs VV J Phypers (Liquor Trades Defence Lnloni F Marsden and J Sing (Johnson and Johnson) V. Donohoe (Victoria Park Racing Club I J L Rut m en Uohnnv Walker) R W C Dm Is I Caldwell s Ltd I J slltcroJt (ULVA) H Hackett J Elder O Steinbeck O Reichet S Woods J B Duncan W Munro H McMahon W H Bvrne P Gov C Richardson A Zweck ind J R Limnlo i.h (Roseville Bowling Clubl H Klrb\ A Williams R J Colvin V A Brown 1 111 W lard ne K Garney L R Weldon A E Holtnnd W C Milne D G Donald H Smith Ansted p E Harrison W Renshaw J Williams C Davies A Phillips C E\erln"ham T G McKinney J N Campbell W Wingrove, M laird R T Hough N Shaw H Medcalf M Oosper G Webb J Clarke D Allen K Donald D K McLrod J W Turner W Ha.elton J Tyrrell J Ross R Craig D Storey C Watti A Richards K Irrois P Fersu*on A Simpson H Mlll-r W McLean S Hines H V Faller r M trhrl! L Mr M rrnv r simpson and E R
Purtorri.
MR. W. NORTHAM. (

1936, June 12

). The Sydney Morning Herald (NSW : 1842 - 1954), p. 8. Retrieved fromhttp://nla.gov.au/nla.news-article17242649
Mr.
Northam had a successful career in business before becoming an Olympian. He was simultaneously chairman of the Australian branches of two major companies: American pharmaceutical company Johnson & Johnson, and British sports equipment brand Slazenger.
He also loved racing on roads prior to discovering sailing and racing on water:
HIGH powered cars participated in the Sydney Bicycle and Motor Club's hill climb at Mr. Hick's property at Prospect yesterday. Bill Northam, In a 16 h.p. 6-cylinder Austin with handicap of 26 seconds, was the outright winner. In the first round
he defeated Spurgeon (Ford). In the second round the Austin beat Leo Spies (President Studebaker). In the third round Northam beat Ted Patterson (Chrysler). In the semi-final Ted Poole (Studebaker) went down to Northam. In the final Northam beat Mrs. J. A. S. Jones (Alfa Romeo) by 6 lengths.
W H Northam, 'Bill', took up sailing at age 46 after he moved to Pittwater. He purchased a number of boats over the next few years: his first,
Gymea
, which ran into the starter's boat in her first race; the eight-metre yacht
Saskia
, with which he won the prestigious Sayonara Cup for the Royal Sydney Yacht Squadron in 1955 and 1956; and
Caprice of Huon
, which came 9th in the 1963 Sydney to Hobart Yacht Race. He was also a crew member on
Gretel
, Sir Frank Packer's challenger in the 1962 America's Cup. Gretel Park in Newport is named for this yacht.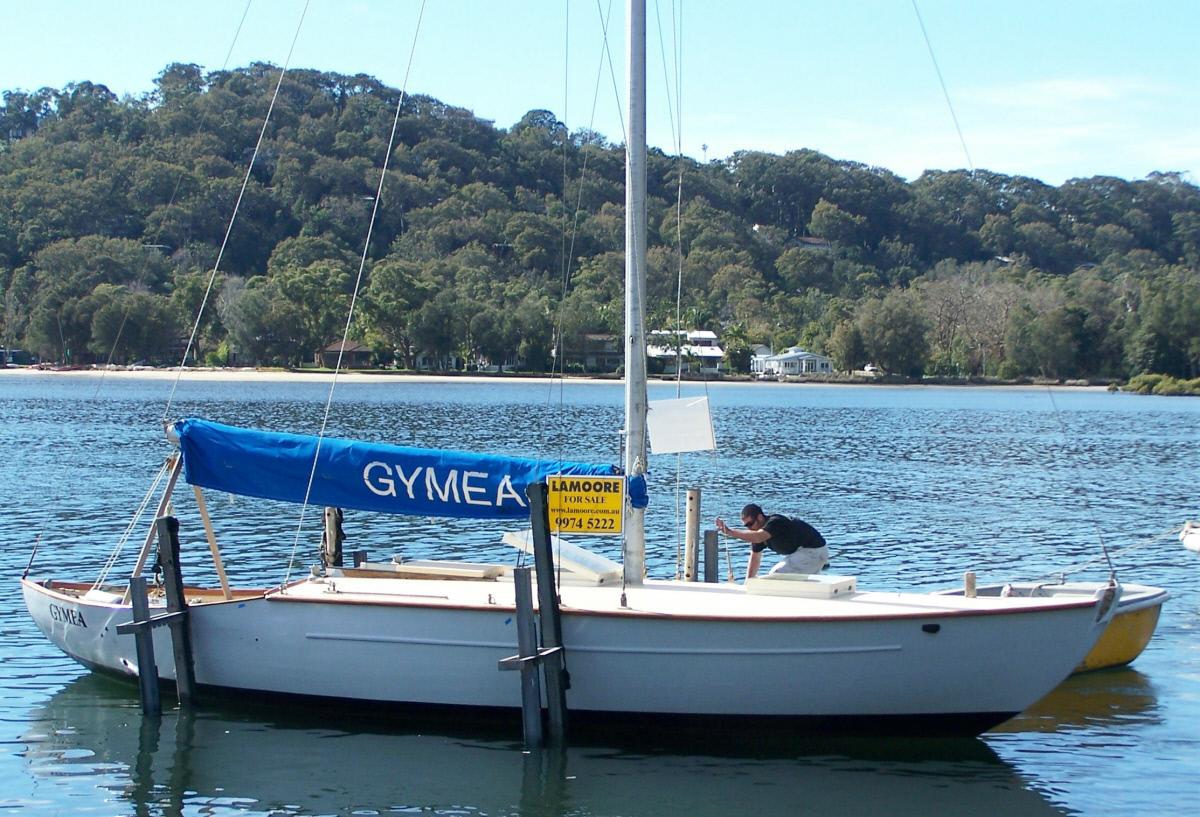 Sydney Yacht

Wins Race

To Swansea
NEWCASTLE, Friday.
The Sydney yacht Gymea, skippered by W. A. Northam
, won the Sydney-Swansea ocean race to-day.
Ruthean (V. Toll), which was first to finish, completed the journey in 7hrs 46m. It was unplaced on corrected
time.
Twenty-two yachts competed. They left Sydney at 10 o'clock last night. A SSW breeze, which continued until midnight, assisted the fleet.
Placed after Gymea were Bernice (Lake Macquarie), E. N. Raisbeck, 2; Lahara (Syd-ney), D. A. Ashton, 3; Vel-sheda (Lake Macquarie), G. R. Smith, 4; Aquarelle (Sydney), N. H. McEnally, 5.
Gymea is also now part of the Sydney Heritage Fleet register of the ANMM. Built in 1939 by Charles Larson, Designer A C Barber, she has always been based in Sydney. The deep keel and raised deck were classic proportions for the period.
After World War II GYMEA took part in the early days of offshore racing, competing in the 1947 and 1948 Sydney to Hobart races. In 1951 it is recorded as the handicap winner of the Royal Prince Alfred Yacht Club's 230km Islands Race, finishing third over the line in rough conditions, an excellent performance for a small yacht. The then owner was G L Carter, who had other craft with the same name and was a successful skipper for many years. Carter also sailed GYMEA in the 1947 and 1948 Sydney to Hobart yacht races.
GYMEA's most notable owner was Bill Northam. Another famous Sydney sailor,
Gordon Ingate
, taught Mr. Northam to sail on GYMEA. She now races with Sydney Amateur Sailing Club as a vintage yacht.
A Sydney business director,
Mr. H. W. Northam has bought Great Britain's cham
pion eight-metre racing, yacht, Saskia,

in an attempt to capture the highest racing honours in Australia.
The 22-year-old Saskia, will reach Sydney by cargo ship, Adelaide Star.
Saskia is probably the best known eight-metre racing yacht in the world, having won 83 major sailing events.
Mr. Northam bought her from Mr. Kenneth Preston, skipper of the British sixmetre racing team.
Mr. Northam said yesterday: "Saskia represented Great Britain in the 1936 Olympic Games and won the Seawanaka Cup, held between the U.S.A. and Britain, in 1932 or 1933.
"If they will hold eight-metre sailing events at the Melbourne Olympic Games, Saskia will be very handy for Australia.
"She is purely a racing yacht. There are no sea'ts for the crew. She has a duralium mast and is mechanically controlled by
winches."
Mr. Northam added that Saskia's first race in Sydney probably would be for the Norn Cup on October 24.
"After that, she will be out to recapture for New South Wales the Sayonara Cup.
Wonder Yacht Coming (
1953, October 11
).
The Sun-Herald
(Sydney, NSW : 1953 - 1954), p. 85. Retrieved from
http://nla.gov.au/nla.news-article28661382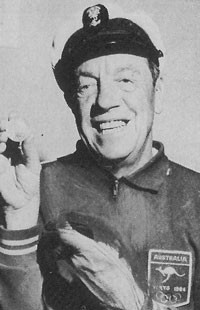 In 1963, Northam set himself the challenge of competing in the Olympic Games. He travelled to the United States, where he arranged for naval architect Bill Luders Jr. to design and build him a yacht, which was named
Barranjoey
.
With fellow Gretel yachtsmen Peter 'Pod' O'Donnell and James Sargeant, both more than 30 years younger than him, Northam took Barranjoey to a successful run of the 1964 Australian titles, the Olympic trials and further challenge races, until the team qualified for the 1964 Summer Olympics in Tokyo, Japan, despite misgivings about Northam's age, now 59. Northam marched in the opening ceremony with his son Rod, who was a reserve member of the rowing team.
The Australian team competed in the 5.5 metre class, starting well with wins in the first, fourth and sixth races, although they were disqualified in the fifth. Northam's main rival, the yacht Bingo skippered by American author John J. McNamara won the second and third races, and McNamara would have taken the gold medal if Bingo won the final race and Barranjoey finished fifth or worse.
In a fierce race for first place against Swedish boat Rush VII, McNamara was disqualified, and Northam and his crew finished fourth, qualifying them for the gold medal. It was Australia's first Olympic gold for sailing, and Northam remains the oldest Australian to win an Olympic gold medal.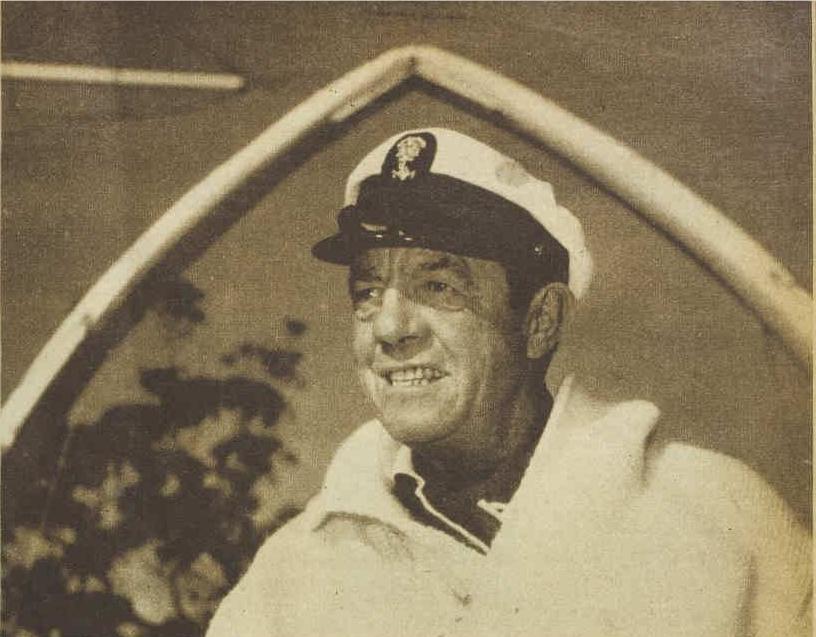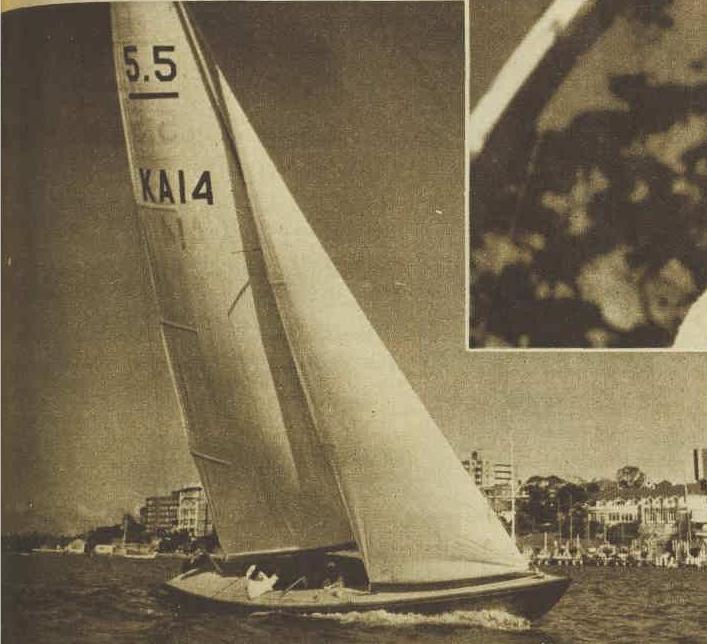 YACHTSMAN Bill Northam, of Pittwater, N.S.W., and (left) his yacht, Barrenjoey, in Sydney. With Peter O'Donnell and Dick Sargent they will represent Australia in Tokyo. He's going after the yachting honors with a boy's gusto . . . and the smile of a man w
ho has won a jackpot
Life begins at 59, according to genial Bill Northam, who recently became the oldest sports-man ever chosen to represent Australia at the Olympic Games.
BILL NORTHAM is the oldest Olympian in calendar years. But in terms of energy and boyish enthusiasm he's as young as any teenager in the Australian contingent for Tokyo.
Mr. Northam, a grand-father and business executive, has his Olympic blazer (and accompanying wide-angled grin) for yachting.
He'll represent Australia in his elegant 5.5-metre yacht Barrenjoey with crew members Peter ("Pod") O'Donnell- and Dick Sargent, who were deckhands in Gretel's America's Cup bid.
"Yes, we'll be there in Tokyo, and we'll be ready to win, too," said Mr
Northam with a glint in his eyes.
This Olympic selection is the most amazing, exciting thing that's happened in my life, and I'm going to make the most of it …
Born in England, he came to Australia when he was seven and was educated at Sydney's first Knox College. He decided to go to sea when he left school.
' My father decided otherwise, though, and talked me out of it," he said. "So I did the next best thing and became a marine engineer's representative, earning the princely sum of 8/6 a week.
"But there wasn't enough action in this life for me. I wanted to be a salesman, and I badly wanted to drive racing-cars. So I settled for the speed first, and for eight years raced cars round Australia.
"Then, a short 31 years ago, I joined this company as a salesman and did just about every job in the place before I became chairman.
….
In 1955 and 1956 he won the Australian 8-metre championship, bringing victory in this event to N.S.W. for the first time in decades. He then turned his attention to ocean racing.
In 1957 he was going well in the Sydney-Hobart race until Caprice of Huon lost a mast off Port Kembla. Determined to do better, he was back again the next year, and this time was third across the line.
In 1962, when he was in the United States for the America's Cup races (in which his elder son, Brian, was a crew member of Gretel), he studied new trends in yachts, and last year Jazzer, a stylish 42footer, was built for him from an imported design.
"Jazzer-we called her that because she couldn't keep straight-is a beautiful yacht, and I had a lot of success with her," he said. "But last year I began sailing near my home at Pittwater, and I got talked into racing in the 5.5-metre competition there.
"I wasn't too sold on the idea, as I'd never sailed any-thing smaller than a 42 footer before.
"I couldn't help thinking that if I kept on, changing at this rate I'd be sailing in a dinghy or paddling a canoe in another year.
"Anyway, I got enthusiastic enough about the 5.5metre idea to give Jazzer to Brian and to build Barrenjoey.
"
It hadn't really entered my head that I'd get serious about racing her, and it didn't look as though we'd do much good last season.
"She wasn't launched till Christmas Eve, and by the time I went to hospital to have a knee cartilage removed it was into the New Year before we got going in Barrenjoey.
"Till then I'd only sailed a 5.5 once, but with those two great boys Pod and Dick in the crew we soon got her moving and we thought we might as well enter the Australian championships.
"A breeze"
"This meant we had only five or six weeks to get ready. But we won three Australian championships and our Australian blazers all within three months.
"Now it's next stop Tokyo.
"With the light sailing conditions we expect there, I think we'll do well. Our toughest opposition will come from America and Russia, and just how we'll get on with that lot I
wouldn't know."
Before leaving for Tokyo, Mr. Northam will be busy sailing, sailing, sailing in a bid to beat the world.
He'll still find time to look after his business interests ("though nobody really expects to see me much till the Games are over") and his many other interests.
It would be a tough programme for most people, but for "young" Bill Northam it's a breeze. Recently he has been as busy as a beaver raising money for the Olympic Fund and he has brought in thousands.
"I suppose I had an unfair advantage," he said with a throaty chuckle. "I just told all my pals in the business world that they could afford to give a few hundred, and they hardly liked to refuse.
"A couple did say: 'You're in the team, what are you worrying about?'
"I'd tell them, 'Yes, I've got my fare, but how am I going to get my boat there? And what's the use of my going if some of my young friends have to stay at home because blokes like you were so mean there was no money for them to get there?'
"It always worked."
Now the money has rolled in, Bill Northam is elated.
"When I saw the athletes march round the Melbourne Cricket Ground at the 1956
Olympics, I thought that it must be the thrill of a life-time," he said.
"Now, by some unbelievable chance, I'll have the chance to find out at first hand."
W H Northam had married Esther Barbara Herford on 21 June 1929 at St Andrew's Church of England, Roseville; she died in a car accident in 1946. He married Alison Mary Dwyer, née Walker, on 10 April 1948 at the district registrar's office, Chatswood. Serving as an alderman on Sydney City Council from 1956 to 1965, he ran unsuccessfully as the business-oriented Civic Reform Association candidate for lord mayor in 1962.
Appointed CBE in 1966, Northam was knighted in December 1976. His wife Alison had died earlier that year. On 28 May 1977 at his mansion,
Hopton Lodge, Bayview
, he married with Presbyterian forms a widow Dulcie May Stephen, née Hill.
Hopton Lodge
was/is on the waterfront at Bayview. In October 2006 it was listed for $10 Million plus. Set on 3145 square metres, the house was associated with its lengthy ownership by the wealthy pastoralist Sir Roy McCaughey.
Its waterfront facilities then (2007) included a bunkhouse, mooring, jetty, boatshed and beach.
The property at 1758 Pittwater Road had traded for $5.5 million in 2000, when it was bought by commercial property developer Max Delmege and his wife, Narelle. Visit:
Pittwater Summer Houses: Waiwera - Hopton Lodge, Bayview
Sir William Northam's new 'voyage' from oceans of space to a harbour haven
...But Sir William Northam and his charming wife Dulcie found Hopton Lodge, their magnificent, million-dollar mansion at Bayview, north of Sydney, "just too much to handle," and they are selling it this month.
To replace Hopton Lodge, set on 3155 square metres, they have chosen a three bedroomed unit at Point Piper, Sydney, with, of course, a harbour view.
Sir William, Australia's first Olympic yachting gold medallist, is taking it all in his stride. "I have no regrets at all." he said about selling and leaving Hopton Lodge after 20 years.
Sir William, optimistic and cheerful, says he is used to changes late in his life
- "after all, I was a grandfather and the oldest man at 60 ever to win an Olympic gold medal," he laughed.
Hopton Lodge, built by the late merino stud owner Sir Roy McCaughey and Lady McCaughey, is a big white, ram-bling house with shutters framing the windows. It has a magnificent view north
along Pittwater and beyond, taking in the yachtsman's landmark, Lion Island.
Upstairs the house is designed for family living with two master bedrooms and ensuite bathrooms. Downstairs the rooms are large with a guest wing.
The main reception vestibule has big, bold, black and white vinyl squares with a huge shaggy oval rug in autumn tonings. The vestibule leads to a sitting-room opening to a sandstone terrace.
Folding louvred doors divide the sit-ting-room from the dining-room, which has a matching buffet sideboard unusually decorated with the 12 Zodiac signs.
Off the dining-room is the large kitchen leading to the flower preparation room, utility wine storage-room and three-ear lock-up garage
....
ROBIN AMADIO
Pictures: KEVIN BROWN
Sir Bill Northam was a renowned charity worker and Olympic fund-raiser. In 1965 he was named Australian 'Father of the Year'. Sir William was a gregarious individual who smoked heavily and enjoyed whisky. Survived by his wife and the daughter and two sons of his first marriage, he died on 2 September 1988 at Woollahra. A memorial service was held at St Mark's Anglican Church, Darling Point. [3.]
1965: Father of the Year
1 January 1966: Commander of the Order of the British Empire
31 December 1976: Knight Bachelor for services to the community
1978: AOC Olympic Merit
1985 - inaugural inductee Sport Australia Hall of Fame
2017 - inaugural inductee Australian Sailing Hall of Fame
William Northam CBE - Sailing
By
Sport Australia Hall Of Fame
Bill Northam was always sports minded and after dabbling in athletics as a youngster, became a dedicated motor sportsman in his early twenties. Northam was among a group of brave pioneers who raced cars on the old dirt and gravel circuit at Phillip Island (Victoria) and for a time also raced motorcycles.
Australia's final gold medal at the 1964 Tokyo Games, the first the nation had ever won in sailing, went to its 5.5 metre class crew, Bill Northam, Peter 'Pod' O'Donnell and James Sargeant. Northam, the skipper, was 59 and the grandfather of five, the oldest Australian ever to have won an Olympic medal. The Japanese fondly dubbed him Ogesan (old man). He may also have been the most garrulous. He heckled his opponents on jetties and across the water, argued good naturedly during races with O'Donnell and Sargeant, and unsettled the man he considered his main rival, the American skipper John McNamara.
Northam was one of the sport's more refreshing characters, quite dedicated to winning but never prepared to take himself too seriously. He had had a successful career in business, as chairman of both Johnson & Johnson and Slazenger. He did not take up sailing until he was 46.
Northam's introduction to sailing came after he bought a waterfront property at The Basin, Pittwater, Sydney, looking across at the Barrenjoey lighthouse (which inspired the name of the boat he took to the 1964 Games). Taken for an outing by a neighbour, he fared badly at handling the sails, but found he had a real aptitude at the helm. He sensed the capacity to feel the boat beneath him, almost anticipate its movement, and he attributed that to his experience of racing cars on dirt tracks. So enthused was he that he bought a boat, 'Gymea', and began to race her; undeterred by a disqualification in his first race for running into the starters boat, he had enough success to inspire him to tackle some larger challenges. After buying an 8 metre yacht 'Saskia' in England he showed his competitive nature and sailing skills by winning back for the Royal Sydney Yacht Squadron the prestigious Sayonara Cup in 1955 and 1956. He then had many successes in 'Caprice of Huon' (Sydney to Hobart) and the Sabre class 'Jazzer'. He was a member of Frank Packer's 'Gretel' syndicate for the 1962 America's Cup.
In 1963 he decided to set himself a new challenge, the Olympics. He went to the United States, sought out naval architect Bill Luders, and had him build the 5.5 metre craft he called 'Barrenjoey'. He asked O'Donnell and Sargeant, both more then 30 years younger than him to join him, and he entered the 1964 Australian titles and Olympic trials, against skippers like Jock Sturrock and Norman Booth.
Northam was an audacious sailor, happy to use unconventional tactics. Although 'Barrenjoey' and her crew won the championship and Olympic selection, then another set of challenge races, Northam had his detractors; some said he was too old, and many pointed out that Jock Sturrock had previously been to four Olympic Games.
Northam marched in the Tokyo opening ceremony with his son Rod, an emergency in the rowing team. No father and son had previously represented Australia at the same Olympics; this time two pairs did - the Northams and the Roycrofts, Bill and Barry.
With Northam as helmsman, Sargeant the for'ard hand and O'Donnell on the main sheet, 'Barrenjoey' made its mark quickly, with a win in the first raced. He distracted his rivals as they approached the line, claiming that they were too early, as they checked their watches and turned about, he gave himself clearance. McNamara, the danger man from the United States, finished 10th in the first race, and Northam couldn't resist the temptation to heckle.
McNamara, in 'Bingo', went on to win the next two races. The Australian craft won the fourth and sixth, but was disqualified in the fifth. With the final race to go, Australia had 5407 points, the United States 5106. McNamara could take the gold only if he won, and 'Barrenjoey' finished worse then fourth.
In a desperate finish, fighting out first place with the Swedish boat 'Rush VII', McNamara was disqualified. The Australians finished fourth, qualifying as overall winners.
After the Tokyo Olympics, Australians honoured him with the award of Australian Yachtsman of the Year and a commemorative sculpture in Sydney Park.
He was made a Commander of the Order of the British Empire in 1966 and in 1976 he was knighted for his distinguished services to the community.
_________________________________________________________________________________________________________________
The finalists for the 2022 NSW/ACT Sailing Awards were announced prior to the Awards evening of Saturday September 17, 2022. Nominations came from clubs big and small and across the state and territory. They include Australian Sailing Team members, volunteers who put in incredible hours to help their clubs, professionals who are working for the sport and the promoters who use technology and social media to make sure we hear about sailing.
2022 NSW&ACT Sailing Award Finalists
Female Sailor of the Year
Wendy Tuck - Cruising Yacht Club of Australia
Nina Curtis - Royal Prince Alfred Yacht Club
Lisa Darmanin - Manly 16ft Skiff Sailing Club & Middle Harbour Yacht Club
Male Sailor of the Year
Matt Allen - RAN Sailing Association & Royal Sydney Yacht Squadron
Sam Newton - Cruising Yacht Club of Australia & Australian 18 Footers League
Tom Slingsby - Woollahra Sailing Club
Offshore Sailor of the Year
Lisa Blair - Cruising Yacht Club of Australia
Jules Hall & Jan Scholten - Cruising Yacht Club of Australia & Royal Prince Edward Yacht Club & Vaucluse Amateur 12ft Sailing Club & Royal Prince Alfred Yacht Club
Matt Allen - RAN Sailing Association & Royal Sydney Yacht Squadron
Para Sailor of the Year
Lachlan Clear - Middle Harbour Yacht Club
Jason Elwes - Lake Macquarie Yacht Club
Youth Sailor of the Year
Evie Saunders - Manly Yacht Club & Double Bay Sailing Club & Royal Sydney Yacht Squadron
Will Wilkinson - Middle Harbour Yacht Club
Daniel Links & Markus Sampson - Royal Prince Alfred Yacht Club
Coach of the Year
Zac West - Woollahra Sailing Club & Royal Sydney Yacht Squadron
Carolijn Brouwer - Australian Sailing
Instructor of the Year
Lia Grosvenor - Newcastle Cruising Yacht Club
Freya Slater - Lake Jindabyne Sailing Club Inc
Sarah Imlay - Royal Sydney Yacht Squadron
Official of the Year
Winner to be announced on the night
Volunteer of the Year
Melvyn Steiner - Royal Motor Yacht Club Toronto
John Byrne - Lake Jindabyne Sailing Club Inc
Patricia Stanley - Royal Sydney Yacht Squadron
Lifetime Achievement Award
Anthony Coleman - Lake Macquarie Yacht Club & Royal Sydney Yacht Squadron
Steve Hatch - Royal Prince Alfred Yacht Club & Pete's Yacht Club Incorporated & Cruising Yacht Club of Australia
David Pescud - Cruising Yacht Club of Australia & RAN Sailing Association
SheSails Award
Wendy Watson - Royal Motor Yacht Club Toronto
Freya Slater - Lake Jindabyne Sailing Club Inc
Sport Promotion Award
Margaret Fraser-Martin - Middle Harbour Yacht Club & Manly Yacht Club
Melvyn Steiner - Royal Motor Yacht Club Toronto
Frank Quealey - Australian 18 Footers League Ltd
Sustainability Award
Australia SailGP Team
Double Bay Sailing Club
Club of the Year Award
Royal Prince Alfred Yacht Club
Woollahra Sailing Club
Newcastle Cruising Yacht Club
Tickets for the 2022 National Sailing Awards are on sale now. The event – set to recognise distinguished members of the Australian Sailing community – will be held at the stunning Australian National Maritime Museum in Sydney on Friday November 4, 2022.
Each year the Australian Sailing Awards recognise the achievements and acknowledge the contribution of members of our sailing community. This year's event will be no different, with the national evening set to celebrate more than thirty finalists from all around the country.
Winners from fifteen different categories will be announced on the night, including Male and Female Sailor of the Year, Sailor of the Year with a Disability, Volunteer of the Year and Club of the Year. Past winners include the likes of Olympic champions Mat Belcher, Will Ryan and Tom Slingsby, as well as Nacra 17 star Lisa Darmanin.